Tokyo Station's Pokémon Store & Tokyo Gourmet Zone Announce Collaborative Event
Tokyo Gourmet Zone in Tokyo Station's First Avenue shopping complex turned 1 year old on June 28. To celebrate its 1st anniversary, the station's Pokémon Store located along Tokyo Character Street is teaming up with Tokyo Gourmet Zone to host a Pokémon-themed event where you can meet Pikachu, get your hands on original merchandise, and more.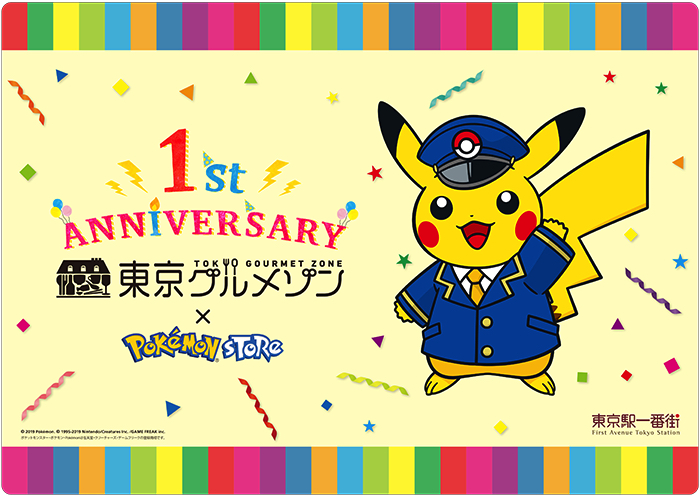 From July 13th to 15th at 11:00-15:00, if you order a soft drink or dessert at participating restaurants in Tokyo Gourmet Zone you can receive the above-pictured 1st anniversary lunch mat with a Pikachu design. These are limited to 1,000 per day on a first-come, first-served basis.
You can also get a photo with Pikachu on the same three days. Your photo will be printed with an original photo frame.
Over at the photo spot, you can get your photo taken next to 278 Pokémon plush toys. This is running right now until September 1 and includes Pokémon No. 001-251 in the Pokédex and all 28 forms of Unown.
Several restaurants at Tokyo Gourmet Zone are also serving special meals in celebration of the 1st anniversary. These are available now until July 31.
Head to Tokyo Gourmet Zone and help Pikachu in celebrating their first year!
©2019 Pokemon. ©1995-2019 Nintendo/Creatures Inc./GAME FREAK inc.
Pokémon, ポケットモンスター and ポケモン are registered trademarks of Nintendo, Creatures and Game Freak.
Information
Tokyo Gourmet Zone 1st Anniversary x Pokémon Tokyo Station
Running: June 28 – September 1, 2019
Location: Tokyo Station First Avenue Floor 2F (Tokyo Station Yaesu North Exit Floor 2F)
Official 1st Anniversary Website:  https://www.tokyoeki-1bangai.co.jp/tokyogourmetzone1st/
Photo With Pikachu Event
Running: July 13 – 15, 2019
Slots: ①11:00 / ②13:00 / ③15:00 / ④17:00 (30 minutes each)
Participation: Free
RECOMMENDED ENTRIES
7 Tasty Places to Eat Breakfast at Tokyo Station

Tokyo Station is one of the busiest stations in Japan, home to many of the JR Lines as well as the Tokaido Shinkansen which runs between Tokyo and Shin-Osaka.

But Tokyo Station isn't just a simple station. It's a giant complex packed with many places to eat. Today, we're going to take a look at 7 places you can eat breakfast at Tokyo Station before departing on your journey.

Fruit Parlor Kajitsuen

Fruit Parlor Kajitsuen can be found in Kitchen Street which is a one-minute walk from the Yaesu North Exit ticket gates of Tokyo Station. As the name suggests, their menu is packed full of fresh fruity food. The breakfast menu has things like pancakes and toast, all of which arrive with fresh fruit. If you like to eat fruit in the morning then this is the place for you.

Rokurinsha

The popularity of Rokurinsha has never died down ever since it opened on Tokyo Ramen Street in 2009. It has gone on to become a leader in the tsukemen, or dipping noodle industry. The restaurant also serves three types of ramen in the morning. The irresistible soup is nice and light so can be enjoyed even in the early hours.

Yaesu Hatsufuji

This izakaya is located in Yaesu Shopping Mall and opens at 7am. They serve 7 different breakfast sets such as fried salmon, pork miso soup, fried eggs, and simmered meat and tofu. Their portions are big and they use great ingredients. If you want a Japanese-style breakfast then check this place out!

Tsukiji Sushi Say

Located in Gransta on floor B1F is Tsukiji Sushi Say, a sushi restaurant that has been around since 1889. Their recommended breakfast meal is sea bream with sesame sauce. The rich sauce replaces the usual soy sauce and covers a sea bream sashimi. It can be eaten as it is or covered with kombu and bonito dashi. Being able to eat fresh fish in the morning is a luxury!

Misogen

This looks like coffee, but it isn't. The drink is called 'Shijimi Expresso' and is made with clams from Lake Shinji in Shimane Prefecture together with flavoursome miso paste and served in an espresso cup. You get a small 70ml serving.

T's Tantan

Vegan food is hard to come by in Japan, but T's Tantan is a rare exception. Their vegan menu uses no meat, dairy or animal products. Enjoy a selection of vegan foods on their breakfast menu including shoyu ramen, tantanmen, soup and rice, and more. Their recommended meal is the 'Shiawase Tantan Soup Kake Gohan,' a mix of rice and grains and an original T's Tantan soup. Visit here if you want something healthy when you wake up.

Boulangerie La Terre

If you're looking for bread in the morning then we recommend this place. They bake lots of fresh bread nice and early. This fluffy looking bread is made with milk from Jersey cattle from the city of Aso in Kumamoto Prefecture. Its fresh sweetness and fluffy texture is loved by customers.

We hope you find this useful when staying in Tokyo. Start your day with a delicious breakfast at Tokyo Station.

Second Pokémon Smartphone Collaboration Launched by CASETiFY

CASETiFY is a global lifestyle brand established in LA that has enjoyed hugely popularity with celebrities and influences around the world for their services that enable you to customise your digital devices from smartphones to Apple Watches and more.

The company launched its "Day & Night" themed collaboration with Pokémon back in May. The second collection in the line has finally been unveiled which will be released on July 10 at 10:00pm (JST).

It features iPhone cases, Samsung smartphone cases, mobile accessories and more with designs based on the 151 Pokémon of the Kanto region. Popular items from the first collection are also being re-released on the official CASETiFY website.

On the website you can choose from a variety of different items including CASETiFY's signature Impact case, Neon Sand case, DTLA case and more as well cases for your AirPods.

The collaboration, which will feature one final collection after this, is part of CASETiFY co-lab, a creative program which collaborates with top brands and artists around the world.

The collection will be available to purchase at the newly-opened CASETiFY flagship store in Hong Kong, as well as pop up shops in LANDMARK Hong Kong, Los Angeles, London and Paris.

©2019 Pokémon. ©1995-2019 Nintendo/Creatures Inc. /GAME FREAK inc.

Information

CASETiFY & Pokémon Collaboration – 2nd Drop

Release Date: July 10, 2019

Items: iPhone cases, Macbook cases, wireless charging pads, iPad cases, AirPods cases, card holders
Price: ¥2,700-¥7,800
Official Website: https://www.casetify.com/en_GB/pokemon

Pokémon Center, Nintendo Shop & More to Open at Shibuya PARCO in November (Part 1)

After having been closed since August 7, 2016 for renovations, it has been revealed that the new Shibuya PARCO shopping complex is set to open in late November. The new building aims to be a "global shopping complex for a new generation." 

Building on the complex's facilities, Shibuya PARCO's will communicate new forms of entertainment and experience together with designers and artists. Its goal is to deliver cultural trends on a global level. To do this, it is further developing aspects of the building to drive its unique perspective by focusing on the design, art and entertainment side of things.

Around 180 unique stores will open their doors in the new Shibuya PARCO each of which pivot around 5 different themes: Fashion, Art & Culture, Entertainment, Food, and Technology. Multiple floors are being specially designed to form the interior of the complex so that they draw out the appeal of each of these individual genres.

Today, we will take a look at two of these themes: Fashion and Art & Culture.

On the Fashion floor, customers can expect to slalom between up to 100 stores shelved with a plethora of styles representative of Tokyo's melting pot of cultures, from luxury to mode, street, casual, vintage and more.

The Fashion floor is bolstering its range of new generation fashion designers and brands and will have new points of sale that aim in the promotion of their names. For example, the art direction for the shop naming and logo of GEYSER PARCO on the third floor was created by YAR, a creative team spearheaded by YOSHIROTTEN.

The floor won't just take into account the purchasing of clothing either―it will also cater clothes that have already been bought. There will even be an environmentally-friendly cleaning service for those fashionistas treasure their threads as well as repairs for a variety of clothes carried about by specialists and more, giving customers an incentive to make frequent use of Shibuya PARCO.

In the Art & Culture department, Shibuya PARCO will offer the PARCO MUSEUM which will exhibit a line-up of unprecedented artwork focused on art, design and fashion, al built uniquely from the ground up.

The museum's logo was created by design group TOMATO while the interior décor was co-developed by two Japanese interior designers.

GALLERY X, originally located at Spain-Zaka in Shibuya, is moving to Shibuya PARCO's B1F floor. The PARCO staff have curated an edgy assortment of art pieces from multiple art fields spanning anime, games and music.

A gallery-style shop is also opening to allow visitors to come into contact with a myriad of cultures. Names include OIL by Bijutsu Techo who will promote contemporary art and who are appearing inside a shop for the first time, Hobo Nikkan Itoi Shinbun who will have their own 'cultural information desk' Hobo Nichi Karu-chan to communicate Tokyo culture, and more. 

The sixth floor is the 'Japan Culture' zone where there will be Nintendo Tokyo, Pokémon Center Shibuya, a Touken Ranbu bookshop, and plenty of other Japanese pop culture content. It is an amalgamation of games, anime, E-sports, art, fashion and more where visitors can not only buy things but experience pop culture with all five of their senses. This is sure to be a hit with foreign visitors.

In the next article we will take a look at Entertainment, Food and Technology so stay tuned.

Information

Information

Shibuya PARCO

Grand Opening: Late November 2019

Address: 15-1 Udagawacho, Shibuya, Tokyo

Business Hours: Shops 10:00-21:00 / Restaurants 11:00-23:30 (*Hours may differ at select establishments)
No Fixed Holidays.

Official Website: https://shibuya.parco.jp/
RELATED ENTRIES
Pokemon GO Launches Second Hills Campaign in Japan, New CM Set in Fukiya, Okayama and Starring Mitsuki Takahata Airing Nationwide

A new commercial for Pokemon GO's second 'Let's GO to the Hills' campaign is now airing nationwide, calling on all players of the smartphone game to work up a sweat while exploring new scenery around Japan. Set in the Fukiya district of Takahashi, Okayama, the ad stars the popular actress Mitsuki Takahata. The 'Let's GO to the Hills' campaign focuses on hills and slopes, and players might find some fun new Pokemon on their travels.

The new commercial began airing nationwide on January 20, and its setting–the Fukiya district of Takahashi, Okayama–has flourished since the Edo period as a leading copper and red ocher producer. Red ocher is a byproduct of copper production and is used in many traditional Japanese crafts, even called Japan Red by some.

Several popular Pokemon appear alongside Takahata in the ad, including Chimchar, Fletchling, Hisuian Voltorb, Nyabby, Darumaka, and Charizard. Be sure to listen out for Takahata's Okayama accent!

From January 20 until July 19, a 4-meter-high real-world PokeStop will appear at the former Fukiya Elementary School in Fukiya Furusato Village. Yes, it will be linked to the game as well!

Curtains and tapestries featuring Pokemon silhouettes and dyed Japan Red will also appear in the village, and each will point the way to real PokeStops. While it might be a little off the beaten path, come enjoy Fukiya and see what kinds of Pokemon you can find!

©2023 Niantic, Inc.
©2023 Pokémon. ©1995-2023 Nintendo/Creatures Inc. /GAME FREAK inc.
ポケモン・Pokémon は任天堂・クリーチャーズ・ゲームフリークの登録商標です。

Information

'Let's GO to the Hills' – Fukiya Furusato Village, Okayama Ver.
CM Broadcast Start Date: January 20, 2023
Broadcasting Area: Nationwide
Official Site: https://www.pokemongo.jp/

Shock Your Crush with a Pikachu Engagement Ring, Available Now

U-Treasure, a company offering proper jewelry inspired by pop culture, has announced a Pikachu engagement ring! The item was made available on December 13 and can hold large diamonds from 1-1.999 carats. Each ring features a male and female Pikachu, perfect for the Pokemon master in your life. Along with this, a silver version made from cubic zirconia featuring the same design is available to pre-order until January 31, 2023.

[Pokemon] Pikachu Carat Solitaire Ring

Pokemon Shirts Introduces New Patterns from Pokemon Diamond and Pearl

On December 9, Original Japan released 32 new patterns for the popular Pokemon Shirts line, this time from Pokemon Diamond & Pearl.

With the addition of these new designs, customers can choose from a total of 493 patterns. These patterns can also be used in masks and bandanas.

32 New Patterns from Pokemon Diamond & Pearl!

The new patterns were inspired by 'Evolution and Legends.' Fans can find popular Pokemon like Giratina, Rotom, and Weavile, so be sure to check out the website for more details. 

Dark Ball and Quick Ball Buttons are Now Available!

To celebrate these new patterns, new buttons inspired by the Dark Ball and Quick Ball are now available. Fans can also choose from the traditional Pokeball, Great Ball, Hyper Ball, Premier Ball, Moon Ball, and Dive Ball. 

Pokemon and Puma Collaborate for the First Time: Shoes, Apparel, and Bags Available Now

Puma and Pokemon are joining forces for the first time. The Puma x Pokemon collection officially went on sale on November 12, offering fans a collection of sneakers, bags, apparel, and more.

The playful new collection incorporates iconic images of popular Pokemon like Pikachu, Bulbasaur, Charmander, and Squirtle. The shoe lineup includes popular models like the Slipstream, Suede Classics, and Rider FV. Pokemon can be found hiding on the shoe's tongue, insole, and heel, and fans are sure to love these stylish kicks. For apparel, customers can grab cotton T-shirts, crew-neck sweatshirts, hoodies, sweatpants, and more. Complete your look with a beanie or messenger bag. 

The Puma x Pokemon collection is on sale at Puma Store Harajuku Cat Street, Puma Store Osaka, Puma Store Odaiba, Puma Store Fujimi, Puma Store Kyoto, Puma Sapporo Factory, Puma Store Fukuoka, and the official Puma online store. 

Information

Pokemon x Puma

Release Date: November 12, 2022

Details/Online Shop: https://jp.puma.com

Mister Donut Reveals Limited-Time Pokemon Christmas Collection

Mister Donut has revealed its annual Pokemon Christmas collaboration. This marks the 5th year that the popular sweets chain is teaming up with the legendary franchise, and starting on November 9, fans can find themed sweets and merchandise for a limited time. 

Pikachu Snowman Donut

Christmas Collection Donut Set

New to the lineup in 2022 is the Pikachu Snowman Donut. This will be sold alongside the always-popular standard Pikachu Donut which will be sold in a cute Christmas sleeve. Customers can also look forward to the sleepy Pikachu Donut and the fluffy Jigglypuff Donut this holiday season.

Mister Donut Blanket (White)

Mister Donut Glasses (Set of 2)

The Christmas Set will include the Mister Donut Pokemon Blanket, which is available in two patterns, as well as a pair of Pokemon glasses. Fans are sure to enjoy these new illustrations of Pikachu and Jigglypuff made exclusively for the collaboration. 

Pikachu Donut

 

The popular Pikachu Donut is back! The fluffy yeast pastry is filled with whipped cream with a pudding flavor and chocolate coating. 

Pikachu Snowman Donut

 

Also filled with whipped cream, the Pikachu Snowman Donut is coated with white chocolate.

Be sure to check out this exclusive collection of sweets and goods before they're gone!

©2022 Pokémon. ©1995-2022 Nintendo/Creatures Inc. /GAME FREAK inc.

ポケットモンスター・ポケモン・Pokémonは任天堂・クリーチャーズ・ゲームフリークの登録商標です。
Nintendo Switchのロゴ・Nintendo Switchは任天堂の商標です。

Information

Mister Donut Pokemon Christmas Collection

On Sale:

Donuts: November 9 – late December 2022 (While supplies last)

Goods: November 9 (While supplies last)


Official Site: https://www.misterdonut.jp

Artist Yu Nagaba Creates New Patterns for Pokemon Shirts in Special Collaboration

Pokemon and Original Inc. are back with some new Pokemon Shirts in collaboration with the popular visual artist Yu Nagaba! Customers can head onto the official Pokemon Shirts website now to grab one of these cute new Pikachu-inspired designs. 

The apparel brand Original Stitch was created by an engineer working in Silicon Valley who wanted to make it easier to shop for clothes. After launching a test service in 2013 and establishing the brand's parent company, Original Inc., in 2015, the company began developing its custom shirt service. Those buying from the site can customize every detail of their shirt and order in as little as five minutes. These shirts are carefully tailored by craftsmen at a factory in Japan.

Two New Designs Made in Collaboration with Popular Artist Yu Nagaba

Two printed patterns and one unique embroidery have been added to the collection for a limited time. Yu Nagaba's designs can be used to cover entire shirts or can be used as accents on collars and sleeves. Customers can even use the embroidery on a plain shirt to make something more subtle. 

Yu Nagaba's casual depiction of Pikachu shows why his art is so beloved. Silly and subtle, both Pokemon fans and fans of Nagaba's art are welcome to snag one of these shirts before they're gone. Check out the website for more details.

Pattern: Yu Nagaba (White)

Pattern: Yu Nagaba (Black)

Embroidery: Pikachu (Yu Nagaba)

Official Pokemon Baby Brand Monpoke Reveals Autumn/Winter Collection

Monpoke, the official Pokemon baby brand, has released the lookbook for its 2022 Autumn/Winter collection! New items include pajamas, jackets, and other apparel and sundries for infants and toddlers. Monpoke, which launched in 2019, has added two new familiar Pokemon to the lineup this time around–Gengar and Mimikyu. 

Nighttime-only Diapers featuring Sleepymon Design

Pikachu and the Nighttime Adventure, the Second Book in Rikako Matsuo's Monpoke Picture Book Series

The adorable diapers will help keep babies dry all night, and these helpful products will be released nationwide in early November 2022. The new picture book will be released on September 21, so be ready to add it to your nighttime reading routine.

©Pokémon. ©Nintendo/Creatures Inc./GAME FREAK inc.

Official Chiikawa Store Opens on Tokyo Character Street

The official Chiikawa store, Chiikawa Land Tokyo Station, will open on September 16, 2022 on Tokyo Character Street beneath Tokyo Station!






Chiikawa is a popular character created by Japanese illustrator Nagano on Twitter. In December 2020, the character's official online store, Chiikawa Market, was opened, and the many comics featuring the character posted on Twitter were compiled into a book. Now with a massive fanbase, Nagano's follower count on social media has reached 1.3 million, and a number of collaboration cafes and exhibitions featuring his characters have popped up around Japan. Chiikawa even has his own anime series broadcast on Mezamashi TV!

Purchase Bonus

One Hologram Sticker included with each purchase.

Manmaru Bottled Water with each purchase of ¥3,300 (Tax Included) or more

Small Plushie Friends (6 varieties) with each purchase of ¥8,800 (Tax Included) or more

Not for Sale / Limited Quantities Available

Chiikawa Land Shopping Bag (4 varieties)

Chiikawa Land Tokyo Station Exclusive Items


Layered Acrylic Stand / Smartphone Ring

Square Magnet

Clear Folder

Washi Paper Sticker in Smartphone Size

Printed Card

Large Face Towel / Bath Towel

Towel (Set of 3)

Large Tote Bag

Cookie Set in Cube Box

Salt (Set of 5)

Japanese Paper-style Pin in Capsule (12 varieties)

Commemorative Opening Stamp

The Harajuku and Umeda, Osaka Chiikawa Land stores, which opened last August, have seen massive success. In June 2022, the Fukuoka PARCO store opened, followed by the Kyoto Shijo Kawaramachi store in July. In August, the limited-time Magical Chiikawa store opened on Tokyo Character Street, and due to its massive popularity, it will now be permanent.

The Chiikawa Land Tokyo Station store features special commemorative products using newly-drawn illustrations, including exclusive purchase bonuses and exclusive shopping bags.

©nagano / chiikawa committee

Information

Chiikawa Land Tokyo Station

Opening Day: September 16, 2022

Pokemon Shirts Offering New Embroidery Options Featuring Popular Silhouettes

Starting September 2, customers will be able to snag some new customizable shirts from Original Stitch featuring embroidered silhouettes of popular Pokemon!

Fans will be able to add these silhouettes to the left chest, right hem, or left cuff of their shirt. 25 different Pokemon are available to choose from, all from the original game titles, Red and Green. 

Light Blue Dungaree / Navy Oxford / Gray Navy Dungaree / Black Checkered Gingham / Gray Kanoko

Poke Ball / Great Ball / Ultra Ball / Premier Ball / Dive Ball / Moon Ball

Customers can choose from six fabrics, including dungaree in light blue and gray-navy, black checkered gingham, white herringbone, and more.

For shirt buttons, customers can also choose from a collection of Poke Balls from the series. These customizable shirts are available to order globally. 

Pokemon GO Holds Special Drone Show in Akagawa, Yamagata Prefecture

To celebrate six years of Pokemon Go, an incredible drone show was held during the Akagawa Fireworks 2022 presentation in Yamagata Prefecture on August 20, 2022. 

The presentation sought to get audiences excited for summer fun, with the phrase "let's go on an adventure this summer" appearing in the air above the huge audience of 40,000. The Pokemon GO logo and popular Pokemon were recreated by around 700 drones.

Music from the mobile game played during the impressive show, as Pikachu and a 100-meter-tall Charizard moved across the sky. Alolan Exeggutor, Gengar, Wailord, and Rayquaza also appeared, creating a night to remember for Pokemon fans in the town of Tsuruoka. 

Pokemon GO Special Drone Show at Otaru Ushio Matsuri

The show itself was a surprise for the audience, with applause and excitement instantly palpable as it began. After the drone presentation concluded, the Akagawa Fireworks display began.

The Pokemon GO Special Drone Show was first held at the 56th Otaru Ushio Matsuri in Otaru, Hokkaido on July 24. Watch it in full above!

©2022 Niantic, Inc.
©2022 Pokémon. ©1995-2022 Nintendo/Creatures Inc. /GAME FREAK inc. ポケモン・Pokémon は任天堂・クリーチャーズ・ゲームフリークの登録商標です。 

Information

Pokemon GO Special Summer Drone Show at Akagawa Fireworks 2022  

Date: August 20, 2022 / 19:05-19:15

Venue: Akagawa Fireworks Presents 2022 / Fireworks Launching Area

Official Site: https://www.pokemongo.jp/

Pokemon Baby Brand Monpoke Releases First Baby Rings

U-Treasure, known for its gorgeous jewelry for adults inspired by pop culture icons, has released something for babies as well! Under the official Pokemon baby brand Monpoke, the company has unveiled some adorable baby rings to commemorate your child's birthday. The pieces are on sale now.

Customers can design their own special piece of jewelry for their child by selecting a Pokemon and a birthstone. The back of each ring can be engraved with up to six characters, where you could include a child's name, birthday, weight, or height. They are made in sizes to fit children's tiny fingers, and parents can also wear them as necklaces until the children grow up. Many people give them as gifts to commemorate their child's first steps into adulthood. Monpoke is the first official Pokemon brand to appear at U-Treasure Concept Store Ikebukuro and the online shop.

Which of these beautiful designs would you choose? 

Available Pokemon: Pikachu, Gengar, Eevee, Smeargle, Ludicolo, Piplup, Mime Jr., Dedenne, Mimikyu

 

Available Stones: Garnet, Amethyst, Aquamarine, Diamond, Emerald, Moonstone, Ruby, Peridot, Sapphire, Pink Tourmaline, Blue Topaz, Tanzanite

Information

Monpoke Baby Ring

Release Date: August 18, 2022

Where to Buy: U-Treasure Concept Store Ikebukuro, U-Treasure Online Shop

Online Shop/Details: https://u-treasure.jp/special/86

Tokyo Station Hotel to Offer Accommodation Plan in Conjunction with the 150th Anniversary of Railway in Japan Exhibition

Starting on October 8, Tokyo Station Gallery will begin the 150th Anniversary of Railway in Japan Exhibition. To celebrate the opening of the event, Tokyo Station Hotel will begin offering a special lodging plan which includes a special ticket for entry starting September 15. 

2022 marks the 15th anniversary of Japan's first railroad. The exhibition will look back at the history of railroads from their inception in 1872 to the present day, and will also feature modern and contemporary Japanese art.

 

Over 150 works will be on display, from oil paintings to photographs. The exhibition will also include Kawanabe Kyosai's Jigoku Gokuraku Meguri-zu and Utagawa Hiroshige's masterwork Steam Train Running Along the Shore at Yokohama. The train headmark was designed by Katsuhiko Hibino in 2021.

 

The accommodation plan will include a special tour held on the morning of check-out day before the gallery opens to the public. Visitors can enjoy the exhibition in depth while listening to explanations by the curators who planned the exhibition. After the tour, visitors can enjoy the exhibition again. The special ticket features Utagawa Hiroshige's painting Steam Train Running Along the Shore at Yokohama and is perfect as a souvenir.

Enjoy a rare moment surrounded by the historic architecture of Tokyo Station's Marunouchi Station Building and immerse yourself in the history of the railroad.