Kyoto Sightseeing | 4 Desserts You Must Try While in Kyoto
Kyoto is renowned for its historical architecture and richness in traditional Japanese culture, but did you know it's also home to some extremely cute and delicious desserts? Their sweets and desserts are actually pretty popular, some of which contain motifs and little nods to the city.
Today, Instagrammer meme takes us on a tour in Kyoto to try out 4 popular desserts.
JEREMY&JEMIMAH
JEREMY&JEMIMAH is a shop selling cute and colourful cotton candy. Their staple Wata-Hako cotton candy comes in 10 different flavours! In the photo we have yuzu, rose and matcha flavours. Of the two branches of the store, there is one along Furukawacho Shopping Street where you order your cotton candy for takeout, and another in Yasaka that serves cotton candy on long sticks.
We picked up a few different ones since there are so many flavours and designs. It was fun lining them up to take a picture.
We took them home to eat and they stayed nice and fluffy the whole way back. The yuzu one tasted a little herbal, like it was healthy for you.
▼JEREMY&JEMIMAH (Furukawacho Shopping Street Branch)
Address: Furukawacho Shopping Street, 444-3 Hachikenchō, Higashiyama Ward, Kyoto
Opening Hours: 11:00-17:00
Official Website: http://www.jeremyjemimah.com/
ROCCA & FRIENDS TRUCK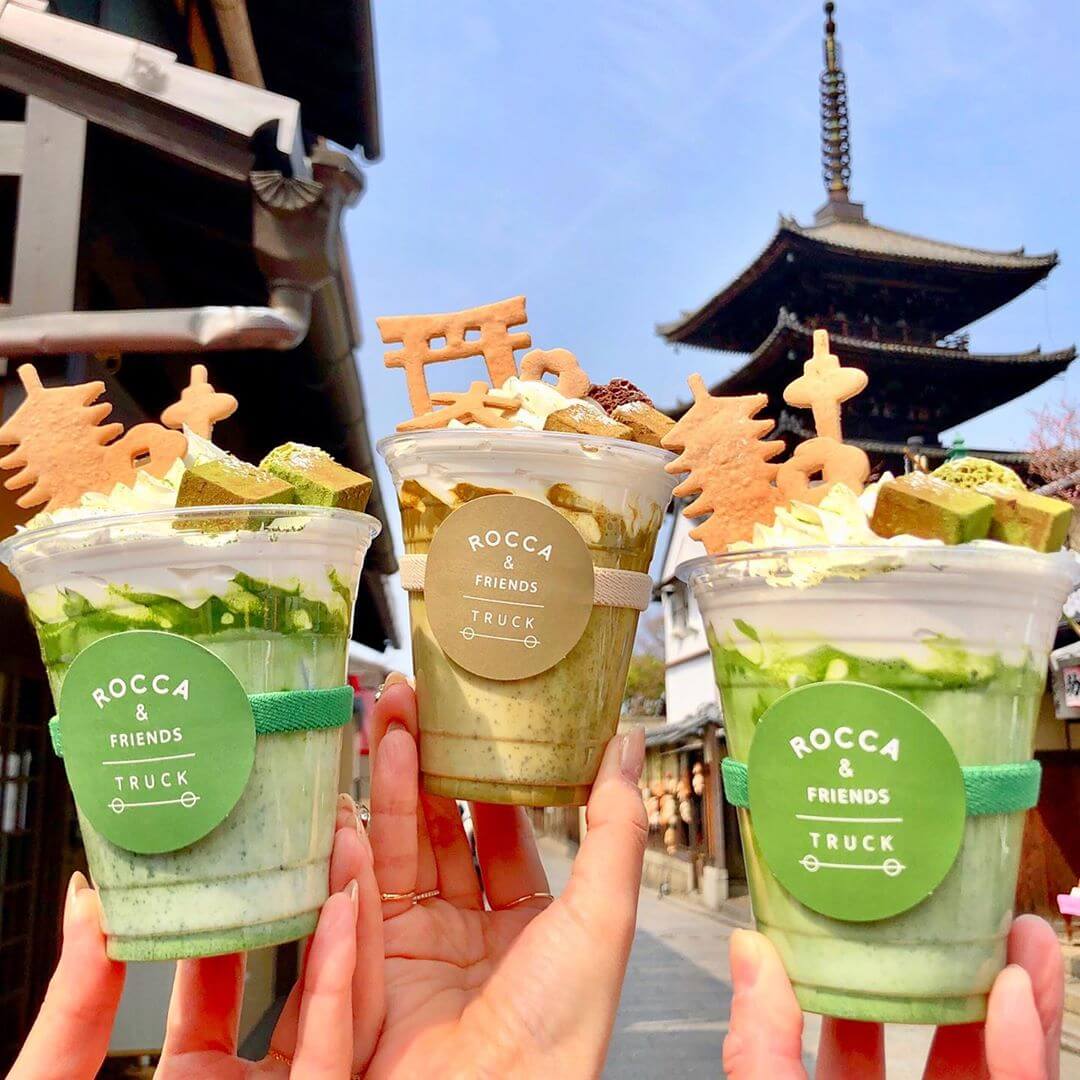 At ROCCA & FRIENDS TRUCK, you can order these iced dessert matcha and houjicha lattes which are topped with yatsuhashi―a confection sold in Kyoto―shaped into various sights across the city including Kyoto Tower, Hōkanji Temple, Daimonji, a Torii gate, and more.
I ordered the matcha latte. The drink itself isn't sweet at all so you can enjoy the full original rich and bitter flavour of the matcha. The fresh cream however is quite sweet so you can mix it into the drink as much as you want to get your desired flavour.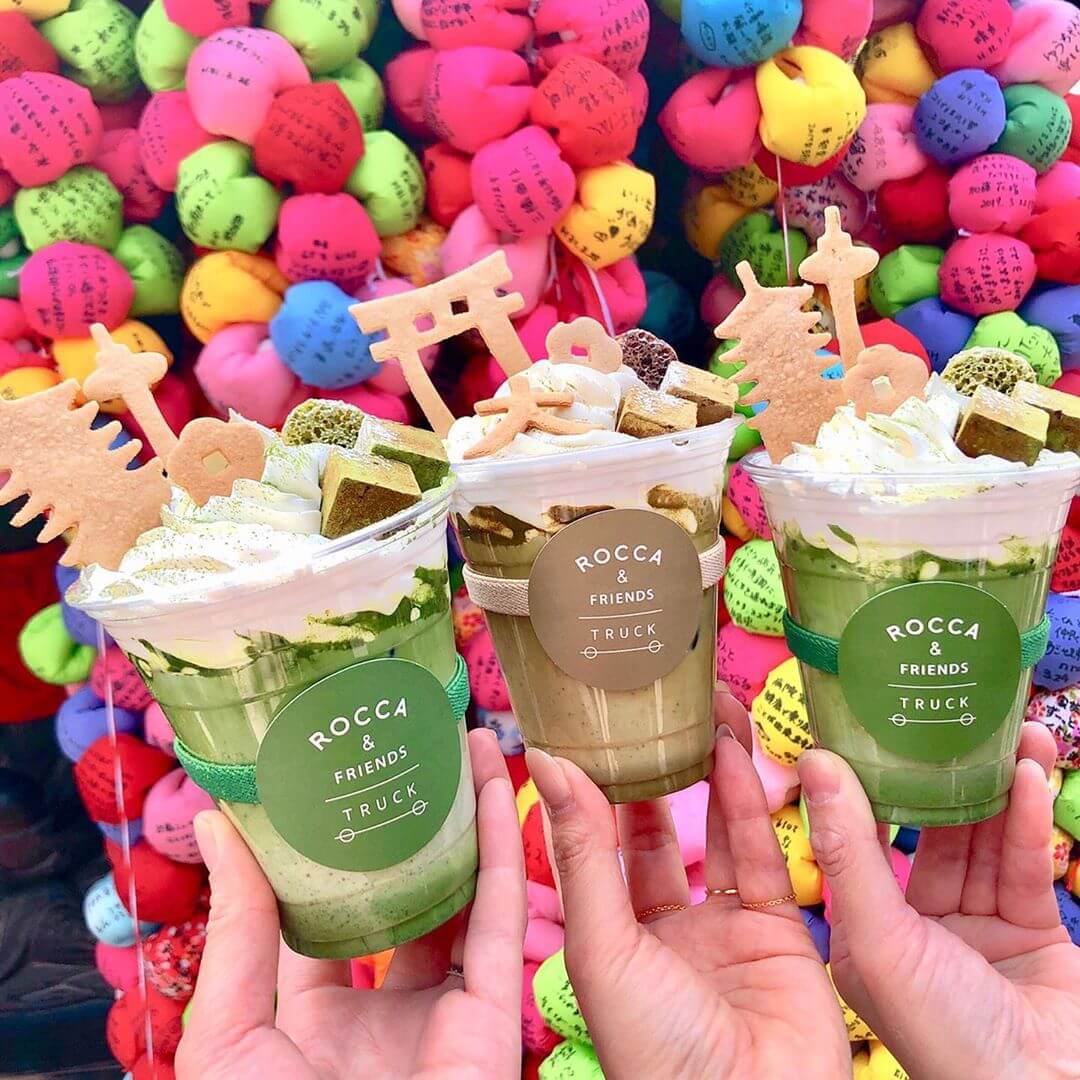 There are lots of great spots in the area such as the Hōkanji Temple pagoda and Yasaka Shrine so  you can snap some great sightseeing photos♡
▼ROCCA & FRIENDS TRUCK
Address: 370 Yasaka Kamimachi, Higashiyama Ward, Kyoto, Kyoto Prefecture
Opening Hours: 9:00-18:00
Official Instagram: https://www.instagram.com/rocca.truck/
Jumondo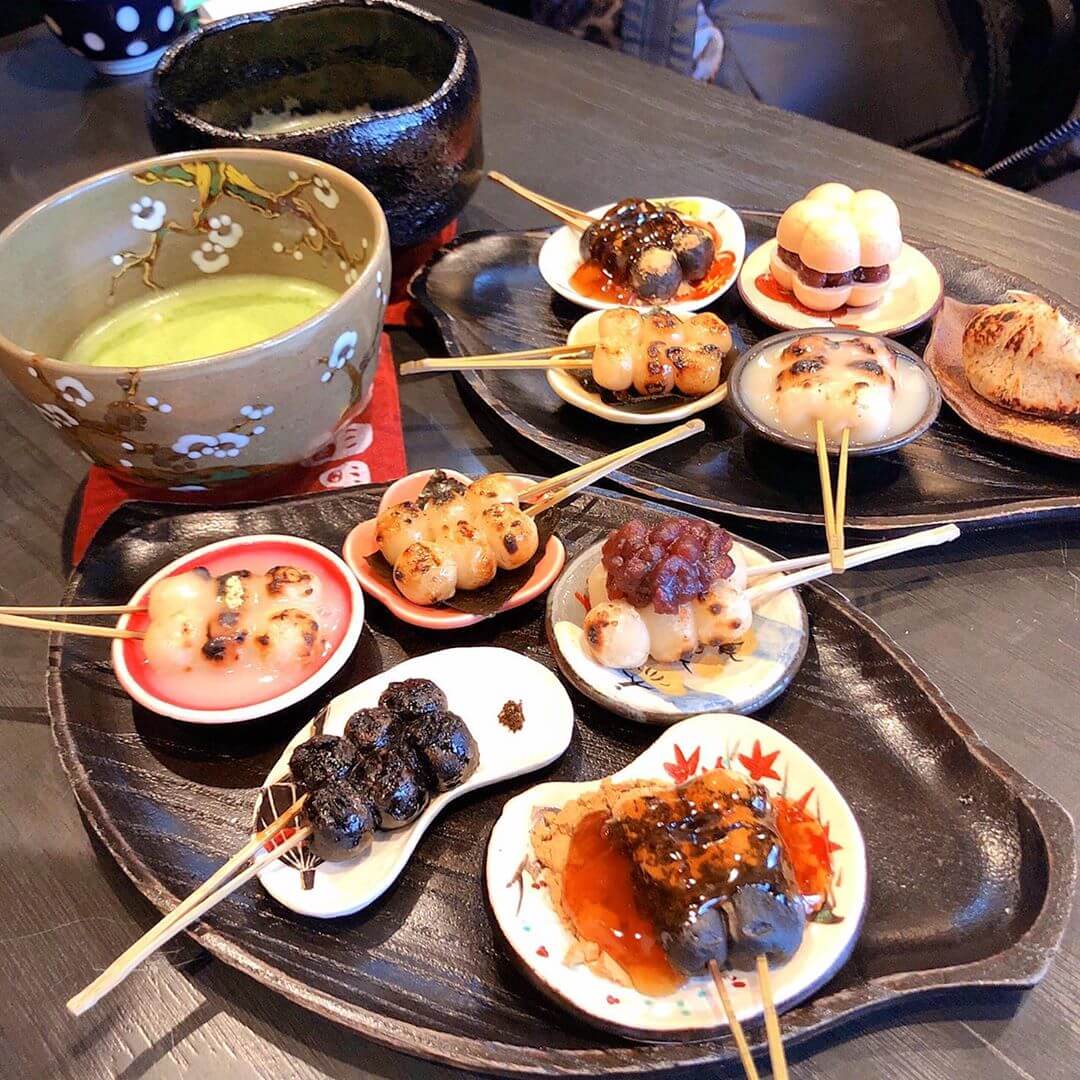 We also visited Jumondo which sells Kyoto-style dango, or "sweet dumplings." We shared three different orders amongst three people: Danraku (団楽) which comes as a set with a drink, Dandan (だんだん) which comes with matcha, and Zenzai to Aburi Kuri Kinton (ぜんざいと炙り栗きんとん).
Once you order, the dango are made fresh so are served hot and chewy. Each dumpling is on the small side so are nice and easy to eat.
The Danraku comes with five different dumplings including sweet soy glaze, mashed sweet bean paste, soy sauce and black sesame seed, fried, and white miso. The Dandan comes with three types of your choice and a wafer filled with mashed sweet bean paste. The Zenzai to Aburi Kuri Kinton with mashed sweet potatoes with sweetened chestnut dango. The final one comes with matcha which can be served hot or cold.
Everything was tasty but my personal favourite was the yuzu flavoured white miso dumpling.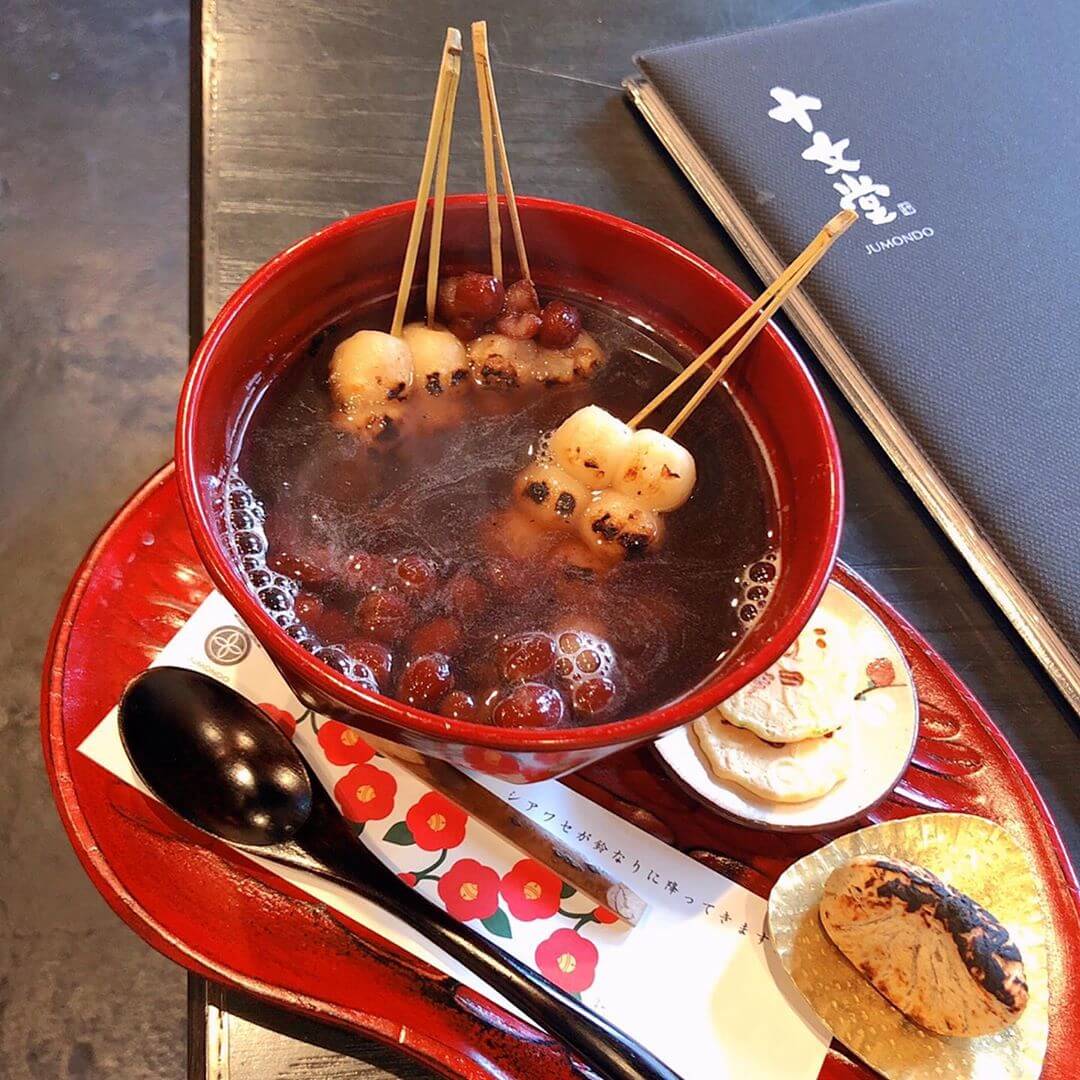 The one that everybody raved about was the Zenzai which is a thick soup that the dango are placed into. These dumplings are bigger, not too sweet and light. The soup went really well with the dango, it was super tasty.
▼Jumondo
Address: 76 Tamamizuchō, Higashiyama Ward, Kyoto
TEL: 075-525-3733
Official Website: http://jumondo.jp/index.html
Kyo Yasaka Pudding
Yasaka is a particularly popular tourist spot in Kyoto, and that's where the cute purin shop Kyo Yasaka Pudding is located.
Purin is a type of custard purring sold in Japan. The first pudding we picked up was the store's recommended option named after the store itself, the Kyo Yasaka Pudding. It contains a transparent lemon and honey flavoured jelly inside which there are small and colourful agar agar balls and mango jelly balls.
It has an enjoyable texture and a refreshing sweetness that I've never experienced before with other purin. It's very tasty!
There are five flavours to choose from, the others being hard, smooth, matcha and black soy bean, and houjicha black soy bean. All are served in tiny cute jars. Not only do they look great, they taste amazing too. Each is made with ingredients sourced in Kyoto including the milk, Uji matcha, houjicha, and black soy beans.
They also sell soft serve ice cream topped with candy balls, very Kyoto-like! You can choose from vanilla, matcha, or a mix of both. I think it'll be really fun if you can snap a photo of your ice cream with one of Yasaka's stylish locations in the background! Speaking of which, there was a cute illustration on the wall of the store so we took our photo there.
Be sure to pay a visit to Kyo Yasaka Pudding to pick up your own pudding whether as a souvenir or for yourself.
▼Kyo Yasaka Pudding
Address: 87-4 Hoshinochō, Higashiyama Ward, Kyoto, Kyoto Prefecture
TEL: 075-533-8338
Official Website: https://kyo-yasaka-pudding.co.jp/
Kyoto is full of shops selling desserts and sweets perfect to walk around and munch on while you walk its ancient streets, or to take home as a souvenir. Enjoy all the tasty things you can during your visit to this beautiful city♡
—
Photos/Text: meme
Translation: Joshua Kitosi-Isanga
RELATED ENTRIES
MINISTOP Ice Cream Specialty Store 'MINI SOF' to Launch My Melody Collaboration

MINI SOF, a shop specializing in soft-serve ice cream since 1980, is now offering products in collaboration with the popular Sanrio character My Melody! A limited number of sweets and goodies will be available until January 31, 2022, with New Year grab bags containing special coupons for sale until January 9, 2022.

W Rich Soft-Serve Ice Cream

My Melody Collaboration Campaign

2022 Lucky Bag

Blanket

Desktop Calendar

Tote Bag

Soft-Serve Vanilla Ice Cream (with Strawberries and Chocolate) with Original Glass

Pink

Purple

Double Rich Strawberry Waffle Cone Soft-Serve with My Melody Collaboration Sleeve

Sleeve Design 1

Sleeve Design 2

Sleeve Design 3

Double Rich Strawberry Shortcake

My Melody Original Pouch

Design 1

Design 2

My Melody Original Keychain

Acrylic Keychain Design 1

Acrylic Keychain Design 2

Participating Characters

My Melody

Kuromi

My Sweet Piano

Information

My Melody Collaboration Campaign

Running: December 30, 2021 – January 31, 2022
*MINI SOF limited-edition pouches and acrylic keychains will also be available.

2022 Lucky Bag

*Limited to two bags per person.

Available: December 30, 2021 – January 9, 2022

Coupon Expiration Date: January 31, 2022

Official Site: https://www.ministop.co.jp/minisof/

Bandai Candy Releases Second Round of Family-Sized Demon Slayer Tarts

Bandai Candy has begun selling the second round of Demon Slayer-themed tarts! This time, the family-sized treats will feature the taste of two varieties of cheesecake, and will be available at select AEON, AEON Style, MaxValu, and Daiei locations throughout Japan.

Each tart features characters from the popular Demon Slayer anime series with smiles on their faces. With a two-layered structure, customers can enjoy the flavor of baked cheesecake and gelatin cheesecake. Characters included are Tanjiro, Nezuko, Zenitsu, Giyu, Inosuke, Kyojuro, Shinobu, and Kanao.

(C)吾峠呼世晴/集英社・アニプレックス・ufotable

Information

Demon Slayer Big Tart Round Two ~Two Types of Cheesecake~

Price: ¥537 each (Tax Included)

Available Now

Where to Buy: 

AEON / AEON Style (Honshu, Shikoku, Kyushu)

MaxValu (Kanto, Hokuriku, West Japan)

Daiei's Chilled Dessert Corner

※Products only available in limited quantities. 

※Only available at participating stores.

Details: https://www.bandai.co.jp/candy/products/2021/4549660736721000.html 

Alice in Wonderland' Inspired Afternoon Tea Served at Aoyama St. Grace Cathedral for Seven Days Only

For seven days only from January to April 2022, the Aoyama St. Grace Cathedral wedding hall will open its doors to those wanting their fill of Alice in Wonderland-inspired sweets! 'Alice's Tea Party' will be an afternoon tea experience you'll never forget, and reservations are required.

The limited-time-only afternoon tea will feature a variety of adorable sweets that look like they popped out of a picture book, from Berry and Pistachio Bunny Ears Mousse to the Queen's Chandelier Butter Sandwich Cookies decorated like playing cards. Each sweet makes use of seasonal ingredients like strawberries, perfect with chocolate dips, petite tarts, and macaroons.

Information

Sweets Palette Afternoon Tea 'Alice's Tea Party' 

Running:

January 19, 2022
February 2, February 9
March 2, March 9, March 16
April 6 *Reservations Required
Times:

First Seating 12:15-13:45(Open at 12:00)

Second Seating 14:45-16:15(Open at 14:30)
Price: ¥4,500 per person (Tax and Service Charge Included)
Address: Aoyama St. Grace Cathedral Guest House (3-9-14 Kita-Aoyama, Minato-ku, Tokyo)

Access: 3-minute walk from Omotesando Station Exit A1 on Ginza Line / Chiyoda Line / Hanzomon Line
Reservations: https://www.bestbridal.co.jp/guestparty/tokyo/akasaka_aoyama_omotesando/stgrace_aoyama/2022event-10/ 

Weston Miyako Hotel Kyoto and Okuratouen Release Strawberry & Blue Rose Afternoon Tea

From February 1 until February 28, 2022, visitors to the Weston Miyako Hotel Kyoto can enjoy a leisurely Strawberry & Blue Rose Afternoon Tea courtesy of a new partnership with Okuratouen. 

Top Row

Middle Row

Bottom Row

Okura Pottery is known for its exquisite Blue Rose tableware which features heavily in this collaboration. 


The menu features the special Blue Rose Macaroon with its distinctive high-quality taste along with a variety of sweets and savory dishes surrounded by strawberries and roses. Guests can enjoy this three-tiered selection of goodies from 12:00-16:00 during the event period at the hotel's Mayfair Tea Lounge. 

Information

Strawberry & Blue Rose Afternoon Tea

Running: February 1 – February 28, 2022

Address: Weston Miyako Hotel Kyoto 2F, Mayfair Tea Lounge

Hours: 12:00-16:00 (2-hour block) *Reservations required by previous day at 17:00

Peter Pan and Wendy-Inspired Sweets Buffet Comes to Nagoya

The Strings Hotel Yagoto NAGOYA in Aichi Prefecture is holding the 'Strawberry Neverland – Tinkerbell in Love Sweets Buffet' at it's sweets restaurant SCALA Terrace from January 15 until March 31, 2022. These limited-time desserts will use seasonal strawberries and pistachios.

Inspired by Peter Pan, the space will feature cute and refreshing sweets that will make guests think of the adorable fairy Tinkerbell. The 'Tinkerbell in Love – Raspberry Lime Mousse' is covered in the character's fairy dust, and is highly recommended by the restaurants chef patissier. A total of 16 desserts will be available, with some featuring edible flowers and other fantasy-inspired decorations. Those wanting something a little heavier can enjoy slow-cooked Indian Curry and Farfalle Cream Pasta. The space will also feature plenty of photo spots, so be sure to take some pictures with the person you love!

Sheraton Miyako Hotel Osaka to Hold Little Red Riding Hood-Inspired Strawberry Fair

The Sheraton Miyako Hotel Osaka will hold a 'Strawberry Fair' at four of its restaurants starting on January 1, 2022!

Little Red Riding Hood (Mascarpone and Berry Mousse)

Forest Friend (Cream Puff), Friendly Bear Macaroons

Forest Tree Stump (Nuts & Pistachio Cake)

Menu featuring Strawberry Items

Cafe & Gourmet Shop 'Cafe Bell' 

Running: January 15 – February 28, 2022

Sweets

Strawberry Brioche Sandwich / Strawberry Pudding / Strawberry Pistachio / Strawberry Tart / Strawberry Shortcake

Bread

Strawberry Cannelé de Bordeaux / Strawberry & Almond Chocolate Danish / Strawberry and Cream Cheese Flute 

Chinese Restaurant 'Shisen' 

Running: January 6 – February 28, 2022

Strawberry Apricot Tofu / Strawberry Pudding

'Bar eu'

Running: January 1 – February 28, 2022

Strawberry Grasshopper / Strawberry Milk for Adults / Strawberry Mojito

※Menu items subject to change depending on availability.
※Please inform the staff of any food allergies in advance.

English Dessert Strawberry Eton Mess Available at koe lobby During the Holiday Season

The koe lobby on the first floor of hotel koe Tokyo is now selling the traditional English dessert Strawberry Eton Mess for a limited time. 

Eton Mess is made with a mixture of strawberries, meringue, and whipped cream, and is popular during the holiday season!

koe lobby's Eton Mess features a baked meringue with a crispy texture, homemade sweet and sour strawberry sauce, and fluffy cream and fresh strawberries. If you're in the area, be sure to order one before they're gone!

Information

Available: Starting December 21, 2021 

Available Hours: 12:00-18:00 (Last Order at 17:30)

*While supplies last. 

Price: ¥850 (Tax Included) 

*Drink Set: ¥1,290 (Tax Included)

Address: koe lobby (3-7 Udagawacho, Shibuya, Tokyo)

Hours: 7:30-12:00 (Breakfast, Last Order at 11:30) / 12:00-15:00 (Lunch, Last Order at 14:30) / 15:00-20:00 (Tea Time, Last Order at 19:30)

*After 18:00 only drinks and bread are served. 

Official Site: https://hotelkoe.com/food/ 


Tokyo Gift Palette at Tokyo Station Selling Seasonal Strawberry Sweets

Tokyo Gift Palette, located near the Yaesu North Gate at Tokyo Station, offers a wide selection of unique souvenirs. From December 26, 2021 until January 11, 2022, the location will be holding the Exciting New Year's Fair, with the Strawberry Sweets Fair coming soon after from January 5 until January 25, 2022. 

Konigs-Krone Luxury 'Strawberry Parfait'


Patisserie Ginza Sembikiya 'Strawberry Omelet'


Strawberry Shop by FRANCAIS 'Strawberry Parfait'


*Only available at Tokyo Gift Palette
Tokyo Kaikan 'Reward Parfait ~Strawberry & Chestnut~

Strawberry Shop by FRANCAIS 'Fresh Strawberry Milk Cake'

Oosumi Tamaya 'Strawberry Daifuku'

Oosumi Tamaya 'Chinese New Year Daifuku'

Tokyo Kaikan 'Chocolate & Orange Tart' 

Paq & Mog Terrace 'Calbee and Tokyo Banana Bonito & Kelp Umami Dashi Potato Chips

The New Year's Fair will feature cute cakes and sweets inspired by the Chinese Zodiac, along with traditional Japanese goods. The Strawberry Sweets Fair will see a number of popular goodies on sale, including desserts that won top prizes in the 'Favorite Fruit Survey' conducted by Tokyo Gift Palette on Instagram in June 2021.

Ginza Cozy Corner Launches Limited Edition New Year's Chinese Zodiac Tiger Cake

From December 31, 2021, until January 3, 2022, Ginza Cozy Corner locations nationwide will be selling a limited edition New Year's cake featuring the Tiger from the Chinese Zodiac! 

Chinese Zodiac Tiger Cake

Fortune Cookies (10 pieces)

New Year Madeleines (6 pieces)

New Year's Grab Bag (24 pieces / 40 pieces)

Ginza Cozy Corner began selling a variety of New Year's-themed sweets starting in 2011. Traditionally, families in Japan enjoy a luxurious boxed meal called osechi on New Year's Day, and the company wanted to provide something to satisfy people's sweet tooth afterward! This year is the Year of the Tiger, making this chocolate and banana cake the perfect way to welcome 2022. Shops will also be selling other sweets like fortune cookies and mini Madeleine cakes, so there's something to bring a smile to everyone's face.

Information

Chinese Zodiac Tiger Cake

Available: December 31, 2021 – January 3, 2022

Where to Buy: Cozy Corner Locations Nationwide

Official Site: https://www.cozycorner.co.jp/

Tokyo Revengers Collaboration Event to be Held at Toei Kyoto Studio Park

Toei Kyoto Studio Park will hold a special collaboration event with Tokyo Revengers from December 25, 2021 until February 13, 2022. Exclusive illustrations of the main cast will appear around the park, and a stamp rally will be set up around the entire city of Kyoto. Collaborative merchandise and food will also be available during the event period. 

Walking Rally

Photo Spot #1

Photo Spot #2

Target Shooting Game Prizes


First Prize: Background Panel (6 varieties)
Second Prize: Acrylic Coaster (6 varieties)
Third Prize: Sticker (12 varieties, random)

Collaboration Menu


Coaster (Random)

Baji and Chifuyu's' Yakisoba (Includes a Baji or Chifuku Card): ¥800 (Tax Included)


Takemichi and HIna's Parfait: ¥950 (Tax Included) 

Tokyo Revengers Meetup Drink (Coffee Float): ¥700 (Tax Included)

Collaboration Merchandise

Business Card Style Cards (Featuring Original Illustrations, Life-size)

Business Card Style Cards (Featuring Original Illustrations, Mini)

Stamp Rally Special Postcard

Special Gift: Towel with Purchase of Ticket to Toei Kyoto Studio Park

STORY


Manjiro Sano announces a meetup in Kyoto, but Mikey and  takemichi have their own agenda. After a number of hijinks, can visitors solve the slapstick happenings going on around Kyoto?

Ⓒ和久井健・講談社/アニメ「東京リベンジャーズ」製作委員会

Information

Tokyo Revengers Tokyo Meetup ~I Wanna Eat Dorayaki~

Running: December 25, 2021 – February 13, 2022

Location: Toei Kyoto Studio Park

Stamp Locations: 

Movie Village Padios 2F Event Exhibition Hall / Animate Kyoto / Kyoto Tower Observatory (Free area on 11F) / Sanjo Station on Keihan Electric Railway / Shugakuin Station on Eizan Electric Railway / Arashiyama Station on Randen Railway

Event Details: https://www.toei-eigamura.com/tokyo-revengers/

Official Site: https://www.toei-eigamura.com/

Rihga Royal Hotel Kyoto to Hold Strawberry Fair in 2022

From January 4 until April 30, 2022, Rihga Royal Hotel Kyoto will hold a special Strawberry Fair at its cozy lounge.

Those who love strawberries enough to want to drown in them won't want to miss this limited-time event featuring four unique desserts and an afternoon tea set.

Strawberry Parfait 'Drowning Strawberries' 

 

Guests can enjoy pouring warm homemade confiture made from Kyoto strawberries from Uesugi Farm in Yawata City over thin chocolate hidden beneath strawberry ice cream. This is recommended by the patisserie.

'Strawberry Shortcake ~Buried in the Glass~'

 

This limited-edition version of the hotel's strawberry shortcake is filled with white meringue and soft sponge, with cherry brandy flavoring making it light and easy to eat.

'Strawberry Afternoon Tea Set' 

Strawberry Stack Option

The popular 'Afternoon Tea Set' is served in a bamboo box made by Kochousai Kosuga, a bamboo craft manufacturer in Kyoto. This special strawberry version features nine sweet and nine savory items, including strawberry shortcakes and cream puffs. For a limited time until March, guests can add a pile of strawberries to the third tier. Using the special scoop spoon, you'll feel as though you're harvesting strawberries of your own! Be sure to take pictures.

Overflowing Strawberry Gift Box

Although it looks like a present, this dessert is meant to be enjoyed on-site! Overflowing with strawberry mousse, strawberry jelly, and pistachio brulee, raspberry sorbet, and streusel are hidden beneath the white chocolate box. Now that's luxury!

Adorable Hamster-shaped Cakes from Kyoto Now on Sale

Aoki Koetsudo, a 129-year-old confectionery shop in Kyoto, and 2:00, a Kyoto-based company specializing in unique products, have come together to create some incredibly cute hamster-shaped cakes. These pastries are called monaka, and feature azuki bean jam filling sandwiched between two crisp wafers made from mochi. Each set includes 6 wafers, six helpings of bean jam, and a bag of nuts, so customers can enjoy creating the pastries themselves! 

How to Enjoy Hamster Monaka

Fill the Hamster-shaped monaka with as much azuki jam as you like. 

Cover the monaka with the wafer and add one of the nuts provided. 

Paint the eyes and ears with chocolate to give each pastry some personality!