Japan's hydrangea bloom every year during the country's rainy season. Their gorgeous hues add colour to the dim melancholy of the downpours. Today, we will showcase four must-visit locations to witness the hydrangeas blossom in Kyoto, an ancient city flourishing with a myriad of tourist spots.
Hydrangea have a relatively short bloom period, so if you're in Kyoto for the rainy downfall, why not visit some of these places during your sightseeing?
Today, we are joined by Instagrammer Macchan who will provide her picturesque photos from her Instagram page of the sites we are looking at.
Shorinji Temple
At Shorinji Temple in Higashiyama ward, visitors are able to participate in experiencing a variety of ancient customs from zazen meditation to eating traditional rice porridge known as asagayu. Right now the temple is carrying out a special type of flower watering (hanachōzu) on weekends. It sees the water at the chōzuya or temizuya―which are seen at temples and shrines in Japan and are used to cleanse your hands and mouth before entering―positioned so it trickles onto the flowers.This flower watering is also carried out at Shorinji Temple in spring to celebrate the birth of Buddha, something else the temple is famous for. And right now is the season for hydrangea.
It's fun looking forward to seeing what flowers they have there every week. Keep in mind however that there are periods when the watering isn't held, so be sure to check the official website to see when it's on.
▼Shorinji Temple
Address: 15-795 Honmachi, Higashiyama Ward, Kyoto
TEL: 075-561-4311
Official Website: http://shourin-ji.org/
Yanagidani Kannon (Yokokuji Temple)
Yanagidani Kannon, also known as Yokokuji Temple, has been used as a place of prayer for many people since the Heian Period (794-1185) as it is believed that doing so will cure eye disease. It is also called Nishi no Shimizu ("Spring Water in the West") and has been loved by the people of Kyoto since ancient times.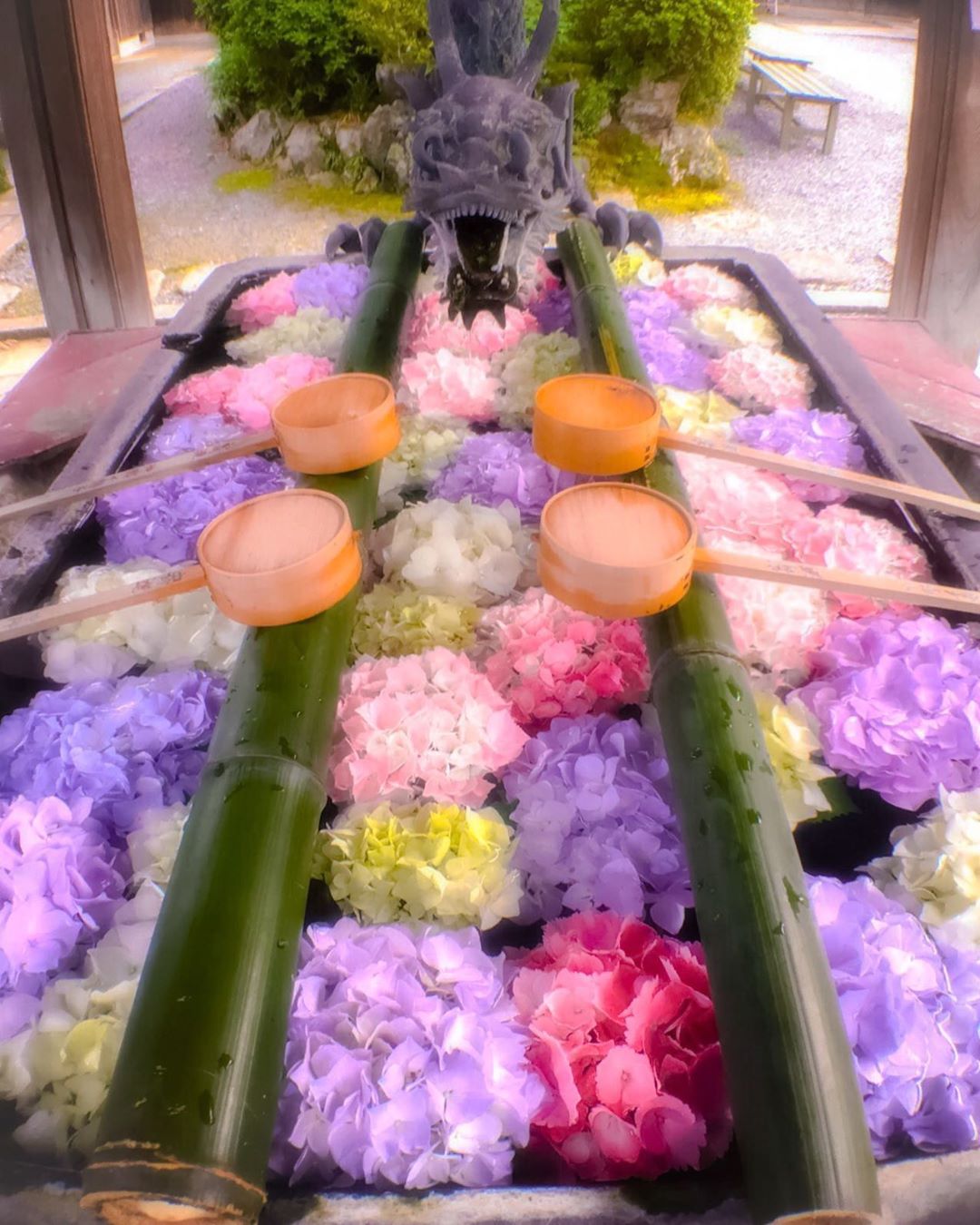 This temple too is is carrying out hanachōzu with a pastel coloured hydrangea bed. The flower collection is extremely cute and a spectacular sight to behold.
This photo was taken in the temple gardens with another hanachōzu. It uses much bigger hydrangea; they really stand out from the rest of the environment. This garden has been kept beautiful since the Heian period and it is famous for its collection of hydrangea. The temple is currently holding its annual Hydrangea Week event until July 7 where lots of people visit to catch a glimpse of these transient beauties.
Also, on the 17th of every month, an event is carried out where visitors can decorate their goshuincho―books used to collect stamps and seals known as goshuin at shrines and temples across Japan―with pressed flowers. If you're a flower fanatic then we highly recommend you visit Yanagidani Kannon.
▼Yanagidani Kannon
Address: Yanagidani Kannon, Yokokuji Temple (Dōnotani-2 Jōdodani, Nagaokakyo, Kyoto)
TEL: 075-956-0017 (Reception: 9:00-17:00)
Official Website: https://yanagidani.jp/
Yoshimine-dera Temple
Yoshimine-dera Temple is famous for its weeping cherry trees. Around 8,000 trees line the temple's sudden slope. In the photo, Macchan took her photo look up at the hydrangea, but from the top of the hill you can witness a scenic, unbroken view of Kyoto with the hydrangea in the foreground.
It's not just hydrangea that bloom at Yoshimine-dera Temple however. Many other types of flowers sprout their way up from the soil too such as rhododendrons and crepe myrtles, so you can enjoy the colours of nature even outside the hydrangea season.
▼Yoshimine-dera Temple
Address: 1372 Ōharano Oshiochō, Nishikyō, Kyoto
TEL: 075-331-0020
Official Website: http://www.yoshiminedera.com/index.html
Kanon-ji Temple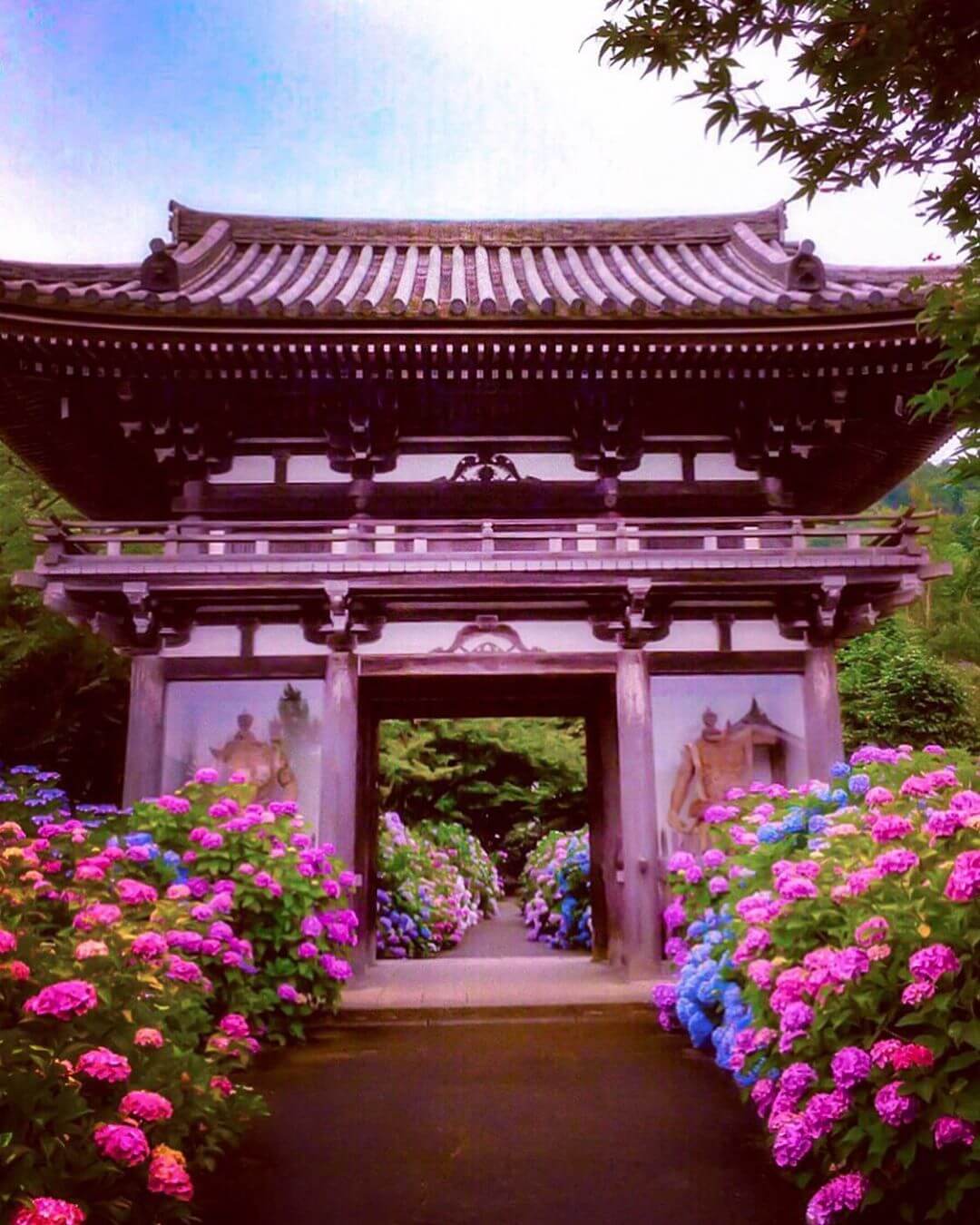 Kanon-ji Temple in Tanba is famous as being the temple home to the oldest hydrangea in the entire Kansai region of Japan. The spiritual power of Kannon, the Goddess of Mercy, is said to cure eye disease here just like at Yokokuji Temple. 10,000 plants of 100 species of hydrangea bloom at Kanon-ji Temple.
The Terachaya Cafe is open during the hydrangea period, so you can enjoy a relaxing cup of tea or coffee while gazing at the flowers.
▼Kanon-ji Temple
Address: 1067 Kannonji, Fukuchiyama, Kyoto
TEL: 0773-27-1618
Official Website: http://www.tanba-ajisaidera.com/keidai/index.html
Macchan has countless photos taken at many other spots in Kyoto. Be sure to check out her page and enjoy your sightseeing in Kyoto.
Photos: @macchan358