Kyoto Sightseeing | 4 Must-Visit Hydrangea Spots For Your Kyoto Sightseeing
Japan's hydrangea bloom every year during the country's rainy season. Their gorgeous hues add colour to the dim melancholy of the downpours. Today, we will showcase four must-visit locations to witness the hydrangeas blossom in Kyoto, an ancient city flourishing with a myriad of tourist spots.
Hydrangea have a relatively short bloom period, so if you're in Kyoto for the rainy downfall, why not visit some of these places during your sightseeing?
Today, we are joined by Instagrammer Macchan who will provide her picturesque photos from her Instagram page of the sites we are looking at.
Shorinji Temple
At Shorinji Temple in Higashiyama ward, visitors are able to participate in experiencing a variety of ancient customs from zazen meditation to eating traditional rice porridge known as asagayu. Right now the temple is carrying out a special type of flower watering (hanachōzu) on weekends. It sees the water at the chōzuya or temizuya―which are seen at temples and shrines in Japan and are used to cleanse your hands and mouth before entering―positioned so it trickles onto the flowers.This flower watering is also carried out at Shorinji Temple in spring to celebrate the birth of Buddha, something else the temple is famous for. And right now is the season for hydrangea.
It's fun looking forward to seeing what flowers they have there every week. Keep in mind however that there are periods when the watering isn't held, so be sure to check the official website to see when it's on.
▼Shorinji Temple
Address: 15-795 Honmachi, Higashiyama Ward, Kyoto
TEL: 075-561-4311
Official Website: http://shourin-ji.org/
Yanagidani Kannon (Yokokuji Temple)
Yanagidani Kannon, also known as Yokokuji Temple, has been used as a place of prayer for many people since the Heian Period (794-1185) as it is believed that doing so will cure eye disease. It is also called Nishi no Shimizu ("Spring Water in the West") and has been loved by the people of Kyoto since ancient times.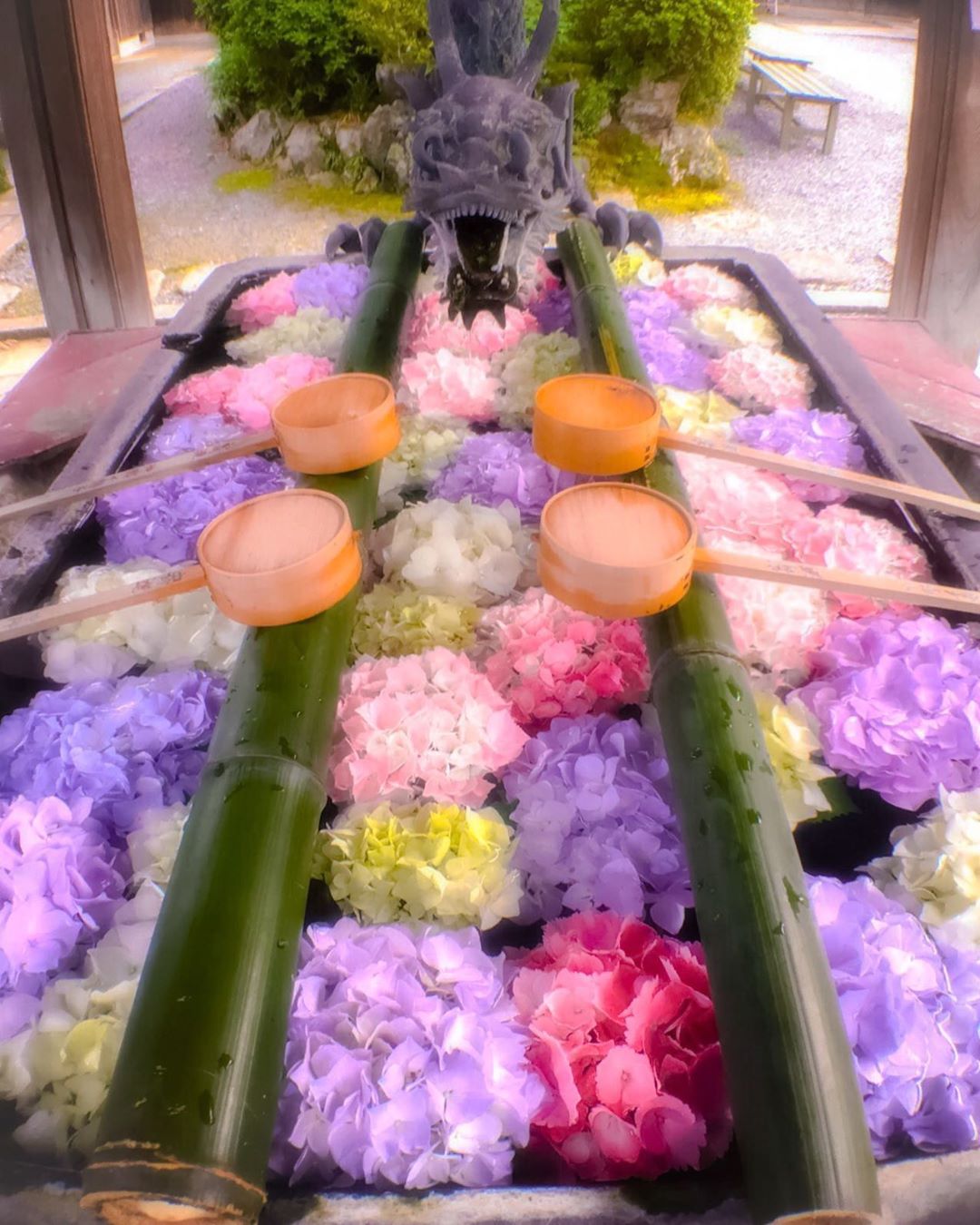 This temple too is is carrying out hanachōzu with a pastel coloured hydrangea bed. The flower collection is extremely cute and a spectacular sight to behold.
This photo was taken in the temple gardens with another hanachōzu. It uses much bigger hydrangea; they really stand out from the rest of the environment. This garden has been kept beautiful since the Heian period and it is famous for its collection of hydrangea. The temple is currently holding its annual Hydrangea Week event until July 7 where lots of people visit to catch a glimpse of these transient beauties.
Also, on the 17th of every month, an event is carried out where visitors can decorate their goshuincho―books used to collect stamps and seals known as goshuin at shrines and temples across Japan―with pressed flowers. If you're a flower fanatic then we highly recommend you visit Yanagidani Kannon.
▼Yanagidani Kannon
Address: Yanagidani Kannon, Yokokuji Temple (Dōnotani-2 Jōdodani, Nagaokakyo, Kyoto)
TEL: 075-956-0017 (Reception: 9:00-17:00)
Official Website: https://yanagidani.jp/
Yoshimine-dera Temple
Yoshimine-dera Temple is famous for its weeping cherry trees. Around 8,000 trees line the temple's sudden slope. In the photo, Macchan took her photo look up at the hydrangea, but from the top of the hill you can witness a scenic, unbroken view of Kyoto with the hydrangea in the foreground.
It's not just hydrangea that bloom at Yoshimine-dera Temple however. Many other types of flowers sprout their way up from the soil too such as rhododendrons and crepe myrtles, so you can enjoy the colours of nature even outside the hydrangea season.
▼Yoshimine-dera Temple
Address: 1372 Ōharano Oshiochō, Nishikyō, Kyoto
TEL: 075-331-0020
Official Website: http://www.yoshiminedera.com/index.html
Kanon-ji Temple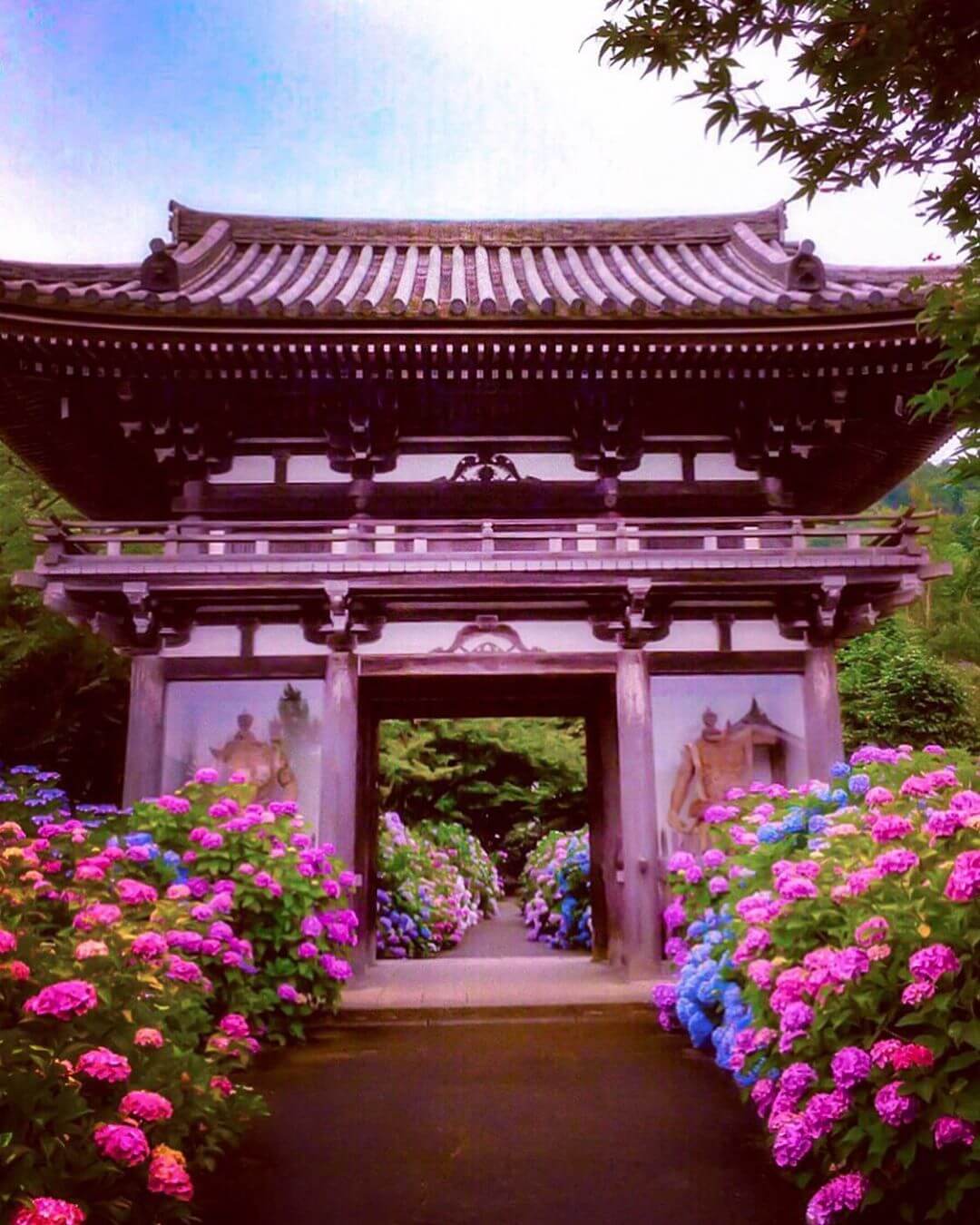 Kanon-ji Temple in Tanba is famous as being the temple home to the oldest hydrangea in the entire Kansai region of Japan. The spiritual power of Kannon, the Goddess of Mercy, is said to cure eye disease here just like at Yokokuji Temple. 10,000 plants of 100 species of hydrangea bloom at Kanon-ji Temple.
The Terachaya Cafe is open during the hydrangea period, so you can enjoy a relaxing cup of tea or coffee while gazing at the flowers.
▼Kanon-ji Temple
Address: 1067 Kannonji, Fukuchiyama, Kyoto
TEL: 0773-27-1618
Official Website: http://www.tanba-ajisaidera.com/keidai/index.html
Macchan has countless photos taken at many other spots in Kyoto. Be sure to check out her page and enjoy your sightseeing in Kyoto.
Photos: @macchan358
RECOMMENDED ENTRIES
Must-Visit Sightseeing Spots in Kyoto―From Power Spots to Maple Trees

Kyoto, also called the "old capital," is known as a cultivator of Japanese culture which it has developed over the past 1,200 years. Today we take a look at some must-visit places when travelling to Kyoto along with some useful sightseeing information.

Motoise, Japan's oldest power spot

Ise Grand Shrine is located in Mie Prefecture and is home to the inner shrine which is dedicated to Amaterasu, the Japanese goddess of the sun and the universe. Kono Shrine in Miyazu, Kyoto is known as Motoise, or "former Ise," as it was here that Amaterasu was originally enshrined before being moved to Ise grand Shrine. Motoise celebrates 1,300 years since being erected this year. The shrine houses Amanohonoakari no Mikoto, the sun goddess's grandchild. Deeper in the vicinity is Manai Shrine which has been a 'power spot' for over 3,000 years. The term power spot is Japanese for a spiritual spot where one can feel in-tune with nature and the surrounding elements.

Manai Shrine doesn't have the usual Komainu guardian lion-dogs at its entrance but Komaryuu, guardian dragon-dogs. As you head deeper in you will come to a well of holy water known as "Amenomanai's Water" which is visited by many people to receive happiness and blessedness. "Manai" is the highest honorific possible given to water in Japan as it is said to be water from the world of the gods. The water is also known for granting strong marriage ties.

Here there is also the Iwakura, a large rock where Izanagi and Izanami―from Japan's creation myth―dwell. It is known as the oldest power spot in Japan so is perfect for those wanting to calm down or rediscover themselves.

Aomomiji Tunnel wrapped in fresh verdure

Shuuonan in the city of Kyotanabe gets the name "Ikkyu-ji" as it is the place where Japanese Zen Buddhist monk Ikkyū spent his final years. The location is known by everyone for the autumnal colours in fall, but it is also a sight to behold in spring too when fresh verdure sprouts. A long tunnel of beautiful maple trees whose leaves have not yet turned red rolls out from the main gate. Moss too blooms fresh and lush, wrapping the entire area in bright green hues.

Green arches welcome walkers along the maple shrine road

Also easily accessible from the city is Komyo-ji temple, known locally as "Momiji Temple" for its maple trees. In Autumn, the stone pavement leading up to the shrine is called "Momiji Shrine Road" for the red leaves that adorn the trees. In the spring season however they call it "Aomomiji Shrine Road" as the trees on both sides stretch and form leaf green arches.

A world of green aboard the "Aomomiji Train"

Board the Eizan Electric Railway to experience a slow ride between the "Momiji Tunnel." Passengers can gaze outside the windows from their seats to admire the green maple trees. For a limited-time this year, the trains will be painted maple green to fit the theme and season.

Fireflies light up the magical summer evenings

Located in the northern part of Miyazu is Tahara which is home to just 20 country fields. In early summer, genji-botaru and heike-botaru fireflies appear from early to late June. Every year the village locals hold a festivals to celebrate them where people can stroll along the fields to see them. Surrounding restaurants also participate in the festival and serve up delicious food made using local ingredients.

Kyoto is home to countless wonderful experiences. Make sure visiting it is on your bucket list.

Information

Kono Shrine

Address: 430 Ōgaki, Miyazu, Kyoto Prefecture

Opening Hours: 7:00-15:00

TEL:0772-27-0006

Shuuonan Ikkyu-ji

Address: 102 Takigisatonouchi, Kyotanabe, Kyoto Prefecture

Opening Hours: 9:00-17:00

Admission Fee: ¥500
TEL: 0774-62-0193

Website: http://www.ikkyuji.org/access/

Komyo-ji Temple

Address: 26-1 Saijo Ao, Nagaokakyo, Kyoto Prefecture

Opening Hours: 9:00-16:00
Entry: Free
TEL: 075-955-0002

Website: http://www.komyo-ji.or.jp/

*There are no car parks at Komyo-ji Temple or in the nearby area so please arrive using public transport.

Aomomiji Train Ride

Running: April 27, 2019 – May 31, 2019

Route: Ichihara Station to Ninose Station via Eizan Electric Railway

Time:

[Weekdays] 9:02-16:20 (On trains bound for Demachiyanagi Station) / 9:41-16:59 (On trains bound for Kurama Station)

[Saturdays & Holidays] 9:00-16:30 (On trains bound for Demachiyanagi Station) / 9:34-17:04 (On trains bound for Kurama Station)

Information: https://eizandensha.co.jp/event/detail893/

Tahara Firefly Festival

Date: June 8, 2019

Time: 17:00-21:00

Location: Tahara Nousan Kakou Center, 81 Tahara, Miyazu, Kyoto Prefecture

Entry: Free

TEL: 0772-45-1609

A new gift shop called Ginkakudou has opened after undergoing renovations in the area around Ginkaku-ji Temple in Sakyō, Kyoto.

"The Changing Seasons" is the concept of the newly-opened store which will offer lifestyle items to decorate visiting guests' lives. The shop's interior decor takes on a Japanese-modern aesthetic with carefully selected high-quality handmade products from all across Japan chosen to line the shelves.

The store also has its own eating space called Ginkakudou Eatery where they will serve coffee, pastries and fried snacks catered to the current season.

Ginkakudou's interior design was conceived by Takuma Inoue, the creative director and an interior designer at y gion. It features grey as its base colour which is plastered with tiles, black mortar, tatami, sheet copper counter tops, oak wood, and various other materials to create a neutral, chic appearance. Its simple design serves to highlight the shop's products, food and drinks.

Be sure to stop by the new Ginkakudou if you're paying a visit to Ginkaku-ji Temple.
RELATED ENTRIES
The National Museum of Modern Art in Kyoto Opens Meiji Era Exhibition

A special exhibition titled 'Japanese Landscapes Discovered: Views from and for the Outside World,' showcasing a private collection of Meiji era paintings, is now on display at the National Museum of Modern Art in Kyoto until October 31, 2021.

Inside the Exhibit

Inside the Exhibit

 

This exhibition is designed to take visitors on a journey through the Meiji period (1868-1912), the beginning of Japan's modern era, through oil and watercolor paintings of the time, and through the landscapes and customs depicted in these pieces of art. During this time, many foreign painters visited Japan, and were inspired to paint the country's beautiful landscapes and unfamiliar customs, bringing these creations back to their countries of origin. Japanese artists studied these unfamiliar painting techniques, and made their own culturally-inspired paintings, often selling them to foreign visitors as souvenirs.

Many works on display in this exhibition have never been shown publicly, with many being brought back to Japan from locations abroad. These include long-lost oil paintings by Kuroda Seiki and a massive newly-discovered work by Tamura Soryu. Other Japanese artists inspired by Western-style on display include Hiroshi Yoshida, Jirokichi Kasagi, Shotaro Koyama, and Ioki Bunsai.

Also on display are works by foreign artists who visited Japan during this period, including British news painter Charles Wirgman, French news painter Georges Bigot, and British landscape painters Alfred Parsons, Alfred East, and John Varley Jr. These three men in particular triggered a watercolor boom in Japan during the late Meiji period. Vibrant female painters such as British watercolorist Ella du Cane, a lover of Japanese gardens, also make an appearance.

Be sure to see these incredible depictions of Japan before they're gone.

Information

Japanese Landscapes Discovered: Views from and for the Outside World

Running: September 7 – October 31, 2021

Hours: 9:30-19:00 (Until 20:00 on Friday and Saturday)

Closed: Mondays, and on September 21. *The museum will be open September 20.

Tickets/Official Site: https://www.momak.go.jp/

*Admission is open until 30 minutes before closing.

*To prevent the spread of COVID-19, hours are subject to change. Please check hours before visiting.

Famous Oil Blotting Paper Brand's Yojiya Café Reforms Three Popular Parfait Flavors

The Yojiya Café, opened by the Yojiya brand famous for its Aburatorigami, or facial oil blotting paper, will be renewing its menu from September 13. The popular face parfait, which features the logo alongside a Kyoto woman with a mole, comes in three flavors available – Kinako, Matcha, and Milk Tea. Each parfait comes with a sauce, so you can adjust the taste as you eat.

 

Kinako Parfait: ¥1,200 (Tax Incl.)

Matcha Parfait: ¥1,200 (Tax Incl.)

Milk Tea Parfait: ¥1,200 (Tax Incl.)

The Yojiya Café is currently open in two locations, Gion and Sagano Arashiyama, offering a relaxing space to rest between shopping and sightseeing.

The café has renewed their iconic Kinako Parfait, which combines Japanese Kinako and Western Maple Syrup, along with the Matcha Parfait, which is packed full of matcha ice cream, jelly, and cookies. The Milk Tea Parfait is made with a rich Japanese Tea and Earl Gray ice cream.

Take a trip to Yojiya and find out which parfait is your favorite!

Information

Yojiya Café – Parfait Renewal

Release Date: 14 September 2021

Availability:

Yojiya Café Gion

Address: Izawa Building 2F, 266 Gionmachi Kitagawa, Higashiyama-ku, Kyoto

Opening Hours:

Weekdays 11:00 ~ 17:00 (LO16:30)

Weekends/Holidays: 10:00 ~ 18:00 (LO17:30)

YOJIYA CAFE Sagano Arashiyama

Opening Hours:

Weekdays 11:00 ~ 17:00 (LO16:30)

Weekends/Holidays: 10:00 ~ 18:00 (LO17:30)

Address: 2 Tateishicho, Sagatenryuji, Ukyo-Ku, Kyoto

Official Site: https://www.yojiya.co.jp/

Kyoto Sweets Cafe eXcafe Gion-Shinbashi Restarts Popular Breakfast Menu for Weekends

The calm Machiya sweet shop eXcafe Gion-Shinbashi will be restarting the popular eXcafe Breakfast (Calico) menu on weekends from September 4 2021. This is the perfect spot to start your Gion adventure, packed full of ancient city charm and history. 

 

eXcafe currently has three store locations in Kyoto: Kyoto-Arashiyama, Gion-Shinbashi, and the newly opened Gion Yasaka.

eXcafe Gion Shinbashi is located in an area where you can appreciate the beauty of Gion, with the ever changing scenery fully reflecting the four seasons. Even on sunny weekends, the area isn't overly busy and the sky is beautifully clear, making it the perfect spot for commemorative photos.

 

The returning breakfast menu is the eXcafe Breakfast (Calico), made up of charcoal-grilled toast with a calico cat motif. The fluffy bread is thickly cut and can be completed with your favorite topping: Bean paste, butter, whipped cream, or fruits. The breakfast set also includes a drink and Mitarashi dango dessert, making it the perfect way to spend a relaxing moment at the beginning of your trip, or as a break from your early-morning sightseeing.

Morning walks in Gion are particularly refreshing at this time of year, making a perfect break from the intense Summer heat. It is also ideal for visiting the Yasaka Shrine.

You'll feel even cooler as you listen to the flowing Shira River, the water gently bubbling under the cobblestones of the famous Tatsumi Bridge. Although it is located in a trendy area, the eXcafe Gion-Shinbashi is a welcome break from the bustle of the city, surrounded by cobblestone alleys and wooden townhouses.

 

Volleyball Series Haikyu!! Gets Collaboration with Toei Kyoto Studio Park

Toei Kyoto Studio Park will hold a limited-time collaboration with popular volleyball anime series Haikyu!! starting September 11.

Haikyu!! x Randen Retro Train

Original Towel

Stage Set

Original Fairground Game Merchandise 

Randen Collaboration

Limited-edition Collaboration Merchandise

Purchase bonus bookmark (1 of 8 designs: 4 designs from Karasuno High School, 4 designs from Inarizaki High School)

Selected Merchandise

For each menu order, a random coaster will be presented as a gift. *8 original designs available.

In the newly drawn concept image for the event, the members of the Karasuno High and Inarizaki High volleyball teams are seen during a trip to Kyoto, where they meet at the Toei Kyoto Studio Park. Fans can see their favorite characters dressed in Shinsengumi happi coats, buying souvenirs, eating, drinking, and enjoying their hard-earned day off. There will be a Haikyu!! exhibition at the park, a footbath, special goods and food items, as well as a running collaboration train.

Look forward to this very unique event in Kyoto, coming soon!

©古舘春一/集英社・「ハイキュー!!」製作委員会・MBS

短縮形 ©HF/S,HP,M

Four Seasons Hotel Kyoto to Begin Autumn Harvest Festival-themed Afternoon Tea Service

The Four Seasons Hotel Kyoto will begin offering Autumn Harvest Afternoon Tea for a limited time starting on September 13. This seasonal menu was designed by pastry chef Reiko Yokota, who has experience at Michelin Star restaurants and Four Seasons Hotels around the world. The menu is filled with healthy treats for both mind and body, utilizing fall ingredients like sweet potato, pumpkin, persimmon, and apple. 

Autumn Harvest Afternoon Tea

Five-sweets collection using fresh autumn ingredients to present the true flavor of local fruits and vegetables

Four savory treats presented in a bowl made to look like an autumn field, inviting guests to dig up autumn's bounty

Luxurious western and Japanese chestnuts compliment these premium autumn parfaits

A collection of take-home sweets featuring warm colors and autumn ingredients such as pumpkin and chestnut are perfect for decorating your home table

Halloween cupcakes, available for a limited-time, are the perfect souvenir

Guests can overlook the Sekisuien Gardens while dining from the terrace, a unique experience at the Four Seasons Hotel Kyoto


 

Afternoon tea begins with a collection of sweets, including jellies, tarte tatin, and crème brûlée, each bringing out the complex flavor of local Japanese fruits and vegetables. The featured jalapeno cornbread, inspired by Chef Yokota's childhood in Texas, is one of the more unique dishes. 

 

The savory dish, prepared by Brasserie restaurant head chef Ryuji Koga, presents each morsel in a bowl reminiscent of an autumn field, giving guests the chance to experience a bountiful harvest themselves by using a spoon as a makeshift shovel. 

 

For drinks, patrons can enjoy a selection of premium teas from Ronnefeldt in Germany, including the Four Seasons Hotel Kyoto's original blend. Two autumn-only tea mocktails are also present on the menu. 

 

The premium parfait, limited to 10 servings per day, is made from two types of chestnut-forward Mont Blanc. The Western chestnuts have a rich flavor, while the Japanese varieties are gentler and more delicate in their sweetness. The Mont Blanc with Chestnuts, Rum, and Cassis has a more adult flavor, balancing the sweetness of French chestnuts with the complex flavor of rum. Interwoven with pear compote and black currant jelly, this is a parfait that's as delightful to look at as it is to eat. 

 

The Japanese Chestnut Mont Blanc with Uji Green Tea and Yuzu is a more traditional Kyoto dish, bringing with it lavish amounts of green tea from Marukyu Koyamaen in Uji, along with refreshing yuzu sorbet. 

 

Those not wanting to leave this experience behind quite yet can feel free to take some pastries and baked goods home. In addition to the popular Mont Blanc and Strawberry Millefeuille, the Sweet Potato Shortcake will also be available. Why not pick up a Chestnut and Rum Pound cake, or perhaps an Orange and Earl Gray Pound Cake made with Ronnefeldt tea leaves? 

 

Halloween cupcakes will also be available for the first time this year, from October 15 to October 31. These include the Pumpkin and Cream Cheese Cupcake, and the Chocolate and Raspberry Cupcake. 

 

Featuring colorful and delectable seasonal ingredients, how would you like to partake in this magnificent afternoon tea service? 

Information

Autumn Harvest Afternoon Tea

Available: September 13 – November 30, 2021

Seating Times: 

12:00-14:30 (Last order at 14:00)

15:00-17:30 (Last Order at 17:00)

*There are two sessions at the above times.

Location: Four Seasons Hotel Kyoto 1F, Brasserie Restaurant

Premium Autumn Parfait

Available: September 13 – November 30, 2021 from 11:30-18:00

Location: Four Seasons Hotel Kyoto 1F, Brasserie Restaurant

(Limited to 10 per day.)

Autumn Sweets

Available: September 13 – November 30, 2021 from 11:30-18:00 from 10:00-21:00

Location: Four Seasons Hotel Kyoto 1F, Brasserie Restaurant


Official Site: https://www.fourseasons.com/jp/kyoto/

Hoshinoya Kyoto Hotel Holds Special Tale of Genji Event

Located deep in the mountains of Arashiyama, Kyoto Prefecture, Hoshinoya is a traditional resort in which every room has a magnificent river view. On November 29 and 30, the hotel will hold a limited autumn leaf viewing event exclusive for guests. The event itself draws inspiration from the dance of autumn leaves from the classic book The Tale of Genji, and will take place in Hoshinoya's garden, home to a 400-year-old Japanese maple tree. The area of Arashiyama was beloved by aristocrats during the Heian period for its natural landscapes and deep red leaves on display in autumn. 

Feature 1

During the Autumn Leaf Viewing in The Tale of Genji, Hikaru Genji dances among the falling autumn foliage. Arashiyama has also been the subject of many poems through the ages, including one by Emperor Shirakawa, who famously wrote "Follow the Oi River, and you will soon see the maple trees of Arashiyama." The 400-year-old maple tree in the back garden of Hoshinoya Kyoto majestically spreads its branches during the autumn months, and looks like something pulled from a painting. Visitors can imagine Hikaru Genji's graceful dance as they look out into the elegant scenery. 

Feature 2

Hikaru Genji's elegant 'Dance of the Blue Sea Waves,' described in the classic book, is said to be so graceful and impressive that it brought tears to the audience's eyes. As traditional instruments are played in the back garden, dancers will sway in traditional costumes, each spectacularly embroidered and detailed. The Old Japanese Court Music to be performed was originally established during the Heian period (794-1185), and is registered by UNESCO as a piece of intangible cultural history. 

How would you like to experience a piece of classical literature brought to life before your very eyes?

Information

Hoshinoya Autumn Leaf Viewing

Running: November 29 – November 30

Time: 9:30-10:30

Price: Free *Accommodation fee not included.

Reservations: At the front desk until 20:00 the day before the event, or online at https://hoshinoya.com/kyoto/

Location: Hoshinoya Kyoto

*For hotel guests only.


Official Site: https://hoshinoya.com/

Uji, Kyoto-based Anime Sound! Euphonium To Collaborate With Keihan Railway

Keihan Holdings and Keihan Railway have announced a collaboration with anime Hibike! Euphonium, titled Keihan x Sound! Euphonium 2021. The collaboration will start on September 1, 2021.

Keihan x Sound! Euphonium 2021 STAGE TOUR Map (Sample)

Life-size Character Panel (Sample)

Commemorative Name Plate (Sample)

A: September 1 ~ September 30, 2021
B: October 1 ~ October 31, 2021
C: November 1 ~ November 30, 2021


Commemorative Ticket Sales

Sound!! Euphonium tells the story of the brass band members of a fictitious school in Uji City. Many real-life sights and events from the city are featured in the series, including some of the stations on the Keihan Uji line. The series, which has released a total of six works including a TV anime and movie, celebrated its fifth anniversary in 2020 and announced that a sequel was in production. This exciting collaboration will add to the excitement for the new series while boasting the charms of the Uji area!

A STAGE TOUR MAP listing the spots visited in the anime will be distributed, featuring a selection of major Keihan Railway stations and other locations throughout the city. The new STAGE TOUR app will allow you to take photos with your favorite characters using AR technology. A digital stamp rally will be held throughout the locations.
There are plenty more exciting projects too, including life-sized character panels and name plates throughout the railway stations. In addition, three commemorative name plate designs will be installed throughout the Keihan Line vehicles along with the release of special commemorative tickets.

Enjoy a scenic trip around Kyoto on the Keihan Line with Sound!! Euphonium!

Information

Keihan Line x Sound!! Euphonium 2021
STAGE TOUR MAP Distribution Start Date: September 1, 2021
Distribution Location: Major Keihan Railway stations, Uji city hall, Uji city tourist center, Keihan Uji Station tourist information center, and other locations.

STAGE TOUR Digital Stamp Rally
Event Duration: September 1 ~ November 30, 2021

Character Life-Size Panel Installation
Exhibition Duration: September 1 ~ November 30, 2021
Exhibition Locations: Chushojima Station, Rokujizo Station, Ōbaku Station, Uji Station (All Keihan Railway)

Commemorative Name Plate Installation
Exhibition Duration: September 1 ~ November 30, 2021
Specified Vehicle: 13000-type (four cars), one formation (3001-13051)

Commemorative Ticket Sales
Availability: September 1 ~ November 30, 2021
Validity Period: September 1, 2021 ~ March 31, 2022 (One-day use)
Valid Stations: All Keihan Line stations, Iwashimizu-Hachimangū Cable Line
Price: ¥1,300 (Not available for children)
Number: 5,000 Tickets (First-come first-serve)
Purchase Location Stations: Nakanoshima, Yodoyabashi, Tenmabashi, Kyoubashi, Moriguchi City, Neyagawa City, Kourien, Hirakata City, Kuzuha, Chushojima, Tambabashi, Gion-Shijo, Sanjo, and Denmayagachi.

Official Site: https://www.butaimeguri.com/


Kyoto Tower Announces New Collaboration Event with Anime Series Sound! Euphonium

A special Sound! Euphonium collaboration event is coming to the Kyoto Tower observation deck from September 1 until November 30, 2021!

Tickets

Rubber Coaster (5 varieties): ¥990 each (Tax Included) / Mini Framed Magnet (5 varieties): ¥660 each (Tax Included) / Commemorative Medals (5 varieties): ¥700 each (Tax Included) / B2-size Paper Poster: ¥770 (Tax Included) / Mouse Pad: ¥550 (Tax Included)
*Merchandise to be released in mid-September

Mini Name Plate (10 varieties): ¥2,000 each (Tax Included) Releasing September 1


Special Purchase Gifts (5 varieties)


Train Accessories

Life-sized Panels

The designs used for this collaboration will also make an appearance in a special Sound! Euphonium hotel room at the Kyoto Tower Hotel. The room will have scenes from the anime series on display, life-sized portraits of the characters, and handwritten messages from the band members on the wall. 

The Kyoto Tower event takes place in conjunction with a Sound! Euphonium x Keihan Electric Railway collaboration, in which travelers can use a special map to visit the locations of scenes from the Sound! Euphonium series. Life-sized panels, commemorative train tickets, and model trains will also be on display! Guests can also see the trophy and award certificate given to the Kitauji Brass Band.

Those purchasing over ¥2,000 yen (including tax) on merchandise will receive one of five original posters. 

Introducing Ramen Muraji, a Popular Ramen Store in the Backstreets of Kyoto

Gion's Tatsumi Bridge, a picturesque area plucked straight from a painting. From there, continue south and into the backstreets, you'll find the popular Kyoto Ramen store, Ramen Muraji.

The bridge takes you over the Shirakawa River which flows into Lake Biwa, with the connecting street spanning a distance of only 180m, with paths the width of three adults. Once you head into the alley, the scenery will completely change. 

The asphalt becomes cobblestone, surrounded by Kyoto-style lattice windows. Here you'll find Ramen Muraji, located in a renovated 100 year old Kyoto-style building, perfectly blending into its surroundings. 

At first glance you wouldn't believe it to be hiding a ramen shop,  with many people calling their discovery of the shop a once-in-a-lifetime encounter as they wander the streets of Gion.

The back alleys of Gion retain the history of Kyoto, with hidden shops shrouded by curtains, gently glowing lanterns, and carefully handwritten signboards. Each spot has been crafted to become a once-in-a-lifetime encounter with those who visit.

 

Ramen Muraji was built in the alley


Tatsumi Bridge, an area famous for retaining the distinctive Gion look.

Muraji's Speciality White Chicken Ramen

Gion has been popular with Kyoto tourists for years, surrounded by attractive buildings and cityscapes. Located here is the Yasaka Shrine, a world heritage site which hosts the annual Gion Summer Festival. 

While the locals rarely explore the area, Gion is full of traditional beauty that has inspired many novels, maintaining the culture and history that has been passed down for generations. 

Why not relive the splendor of Gion at Ramen Muraji, a shop that was born 、

With its long history and culture that weaves towns, humans, and spirits together, why not relive the splendor of Gion with a historical cup of Muraji ramen? 

 

Ramen Muraji is a space where anybody can enjoy ramen, surrounded by Kyoto-style interior decor and Japanese-style decorations. 

Their chicken ramen, boiled in a plain water soup, boasts a selection of carefully selected ingredients that condenses the taste of Kyoto's unique food culture. Kyoto Sake matched to the flavor of the ramen is also available.

Enjoy the charms of Kyoto's food for yourself at Ramen Muraji.

Information

Ramen Muraji Gion Store

Address: 373-3, Kitomoto-cho, Higashiyama, Kyoto City, Kyoto 

TEL: 075-744-1144

※Covid-19 Opening Hours: Daily, 11:30 ~ 20:00 (L.O 19:45)

Business Hours:

Lunch: 11:30 ~ 15:00

Dinner: 17:00 ~ 22:00

Weekend, holidays: 11:30 ~ 22:00

Go Glamping Under the Stars Indoors with New Sega Toys x RIHGA Royal Hotel Kyoto Collab

​It may seem like a strange collaboration, but RIHGA Royal Hotel Kyoto is teaming up with Sega Toys to offer a limited-time hotel stay guests will never forget. From August 12, 2021 to March 31, 2022, visitors can stay in a tropical jungle-themed room beneath the stars. Sega Toys is well-known for their 'Homestar' series of home-use planetariums, and the new 'twinkling stars' functionality will make its debut in this magical room. 

Starry Sky Glamping Room

Sega Toys 'Homestar,' On Sale August 12, 2021: Guest Room




'Galaxy Ttungcaron,' created by RIHGA Royal Hotel Kyoto's Chef Pâtissier

Red Ring Solar Eclipse Ttungcaron

This unique 'Starry Sky Glamping at the Hotel' plan will commemorate the launch of a new 'Homestar' home-use planetarium, set to go on sale August 12, 2021. These popular items have sold over 1.7 million units, and those who book this jungle-themed room will be able to go stargazing while in the comfort of their hotel room. Originally, this plan was concocted by female staff at the hotel as a way to provide comfort and happiness to those who have been unable to travel easily, or who have experienced lifestyle changes due to the current situation around the world.

A reservation won't have guests walking into just any hotel room: one room has been completely stripped of furniture, and is completely decorated with imitation greenery to create an immersive jungle atmosphere. Tents, rugs, and lanterns are all provided, making it feel like you're really in the great outdoors. When it's time to sleep, feel free to use the Dream Switch, which projects moving picture-books onto the ceiling–perfect for children! If you have a sweet tooth, try the scrumptious ttungcarons developed by the hotel's Chef Pâtissier and currently hugely popular on social media. The outer space theme continues with the limited 'Homestar' ttungcaron set, featuring a Red Ring Solar Eclipse sweet, and the Sega Toys collaboration ttungcaron, with images of the Earth, the Moon, and Jupiter!

This hotel glamping experience is the perfect way to refresh and recharge. Would you give it a try?

Information

Sega Toys x RIHGA Royal Hotel Kyoto 'Starry Sky Glamping at the Hotel' 

Running: August 12, 2021-March 31, 2022 (Limited to 1 couple per day)
(Sales period is subject to change.) 

Reservations/Details: https://www.rihga.co.jp/kyoto/stay/

Ceramic Artist DAISAK to Hold Exhibition at JOURNAL STANDARD Kyoto Store

Kyoto-based ceramic artist DAISAK is collaborating with newly-relaunched clothing brand JOURNAL STANDARD on some colorful new products! These limited-edition releases will go on sale August 7, 2021. 

CAP: ¥16,500-¥39,600


SHOES: ¥13,200

Vulture Sculpture: ¥110,000

Mug: ¥4,620 / Ashtray: ¥3,850

TEE: ¥5,280 / SOX: ¥1,320

These new goods were inspired by American casual wear, and give us a glimpse into DAISAK's unique worldview. Along with the 'wall-mounted cap' and 'sneakers you can use as a plate,' a limited number of mugs, ashtrays, t-shirts and socks with a sleek new vulture design will be available. For those wanting a glittering new centerpiece for their house, the golden vulture sculpture is a perfect choice. 

Be sure to check out this limited-edition art with American flair! 

Second Pokémon Room Summer Vacation Project comes with Original Themed Recipes

Cosmos Hotel Management have announced a new Pokémon Room option at APARTMENT HOTEL MINIMARU, complete with special Pokèmon original recipes. APARTMENT HOTEL MINIMARU is a hotel service that offers spacious rooms and kitchen spaces, ideal for families and large groups.

You can make lasting summer memories as you cook adorable themed meals as a family in their incredible new Pokémon themed room.

Original Recipe (preview)

The dining and sleeping areas of the impressive new room are covered in Pokéball motifs, while the cute Pokémon appear to be playing hide and seek throughout the wallpaper. You'll be greeted by a giant Snorlax plushie on the bed and have your food served on Pokèmon themed plates and cups – Perfect for Pokèmon lovers! The room will be available at MINIMARU in Tokyo, Kyoto, and Osaka.

Following their Pokémon Card Game Sword & Shield / Family Pokémon Card Game free summer vacation project, MINIMARU have prepared several original recipes for guests of the new Pokémon Room. Try making some cute Pokémon dishes and desserts in the kitchen for yourself, with recipes including Pikachu Omurice and more!

The Pokémon Room offers 7 special dinner and snack recipes for parents and children to make during their stay. The ingredients are easily obtained at the local supermarkets and cooked in the kitchen space. You can even share your handmade masterpiece on social media using the hashtag #ポケモンルームレシピ (pokémonroomrecipe).

©2021 Pokémon. ©1995-2021 Nintendo / Creatures Inc. / GAME FREAK inc.
ポケットモンスター・ポケモン・Pokémonは任天堂・クリーチャーズ・ゲームフリークの登録商標です。