Delicious Matcha Desserts Released at Itohkyuemon Gion Shijo in Kyoto
Kyoto-based green tea company Itohkyuemon has been around since the end of the Edo period, its longevity having established itself has a hugely popular store. The company have just announced that they will open their first ever tea house extension in Kyoto called Itohkyuemon Gion Shijo on August 7.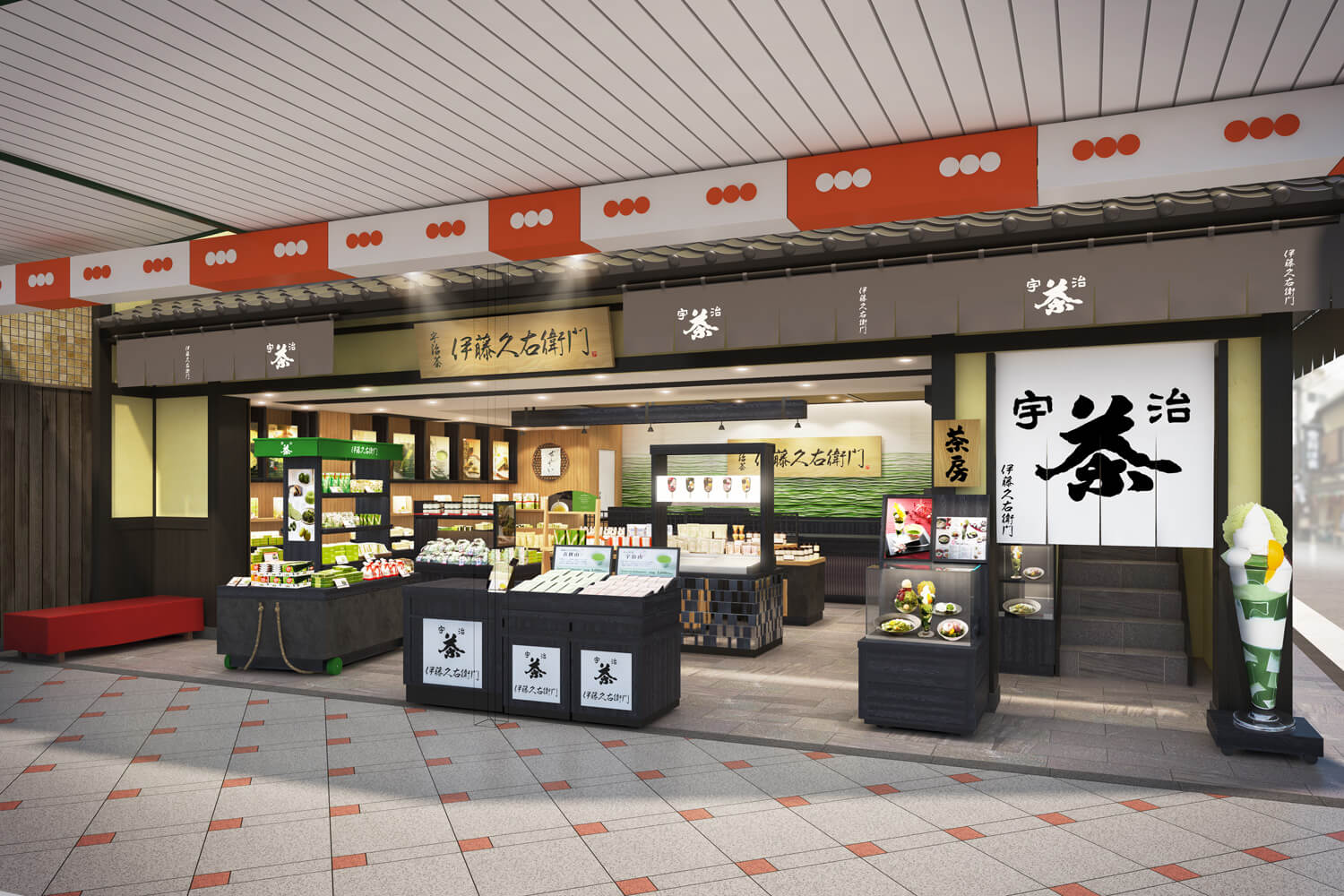 The cafe will serve up its own exclusive menu items from desserts to meals.
(Left) Gion Parfait – ¥1,480 / (Right) Sweets Plate – ¥1,680
The Gion Parfait is made with high-quality Uji matcha, something Itohkyumon is renowned for. It's served in a large parfait class bigger than their usual matcha parfait and is stacked sumptuously with chestnuts, tamba black beans, chocolate, a slice of Uji matcha roll cake, and more.
If you love Japanese tea then you'll adore the Sweets Plate which is filled with an assortment of matcha and houjicha sweets.
Matcha Curry Udon: ¥980
The Matcha Curry Udon, which was previously sold only at the JR Uji Station branch of Itohkyuemon, will now be served at the new establishment. This Itohkyuemon-original dish is a combination of chewy matcha udon noodles and white broth matcha curry. The curry is also served as a souvenir; when it was first released in 2014 it sold out its stock of 2,000 in just two days. Experience matcha like never before when visiting Kyoto at Itohkyuemon Gion Shijo.
Information
Itohkyuemon Gion Shijo
Address: 586 Gionmachi Minamigawa, Higashiyama Ward, Kyoto (Japanese Address: 京都市東山区四条通大和大路東南角祇園町南側586 井澤南ビル)
Business Hours: 11:00-19:00 (Last Orders 18:30)
No Fixed Holidays (Except New Year's)
Website: https://www.itohkyuemon.co.jp/site/gionshijo/
Gion Parfait
Price: ¥1,480 (Tax Included)
Sweets Plate
Price: ¥1,680 (Tax Included)
as Drink Set: ¥1,980 (Tax Included)
Matcha Curry Udon
Price: ¥980 (Tax Included)
as Rice Set: ¥1,240 (Tax Included)
as Rice & Mini Parfait Set: ¥1,580 (Tax Included)
RECOMMENDED ENTRIES
Come Try These Tasty Matcha Meals and Desserts at OMATCHA SALON ー Coming Soon to Ikebukuro PARCO, Tokyo

From June 20, a new matcha tea shop will open on 8th floor of Ikebukuro PARCO Main Building (the restaurant floor). The OMATCHA SALON uses uji matcha green tea purchased from an old and traditional Kyoto shop called Kitagawa Hanbee Syouten.

Their famous Matcha Soba Seiro comes in 14 varieties. (Seiro is a cold noodle dish served with a warm dipping sauce). Along with the grand opening, OMATCHA SALON also announced the release of a curry and uji matcha soba noodle menu that is bound to be loved by everybody. The curry is to be served risotto-style with cheese and cha soba* made with Japanese-style dashi stock and then cooked in a porcelain dish.

 *Cha soba is thin Japanese soba noodles that are infused with green tea.

The menu also features a detox salad cha soba which is served with a range of vegetables and assorted grains that are high in nutrients which are good for detoxing.

Other kinds of cha soba include the thick-sliced bacon carbonara cha soba which is made with a rich and creamy sauce, aromatic bacon and an onsen egg, which has a thicker yolk and runnier egg white.

There are also five tongue-tantalizing desserts, bubble tea made with fresh tapioca pearls, and much more. The desserts menu includes the Kitagawa Hanbee Syouten Mitarashi Dango which is a skewered rice dumplings in a sweet soy glaze and served with tiramisu which is made from mascarpone cream and uji matcha. There is also a tiramisu served with strawberry daifuku (rice cake stuffed with bean jam).

You should also check out the Ikebukuro-limited menu that serves Kogashi flour muscovado shaved ice.

As soon as you enter the OMATCHA SALON, you will notice a teakettle in the "CHASHITSU" where you can watch the finest selection of matcha tea being made before your very eyes. If you are looking for a place to take a relaxing break from your busy day, look no further than the OMATCHA SALON, Ikebukuro, PARCO.

Information

OMATCHA SALON Ikebukuro PARCO

Location: 8th floor Ikebukuro PARCO main building

Address: 1-28-2, Ikebukuro, Minamiikebukuro, Toshima City,

Opening Hours: 11:00 ー 23:00 (Last orders: food: 22:00, drinks: 22:30) 

TEL: 03-5927-1133

OMATCHA SALON Official Website: https://omatcha-salon.jp/

Mogu Mogu Nippon | Convenience Store: 3 Seven Eleven Matcha Desserts

If you are wondering what Japan is particularly good at, matcha desserts is definitely one of them. However, you don't have to go to a shop that specialises in matcha sweets to get your fill. Matcha desserts can be easily obtained from the convenience store and once you start, it is hard to stop. 

Today, Instagrammer Yukko is going to introduce you to three delicious matcha desserts that you can get from Seven Eleven.

Dorayaki Pancakes Filled With Matcha Cream ¥278 (before tax)

Seven Eleven is always selling some kind of delicious matcha cream-filled dorayaki. This time, the name has been changed slightly. This dorayaki is just ¥3 more expensive than last time, however it looks just as good as it always has. You just will not be able to resist buying it. 

As you take your first bite of this high-quality snack, the scent of the matcha will reach you first, followed by the flavour of the matcha which spreads instantly through your mouth. The matcha is rich yet so light that it will instantly melt on your tongue. The pancakes sandwiching the large creamy matcha filling are both fluffy and thick. Cut it in half and you will not be able to resist. 

This is a wonderful snack to sink your teeth into while you walk. If you want to keep your hands clean, you could even use a spoon to scoop out the filling. Enjoy it in your own unique way as it is tasty no matter how you choose to enjoy it!

Matcha and Matcha Parfait ¥278

As the name implies, this matcha parfait is the perfect opportunity to taste a variety of matcha flavours in one single tub. From the bottom, the cup is filled with matcha jelly, followed by matcha mousse, milk mousse and matcha whipped cream. Within the layers of matcha whipped cream you will discover a goldmine of matcha jelly and a dorayaki pancake core. 

The matcha flavour of the jelly is quite weak, however its wobbly and springy texture contributes to the deliciousness of the parfait. The moderately sweet whipped cream combined with the matcha flavour is perfectly balanced. The milk mousse has a rich, milky flavour. It may be sweet, however the matcha mousse underneath it is slightly bitter, so enjoy them together for a delicious overall flavour. 

The fluffy matcha mousse and rich matcha is unbelievably delicious. The dorayaki centre is soft, fluffy and thick which accents the flavour. Overall, the parfait is not overpoweringly sweet and the matcha flavour is gentle on your tongue.  

Uji Matcha Cream Mochi: ¥110 (before tax )

Uji Matcha Cream Mochi is a soft, thin and chewy dough that is rolled out thin and then wrapped around a large spoon of uji matcha cream. This is always a popular pick. Last time, they served the uji matcha chocolate mochi. I wonder how the Uji Matcha Cream Mochi will taste!

This time, the mochi has a slightly more springy texture. The outside is chewy, yet the inside is gooey. This mochi cake is bursting with matcha so you can really enjoy the matcha flavour. The bitter matcha flavour is perfectly balanced with a touch of sweetness. This dessert even come with a fork so that you don't have to get your hands dirty. 

I know, it is hard to choose which matcha dessert to try. Convenience stores are always refreshing the varieties of goods they sell, so if you are particularly attracted to any of the desserts mentioned above, it is probably best to try them before they are replaced.

Mogu Mogu Yukko introduces lots of desserts and sweets that are easily found in convenience stores and supermarkets on her Instagram so please check out her other posts:

Photos and Text: Mogu Mogu Yukko

Häagen-Dazs uses first tea pick of the season to make luxurious matcha and hojicha tea ice creams!

Häagen-Dazs Japan is releasing the matcha-flavoured crispy sandwich ice cream Green Tea Crème brûlée and a Japanese tea-flavoured latte ice cream in a mini cup called Hojicha latte. These two new ice cream flavours will be released on Tuesday 21st May countrywide at the same time for a limited period.

Green Tea Crème brûlée crispy sandwich ice cream (for a limited time only ) ¥272 (RRP before tax) 

The matcha crème brûlée made from matcha custard and caramel is the perfect flavour combination. This is encased in two crispy wafers. The rich aroma of matcha and the high quality sweetness is complemented with the creamy custard of the crème brûlée and provides a rich flavour for you to enjoy. A generous amount of caramel powder is used to create a deep-flavoured crème brûlée caramel. After biting through the crispy, fragrant wafer you will reach the subtle bitter flavour of the caramel.

Mini Cup Hojicha latte (for a limited time only ) ¥272  (RRP before tax) 

Two types of hojicha tea latte swirl together with a maple finish. You can enjoy the real taste of tea leaves and their delicious aromatic flavour. This ice cream became very popular when it was sold in 2017. It was made using leaves from the first pick of the tea season. These leaves are less bitter and less acidic, so you can enjoy the elegance of the tea along with the luxurious flavour of the milk. Both of these combined create an exquisite flavour. The temperature of the water in which the tea is brewed and the time it is brewed for has been carefully managed to produce a clear, refreshing aftertaste whilst maintaining the highly aromatic hojicha fragrance.  

Indulge in these two exquisite  Häagen-Dazs ice creams filled with carefully balanced flavours.

Information

Häagen-Dazs Matcha Crème brûlée (for a limited time only)

Launch: Tues 21/05/2019
Available at: Supermarkets countrywide, convenience stores, department stores, etc

Häagen-Dazs special edition website: https://www.haagen-dazs.co.jp/green_tea_creme_brulee/

 

Häagen-Dazs Hojicha latte (for a limited time only)

Launch: Tues 21/05/2019
Available at: Supermarkets countrywide, convenience stores, department stores, etc

Häagen-Dazs special edition website: https://www.haagen-dazs.co.jp/houjicha_latte/

Gion Tsujiri, Kyoto Releases Mouthwatering Summer-Limited Peach X Matcha Milkshake

For a limited period, popular Ujicha and Matcha (green tea) sweets shop Gion Tsujiri will release the Summer-Coloured Matcha Milkshake.

Summer-Coloured Matcha Milkshake: ¥700 (after tax)

Specially-selected, rich-flavoured matcha and mild milk is deliciously blended to make a matcha milkshake. This is topped with fresh fruity peach whipped cream and a generous serving of juicy yellow peach pieces. This summer-limited drink is the perfect balance of sweet and sour.

Gion Tsujiri stays true to its traditional sweet-making values whilst developing new ways to enjoy them. Make sure you pop by!
RELATED ENTRIES
Rhythm Game BlackStar ~Theater Starless~ Gets Collaborative Event at Toei Kyoto Studio Park

Toei Kyoto Studio Park will be holding a special collaboration with the rhythm game BlackStar ~Theater Starless~ for a limited time, from June 4 until July 10, 2022.

Goods Lineup

Newly-drawn Illustrations

Mini Characters

The Theater Starless Uzumaki Branch will be open inside the park during the event period. 26 themed cast members will even be greeting guests! 


A stamp rally will be taking place along the Keifuku Randen Tram Line and during the event, a special train featuring a newly-drawn illustration of the five main characters and 26 mini-characters will be running through the streets of Kyoto!

Limited tickets will be sold for a number of collaborative events being held in the park, so be sure to grab yours while you can!

©DOUNUTS

Information

BlackStar ~Theater Starless~ in Uzumaki

Running: June 4 – July 10, 2022

Venues: Toei Kyoto Studio Park, Arashiyama Station, etc.
Official Site: https://blackstar-uzumasa.jp/
Official Twitter: @Blackstar_uzms

Kyoto Sweets Shop Otabe Rereleases Demon Slayer: Kimetsu no Yaiba Snacks with New Designs

Otabe, one of the most popular sweets souvenir shops in Kyoto, Otabe, is known for its delicious matcha and mini-desserts. Starting May 12, the company has released nine uniquely packaged sweets inspired by Demon Slayer: Kimetsu no Yaiba. The limited-edition packaging will feature popular characters from the series. Previously, the company released matcha cakes for the crossover–this time, fans can enjoy choco-an flavor!

Demon Slayer: Kimetsu no Yaiba Choco-an

Demon Slayer: Kimetsu no Yaiba Matcha

Demon Slayer: Kimetsu no Yaiba Otabe (with Original Sticker)

Original Sticker: 15 varieties, 1 given at random

Focusing on the hashira from the series, fans will want to be on the lookout for their favorite character. These sweets can be bought at select stations in the Kyoto and Osaka area, major Kyoto tourist attractions, and online. In addition, matcha flavored treats will also be on sale featuring Tanjiro Kamado, Nezuko Kamado, Zenitsu Agatsuma, Hashibira Inosuke, Kagaya Ubuyashiki, and Muzan Kibutsuji.



©吾峠呼世晴/集英社・アニプレックス・ufotable

Information

Demon Slayer: Kimetsu no Yaiba Choco-an
Release Date: May 12, 2022
Price: ¥432 (Tax Included)
Where to Buy: Train station in Kyoto & Osaka area, Major Kyoto tourist attractions, online.
Details: http://www.otabe.kyoto.jp/kimetsunoyaiba/

Cat Illustration Series mofusand Inspires Themed Cafes in Tokyo and Osaka

Popular on LINE and other texting apps and illustrated by Jyuuno, mofusand is a curious collection of cute and slightly surreal cats. As with most things that go viral in Japan, these adorable characters will be featured in a themed cafe for a limited time! The Tokyo location will open on May 19 and the Osaka location will welcome visitors starting May 26, 2022.

Cafe Visitor Bonus: Sticker (6 varieties)

Drink Order Bonus: Coaster (6 varieties)

Menu

Fried Shrimp Sandwich Plate

Grilled Vegetable Curry

Nyanko Burger

Salmon Mentaiko Cream Pasta

Taiyaki

Nyanko Parfait

Black Cat Pancake

Nyan Lime Nata de Coco

Green Nyanko Float / Yello Nyanko Float / Blue Nyanko Float

Nyanko Cafe Latte / Nyanko Milk Tea

Merchandise

Sticker

Clear Folder

 

All menu items draw inspiration from the many mofusand characters and are perfect for posting on social media! Special bonuses will be given to those visiting the cafe and making select purchases, and a merchandise corner will be selling limited-edition goods featuring new artwork!

©mofusand

Information

mofusand cafe

Venue/Dates: 
Tokyo

BOX cafe&space Shinjuku Mylord #2

May 19 – July 10, 2022
Shinjuku Mylord 7F (1-1-3 Nishishinjuku, Shinjuku-ku, Tokyo)

Osaka

kawara CAFE&DINING Shinsaibashi

May 26 – June 19, 2022
Shinsaibashi Opa 9F (1-4-3 Nishishinsaibashi, Chuo-ku, Osaka) 

Reservations / Official Site: https://mofusand-cafe.jp
mofusand cafe Official Twitter: @mofusand_cafe

Hydrangea Parfait Featuring Local Matcha Available at Itohkyuemon in Kyoto

Located in Uji, Kyoto, matcha shop Itohkyuemon was founded in the late Edo period. Three cozy locations have just launched a Hydrangea Parfait, perfect for spring.

Hydrangea Parfait

Hydrangea Coaster

The shop's main location is headquartered in Uji, which is also home to Mimuroto Temple, known for its hydrangeas. The flowery location attracts thousands of tourists during the rainy season. 

The Hydrangea Parfait has been offered since 2013, now celebrating its 10th year. The popular seasonal treat features matcha hydrangea mashed sweet potatoes, hydrangea-colored jelly, leaf-shaped matcha cookies, and blueberries. Those ordering a parfait will also receive a hydrangea coaster as a gift, so why not enjoy the rainy season with something sweet to lift your spirits?

Fruit Cakes from Patisserie Giraud Available at Gotanda Station for a Limited Time

Those passing through Gotanda Station in Tokyo might want to keep an eye out for some tasty treats on sale for a limited time. Patisserie Giraud has opened a limited-time pop-up location inside the aptly-named shop Have You Eaten This Before? The pop-up will be open until May 31, 2022.



Have You Eaten This Before? features a rotating selection of products perfect as gifts, souvenirs, or as a treat for yourself. Along with six cakes made to look just like fruits, a selection of other baked goods will also be available.

Lineup

Strawberry

Orange

Lemon

Red Apple

Green Apple

Melon

While it might be difficult to eat these beautiful cakes, you'll never forget the way the juice-filled mousse and crispy pastry fill your mouth. Which one would you like to bring home?

Information

Patisserie Giraud Limited-Time Shop
Open: May 16 – May 31, 2022
Hours: Weekdays 10:00-22:00 / Weekends & Holidays 10:00-21:00
Location: JR East Gotanda Station

Official Site: https://www.giraud.co.jp

Hilton Osaka to Hold Cinnamoroll and Sanrio Character Sweets Buffet

Folk Kitchen, a restaurant on the second floor of Hilton Osaka, will hold the Sanrio Characters Sweets Buffet ~Joyful Summer Festival~ from May 20 until September 11, 2022. The event is being held to celebrate Cinnamoroll, Pompompurin, and Pochakko coming in first, second, and third in the Sanrio Character Awards. A lineup of 25 different sweets will be available, including those filled with summer fruits like mango, peach, and watermelon! In addition, a "Zero Leftovers Campaign" will be implemented–so be sure to clear your plate!

Happy Festival Heart Mousse

Joyful Pink Cake / Lime & Raspberry

Fluffy and Crunchy Mango Pavlova

Decorated with chocolate and adorable character designs, the Happy Festival Heart Mousse is a scrumptious dish blending the flavor of banana, caramel, and rum. The Joyful Pink Cake will be a smash-hit with Sanrio lovers, featuring the soft taste of white mousse and raspberry compote with a fresh lime flavor. Tons of other original sweets will be available, including everything from gingerbread to orange tarts.

 

Visitors can also find plenty of vegan sweets. Summer Blue Sky Jello features contrasting colors of pineapple pulp and soymilk cream that look like clouds floating against a summer sky. Be sure to try the Almond & Watermelon Jello and Grapefruit and Lychee Jello too!

Yunohana Onsen Resort Reveals Contemporary Art-Inspired Guest Rooms

Sumiya Kihoan, a cozy inn at Yunohana Onsen in Kameoka City in Kyoto, opened a unique new guest room on April 28, 2022. The room's concept is "where guests can stay in the middle of contemporary art," and was inspired by the works of internationally-acclaimed contemporary artist Yukinori Yanagi. The new room, created as part of the Art Room Project, has been named 'Kofuu.'

The Icarus Corridor Connecting Heaven and Earth

Heavenly Bath Welcoming a Rainbow at Dusk

In-Ground Bath Featuring Oribe Glazed Ceramic

Concept Drawing of the Art Room Project by Yukinori Yanagi


The new room includes an open-air bath where guests can be transported into the world of Yanagi's contemporary art while gazing at the gorgeous Kyoto landscape. Upon entering the inn, guests are greeted by a long corridor leading to the bedrooms, dining room, and two creative open-air baths. The space was created in collaboration with Yanagi and local artists and craftsmen, such as potter Ishii Naoto, obi craftsman Yamaguchi Genbei X, plasterer Kusumi Akira, and Japanese paper craftsman Hatano Wakaru. A delicious menu is prepared by chef Hosoi Kunihiko.

Kyoto's Garden Museum Hiei Opens Limited-Time Collaboration Event with Violet Evergarden Anime Series

Kyoto's Garden Museum Hiei has announced that it will host a collaboration event with Kyoto Animation's Violet Evergarden anime franchise, entitled 'A Story of Flowers and Letters,' from May 3 to July 10, 2022.

The Garden Museum Hiei, an outdoor facility inspired by French Impressionism, sits near Mt. Hiei and is known for its incredible floral displays which change colors each season. "This scenery matches the image of the landscape depicted in the Violet Evergarden anime series, which led to the decision to hold this collaborative event," the press release reads.

Visitors can enjoy collaboration visuals and standees that will only be available to see at the gardens. The event will also feature original merchandise, collaboration drinks, and a voice-recorded introduction to the facilities by Violet herself, voiced by Yui Ishikawa.

Violet Evergarden

Violet Evergarden premiered in 2018. The main character, Violet, was trained to be a soldier and therefore has trouble expressing her emotions. In order to learn the meaning behind her commander's final words, "I love you," she embarks on a new path in life, writing letters on others' behalf. A spin-off film was released in Japan in 2019, and a second film premiered in September 2020.

Information

Violet Evergarden x Garden Museum Hiei ~A Story of Flowers and Letters~

Venue: Garden Museum Hiei

Running: May 3 – July 10, 2022

The Heike Story, INU-OH Character Concept Art on Display at Kyoto International Manga Museum

The Heike Story anime series premiered in Japan on Fuji TV's +Ultra programming block on January 12. With character designs by Fumiko Takano, fans instantly fell in love with the show's cast of characters, and an art book will be released soon, with preorders opening this week.

 

The Kyoto International Manga Museum has opened an exhibition displaying character concept art from SCIENCE SARU's The Heike Story and INU-OH anime from April 21 to June 27. The exhibit commemorates The Heike Story's TV broadcast and INU-OH's theater opening in Japan. Fumiko Takano (The Heike Story) and Taiyo Matsumoto (INU-OH)'s character concept drawings are on display in Gallery 4. 

Both titles are based on Hideo Furukawa's modern language rendering of the classic Japanese epic The Tale of the Heike.


The Heike Story will additionally release an art book titled The Colors of The Heike Story in June. The book will feature an interview between art director Tomotaka Kubo and series director Naoko Yamada, and is scheduled for release in June. Those pre-ordering the book will receive a special gift.

©高野文子 /「平家物語」製作委員会 
©松本大洋 /2021 "INU-OH" Film Partners

Information

The Heike Story – Fumiko Takano and INU-OH's Taiyo Matsumoto Character Concept Art Exhibition

Running: April 21 – June 27, 2022

Venue: Kyoto International Manga Museum Gallery 4 (452 Kinbukicho, Nakagyo-ku, Kyoto)

Access: 2-minute walk from Exit 2 of Karasuma Oike Station on the Kyoto Municipal Subway Karasuma Line and Tozai Line



The Colors of The Heike Story

Price: ¥5,500 (Excluding Tax)
Format: A4 size, 112 pages
ISBN: 978-4-908062-41-4
Publisher: HeHe / hehepress.com

The Heike Story Anime Series
Official Site: HEIKE-anime.asmik-ace.co.jp

Shoujuin Temple and THE THOUSAND KYOTO Collaborate on Special Afternoon Tea

THE THOUSAND KYOTO hotel will begin selling a special afternoon tea set in conjunction with the Buddhist Temple Shoujuin on May 9, 2022. These scrumptious treats can be enjoyed at the hotel's second-floor cafe and bar TEA AND BAR until July 15.

This offering was made with the thought of escaping the summer heat in mind. Customers can enjoy eight kinds of sweet and savory dishes, from quiche and salmon sandwiches to scones with honey and sweet bean paste.

Souvenirs


Kanouhimo

Sange

The entrance to the cafe will also be transformed to reflect the majesty of Shoujuin Temple.

The early summer scenery will be captured with majestic hydrangeas, which will surround guests and prove the perfect background for photos.


Guests can also go home with two traditional souvenirs. Both the kanouhimo and sange are lucky charms typically available at Shoujuin on holidays.

Hydrangea Afternoon Tea Available at Art Grace Wedding Hills in Kyoto for a Limited Time

Art Grace Wedding Hills, a wedding venue in Kyoto, will offer a hydrangea-themed afternoon tea service from May 1 until June 24, 2022. Guests can enjoy this dreamy event each Friday, Saturday, and Sunday.

Top Tier

Middle Tier

Bottom Tier

Welcome Drink

Hydrangea Parfait

Come taste these delectable dishes to welcome the summer season.

Studio Ghibli Secrets Revealed in Kyoto Exhibition Featuring Miyazaki Collaborator Toshio Suzuki

The Toshio Suzuki and Ghibli Exhibition opened at The Museum of Kyoto on April 23, 2022.

Toshio Suzuki, a producer at Studio Ghibli, has worked with both Hayao Miyazaki and Isao Takahata on a number of beloved masterpieces. The exhibition will feature a large bookshelf housing 8,800 of Suzuki's publications. Many of these were published before Suzuki joined Studio Ghibli, and guests are invited to see how the producer was inspired to join the legendary studio after working as an editor at a manga magazine. 

This exhibition was realized after Suzuki himself proposed the idea of exhibiting his books for the first time. At the press preview, Suzuki made a statement. "My dream was to collect all the books I've read over the past 70 years and display them in one room. Today, I'm so happy to stand in the middle of it. On one hand, I'm amazed by how much there is. On the other hand, I feel like there could always be more."

©TS ©Studio Ghibli

The giant bookshelf containing 8,800 tomes was based on a brick-and-mortar store that once served as Suzuki's 'hideout.' The wallpaper was designed by William Morris, a favorite of the producer since his youth. Among the many books on display, one area is lined with issues of Kinema Junpo, Japan's oldest film magazine. Suzuki notes that he thought about throwing them out each time he moved, but luckily, he decided to keep them! Some issues are from the Taisho era and are incredibly valuable. If you want to read them yourself, you are welcome to do so at the exhibition!

Many of Studio Ghibli's most famous works were born from casual conversations between Isao Takahata, Hayao Miyazaki, and Toshio Suzuki. Suzuki has played a large role in film advertising, including many of the memorable posters and ads almost everyone has seen. He has always included each film's most inspiring song in television ads, which has dramatically increased audience attendance. After all, who doesn't love the music in Studio Ghibli films?

What's your favorite Ghibli film?

Information

Toshio Suzuki and Studio Ghibli Exhibition

Running: April 23 – June 19, 2022
Closed on Mondays *Open on April 25, May 2

Hours: 10:00-18:00 *Open until 19:30 on Fridays (Last entry 30 minutes before closing)

Venue: The Museum of Kyoto 4F, 3F Exhibition Room (623-1 Higashikatamachi, Nakagyo Ward, Kyoto)

Official site:https://suzukitoshio-ghibli.com/