Sebastian Masuda And Other Phenomenal Artists Create Outstanding Doraemon Exhibition
28 artist groups and individuals have created artistic pieces to represent Japan's favourite animated character Doraemon. From July 12 to September 23, 2019, you can see these magnificent creations at the Doraemon Exhibition Osaka 2019 which will take place at Osaka Culturarium at Tempozan.
The Doraemon Exhibition Osaka 2019 features a range of artists who exhibit their works in Japan and even in foreign countries. This is a fantastic chance to meet a range of new Doraemon that the world has never seen. This event covers a range of genres through modern art that is overflowing with creativity and dedication for the anime character that has grasped the nation.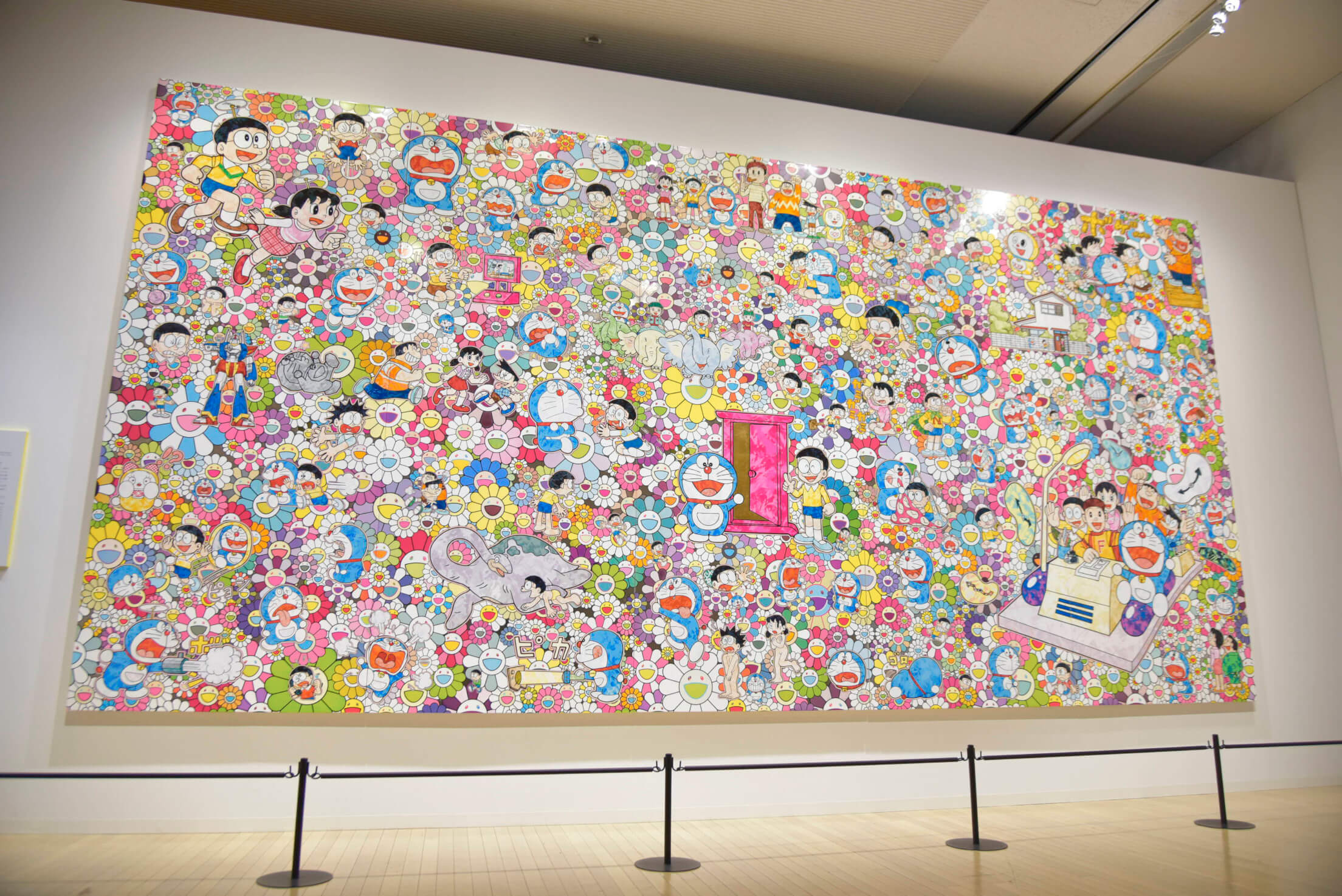 On July 11, the day before the opening of the exhibition, there was a special opening ceremony and private viewing event held exclusively for staff and the press, which was a massive success. 
Press releases of the event reveal that artists Yasumasa Morimura and Sebastian Masuda were present at the ceremony for photos and greetings. 
Yasumasa Morimura commented with deep emotion: "I am so happy to have finally taken part in the Doraemon Exhibition. For this creation, I used lots of paper to make the costumes. I collaborated with Junko Koike, collecting lots of Doraemon manga as raw materials for the dress. As Doraemon has the power to manipulate time and space, and has the ability to create a door that leads to anywhere he desires, I thought a grey dress would be appropriate. In fact, the entire exhibition venue is just like the inside of Doraemon's pocket ー it is packed with the work of 28 solo artists and groups. What a fun experience it is. I hope that many people in the Kansai region come see this," he explained.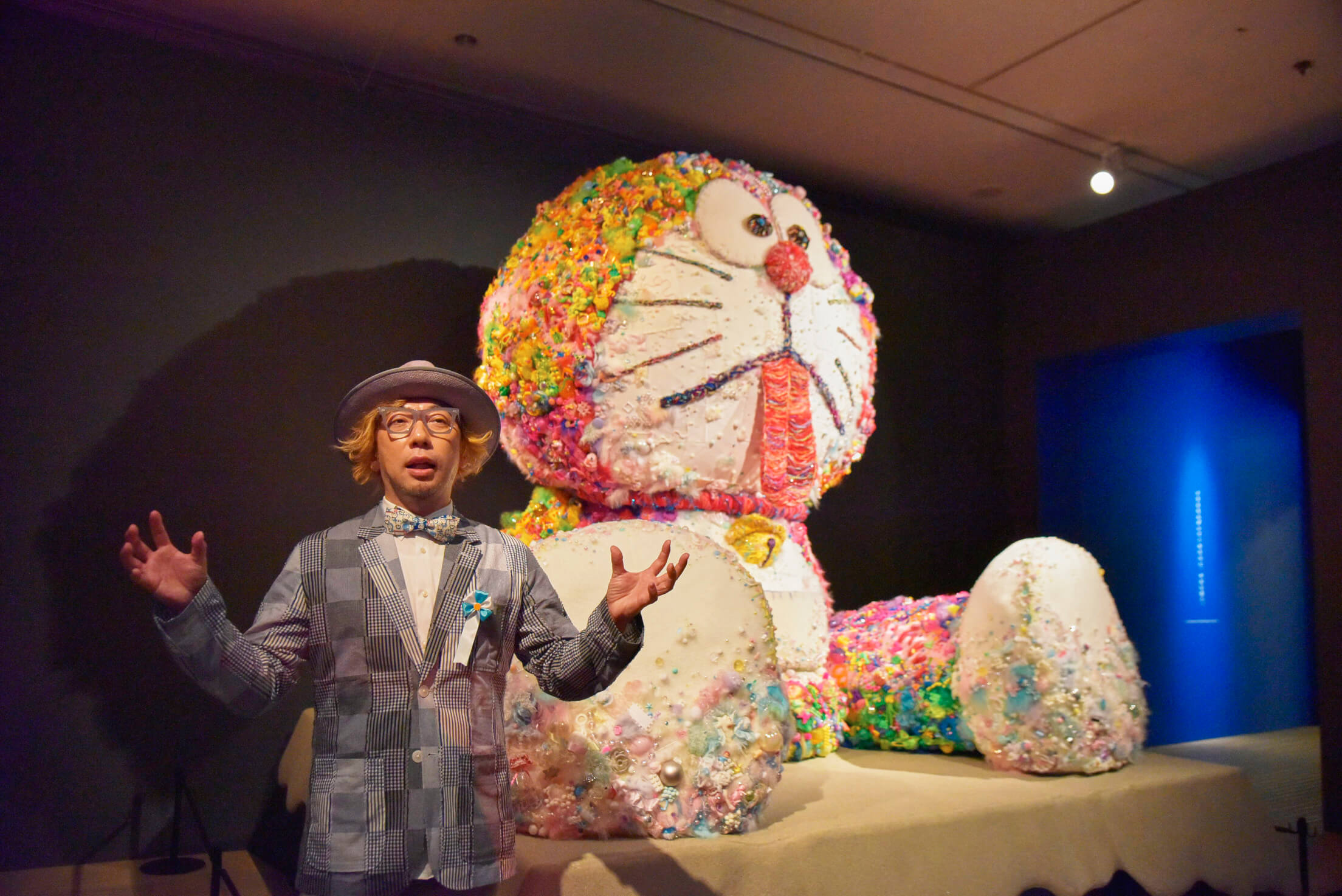 Sebastian Masuda commented: "I'm actually the same age as Doraemon and I share the same birthday as Noby; the main character from the series. I was born with a love for Doraemon."
He then commented on his art piece: "I actually wanted to make it as big as the Budha statue at Todaiji Temple in Nara, but we wouldn't be able to fit it in the venue so I made it two metres tall instead", he laughed. "I collected materials from markets from all around the world, so the final piece is literally made up of the colours of the world," he continued. 
His message to the people of Osaka is: "I would love it if lots of children came to see this. It would really make my day to hear reactions from them like "whoa, it's huge" or "that's so cool!""
Please come stop by to visit your favourite Doraemon!
Information
The Doraemon Exhibition Osaka 2019
Running: July 12, 2019  ー September 23, 2019 (74 days) 
※ No closed days.
Venue:  Osaka Culturarium at Tempozan (next to the Osaka Aquarium Kaiyukan) 
Address: 1-5-10, Kaigandori, Minato Ward, Osaka
Open: 10:00 ー 17:00 ※ Last entries: 30 mins before closing time 
Entry prices
General:¥1,500
Middle/High School: ¥1,200
4 y/o ー Elementary School: ¥800
Enquiries: (Hello Dial)  TEL: 050-5542-8600 (8:00 ー 22:00, no holidays)
RECOMMENDED ENTRIES
Toy Story 4 Themed Cafe Opens in Tokyo, Osaka, Sapporo& Nagoya

Did you catch Toy Story 4 at the cinema yet? If you're in Japan this summer then you won't want to miss the official Toy Story 4-themed cafes opening in Tokyo, Osaka and Nagoya on July 20 and in Hokkaido on July 21 for a limited time.

The film was released just last month but is only set to hit Japanese theatres on July 12. It serves as the fourth and final film in the Toy Story series, wrapping up the story that first warmed the hearts of the public when the first movie dropped back in 1995.

The cafe will be a toy box of fun for all fans of the films, featuring a Toy Story inspired menu and decorations laced with trivia.

It costs ¥500 (before tax) per person to book a seat at the cafe. Customers who order from the menu will receive one of 13 possible stickers pictured above in the style of theatre tickets.

Everyone who enters the cafe will also receive one of these 13 possible entry bands.

<Woody & Bo Peep> Fateful Reunion Plate (¥1,890)

Fans of Woody and Bo Peep should look at ordering the Fateful Reunion Plate, a chicken sandwich and vichyssoise set based on both characters' outfits. Find the sheep hidden amongst the dish!

<Duke Caboom> High in the Sky! Stunt Burger (¥1,890)

Duke Caboom's chicken burger is served with mint sauce and a heap of assorted vegetables. Fly high in the sky with the dish's delicious combination of flavours.

<Buzz, Ducky & Bunny> Night Carnival Pasta (¥1,790)

This meat pasta dish is topped with colourful vegetables. Keep the fun going at the moving carnival at night!

<Gabby Gabby & The Bensons> Afternoon Tea Set (¥1,790)

Paying tribute to Gabby Gabby and the dummies, the afternoon tea set comes with a tuna sandwich and a fruit and yogurt sandwich. To drink you can enjoy a decaff Earl Grey tea.

<Jessie> Pomegranate Water (¥890 or w/coaster ¥1,790)

Feel refreshed with Jessie's satisfyingly sour pomegranate water.

<Slinky> Orange Yogurt Smoothie (¥890 or w/coaster ¥1,790)

Or order Slinky's orange flavoured yogurt smoothie with kiwi sauce.

Ordering from the food menu will also get each person a specially-made paper apron.

There are lots of other items on the menu to look forward to as well. And don't miss out on the range of exclusive merchandise they have either.

Acrylic Key Ring (13 Designs): ¥500 Each

A5 Folder (10 Designs): ¥350 Each

Mini Duralex Glass (5 Designs): ¥800 Each

The Toy Story hype doesn't seem to show any signs of stopping just yet. Be sure to visit the official Toy Story 4 cafe in Japan.

©Disney/Pixar

© POOF-Slinky, LLC

*All prices include tax. Photos are for illustrative purposes only and so designs are subject to change.

Information

Toy Story 4 OH MY CAFÉ

Locations/Dates

Tokyo: OH MY CAFÉ TOKYO (Tokyu Plaza Omotesando Harajuku) / July 20 – September 16, 2019

Osaka: kawara CAFE&DINING Shinsaibashi / July 20 – September 16, 2019

Nagoya: kawara CAFE&KITCHEN Nagoya PARCO / July 20 – August 25, 2019

Hokkaido: Interlude Cafe / July 21 – September 16, 2019

Toy Story OH MY CAFE Official Website: https://toy.ohmycafe.jp/

Toy Story Official Website: https://toystory.disney.com/

Play Hide And Seek at After Hours Spooky Japanese Theme Park in Osaka

Hirakata Park in Osaka is set to host its scary nighttime horror event "Hide And Seek at Hiraka Park" again this year from August 26 to September 1. Tickets are now on sale via Lawson Tickets. The event is being held in collaboration with MBS, Yami and ICT of NTT West.

The park will take a turn for the worse as soon as evening settles and night envelops the sky, bringing a spooky shift to the usual mirthful atmosphere during the day. Something terrible will lurk in the dark after the park closes.

Participants of this event will need to use their electronic devices, such as a tablet or smartphone, to help them reach the goal within an hour while keeping hidden from any spirits that may be lying in wait in the shadows. We also recommend taking a spare pair of pants.

But that's not all, as guests at the park can now get involved in another frightening experience using VR technology. This VR game, which is called "The Vengeful Sleep Paralysis Ghost's Mansion," was introduced to the park on July 6 and is available for a limited time only.

If you're down for some hair-raising spooks but can't wait until Halloween, then you know where you need to go this summer.

Information

Hirakata Park x NTT West: "Theme Park Hide and Seek"
Location: The whole of Hirakata Park
*The meeting point is at the park's East Gate
Running: August 26, 2019 – September 1, 2019 & September 7, 2019 – September 8, 2019
Time Slots: ①19:00 / ②19:20 / ③19:40 / ④20:00 / ⑤20:20
*Participants are allocated an hour for each slot
*You must be at the East Game meeting point 5 minutes before your chosen slot

Price: Group Ticket (Up to 4 People)  – ¥14,000 (*comes with free bonus

Tickets: Lawson Ticket (L-Code: 55500)
*Where tickets are available on the day, they will only be sold up until 20:00 that day at Lawson and MINISTOP convenience stores. Please use the Loppi ticket machines in the stores and search for the tickets using the L-Code "55500."
Ticket Enquiries: Lawson Ticket – 0570-000-777 (10:00-20:00)

Homepage: https://www.mbs.jp/obake/

Ojamajo Doremi Anime Themed Cafe to Open in Tokyo & Osaka

To celebrate the 20th anniversary of TV anime series Ojamajo Doremi, two themed cafes named Ojamajo Doremi Cafe&Kitchen will open in Tokyo and Osaka from July 12 and August 29 respectively.

Ojamajo Doremi is an original magical girl created by Toei Animation that ran from February 1999 to January 2003. The series was a huge hit with young girls in Japan when it was released, sending them into a magical daze and further spreading the love for magical girl series. The Cafe&Kitchen is aimed at today's young girls and the girls from back then who have now turned into women. The cafe promises to be kawaii through and through.

Doremi's Adoration! Steak Sandwich Plate: ¥1,490

Steak is Doremi's favourite so there was no way the cafe was going to leave it off the menu. This steak sandwich is served in a baguette and is served with cheese sauce to make the steak even more delicious.

Momoko's New York Memories… Meat Ball Pasta Salad: ¥1,290

This dish is inspired by Momoko's memories of how New York tasted back when she lived there as a young girl. The salad pasta bowl is colourful and filled to the brim, representing Momoko's overflowing energy and liveliness. Pour the saffron flavoured cream cheese over to make it look and taste even more American.

Ojamajo Doremi's 20th Birthday Cake: ¥1,190

The Cafe&Kitchen is a celebration of the series's 20th anniversary, so they whipped up a birthday cake fitting for a magical girl. It's a combination of roll cake and sponge cake so you're sure to never tire of the flavour. Help celebrate Doremi's 20th by tucking into this whipped cream covered birthday cake!

Magical Girl Apprentice's Rainbow Pancakes: ¥1,190

Based on the iconic colours of the magical girls, this stack of cute pancakes are shaped like hearts. Scoop up the anglaise sauce and eat together with the pancakes for an even sweeter flavour.

Onpu's Purple Tapioca Milk: ¥790

The famous idol Onpu gets her very own brown sugar bubble tea with tapioca pearls. Served in her image colour, the drink is whipped with whipped cream and showered with rainbow sprinkles♡

Aiko's Blue Lemonade Float: ¥890

You're sure to cool yourself down in the summer heat with Aiko's blue lemonade topped with deliciously refreshing ice cream, lime and mint.

Acrylic Key Ring (6 Designs): ¥600

Clear Pouch (1 Design): ¥1,500

With art director by popular creators Etoile et Griotte, who are popular with lovers of kawaii things, the Cafe&Kitchen will also sell a selection of cute and exclusive merchandise.

Customers who book a table in advance (¥500 per person, excluding tax) and order from the menu will receive one of the six above-pictured original clear stickers chosen randomly.

Those who dine at the cafe will also receive one of these two possible original lunch mats.

Finally, customers who order a drink will receive one of six possible character coasters.

Visit the Ojamajo Doremi Cafe&Kitchen this summer to celebrate 20 years since the series first aired.

*All prices listed are pre-tax prices. Photos are for illustrative purposes only

©Toei Animation

Information

Ojamajo Doremi Cafe&Kitchen

Tokyo

Location: Gourmet Stadium II, Dining Park Ikebukuro, Seibu Ikebukuro Floor 8F

Address: 1-28-1 Minami-Ikebukuro, Toshima Ward, Tokyo

Running: July 12, 2019 – August 31, 2019

Osaka

Location: Abeno contact

Address: Abeno Q's Mall Floor 4F, 1-6-1 Abenosuji, Abeno Ward, Osaka

Running: August 29, 2019 – September 29, 2019

Booking Price: ¥500 (Comes with booking present, up to 4 people per booking)

Cafe Website: https://ojamajodoremi-cafe-and-kitchen.jp

Attack on Titan Exhibition FINAL Will Take Place at Hirakata Park in Osaka

It has been announced that Attack on Titan Exhibition FINAL will be on exhibit at Hirakata Park in Osaka from September 21 to December 1.

It was announced earlier this month that the exhibition is also to take place at the MORI Arts Center Gallery on the 52nd floor of Roppongi Hills MORI Tower from July 5 to September 8. The exhibition serves to plunge fans into the world of Attack on Titan in a number of different ways, from art displays to diorama reconstructions of the world and more.

Advance tickets for the Hirakata Park event will be released on July 1.

Information

Attack on Titan Exhibition FINAL (Osaka)

Location: Hirakata Park, Event Hall 1 (Hirakatakōenchō, Hirakata, Osaka)

Running: September 21 – December 1, 2019 (2 Periods: September 21 – October 27 / October 28 – December 1)

*The exhibited content will be different for both periods

Closed: Wednesdays

Opening Hours: 10-:00-18:00 (Last Entries 17:00)

Attack on Titan Exhibition FINAL Website: http://www.kyojinten.jp
RELATED ENTRIES
Shibuya PARCO's Dwiky KA Exhibition Collaborates With Japanese Brands and Artists

PARCO opened the Dwiky KA Exhibition at its Shibuya branch on Friday where it's set to run until August 9. Dwiky KA is an Indonesian artist who has collaborated with many music artists and apparel brands.

Dwiky KA x HYSTERIC GLAMOUR

Dwiky KA x BiSH

Dwiky KA x Kosuke Kawamura

Dwiky KA x Kosuke Kawamura

Dwiky KA x Tappei

Robot exhibit

As part of the exhibition, a line-up of merchandise and original items is being sold, including collaborations with brands Hysteric Glamour and balansa x YAGI, artists Kosuke Kawamura and Yappei, and idol punk band BiSH.

Information

YAGIBOY & GALLERY X presents Dwiky KA exhibition "LABRAX"
Running: July 30, 2021 – August 9, 2021

Location: GALLERY X

Address: Shibuya PARCO Floor B1F, Udagawacho, Shibuya, Tokyo
Opening Hours: 11:00-20:00
Price: ¥500 (Tax Included)
Official Website: https://art.parco.jp

Pretty Boy Detective Club Anime Themed Cafe Menu to be Served in Osaka

As part of their AniCook project which gets people to enjoy anime through cooking, CookpadTV have announced that the 7th series they are collaborating with is Pretty Boy Detective Club. The collaboration includes a food menu inspired by the series that will be served on the 5th floor of Shinsaibashi PARCO in Osaka from August 19 to September 5.

Food

Trump Demi Hamburger / Hagoita Chirashi Chahan

Desserts

Starry Sky Cream Pancakes / Yubiwa Academy Middle School Gateau Chocolate / Auditorium Cheesecake

Drinks

Manabu's Assam Blue Moon Tea / Nagahiro's English Breakfast Sesame Tea / Michiru's Earl Grey Acerola Tea / Hyota's Ceylon Mango Tea / Sosaku's Darjeeling Hazelnut Tea

Get 1 of 5 stickers with every food and dessert order, and 1 of 5 postcards when ordering a drink

Exclusive merchandise

Acrylic Stands | 5 Designs

Acrylic Keyrings | 5 Designs

Acrylic Coasters | 5 Designs

Pins | 5 Designs

The dishes and drinks on the menu were created to get people enjoying food more. The cafe is also selling a range of exclusive merchandise both at the cafe and online.

Tokyo's The Art of DC – The Dawn of Super Heroes Exhibition and What to Look Out For

The Art of DC – The Dawn of Super Heroes opened at Tokyo City View in Roppongi Hills Tower last month where it's set to run until September 5.

The exhibition shines a spotlight on DC's Superheroes and Supervillains, such as Superman, Batman, and Joker, with over 400 exhibit items from comics to original documents and more on display. Let's take a closer look at just some of the things for DC fans to enjoy.

World-first exhibits of film costumes

In the Suicide Squad area, the actual costume worn by Margot Robbie when she played Harley Quinn in the film is on show. The costumes worn by Bloodsport and Peacemaker in the upcoming film The Suicide Squad are also being displayed.

See the Dark Knight's Batpod

The real Batpod used in The Dark Knight Trilogy stands in its full 3.7 meter long glory against a backdrop of night-time Gotham City.

A collection of masks worn by Heath Ledger's Joker

The mask and outfit worn by Heath Ledger as the Joker is also being showcased. He won the Academy Award for Best Supporting Actor for his role as the character in The Dark Knight. This one's a must-see for fans of the legendary character.

Harley Quinn & Joker afternoon tea

Harley Quinn & Joker Afternoon Tea | ¥5,000 (Tax Included)

Head to THE SUN & THE MOON restaurant to enjoy an afternoon tea inspired by Harley Quinn and Joker.

Superman Sky-High Drink | ¥1,400 (Tax Included)

The Clown Prince of Crime | ¥1,400 (Tax Included)

There's also a menu of mocktails to enjoy which are inspired by the characters of the DC universe.

DC Menu

Running: Until September 5, 2021

Location: THE SUN & THE MOON (Restaurant)

Opening Hours: 11:00-22:00

Official Website: http://thesun-themoon.com/

All DC characters and elements © & ™DC Comics. WB SHIELD: ™& © WBEI (s21)

Information

The Art of DC – The Dawn of Super Heroes

Running: June 25, 2021 – September 5, 2021

Location: Tokyo City View (Roppongi Hills Mori Tower Floor 52F)

Opening Hours: 10:00-22:00 (Last Entries 21:00)

Official Website: https://tcv-taod.roppongihills.com

First Official Chiikawa Shops Open at KIDDYLAND Harajuku and Osaka Umeda

KIDDYLAND has announced the opening of the first official shops themed on the popular character Chiikawa. Named Chiikawa Land, the two stores will open at the Harajuku and Osaka Umeda branches of KIDDYLAND on August 7.

Chiikawa is a popular character first revealed by Japanese illustrator Nagano on Twitter. In December 2020, the official online store Chiikawa Market opened, and Nagano released a book compiling the manga panels they drew and posted on Twitter. With over 550,000 follows on Twitter, Chiikawa has become extremely popular, with even themed cafes and an exhibition, Chiikawa's Forest, having taken place.

Now Chiikawa get its own official shops at KIDDYLAND with merchandise featuring new and exclusive artwork drawn by Nagano and more.

Get your paws on exclusive merch at Chiikawa Land

Smartphone Stickers | 3 Designs | ¥385 Each (Tax Included)

Acrylic Stands | 3 Designs | ¥770 Each (Tax Included)

Pins | 3 Designs | ¥330 Each (Tax Included)

Acrylic Keyrings | 3 Designs | ¥660 Each (Tax Included)

Large Hand Towels | 2 Designs | ¥770 Each (Tax Included)

Mug | ¥1,650 (Tax Included)

T-Shirts | 3 Designs | ¥3,080 Each (Tax Included)

Positively adorable frames for pre-order

Chiikawa Art Frame – Clouds | ¥16,500 (Tax Included)

Chiikawa Art Frame – Faces | ¥16,500 (Tax Included)

Chiikawa Art Frame – Ramen | ¥16,500 (Tax Included)

Buyer bonuses

For every ¥1,100 spent in a single transaction, receive one of three possible Umaibo corn sticks.

For every ¥3,300-¥5,499 spent in a single transaction, receive an exclusive hologram pin.

Spend over ¥5,500 to receive a random special gift: one of four possible lunch boxes or one of five plush pins.

Chiikawa Land shopping bag

Snap a photo at one of the photo spots

Get a stamp at both KIDDYLAND branches

 

©nagano

Art For Social Change Project Launches in Japan Using Waste to Create Art

Innovation Design launched its new 'Art For Social Change' project at haishop in Shibuya Scramble Square on July 21 which sees artwork made from waste.

According to Japan's Ministry of the Environment, 42.74 million tonnes of garbage has been thrown out since 2019. That's the equivalent of around 115 Tokyo Domes, or 918g of waste per person everyday. The waste cannot be exported, and so real action is required to reduce the amount of waste create on the island country of Japan, especially when thinking 20 years down the road.

That's where haishop comes in. Using caps from detergent, which are actually no longer sold, as well as plastic caps and other materials resulting from waste, it will create a new identity for waste together with consumers in the form of art. Art For Social Change aims to send a message to society to make real transformations in the world through the medium of art.

It's easy to imagine what happens when creating a product up to its completion, but considering what happens to it after it's been used is a lot more difficult. Every year, the available capacity at final disposal sites decreases more and more. The important topic at hand is getting everyone in Japan to really treasure the products they buy, to conceive ideas on how to prolong longevity of the things that people purchase, and construct a new society centred on recycling and reusing. And this isn't just a Japan problem – it's a global one. That's the message which Art For Social Change carries.

 

The only conditions on participating with the project is that you agree with its goal and that you use materials on sale at haishop. Everyone is invited regardless of age or gender.

The artworks in action


4th year students from Nitobe Bunka Elementary & Junior High School used waste materials to create 'souvenir' theme products which the children are helping to sell at the shop. The proceeds go back to the school itself while helping teach children about new ways of reusing and recycling.

Souvenirs created by the students of Nitobe Bunka Elementary & Junior High School

Mascara bottles made using caps from detergent bottles

ESTINATE HOTEL Celebrates Okinawa Branch's 6th Anniversary With Ryu Ambe Collaboration

The lifestyle hotel chain ESTINATE HOTEL's Okinawa Naha branch will turn 6-years-old on August 7, and to celebrate, it will hold a special event in collaboration with the character designer Ryu Ambe from August 6-15. This will be Ambe's first-ever exhibition where his work will be sold in-person.

Pottery in Shujiro Castle Park

"Shima Map" design by Ryu Ambe to be used on posters and t-shirts

ESTINATE HOTEL has welcomed people from all regions of Japan over the years. It has held many events including one two years ago with the theme "Meet Local" and another last year themed on "Feel Global." This year, the catchphrase is "Hello New World" which hopes to encourage people to discover new things by meeting the locals of Okinawa through the medium of art.


Ryu Ambe has a unique designer reminiscent of American comics. For this event, he has created the "Shima Map" which will be used on a variety of merchandise such as 30 limited-edition silk screen posters. There are also pottery pieces inspired by the sea life found in Okinawa's oceans, amongst other art works.

Information

Ryu Ambe Exhibition "HELLO NEW WORLD" at ESTINATE HOTEL
Running: August 6, 2021 – August 15, 2021 @ 11:00-17:00

Ryu Ambe's Stay Duration: August 7, 2021 – August 8, 2021

Location: ESTINATE HOTEL Okinawa Floor 1F Lounge

Address: 23-11 Matsuyama, Naha, Okinawa, 900-0032, Japan

Official Instagram: https://www.instagram.com/estinate_hotel/

Official Website: https://estinate.com/


teamLab's Enchanting Ovoids Light Up Chiba Art Festival 2021

Japanese digital art collective teamLab has announced their plans to set up a public art exhibition at Chiba Art Festival 2021 which will take place at Chiba Port Park from July 31 to September 5.

Autonomous Resonating Life and Resonating Trees, teamLab, 2017.

team lab will be showcasing their interactive ovoid digital art exhibit Autonomous Resonating Life and Resonating Trees. The art group describes the work: " The resisting and resonating ovoids placed amongst the trees shine. The light of the ovoids and the light of the trees are autonomous: they shine brightly and then fade slowly, as though they are breathing. When an ovoid is pushed, the colour of the light it emits changes and the tone unique to that color echos. The light that originated from that ovoid resonates out to other ovoids and trees nearby. The tone resonates out continuously in the same way as the light, spreading throughout the ovoids and trees."


Chiba Art Festival is one of several cultural programs hosted by Chiba Prefecture. The Tokyo Olympics and Paralympics are not solely for enjoying sports; they're also an opportunity to enjoy the culture of Japan, and so the country is running many different cultural events across and around the capital. The theme of the festival is to showcase artwork that the city wishes to pass on to the next generation. Many pieces are being displayed around Chiba, including at the Chiba Prefectural Museum of Art, such as illustrations, photos, and more.

POKÉMON COLORS Exhibition Opens at Matsuya Ginza

Matsuya Ginza opened its POKÉMON COLORS exhibition on July 22 which is set to run until August 11. The event is a kaleidoscope of bright colours and shapes of Pokémon and Pokémon motifs, with four activities and one installation to enjoy, as well as 160 original pieces of merchandise for fans to buy.

Logo mark

Art Deli Key Visual | ¥4,400

Pikachu Design Pouches – Assorted Pokémon Design Pouches | Small: ¥1,650 Each, Large ¥3,300 Each

Get your hands on a range of vivid and stylish Pokémon items, take photos at the many different photo spots dotted around the event, and learn the latest news about the Pokémon franchise.

Indigo dye art piece

Dangling from the first floor atrium is a 20-meter Pokémon art piece made by the dye group BUAISOU who used the traditional Japanese art of indigo dyeing to create it.

©2021 Pokémon. ©1995-2021 Nintendo/Creatures Inc./GAME FREAK inc.
ポケットモンスター・ポケモン・Pokémonは任天堂・クリーチャーズ・ゲームフリークの登録商標です。

Information

POKÉMON COLORS

Running: July 22, 2021 – August 11, 2021

Location: Matsuya Ginza – Floor 8F

Opening Hours: 10:00-20:00

Official Website: https://pokemon-colors.com/

60th Anniversary Sanrio Exhibition: The Beginning of Kawaii to Open at Roppongi Hills

From Hello Kitty to Pompompurin, Cinnamoroll, My Melody, and more – Sanrio's internationally adored cast of characters can be universally agreed to be representatives of Japan culture of 'kawaii.' In celebration of Sanrio's 60th anniversary, the company have announced an exhibition centred on the beginning of kawaii culture. The event will take place at TOKYO CITY VIEW from September 17, 2021 to January 10, 2022.

60th Anniversary Sanrio Exhibition: The Beginning of Kawaii recently finished up at the Matsuzakaya Art Gallery in Nagoya on June 12 and is set to move to Ōita Prefectural Art Museum where it will run from July 10 to September 5 before heading to TOKYO CITY VIEW. This exhibition will not only look back over Sanrio's 60-year history, but will also dive into how Japan's culture of 'kawaii' came about. Fans of Sanrio and Japan's kawaii can expect product and design showcases, in-depth explanations, and more.

Sebastian Masuda's iconic artwork is the centrepiece of the exhibition

Entrance exhibit in the daytime

At the entrance of the venue is the Unforgettable Tower, a symbolic art piece by Sebastian Masuda created exclusively for this exhibition which towers 6 meters tall. It's made up of countless plushies of Sanrio characters such as Hello Kitty.

Entrance exhibit in the evening


The kawaii installation stands gorgeously against the cityscape of Tokyo which makes for an Instagrammable photo in the evenings when the city is lit up. The piece, as its name suggests, hopes to create unforgettable memories. The exhibition is set to run through Halloween, Christmas, and New Year, so visitors are sure to make some memorable ones.


© 2021 SANRIO CO., LTD. APPROVAL NO. SP610376

Shouta Aoi's voice as the tour guide

Having lent his voice to other Sanrio events, including at Sanrio Puroland and in collaboration with the Little Twin Stars, the Japanese singer, actor, and voice actor Shouta Aoi has recorded announcements for the exhibition which will be played to guide people around the event.

A themed menu created for the Tokyo exhibition

From Left: Anniversary Afternoon Tea / Hello Kitty Daisuki Fried Apple Mille-Feuille / Cinnamoroll's Balloon Trip

© 2021 SANRIO CO., LTD. APPROVAL NO. SP610376

THE SUN & THE MOON, a cafe and restaurant fusion on the same floor of the exhibition, will serve up food, desserts, and non-alcoholic cocktails inspired by the Sanrio characters. Special seasonal afternoon tea sets will also be sold on Halloween, Christmas, and more too.

Dates
Restaurant: September 17, 2021 – January 10, 2022

Cafe: December 15, 2021 – January 10, 2021

*Closed December 21-26

The main exhibition

The exhibition will be split into six zones with 10 different themes. Over 800 products, documents, and materials related to Sanrio will be presented, many of which will shine a spotlight on some of their most famous characters out of their roster of 400, such as Hello Kitty and My Melody, and other characters that might not be known to those outside Japan such as best friends Patty & Jimmy. It's a chance to walk through the history of Sanrio and Japan's culture of kawaii.

© 2021 SANRIO CO., LTD. APPROVAL NO. SP610376

© 2021 SANRIO CO., LTD. APPROVAL NO. SP610376

© 2021 SANRIO CO., LTD. APPROVAL NO. SP610376

One of the six zones will look into secrets of Sanrio through the globally-beloved kawaii icon Hello Kitty. Another will display outfits such as the Hello Kitty dress worn by Lady Gaga.

Original merchandise

A small peek at just some of the items available

© 2021 SANRIO CO., LTD. APPROVAL NO. SP610376

Sanrio fans can also get their hands on a collection of merchandise with designs ranging from the exhibition's main visual to classic designs. There will be over 100 items to sift through.

Tickets for the exhibition will be available from August 1. A limited number of special tickets that include free merch will also be released.

© 2021 SANRIO CO., LTD. APPROVAL NO. SP610376

Information

60th Anniversary Sanrio Exhibition: The Beginning of Kawaii

Running: September 17, 2021 – January 10, 2022

Where: TOKYO CITY VIEW (Roppongi Hills Mori Tower Floor 52F)

Address: 6-10-1 Roppongi, Minato-ku, Toky0

Price: TBA

60th Anniversary Sanrio Exhibition: The Beginning of Kawaii Official Website: https://sanriocharactermuseum.com/

Kyoto Exhibition Celebrates Traditional Japanese Women's Clothing and Dyeing Techniques

The Kyoto Dyeing and Weaving Cultural Association opened an exhibition at the Bunka Gakuen Fukushoku Museum last Thursday dedicated to traditional Japanese women's clothing and the traditional dyeing and weaving techniques of Kyoto over the past 1500 years.

Nara Period garments

Edo Period garments

19th century garment from the Edo and Meiji periods

19th century garment from the Edo and Meiji periods

Dyeing and weaving festival procession

On the first floor of the exhibition, the museum is displaying a collection of rare and valuable traditional garments from across Japanese history, spanning from the Edo (1603-1867) to the Showa (1926-1989) eras. Visitors will also be able to observe Kyoto-style dyeing and weaving techniques in-person as well as get involved on a workshop.

Up on the second floor, mannequins will line the floor wearing traditional female dress from the Kofun period (300-710 AD) to the early Meiji period (1868-1912). The clothes have been restored and so allow visitors to see what each piece would have looked like at the time.

In the early Showa period, the Senshoku Matsuri, or Dyeing & Weaving Festival, was held to help promote the dyeing and weaving industry of Kyoto. It stopped as a result of the Second Sino-Japanese War and was never revived, resulting in it having become something of a legend in Kyoto history.

Information

Saigen Josei no Fukusou 1500 -Kyoto no Senshoku Gijutsu no Iki-

Japanese Exhibition Name: 再現 女性の服装1500年─京都の染織技術の粋─

Running: July 15, 2021 – September 28, 2021

First Exhibit: July 15, 2021 – August 6, 2021 / Second Exhibit: August 18, 2021 – September 28, 2021

Closed: Sundays / Public Holidays / August 7-17, 2021

Address: Shinjuku Bunka Quint Building, 3-22-7 Yoyogi, Shibuya-ku, Tokyo

Opening Hours: 10:00-16:30

Popular Character Chiikawa Gets Pop-Up Store at EKIHAKO in Osaka

Juice has opened a pop-up shop centred on the popular character Chiikawa at EKIHAKO inside EKI MARCHÉ SHIN-OSAKA where it is set to stay until August 26.

Get your paws on some exclusive items

New merch for July 2021

Cushion | ¥4,180 (Tax Included)

Hand Puppets | ¥1,980 (Tax Included)

Free acrylic key ring for buyers

Chiikawa fans can get their hands on a variety of items from pouches to plush toys, apparel, kitchenware, and more. The items are exclusive to the pop-up store and Chiikawa online shop. And if you spend over ¥3,300 at the pop-up sto9re, you'll get a free glittery acrylic key ring.

©️nagano

Information

Chiikawa Pop-Up Store

Running: July 21, 2021 – August 26, 2021
Opening Hours: 9:00-21:30
Location: EKIHAKO (EKI MARCHÉ SHIN-OSAKA) – inside the ticket gates of JR Shin-Osaka Station
Address: 5-16-1 Nishinakajima, Yodogawa-ku, Osaka, 532-0011, Japan

Jambuka Pancakes Get Tossed and Loaded With Fresh Cream and Fruits in Osaka

Jambuka Abeno Q's Mall is the only place in Osaka where locals can enjoy the incredible pancakes created by the fresh cream desserts specialist shop MILK. This summer, they are now serving a new seasonal treat: the 'Sweet Summer Mikan & Lemon Pancakes.'

Sweet Summer Mikan & Lemon Pancakes | ¥1,089 (Tax Included)

Fresh Cream Milk Pancakes | ¥858 (Tax Included)

Fresh Cream Strawberry Milk Pancakes | ¥1,089 (Tax Included)

Fresh Cream Chocolate Banana Milk Pancakes | ¥979 (Tax Included)

All pancakes are made-to-order and are covered in a rich, creamy sauce made from fresh cream from Hokkaido. Enjoy them plain or topped with fresh fruit.

Information

Sweet Summer Mikan & Lemon Pancakes

Running: July 15, 2021 – August 31, 2021

Location: Jambuka Abeno Q's Mall
Address: Abeno Q's Mall Floor 4F, 1-6-1 Abenosuji, Abeno Ward, Osaka, 545-0052, Japan
Opening Hours: 11:00-21:00
TEL: 06-6636-0555
Official Instagram: https://www.instagram.com/jambuka_abeno/