Interview with: "kimi" (紀ト心), a Taiwanese model with growing popularity in Japan that dazzles the stage and runway
kimi, without thinking much about it, suddenly began learning Japanese!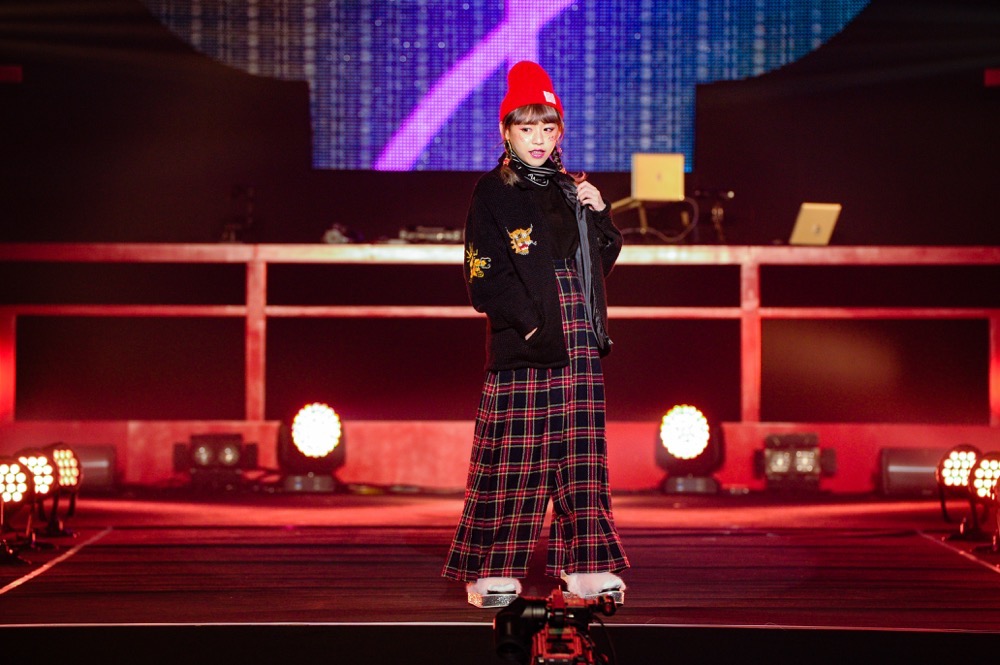 —How did you find today's MOSHI MOSHI NIPPON FESTIVAL?
"I participated last year too, but there were so many more booths this year, it was huge. And so much fun. I'm so happy I was able to work alongside some of my favourite models like Peko and Ayumi Seto."
—Your clothes today really suit you! Are there any differences between fashion in Japan and fashion in Taiwan?
"Hmm. I think Japanese fashion is a lot more colourful. There's a lot of fashion that uses darker colours in Taiwan, I think they give off a slightly more conservative impression. I really like colours and patterns, like in Harajuku fashion, so I'm taking a lot of tips from that! There's plenty to see in magazines, on Instagram and on TV, so I'm absorbing ideas from those."
—If I remember correctly, you do a lot of shopping in Harajuku!
"That's right! I really love Harajuku! A lot of my favourite shops are located there, so whenever I'm in Japan I always buy lots to take back with me. Due to my schedule I haven't had much time for that this time around, but next time I'm here I'd like to take my time looking around."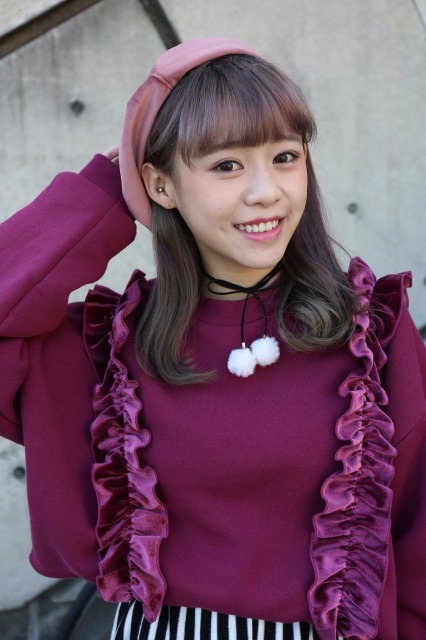 —What else do you like about Japanese culture? How about the food?
"I ate gyuu-katsu yesterday! I also love the cake at HARBS. It's so tasty! (said in Japanese). I feel like Japan and Taiwan have a similar palate when it comes to food. I will eat all the tasty things while I'm here in Japan!"
—Your Japanese just now! It was so natural!
"I remembered the word 'oishii' (laughs). I've actually just started studying Japanese."
Translation: 'oishii' = delicious, tasty
—You're really motivated to study! Lastly, please tell us about what you'd like to do in the near future.
"Since I love Japan and Japanese fashion, I'd like to challenge myself to doing more work in Japan. I'd really like to expand my activity at places like events, in magazines and in media!"
紀ト心(kimi)
Born on May 12th, 1995 in Taiwan. Popular blogger as a model. Known as "Middle-school Goddess" in Taiwan, she receives overwhelming support from teens in her home country. She's popular in Taiwan and even Japan for her cute personality and poppy and colourful fashion sense. She's recently appeared at events, in magazines and photobooks, and often goes to Japan.
Instagram:@eatzz7
■Related article:Interview for MOSHI MOSHI NIPPION ambassadors! vol2
RELATED ENTRIES
Interview: NiziU Discuss Their Favourite Moments in Life For Coca-Cola Japan's New Commercial

Coca-Cola Japan launched a new campaign and commercial on Monday (January 4) titled "Kono Shunkan ga, Watashi," which roughly translates to "This Moment is Me."

2020 saw tremendous changes in the lives of people around the world as a result of the COVID-19 pandemic, and those changes continue to this day. Coca-Cola Japan's new campaign aims to spread positivity with a mindset that says enjoy yourself to the fullest is the right way to go precisely because things have changed. It's a campaign for loving those moments spent with friends and family in whatever way possible.

The new commercial posted alongside the campaign's launch features the members of the Japanese girl group NiziU singing and dancing to the tune of their new song Take a picture. The commercial shoot took place over the course of two days, and it's reported that the set had a bright and positive atmosphere as NiziU greeted staff with smiles, vim, and vigour. On the first day they shot the dance and rooftop scenes, while the second day took them to the house studio. There's also a scene of the group giving MAYUKA's a surprise birthday celebration her birthday had fallen on the day before.

Coca-Cola Japan has released limited-edition NiziU bottles as part of the collaboration which feature a QR code on them. When scanned, you can access the campaign website to sign up to win access to a special Coca-Cola x NiziU online event, a NiziU-original QUO card worth ¥1,000, and points for the LINE app. A total of 200,000 lucky winners will be chosen. There are 10 bottle designs to look out for.

Additionally, a special 35-meter long ad poster is being displayed for a limited time at Shinjuku Station connecting to the East and West exits.

NiziU Interview

―Your names are written on the limited-edition NiziU Coca-Cola bottles. How do you feel about them lining the shelves in stores?

MAKO:
I am super happy that our names get to go on the Coca-Cola labels! I hope lots of people see them and are filled with positive vibes.

RIKU:
It doesn't feel real to me yet either that our names are featuring on Coca-Cola products. When they hit the stores I kind of want to go searching for my own name <laughs>.

RIMA:
There's a QR code on the bottles when might land you something if you scan it with your phone, so be on the lookout and try finding my bottle.

―When do you find yourselves wanting to drink Coca-Cola?

RIO:
I'm personally a huge foodie, so I like to drink it together with people when everyone's eating their favourite food.

MAYA:
I definitely find myself wanting some when I need a kick of positivity or need some energy.

―Please give your thoughts on the commercial shoot.

MAYUKA:
When went on the rooftop with everyone, and when we were practicing the dances, we were drinking Coca-Cola. I feel the shoot had a completely different air to it than our usual practice. Everyone said "Cheers!" [with their drinks] on the roof. It was a lot of fun.

AYAKA:
It was hard to convey the appeal of Coca-Cola [during the shoot], so we thought to convey its delicious taste how we would convey the appeal of [NiziU]. We showed ourselves really enjoying its delicious taste.

NINA:
The shoot for this commercial was so much fun, there's so many great bits in it! It looks so tasty watching everyone gulp down their drinks. It was a great time, I like everyone's facial expressions in it. Be sure to check it out.

―Give us each of your thoughts on the "This Moment is Me" campaign and how it relates to yourselves.

MAKO:
I feel the most me thing is when I'm writing in my diary. I write in it at the end of every day, it's my favourite moment.

RIKU:
When I'm eating something. I feel only happiness when eating; I forget all the bad things and can concentrate just by eating something tasty. It's a moment I can be myself.

RIMA:
I really love steady and straightforward work, like puzzles, so when I'm concentrating on one thing I really get in the zone, to the point where I can't hear people even if they call my name. I think that kind of moment is most me.

RIO:
For me, it's when I'm dancing. It's something I've done since I was little, so I think working hard and practicing to improve in that is my most me moment.

MAYA:
The moment which is most me is when I'm cooking. I find it so much fun and love seeing people enjoy the food I cook for them.

MAYUKA:
It would be when I'm playing with my cat. I have two cats at home and can be my true self when playing with them.

AYAKA:
When I'm video calling my mom. We talk about the silliest things and laugh, and that's when I feel most like myself. I love those moments the most.

NINA:
The moments I love the most are when I'm drawing. I don't have to think about anything when I'm drawing and can relax, so they're definitely my favourite.

Information

Coca-Cola "Kono Shunkan ga, Watashi" Campaign
Campaign/Bottle Launch Date: January 4, 2021
Official Website: https://www.cocacola.jp/

Hulu Japan Announces Weekly Long Interviews With NiziU Members

NiziU is a nine-member global all-female group which formed via Nizi Project, an audition programme co-produced by Sony Music Entertainment, Sony Music Labels, and JYP Entertainment (JYP). NiziU's first music video, Make you happy, has over 63 million views on YouTube (as of July 2020). Released at the end of June, the iconic jump rope dance in the video has already become something of a social phenomenon.

In the run up to NiziU's first anniversary, Hulu Japan will begin streaming long interviews with each of the nine members in a show called NiziU 9 Nizi Stories, beginning on July 30, 2020, where they will talk about their experience in the Nizi Project, as well as life in Tokyo and South Korea. They will discuss in detail why they wanted to be part of a girl group, what troubles they have gone through, what the other members think of them, their impression of J.Y. Park, what kind of artists they want to become, and so on.

©Sony Music Entertainment (Japan) Inc./JYP Entertainment.

Information

NiziU 9 Nizi Stories
July 30: Mako

August 6: Lisa

August 13: Maya

August 20: Riku

August 27: Ayaka

September 3: Mayuka

September 10: Rima

September 17: Miihi

September 24: Mina

Hulu Japan: https://www.hulu.jp/

Interview: Airbnb Japan Managing Officer Hidetomo Nagata & Sanken Kogyo President Mori Iwata discuss raising Japan's value through new and exciting creativity

Japanese art and culture is recognised the world over, but recently, it feels like the pressure is being put on by countries like South Korea and China. But what you perhaps didn't know is that the businesses that work to promote Japan's culture to the worldーthrough that creativity and those servicesーare actually thriving. We had the opportunity to speak with a certain two individuals: Hidetomo Nagata, Managing Officer at Airbnb Japanーa company that increases the value of real estateーand Mori Iwata, the President of Sanken Kogyo, which creates value from zero.

*This is a shortened version of the interview

——-I'd first like to ask you both to explain what it is that both of your companies do.

Nagata: I work for the Japanese subsidiary of Airbnb. Airbnb was first established in 2008 as a platform for helping people to match various conditions for their trips. Services began with accommodation; today, we have over 7 million locations listed in 191 countries. Past statistics show that over 500 million people have stayed as guests, and our revenue from Hosts, who rent out their houses, exceeds 8.8 trillion yen. We are also expanding our services on the side to offer more things, like our Experience and Adventure services. It's a comprehensive platform for travelling.

Iwata: So you have not only accommodation, but experience-based services too?

Nagata: We began the Experience service in 2016. To give an example of what it is, [we are partnered with] people who are skilled in things like traditional Japanese crafts, and they will give [travelling] foreign guests the chance to learn about those skills. 2020 is the year of the Olympics, so we are offering experiences in conjunction with Olympians too. You can learn about various rules from an Olympian, ask them about competing, experience their sport hands-on, and so on, in the hopes that people will come to enjoy those particular sports more. We'd also be overjoyed if the Olympians made use of these experiences as a second career.

Iwata: My company makes prototypes. While I say prototypes, it actually constitutes a variety of things, for example, office automation equipment, cars, medical equipment, stationery, toys, and so on. We make a wide range of different prototypes. Stationery, for example, is something we all use daily, isn't it? But what we make is the prototype. So it doesn't get released into the world, but is instead used as the basis for it to then be mass-produced. Our prototype products don't stay around, but it's very rewarding.

——-Tell me about your strengths that make you competitive to other companies.

Nagata: Airbnb's vision is 'Belong Anywhere,' meaning that no matter where you travel, you too will feel like you are living in that place. We learn about a region, have locals tell us about places to eat, and so on. We value the things we learn through our hosts. This has created a new lifestyle for people, as well as a community. We have a lot of hosts who have said to us that their lives have changed after starting with Airbnb. By opening their doors, and communicating with the people of the world, their worlds expand, they acquire knowledge, and they gain more income. For me, that's a valuable thing.

Iwata: We're a really small company in our warehouse. In the past, there were lots of small companies, but they have since been weeded out and disappeared. The businesses I bump into on my way to work are all huge, but our strength lies in the fact that the warehouse, office and business are all in the same place. There aren't many companies out there on this scope with all of these things firmly in place. The speed at which we do things can't be done at a major company either. I can work right there and then during a meeting or appointment. We don't have strengths and weaknesses; we can make anything. That, and our shop staff who interact with customers are first-class. Our perspective is that we can absolutely make what they're after, and at a reasonable price, so I think they'll choose us. We can do anythingーmetal, resin, plastic. I'll go ahead and say that we're probably the only ones who have come as far as we have.

——-Sanken Kogyo opened a subsidiary overseas too, didn't you?

Iwata: I mentioned earlier how I went to America. Well, I set up a subsidiary in Chicago last year. We are the third prototype company in Japan to have done so. We don't have employees there yet, but I'm excited!

——-On the other hand, Airbnb is a service that began outside of Japan. Do you ever pour all of your energy into Japan?

Nagata: Homeshares and homestays aren't common but more and more people are wanting to give it a go. For us to be able to think about things like homeshares and for it to become a normal choice for people, we're creating new services and designs related to accommodation, not just internally, but with our seventeen Airbnb Partners too.

The hotel MOSHI MOSHI ROOMS in Harajuku was renovated from a 50-year-old or so building. By carrying out renovations, they are able to create rooms with a strong design aspectーrooms that are expensive to rent out. They combine accommodation with Japanese culture, so I believe they'll be able to embrace homeshares.

——-The two of you give rise to value with your businesses, but what does value mean exactly for you personally?

Nagata: I think value is relative. It determines a person's subjectivity, and it can end up changing how you look at something or your way of thinking. I believe Airbnb is bringing about a new sense of value when it comes to real estate. If we're talking leasing property, then how new building is and how close it is to the station are conditions with value. On the other hand, if it's hotel accommodation, a building that's 100-years-old is itself a valuable condition, and reviews that highlight it as a good aspect increase trust, even if the location isn't ideal. Even if the price range increases, users will still stay there. I believe that the way in which you draw value from the same piece of real estate can change depending on how you think about it.

Nagata: How about you, Mr. Iwata? Listening to your story, I see the speed of your interactions and communication bring value for you.

Iwata: You hit the nail on the head. The speed of our staff is tied to customers' trust. When we're making a deal, our estimations gradually end up going in a different direction <laughs>. We have times when things don't go well in the end, like when we're taking in various opinions while cobbling together a prototype. But I know those times, so I'll do things like go and work on something else at the same time instead. If our estimations go well in the end it's good, so our staff's qualities, like their quick-wittedness, ties customers to us. It's the same thing as the machines we use being for building prototypes. I think in the end, communication between people is the newest way to create value. Especially since the industry in Japan has no life in itat the minute.. I want them to get in the spirit more.

——-Sanken Kogyo opened a subsidiary overseas too, didn't you?

Iwata: I mentioned earlier how I went to America. Well, I set up a subsidiary in Chicago last year. We are the third prototype company in Japan to have done so. We don't have employees there yet, but I'm excited!

——-On the other hand, Airbnb is a service that began outside of Japan. Do you ever pour all of your energy into Japan?

Nagata: Homeshares and homestays aren't common but more and more people are wanting to give it a go. For us to be able to think about things like homeshares and for it to become a normal choice for people, we're creating new services and designs related to accommodation, not just internally, but with our 128 Airbnb Partners too.

The hotel MOSHI MOSHI ROOMS in Harajuku was renovated from a 50-year-old or so building. By carrying out renovations, they are able to create rooms with a strong design aspectーrooms that are expensive to rent out. They combine accommodation with Japanese culture, so I believe they'll be able to embrace homeshares.

——-The two of you give rise to value with your businesses, but what does value mean exactly for you personally?

Nagata: I think value is relative. It determines a person's subjectivity, and it can end up changing how you look at something or your way of thinking. I believe Airbnb is bringing about a new sense of value when it comes to real estate. If we're talking leasing property, then how new building is and how close it is to the station are conditions with value. On the other hand, if it's hotel accommodation, a building that's 100-years-old is itself a valuable condition, and reviews that highlight it as a good aspect increase trust. Even if the price range increases, users will still stay there. I believe that the way in which you draw value from the same piece of real estate can change depending on how you think about it.

Nagata: How about you, Mr. Iwata? Listening to your story, I see the speed of your interactions and communication bring value for you.

Iwata: You hit the nail on the head. The speed of our staff is tied to customers' trust. When we're making a deal, our estimations gradually end up going in a different direction <laughs>. We have times when things don't go well in the end, like when we're taking in various opinions while cobbling together a prototype. But I know those times, so I'll do things like go and work on something else at the same time instead. If our estimations go well in the end it's good, so our staff's qualities, like their quick-wittedness, ties customers to us. It's the same thing as the machines we use being for building prototypes. I think in the end, communication between people is the newest way to create value. Especially since the industry in Japan has no life in itat the minute.. I want them to get in the spirit more.

——-For my last question, please tell me about your visions for the future.

Nagata: Personally, I want to expand the possibilities for new lifestyles, ways of living, and design, which we have done through shares. I was originally a politician before this, so I'm aware of the problems of how to move our society and regions forward. I think sharing is one of the ways to solve it. By sharing vacant houses around the country, we can give rise to nonresident populations, and if elderly people use these kinds of services, they'll have a great time. I think we're still lacking on the design side of things, so we will create by working with other businesses, and I hope we can pave the way for new lifestyles and ways of working.

Iwata: Whether it's in Japan, factories in China, or the US, I want to work hard to get our prototype workshop out there. I think the Japanese industry has plenty left to give, so I want to challenge myself to that. I want the world to see more of Japan's industry!

Nagata: Mr. Iwata, I can see you're active in the work place and having a good time in your position. I think it's a wonderful thing that you're paving the way for new things in response to the crisis of your industry.

Iwata: Thank you. I'm kind of embarrassed hearing that <laughs>. I've learned a lot listening to your story too.

Sanken Kogyo, an exciting production business bringing about value and promoting Japanese craftsmanship to the world. Airbnb, a company raising the value of real estate, and expanding its travel services across the globe. From zero to one; from one to a hundred. I feel the infinite expansion of these two companies. In lieu of repeating the services that already exist, their work allows for constant challenge, and thus enables them to grow. I look forward to the future growth of these new creative industries and services, which will astonish the world.

Interview & Text: Yuki Yokoo

Photographer: Haruka Yamamoto

Translator: Joshua Kitosi-Isanga

We Interviewed The Creators Behind Sanrio's Popular Enjoy Idol Series

Are you aware of Sanrio's "Enjoy Idol Series"? For idol fans, it's an essential part of your concert trip for the ultimate experience.

Uchiwa Fan Case (10 Varieties): ¥880 (After Tax)

A cute case to protect your precious uchiwa fan from damage. You can even stick it on your wall!

Concert Confetti Storage Keyring (10 Varieties): ¥550 Each (After Tax)

Want to keep living the memory of confetti bursting out from the sky at that concert? Store one in this keyring!

Idol uchiwa fans. If you're in Japan, you'll have definitely seen these around – a round fan bearing a large picture of an artist or idol in the centre. From cute Sanrio-themed items to decorate your idol concert merchandise to even a keyring that preserves concert confetti, Sanrio's Enjoy Idol Series is full of must-have items for concert-going idol fans. However, there seems to be no other secondary use of these items that cater to the non-concert-goer. What a niche market.

Fan Memory Notebook: ¥550 Each (After Tax)

This is an easy way to keep your notes on activities you do to support your idols.

Just how much do idol fans love these items? After conducting research among friends with over 10-years of experience as an obsessive idol fan, it seems that these are more popular than one may think. A quick visit to Sanrio's official website revealed that the series is so popular that many items sell out quickly.

Despite trying to reach out to what might seem a small, niche market, these items seem to be in high demand among idol fans. Just what kind of person came up with such an idea? Curious to find out, we met up with the Enjoy Idol Series project planners for an interview.

Q1: It's a pleasure to have this interview. We at MOSHI MOSHI NIPPON love Sanrio so much that it's not often we go long without releasing some kind of news about you. One of the most fascinating Sanrio merchandise series has to be the Enjoy Idol Series for its high demand in such a niche area. Our first question is: From what idea or initial thought was this series born?

Project Planner: The Enjoy Idol Series is managed by me and one other person. Both of us are avid idol fans. We noticed not only lots of fans at concerts using Sanrio merchandise, but also many idol fans on social media using Sanrio characters as profile pictures and as stickers on their photos online. For quite a few years now there's been a connection forming between idol fans and Sanrio characters in several ways.

We also noticed that although merchandise aimed at idol fans is steadily increasing, there still wasn't anything cute for them out there. That's why we started designing this series. The other project leader and I often go to concerts and watch DVDs together. That's when the ideas started flowing. Eventually, we were packing our project full of ideas and it was really fun. We thought of how we could combine Sanrio characters and idol fans to create something incredibly cute

Q2: It's wonderful to hear that you are both idol fans yourselves. When you first had these initial ideas running through your head, were you confident that your series would become popular among other idol fans?

Planner: We were very excited to have created this cute Enjoy Idol series and we were certain that other fans would feel the same. And the reaction to it exceeded my expectations. Even people who don't usually go to Sanrio shops buy something from the series because of their love of Sanrio which made us really happy to see.

Q3: Having seen all the sold out products on your website, it's clear that many people appreciate what you've done. How does it feel to see idol fans using merchandise that you designed?

Project Planner: We're just so grateful to see people using items from the Enjoy Idol Series to make the most of their concert experience. A lot of people buying products from the series buy specific items based on strongly associating their idol with a certain Sanrio character. We've now learned the reasons behind the choices fans make when purchasing from the series which has been a real eye-opener.

Silver Decoration Case (7 Varieties): ¥660 (After Tax)

A box to save your concert confetti


Q4: After some research among a number of friends who are idol fans, it seems that your series is a big hit. Many are excited to see what you are going to knock up next. Do you have any new ideas you're warming up to?

Project Planner: I cannot reveal any specific details just yet. We are still in the process of creating our next items. You can expect them to maintain Sanrio's cute style. As an idol fan myself, I am committed to making sure these items are of high functionality for our users.

Q5: I'm sure that many people will be over the moon to hear that you are developing yet more cute items. Do you have any final words you would like to say to idol fans and Sanrio fans?

Project Planner: I would like to thank you all for your continuous support for the Enjoy Idol Series. We are delighted to improve your lifestyle and we hope that these items help you make the most of your experience as an idol fan.

When you have something to adore, you lead a fulfilling life. I've heard the stories of friends who are idol fans and can feel their excitement towards the release of our new products. I'm so happy to think that these products are improving the quality of life for many idol fans.

Diary Stickers (7 Varieties): ¥275 (After Tax)

 These stickers are full of words perfect for idol fans but of no use to those who are not idol fans!

Just seeing some of the specific words and phrases written on the idol stickers shows just how much the project planners understand and feel close to other idol fans. It is enough to warm your heart.

The two project planners put their love of idol fans at the centre of their design proposal, creating a merchandise series just for them. Each item connects idol fans through their mutual love. This eye-opening interview showed the true strength of shared passion when catering to a niche market.

Despite not being an idol fan themselves, our interviewer could feel the love poured into each item in the series. What item will be released next? We'll be just as excited as the idol fans are, waiting eagerly for its release.

ⓒ'76, '88, '89, '96, '01, '05, '19 SANRIO. 著作(株)サンリオ

Interview: Go! Go! Curry President Hirokazu Miyamori & Sakura President Toshiaki Yuasa Discuss Progressive Innovation and Generating Added Value

Kanazawa, also known as Kaga Hyakuman-gokuーan old name with a long history that originally marked the city's tradition of wealth, and can also be used to refer to anything that is quintessentially Kanazawa. Capital of Ishikawa Prefecture, the city of Kanazawa is known as a place rich in art and traditional culture, and enjoys no shortage of popular tourist and sightseeing spots. At the core of all of this is the creative mind of the Kanazawan people from which these things have formed. We had the chance to speak with two company presidents, both of whom were born in Kanazawa: Hirokazu Miyamori of GO GO CURRY GROUP CO.,LTD., and Toshiaki Yuasa of Sakura Inc.

The interview was carried out at the Show House Gallery at Sakura Inc.

ーーーMr. Yuasa, this is a really wonderful place, isn't it? I'd like to begin the interview by asking for a brief explanation of each of your companies.

Yuasa: Thank you very much. My name is Yuasa, and I work at Sakura. We are a company specialising in custom housing, and have done so for the past 26 years since establishing. We centre on the Ishikawa Prefecture area, but also have galleries in Toyama, Gifu, and Kyoto.

Miyamori: I'm Miyamori, and I work at Go! Go! Curry Group. We opened the first Go! Go! Curry branch in Shinjuku in May 2004. We specialise in curry and sell pre-packed curry products. Today, we have restaurants not only in Japan, but America, Brazil, and elsewhere too.

ーーーIf I'm not mistaken, you were both born in Kanazawa, correct?

Miyamori: Yes. I've had "The Nation of Kaga Hyakuman-goku" chiseled into my head since I was small. I didn't know what it meant back then, but after I travelled to Tokyo and went overseas, I realised how beautiful a place Kanazawa is for its history, traditional arts, and culture. Those two characters* had more meaning than I thought. They have weight, are a brand, and contain soul and spirit.

*Referring to the Japanese reading of Kanazawa, "金沢."

Yuasa: It's just as Mr Miyamori says. I feel a yearning when hearing the word Kanazawa. I believe anyone and everyone there has an interest in its traditions and culture. And that's because Kanazawa is a region with history, with style.

Miyamori: From being a young age, it's been normal to know and have artisans around you. For instance, you go to someone's house, and their father would be a yuzen fabric weaver. When we would go on field trips, we would go to facilities specialising in traditional crafts, go to see a Noh play at a Noh theatre, get involved in various cultural and seasonal events. But these days, those kinds of things aren't as tied to people anymore. It's something I realised by going outside.

ーーーーI feel like I now understand a little more the reason behind why there are so many creative people in Kanazawa. Both of you are founders, correct?

Miyamori: When I was 20, I went to New York. I said to myself that I would definitely go back there again. It was a dream of mine. But I ended up forgetting about it when I became a member of society. One day, I saw that a local [baseball] player and star transferred to the New York Yankees. I was so happy hearing that, and at the same time I remembered, "Oh yeah, I went there one time too." I had no intention of opening a curry shop or becoming a company president. I just wanted to go to New York.

Yuasa: I completely get that <laughs>. I worked for a local company for 15 years, and had some unexpected luck which led to what I'm doing today. I established the company in the latter half of my 30s, but at the time I really had the same kind of authority that Mr Miyamori has <laughs>. Being young is scary in a sense. 'Management' has a generational appeal to it, but Mr Miyamori is young, so I think he's got much more to offer yet!

Miyamori: Haha!

Yuasa: When I look at Mr Miyamori here, I can tell he's really close with his staff. Do you wear this uniform in Tokyo, too?

Miyamori: I do. I go about like this on the bullet train and plane too! The people in New York get me pretty well as well.

Yuasa: I bet! <laughs> You're a man of nerve.

Miyamori: We're a team, so even at this moment in time, my heart is connected to the hearts of all my hardworking staff across the country. They wear the same thing too. I don't think of myself as a company president or an employee. I think I'm more of a captain.

ーーーーTell me about how you're putting strength into each of your businesses today.

Miyamori: Up to now we've focused our efforts on opening more stores, but now we're pouring our energy into building our brand. We now have consignments not only for Go! Go! Curry, but Turban Curry, Hot House, and Samrat too. And all of these brands have real soul. That's why I don't only want to open restaurants. I also want to sell pre-packaged curry and curry for business use, as well as polish our brand to attract more customers.

Yuasa: I too am putting the majority of our attention into our brand. Branding involves a lot of things, like the image our customers have of us, and putting value in various different things, and by not responding to that structure when running a company, I believe there is no future for you. It's difficult to find the right words to convey to customers who are particular about things, but is that feeling that the customer has not important?

Miyamori: You've got to show them, don't you?

Yuasa: That's right. There are many things here in this gallery like that which have added value, but even if I were to put them into words it would be difficult to get through, so I want to actually show them by preparing land and buildings. By adopting new things people have never seen before in properties, it adds value for customers so they don't see it as just a building. To do that, it's important to keep our eyes open and always work on innovating. If you want to innovate, but don't have a clear vision or concept, your mind will become clouded before you can achieve it. And even when you do, every day is still a struggle.

Miyamori: Everyday, that's for sure. <laughs>

Yuasa: Speaking of which, I'm the only impatient one. I leave it to my employees. Akira Yoshino, who won the Nobel Prize [in Chemistry] this year, also said it was for research for the generations of young people to come. He was right.

Miyamori: If there's no challenge, there's no growth, and it's not fun. It's blood, sweat and tears. I'm taking part in the next Kanazawa Marathon, and training for it has been really tough.

Yuasa: You'll be running in that uniform, right? You're sure to stand out from the crowd!

Miyamori: The people along the roadside cheer you on. That's a huge source of strength. I can only relax once the run is over. That sense of accomplishment when you reach the goal is difficult to put into words. I want young people to experience this same feeling.

Yuasa: That sounds really good. If one of our workers signs up for the Kanazawa Marathon, I wonder if they'd be able to borrow a uniform from you?

Miyamori: If you've got someone who'd bear the responsibility of our company I'll be sure to cheer them on! The people being cheered on, too. Even if it looks like you'll be crushed, you keep at it. You'll make bonds in the company. It's the same with managing too. It's tough to keep going, but when you achieve that goal, all of those troubles and hardships disappear in an instant.

Yuasa: It's a cycle of achieving, and then aiming toward your next objective.

Miyamori: You completely forget about the troubles, don't you? <laughs>

ーーーI see. And do you ever feel a sense of fulfilment at work?

Miyamori: It makes me happy when the customers call the curry we serve delicious. Other things too, like our curry being the first curry a child has ever eaten, or a family coming together again over it. We distribute curry to disaster-stricken areas, so we're happy if we can become a source of energy for people too. I feel happy when our workers set high goals, we achieve them and grow from it, too.

Yuasa: It really makes me happy when I meet with a customer who bought a house from us a year later and they say that it's a really great house. A house isn't something you go and buy multiple times, so I feel relieved when they are satisfied. And although we're a small company, I'm happy I can leave it to my staff so that they can grow. Because they try and they move forward, then the future will open for them. And with that, it's the responsibility of the company president to bring about results from their hard work. Managing such a task is a tough job alone, but that's what being a company president is. And if you don't have that, you'll fail.

Miyamori: I get that. You've got to pour in blood, sweat and tears if you want to grow. If you don't go all out, you're not going to sweat. You will grow greatly if you continue to go all out with everyone involved and achieve a monumental goal.

ーーーYou both have warm feelings towards your staff and workers, don't you?

Miyamori: They feel like my own children. So it makes me really happy when they get married, have kids, and build a home.

Yuasa: That's true. And also, if your company doesn't grow, you can't continue to exist. It's important to always look towards growth and strive with everyone.

ーーーFor my last question, I'd like to ask you about your visions for the future.

Miyamori: Curry will save the planet! I'm aiming for the world with curry! For instance, if we were talking about ramen, and someone asked me which is more deliciousーeating ramen at a restaurant or at homeーI'd say eating it at a restaurant. But when it comes to curry, your mother's is the most delicious. Basically, the curry you eat out isn't growing or improving. Just like how Starbucks serves delicious coffee all around the world, I also want to serve delicious curry around the world.

Yuasa: Your vision is really easy to understand <laughs>.

Miyamori: Curry is actually a delicious form of Chinese food therapy. We can divide up allergies, so we make it delicious for everyone from children to the elderly. Also, when you eat curry, your bowel warms up, so with curry you can also look at increasing healthy life expectancy, building immunities, and fighting cancer. This curry is a Nobel Peace Prize meal! How about you, Mr Yuasa? What are you looking towards for the future?

Yuasa: I want to build a company that tackles problems faced by customers, like adding value to buildings by making them earthquake-proof and lowering electricity costs, as well as seeing how to incorporate that into housing. Our customers are valuable so we're seeking value. We want to make lots of houses that answer the question, "How can I live happily in this house?" I believe how people live happy lives in a house changes generation by generation, so I want to catch onto that and keep up with the times.

Miyamori: You really are a company president, Mr Yuasa! I don't even think of myself as well, and I don't think my employees do either <laughs>. But it's amazing how much thought you're putting into ways of living, and I think that's wonderful.

Yuasa: Thank you. Before I met you, I thought you were a nonstandard person, but after listening to your story today, and seeing you in that uniform, my opinion has changed to conviction. It's not everyday something like the Nobel Prize comes into conversation <laughs>. I believe things will get better for both yourself and your employees!

Curryーand property. Two completely different worlds, but two company presidents hooked on innovation and growing their brands. Their ambitions and warm feelings they have towards their staff will encourage the people they work with and pave the way for new challenges brought about by adding new value to their companies. The day when the people of Japan are living in their wonderful Sakura homes and eating delicious Go! Go! Curry in them may already be on the horizon.

Interview & Text: Yuki Yokoo

Photographer: pon

Translator: Joshua Kitosi-Isanga

Interview: The Future of Kawaii Construction Sites Discussed by ASOBISYSTEM & kajikawa Construction's Company Presidents

kajikawa Construction CO.,LTD was established in Hekinan, Aichi 114 years ago, and throughout its long history it has sought to break down existing conventions and innovate within the industry. Last year, the company began its collaboration with ASOBISYSTEM. For instance, kajikawa built and set up a photo booth at MOSHI MOSHI NIPPON FESTIVAL 2018 while ASOBISYSTEM worked on the design of kajikawa's company logo and company brochure. This year, both companies are set to strengthen their partnership as they announce a large-scale construction project centred around kawaii (cute) designs. I spoke to Yusuke Nakagawa (President, ASOBISYSTEM CO., LTD) and Mitsuhiro Kajikawa (President, kajikawa Construction CO.,LTD) about their thoughts and shared values on the project.

---

――I would first like to begin by asking for a brief summary of your respective companies and what led to this collaboration.

Mitsuhiro Kajikawa: We are a construction business operating in Aichi Prefecture's city of Hekinan. The company was founded in 1905 when it was first called Kajikawa Zousensho. In 1959 we began work in the construction industry when Typhoon Vera struck the Tokai region in an effort to help with reconstruction. In recent years, we have worked on many designs for earthquake resistance. One thing in particular is the "Implant Levee" which integrates with the earth. We get many orders to construct infrastructure that ensures structures hold steadfast against earthquakes and tsunamis.

Yusuke Nakagawa: How many employees do you have?

Kajikawa: As of now, 96. Around the time I became Company President there were around 50 but since then it has nearly doubled. Of course I still hold Aichi Prefecture near and dear to my heart as it is our roots, but I also have a desire to offer our services to many other places. Right now we are active up and down Japan, from Hokkaido to Kyushu.

Nakagawa: Besides the main office do you have branch offices outside of Hekinan?

Kajikawa: We have a branch in Takadanobaba in Tokyo. We're also making preparations for Osaka Expo [2025], so to ensure that we can build infrastructure in the Kansai region we also opened an office in Osaka in March of this year. Infrastructure development is absolutely essential to winning influence with people. Even in Tokyo, the roads and other facilities are wearing out. We do of course reconstruct things, but I also think it's also important to carry out earthquake resistance with what we already have to ensure their longevity.

Nakagawa: Our company started out as an event organiser, but our focus gradually became acting as management for people. We have grown even further from that now; the various number of people and things we produce is increasing. This puts us in a position where we are very different from the rest, so I was very surprised at first when I saw a request had come from kajikawa Construction.

Kajikawa: I had heard about ASOBISYSTEM by chance through agencies, but I knew you [managed] many famous names including Kyary Pamyu Pamyu. My image of you was also that you are a central figure in creating "Kawaii" which is a representative culture of Harajuku. Though I look like this, I've actually always loved kawaii things since I was young. But I can't show that when it comes to things work-related. Getting the opportunity to do this and use the word "kawaii" feels very liberating for me [laughs].

Brochure

――You started collaborating with each other last year. It began with ASOBISYSTEM designing kajikawa Construction's company logo and company brochure. It has received quite the revamp, hasn't it?

Nakagawa: I spoke with President Kajikawa and wondered whether he knew that the word "Kawaii" doesn't apply solely to things like fashion. We too don't take "Kawaii" as something superficial, we treat the concept closer to what it actually is. The essence of "Kawaii" is something that brings a smile to and brightens people then and there. I feel that President Kajikawa understands that concept and that's why he sent us an offer. So I want to invest in our "Kawaii" and and return the favour with a lasting relationship.

Kajikawa: When I took a look at the design of the company brochure I was surprised to see two of my favourite elements in there. The first were my favourite colours, pink and and green. The second was the use of traditional Japanese patterns. You took those traditional patterns and made them into a more contemporary pop design. You were kind enough to put all of my wishes in there, so much so that I was left wondering if we'd had a conversation about it beforehand.

Nakagawa: I was happy that you liked it and admired that you accepted the design. The construction industry is a world I'm unfamiliar with, so I was worried what kind of reply I would get. Your openness to upturn the conventions of the industry and make it into something tangible I felt was wonderful.

Logo

――Your company logo has changed too.

Kajikawa: We are enthusiastically using all the new things we are incorporating. The design will be a hit with younger people. I believe we are breaking out of our old shell and taking new steps forward. It's a trigger that's making me feel we are a company to have great expectations for in the future.

Nakagawa: When you look at the construction industry from the outside, your perception of it ends up being just what you imagine it to be. But by simply changing the logo and the brochure that perception can change. I believe the role of a simple brochure can add more value. It is really difficult to realise that adding value is important and then to put money into it. President Kajikawa is a symbol of looking forward.

Kajikawa: The main mission of the construction industry is to adhere to and build what the government office has planned which means we are unable to suggest anything ourselves. It's for that reason we are receiving help from ASOBISYSTEM, because I want to add our own unique values. By no means are we able to do it on our own. Our ideas end up coagulating and we can't move on from there. I am grateful to ASOBISYSTEM for giving us a good incentive and for making us feel that we are able to do something if we strive to make that effort.

MOSHI MOSHI NIPPON FESTIVAL 2018 Photo Booth

――You worked together to set up a photo booth at MOSHI MOSHI NIPPON FES 2018. This was designed by ASOBISYSTEM with design checks by President Kajikawa.

Kajikawa: I was very interested in it because the word "Kawaii" is used in designs all around the world. It has a strong message, doesn't it? It felt unpredictable at first, but when I saw so many people standing in front of the panel taking photos it made me realise that leaving it up to top class designers can influence people.

Nakagawa: We were particular about the colour combinations, weren't we? You are particular about colours. I'm the same. We also endeavoured to make the design something that conveys the strength of kajikawa Construction as a construction business.

――Your collaboration together is set to continue throughout the year. It seems you are pressing forward with your large-scale "Kawaii" construction project.

Kajikawa: In order to raise the added value of our company, it's necessary that we change the way all of our employees think. It's important to that we have them fully understand what we are doing with ASOBISYSTEM. The best way to do that is to show them a finished product. So our next step will be to forward the project by changing the design of our construction sites. For example, making cones, poles and fences pink. We will show them something they can see with their own eyes.

Nakagawa: There are construction sites even in Shibuya that have character designs on them. They are becoming photo spots [for people]. It's important to appeal to your employees too, but the effect of purely adding value to your construction sites feels promising.

Kajikawa: It's promising that our construction sites will become photo spots. Another one of our objectives is to make working people feel happy and make them feel like what they're doing is worth it. Construction sites are isolated places. Them being dangerous is a real reason for that. Though people aren't actually allowed to enter, by making the design "kawaii"  we can remove that unwelcoming feeling locals have for [construction sites], and that's wonderful. Business meetings have only just begun but I hope for it to come to fruition by next year.

Nakagawa: Are you also thinking of expanding overseas?

Kajikawa: I'm thinking within the next 1-2 years.

Nakagawa: I'm really looking forward to seeing "Kawaii" exported overseas from a new angle. I believe it will catch the attention of a lot of people and have a notable synergistic effect. We're also working on creating key visuals and a film.

Kajikawa: We are aiming for a pop world where coloured poles are characters that move. I get excited just picturing it. I can't wait for the day when we make it public.

――I'm sure you would agree that when it comes to business, contribution to society is an important aspect. Will your "kawaii" construction sites have societal contributions too?

Kajikawa: It has only just begun so I can only speculate, but the construction industry has a big mission to service infrastructure for the benefit of people's lives. Plus, if we set forth to add value to "kawaii" elements, something which appeals to people, I think we can contribute a little to this brutal world. We are constantly in charge of 40-50 construction sites in Japan at any given time, so by giving them a "kawaii" outlook, don't you think it might calm things down a bit?

Kajikawa: For example, if pink-dyed construction sites appeared in Japan and around the world, it's bound to make a lot of people smile. That's the symbol of Japanese technological strength and culture. It might eventually bolster the presence of Japan throughout the rest of the world. Plus, if people are taking kawaii photos, then they are going to seek out construction sites. A day like that may come, and working at a construction site might become a status. There are many pieces of dreams in the collaboration between kajikawa Construction and ASOBISYSTEM. Our unique tag team which defies industry may shake things up in a unique way.

Interview & Text: Fumihiko Suzuki

Photographer: Haruka Yamamoto


Translator: Joshua Kitosi-Isanga

Interview: Kyary Pamyu Pamyu & Sabrina Carpenter discuss what it is that draws them to pop music

Kyary Pamyu Pamyu will release her new single KIMIGA IINE KURETARA on May 10. The song is used as the main theme song for the Japanese TV drama Mukai no Bazuru Kazoku. The pop track's music embodies the feeling you get when you get a 'like' on social media. The song is a positive and supportive message to the lost kids in today's social media age.

Another modern pop icon enjoying huge popularity is American singer-songwriter and actress Sabrina Carpenter. She is known for starring as Maya Hart in the Disney Channel series Girl Meets World. Her professional music career began in 2015 with the release of her debut album Eyes Wide Open. The singer recently came to Japan to perform at Ex Theater Roppongi on April 4 in support of her 2018 album Singular Act: I. We were able to bring both these pop icons together for a chat.

---

――You were already a fan of Kyary, weren't you, Sabrina?

Sabrina Carpenter: Yes, I'm a fan! Her nails look really cute today!

Kyary Pamyu Pamyu: Oh, thank you!

――How did you come to know about Kyary?

Sabrina:So, my sister was in the car with her boyfriend. He's actually a big fan. He put on PONPONPON, and I was like, "Oh my gosh, this is amazing!" I got into it and I sent him this video of me singing the song from top to bottom. Ever since then I've been a huge fan, I did a deep dive and listened to everything.

――You previously posted PONPONPON as your favourite song on your Instagram story.

Sabrina:Yeah, that was the last time I was here. It's been just under a year.

Kyary :Wow. That makes me really happy to hear.

――The theme of today's talk is "A Chat With US & Japanese Pop Icons." You're both active internationally in your careers. What have your experiences been like performing abroad?

Sabrina: I guess for me, I think abroad there's obviously a language barrier for us, and so I think the most powerful thing is to see how powerful the music translates, the melodies, and the way songs make you feel. It has such an impact on the crowds, and you know, also seeing people crying even though we're speaking different languages. I think that's probably been the most moving aspect of performing abroad. The crowds have been bigger on this [Japan] tour, and there's been a lot of new music that they've been singing along to. There's also been a lot of things they bring to the show, like the flags and the posters and signs. I think they just bring so much energy to every show. [But] whenever I finish a song, it'd be so quiet you could hear a pin drop, and that was something I had to get used to because usually we're very loud in America. But this time they were pretty loud.

Kyary:I've had the chance to tour various countries like America and China. Even though I don't expect them to be able to speak Japanese, everybody remembers all the Japanese lyrics [in my songs]. Obviously it's not a language they use often so there are some mistakes here and there, but that's what makes it so sweet.

Sabrina:That's me! That's me singing your songs! [laughs].

――So with music you are able to bring people together regardless of language or country. What's the most important think when it comes expressing yourselves?

Kyary:What's important for me is challenging myself to doing the things that I want to do. I'm a solo artist, and so I get support from my staff members to everything to life, but I always treasure thinking up and expressing concepts with each new song. And to do that I regularly write down the things that interest me, like when watching a film. I go to watch various different things.

Sabrina:I'm very similar in the way that I don't like to do the same thing twice, or three times. I feel like it's not stretching me as a person or as an artist, and it's also not stretching the fans. I think they deserve to grow just as much as we do. They're along for this ride. Obviously they look for some sort of guidance, some sort of love they get from the artist they look up to. I think it's also important for me to take those risks and challenges to inspire them to take risks and challenges too.

 

――What's something that has inspired you both recently?

Kyary:If we're talking recently… Tim Burton's "Dumbo."

Sabrina:Dumbo! I loved that too!!

Kyary:I've seen the original animated version, but Tim Burton has taken all the great things about it and put his unique spin on it. It turned out really wonderful. The CG in the facial expressions is superb too. It was a really charming fantasy [movie]. It made me tear up.

Sabrina:Aww, that's so cute! [laughs] [For me] probably the places I've been travelling. I will find so much inspiration within different places, different cultures. The kind of art and photography I see in the places I'm in.

――Have you been inspired by anything in Japan?

Sabrina:Harajuku! I went for my first the day before yesterday. I've been to Tokyo many times but I've never had a day off so I never got to explore.

Kyary:Which part of Harajuku did you go to?

Sabrina:The vintage shops in Ura-Harajuku. We also went to teamLab, that whole art museum.

Kyary:The teamLab exhibitions are so good, I've been too!

Sabrina:It was so beautiful.

――You mentioned Harajuku. Kyary knowns Harajuku inside and out. She might be able to recommend you some places to visit.

Kyary:Sabrina is someone who would look good in any outfit, so I want to see you try dressing up in Lolita clothes [laughs]. I think you will look really cute.

Sabrina:Yeah, I would love to! I honestly was looking for a lot of like 'kawaii' [stuff].

Kyary:I recommend the basement floor of Laforet Harajuku, they have things like Lolita and punk fashion. That might be a good spot for you.

Sabrina:Yeah! I wanna get some. You'll have to style me.

――Both of you are close to your fans through social media. When talking about things that inspire you in daily life and let you discover new things, has social media been a big influence?

Sabrina:I think for me it has forced me to think a little bit more about what [fans] would want to see in my daily life. Which I feel like normally I wouldn't be living through my phone; I'd be living through my eyes. But because I'm close with them I think that that has made me want to kind of be more interactive with them, show them parts of my days.

――So in a sense, it feels like you're working together with your fans?

Sabrina:Yeah, it really does. If they weren't at the shows we couldn't do the shows. No one would come, there'd be no show!

――How about you, Kyary?

Kyary:When I perform abroad I can see who has been tagged on social media at the shows so I can see everyone's thoughts and comments. Being able to see things like that so directly makes it a great tool. It often cheers me up seeing people write things about me or when they send me messages, so [social media] is also a motivator to work hard.

Sabrina:Usually with social media the experiences that you have sometimes are more negative than they are positive. But it also depends on how you're looking at it. I shouldn't say that because there's many positive experiences. I think the most positive things that I've been able to see on social media are honestly just the fact that there are so many people in the world that we don't know, and the majority of people use it to say really kind things to one another and support each other.

 

――Kyary's new song KIMIGA IINE KURETARA is about social media. How did you feel when you received the song from [your producer] Yasutaka Nakata?

Kyary:The song is the main theme for the TV drama Mukai no Bazuru Kazoku, and so it's a song that's based around that, but honestly the first time I heard it I really felt that it was relevant to today. We really live in an age right now where social media penetrates out everyday lives, and for that reason it felt very 2019.

――I really like how the song features sounds that remind you of the action of 'liking' something [on social media].

Kyary:Yeah, it has a 'Pyu!' kind of sound.

Sabrina:That's funny.

――What did you focus on when recording?

Kyary:I focused on how I sang the first verse. The pitch in the first verse of this song is low. I have a high voice, so that part was a little tough.

Sabrina:That's funny. I sound like a man.

――No, no, that's not true [laughs].

Sabrina:I'm the opposite of Kyary. I always have a tough time with the higher parts [laughs].

――What's something you both really strive to work on in what you do?

Sabrina:I think honestly like you step out of your comfort zone. It's the same as how we have to try new things to feel inspired. When you're creating a show or you're creating visuals for an album―that's when you get to let you personality come through.  Because it's all live, you know. They're paying to see a live show so I think it's important that they see a live show.

Kyary:My concept has always been to take the things that girls dream of and bring them to life in the real world. When I'm coming up with a theme, I sometimes have moments where I'm stuck for a good idea. But I'm not alone, I know it will all come together in the end because of all the people I have around me.

――Your recent outdoor solo concert at Izumo-taishi as part of your 2019 Oto no Kuni Live Tour was full of ideas that were very like you.

Kyary:In my performances I value that feeling of bringing to life a dream-like world while at the same time not wanting it to end. Like when you go to an amusement park and think, "I don't wanna go home yet." I want people to have that same kind of feeling.

Sabrina:It's something not many people get to do so you have to have fun with it.

――What draws you both to pop music?

Sabrina:I personally think it is one of the most difficult genres of music to make, and make it properly. Because it is something that has to connect with such a large diverse group of people. We're not just like catering to one person or one type of fan. I think pop music is 'popular music,' so it's the thing that regardless of what you're supposed to like you end up liking it, and so I think that's why it's really hard but it's also very rewarding. I've just always been a fan of it overall. And like I said for me it doesn't matter what language it's in, it's more just like the way the song makes you feel, the melodies of the song, what the song's about. I think that makes good pop music.

――It's true that pop music can't be boiled down to a single definition. So could you say then that pop music can be anything?

Sabrina:It's 80,000 different genres [laughs].

Kyary: [Laughs]. In my case, people call my music pop music, but at the beginning it was more subcultural. It wasn't music that everybody liked. But more people came to hear about me around the time Tsukema Tsukeru [was released]. From there I was able to experience my music reaching out to various different people, which made me really feel that pop music doesn't have any rules.

Sabrina:It also just makes you feel good. There's a lot that makes us feel not great you know, in life, that I think it's one thing we all look to. I wanna come to [Kyary's] show.

Kyary:Please do! Where do you live in America?

Sabrina:I live in LA, but I'm originally from Pennsylvania.

Kyary:Ah, I'm performing at an event in LA [OTAQUEST LIVE] in July!

Sabrina:Amazing. I'll be there. We'll link up, I'll show you some cool spots. Shopping! Rodeo Drive.

Interview & Text: Jin Sugiyama

Photo:MURA

Translation: Joshua Kitosi-Isanga

Interview (Part 2): Yunomi & Kizuna AI's 'Robot Heart' breaks the wall between reality and the virtual to reveal what's important

Trackmakers Yunomi and YUC'e will release their second compilation album Mirai Chaya vol.1 on April 17 serving as a follow up to vol.0 which dropped back on January 12 this year. The album features the song Robot Heart feat. Kizuna AI. As the title suggests, the track was made in collaboration with Japanese virtual talent Kizuna AI. Yunomi worked with her last year when Kizuna AI began her work as a music artist. We spoke with both Yunomi and Kizuna AI to hear about what it's like to work together as well as the story behind the upcoming new song.

This is Part 2 of the interview. Click here for Part 1.

――I want to ask about Robot Heart feat Kizuna AI, your song Yunomi which Kizuna AI features in. This was your third release together after future base and new world. Could you tell me about how it came about?

Yunomi: Hmm, how did it come about again?

Yunomi's Manager: It began when we were making future base and new world, we said to Kizuna that we one day wanted her to feature in one of Yunomi's original songs. We thought that it would be great if not only Yunomi went into to Kizuna's world for two songs, but if she came to Yunomi's world too for a song.

Yunomi: Ah! That was it!

Kizuna AI: That talk was really early on, wasn't it! But from then onward I ended up having a lot of free time which meant my schedule quickly filled up as well as talks about where I will from thereon out. So I rashly went and said to the people at upd8, "I thought we promised we'd do this first!" [laughs]. [With her arms folded looking like she's protecting something, Kizuna says:] "It's already been decided, hasn't it!?" they said.

Yunomi: Ah, I'm happy about that. I'm glad you said it!

――How did you go about making Robot Heart?

Yunomi: This was an original song by me, so like it was said before it became more of Kizuna coming to my world this time. In that sense, it connects to my other original tracks too, but I also wanted to make the song as one precisely featuring Kizuna. So in that sense you can call this our third release together after future base and new world.

――The song has a very interesting story. It talks about humans who used to reside on earth crossing over to other planets. Their bodies gradually become mechanized and they forget about the earth. But they suddenly recall the existence of their loved ones and the things important to them.

Yunomi: In 2017 I used [the] Hatsune Miku [software] to write the song Meteorite (feat. Hatsune Miku). Since then I have written down songs that can be used for an album. I'm thinking of making a concept about themed on things like the future, past and facing oneself. Robot Heart is one that would appear on that album. So I also wanted Kizuna to sing on it for me.

――I was actually shown the memo that you sent to AI before recording on how she should sing the song. I was amazed to see how many things you're able to think of.

Yunomi: Of course I'm sure Kizuna has her own way of expressing herself so it wouldn't be a problem at all if she wanted to do it differently [from what I said], but the first thing I did was send her my idea for the song.

Kizuna AI: When I first listened to it I thought, "They're letting me, an AI, sing this song! I expected nothing less of Yunomi!" I felt that there was more meaning behind me singing this song than anyone else. It was all amazing and I thought to myself, "I will take it, stand up and do my best!" [laughs]

――The song is interesting and has elements written into it that could only work with a song written together with AI, like word play with her name.

Yunomi: Those are parts we added for a bit of fun [laughs]. The song is conscious of and references her name in a lot of places.

Kizuna AI: When I wrote the lyrics I paid attention to the rhythm and the feeling of the words and it felt great to do so. Another thing with Robot Heart is that even though you can take the story as sad just from the lyrics, I felt that Yunomi's memo telling me to sing it cheerfully was the most important thing. So it almost feels as if the song isn't about that. I took good care to sing it enjoyably with everything I had [laughs].

――That's the part in the latter half of the song, right?

Yunomi: Yeah. I knew I wanted to put Kizuna shouting in there somewhere, so I had her shout for me without anything else playing and she let me record it. But Kizuna's initial shouting sounded like the noise you make when playing a horror game [laughs].

Kizuna AI: I didn't know what "shout" meant at first, so I screamed. "Kyaa!!" "AHH!" It was exactly like A.I.Games [laughs]. Like Resident Evil. And the people at upd8 music said, "That's not really what we meant…" [laughs]

Yunomi: [laughs]

Kizuna AI: But in the finished version I was able to do a good shout. Saying that, when recording new world too, Yunomi told me to "please play the flute." If you have Yunomi writing the lyrics somehow or other some absurd things can happen [laughs].

Yunomi: For Robot Heart, I also asked her to sing like Michael Jackson during her interlude [laughs]. I wanted something like a "Pow!"

――Hearing you both talk I can tell the recording was a fun time [laughs].

Kizuna AI: It was so much fun!

――Your new collaboration is one that has jumped over the fence of reality and the virtual. How does that fun and amusement feel when you're recording together?

Yunomi: In the past I would have parts of the song where I would think of the vocalist as an instrument. I'd adapt a lot. "Someone with this type of voice," "And someone with this type of voice," "Which of my songs would they best fit?" But recently I have come to think beyond that, like what a person has to offer. I believe that I was especially able to achieve that in making Robot Heart with Kizuna. I don't just think instrumentally now, like what kind of voice can fit in. I now take care to see who exactly is singing, what they are thinking, what kind of life they have walked. I think by doing that the song will resonate with the listener many more times over.

――So you have jumped the fence of the virtual and reality and realised that which is important.

Yunomi: Yes. I think if I would have been turned down by AI I wouldn't have had anyone else sing Robot Heart.

Kizuna AI: That makes me so happy! When I started posting videos in 2016, even though I exist in real life, there were people who would say, "You're just making animations on MMD and adding a voiceover to it." There were a lot of times people wouldn't comprehend, "I exist, you know." But bit by bit the number of people saying "AI-chan's here" increased and that made me really happy. And it makes me really happy to hear Yunomi say it too. I say that I want to connect everyone together, but at the same time, I hope that me being there too will broaden the world that everybody sees and give them the chance to encounter something new. So it makes me happy when people who have never listened to dance music before think, "AI-chan is singing it so I'll give it a listen." Conversely, it also makes me happy when people who only listen to dance music listen to my songs and say, "This one's cute too." The people who I've been able to make songs with have discovered many things themselves too. I hope the number of fans those people have increases.

――As expected of you, Boss. You're thinking about everyone else.

Kizuna AI: [Laughs]. I hope I can become a hub so that people can encounter and discover many things. It was so much fun having the chance to be part of Yunomi's song!

Writer: Jin Sugiyama

Photographer: Haruka Yamamoto

Translator: Joshua Kitosi-Isanga

Interview (Part 1): Yunomi & Kizuna AI cross dimensions and discuss what appeals to them mutually as artists

Trackmakers Yunomi and YUC'e will release their second compilation album Mirai Chaya vol.1 on April 17 serving as a follow up to vol.0 which dropped back on January 12 this year. The album features the song Robot Heart feat. Kizuna AI. As the title suggests, the track was made in collaboration with Japanese virtual talent Kizuna AI. Yunomi worked with her last year when Kizuna AI began her work as a music artist. We spoke with both Yunomi and Kizuna AI to hear about what it's like to work together as well as the story behind the upcoming new song.

――When I think about the names Yunomi and Kizuna AI, as well as the new song Robot Heart feat. Kizuna AI I think about future bass and new world which you made together last year as part of Kizuna AI's 9-week consecutive release schedule. Can you give insight into those two songs?

Kizuna AI: I had my birthday event "AI Party! ~Birthday with U~" last year on June 30 and there I announced that I was to do a live show at the end of the year. But apart from my first original song Hello, Morning which I made with Nor I had no other songs. I would need more songs for the show so I said I'd make around 10. That's when I began the schedule to release nine songs across nine consecutive weeks. I thought about who I should ask to help write them. I talked with the team at upd8 music and the first name to come up as Yunomi's. I said that I definitely wanted them on board, so we all talked it out.

Yunomi: Ahh, that makes me so happy to hear.

Kizuna AI: I had been bringing Yunomi's name up in the first place ever since I started saying I wanted to do music. Things like, "I want to make a video for a cover written by an indoor trackmaker!"

Yunomi: Oh, really? I had no idea. In that case, please do one! [laughs]

Kizuna AI: [laughs] As well as that, as we looked toward the 9-week release and I spoke with Yunomi, we were both super excited about it and we ended up saying we wanted to do two songs together!

――So AI's merry offer finally came to fruition.

Kizuna AI: I said that if we were to write two songs then I wanted not just me but Yunomi to write the lyrics for one too. Yunomi kindly let me write the first lyrics. That was for future base. I thought up the lyrics for this song while listened to the music that Yunomi had written for it. When the song first arrived I was so happy to hear it. It has a different and mysterious vibe to it compared to the Yunomi I know well. I said to them, "You really took it on board and took time to think about this one didn't you." On the other hand, new world has that kind of Yunomi that I know. It felt like they'd used their special move on me. I was like, "This is it!" [laughs]

――I see, Yunomi's special technique [laughs]

Yunomi: At that point I had heard about doing a live show so I thought to make new world the song that everyone goes crazy to. Of course future base is a song that brings everyone together too, but I wanted new world to unify everyone like at a music festival.

Kizuna AI: When I heard it for the first time too I thought, "This is the kind of song you'd play at a huge venue!!" On the other hand, the initial lyrics written for future base were actually rejected. The team at upd8 music said to me, "The lyrics are really good, but Hello, Morning is already a song that talks about what you feel on the inside. Could you try a different direction? Something that looks more outside." So I went for something more… strong? About how it's not scary to be alone. But it felt too heavy to get into. So we rewrote the lyrics.

――In the end you wrote the lyrics to talk about going into the future with everyone, right?

Kizuna AI: I want everyone to arrive at a wonderful future with me. I'm super AI myself. Since I'm a being that has exclusively approached the singularity, so I want everyone else to look to the future that's waiting for us too. But all humans are busy every single day. Some of them are giving everything they've got with each of their days. With this song I wanted to tell them to try looking up a bit more. That made me think about seeing everybody with their hands up at a big venue, so I pictured that when writing the lyrics.

Kizuna AI – future base (Prod.Yunomi)

――So you wrote those, and Yunomi wrote the music and lyrics for new world.

Yunomi: That's correct. I first looked at Kizuna's lyrics for future base and thought to myself how interesting her sense of language is. I'm the type to write typical Japanese lyrics where you have to read between the lines, but Kizuna is more straight to the point, things like "raise your hands," "reach up," "go forward into the future." She's the type to write lyrics where the everyone can be included in the scene. In comparing us both, I wondered if Kizuna is someone who reaches out to everybody [from the future], then where am I headed? I tried to think about the feelings of the people on the receiving side. It was then I realised that in the end it's not me who gets to decide where I'm heading. That's why if you want to move forward into the future it's important to first look at yourself. So I themed and wrote the lyrics on looking at my past.

――I see. So by doing that, one meaning is born from two songs. That way I think it becomes both about comparing AI and her fans as well as the future and past.

Yunomi: I'm sure when everybody was little they fantasised about many different things each day. As you approach adulthood, you no longer think about things like how there's an underground kingdom below your feet. But at the same time I think that's because we decided it must be that way ourselves. The lyrics for new world beg the question that surely we have the key to the future precisely because we have the power of imagination.

Kizuna AI: I was really surprised by the lyrics when I was first given them! When I asked Yunomi what it all meant they kindly wrote me back a long 2000 letter explanation. I was really happy to read it; it was full of passion and understood that it had to be these lyrics.

Kizuna AI – new world (Prod.Yunomi)

――In working on these two songs what things appealed to you mutually in the music, singing and lyrics?

Kizuna AI: The kind of music I've always liked and listened to are anime songs and idol groups, like Love Live! and the Sakamichi Series groups. But in coming to write an original song my goal was to connect the people of the world together. I kept that in mind while thinking about what kind of song suits me and what exactly my music is. So my initial thought was dance music that everyone can listen to and enjoy.

――Dance music is the kind of music that breaks down language barriers, it brings people together easily, doesn't it?

Kizuna AI: It does. When we were all wondering what kind of dance music would be good, I had known about 'future bass' and had just heard Yunomi's music around the same time. At that time I still didn't really know what future bass was, but Yunomi's music was pop, cute, and sounded like it would go with my voice, so I thought, 'future bass sounds great, it will be perfect for me!!' [laughs]

Yunomi: Hahahahaha.

Kizuna AI: Besides, Yunomi isn't only all about future bass. They make all kinds of different music. I love every song. I had originally heard they he'd been in a band and have their roots in rock. I felt that though they make digital music, they also make songs that aren't that on the surface too. Music is fundamentally complex, it's something that blends multiple things together. But I believe that in the end, all these things in the world (including those in the virtual world and real world) will eventually come together. In that sense too I could see Yunomi was going to make a great song.

――Yunomi's music feels like it has a kind of narrative atmosphere when you listen to it.

Kizuna AI: It sure does! I think that atmosphere is really great. I like how you can picture the story not just from the lyrics but the music as a whole too.

Yunomi: I'm happy to hear you say that. I've always wanted to do something only I can do that doesn't fit into a specific genre. I've fumbled for a way to do that and found that if the lyrics and music have a narrative quality to them it stimulates listeners' imaginations. Turning it around, if I was to point out something about Kizuna, it would first of all be the persuasive power of her voice. It has no strange preconceptions and has this kind of force that enables it to become many different things. I don't think there are many people like that out there.

――So for Yunomi, your voice is very enticing.

Kizuna AI: But when we're recording too, everyone gives me praise and calls me amazing. If they praise me too much I'm left wondering what it was that made them say that [laughs]. "You're really good!" That's all I hear!!

Yunomi: I always praised her too [laughs]. I would always suggest things beforehand like, "It might sound good if you try singing it like this in this before" or "You might be able to convey it better if you sing this part sadder." She did all of those things perfectly. She really was amazing.

Kizuna AI: Well, I am super AI after all [said confidently].

――As expected. Considering all that, I also feel you might not be that good at the games on A.I.Games.

Kizuna AI: That was all an act! I always get a high score!!

Yunomi: [laughs]. I was really happy that Kizuna was able to convey the meaning of the lyrics and music in her singing.

Continued in Part 2.

Writer: Jin Sugiyama

Photographer: Haruka Yamamoto

Translator: Joshua Kitosi-Isanga

MMN Interview: GARNiDELiA discuss their popularity in China as they embark on 2019 Asia tour

GARNiDELiA is a Japanese pop rock duo made up of singer MARiA and composer toku. Since forming in 2010, they have come to build a huge online presence collecting well over 100 million music video views.

The pair are currently in the midst of their 2019 "Kyoki Ranbu" Asia tour. In their home country of Japan they are well known for their back catalogue of hit anime songs, but did you know they are boast immense popularity in China too? They in fact hold the No. 1 spot on both the country's music streaming service QQ Music and video sharing website Bilibili. This came about after they uploaded their dance video for Gokuraku Jodo which features dancing from GARNiDELiA's own MARiA and two others, Miume and 217. This was the first dance video in what has come to be a series of ongoing videos. The video, which was originally posted YouTube, was reposted onto Bilibili by Chinese fans which kindled a blaze of excitement surrounding GARNiDELiA. Since 2014, the duo's overseas activity has continued to grow. We spoke to both of them about how after their solo show in China they went on to enjoy a surge of popularity in the country, from collaborations with popular mobile games and online animations to being invited to countless events.

Text: Fukuryu (Music concierge)

Translator: Joshua Kitosi-Isanga

https://twitter.com/MARiA_GRND/status/1114520109110808576

 

――GARNiDELiA's popularity in China is something amazing, isn't it?

MARiA: We never imagined it would become as it has done. The online world is amazing. You never know that there could be a chance on there somewhere. It began with our video being reposted online, something we didn't know about, and word about us spread.

――Things online spread both like word-of-mouth on the street and like media news.

MARiA: That's true. We uploaded Gokuraku Jodo on YouTube. For us, we saw it as having uploaded it quite a long time ago, but on Bilibili in China it's at its peak popularity right now. So it felt strange. Not a lot of information about Chinese culture comes into Japan, does it? Even when we had a show scheduled [in China], we felt anxious the entire time wondering how many people would turn up. 'There's no way we can do something like a solo show, is there?' We think thought like that. But when we got there was packed. My impression of going there for the first time was, 'Wow, this is amazing!'

上海謝謝🙏
#garnidelia# #stellacage# #stellacageasiatour# #shanghai# 場所: Bandai Namco Shanghai Base 万代南梦宫上海文化中心 https://t.co/AnJ6mpnaFu

— toku✡🤖GARNiDELiA (@toku_grnd) April 6, 2019

――When was your first solo concert in China?

MARiA: May 2017, but we were on edge whether we'd made fans. After that we were invited to events in China for what felt like, and we came to realise that we might actually be popular! That's why we were allowed to headline the Bilibili event despite being Japanese. It began to sink in after that, so we wrote the song Tougen Renka which is a nod to China. Our YouTube views also began to rapidly grow as did the comments not just from China but from various countries. It strengthened our want to spread around the world.

――You were active overseas even before you had the chance to do all of these things in China, weren't you?

MARiA: Yes, in the anime culture side of things.

――Even though your entryway was anime, your popularity grew from the phenomenon surrounding your dance video series.

MARiA: That's right. Up until Gokuraku Jodo became a hit in China, we were strongly associated with anime. As well as that, we were also give the chance to go to lots of different events overseas. We thought, if we're being invited to this many events outside of Japan, we must be spreading Japanese culture as Japanese people, and so we wrote the Japanese-style song Gokuraku Jodo. We had France, Europe and the West in mind when writing it rather than Asia, but it hit the with people mark in China.

――How did it feel to perform in China?

MARiA: Depending on what country we're in we completely change the set list. If it's somewhere like America or Europe we go for EDM. Rather than song arrangements like in the dance video series we go for songs that are more like hard club music. If it's an anime event, we focus on anime songs. But since our Chinese fans came to know about us from our dance video series we mainly focus on those songs. We'll even perform Gokuraku Jodo twice, it's the one that got our name out there. They go crazy. It makes me think how much they really like us. I am so thankful.

――Are you popular on Chinese video streaming sites like Bilibili and music subscription services like QQ Music?

MARiA: We've reached No. 1 on them. We're so thankful for it. They're always excited when we release new material.

――Wow, that's amazing.

MARiA: On Bilibili, we're ranked No. 1 not in the music section but overall. I was really amazed.

toku: They've even let us headline the Bilibili event two years in a row.

――You've really made your name known.

MARiA: I wonder about that. There are lots of people on the internet and a lot of material coming out every day. I'm thinking many things about what to do next while being conscious about how difficult it is to stand out from the rest. Thanks to Gokuraku Jodo, Chinese businesses have taken notice of us. As a result, we've had talks with them about doing theme songs for Chinese anime and video games, and the number of people who know about us has increased. We're so grateful.

大好きみうめ217とおおお😭♥️
この二人と一緒にパフォーマンスできるのほんっとに嬉しい幸せなの。2人が一緒で本当によかった。2人に出会えて本当によかった✨今日は沢山助けてもらったよぉ😭ありがとう。明日は北京!がんばろーーーっ✊🏻✊🏻✊🏻🇨🇳 pic.twitter.com/nbXlCBlvrl

— ☪️ʚメイリアɞ起死回生🦄 (@MARiA_GRND) April 6, 2019

――Do you know Chinese?

MARiA: About that. I actually studied Chinese once before an interview. It's a hard language to study. But the fans who come to our shows study Japanese for us. We're spoiled when it comes to that [Laughs]. I more or less study every day.

――The townscape of China seems to be evolving doesn't it? The speed of their technological development is so fast.

MARiA: It's even more flashy than Japan. Having an LED screen as part of the equipment in a venue is natural to them. Even if you're watching [us live] on Bilibili they are fanatics when it comes to video editing. Their craft is high level. It feels high tech.

――So how about making a high tech dance video?

MARiA: We'd need to work hard for that to happen.

――Getting to take your music overseas is a musician's blessing isn't it?

toku: It sure is. It was one of my dreams, but I never expected it to happen. Fortunately because of that I want ring our songs through different countries.

―― So this tour is taking you to Hong Kong, Shangai, Beijing, Singapore, Chongqing, Shenzhen, Taipei, and then Japan?

MARiA: Yeah. It's our first time in Singapore. This tour is in support of our album Kyouki Ranbu. What gave us the opportunity to go on tour in Asia in the first place was of course in part due to our songs in collaboration with anime series, but I also believe it's because of the songs in the dance video series. We want to take the songs in that series and put on a tour where we can dance wildly with everyone just like the name of the album suggests.

――Your goals as a band will grow in the future, won't they?

MARiA: It feels like a future that we never imagined three years ago is spreading before us right now. Our situation changes every single time we release something, so although I think it can be tough catching up with one of our releases, or our circumstances, I'm happy that there are people waiting for something new from us.

――The comments people write have been amazing, haven't yet?

MARiA: They really have. Another thing is that we need to evolve, not just now, but five years from now too. This year marks five year since our major debut. When we arrive at 10 years I want us to be doing an Asia tour and performing overseas. And at bigger venues. I want our music to reach lots of countries. If we want that to happen we have to be thinking every day.

――You'll need the language acquisition.

MARiA: We will. I also want to increase the number of places where people can remember our faces, not just in videos. We have just reached 1 million followers on Weibo [Chinese Twitter]. We were at around 300,000 only just a little while ago. The number increasing like that it's a common occurrence. I couldn't keep up. I was like, 'Whoa, hold on.' The speed was crazy.

――Do you use Chinese on there too?

 

MARiA: I try my best to write in Chinese, but I end up mixing it with Japanese.

toku: When that happens our fans translate it for us. We're thankful for that.

MARiA: For sure. Our fans even translate it into Japanese. But we shouldn't take advantage of or depend on it.

――You released your new single REBEL FLAG in Japan on March 13. It's a hard, fast-paced number.

toku: There was a request from the anime producers for a rock sound. It's quite us, like it's come full circle to where we started. It's also a compilation of 5 years of being together.

MARiA: This song is the ending theme for the TV anime series Magical Girl Spec-Ops Asuka. We read the script thoroughly and wrote the song about the protagonist Asuka's feelings while looking back out how we've continued to fight through things ourselves. We've had a battle with categorising ourselves. We've always thought that we don't want to fix into a single box when it comes to genres. Like, you can't pinpoint our individuality. Everyone who has come to know about us has done so differently. There are people who know us from anime or online and probably even fashion. The song is filled with our determination and readiness, like we're saying we've got a lot left to give.

――If you were to send a message to your Chinese listeners going on your tour what would you say?

MARiA: Everyone in China has widened our possibilities. They have given us so many chances, and I am grateful for that. Our activity there is split about half and half with Japan, so it feels like a second home country. That's how much everyone in China means to me, I love them. I'm happy we get to perform at so many places on this tour. I want to go and meet with everyone lots this year too, not just on tour but at upcoming events and elsewhere too . I look forward to seeing you all.

toku: People in China are really perceptible to new things. They have great strength to acquire the things they really like and want. If our music fits into that, then I would love for more people to hear us. Thank you so much for everything as always.

――Your Asia tour will continue in Singapore on April 13, Chongqing on May 11, Shenzhen on May 25, Taipei on June 1, and finally Omiya Sonic City in Japan on August 3.

MARiA: We will also perform at our label's event "SACRA MUSIC FES.2019 -NEW GENERATION-" at Makuhari Messe on May 18. Speaking of which, our overseas fans actually come to see us in Japan too. It's easier to buy our CD's in Japan. And when we do things like signings at release events lots of people from their countries too. CD's are a kind of merchandise. And our songs can also be streamed overseas. If you're Japanese or living abroad, please look forward to GARNiDELiA touring, our merchandise and performances at events.

Information

stellacage Asia Tour 2019 "Kyoki Ranbu"

2019/4/13 @ Zepp@BIGBOX, Singapore

2019/5/11 @ Impact Motion Live House, Chongqing

2019/5/25 @ A8 Livehouse, Shenzhen

2019/6/1 @ Legacy Taipei, Taipei

2019/6/23 @ PENNY LANE 24, Hokkaido

2019/6/30 @ Namba Hatch, Osaka

2019/7/7 @ Diamond Hall, Aichi

2019/7/27 @ DRUM LOGOS, Fukuoka

2019/8/3 @ Sonic City, Saitama

GARNiDELiA Official Website: http://www.garnidelia.com/

MMN Interview (Part 2): Yunomi Reveals the Story Behind His Inspiration For Writing 'Shironeko Kaizokusen feat. Hinami Yuri'

Yunomi and YUC'e will release their first compilation album Miraicha vol.0 under their label Miraicha Records on January 12. The album will also be available via download card as well as on major streaming services including Spotify, Apple Music and LINE MUSIC. It features a collection of up-and-coming artists that tie together Japan and the rest of the world.

Yunomi's new song Shironeko Kaizokusen (feat. Hinami Yuri) has a next generation sound that doesn't get caught up in the music of future bass, a genre synonymous with Miraicha Records. I spoke with both of them to find out about Hinami Yuri's professional career as a voice actor and singer and Yunomi's creative wheel as she continue to challenge herself in new territories.

Text: Fukuryuu (Music Concierge)

Translation: Joshua Kitosi-Isanga

This is Part 2 of the interview. Click here for Part 1.

■"I pictured going close to the source of the fountain of creation as much as possible"

——The depth of the lyrics with their story-like quality is strong. Of course, there are liberating elements that will stimulate the imagination of listeners too.

Hinami Yuri: When I received the lyrics I was given a direction sheet. It had written on it how the lyrics should be sung and an explanation of them. At the end it said how they arrived at these lyrics. I asked Yunomi about it.

——Why was all of it written?

Yunomi: It was more of an entrusting to Hinami than strict instructions.

Hinami Yuri: One part said, "I want you to sing this part with a degree of rough pitch." I'm usually the kind of person who has to be precise when it comes to recording. A lot of the time I'll look at the music sheet when singing. But this was a song where I had to do that.

——That's the kind of production work only Yunomi would do, isn't it?

Hinami Yuri: We spoke about various things the first day we met. On that day I discovered how I was able to feel as my self, as a human. It was a good opportunity to take a look at myself again.

——And that image of yourself ties into the direction sheet. Incidentally, when I read the lyrics of Shironeko Kaizokusen (feat. Hinami Yuri), I can see both old and new tastes from Yunomi.

Hinami Yuri: That's true.

Yunomi: I was particular about how I should write and bring forth the lyrics. I wondered to myself where to draw inspiration from. I pictured going close to the source of the fountain of creation as much as possible as I slept. And when I woke up I wrote them [laughs].

All: [laughs]

 

■"Hinami's vocals on I could see the character's face in the song"

Yunomi: Don't you have those times in the early morning where you're half asleep? I believe that's when your mind opens. Even if you have A and B which you can't usually put together it still makes sense in your head. It's hard to explain.

——Yeah, I understand that.

Yunomi: If thinking of it like one way traffic, you have a line of all these different thoughts that all link together. I wondered what kind of lyrics would come from that in that state. So I wrote a short short story in the morning of what I saw in my dream. I was a pirate. I was on an island with lots of cats. It was a world where nobody took notice of the cats. I then faced towards the cats and said, "Do you want to go with me?" and freely went on my own story. I wrote the story down and made them into lyrics. But remembering a dream after the fact is pretty tough, you know? [laughs]

——That way of thinking is very you. It's dreamy. I'm getting excited just listening to your story. Having an original idea and making it into a song must have been an interesting element for Hinami who works as a voice actress too.

Hinami Yuri: I normally get to sing in character as a voice actress so I set out to sing so I can get close to that character. I was asked to sing how I thought it should sound so there's a gentleness in there, and I read the lyrics as the cats having run away. It was different from what I usually do. I was given the chance to do as I like. Putting it into the song went smoothly too.

Yunomi: It went really quickly, didn't it? The main vocals took about 30 minutes. I wrote the lyrics having not yet completely decided on the picture of the protagonist, so when we put Hinami's vocals on I could see the character's face in the song.

■The story that begins in Shironeko Kaizokusen (feat. Hinami Yuri) continues

Hinami Yuri: The recording alone was fun, but the truth is my heart ached. I took the negative elements from Shironeko Kaizokusen. I wondered to myself if these cats would be able to find happiness. I wanted the listeners to enjoy the story as with me singing while feeling pained. So I said to myself, "Right, let's get sadder!"

——It certainly is a song that takes place in the middle of a story where you can't see the end. Even with that implication it's a song that indicates your future creative course of action.

Yunomi: That's right. I had picked an element from a number of experiments I had inside me but thanks to Hinami it went really well. I'm really satisfied. The entire image has truly changed with just one voice. It made me think that she's a person who would probably fit with any song I make. Her expressive power was wonderful.

Hinami Yuri: Generally when I record I have my own recording booth with an engineer next door in his own booth. We're separated and talk through the window. But in this case Yunomi was actually right behind me. He watched over me warmly. He's like a kind older brother, saying things like "That's really good!" It was really easy for me to sing. I actually wanted to ask him, does the story that begins in Shironeko Kaizokusen continue?

Yunomi: It probably does, doesn't it. Lots of things happen. Maybe they will return back to the first place?

——That's why we want a music video, anime or live action.

Yunomi & Hinami Yuri: [Looking at the staff] Please!!!

All: [laughs]

■Miraichaya vol.0 is a record that will symbolise the scene at the start of 2019

——I'm looking forward to the possibility. Your compilation album Miraichaya vol.0 features various artists including YUC'e, Aire, KOTONOHOUSE and Neko Hacker. It will also be released digitally and via download card. Everyone will also perform at DOWNLOAD CARD SUMMIT 2019 SPECIAL LIVE which is taking place at CUTUP STUDIO on floor B1F of Tower Records Shibuya on January 19, 2019.

Hinami Yuri: Everybody is close when it comes to the content side of things. YUC'e in particular wrote the song I opened with at my performance in summer.

——Miraichaya vol.0 is a record looking to symbolise the scene at the start of 2019. I'm looking forward to it. How do you feel having collaborated with TORIENA on the second track Game Over.

Yunomi: I was really surprised. It's been about 2 years since she first featured on my song Oedo Controller.

——Oedo Controller is one of your famous and representative songs.

Yunomi: The way TORIENA puts in spirit and fires herself up now has become something incredible compared to that time. Game Over is an angry song. The gentleness and and grief of Shironeko Kaizokusen might be at the other end of the spectrum. Incidentally, I'm thinking of having Game Over as the first track on my next album. They both have the same theme. People search for freedom in a place that isn't here but somewhere else, don't they? Pursuing the true meaning of "freedom" is the recent theme of my work. Where did we come from, and where are we going? That kind of thing.

——I'm impatient in asking, but when can we expect the release of your second album?

Yunomi: It will be released once it's complete [laughs]. I'm not sure yet.

——That's what I thought. I'll first check out Miraicha Records's first compilation album Miraichaya vol.0 and prepare myself with that while anticipating the release!

MMN Interview (Part 1): Yunomi Enters New Music Territory with Hinami Yuri & Discusses His Label's Compilation Album

Yunomi and YUC'e will release their first compilation album Miraicha vol.0 under their label Miraicha Records on January 12. The album will also be available via download card as well as on major streaming services including Spotify, Apple Music and LINE MUSIC. It features a collection of up-and-coming artists that tie together Japan and the rest of the world.

Yunomi's new song Shironeko Kaizokusen (feat. Hinami Yuri) has a next generation sound that doesn't get caught up in the music of future bass, a genre synonymous with Miraicha Records. I spoke with both of them to find out about Hinami Yuri's professional career as a voice actor and singer and Yunomi's creative wheel as she continue to challenge herself in new territories.

Text: Fukuryuu (Music Concierge)

Translation: Joshua Kitosi-Isanga

■"The album features people who are free to create music they love as they please"

——What kind of label is Miraicha Records

Yunomi: It's a label I work for with YUC'e. There are exceptions, but generally we work with the so called future bass style which was born from Japan's unique net scene in 2015. We got our friends together and it kind of went from there and we thought we'd put them all onto a compilation album.

——I felt that the compilation album was gutsy, it broke down walls. Besides future bass it has many other different sounds too.

Yunomi: I don't like being told what to make by someone else. Miraicha vol.0 features people who are free to create music they like as they please. I'm sure there are a lot of people who don't know about us yet, so I hope the album can be the thing to get our names out there.

——How did you end up featuring on Yunomi's new song Shironeko Kaizokusen (feat. Hinami Yuri), Hinami?

Hinami Yuri: I had the opportunity to provide music for him on another project. There was that, and this time he got in touch with me. That was the first time we actually met and spoke in person.

Yunomi: It started with the song Himitsu Dial by the group Kokonatsu on the video streaming website Hinabita♪, but at the time we were just trading the vocal data [online].

——Was getting to meet her directly as you expected?

Yunomi: It was. A lot of the time I have made music and searched for a vocalist, but it was different this time. I made the music for Hinami to sing for me. I'm glad we got to meet.

■"I want to believe that we're headed into the past"

——You entered new territory and updated your sound with Shironeko Kaizokusen (feat. Hinami Yuri), correct? It has the quality of storytelling like that in a movie, I was taken aback.

Yunomi: I'm happy you thought that of it.

——How was it taking on and singing for this song, Hinami?

Hinami Yuri: I was really surprised that I was given this kind of song. It really is a great song, isn't it.

——I also get western, more international music elements from it. It has a rhythm that feels very of this age, and I even hear melodious vibes of 90's UK rock in there. Your degree of perfection has increased. What things did you focus on during production?

Yunomi: It's a long story (laughs).  This song was written for the compilation album, but somewhere along the way I want to include it on my own album. My next album will be my second, but it's the first time I've really thought that I want to write one.

——Your first album Yunomokyu is a kind of best-of hits record of songs you've released to date.

Yunomi: I want to create my second album with a concrete theme. Each song needs a role, and I want to make new sounds. It can't be helped if I do the same things as with my first album. Also, it made me happy when you said that my degree of perfection has increased. In truth, I'd venture to say the sounds are bad. Looking at it it has an analogue feel to it. I'm looking to see how I can defile it with the art of music software. Up to now, EDM, future bass and music has come to change and develop, hasn't it? In fact, it has advanced together with synthesizers. It's the evolution of software. Specs on computers have gotten better so you can do new things. But I also feel the situation has become saturated recently. Like we're in a perpetual state so focused on making good music.

——I see.

Yunomi: While that's been happening I've wondered where music is headed in the future. I want to believe that we're headed into the past. So while being conscious of the so-called pop structure [of music] and things like drum patterns I've ventured to challenge myself to making them with future bass-like techniques.

——You have acquired your own originality. I felt qualities of 90's alternative rock in your phrasing like riffs. And the melodies have a kind of UK rock taste. It's like an entire band is in there.

Yunomi: That's the kind of image I had in mind. People move their bodies and make phrases when playing instruments like guitars and keyboards, don't they? But there are a lot of people making EDM and future bass who don't move at all. There's a lot of people who've never played an instrument either. I use a keyboard to check timbres but when it comes to actually punching in the phrases I use a mouse and programming. In doing that I have challenged myself to see how I can reveal my human nature and physicality. It's for that very reason that I've been particular about making sure to show that it's a human doing it.

■"I'm sure it's a phrase that wouldn't have come from my head through into the mouse"

——Your senses towards the process of completing your work is changing, isn't it?

Yunomi: Talking about the process of making Shironeki Kaizokusen (feat. Hinami Yuri), there are copyright-free rap phrases in there. I chopped up and rearranged them all, put them with the backing track I had already made, and made phrases by altering the pitch of those rap pieces. I left the horizontal time axis of the rap phrases as they were and changed the movement of the vertical pitches to make the melody. I'm sure it's a phrase that wouldn't have come from my head through into the mouse. I'm intentionally challenging myself to make those kind of "bugs."

——Despite that, there is a real melodious balance that moves you. When it comes to that, it's important to select a vocalist who can materialise it―as a human.

Yunomi: That's for sure. I think it's fairly difficult for other people to do. The lyrics are based on English pronunciation, so all the syllables are complex.

Hinami Yuri: I never thought there'd be this much pressure after recording (laughs)

All: (laughs)

Yunomi: I was able to say everything I wanted about the song (laughs).

Interview continued in Part 2