Kyary Pamyu Pamyu's first artwork exhibition now open at "Laforet Harajuku" + report of Kyary and Steve Nakamura at exhibition preview
This year marks the 5th anniversary since the debut of Japan's number one pop queen Kyary Pamyu Pamyu. Kyary has been very busy celebrating her anniversary year. This year, she released her first ever best-of album "KPP BEST", embarked on her third world tour "5PP 5iVE YEARS MONSTER WORLD TOUR 2016", collaborated with an overseas artist, held her first artwork exhibition, challenged herself to her "5 Plans" for 2016, and even had her own attraction over at Universal Studios Japan, the "Kyary Pamyu Pamyu XR Ride", as part of the park's "Cool Japan 2016."
One of Kyary's "5 Plans" for 2016 includes her artwork exhibition entitled "KYARY PAMYU PAMYU ARTWORK EXHIBITION 2011-2016", which will be held at Laforet Harajuku from Friday December 16th to Sunday December 25th. The exhibition will showcase all 18 of her CD jacket designs to date, as well as around 100 unreleased images taken from the photobooks included in her albums, the costumes and wigs worn by the pop queen herself as seen in the photographs of the CD jackets, and more. Moreover, there will be a special interactive area where you can see the jacket designs in full motion. This is a completely unique artwork exhibition where you can enjoy seeing and feeling part of the world of Kyary Pamyu Pamyu, an artist internationally recognised for her art and style.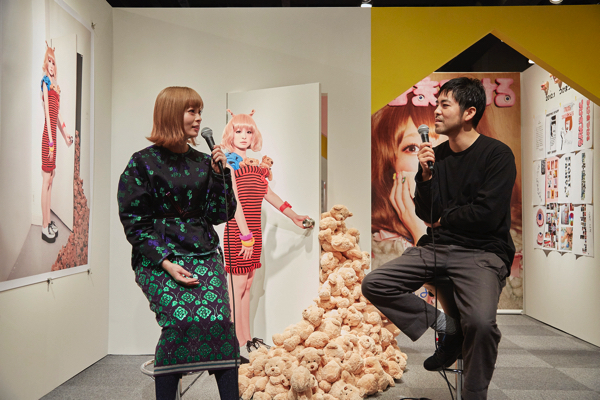 The creative director for the Kyary Pamyu Pamyu artwork exhibition is none other than Steve Nakamura, who has been Kyary's art director since her debut in 2011; the exhibition will also feature Nakamura's own artwork. Kyary and Nakamura were invited to a private media show on Thursday December 15th ahead of the exhibition.
Looking back at her artwork over the years, Kyary confessed that, "When I look at myself during my early work, I get the impression that my eyes are really on edge. But I think I'm looking much calmer and relaxed in my newer artwork." Talking about which of her works left the biggest impact on her, she highlighted her debut mini album "Moshi Moshi Harajuku" which won the 2012 Music Jacket Award, "When it was advertised everywhere in Harajuku, people would see it and say things like 'Scary!', 'Gross!', but I just thought 'I've done it!' I'm glad that it made people stop and wonder just what kind of music I perform."
Nakamura also spoke at the talk session, saying "The CD jacket designs have been enlarged to 1m-3m especially for this event. Seeing it that big, it made me notice one again how much I focused on the little details." He also left the statement, "From the entire 5 years of artwork, there isn't just one piece that can be pinpointed that represents the world of Kyary – they all do. I want everyone to once again enjoy the entire world of Kyary Pamyu Pamyu through the pieces on display at the exhibition."
Additionally, a visual book compiling around 300 unseen photographs from Kyary's past photobooks is now on sale to favourable reviews. The contents of the book contain not only photos from Kyary's works, but also planning scripts, off-shots during photoshoots, and more. Even Kyary herself is boasting that this is her "Best artwork book."A limited edition of the visual book that comes with a special book cover and packaging will go on sale at the art exhibition and KPP Web Store from Friday December 16th, so be sure to keep your eyes peeled.
■Information
KYARY PAMYU PAMYU ARTWORK EXHIBITION 2011-2016
・Location: Laforet Museum Harajuku (Laforet 6th floor)
・Dates: Friday December 16th, 2016 to Sunday December 25th, 2016
・Opening/Closing Times: 11:00-21:00 (the exhibition will close at 6pm on December 25th)
※Please be aware that you may be refused entry during busy times.
・Details: This year marks Kyary Pamyu Pamyu's 5th anniversary since her debut. This exhibition has compiled together all of Kyary Pamyu Pamyu's artwork to date including all of the CD jacket designs released to date across 18 CDs. This event will allow you to immerse yourself in the unique world of Kyary Pamyu Pamyu, brought together into one special event.
writer:Sumire Fujiwara
Photo:Yasushi Mori
—
■Related article:Kyary Pamyu Pamyu walked the red carpet at the world premiere of the upcoming animated film "SING" from the "Minions" staff!
■Related article:Kyary's collection of album artwork since her debut + more complied into a book — "Kyary Pamyu Pamyu Artworks 2011-2016" will give you a crazy visual experience!
RELATED ENTRIES
Kyary Pamyu Pamyu to Appear as a Regular on NHK Educational TV's 'Let's Play English Meets the World'

Kyary Pamyu Pamyu will appear as the Novice Wizard Kyary on NHK Educational TV's Let's Play English Meets the World. The series will premiere on April 4, 2023.

Yasutaka Nakata will produce the show's opening theme and a selection of music used throughout.

<Comment from Kyary Pamyu Pamyu>

"I'm so thrilled to be appearing on a show I've watched since I was a kid!
Even though I often perform overseas, I'm still a beginner in English. I hope I can learn together with everyone through this series!

Also, Yasutaka Nakata is providing the opening song and quite a few tracks throughout the show.

Some of the tracks you'll hear are very different than the standard Kyary songs, so I hope you'll enjoy them and sing along!"

Information

Let's Play English Meets the World (NHK Educational TV)
First Broadcast: April 4, 2023 (Airing Tuesdays at 8:35AM)

<About the Series>
People from all around the world travel to the Novice Witch Kyary's house to teach her tons of interesting things. As you listen and play along, you might also find yourself speaking English before you know it! The series will also be filled with games, cartoons, and plenty of singing and dancing, so you'll certainly want to tune in! Just what kind of fun awaits?

Kyary Pamyu Pamyu WORLD TOUR 2023 – POPPP –

May 15, 2023
New York, U.S. – Webster Hall
https://www.axs.com/events/471552/kyary-pamyu-pamyu-tickets?skin=websterhall

May 17, 2023
Los Angeles, U.S – The Novo
https://www.axs.com/artists/1262/kyary-pamyu-pamyu-tickets

June 2, 2023
Barcelona, Spain – PRIMAVERA SOUND 2023 Parc del Forum
https://www.primaverasound.com/

June 5, 2023
Paris, France – Cabaret Sauvage
https://www.seetickets.com/fr/d/event/kyary-pamyu-pamyu/cabaret-sauvage/8769451

June 7, 2023
London, England – London EartH Halll
https://www.gigsandtours.com/tour/kyary-pamyu-pamyu

June 9, 2023
Madrid, Spain – PRIMAVERA SOUND 2023 Ciudad del Rock
https://www.primaverasound.com/

More Details
https://wt2023.kyary.asobisystem.com/

HARAJUKU COLLECTIVE, a Collaboration Between Hot Topic & Studio Ghibli, Gets Pop-Up Store at Shinsaibashi PARCO

Last year, the HARAJUKU COLLECTIVE collaboration appeared at AF Gallery in Harajuku from August 10 until August 28, garnering massive acclaim from fans. The collection is now being sold at Shinsaibashi PARCO until March 12, 2023.

HARAJUKU COLLECTIVE is a Studio Ghibli-inspired apparel collection by the popular American counterculture chain Hot Topic. Bringing more Japanese culture to the ongoing Studio Ghibli collaboration launched in 2014, Hot Topic stores began selling original items produced by nine Japanese creators and brands, as well as some original American items produced by Hot Topic's executive designers.

The lineup of Japan-original items includes T-shirts, tote bags, and other items featuring exclusive artwork by up-and-coming creators. These items depict beloved characters from Studio Ghibli's works, as well as logos created for the collaboration. Fans won't want to miss grabbing these unique items!

 

Details on the Previous HARAJUKU COLLECTIVE Pop-Up Store: https://www.moshimoshi-nippon.jp/ja/625747

Next Generation Creative Girls' Collective bala Kicks off New Activities

The Tokyo-based girl artists and creators' collective bala has finally launched for real! The group will release its first single barla on March 8.

bala consists of MANON, SUNNY ONLY 1, DAN, and KANO, each with their own global background. The project aims to resonate with Gen Z youth culture and to be a collective of artists that connects hybrid Japanese pop culture with audiences around the world.

The debut song barla was produced by Shinichi Osawa, who has numerous hits under the name Mondo Grosso. It was co-written by Kenmochi Hidefumi from Wednesday Campanella. With Y2K culture making a comeback around the world, the track features the house sound popular in the late 90s which is showing signs of becoming the next musical trend yet again. The groovy dance tune is a perfect theme song for these girls who will lead the next generation of pop culture.

<Comment from Shinichi Osawa>
"I'm honored to be involved in bala's debut. The members are super unique, and collaborating with Kenmochi-san for the first time was a dream come true."

<Comment from Kenmochi Hidefumi>
"I'm happy to be able to work with the members of bala and Shinichi Osawa. Everyone is so uniquely talented, and this song is filled with everyone's energy and excitement inspired by their long-awaited debut!"

Kyary Pamyu Pamyu to Embark on First World Tour in Five Years

The Kyary Pamyu Pamyu World Tour 2023, titled POPPP, will begin this May!

This will be the singer's first world tour in five years, as last year's planned international tour was canceled. Kyary will perform in six cities–New York, Los Angeles, Madrid, Barcelona, Paris, and London. The Spain shows will take place during the massive Primavera Sound music festival.

In 2022, Kyary Pamyu Pamyu performed as the final act on the Gobi Stage at Coachella, the world's largest music festival held in Indio, California. The artist received accolades from both the American audience and viewers from around the world. This year, Kyary is continuing to attract attention as the first Japanese solo artist to be featured in Global Spin, an original showcase of artists from around the world made by the Recording Academy in the U.S., the organizer of the Grammy Awards.

Information

Kyary Pamyu Pamyu WORLD TOUR 2023 – POPPP –

May 15, 2023
New York, U.S. – Webster Hall
https://www.axs.com/events/471552/kyary-pamyu-pamyu-tickets?skin=websterhall

May 17, 2023
Los Angeles, U.S – The Novo
https://www.axs.com/artists/1262/kyary-pamyu-pamyu-tickets

June 2, 2023
Barcelona, Spain – PRIMAVERA SOUND 2023 Parc del Forum
https://www.primaverasound.com/

June 5, 2023
Paris, France – Cabaret Sauvage
https://www.seetickets.com/fr/d/event/kyary-pamyu-pamyu/cabaret-sauvage/8769451

June 7, 2023
London, England – London EartH Halll
https://www.gigsandtours.com/tour/kyary-pamyu-pamyu

June 9, 2023
Madrid, Spain – PRIMAVERA SOUND 2023 Ciudad del Rock
https://www.primaverasound.com/

More Details
https://wt2023.kyary.asobisystem.com/

FRUITS ZIPPER Valentine Pop-Up Shop to Open at Laforet Harajuku

Laforet Harajuku will host a pop-up shop inspired by the up-and-coming idol group FRUITS ZIPPER from February 1 until February 14! The FRUITS ZIPPER Valentine Pop-Up Shop will be found on the 5th floor MAKE THE STAGE area.

FRUITS ZIPPER debuted in April 2022 and embodies a simple concept: "From Harajuku to the World." The group's second single Watashino Ichiban Kawaiitokoro exploded in popularity on TikTok, pulling in over 600 million views. In February, the girls will embark on their first solo concert tour in Tokyo, Nagoya, and Osaka. This is the first FRUITS ZIPPER-inspired limited-time shop, and during the event, visuals of the group's members will be displayed in the show windows found on the first floor of Laforet Harajuku.

◆About the FRUITS ZIPPER Valentine Pop-Up Shop

When entering the venue, fans will be greeted by a 5-meter-wide board where visitors can write and attach their messages to the FRUITS ZIPPER members on heart-shaped cards. Costumes that the members have worn on stage will also be on display, allowing fans to see each stitch up close.

Exclusive items featuring new photos of the members will be on sale at the pop-up shop. Fans can enjoy seeing the girls in their own personal style, and these items will only be available during the event! Starting February 4, tour merch for the group's upcoming solo concert series will also be available for purchase.

◆Collaboration with Fruit Sandwich Specialty Store 'Fruits Box Daikanyama'

Last year's popular collaboration with Fruit Box Daikanyama, a well-known fruit sandwich shop, is happening again in 2023! Fans can find the Collaboration Gift Box for sale, including seven baked meringue goods each featuring one of the member's colors. The box also comes with snapshots of the members, and for a few lucky fans, these snaps might be signed! The idol group and sandwich shop have also teamed up to create the Collaborative Lucky Grab Bag Lottery, including popular FRUITS ZIPPER goods and original items from Fruits Box Daikanyama. The lucky first-prize winner will receive a special set of all available February tour merchandise in all sizes.

◆Member Appearance Planned on Valentine's Day

On February 14, the final day of the pop-up shop, the members of FRUITS ZIPPER will make an appearance! Guests will be able to participate in the first-ever hands-on event with the members, so keep an eye out for more details!

Stay up to date with the latest FRUITS ZIPPER news at the official Twitter page (@FRUITS_ZIPPER).

FRUITS ZIPPER Pop-Up Shop Exclusive Goods


Random Photo – Valentine pop-up ver. (21 varieties): ¥330 (Tax Included)


Random Pin – Valentine pop-up ver. (7 varieties): ¥500 (Tax Included)


Random Purikura Stickers – Valentine pop-up ver. (14 varieties): ¥600 (Tax Included)

Information

FRUITS ZIPPER Valentine POP-UP SHOP
Running: February 1 – February 14, 2023
Venue: Laforet Harajuku 5F MAKE THE STAGE
*Closed on February 7 and February 8

[Fruits Box Daikanyama Collaboration Goods]
Collaboration Gift Box: ¥3,500 (Tax Included)
Collaborative Lucky Grab Bag Lottery: ¥1,500 per try (Tax Included)

Check out more details about the pop-up below!
https://www.laforet.ne.jp/pop_up_shop/fruitszipper_2301/

Stay up to date:
FRUITS ZIPPER Official Twitter
https://twitter.com/FRUITS_ZIPPER/

<Tour Information>
FRUITS ZIPPER 1st LIVE TOUR 2023 WINTER

Date: February 3, 2023
Venue: ReNY limited
Time: Doors open 17:30 / Show starts 18:30
Contact: Sunday Folk Promotion (052-320-9100) *Open daily 12:00-18:00

Date: February 5, 2023
Venue: Nanba Hatch
Time: Doors open 16:30 / Show starts 17:30
Contact: Kyodo Information (0570-200-888)

FRUITS ZIPPER 1st LIVE TOUR 2023 WINTER 〜FRUITS DAY〜
Date: February 9, 2023
Venue: Shibuya WWW X
Time: Doors open 18:00 / Show starts 19:00
Contact: HOT STUFF PROMOTION (03-5720-9999) *Open weekdays 11:00-19:00

FRUITS ZIPPER 1st LIVE TOUR 2023 WINTER 〜ZIPPER DAY〜
Date: February 10, 2023
Venue: Shibuya WWW X
Time: Doors open 17:30 / Show starts 18:30
Contact: HOT STUFF PROMOTION (03-5720-9999) *Open weekdays 11:00-19:00

FRUITS ZIPPER 1st LIVE TOUR 2023 WINTER -TOUR FINAL –
Date: February 12, 2023
Venue: LINE CUBE SHIBUYA
Time: Doors open 17:00 / Show starts 18:00
Contact: Sunrise Promotion Tokyo (0570-00-3777) *Open weekdays 12:00-15:00

Buy tickets for all shows here: https://l-tike.com/artist/000000000899959/

Zipper Magazine's 2022-2023 Winter Issue on Sale Now

The Winter 2022-2023 issue of the revived fashion creator magazine Zipper went on sale on December 23.

This issue focuses on this winter's must-know trends and is packed with coordination tips, outfit plans through spring, snapshots, hair and makeup tips, and much more.

Zipper ended its 24-year history in December 2017. In March 2022, ASOBISYSTEM teamed up with DONUTS Inc. to revive the magazine as a quarterly release. The fashion magazine, popular with Gen Z, is known for sharing details aspects of Harajuku culture and will continue to share more from the creative center of Tokyo for years to come.

Standard Edition (Cover: Nagisa Saito)

Another Edition (Cover: FRUITS ZIPPER)

Information

Zipper 2022-2023 Winter Issue
Release Date: December 23, 2022
Price: ¥700
Publisher: DONUTS
Publishing Company: Shodensha

Available at bookstores nationwide and online

Amazon
・通常版
・anotehr edition

Official Site
https://www.zipper.jp/

Report: Kyary Pamyu Pamyu's Tasty Time in Gastropolis Kobe – Sweets Edition

Kobe is filled with famous sightseeing spots like the nostalgic Ijinkan neighborhood and port. The city is packed with fashionable shops and restaurants and is highly regarded for its selection of tasty sweets!

The port city, with over 150 years of history, has fostered a unique and diverse culinary culture.

Recently, Kyary Pamyu Pamyu began starring in a series of promotional videos for the Gastropolis Kobe project. The artist traveled to the city to partake in plenty of delicious treats, and MOSHI MOSHI NIPPON went along for the ride! Here are some of the singer's favorite spots around town.

Kobe, known as a city where East meets West, is lined with sweets shops that are unique to the area.

The tea salon TOOTH TOOTH Dekoboko Sabo opened in 2019 in the Kobe City Museum and offers a menu that mixes Western food and sweets with tea and ingredients from traditional Japanese cuisine. Kyary ordered the Dekoboko Sabo Afternoon Tea Set, a collection of western sweets blended with the essence of traditional Japanese flavors. Guests are invited to enjoy their tea and sweets in a one-of-a-kind space filled with Meiji period flare and retro Western furniture. Those interested will need to make a reservation, so be sure to remember the next time you're in Kobe.

TOOTH TOOTH Decoboco Sabo

Address: 24 Kyomachi, Chuo Ward, Kobe (Inside the Kobe City Museum)

Hours: 9:30-17:30 (Last Order at 16:30) 

Closed Mondays

Official Site: https://toothtooth.com/restaurant/decoboco-sabo

The next stop was Kobe Nankin-machi, one of the three major Chinatowns in Japan. Kobe MILK is known nationwide for its Apricot Pudding, which is made with local ingredients. The raw apricot pudding is mixed with milk brought from the foot of Mt. Rokko and other ingredients from Hyogo Prefecture. Of course, Kyary ordered some, and was amazed by its fluffy texture. You can only enjoy it in Kobe–also, the shop sells other puddings mixed with seasonal fruits, so don't miss those either!

Kobe MILK

Address: Shin-Motomachi Building 1F (1 Motomachi-dori, Chuo-ku, Kobe)

Hours: Weekdays 9:30-19:00 / Weekends 9:30-19:30

Official Site: https://kobe-milk.com

For Kyary's final stop, the singer visited the Moore House, a cafe located in a building with over 100 years of history. Guests are surrounded by greenery, and the Western-style building is incredibly elegant. The Strawberry Mille-feuille Kyary ordered was created by an expert patissier and based on the strawberry mille-feuille recipe from the legendary French restaurant Maxim's de Paris in Ginza. A generous amount of custard cream complements the crispy pie crust and enhances the sweetness of the fresh strawberries. We'd recommend it with a glass of champagne–if you're of age.

Kitano Ijin-kan Moore House

Address: 2-9-3 Kitanocho, Chuo-ku, Kobe

Hours: 11:00-17:00

Closed Tuesdays

Official Site: https://www.kitanomoore.com/cafe/

The streets of Kobe are packed with sweets that you can only enjoy if you visit. Why not come experience these incredible spots like Kyary did?

Kobe Sweets Trailer: https://youtu.be/Sx9B1ZdAvlI

Report: Kyary Pamyu Pamyu's Tasty Time in Gastropolis Kobe – Kobe Beef & Nada Sake Edition

Kobe is filled with famous sightseeing spots like the nostalgic Ijinkan neighborhood and port. The city is packed with fashionable shops and restaurants and is highly regarded for its Kobe beef restaurants and tasty local spirits.

Facing the Seto Inland Sea, Kobe is surrounded by rich nature and produces plenty of tasty veggies while also bringing in tons of fresh fish. The port city, with over 150 years of history, has fostered a unique and diverse culinary culture.

Recently, Kyary Pamyu Pamyu began starring in a series of promotional videos for the Gastropolis Kobe project. The artist traveled to the city to partake in plenty of delicious fare, and MOSHI MOSHI NIPPON tagged along. Let's take a look at her top picks!

Kobe beef is the first thing that comes to mind when you hear the name of this Japanese city, right?

Teppanyaki restaurant Tajima, located in the Kobe Portopia Hotel, serves Kobe beef along with other Japanese black beef, seafood, and seasonal vegetables.

Kyary ordered the Kobe beef loin and seasonal grilled vegetables, watching with excitement as the chef prepared the meal in front of her. The steak is made from carefully selected Kobe beef and melts in your mouth. Tajima has private rooms as well as counter seating, making it a perfect location for everything from a family get-together to a first date.

Teppanyaki Tajima

Address: Kobe Portopia Hotel 2F (6-10-1 Minatojima Nakamachi, Chuo-ku, Kobe)

Hours:

11:30-14:30

17:30-21:30 *Open at 17:00 on weekends and holidays

Open Daily

Official site:https://www.portopia.co.jp/restaurant/detail/tajima/

What goes better with Kobe beef than local sake? One area of the city, Nada Gogou, has an incredibly high concentration of sake breweries.

Nada Gogo Sake Brewery opened in April 2022 in a renovated building that was formerly the location of Kenbishi, a long-established local sake brewer with over 500 years of history.

Visitors can enjoy sake and cuisine from 26 breweries in the area under the themes of 'Seasonal, Local, Compatible, Fermentation.' Here, Kyary ordered the Nada Gogou Set which includes the best possible food and drink pairings. Limited to 100 servings each day, the set includes five different sake and three seasonal small plates perfecting for pairing. The drinks and food offerings change with the seasons, allowing guests to enjoy tons of unique flavors from the region no matter what time they visit.

Nada Gogou Brewery

Address: 3-11-2 Mikagehonmachi, Hagashinada-ku, Kobe

Hours: 12:00-21:00 *Opens until 20:00 on Sunday and holidays

Closed Monday-Thursday

Official Site: https://nadagogo.com/

GOCOCU is an all-day buffet restaurant in the Kobe Portopia Hotel where guests can enjoy dishes using carefully selected ingredients from the five Hyogo provinces (Settsu, Harima, Tajima, Tanba, and Awaji) with a spectacular view of Kobe. Visitors can enjoy the chef's specialties including roasted and grilled dishes cooked in a custom-made stone oven. The restaurant is also known for its selection of alcoholic beverages, and Kyary enjoyed the Fukuju Junmai Ginjo. This particular sake has won many awards in Japan and abroad, including a gold medal at the National Sake Competition for three consecutive years. Popular for its smooth rice flavor, this well-loved brand uses rice and rice malt grown in Hyogo Prefecture. Adults can enjoy this and many more delicious beverages during buffet hours and cocktail hours after 8:30 or 9:00 on Saturdays, Sundays, and holidays.

GOCOCU ~Blessings of the Five Kingdoms~

Address: Kobe Portopia Hotel 30F (6-10-1 Minatojima Nakamachi, Chuo-ku, Kobe)

Hours: 7:00-10:30, 11:30-15:00, 17:30-21:00, 20:30-23:00

Open Daily

Official Site: https://www.portopia.co.jp/restaurant/detail/gococu/

Founded in 1659, Kiku Masamune is a leader in the sake industry. We visited the Kiku Masamune Sake Factory, opened to commemorate the 50th anniversary of its handy barreled sake, perfect for allowing customers to enjoy barrel-aged sake at home easily. Visitors can enjoy browsing sake barrels, with many created using traditional barrel making techniques that are still used today. They can also enjoy an exhibition of Yoshino cedar, the material used to make the barrels. Tours are by appointment only. Reservations are taken on a first-come, first-served basis, so early reservations are recommended!

Kiku Masamune Sake Factory

Address: Uozaki Nishimachi, Higashinada-ku, Kobe

Tour Times: 10:30~, 14:00~, 15:00~ (Each tour is approximately 30 minutes.)

Closed during New Year's holidays.

Official Site: https://www.kikumasamune.co.jp/tarusake-mf/

*No outside food or beverages are allowed inside the factory. Tastings are available at the Memorial Hall after the tour.

After reading this, you're interested in coming to Kobe, right? Enjoy some of this savory fare the next time you're in the area. 

Kobe Beef Version:https://youtu.be/-HrNq6JGO3A

Nada Sake Version: https://youtu.be/cd9_f59NWIw

TeamLab Unveils Three New Works at Singapore's Permanent 'Future World' Exhibition

Art collective TeamLab has redesigned two exhibitions at Marina Bay Sands Singapore. The world's first permanent exhibition from the creators, Future World: Where Art Meets Science, was opened in 2016 at the Museum of Art and Science. Guests can now enjoy three new works along with the Digital Light Canvas, a huge, interactive space inviting guests to share their own pieces of art.

Drawing Flight

Visitors can immerse themselves in these impressive new works while experiencing a complex, three-dimensional world. They can also create new worlds with others!


Future World


The Drawing Flight, part of the Amusement Park of the Future series, is based on the concept of co-creation, allowing visitors to not only draw an airplane that will fly but also allowing them to operate it from a pilot's point of view using a tablet. Whether visitors draw a butterfly or a hawk, they'll see the world from the perspective of each creature and enter a world constructed by the creature's unique perceptions.

Aerial Climbing through a Flock of Colored Birds

In Aerial Climbing through a Flock of Colored Birds, guests are asked to perceive the world with their entire bodies. Visitors cross a space with sticks floating three-dimensionally in the air.

Autonomous Abstraction, Continuous Phenomena from the Universe to the Self

Autonomous Abstraction, Continuous Phenomena from the Universe to the Self offers a new and abstract concept. As people touch the dots, the rhythm of the dots flickers and their hue changes and disintegrates. The picture will then change dramatically, and despite these changes, the beauty remains.

Digital Light Canvas

Graffiti Nature – Red List Digital Light Canvas

 

Digital Light Canvas is a space consisting of a 15-meter-diameter circular link of light and a 20-meter-high cylinder of light made up of a collection of light dots.  Team Lab's interactive artwork, which changes depending on how many people are around, is on permanent display.

Drawing Factory

By visiting the Digital Light Canvas area, guests can also enjoy the Drawing Factory, where they can turn their own drawings into pins, T-shirts, and other items!

Come fully experience this curious art exhibition!

© チームラボ

Information

Future World: Where Art Meets Science

Final Fantasy Artist Yoshitaka Amano Holds Art Exhibition at Myoshin-ji in Kyoto

Yoshitaka Amano, known by international fans as the artist behind the legendary Final Fantasy video game series, is celebrating his 70th birthday with a unique art project from November 23 until December 8 at Myoshin-ji in Kyoto. 

On the first day of the event, the venue, decorated with autumn leaves, was crowded with visitors including foreign tourists, who marveled at the fantastic space filled harmoniously with gold and blue. The exhibition will be held at Myoshin-ji, the head temple of the associated branch of Rinzai Zen Buddhism. This collection of works was designed to question visitors' sensibilities and provide a new kind of art exhibition for fans to enjoy.

After the exhibition, the main art piece by Yoshitaka himself will be converted to 3DCG, and a Virtual Golden World will be developed in collaboration with the Yoshitaka Amano VR Museum. By integrating traditional and modern art methods, guests will be able to engage more deeply in the art by enjoying digital works, the metaverse, and NFTs.

Don't miss this curious exhibition!

Information

Golden World: Infinite Light by Yoshitaka Amano 

~GOLDEN VIEW OF THE WORLD~

Running: November 23 – December 8, 2022

Venue: Myoshin-ji

Hours: 9:00-12:00 / 13:00-16:00

Tickets on sale until 15:30 each day.

Official Site: https://www.myoshinji.or.jp/


Kyary Pamyu Pamyu to Perform at UNIK Asia Festival 2022

Kyary Pamyu Pamyu will perform at UNIK Asia Festival 2022, a massive music and fashion festival to be held at a large outdoor space in the middle of Hong Kong on December 10 and 11, 2022. 

UNIK Asia Festival 2022 will bring together a number of Asian artists for live performances and fashion shows. JAY B, leader of the popular Korean boy band GOT7, will also perform, along with all former members of 2NE1–CL, Minzy, Park Bom, and Sandara Park.

Also slated to perform are Feng Ze, Taiwanese band 831, rapper Tyson Yoshi, Jer and Jeremy from the idol group MIRROR, and many more international artists. 

Kyary Pamyu Pamyu and Travis Japan, who made their world debut last month, will represent Japan. Kyary has performed around the world many times, appearing at Coachella in April, and recently performing with Katy Perry at THE CONCERT 2022. 

In December, Kyary will reenact her Coachella performance with shows in Osaka and Tokyo. Tickets are available now, so grab them before they're gone!

Information

UNIK Asia Festival 2022

Dates: December 10 – December 11, 2022

Hours: 13:00-22:00

Venue: Central Harborfront, Hong Kong

Official Site: https://www.unikasiafestival.com/

Kyary Pamyu Pamyu Special Live 2022 ~Back to Coachella~

Osaka Performance

Date: December 20, 2022

Venue: Nanba Hatch (Osaka)

Contact: Kyodo Information 

https://kyodo-osaka.co.jp/ / 0570-200-888

Tokyo Performance

Dates:
December 21 – Setlist from Week 1 of Coachella

December 22 – Setlist from Week 2 of Coachella

Venue: EX THEATER ROPPONGI (Tokyo)

Contact: HOT STUFF PROMOTION

https://www.red-hot.ne.jp/ / 03-5720-9999

More Details

Nagoya Castle to Hold Special Autumn Night Art Viewing for a Limited Time

The historic Nagoya Castle will hold a special nighttime viewing event for 14 days only, from November 25 until December 8, 2022. During this period, Honmaru Palace will be open to the public at night, and the Chrysanthemum Corridor inside will be open to visitors for the first time. 


The Ninomaru Garden will also be illuminated and will transport guests to a different place and time by showing a space only possible during dark hours.

Inspired by the relationship between light and shadow, this event focuses on changes that occur over time and the creation and emergence of new ideas and things.

Honmaru Palace, Typically Closed to the Public, to be Open at Night

Nagoya Castle's Honmaru Palace was completed in 1615 and served as the primary residence of the Lord of the Owari Domain and as the Domain's government office. The interior of the palace was lavishly decorated with paintings and other art pieces and was praised as a masterpiece. Sadly, it was destroyed by an air raid in 1945. Restoration work began in 2009 and was completed in 2018 with unparalleled accuracy. The Honmaru Palace gives off a completely different aura at night. 

First Public Viewing of the Jodan-no-ma in the Joraku-den

The Joraku-den was added to Nagoya Castle to accommodate the third Shogun, Iemitsu, on his way to Kyoto. It is the most luxurious of all the Honmaru Palace buildings, and this event marks the first time that the Chrysanthemum Corridor on the north side will be open to the public. Visitors are welcome to admire the golden-blue paintings as they stroll through the historic site.

See Spectacular Paintings when Entering the Tsugi-no-ma Room

During this period, visitors can enter the Tsugi-no-ma room to view classical period paintings, giving a more clear idea of how people acted and dressed during this time in history.

[Ninomaru Garden Special Viewing] 


~Witness a Never-Before-Seen Feudal Lord's Garden through a Spacial Presentation~

Scenography for this unique show was provided by the creative label PERIMETRON. In order to show another side of the Ninomaru Garden at night, the company focused on light's characteristics, from reflection and transmission to refraction and absorption. Light and shadow intertwine in various ways, and guests will be transfixed by this curious showing.

Information

Nagoya Castle: Autumn Night Special Viewing ~KEI~

Running: November 25 – December 8, 2022

Viewing Hours: 9:00-19:30 (Gates close at 20:00)

Official Site: https://www.nagoyajo-kei.jp/