Vegan Bubble Tea Arrives at Harajuku's BOTANIST Tokyo Tea Stand
For the whole month of August, the BOTANIST Tokyo tea stand in Harajuku is serving two different tapioca bubble tea beverages. Just 100 of each will be sold each day.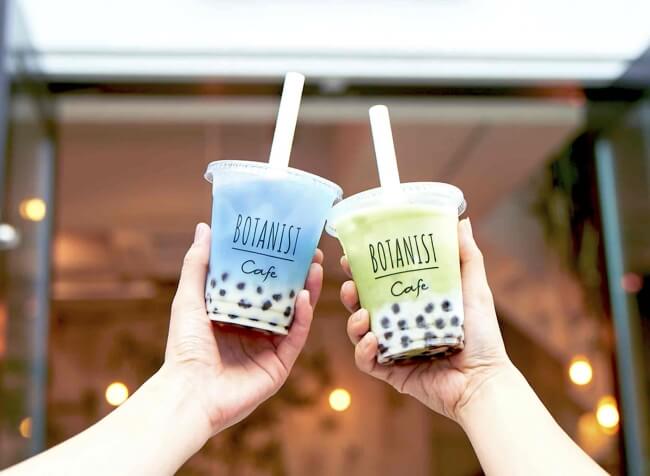 The two delicious drink flavours include "Butterfly Pea Soy Milk Tea" and "Matcha Milk Tea." Both beverages are made with high quality tapioca pearls from bubble tea store Bull Pulu who serve up Taiwanese pop culture with their tasty menu.
Vegans shopping in Tokyo's Harajuku and Omotesando areas will be excited to try the vegan-friendly Butterfly Pea Soy Milk Tea. Both of the drinks are also sold in eco cups and come with paper straws.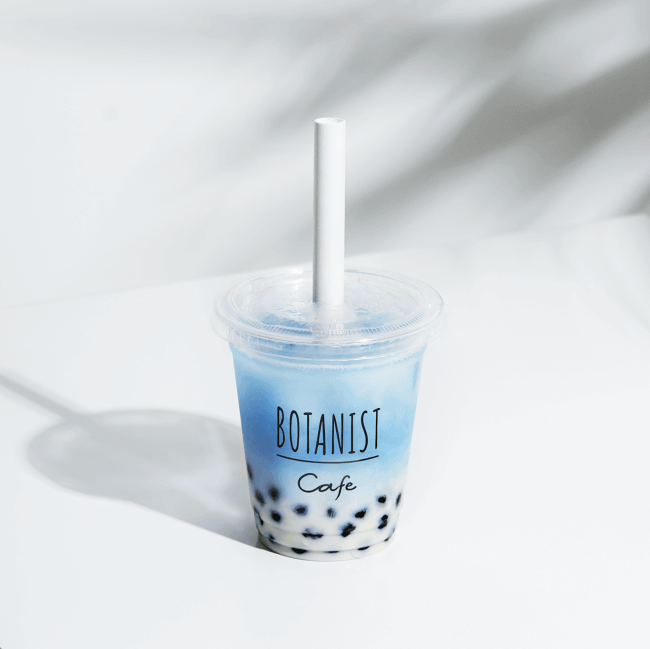 Tapioca Butterfly Pea Soy Milk Tea – ¥600 (Tax Included)
The vegan-friendly option is a combination of bright and colourful butterfly pea tea and soy milk. It's laced with a tropical coconut syrup for enhanced flavour.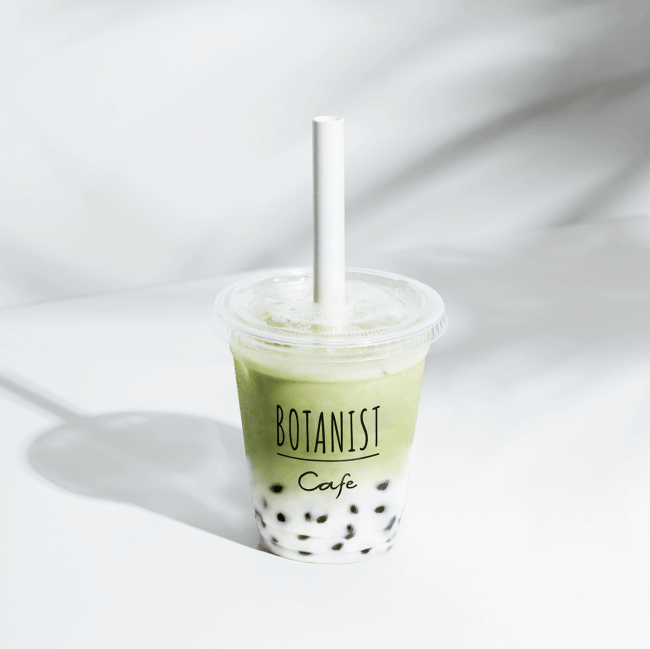 Tapioca Matcha Milk Tea – ¥600 (Tax Included)
The matcha milk tea is a combination of rich and smooth matcha foam and milk. It's mixed with a fragrant hazelnut syrup.
Both drinks are takeout only and are available to buy on the first floor. If you fancy a little refreshing drink while strolling through Harajuku then be sure to visit BOTANIST Tokyo.
Information
BOTANIST Tokyo
Address: 6-29-2 Jingumae, Shibuya, Tokyo (Shop – Floor 1F / Cafe – Floor 2F)
Business Hours: 11:00-20:00
Official Website: https://botanistofficial.com/shop/
RECOMMENDED ENTRIES
machi machi Descends Upon Harajuku With Godlike Cheese Tea Limited Edition Menu

Head over to the GOOD MEAL MARKET food court located on floor 2 of Laforet Harajuku because a Cheese Tea shop has just opened up shop.

machi machi is known as the "Cheese Tea God" by Taiwanese media and is certainly stirring up a sensation in Japan too. Each cup extracts the deliciousness of Taiwanese tea. The salty flavour of the rich-flavoured cream cheese will leave you astonished at the discovery of a brand new dessert flavour. This drink is enough to enlighten you with an emotional journey of deliciousness. 

These drinks became a massive hit after they managed to capture the heart of globally famous Hollywood Star Jay Chou, who is known for his love of tea in Taiwan. As the thirst for this drink has spread worldwide, shops have been opening up in London, Korea and many other countries. This shop is gradually capturing more and more fans. 

Season-Limited Melon Cheese Tea: ¥788 (after tax )     Melon Cheese Tea Float: ¥950 (after tax)

Season-Limited Strawberry Cheese Tea Float/Wildberry Cheese Tea Float:¥950 (after tax)

Laforert Harajuku-Limited Brûlée Milk Tea: ¥680 (after tax )

There are currently season-limited and Laforet Harajuku-limited menus available. There are a total of 20 drinks on the menu that have been developed from five varieties of Taiwanese teas as base flavours. The five base teas are: Tieguanyin Oolong tea, Sun Moon Lake Black tea, Jasmine Green tea, Four Seasons Spring tea, and Ceylon Highland Black tea.

machi machi is blessing every country of the world with the sacred flavours of Taiwan, so head to Laforet Harajuku while you have the chance. 

5 Tasty Ice Cream Shops in Harajuku You Must Visit

Hi, everybody. I'm Midori from the MMN editorial department.

Spring is here, the season when ice cream finally becomes delicious to eat again! Ice cream in Harajuku isn't just simply cute-looking, it's extremely delicious too. Grab your Harajuku-style ice cream in one hand and let's go shopping!

Roll Ice Cream Factory

The unique thing about Roll Ice Cream Factory is the way the ice cream there is made, which you get to see done right in front of you. The staff pour liquid ice cream onto an ice cold plate and then scoop it into a roll. The store releases new flavours all the time. Right now the big one during Golden Week is the Detective Pikachu ice cream. The shop also has Pikachu pictures and decorations around too so if you're in the city be sure to pay a visit before the collaboration ends!

Food Review: Detective Pikachu & ROLL ICE CREAM FACTORY Collaboration

A visit to ROLL ICE CREAM FACTORY in Harajuku

▲Roll Ice Cream Factory
Address: Just Harajuku Floor 1F, 4-28-12 Jingumae, Shibuya, Tokyo
TEL: 03-3470-0227
No Fixed Holidays.
Business Hours: 10:00-21:00
Official Homepage: http://rollicecreamfactory.com/

Detective Pikachu Roll Ice Cream
Available: April 24, 2019 – May 10, 2019

Eiswelt Gelato


If you want cute 'n' tasty then Eiswelt Gelato is the place to go. It's also away from busy Takeshita Street.

The ice cream here is so cute that it almost seems a waste to eat, but the flavours are the real deal. It's so delicious that it'll be gone before you know it. I recommend the mint frog ice cream I ate in the article below!

Cute & Delicious Animal Gelato at Eiswelt Gelato on Takeshita Street in Harajuku

▲Eiswelt Gelato Harajuku

Address: 1-8-5 Jingumae, Shibuya, Tokyo

Opening Hours: 10:00-20:00

TEL: 03-6804-3103

Website: http://www.eiswelt-gelato.com/

Eddy's Ice Cream


If you want cute pop ice cream then you'll want to make a trip to Eddy's Ice Cream! Not only is the ice cream kawaii but the shop interior is too♡

Their huge toppings are what make them stand out from the rest. They come piled with candy floss and more. Their designs too make them seem a serious waste to slurp up. They sell things besides ice cream too so if you've got a friend with teeth sensitive to cold foods then take them here while you order your ice cream!

"Eddy's Ice Cream"—A Booming Ice Cream Shop With a Colourful Selection in Harajuku

▲Eddy's Ice Cream

Address: Eddy's Ice Cream 1F, 4 Chome-26-28 Jingumae, Shibuya, Tokyo

Opening Hours: 11:00-20:00

Closed: No fixed holidays

TEL: 03-6438-9742

Access: 10 minutes' walk from Harajuku Station via the JR Line / 8 minutes' walk from Meiji Jingumae Station via Tokyo Metro

Official Homepage: http://eddysicecream.jp/

LE SHINER


LE SHINER is located along Takeshita Street and specialises in amazing rainbow ice cream. The ice creams sit really tall too making them a serious luxury. The shop's exterior design is also incredible cute! They also sell rainbow toast, rainbow cheese dogs and more too, an incentive to go back on more than one occasion♡

Grab LE SHINER's Rainbow Cheese Dog and Go Shopping in Harajuku

Introducing a new sweets item gaining popularity in Takeshita Street, Harajuku –"Rainbow Soft Cream!"

▲LE SHINER
Address: COXY176 Bldg. 1F, 1-7-10 Jingumae, Shibuya, Tokyo
Opening Hours: Weekdays 11:00-18:00 / Weekends & Holidays 10:30-19:00
Access: 3-minutes on foot from Harajuku Station's Takeshita Exit (via JR Yamanote Line) / 4-minutes on foot from Exit 5 of Meiji-Jingumae Station (via Tokyo Metro Chiyoda Line)
TEL: 070-1361-8686

Information: https://tabelog.com/tokyo/A1306/A130601/13220138/

Harajuku Denki Shokai

Harajuku Denki Shokai is known for its light bulb ice cream but now they also sell animal themed ice cream! You'll be completely spoilt for choice on which to go for. They sell lots of other cute items too besides ice cream so you can enjoy this place all year round. The shop is making new animal-inspired ice creams all the time so if you've been there before then you should definitely go again!

▲Doubutsuen
Address: Harajuku Denki Shokai Floor B1F, 3-20-10 Jingumae, Shibuya, Tokyo
TEL: 03−6434−5074
Business Hours: 11:00-19:00
Official Twitter: https://twitter.com/__doubutsuenn

Treat yourself to some cute Harajuku-style ice cream this spring and summer!

3 Must-Try Summertime Bubble Teas at Tokyo Disneyland & DisneySea

Bubble tea continues to be ever popular in Japan this summer, especially at Tokyo Disneyland and Tokyo DisneySea which not only is selling its much-loved classics but a selection of new refreshing beverages too. Let's take a look at three of these drinks new this July that not only enjoyable to drink but fun to look at too.

Coffee Tapioca Latte

The Coffee Tapioca Latte is appearing as part of Tokyo DisneySea's special event Disney Pirates Summer. The colour of this coffee flavoured delight is reminiscent of the Black Pearl from the 2003 Pirates of the Caribbean movie. It's not overly sweet and so is perfect for those who prefer more adult flavours. Enjoy the event with a cup of this pirate brew in hand.

Running: July 8 – September 1, 2019

Price: ¥500

Available: Mamma Biscotti's Bakery, Tokyo DisneySea

Fantastic Flight Drink (Lychee Tapioca)

Inspired by the new Soaring: Fantastic Flight attraction arriving at Tokyo DisneySea on July 23, this drink contains lemon jelly and lychee flavoured chewy tapioca pearls. Lychee flavoured tapioca pearls are for sure a rarity―have you ever seen them?

Running: July 8 – September 1, 2019

Price: ¥450

Available: Zambini Brothers' Ristorante, Tokyo DisneySea

Sparkling Tapioca Tea (Mango & Citrus)

For a limited time only, this refreshing Sparkling Tapioca Tea will be served up at Tokyo Disneyland, a black tea with mango flavoured tapioca and grapefruit jelly. A perfect summertime sip for the hot weather with its refreshing black tea taste and fruity fragrance.

Running: July 8 – September 1, 2019

Price: ¥600

Available: Tomorrowland Terrace, Tokyo Disneyland (Serving at 14:00-17:00 only)

There are plenty of other new bubble tea drinks apart from these ones too, some of which are on sale right now, such as the Tapioca Mango Drink with its foundation of tiny chewy tapioca balls, the subtly sweet Strawberry Tapioca Tea with fresh strawberries pieces in it as well as large-grained tapioca balls, and more.

If you're heading to either park be sure to order a cup of bubble tea!せ

Information

Tokyo Disney Resort

Blind taste-winning Taiwanese Bubble Tea Jenjudan Opens In the Young and Trendy Shibuya

On June 14, popular Taiwanese bubble tea shop Jenjudan will open its first shop in Japan. The first shop will be located in the city that is known for capturing the hearts of Tokyo's young and trendy: Shibuya. More specifically, the shop will be located on the MAG 7 Food Floor (7th floor) of  MAGNET by SHIBUYA 109.

Jenjudan stands out for their skilled tea makers and carefully-selected ingredients that are used to make their high quality drinks. One of the main ingredients is 100% natural brown sugar, which is used to soak the tapioca pearls for full flavor. They also use rich Hokkaido milk. The best part is that all ingredients used here are natural and free from additives. Plenty of research went into harnessing the natural sweetness of the black sugar by determining the exact amount of time to soak the tapioca in the sugar syrup in order to extract its maximum flavour. Jenjudan managed to achieve flavourful tapioca where the flavour gradually spreads through your mouth when chewed. The softness and size of the tapioca were also carefully crafted after extensive research.

The first ever overseas branch has been set up in Singapore's famous tourist spot of Shilin Night Market. 

Jenjudan bubble tea was the winner in a blind tasting event conducted by Taiwanese lifestyle and current affairs popular smartphone app Mobile 01, so you absolutely must try it.

Photos: 宏勝商事株式会社

Information

Jenjudan Shibuya MAGNET109

Address: MAGNET by SHIBUYA109 7F (MAG7)

1 Chome-23-10 Jinnan, Shibuya City, Tokyo

Opening hours: 11:00 ー 23:00 (Closed Jan 1, closing days dependent on mall closing times)

TEL:03-6868-8477

Jenjudan Official Twitter: https://twitter.com/jx5p7ojqds0pk2y
RELATED ENTRIES
Loving Valentine's Day Chocolates Tempt at The Peninsula Boutique & Café in Tokyo

Peninsula Merchandising Limited is set to capture hearts this Valentine's Day with the announcement of a desiring new collection of chocolates which will be served at two branches of The Peninsula Boutique & Café in Shin-Marunouchi Building and Isetan Shinjuku from February 1.

Sweetheart | ¥3,400 (Before Tax)

Macarons (6 Included) | ¥2,860 (Before Tax)

Truffle Truffle | ¥1,500 (Before Tax)

Strawberry Bear Ruby Chocolate Bar | ¥1,750 (Before Tax)

Eponge | ¥560 (Before Tax)

Croquembouche | ¥720 (Before Tax)

Rose Rouge | ¥1,500 (Before Tax)

Love Lock Key Ring | ¥5,000 (Before Tax)

The romantic line-up features an assortment of lovingly-crafted confections, from ruby chocolate to colourful macarons, a rose-topped chocolate, and more—all available for the season of love. The boutique cafes will also sell a special heart-shaped key ring for lovers to express to their special someone that they complete them.

Tokyo's Cat-Shaped Food Bakery Tokyo Neko Neko Announces New Branch in Tokyo Station

Tokyo Neko Neko will open a new branch at ecute Keiyo Street inside Tokyo Station on January 25, 2021.

The launch comes just 6 months after the bakery opened its store in Ginza, attracting customers from all over for its line-up of cat-shaped pastries. Both of these bakeries are the result of yet another branch, Kyoto Neko Neko, which opened in June last year as the first in the line of these cute locations.

Tokyo Station Exclusives: Neko Neko Jam Bread – Marmalade, Caramel, Strawberry, Blueberry

Tokyo Neko Neko Bread – Plain, Chocolate, Caramel Almond, Tsubu-an, Matcha, Soybean

As well as the classic Tokyo Neko Neko Bread—which is like a croissant being loaded with French butter, crunchy on the outside, and moist on the inside—the new Tokyo Station branch is also serving its own exclusive pastry treat: the Neko Neko Jam Bread, made with plenty of milk, and arriving in four irresistible flavours including marmalade, caramel, strawberry, and blueberry. And most important of all: everything is shaped like an adorable kitty.

If you're travelling through Tokyo Station then don't miss out on a trip to Tokyo Neko Neko, opening January 25.

Information

Tokyo Neko Neko (Tokyo Station branch)
Grand Opening: January 25, 2021

Shop Name: Tokyo Neko Neko ecute Keiyo Street

Location JR Tokyo Station inside the ticket gates of the Yaesu South Exit on Floor 1F

Address: 1-9-1 Marunouchi, Chiyoda, Tokyo, 〒100-0005

Opening Hours: 8:00-22:00 (until 21:30 on weekends and holidays)

No Fixed Holidays
TEL: 03-3217-5557
Official Website: https://nekoshoku.jp

Chihayafuru Anime Gets Escape Game at TOKYO MYSTERY CIRCUS

TOKYO MYSTERY CIRCUS, Japan's first and biggest puzzle-themed theme park, has announced the opening of a new escape game based on the popular manga anime series Chihayafuru which will begin at the site on March 4, 2021.

The immersive story-driven escape game has players take on the role of a member of the Fujiyama High School karuta club. While learning the essential points of competitive karuta from Chigaya Ayase and the gang, they must aim for victory to escape. No prior preparations are necessary – players can book their tickets and just turn up on the day.

This unique escape game takes place in a traditional tatami mat room and combines puzzle-solving skills with competitive karuta in which clues are written on the cards. Fans of the manga and anime series are sure to enjoy this immersive game.

Tickets will go on sale on January 23, 2021 at 12:00 (JST).

©末次由紀/講談社

Kingdom Anime Collaborates With Firsthand On Exclusive Merchandise

Creative and sustainable concept store Firsthand released a collection of items in collaboration on Wednesday (January 20) with the TV anime series Kingdom, which is set to begin airing its third season this April, and Japanese artist Kosuke Kawamura. The items are available to buy both online in Japan and at a pop-up store at OPEN STUDIO inside FREAK'S STORE Shibuya.

Firsthand is a Japanese brand centred on upcycling and sustainable production. Fans of the ongoing anime series can get their hands on a range of clothing items, phone cases, and more. If they head to OPEN STUDIO they'll also find an illustration exhibit, a photo spot, and more. The gallery is also selling posters signed by Kosuke Kawamura.

Will you be watching Season 3 of Kingdom this spring?

Information

Kingdom x Firsthand x Kosuke Kawamura Pop-Up Shop
Running: January 20, 2021 – January 25, 2021
Location: OPEN STUDIO, 1-31-1 Jinnan, Shibuya, Tokyo

Opening Hours: 10:00-20:00
TEL : 03-6415-7728

Where to buy the merchandise collection:
・OPEN STUDIO (Limited time January 20th-25th)
・Firsthand RAYARD MIYASHITA PARK (From January 26th)
・FREAK'S STORE ONLINE (From January 24th) @ http://www.freaksstore.com/
・ZOZOTOWN (From January 28th) @ https://zozo.jp/shop/freaksstore/

Event Details: https://firsthand.jp/news/3609/

FANCL Ginza Square Opens Onsen Hot Spring That You Can Walk Into Wearing Your Clothes

FANCL has brought the hot spring experience to its flagship site FANCL Ginza Square for a limited time with a variety of content that makes visitors feel like they've come to a Japanese onsen. The experience, named Tabi Suru Square Yu, is running until February 11, 2021.

Café au Lait / Fruit au Lait / Soy Milk Aojiru – ¥300 Each

Reiwa Honzen (FANCL Ginza Square Floor 9F)

Lunch Sana Winter Seafood Bento | ¥3,500

Winter Dinner Seafood Course | From ¥9,000

FANCL BROWN RICE MEALS (FANCL Ginza Square Floor B1F)

Hiroshima Oyster & Spinach Risotto Parmesan Cheese Galette Lunch Set | ¥1,850

Tomato Cream Pasta Lunch Set ¥1,850

Original Hand Towel

FANCL Ginza Square Onsen Essentials Set | ¥3,668

Breathing exercises at SUU-HAKU

At Tabi Suru Square Yu, visitors can enter a room that fully recreates the experience of being in a hot spring. The room is set at the same temperature, is filled with the same aromas, and is decorated in the same way. Visitors sit on one of the relaxation sheets to soak up the experience – effectively getting into a hot spring without having to change their clothes.

A variety of classic drinks and dishes sold at hot springs in Japan will also be sold, and visitors can get involved in the breathing exercises on offer.

Valentine's Dessert Sets Served Up at Harajuku's Tea Latte Shop CHAVATY

CHAVATY, a cafe in Harajuku that serves tea lattes made with high quality tea leaves, is getting ready for Valentine's Day early with the release of some tasty new desserts which they began serving up on Thursday (January 14).


Valentine's Set | ¥1,100 (Before Tax)


Valentine's Scone Set (6 Included) | ¥2,480 (Tax Included)


Raspberry Chocolate | ¥970 (Tax Included)

The Valentine's Set comes with a cute scone as well as fondant chocolate made with rich, high-grade chocolate from the French chocolate brand Cacao Barry. It also comes with a tea latte of your choice. There's also a scone set which comes with two each of three different scones for a total of six including the Berry & Cocoa Pink Chocolate, Orange & Chocolate Chip Double Chocolate, and Dried Fruits & Nuts White Chocolate. CHAVATY has also made their own seasonal homemade spread: the Raspberry Chocolate.

Information

CHAVATY Valentine's Set
Running: January 14, 2021 – February 14, 2021

Address: Minami-Harajuku Bldg. 1F, 4-6-9 Jingumae, Shibuya, Tokyo

Official Website: https://chavaty.shop-pro.jp/

YOKOHAMA AIR CABIN: Japan's First Permanent Inner-City Cable Car Opens in April

Japan is set to get its first ever permanent city cable car in Yokohama on April 22 called the YOKOHAMA AIR CABIN.

The YOKOHAMA AIR CABIN is a cable car system that will offer locals and tourists a chance to enjoy Yokohama from a new perspective whether during the hot summers or during the cool evenings when the city lights wake up.

The system will be connected directly to Sakuragichō Station and Shinko Pier for easy, quick access to enjoy Yokohama Minato Mirai from up high.

If you're planning a trip to Yokohama at some point, be sure to take a ride on YOKOHAMA AIR CABIN, officially opening on April 22, 2021.

Information

YOKOHAMA AIR CABIN
Opening: April 22, 2021
Operating Hours: 10:00-22:00
Duration: 5-minutes
Price: General ¥1,000 / Children ¥500

SNOOPY MUSEUM TOKYO's PEANUTS Cafe Serves Up New Menu Items Inspired by the Comics

The PEANUTS Cafe at SNOOPY MUSEUM TOKYO rolled out new menu items on Saturday (January 16) as part of a new exhibition called "Snoopy to Kyoudai" (Snoopy and Siblings) featuring a sandwich and desserts inspired by scenes from the beloved Peanuts comics.

The New Menu Line-Up

Snoopy Flower Basket Sandwich | ¥1,400 (Before Tax)

This flower basket is based on a scene when Snoopy meets with his siblings who pay him a visit after he recovers from being unwell and they eat sandwiches together. The tasty sandwiches are stuffed with pastrami beef and veg so you too can get your fill like Snoopy. The basket also comes with mini corn dogs and crispy fries. This is one to share (or hog all to yourself!)

Olaf's Pancakes | ¥1,200 (Before Tax)

These pancakes are inspired by Olaf, who was first introduced in the ocmics as the winner of the Ugly Dog Contest. They are loaded with ice cream, fruit, a whole Japanese custard pudding, fresh cream, and a drizzle of caramel sauce.

Belle's Raspberry Milkshake | ¥900

A doughnut-topped raspberry milkshake like the one that appears in the comics. It's a nod to Belle, Snoopy's only sister.

©2021 Peanuts Worldwide LLC (短縮形 ©2021 Peanuts)

Information

PEANUTS Cafe SNOOPY MUSEUM TOKYO
Running: January 16, 2021 – July 11, 2021
Address: Minami-Machida Grandberry Park Park-Life Site, 3-1-1 Tsuruma, Machida, Tokyo
TEL: 042-850-7390
PEANUTS Cafe Official Website: http://www.peanutscafe.jp/snoopymuseum-tokyo/

Tokyo's Kirby Café Whips Up Chocolate and Fruit Loaded Limited-Time Menu

The Kirby Café in Tokyo, which is based entirely around the popular Kirby video game series, will release a new limited-time menu on January 15 called 'Chocolate de PUPUPU' which will be served until February 28. The fruit and chocolate-packed line-up features three items. Item names are translated from Japanese by MMN.

The 'Chocolate de PUPUPU' Menu


Kirby Café's Stovetop Dessert Pizza ~Looking Out the Chocolate Train Window~ | ¥1,380 (Before Tax)


Waddle Dee Also Loves Chef's Chocolate Pan Stew! | ¥1,480 (Before Tax)


Old Odyssey | ¥780 (Before Tax)


Which of these delightfully cute treats do you want to inhale?

Information

Kirby Café
Running: January 15, 2021 – February 28, 2021
Official Website/Table Reservations: https://kirbycafe.jp

Go Strawberry Picking With Hello Kitty and Friends at Sanrio Puroland

Sanrio Puroland opened a special new event last Friday (January 8) called "Sweets Puro" which is themed on strawberry picking.

Characters greet guests in their strawberry-designed outfits

Guests participate in an augmented reality strawberry stamp rally

New character videos play at the illuminations

A strawberry-packed dessert menu

Limited-edition merch

Tables in the food court receive makeovers

Guests can look forward to seeing sparkly new pink-coloured illuminations, snapping sweet photos at the entrance photo spot, getting involved in the AR strawberry picking stamp rally using their smartphones, and more. They can also pay to spend one minute with the park characters who will be dressed in their strawberry outfits, and if they arrive 30 minutes before the first floor character food court opens, they can get the limited-offer morning breakfast "Strawberry Morning Bread Set." The park will even be serving up seasonal alcoholic drinks like the Sweets Puro Strawberry Peach Sour.

The first day of the event saw the characters come out to greet guests in their adorable strawberry and dessert themed costumes. This was followed by a new illumination show, Puro Sweets Party, which took place at Puro Village, and My Melody sang and danced to the music against the bright and beautiful lights. Guests enjoyed a selection of limited-time food like the Pompompurin's Croissant Doughnut Strawberry Sandwich and Hello Kitty's Sweet Strawberry Milk.

©1976, 2009 SANRIO CO., LTD. ©1975, 1976, 1990, 1996, 2001, 2004, 2005, 2010, 2017, 2021 SANRIO CO., LTD.

Information

Sanrio Puroland – "Sweet Puro"
Running: January 8, 2021 – March 9, 2021
Official Website: https://www.puroland.jp

7 Days of Strawberry Dessert Love at Isetan Shinjuku This January

Isetan Shinjuku has announced a special one-week event titled "7 Days of Loving Strawberries" which is centred around cute and delicious strawberry desserts and will run this month from January 13-19. Ten cafes and restaurants are participating with a sweet and succulent line-up including strawberry daifuku, strawberry shortcake, special parfaits and crepes, and more.

Strawberry Candle Pavlova @ mihopan popcake | Two for ¥972 (Tax Included) *Limited quantities

MIGAKI-ICHIGO Strawberry Parfait @ Ichibiko | ¥1,980 (Tax Included)

Strawberry Shake @ Ichigo-ya Sunsunen | ¥721 (Tax Included)

Crispy Strawberry Mille-Feuille Crepe @ Sorairo Crepe | ¥935 (Tax Included) *Limited quantities

Strawberry Shortcake Parfait @ Shiseido Parlour | ¥1,045 (Tax Included)

Strawberry Daifuku @ Berry UP! | ¥432 (Tax Included)

Ripe Strawberry Milk Pudding @ Kanjyuku Ichigo Kashi Kekyusho | ¥486

Whole Strawberry Sandwich @ Sajisakon | From ¥864 (Tax Included)

MIGAKI-ICHIGO Strawberry Daifuku @ Seigetsudo Hoten | ¥432 (Tax Included)

Information

7 Days of Loving Strawberries (Japanese Name: いちごに恋する七日間)
Running: January 13, 2021 – January 19, 2021
Location: Isetan Shinjuku Floor B1F
Official Website: https://mi-journey.jp/foodie/66251/

discord Yohji Yamamoto x HUNTER Pet Accessories Drop in Tokyo

discord Yohji Yamamoto, a luxury accessory brand spearheaded by Yohji Yamamoto, has launched a collaboration with German pet brand HUNTER to release a collection of dog collars, leads, and other accessories like bags and wallets.

HUNTER was established in 1980 and has gone on to mark its territory across the world as a provider of high quality pet goods, praised for for the design, functionality, and safety of its products.


Black Dog Collar & Lead

The dog collars are fitted with studs as part of the collaboration. Both the collar and lead feature the same colouring as discord Yohji Yamamoto's products, arriving in the brand's signature black as well as beige, the latter of which is often used for its bags and small leather products. They are also clipped with a signature charm which has a design symbolising the collaboration.

Beige Dog Collar & Lead

The accessories are made from elk leather which is soft and made extra durable with double layering. Having the collar and lead the same colours also adds a sophistication to the design when fitted on a dog.

The collection will be released at discord Yohji Yamamoto stores in GINZA SIX, Shibuya PARCO, and Isetain Shinjuku, as well online. More details can be found on the official website here.

discord Yohji Yamamoto Black / Beige Selection


Y BACKPACK Nylon Studs | ¥148,000


ORIGAMI Tote | ¥98,000


Triple Clutch | ¥58,000


Diagonal Bag | ¥45,000

Y SERIES Studs


Y BODYBAG Studs | ¥138,000


Y BACKPACK Studs | ¥158,000

Small Leather Goods

Card Mini Wallet | ¥17,000

Key Wallet | ¥20,000