Vegan Bubble Tea Arrives at Harajuku's BOTANIST Tokyo Tea Stand
For the whole month of August, the BOTANIST Tokyo tea stand in Harajuku is serving two different tapioca bubble tea beverages. Just 100 of each will be sold each day.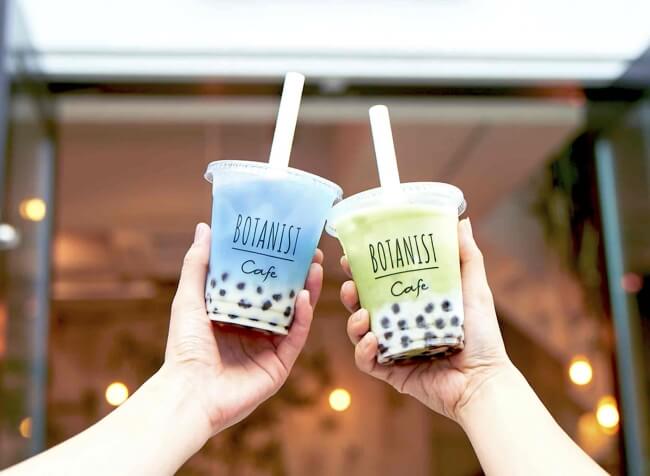 The two delicious drink flavours include "Butterfly Pea Soy Milk Tea" and "Matcha Milk Tea." Both beverages are made with high quality tapioca pearls from bubble tea store Bull Pulu who serve up Taiwanese pop culture with their tasty menu.
Vegans shopping in Tokyo's Harajuku and Omotesando areas will be excited to try the vegan-friendly Butterfly Pea Soy Milk Tea. Both of the drinks are also sold in eco cups and come with paper straws.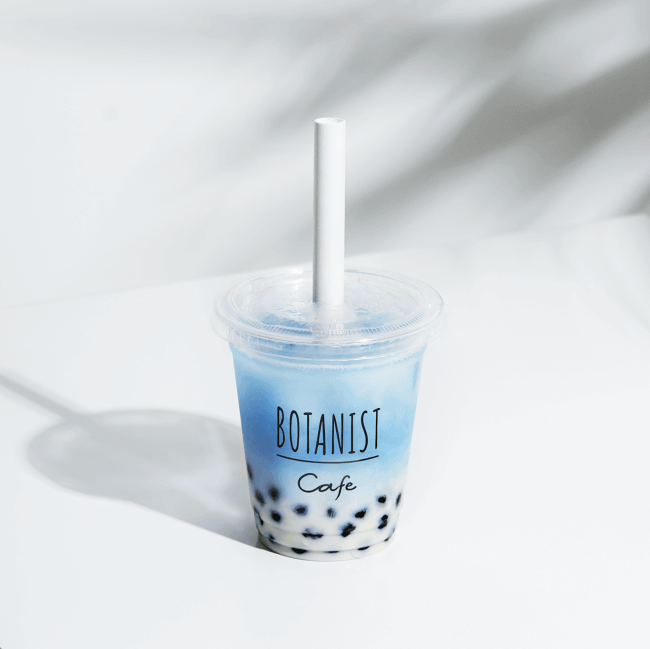 Tapioca Butterfly Pea Soy Milk Tea – ¥600 (Tax Included)
The vegan-friendly option is a combination of bright and colourful butterfly pea tea and soy milk. It's laced with a tropical coconut syrup for enhanced flavour.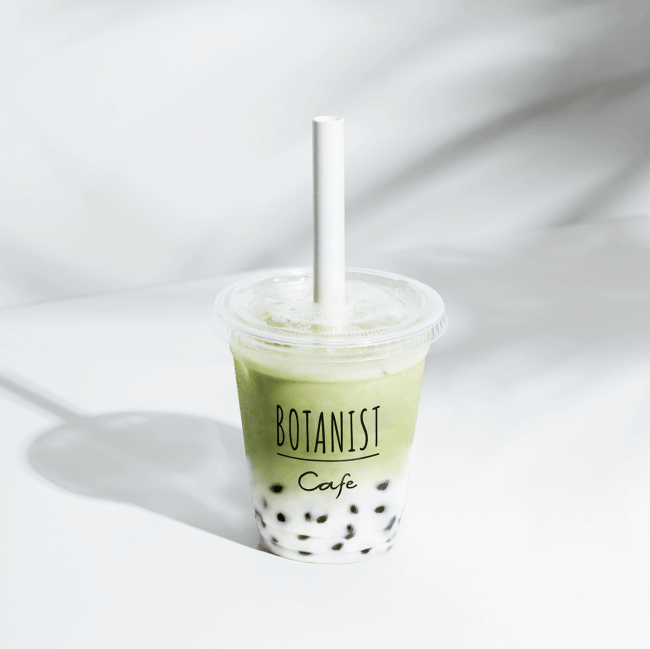 Tapioca Matcha Milk Tea – ¥600 (Tax Included)
The matcha milk tea is a combination of rich and smooth matcha foam and milk. It's mixed with a fragrant hazelnut syrup.
Both drinks are takeout only and are available to buy on the first floor. If you fancy a little refreshing drink while strolling through Harajuku then be sure to visit BOTANIST Tokyo.
Information
BOTANIST Tokyo
Address: 6-29-2 Jingumae, Shibuya, Tokyo (Shop – Floor 1F / Cafe – Floor 2F)
Business Hours: 11:00-20:00
Official Website: https://botanistofficial.com/shop/
RECOMMENDED ENTRIES
machi machi Descends Upon Harajuku With Godlike Cheese Tea Limited Edition Menu

Head over to the GOOD MEAL MARKET food court located on floor 2 of Laforet Harajuku because a Cheese Tea shop has just opened up shop.

machi machi is known as the "Cheese Tea God" by Taiwanese media and is certainly stirring up a sensation in Japan too. Each cup extracts the deliciousness of Taiwanese tea. The salty flavour of the rich-flavoured cream cheese will leave you astonished at the discovery of a brand new dessert flavour. This drink is enough to enlighten you with an emotional journey of deliciousness. 

These drinks became a massive hit after they managed to capture the heart of globally famous Hollywood Star Jay Chou, who is known for his love of tea in Taiwan. As the thirst for this drink has spread worldwide, shops have been opening up in London, Korea and many other countries. This shop is gradually capturing more and more fans. 

Season-Limited Melon Cheese Tea: ¥788 (after tax )     Melon Cheese Tea Float: ¥950 (after tax)

Season-Limited Strawberry Cheese Tea Float/Wildberry Cheese Tea Float:¥950 (after tax)

Laforert Harajuku-Limited Brûlée Milk Tea: ¥680 (after tax )

There are currently season-limited and Laforet Harajuku-limited menus available. There are a total of 20 drinks on the menu that have been developed from five varieties of Taiwanese teas as base flavours. The five base teas are: Tieguanyin Oolong tea, Sun Moon Lake Black tea, Jasmine Green tea, Four Seasons Spring tea, and Ceylon Highland Black tea.

machi machi is blessing every country of the world with the sacred flavours of Taiwan, so head to Laforet Harajuku while you have the chance. 

5 Tasty Ice Cream Shops in Harajuku You Must Visit

Hi, everybody. I'm Midori from the MMN editorial department.

Spring is here, the season when ice cream finally becomes delicious to eat again! Ice cream in Harajuku isn't just simply cute-looking, it's extremely delicious too. Grab your Harajuku-style ice cream in one hand and let's go shopping!

Roll Ice Cream Factory

The unique thing about Roll Ice Cream Factory is the way the ice cream there is made, which you get to see done right in front of you. The staff pour liquid ice cream onto an ice cold plate and then scoop it into a roll. The store releases new flavours all the time. Right now the big one during Golden Week is the Detective Pikachu ice cream. The shop also has Pikachu pictures and decorations around too so if you're in the city be sure to pay a visit before the collaboration ends!

Food Review: Detective Pikachu & ROLL ICE CREAM FACTORY Collaboration

A visit to ROLL ICE CREAM FACTORY in Harajuku

▲Roll Ice Cream Factory
Address: Just Harajuku Floor 1F, 4-28-12 Jingumae, Shibuya, Tokyo
TEL: 03-3470-0227
No Fixed Holidays.
Business Hours: 10:00-21:00
Official Homepage: http://rollicecreamfactory.com/

Detective Pikachu Roll Ice Cream
Available: April 24, 2019 – May 10, 2019

Eiswelt Gelato


If you want cute 'n' tasty then Eiswelt Gelato is the place to go. It's also away from busy Takeshita Street.

The ice cream here is so cute that it almost seems a waste to eat, but the flavours are the real deal. It's so delicious that it'll be gone before you know it. I recommend the mint frog ice cream I ate in the article below!

Cute & Delicious Animal Gelato at Eiswelt Gelato on Takeshita Street in Harajuku

▲Eiswelt Gelato Harajuku

Address: 1-8-5 Jingumae, Shibuya, Tokyo

Opening Hours: 10:00-20:00

TEL: 03-6804-3103

Website: http://www.eiswelt-gelato.com/

Eddy's Ice Cream


If you want cute pop ice cream then you'll want to make a trip to Eddy's Ice Cream! Not only is the ice cream kawaii but the shop interior is too♡

Their huge toppings are what make them stand out from the rest. They come piled with candy floss and more. Their designs too make them seem a serious waste to slurp up. They sell things besides ice cream too so if you've got a friend with teeth sensitive to cold foods then take them here while you order your ice cream!

"Eddy's Ice Cream"—A Booming Ice Cream Shop With a Colourful Selection in Harajuku

▲Eddy's Ice Cream

Address: Eddy's Ice Cream 1F, 4 Chome-26-28 Jingumae, Shibuya, Tokyo

Opening Hours: 11:00-20:00

Closed: No fixed holidays

TEL: 03-6438-9742

Access: 10 minutes' walk from Harajuku Station via the JR Line / 8 minutes' walk from Meiji Jingumae Station via Tokyo Metro

Official Homepage: http://eddysicecream.jp/

LE SHINER


LE SHINER is located along Takeshita Street and specialises in amazing rainbow ice cream. The ice creams sit really tall too making them a serious luxury. The shop's exterior design is also incredible cute! They also sell rainbow toast, rainbow cheese dogs and more too, an incentive to go back on more than one occasion♡

Grab LE SHINER's Rainbow Cheese Dog and Go Shopping in Harajuku

Introducing a new sweets item gaining popularity in Takeshita Street, Harajuku –"Rainbow Soft Cream!"

▲LE SHINER
Address: COXY176 Bldg. 1F, 1-7-10 Jingumae, Shibuya, Tokyo
Opening Hours: Weekdays 11:00-18:00 / Weekends & Holidays 10:30-19:00
Access: 3-minutes on foot from Harajuku Station's Takeshita Exit (via JR Yamanote Line) / 4-minutes on foot from Exit 5 of Meiji-Jingumae Station (via Tokyo Metro Chiyoda Line)
TEL: 070-1361-8686

Information: https://tabelog.com/tokyo/A1306/A130601/13220138/

Harajuku Denki Shokai

Harajuku Denki Shokai is known for its light bulb ice cream but now they also sell animal themed ice cream! You'll be completely spoilt for choice on which to go for. They sell lots of other cute items too besides ice cream so you can enjoy this place all year round. The shop is making new animal-inspired ice creams all the time so if you've been there before then you should definitely go again!

▲Doubutsuen
Address: Harajuku Denki Shokai Floor B1F, 3-20-10 Jingumae, Shibuya, Tokyo
TEL: 03−6434−5074
Business Hours: 11:00-19:00
Official Twitter: https://twitter.com/__doubutsuenn

Treat yourself to some cute Harajuku-style ice cream this spring and summer!

3 Must-Try Summertime Bubble Teas at Tokyo Disneyland & DisneySea

Bubble tea continues to be ever popular in Japan this summer, especially at Tokyo Disneyland and Tokyo DisneySea which not only is selling its much-loved classics but a selection of new refreshing beverages too. Let's take a look at three of these drinks new this July that not only enjoyable to drink but fun to look at too.

Coffee Tapioca Latte

The Coffee Tapioca Latte is appearing as part of Tokyo DisneySea's special event Disney Pirates Summer. The colour of this coffee flavoured delight is reminiscent of the Black Pearl from the 2003 Pirates of the Caribbean movie. It's not overly sweet and so is perfect for those who prefer more adult flavours. Enjoy the event with a cup of this pirate brew in hand.

Running: July 8 – September 1, 2019

Price: ¥500

Available: Mamma Biscotti's Bakery, Tokyo DisneySea

Fantastic Flight Drink (Lychee Tapioca)

Inspired by the new Soaring: Fantastic Flight attraction arriving at Tokyo DisneySea on July 23, this drink contains lemon jelly and lychee flavoured chewy tapioca pearls. Lychee flavoured tapioca pearls are for sure a rarity―have you ever seen them?

Running: July 8 – September 1, 2019

Price: ¥450

Available: Zambini Brothers' Ristorante, Tokyo DisneySea

Sparkling Tapioca Tea (Mango & Citrus)

For a limited time only, this refreshing Sparkling Tapioca Tea will be served up at Tokyo Disneyland, a black tea with mango flavoured tapioca and grapefruit jelly. A perfect summertime sip for the hot weather with its refreshing black tea taste and fruity fragrance.

Running: July 8 – September 1, 2019

Price: ¥600

Available: Tomorrowland Terrace, Tokyo Disneyland (Serving at 14:00-17:00 only)

There are plenty of other new bubble tea drinks apart from these ones too, some of which are on sale right now, such as the Tapioca Mango Drink with its foundation of tiny chewy tapioca balls, the subtly sweet Strawberry Tapioca Tea with fresh strawberries pieces in it as well as large-grained tapioca balls, and more.

If you're heading to either park be sure to order a cup of bubble tea!せ

Information

Tokyo Disney Resort

Blind taste-winning Taiwanese Bubble Tea Jenjudan Opens In the Young and Trendy Shibuya

On June 14, popular Taiwanese bubble tea shop Jenjudan will open its first shop in Japan. The first shop will be located in the city that is known for capturing the hearts of Tokyo's young and trendy: Shibuya. More specifically, the shop will be located on the MAG 7 Food Floor (7th floor) of  MAGNET by SHIBUYA 109.

Jenjudan stands out for their skilled tea makers and carefully-selected ingredients that are used to make their high quality drinks. One of the main ingredients is 100% natural brown sugar, which is used to soak the tapioca pearls for full flavor. They also use rich Hokkaido milk. The best part is that all ingredients used here are natural and free from additives. Plenty of research went into harnessing the natural sweetness of the black sugar by determining the exact amount of time to soak the tapioca in the sugar syrup in order to extract its maximum flavour. Jenjudan managed to achieve flavourful tapioca where the flavour gradually spreads through your mouth when chewed. The softness and size of the tapioca were also carefully crafted after extensive research.

The first ever overseas branch has been set up in Singapore's famous tourist spot of Shilin Night Market. 

Jenjudan bubble tea was the winner in a blind tasting event conducted by Taiwanese lifestyle and current affairs popular smartphone app Mobile 01, so you absolutely must try it.

Photos: 宏勝商事株式会社

Information

Jenjudan Shibuya MAGNET109

Address: MAGNET by SHIBUYA109 7F (MAG7)

1 Chome-23-10 Jinnan, Shibuya City, Tokyo

Opening hours: 11:00 ー 23:00 (Closed Jan 1, closing days dependent on mall closing times)

TEL:03-6868-8477

Jenjudan Official Twitter: https://twitter.com/jx5p7ojqds0pk2y
RELATED ENTRIES
Ornament-Like Cake Parfaits Now Being Baked Up at Pascal Le Gac Tokyo in Akasaka

Pascal Le Gac Tokyo is the first overseas branch of internationally-recognised French-based chocolate company Pascal Le Gac which released some breathtaking new desserts to its menu on Wednesday.

Chocolate Parfait Flurry / Phrase Parfait Flurry

The original Parfait Flurry desserts are made in the image of a bloomed flower. When they were released back in April 2019, they instantly garnered attention across social media and news websites for their gorgeous design. Pascal Le Gac Tokyo has brought them back to the menu, this time in the form of cakes.

Cakes that are like parfaits

The new desserts take the same concept of the original parfaits, but instead turns them into cakes. But that doesn't simply mean taking the parfait ingredients as they are and turning them into a cake. Rather, the cakes recreate the taste of the parfaits, so it's like eating the real thing. The wine glass that the parfaits were served in have been recreated using icing to give that shiny effect, and the chocolate flowers have been cut thin so they are easy to eat.

Chocolate Flurry – ¥864 (Tax Included)

Starting from the bottom upwards, the Chocolate Flurry is layered with chocolate cookie pieces, chocolate flavoured almond sponge, chocolate cream, chocolate mousse, cacao flavoured vanilla cream, more chocolate cream, dark chocolate, milk chocolate, and chocolate glaçage. Every part of this art piece is made with cacao.

Phrase Flurry (Tax Included)

Starting from the bottom upwards, the Phrase Flurry is layered with pistachio cookie pieces, almond sponge, pistachio mousse, strawberry mousse, lychee jelly, strawberry compote, raspberry flavoured fresh cream, strawberry chocolate, and red glaçage. The marriage of strawberry, lychee, and pistachio flavours is nothing short of heavenly.

*Please note that opening hours and closures are subject to change depending on the situation of the coronavirus outbreak. Check the cafe's official website for the latest details.

Information

Pascal Le Gac Tokyo
Address: 2-12-13 Akasaka, Minato Ward, Tokyo
Opening Hours: [Weekdays] 10:00-20:00 (Last Orders 19:30) / [Weekends] 10:00-18:00 (Last Orders 17:30)

Closed: Sundays

Access: 5-minutes on foot from Exit 2 of Akasaka Station (via Chiyoda Line) / 1-minute on foot from Exit 11 of Tameike-Sannō Station (via Ginza and Namboku Lines)

TEL: 03-6230-9413

Official Website: http://www.legac-chocolatier.jp/

Cute and Chic Leather Wallets & Purses Released at Tiffany @ Cat Street in Harajuku

Tiffany & Co. released a new collection of small leather products at its Harajuku concept store Tiffany @ Cat Street on Wednesday.

What is Tiffany @ Cat Street?

 Tiffany @ Cat Street is a concept store that opened in April 2019 which is set to remain open for just 3 years. It is the company's first concept store to open in Japan. The shop showcases the wit, creativity, and timeless charm that Tiffany & Co. is known for, as well as a shopping experience in an interactive environment. It stocks everything from Tiffany's iconic collection from jewellery to home goods, accessories, and more. The line-up and designs also change themes on occasion. Tiffany @ Cat Street also has a cafe on the top floor.

Continental Flap Wallet – ¥72,000 (Before Tax)

Coin Pouch – ¥36,500 (Before Tax)

The small leather product line-up is made from high-quality Italian leather coloured in that eye-catching Tiffany blue. Each item is also stamped with the store's signature cat motif.

Card Case – ¥24,500 (Before Tax)

Compact Wallet – ¥55,000 (Before Tax)

The four variations are the perfect gift to yourself or someone you hold dear to you.

Be sure to stop by Tiffany @ Cat Street the next time you're in Harajuku.

Information

Tiffany @ Cat Street

Address: 6-14-5 Jingumae, Shibuya, Tokyo

Opening Hours: 11:00-19:00

Cafe Opening Hours: 11:30-18:30 (Last Orders 18:00)

Access: 5-minutes on foot from A4 exit of Meiji-Jingumae Station (Tokyo Metro Chiyoda Line/Fukutoshin Line) / 10-minutes on foot from Omotesando Exit of Harajuku Station

Official Website: https://www.tiffany.co.jp/jewelry-stores/cat-street/

Harajuku's Rilakkuma Fruits Cafe Entertains Customers With Projection Mapping

"HARAJUKU AR BOX -table projection mapping cafe-," a cafe in Harajuku whose name speaks for itself, has announced its second collaboration with Rilakkuma to bring the new Rilakkuma Fruits Cafe which will open for a limited time from April 3, 2020 to June 28, 2020.

The cafe's first collaboration with Rilakkuma was in December last year. It was called "Korilakkuma Cafe: another me in the mirror" and earned itself many fans for its cute food and decor, but especially for its interactive tables which used projection mapping technology to have Rilakkuma and friends running around people's tables.

Harajuku's Korilakkuma Cafe: another me in the mirror | Food Review: https://www.moshimoshi-nippon.jp/284456

Fruit is the theme of the new Rilakkuma Fruits Cafe, which follows that Chairoikoguma and the other characters have gathered lots of nutritious fruit to fill up the belly of hungry Rilakkuma.

Food

Rilakkuma's Fruit Salad – ¥1,590

Get your fill of refreshing fruit from this fruit salad plate which has Rilakkuma poking his cute face out from behind it all. When you order this dish, you'll need to touch the fruits that appear on the table to give them to Rilakkuma.

Korilakkuma's Apple Cheese Gratin – ¥1,690

A combination of hot apple and melted cheese, you'll find yourself addicted to the sweet and sour mix of flavours. Pick lots of apples with Rilakkuma and company with the projection mapping game. (*Serving April 3, 2020 – May 17, 2020 only)

Chairoikoguma's Orange Burger – ¥1,690

The bun of this hearty burger is branded with Chairokoguma's cute bear face. But what happens when you squeeze Rilakkuma's orange? (*Serving May 20, 2020 – June 28, 2020 only)

Desserts

Rilakkuma's Maku Maku Fruit Tree Parfait – ¥1,590

Korilakkuma's Maku Maku Strawberry Tree Parfait – ¥1,590 (Serving April 3, 2020 – May 17, 2020 only)

Kiiroitori's Maku Maku Peach Tree Parfait – ¥1,590 (Serving May 20, 2020 – June 28, 2020 only)

For dessert, you have a selection of fruit-topped parfaits to choose from featuring Rilakkuma, Korilakkuma, and Kiiroitori.

Drinks

Rilakkuma & Friends Maku Maku Drinks – ¥790 / With Glass – ¥1,990

Warm & Fluffy With Everyone Cafe Latte – ¥890

Pick between one of the cold beverages, or if it's a cold day, warm up with a hot drink. Feel warm and fluffy like Rilakkuma and his friends with a warm beverage after your parfait.

Exclusive Merchandise & Bonus Items

Pin Badges (9 Designs/Chosen Randomly) – ¥400

Acrylic Key Rings (8 Designs/Chosen Randomly) – ¥500

Get your hands on a selection of original merchandise too, including pin badges, acrylic key rings, and more.

Stickers (4 Designs/Chosen Randomly)

Coasters (4 Designs/Chosen Randomly)

Book a table online in advance and receive one of four possible stickers. Order a drink at the cafe and get one of the four coasters!

You're sure to get your five-a-day when you dine at the Rilakkuma Fruits Cafe, opening for spring on April 3, 2020 in Harajuku.

©2020San-X Co., Ltd. All Rights Reserved.

Information

Rilakkuma Fruits Cafe

Running: April 3, 2020 – June 28, 2020

Location: HARAJUKU AR BOX-table projection mapping cafe- (Lucessimo Bldg. Floor 2F, 4-28-28 Jingumae, Shibuya, Tokyo)

Table Bookings: Now Open

*Table Projection Mapping seats for two people are ¥2,960 (before Tax)

Official Website: https://rilakkuma-fruits-cafe.jp/

Japan's First Guest House Meiji Kinenkan Officially Designated as Tangible Cultural Property

Meiji Kinenkan, located in Minato, Tokyo, was officially designated as a Tangible Cultural Property this month.

Meiji Kinenkan was built in 1881 as a dining and reception hall used for receiving important guests from abroad to the Akasaka Temporary Palace. In October 1881, a dinner was held at the site with Prince Albert Victor and Prince George who visited Japan that autumn. Five years later, in 1886, Empress Shōken received foreign guests in Western clothing for the first time. In 1888, a meeting attended by Emperor Meiji was held to discuss the draft of the Constitution, which is represented in artwork you can see on the walls of Meiji Kinenkan. During the construction of Meiji Jingu Gaien in 1918, Meiji Kinenkan was dedicated to Meiji Jingu from the Ito family and relocated to where it stands today. Before the war, the building was known as the "Constitution Memorial Hall" and was used for events related to the Imperial Family. It was renamed "Meiji Kinenkan" in 1947 and became a wedding hall of Meiji Jingu.

Dining hall used as the stage for Emperor Meiji's Imperial Court diplomacy

Golden roosters flutter on the walls around the black-lacquered mantle piece mirror

This building was used for court diplomacy under Emperor Meiji. Located on the grounds of Meiji Kinenkan, its interior exemplifies the idea of "Modern Meiji." It has survived two relocations, the Great Kantō earthquake of 1923, and the Second World War. The lavish decor is a harmonious fusion of the traditional and the modern, with the overhead chandeliers, golden roosters, and mantle piece with its black lacquering and towering mirror.

Overlooking the garden, offering not only a modern cafe experience but banquets too

The Meiji Kinenkan Main Building was designated as an Tangible Cultural Property for its 100+ years of history, honouring its historical background, cultural role, and value as a building. Today, it is used for many different things, from a wedding reception to a venue for company parties.

On weekdays, it is mainly used for its "kinkei" lounge, a spacious area that faces a gorgeous green garden planted with a variety of flowers that bloom through the seasons. Its interior decor also has history, such as its ceiling which is a reflection of the Meiji Period. They even serve cake from Meiji Kinenkan's original sweets brand "Kaminomi no Mori" and coffee.

Pompompurin Celebrates 24th Anniversary With Birthday Menu at the Pompompurin Cafe

Sanrio's popular character Pompompurin is celebrating his 24th anniversary at three branches of the Pompompurin Cafe in Harajuku, Yokohama, and Umeda with a special birthday menu that will be served for the whole month of April.

A special celebratory menu for the floppy-eared golden retriever

The official date for Pompompurin's birthday is April 16. The birthday menu line-up includes two food items, a drink made in collaboration with popular Japanese picture book author Yukako Ohde, and some novelty gifts.

Birthday Menu

Happy Birthday Flower Bouquet Bisque – ¥1,590 (Before Tax)

This cute bisque soup has Pompompurin and Muffin holding a colourful boquet made from broccoli and mashed potatoes made to look like roses. It has a rich but mild flavour, and is both adorable and filling.

Happy Birthday Strawberry Mousse – ¥790 (Before Tax)

The strawberry mousse has a fluffy texture and refreshing, sweet taste. It can be eaten as it is or drizzled with the accompanying raspberry sauce.

Yukako Ohde x Pompompurin Lemonade – ¥550 (Before Tax)

Take a sip from this delicious lemonade from a straw adorned with a cute, warm illustration of Pompompurin by Yukako Ohde.

Exclusive Anniversary Novelty Gifts

Lunch Mat Design

Customers who dine at any of the three cafes during the anniversary celebration will receive a free lunch mat.

Coaster Designs

And those who order the lemonade will receive a coaster with designs illustrated by Yukako Ohde. The designs are different at each branch of the Pompompurin Cafe. You can also receive another special coaster if you spend over ¥1,000 each (tax included) at Pompompurin Cafe Umeda and KIDDY LAND Osaka Umeda. Simply show your receipts at the cafe.

©1996,2020 SANRIO CO., LTD. APPROVAL NO.S605291

Information

■Pompompurin Cafe Harajuku

Address: CUTE CUBE HARAJUKU 3F, 1-7-1 Jingumae, Shibuya, Tokyo

Opening Hours: 11:00-21:00 (Food Last Orders 20:00 / Drinks Last Orders 20:30)

Access: 3-minutes on foot from the Takeshita Exit at Harajuku Station

TEL: 03-5786-0770

■Pompompurin Cafe Yokohama

Address: Yokohama Sotetsu Square, 2-1-5 Minamisaiwai, Nishi-ku, Yokohama-shi

Opening Hours: 10:00-21:00 (Last Orders 20:30)

Access: 5-minutes on foot from West Exit at Yokohama Station via JR Line

TEL: 045-311-6750

■Pompompurin Cafe Umeda
Address: Hankyu Sanbangai South Wing B2F, 1-1-3 Shibata, Kita-ku, Osaka-shi
Opening Hours: Weekdays 11:00-22:00 (Last Orders 21:30) / Weekends & Holidays 10:00-22:00 (Last Orders 21:30)
Access: 3-minutes from Osaka Station via JR Line
TEL: 06-6292-7140

Pompompurin Cafe

Official Website: http://pompom.createrestaurants.com

mūya: Tokyo's New Cafe Opening by 'Bread, Espresso &' Serving Fluffy Mū Bread

Bread, Espresso & is a cafe chain with 17 branches in Japan, including Omotesando. The company is set to open an entirely new cafeーspecialising in Bread, Espresso &'s popular mū breadーcalled mūya on April 17, 2020 in Asakusa Mizumachi.

Bread, Espresso &: https://www.moshimoshi-nippon.jp/254815

Mizumachi is a new shopping centre also opening on April 17, 2020. It's near Solamachi in Tokyo Skytree Town, and sits betwixt Kaminarimon and Tokyo Skytree.

mū

Mū is an original bread recipe baked up by Bread, Espresso & that's made with lots of butter, giving it a rich taste. The word means "soft" in French. When you break a piece off the fluffy loaf, that rich buttery smell fills your nose.

inside the cafe

The mū loaf is a cube shape, and the interior of the shop has cube designs all over it.

Customers sit at tables with chairs that stack up like cubes – a unique and original design.

French toast

Mū is the main dish at mūya, which can be served as it is, as a sandwich, as French toast, or even in a parfait.

When you're passing through Asakusa, be sure to pop into mūya to try the famous mū bread of Bread, Espresso &.

Information

mūya

Address: 1-2-12 Mukojima, Sumida City, Tokyo 131-0033
Opening Hours: 8:00-20:00
No Fixed Holidays

TEL: 03-6240-4880
Homepage: http://www.bread-espresso.jp/

Succulent Strawberry Drinks & Desserts Served Up at GELATO PIQUE CAFE

GELATO PIQUE CAFE branches in Japan began their "Strawberry Fair" on Wednesday serving up drinks and desserts made using seasonal strawberries.

What is GELATO PIQUE CAFE all about?
"Desserts for adults" is the concept at GELATO PIQUE CAFE, a cafe brand developed by GELATO PIQUE which specialises is comfy loungewear. The cafe, which has branches in Tokyo, Osaka, Nagoya, and elsewhere in Japan, serves comfort food and is interested in the health and happiness of its guests. Their menu is overflowing with ideas, with all options made using only the best selected ingredients.

The enticing line-up is nothing short of kawaii, and screams springtimeーfitting for the season as Japan celebrated Vernal Equinox Day yesterday, the first day of springーwith sweet and sour strawberries adorning their crepes, smoothies, gelatos, soft serve ice creams, and more.

Strawberry Mille Feuille Crepe – ¥830 (Before Tax)

Topped with a whole strawberry, this mille feuille-inspired seasonal crepe is made with an in-house crafted strawberry cream, mille feuille puff pastry, and vanilla gelato. The strawberries used are a mix, all grown in Kumamoto Prefecture, including yuubeni, koinozomi, koiminori, and others. Much love and care is put into growing strawberries in Kumamoto, making them sweet and delicious.

White Strawberry & Red Strawberry Gelato – ¥460 (Before Tax)

This two-coloured serving of gelato ice cream is made with sweet-smelling white strawberries and a brand of red strawberry from Fukuoka called amaou. No strawberry lover will be able to resist this pick.

Strawberry Smoothie – ¥590 (Before Tax)

Enjoy a cold strawberry smoothie made from seasonal strawbs, milk, and honey. Indulge in the refreshing sweetness of the strawberries, and enjoy the cute pink flavour of the beverage.

Strawberry Milk Soft Serve Ice Cream – ¥450 (Before Tax)

Or grab yourself a cone of soft serve ice cream to enjoy the combination of flavours: sweet and sour strawbs and sweet, creamy milk.You can also get a mix together with the light blue vanilla flavour.

Information

Strawberry Fair

Running: March 18, 2020 – May 31, 2020

Location: GELATO PIQUE CAFE (Participating Branches: atré EBISU, LUMINE Ikebukuro, Mitsui Outlet Park Makuhari, Mitsui Outlet Park Kisarazu, Mitsui Outlet Park Jazz Dream Nagashima, Gotemba Premium Outlets, Nagoya LACHIC, Mozo Wonder City, Namba Marui, Mitsui Outlet Park Hokuriku Oyabe)

Official Website: https://pique-cafe.com/

*Strawberry variety is subject to change depending on production conditions

Shirasagi Coffee: Ehime Prefecture's Cafe Releases Springtime Cherry Blossom Menu

Shirasagi Coffee, a cafe in Ehime Prefecture, has released a new seasonal menu full of strawberries and cherry blossoms to commemorate the spring season.

Shirasagi Coffee's logo features a heron, a reference to a legend that says the locals of Matsuyama in Ehime noticed that a white heron healed its injured leg by bathing in the hot springs of Dōgo Onsen, one of the oldest hot springs in  Japan. The cafe was renovated using furniture made from scrap wood from when Dōgo Onsen was built. It's an artistic cafe that has garnered much attention from both locals and tourists.

Thick-Cut Natural Yeast Toast

This thick-sliced bread is provided by Panya Uzu, a bread shop also in Matsuyama, Ehime. Perfect for breakfast or lunch, it's topped with a cherry blossom jam and mascarpone cheese cream.

Top: Cream Soda / Right: Cherry Blossom Tea Latte / Left: Cherry Blossom & Strawberry Mint Sour

This line-up of three drinks are made using seasonal strawberries grown in Ehime Prefecture.

Sweet Bavarois

Bavarois is a classic dessert at Shirasagi Coffee, and this one is made using matcha grown in the village of Shingu in Ehime and is coated in a cherry blossom cream.

Spring Madonna Parfait

This limited-time parfait is stacked with 12 different ingredients of varying textures and flavours, including cherry blossom, as well as Ehime strawberries, chestnuts, and matcha. It's the culmination of Ehime's springtime ingredients.

Takeout Drinks

Mini Parfait

The cafe also serves mini parfaits, drinks and other items for takeout. Pick something out and go and observe the cherry blossoms for Hanami at Dōgo Park.

Information

Shirasagi Coffee

Address: 2F, 12-1 Dōgoyunomachi, Matsuyama, Ehime Prefecture

Opening Hours: 08:00-18:00 (from 07:00 on weekends and public holidays)

No Fixed Holidays

Closest Station: Dogo Station via Iyotetsu

Official Website: https://shirasagicoffee.com/

*Open everyday until 22:30 from March 23, 2020

*Table reservations available on weekdays

*Breakfast-only until 11:00

Gluten-Free Vietnamese Bánh Mi Baguettes Sold at the New Bánh mi Tokyo

In Vietnamese cuisine, a Bánh mi is a baguette stuffed with various ingredients and served as a sandwich. It's a popular meal in Vietnam, and in recent years has seen an appearance in Japan.

Bánh mi Tokyo opened in Gaiemmae, Tokyo on March 16, 2020. They serve bánh mi with a Japanese taste, and their bread is made from 100% rice flour with no artificial flavourings or purified sugar.

Bánh mi are generally made with lard or margarine, but at Bánh mi Tokyo, they are made with with ingredients with good-quality oil content like rice koji sweet sake and nuts, which give them a richness and creaminess and remove things like trans-fats that are a burden on the body. This also greatly cuts calories and other fats too.

Mackerel Curry Bánh Mi

All bánh mi overflow with original flavours, from the chicken-filled "Standard Bánh Mi" to the "Mackerel Curry Bánh Mi" which is made with curry flavoured grilled mackerel, "Five Spice Char Siu Bánh Mi" stuffed with juicy pork belly, and more.

Bánh mi Tokyo also serves high-quality original coffees which are a must-try together with your bánh mi

Information

Bánh mi Tokyo

Address: 1F, 3-1-25 Jingumae, Shibuya, Tokyo)

Opening Hours

[Weekdays] Morning 8:30-9:30 / Lunch 11:00-15:00 (Last Orders 14:30) / Cafe 15:00-17:30 (Last Orders 17:00)

[Weekends & Holidays] Lunch 11:00-15:00 (Last Orders 14:30) / Cafe 15:00-18:30 (Last Orders 18:00)

*Please note that opening hours are subject to change as a result of the coronavirus. Check the cafe's official website for the latest information.

TEL: 070-4142-0868

Official Website: https://banhmi-tokyo.com/

MUUN SEOUL: Harajuku's Korean Cafe Serving Instagrammable 'Fatcaron' Macarons

MUUN SEOUL is a cafe located along Tonchan-dori Street in Harajuku that serves Instagram-worthy South Korean food.

Photo by Nagisa Kobayashi @popo_318

Photo by Nagisa Kobayashi @popo_318

The cafe sells "fatcarons," a South Korean-style macaron which have proven very popular with young women in Japan.

Photo by Taeco @taecostagram

Fatcarons are larger than the standard macaron. They are topped with things like strawberries, given marble textures, and more to give them a cute appearance. MOON SEOUL serves many different varieties, all of which are standout compared to normal macarons.

Photo by Sara @__sar310

But the fatcaron experience at MOON SEOUL isn't complete without ordering the drink above. It's strawberry milk flavoured, but the milk is whipped until it's fluffy, giving it a taste like no other strawberry milk you've tried. It also has sliced strawberries inside and on top, so if you love strawberries, you'll love this.

Photo by Yuina @popochan726

You can order your fatcarons for takeout too in a clear takeaway box so you can go have a dessert picnic with your friends, and get a great photo of them all together too.

Vegan Almond Caramel Sponge Cake Now Available at TOKYO BANANA in Tokyo Station

TOKYO BANANA WORLD released a new vegan-friendly almond caramel flavour of its popular Tokyo Banana sponge cakeーthe official souvenir sweet of Tokyoーat the TOKYO BANANA store on the JR side of Tokyo Station on March 15, 2020.

This is TOKYO BANANA's first vegan-friendly sweet. It's made from 100% plant-based ingredients while keeping 100% of the product's delicious flavour. That includes almond milk, which is promoted for its health and beauty benefits, and delicious caramel.

TOKYO BANANA Almond Caramel Sandwiches – Box of 4: ¥680 (Tax Included) / Box of 8: ¥1,200 (Tax Included)

Other ingredients include beat sugar, which is made from beetroot, a subtle banana flavour, and crunchy roasted almonds, all wrapped together in a bite-size sponge cake.

The product is both vegan and vegetarian friendly, containing no eggs or dairy products.

This tasty snack is available only at TOKYO BANANA in Tokyo Station, so be sure to pop buy and pick some up if you're travelling through there.

Information

Tokyo Banana Almond Caramel Sand

Released: March 15, 2020

Available: TOKYO BANANA (JR Tokyo Station)

Official Website: https://www.tokyobanana.jp/ 

AKOMEYA TOKYO in la kagū: Shopping Centre Celebrates 1st Anniversary With New Products

It's been one year since AKOMEYA TOKYO in la kagū opened in Tokyo in March 2019, and to celebrate, the shopping centre is releasing lots of new products for guests to enjoy starting on April 8, 2020.

AKOMEYA TOKYO in la kagū, the flagship store of AKOMEYA TOKYO, is celebrating its 1st anniversary with a new bigger and better product line-up. At the end of 2019, the new AKOMEYA Shokudo restaurant opened, and AKOMEYA TOKYO in la kagū began selling fresh vegetables and introduced AKOMEYA TOKYO's first line of Western-style clothing.

Floor 1F

AKOMEYA TOKYO in la kagū has upped its variation of food products, including a rice, vegetables, nuts, condiments, and more.

AKOMEYA Shokudo Kagurazaka to Open On April 1st

Seasonal Kobachizen – ¥2,200 (Before Tax)

Sweet and Sour Chicken & Vegetable Gozen – ¥1,500 (Before Tax)

The "Seasonal Kobachizen" is served with fresh white rice and a wide range of deliciously-made ingredients and condiments. There is also a line-up of classic Japanese food too available casually as self-service.

Desserts – From ¥700 (Before Tax)

Enjoy teatime too with AKOMEYA Shokudo Kagurazaka's dessert line-up. It will be a great place to pop into if you're strolling around Kagurazaka or doing some shopping.

*AKOMEYA Chubo will be open until March 29. It will close on March 30 and 31 for refurbishment before reopening on April 1 as AKOMEYA Shokudo.


More Details: https://www.akomeya.jp/shop/pg/1lakagukouji

Fragrant Smoked Food Products

Over 20 new smoked food products will be introduced made using special cooking methods. The cashew nuts, pistachios, spices, and coffee beans are smoked without any heat going into them before being smoked again inside a drum-shaped mixer to ensure every grain is coated. The soy sauces, oils, and dressings also have very tiny smoke bubbles in the liquid. Everything in the line-up is rich in smoky flavour

The Hive and Barrow's Vegetables

The Hive and Barrow is a husband and wife company which moved from the United Kingdom to Chiba Prefecture in 2010. With no agricultural experience, they were able to clear land at a mountain and begin producing a wide variety of organic vegetables outdoors in nature. The eye-catching colours of their produce, as well as its rich smell, is proof of their love and dedication to grow incredible vegetables. They sell fresh veg everyday, as well as exquisite hummous, soup bases, pickles and more, all using their fresh produce.

Floor 2F

The second floor houses Japanese lifestyle products, with a fun line-up that encourages the enjoyment of picking something out.

Western-Style Clothing to Dress Up Your Day

The clothing line-up offered on the second floor of AKOMEYA TOKYO in la kagū is not tied down by trends. It's a collection for when you want to look chic and polished offered by made-in-Japan brands that are dedicated when it comes to quality. The items are inspired to make you feel happy when you put them onーso find your favourite style.

Stocked Brands:
Alwel / ANSPINNEN / Catworth / dahl'ia / fruits of life / JOHN SMEDLEY / les Briqu'a braque / MANTERO / MATRIOCHIKA / NAPRON / R&D.M.Co- / Yarmo

Japanese Accessories

Enjoy a collection of brand accessories that boast tradition and craftsmanship from all across Japan. Each and every item is handmade with love and care by artisans, and without stereotypical designs in mind, so you can adorn yourself with originality.

Stocked Brands:

HARIO Lampwork Factory / NAGAE+ / TRIPLE O

As part of the anniversary celebration, those who spend over ¥3,000 (tax included) at AKOMEYA TOKYO in la kagū from April 8 will receive a limited-edition tea towel. These are limited in stock and won't be available once all are given out.