Experience Kyoto at Night: 5 Must-See Spots – MOSHI MOSHI NIPPON
The ancient city of Kyoto enjoys waves of tourists and sightseers from around the world throughout the year. It is particularly hot during the summertime because it's situated in a valley. If you've never walked around Kyoto's towns at night then we invite you to add it onto your list of sightseeing experiences.
We have compiled a list of 5 must-visit locations to best enjoy Kyoto's nightscape. We are joined by Taka, a Japanese Instagrammer who conveys the beauty of Kyoto through his picturesque photographs which has has provided us today.
Kyoto Station & Kyoto Tower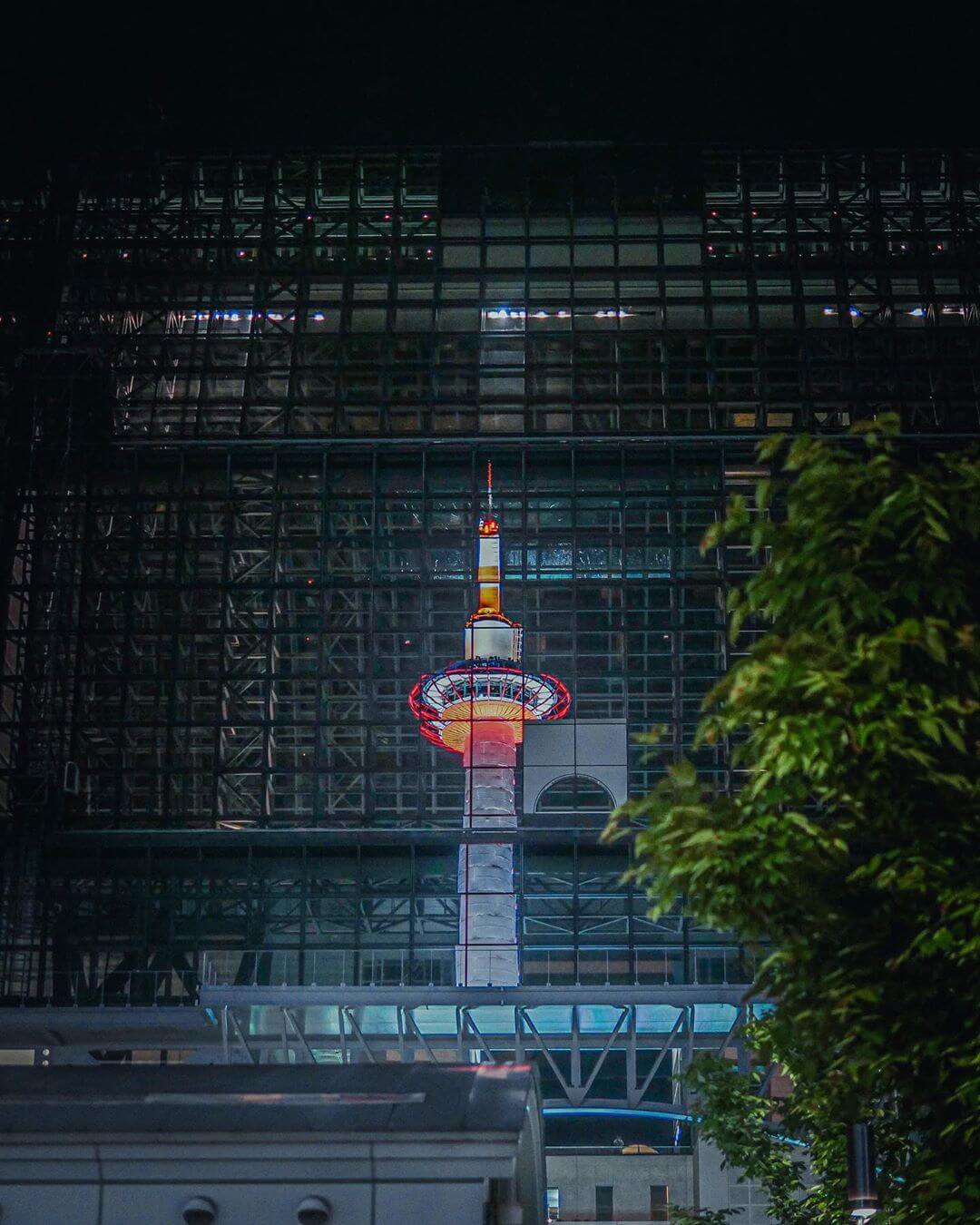 The modern architecture of Kyoto Station is a juxtaposition against the traditional image of Kyoto. There are lots of great places inside the station where you can get up high and gaze down at Kyoto's streets, but the absolutely unmissable nighttime spot are the mirrored windows. When evening sets in, you can see Kyoto Tower―which is opposite the station―reflected on the outside. Of course, you can enjoy the tower during the day too, but at night they light it up, making for a truly magical sight.
▼Kyoto Station
Address: Higashishiokoji Kamadonocho, Shimogyo Ward, Kyoto, Kyoto Prefecture
Kyoto Station Building Official Website: https://www.kyoto-station-building.co.jp/
▼Kyoto Tower
Address: 721-1 Higashishiokojicho, Shimogyo Ward, Kyoto, Kyoto Prefecture
Opening Hours: 9:00-21:00 (Last Entries 20:40)
*Opening hours subject to change without notice
Official Website: https://www.keihanhotels-resorts.co.jp/kyoto-tower/
Yasaka Shrine
Yasaka Shrine is an easy sightseeing spot to reach being just a 5-minute stroll from Gion-Shijo Station. The shrine is a power spot said to provide good luck when it comes to marriage ties. It bustles with visits from people from around the world and is in fact open 24-hours a day.
Paying a visit at night provides you with an entirely different look at Yasaka Shrine. Why not dine out along Shijō Street and take a walk to the shrine when the sky turns dark?
▼Yasaka Shrine
Address: 625 Gionmachi Kitagawa, Higashiyama Ward, Kyoto, Kyoto Prefecture
Official Website: http://www.yasaka-jinja.or.jp/
Kyoto Minamiza Theatre
Minamiza is the oldest theatre in Japan and is officially registered as a Japanese Tangible Cultural Property. Like Yasaka Shrine, the closest station to the theatre is Gion-Shijo Station. Leave through Exit 6 and it's right outside.
Minamiza has a long history spanning back to 1610 when it was founded. In May this year, Kyary Pamyu Pamyu performed a special concert there entitled Kyary Kabuki Kabuki which made use of projection mapping, fusing history and tradition with the latest cutting-edge technology to provide a concert like no other. The theatre is becoming a new sightseeing spot as it is lit up at nighttime. All of the lights are turned on until 10pm after which just the roof lights are kept on.
▼Kyoto Minamiza Theatre
Address: 198 Nakanocho, Higashiyama, Kyoto, Kyoto Prefecture
Official Website: https://www.shochiku.co.jp/play/theater/minamiza/
Ninenzaka
Ninenzaka is a long winding road that leads up to Kiyomizu-dera temple and is also a very famous tourist spot. It is registered under the Important Preservation Districts for Groups of Historic Buildings. In the daytime, the street bustles with locals and tourists dipping in and out of the souvenir shops, but the dark evenings of Ninenzaka are another kind of wonderful. The number of tourists drops significantly at night meaning you can have the street all to yourself and take plenty of photos, warm lanterns lighting your way.
▼Ninenzaka
Address: 2 Kiyomizu, Masuyacho, Higashiyama Ward, Kyoto, Kyoto Prefecture
Official Website: http://www.2nenzaka.ne.jp/
Kiyomizu-dera
Kiyomizu-dera is a 25-minute walk from Kiyomizu-Gojō Station which is reached via the Keihan Main Line. Registered as a UNESCO World Heritage Site, this ancient Buddhist temple is a very popular tourist destination. What we want those of you to see when visiting in the evening is the beautiful sunset which can be seen from the temple, colouring the streets of Kyoto a gorgeous orange.
▼Kiyomizu-dera
Address: 1-294 Kiyomizu, Higashiyama Ward, Kyoto, Kyoto Prefecture
Opening Hours: https://www.kiyomizudera.or.jp/access.php
Official Website: https://www.kiyomizudera.or.jp/
Taka has visited so many incredible locations in Kyoto, so if you're planning a trip there and need some recommendations be sure to follow him on Instagram.
Photos: Taka
RECOMMENDED ENTRIES
Kyoto's Famous Buddhist Temple With Heart Window Holds Wind Chime Festival

The ancient city of Kyoto enjoys flurries of tourists and sightseers from around the world throughout the year. It is particularly hot during the summertime because it's located in a valley.

Shojuin is a Buddhist Temple located in a summer retreat that was erected nearly 800 years ago. Hidden at the temple is the 11-faced Buddha statue of Kannon Bosatsu which is open to the public only once every 50 years.

The temple has a long history, and today it is used as a site for yoga, copying the sutras, and other activities when booked in advance. It's enjoyed by people of all ages.

Today, we are joined by Macchan, an Instagrammer who tours the many sightseeing spots of Kyoto. They have provided photographs of the must-see parts of this ancient temple.

Shojuin is famous for its beautiful heart-shaped window located in the reception hall as well as its 160 pieces of ceiling art. The decorative window has been around for nearly 1,400 years and has survived disasters. It stands as a symbol of happiness.

From outside the heart window visitors can enjoy the different flowers through the four seasons. Right now during summer the view is a green spectacle. At nighttime the outdoor garden is lit up beautifully as shown in the photo.

Shojuin is famous for its summer Wind Chime Festival which is currently running until September 18.

2,000 colourful wind chimes gently sway around the temple with the summer breeze. The chimes are there for their sound and appearance and to elicit that sense of refreshing coolness.

Even the wind chimes are illuminated in the evenings. They are lit up on weekends only (except August 1 to 18) from 18:00-20:00.

The hypnotic ring of the wind chimes sounds they are calling the wind. If you're travelling to Kyoto this hot summer, why not plan a trip to Shojuin?

Macchan has lots of other photos on their Instagram where you can feel the vibe of Kyoto. Use it as reference when you're planning your Kyoto sightseeing.

Information

Shojuin

Address: Kawakami-149 Okuyamada, Ujitawara, Tsuzuk District, Kyoto

Access:

①Reachable by Keihan Uji Bus (Numbers 180, 182 or 184) from Uji Station and Shin-Tanabe Station. Get off at Ichumae Bus Stop (維中前)

②10 minutes by the Okayamada Community Bus or taxi

Official Website: http://shoujuin.boo.jp/

This Summer, Try These Luxurious Kyoto-Limited Uji Matcha Pancakes

Eggs 'n Things, Shijo Street, Kyoto will be selling luxurious Uji matcha pancakes from August 1, 2019. 

Eggs 'n Things Shijo Street first launched their delicious uji matcha pancakes back in February 2017. The pancakes quickly became a big hit among the locals as well as the tourists, appealing to visitors who wanted to discover more about Kyoto. This summer, Eggs 'n Things is packing their Kyoto-limited pancakes with even more Kyoto goodness.

These pancakes are luxuriously covered with rich matcha custard cream and garnished with rice flour dumplings, adzuki bean paste, chestnuts and a mini monaka wafer cake. Matcha is even kneaded into the pancake dough, maximising its mellow flavour. If you visit Kyoto, be sure to fully immerse yourself in the wonders of matcha ordering these matcha pancakes at Eggs 'n Things Shijo Street, Kyoto.

Information

Kyoto-limited Uji Matcha Pancakes 

Price: ¥1,580 (before tax)

Limited sale period start date: August 1, 2019 

Restaurant: Eggs 'n Things Shijo Street, Kyoto

 Eggs 'n Things Shijo Street, Kyoto

Address: 47-4,  Motoakuojicho, Higashinoroindori Shijo Sagaru, Shimogyo Ward, Kyoto

Opening Hours: 9:00 ー 22:00 (last orders: 21:00)

3 Kyoto Tourist Spots to Visit and Cool Down at This Summer

The bustling Kyoto Prefecture is located in the Kansai region of Japan, adored for its historical architecture and richness in traditional Japanese culture for which it brings in tourists every year both Japanese and foreign.

Summertime in Kyoto is renowned for being very hot. We've compiled a list of 3 must-visit locations where you can cool down during the summer heat―each of which have beautiful sights―and how to get to them.

Explore the Caverns of Shizushi Limestone Cave Park

The only limestone caves in Kyoto Prefecture, Shizushi Limestone Cave Park offers an exciting mix of outdoor activities from cave exploration to camping, bird watching and much more. The caves are a designated national monument of Kyoto Prefecture. Many fossils have been collected from the caves that date back to before the Permian period (which ended 252.2 million years ago) including fusulinida and crinoids. The temperature of the caves sits between 12℃-15℃ throughout the year making it a very popular spot for cooling off during times of hot weather.

▼Shizushi Limestone Cave Park
Address: Shizushi, Kyotamba, Funai District, Kyoto

Access: Board a JR bus from Sonobe Station (JR Sagano Line) bound for Enpuku (園福線) and get off at Hinokiyama (桧山). Change onto a Choei (町営) bus. Get off at the Shizushi Limestone Cave entrance (鐘乳洞口) and walk for 5 minutes.

Opening Hours: 9:00-17:00

Website: http://www.kyotamba.org/質志鐘乳洞公園/

Beach Swings and Sunsets at Yuhigaura

Yuhigaura sits on the coast of Kyoto's Tango area and is known for its iconic sunsets. Every year during summertime, giant swings made from driftwood and other materials are placed onto the beaches. Sitting on these during the evening sunset make for an incredibly picturesque scene.

And this year they're serving an original drink called the "Magic Hour" for a limited time.

▼Yuhigaura
Address, 390 Aminocho Hamazume, Kyotango, Kyoto Prefecture

Access: Board the Limited Express Hashidate (特急はしだて号) train at Kyoto Station and get off at Yūhigaura-Kitsu-onsen Station (夕日ヶ浦木津温泉)

Homepage: http://yuukan.com/news/17/?view_oft=0

Amanohashidate Sandbar Illuminations


Last year's illuminations at the Amanohashidate sandbar brought in over 30,000 people. The sandbar is one of Japan's three scenic views. The illumination event is held annually with this year's running from July 13 to September 1. The lights turn the sandbar into a truly magical spectacle.

A special bar is also open for the light-up where you can get drinks along with several other exciting events surrounding it.

▼Amanohashidate Light-Up
Address: Monju, Miyazu, Kyoto

Running: July 13, 2019 – September 1, 2019
Event Details:  https://www.facebook.com/amanohashidate.machiakari/

Stay cool this summer in Kyoto by hitting up one of these tourist hot spots!

4 Shaved Ice Desserts You Have to Line Up For in Kyoto This Summer

Kyoto, also known as the "old capital," is renowned for its historical architecture and richness in traditional Japanese culture, bring in tourists every year both Japanese and foreign. The city has an especially popular food culture, serving everything from traditional Japanese cuisine to twists of contemporary cuisine.

Today we take a look at 4 different shaved ice desserts you must try in Kyoto this summer all of which are equally worth lining up for.

Hatagoya Rihei – Espuma Matcha Shaved Ice

Kyoto is the home of Uji matcha, and its city of Joyo is home to Hatagoya Rihei, a Japanese confectionery shop which specialises in dorayaki, a traditional dessert in Japan which consists of two pancakes filled with sweet adzuki bean paste.

The absolute must-try contender on their menu is the Espuma Matcha Shaved Ice which is lavishly packed full of matcha. Available for a limited-time only, this shaved ice is made with espuma, which is Spanish for "foam." It's a mix of fluffy shaved ice and a rich matcha sauce which takes on a thick mousse-like texture. The ice and sauce melts the moment it hits your tongue, creating a new kind of texture that makes for light eating. It comes with a side of toppings including matcha honey, red bean paste, rice flour dumplings, and matcha jelly. The dessert can be enjoyed from start to finish as you mix and match all the different flavours to your taste.

▼Hatagoya Rihei

Address: Higashinokuchi-44-54 Terada, Joyo, Kyoto

Business Hours: 10:00-18:00

Closed: Tuesdays

Access: Joyo Station via JR Nara Line / Terada Station via Nara Line

Official Website: http://rihe.jp/

Senba Miyabi – Mix Juicy Shaved Ice

Senba Miyabi is another shop in Joyo which specialises in fruit sandwiches and confections. It is managed by the fruit shop Fruit Shop Senba which are known for their high quality fruit selection.

Their Mix Juicy Shaved Ice is drizzled in a cute pink sauce which is a juiced mix of strawberry, banana, kiwi, pineapple and other fresh fruits. The shaved ice is topped with even more assorted fruits for colour and flavour, and even more fruits are hidden inside. If you like sweet things, we recommend making the flavour even richer by topping with condensed milk or ice cream.

▼Senba Miyabi

Address: Fukurojiri-19-1 Terada, Joyo, Kyoto

Business Hours: 10:00-19:00

Closed: Mondays

Access: 420m from Joyo Station via JR Nara Line

Official Website: http://www.senba2018.com/

Amami no Ie Takegushi – Berry Berry Custard

Amami no Ie Takegushi is a cafe located in Kyoto Prefecture's city of Kizugawa where you can enjoy handmade Japanese confections and pastries as well as indulge in some great coffee.

Their bright-red Berry Berry Custard shaved ice is like powdered snow, topped with an strawberry and assorted berry sauce and velvety fresh cream. Hiding inside the ice is custard made with specially made condensed milk by Clover Farm in Kizugawa. It also contains condensed milk honey and frozen berries for a refreshing sweet and sour combination.

▼Amami no Ie Takegushi

Address: 2-6-9 Umemidai, Kizugawa, Kyoto

Business Hours: [Tues] 14:30-17:30 / [Wed-Fri] 11:00-17:30 / [Sat] 11:00-17:30

Closed: Mondays & Sundays

Access: 26-minutes on foot from Kizu Station via JR Kansai Main Line

Official Facebook Page: https://www.facebook.com/kyoto.kizugawa.kushitake

Gion Tokuya – Bancha Shaved Ice

Gion Tokuya takes the utmost pride and care in its use of high quality ingredients. Their Bancha Shaved Ice is lined with fresh lemon slices and covered in a syrup made from bancha tea and sugar. The way you eat this shaved ice is to slowly drizzle the syrup over the dessert right before eating. A spoonful will cover your taste buds with fragrant Kyoto-style bancha tea and a gentle sweetness. Eating it together with the lemon slices makes it taste like lemon tea. If you're looking to enjoy something refreshing or to cool you down then we recommend this one!

▼Gion Tokuya

Address: 570-127 Gionmachi Minamigawa, Higashiyama Ward, Kyoto, Kyoto Prefectur

Business Hours: 12:00-18:00

No Fixed Holidays

Access:

6-minutes on foot from Gion-Shijō Station via the Keihan Main Line
8-minutes on foot from Kawaramachi Station via the Hankyu Kyoto Main Line

Official Website: http://gion-tokuya.jp/index.html

If you're visiting Kyoto for summer then what better way to cool yourself down than with some refreshing shaved ice? Be sure to try out one of these 4 cute and unique shaved ice desserts this summer.

Photos/Information: KYOTO SIDE

Delicious Matcha Desserts Released at Itohkyuemon Gion Shijo in Kyoto

Kyoto-based green tea company Itohkyuemon has been around since the end of the Edo period, its longevity having established itself has a hugely popular store. The company have just announced that they will open their first ever tea house extension in Kyoto called Itohkyuemon Gion Shijo on August 7.

The cafe will serve up its own exclusive menu items from desserts to meals.

(Left) Gion Parfait – ¥1,480 / (Right) Sweets Plate – ¥1,680

The Gion Parfait is made with high-quality Uji matcha, something Itohkyumon is renowned for. It's served in a large parfait class bigger than their usual matcha parfait and is stacked sumptuously with chestnuts, tamba black beans, chocolate, a slice of Uji matcha roll cake, and more.

If you love Japanese tea then you'll adore the Sweets Plate which is filled with an assortment of matcha and houjicha sweets.

Matcha Curry Udon: ¥980

The Matcha Curry Udon, which was previously sold only at the JR Uji Station branch of Itohkyuemon, will now be served at the new establishment. This Itohkyuemon-original dish is a combination of chewy matcha udon noodles and white broth matcha curry. The curry is also served as a souvenir; when it was first released in 2014 it sold out its stock of 2,000 in just two days. Experience matcha like never before when visiting Kyoto at Itohkyuemon Gion Shijo.

Information

Itohkyuemon Gion Shijo

Address: 586 Gionmachi Minamigawa, Higashiyama Ward, Kyoto (Japanese Address: 京都市東山区四条通大和大路東南角祇園町南側586 井澤南ビル)

Business Hours: 11:00-19:00 (Last Orders 18:30)

No Fixed Holidays (Except New Year's)

Website: https://www.itohkyuemon.co.jp/site/gionshijo/

Gion Parfait

Price: ¥1,480 (Tax Included)

Sweets Plate

Price: ¥1,680 (Tax Included)

as Drink Set: ¥1,980 (Tax Included)

Matcha Curry Udon

Price: ¥980 (Tax Included)

as Rice Set: ¥1,240 (Tax Included)

as Rice & Mini Parfait Set: ¥1,580 (Tax Included)

Kyoto Sightseeing | 4 Desserts You Must Try While in Kyoto

Kyoto is renowned for its historical architecture and richness in traditional Japanese culture, but did you know it's also home to some extremely cute and delicious desserts? Their sweets and desserts are actually pretty popular, some of which contain motifs and little nods to the city.

Today, Instagrammer meme takes us on a tour in Kyoto to try out 4 popular desserts.

JEREMY&JEMIMAH

JEREMY&JEMIMAH is a shop selling cute and colourful cotton candy. Their staple Wata-Hako cotton candy comes in 10 different flavours! In the photo we have yuzu, rose and matcha flavours. Of the two branches of the store, there is one along Furukawacho Shopping Street where you order your cotton candy for takeout, and another in Yasaka that serves cotton candy on long sticks.

We picked up a few different ones since there are so many flavours and designs. It was fun lining them up to take a picture.

We took them home to eat and they stayed nice and fluffy the whole way back. The yuzu one tasted a little herbal, like it was healthy for you.

▼JEREMY&JEMIMAH (Furukawacho Shopping Street Branch)

Address: Furukawacho Shopping Street, 444-3 Hachikenchō, Higashiyama Ward, Kyoto

Opening Hours: 11:00-17:00

Official Website: http://www.jeremyjemimah.com/

ROCCA & FRIENDS TRUCK

At ROCCA & FRIENDS TRUCK, you can order these iced dessert matcha and houjicha lattes which are topped with yatsuhashi―a confection sold in Kyoto―shaped into various sights across the city including Kyoto Tower, Hōkanji Temple, Daimonji, a Torii gate, and more.

I ordered the matcha latte. The drink itself isn't sweet at all so you can enjoy the full original rich and bitter flavour of the matcha. The fresh cream however is quite sweet so you can mix it into the drink as much as you want to get your desired flavour.

There are lots of great spots in the area such as the Hōkanji Temple pagoda and Yasaka Shrine so  you can snap some great sightseeing photos♡

▼ROCCA & FRIENDS TRUCK

Address: 370 Yasaka Kamimachi, Higashiyama Ward, Kyoto, Kyoto Prefecture

Opening Hours: 9:00-18:00

Official Instagram: https://www.instagram.com/rocca.truck/

Jumondo

We also visited Jumondo which sells Kyoto-style dango, or "sweet dumplings." We shared three different orders amongst three people: Danraku (団楽) which comes as a set with a drink, Dandan (だんだん) which comes with matcha, and Zenzai to Aburi Kuri Kinton (ぜんざいと炙り栗きんとん).

Once you order, the dango are made fresh so are served hot and chewy. Each dumpling is on the small side so are nice and easy to eat.

The Danraku comes with five different dumplings including sweet soy glaze, mashed sweet bean paste, soy sauce and black sesame seed, fried, and white miso. The Dandan comes with three types of your choice and a wafer filled with mashed sweet bean paste. The Zenzai to Aburi Kuri Kinton with mashed sweet potatoes with sweetened chestnut dango. The final one comes with matcha which can be served hot or cold.

Everything was tasty but my personal favourite was the yuzu flavoured white miso dumpling.

The one that everybody raved about was the Zenzai which is a thick soup that the dango are placed into. These dumplings are bigger, not too sweet and light. The soup went really well with the dango, it was super tasty.

▼Jumondo

Address: 76 Tamamizuchō, Higashiyama Ward, Kyoto

TEL: 075-525-3733

Official Website: http://jumondo.jp/index.html

Kyo Yasaka Pudding

Yasaka is a particularly popular tourist spot in Kyoto, and that's where the cute purin shop Kyo Yasaka Pudding is located.

Purin is a type of custard purring sold in Japan. The first pudding we picked up was the store's recommended option named after the store itself, the Kyo Yasaka Pudding. It contains a transparent lemon and honey flavoured jelly inside which there are small and colourful agar agar balls and mango jelly balls.

It has an enjoyable texture and a refreshing sweetness that I've never experienced before with other purin. It's very tasty!

There are five flavours to choose from, the others being hard, smooth, matcha and black soy bean, and houjicha black soy bean. All are served in tiny cute jars. Not only do they look great, they taste amazing too. Each is made with ingredients sourced in Kyoto including the milk, Uji matcha, houjicha, and black soy beans.

They also sell soft serve ice cream topped with candy balls, very Kyoto-like! You can choose from vanilla, matcha, or a mix of both. I think it'll be really fun if you can snap a photo of your ice cream with one of Yasaka's stylish locations in the background! Speaking of which, there was a cute illustration on the wall of the store so we took our photo there.

Be sure to pay a visit to Kyo Yasaka Pudding to pick up your own pudding whether as a souvenir or for yourself.

▼Kyo Yasaka Pudding

Address: 87-4 Hoshinochō, Higashiyama Ward, Kyoto, Kyoto Prefecture

TEL: 075-533-8338

Official Website: https://kyo-yasaka-pudding.co.jp/

Kyoto is full of shops selling desserts and sweets perfect to walk around and munch on while you walk its ancient streets, or to take home as a souvenir. Enjoy all the tasty things you can during your visit to this beautiful city♡

—

Photos/Text: meme

Translation: Joshua Kitosi-Isanga
RELATED ENTRIES
Italian Pop Trio Il Volo to Perform for Charity at Kiyomizu-dera in Kyoto, Film to be Released

Il Volo, an Italian operatic pop trio known for its incredible tenors, will be the first foreign artist to be filmed at Kiyomizu-dera in Kyoto. The concert will be held without an audience and will be filmed, with proceeds going to charity.



The musical trio is known around the world for its mesmerizing harmonies. Their music manages to sound modern while still channeling tradition, making them an excellent choice to perform at the center of Japanese cultural traditions in Kyoto. The group will also perform in Tokyo, Osaka, and Nagoya.

The music video for the group's song Grande Amore, released in 2015, has racked up over 200 million views on YouTube. Loved by fans around the world, Il Volo's music transcends language barriers, and the group is sure to impress on their Japan tour.

Information

Il Volo Japan Tour 2022 Live in Concert

Planning/Invite/Organization: Tate Corporation

In Cooperation with Sony Music Labels Inc., M.T. Studio

Banyan Tree Group Opens Garrya Nijo Castle Kyoto Hotel

Banyan Tree Group, one of the world's leading independent hospitality groups, held the grand opening of Galleria Nijo Castle Kyoto, on Friday, June 17, 2022. This is the first of the group's hotels to open in Japan.

Hotel Exterior

Located south of Nijo Castle, a World Heritage Site, and named after the beautiful winter flower, Galleria Nijo Castle Kyoto is a small, modern, and minimalist luxury hotel that offers simple guests a chance to recharge themselves.

Wellbeing Room


For the grand opening, a new Wellbeing Room has been opened where visitors can experience quiet meditation.

Visitors can stroll through nearby gardens, temples, and shrines, take a tour of Kyoto's many historical sites, or spend time in the Wellbeing Room meditating or practicing yoga to recharge their batteries away from the hustle and bustle of everyday life.

The French Restaurant Singular will also offer up healthy and tasty meals with a focus on local ingredients and producers.


Enjoy a visit to Kyoto in this peaceful space perfect for resting both body and soul.

Private Jet Package Now Available in Toyama Offering Spectacular View of Tateyama Mountains

Mizu to Takumi, a company associated with the Toyama West Tourism Promotion Association, has teamed up with SKYTREK to offer guests a once-in-a-lifetime chance to visit the area via private jet. Reservations for the incredible experience began on June 17, 2022.

Offering an entirely new tourism experience in Toyama Prefecture, visitors can see the area's natural wonders from miles above the Earth. The program also aims to share local culture and more about traditional craftsmanship and cuisine.

Toyama Prefecture boasts dramatic topography, from the massive peaks of the Northern Alps and the Tateyama Mountains to the deep waters of Toyama Bay. To better allow visitors to see the sights, these private jet tours will be chartered on special courses different from standard airlines.

After the flights, guests will be welcomed to explore Takaoka's deep history and culture. Kane no Sanzun, a restored and preserved inn, will welcome visitors, offering a relaxing and rejuvenating time.

Visitors can also book optional excursions to further explore the area, such as a Zen meditation experience at a famous temple in Takaoka, a traditional crafting workshop, and a tour and tasting of the only whiskey distillery in the Hokuriku region.

Come enjoy a trip to Toyama with a whole new perspective!

Airbnb Reveals Top 10 Most Popular Summer Destinations in Japan

Airbnb boasts one of the largest travel communities in the world, filled with users offering up lodging and those eager to visit somewhere new. The Japanese subsidiary of the company has revealed the top spots added to Japanese users 'Favorites (Wish Lists)' from May 1 to May 17, 2022. Where will travelers in the country be headed this summer?

Golden Week is long gone and users are starting to think about where to visit during the hottest part of the year. This national 'Wish List' might make it easier to pick a spot, with many locations highlighting lesser-known areas!

Gujo Hachiman Villa, Limited to 1 Couple Per Day (Gifu)

This completely private rental villa was made for sauna enthusiasts. One lucky pair per day can book this suite along the Yoshida River flowing through Gujo Hachiman, known as the "City of Water and Dance." Currently booked through the end of August, reservations for September and beyond will be available in early June. Book a stay to enjoy the gorgeous autumn foliage!

A House Surrounded by Lush Greenery in the Countryside (Tottori)

Hosted by a family of musicians and architects, this guesthouse invites guests to enjoy gorgeous Nordic-inspired interiors and the serene quiet of the countryside. For those looking to escape the hustle and bustle of the city, this is the perfect spot.

Hoshina Satomachi, Limited to 1 Couple Per Day (Nagano)

There's nothing like spending the summer in a traditional Japanese home. Enjoy a barbeque on the terrace and relax on the massive lawn. This is the perfect spot for families with children or pets!

Coastal Cabin (Chiba)

You can't have summer without a pool. This luxurious coastal retreat boasts a 15-meter pool, outdoor Jacuzzi, bonfire space, and a barbeque. Relax by the pool while listening to your favorite songs or soak in the outdoor bath as you watch the waves crash along the shore.

An Elegant and Peaceful Log Cabin (Nagano)

Located at 1,300 meters above sea level on the Iizuna plateau, this log cabin is situated in the midst of a dense forest. A perfect space for couples, families, or small groups of friends, guests are welcome to enjoy hiking through this gorgeous landscape in the center of Japan!

Next-Generation Town-Walking Project NAKED GARDEN -ONE KYOTO- to Begin this Fall

The creative team at NAKED is teaming up with Kyoto City, Uji City, and Otsu City in Shiga Prefecture for a one-of-a-kind project. This fall, guests will be able to experience NAKED GARDEN -ONE KYOTO, a next-generation town-walking project blending the real world and the Metaverse together. Visitors will be able to experience Kyoto's shrines, temples, and history in a whole new way.

NAKED has been working with the city of Kyoto since 2017, creating new cultural outreach and tourism programs. A number of nighttime events have taken place at Nijo Castle, including 'virtual flower viewing' in the midst of the pandemic. Last year, the DANDELION PROJECT began at Kamigamo Shrine, a World Heritage Site. The project brings guests around the world together virtually to pray for peace. Events have also taken place at Kiyomizu-dera, Heian Shrine, and Ninna-ji.

In 2022, NAKED will collaborate with Kyoto City, Uji City, Otsu City, and their respective tourism associations to create a Metaverse where visitors can enjoy Kyoto not only in the real world but also virtually. Art being experienced by visitors in real life can be reflected in the Metaverse, and experiences in the Metaverse can be enjoyed in a way that is unique to real events. As hard to describe as it may be, more details will be available on the NAKED GARDEN website when it opens this summer. 

Information

NAKED GARDEN -ONE KYOTO-

Coming Fall 2022

NAKED, INC. Official Site: https://naked.co.jp

Izu, the Setting for Laid-Back Camp, Now Offering Travel Plans

JR Tokai Tours has released a new travel plan for fans of Laid-Back Camp Season 2, which aired from January to March 2021. The tour will take place in the Izu area, which was heavily featured in episodes 10, 11, and 12. Guests can enjoy a travel plan with single lodging and original goods starting May 23 until June 29, 2022.

Original Stickers

 

The slice-of-life series Laid-Back Camp is currently serialized in COMIC FUZ.

 

Set in Yamanashi and Shizuoka Prefectures, Laid-Back Camp is a relaxing series following a group of high school girls going camping and enjoying their daily lives. The series is based on the author Afro's personal experiences and interviews, and since serialization in 2015, the series has attracted fans from around the world. The original comic has sold over 7 million copies. In 2018, the first anime series premiered, inspiring a spin-off Room Camp in 2020 and a second season in 2021.


Four years after it was announced in 2018, a Laid-Back Camp animated film will arrive in theaters this summer.

Rhythm Game BlackStar ~Theater Starless~ Gets Collaborative Event at Toei Kyoto Studio Park

Toei Kyoto Studio Park will be holding a special collaboration with the rhythm game BlackStar ~Theater Starless~ for a limited time, from June 4 until July 10, 2022.

Goods Lineup

Newly-drawn Illustrations

Mini Characters

The Theater Starless Uzumaki Branch will be open inside the park during the event period. 26 themed cast members will even be greeting guests! 


A stamp rally will be taking place along the Keifuku Randen Tram Line and during the event, a special train featuring a newly-drawn illustration of the five main characters and 26 mini-characters will be running through the streets of Kyoto!

Limited tickets will be sold for a number of collaborative events being held in the park, so be sure to grab yours while you can!

©DOUNUTS

Information

BlackStar ~Theater Starless~ in Uzumaki

Running: June 4 – July 10, 2022

Venues: Toei Kyoto Studio Park, Arashiyama Station, etc.
Official Site: https://blackstar-uzumasa.jp/
Official Twitter: @Blackstar_uzms

Kyoto Sweets Shop Otabe Rereleases Demon Slayer: Kimetsu no Yaiba Snacks with New Designs

Otabe, one of the most popular sweets souvenir shops in Kyoto, Otabe, is known for its delicious matcha and mini-desserts. Starting May 12, the company has released nine uniquely packaged sweets inspired by Demon Slayer: Kimetsu no Yaiba. The limited-edition packaging will feature popular characters from the series. Previously, the company released matcha cakes for the crossover–this time, fans can enjoy choco-an flavor!

Demon Slayer: Kimetsu no Yaiba Choco-an

Demon Slayer: Kimetsu no Yaiba Matcha

Demon Slayer: Kimetsu no Yaiba Otabe (with Original Sticker)

Original Sticker: 15 varieties, 1 given at random

Focusing on the hashira from the series, fans will want to be on the lookout for their favorite character. These sweets can be bought at select stations in the Kyoto and Osaka area, major Kyoto tourist attractions, and online. In addition, matcha flavored treats will also be on sale featuring Tanjiro Kamado, Nezuko Kamado, Zenitsu Agatsuma, Hashibira Inosuke, Kagaya Ubuyashiki, and Muzan Kibutsuji.



©吾峠呼世晴/集英社・アニプレックス・ufotable

Information

Demon Slayer: Kimetsu no Yaiba Choco-an
Release Date: May 12, 2022
Price: ¥432 (Tax Included)
Where to Buy: Train station in Kyoto & Osaka area, Major Kyoto tourist attractions, online.
Details: http://www.otabe.kyoto.jp/kimetsunoyaiba/

Hydrangea Parfait Featuring Local Matcha Available at Itohkyuemon in Kyoto

Located in Uji, Kyoto, matcha shop Itohkyuemon was founded in the late Edo period. Three cozy locations have just launched a Hydrangea Parfait, perfect for spring.

Hydrangea Parfait

Hydrangea Coaster

The shop's main location is headquartered in Uji, which is also home to Mimuroto Temple, known for its hydrangeas. The flowery location attracts thousands of tourists during the rainy season. 

The Hydrangea Parfait has been offered since 2013, now celebrating its 10th year. The popular seasonal treat features matcha hydrangea mashed sweet potatoes, hydrangea-colored jelly, leaf-shaped matcha cookies, and blueberries. Those ordering a parfait will also receive a hydrangea coaster as a gift, so why not enjoy the rainy season with something sweet to lift your spirits?

EMOCAL, a Project to Support Japanese Regions, Releases Music Using Local Sound Samples

The EMOCAL project aims to support small-town areas of Japan. As a new initiative in the project, specific soundscapes only found in certain areas of the country have been combined with music to create some unique tracks. A selection of musical artists have collaborated with the project to bring these songs to life!


EMOCAL was created by ZOWA's original label, CatchyStuck. The project supports local regions and communities by using ASMR soundscape videos recorded in each region to convey their particular charms to all of Japan. The sounds recorded in each place are considered to be very valuable and are intended to serve two purposes: to bring tourism back after the pandemic and to provide fans of ASMR a way to experience these areas from afar.



Check out each of these unique ambient tracks created by four up-and-coming musicians! Each song is available on viviON's ASMR platform ZOWA and on Spotify.

Ube, Yamaguchi Prefecture / Ikkyuu x Hige Driver, I Love Ikkyuu

Beard Driver created this ambient track with sounds recorded inside of Ikkyuu, a ramen shop.

ZOWA: https://zowa.app/play/20019
Spotify: https://open.spotify.com/track/1RP4RcpJwMrFzoYQbnfDYm?si=f1f1e816adb14db0


Odawara, Kanagawa Prefecture / Miyuki no Hama x Powerless, Seiren

Powerless created this track, inspired by the sounds of waves crashing at Miyuki no Hama, a seaside recreation area 20 minutes from Odawara Station.

ZOWA: https://zowa.app/play/20016
Spotify: https://open.spotify.com/track/5DkQ9FeM7jQBacUf7Nbuxc?si=c7d771e73ddd44b6

Shizuoka, Shizuoka Prefecture / Wasabi Field x baker, On the silent hill

Utogi in Shizuoka city is surrounded by incredible nature. Known as the birthplace of wasabi cultivation, baker used sounds recorded in the area to create this ambient track.

ZOWA: https://zowa.app/play/20017
Spotify: https://open.spotify.com/track/0oIU4x7MjVKmpouRwEPaXZ?si=04dcb805cea540b7

Ibusuki, Kagoshima Prefecture / Cape Tara x SeA0, Akushu

Cape Tara is a popular spot featuring an 800-meter-long sandbar at low tide. The sounds captured here were used by artist SeA0, and this track is sure to make you miss the water.

ZOWA: https://zowa.app/play/20018
Spotify: https://open.spotify.com/track/1Utz5j0oB4GmSDOMVdUcXU?si=eafa1949b3ea44d0

Yunohana Onsen Resort Reveals Contemporary Art-Inspired Guest Rooms

Sumiya Kihoan, a cozy inn at Yunohana Onsen in Kameoka City in Kyoto, opened a unique new guest room on April 28, 2022. The room's concept is "where guests can stay in the middle of contemporary art," and was inspired by the works of internationally-acclaimed contemporary artist Yukinori Yanagi. The new room, created as part of the Art Room Project, has been named 'Kofuu.'

The Icarus Corridor Connecting Heaven and Earth

Heavenly Bath Welcoming a Rainbow at Dusk

In-Ground Bath Featuring Oribe Glazed Ceramic

Concept Drawing of the Art Room Project by Yukinori Yanagi


The new room includes an open-air bath where guests can be transported into the world of Yanagi's contemporary art while gazing at the gorgeous Kyoto landscape. Upon entering the inn, guests are greeted by a long corridor leading to the bedrooms, dining room, and two creative open-air baths. The space was created in collaboration with Yanagi and local artists and craftsmen, such as potter Ishii Naoto, obi craftsman Yamaguchi Genbei X, plasterer Kusumi Akira, and Japanese paper craftsman Hatano Wakaru. A delicious menu is prepared by chef Hosoi Kunihiko.

Kyoto's Garden Museum Hiei Opens Limited-Time Collaboration Event with Violet Evergarden Anime Series

Kyoto's Garden Museum Hiei has announced that it will host a collaboration event with Kyoto Animation's Violet Evergarden anime franchise, entitled 'A Story of Flowers and Letters,' from May 3 to July 10, 2022.

The Garden Museum Hiei, an outdoor facility inspired by French Impressionism, sits near Mt. Hiei and is known for its incredible floral displays which change colors each season. "This scenery matches the image of the landscape depicted in the Violet Evergarden anime series, which led to the decision to hold this collaborative event," the press release reads.

Visitors can enjoy collaboration visuals and standees that will only be available to see at the gardens. The event will also feature original merchandise, collaboration drinks, and a voice-recorded introduction to the facilities by Violet herself, voiced by Yui Ishikawa.

Violet Evergarden

Violet Evergarden premiered in 2018. The main character, Violet, was trained to be a soldier and therefore has trouble expressing her emotions. In order to learn the meaning behind her commander's final words, "I love you," she embarks on a new path in life, writing letters on others' behalf. A spin-off film was released in Japan in 2019, and a second film premiered in September 2020.

Information

Violet Evergarden x Garden Museum Hiei ~A Story of Flowers and Letters~

Venue: Garden Museum Hiei

Running: May 3 – July 10, 2022