Pikachu Outbreak 2019: Day One Report Of This Year's Event – MOSHI MOSHI NIPPON
The Pikachu army has returned again this year for Pikachu Outbreak 2019 which is running from August 6 to 12 in Minato Mirai, Yokohama. This year, the event also features an evening show which takes advantage of Minato Mirai's gorgeous nightscape and couples it with exciting lighting technology.
We visited the first day of the event with Chinese talent Etsuna and 7-year-old Yuugo-kun. Here's our report!
Upon arrival at Minato Mirai Station we were immediately met by lots of Pikachu decorations and event advertisements. And when you go through the ticket gate it plays Pikachu's cry! If you're visiting the event this year then be sure to listen out.
There are lots of Pikachu to spot after leaving the ticket gates, so be sure to try finding them all.
We alighted at Minato Mirai Station and headed straight to Rinko Park.
When we hit the park we were greeted by a huge balloon Pikachu!
There's lots of other Pokémon to catch too, such as Lapras, Psyduck, and many other popular names.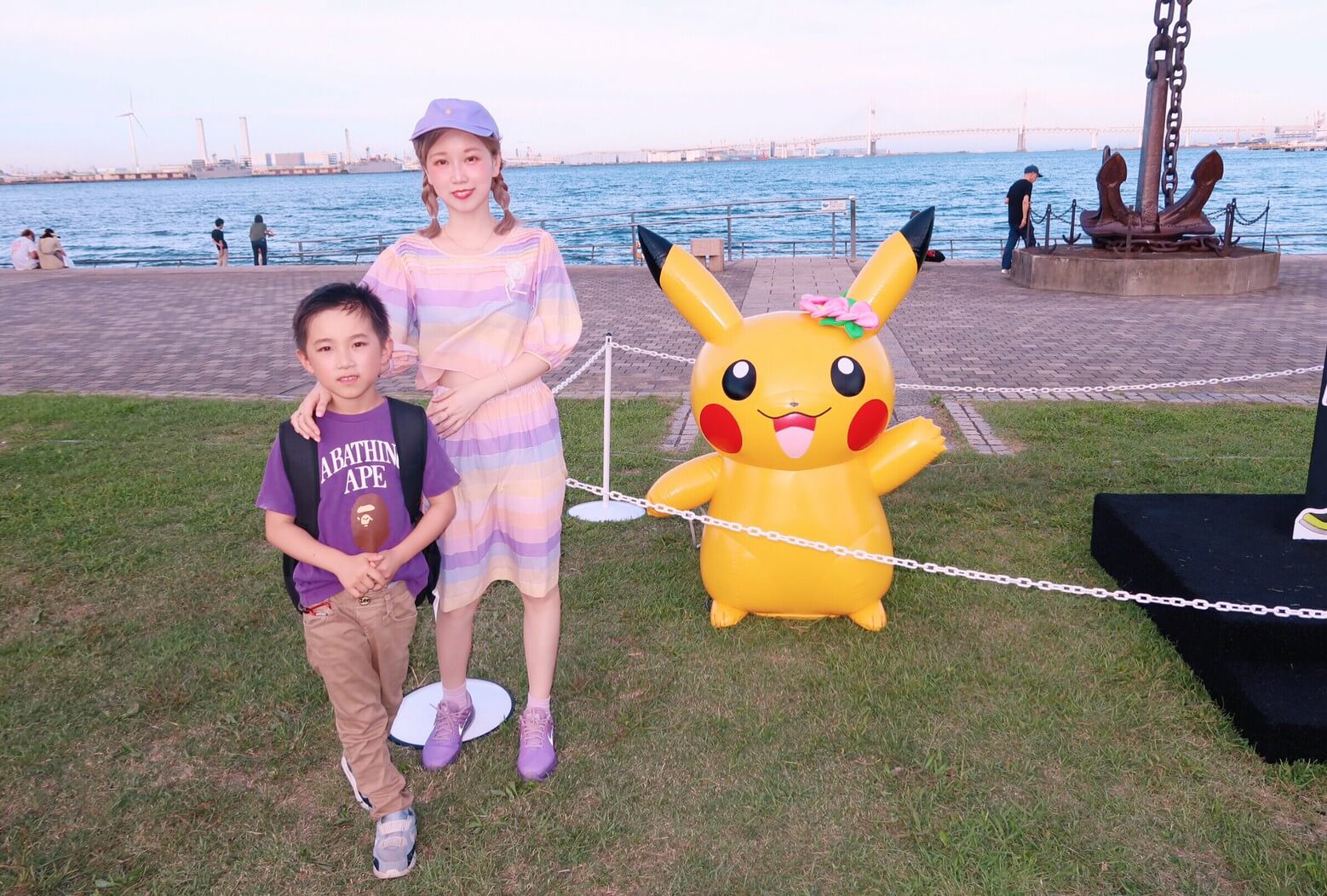 This tiny Pikachu was so cute.
There are food trucks set up by the Pokémon Cafe for the event at Rinko Park so you can get your hands on some food, drinks, and ice pops.
The Pikachu designs on the trucks are super kawaii♡
Pikachu Pineapple Ice Bar – ¥500 (Tax Included)
The ice pops they sell comes with one of four possible Pikachu facial expressions. They're given randomly.
They're so cute they seem a waste to eat!
Pikachu Orange Lemonade Soda – ¥500 (Tax Included)
The drink cups have Pikachu designs too, even the lids.
Wherever you look there's a Pikachu, so you can take pictures literally everywhere.
After we had strolled around Rinko Park, we headed to Nippon Maru Memorial Park. Usually when you visit this park they have huge boats on display but for Pikachu Outbreak, the Pikachu have swarmed the area.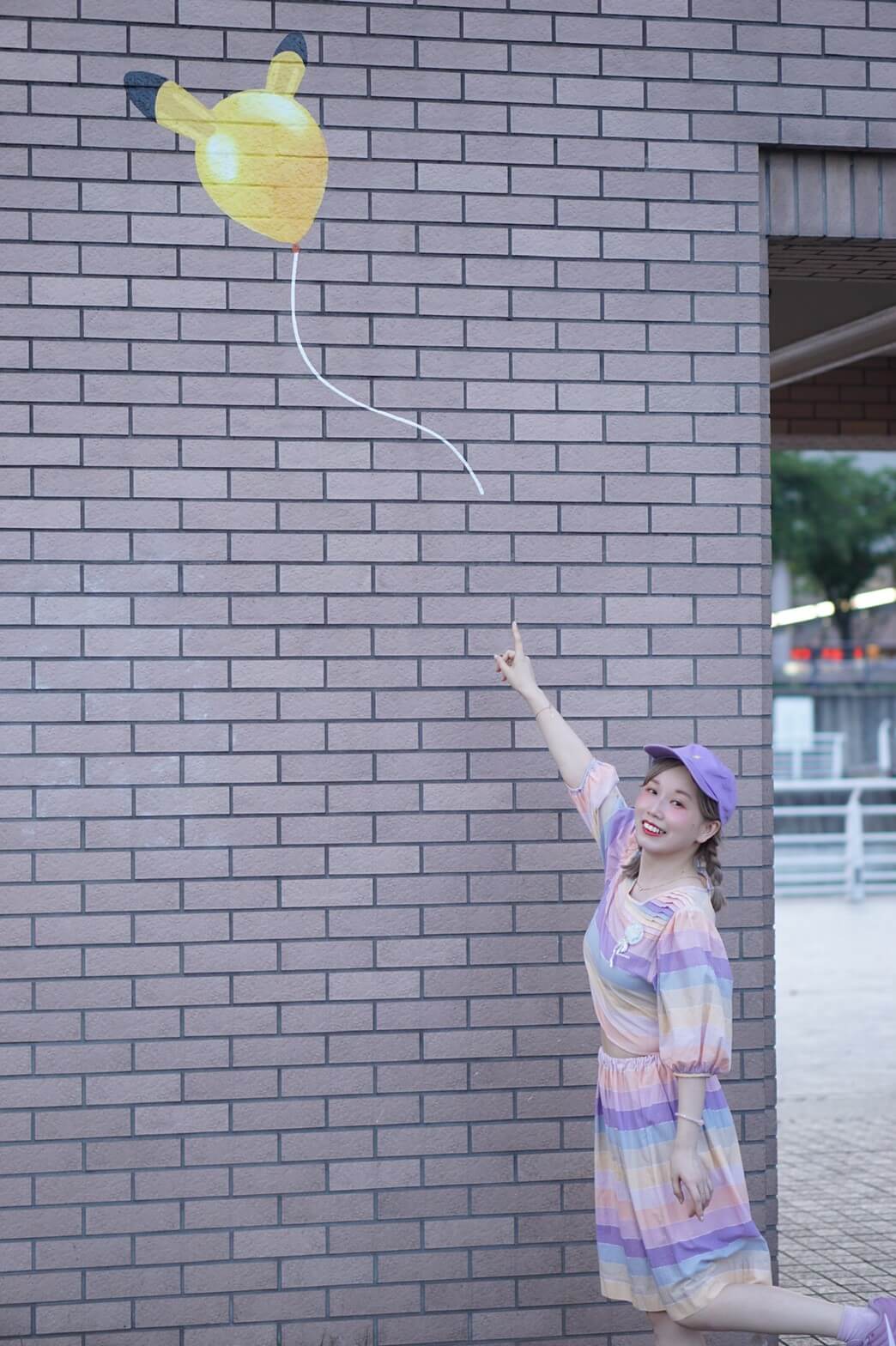 There are lots of walls with various Pokémon illustrations on them around Nippon Maru Memorial Park, such as Ho-Oh's wings and a Pikachu balloon. They are scattered here and there, so make sure to find all of these too!
Below is where you can watch the Pikachu march wearing illuminating LED costumes.
Even the Ferris wheel at Yokohama Cosmo World was lit up with Pokémon motifs―the Pikachu and Poké Ball ones in particular were beautiful.
After a little while, several Pikachu arrived on a boat to greet everyone. And then…
…out came the LED Pikachu! Their synchronised pattering walk was beyond adorable. They even danced.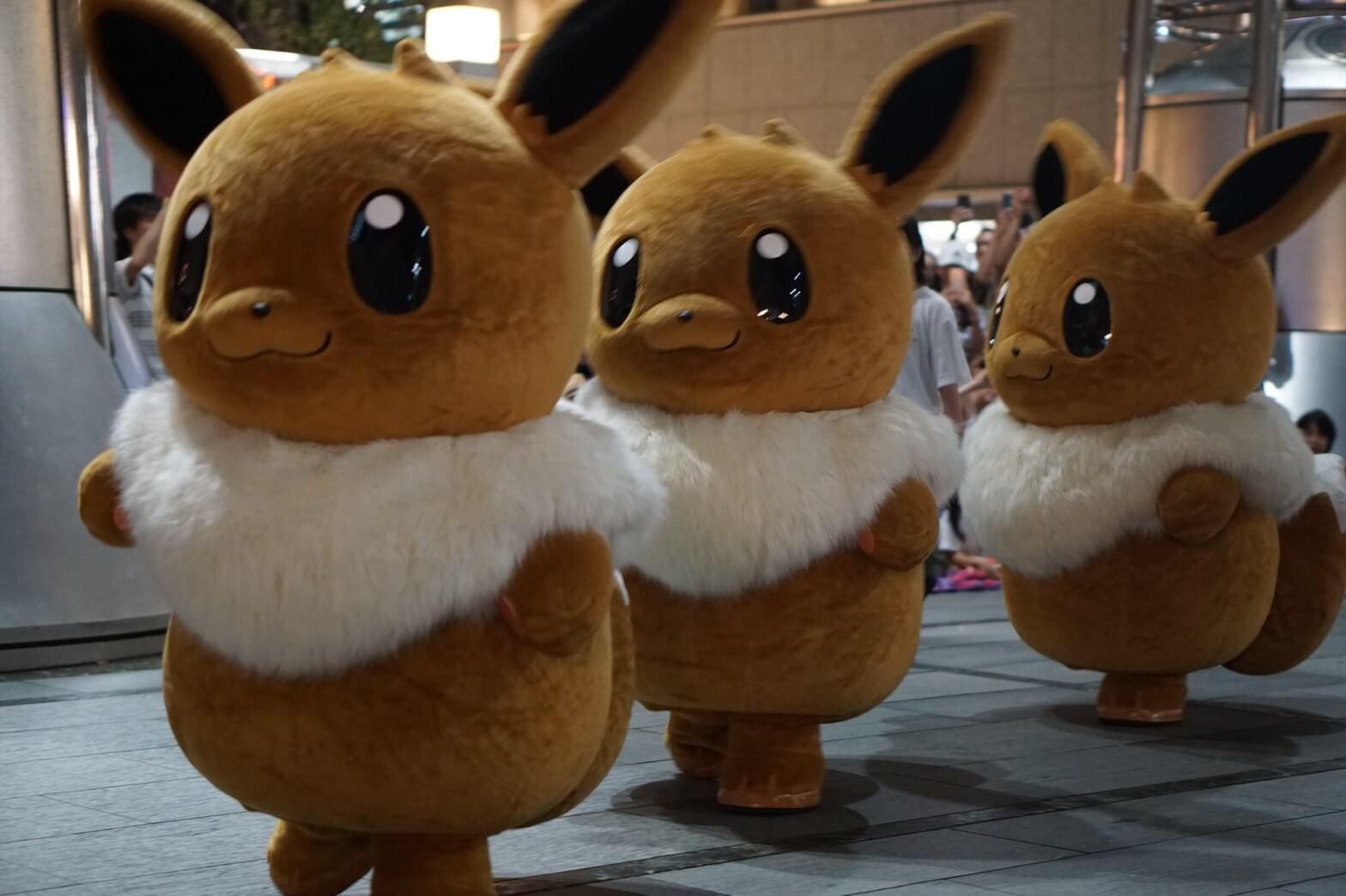 But the fun doesn't stop there. If you head to Queen's Square Yokohama right next to Nippon Maru Memorial Park then you'll catch the Eevee march too. Their cute pattering walks too are enough to heal your soul♡
What we've shown you is just a snippet of the fun happening this year―there are many other exciting events happening for Pikachu Outbreak 2019.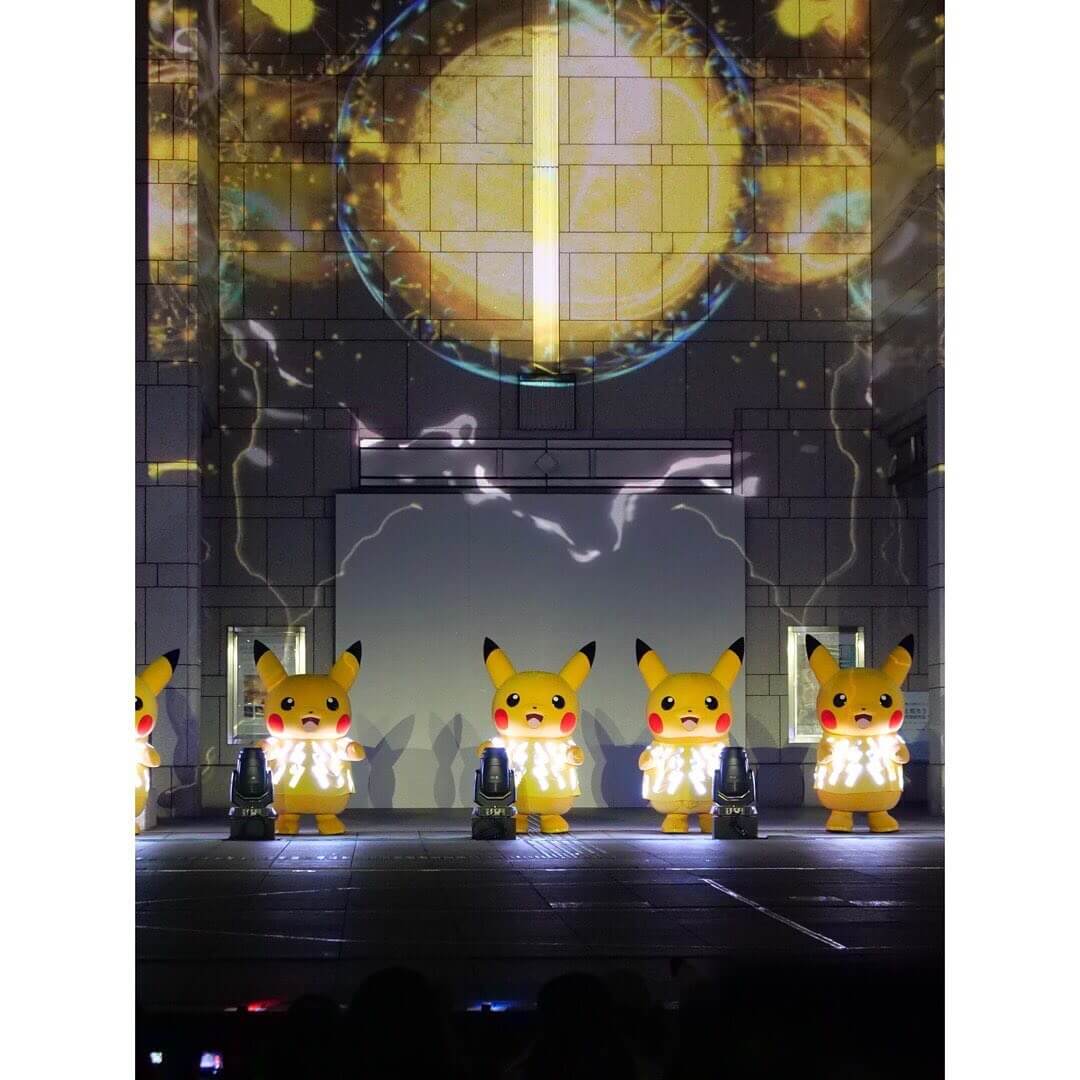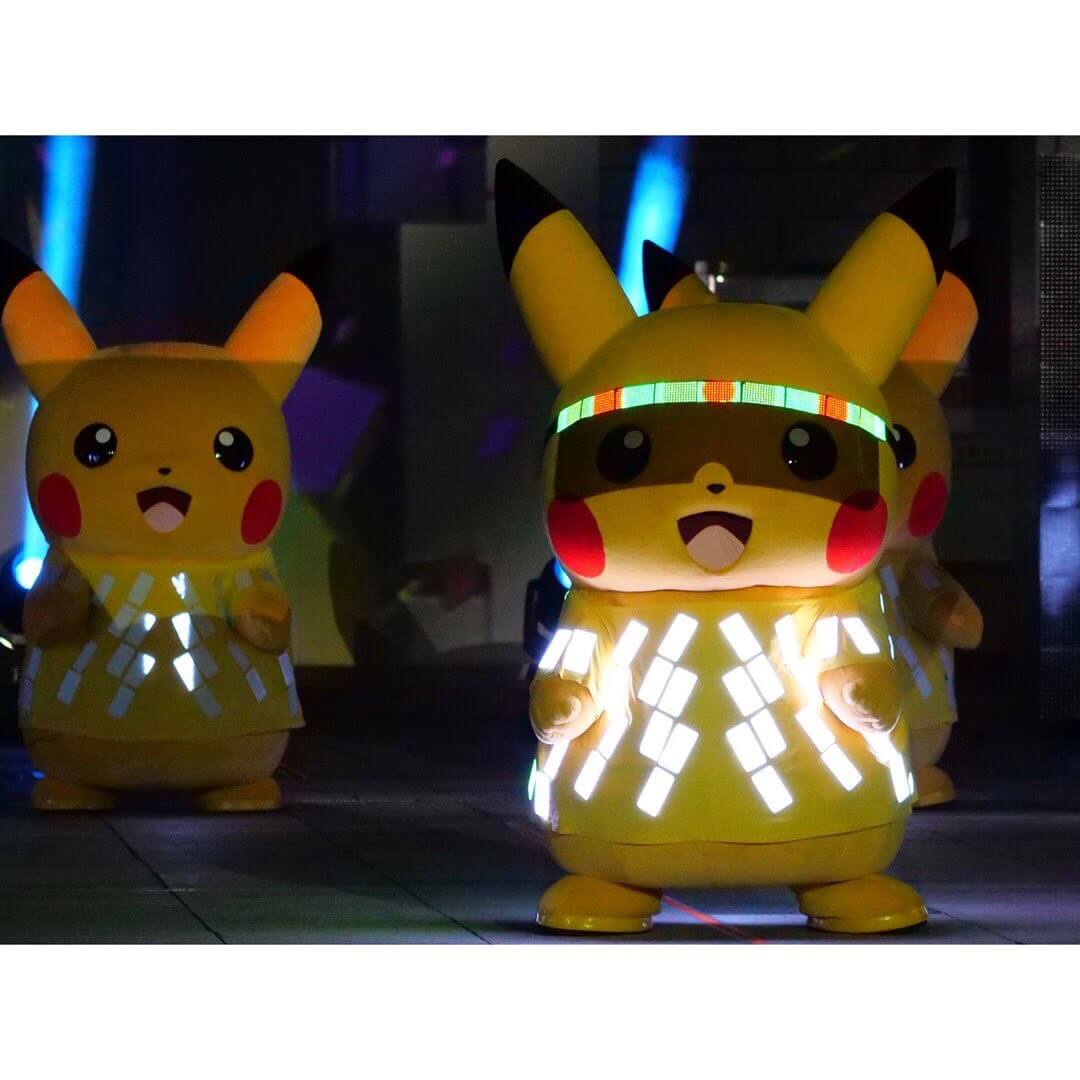 Photos: CHIHIRO (@chiicd5)
These last photos were taken at the show in Grand Mall Park at Yokohama Art Museum which makes stunning use of projection mapping. The Pikachu don their LED costumes and perform an incredible light show for the crowd.
For more details on each event check out the official website. Pikachu Outbreak is a fun day out for kids and adults alike, so enjoy this year's event and be careful not to catch heatstroke.
Information
Pikachu Outbreak 2019
Running: August 6, 2019 – August 12, 2019
Location: Minato Mirai area
Event Page: https://www.pokemon.co.jp/ex/pika_event/
Drink & Ice Shop by Pokémon Cafe
Running: August 6, 2019 – August 12, 2019
Locations:
①Yokohama Red Break Warehouse (Open 12:00-20:00)
②Rinko Park (Open 12:00-20:00)
③Yamashita Park (Open 10:00-17:00)
RECOMMENDED ENTRIES
Pikachu Outbreak 2019: All the Details You Need For This Year's Event

More information has been released for this year's Pikachu Outbreak event which is set to take place in Yokohama's Minato Mirai area from August 6 to 12.

The event has been held every summer since 2014 and sees countless Pikachu come together and put on shows, parades, performances and more. Over 2,000 Pikachu are scheduled to be released into the wild in Minato Mirai this year.

The Streets of Minato Mirai x Pikachu

The army of Pikachu will be dressed in outfits equipped with LED lights to put on colourful illuminated show in front of Yokohama Art Museum using projection mapping.

Running: August 6, 2019 – August 12, 2019

Time: ①19:10~ / ②20:35~

*The show will run at 20:35 only on August 9 and 10

Location: Grand Mall Park (in front of  Yokohama Art Museum)

The Seas of Minato Mirai x Pikachu

Look forward to a magical evening performance of Pikachu and water fountains with Yokohama Bay and Bay Bridge providing the backdrop.

Running: August 6, 2019 – August 12, 2019

Time: ①18:55~ / ②19:50~ / ③20:45~

Location: Red Brick Warehouse Park

The Forests of Minato Mirai x Pikachu

Enjoy an incredible performance featuring the biggest number of Pikachu to date against the backdrop of Minato Mirai's skyscraper nightscape inside a green space.

Running: August 6, 2019 – August 12, 2019

Time: ①18:55~ / ②19:50~ / ③20:45~

Location: Rinko Park

Pikachu Parade & Eevee Parade

Don't miss the cute parades of Pikachu and Eevee as they march to the rhythm of the beat!

Pikachu Parade

Running: August 6, 2019 – August 12, 2019

Time: ①18:55~ / ②19:50~ / ③20:45~

Location: Nippon Maru Memorial Park

Eevee Parade

Running: August 6, 2019 – August 12, 2019

Time: ①18:55~ / ②19:50~ / ③20:45~

Location: Queen's Square YOKOHAMA Queen's Mall

POKÉGENIC

Dotted around the streets of Minato Mirai you will find hidden art and decorations. Catch 'em all and snap some photos!

Running: August 6, 2019 – August 12, 2019

Locations: Sail Training Ship Nippon Maru, MARK IS, Navios Yokohama, and elsewhere

*Please be aware of your surroundings when taking photographs.

Pokémon Sword and Pokémon Shield Digital Stamp Rally

The event is hosting a digital stamp rally on the streets of Minato Mirai. There are nine rally points in total. Those who collect three or more stamps will receive an original phone wallpaper and those who collect all nine can enter a lottery for a chance to win a Pokémon Centre gift set.

Running: August 6, 2019 – August 12, 2019

The menu for the Drink & Ice Shop by Pokémon Cafe has also been revealed where Pokémon Trainers can look forward to eating some ice candy and drinking lemonade amongst trying plenty of other summery treats.

Pikachu's Pine Ice Bar – ¥500 (Tax Included) *4 designs available, all chosen randomly

Pikachu's Orange Lemonade Soda – ¥500 (Tax Included)

Pikachu's Mango & Pine Tapioca Drink – ¥600 (Tax Included)

If you return your cup after ordering a drink at the shop you'll receive an original sticker.

There is lots to look forward to at this year's Pikachu Outbreak. Be sure to check the official website for more details.

©2019 Pokémon.  ©1995-2019 Nintendo/Creatures Inc./GAME FREAK inc.

Pokémon, ポケットモンスター and ポケモン are registered trademarks of Nintendo and Creatures Inc.

Information

Pikachu Outbreak 2019
Running: August 6, 2019 – August 12, 2019
(*Some event content began on July 6, 2019)
Location: Minato Mirai area

Event Page: https://www.pokemon.co.jp/ex/pika_event/

Drink & Ice Shop by Pokémon Cafe

Running: August 6, 2019 – August 12, 2019

Locations:

Yokohama Red Break Warehouse (Open 12:00-20:00)

Rinko Park (Open 12:00-20:00)

Yamashita Park (Open 10:00-17:00)

New Snorlax & Poké Ball Meals Arriving at the Pokémon Cafe in Nihonbashi

The Pokémon Cafe in Nihonbashi is introducing a new Snorlax plate―inspired by the huge Snorlax that is sitting outside Pokémon Center Tokyo DX―and Poké Ball dessert bowl to its menu on August 10. These will be served with certain dishes in the cafe and can also be bought as merchandise there too so you can use them at home.

Snorlax's Stomach-Filling Afternoon Nap Lunch Plate – ¥1,922 (Tax Included)

If you want a satisfied belly like Snorlax then you'll want to order the hearty lunch plate. And after that you can take a nice afternoon nap. Just make sure not to block any routes or anything!

I Choose You!! Poké Ball Dessert Bowl – ¥1,706 (Tax Included)

What does it look like inside the Poké Ball? It's being kept a secret by the Pokémon Cafe so you can only know if you visit! What kind of Pokémon could be sleeping inside…?

Ingredients: Berry flavoured jelly, strawberry spongecake, strawberries, wafers, whipped cream, crepe, mint

Pokémon Café Snorlax Plate – ¥2,160 (Tax Included)

Pokémon Café Poké Ball Donburi Bowl – ¥2,160 (Tax Included)

If you want your own Snorlax plate or Poké Ball bowl then keep in mind that supplies at the cafe are limited. And don't forget that you must make a reservation at the cafe if you want to dine there.

© 2019 Pokémon.©1995-2019 Nintendo/Creatures Inc./GAME FREAK inc.

Pokémon, ポケットモンスター and ポケモン are registered trademarks of Nintendo, Creatures Inc. and GAME FREAK inc.

Information

Pokémon Cafe
Address: 2-1-2 Nihombashi | Nihombashi Takashimaya SC East Bldg. 5F, Chuo 103-0027, Tokyo Prefecture
Business Hours: 10:30-22:00

Access: 5-minutes on foot from Tokyo Station's Yaesu North Exit via JR Line / 5-minutes on foot from Nihonbashi Station's B2 Exit via Tokyo Metro Ginza Line and Tozai Line / 4-minutes on foot from Nihonbashi Station via Toei Asakusa Line

TEL: 03-6262-3439

Reservations: https://reserve.pokemon-cafe.jp/

Official Website: https://www.pokemoncenter-online.com/cafe/

Pokémon Design Manholes to Begin Appearing All Across Japan

The Pokémon Company has announced its plans to begin placing more Poké Lid manholes across Japan. To date there have been appearances of them in Ibusuki in Kagoshima Prefecture and within 13 towns and villages of Iwate Prefecture, but that number is about to skyrocket.

Hokkaido, Fukushima Prefecture, Tottori Prefecture and Kanagawa Prefecture are all participating in the Pokémon Local Acts programme which will see an increase of Poké Lids this fall and winter. But it doesn't stop there as there are plans to expand the number even further going into 2020. This is the first nationwide manhole design project of its kind to ever hit Japan.

Each lid features completely original Pokémon designs making each individual one the only one in the world. The Pokémon Company plans to make each one of them PokéStops for Pokémon GO in the future.

In line with the upcoming Pikachu Outbreak event in the Minato Mirai area of Yokohama, which is taking place from August 6, five Pikachu manhole covers will be placed around Yokohama on August 5. Only one of the designs has been revealed as pictured above, and this one will be placed in front of Sakuragichō Station. The remaining four will only be placed for a limited time―until September 1 this year―around Minato Mirai. The locations will be announced on the official website.

Most of the Poké Lids are cast iron and are carefully handcrafted by artisans in a factory in Saga Prefecture. The use of craft iron allows room for intricate detail from the thickness of the lines to the angles and colours.

Make sure to be on the lookout for Poké Lids when visiting in Japan in the future. Their locations will be posted on the official website once they have been placed.

©2019 Pokémon. ©1995-2019 Nintendo/Creatures Inc. /GAME FREAK inc.
Pokémon, ポケットモンスター and ポケモン are registered trademarks of Nintendo, Creatures Inc. and GAME FREAK inc.

Third Pokémon Smart Device Collaboration Launched by CASETiFY

CASETiFY is a global lifestyle brand established in LA that has enjoyed hugely popularity with celebrities and influences around the world for their services that enable you to customise your digital devices from smartphones to Apple Watches and more.

The company launched its "Day & Night" themed collaboration with Pokémon back in May. The third collection in the line has finally been unveiled which will be released worldwide on August 15 at 10:00pm (JST).

1st Collaboration: https://www.moshimoshi-nippon.jp/206562

2nd Collaboration: https://www.moshimoshi-nippon.jp/229807

For the third collection, CASETiFY has New York and London-based artist duo Craig & Karl. Titled "The Icons by Craig & Karl," the new collection incorporates the two artist's signature style and shines the spotlight on four Pokémon―Pikachu, Charmander, Bulbasaur and Squirtle―and three Poké Balls.

Pokémon Trainers out there can choose from CASETiFY's signature Impact Case, the DTLA Case, and for this third collaboration, the Floaty Glitter Case, and there's a bunch of cool tech accessories too with limited-edition designs. You also have the option to put your name on your case.

Back when the second drop launched on July 10, CASETiFY set up a waiting list which gave people priority access to purchase these limited edition items before they sold out. The waiting list surpassed a whopping 90,000 people. The waiting list has returned for the third drop which you can sign up to right now.

As a fan of the Pokémon franchise, Craig Redman of the artist duo spoke about how enjoyable it was to be able to collaborate with Pokémon on this project and implement their signature style. He also praised the customisable aspect of the collection which he said can bring you closer to Pokémon.

This marks the final drop of the CASETiFY & Pokémon Day & Night collection which you can also catch at pop-up shops in Tokyo, London, Paris, Los Angeles, and the Landmark shopping mall in Hong Kong.

©2019 Pokémon. ©1995-2019 Nintendo/Creatures Inc. /GAME FREAK inc.

Information

CASETiFY & Pokémon Collaboration – 3rd Drop

Release Date: August 15, 2019

Items: iPhone cases, Macbook cases, wireless charging pads, iPad cases, AirPods cases, card holders
Price: ¥2,700-¥7,800

Official Website & Waiting List: https://www.casetify.com/pokemon
RELATED ENTRIES
Solve Mysterious in Tokyo While Walking Around Asakusa in This New IRL Game

Japanese IRL mystery game production company Haregake is launching a new game in collaboration with Cosmos Hotel Management who are known for managing the apartment hotel chain MIMARU. MIMARU Tokyo Asakusa STATION, a new branch, is set to open on April 22.

This game will take place around Asakusa in Tokyo and can be played by couples, families, and groups. The event is being carried out with all necessary COVID-19 safety measures in place and aims to get people learning more about the wonders of Asakusa with a game that incorporates elements of the district's traditional buildings, culture, and more. It's a chance to sightsee around one of Tokyo's most iconic areas while solving puzzles at the same time.

The game kit can be bought at the vending machine inside MIMARU Tokyo Asakusa STATION when it opens later this month. It includes the story, which you can read below, and everything you need to get yourself started. There's also no time limit, so players can take as long as they like while they enjoy the sights.

The Game's Story

"I want you to find the treasure of Asakusa for me."

So says the request that finds its ways to you – you, who are a detective.



A certain wealthy individual once resided in Asakusa.

He left a letter behind, and now this letter is in your hands.

"This map – perhaps it shows the location of this treasure."

Will you be able to locate the treasure resting in Asakusa?

Head on out and solve the mystery as you walk around the district.

Information

Asakusa Detective Game: The Secrets of the Millionaire's Forgotten Letter

Japanese Game Name: 浅草街歩き探偵録〜富豪の残した手紙の秘密〜

Start Date: April 22, 2021 (Not a limited-time event, will be held permanently)開

Start Point: MIMARU Tokyo Asakusa Station

Address: 2-20-4 Kaminarimon, Taito-ku, Tokyo, 111-0034

Official Website: https://nazotoki.mimaruhotels.com/

Ditto Pokémon Pink Gold Necklace Released by Japanese Luxury Jewellers U-TREASURE

Japan's luxury character jewellery brand U-TREASURE, which creates accessories for character-loving adults, welcomes its new Ditto Pokémon necklace coated in pink gold.

Ditto Necklace Silver (Pink Gold Coating) | ¥17,600 (Tax Included)

Ditto is known for its shapeshifting ability to transform into anything. This Normal-type Pokémon, first introduced in Generation I, has turned into a luxury pink gold necklace so you can take it with you on your Pokémon Trainer adventures wherever you go.

Poké Lid Project Lays Down New Manhole Covers in Kyoto

Five new Pokémon manhole covers were laid in Kyoto on Tuesday as part of the Poké Lid  project to place Pokémon-design manhole covers across the country.

Kyoto Original Poké Lids

The five Poké Lids are located in Arashiyama, Okazaki Park, Maruyama Park, Umekoji Park, and Nishikyogoku Athletic Park.

All of the Poké Lids placed across Japan feature completely original Pokémon designs making each individual one the only one in the world. The Pokémon Company is also working to make each one of them PokéStops for Pokémon GO.

 ©2021 Pokémon. ©1995-2021 Nintendo/Creatures Inc./GAME FREAK inc.

Hoshino Resorts BANTA CAFE Announces Art Festival by the Beachside

The incredible Hoshino Resorts BANTA CAFE, a beachside cafe which offers guests a breathtaking ocean view along the Okinawan coast, has announced the upcoming Beachside Art Festival which will take place from April 10 to May 9. The festival will bring together artwork from a range of artists born and raised in Okinawa and leading the island's youth culture. There will be a range of events from live painting to workshops, exhibits, and more.

The participating artists have all taken part in personal art exhibits, art events, showcased their work at concerts, and more both inside and outside Japan, but due to COVID-19, many events have of course been cancelled. Beachside Art Festival will serve as a way to display their wonderful works while supporting them at the same time.

The Artist Line-Up

DENPA

nami

HAYATO MACHIDA

Chibana Yukinaga

MACHIDA visiting BANTA CAFE to check the feel of the ocean and their artwork

Vibrant artwork with the ocean as the backdrop

Visitors will be greeted by artwork dotted across various locations around BANTA CAFE. If they follow the top of the cliff down to the beach they will find sofas to sit on which have also been decorated with the artists' artwork. Then there's the Goro Goro Lounge with its enormous window that stretches an entire wall and offers a panoramic view of the sea. Here, visitors can look out at the artwork which will look like it's floating above the horizon. All drinks ordered also come with a free sticker featuring artwork by the four participating artists.

Experience art-in-the-making with live painting

DENPA and MACHIDA will host their own live painting sessions where they will take inspiration from the surrounding environment.


HAYATO MACHIDA @ April 10, 2021 / April 11, 2021

DENPA @ April 18, 2021

Times: 11:00-13:00 / 14:00-17:00

Where: In front of BANTA CAFE on the beach

Price: Free

Have a go at traditional Okinawan bingata dyeing

Visitors can have a go at making their very own coasters from nine different colours using a traditional Okinawan stencilled dyeing technique known as bingata.


Running: April 24, 2021 / May 1, 2021 / May 2, 2021 / May 5, 2021

Times: 10:00 / 12:00 / 14:00 / 16:00 (Each slot lasts approx. one hour)

Capacity: 4

Where: Iwaba Terrace

Price: ¥2,000 (Tax Included)

Note: Online booking required

Take home a souvenir at the beachside museum shop

A museum shop will be open for the event on weekends and holidays where you can pick up art prints, stickers, postcards, and other mementos.


Opening Days: Weekends & Public Holidays

Opening Hours: 10:00-18:00

Where: Beachside Terrace

Information

Hoshino Resorts BANTA CAFE – Beachside Art Festival

Running: April 10, 2021 – May 9, 2021

Where: Hoshino Resorts BANTA CAFE, Okinawa

Official Website: https://banta-cafe.com/en/

Edo Period 'Robot' Karakuri Puppets Get Exhibition in Yokohama

Yokohama Takashimaya Gallery has announced an exhibition hosted by Tamaya Shobei IX, a master of traditional Karakuri puppets, which will run from April 21 to May 10.

Karakuri dolls are wooden mechanical dolls made in the image of humans with movable parts, such as the hands and legs which are fitted with special mechanisms. Each and every doll is handmade, and visitors can look forward to seeing around 40 of them at the exhibition, including newly-made ones.

Here are some of the pieces that will be on display at the exhibition.

Festival Float Karakuri Dolls

The culture of merchants in the Edo Period blossomed at float festivals. They crafted Karakuri dolls to be placed on floats. At the time, this was considered something very simple, but adding mechanisms to these dolls was the start of the Karakuri doll. A variety of these festival float dolls will be showcased, such as the Kamakiri mantis doll which was revived by the seventh generation Tamaya Shobei, as well as newer works from recent years like the Nue Japanese chimera (as pictured above).

Tatami Mat Karakuri Doll

Other famous dolls to be included in the exhibition are the chaun ningyo tea-serving doll, the koma-mawashi ningyo spinning top doll, the calligraphy doll, and more.

New Works

Also in the line-up are new works being created by Tamaya Shobei IX, like the revival of the Tsuru crane and another featuring a crow tengu.

Pixar Japan Announces 'PIXAR! PIXAR! PIXAR!' Event to Take Place in Tokyo

Seibu Ikebukuro will pay host to the upcoming 'PIXAR! PIXAR! PIXAR!' event which will take place from April 8 to 19 in cooperation with Pixar Animation Studios and Walt Disney Japan. Pixar fans can look forward to viewing a special selection of valuable concept art, buying merch, and more.

A Look at Pixar Animation's History

Feel Like You're at Pixar Animation Studios

The event will be a celebration of all things Pixar, from their early animation shorts to their upcoming film Luca. This will include a special area that recreates the real-life Pixar Animation Studios.

Pixar Office Photo Postcards (3 Designs) | ¥220 Each

BnL T-Shirt (One Size Fits All) | ¥3,520

Canvas Panel (29.7cm x 21cm) | ¥3,850

Event-Original Merchandise (Excerpt)

Plates | ¥990 Each

Shopping Bag | ¥880

Pins 8 Designs)

There will also be a trivia quiz to test how much fans know about their favourite films, as well as a special video showcasing the making of the original artwork displayed at the event. Around 200 pieces of merchandise will also be sold.

PIXAR! PIXAR! PIXAR! is a popular annual festival in Japan and a must-visit for any fan of Disney/Pixar.

©DISNEY/PIXAR All rights reserved. No reproduction or republication without written permission.

Information

PIXAR! PIXAR! PIXAR! 2021 First Run

Running: April 8, 2021 – APril 19, 2021

Where: Seibu Gallery at Seibu Ikebukuro Bekkan Floor 2F

Opening Hours: 10:00-20:00

Official Website: https://www.sogo-seibu.jp/ikebukuro/

Jujutsu Kaisen Takes Over Tokyo's Yomiuri Land Amusement Park

Contents Seed is hosting an event at Yomiuri Land, an amusement park in Tokyo, in collaboration with the popular TV anime series Jujutsu Kaisen which will run from March 27 to May 5.

Solve the puzzle and win an original pin

Amusement park rides take on a Jujutsu Kaisen design

Exclusive merch for fan collections

Pins | ¥440 Each (Tax Included)

Chibi Design Mini Acrylic Stands | ¥660 Each (Tax Included)

Acrylic Figures | ¥1,540 Each (Tax Included)

Long-Sleeve T-Shirts | ¥4,400 Each (Tax Included)

Fans of Jujutsu Kaisen won't want to miss out on the fun line-up which includes new and exclusive merchandise, a puzzle game, a themed drink, plenty of photo opportunities, and more. They can also get free postcards when they buy any of the merch.

©芥見下々/集英社 ・ 呪術廻戦製作 委員会

Sanrio Harmonyland Announces 30th Anniversary Event

Sanrio Harmonyland, the popular Sanrio character themed theme park in Oita, has announced the commemoration of its 30th anniversary with a special event titled 'HARMONYLAND 30th ANNIVERSARY' which will begin on April 26. Visitors can look forward to parades, a special night show with fireworks, celebratory merchandise, a special food menu, and more.

Memorial visual created by Japanese manga author and character designer Eisaku Kubonouchi

Harmonyland Parade Parallel 30th Memories

Daniel and Kuromi to make an appearance before the start of the parade

Throughout its 30-year history, Harmonyland has hosted many shows and parades for guests. For their 30th anniversary celebration, a special parade titled Parade Parallel 30th Memories will have three runs throughout 2021 and into 2022 which will feature a set list of nostalgic, old-time show and parade music. Guests will be able to experience what it felt like to be at Harmonyland back when each song was first performed. Check out the song list for the first run below.

Parade Song List

Parallel World 1st (April 23, 2021 – Late August 2021)

Hajimaru yo Party from Parade Shiroi Tori Kara no Okurimono (First performed in 1991)
Celebration from The Celebration Parade (First performed in 1996)
Happiness from Parade Shiroi Tori Kara no Okurimono (First performed in 1991)
Hajimaru yo Party from Parade Shiroi Tori Kara no Okurimono (First performed in 1991))

Parallel World 2nd (Starting Early August 2021)

Parallel World 3rdnd (Starting Early January 2022)

30th Anniversary Night Party

A very special night show will take place which will see appearances from fan-favourites Hello Kitty, Dear Daniel, Cinnamoroll, and Kuromi who will be joined by a cast of dancers. Expect new music written just for this show as well as fireworks.

30th Anniversary Merchandise

An exclusive line-up of merchandise will be sold featuring a memorial visual created by Japanese manga author and character designer Eisaku Kubonouchi.

30th Anniversary Menu

Of course, it wouldn't be a celebration without a themed menu either, which will include meals, desserts like an ice cream float and soft serve ice cream, and more.

ⓒ 2021 EISAKU KUBONOUCHI / METEOR STREAMS

ⓒ 2021 SANRIO CO., LTD. TOKYO, JAPAN 著作 株式会社サンリオ

Experience Ultraman in VR at Tokyo's Ultra Heroes Expo New Generation World Event

As part of the Ultraman 55th anniversary project TSUBURAYA IMAGINATION, a special VR attraction can be experienced at the "Ultra Heroes Expo New Generation World in Tokyo SolamachiⓇ" event which began on Saturday (March 20).

The VR experience makes use of the wireless ABALⓇ System technology which allows users to "move freely and go anywhere." Users stand in a 3m x 3m space in real life but are welcomed into a virtual world that can span the size of Tokyo Dome. It can also link up with smartphones to display a 2D video chat which users can read in the virtual space.

Mew Pokémon Diamond Necklace With Pink Gold Coating Releases in Japan

Japanese character jewellers U-TREASURE is now taking limited-time orders for a new pink gold-coated necklace based on the beloved Pokémon Mew. It's available to buy until April 13 at the U-TREASURE Concept Store in Ikebukuro and on their official website.

Pokémon Silver Pink Gold Coated Mew & Poké Ball Necklace | ¥17,600 (Tax Included)

The gorgeous necklace features Mew sat on top of a Poké Ball with its cute tail wrapped around the necklace chain. The Poké Ball has a sparkling diamond at its centre. A stylish piece that any Pokémon lover will want to wear!

elrow Launches Worldwide Up & Coming Talent DJ Contest

International club event organiser elrow opened global applications for its "Up & Coming Talent" DJ contest on Thursday which is set to run until March 14. Anyone around the world who is aged 18+ can submit their applications via elrow's official website.

Up&Coming Talent | elrow


Application Period: March 18, 2021 – April 14, 2021

Conditions: Aged 18+

Apply Here: https://www.elrowupncoming.com/

The contest's mission is to find and co-create up and coming talent and help them build their careers so that they can find independent success in the music industry. They are looking to "discover and promote the new headliners of tomorrow."

Several panels of judges will take part in selecting applicants. elrow is looking for two artists from around the world who have both DJ and production knowledge. Successful applicants will be added to elrow's roster of artists for a minimum for one year. It's a must for bedroom artists and dance music-lovers looking to make it in the industry.

teamLab Reveals Sauna Art Experience in Collaboration With TikTok

Japanese art collective teamLab has announced a brand new digital art experience which fuses art with saunas. Entitled teamLab & TikTok, teamLab Reconnect: Art with Rinkan Sauna, the interactive exhibition will take place in Roppongi from March 22 to August 31. Bookings are now open.

teamLab & TikTok, teamLab Reconnect: Art with Rinkan Sauna Roppongi

"Every Life Survives in Fluctuating Space"

teamLab Reconnect is a new art and sauna exhibition where visitors experience art in their finest mental state. At the event, visitors take alternating hot and cold baths to open their minds and experience an ever-expanding physical sensation, effectively becoming one with the art.

The event will feature numerous exhibits, one which is entitled Every Life Survives in Fluctuating Space, a collaboration between TikTok and teamLab that can event be experienced at home. It makes use of the TikTok app, which is also part of the art and sauna experience at the exhibition, and so your home, or wherever you are based, can become its own art space.

Every Life Survives in Fluctuating Space captures the life cycle of a flower, which grows according to the size of the space displayed through the camera on Tiktok. The size of the flowers is not predetermined; it is instead determined by the size of the space where you are. If you're outside, the flowers can grow enormously.

If you download TikTok and sign up for a new account you can get a 500 yen discount coupon for teamLab Reconnect. Visit the official website below for more details.

Information

teamLab & TikTok 

Running: March 22, 2021 – August 31, 2021

Where: 5-10-25 Roppongi, Minato-ku, Tokyo

Bookings: Now Open

Tickets/Event Details: https://reconnect.teamlab.art/en