A recipe for photogenic food #6 "Potato salad parfait"
With just a small touch, you can turn everyday food into beautiful and perfect dishes worthy to be part of your SNS thread. Arisa Shirai continues to teach us her cuisine! With just a few ideas, an ordinary recipe can be shaped up to produce a photogenic masterpiece! Today we'll be looking at her savoury parfait recipe that offers a new wonderful sensation — Potato salads parfait, the "Shopparfait"
■ Ingredients
・Macaroni 20g
・Potatoes 3
・Tomato pasta sauce  20g
・Ketchup 10g
・Fresh cream 20g
・Consommé 1g
・Basil sauce 20g
・Salt (to your tasting)
・Powdered parmesan cheese 5g
・Cherry tomatoes 8
・Cream cheese  25g
・Preboiled and peeled shrimp 3
・Baguette/ crackers 2
・Mint A small amount
・Bubu arare (If you can get your hands on some) 2g
■How to make
➀ Bring a pot of water to the boil and cook the macaroni. Once drained, add half the basil sauce (10g) to the macaroni.
② Remove the skin of the potatoes and after boiling, crush them and add salt, the consommé and fresh cream. Mix well.
③ Pack 1/3 of the mash potato made in step ② into a piping bag.
④ Mix the remaining 2/3 of the mashed potato with the ketchup but do not mix too much — mix lightly until a marble pattern of ketchup appears.
⑤ Now you are ready to layer the parfait into the glass! First lay down the basil sauce at the bottom, then macaroni from step ①, followed by 6 cherry tomatoes, cream cheese, the tomato sauce and then the slices of baguette/ crackers in that order. Make sure the layers are distinct.
⑥ Using a scoop, take a ball of the mashed potato ketchup made in ④ to top off the parfait!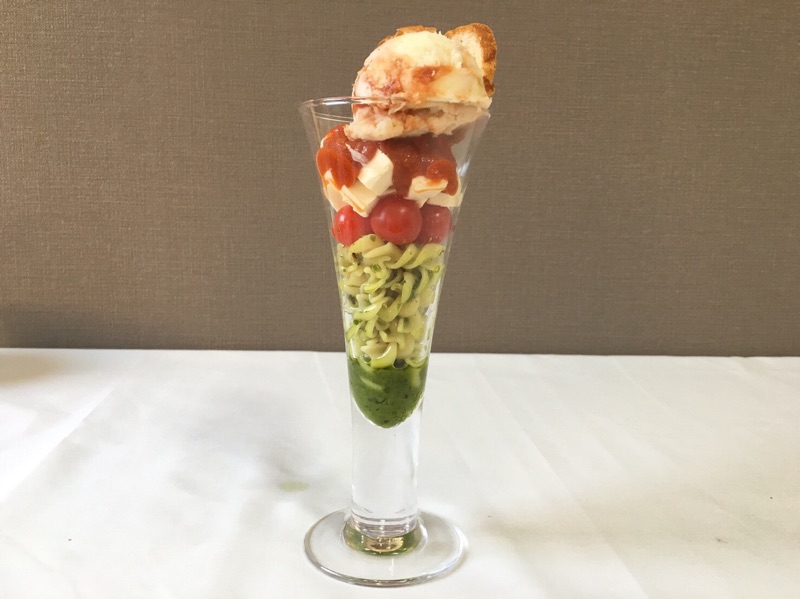 ⑦ Add the shrimp and the remaining 2 cherry tomatoes to the top of the parfait and squeeze out the remaining mash potato from the piping bag for decoration.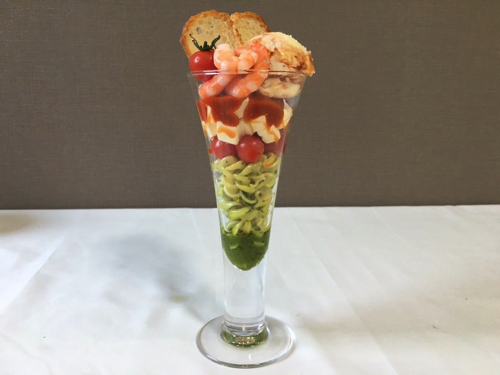 ⑧ Finally, garnish the parfait with parmesan cheese, bubu arare and mint!
When it's cold outside, you have the perfect opportunity to enjoy making these wonderful party foods ♪
■Arisa Shirai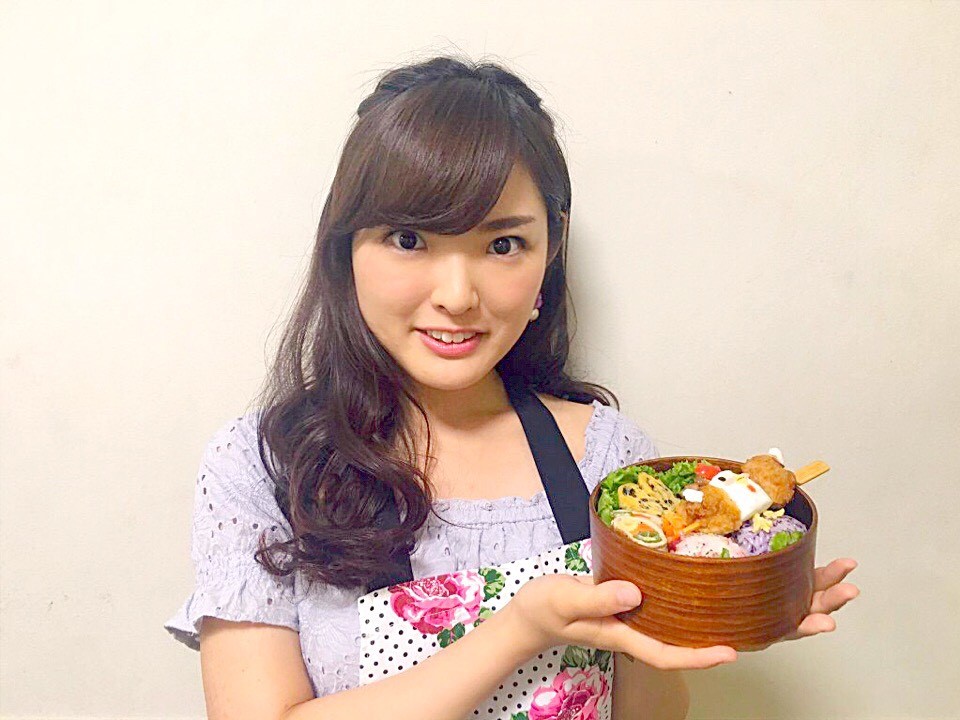 Visual food creator & colourful bento researcher. Arisa Shirai shows how fun it is to make and eat your own homemade food.
Instagram: arigohan
Blog: http://ameblo.jp/arinko0917/ 
—
■Related Article: A recipe for photogenic food #1 "lollipop" sandwiches
■Related Article: A recipe for photogenic food #2 Bruschetta for Christmas
■Related Article: A recipe for photogenic food#3 "Japanese Style Onigiri Pinchos"
■Related article:A recipe for photogenic food #4 "Cheese Fondue & Veggie Boquet"
■Related article:A recipe for photogenic food #5 "Snowman Fromage"
RELATED ENTRIES
Make Your Own Rilakkuma Valentine's Day Treats With Kai's Recipe Kits

Cupid is readying his arrows for Valentine's Day 2020 which is right around the corner. It's the time of the year to show your special someone that you love them with some tasty chocolatey treats.

If you're wanting to make a grand gesture this year by making your own gifts, but are struggling for ideas or are intimidated by the task, the Kai Corporation in Japan has you covered with its collection of Rilakkuma goods. Now you can make some Instagram-worthy gifts with little effort. Let's take a look.

Make lots of Rilakkuma chocolates with this simple tool

Rilakkuma Silicone Chocolate Maker – ¥850 (Before Tax) – Buy Here

Five different patterns of Rilakkuma, Kiiroitori, and Korilakkuma make up this silicone tray, allowing you to make lots of bite-sized chocolates at once. This is perfect for sharing between you and your loved one or amongst friends. It can be used for making gummy treats and ice for drinks too, meaning it's useful for the entire year.

Make cute cookies by simply pressing your dough

Korilakkuma Cutter Set – ¥650 (Before Tax) – Buy Here

Anyone can make cute Korilakkuma cookies easily with this cutter set which you simply press the dough with. It comes with two different poses so you can make an assortment of them. If you know someone who's not a fan of chocolate, then this is a perfect alternative.

Decorate your sweets and desserts with this mini chocolate tray

Mini Chocolate Tray – ¥650 (Before Tax) – Buy Here

This chocolate tray makes makes chocolate bears which can hold things like nuts and candy. They can be used in a lot of creative different ways. The tray was made in collaboration with Cookpad.

Super simple recipes that take out the work

Here are some super simple recipes that remove the labour out of making and decorating sweet treats. Learn how to make Instagrammable delights with these items and techniques.

Korilakkuma Cookie Marshmallow Sandwich – Item Used: Korilakkuma Cutter Set

All you need to do is warm some marshmallows in a microwave and stick them between two cookies for a gooey and crunchy treat. At some toppings like freeze-dried strawberries for colour and to make them even cuter.

Gateaux Chocolate Cupcakes – Item Used: Rilakkuma Face Cupcake Paper Wraps (5 Included)

Make your Valentine's cupcakes even more adorable with these paper wraps with Rilakkuma's kawaii face on them.

Tiny Bear Chocolates: Item Used – Mini Chocolate Tray

There are many creative ways you can utilise these tiny bear chocolates. Make them hold small candy, nuts, and other delicious bites, or just simply top them on another dessert.

Take the stress out of making something for Valentine's Day this year with this range of items from Kai.

Kaori's Easy Recipe: Learn to Make My Melody Strawberry Purin

With just a small bit of ingenuity, turn everyday food into something cute using Kaori's easy recipe! With a few simple ideas, an ordinary recipe magically transforms into a cute dish.

As strawberries are currently in season in Japan, today we'll be looking at an easy recipe for delicious strawberry purin. All you have to do is mix the ingredients and you're done! In previous recipes, we've looked at purin recipes that involve decorating the inside of the glass. Many people commented that this is quite difficult so today we've got a recipe that is easy enough for even kids.

Ingredients (For 2 Portions)

Two small jars (this recipe uses Weck jars)

200g Strawberries with stems and leaves removed (approximately one small pack)

20g Sugar

20ml Fresh Cream (or milk to substitute)

5g Gelatin (dissolved in a tablespoon of water)

½ Teaspoon Lemon Juice

To Decorate

Premade Chocolate Decorations or Chocolate Slices (as you like)

Strawberries to Decorate (as you like)

Fresh Cream (As you Like)

Chocolate Pen

2: After removing the leaves and stems from the strawberries, blend them in a mixer.

3: Heat the mixture in a microwave on 600w for 50 seconds. Afterwards, add the sugar, gelatin solution and lemon juice in that order. Finally, mix in the fresh cream.

4: Meanwhile, press the premade chocolate decorations or sliced chocolate (white) into the inside wall of your jar.

5: Use the chocolate pen to draw the face, strawberries and ribbons from the outside of the glass. If you make a mistake, wipe it off using kitchen paper and try again.

6:Put the jar into the fridge for the chocolate to harden. Once the chocolate does not sink when the jar is placed upright, slowly add your strawberry mixture into the jar and put it back in the fridge until hard. After your dessert solidifies, you can add the finishing touches of whipped cream and strawberries.

And you're done!

Kaori invites you into her world of character-themed food dishes in her recipe series. Be sure to check out her Instagram where she has uploaded many pictures of her character dishes!

Profile

Kaori Kubota

@kaopan27

I live in Hokkaido and I love to make character-themed foods, desserts and pastries♡I want to see my family smile, so I enjoy putting in a bit of effort to make character foods and changing food into something cute♡You can see more of my character foods and character bento boxes on my Instagram page→ 

@kaopan27

Kaori's Easy Recipe: Learn to Make Rilakkuma Santa Cookies

With just a small bit of ingenuity, turn everyday food into something cute using Kaori's easy recipe! With a few simple ideas, an ordinary recipe magically transforms into a cute dish.

In this recipe, you'll learn how to make Santa Rilakkuma cookies 

1: Ingredients: (For 10 Rilakkumas)

Unsalted butter: 55g

Icing sugar: 25g

White sesame seeds: 30g

Weak flour: 75g

2: Leave the unsalted butter out for a while until it reaches room temperature and then mix until smooth. Next, mix in the sugar, sesame seeds and then flour in that order. 

3: Next, split the dough into portions. To make one cookie, you need 15g for the face and 1g of dough for each ear. Arrange your face and both ears as shown in the photo below. 

Top tip: Rilakkuma's face is oval-shaped so don't make it circular.

4: After you've formed all your Rilakkumas, bake them at 180℃ for 15 minutes.

 

5: Please refer to the video below to decorate Rilakkuma's face:


Before the cookies get cold, coat them in icing sugar, using a small brush to dust off the excess. Then, wait for the cookies to cool completely before decorating the face. Place a Meiji Apollo Strawberry Chocolate on Rilakkuma's head for the Santa hat and you're done. 

This is the perfect way to contribute to your next Christmas potluck and it is a flawless plan to impress all your friends.

Kaori invites you into her world of character-themed food dishes in her recipe series. Be sure to check out her Instagram where she has uploaded many pictures of her character dishes!

Kaori Kubota (@kaopan27)

I live in Hokkaido and I love to make character themed foods, desserts and pastries♡

I want to see my family smile, so I enjoy putting in a bit of effort to make character foods and changing food into something cute♡

You can see more of my character foods and character bento boxes on my Instagram page→@kaopan27

Kaori's Easy Recipe: Learn to Make Pumpkin and Cream Cheese Pound Cake For Halloween

With just a small bit of ingenuity, turn everyday food into something cute using Kaori's easy recipe! With a few simple ideas, an ordinary recipe magically transforms into a cute dish.

In this recipe, I will show you how to make the perfect treat for Halloween: a pumpkin and cream cheese pound cake, finished with cute bats and a ghost. This is a super easy recipe that can be made by simply putting everything into a blender and baking it in the oven. By the end of you you will have yourself a Halloween-themed rich pound cake as soft as Japanese pudding.

1: Ingredients (Makes one 22cm pound cake)

150g cream cheese

250g cooked pumpkin (skin and seeds removed)

50g-60g sugar

1 egg

150ml fresh cream

20g soft wheat flour

2: Blend all of the ingredients together in a blender

3: Once the mix takes on a smooth texture, pour into a cake tin and bake at 180℃ for 40 minutes. Once cooked, remove from the oven and leave to cool, then leave in the fridge overnight.

4: Once the cake has set, slice a piece and add your dollop of fresh cream for your ghost and decorate.

To see how I did the toppings, check the video I made above. Once your cute toppings are done, your cake is ready to enjoy!

Kaori invites you into her world of character-themed food dishes in her recipe series. Be sure to check out her Instagram where she has uploaded many pictures of her character dishes!

Profile

Kaori Kubota (@kaopan27)
I live in Hokkaido and I love to make character themed foods, desserts and pastries♡

I want to see my family smile, so I enjoy putting in a bit of effort to make character foods and changing food into something cute♡

You can see more of my character foods and character bento boxes on my Instagram page→@kaopan27

Kaori's Easy Recipe: Learn to Make Steamed Minnie Mouse Cocoa Cakes

With just a small bit of ingenuity, turn everyday food into something cute using Kaori's easy recipe! With a few simple ideas, an ordinary recipe magically transforms into a cute dish.

Today, I will show you the perfect recipe for making chocolate Minnie Mouse cakes using the Mickey Mouse Tezukuri Okazu Maker kit which you can buy on Belle Maison.

1. Ingredients

About 3-4 prep bowls

1 large egg

40g sugar

Oil or 10g melted unsalted butter

15ml milk

50g weak flour (sifted)

10g cocoa

5g baking powder

2.

①Crack the egg into a mixing bowl, add the sugar and whisk well.

②Add a drizzle of oil or melted butter and milk and whisk again.

③Add the sifted flour and stir in gently with a rubber spatula.

3.

Oil the silicone cake moulds and spoon in your mix.

4.

Steam on a high heat for about 10 minutes.

5.

Now it's time to make Minnie's ribbon. I got this ribbon mould from Daiso. Place it onto some baking paper and outline the shape with a pen. Fill the outline with red-coloured chocolate and leave to set in the fridge. Once it has completely set, add the polkadots.

6.

Once the cake has finished steaming, stick her onto a lollipop stick so it the cake be eaten like a lollipop, and fix the ribbon onto the top of Minnie's head.

And she's finished! It looks cute when you put a Mickey and Minnie one together side by side. You can make a lot of cute recipes using the Okazu Maker, so get your hands on one and try making your own!

Kaori invites you into her world of character-themed food dishes in her recipe series. Be sure to check out her Instagram where she has uploaded many pictures of her character dishes!

©️Disney

Profile

Kaori Kubota (@kaopan27)
I live in Hokkaido and I love to make character themed foods, desserts and pastries♡

I want to see my family smile, so I enjoy putting in a bit of effort to make character foods and changing food into something cute♡

You can see more of my character foods and character bento boxes on my Instagram page→@kaopan27

Kaori's Easy Recipe: Learn to Make Mickey Mouse Gratin Pie

With just a small bit of ingenuity, turn everyday food into something cute using Kaori's easy recipe! With a few simple ideas, an ordinary recipe magically transforms into a cute dish.

Today, I will show you the perfect recipe for using the Mickey Mouse bread warmer you can buy online at Belle Maison. The warmer can be used for bread, pies and more. They will keep your food from going cold and drying out so it'll still be as delicious as when you put it in!

1. Ingredients

Frozen pie sheets

Frozen gratin

2. Leave the pie sheets to come to room temperature for 5-10 minutes and then roll out slightly.

3. Cut out two large circles for the face. If you don't have a cutter you can substitute it with a cup or something similar

4. Take one of the circles and cut a smaller size circle like below.

5. Using egg yolk, stick the hollow circle from Step 4 onto the circle from Step 3. For the ears, check the size of the face you have cut out and cut them accordingly. Affix to the face with egg yolk.

6. Layer egg yolk over the years and the outside of the face and then pierce holes with a fork all over.

7. Add the frozen gratin to the middle and bake at 200℃ for 13-15 minutes.

The recipe may be simple but looks just like something sold at Mamma Biscotti's Bakery in Tokyo Disneyland! You can add mint sauce to the middle or even make it a meat pie. Whatever you do it's sure to be delicious!

Pop into your bread warmer for cute presentation. These make for great nibbles to share with people!

Kaori invites you into her world of character-themed food dishes in her recipe series. Be sure to check out her Instagram where she has uploaded many pictures of her character dishes!

©️Disney

Profile

Kaori Kubota (@kaopan27)
I live in Hokkaido and I love to make character themed foods, desserts and pastries♡

I want to see my family smile, so I enjoy putting in a bit of effort to make character foods and changing food into something cute♡

You can see more of my character foods and character bento boxes on my Instagram page→@kaopan27

Carly Rae Jepsen has teamed up with Tasty Japan, a food channel managed by BuzzFeed Japan, to release a collaborative video.

In her music video for Now That I Found You, taken from her third studio album Dedicated which hit shelves on May 17 this year, Shrampton makes an appearance, a Scottish Fold cat popular on Instagram.

Carly has joined paws with Tasty Japan to release some cat themed menu items out of sushi. The video features the aforementioned song as well as a video message from Carly herself.

ABC Cooking Studio Launches Pikachu Omelette One-Day Cooking Lesson For Kids

From July 1 to August 31, ABC Cooking Studios across Japan will be running a one-day class for children to learn how to make a Pikachu omelette. The class is aimed at 4 ー 6 year-olds. After the class, the children can enjoy their fluffy Pikachu omelette.


Pikachu Omelette 

Last July and August, ABC held a similar one-day Pikachu Banana Cake class for children. Approximately 20,000 children signed up and enjoyed making their delicious cakes. This year's event is a wonderful opportunity for children who wish to challenge themselves to cooking or are looking to make wonderful summer memories. This is a wonderful opportunity to grant your curious children.

The cooking teacher will show children all the cooking tricks to make a delicious dessert in very easy steps. Even children who are completely new to cooking will have nothing to worry about. In the class, children will learn how to make an omelette decorated with Pikachu's face and a chocolate custard filling. Once finished, they can garnish their Pikachu with a sun visor. The children will also be making a Poké Ball cupcake. Once they make their desserts, they can take them home. To finish the class, the hardworking children will be gathered to have a fun discussion on their opinions on the class.  


The children will also receive an original Pikachu and Eevee drawstring bag as a souvenir. This class is a great way for children to become better friends. After the class is over, they can even wear their bags together as a sign of everlasting friendship.

(C)Nintendo・Creatures・GAME FREAK・TV Tokyo・ShoPro・JR Kikaku (C)Pokemon

Information

Pikachu Omelette Class

July 1 ー August 31, 2019

※ Reservation opens on June 10

Location: Most ABC Cooking Studios across Japan

Participant Age Restrictions: 4 year-olds to year 6 elementary school students

※ Parents and guardians are not allowed to participate in the class.

Participation fee: ¥ 2,800 (Includes ingredients and tax)

What to bring: Apron, indoor slippers, hand towel

Reservations Accepted: At the front desk of ABC Cooking Studios, over the phone and online.

Reservation Website: https://odl.abc-cooking.co.jp/one/

Kaori's Easy Recipe: Learn to Make Disney Tsum Tsum Chocolate Covered Cookies

With just a small bit of ingenuity, turn everyday food into something cute using Kaori's easy recipe! With a few simple ideas, an ordinary recipe magically transforms into a cute dish.

In this recipe, we'll learn how to make a recipe from the book Disney Tsum Tsum Sweets Recipes pictured above.

As well as the characters pictured on the front cover, others include Winnie the Pooh, Donald Duck and Daisy Duck. We'll make the ears from marble chocolate than our usual chocolate plastic. The middle is like a sandwiched cookie, so you get a deliciously crunchy texture♡

1. Ingredients

Silicone cupcake case (my cupcake sections are 6cm)

White chocolate

Matcha chocolate

Marble chocolate

Chocolate plastic (also called "modelling chocolate")

Chocolate pen

Oreo cookies

Pink, yellow, blue and green food colouring

2. Melt the chocolates separately over a bain marie and pour them into separate sections of the cupcake case, about halfway in each.

3. Place Oreo cookies into each like so.

4. Cover the cookies with the remaining chocolate and chill in the refrigerator until set.

5. Once fully set, the final step is to decorate with our chocolate plastic, marble chocolate and chocolate pen.

Sully's purple ears are made with chocolate plastic.

Pooh's ears are made from marble chocolate.

To see how I fully decorated my cookies check out the video I made below!

Lining them up like Disney Tsum Tsum toys makes them look really cute! All of the recipes I used this time are from the Japanese recipe book Disney Tsum Tsum Sweets Recipes (Japanese Title: ディズニーツムツムのスイーツレシピ). It shows how to create lots of different characters!

Kaori invites you into her world of character-themed food dishes in her recipe series. Be sure to check out her Instagram where she has uploaded many pictures of her character dishes!

Kaori Kubota (@kaopan27)
I live in Hokkaido and I love to make character themed foods, desserts and pastries♡

I want to see my family smile, so I enjoy putting in a bit of effort to make character foods and changing food into something cute♡

You can see more of my character foods and character bento boxes on my Instagram page→@kaopan27

©Disney

Kaori's Easy Recipe: Learn to Make Pompompurin Gomaku Onigiri

With just a small bit of ingenuity, turn everyday food into something cute using Kaori's easy recipe! With a few simple ideas, an ordinary recipe magically transforms into a cute dish.

In this recipe, you'll learn how to make Pompompurin gomaku rice balls that's perfect for picnics and lunch boxes. Gomaku is a mix of minced meat and vegetables with rice. These rice balls can be made easily with ingredients found in stores or at the market.

1. Ingredients

Store bought gomaku rice mix (五目ごはん)

Rice (I used 2 cups)

2 eggs

Starch

1/2 meatball

Pasta (cooking instructions below)

2. Mix the gomaku rice mix into the rice.

3. Divide your rice mix into two portions, shape into a head for Pompompurin's face, and leave to cool.

I made a video for you to follow the next steps!

1. Frying the egg

①Whisk the egg and then strain through a strainer, using a fork to push through any remains.

②Add the starch which has been dissolved in water into the strained mix.

✩By adding watered starch it makes the egg less likely to break and easier to wrap later on.

③Lower the temperature of the pan from medium down to a low heat.

④Once the temperature has fully come down add the egg and ensure it covers the entirety of the pan.

⑤After turning the pan around lower the heat again. Once the egg has fully set, turn off the stove and put on a lid to let the egg cook with the heat of the pan.

2. Place the cooked egg onto some cling film, add the rice mix, and wrap into a ball until fully sealed.

3. Use the leftover egg from the seal to cut out some ears for Pompompurin.

4. Use half of a store-bought meatball and fix to the top of Pompompurin's head with fried pasta to make a hat.

To make fried pasta, add the length of pasta required to a frying pan without oil and cook by starting on a low heat and slowly bringing to a medium heat. Turn off the stove once the pasta has coloured slightly.

Use the remaining heat of the pan to cook until browned like in the photo below. Fried pasta is a useful ingredient for various recipes where you need to fix decorations onto food, so be sure to try it out with other things too.

5. Use seaweed to make his eyes and nose and ham for the cheeks.

And your Pompompurin is finished!

The fried egg can be prepared the day before meaning you can make up your lunch box nice and quickly in the morning. It's super convenient learning to make a good use of the ingredients you have at home♡

Kaori invites you into her world of character-themed food dishes in her recipe series. Be sure to check out her Instagram where she has uploaded many pictures of her character dishes!

Information

Kaori Kubota (@kaopan27)
I live in Hokkaido and I love to make character themed foods, desserts and pastries♡

I want to see my family smile, so I enjoy putting in a bit of effort to make character foods and changing food into something cute♡

You can see more of my character foods and character bento boxes on my Instagram page→@kaopan27

Kaori's Easy Recipe: Learn to Make Hello Kitty No-Bake Cheesecake

With just a small bit of ingenuity, turn everyday food into something cute using Kaori's easy recipe! With a few simple ideas, an ordinary recipe magically transforms into a cute dish.

In this recipe you'll learn how to make a no-bake cheesecake by simply combining and mixing! This easy recipe can be followed by anyone and can be easily changed into a character cake of your choosing. Chocolate plates are hard to make but if you follow these steps you'll be able to make your own in no time!

Ingredients

200g cream cheese

200g fresh cream

70g sugar

1 tbsp lemon juice

10g gelatin

20 crackers (I used Ritz crackers)

50g unsalted butter

Preparation

・Add 5 tbsp water into the gelatin. Head it in the microwave for 40 seconds before combining with the cream cheese.

・Melt the unsalted butter in the microwave

・Let the cream cheese come to room temperature and then wrap the bowl in cling film before leaving to soften in the microwave.

1.

①Blitz 10 crackers in a food processor and then pour in your melted unsalted butter. Add the other 10 crackers and blitz again.

Add the mix into a cake tin. Wrap a potato masher in cling film like the photo below and press the mix.

*By pressing multiple times with force at this stage it will prevent the biscuit from breaking later when the cake is cooked.

2.

①Blitz the cream cheese and sugar in the food processor to combine.

②Transfer the combined cream cheese and sugar into a bowl and add the lemon juice, fresh cream and the microwaved gelatin.

③Once fully mixed pour it on top of your cracker in the cake tin. Put into the refrigerator to fully cool and solidify. Your no-bake cheesecake is done!

Next we need to draw Hello Kitty's face. I made a video so check that out below too.

1: Get a picture of Hello Kitty (or character of your choice) and affix see-through baking paper on top with sellotape.

2: Trace the lines of the picture with a chocolate pen that has been warmed.

*The fatter your lines the less likely it is to break when you put it on the cake.

3: Once you've finished drawing, place it into the refrigerator to harden. Once both the cheesecake and chocolate have cooled you can begin decorating.

4: Place the hardened chocolate on top of the cheesecake.

*Don't worry if your chocolate breaks a little when putting it on top. You can join the broken lines back up once you've placed it on so nobody will know.

5: Once the framework is on add the eyes and nose making sure to check the sizes and balance. Finally, fill in the ribbon and clothing with either strawberry sauce or strawberry jam that has been mixed with a bit of water.

And you're done!

Kaori invites you into her world of character-themed food dishes in her recipe series. Be sure to check out her Instagram where she has uploaded many pictures of her character dishes!

Information

Kaori Kubota (@kaopan27)
I live in Hokkaido and I love to make character themed foods, desserts and pastries♡

I want to see my family smile, so I enjoy putting in a bit of effort to make character foods and changing food into something cute♡

You can see more of my character foods and character bento boxes on my Instagram page→@kaopan27

Kaori's Easy Recipe: Learn How to Make "Pompompurin Steamed Cheese Bread"

With just a small bit of ingenuity, turn everyday food into something cute using Kaori's easy recipe! With a few simple ideas, an ordinary recipe magically transforms into a cute dish.

In this character recipe you will learn how to make a "Pompompurin Steamed  Cheese Bread" (labeled CHEESE STEAM UP BREAD).

Did you know that recently decorating a "steamed cheese bread" is the in thing to be doing right now? So, in this recipe I will explain about how to decorate a steamed cheese bread in a Christmas fashion.

1:Ingredients

1 steamed cheese bread

1 sheet of nori (dried seaweed)

Chocolate plastic

Red coloring powder

2:

Trace an illustration of your favorite character onto a baking sheet. I chose Pompompurin. Next, I thought it would be cute to indent the face and highlight the ears so I cut out these parts from the baking sheet.

3:

Next, place the face cutout onto the surface of the cheese bread and cut the bread in line with the cutout. Remove this part and set it aside. This part will be used to make the ears and hands. The surface below the removed part might be a bit uneven so using the back end of a chopstick make this area flat.

4:

Turn over the removed part and flatten this surface using the back end of a chopstick. Place the ear cutout onto the surface and cut the ears out. Using the remaining part cut out some round hands.

5:Color the plastic chocolate red and form the hat and boots. Using the white plastic chocolate, add the white parts. Using a puncher, cut out the eyes, nose and mouth from the laver seaweed.

Place all of these parts on the surface of the cheese bread, and voila, your "Pompompurin Steamed Cheese Bread" is complete.

Kaori invites you into her world of character-themed food dishes in her recipe series!

Please check out her Instagram where she has uploaded many pictures of her character dishes!

Information

Profile
Kaori Kubota (@kaopan27)
I live in Hokkaido and I love to make character themed foods, desserts and pastries♡

I want to see my family smile, so I enjoy putting in a bit of effort to make character foods and changing food into something cute♡

You can see more of my character foods and character bento boxes on my Instagram page→@kaopan27