Sanrio Puroland Halloween 2019: IT Chapter Two, Horror Doll House & More Spooky Events
Sanrio Puroland is readying its tricks and treats for its Halloween festival this year. Titled "PURO HALLOWEEN PARTY ~KAWAII MASQUERADE~" the festival will run from September 13 to October 31.
This will be the park's first mask-themed festival and each day will be split into two slots: Day and Night. During the daytime, guests are invited to the park's "Cute Masked Party" string of events. But when night falls, the monsters will come out for the "Beautifully Scary Masquerade Party."
IT Chapter Two Collaboration
With IT Chapter Two right around the corner―the sequel to one of the biggest horror hits in years―Sanrio Puroland is collaborating with the film. This includes Hello Kitty taking Pennywise's place in the movie poster.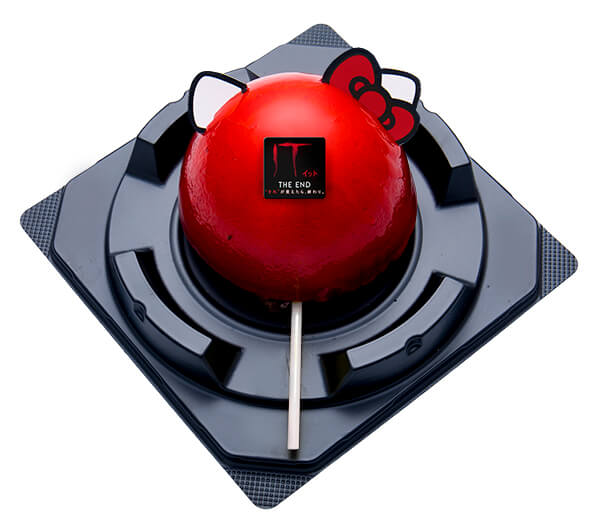 Hello Kitty's Red Balloon Mousse Cake – ¥650
In the Character Food Court on the first floor, you'll be able to order this mousse cake inspired by Pennywise's red balloons which is cutely topped with Hello Kitty ears. There will also be IT Chapter Two themed photo spots, and when evening sets in, red balloons will decorate the Lady Kitty House. IT might even appear somewhere in places you wouldn't expect…
Horror Content Made Even Scarier For 2019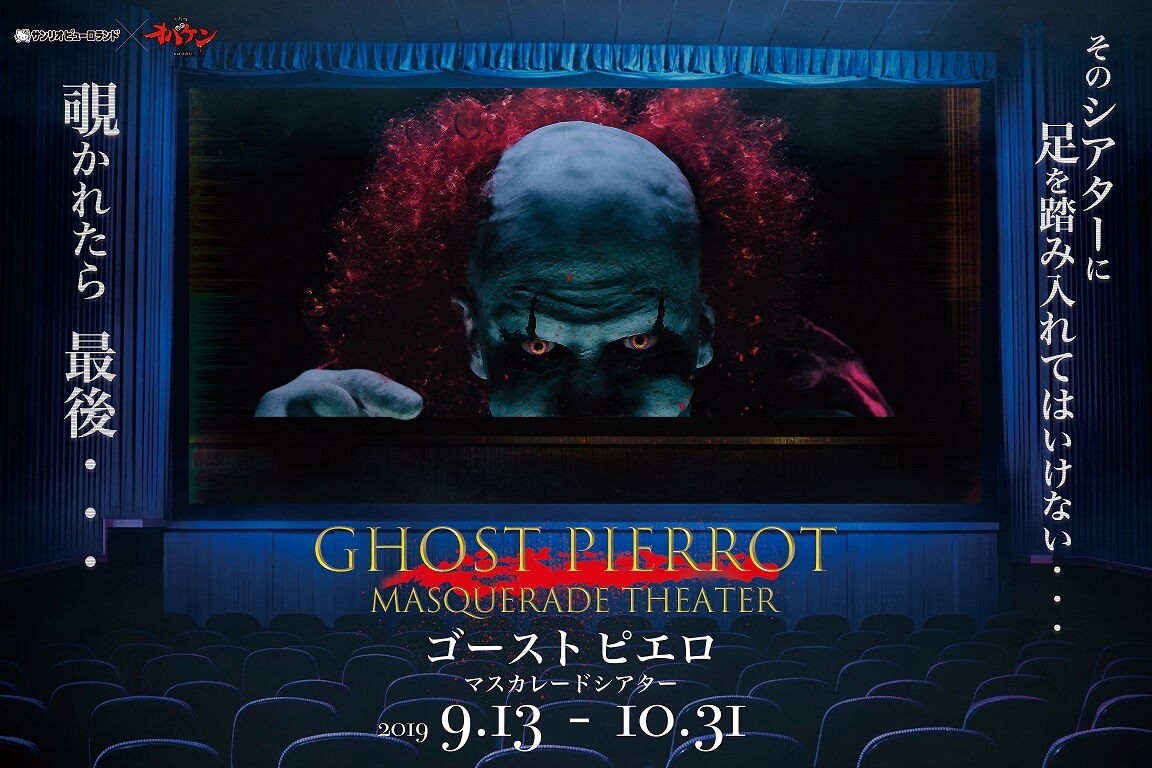 Prepare to have your pants scared off with the scream-inducing Ghost Pierrot Masquerade Theater. The hugely popular mission-clear style haunted house returns and is open to everyone ages 10+ years. Can you survive the attack from the ghostly clown? If he sees you, it's over…
Location: Discovery Theater (Floor 1F)
Time: Approx. 15-minutes
Age Limit: 10-years-old and above
Lady Kitty House Transforms Into Doll House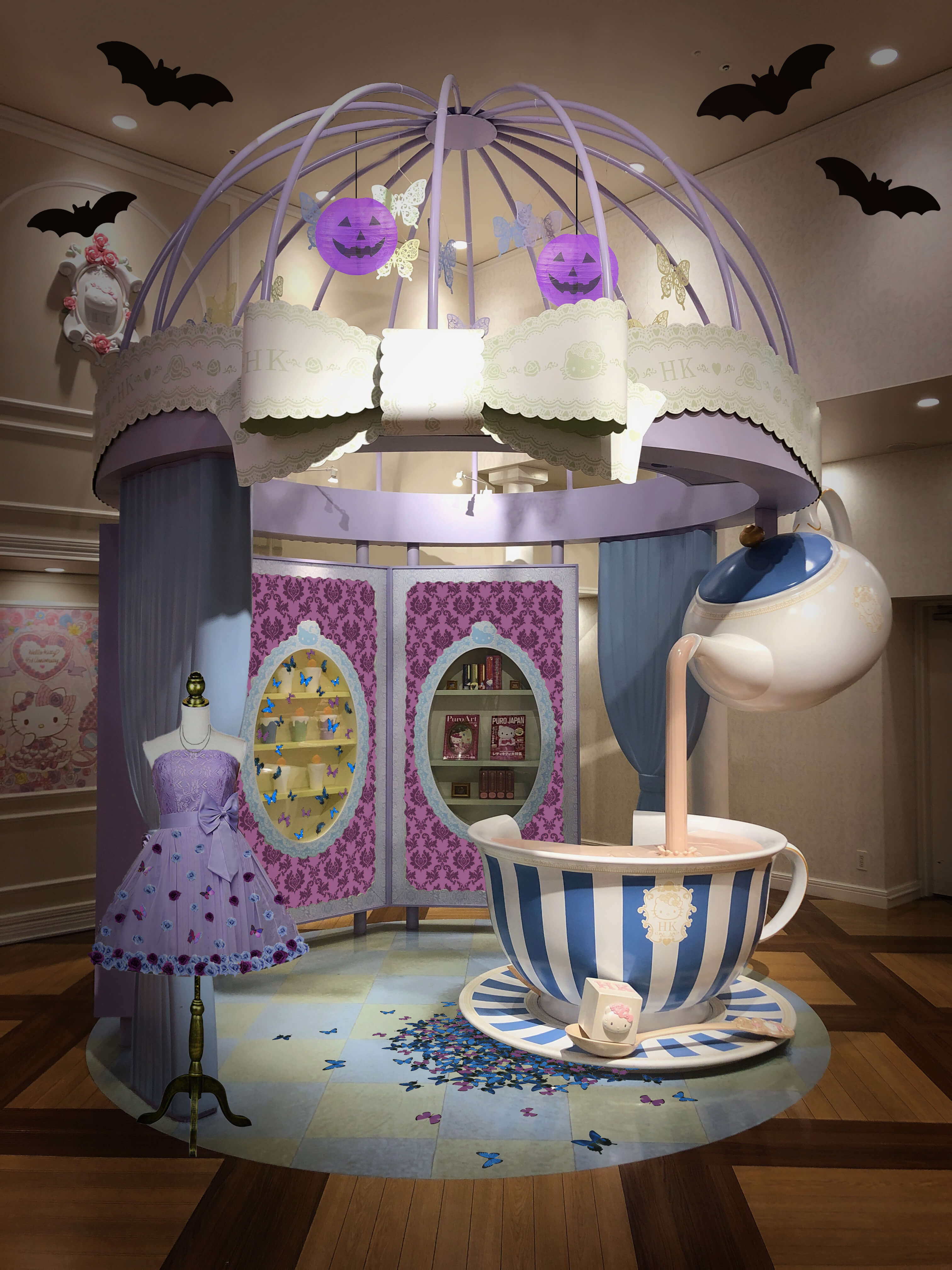 The Lady Kitty House always has something special planned each year, and this year it's bringing something new. During the day the house will take on the form of a cute Halloween doll house.
But at night, it will become a horror doll house as the dolls are turned into butterflies as a result of a curse. Look forward to an ambivalent mix of terror and beauty.
The creeps will be made creepier on weekends and holidays one hour before the park closes when the dolls at the Horror Doll House start moving. Dress up in your Halloween attire and enjoy the hair-raising world of Lady Kitty House this year.
Join The Halloween Party Ball Mask Parade
The ball mask parade will take place on the first floor Puro Bridge. The Sanrio cast will be dressed up in ballroom attire with masks and dance elegant dances, pull onlookers into a frightening yet beautiful world.
Kawaii Masquerade Masks: Plastic – ¥800 Each / Paper – ¥400 Each
Join the fun by getting your hands on one of six character masks. Donning one of these may just be the thing you need to protect yourself from any ghosts in the area!
Location: Puro Bridge (Floor 1F)
Participating Cast: Hello Kitty, Cinnamoroll, My Melody, Kuromi, Wish me mell, Pompompurin
*More details can be found on the official homepage
Halloween Photo Spots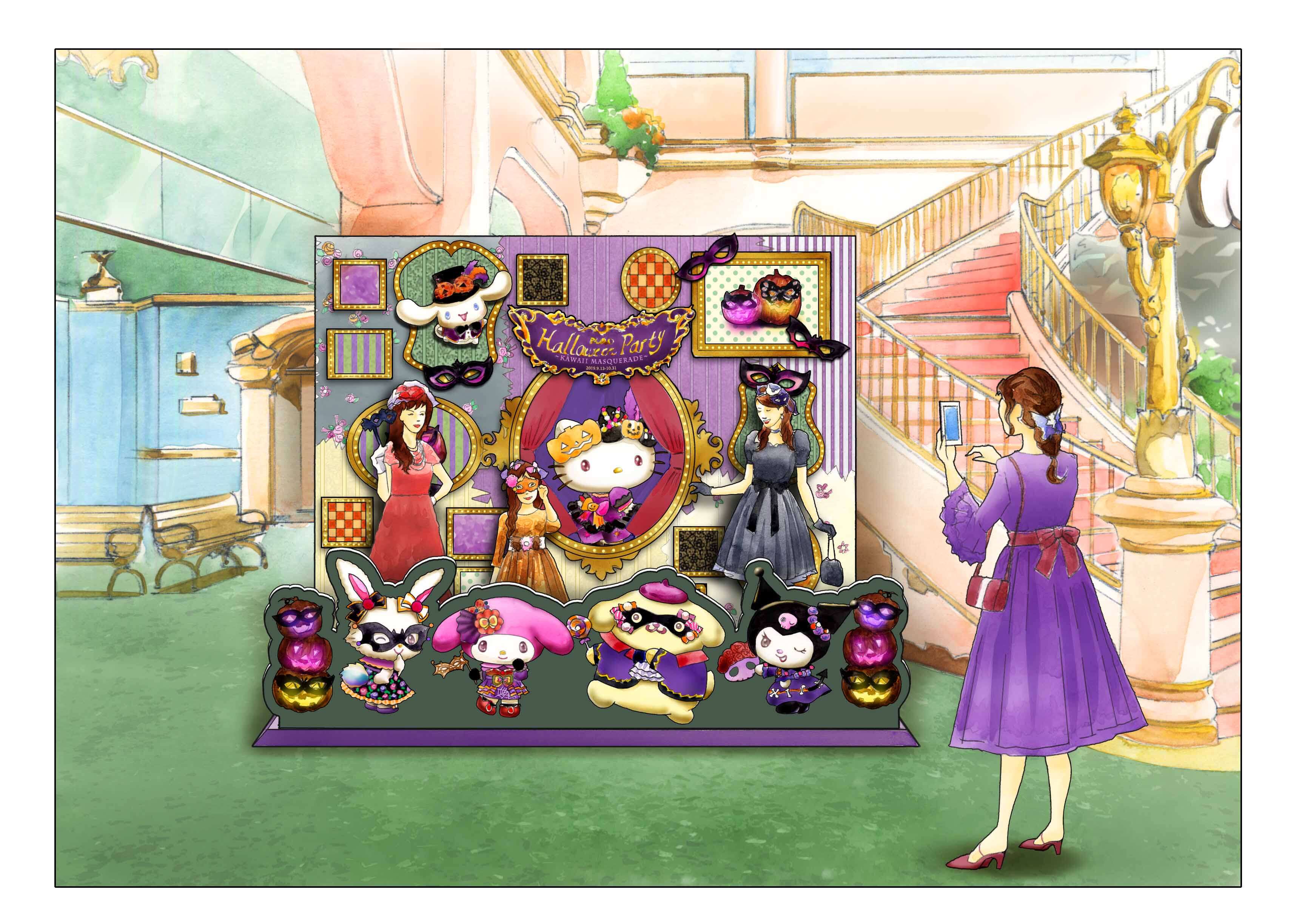 Have your photo taken together with the dressed-up Sanrio cast at the photo spot located in the Rainbow Hall on the third floor. Take your photo as you are or put on a mask and become one with the paintings.
Halloween Food
From Top Left: My Melody & Kuromi's Masquerade Party Curry ¥1,400 / Cinnamon's Black Halloween Ramen ¥1,100 / Masked Ball Black Omurice ¥1,300 / Dancing My Melody Corn Soup Pasta ¥1,300 / Hello Kitty's Masquerade Dress Parfait ¥850 / Cinnamon's Halloween Rare Cheese Tart ¥600 / Purin's Masquerade Doughnuts ¥600
"Black & Purple" is the theme for this year's Halloween menu which is packed with cute character dishes and desserts. 11 items adorn the menu including Kuromi's Black Night Cocoa which is served in the evening only.
Exclusive Halloween Merchandise

Mascots – ¥1,944 Each
Lots of character merchandise will be sold featuring the cast in their new Halloween costumes this year, from key rings to bags and more.
Dress Up & Get Discount
As part of the Halloween celebrations, if you arrive at the park in full Halloween dress you can get a discount on Passport Tickets. Be sure to go clad in your best outfit to have the most fun!
*All listed prices include tax
©1976,2009 SANRIO CO., LTD. ©1976,1990,1996,2001,2005,2010,2019  SANRIO CO., LTD.
©2019 Warner Bros. Entertainment Inc. All Rights Reserved.
Information
PURO HALLOWEEN PARTY ~KAWAII MASQUERADE~
Running: September 13, 2019 – October 31, 2019
DAY: Weekdays – Until 14:30 / Weekends – Until 15:00
NIGHT: Weekdays – From 14:30 Until Closing / Weekends – From 15:00 Until Closing
*Weekday closing hours during the Halloween period is 6:00pm. Times subject to change.
Event Page: https://www.puroland.jp/2019_halloween/
Halloween Dress-Up Discount
Running: September 13, 2019 – October 31, 2019
Price: 1-Day Ticket – ¥2,500 (Adults & Children) / Night Ticket – ¥1,500
Conditions: Print off a discount ticket from the Puroland homepage (or show on your digital device) and dress in full Halloween-themed attire
*Must be full dress. Those wearing only face paint, only capes and so on will not receive the discount.
*Full conditions can be found on the website below (in Japanese)
Discount: https://www.puroland.jp/halloween-narikiri/
Sanrio Puroland
Address: 1-31 Ochiai, Tama, Tokyo
Official Website: https://www.puroland.jp/
RECOMMENDED ENTRIES
Tokyo Disney Resort Reveals Its Spooky Halloween Programme and Character Costumes

Get ready for some spooky fun as Tokyo Disney Resort® transforms for the 52-day-long horrifically exciting Disney Halloween from September 10 to October 31. Head to DisneySea to be captivated by the new harbor show Festival of Mystique, or get spooked out of your skin at the Spooky "Boo!" Parade at Disneyland. Today, we will be revealing the spooky looks of both parks.

Tokyo DisneySea Festival of Mystique Costumes

Working with the main theme of a medieval European halloween, inspiration has been taken from the living creatures and waves at the port town Porto Paradiso. 

Mickey Mouse's costume inspiration comes from the the bones and scaly body of a sea creature. He will also be seen wearing a broach decorated with beautiful jewels. 

Minnie Mouse's costume resembles that of a medieval princess. You will see her in a fancy hat that bears beautiful pearls. Her costume is covered in scales on the chest and on the back which really suits her.

Tokyo Disneyland's Spooky Boo! Parade Costumes

Disney friends have joined forces with a group of spooky spirits. You just can't miss out on this rare chance to see your favourite Disney characters disguised as ghosts and skeletons. The strange and unusual atmosphere is sure to send a chilling shiver down your spine. 

Mickey and Minnie will be completely refreshing their colourful look. Mickey's necktie and Minnie's skirt are very mysterious and particularly intriguing.  Please come check them out!

Enjoy the beautiful costumes and the fun range of events this Halloween at Tokyo Disney Resort.

©️Disney

Sanrio Puroland's All-Night Halloween Party to Feature Guest Performances by Scha Dara Parr, m-flo & chelmico

Sanrio Puroland, Tokyo's theme park home to Hello Kitty and her friends, has teamed up with music company Melody fair to create a very special one-night-only Halloween party called SPOOKY PUMPKIN 2019 〜PURO ALL NIGHT HALLOWEEN PARTY〜 which will take place on October 26.

This marks the 6th year of Puroland's all-night event which never fails to sell out every ticket every single time. This year, there will be 4 live stages instead of the usual 3 allowing for even more exciting entertainment. There will be alcohol, performances from some big names in Japanese music, appearances from the Sanrio character cast, special openings of select park attractions and restaurants, and more for a truly unique club night experience you won't find anywhere else.

The park will be decorated in all things Halloween, and guests must dress according to the dress code which is titled "Orange or Pumpkin."

m-flo

chelmico

There is a huge list of artists are lined up with 40 expected to perform. The first batch have been announced already and includes Scha Dara Parr, m-flo, chelmico, Mom, BILLIE IDLE®, xiangyu, 4s4ki, DJ To-i (from DISH//), 掌幻と昴、LEGEND Of Densetsu a.k.a. Cypress Ueno, OTOTOY FRIDAY, Makita Sports、Poseidon Ishikawa, Shaka bose, JUN INAGAWA, Kubotakai, DJ DEVILMINTKIRYU, DJ yksb, and DJ Hello Kitty. The rest are to be announced at a later date.

There will also be a special pre-celebration for Hello Kitty's birthday which is officially on November 1.

This fun all-night Halloween festival welcomes everybody include those who have never been to a music festival or club before.

Links to where you can buy tickets are listed below. If you buy them from Reco Ticket you'll get the above-pictured exclusive Hello Kitty ticket.

Enjoy a Halloween party like no other this year at Sanrio Puroland.

©2019 SANRIO CO., LTD.

Information

SPOOKY PUMPKIN 2019 〜PURO ALL NIGHT HALLOWEEN PARTY〜

Date: October 26, 2019

Time: Open 22:00 / Finish 05:00 (subject to change)

Location: Sanrio Puroland (1-31 Ochiai, Tama, Tokyo)

Lineup: Scha Dara Parr, m-flo, chelmico, Mom, BILLIE IDLE®, xiangyu, 4s4ki, DJ To-i (from DISH//), 掌幻と昴、LEGEND Of Densetsu a.k.a. Cypress Ueno, OTOTOY FRIDAY, Makita Sports、Poseidon Ishikawa, Shaka bose, JUN INAGAWA, Kubotakai, DJ DEVILMINTKIRYU, DJ yksb, DJ Hello Kitty … & more TBA

Tickets: Advance ¥5,000 (Tax Included) *Available from August 3 at 10am (JST) / Same-Day ¥6,000 (Tax Included)

Reco Tickets: https://reco-ti.jp/l?dn=73001

Lawson Tickets:  https://l-tike.com/spooky-pumpkim2019

e+:  https://eplus.jp/spookypumpkin2019/

Ticket Pia: https://w.pia.jp/t/spooky-pumpkin/ (P-Code: 159-441)

Event Page: https://www.puroland.jp/spookypumpkin2019/

Q-pot CAFE. Omotesando Unveils Halloween Menu & Accessories For 2019

Q-pot. is known for its accessory brand, which features jewellery made to look like sweets and desserts. It is also known for the Q-pot CAFE. which flips that concept, instead making sweets and desserts that look just like real accessories.

For Halloween this year, the Q-pot CAFE. has whipped up a spooky menu with the theme "DEVIL NIGHT" featuring appearances of all things Halloween from pumpkins to ghosts.

Devil Obake-chan Plate (w/Drink) – ¥2,060 (Contains milk, eggs and wheat)

This kawaii dessert plate features a ghost made from a chewy vanilla gyūhi mousse filled with berry sauce. It comes with crunchy black bat cookies made with rich black cocoa cream and a pumpkin flavoured jack-o-lantern macaron.

Black Cat Plate (w/Drink) – ¥2,060 (Contains milk, eggs and wheat)

Steer clear from black cats this Halloween, except for this one which is a dark Graham cracker made from bitter caramel and chocolate mousse and is filled with almonds and dried cranberries. Flying around the kitty are the same crunchy black bat cookies made with rich black cocoa cream and the pumpkin flavoured jack-o-lantern macaron.

Vampire Chocolate Latte – ¥750 / +¥100 as Set (Contains milk and wheat)

Don't fear―you won't turn into a vampire if you take a sip from this chocolate latte topped with latte art of a flying bat. This frothy rich dark chocolate delight includes smashed Oreos.

Strawberry Cheese Tea – ¥750 / +¥100 as Set (Contains milk)

The strawberry cheese tea is a unique mix of the cafe's high quality black tea and salty cream cheese. It's smooth to taste and is surprisingly light to drink. Add a fruity strawberry punch to the cheese tea by pouring in the accompanying strawberry sauce.

Vampire Afternoon Tea Set For One – ¥2,400 (Contains milk, eggs and wheat)

They even have a gorgeously spooky afternoon tea set.

The top plate comes with sponge and cream cheese cake pops coated in chocolate, salty breadsticks, homemade scones made from butter cream and sweet and sour berry sauce, devil heart macaron-topped cupcakes, and pumpkin macarons.

The bottom plate features savoury foods including croissants filled with egg, basil and dried tomatoes, as well as olives, mini tomatoes, pickles, and a soup.

As well as Halloween food, the cafe also has a line-up of "DEVIL NIGHT" themed accessories for sale.

[From Top Left Clockwise] Vampire Bat Piercings (Pair) ¥8,000 / Mini Devil Ghost Sheet Necklace (Set/Special Packaging) ¥21,000 / Vampire Bat Brooch ¥7,000 / Vampire Bar Ring ¥12,000 / Vampire Spider Ring ¥13,000

Black Cat Necklace ¥16,000 / Silk Hat Charm ¥4,500

The black cat jewellery is a new addition to this year's line-up.

Enjoy a very cute and special Halloween in Japan this year at Q-pot CAFE.

*All listed prices are pre-tax

Information

2019 HALLOWEEN MENU

Running: September 10, 2019 – October 31, 2019

Address: Q-pot CAFE. Omotesando (3-4-8 Jingumae, Shibuya, Tokyo)

*The Halloween menu price will increase in line with the Japan's increase in consumption tax from 8% to 10% from October 1, 2019

Reservations: https://www.q-pot.jp/cafe.php

Q-pot. 2019 HALLOWEEN "DEVIL NIGHT" Jewellery

Release Date: September 7, 2019

Available: At Q-pot. (3-4-8 Jingumae, Shibuya, Tokyo) / Q-pot. Pop-Up Shop at IKSPIARI / Q-pot. ONLINE SHOP (from noon)/ Q-pot. INTERNATIONAL ONLINE SHOP

Cute Halloween Sweets Spook Their Way Into Tokyo's The Capitol Hotel Tokyu

For this year's Halloween season, The Capitol Hotel Tokyu in Tokyo has announced that it will serve up its Halloween Sweets Selection again this year at the hotel's pastry boutique ORIGAMI located on floor B2F. The confectionery chefs have spun some spooky fun into this collection of 10 cute treats.

Frankenstein – ¥1,760 / Phantom – ¥1,760 / Cyclops – ¥1,760

The Phantom is a popular confection every year at the hotel, but this year he's had two new freaky friends carved out for him: Frankenstein's monster and a Cyclops. These white chocolate monsters are filled with chocolate-covered almonds, macadamia nuts and other hidden delights.

Witch Hat – ¥715

Dressed in a milk chocolate mousse is ganache and a rich and bitter crème brûlée made with bitter orange. It also contains a mandarin orange liqueur for deeper flavours. The mix of orange notes is refreshing on the palate.

Cross – ¥715

The orange and black Cross is a mousse cake made from pumpkin puree beneath which lies a cinnamon flavoured crème brûlée and coffee flavoured ganache. The bitter coffee elevates the exquisite sweetness of the pumpkin for a delicious combination.

Evil Eye – ¥715

Enter at your own risk with the grotesque-looking (but delicious tasting) Evil Eye mousse cake. It's made with fragrant biscuit and caramel as well as blonde chocolate from France and inside is a smooth pear jelly.

There are lots of other Halloween treats besides these coming to the hotel too, so if you're in Tokyo this October then be sure to stop by for a Happy Halloween.

*All listed prices include tax
RELATED ENTRIES
Sanrio's Adorable Pompompurin and Cinnamoroll Characters Turn Into Tasty Desserts at Convenience Stores in Japan

Confectionery company Domremy has baked Sanrio's popular characters Pompompurin and Cinnamoroll into delicious desserts which released at supermarkets and select convenience stores in Japan on April 1. The desserts include "Pompompurin Tart," "Pompompurin Crepe," and "Cinnamoroll Parfait."

The desserts are also wrapped in cute packaging with designs of the characters, making it look like Pompompurin and Cinnamoroll really have been turned into tasty treats!

Pompompurin Tart

This homemade tart has an eggy flavour to it, with Purin's cute face and butt plastered on both the front and back. There are four possible facial expressions you can get your hands on.

Cinnamoroll Parfait

The custard mousse in this parfait is laced with strawberry whipped cream, and our little snug Cinnamoroll is made from milk pudding and more whipped cream. There are three possible facial expressions to find.

Pompompurin Crepe

The Pompompurin crepes are filled with whipped cream, Japanese custard pudding, and caramel sauce. There are four different packaging prints to find, all showcasing just how kawaii Pompompurin can be.

Information

Pompompurin Tart / Pompompurin Crepe / Cinnamoroll Parfait

Released: April 1, 2020

Available: Supermarkets and select convenience stores in Japan

Domremy Official Website: http://www.domremy.com/

Cute Pompompurin Puddings to be Released in Collaboration With Pastel

Desserts brand Pastel is collaborating with popular Sanrio character Pompompurin to release a selection of puddings at Pastel stores around Japan for the whole month of April.

Pastel prides itself on the smooth texture of its purinーa type of Japanese custard pudding. The company will celebrate Pompompurin's birthday, which falls on April 16, with a line of 4 adorable Pompompurin desserts.

Pompompurin's Mini Pudding – ¥380 (Before Tax)

The classic style of Japanese custard pudding, smooth and topped with whipped cream. It's finished with a cute sprinkled design of Pompompurin.

Soft and Fluffy Pompompurin – ¥450 (Before Tax)

Pompompurin is looking cute in this one as he pokes his head out of the caramel-drizzled and marshmallow-topped pudding.

Pompompurin's À La Mode – ¥600 (Before Tax)

Served in an original design cup branded with Pompompurin's adorable face, this à la mode includes a pudding topped with an orange slice and cherry.

Pompompurin's Chiffon – ¥2,200 (Before Tax)

This fluffy chiffon cake is about 15 meters across in size, and is made with pudding cream, glazed in caramel sauce, and topped with a Pompompurin who's just taking a little rest. *Available on weekends only

Shopper Bag Design (Available while supplies last)

When you order any of these desserts, you'll receive an exclusive Pastel x Pompompurin collaborative bag which makes for a great gift or souvenir to friends.

Don't miss out on these tasty Pompompurin treats.

Information

Pastel x Pompompurin Collaboration

Running: April 1, 2020 – April 30, 2020

Location: Pastel stores in Japan

Pastel Official Website: http://pastel-pudding.com

Pompompurin Celebrates 24th Anniversary With Birthday Menu at the Pompompurin Cafe

Sanrio's popular character Pompompurin is celebrating his 24th anniversary at three branches of the Pompompurin Cafe in Harajuku, Yokohama, and Umeda with a special birthday menu that will be served for the whole month of April.

A special celebratory menu for the floppy-eared golden retriever

The official date for Pompompurin's birthday is April 16. The birthday menu line-up includes two food items, a drink made in collaboration with popular Japanese picture book author Yukako Ohde, and some novelty gifts.

Birthday Menu

Happy Birthday Flower Bouquet Bisque – ¥1,590 (Before Tax)

This cute bisque soup has Pompompurin and Muffin holding a colourful boquet made from broccoli and mashed potatoes made to look like roses. It has a rich but mild flavour, and is both adorable and filling.

Happy Birthday Strawberry Mousse – ¥790 (Before Tax)

The strawberry mousse has a fluffy texture and refreshing, sweet taste. It can be eaten as it is or drizzled with the accompanying raspberry sauce.

Yukako Ohde x Pompompurin Lemonade – ¥550 (Before Tax)

Take a sip from this delicious lemonade from a straw adorned with a cute, warm illustration of Pompompurin by Yukako Ohde.

Exclusive Anniversary Novelty Gifts

Lunch Mat Design

Customers who dine at any of the three cafes during the anniversary celebration will receive a free lunch mat.

Coaster Designs

And those who order the lemonade will receive a coaster with designs illustrated by Yukako Ohde. The designs are different at each branch of the Pompompurin Cafe. You can also receive another special coaster if you spend over ¥1,000 each (tax included) at Pompompurin Cafe Umeda and KIDDY LAND Osaka Umeda. Simply show your receipts at the cafe.

©1996,2020 SANRIO CO., LTD. APPROVAL NO.S605291

Information

■Pompompurin Cafe Harajuku

Address: CUTE CUBE HARAJUKU 3F, 1-7-1 Jingumae, Shibuya, Tokyo

Opening Hours: 11:00-21:00 (Food Last Orders 20:00 / Drinks Last Orders 20:30)

Access: 3-minutes on foot from the Takeshita Exit at Harajuku Station

TEL: 03-5786-0770

■Pompompurin Cafe Yokohama

Address: Yokohama Sotetsu Square, 2-1-5 Minamisaiwai, Nishi-ku, Yokohama-shi

Opening Hours: 10:00-21:00 (Last Orders 20:30)

Access: 5-minutes on foot from West Exit at Yokohama Station via JR Line

TEL: 045-311-6750

■Pompompurin Cafe Umeda
Address: Hankyu Sanbangai South Wing B2F, 1-1-3 Shibata, Kita-ku, Osaka-shi
Opening Hours: Weekdays 11:00-22:00 (Last Orders 21:30) / Weekends & Holidays 10:00-22:00 (Last Orders 21:30)
Access: 3-minutes from Osaka Station via JR Line
TEL: 06-6292-7140

Pompompurin Cafe

Official Website: http://pompom.createrestaurants.com

Sanrio Unveils New Eco Friendly Tote Bag Collection in 3 Types

Japanese retailers will be obligated to charge for plastic bags starting on July 1 this year. Sanrio is no exception to this, and so in an effort to get on board with helping protect the environment and reduce plastic waste, it will begin selling 20 different eco-friendly tote bags at Sanrio Shop branches, department stores stocking Sanrio merchandise, and the Sanrio online shop from March 11, 2020. The bags come in three types: small, medium, and cooler bags.

Sanrio is set to stop selling plastic bags altogether this April to promote the use of its eco-friendly bags. It will also begin rolling out paper shopping bags which it will charge for from May 13, 2020.

 ⓒ'76, '79, '88, '89, '93, '96, '01, '05, '20 SANRIO

Eco Bags – Small Size (10 Designs) – ¥990 Each

Eco Bags – Medium Size (8 Designs) – ¥1,320 Each

The bags come in three types depending on what kind of shopping experience you're going for. The small sizes come with an additional case with cute pictures of Sanrio characters on them. These sizes are perfect for popping to the supermarket or convenience store. The bag is also collapsible for easy carrying.

The medium size comes with an additional pouch bag made from polyester that's easy to grab from your bag. This bag is 40cm in height and 42cm in width, making it great for carrying more or bigger items.

Cooler Eco Bags (2 Designs) – ¥2,200

Finally, the cooler eco bags keep your items cool when fastened. They can be used for shopping, a picnic, or any kind of outing.

Pick a bag of your favourite character and look Sanrio-stylish while helping to combat plastic waste and protect the environment.

Kaori's Easy Recipe: Learn to Make Hello Kitty Sushi Cakes For Hinamatsuri

With just a small bit of ingenuity, turn everyday food into something cute using Kaori's easy recipe! With a few simple ideas, an ordinary recipe magically transforms into a cute dish.

Hinamatsuri is almost here, and I've got the perfect treat for this year's festival: Hello Kitty Sushi Cakes. These Hello Kitty decorations can be made with basic Japanese ingredients, so follow along and try making them yourself.

1: Equipment/Ingredients

15cm cake tin

1 cup vinegared sushi rice

200g tuna

200g salmon

3 Japanese rolled omelettes (dashi-maki tamago)

20 beefsteak plant

Ikura salted salmon roe

Hanpen pounded fish cake

2:

Line a cake tin with baking sheet paper like in the photo. Use a cake tin with a detachable bottom spanning 15cm. In the case that you don't have a cake tin with a detachable bottom, cover the bottom of your tin with cling film which will make it easy to remove everything afterwards.

3:

Cut Hello Kitty, flowers and other shapes into some hanpen pounded fish cake.

4:


Slice the tuna, salmon, and Japanese egg into cubes about 1.2cm each.

Pile the ingredients in this order: rice→tuna, salmon, and egg→rice. Refer to the photo below.

5:


Leave the ingredients exposed around the outside like so✨

6:

Top with the rest of the ingredients as you like.

7:

Finish by adding your Hello Kitties and flowers which you can decorate with leftovers, like the noses and middle of the flowers. I also used cucumber and crab sticks for the head decorations.

Kaori invites you into her world of character-themed food dishes in her recipe series. Be sure to check out her Instagram where she has uploaded many pictures of her character dishes!

Kaori Kubota (@kaopan27)
I live in Hokkaido and I love to make character themed foods, desserts and pastries♡

I want to see my family smile, so I enjoy putting in a bit of effort to make character foods and changing food into something cute♡

You can see more of my character foods and character bento boxes on my Instagram page→@kaopan27

Floresta Nature Doughnuts Bakes Up Super Cute Cinnamoroll Doughnuts

Floresta Nature Doughnuts, a doughnut cafe that hand-makes doughnuts using organic ingredients, is joining paws with Sanrio's popular character Cinnamoroll for White Day to release a series of themed doughnuts. They will be served for two weeks commencing March 1, 2020.

Batch ①: March 1, 2020 – March 7, 2020

Cinnamoroll Character Doughnuts (Cinnamon/Mocha) – ¥450 Each

The first batch of doughnuts feature the adorable and wide-eyed Cinnamoroll and Mocha sat on top of Floresta's classic "Nature" doughnut lathered in strawberry chocolate.

Batch ②: March 8, 2020 – March 14, 2020

Cinnamoroll Koro Koro Cup Doughnuts – ¥600

The second doughnut product are these cup doughnuts featuring Cinnamoroll and Cappuccino-kun. These colourful doughnuts use absolutely no added colourings-just Floresta's delicious natural ingredients.

The Floresta Organic Store will also sell special sets in limited quantities.

Information

Floresta White Day – Sanrio Character Collaboration Doughnuts

Running: March 1, 2020 – March 14, 2020

Participating Stores

Tohoku Region: Ishinomaki R45 / SELVA Terrace
Kanto Region: Utsunomiya Heisei-dori / Koenji / Soshigaya-Okura Station / Gakugeidaigaku / KEIO Crown Shopping Street Sasazuka / Kamakura / Togoshi Ginza Shopping Street
Tokai Region: Nonami Station
Kansai Region: Nara / Horie / Kitahanada / Yao Aoyama-dori / Sanda Woody Town / Suma Kitchen (CHARMANT CAFE)
Chugoku Region: Yonago Japan National Route 431
Kyushu Region: Fujisaki / Kumamoto Hikarinomori / Oita / Oita Station (Ueno no Moriguchi) 
Okinawa: Shintoshin

Floresta Nature Doughnuts Official Website: https://floresta-ec.jp/

Japan Coronavirus: Studio Ghibli Museum, Sanrio Puroland & Other Facilities Close Temporarily

A number of facilities in Japan have announced temporary closures to help stop any possible spreading of the coronavirus. Please check the following closures if you're planning a trip to Japan in February or March. New information is rolling out all the time, so for the latest updates, please check the official websites for each establishment listed below.

Last Updated: February 28, 2020 at 00:51 (JST)

Tokyo Disneyland® and Tokyo DisneySea® 

Closed: February 29 – March 15, 2020

The parks plan to reopen on March 16, 2020, however this will be decided following consultation with concerned administrative agencies and will be announced on their official website. If you have purchased tickets valid during the parks' closing dates, please refer to the links below.

 

Tokyo Disney Resort Official Website: https://www.tokyodisneyresort.jp/en/index.html

Tokyo Disney Resort Online Tickets and Reservations: https://reserve.tokyodisneyresort.jp/en/top/?language=en

Snoopy Museum

Closed: February 29 – March 13, 2020

Information on ticket refunds is provided on the museum's official website.

Snoopy Museum Official Website:https://snoopymuseum.tokyo/s/smt/page/english?ima=0000

Sony Music Roppongi Museum

Closed: February 29 – March 13, 2020

Information on ticket refunds will soon be provided on the museum's official website. The TYPE-MOON Fate / stay night-15 years of history Exhibition will be extended until April 19, 2020.

TYPE-MOON Fate / stay night-15 years of history Exhibition Official Website: https://type-moon-museum.com/

Sony Music Roppongi Museum Official Website: https://smrm.jp/

---

Sanrio Puroland

Closed: February 22, 2020 – March 12, 2020

The park is scheduled to reopen on March 13, 2020, but this is subject to change depending on the circumstances of the coronavirus and news published by the government.

▶Refunds

・Pre-booked Tickets

Tickets valid between the dates February 22, 2020 – March 12, 2020 will have their validity period extended to September 30, 2020.

・Original Passports

Passport tickets valid between the dates February 22, 2020 – September 29, 2020 will have their validity period extended to September 30, 2020.

・Pre-booked PUROPASS

Payments for PUROPASSES bought between the dates February 22, 2020 – March 10, 2020 will be cancelled.

・Anniversary Time

Payments for Anniversary Time tickets for the dates February 22, 2020 – March 10, 2020 will be cancelled. Those who paid with cash will be refunded via registered mail.

Official Website (English): https://en.puroland.jp/

Official Website (Japanese): https://www.puroland.jp/

Ghibli Museum

Closed: February 25, 2020 – March 17, 2020

▶Refunds

Refunds are applicable for tickets dated between January 22, 2020 – March 30, 2020.

Refunds will be paid in full between February 15, 2020 – March 31, 2020.

Official Website (English): http://www.ghibli-museum.jp/en/

Official Website (Japanese): http://www.ghibli-museum.jp/

Toei Animation Museum

Closed: February 26, 2020 – March 18, 2020

The museum's reopening is subject to consideration depending on the circumstances of the coronavirus. It will be announced via the museum's official Twitter page and website.

Official Website: https://museum.toei-anim.co.jp/

Asahi Beer Oyamazaki Villa Museum

Closed: February 22, 2020 until further notice

Official Website (English): https://www.asahibeer-oyamazaki.com/english/

Official Website (Japanese): https://www.asahibeer-oyamazaki.com/

 

Kyoto National Museum

Closed: February 22, 2020 until further notice

All events, the museum shop Benrido, and the museum cafe Maeda Coffee, have also closed temporarily.

Official Website (English): https://www.kyohaku.go.jp/eng/index.html

Official Website (Japanese): https://www.kyohaku.go.jp/jp/index.html

ARASHI EXHIBITION "JOURNEY"

Closed: February 22, 2020 – March 9, 2020

Location: Osaka Culturarium at Tempozan

Official Website: https://arashiexhibition.jp/

Sanrio Harmony Land

Closed: February 22, 2020 – March 12, 2020

Official Website (English): https://www.harmonyland.jp/english/harmony/harmony.html

Official Website (Japanese): https://www.harmonyland.jp/welcome.html

Universal Studios Japan

Closed: February 29, 2020 – March 15, 2020
The park's reopening will be determined after serious consideration of the current condition of the coronavirus situation. The announcement of the park's reopening will be made on the USJ's official website and social media. Information on handling of tickets during the break period will be posted on the official website on February 28, 2020 at 21:00 (JST).

Official Website (English): https://www.usj.co.jp/e/

Official Website (Japanese): https://www.usj.co.jp/

Hirakata Park

Closed: February 29, 2020 – March 18, 2020
All planned events during the park's closure have been cancelled and/or postponed until further notice. The park plans to reopen on March 19, 2020 subject to the current condition of the coronavirus situation. Updates will be posted on the official website. Refunds for winter season tickets will be announced at a later date.

Official Website (English): http://www.hirakatapark.co.jp/en/

Official Website (Japanese): http://www.hirakatapark.co.jp/

Numerous other sports and cultural events will also close for two weeks commencing February 26, 2020. If you're travelling to Japan in February and March, please check the websites of any places you plan to visit during your trip to see if they are open.

Puro Easter 2020: Sanrio Puroland's Easter Event Will Be 'American Oldies' Themed

Sanrio Puroland is serving its annual "Puro Easter" event once again this spring. Taking on an American oldies taste, this cute-retro combining event will run from March 13 to June 2.

A new show and the return of 2019's hugely successful "Egg'n'Roll Easter" show

Weekends will see the commencement of the "Easter Bunny Race," a new show to determine who will take the place as Sanrio Puroland's number one Easter bunny. You'll have to turn up to the show to see what rabbit characters will be competing!

Running: March 13, 2020 – June 2, 2020 (Weekends, Public Holidays & School Holidays Only)

Location: Wisdom Tree, Sanrio Puroland Floor 1F

Last year's "Egg'n'Roll Easter" show was so popular that it's making a return. It combines nostalgic music and fashion of the American oldies. All of the Sanrio characters performing in the show wear cute Easter themed accessories like bunny ears.

Must-eat Sanrio Easter food and desserts

For the Easter season only, Sanrio Puroland is serving up a colourful food and dessert menu, ranging from waffles topped with banana mix ice cream, whipped cream and chocolate sauce; a curry with blue roux and snow-white omelette, and more.

There's plenty of places to take great photos too, including at the entrance to the third floor of Puroland where there's a juice box wearing adorable bunny ears. You can take a picture that looks like you're enjoying a party together with Hello Kitty and the rest of the Sanrio cast.

There's also a back panel in the first floor entertainment hall with an Easter design which serves as the perfect backdrop for a retro pop photo.

Receive an entry discount by wearing polka dots

Those who arrive to Sanrio Puroland wearing a polka dot outfit will receive am Easter discount when entering the park. This doesn't include small items like bags, shoes, shawls or accessories. Full conditions can be found on the event page below in Japanese.

Experience Easter like never before this year at Sanrio Puroland.

©1976, 2009 SANRIO CO., LTD.  ©1976, 1989, 1996, 1999, 2001, 2004, 2010, 2012, 2020 SANRIO CO., LTD.

Sanrio to Open Official My Melody Shops in Tokyo, Osaka and Nagoya to Celebrate Character's 45th Anniversary

Sanrio has announced that it is opening an official My Melody store to commemorate the popular character's 45th anniversary this year. It will open for a limited time on the first floor of Takashimaya Shinjuku in Tokyo from February 12 to 25.

The store is a must-visit for fans of Sanrio's kawaii white rabbit where they can get their hands on a huge assortment of merchandise, including exclusives, so adorable you'll want to add everything to your collection.

The line-up looks back at My Melody's 45 years in the business. The first 4,000 people to visit the store will be given a limited-edition shopping back, and the first 1,000 people who spend over ¥2,000 (tax included) will receive a free card.
*One card per person, per transaction

The store will also feature interactive projection mapping showcasing My Melody's 45-year history which when touched reacts. On February 15, the designer for the store will be drawing illustrations as well as doing signings for people.

As well as Takashimaya Shinjuku, the shop is set to hit Nagoya's Takashimaya Gate Tower Mall Nagoya and Osaka Takashiyama. Check the dates below, and help My Melody commemorate her 45th anniversary!

©'76, '20 SANRIO 著作(株)サンリオ

Information

My Melody 45th Anniversary Shop
Location: Takashimaya Shinjuku 1st Floor Main Square
Running: February 12, 2020 – February 25, 2020 (Closed February 19)
Opening Hours: [Mon-Thurs & Sun] 10:00-20:00 / [Fri-Sat] 10:00-20:30

Signings
Date: February 15, 2020 (Two Slots – ①11:30 / ②15:00)
No. of People: 20 per slot
Location: My Melody 45th Anniversary Shop
How to Participate:
・Receive a lottery draw ticket to the signing at the shop on the day (February 15) between 10:00-10:20.

・In the case that there are more people who want to join, one person may not receive two tickets for two signings. Additionally, tickets will not be handed out after 10:20.

・Winners and the order they will enter the signing will be announced at 10:20.

・Those who are chosen will receive a "Buyers Ticket." This must be exchanged for a ticket to attend the signing by spending more than ¥4,000 (tax included) at the My Melody 45th Anniversary Shop and handing over your Buyers Ticket.

*Signings and illustrations will only be done on paper and not merchandise.

*Requests for designs cannot be made

・My Melody 45th Anniversary Shop Nagoya
Running: March 25, 2020 – April 7, 2020
Location: Takashimaya Gate Tower Mall 7th Floor Rose Terrace

・My Melody 45th Anniversary Shop Osaka
Running: April 1, 2020 – April 7, 2020
Location: Takashimaya 1st Floor Good Shock Place

Sanrio Official Website: https://www.sanrio.co.jp/

Soar Into The Kawaii Dream World of The Little Twin Stars For Their 45th Anniversary

Sanrio's adorable star-themed characters the Little Twin Stars are celebrating their 45th anniversary this year. The adorable twin stars named Kiki and Lala were born into the universe in 1975 in the hyped run up to Christmas. Following their debut in the December edition of Sanrio's monthly magazine Ichigo Shimbun, the years saw their hair colours and designs retouched here and there. The one thing that remains unchanged is the love that connects them to fans all over Japan across three generations.

As Hello Kitty was celebrating her 45th anniversary last year and with My Melody also celebrating her 45th anniversary this year, now it's time for the Little Twin Stars' time to shine. 45th anniversary celebrations include collaboration events and special merchandise themed around the adorable, colourful, twinkling twins which are sure to get your heart fluttering with excitement. More information on these events and merchandise will be revealed in the future. A number of special events will be held at Sanrio Puroland and we are also expecting some new merchandise to hit the shelves at the Sanrio shop this summer. 

Sanrio Puroland: "LittleTwinStars 45th Anniversary"

Sanrio Puroland's Little Twin Stars 45th Anniversary event is set to take place from April 24 – December 31, 2020. The theme of the celebration will be Mainichi Kiki & Lala, Mainichi Kirakira (Sparkle Every Day, Kiki and Lala Every Day).


Want to soar up high into the world of Kiki & Lala? As part of Sanrio Puroland's anniversary celebrations, the attraction Kiki & Lala – Twinkling Tour is being improved to a whole new level, transforming into an even higher dreamy world where you can take photos in Puroland-limited photo booths. The attraction will only be operating on certain days.


Of course, there will be a new food menu serving up meals, desserts and more adorable treats based on Kiki and Lala's theme colours of blue and pink. What's more, Kiki and Lala will also take to the scene dressed in anniversary-limited costumes for a special photo event that your Instagram can't miss out on. Add some sparkling magic to your day and plunge deep into the world of Kiki and Lala.

LittleTwinStars 45th Anniversary

Running: April 24 – December 31, 2020. 

Sanrio Puroland Event Information: https://www.puroland.jp/ts45th/ 

Collaboration with Japanese Comedy Duo Nagareboshi

As Japanese comedy duo Nagareboshi (shooting star) is celebrating 20 years since their debut, they will be collaborating for a second time with Kiki and Lala, brightening up the year even more. Check out the collaboration design that features the four stars in Kiki and Lala's blue and pink themes. Merchandise using this design will be sold at Nagareboshi's Japan tour this year. More information on the tour will be released in the future. The first lineup of collaboration merchandise sold face towels and iPhone cases which became so popular that many items were sold out. If you missed out the first time, this is your chance!

Anniversary Collaboration with Detclear Facial Cleansing Gel: 6 Varieties

Kiki and Lala are collaborating with Detclear: a popular facial cleansing gel formulated for dry, sensitive skin that gently removes dead skin cells and dissolves blackheads. The collaboration Detclear Bright & Peel Peeling Jelly will be released on February 25, 2020 with six Kiki and Lala-themed bottle designs. The designs travel through time from the 1970s which sees our twinkling stars with yellow and brown hair to a retro time with a pink and aqua theme to the adorable magical unicorn theme that came out in more recent years. 

Whether it's an adorable pastel dreamworld design or one of the more nostalgic ones, you are bound to find a bottle that you really love. 

Detclear Bright & Peel Peeling Jelly – Unscented

Price: ¥1,200 (Before Tax)

Release Date: February 25, 2020

Available At: drugstores, general stores, cosmetics shops and official beauty online shops.

Sprinkle some stardust into your life this year for Kiki and Lala's 45th anniversary celebrations.

©'76,'20 SANRIO 著作(株)サンリオ 

Win Hello Kitty & Chibi Maruko-chan Prizes With Sanrio's Lottery Draw

To celebrate the 30th anniversary of the Chibi Maruko-chan anime adaptation, the franchise is teaming up with Sanrio's internationally beloved character Hello Kitty.

For the collaboration, cute and original artwork has been created featuring Hello Kitty and Maruko-chan hanging out together in their everyday lives, a scene that's sure to incite a sense of nostalgia to both kid and adult fans of the longtime anime series.

We see Maruko-chan wearing Hello Kitty's iconic red ribbon, as well as Maruko's grandpa Tomozo Sakura donning a hat inspired by Hello Kitty.

There's also an illustration of the two friends drinking milk bottles together which they bought from Mitsuya in the background, a candy shop that appears in the Chibi Maruko-chan seires.  If you look closely you can see Noguchi peeking her head from behind the shop.

A special lottery draw is set to roll out in Japan at Sanrio stores, department stores stocking Sanrio products, Lawson, MiniStop, Daily Yamazaki, bookstores, and elsewhere from early June 2020. Fans are guaranteed to win a prize, which includes a line-up of nine items as well as a special top prize. Merchandise includes a takoyaki machine, hot plate, bath towel, and more.

Following the lottery draw, more exciting things are set to take place as part of the collaboration.

ⓒ Sakura Production / Nippon Animation

ⓒ 1976, 2020 SANRIO CO.,LTD. TOKYO,JAPAN  著作:株式会社サンリオ

Information

Chibi Maruko-chan x Hello Kitty – Sanrio Lottery

Price: ¥700 (Tax Included) per go

Start Date: Rolling out early June 2020 (Start date differs between stores)

Available: Sanrio products, Lawson, MiniStop, Daily Yamazaki, bookstores, and elsewhere (*Select branches not participating)

Sanrio Character Museum to Open in Tokyo's Roppongi Hills For 60th Anniversary

Sanrio is set to turn 60-years-old in August 2020. To commemorate, the company has announced that it will open a museum called "Sanrio Character Museum" in summer 2020 where it will tour around Japan until 2025. The full dates and locations have yet to be announced, but its first stop will be the Tokyo City View Sky Gallery located on the 52nd floor of Roppongi Hills Mori Tower in Tokyo. Details for this first stop will be revealed sometime next month.

ⓒ '74, '75, '76, '77, '79, '80, '82, '83, '84, '85, '86, '88, '89, '90, '92, '93, '96, '98, '99, '01, '04, '05, '20 SANRIO CO., LTD.

Since its establishment, Sanrio has sought to spread kawaii culture to the world, as well as the message of everybody getting along and being friends. But how have gotten to this point with each passing generation? The museum exhibition will answer that very question, exploring its line-up of over 450 characters Sanrio has created over the years, including the most prominent ones like Hello Kitty, My Melody and Little Twin Stars who have been around for more than 40 years. It will also showcase characters that will be nostalgic to longtime Sanrio fans.

The exhibition will peruse the history of Sanrio from before it created its characters, and delve into the origin of the company's kawaii world. Fans can expect to see valuable prints, products, materials, and more. The exhibition will also include works made in collaboration with some of Japan's up-and-coming and prominent artists. Expect plenty of kawaii, and plenty of what is sure to be invaluable information for Sanrio fans.

Information

60th Anniversary Sanrio Character Museum

Start Date: Summer 2020

*Details TBA at the time of posting this article