Sanrio Puroland Halloween 2019: IT Chapter Two, Horror Doll House & More Spooky Events
Sanrio Puroland is readying its tricks and treats for its Halloween festival this year. Titled "PURO HALLOWEEN PARTY ~KAWAII MASQUERADE~" the festival will run from September 13 to October 31.
This will be the park's first mask-themed festival and each day will be split into two slots: Day and Night. During the daytime, guests are invited to the park's "Cute Masked Party" string of events. But when night falls, the monsters will come out for the "Beautifully Scary Masquerade Party."
IT Chapter Two Collaboration
With IT Chapter Two right around the corner―the sequel to one of the biggest horror hits in years―Sanrio Puroland is collaborating with the film. This includes Hello Kitty taking Pennywise's place in the movie poster.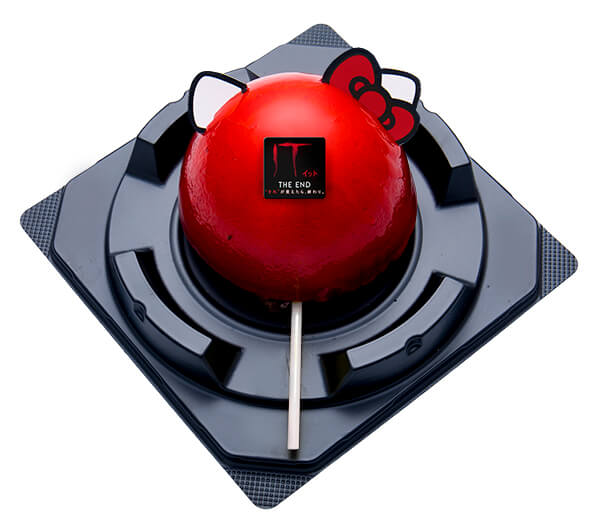 Hello Kitty's Red Balloon Mousse Cake – ¥650
In the Character Food Court on the first floor, you'll be able to order this mousse cake inspired by Pennywise's red balloons which is cutely topped with Hello Kitty ears. There will also be IT Chapter Two themed photo spots, and when evening sets in, red balloons will decorate the Lady Kitty House. IT might even appear somewhere in places you wouldn't expect…
Horror Content Made Even Scarier For 2019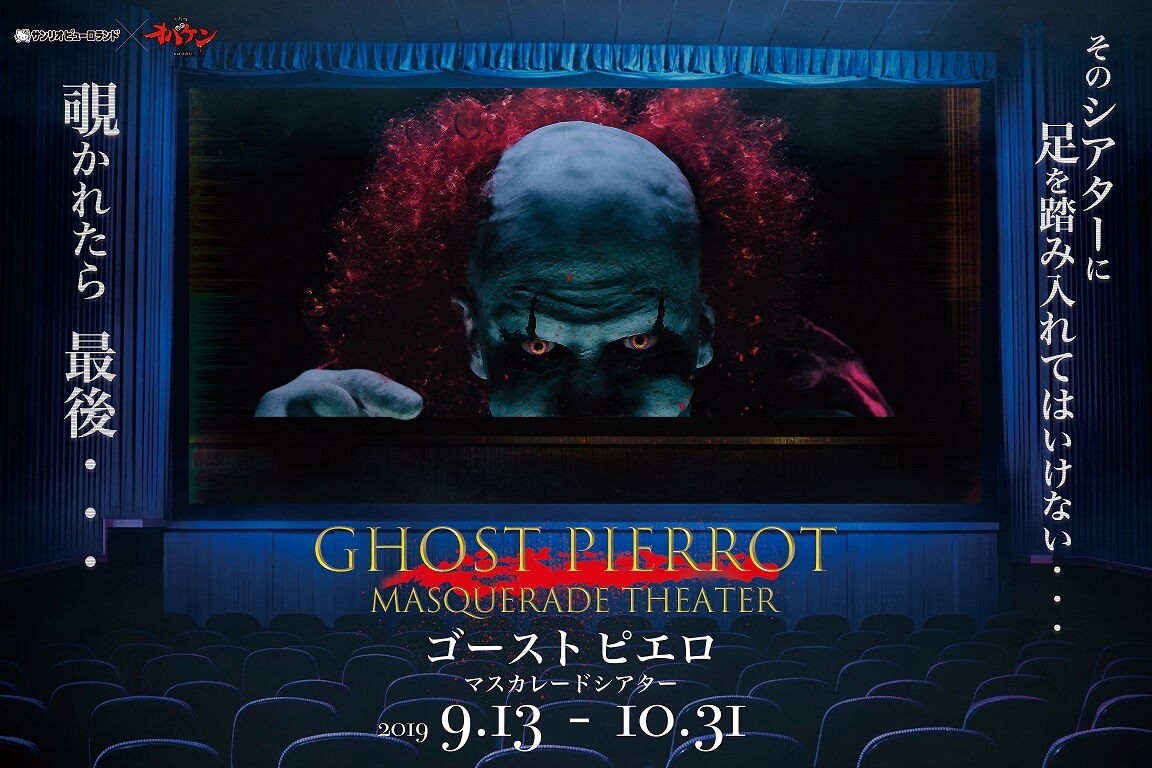 Prepare to have your pants scared off with the scream-inducing Ghost Pierrot Masquerade Theater. The hugely popular mission-clear style haunted house returns and is open to everyone ages 10+ years. Can you survive the attack from the ghostly clown? If he sees you, it's over…
Location: Discovery Theater (Floor 1F)
Time: Approx. 15-minutes
Age Limit: 10-years-old and above
Lady Kitty House Transforms Into Doll House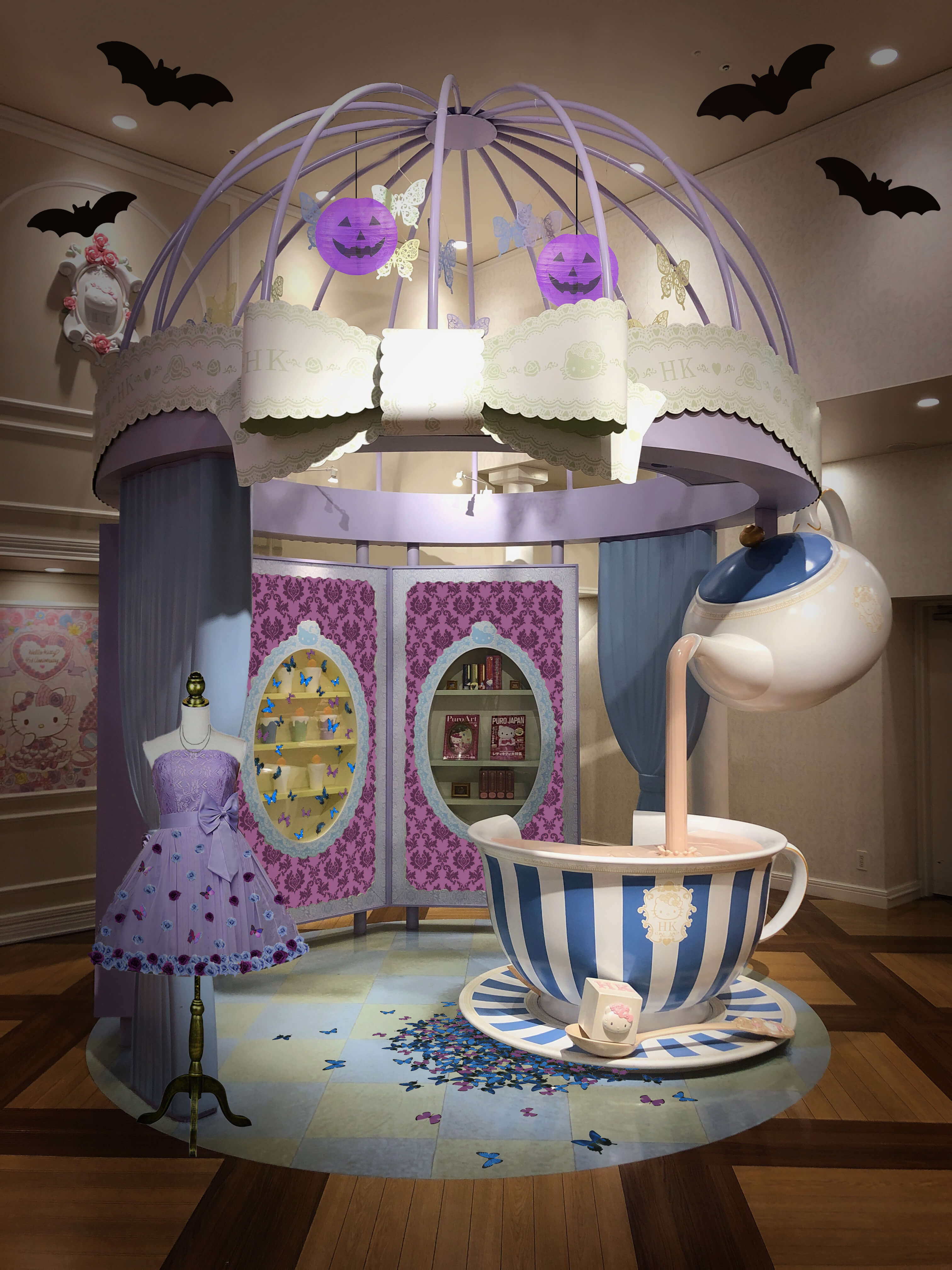 The Lady Kitty House always has something special planned each year, and this year it's bringing something new. During the day the house will take on the form of a cute Halloween doll house.
But at night, it will become a horror doll house as the dolls are turned into butterflies as a result of a curse. Look forward to an ambivalent mix of terror and beauty.
The creeps will be made creepier on weekends and holidays one hour before the park closes when the dolls at the Horror Doll House start moving. Dress up in your Halloween attire and enjoy the hair-raising world of Lady Kitty House this year.
Join The Halloween Party Ball Mask Parade
The ball mask parade will take place on the first floor Puro Bridge. The Sanrio cast will be dressed up in ballroom attire with masks and dance elegant dances, pull onlookers into a frightening yet beautiful world.
Kawaii Masquerade Masks: Plastic – ¥800 Each / Paper – ¥400 Each
Join the fun by getting your hands on one of six character masks. Donning one of these may just be the thing you need to protect yourself from any ghosts in the area!
Location: Puro Bridge (Floor 1F)
Participating Cast: Hello Kitty, Cinnamoroll, My Melody, Kuromi, Wish me mell, Pompompurin
*More details can be found on the official homepage
Halloween Photo Spots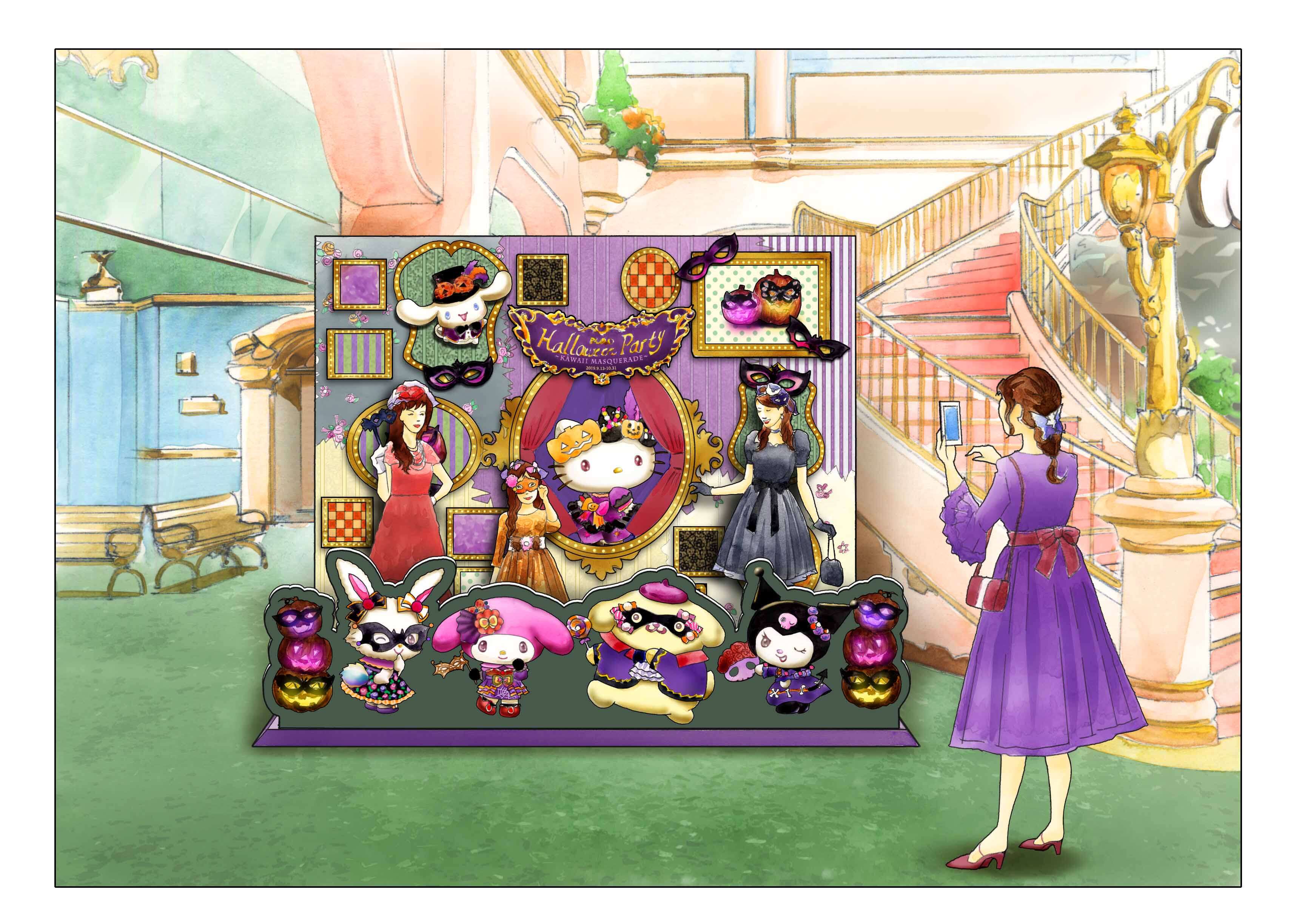 Have your photo taken together with the dressed-up Sanrio cast at the photo spot located in the Rainbow Hall on the third floor. Take your photo as you are or put on a mask and become one with the paintings.
Halloween Food
From Top Left: My Melody & Kuromi's Masquerade Party Curry ¥1,400 / Cinnamon's Black Halloween Ramen ¥1,100 / Masked Ball Black Omurice ¥1,300 / Dancing My Melody Corn Soup Pasta ¥1,300 / Hello Kitty's Masquerade Dress Parfait ¥850 / Cinnamon's Halloween Rare Cheese Tart ¥600 / Purin's Masquerade Doughnuts ¥600
"Black & Purple" is the theme for this year's Halloween menu which is packed with cute character dishes and desserts. 11 items adorn the menu including Kuromi's Black Night Cocoa which is served in the evening only.
Exclusive Halloween Merchandise

Mascots – ¥1,944 Each
Lots of character merchandise will be sold featuring the cast in their new Halloween costumes this year, from key rings to bags and more.
Dress Up & Get Discount
As part of the Halloween celebrations, if you arrive at the park in full Halloween dress you can get a discount on Passport Tickets. Be sure to go clad in your best outfit to have the most fun!
*All listed prices include tax
©1976,2009 SANRIO CO., LTD. ©1976,1990,1996,2001,2005,2010,2019  SANRIO CO., LTD.
©2019 Warner Bros. Entertainment Inc. All Rights Reserved.
Information
PURO HALLOWEEN PARTY ~KAWAII MASQUERADE~
Running: September 13, 2019 – October 31, 2019
DAY: Weekdays – Until 14:30 / Weekends – Until 15:00
NIGHT: Weekdays – From 14:30 Until Closing / Weekends – From 15:00 Until Closing
*Weekday closing hours during the Halloween period is 6:00pm. Times subject to change.
Event Page: https://www.puroland.jp/2019_halloween/
Halloween Dress-Up Discount
Running: September 13, 2019 – October 31, 2019
Price: 1-Day Ticket – ¥2,500 (Adults & Children) / Night Ticket – ¥1,500
Conditions: Print off a discount ticket from the Puroland homepage (or show on your digital device) and dress in full Halloween-themed attire
*Must be full dress. Those wearing only face paint, only capes and so on will not receive the discount.
*Full conditions can be found on the website below (in Japanese)
Discount: https://www.puroland.jp/halloween-narikiri/
Sanrio Puroland
Address: 1-31 Ochiai, Tama, Tokyo
Official Website: https://www.puroland.jp/
RECOMMENDED ENTRIES
Tokyo Disney Resort Reveals Its Spooky Halloween Programme and Character Costumes

Get ready for some spooky fun as Tokyo Disney Resort® transforms for the 52-day-long horrifically exciting Disney Halloween from September 10 to October 31. Head to DisneySea to be captivated by the new harbor show Festival of Mystique, or get spooked out of your skin at the Spooky "Boo!" Parade at Disneyland. Today, we will be revealing the spooky looks of both parks.

Tokyo DisneySea Festival of Mystique Costumes

Working with the main theme of a medieval European halloween, inspiration has been taken from the living creatures and waves at the port town Porto Paradiso. 

Mickey Mouse's costume inspiration comes from the the bones and scaly body of a sea creature. He will also be seen wearing a broach decorated with beautiful jewels. 

Minnie Mouse's costume resembles that of a medieval princess. You will see her in a fancy hat that bears beautiful pearls. Her costume is covered in scales on the chest and on the back which really suits her.

Tokyo Disneyland's Spooky Boo! Parade Costumes

Disney friends have joined forces with a group of spooky spirits. You just can't miss out on this rare chance to see your favourite Disney characters disguised as ghosts and skeletons. The strange and unusual atmosphere is sure to send a chilling shiver down your spine. 

Mickey and Minnie will be completely refreshing their colourful look. Mickey's necktie and Minnie's skirt are very mysterious and particularly intriguing.  Please come check them out!

Enjoy the beautiful costumes and the fun range of events this Halloween at Tokyo Disney Resort.

©️Disney

Sanrio Puroland's All-Night Halloween Party to Feature Guest Performances by Scha Dara Parr, m-flo & chelmico

Sanrio Puroland, Tokyo's theme park home to Hello Kitty and her friends, has teamed up with music company Melody fair to create a very special one-night-only Halloween party called SPOOKY PUMPKIN 2019 〜PURO ALL NIGHT HALLOWEEN PARTY〜 which will take place on October 26.

This marks the 6th year of Puroland's all-night event which never fails to sell out every ticket every single time. This year, there will be 4 live stages instead of the usual 3 allowing for even more exciting entertainment. There will be alcohol, performances from some big names in Japanese music, appearances from the Sanrio character cast, special openings of select park attractions and restaurants, and more for a truly unique club night experience you won't find anywhere else.

The park will be decorated in all things Halloween, and guests must dress according to the dress code which is titled "Orange or Pumpkin."

m-flo

chelmico

There is a huge list of artists are lined up with 40 expected to perform. The first batch have been announced already and includes Scha Dara Parr, m-flo, chelmico, Mom, BILLIE IDLE®, xiangyu, 4s4ki, DJ To-i (from DISH//), 掌幻と昴、LEGEND Of Densetsu a.k.a. Cypress Ueno, OTOTOY FRIDAY, Makita Sports、Poseidon Ishikawa, Shaka bose, JUN INAGAWA, Kubotakai, DJ DEVILMINTKIRYU, DJ yksb, and DJ Hello Kitty. The rest are to be announced at a later date.

There will also be a special pre-celebration for Hello Kitty's birthday which is officially on November 1.

This fun all-night Halloween festival welcomes everybody include those who have never been to a music festival or club before.

Links to where you can buy tickets are listed below. If you buy them from Reco Ticket you'll get the above-pictured exclusive Hello Kitty ticket.

Enjoy a Halloween party like no other this year at Sanrio Puroland.

©2019 SANRIO CO., LTD.

Information

SPOOKY PUMPKIN 2019 〜PURO ALL NIGHT HALLOWEEN PARTY〜

Date: October 26, 2019

Time: Open 22:00 / Finish 05:00 (subject to change)

Location: Sanrio Puroland (1-31 Ochiai, Tama, Tokyo)

Lineup: Scha Dara Parr, m-flo, chelmico, Mom, BILLIE IDLE®, xiangyu, 4s4ki, DJ To-i (from DISH//), 掌幻と昴、LEGEND Of Densetsu a.k.a. Cypress Ueno, OTOTOY FRIDAY, Makita Sports、Poseidon Ishikawa, Shaka bose, JUN INAGAWA, Kubotakai, DJ DEVILMINTKIRYU, DJ yksb, DJ Hello Kitty … & more TBA

Tickets: Advance ¥5,000 (Tax Included) *Available from August 3 at 10am (JST) / Same-Day ¥6,000 (Tax Included)

Reco Tickets: https://reco-ti.jp/l?dn=73001

Lawson Tickets:  https://l-tike.com/spooky-pumpkim2019

e+:  https://eplus.jp/spookypumpkin2019/

Ticket Pia: https://w.pia.jp/t/spooky-pumpkin/ (P-Code: 159-441)

Event Page: https://www.puroland.jp/spookypumpkin2019/

Q-pot CAFE. Omotesando Unveils Halloween Menu & Accessories For 2019

Q-pot. is known for its accessory brand, which features jewellery made to look like sweets and desserts. It is also known for the Q-pot CAFE. which flips that concept, instead making sweets and desserts that look just like real accessories.

For Halloween this year, the Q-pot CAFE. has whipped up a spooky menu with the theme "DEVIL NIGHT" featuring appearances of all things Halloween from pumpkins to ghosts.

Devil Obake-chan Plate (w/Drink) – ¥2,060 (Contains milk, eggs and wheat)

This kawaii dessert plate features a ghost made from a chewy vanilla gyūhi mousse filled with berry sauce. It comes with crunchy black bat cookies made with rich black cocoa cream and a pumpkin flavoured jack-o-lantern macaron.

Black Cat Plate (w/Drink) – ¥2,060 (Contains milk, eggs and wheat)

Steer clear from black cats this Halloween, except for this one which is a dark Graham cracker made from bitter caramel and chocolate mousse and is filled with almonds and dried cranberries. Flying around the kitty are the same crunchy black bat cookies made with rich black cocoa cream and the pumpkin flavoured jack-o-lantern macaron.

Vampire Chocolate Latte – ¥750 / +¥100 as Set (Contains milk and wheat)

Don't fear―you won't turn into a vampire if you take a sip from this chocolate latte topped with latte art of a flying bat. This frothy rich dark chocolate delight includes smashed Oreos.

Strawberry Cheese Tea – ¥750 / +¥100 as Set (Contains milk)

The strawberry cheese tea is a unique mix of the cafe's high quality black tea and salty cream cheese. It's smooth to taste and is surprisingly light to drink. Add a fruity strawberry punch to the cheese tea by pouring in the accompanying strawberry sauce.

Vampire Afternoon Tea Set For One – ¥2,400 (Contains milk, eggs and wheat)

They even have a gorgeously spooky afternoon tea set.

The top plate comes with sponge and cream cheese cake pops coated in chocolate, salty breadsticks, homemade scones made from butter cream and sweet and sour berry sauce, devil heart macaron-topped cupcakes, and pumpkin macarons.

The bottom plate features savoury foods including croissants filled with egg, basil and dried tomatoes, as well as olives, mini tomatoes, pickles, and a soup.

As well as Halloween food, the cafe also has a line-up of "DEVIL NIGHT" themed accessories for sale.

[From Top Left Clockwise] Vampire Bat Piercings (Pair) ¥8,000 / Mini Devil Ghost Sheet Necklace (Set/Special Packaging) ¥21,000 / Vampire Bat Brooch ¥7,000 / Vampire Bar Ring ¥12,000 / Vampire Spider Ring ¥13,000

Black Cat Necklace ¥16,000 / Silk Hat Charm ¥4,500

The black cat jewellery is a new addition to this year's line-up.

Enjoy a very cute and special Halloween in Japan this year at Q-pot CAFE.

*All listed prices are pre-tax

Information

2019 HALLOWEEN MENU

Running: September 10, 2019 – October 31, 2019

Address: Q-pot CAFE. Omotesando (3-4-8 Jingumae, Shibuya, Tokyo)

*The Halloween menu price will increase in line with the Japan's increase in consumption tax from 8% to 10% from October 1, 2019

Reservations: https://www.q-pot.jp/cafe.php

Q-pot. 2019 HALLOWEEN "DEVIL NIGHT" Jewellery

Release Date: September 7, 2019

Available: At Q-pot. (3-4-8 Jingumae, Shibuya, Tokyo) / Q-pot. Pop-Up Shop at IKSPIARI / Q-pot. ONLINE SHOP (from noon)/ Q-pot. INTERNATIONAL ONLINE SHOP

Cute Halloween Sweets Spook Their Way Into Tokyo's The Capitol Hotel Tokyu

For this year's Halloween season, The Capitol Hotel Tokyu in Tokyo has announced that it will serve up its Halloween Sweets Selection again this year at the hotel's pastry boutique ORIGAMI located on floor B2F. The confectionery chefs have spun some spooky fun into this collection of 10 cute treats.

Frankenstein – ¥1,760 / Phantom – ¥1,760 / Cyclops – ¥1,760

The Phantom is a popular confection every year at the hotel, but this year he's had two new freaky friends carved out for him: Frankenstein's monster and a Cyclops. These white chocolate monsters are filled with chocolate-covered almonds, macadamia nuts and other hidden delights.

Witch Hat – ¥715

Dressed in a milk chocolate mousse is ganache and a rich and bitter crème brûlée made with bitter orange. It also contains a mandarin orange liqueur for deeper flavours. The mix of orange notes is refreshing on the palate.

Cross – ¥715

The orange and black Cross is a mousse cake made from pumpkin puree beneath which lies a cinnamon flavoured crème brûlée and coffee flavoured ganache. The bitter coffee elevates the exquisite sweetness of the pumpkin for a delicious combination.

Evil Eye – ¥715

Enter at your own risk with the grotesque-looking (but delicious tasting) Evil Eye mousse cake. It's made with fragrant biscuit and caramel as well as blonde chocolate from France and inside is a smooth pear jelly.

There are lots of other Halloween treats besides these coming to the hotel too, so if you're in Tokyo this October then be sure to stop by for a Happy Halloween.

*All listed prices include tax
RELATED ENTRIES
Sanrio Puroland Halloween Makeup Developed in Collaboration With POLA

POLA INC. is collaborating with Sanrio Entertainment's amusement park Sanrio Puroland for their ongoing PURO HALLOWEEN PARTY event which is being held both at the park and online. The company has developed cute and sophisticated Halloween makeup inspired by the looks being worn by the Sanrio characters at Puroland for Halloween.

Halloween is a time to dress up as your favourite spooky figure, and POLA has jumped on board by creating a range of makeup looks to support Halloween outfits this year that anyone can do at home. Each look has a step-by-step visual guide as well as a video to help you along the way.

All the products used for the looks are by POLA and can all be bought at their nearly 4,000 stores including the 670 POLA THE BEAUTY branches and their flagship store POLA GINZA. Select branches in China, Taiwan, Hong Kong, Thailand, Macao, and Singapore are also stocking the items.

Hello Kitty Double Wall Glasses by GOODGLAS Are Perfect For Dessert Servings

Japanese glass company GOODGLAS re-released the red versions of its Hello Kitty double wall glasses on Friday after they sold out in just two months when they first went on sale on July 20.

Handmade Hello Kitty Double Wall Glass

Hello Kitty Double Wall Glass (Red) | ¥3,600 (Before Tax)

Glass products at GOODGLAS are all handmade and use the traditional glass blowing method.

Not just cute but practical too

Limited Edition Blue Colour

The glasses can be used for beverages too. Winter is on the horizon, so this is the perfect vessel to sip a cosy hot drink from.

Enjoy a tea break at home with Hello Kitty

限定カラーゴールド

When you pour either your hot or cold drink into the glass, Hello Kitty's face stands out even more—and depending on the beverage you pour inside, you can create different looks.

©︎1976, 2020 SANRIO CO., LTD.TOKYO,JAPANⓁ

Information

Hello Kitty Double Wall Glass Red
Re-released: October 23, 2020
GOODGLAS Japan Official Website:  https://www.r-kj.com/

Cute Halloween Confections Make Their Way to Ginza Cozy Corner This October

Ginza Cozy Corner released a new collection of Halloween confections on October 19.

JOYJOY Halloween Party (9 Included) | ¥2,400 (Before Tax) | Available: October 19, 2020 – October 31, 2020

The tasty line-up features a collection of playful ghouls and ghosts partying at a haunted house. Bites include an eyeball tart, orange-flavoured Jack-o'-lantern roll cake, and lots more. Plus, the box they come in can be cut out and used as a photo prop for snapping cute Halloween pictures.

Imp's Trickster Mont Blanc | ¥580 (Before Tax) | Serving: October 19, 2020 – October 31, 2020

There's also a colourful mont blanc layered with four different creams: strawberry, lemon, melon, and blueberry, and inside—a mouth-watering tangy orange sauce surprise.

Kaori's Easy Recipe: Learn to Make Jack Skellington Stained Glass Cookies

With just a small bit of ingenuity, turn everyday food into something cute using Kaori's Easy Recipe! With a few simple ideas, an ordinary recipe magically transforms into a cute dish.

I have the perfect Halloween recipe for you this time. If we're talking Halloween, then who else but Jack Skellington is the man for the job? Here's my recipe to make Jack Skellington Stained Glass Cookies.

Ingredients

 

70g unsalted butter
50g icing sugar (or high quality white sugar if you don't have)
A pinch of salt
30g egg
110g weak flour
10g black cocoa
1 white chocolate pen
Hard candy of your choice crushed into small pieces

*To crush the candy, you can put into a zip lock bag and use a rolling pin

1


Place all ingredients except the egg into a food processor and blitz. After, place the egg into the blitzed mix and blitz once again. Once combined, wrap with cling film and place into the refrigerator for 1+ hours until set.

2


Use a rolling pin to roll out circles of equal thickness for Jack's head. Use a cutter to cut out the eyes, and place into the refrigerator one more to set.

3

Bake in the oven at 180°C for 10 minutes and take out again.

4


Place your crushed candy into the eye holes and bake for a further 5 minutes.
*The candy will melt into place and even out, so feel free to pile on the pieces

*Be careful not to overcook the candy as it will turn brown

5


Allow to cool. Be very careful handling and placing down the cookies as the eyes will be delicate. Decorate Jack's nose and mouth with the chocolate pen and he's ready for your Halloween party!

Kaori invites you into her world of character-themed food dishes in her recipe series. Be sure to check out her Instagram where she has uploaded many pictures of her character dishes!

Kaori Kubota (@kaopan27)

I live in Hokkaido and I love to make character themed foods, desserts and pastries♡

I want to see my family smile, so I enjoy putting in a bit of effort to make character foods and changing food into something cute♡

You can see more of my character foods and character bento boxes on my Instagram page → @kaopan72

Sanrio Themed Cafe Celebrates Characters' Monthly Magazine 'Ichigo Shimbun'

Sanrio is once again collaborating with the EGG & SPUMA cafe located on the 8th floor of Shinjuku Lumine EST to celebrate the 45th anniversary of Ichigo Shimbun, a monthly magazine published by Sanrio which includes information about the latest character merchandise, the Sanrio Character Awards, and more. The limited-time cafe will run from November 1, 2020 to late January 2021.

Sanrio fans can expect a very special menu line-up of food, drinks, and desserts based on their favourite characters from the Sanrio roster.

There will in fact be two different menus served on separate occasions. The first menu will welcome a soufflé omelette topped with a potato salad Pochacco while the second will see an adorably pink My Melody cream stew.

There will also be an incredibly cute two-tiered afternoon tea set with desserts and savoury items.

For drinks, there is a Hello Kitty strawberry milk, Cinnamoroll milk, and milk caramel pudding Pompompurin.

© 2020 SANRIO CO., LTD. APPROVAL NO. L613344

And everyone who orders from the collaborative menu will receive one of eight possible coasters as thanks for visiting.

Information

Ichigo Shimbun 45th Anniversary CAFE
Location: EGG & SPUMA, Shinjuku Lumine EST Floor 8F, 3-38-1 Shinjuku, Shinjuku Ward, Tokyo
Running: November 1, 2020 – Late January 2021

Opening Hours: 11:00-21:00 (Last Orders)

TEL: 03-6273-0255
Official Website: http://salt-group.jp/shop/egg-spuma/

Sanrio Puroland Announces Christmas 2020 Event PURO RAINBOW CHRISTMAS

Sanrio Puroland has announced that this year's PURO RAINBOW CHRISTMAS event will run from November 13 to December 25. The theme for 2020 is "Rainbows," and this time around, the event can be enjoyed both at the park and online.

Colourful and Kawaii Christmas Food

Sanrio Puroland will once again serve up a special Christmas menu of ten items, with iconic characters like Hello Kitty, My Melody and the Little Twin Stars wearing colourful Santa Claus hats.


Food includes dishes like "Hello Kitty's Christmas Gift Curry" with Hello Kitty holding a Christmas present, the snow white "Rainbow Christmas☆Snow Omelette Pasta," and more. There are also desserts such as "My Melody's Pink Yule Log Cake" and "Pochacco's Pistachio & Strawberry Tree Parfait." The multi-coloured menu line-up takes up Christmas classics like chicken and snow.

Cute Rainbow Coloured Merchandise

Mascots | ¥1,650 Each (Tax Included)

A collection of different mascots from Sanrio Puroland each wearing colourful Santa outfits.

Confectionery Set | ¥1,080 (Tax Included)

An assortment of confections served in an eye-catching box featuring familiar Sanrio faces.


Christmas Illuminations – "Rainbow Santa's Christmas Eve"

An exciting Christmas illumination show will take place at Puroland Village to the sound of Christmas-y Puroland music. Lights will brighten up the place with in a kaleidoscope of colours.

PURO RAINBOW CHRISTMAS Special Greeting

Visitors will be able to meet and take photos with the Sanrio characters in person for one whole minute. The cast will wear Christmas red outfits from November 13 to December 1 and change into white costumes from December 5. This will take place on the first floor Event Corner and will see Hello Kitty, My Melody, Pompompurin, Cinnamoroll, Wish me mell, and Dear Daniel make an appearance.  It will be carried out using social distancing measures.

Enjoy Puroland Christmas at Home

This year, Sanrio Puroland will stream past popular Christmas events held at the park on the Japanese video streaming site SHOWROOM on December 12. Shows include "HAPPY GIFT CHRISTMAS" from 2016, "The Puro Christmas" from 2019, and more.

Infinite Online Greetings

Sanrio Puroland launched online content back in June in response to COVID-19 which included getting to meet the characters online. They will host a special Christmas version on December 22 also on SHOWROOM where the characters will wear their white costumes from the Christmas show "The Puro Christmas." Participating characters include Hello Kitty, My Melody, Pompompurin, Cinnamoroll, Little Twin Stars (Kiki & Lala), Wish me mell, and Dear Daniel.

©'13,'20 SANRIO S/D・G ©'15,'20 SANRIO S/T・F ©'15,'20 SANRIO S/F・G ©'17,'20 SANRIO MP,TX©'75,'76,'79,'84,'85,'86,'88,'89,'90,'92,'93,'96,'98,'99,'01,'04,'05,'10,'12,'20 SANRIO

Shibuya's L'OCCITANE CAFE Reveals Spooky Parfait For Halloween 2020

L'OCCITANE CAFE Shibuya is getting ready for Halloween with the reveal of its sweet potato and apple parfait which will be served from October 21 to 31. The Tokyo-based cafe is centred on the food culture and lifestyle of Provence in southern France.

Sweet Potato and Apple Parfait | ¥1,280 (Tax Included)

The seasonal treat is a mix of purple sweet potato and regular sweet potato, baked apples, apple sherbet, and vanilla ice, all topped off with whipped cream, roasted nuts, and almond tuile biscuits in the shape of ghosts and a pumpkin.

Information

Sweet Potato and Apple Parfait
Serving: October 21, 2020 – October 31, 2020

L'OCCITANE CAFE Shibuya
Address: 2-3-1 Dogenzaka, Shibuya, Tokyo
Opening Hours:
[Sun-Thur] 11:00~22:00 (Last Orders 21:00)
[Fri-Sat] 11:00-23:00 (Last Orders 22:00)
TEL:03-5428-1563
Access: Straight ahead of Shibuya Station's 5th Exit (Inokashira Exit)
L'OCCITANE Japan Official Website: https://jp.loccitane.com/

My Melody and Kuromi Bubble Tea to be Served at Pearl Lady in Japan

Bubble tea chain Pearl Lady, which is celebrating its 17th anniversary this year, is teaming up with Sanrio for the second time to release two new drinks themed on the popular characters My Melody and Kuromi on October 16, 2020. My Melody and Kuromi are also celebrating their 45th and 15th anniversaries respectively.

Black Lemonade | Strawberry Milk Tea (w/ Novelty) – ¥500 Each (Tax Included)

The two beverages are Sweet Strawberry Milk Tea, which is inspired by the cute My Melody, and Black Lemonade, which is based on her rival Kuromi.

When ordering either of the drinks at Pearl Lady, customers will also get one of 6 possible badges as pictured above. One of the designs is a secret, so you'll need some luck if you want that one.

Halloween Food Served Up at Meiji Jingu Shrine's Constitution Memorial Hall

Meiji Kinenkan, also known as Constitution Memorial Hall, has announced that its beer terrace Sekirei will open up for October to serve up a Halloween themed menu.

Meiji Kinenkan is a unique and premium venue at Meiji Jingu Shrine that serves as a host to many different kinds of gatherings. It was designated as an important cultural property of Tokyo for its architecture in March of this year.

Sekirei normally opens during the summertime each year, but this year they've decided to open up for business for the autumn season too. Guests can enjoy a line-up of over 40 different food items in the beautiful autumn-kissed gardens along with beer and a selection of other beverage.

Halloween Menu

The Halloween menu arrived on Monday and features a colour arrangement of tasty bites, with an original line-up of foods and desserts conceived by Meiji Kinenkan's chef who specialises in French cuisine at the site.

Other Autumn Options

Autumn is a very pleasant season in terms of weather, and so as well as the Halloween menu, Sekirei has cooked up a separate seasonal assortment too including Japanese roast beef with vegetables, fried masutake mushroom and salmon, and more.

Sekirei has a special indoor all-you-can-drink plan as well in case it rains, so guests don't have to worry about the weather and can keep warm indoors if the occasion calls for it.

Sanrio Puroland Unveils 30th Anniversary Key Visual

December 7, 2020 will mark the 30th anniversary since the opening of Sanrio Entertainment's theme park Sanrio Puroland. To celebrate, the park will begin holding a special 30th anniversary event from the same day. In the run up to the special day, Sanrio Puroland is holding a crowdfunding campaign and is accepting messages from fans.

At the event, Sanrio Puroland will host a special live show as well as sell celebratory merchandise, serve up anniversary food, and more. Full details are scheduled to be released in mid-November.

Sanrio Puroland has been affected greatly by COVID-19 which has seen the park closed for a long time, and so it has launched a crowdfunding page to ask for guests' support to help it celebrate its 30th anniversary instead of giving up on it all. There's a selection of goodies to get your hands on for those who donate such as T-shirts and more.

Puroland is also requesting messages from guests of their memories and experiences had at the park so that a 30th anniversary theme song can be made from them. Messages can be posted on Twitter with the hashtag #ピューロ30周年届け私のエピソード.

©'13,'20 SANRIO S/D・G ©'15,'20 SANRIO S/T・F ©'15,'20 SANRIO S/F・G ©'17,'20 SANRIO MP,TX
©'75,'76,'79,'84,'85,'86,'88,'89,'90,'92,'93,'96,'98,'99,'01,'04,'05,'10,'12,'20 SANRIO

Information

Sanrio Puroland 30th Anniversary Event
Crowdfunding Page: https://motion-gallery.net/projects/spl-ohl
Crowdfunding Duration: October 6, 2020 at 13:00 (JST) to November 17, 2020 at 23:59 (JST)

Guest Messages
Running: October 6, 2020 to October 31, 2020 at 23:59 (JST)募集期間:2020年10月06日(火)~10月31日23:59
How to send your message: Post on Twitter with the hashtag #ピューロ30周年届け私のエピソード

Official Website: https://www.puroland.jp/30th/

Cute Cinnamoroll Halloween Doughnuts to be Sold at Floresta in Japan

Floresta Nature Doughnuts, a chain of shops that sell delicious doughnuts that are healthier to your body than regular doughnuts, is collaboration with popular Sanrio characters Cinnamoroll and Cappuccino for some adorable Halloween doughnuts.

Cinnamoroll / Cappuccino – ¥450 Each (Before Tax)

Donning their snug Halloween hats, which are made from purple sweet potato, Cinnamoroll and Cappuccino sit atop their doughnut that's covered in white chocolate spider web and topped with a star made from pumpkin.

The doughnuts will be released at Floresta on October 17, just two weeks before Halloween, at 12:00am in Japan. They are sold individually or as part of the Cinnamoroll Hallloween Doughnuts Box which contains two of each.

Cute, colourful, and a healthier option. If you're in Japan this Halloween, join Cinnamoroll and Cappuccino for the holiday season.

Information

Cinnamoroll Hallloween Doughnuts
Serving: October 17, 2020 – October 31, 2020

Release Date: October 17, 2020 at 12:00am (JST)
Floresta Oraganic Store: https://floresta-ec.jp

*Product is limited in stock. Only orders only.

Experience Shinjuku's Famous Halloween Event Online at Virtual Shibuya

The Virtual Halloween Committee has announced that it will host an online Halloween event inside Virtual Shibuya as a result of the pandemic and to mitigate crowded streets in Shibuya, a place which becomes a sea of people during the spooky holiday season.

The event, titled Virtual Shibuya au 5G Halloween Fes, will begin on October 26 and run up to Halloween Day. It is being promoted with the hashtag #StayVirtual.


Shibuya 5G Entertainment Project launched its new digital platform "Virtual Shibuya" back in May of this year. Officially recognised by Shibuya City, Virtual Shibuya comes in response to the effects of the novel coronavirus (COVID-19) which has brought tight restrictions to the economy and people's way of life. It will enable people to continue enjoying entertainment from the comfort of their homes by participating in a whole host of virtual events and activities. The project aims to deliver content from Shibuya with live performances from artists, art exhibitions, talks, and more. The use of 5G and the latest cutting edge technology will connect the real Shibuya to a virtual space, combining the realms of the digital and real world.

The Halloween event is inviting a host of Japanese artists and comedians to perform inside the virtual space, which itself will be littered with all things Halloween like Jack-o'-lanterns, bats, and more. Users will also be able to dress their avatars in the appropriate clothing in line with the holiday season of scares. All of this aims to deliver the famous Shibuya Halloween experience that the people of Tokyo are so used to.

Virtual Shibuya au Halloween Fes

Virtual Shibuya is evolving and will be updated for the upcoming Halloween event. Users can look forward to a host of music events and talk events during this age of the 'new normal.'

au 5G Presents Kyary Pamyu Pamyu: Virtual Mini Live

Virtual Shibuya will host its very first virtual live concert to open the Halloween festival. Japanese pop star Kyary Pamyu Pamyu is included in the performance line-up, who will be serving a very special one-night-only Halloween themed show inspired by horror movies. Titled "Kyary Pamyu Pamyu Online Halloween Live 2020 THE FAMILY 10.31," you can find out more about the concert here.

au 5G Presents BiSH: Virtual Live

Japanese idol group BiSH will also be playing a special Halloween show at the event.

au 5G Presents "Everyone's 5G" – Comedy Duo Wagyu Perform

Japanese comedy duo Wagyu will perform live using 5G technology which will render them in high-speed, high quality holograms.


The rest of the line-up and more details about the event will be announced in the coming weeks.