Tokyo Skytree Announces Dream Christmas 2019 Event Schedule
Tokyo Skytree is starting Christmas early this year as it announces a new event titled Dream Christmas 2019 which will take place in Tokyo Skytree Town® from November 7 to December 25.

Illuminations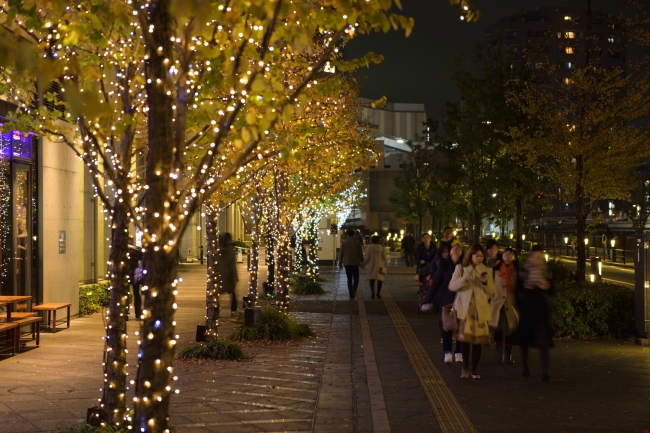 Illuminations ©TOKYO-SKYTREETOWN
Christmas Lighting & Solami Zaka ©TOKYO-SKYTREETOWN
Skytree Town will be adorned in 500,000 individual illuminations, inspired by the people we treasure spending time with during Christmas.
Christmas Tree
The Sky Arena, too, will be decorated in Christmas lighting, and will house its first ever real fir Christmas tree.
Christmas Market 2019
Christmas Market (Picture from 2018 market) ©TOKYO-SKYTREETOWN
There will also be huts inside the Sky Arena draped with warm lighting and selling various Christmas food and desserts, as well as beer and other beverages.
Tokyo Skytree Christmas Lighting
Left: Candle Tree / Right: Champagne Tree ©TOKYO-SKYTREE
Tokyo Skytree will light up in two different designs: the Champagne Tree which is made to look like the world's biggest Christmas tree, and the Candle Tree.
SKYTREE ROUND THEATER®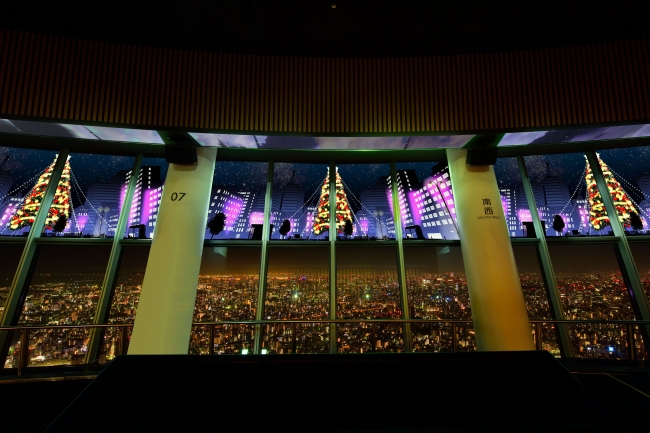 SKYTREE ROUND THEATER©TOKYO-SKYTREE
Tokyo Skytree's Tembo Deck, which is located on the 350th floor, is known for its 110-meter long, 2-meter tall "Round Theater" which projects digital images and videos onto the windows so they look like a giant screen. All-new special Christmas visuals have been prepared for the holiday season.
Merry Christmas Stickers
Merry Christmas Stickers ©TOKYO-SKYTREE
If you say "Merry Christmas" to one of the Santa hat-wearing staff members in Tokyo Skytree you'll get an original sticker as a present.
This is just a small peek at some of the exciting things happening at Tokyo Skytree Town® this year. If you're spending Christmas in Japan's capital this year, be sure to pay a visit.
Information
Illuminations
Running: November 7, 2019 – December 25, 2019
*Select illuminations running until March 8, 2020. Illuminations subject to alterations depending on certain events and other circumstances.
Time: 16:00-24:00
Location: Around Tokyo Skytree Town
Christmas Market 2019
Running: November 7, 2019 – December 25, 2019
*Menus and other services set to change on November 29, 2019
Location: Sky Arena (Tokyo Skytree Town Floor 4F)
Tokyo Skytree Christmas Lighting
Running: November 7, 2019 – December 25, 2019 (Except November 12, 2019)
Time: [Nov 7-11] 17:00-22:00 / [Nov 13-Dec 25] 17:30-22:00
SKYTREE ROUND THEATER®
Running: November 7, 2019 – December 25, 2019
Time: 17:30/19:00/20:30/21:00 (*4 times a day approx. 3 mins each)
*Times will change to three sessions at 18:15/20:30/21:00 during Christmas Love Song live shows
Location: Tokyo Skytree Tembo Deck (Floor 350F)
Merry Christmas Sticker Present
Running: November 7, 2019 – December 25, 2019
Location: Tokyo Skytree Tembo Deck and elsewhere (1 per person while supplies last)
Tokyo Skytree Town® Official Website: http://www.tokyo-skytreetown.jp/english/
RECOMMENDED ENTRIES
See the Ten Million Dollar Night View of Rokko Arima While Staying at Hot Spring Town

The Mt.ROKKO CABLE CAR & TOURISM COMPANY has announced a 25-day bus tour which will run on weekends and holidays only from October 12 to December 22 offering a bus tour to see the amazing nightscape of Rokko Arima in Kobe.

Arima Onsen is known as one of Japan's leading hot spring locations. In order for more people to catch a glimpse of Rokko Arima's incredible nighttime scenery, a new tour service has been created in collaboration with hotels and accommodation services throughout Arima for guests staying in the town to see what has been dubbed the "ten million dollar night view" from Mount Rokko.

The tour will last two hours and will take guests on an enchanting journey to several locations. They will get to see the night view from Rokko Garden Terrace, gain entry to Rokko Shidare Observatory, and visit the East Rokko Observatory which is only accessible by car. The entire thing costs just ¥2,800 per person.

Schedule

20:00 Depart Arima Onsen

20:30 Nighttime view from Rokko Garden Terrace and Rokko Shidare Observatory with tour guide

21:30 Nighttime view from East Rokko Observatory

22:00 Arrive back at Arima Onsen

Discover the tranquillity of Japan's winter nights and gaze up at the starry sky using the Rokko Arima Night View Bus Tour.

Information

Rokko Arima Night View Bus Tour

Running: Weekends & Holidays from October 12, 2019 – December 22, 2019

Price: ¥2,800 (Tax Included)

Capacity: 22 (Will set off with 1+ people)

Website: https://www.rokkosan.com/tabi/

Gaze Over a Sea of Clouds at Hoshino Resorts Tomamu's New Cloud Bar in Hokkaido

This year's winter season program at Hoshino Resorts Tomamu―Hokkaido's leading snow resort hotel―is set to begin on December 1. As part of the program, the Muhyou Terrace will open on the same day and run until April 5, 2020. The terrace offers a snow-covered picturesque view from atop the mountain where you can see a sea of clouds and the snow-tipped trees at the bottom.

Muhyou Terrace sits on Mount Tomamu up 1,088 meters high. When you picture snowy mountains, especially those in Hokkaido, you imagine people skiing and snowboarding. But for Hoshino Resorts Tomamu, this is only part of their goal. They also want guests to enjoy the beauty of the mountain's natural landscape including the breathtaking view of the scenery below. That's why they decided to open Muhyou Terrace. As well as the daytime scenery, the terrace has also been turning on illuminations every winter night since 2017, offering a new perspective on the surrounding splendour.

The Cloud Bar which opened just up the slope of the Muhyou Terrace this summer features a 13 meter-long counter with chairs from which customers can soak up an incredible view. The bar has options of one or two-seat areas and can seat up to 7 people at once. There is a ladder attached to the chairs. Once you've climbed up and plopped yourself down you get a front row seat to the sights below. And since the bar is attached to the slope of the mountain and there's nothing to obstruct your view, it will feel like you're floating on the clouds as your feet kick the emptiness below.

Muhyou Terrace will offer its own original cocktail called the Snow Cocktail which is inspired by the snowy landscapes at Tomamu. This drink is a margarita made with lime juice and cointreau. Inside is a sprig of rosemary made to look like the Ezo spruce trees at the site. The snowman is in fact made of chocolate. Enjoy the best of both worlds when it comes to flavour and finesse!

Frosted Coffee – ¥500 / Frosted Fondant Chocolate – ¥600

They also have specially-made chocolate fondant and coffee to warm you up. The chocolate fondant is a warm cake topped with a white chocolate snowflake and is coupled with snow-frosted chocolate branches. The coffee is covered with pure white frosty amezaiku candy. The coffee sweetens as the candy melts into your cup.

The terrace's observation points, including the Cloud Walk and Cloud Bar, will be lit up with sparkling illuminations in the cool evenings.

Illumination Dates: December 15, 2019 – December 25, 2019

Times: Please check the official website

Information

Unkai Terrace

Running: December 1, 2019 – April 5, 2020

*Last entries to the gondola from the foot of the mountain at 15:00

*Last entries to the gondola from the top of the mountain at 15:3

Price: Gondola Return Ticket – General ¥2,200 / Elementary School Children ¥1,300 (Tax Included)

*Free for guests at Hoshino Resorts Tomamu The Tower and Hoshino Resorts RISONARE Tomamu

Entry: Available to guests and non-guests

*Select services and programs subject to change

*Site may close in the case of bad weather

New Website Launched for Foreigners to Learn About the Wonders of Kyoto

The Kyoto by the Sea Destination Management/Marketing Organization (DMO) is a general incorporated association that works over 7 cities in the northern region of Kyoto Prefecture. Aiming to increase the amount of information about Kyoto in English for foreigners, they recently opened a brand new website which was created and is managed by their International Promotions Manager Jesse Efron.  

Jesse Efon is an American who moved to Japan to work as an Assistant Language Teacher in Kyoto. Jesse worked at a local elementary and middle school for four years in Kyotango. After training as a local guide and advisor, Jesse rose to Promotion Manager for the DMO. Standing by his motto of "follow your curiosity," Jesse created the Kyoto by the Sea English website to spread news about Kyoto to foreigners. 

The English version of the website contains articles and information on what to do in Kyoto and is split into five categories: Sea Nature, Sea Heritage, Sea Food, Sea Stay and Sea Yourself. Within these categories, Jesse has uploaded a series of articles which focus on a specific location or area of culture in Kyoto and provides an in-depth explanation along with photographs. From culture and nature to food, Jesse explains the wonders of his home for other foreigners to learn more.  

A Statement by Jesse Efron

Hello everyone, it is nice to meet you!

I assumed the position of International Promotions Manager in April. This puts me in charge of relaying Kyoto by the Sea news to our foreign audience. Before joining Kyoto by the Sea DMO, I worked as an Assistant Language Teacher for four years. I have lived in Taiza, Tangocho for five years. It is a great pleasure to be engaged in this work. Kyoto by the Sea works all over Kyoto so I strive to do my absolute best. My motto is "follow your curiosity" and this is what my articles are all about. Please check out the Kyoto by the Sea website.  

Information

Kyoto by the Sea
RELATED ENTRIES
Hotel New Otani Announces Second PAUL & JOE Collaboration

Hotel New Otani Tokyo has collaborated with PAUL & JOE for the second time to offer a new accomodation plan, which will be available for one-night stays between December 1 2021 and January 4 2022.  The rooms will not be available between December 31 and January 2.

This collaboration room will allow you to surround yourself in the world of PAUL & JOE, a Parisian brand PAUL & JOE that is extremely popular with young women in their 20s and 30s. The initial collaboration was so popular that within just 10 days, all of the available dates within three months were sold out. This Christmas edition will only be available for one month, so be sure to book while you can.

The pink and ivory room features the brand's icon; Designer Sophie's beloved cats, Nunet and Gypsy. The decorations also feature Crisantemo flower motifs.

Not only is the wallpaper covered in PAUL & JOE motifs, but even the smaller pieces such as cushions, curling irons, and brushes are themed too. In addition, to celebrate the festive season, the room will include a special Christmas tree, allowing you to enjoy a special Christmas with somebody special, sharing a view of Tokyo Tower.

The second round of cosmetics is focused on the 2021 CHRISTMAS COLLECTION. The 'Lipstick Treatment' features adorable cats wearing Santa hats, while the 'Lipstick Limited' comes in a luxurious Christmas red – and also features cats in hats! Plus, the new 'Wrapping Hand Cream' will wrap your hands in a fresh moisturising texture. In addition, the best-selling 'Moisturizing Foundation Primer,' which was renewed on September 1, and the P&J skincare selection (oil, lotion, cleansing), each must-haves for the upcoming dry season, have been miniaturized into take-home samples in a limited edition pouch, especially for hotel customers.

Alongside the limited cosmetic samples, there will be matching pajamas and slippers available for purchase and take home, with a that will take you even deeper into the PAUL & JOE world. While these cat-and-floral print PJs are perfect for a girls-only gathering, a men's line has also been released due to popular demand, ideal for spending a romantic Christmas in matching pajamas.

 

 

Why not spend a wonderful Christmas in this PAUL & JOE room?

Information

PAUL & JOE Room ~Christmas~

Reservation Dates:

Friday & Saturday Rooms: September 14 2021~

Weekday & Sunday Rooms: Late October 2021

Room Duration: December 1 2021 ~ January 4 2022

※Unavailable between Dec. 31 and Jan. 21

Location: Hotel New Otani Tokyo

Reservations: https://www.newotani.co.jp/tokyo/stay/plan/paul-joeroom/  *Reservations can only be made online

First 'Diamond Skytree' Photo Event to be Held at Sunshine 60 Observation Deck in Tokyo

The SKY CIRCUS Sunshine 60 Observatory in Ikebukuro, Tokyo, will hold its first 'Diamond Skytree' photography event on October 18, 2021, with another viewing on October 20. These events will have guests up early, beginning just after 6:00AM! This is when the sun will overlap with the very tip of Tokyo Skytree in the east, and is an extremely rare sight that can only be seen a few days each year.

From sunrise to 'Diamond Skytree' (Taken from the Sunshine 60 Observation Deck)

The best way to experience this once-in-a-lifetime event is to stay at the Sunshine City Prince Hotel, where you can also enjoy a night-view photo session the night before. It also means there won't be any rushing to the observatory in the wee hours of the morning! Visitors will also be able to hear a talk from night-sky photographer Hiroyuki Narisawa on how best to photograph 'Diamond Skytree.'

Information

SKY CIRCUS Sunshine 60 Observation Deck – 'Diamond Skytree' Photo Event

Dates: October 17-18, October 19-20

Reservations Open: September 7, 11:00 on official website.

Details: https://sunshinecity.jp

Baumkuchen Specialty Shop Katanukiya Offers Limited-Edition Panda Cake at New Location

On September 1, Baumkuchen specialty shop Katanukia opened its second location on the second floor of Tokyo Solamachi, beneath Tokyo Skytree. These traditionally German cakes are extremely popular in Japan, and using a cookie cutter can transform them into works of art! To commemorate the new shop, the Tokyo Solamachi location will sell a limited-edition Panda Baumkuchen that is almost too cute to eat.

Panda Baumkuchen

Starry Sky Panda Baumkuchen: ¥594 (Tax Included)


 

Starry Sky Panda Baumkuchen & Drawstring Bag Set: ¥1,815 (Tax Included)

The special Starry Sky Panda Baumkuchen is made from soft, moist cake, and depicts an adorable panda character ready to gaze at the night sky from Tokyo Skytree, the tallest tower in the world. Children and adults alike will enjoy its gentle milk flavoring.

The Starry Sky Panda Baumkuchen & Drawstring Bag Set includes the signature Baumkuchen, the Starry Sky Panda Baumkuchen, Panda shortbread, and an adorable bag. There will only be 100 of these sets available, so grab one before they're gone!

Is Baumkuchen popular in your country? How would you like to try these cute sweets in Tokyo?

Butter no Itoko x Samantha Thavasa Open Second Store Together at Tokyo Skytree

Butter no Itoko and Samantha Thavasa opened their second collaborative store branch in the desserts area of Tokyo Skytree Solamachi last Tuesday.

Butter no Itoko is a Nasa-based confectionery company co-developed by Chus and Shinrinno Bokujo, a company specialising in milk from Jersey cattle. It opened a store in collaboration with Samantha Thavasa last year at Haneda Airport Terminal 2.

Samantha Thavasa Exclusive Butter no Itoko Salted Caramel

Banana Smoothie

Solamachi Exclusive Samantha Thavasa x Butter no Itoko Eco Bag

The new store will sell a whole range of tasty treats including the salted caramel Butter no Itoko which was first released at the Haneda Airport branch, Shinrinno Bokujo's soft service ice cream, updated 90 Banana Smoothies, and more. There's also a limited-edition complete box of milk, chocolate, red bean paste butter, and salted caramel Butter no Itoko youc na get your hands on which were first released in April.

If you spend over ¥3,000 on desserts at the new store, you can also get your hands on the exclusive eco bag. These are available on a first-come, first-served purchase.

Information

Butter no Itoko x Samantha Thavasa Tokyo Skytree Town Solamachi

Grand Opening: 10:00-22:00 (currently operating on reduced hours at 10:00-20:00)
Address: Tokyo Skytree Town Solamachi Floor 1F East Yard 9, 1-1-2 Oshiage, Sumida, Tokyo, 131-0045, Japan
Samantha Global: https://samantha-global.com/

Butter no Itoko Official Website: https://butternoitoko.com/

Evangelion Film's Tokyo Skytree Collaboration Gets Extended to May

Evangelion took over Tokyo Skytree in December last year in promotion of the new anime film Evangelion: 3.0+1.0 Thrice Upon a Time which was released on March 8, 2021. The ongoing event has been extended from March 31 to May 31.





 ©カラー ©TOKYO-SKYTREE

Special Tokyo Skytree Lighting

©カラー ©TOKYO-SKYTREE

Tokyo Skytree is being lit up in five different special illuminations on select days representing Eva Unit-01, Eva Unit-00, Eva Unit-02, Eva Mark.06, and Eva Unit-08.

 

Dates: March 8, 2021 / March 19-21, 2021

Times: 18:45-20:00

 

"Soul's Refrain" Video Added to the Screens

©カラー/Project Eva. ©TOKYO-SKYTREE

©カラー/Project Eva. ©TOKYO-SKYTREE

The SKYTREE ROUND THEATER® has been showcasing a special HD music video on the Floor 350 windows edited by the episode director for Neon Genesis Evangelion Masayuki. It features the classing opening theme A Cruel Angel's Thesis. The video and music, coupled with nighttime Tokyo in the background, makes for an unforgettable spectacle.

Now, a second music video is being added for the song Soul's Refrain which served as the main theme for the 1997 anime film Neon Genesis Evangelion: Death & Rebirth.

Where: Tokyo Skytree Tembo Deck (Floor 350F)

Price: Free

*The video runs approx. 9 mins

About the SKYTREE ROUND THEATER®

The SKYTREE ROUND THEATER surrounds and envelops you with a Panoramic screen (110m length x 2m height) screen which encircles 255 °of the Tembo Deck.
With 34 projectors, the images and visuals projected onto the night view are the pinnacle of artistry and fantasy.

©カラー/Project Eva. ©TOKYO-SKYTREE

The Spear of Longinus Pierces the Sky Arena

©カラー ©TOKYO-SKYTREE

The Sky Arena, which is located on Floor 4F of Tokyo Skytree Town, is now home to a giant recreation of the Spear of Longinus which makes for a great photo op.

Evangelion: 3.0+1.0 Thrice Upon a Time Takes Over Tokyo Skytree For Christmas

Tokyo Skytree® is promoting the release of the upcoming anime film Evangelion: 3.0+1.0 Thrice Upon a Time, which will hit theatres in Japan on January 23, 2021, by holding a special collaborative event at the tower from December 23, 2020 to March 31, 2021.

Tokyo Tembo Galleria Exhibits

Tokyo Tembo Exhibits (For illustrative purposes only) ©カラー ©TOKYO-SKYTREE


Those braving the quick climb to Tokyo Skytree's Tembo Galleria, which stands a towering 450 meters high, will be greeted with an incredible display of character and Evangelion-related exhibits, photo spots, and more.

①Tembo Shuttle (Elevator)

The interior of Tokyo Skytree's elevator, which leads straight up to the Tembo Galleria, will be decorated in all things Evangelion, from an Evangelion Unit-01 entry plug to scenes from the upcoming film and more, all ready to welcome guests into the world of Evangelion.

②Eva Unit-01 Head (Tembo Galleria Floor 445 Welcome Area )

When guests step out of the elevator they will be greeted by a giant head of Eva Unit-01 which they can take a photo next to.

③Eva Archive (Tembo Galleria Hallway)

The floor's 110-meter hallway will be lined with famous quotes and phrases from the Evanglion series.

④Angel Core (Tembo Galleria Floor 450)

Guests will find a photo spot recreating Tokyo-3 which becomes a red wasteland, as well as a full-scale Rei Ayanami statue.

⑤Evanglion's 4 Films (Tembo Galleria Floor 450 Slope)

Artwork from the four Evangelion films, from Evangelion: 1.0 You Are (Not) Alone to the upcoming Evangelion: 3.0+1.0 Thrice Upon a Time will be displayed.

⑥Destroy the Core (Tembo Galleria's Highest Point)

At the Galleria's highest point, 451.2m up, guests will find a photo spot with a Progressive Knife stuck into the core.

Diorama Exhibition (Tembo Galleria Floor 450 Return Slope)

When looping back around down the slope to return to the first area, there will be a selection of Evangelion figures recreating famous scenes from the series.

Tembo Deck Floor 350 Decorations

NERV Warning Announcements
NERV Warning Announcements (For illustrative purposes only)  ©カラー ©TOKYO-SKYTREE

Down on the Tembo Deck on Floor 350, guests will find warning messages from NERV on the windows of Tokyo Tower.

Original Merchandise

Metal Keyrings ¥1,320 Each (Tax Included) / Cookies ¥842 (Tax Included)


Original Shopping Bag (For illustrative purposes only) ©カラー ©TOKYO-SKYTREE


After guests have enjoyed their time at floor 450, they can head to the shop to check out a selection of original merchandise created for the exhibition, from key rings to cookies and more. Fans who spend over ¥3,000 (tax included) in one transaction will receive an original shopping bag featuring an image of Eva Unit-01 raising its fists to Tokyo Tower.

Original Cafe Menu

①Piano Cheesecake (Shinji & Kaworu Version) ¥1,300 / ②Blue Yogurt Drink (Rei Version) ¥900 / ③Blood Orange Juice (Asuka Version) ¥900 / ④Strawberry Soda Drink (Mari Version) ¥900 (All Tax Inclusive)


The SKYTREE CAFE on Floor 340 of the Tembo Deck has a special selection of Evangelion-themed food and drink for fans to enjoy.

Original Coasters (For illustrative purposes only) ©カラー ©TOKYO-SKYTREE


For every item ordered on the cafe menu, you will get one of five possible coasters selected randomly. These are available while supplies last. The cafe itself will also be decorated to look like the classroom of the Tokyo-3 school seen in the film series.

Take a Photo With Your Favourite Character

Tembo Galleria Floor 445 Photo Service – ¥1,800 (Tax Included) *Five photos
(For illustrative purposes only) ©カラー ©TOKYO-SKYTREE


Paper Mount (For illustrative purposes only) ©カラー ©TOKYO-SKYTREE


Fans can get five photos with individual characters from the films along with a printed photo mount which can also be downloaded digitally.

Sorakara-chan's Plugsuit

©カラー ©TOKYO-SKYTREE
(For illustrative purposes only) ©カラー ©TOKYO-SKYTREE


Sorakara-chan, the official mascot of Tokyo Skytree, will welcome guests for the duration of the exhibition wearing Rei Ayanami's plugsuit. If you want to meet her, be sure to ask a staff member and they can tell you what time she'll be making an appearance.

"A Cruel Angel's Thesis" Skytree Round Theater Ver. a.k.a Yoko Takahashi from KING SUPER LIVE

"A Cruel Angel's Thesis" Skytree Round Theater Ver. a.k.a Yoko Takahashi from KING SUPER LIVE ©カラー/Project Eva. ©TOKYO-SKYTREE


The SKYTREE ROUND THEATER® will showcase a special HD music video on the Floor 350 windows edited by the episode director for Neon Genesis Evangelion Masayuki. It will feature the classing opening theme A Cruel Angel's Thesis. The video and music, coupled with nighttime Tokyo in the background, will make for an unforgettable spectacle.

Special Tokyo Skytree Lighting

Special Lighting©カラー ©TOKYO-SKYTREE


Tokyo Skytree will be lit up in five different special illuminations on select days representing Eva Unit-01, Eva Unit-00, Eva Unit-02, Eva Mark.06, and Eva Unit-08l

Check out Tokyo Skytree's Official Website for more information.

Shizuoka's Strawberry Cafe Ichigo BonBonBERRY ATAMIHOUSE. Releases Winter Menu

Ichigo BonBonBERRY ATAMIHOUSE. is the first cafe to open in Atami specialising exclusively in strawberry desserts. This Christmas, the cafe is serving up a new Christmas cake, winter afternoon tea set, and strawberry milk beverage, all of which hit the menu on Friday (December 4).

Hitorijime Christmas Cake | ¥1,000 (Before Tax) *Comes with drink

A dreamy Christmas cake for one loaded with cream and sweet strawberries. There's a strawberry on top and more in the middle squished between soft sponge.

Winter Afternoon Set | ¥1,200 (Before Tax)

The cafe has turned its popular afternoon tea into a wintertime version for Christmas, served with a mini bavarois in the shape of a strawberry, strawberry ice cream, melty fondant chocolate, and a rum raisin chocolate tiramisu. A delightful combination of sweet, tangy, and rich flavours.

Hot Strawberry Milk | ¥400 (Before Tax)

A hot strawberry milk to feel cosy in the cold winter weather, topped with plenty of cream and a sprinkling of strawberry powder. Enjoy it as it is or mix together for a creamier beverage.

The winter menu is seasonal and so will only be available this wintertime.

Information

Ichigo BonBonBERRY ATAMIHOUSE.
Address: 3-16 Tawarahonchō, Atami, Shizuoka
Opening Hours: 10:00-18:00
Access: 2-minutes from Atami Station (JR Line side)
Official Website: http://www.atami-bonbonberry.com

Sarutahiko Coffee Releases Pistachio and Mixed Berry Coffee Beverage For Christmas

Sarutahiko Coffee released a Christmas-exclusive seasonal flavour of its popular Jellatte dessert drink on Tuesday (December 1) which it's calling the "Maroron Merry Pudding Jellatte."

Maroron Merry Pudding Jellatte | ¥750 (Before Tax)

The beverage is the second in this year's Christmas themed drinks to be released by Sarutahiko Coffee. It uses a coffee jelly base made from Ethiopian coffee beans and contains layers of mascarpone cheese from Italy, a chocolate sauce made from Cacao Hunters chocolate, milk pudding, four kinds of mixed berry jellies, pistachio milk pudding, milk foam, and to top it all off, chocolate pieces and pistachios.

The pistachio and mascarpone bring a richness to the dessert drink which blends deliciously with the freshness of the berries and full-bodied coffee for a combination that's like a warm and cosy Christmas hug.

Information

Maroron Merry Pudding Jellatte
Serving: December 1, 2020 – December 25, 2020
Available: Sarutahiko Coffee in Japan
Official Website: https://sarutahiko.co

Sanrio's Little Twin Stars Kiki & Lala Light Up Shinjuku With TWINKLE COLOR CHRISTMAS Illumination Event

Sanrio's beloved character pair Kiki & Lala, also known as the Little Twin Stars, are hosting a special winter event titled "TWINKLE COLOR CHRISTMAS" at Shinjuku Southern Terrace from December 1 to 25, illuminating the area with beautiful Christmas lights, as part of their 45th anniversary.

Kiki & Lala's twinkling Christmas tree magical in the daytime and night time

The towering 4-meter tall Christmas Tree is decorated in countless mirror balls which reflect beautifully both during the day from the sun and at night with Kiki & Lala's illuminations. A special light show is also taking place from 16:30 each day with Christmas songs.


Decorated around the tree are Kiki & Lala neon signs and pastel-coloured adornments.

Those unable to visit Shinjuku this Christmas can access the "TWINKLE COLOR CHRISTMAS AR TREE" digitally This will have Kiki & Lala's Christmas tree appear on your phone when taking photos. You can access it here.

Kiki & Lala treats at the Sanrio Cafe Wagon

Limited time menu

45th Anniversary Items

On weekends, as well as from December 19 up to Christmas Day, a food wagon will make an appearance at the event serving Kiki & Lala food and drink like the pink and fruity Ruby Chocolate Latte and fruit-filled Twinkle Crepe.

©'76,'20 SANRIO 著作(株)サンリオ

Information

Little Twin Stars x Shinjuku Southern Terrace TWINKLE COLOR CHRISTMAS
Running: December 1, 2020 – December 25, 2020
Tree Light-Up Schedule: December 1 = 17:00-24:00 / December 2-24 = 16:30~24:00 / December 25 = 16:30-21:00
Address: 2-2-1 Yoyogi, Shinjuku, Tokyo
Entry: Free
Official Website: https://www.sanrio.co.jp/news/ts-odakyu-twinkle-color-christmas-20201119/

Tokyo Skytree® Promotes NiziU's Debut Single 'Step and a step' With Special Light Show

To promote the debut single Step and a step by global girls group NiziU, which was released on Wednesday (December 2), Tokyo Skytree is set to put on a special rainbow-coloured light show. It will also display the outfits that Niziu wore in the music video of their pre-debut single Make you happy atop its 450-meter-high Tembo Deck.

NiziU is a nine-member global all-female music group which formed via Nizi Project, an audition programme co-produced by Sony Music Entertainment, Sony Music Labels, and JYP Entertainment.

Tokyo Skytree lights up in all the colours of the rainbow

Tokyo Skytree is running the light show for three consecutive days in promotion of NiziU's debut single Step and a step.

Light Show Schedule
December 2, 2020 @ 17:30-24:00
December 3, 2020 @ 17:30-24:00
December 4, 2020 @ 17:30-24:00

NiziU outfit exhibition

NiziU fans should head up to Tokyo Skytree's Tembo Deck where they can see the outfits that NiziU wore in their Make you happy music video which became a hit for its jump-rope dance sequence.

Outfit Exhibition Schedule

Running: December 2, 2020 – December 13, 2020

Location: Tokyo Skytree Tembo Deck (Floor 450F)

NiziU's popularity has continued to surge this year. Stay tuned for the latest information on the up-and-coming girl's group.

©2020 Sony Music Labels Inc./JYP Entertainment. All rights reserved.
©TOKYO-SKYTREE

Japan's Moomin Cafe Releases Christmas Takeout Food For the 2020 Holiday Season

Moomin Cafe branches around Japan, which are themed on the Swedish fairy-tale Moomin books, released their Christmas menu on November 20.


Moomin Cafe Winter Season Menu | ¥4,800 (Before Tax) *Photo is a portion for 2


The seasonal menu is a very special set containing a burger, chicken, salmon milk soup, raspberry juice (which is adored by the Moomin family), and more, so you can eat heartily like the Moomins this winter.

Souvenir Cup (2 Designs)

Visitors can also order a dessert and choose from two different mugs. Takeout is available at each of the cafes so you enjoy a Moomin Christmas at home.

Table reservations are available via the Moomin Cafe website so customers can ensure they can get booked in during the busy holiday season.

If you're in Japan for Christmas then don't miss out on a visit to the Moomin cafe.

©Moomin Characters TM

Cheese Tea Shop machi machi Showcases Christmas 2020 Beverage

Taiwanese cheese tea shop machi machi is releasing a new drink in Japan this holiday season on December 1: the 'Flurry Strawberry Milk With Crème Brûlée.'

machi machi is an extremely popular cheese tea chain in Taiwan that has been called the 'king of cheese tea' by Taiwanese news outlets. Each and every cup poured is made fresh with tea from Taiwan to which rich cream cheese is added for a salty kick, creating a new kind of dessert drink.

Flurry Strawberry Milk With Crème Brûlée | ¥750 (Before Tax)


The new Christmas beverage being served in Japan uses fresh strawberries which adds a delightful sweetness to the milk. It's topped with crushed Oreos and combined with crème brûlée for a variety of layered flavours. The Oreos add crunch to the dessert drink so that it's a delicious experience down to the last sip.

If you've never had Taiwanese cheese tea, and are in Japan this Christmas, don't miss out on this seasonal drink, available for the whole month of December.

Information

Flurry Strawberry Milk With Crème Brûlée
Serving: December 1, 2020 – December 31, 2020
Available: machi machi stores in Japan
Official Website: https://machimachi.baycrews.co.jp