Sightseeing in Ise: 4 Must-Visit Souvenir Shops Near Ise Grand Shrine
The city of Ise is located in central Mie Prefecture on the eastern tip of Kii Peninsula, the largest peninsula on Japan's largest main island Honshu. Every year, the autumn season brings in a flurry of tourists and sightseers who flock to see the city's leaves expressing their vibrant hues of red and yellow. The city boasts a magnificent catalogue of sightseeing spots, but perhaps the most famous of all is Ise Grand Shrine, whose inner and outer shrine give visitors a sense of what the townscape looked like in ancient times. This can also be seen at Sarutahiko Shrine, amongst other places.
In this article, we're going to introduce you to 4 must-visit souvenir shops near the inner shrine for your Ise travel bucket list.
Amano Pearl
When talking about specialty products of Ise, the one thing that's sure to come to the minds of Japanese people are the pearls sold in the city. Amano Pearl can be found in Oharaimachi, an almost 1km long street lined with traditional shops. The owner themselves purchases and appraises the pearls while the shop staff manufacture and design gorgeous accessories to sell at an affordable price.
Accessory – ¥2,200
This rose-shaped necklace is a design favoured by women of all ages. They have plenty of other high-quality bargain picks like this too.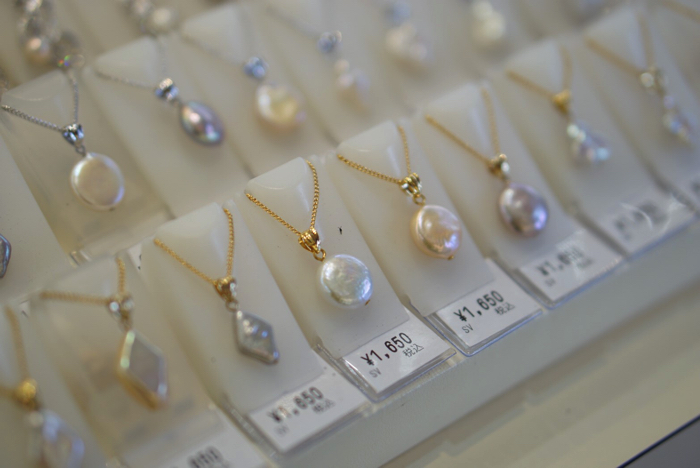 The shop's diverse line-up of beautifully accessories includes those perfect for combining with one pieces and dresses, as well as for parties. Prices and designs vary greatly, so there's bound to be something for everyone who steps inside this quaint store. So if you're shopping for souvenirs during your trip to Ise, then you absolutely have to pay a visit to Amano Pearl to see the city's famous pearls.
▶︎Amano Pearl – Oharaimachi Branch
Address: 45 Ujiimazaikechō, Ise, Mie
Opening Hours: 9:00-17:00
No Fixed Holidays
Official Website: https://www.amanopearl.jp/
Matsujiro Honey – Ise Oharaimachi Branch
Matsujiro Honey is a long-standing honey shop that was established back in 1912. The shop sells various varieties of honey, including flavours you won't find in supermarkets like apple honey and soba honey.
Hanabana – ¥864
Hanabana is the shop's No. 1 most popular variety of honey and it's made in Mie Prefecture. Its name in Japanese means "flowers," and as the name suggests, it includes the nectar of numerous types of flowers. It has a smooth texture and distinct full-bodied floral fragrance.
Centre: Mini Honey Soap – ¥503 / Right: Honey Soap – ¥2,200 / Left: ¥2,200 Honey Face & Body Oil (48ml) – ¥2,200
The shop even sells its own honey-imbued cosmetics, all made with natural ingredients. Their soap is made with their popular Hanabana honey, and gives off a flavoursome honey smell. Your skin is left smooth, moisturised and smelling great after using it.
Their rich honey oil too is made with 90% plant-derived oil and is free from preservatives. It's a great option for the coming dry season and is gentle on the skin.
If you visit the shop, they let you taste test their different types of honey too! Find your favourite.
▶︎Matsujiro Honey – Ise Oharaimachi Branch
Address: 7 Ujinakanokirichō, Ise, Mie
Opening Hours: 10:00-17:00
No Fixed Holidays
Official Website: https://www.matsujiro.shop/
Uoharu
Uroharu first opened its doors in 1931. Their products are sold as souvenirs to help spread the word of Ise's rich food culture.
Same No Tare – Salt Flavour / Mirin Flavour
The item you absolutely want to look out for when going into Uohara is their "Same No Tare," another Ise speciality. It was originally only eaten in Shima, Ise, but it was picked up on national television, leading it to become a food souvenir associated with Ise.
Uoharu's products are seafood based, and there's plenty to choose from. If you're looking for a food product specifically from Ise then look no further than Uoharu.
▶Uoharu
Address: 49 Ujinakanokirichō, Ise, Mie
Opening Hours: 9:00-17:00 (*Changes depending on season)
Closed: Wednesdays (Except on national holidays in which case closed on Thursdays)
Official Website: https://www.samenotare.jp/uoharu/
Henbaya – Oharaimachi Branch
Yet another speciality product of Ise comes from the much-beloved Henbaya, which first opened way back in 1775. The speciality products, also called "henbaya," can be ordered either for takeout or enjoyed in the shop.
Henbaya (Includes 2) – ¥160
Henbaya are thin, round sticky rice cakes made with top of the range domestic ingredients and packed with smooth red bean paste. Both sides of these deliciously fragrant rice cakes are browned, and when bitten into, fill and melt in your mouth with the sweet, smooth flavour of the bean paste.
At the Oharaimachi branch of Henbaya they sell various other rice cakes too, all chewy and made with high quality ingredients from Japan. Pick up a pair and enjoy the sweet taste of Ise.
▶︎Henbaya – Oharaimachi Branch
Address: 1-149-1 Ujiurata, Ise, Mie
Closed: Mondays (Except on national holidays in which case closed on Tuesdays)
Opening Hours: 9:00-17:00 (Eating in-store runs until 16:30)
*Products may sell out before 17:00
*Opening hours subject to change for January
So, if you're making a trip to the beautiful city of Ise, you now know the must-visit spots for finding souvenirs. Let us know if you visit any!
RECOMMENDED ENTRIES
LuLuLun Face Mask: A Beautifying Souvenir From the Japanese City Ise

When travelling abroad, I find myself buying and taking back lots of different souvenirs for myself and my family. I look for those items that are made with each region's particular materials and ingredients. By handing them out to people, I'm also sharing a little bit of that place with the people around me too.

Today I introduce to you the "Ise LuLuLun" face mask, a souvenir from the Japanese city of Ise that's perfect for that one person we all know who's into beauty and cosmetics.

The Ise LuLuLun is part of the popular "Tabi Suru LuLuLun" face mask series which sees limited edition face masks sold in different regions. The masks are made from an assortment of ingredients and plants. They are sold not just in Japan but around the world. Some of the variants to hit Japan have included Okinawa Shequasar and Shōdoshima Olive.

Ise Lululun is the first product in Japan to include extract of sakaki leaf which moisturises the skin. Sakaki is a flowering evergreen tree native to several Asian countries including Japan and is used as a symbol of longevity and vitality. The extract was made in cooperation with Ise City's manufacturing and tourism department, making this a very special product indeed. The sakaki is used in various Shinto activities such as offering them to altars and household shrines. Ise itself is home to many sasaki trees from which the extract in the Ise Lululun is made. Its moisturising effect ensures the skin stays nice and moist.

Let's get onto talking about what it's like to use this product. I've used Lululun packs in the past, but the feature of the Ise Lululun is absolutely the fragrance it gives off. The instant you bring the mask to your face your nose is filled with a smell akin to a forest of trees. If you close your eyes it's like you're enveloped in nature. It gives you a feeling of peace and tranquillity. And the way it relaxes you is nothing short of incredible… It's truly a gift and souvenir from Ise, bound with the air and scent of the city.

My face felt so smooth the day. I think I'll definitely be using this again for special occasions.

The Ise Lululun is a fusion of the Ise spirit of "being thankful for and treasuring every day" and Lululun's own spirit of being in high spirits and sound health. At the end of the day it made me hold my head high and say "thank you" to today. I was also warmed by the message written on the packaging (which you can see above).

If you plan a trip to Ise be sure to check out this exclusive beautifying item and maybe pick one up as a souvenir.

Writer: Sayuri Mizuno (ASOBISYSTEM)

Translator: Joshua Kitosi-Isanga

Information

Ise Lululun

Price: 2 Packs of 7 – ¥1,000 (Before Tax) / 4 Packs of 7 – ¥1,700 (Before Tax)

Available: At souvenir shops in Mie Prefecture, Aichi Prefecture and select parts of the Kansai region

Official Website: https://lululun.com/oise/

New 'Purin Soft' Dessert Released at Ise Purin no Tetsujin in Ise

Ise Purin no Tetsujin is a shop in the coastal city of Ise that specialises in 'purin,' a type of Japanese dessert made with custard and caramel.

The shop has just released their new Purin Soft dessert which is purin served in a jar with a fresh dollop of specially made soft serve ice cream.

Purin Soft – ¥390 (Tax Included)

The purin itself is described as 'retro' in that it has a rich and distinct eggy flavour that is nostalgic to Japanese people. It's topped with a generous serving of refreshingly delicious soft serve.

In the middle you'll find cube shaped rusks which offer a crunchy layer of texture to the softness of the purin and creaminess of the ice cream. Combining that with a drizzle of caramel means you'll get to enjoy 3 completely different flavours.

Grab yourself a Purin Soft and enjoy strolling around to see the sights of Ise.

■Information

Ise Purin no Tetsujin

Address: 24 Ujimazaikecho, Ise, Mie Prefecture

Opening Hours: 9:00am-6:00pm (No Fixed Holidays)

TEL: 0596-63-9200

Purification Footbath Introduced at Meotoiwa Museum in Ise, Mie Prefecture

In the town of Futami, located in Ise, Mie Prefecture is ISE Meotoiwa Meato Yokocho, one of the largest shopping facilities for souvenirs across the Shima Peninsula. Inside is the Meotoiwa Museum where they offer activities for tourists. They have just introduced the Misogi no Ashiyu, or 'Purification Footbath,' which uses seawater from Meotoiwa, Futami.


Futami is a place where purification ceremonies took place at Misogi Hama, the purification beach of Futaminoura where the Meoto Iwa, or 'Married Couple Rocks' are located. This happened before one went to pray before the Ise Grand Shrine at a steam bath during the Edo Period, which is now next to Okitama Shrine. Additionally, in 1882, it received recognition as Japan's first swimming area in the ocean, and bustled with members of the imperial family who used it as a health resort, including Emperor Taisho. The ocean water used in the purification footbath is normally taken from the seawater well located inside the facility. It is poured into the footbath bucket after being heated at the source of the free-flowing water.

There's plenty of other fun content to enjoy too, including a new purification-style fish tank, a spot to take photos themed on the Married Couple Rocks, and more!


Why not enjoy a footbath to cleanse yourself before going to see the Married Couple Rocks?

■Information
ISE Meotoiwa Meato Yokocho

Address: 580 Futamichoe, Ise-shi, Mie Prefecture

Opening Hours: 09:00-17:00 (Times may vary depending on the season)
TEL: 0596-43-4111
Website: https://ise-seaparadise.com/

ISE Sea Paradise

Address: Same as above

Opening Hours: 09:00-17:00
TEL: 0596-42-1760
Website: https://ise-seaparadise.com/
RELATED ENTRIES
Limited Time Shop Selling Items from Ise, Mie Prefecture Opens at Aobadai Tokyu Square

The Ise Shop, offering products from one of the most beautiful coastal cities in Mie Prefecture, is now open at Aobadai Tokyu Square in Aobadai Station, Yokohama, from February 2 until February 27, 2022. The store sells items that are usually only available in Ise!

Akafuku Mochi (8 pieces): ¥760 (Tax Included)/Akafuku Mochi(12 pieces): ¥1,100 (Tax Included)

The Ise Shop sells about 100 food items and other goods, but the most popular item by far is Akafuku mochi. Only sold on Saturdays, these treats are often sold out by the afternoon!

Available on February 19, February 26

ISE Cardamon Cola (720ml): ¥4,860 (Tax Included)

Traveling Ise Tea Assortment Pack: ¥900 (Tax Included)

Ise Shrine houses the guardian deity of food, so these foods and drinks on offer are extra tasty. ISE Cardamom Cola is a healthy soda that contains no added color, preservatives, or flavors. It includes a blend of over a dozen spices and lemons from Mie Prefecture. The tea assortment pack is made with tea leaves from Mie, which offer plenty of natural sweetness.

Nakano Yogurt: ¥216 (Tax Included)

This yogurt is made from Nakano Milk, which has been producing and selling milk in Ise since the Taisho Era. Served in a retro-style jar, it has a low acidity and is well-loved by the locals.

Ise Shrine Guidebook: ¥1,100 (Tax Included)

The shop also has a number of goods related to the famous Ise Shrine.

Ise Lululun (Tree Scented / 7 packs x 4 bags): ¥1,870 (Tax Included)

Hand Cream with Water from the Isuzu River (50g): ¥1,100 (Tax Included)

Ise Lululun is a face mask containing Sakaki leaf extract from Ise Sakaki trees. The moisturizing ingredients help brighten the skin. 

The Ise Shop also provides guests with information on sightseeing in Ise City! With travel still restricted due to the pandemic, this is a great way to feel as though you're getting away to this lovely seaside town.

Information

Ise Shop
Running: February 2 – February 27, 2022
Location: Aobadai Tokyu Square South Building 1F (2-1-1 Aobadai, Aoba-ku, Yokohama)

Hours: 10:00-20:00 (Closes at 18:00 on February 27)

*Business hours are subject to change.


Aobadai Tokyu Square Official Site: https://www.aobadai-square.com/

KYARY PAMYU PAMYU meets IMABARI: A Visit to the Historical Sea Route

Imabari is a city in Ehime Prefecture that faces the Seto Inland Sea. Since olden times, it has flourished as an important location for marine traffic. It's home to a bounty of recognised national treasures and historical heritage sights, and is also famous for its production of citrus fruits such as mikan. Japanese pop star, model, and icon Kyary Pamyu Pamyu took a trip to this ancient city to discover its wonder and beauty.

A Visit to the Historical Sea Route

Oyamazumi Shrine

A 'power spot' revered by prominent people

Oyamazumi Shrine has been revered by prominent figures throughout history as a place dedicated to the god of the mountain, god of the ocean, and the god of war. It's home to numerous Important Cultural Properties which are available for viewing by the public such as the armour worn by the military commander Minamoto no Yoshitsune when the Minamoto clan won the Genpei War (1180-1185), armour worn by women, and more. The shrine is also a notable power spot for the ancient tree that has stood there for 2,600 years and is now recognised as a natural monument of Japan. Power spots are places in Japan where the spiritually-inclined draw energy from.

Information

Oyamazumi Shrine

Address: 3327 Omishimacho Miyaura, Imabari, Ehime 794-1393, Japan

TEL: 0897-82-0032

Opening Hours: Sunrise to 17:00

National Treasure Building: 8:30-17:00 (Last Entries 16:30)

Official Website: https://oomishimagu.jp/

Kurushima Kaikyo Service Area

Lip-smacking food aplenty

If you're one for great views, then the Kurushima Kaikyo service area is a must-visit, offering a panoramic look at the Kurushima Strait of the Seto Inland Sea. The service area is very well know particularly for the Jaguchi Mikan Juice, something of a city legend in Ehime where you can enjoy fresh mikan juice straight from a tap. You can also tuck a rice bowl dish made with tachiuo hairtail caught in the Seto Inland Sea that's made to look like Kurushima Kaikyō Bridge, or try Imabari's soul food dish: the Imabari Yakibuta Tamago Meshi, a pork, egg, and rice bowl. Don't pass up the chance to snap a photo at the designated photo spot with the Seto Inland Sea in the back either like Kyary above.

Information

Kurushima Kaikyo Service Area

Address: 3-9-68 Ohamacho, Imabari, Ehime, 794-0002, Japan

Food Court: [Weekdays] 8:00-21:00 / [Weekends & Holidays] 7:00-22:00

Shops: [Weekdays] 8:00-21:00 / [Weekends & Holidays] 7:00-22:00

Outside Shopping Area & Cafes: [Weekdays] 9:00-17:00 / [Weekends & Holidays] 9:00-18:00

Official Website: https://www.jb-highway.co.jp/sapa/kurushima.php

Murakami Suigun Museum

Dedicated to the Imabari heroes who protected the ocean




Murakami Suigun Museum is dedicated to kaizoku—pirates, or lords of the sea—something which conjures to mind villainy or bad guys, but the Murakami pirates were also considered heroes who helped maintain order and protect the sea during the Sengoku warring period of Japan. The museum features many displays of Murakami family treasures including the battle surcoat which the pirate leader wore over his armour, proudly bearing the Murakami family crest. Visitors can wear replicas of this coat, which Kyary tired herself: "Now I'm sorta like a military commander too," she said.

Information 

Murakami Suigun Museum

Address: 1285 Miyakubocho Miyakubo, Imabari, Ehime 794-2203, Japan
TEL: 0897-74-1065

Opening Hours: 9:00-17:00

Closed: Mondays (or Tuesday if the Monday falls on a public holiday) / New Year Holidays (Dec 29-Jan 3)

Official Website: https://www.city.imabari.ehime.jp/museum/suigun/

Roadside Station Yoshiumi Iki-iki-kan

A bundle of fun and entertainment in one place

Roll on up to Roadside Station Yoshiumi Iki-iki-kan to enjoy a shichirin BBQ feast with fresh seafood caught in the Seto Inland Sea while gazing out across Kurushima Kaikyo. This building complex serves as a resting spot and is also the perfect place to purchase local souvenirs including Ehime specialty products. It's also famous for its offering the chance to board a boat to ride around Kurushima Kaikyo, renting out bicycles, and more. You'll also be able to meet Koro-chan, a popular fish who has lived there for 30 years.

Information

Roadside Station Yoshiumi Iki-iki-kan

Address: 4520-2 Yoshiumichomyo, Imabari, Ehime 794-2114, Japan

TEL: 0897-84-3710

Opening Hours: 9:00-17:00

Restaurant: 10:00-16:00 (Last Orders 15:00)

Closed: New Year's Day (and certain days in winter)

Official Website: http://www.imabari-shimanami.jp/ikiiki/

Dolphin Farm Shimanami

Meet the cute and friendly dolphins

Dolphin Farm Shimanami, which is connected to Hakata Beach, is the best and biggest place in Japan to interact with dolphins. Visitors can get close to them and the dolphins will show off their tricks and skills. There's even a car camping area you can stay at.

Information

Dolphin Farm Shimanami

Address: 1673 Hakatacho Kanoura, Imabari, Ehime 794-2302, Japan

TEL: 0897-72-8787

Opening Hours: 9:00-17:00

Closed: On days with bad weath

Official Website: https://www.df-shimanami.com/

Hakata Beach

A white sandy beach rolling out 200-meters 

Hakata Beach is located at the base of Oshima Bridge in Hakata. The beach is famous for its salt which is best tried on their popular sweet-tasting sea salt ice cream.

Information

Hakata Beach

Address: 1668-1 Hakatacho Kanoura, Imabari, Ehime 794-2302, Japan

Sea Bathing: Early July – Late August

Official Website: https://www.city.imabari.ehime.jp/kanko/spot/?a=198

Imabari Towels

High quality towels woven with tradition and technique

Imabari is the biggest producer of towels in Japan. Even their white towels alone have countless types you can choose from, allowing you to pick which level of softness and comfort you want. The iconic brand logo is also impactful, capturing the quality, production, and enthusiasm that the makes have for the product. Kyary herself uses them all the time!

Information 

Imabari Towel

Official Website: https://www.imabaritowel.jp/

Sunrise Itoyama

Need a bike?

Sunrise Itoyama, located in the Imabari Central Cycling Terminal, is a rental bicycle service that has bikes and helmets for everyone's needs. Rent out a bike and ride the Shimanami Sea Route which connects Ehime and Hiroshima with a series of bridges that hop across the islands of the Seto Inland Sea.

Information 

Sunrise Itoyama

Address: 2-8-1 Sunabacho, Imabari, Ehime 794-0001, Japan

TEL: 0898-41-3196

Rent-a-Cycle Details: https://www.sunrise-itoyama.jp/archives/rentacycle/

Official Website: https://www.sunrise-itoyama.jp/

Marutomi

The famous restaurant known to every local

If you want the real experience of Imabari's yakitori soul food, you should visit Marutomi, a yakitori eatery. Imabari yakitori is different from the usual Japanese yakitori as it doesn't come skewered. Instead, the chicken is cut into small pieces and fried that way. One of the most popular ways to have it is with the skin on so the outside is crunchy and the inside succulent. It goes perfect with a cup of sake too.

Information 

Marutomi

2-3-6 Katayama, Imabari, Ehime 794-0063, Japan

TEL: 0898-23-2740

Opening Hours: 17:30-22:00

Closed: Wednesdays

Official Website: https://maru-marutomi.jp/

Imabari Castle

A castle by the sea

Imabari Castle, built by the daimyo Tōdō Takatora, is known famously as one of Japan's three "Castles on the Sea" and was also listed in Japan's Top 100 Castles. When it was first constructed, boats could enter the moat from the ocean. It's a site that breathes the prosperity that Imabari has enjoyed as a significant location for maritime traffic, the same Imabari that the Murakami pirates sought to protect. Head on up to the top of the castle to stand on the observation deck and gaze at an unbroken view of the city.

Information

Imabari Castle

Address: 3-1-3 Toricho, Imabari, Ehime, 794-0036, Japan

TEL: 0898-31-9233

Opening Hours: 9:00-17:00

Closed: December 29 – December 31

Official Website: https://www.city.imabari.ehime.jp/museum/imabarijo/

Kirosan Observatory Park

A breathtaking spectacle to remember

Kirosan Observatory Park is officially recognised by Setonaikai National Park. Standing atop the observation deck fills the eyes with wonder as they gaze upon a panoramic stretch of Imabari, the Seto Inland Sea, and Kurushima Kaikyo all at once. Kyary wrapped up her time in Imabari here as the sunset coloured the sky and sea in warm evening hues.

Information 

Kirosan Observatory Park

Address: 487-4 Yoshiumicho Minamiura, Imabari, Ehime 794-2115, Japan

No Fixed Holidays

Open 24-hours a day

Official Website: https://www.city.imabari.ehime.jp/kanko/spot/?a=182

Imabari Tourism Information: https://www.city.imabari.ehime.jp/kanko/

We hope you enjoyed joining Kyary on her adventures across Imabari, and perhaps she even got you a little curious in wanting to visit the city yourself. It's a treasure trove filled with vistas by the sea, in nature, and in the city itself with its Important Cultural Properties. Food is also a big part of travel for many people, so you can rest assured that your belly will be satisfied in Imabari as you try their speciality mikan, fresh seafood fished in the Seto Inland Sea, and more.

All About Matsuyama | Final Episode: Introducing the New Matsuyama Tourist Information Centre

The reception staff are ready and waiting to greet customers with a smile

The all new Matsuyama Tourist Information Centre finally opened in the heart of Matsuyama—the capital city of Ehime Prefecture in Japan—in Okaido on May 27. You'll find it on the first floor of Matsuyama Mitsukoshi which isn't even a one-minute walk from Okaido Station. It features an interior fusion combining history and culture with a design inspired by Matsuyama Castle while also throwing in a contemporary feel.

Six giant screens serve as the perfect place for tourism-related PR of Matsuyama

The first sight many visitors will lay their eyes on upon entering the information centres are the six screens spanning 1.5 meters high and 4.5 meters across the wall. Here, a variety of promotional material centred on the highlights of Matsuyama will be displayed.

The information centre offers many useful services, including for foreign customers who don't speak Japanese. There is a translation and interpreting service, money exchange, rental electrical outlets for smart devices, and more. The staff themselves are multilingual, but the interpreting service includes access to a call centre which you can access using the free WiFi or using an iPad. The availability of foreign currency exchange is also extremely beneficial as Matsuyama is a city abundant with long-standing shops that have been around for decades and longer. Another convenience with the centre is easy access to public transport. If you're looking to travel around the prefecture, we recommend paying a visit to the centre first as it's sure to provide valuable information. You can even rent mobile batteries for your smartphone to lessen the stress when sightseeing.

The pictogram shows the many handy services available

Visitors will also find a comprehensive duty-free counter inside the information centre which covers all stores in Okaido, Gintengai, Matsuchika Town, Dogo Shoten, and Ropeway Shotengai. You must spend over ¥5,000 (before tax) on products to be duty-free eligible. Since it's a comprehensive service, if you have multiple receipts you can be exempt from tax as long as all your receipts exceed ¥5,000. Participating stores have special stickers plastered up inside so tourists can quickly and easily identify them.

Stores participating in the duty-free service have stickers and signs to show it

For example, if you spend ¥500 at participating stores in Dogo Shotengai, ¥1,000 in Okaido Shopping Street, and ¥3,500 in Gintengai Shotengai, and take all three of those receipts adding up to ¥5,000 to the information centre, you can get your items duty free. But keep in mind that the receipts have a validity period on them, so be sure to check opening hours.

The Matsuyama Tourist Information Centre serves as the perfect site for bringing in all kinds of tourists, including foreign travellers, to Matsuyama post-COVID. The information also goes by the cute nickname "Dan Dan info." Dan dan is an old Ehime phrase meaning "thank you" and ties in with the smiling and hospitable welcome staff wish to greet guests with. It's exciting to look into the future and see how Matsuyama's tourism and economic growth will develop in its shopping districts, stores, and elsewhere. Make one of your first stops the Matsuyama Tourist Information Centre when visiting the city.

All About Matsuyama | Episode 8: Souvenirs Are Part of Matsuyama's Fun and Are Everywhere

The all new Matsuyama Tourist Information Centre opened in the heart of Matsuyama—the capital city of Ehime Prefecture in Japan—in Okaido on May 27. In celebration of its opening, this new featured series by MOSHI MOSHI NIPPON will explore the wonders of Matsuyama, a city abundant with places to shop, leisurely hot spots, must-visit restaurants, and opportunities to dive deep into its history and culture. You're sure to discover something new and exciting about Matsuyama in this series.

From tasty treats to home and lifestyle goods, Matsuyama has no shortage of souvenirs

Popular sightseeing spots and delicious food you can't get anywhere else—these are all part of the fun experience to be had when travelling. To wrap up your time there and memorialise all that's happened, nothing's better than picking up a little souvenir. In Episode 8 of All About Matsuyama, we take a look at the many wonderful items you can take home with you as souvenirs from food to traditional handicrafts, special dyed fashion and accessories, and more. MOSHI MOSHI NIPPON has picked out a range of delightful treats like Matsuyama's famous tartes, jakoten, three-colour botchan dango as well as Tobe ware porcelain which is an Ehime tradition, and iyo-kasuri fabric which is one of Japan's three main kasuri fabrics.

First on the list is the 'tarte,' a speciality product of Shikoku which is more of a sponge cake. They're made of a soft and fluffy sesame seed-coloured sponge and coarse red bean paste. A famous treat of Matsuyama, you can find these tarts just about anywhere in Okaido Shopping Street, near Dogo Onsen, and elsewhere.

Jakoten is considered a soul food of Ehime Prefecture. It's made from fish that are blended into a paste and fried. You can find jakoten everywhere in Matsuyama, but every restaurant serves theirs with different textures and flavours. Many places fry them fresh, so be sure to try a bunch to compare the flavours and then you can decide which to buy as a souvenir. There are even places so popular that they have lines outside them before they even open.

The botchan dango is something many of our readers have probably seen or heard about. These three-coloured skewered dango are served bite-sized, cute enough to snap a photo of. The ones sold at Dogo Onsen are something of a speciality. They have their name from Natsume Soseki's novel Botchan. You'll find them all around Dogo Shotengai.

Tobe ware is a traditional type of porcelain from Tobe in Ehime, known for its smooth touch and durability. This traditional porcelain has been handed down from old times until today, and in recent years, ceramists have been hammering out their own unique shapes, so have become popular as stylish, everyday use lifestyle items.

You can't talk about Ehime's traditional craftwork without mentioning iyo-kasuri fabric. Matsuyama used to have huge production output of this fabric type, which stands as one of three of Japan's most famous kasuri fabrics alongside kurume-gasuri from Fukuoka and bingo-kasuri from Hiroshima. Production has dwindled in modern times, but if you go to Art Labo KASURI Rekishikan, you can learn all about iyo-kasuri. There are lots of gorgeous iyo-kasuri products to buy like cute pouches, bags, and more.

And that's our list of must-grab souvenirs. There are of course endless other things you can get your hands on, so if you're lost on what to pick up, try asking at the Matsuyama Tourist Information Centre.

Stay tuned for the next and final episode of All About Matsuyama.

All About Matsuyama | Episode 7: Mitsuhama Port is a Nostalgic Trip Down Memory Lane

The all new Matsuyama Tourist Information Centre is set to open in the heart of Matsuyama—the capital city of Ehime Prefecture in Japan—in Okaido on May 27. In celebration of its opening, this new featured series by MOSHI MOSHI NIPPON will explore the wonders of Matsuyama, a city abundant with places to shop, leisurely hot spots, must-visit restaurants, and opportunities to dive deep into its history and culture. You're sure to discover something new and exciting about Matsuyama in this series.

The Mitsu Ferry, managed by Matsuyama City, has been running for over 500 years

We've covered much about the land in this series, so in Episode 7 of All About Matsuyama, we're heading to the sea. Mitsuhama Port sits in the western part of Matsuyama, Ehime. Mitsuhama is a port town that flourished during and following the Edo Period as the 'front door to the ocean.' Visiting the town is a trip down memory lane as there are still pseudo Western-style buildings from the Meiji and Taisho periods that suffered damage from the war, as well as traditional Japanese houses, and more. The Mitsuhama Shotengai shopping district was once a bustling place for the fishing and trade industries. Today, buildings have been renovated and taken on new managers who have turned places into stylish cafes, galleries, and other businesses, creating a quaint mix of new and old.

Matsuhama Port is a 15-minute car ride from Matsuyama Station, which itself is connected to other must-visit spots we've covered in this series such as Matsuchika Town and Gintengai. If you're looking for a place to walk around, the port area is somewhere you can really stretch your legs. It's right outside Mitsu Station from where you can see Mitsuhama Shotengai lined with concrete shops. The street has an old-timey Japanese nostalgic feeling to it. The number of young people frequenting the local shops and houses that have been renovated into various stores is on the rise which is changing its image from a former port town to a hip place to go for shopping. In the summer there are firework festivals and events held by the shopping district, so it's quickly becoming one of Matsuyama's new tourist spots.

A luxurious sea bream meshi-zen set meal

If you're strolling through Mitsuhama Shotengai, one place we absolutely want to recommend people visit is Taimeshi, a restaurant that set up shop inside a Japanese house that's registered as a Tangible Cultural Property. They have only one order on the menu as pictured above: the Taimeshi-Zen, a sea bream set meal, which is made even more enjoyable by the restaurant's elegant decor.

Mitsuyamayaki is a fast food delicacy of Mitsuhama

Everyone needs to try the local fried food as well. The most popular is their okonomiyaki, a common food in Japan. However, the type served in Mitsuhama, known as Mitsuhamayaki, is a little different from the Osaka or Hiroshima styles. They load the batter with noodles and garnish with chikuwa fish-paste, an ingredient long-loved in Mitsuhama, and the secret ingredient—fish flakes. Beef is used as the meat filling. The result is the kind of flavours you'd imagine tucking into in a port down. Each restaurant that serves Mitsuhamayaki serves theirs with their own original sauces too, so no two places will be exactly the same. Try several to compare the tastes.

Something else that can't be passed up when visiting Mitsuhama is the Mitsu Ferry, a boat with a 500-year history that rides up and down the river and is free of charge. Not only has it been used since the Muromachi Period for transporting goods, it also enjoys 40,000 passengers every year having been recognised as a tourist spot in recent years.

Baishinji Station, which is right next to Minatoyama Station and is how you get to the Mitsu Ferry, is known for being the location of the final episode of the 1991 Japanese drama series Tokyo Love Story. There, visitors can also gaze at the gorgeous view of the Seto Inland Sea, pay a visit to Baishinji Garden to enjoy the plum and cherry blossoms, and more.

Matsuyama is vast and full of many places to enjoy. Mitsuhama is one of these locations and is easily accessed by train from the city centre. It's a tranquil place where you can feel both the preserved old atmosphere and the modern changes. It's sure to continue growing as one of the city's must-visit sightseeing spots.

Information

Taimeshi

Homepage: http://taimesi.net

Address: 1-3-21 Mitsu, Matsuyama, Ehime

味処いとさん

住所 愛媛県松山市住吉2-8-33

All About Matsuyama | Episode 6: Feast Your Eyes Upon the City's Food

The all new Matsuyama Tourist Information Centre is set to open in the heart of Matsuyama—the capital city of Ehime Prefecture in Japan—in Okaido on May 27. In celebration of its opening, this new featured series by MOSHI MOSHI NIPPON will explore the wonders of Matsuyama, a city abundant with places to shop, leisurely hot spots, must-visit restaurants, and opportunities to dive deep into its history and culture. You're sure to discover something new and exciting about Matsuyama in this series.

One of the biggest attractions to anyone travelling abroad, or even domestically, is the food. In Episode 6 of All About Matsuyama, we give you a mouth-watering tour of Matsuyama's food scene. Every area of the city is bursting with flavours to be savoured, so here's our list of places we can't recommend enough, all located around Okaido Shopping Street, Matsuyama Gintengai, and Matsuchika Town.

Higiriyaki

Higiriyaki is a sweet local treat from Matsuyama with chewy skin and filled with hot adzuki bean paste

The first delectable treat MOSHI MOSHI NIPPON recommends begins at a shop in Okaido Shopping Street. The 'higariyaki' is a local food that was first created during the Taisho period in Japan and is also the name of the shop that sells them. It's said that the first higariyaki was made at Zenshoji Temple which is located in front of Matsuyama Station. The temple is nicknamed "Ohigiri-san," and the dessert's name derives from the Higiri Jizo god that is worshiped there. Its dough is made with high quality wheat flour and eggs and is stuffed with an azuki bean paste recipe that has been preserved and passed down since it was first created. You get to see the higiriyaki being made fresh before you when ordering one.

Noma Kajuen noma-noma

Every cup of their refreshing juice is freshly squeezed

Noma Kajuen noma-noma is a juice and gift shop managed by Noma Kajuen, a fruit grower in Ehime which ships tasty mikan oranges around Japan. noma-noma not only serves fresh juice but ice creams, parfaits, drinkable jelly, and other takeout items too – all made with mikan. They have plenty of fruity gifts too, so don't pass up the opportunity to try some sweet Ehime mikan.

Roken Manto

The only place left making steamed bread with koubokin yeast fungus

Next on the menu is Roken Manto which is famous in Matsuyama for its steamed bread. This bread is made with koubokin yeast fungus and has been since 1931. No preservatives or other additives are used so they don't have a shelf life – you can only buy and eat them from here. The bread was adapted in Kurashiki from the Chinese steamed bun to cater to Japanese palettes. Fillings include pinto beans, raisins, cheese, cocoa, and more. None are overly sweet so make for a nice easy bite. They are particularly popular with male customers who you often see in droves buying them in the evenings and late into the night.

Nabeyaki Udon Asahi

A bowl of their sweet udon will leave you feeling happy

We're moving locations now – towards Matsuyama Gintengai. Nabeyaki Udon Asahi is a famous udon bar in Matsuyama known for its sweet tasting nabeyuki udon, something of a soul food to the locals. The restaurant opened in 1947 and has been frequented by locals since. Their udon is simple but delicious, made with a sweet broth, chewy noodles, kamaboko fish paste, chikjuwa fish paste, and boiled egg. The restaurant itself has a retro vibe to it which serves as the perfect setting for your bowl of udon. It will definitely have you wanting a second visit. One thing to note is that the restaurant closes once all noodles have been served, so we recommend visiting in the early afternoon.

Usuzumi Yokan

The quality of the adzuki beans elevate this dessert to sublime new heights

The usuzumi yokan is a famous sweet of Matsuyama which was first made over 1,000 years ago when Empress Jito visited Dogo. Its surface has a sheen to it, and inside are white beans made to look like cherry blossom petals, giving it an extravagant appearance. It's a sweet famous across Japan having won awards at national confection competitions. You can order them to have-in at this cafe if you like – and their gorgeous Tobe ware plates are available to buy too. Both would be great as souvenirs bought together.

Tonkatsu Katsuyoshi

The crunchy, mouth-watering tonkatsu is nice and light and not fatty at all

Last up on our list takes out to Tonkatsu Katsuyoshi in Matsuchika Town. They serve up some seriously succulent and juicy meat covered in a crunchy layer and served with an in-house sauce. Their menu is long, and all set meals come with a bowl of grated Japanese yam soup. Matsuchika Town is full of popular eateries with lots of takeout items to enjoy, so we recommend visiting there before moving away from the station area.

Matsuyama is loaded with restaurants so you'll never go hungry. The places on this list, and many others, are waiting for your arrival.

Information

Higiriyaki

Homepage: https://higiriyaki.jp

Address: 2-5-1 Okaido, Matsuyama, Ehime

Noma Kajuen noma-noma

Homepage: https://www.kajuen.co.jp/shop/nomanoma/

Address: 1-4-20 Okaido, Matsuyama, Ehime

Roken Manto

Homepage: http://home.e-catv.ne.jp/takeuchi/

Address: 2-3-15 Okaido, Matsuyama, Ehime

Nabeyaki Udon Asahi

Address: 3-10-11 Minatomachi, Matsuyama, Ehime

Usuzumi Yokan

Homepage: http://www.usuzumi.co.jp

Address: 1-2-2 Okaido, Matsuyama, Ehime

Tonkatsu Katsuyoshi

Homepage: http://matsuchika-town.com/shop/?mode=shop_detail&shop_id=5

Address: Matsuchika Town, 5-1-1 Minatomachi, Matsuyama, Ehime

All About Matsuyama | Episode 5: A Shopping Paradise at Every Turn

Five unique shopping districts loved by Matsuyama locals

The all new Matsuyama Tourist Information Centre is set to open in the heart of Matsuyama—the capital city of Ehime Prefecture in Japan—in Okaido on May 27. In celebration of its opening, this new featured series by MOSHI MOSHI NIPPON will explore the wonders of Matsuyama, a city abundant with places to shop, leisurely hot spots, must-visit restaurants, and opportunities to dive deep into its history and culture. You're sure to discover something new and exciting about Matsuyama in this series.

When visiting Matsuyama, some of the must-visit hot spots include places like Dogo Onsen and Matsuyama Castle. While it's true you're sure to enjoy a satisfying sightseeing experience visiting these worthwhile locations, if you're looking for an even truer Matsuyama experience, you'll want to hit up the city's shopping districts. In Episode 5 of All About Matsuyama, we're looking at five different shopping districts, each with their own unique characters, and all loved by the locals.

The five places we're looking at are: Okaido Shopping Street, a bustling street and the biggest shopping district in all of Ehime; Matsuyama Gintengai which is lined with a diverse bounty of stores; Matsuchika Town which is the only underground shopping centre in Shikoku; Ropeway Shopping Street, a beautiful street with an inherently 'Japanese' feel to it; and Dogo Shotengai which connects the local station to the main Dogo Onsen site. All five of these places should be listed alongside Matsuyama Castle and Dogo Onsen as tourist hot spots.

Let's begin with Okaido Shopping Street. Located right by Okaido Station, the street runs 483 meters from Shiden Street to Chifunemachi Street. It's an enormous, brightly-lit arcade with plenty of things to enjoy throughout the day from the morning farm market to the wine and dine experiences to be had in the evenings. No matter the hour, Okaido Shopping Street is bustling, so if you're looking for some fun in Matsuyama, this is the place.

Next on the list is Matsuyama Gintengai, which runs from Chifunemachi Street to Matsuyama City Station. It connects directly to Okaido Shopping Street and is split into four districts: Sanchome and Yonchome. This 600 meter space is frequented by young and old shoppers alike, with delectable desserts to tuck into and lifestyle items to adorn your days with.

Matsuchika Town can be accessed via an elevator from Matsuyama Gintengai. It's connected to Matsuyama City Station and is the only underground shopping district you'll find in the whole of Shikoku, one of the five main islands of Japan. It's on the smaller side when compared to Okaido and Gintengai, but as well as various stores, it has a well-known rest and meeting spot which is a symbol of the shopping centre.

Ropeway Shopping Street is a 500 meter road that runs from Matsuyama Ichibancho—which is across from the same Shiden Street that links to Okaido Shopping Street—to the Matsuyama Ropeway cable car station that goes to Matsuyama Castle. It's home to many old-time shops stocking second-hand books, Japanese instruments, and more. It's also a barrier-free shopping centre which is something of a rarity in Japan.

The final site on this list is Dogo Shotengai, which is about 10-minutes by train from Okaido Station. It's an L-shaped arcade that runs 250m from Dogo Onsen Station. It's known colloquially as Dogo High Collar Street for its smart and chic Meiji Roman vibe. There are many people who walk around the area from the surrounding hotels in yukata. It really has that 'hot spring town' vibe.

And that's our list of five unique shopping districts adored by the locals. Be sure to jot them on your list of places to go when travelling to Matsuyama.

All About Matsuyama | Episode 4: Japan's Famous Bathhouses Dogo Onsen & Dogo Onsen Annex Asuka-no-Yu

Dogo Onsen is registered as an Important Cultural Property of Japan

Dogo Onsen Annex Asuka-no-Yu incorporates Asuka Period-style architecture


The all new Matsuyama Tourist Information Centre is set to open in the heart of Matsuyama—the capital city of Ehime Prefecture in Japan—in Okaido on May 27. In celebration of its opening, this new featured series by MOSHI MOSHI NIPPON will explore the wonders of Matsuyama, a city abundant with places to shop, leisurely hot spots, must-visit restaurants, and opportunities to dive deep into its history and culture. You're sure to discover something new and exciting about Matsuyama in this series.

In Episode 3 of All About Matsuyama, we head to Dogo Onsen, another famous location that should be added to your Matsuyama bucket list adventures.

Dogo Onsen is Japan's oldest hot spring, located along Dogo Shotengai, a shopping district that runs 250m from Dogo Onsen Station. Dogo Shotengai is known colloquially as Dogo High Collar Street for its smart and chic Meiji Roman vibe. Dogo Onsen is a 3-story hot spring facility in the heart of Dogo which became the first public bathhouse to be registered as an Important Cultural Property of Japan in 1994.

Conservation and repair work began on Dogo Onsen in January 2019 in order to preserve the bathhouse which boasts a long history spanning over 120 years. It is the first public bathhouse in Japan to operate as an Important Cultural Property while undergoing large-scale reparation.

The preservation work is scheduled to take 7 years during which the Dogo Reborn Project is taking place. The Phoenix from Osamu Tezuka's manga of the same is watching over the revitalization of Dogo Onsen which will be 'reborn' like a phoenix. The project is holding a range of events such as light-ups, projection mapping, animations that people can watch, and more.

Please note however that project mapping is temporarily suspended until May 31, 2021 due to COVID-19.

Dogo Onsen's history spans more than 120 years. Its on-site sister location, Dogo Onsen Annex Asuka-no-Yu, opened in 2017. This bathhouse is constructed in the style of the Asuka Period. Asuka-no-Yu, like the main Dogo Onsen building, is home to Bijin no Yu, a rare kind of water with a soft texture which flows from the source and is neither heated nor cooled.

Dogo Shotengai, which links together Dogo Onsen and Dogo Onsen Annex Asuka-no-Yu, is an L-shaped arcade and runs from Dogo Onsen Station. It has a roof which means you can walk from the station straight to the bathhouse without getting wet on a rainy day. There are around 60 shops to look around, and if you wear a yukata, you're sure to enjoy the real Dogo experience. Head back in time in Japanese history with a visit to the Dogo area.

Information

Dogo Onsen Homepage (English): https://dogo.jp/en/

Address: 5-6 Dōgoyunomachi, Matsuyama, Ehime 790-0842, Japan

Access: 5-minutes on foot from Dogo Onsen Station

All About Matsuyama | Episode 3: Matsuyama Castle's History Overlooking the City Throughout History

Matsuyama Castle from high above

Matsuyama's shitamachi castle town

The all new Matsuyama Tourist Information Centre is set to open in the heart of Matsuyama—the capital city of Ehime Prefecture in Japan—in Okaido on May 27. In celebration of its opening, this new featured series by MOSHI MOSHI NIPPON will explore the wonders of Matsuyama, a city abundant with places to shop, leisurely hot spots, must-visit restaurants, and opportunities to dive deep into its history and culture. You're sure to discover something new and exciting about Matsuyama in this series.

In Episode 3 of All About Matsuyama, we're taking a look at Matsuyama Castle, an absolutely indispensable location when travelling to Matsuyama which has and still watches over the development surrounding shitamachi castle town.

Matsuyama Castle sits at the heart of Matsuyama. It was built in 1603 on top of Mount Katsuyama which stands towering at 132 meters tall. At the foot of the mountain are two enclosures: Ninomaru and Sannomaru. The castle grounds are so big that you wouldn't be able to see everything in a single day. It's also home to only one of 12 existing original castle towers in Japan, is featured in Japan's Top 100 Castles list, and was selected as one of the 100 Most Beautiful Historical Sites in Japan. It also ranked as the third best castle in Japan in a 2020 list. You clearly can't pass up a visit to Matsuyama Castle when travelling to Matsuyama!

There are several ways to get to Matsuyama Castle. You can take the walking route upwards which takes about 30 minutes, but many people take the Ropeway or lift. You can buy a ticket for the Ropeway at the station outside Matsuyama Ropeway Shopping District. You will be greeted by Matsuyama Castle's mascot character Yoshiaki-kun.

Matsuyama Castle was built following the Battle of Sekigahara by Katō Yoshiaki who was awarded for his service as a retainer of Toyotomi Hideyoshi. The main tower is the only part that has been preserved in its original form. Other parts of the keep have been restored throughout the years due to fires. Several parts of the castle have been designated as Important Cultural Properties including the main tower which can be accessed by visitors who can see what the castle was like when it was first built.

The castle is surrounded by a towering 14-meter stone wall which, though was built in order to prevent enemies from infiltrating, has an air of beauty to it. Two stone walls were built on the mountain slope to stop people from entering via the hillside too. This wall is considered a nationally precious example of Japanese history and is a must-see when visiting Matsuyama Castle.

It's rare for a castle like this in the middle of a city to have such a history. The view from the very top of the castle keep, which is an extra 30 meters on top of the 132m tower, is a wonderful sight to behold as you gaze across Matsuyama. Many people visit the castle during the daytime, but the castle is actually one of the city's most beautiful night time spots too. Whichever time of the day you decide to visit, you're sure to learn much about Matsuyama's history.

Information

Due to COVID-19, the castle, Ropeway Lift, and Ninomaru Gardens are temporarily closed until May 31, 2021.

 

Matsuyama Castle Homepage: https://www.matsuyamajo.jp

Matsuyama Castle Ropeway is a 5-minute walk from Okaido Station.

All About Matsuyama | Episode 2: Bargain Shopping Experience With machipay

The all new Matsuyama Tourist Information Centre is set to open in the heart of Matsuyama—the capital city of Ehime Prefecture in Japan— in Okaido on May 27. In celebration of its opening, this new featured series by MOSHI MOSHI NIPPON will explore the wonders of Matsuyama, a city abundant with places to shop, leisurely hot spots, must-visit restaurants, and opportunities to dive deep into its history and culture. You're sure to discover something new and exciting about Matsuyama in this series.

Machia in Matsuyama Gintengai offers support for the machipay Service

In Episode 2 of All About Matsuyama, we're looking at 'machipay,' a special service exclusive to Matsuyama that opens opportunities for a great value shopping experience.

Matsuyama's shopping districts serve as the foundation of the lives of those residing in Matsuyama. Even visiting as a tourist for shopping and sightseeing you can enjoy an inherently 'Matsuyama' experience. Something that will make that experience even better is using the city's machipay service which combines points, electronic money, and coupons all in one place. The service was created for both locals living in the city as well as tourists to create a more convenient shopping experience.

The machipay card and app feature three functions: Points, Electronic Money, and Shopping Coupons. It is compatible at countless popular stores around Matsuyama including Okaido, Gintengai, Matsuchika Town, Matsuyama Ropeway Shopping Street, and elsewhere. Every ¥100 of electronic money spent using the service nets you one point, and one point is equivalent to ¥1. Putting money on the card and paying with it means you'll start collecting lots of points which can be used at these various stores. Coupons offered around the shopping districts and its stores can also be saved onto your machipay app, making it a very handy shopping companion.

But shopping isn't the only way to earn machipay points. Attending events in the city, getting involved in voluntary work, and other activities that involve living in or like the people of Matsuyama will also garner you points.

The "machica Card" which is used for the service is sold at the machia shop (pictured above) in Matsuyama Gintengai everyday from 10:00-19:00. There's also an app. As of April 30, 2021, there are 1,200 stores in Matsuyama that are participating in the service.

If you're planning a trip to Matsuyama, make sure to use machipay.

Information

machipay

Contact machipay: 0570-055-081

machica shop Address: 3-7-10 Minatomachi, Matsuyama, Ehime 790-0012, Japan

machia Official Website: https://machica.jp

All About Matsuyama | Episode 1: The City's History at Saka no Ue no Kumo Museum

The all new Matsuyama Tourist Information Centre is set to open in the heart of Matsuyama—the capital city of Ehime Prefecture in Japan— in Okaido on May 27. In celebration of its opening, this new featured series by MOSHI MOSHI NIPPON will explore the wonders of Matsuyama, a city abundant with places to shop, leisurely hot spots, must-visit restaurants, and opportunities to dive deep into its history and culture.

Outside the Saka no Ue no Kumo Museum

In Episode 1 of All About Matsuyama, we head to Saka no Ue no Kumo Museum. This museum, established in 2007, is located near Matsuyama Ropeway Shopping Street, an area lined with many independent stores which enjoys a relaxed atmosphere. The museum is inspired by the Japanese novel Saka no ue no kumo by Ryōtarō Shiba which was originally published serially between 1968 and 1972. A television drama adaptation aired in Japan from 2009 to 2011. The story is set during the Meiji period and follows three characters all of who are from Matsuyama: Akiyama Yoshifuru, his brother Akiyama Saneyuki, and their friend, Masaoka Tsunenori, also known as Masaoka Shiki. The museum exhibits a different theme every year: some themes have included an exhibit centred on these three characters, another on the Meiji Period when Japan modernised rapidly, and more, as well as other individual showcases.

But discoveries aren't only to be found in the museums exhibits. Visitors should also pay attention to the building's architecture which was conceived by international self-taught architect Tadao Ando. Its intriguing design stacks together two triangles. When creating the blueprint for the building, Ando ensured to create a form that would not interfere with the natural landscape or surrounding trees and nature. The museum has a relaxing atmosphere to it and every floor has slopes which connect to one another, so visitors can expect to enjoy an unrushed time there.

The staircase has a unique design which lacks common support columns

Saka no Ue no Kumo Museum is also one of the zones that is part of Matsuyama's Field Museum Project which aims to turn the entire city into a 'roofless' museum, with every part of it offering something for locals and tourists to enjoy that is inherently Matsuyama.

The museum sells its own exclusive merchandise too, and there's even a cafe to enjoy a drink and bite to eat after or during visitors' stroll around the various exhibits.

If you've yet to visit Matsuyama, or have plans to, then Saka no Ue no Kumo Museum is a place we can't recommend enough for putting on your list of must-visits.

Information

Saka no Ue no Kumo Museum

Address: 3-20 Ichibancho, Matsuyama, Ehime, 〒790-0001, Japan

Official Website: https://www.sakanouenokumomuseum.jp/

*The museum is temporarily closed until May 31, 2021. Subject to change depending on the state of COVID-19 and government guidelines.

Review: Buy Ise Souvenirs in Japan's Kanto Region at the New ISE SHOP

Tama Plaza Terrace, a shopping centre in Yokohama, opened a limited-time pop-up shop on February 9 called ISE SHOP which is selling around 100 products shops located in Japan's city of Ise.

The shop opened in response to the reduction of sales of foodstuff, traditional handicrafts, and more in Ise due to the pandemic as people from Kanto can't easily travel to Ise. It has enjoyed enormous success over the past week and a bit since its opening and has even been picked up on Japanese television.

A unique antenna store stocking 100 items from Ise

Located on the second floor of Tama Plaza Terrace, ISE SHOP is open for a limited time until March 28. The first thing to greet customers at the store is the enormous noren curtain which has a distinct colour inspired by the colours of the forest at Ise Grand Shine and of the ocean at Ise Bay. Displayed on the entry curtain are the striking chigi, or forked roof finials, of Ise Grand Shrine.

ISE SHOP is like a museum

The shop interior is furnished with white and wooden notes to capture the natural landscape of Ise. The products are displayed like items in a museum.

A bounty of unique products

Popular products from Ise are also on show

The popular face mask beauty brand LuLuLun sells a line-up of items exclusive to their Ise-based store, and these are also being sold at ISE SHOP.

Ise specialty products

The udon noodles made in Ise are a speciality product of the city, and there's plenty to pick from at ISE SHOP along with other tasty food.

Cute omikuji fortunes

These shinju pearls are also a famous specialty product of Ise and come in a line-up of items from affordable to more special ones.

Hard candies perfect as souvenirs, Asao Nori seaweed for meals, and more

Two individuals associated with Ise also pay a visit

Hikari Shibata and Yuri Suganuma are involved in the Girls Trip project being held by the Ise Tourist Association and they also visit the store. They were surprised at how many great things you can get your hands on from Ise despite being all the way in Japan's Kanto region.

Left: Hikari Shibata | Right: Yuri Suganuma

Suganuma found a bunch of items she loves when she last went to Ise

Commemorative photo with the ISE SHOP-exclusive bag

The ISE SHOP is hosting an event related to Ise's famous candy where you can pick up a selection of sweet treats on weekends. If you're staying in Kanto this winter, experience a taste of Ise at the ISE SHOP in Yokohama.

Information

ISE SHOP

Running: February 9, 2021 – March 28, 2021

Opening Hours: 10:00-21:00

*Opening hours subject to change depending on the pandemic

Location: Tama Plaza Terrace – Gate Plaza Floor 2F

Official Website: www.tamaplaza-terrace.com