Rakuten Travel Reveals the Most Booked Onsen Regions of 2019
Japan's largest online travel site Rakuten Travel has announced the 2019 rankings for the most popular onsen spots in Japan. Having calculated the number of people staying at an onsen resort multiplied by the number of days they stayed, the rankings reveal that the winner has been the same for six years in a row now: Atami in Shizuoka.
Atami in Shizuoka has established its reputation as one of the leading locations for onsen in Japan. Its high quantity of hot spring water has earned the area top spot on Rakuten Travel's rankings for six years in a row now. Along with easy access from Tokyo and its range of leisure facilities, this is a popular location for couples and even families with children.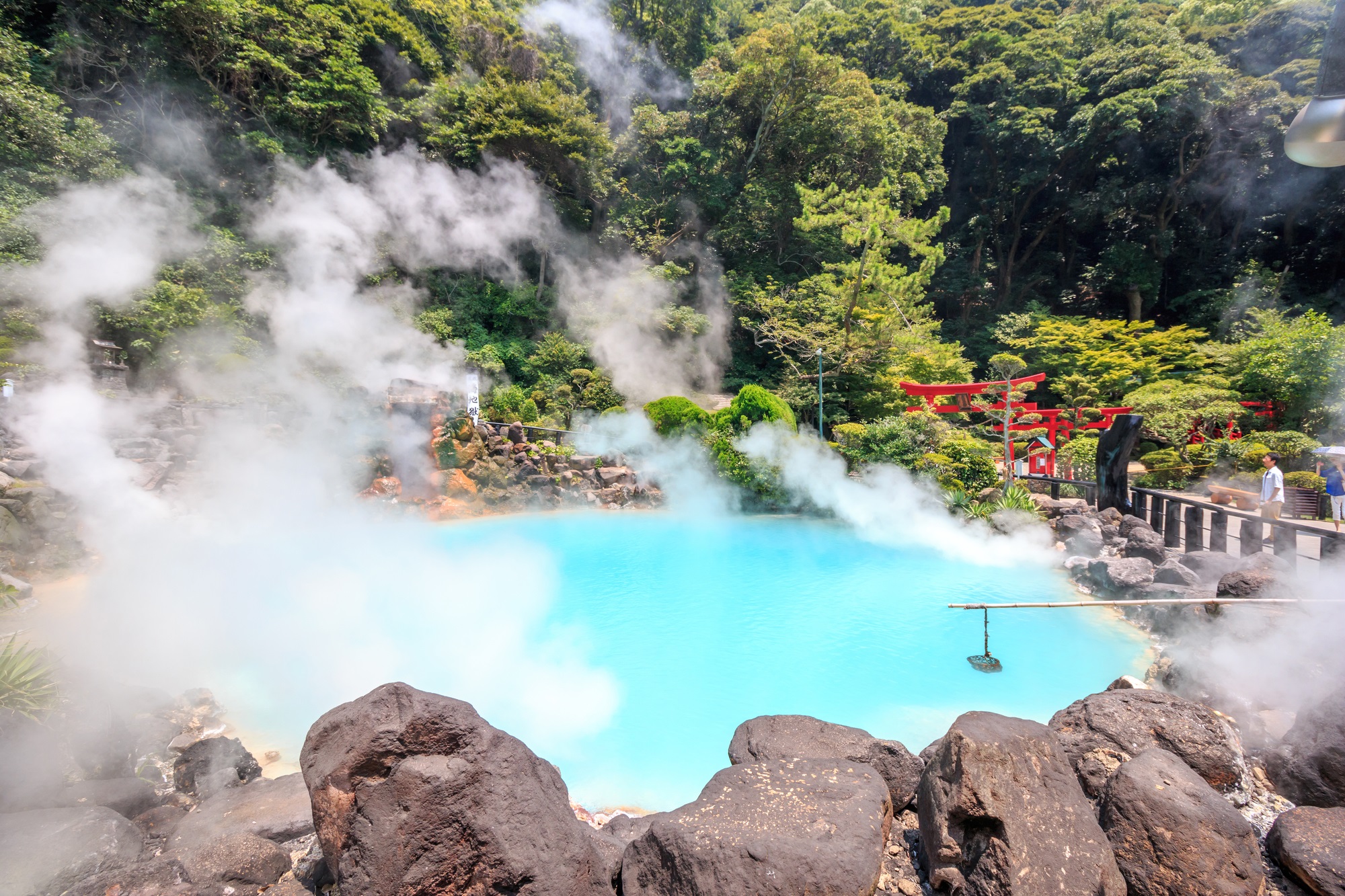 In second place is Beppu Onsen, Ōita prefecture which has also made it into the rankings for six years in a row. Rakuten Travel's customisable domestic travel package "Raku-Pack" has proven to be particularly popular among travellers to this region. "Raku-Pack" includes your airline ticket, access to all accommodations offered by Rakuten Travel across Japan, and free usage of rental services. Starting with Ōita prefecture's first ever ANA InterContinental resort in Beppu (InterContinental – ANA Beppu Resort & Spa), more than 10 travel accommodations have opened this year and next year sees even more resort development.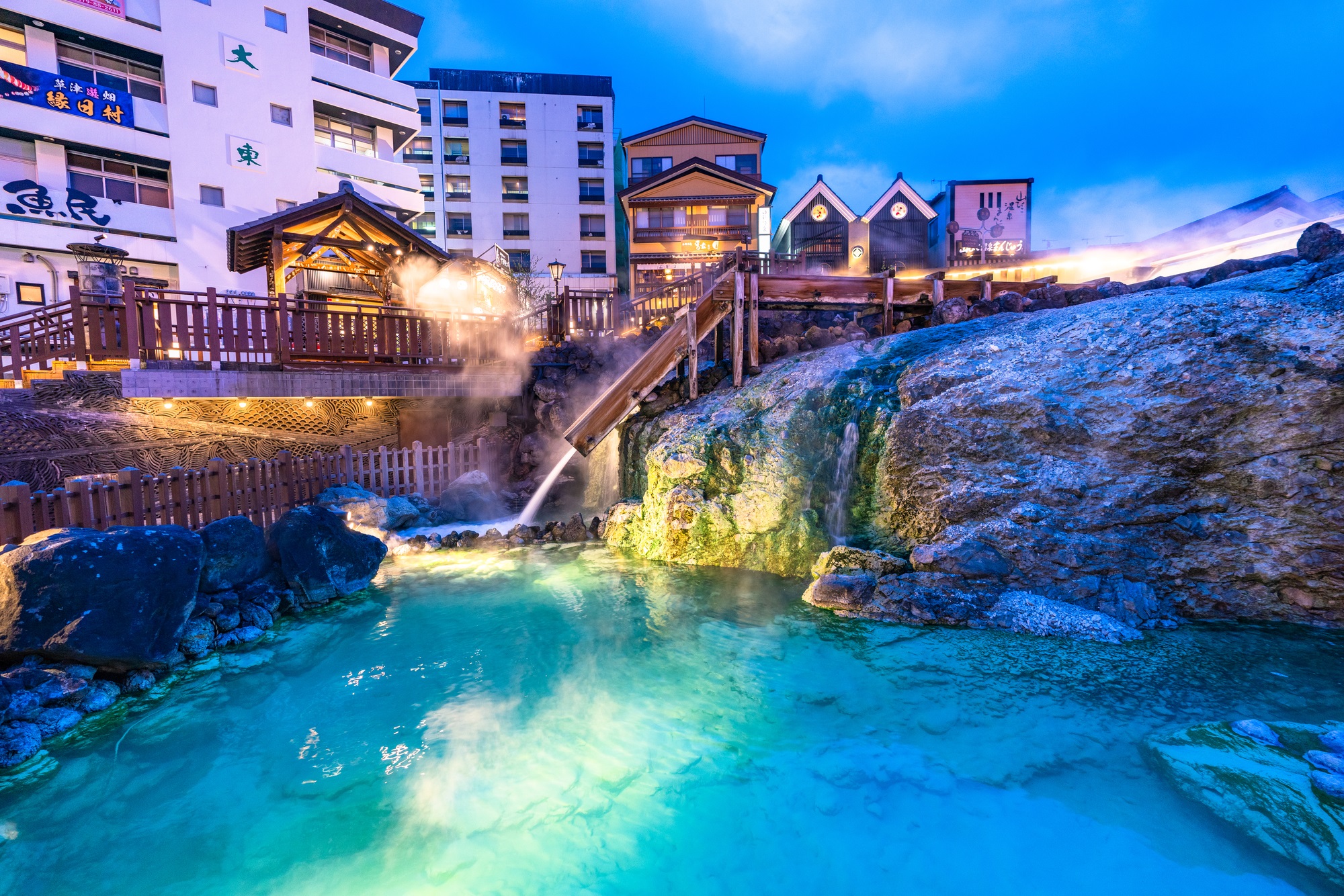 In third place is Gunma Prefecture's Kusatsu Onsen which has risen by one place since last year. This year, Sainokawara Open-air Bath (Sainokawara Rotenburo) received high amounts of praise for their mixed bathing day and changed this to be offered on a weekly basis as a result. A variety of events and tourist spots are constantly opening including the steepest zip line in Japan which will open in April.  
For more information on places to visit in Japan, please visit Rakuten Travel's website.
RECOMMENDED ENTRIES
This Relaxing Onsen Hotel with Picturesque Nature and Luxurious Local Cuisine is the Perfect Getaway

Japan is full of picturesque locations where you can be at one with nature and soak the tiredness of your body away in the onsen baths. If you are looking for an escape from busy working life, then you're in luck: Today we'll be introducing you to a modern onsen hotel which is perfect for families, lovers, and even solo travellers. 

Escape from Tokyo on the bullet train, ride the Zairai line and finally, catch a bus. After your two-hour journey, you will arrive at onsen hot spot Uonuma city in Niigata Prefecture. Today, we'll be heading to Tomoya Hotel. The picturesque scenery of paddy fields and mountains will unfold before your very eyes and put your mind at ease.    

Sunlight pours over the reception desk from the giant window. It was time to check in. After being informed on meal times and private onsen rentals, I quickly headed to my room.

I was given room 305. The warm wooden structure made the room feel lavishly large. Whether you're snuggling up with a lover, chilling out with friends or relaxing with family, the atmosphere and size of the room allows for flexible usage.

The Sanashi river was right outside my window. I could watch the soothing clear water flow out to the horizon for hours. 

The room was prepared with loungewear, bath towels, toothbrushes, socks and many other amenities. It was even fitted with a fridge and water heater. 

From the lamps lighting the stairway and hallway sofas to the displayed artwork, every item in Tomoya Hotel is a carefully selected item of special design. 

There was even a DJ area next to the lobby which contained a surprising stash of records, CDs and DVDs which was uncountably large. Being able to discover new music and films is another admirable feature of the hotel. 

The front lobby is filled with a fresh and liberating atmosphere. There are plenty of spots to sit and read to yourself as the melodies of records weave through the air.

The shop sells specially selected products including locally produced juice, snacks and much more. You can even purchase Tomoya Hotel's original skincare goods. Reading the cheerful and thoughtful comments written on the goods by the manager made it clear that every single item in the shop was chosen with the utmost care. 

One by one, several lavish courses arrived at my door for dinner that evening. The locally-sourced ingredients and seasonal vegetables were served with Niigata prefecture's uonuma koshihikari rice, which is famed as Japan's best rice. 

Nameko mushroom hotpot, salt-fried East Asian trout, tofu mixed with lotus root, and sashimi were just some of the hotel's many original dishes that were brought to my door. As the rice was harvested from the first crop of the year, it was very sweet and so delicious that I helped myself to multiple servings without realising. The food was flavoured and seasoned very lightly to ensure that guests could fully enjoy the true flavours of the fresh harvest from the mountains and the sea. The luxurious dinner was highly enjoyable. 

I enjoyed sipping a small glass of Tomoya's chilled Reishu sake with my meal. This is an original recipe sake created by Tomoya Hotel and local sake brewery Tamagawa Shuzo. It was so refreshing, easy to drink and perfectly complimented every dish. The hotel provided a rich variety of alcoholic dinks including refreshing beer, carefully-selected wines, rare local sake, homemade fruit liqueurs, and more.

The onsen is home to rich history dating back to the year 1300 when it first opened its doors to the public. There are two types of private rental onsen and large public onsen indoors. Some square-shaped baths sit right beside a small stream which branches off from the Sanashi river. Treat yourself to a soothing soak in a historical onsen while absorbing the beautiful scenery. 

After finishing your relaxing soak, head to floor 1 of the main building to spend some time relaxing. This space is for guests to use freely and how they please. There are bookshelves lined with books and games available.

The first floor of the hotel annexe was my favourite place. Music from a variety of genres is played here. A disco ball hangs high, splashing light across the spacious room. There is a ping-pong table, a pool table, massage chair, piano, an old Nintendo game, manga and much more. It may seem like a relaxing place at first glance, but my heart was racing with excitement as I got hooked on the games.

The following morning, breakfast was delivered right to my room again. Seeing the tray filled with a luxurious mix of both western and Japanese-style cuisine was very pleasing to see. I indulged in yaki-fu: baked wheat gluten which is a specialty of Niigata, fried fish, rolled Japanese-style omelette, homemade cheesecake and much more. All the meals served at the hotel are made with the utmost care and precision. 

If I were to introduce all the wonderful services and features of Tomoya hotel then there would be no end to this article. The main highlights were the delicious meals made with locally sourced ingredients, the soothing onsen, the music, films and experience of art culture, and of course, the opportunity to get in touch with nature, watching the water trickle down the mountain streams as your mind discovers peace. 

If you are looking to heal your body, mind and soul whilst discovering nature and art, then Tomoya Hotel is perfect for you. 

Writer:Ellie(MOSHI MOSHI NIPPON)

Hotel Royal Classic Osaka: A Museum & Hotel Fusing Tradition and Innovation in an Art Museum-Style Space

Shin Kabuki-za is an old theatre in Osaka that has been loved by locals since it opened in 1926. The theatre is set to find new life as Hotel Royal Classic Osaka, a new hotel developed by Japanese architect Kengo Kuma which is set to open on December 1, 2019. The MOSHI MOSHI NIPPON editorial team received exclusive access to view the hotel before it opens to report on it and showcase how it differs completely from other hotels with its characteristic charms.

Its direct connect to Namba Station means super easy access

Hotel Royal Classic Osaka is situated in the central part of Osaka Minami. Direct access to the hotel from the Osaka Metro section of Namba Station will be made available from March 2020, allowing for easy access and the reassurance that you won't get lost wandering the streets trying to find your accommodation. Its location means easy access for tourists and travellers with a lot of luggage, working professionals who want to shorten the distance between commutes as much as possible, and pretty much any other scenario where accessibility is a priority.

An iconic building exterior combining tradition and modern innovation

Shin Kabuki-za is known by the locals who live in the area for its magnificent karahafu roof gables. The hotel will inherit this symbolic part of the theatre's design and restore the lower part of the building. The upper part makes use of multiple layers of aluminium to create a dynamic and intricate design, resulting in a unique appearance that fuses both the traditional formation of the original theatre with a modern touch. Thanks to Kengo Kuma's skillful architectural work, the building merges effortlessly with the surrounding buildings while retaining the local culture.

It's as much of an art museum as a hotel

Olympic Girl 100m by Ay-O (Takao Iijima)

The hotel also stands tall and proud as an art museum. As you walk down its corridors, your eyes will meet a plethora of gorgeous pieces of artwork which serve to lay guests into a sense of calmness and tranquility. These works are scattered throughout the hotel, both at the front desk, guest rooms, and elsewhere, making it feel like you have really stepped into a museum of art. High-class pieces also line the walls nonchalantly, so give yourself time to appreciate the many masterpieces you'll find there.

  

High ceilings create spaceーspace which is nothing less than relaxing

There are 150 guest rooms in total, consisting of Standard Rooms, Premium Rooms, and Suite Rooms. Not only does each and every room boast a beautiful and panoramic window view of Osaka's nightscape, they also enjoy high ceilings, creating a sense of space and freedom.

Wood is the base of all the rooms, giving them a natural and relaxed feeling. The furniture is simple which gives the rooms a minimalist design, again adding to the space and sense of luxury. We stayed in one of the Standard Rooms. Don't let going for Standard make you feel inferior, however, as we felt the room was incredibly spacious with plenty of space to store luggage.

Room lighting is controlled with a tablet located next to the bed. The tablets are compatible in four languages. Each icon on them also has universally easy-to-recognise pictures for easy use.

Also, the bathtubs in Standard Rooms have a little window that looks into the main bedroom. If you're with someone you're on good terms with, whether friends, family or a loved one, you can communicate back and forth while you take a soak. (There is of course a sliding door so you can close it off too!)

We were also shown around one of the Suite Rooms which are fitted with a living room and spacious washroom. It really is penthouse-level extraordinary.

The bathrooms have a window that looks out across the city nightscape, allowing for an indulging soak with a breathtaking view. It's not one we could afford every single time we book a hotel, on a special occasion one time it's an absolute definite.

 

Amenities galore to pamper your hair and body

The rooms come with a long line-up of fantastic amenities, like comfy cotton PJs, fluffy slippers, and our personal favourite: a compressed bag for your clothing. 

The amenities in the washroom were bountiful too, from shampoo to conditioner, shower gel and body gelーall of which, by the way, are by the Thai organic brand Panpuri. They all smelled incredible and filled the bathroom with their gorgeous scent.

They have all your ordinary must-haves too like a hair comb, cotton buds, toothbrush, and so on.

KUMO KUMO: The bar and lounge with comfy sofas

The hotel building has a total of twenty floors. After enjoying our time in the hotel portion, we headed up to the bar and lounge KUMO KUMO on the 20th floor. Inside the elevator, piano music plays while you gaze at the several pieces of art fitted inside. There was even a piece by Yayoi Kusama, so be sure to take a look.

When entering KUMO KUMO, there's not only seats at the counter, but lots of sofas too with a window view.

Jazz music flowed through the bar and lounge, which is best enjoyed with a cup of delicious sake while staring out over nighttime Osaka.

HAFU is a restaurant for guests only that serves breakfast.

Their menu consists of lots of healthy options, from fruits to salads.

The chef will also prepare fresh hotel-grade egg and meat dishes too, amongst other delicious delights. There's also a range of slim-friendly menu items made with foreign guests in mind. The assortment was truly incredible, we can't recommend this place enough.

Of course, there's yogurt, mini sweets and other dessert-like morning treats to indulge in too. It was a breakfast for the gods.

YURAYURA: A restaurant that combines Japanese and Western cuisine


The team enjoyed lunch at YURAYURA too, a buffet-style restaurant that also seats non-guests. Their menu is an amalgamation of the Japanese and Western palate, serving carefully-selected ingredients from countries around the world.

They had various foods from around Asia too like nasi goreng from Indonesia, as well as Korean japchae, and more.

Other things we spotted were pincho and small-cut sweets too.

For Japanese food there were things like freshly-fried tempura, and large cuts of roast beef which were cut there and then by the chef.

What I was personally happy about was their cafe menu, with things like cafe latte and other hot drinks. It was a satisfying 90-minutes spent, wolfing down food and then enjoying some sweets with a cafe latte.

5 spaces that can be used for weddings, parties & more


The hotel building even houses two chapels, as well as banquet halls, which can be used for weddings, parties and more. The chapels have large windows that let in plenty of natural sunlight. The use of natural wood also gives the room a warm feeling to it.

Floor 8's HANAEMI

There are five banquet halls in total each on a different floor and each with their own concept. Those on floors 7, 8 and 9 even have terraces for parties too. Whether you're having a party, a wedding, or a conference, there is a room for you.

Hotel Royal Classic Osaka's speciality is its inclusion of leaving a part of traditional Japan in there while still letting you feel the Japan of today. Whether you're travelling to Osaka for some sightseeing and fun, or you're in the business scene and need a regular-use hotel, look no further. We felt connected to Osaka in our experience there, so if you're planning a trip to Osaka, be sure to book with Namba's newest landmark.

Information

Hotel Royal Classic Osaka

Address: 4-3-3 Namba, Chuo Ward, Osaka

Grand Opening: December 1, 2019

Access:

①From March 2020, the hotel will be directly connected to Exit 12 of Namba Station in the Osaka Metro section

②4-minutes on foot from Namba Station via the Nankai Main Line

③3-minutes on foot from Namba Station via the Hanshin Namba Line

④10-minutes on foot from Namba Station via the JR Line by way of Namba Walk (underground)

Official Website (English): https://hotel-royalclassic.jp/en/

Top Six Hotels on Booking.com for Nighttime Sceneries and Light Displays in Japan

The diverse range and large number of accommodations and trip services found on Booking.com is phenomenal. As one of the world's largest travel accommodation booking websites, this is the first port of call for many who want to guarantee seamless travel plans. Today we're announcing Booking.com's top accommodations for heart-warming light up events and nighttime views. For couples looking for a romantic getaway in Japan, let this article be your guide.

Hotel La Suite Kobe Harborland (Kobe, Hyogo)

Hotel La Suite Kobe Harborland is a five-star hotel located near Harborland Waterfront which enjoys an extraordinary view of the sea. The rooms are fitted with a spa bath and there is even a rooftop terrace with comfy sofas to relax. All guests are treated to a romantic view right from their window. The hotel is situated just a 20-minute walk from Kobe's grandest winter illumination event called 2019 Kobe Luminarie. If you want to get up close to magnificent works of art, this hotel is for you.

Review Rating: 9.5/10.

Click here to view Hotel La Suite Kobe Harborland on Booking.com

Yokohama Royal Park Hotel (Yokohama, Kanagawa)

Yokohama Royal Park Hotel is situated on floor 52 and upwards in Yokohama Landmark Tower. Being located in the second tallest building in Japan surely has its perks. Soak in the beautiful cityscape and the best view of Yokohama Bay Bridge to your heart's content. You can only imagine the breathtaking view available in every room. Facilities in the hotel include a fitness centre with an indoor pool, eight diverse restaurants and a massage facility (fee applies). A brand new shopping mall called Yokohama Hammerhead recently opened in close vicinity which is the perfect place to spend the afternoon or have a bite to eat.  

Review Rating: 9.0/10.

Click here to view Yokohama Royal Park Hotel on Booking.com

The Prince Park Tower Tokyo, Minato, Tokyo

With the iconic figure of Tokyo Tower glowing right outside your window, the Prince Park Tower Tokyo stands tall in Shiba Park. Prince Park Tower Tokyo enjoys spacious rooms, entertainment facilities such as bowling and karaoke, and relaxation facilities such as saunas, massage services and much more. Limited facilities include access to the fitness centre, onsen spas, indoor swimming pool and the lounge on floor 33. You can purchase a room with the view of Tokyo Tower on Booking.com 

Review Rating: 8.9/10 

Click here to view Prince Park Tower Tokyo on Booking.com 

Garden Terrace Nagasaki Hotel & Resort (Fukuoka, Nagasaki)

Located on Mount Inasa, this hotel offers a beautiful view of Nagasaki. There is a wide variety of facilities including an outdoor swimming pool (open depending on the season) and bars. Guests can enjoy the mystical and romantic nighttime scenery from the poolside. The hotel even offers a wedding plan, making it the perfect place for couples. 

Review Rating: 8.9/10.

Click here to view Garden Terrace Nagasaki Hotel & Resort on Booking.com

mizuka Nakasu 3mizuka Nakasu 3 -unmanned hotel (Fukuoka)

This hotel is located in Nakasu, Fukuoka just 500m away from Seiryu Park, the old municipal guest palace Kihinkan Hall and the historic monument Hakata Machiya Kishin Takatoro. Each room has two bunk beds and can fit up to four guests. Enjoy the hotel's barbeque or takoyaki set with friends or family with the fantastic nighttime view of Fukuoka. 

Review Rating: 8.8/10

Click here to view mizuka Nakasu 3 -unmanned hotel on Booking.com

Ryukyu Onsen Senagajima Hotel (Naha, Okinawa)

Ryukyu Onsen Senagajima Hotel's magnificent outdoor pools, onsen, massage services and buffet restaurant that overlooks the picturesque sea at night should be enough to get your attention. You can enjoy a SPA OSa beauty treatment and even water sports or golf in the area. This is a wonderful way to celebrate the first Christmas of the Reiwa Era with your friends or family.

Review Rating: 8/7/10

Click here to view Ryukyu Onsen Senagajima Hotel on Booking.com

If you're visiting Japan this Christmas, consider one of these relaxing hotels and their glorious views.

*Review Ratings are based on reviews received in the past two years (from December 2017 to December 2019) on Booking.com and are calculated based on scores given in the following categories: cleanliness, comfort, location, facilities, staff and value for money.
RELATED ENTRIES
Anime Series Chibi Maruko-chan Inspires New Sake from Hatsukame Brewery in Shizuoka

Last year, Hatsukame Sake Brewery, a staple in Shizuoka Prefecture, released a collaborative special edition sake featuring Papa Hiroshi from the anime series Chibi Maruko-chan. The collab makes sense, as the anime series takes place in Shizuoka Prefecture. Bottles sold out incredibly fast, so it's no wonder that the brewery has now opened orders for the 2022 batch! The special products will be available on June 4, just in time for Father's Day. Customers can choose from the Junmai Ginjo or Junmai Daiginjo varieties.

Junmai Ginjo Papa Hiroshi Vintage 2022

Junmai Daiginjo Papa Hiroshi Vintage 2022

The Junmai Ginjo Papa Hiroshi Vintage 2022 was made with water, rice, and yeast from Shizuoka, where the series takes place. With a refreshing aroma and a gentle sweetness derived from the Homarefuji rice, the flavor is sure to arouse your palate!


The original label featured on the bottle shows Papa Hiroshi enjoying local sake with tuna sashimi from Shizuoka with Mt. Fuji in the background. All bottles will come with a paper box featuring a similar design. The turtle on the label is the symbol of Hatsukame Brewing! It's recommended that customers drink their sake with local tuna–it's the perfect combination.

The Daiginjo variety is made from rare Aiyama rice, known as the 'Diamond of Sake Rice.' Polished and carefully prepared by hand, the aroma of the sake is reminiscent of tropical fruits. The final product has a rich sweetness.

Last year's label showed Papa Hiroshi in a Kimono watching the first sunrise over Mt. Fuji. Be sure to grab a bottle to experience the taste of Shizuoka! Only 223 bottles will be available, so be quick!

©さくらプロダクション/日本アニメーション ©Hatsukame Sake Brewery Co., Ltd. ©Nexus Co., Ltd.

Information

Junmai Daiginjo Papa Hiroshi Vintage 2022

Now available to order
Release Date: June 4, 2022 *After the release date, orders will be shipped within 3 weeks from the order date.
Where to Buy: Saketsunagi Online Shop https://saketsunagi.base.shop

 

Yunohana Onsen Resort Reveals Contemporary Art-Inspired Guest Rooms

Sumiya Kihoan, a cozy inn at Yunohana Onsen in Kameoka City in Kyoto, opened a unique new guest room on April 28, 2022. The room's concept is "where guests can stay in the middle of contemporary art," and was inspired by the works of internationally-acclaimed contemporary artist Yukinori Yanagi. The new room, created as part of the Art Room Project, has been named 'Kofuu.'

The Icarus Corridor Connecting Heaven and Earth

Heavenly Bath Welcoming a Rainbow at Dusk

In-Ground Bath Featuring Oribe Glazed Ceramic

Concept Drawing of the Art Room Project by Yukinori Yanagi


The new room includes an open-air bath where guests can be transported into the world of Yanagi's contemporary art while gazing at the gorgeous Kyoto landscape. Upon entering the inn, guests are greeted by a long corridor leading to the bedrooms, dining room, and two creative open-air baths. The space was created in collaboration with Yanagi and local artists and craftsmen, such as potter Ishii Naoto, obi craftsman Yamaguchi Genbei X, plasterer Kusumi Akira, and Japanese paper craftsman Hatano Wakaru. A delicious menu is prepared by chef Hosoi Kunihiko.

Pui Pui Molcar Inspires Pop-up Shop at Shizuoka PARCO

Shizuoka PARCO will open a pop-up shop inspired by the popular stop-motion series Pui Pui Molcar from March 30 until April 10! The shop has opened at seven PARCO locations nationwide so far, attracting over 45,000 fans.

Pui Pui Molcar aired for 12 episodes from January to March 2021. The series was directed by Tomoki Misato, and has attracted a worldwide fandom with its cute and fuzzy characters.

Extra-large Photo Spot

Merchandise

Pins (21 varieties)

Acrylic Keychain

Mini Canvas

Diorama Acrylic Stand

Blanket

Acrylic Signboard Stands



The venue will feature an oversized photo spot where visitors can take commemorative photos in a full-size Molcar, as well as a collection of commemorative merchandise featuring illustrations drawn exclusively for the shop. Since the first pop-up shop opened at Shibuya PARCO in July 2021, it has traveled to Urawa, Nagoya, Fukuoka, Sendai, Hiroshima, and Shinsaibashi. Why not check it out?


Information

Pui Pui Molcar Town Pop-up Shop
Running: March 30 – April 10, 2022 (10:00-20:00)

Address: Shizuoka PARCO 2F Event Space (6-7 Koyamachi, Aoi-ku, Shizuoka)
Official Site: https://shizuoka.parco.jp/


Laid-Back Camp Starts Third Stamp Rally in Izu, Shizuoka Prefecture

Shizuoka Prefefcture is once again collaborating with popular anime series Laid-Back Camp for a special stamp rally. Two courses will be open from January 21 until March 21, 2022, and will take guests on a journey throughout the most gorgeous localities in the region.

This stamp rally is the third in a series of Laid-Back Camp and Shizuoka Prefecture stamp rallys held since November 2021. 

Those who finish the rally will be presented with a special clear folder featuring an exclusive illustration made for this event, so get traveling! 

(C) あfろ・芳文社/野外活動委員会

Information

Laid-Back Camp x Shizuoka Prefecture

Stamp Rally (Izu West Coast Course, Izu East Coast Course)

Running: January 21 – March 21, 2022

Location (Stamp Rally Points): Listed Below

Participation Fee: Free

Official Site: https://yurucamp-shizuoka.com/

Izu West Coast Course: 7 locations in total

・Numazu City   

Seaside Inn Oosekan

Nishiuraenashi, Numazu, Shizuoka

・Izu City  

Darumayama Kogen Rest House

Osawa, Izu City

・Izu City  

Amagi Wasabi no Sato

Yugashima, Izu City

・ Izunokuni City 

Roadside Station Izu-no-Heso

195-2 Takyo, Izunokuni City

・Nishiizu 

Koganesuto

3566-7 Ugusu, Nishiizu

・Nishiizu

Dogashima Shokudo

2045-3 Nishina, Nishiizu

・Numazu City   

Roadside Station Kurura Heda

1294-3 Heda, Numazu

Izu East Coast Course: 6 locations in total

・Ito City

Mt. Omuro 

1317-5 Futo, Ito

・Ito City   

1317-13 Izu Shaboten Zoo

Futo, Ito

・Ito City  

Hiroi Liquor Store

1298-9 Yawatano, Ito

・Higashiizu

Hosono Plateau Tree House Village

3150 Higashiizu, Kamo District

・Kawazu  

Izu Orange Center

1266-31 Midaka, Kawazu

・Shimoda

Shimoda City Tourist Information Center

Sotogaoka, Shimoda

Wakura Onsen in Ishikawa Prefecture to Hold Special Illumination, Luxurious Tea Time

The Wakura Onsen Tourist Association is sponsoring a new project to illuminate Seirinji Temple, a nationally registered cultural property. Along with this light show, guests can enjoy a luxurious tea time starting on January 8, 2022. This year, the pavilion and garden will be lit up again, and the entrance will be decorated with traditional local paper lanterns. 

The historic property was built in 1909 as a resting place for Emperor Taisho. Only two such buildings exist in Japan: one in Hamada City, Shimane Prefecture, and the other at Wakura Onsen. Both were registered as Tangible Cultural Properties of Japan in 2017. 

 

Last year, the area was photographed for posters and pamphlets as part of the 'Japanese Beauty Hokuriku' campaign organized by JR East, JR West, and the Central JR Railway.

Each Saturday evening through February 26, guests will be invited to enjoy a different kind of atmosphere while enjoying a very fancy tea time. The program has been very well received by visitors, so it shouldn't be missed!


The light-up of the temple and garden, with its slowly changing colors, will transport guests to another world. The entrance to Seirinji Temple will be redecorated and lit up, and a pathway of lights will be created from the gate to the entrance of the pavilion using paper lanterns.

Information

Seirinji Temple Illuminations & Luxury Tea Time

Running: Saturdays from January 8 – February 26, 2022 

First Seating: 17:00  

Second Seating: 18:00

Address: Seirinji Temple, Wakura Onsen (61 Wakuramachi, Nanao, Ishikawa)

*Available for guests of Wakura Onsen

Official Site: https://www.wakura.or.jp

Egg specialty store TAMAGOYA to launch Strawberry Fair for a limited time in Shizuoka

Shizuoka-based egg specialty store TAMAGOYA is currently running a BERRY BERRY Strawberry Fair for a limited time.

TAMAGO Pudding Parfait

ICHIGP Pudding Parfait


Gigantic ICHIGO Shortcake Parfait

Strawberry-filled Pancakes

The cafe offers pancakes and parfaits made with strawberries from Shizuoka Prefecture. The menu includes the "TAMAGO Pudding Parfait" that looks like a fried egg with fluffy pancakes and pudding as a specialty of egg stores, and the seasonal "ICHIGO Pudding Parfait". The "ICHIGO's Giant Shortcake Parfait," which weighs over 5 kg, is available by reservation only.

Enjoy the harmony of eggs and strawberries to your heart's content.

Information

TAMAGOYA

Address: 1-322, Yasuhisa, Mishima-shi, Shizuoka, 〒411-0815 

Opening Hours: 9:00~17:00/cafe branch 9:30~17:00(L.O15:30)

Official Site: http://izu-tamagoya.com/

Laid-Back Camp Stamp Rally to Promote the Beauty of Shizuoka Prefecture

Camping anime series Laid-Back Camp has taken the world by storm. The slice-of-life series is perfect for when you need to relax and daydream of time spent in the Japanese countryside. Shizuoka Prefecture has announced a special stamp rally featuring locations seen in the series from November 12, 2021 until January 10, 2022. 

Even if you're unable to visit during the event period, fans can find some incredible maps on the official website highlighting locations seen in the anime and manga series. These maps will be physically available at stamp rally locations. If you're planning a trip to Japan in the future, it would be neat to try to visit these locales!

Information

Laid-Back Camp x Shizuoka Prefecture Stamp Rally

Running: November 12, 2021 – January 10, 2022

Participation Fee: None

Details: https://yurucamp-shizuoka.com/

Gorgeous Project Mapping Event Coming to Yamashiro Onsen in Kaga, Ishikawa

DMM.com will sponsor a projection mapping project titled Yamashiro Night Promenade Fall 2021 on Yamashiro Onsen Street in Kaga, Ishikawa prefecture from October 30 until November 28, 2021. 

The limited-time project is being organized by the Yamashiro Onsen Tourist Association with support from DMM. Under the themes of harmony and local tradition, brilliant images of flowers, water, and geometric patterns will illuminate the hot spring resort while accompanied by music. There will also be traditional Taiko performances during the event. 

Information

Yamashiro Night Promenade Fall 2021

Running: October 30 – November 28, 2021

Hours: 20:20-21:20 (Canceled for rain) 

Address: Yamashiro Onsen Street in front of Hatori Ryokan (17 Onsen-dori, Yamashiro Onsen, Kaga City, Ishikawa) 

Official Site: https://sousei.dmm.com/

Outdoor Music and Craft Festival Creema YAMABIKO FES 2021 Announces Second Round of Artists

Creema YAMABIKO FES 2021 has announced the second round of participating musical acts! The event features live performances on an impressive outdoor stage with Mt. Fuji in the background, along with a number of craft markets, workshops, and a two-day 'sauna village,' where guests can enjoy outdoor saunas while sampling some fantastic local fare. 

Twelve live performances are scheduled during the event, with the full timetable scheduled to release in late October. The second announcement lists Hanaregumi, DENIMS, YONA YONA WEEKENDERS, Strange Reitaro, island echo, and Super VHS as participating acts. 


DAY 1 (November 6, 2021)


Clammbon, never young beach, Humbert Humbert, DENIMS, YONA YONA WEEKENDERS, island echo

DAY 2: (November 7, 2021)
SPECIAL OTHERS, TENDRE, D.W. Nicols, Hanaregumi, Strange Reitaro, Super VHS

This year's event will have a new kid's area, along with a new outdoor area featuring 15 stores selling a wide variety of camping gear. There will also be a place to custom order items and a hammock area. The kid's area will offer workshops for children led by expert staff, a stamp rally, and other content to keep the little ones busy. 

The popular coffee roaster LEAVES COFFEE ROASTERS from Kuramae, Tokyo, will be participating in the event, serving up some delicious beverages. Japan's champion barista Taka Ishitani will be participating in the coffee drinking competition, so don't miss it!

Are any of your favorite bands playing at this year's event? 

Information

Creema YAMABIKO FES 2021

Dates: November 6 and 7, 2021

Venue Hours: 10:00-17:30 (Concerts from 10:30-17:00)

Address: Gotemba Kogen Toki no Sumika OUTDOOR HILL VILLAGE
(719 Koyama, Gotemba, Shizuoka)

Official Site: htttp://www.yamabikofes.jp/

Chiikawa Themed Cafe to Open for Limited Time at Shizuoka PARCO

Twitter-famous character Chiikawa is coming to Shizuoka PARCO starting September 16! Guests can enjoy a cafe on the first floor of the facility serving specially-crafted treats, and can head to the fourth floor for a shop selling original Chiikawa cafe goods.

Menu

Hachiware Cream Soda / Chiikawa Cream Soda / Usagi Cream Soda: ¥990 each (Tax Included)

Fluffy Cloud Latte with Character Sugar: ¥1,100 (Tax Included)

Yoroi-san's Strawberry Milk: ¥990 (Tax Included)

Best Friends Cookie Set (3 cookies): ¥880 (Tax Included, takeout only)

Each drink order will come with a random coaster (15 designs total). 

Merchandise

 

Mug: ¥1,540 (Tax Included)

Cafe Chef Plushies: ¥1,430 (Tax Included)

Cafe Employee Plushies: ¥1,430 (Tax Included)

Bowl: ¥2,200 (Tax Included)

Random Acrylic Keychain (8 designs): ¥660 (Tax Included)

*Limit 2 items per person per type of merchandise. For random items, the limit is 10 items per person per type.
*Images are for reference only. Not all products are shown.
*Contents are subject to change. 

4th Floor Shop Special Goods

Special Gift

Guests spending ¥4,400 or more (including tax) will receive an original cork coaster!

 

The Chiikawa manga, created by Japanese illustrator nagano, is extremely popular on Twitter for its cute illustrations and heartwarming stories. In August, the second Chiikawa book was released.

Who is your favorite Chiikawa character?

©nagano

Information

Chiikawa Cafe Drink Stand

Running: September 16 – October 3, 2021

Hours: 10:00-20:00 (last food order at 19:00, last drink order at 19:30)

Location: Shizuoka PARCO 1F (6-7 Koyamachi, Aoi-ku, Shizuoka)

Chiikawa Cafe Shop

Running: September 16 – October 3, 2021

Hours: 10:00-20:00

Location: Shizuoka PARCO 4F

Admission Free

Details: http://the-guest.com/chiikawa_shizuoka/

Official Site: https://shizuoka.parco.jp/

Satoyama Jujo THE HOUSE IZUMI: Rent Out a Renovated Japanese House in Niigata

Japanese design company Jiyujin launched its new Satoyama Jujo THE HOUSE chain of accommodations this month which offer a single group of guests a one-night stay in an entire house.

The first branch to open is IZUMI which features a fully-renovated Japanese-style house located in the city of Uonuma in Niigata. A gorgeous outlook is offered from the house with an unbroken view of lush forests, rice fields, and Mt. Makihata, which is listed as one of the '100 Famous Japanese Mountains.'

A breathtaking view awaits guests from the open-air bath

The spacious living room

Fully renovated from a 150-year-old private house, the building is supported by beautiful wooden beams and columns, and in the middle the oe, a sunken hearth. This, along with the beams and sashigamoi joints, are made from keyaki Japanese zelkova which is an elm-like tree. This species of tree is rare even in a tree-covered region such as Uonuma. The lumber used for this house was cut, preserved, and dried out for a number of decades before being processed into building material for the house. The heart in the middle of the living room is reminiscent of a time when large families would gather around one and serves to recreate that lifestyle.

The Nishiyama region is known for is production of delicious rice. IZUMI in fact looks out over Kabanosawa, a special and important place of rice production in Nishiyama. This vantage point also gives guests an opportunity to appreciate the hot and cold temperatures of the daytime and evening, the rivers, the shape of the land, and the earth the city sits on. The drastic change in temperatures in the day and night are especially noteworthy as this, along with the basin between the mountains, gives rise to a sea of clouds.

IZUMI sits on a hill that overlooks the rice paddies, making it a perfect location for spotting the sea of clouds. Minamiuonuma's sea of clouds has over a 70% chances of appearing in the autumn and spring seasons.

The number one reason why Japan's old, long-standing, and precious private houses are demolished is due to the cold getting in and it being too dark inside. Even those who want to see them preserved for tradition, including those who live in them already, would rather live in a modern home. That's why Jiyujin has begun a renovation project instead of a demolition one. By refurbishing the houses, the ancient framework can be fixed up and preserved while a range of contemporary amenities are incorporate to fit with modern lifestyles. The Satoyama Jujo accommodations are built so they can be used for over 100 years.

For dinner, there are three options for guests. The first is a dinner at SANABURI which earned itself a Michelin star in Michelin Guide Niigata 2020. The second is a meal at a restaurant that earned the status of Bib Gourmand in the same guide. The third is to prepare your own meal in the house. There are plenty of shops around the station nearby where you can buy local ingredients.

After a delicious meal, guests can take a soak in the open-air tub and enjoy gazing out across the fields and the beautiful mountains which stand almost 2,000 meters high.

Information

Satoyama Jujo THE HOUSE IZUMI

Japanese Name: 里山十帖 THE HOUSE IZUMI

Address: 671-1, Amanosawa, Minamiuonuma, Niigata, 〒949-6433, Japan

Official Website: Opening early July 2021

Access: 7-minutes by car from Jōetsu International Skiing Ground Station (JR Joetsu Line) / 16-minutes by car from Shiozawa-Ishiuchi IC

Be Surrounded by Glowing Fireflies With Kissho Yamanaka's New Hotel Plan

Kissho Yamanaka, a hot spring hotel in Kaga, Ishikawa, is now offering a firefly-viewing experience as part of a new guest plan until June 15. This gorgeous resort, situated by the Daishoji River in the Kakusenkei Gorges, was awarded three Michelin stars in the Ryokan category of Michelin Guide Hokuriku 2021 Special Issue.

The firefly tour arrives as early summer is soon to begin. As part of the hotel plan, guests can also enjoy a dazzling Firefly Cocktail too.

Feel the rays of early summertime at Kissho Yamanaka.

Information

Firefly & Sunset Hotel Plan

Address: Kissho Yamanaka, 1 Chome-14−3 Yamanakaonsen Higashimachi, Kaga, Ishikawa 922-0114, Japan

Official Website: https://kissho-yamanaka.com/