Kissho Caren: Gaze at Shizuoka's Moonlit Night Sky From Your Hot Spring With New Hotel Plan
Kissho Caren is now offering a new hotel plan for women only which is available until the end of March 2020.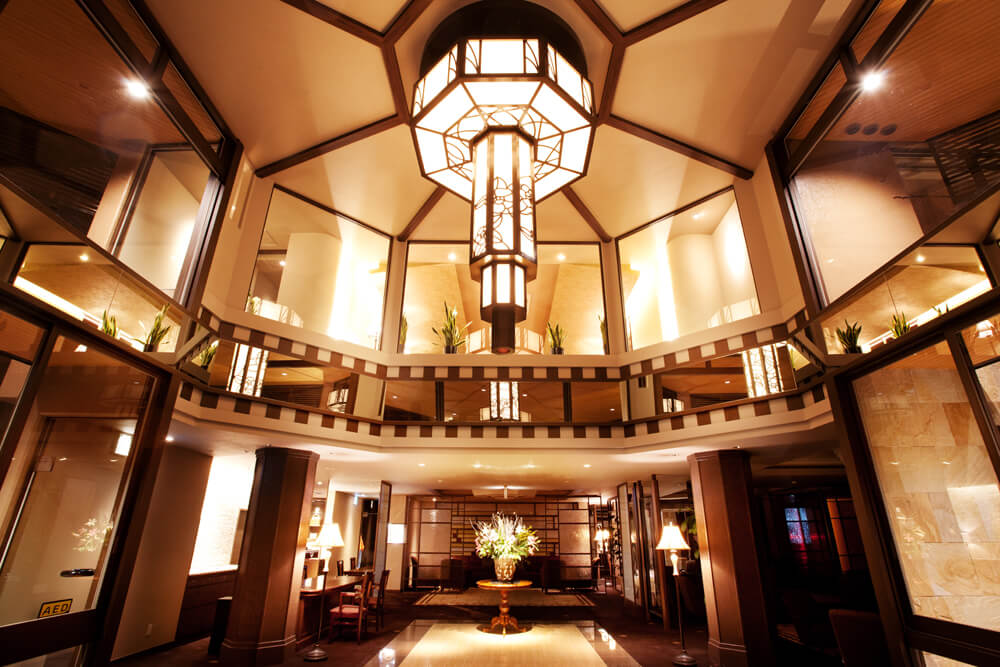 Kissho Caren is an incredible hideaway resort and inn located alone the quiet shores of Hokkawa Hot Spring in Shizuoka. All rooms offer a breathtaking ocean view, and all rooms, plus the restaurant and infinity pool open-air baths, offer a panoramic spectacle where the sky and sea meld together into one beautiful scene. Guests can also witness the "Moon Road," a popular power spot of Hokkawa Hot Spring which was chosen as one of Japan's "100 Moon Views."
Kissho Caren boasts two of its own water sources for its flowing water. It houses 18 water spots, including hot springs in seven locations around the inn and its sister facility Tsuruya Kisshotei, as well as rentable baths, foot baths, and the beachside "Kurone Rock Bath." All of these hot water spots are fully equipped with bath towels, face lotion, and other amenities. The inn's hospitality is also well-praised, including its salon which offers barely tea, soft drinks, and tokoroten made in the city of Izu. In the evenings, it also offers beer amongst other things.
After checking in, guests choose a yukata and obi of their liking and enjoy a luxurious and tranquil afternoon tea. The seasonal pancakes are prepared in front of you by the chef and are topped with sweet and refreshing soft serve ice cream and served with beautiful tea. The pancakes are mixed with whey which has a lot of skin benefits, and the teas vary from Izu guricha tea to Izu aloe tea which have anti-ageing benefits and strengthen the immune system. All of this takes place at Aodake which is open 14:00-15:30.
At the Kissho Spa, one can spy the gorgeous ocean from the window. Guests can enjoy some relaxing thalassotherapy with the warm climate of the beach and seaweed, oils prepared in Izu Ōshima, guricha tea, and other local treatments, all of which are popular.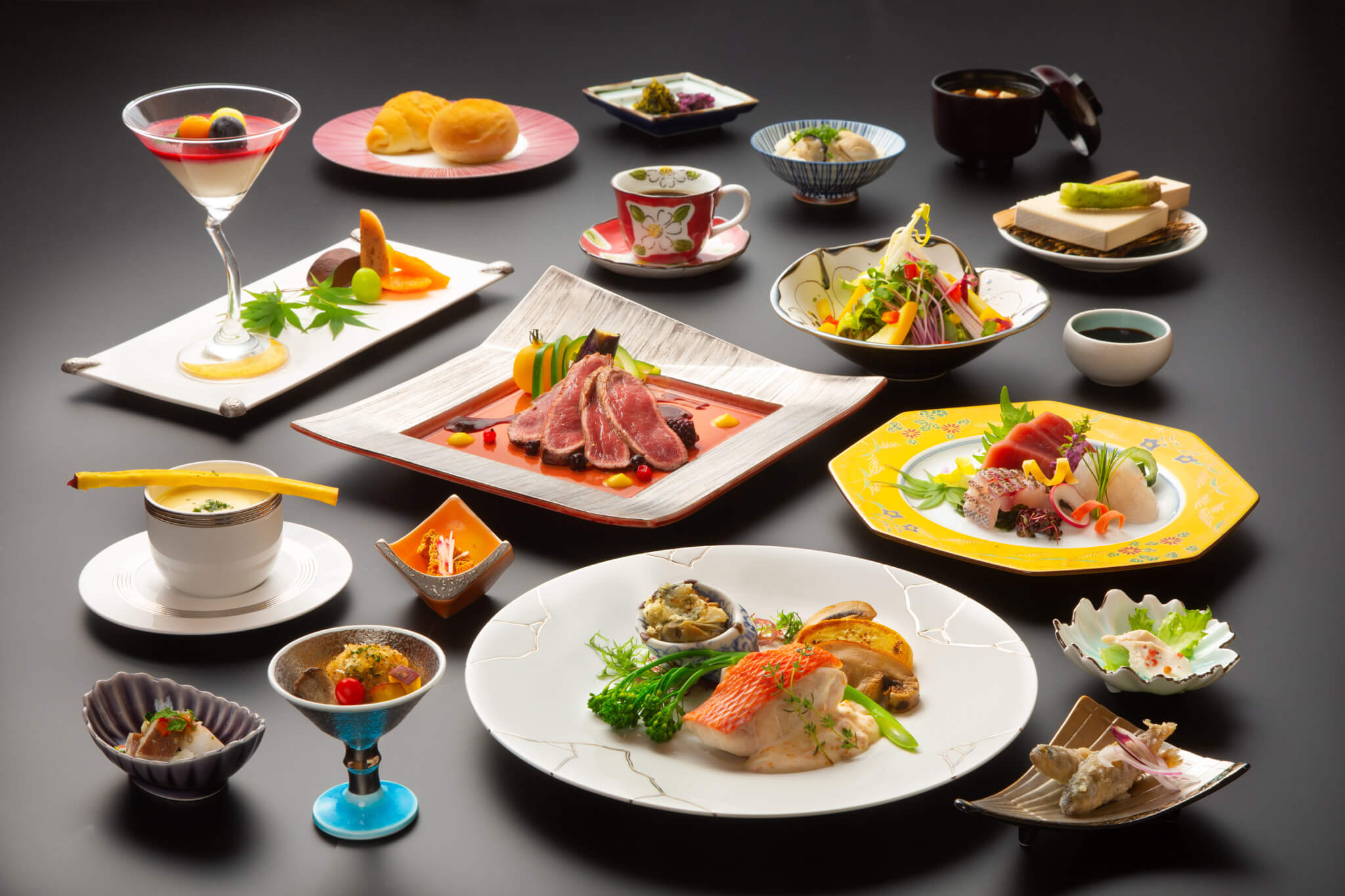 The French course dinner comes with a free drink and flambéed dessert. All rooms also come with lots of other hopsitable gifts too, including a free mini bar and snacks, 20% off from the Kisso Spa, and more.
If you're looking for a place to stay with your girlfriends in Japan, then we recommend putting this place on your list. Don't miss out on this limited-time, girls-only offer.
Information
Girls-Only Amenity-Packed, Wine & Flambéed Dessert Plan
Running: January 6, 2020 – March 31, 2020
Prices (1 Night With Breakfast/Prices Per Person):
From ¥26,500 (2 People/1 Room)
From ¥24,500 (3 People/1 Room)
From ¥23,500 (4 People/1 Room)
*An extra ¥5,000 on public holidays. An extra ¥2,000 from February 9, 2020. Includes tax and service charge.
Meals:
Dinner: French dinner course at "Four Season" restaurant
Breakfast: Japanese breakfast at "Four Season" or teppanyaki breakfast at "Aodake"
Includes:
1 free drink (White or Red Wine/Sparkling Wine/Soft Drink)
Flambéed dessert after dinner
Free mini bar in all rooms and confectionery set
20% off Kissho Spa (Discounted: ¥8,000 / Usual Price: ¥10,000): 60-minute body lymphatic drainage/60-minute facial treatment
Kissho Caren
Address: 1130 Naramoto Higashiizu, Higashiizu, Kamo District, Shizuoka
Official Website: https://www.kissho-caren.com/en/
RELATED ENTRIES
YUEN BETTEI DAITA: Tokyo's New Onsen Ryokan Opening in Shimokitazawa

UDS HOTELS is set to open YUEN BETTEI DAITA, a new onsen ryokan (hot spring Japanese inn), in Shimokitazawa, Tokyo, on September 28, 2020. The hotel is just a 1-minute walk from Setagaya-Daita Station and an 8-minute walk from Shimokitazawa Station.

YUEN BETTEI DAITA sits in a quiet location surrounded by old, historical Japanese houses and is basked in nature. It houses 300 guest rooms and has open-air baths, a spa, and offers traditional Japanese food the tea ceremony.

The inn is equipped with considerate facilities and has a relaxed atmosphere. It caters to modern day needs while still promising a traditional Japanese inn experience. And it doesn't have to be just used as a hotel either – guests can just spend the day there in the hot springs if they like, allowing locals to get away from the hustle and bustle of the big city and their busy Tokyo lives.

The Design

YUEN BETTEI DAITA bases itself on the appearance of residences seen back in Tokyo back in the day. The hotel has taken in furniture and materials that were inherited in a thatched-roof residence in Setagaya which has over a 100 year history, which gives a nod to the history and culture of traditional Japanese architecture, while still incorporating more modern techniques in the wooden roofing and other areas. All of this combines to create a sophisticated Japanese culture-imbued space.

Guest Rooms

There are 35 guest rooms in total, each coming in one of seven types ranging from 19㎡-32㎡. The rooms open up into a tatami and seating area. Guests are provided with yukata and leather-soled geta shoes, and are treated to Japanese tea and confections from local shops.。

Open-air onsen baths (1st Floor)

The large open-air baths receive water from Odakyu Hotel de Yama's own water source in Hakone. Guests can enjoy looking at a traditional Japanese garden while they bathe and listen to the sound of the water from Mount Fuji. The female baths also have scented mist saunas while the male baths have dry saunas.

Cooking & Tea Ceremony (1st Floor)

Kappou Tsukikage

Enjoy seasonal vegetables harvested from the local farms in Setagaya as well as Japanese sake and wine chosen to pair perfectly with the dishes.

Saryou Tsukikage

Guests can also experience the Japanese ceremony with local tea. Daita was once rich with tea farms, and so guests can look forward to enjoying delicious and authentic tea.

SOJYU spa

If guests want to relax the hotel's SOJYU spa offers full body massage, original essential oil treatments, and much more. The spa will also be open to non-guests from spring next year.

Information

YUEN BETTEI DAITA
Grand Opening: September 28, 2020

*Baths and eating facilities are open to non-guests from October 12, 2020

Address: 2-31-26 Daita, Setagaya-ku, Tokyo

Access: 1-minute on foot from Setagaya-Daita Station / 8-minute on foot from Shimokitazawa Station
TEL: 03-5431-3101

Official Website: https://www.uds-hotels.com/yuenbettei/daita

Hotel New Otani Tokyo, Osaka & Makuhari Now Serving Rich Chestnut Pancakes For Autumn

The Tokyo, Osaka, and Makuhari branches of Hotel New Otani are now serving seasonal autumn versions of their specially made pancakes at their coffee shop and all-dining restaurant SATSUKI until November 30, 2020

Fantastically fluffy pancakes

Hotel New Otani has been serving its special pancakes for the past 10 years which have become a favourite amongst guests.

The hotel's pastry chefs have whisked up a variety of flavours in line with the changing seasons this past decade using strictly-selected ingredients including strawberry, melon, mango, chestnut, and more.

A marriage of rich chestnut and fluffy pancake

Hotel New Otani Specially Made Chestnut Pancakes 2020 | ¥2,800 (Before Tax/Service Charge)


Chestnuts are the flavourful theme for autumn 2020's pancakes, made with strictly-selected chestnut astringent skin, sweet bean jelly, and topped with a chestnut macaron.
The pancakes are served with melt-in-the-mouth Italian ricotta. There are two different doughs, one made from coffee flour which has high nutritional value, and the hotel's original "White Cereal" which is a combination of millets and amaranth.
The pancakes are cooked on a low heat for about 5 minutes on each side so they rise to a fluffy 5cm thickness and become startlingly smooth.

Strawberries for winter

For this year's winter, the hotel will be serving strawberry pancakes.

Enjoy a selection of seasonal pancakes when staying at Hotel New Otani.

Information

Hotel New Otani Tokyo
Location: SATSUKI, Hotel New Otani Tokyo Main Lobby
Address: 4-1 Kioicho, Chiyoda-ku, Tokyo
Bookings/Enquiries: 03-5275-3177 (10:00-21:00)
Official Website: https://www.newotani.co.jp/tokyo/restaurant/satsuki/

Hotel New Otani Makuhari
Location: SATSUKI, Hotel New Otani Makuhari
Address: 2-120-3 Hibino, Mihama-ku, Chiba, Chiba Prefecture
Bookings/Enquiries: 043-299-1848 (07:00-21:00)
Official Website: https://www.newotani.co.jp/makuhari/restaurant/satsuki/

Hotel New Otani Osaka
Location: SATSUKI, Hotel New Otani Osaka
Address: 1-4-1 Shiromi, Chuo-ku, Osaka, Osaka Prefecture
Bookings/Enquiries: 06-6949-3234 (07:00-20:00)
Official Website: https://www.newotani.co.jp/osaka/restaurant/satsuki/

Kyoto's Female-Only Hotel CAFETEL Kyoto Sanjo for Ladies Reveals Halloween Room

CAFETEL Kyoto Sanjo for Ladies, a hotel in Kyoto exclusive to female guests, is offering a new Halloween room plan between October 1 and November 1. There is just one room and it can only be booked for one day between that period. This plan was offered last year and was a resounding success amongst guests.

Last year's Halloween room took on a more cute and bright theme, but they're going for something darker this time. The theme this year is "The Secret Witches-Only Get-Together," with all ideas and designs conceived and handmade by the hotel staff themselves.

Guests will find decorations all around the room, such as bats on doors and walls who will listen in on the witches' gossip to creepy crawly spiders in the bed. Candles are provided in the room to set the Halloween mood, and there's even witch and devil costumes and props for guests to dress up in.

Free goodies for the witch get-together

Guests can enjoy a gorgeous view of the Kamogawa River from their room. They are also presented with a free Halloween drink exclusive to those who stay in this room.

Information

CAFETEL Kyoto Sanjo for Ladies

Running: October 1, 2020 – November 1, 2020

Rooms: 1 (up to 3 people)

Price: From ¥10,650

Official Website: https://cafetel.jp/

Luxurious Shine Muscat Grape Parfait Served Up at Hotel Gajoen Tokyo For Autumn

Hotel Gajoen Tokyo, a museum and hotel combination, is home to New American Grill "KANADE TERRACE," the hotel's restaurant popular for its food grilled in the open kitchen, its afternoon teas made with seasonal ingredients, and cocktail lineup.

This autumn, Hotel Gajoen Tokyo is serving up its new "Shine Muscat Parfait," an richly-sweet and elegance-scented dessert made using Shine Muscat grapes.

Shine Muscat Parfait ¥2,800 | With Champagne ¥3,600 (Before Tax & Service Charge)

The parfait is layered with Kyoho grape and shampagne jelly, crémet d'Anjou which is made from fresh cheese, and maqui berry granola. It's topped with blackcurrant sherbet and tuile.

Information

Shine Muscat Parfait
Serving: October 1, 2020 – November 20, 2020

Location: New American Grill "KANADE TERRACE" (Hotel Gajoen Tokyo)

Serving Hours: 14:30-17:30 everyday

Official Website: https://www.hotelgajoen-tokyo.com/archives/54655

Hikari no Sumika Winter Illuminations 2020-2021 to Take Place at Gotemba Kogen Toki no Sumika

Toki no Sumika is set to host its 19th annual winter illumination event "Hikari no Sumika" from September 19, 2020 to March 21, 2021.

Forest of Trees Illuminations


The Forest of Trees was created together with locals and wraps visitors in a magical fantasy land of lights underneath the shimmer of stardust. This trail of trees leads visitors to the next area, the Royal Palace on the Hill.

Royal Palace on the Hill


The "Versailles Lights" water laser show entertains onlookers with a rhythmic show. A new spot has also been developed this year called "It's a colorful world" where cuter balls of light change colour to the sounds that play. There's also one of the world's biggest "Bells of Love" clad in colours galore to radiate the dark night, "Slow House Twinkle," and "Super Searchlight."

Tunnel of Lights


Spanning 370m along, the "Tunnel of Lights" changes colours as time passes, enveloping people in a sparkling galaxy of illuminations. There'll be plenty of photo opportunities.

Twin Trees & First Dream Bridgeツインツリーと初夢の橋

The colour of the 120-year-old fir tree at the site this year will be white. The 20 meter-tall tree will be decorated simply and gently, with more LED lights than ever before, to enhance its beauty. The "First Dream Bridge" will give rise to the "Stardust Road" of countless illuminations that run along it.

Underwater Paradise Aquarium

Around 4,500 goldfish of 200 species, including rare kinds, from all around Japan are collected here. It continues to grow as Japan's only goldfish aquarium both in name and reality. Enjoy seeing them swim while gorgeous lights light up the room.

Information

Hikari no Sumika 2020-2021

Running: September 18, 2020 – March 21, 2021

Address: Gotemba Kogen Toki no Sumika, 719 KōyamaGotemba, Shizuoka

Illumination Times: 17:30-22:00

Car Park Spaces: 2,000
Enquiries: 0550-87-3700 (9:00-20:00)

Official Website: http://www.tokinosumika.com/illuminations2017/renewal/

nol kyoto sanjo: Kyoto's New Hotel Renovated From an Old Townhouse

Tokyu Land Corporation are set to open the new hotel "nol kyoto sanjo" in central Kyoto on November 1, 2020. The hotel is just a 5-minute walk from Karasuma Oike Station.

A place where you can be yourself

Hotels in Japan are more and more catering to a wide variety of guests' needs as well as not only providing convenience and being affordable, but creating a space that really places importance on peoples' stay experience. And nol kyoto sanjo follows suit, allowing people to both let their hair down where they can be themselves as well as enjoy the local area. This comes in response to peoples' desire to have a stay experience that feels like it's their own home.

Clad in Kyoto, living in Sanjo

The concept for the hotel's design was conceived by Kyoto Vintage. Sanjo-dori is connected to Kyoto's main street, making it a convenient location for reaching the city centre. It's also home a variety of architectural examples from old, ancient buildings to more modern ones built during the Meiji Period. Surrounding the hotel is a whole selection of cafes famous for their breakfast menus, restaurants that use local ingredients, long-standing stationery shops, and more. The hotel sits in the perfect spot for coming in contact with the local people and city.

The hotel lounge built from an old townhouse

The hotel site is renovated from a townhouse that was built during the Edo Period. It was formerly used as a place for selling Kinshi Masamune sake. To ensure that old, quaint charm was preserved in the refurbishment, the hotel hired a Japanese designer and planner who is known for renovating these kinds of townhouses in Japan.

The entrance to the hotel greets guests with the lounge which gives people a chance to kick back and relax in this authentic building. Guests are even given some Kinshi Masamune sake as a welcome drink.

High grade guest rooms for medium to long stays

There are three kinds of guest rooms including 2-people rooms, 4-people rooms, and rooms with an additional Japanese-style room attached to it, for a total of 48, all of which face the hotel gardens. The rooms were designed by Yukio Hashimoto who has made sure to preserve both the townhouse and feel of the materials which have only ripened with age while adding a high grade feel to them. The scent of hinoki leaf invites you to relax in your room. All rooms are equipped with microwaves, washing machines, and mini kitchens too, making it perfect for guests looking to stay a while. Pick up some local ingredients from town and get cooking.

Old-time Kyoto served in a new style

Old townhouses used since ancient times are on the decrease in Kyoto. By renovating and reusing, new life can be breathed into them while promoting that ancient culture. If you're planning a trip to Kyoto, be sure to check out nol kyoto sanjo, opening November 1, 2020.

Information

nol kyoto sanjo

Grand Opening: November 1, 2020

Address: 700 Osakazaimokucho, Nakagyo-ku, Kyoto, Japan (in Japanese: 京都市中京区堺町通姉⼩路下る⼤阪材⽊町700 番)
Rooms: 48

Access: 5-minutes on foot from Karasuma Oike Station

Official Website: https://www.nolhotels.com/kyoto-sanjo/

FUFU NIKKO: The New Hot Spring Hotel in Nikko, Tochigi Prefecture

Kato Pleasure Group is set to open its 4th branch of FUFU NIKKO hotels in Nikko, Tochigi on October 2, 2020 following their Atami, Lake Kawaguchi, and Nara branches.

A resort steeped in Japanese history and culture

The site in which the hotel is located has a sacred air to it. It dates back to the Meiji Period and has continued into modern times. Upon entering the hotel, your ears are treated to the sound of classical music. Overhead you will spot high ceilings made from wood which give it a warm and welcoming atmosphere.The shadows of the outside walls, the warmth of the inviting lights, and the metallic decorations which catch the light present a calm and quiet mood.

Classy and sophisticated cuisine

Both the food and plates it is served on capture the essence and beauty of the Japanese way. Meals are prepared using seasonal ingredients from Tochigi as well as high quality foods like foie gras, truffles, and caviar. Each dish expresses elegance and refinement and combines both Japanese and Western flavours.

Hot spring water sourced from Tamozawa

All rooms at the hotel are fitted with hot springs or large baths which natural light from the outdoors shining through. In the open-air baths, guests get to experience the surrounding sights of nature coupled with the sound of the flowing stream and chirping birds.

Information

FUFU NIKKO JAPAN

Grand Opening: October 2, 2020

Address: 1573-8 Honcho, Nikko, Tochigi Prefecture

Official Website: https://www.kpg.gr.jp/

Grand Front Osaka Opens New Cafe PANCAKE&books bibliotheque

Grand Front Osaka opened its new cafe PANCAKE&books bibliotheque on September 11, 2020, serving a wide variety of fresh pancakes made with high quality ingredients.

Special Fruit Genmai Guilt-Free Pancakes | ¥1,500

These pancakes are made using gluten-free brown rice flour which creates a delicious fragrance and delightfully chewy texture to the pancakes. The pancakes are made even more chewier thanks to the incorporation of silken tofu, an ingredient which is also said to be good for dieting and the intestinal tract. The pancakes are topped with nuts and dried fruits, making them a very nutritional option.

Strawberry & Marshmallow Brûlée | ¥1,300

A hybrid pancake of two different desserts. It's loaded with fluffy caramelised custard sauce to create a brûlée-like appearance and texture and is topped with sliced strawberries and roasted marshmallows. The caramel sauce drizzled on top adds a sweet and slightly bitter edge, bringing everything together.

Whole Peach & Fromage Blanc Cream Pancake | ¥1,500

Served with a whole juicy peach, these pancakes are combined with refreshing fromage blanc. The peach adds an ambrosial sweetness that melts perfectly with the fluffy pancakes. Complete the pancakes with a drizzle of the accompanying mint anglaise sauce.

Kyoho Grape, Blackcurrant, & Mascarpone Cream Pancakes | ¥1,700

A special combination of seasonal fruits including Kyoho grapes and blackcurrants. The mascarpone cream adds sweetness and the blackcurrant sauce a sour kick. If you're wanting to taste autumn, then this one's for you.

Mont Blanc & Praline Cream Pancakes in Caramel Sauce | ¥1,400

These pancakes make you feel summer changing to autumn with its fat dollops of rum-infused chestnut cream and praline cream. The chestnut cream brings a rich sweetness to your taste buds and the caramel sauce an appetising bitterness.

Pancake Burger | ¥1,300

bibliotheque's incredible pancakes have also turned into hamburgers stuffed with a hand-rolled patty, melted cheddar cheese, sunny-side up egg, tomato, and lettuce.

Eggs Benedict Pancakes | ¥1,500

Pancakes towered with bacon, tomato, salad, and poached egg. The runny egg is a match made in heaven when combined with the homemade hollandaise sauce.

Salmon & Ricotta Cheese Pancakes | ¥1,500

Salad pancakes of smoked salmon, ricotta cheese, and poached egg. They are finished with rich Gruyère cheese.

Original Milkshake "Mixed Shake" | ¥700

A hybrid drink of authentic milkshake and Osaka's speciality "Mixed Juice" beverage, this shake contains sakura tamago egg from Awaji Island and premium grade milk from Hamanaka in Hokkaido. It's also made with vanilla cream and is topped with an apricot compote.

Information

PANCAKE&books bibliotheque
Grand Opening: September 11, 2020

Address: Grand Front Osaka Shops & Restaurants (South Bldg. 1F), 4-Ofukacho, Kita-ku, Osaka
TEL: 06-6359-1389
Opening Hours: 11:00-21:00

Official Website: http://www.bibliotheque.ne.jp/pancake/

teamLab's 'A Forest Where Gods Live' Exhibition in Saga Introduces Autumn Inspired Digital Art

teamLab's annual A Forest Where Gods Live exhibition is currently taking place at Mifuneyama Rakuen Park in Saga Prefecture until November 8, 2020. For autumn this year, the digital art team has introduced a seasonal piece entitled Forest and Spiral of Resonating Lamps in the Forest – One Stroke, Autumn Mountain.

Forest and Spiral of Resonating Lamps in the Forest – One Stroke, Autumn Mountain
teamLab, 2018, Interactive Installation, Murano Glass, LED, Endless, Sound: Hideaki Takahashi

Available to see for this autumn season only, ​Forest and Spiral of Resonating Lamps in the Forest – One Stroke, Autumn Mountain showcases Kasane no Irome, which are nuances of layered colours that were seasonal colours created in silk before Japan's modern era, in the form of lit lamps.

The lamps in the exhibition shine brightly and then fade. In the light, one can see the eight autumn Kasane no Irome colours: Budding Leaves, Green Leaves, Fallen Green Leaves, Yellow Leaves, Fallen Yellow Leaves, Fallen Leaves, Fallen Red Leaves, and Autumn Leaves.

Flowers Bloom in an Infinite Universe inside a Teacup
teamLab, 2016, Interactive Digital Installation, Endless, Sound: Hideaki Takahashi

Make tea in the tea house at the exhibition. Flowers will bloom inside the teacup, which if you pick up, sends the flowers scattering and spreading to the outside of the cup. Flowers will bloom infinitely as long as there is tea. For September, there are safflowers, dianthus, and Chinese asters, while next month will introduce cosmos, osmanthus, and chrysanthemums.

Ever Blossoming Life Rock
teamLab, 2017, Digitized Nature, Sound: Hideaki Takahashi

Megaliths in the Bath House Ruins
teamLab, 2019, Interactive Digital Installation

You can also see autumn flowers in the Ever Blossoming Life Rock and Megaliths in the Bath House Ruins exhibits too.

Visitors can also get set tickers which includes entry to the exhibition as well as a dip in the Rakan no Yu hot springs of Mifuneyama Rakuen Hotel. These tickets are limited to 40 people per day.

Information

teamLab: A Forest Where Gods Live

Running: July 22, 2020 – November 8, 2020
Address: Mifuneyama Rakuen, 4100 Takeo, Takeo-cho, Takeo City, Saga, Japan

Hours

Jul 22 – Sep 13, 2020 19:00 – 22:30
Sep 14 – Oct 11, 2020 18:00 – 22:30
Oct 12 – Nov 8, 2020 17:00 – 22:30

*Enter from Entrance 1. Entrance 2 is only available 60 min after the opening.
*Last entry is 22:00.

Official site:http://mifuneyamarakuen.teamlab.art/

Giant Pink Snoopy Placed Inside Rooms at Kobe's PEANUTS HOTEL Now Available as Plush Toys

Last year, the PEANUTS HOTEL celebrated its 1st anniversary by selling giant Snoopy plush toys, all of which sold out. The hotel is doing the same again this year, releasing two different sizes on September 4.

ROOM64: "Happiness is a warm puppy"

Lucy squirms when Snoopy kisses her, but she sure loves hugging him, because of his warmth. ROOM64 is inspired by this lovable comic, and uses millennial pink for the walls, chairs and even the fireplace. There's also a big pink Snoopy that you can hug any time you want. Lucy's iconic Lemonade stand stands next to a signboard that says, "1 cent for hugging a cute puppy". It is a room filled with humor and warmth.

PEANUTS HOTEL -ROOM64-


Guests will be able to buy plush toys of the giant puppy from ROOM64, because happiness is a warm puppy.

Small: ¥2,400 | Large ¥6,400 (Before Tax)

The small size Snoopy comes with a key chain so it can go on your bag, while the large Snoopy is perfect for sitting on your sofa or bed and for hugs. Both are super fluffy so you won't be able to resist.

© 2020 Peanuts Worldwide LLC

SOKI ATAMI: The New Hot Spring Hotel in Shizuoka's City of Atami

SOKI ATAMI is a new hot spring accommodation set to open in the town of Koarashicho in Atami, Shizuoka, on November 1, 2020.

The town of Koarashicho is considered the annex, as it were, to Atami. SOKI ATAMI can be reached in around 40 minutes by bullet train from Shinagawa Station. The accommodation takes into account the value of Atami's hot spring resorts and what's on offer there. It will serve a 'sojourn style' of accommodation that allows you to return to yourself as you are, without any stresses, something which is enhanced thanks to being situated away from the hustle and bustle of the city in nature.

Just being yourself

The accommodation, surrounded by nature, offers a panoramic view of the ocean, and consists of a reception wing, guest room wing, and restaurant wing. In the 'Village Garden,' there are trees growing citrus fruits and a variety of plants and crops, showcasing the regional lifestyle and natural features.

Guest Rooms

There are 54 guest rooms in total ranging from 40㎡ to 65㎡ which can fit up to 4 people. Guests can enjoy the hot springs with all room types. TONERICO:INC. is in charge of the inter design who have given it a natural feel.

Tea Salon & Bar

The Tea Salon & Bar on the top floor overlooks Atami Bay. Guests can enjoy sipping on tea grown in Shizuoka as well as tucking into seasonal meals made using Japanese ingredients. There's also a terrace from which guests can enjoy the firework festivals held at Atami Bay throughout the year.

Public Onsen

The public baths benefit from the changing seasons which changes up the bathing experience. The water is perfect for de-stressing, moisturising, and making your skin look beautiful.

Dining Room

In the restaurant wing is the dining room designed by age co.,ltd which has worked on many different ryokan and restaurants. Fish, vegetables, and other ingredients are all sourced locally and directly.

Information

SOKI ATAMI
Grand Opening: November 1, 2020

Address: 4-36 Koarashichō, Atami, Shizuoka

Access: 10-minutes by car from Atami Station

Official Website: http://www.so-ki.jp/

Hello Kitty, My Melody and Kuromi Themed Dessert Buffet Whipped Up at Hilton Osaka

Hilton Osaka has revealed a special dessert buffet called "Mysterious Sweets Forest ~Hello Kitty, My Melody & Kuromi's Collaboration Tea Party~" which will be served at the hotel's Folk Kitchen restaurant from September 18 to December 20 this year.


Themed on a mysterious magic forest, the dessert line-up is a tantalising buffet of 25 sweet treats made with chestnuts, sweet potatoes, apples, pear and other tasty bites. The buffet will also have several photo spots for people to take cute photos, including one with a giant Hello Kitty ribbon and one with My Melody and Kuromi.

Following the success of the "Summer Sweets Buffet Festival ~Hello Kitty & My Melody Collaboration Tea Party~" held at Hilton Osaka this summer which we also covered, the Sanrio characters return, this time with the cute and mischievous Kuromi joining the party.

Mochi Mochi Doughnuts Parfait

The "Mochi Mochi Doughnuts Parfait" is a sweet mix of Japanese gyuhi and raspberry jam topped with a doughnut that has a cute Hello Kitty chocolate on it.

Kuromi's Jet Black Heart Chocolate Mousse

Kuromi's chocolate mousse is made with fruity organic chocolate from Dominica and is topped with fruity chocolate crunch pieces for added texture.

Magic Pudding

The Magic Pudding is made using sweet potato and is served with a square-shaped chocolate that has different My Melody illustrations on it.

There's also the "White Candle Cake" which is made to look like a candle you would light at home, made from moist almond sponge and filled with berries and vanilla Bavarian cream. It's finished with a chocolate Hello Kitty ribbon.

Forest Mushroom Cinnamon Bavaria

The hotel's pastry chefs recommend the Forest Mushroom Cinnamon Bavaria. Their yellow colour and red dots will catch your eye, and one bite will have you hooked as sweet and sour redcurrant jelly and cinnamon Bavarian cream create a harmony of flavours on your taste buds.

Snow Covered Gateau Chocolate

This snow-covered chocolate cake is filled with various spices like cloves and ginger and a coating of snowy cream. This one's really giving those winter vibes.

Children of the Forest

The "Children of the Forest" which are actually lemon cakes dipped in chocolate. Other desserts include the "Vegan Chestnut Cream Cupcakes" which are generously topped with mont blanc cream, "Apple Pie" made luxuriously with apples, "Mysterious Forest Mousse" which combines sour yuzu citrus with bitter matcha, and lots of others.

There's also savoury options too like curry, mushroom soup, pumpkin and mushroom salad, and more.

Finally, Hilton Osaka's cafe and bar "MYPLACE" is also getting in on the tea party by serving up a special Hello Kitty, My Melody, and Kuromi afternoon tea, all served in a beautiful jewellery box.

Information

Mysterious Sweets Forest ~Hello Kitty, My Melody & Kuromi's Collaboration Tea Party~
Location: Hilton Osaka – Folk Kitchen (Floor 2F)

Running: September 18, 2020 – December 20, 2020 (Everyday except November 15)

Time: 15:00-16:30

Prices
[Weekdays] ¥3,950 per person / ¥1,950 for those ages 4-11 years
[Weekends/Holidays] ¥4,250 per person / ¥2,100 for those ages 4-11 years
*Comes with drink of choice from tea, coffee, hot chocolate, and others

*Listed prices do not include 10% consumption tax or service charge

Mysterious Sweets Forest ~Hello Kitty, My Melody & Kuromi's Afternoon Tea Set~

Location: MYPLACE (Hilton Osaka Floor 1F)
Running: September 18, 2020 – December 20, 2020
Time: From 12:00 until it sells out (limited quantity per day)

Price: ¥3,500 per person

*Comes with drink of choice from tea or coffee

*Listed prices do not include 10% consumption tax or service charge

Official Website: https://www.hiltonosaka.com/plans/restaurants/sweets/folkkitchen_2009