Kaori's Easy Recipe: Learn to Make Mickey & Minnie Mouse Cookie Cupcakes
With just a small bit of ingenuity, turn everyday food into something cute using Kaori's easy recipe! With a few simple ideas, an ordinary recipe magically transforms into a cute dish.
For this edition of Kaori's Easy Recipe, I used a recipe from the Disney dessert cookbook Oishii Disney Sweets Recipes to make "Mickey & Minnie Cookie Cupcakes" which make for the perfect Valentine's Day treat. It's a super easy recipe to follow – I even made the cookies and ribbon using ingredients readily available at the supermarket. So don't hesitate, give this easy recipe a go for yourself.
1: Ingredients (Makes 6 cupcakes measured 7cm)
2 medium eggs (40g egg yolk/60g egg white)
60g granulated sugar
2tsp vegetable oil
1-2tsp lemon juice
45g weak flour
2:
①Put the egg yolk, vegetable oil, and lemon juice into a bowl and mix well.
②In a separate bowl, whisk the egg white and gradually add in the granulated sugar. When adding the sugar, I recommend doing it in four portions. So add one quarter of the sugar, mix, repeat.
③Once you've added all the sugar, mix well to incorporate into the egg white.
④Gradually add the weak flour. Do this in three portions like in step ②. Please be careful as to not mix too vigorously when adding the flour as it will result in the dough losing its loose texture and becoming firm.
3: Pour the mix into the cups so that 70-80% of the cups are full. Bake at 190℃ for 12 minutes, then bring the heat down to 170℃ and cook for a further 3 minutes.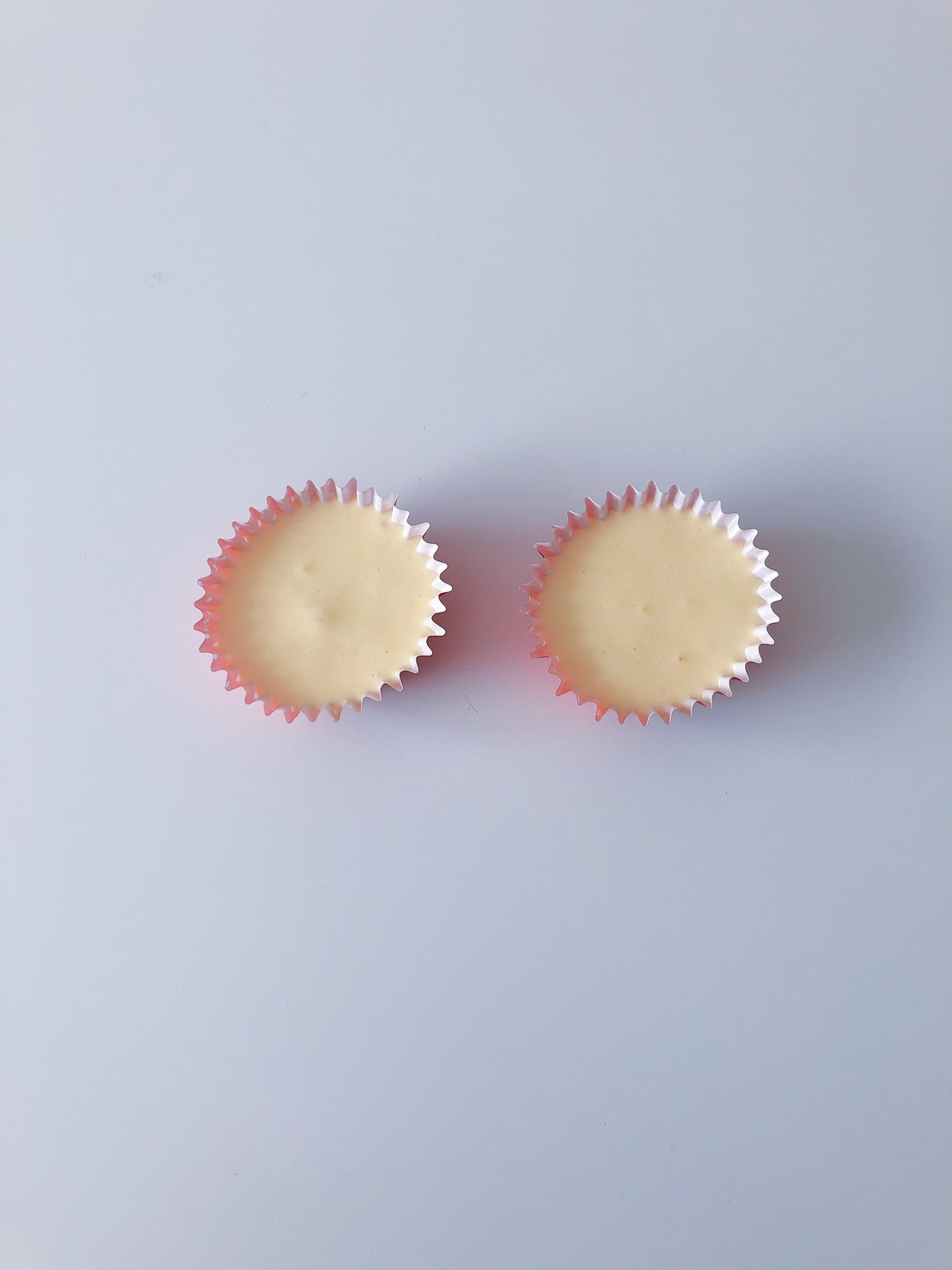 4: Now it's time to make Mickey Mouse. I used one big Oreo cookie and two little ones, the latter of which don't have filling. Like in the photo below, half the bigger cookie, place the smaller ones inside, and place the bigger half back on. If you don't have anything to stick the cookie back on, you can use the filling of the Oreo.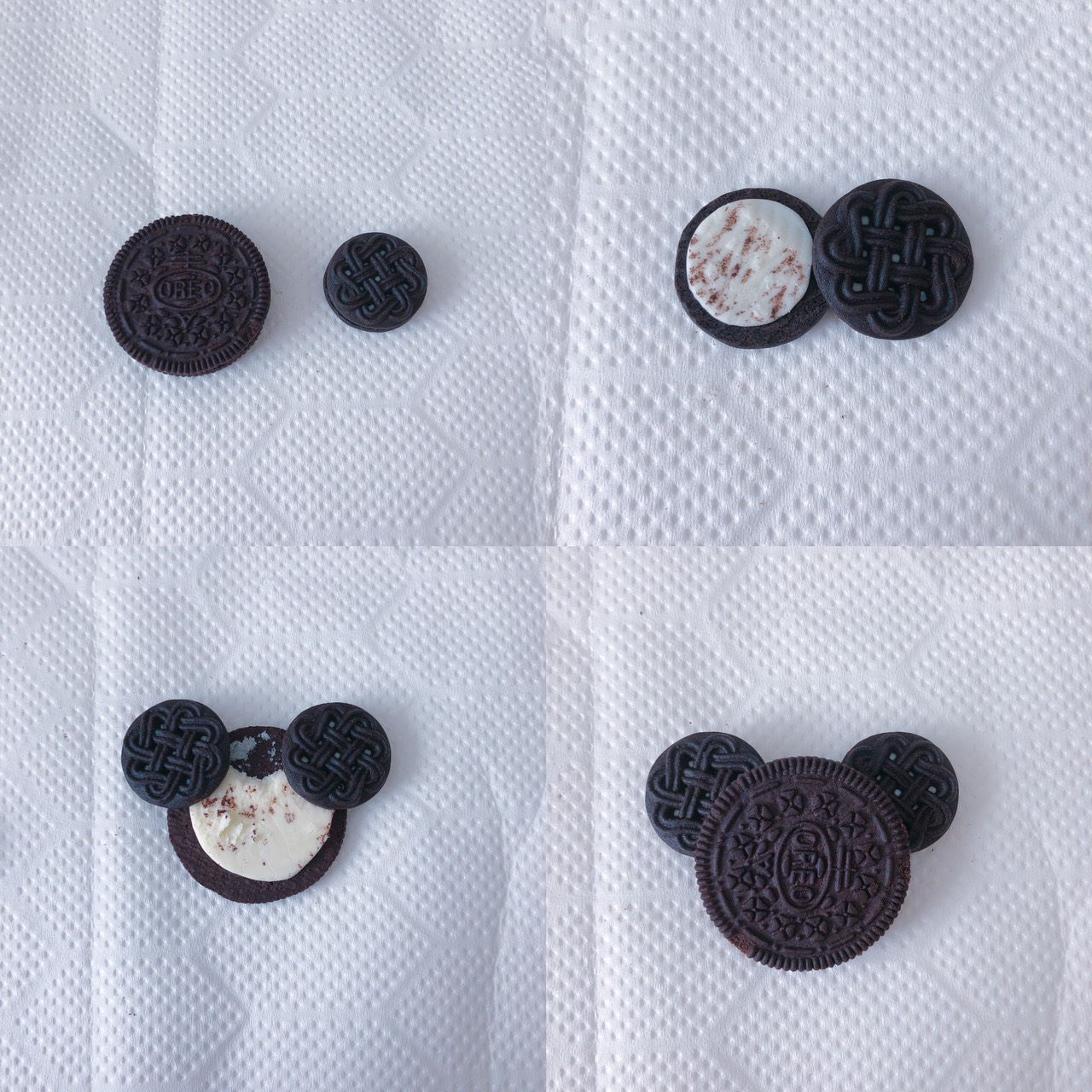 5: I used melted to chocolate to fix my Mickey Mouse together. If you add red M&M's like I did in the photo below, Mickey transforms into Minnie.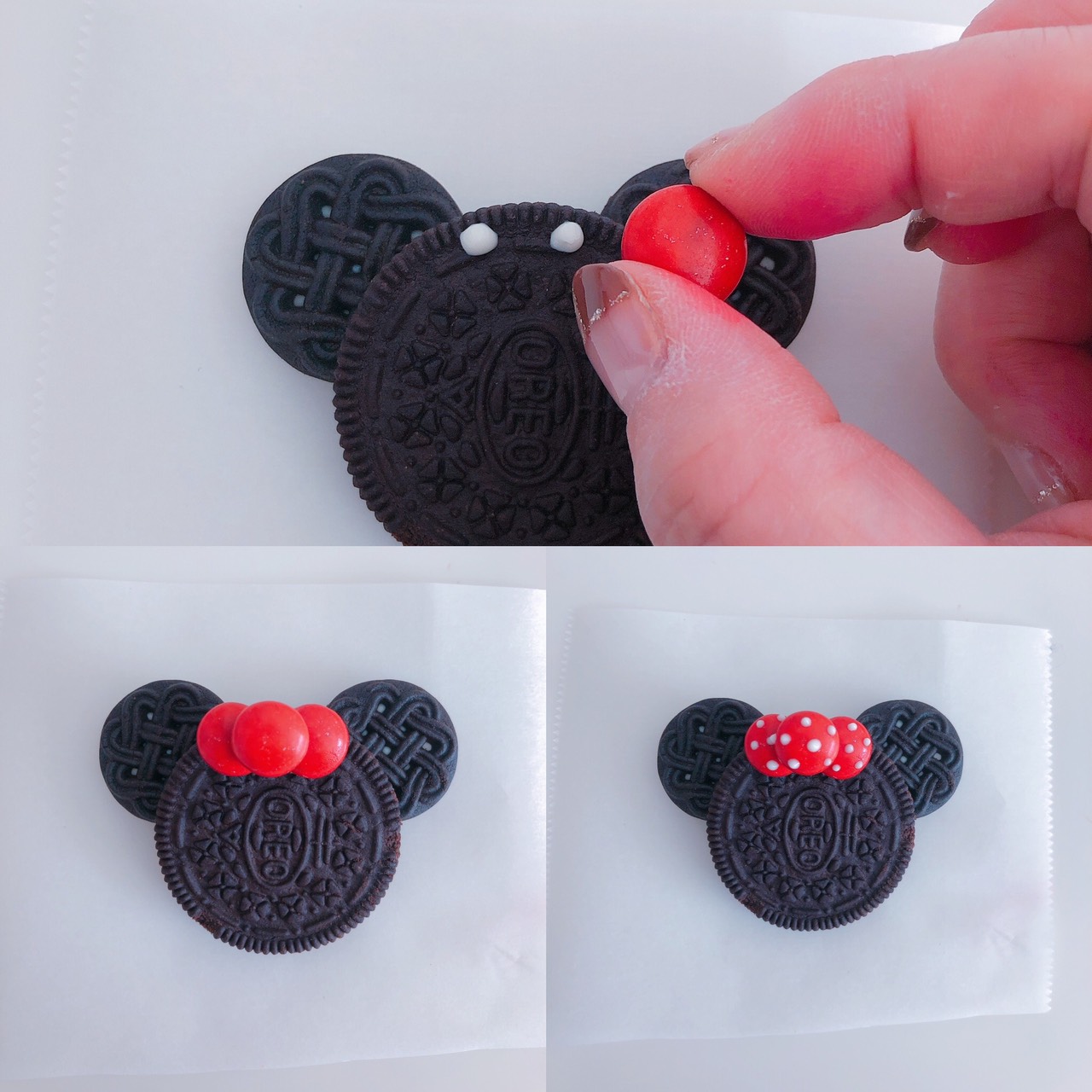 6: Once the cupcakes are done baking, make an incision in the top to place the Mickey and Minnie cookies into.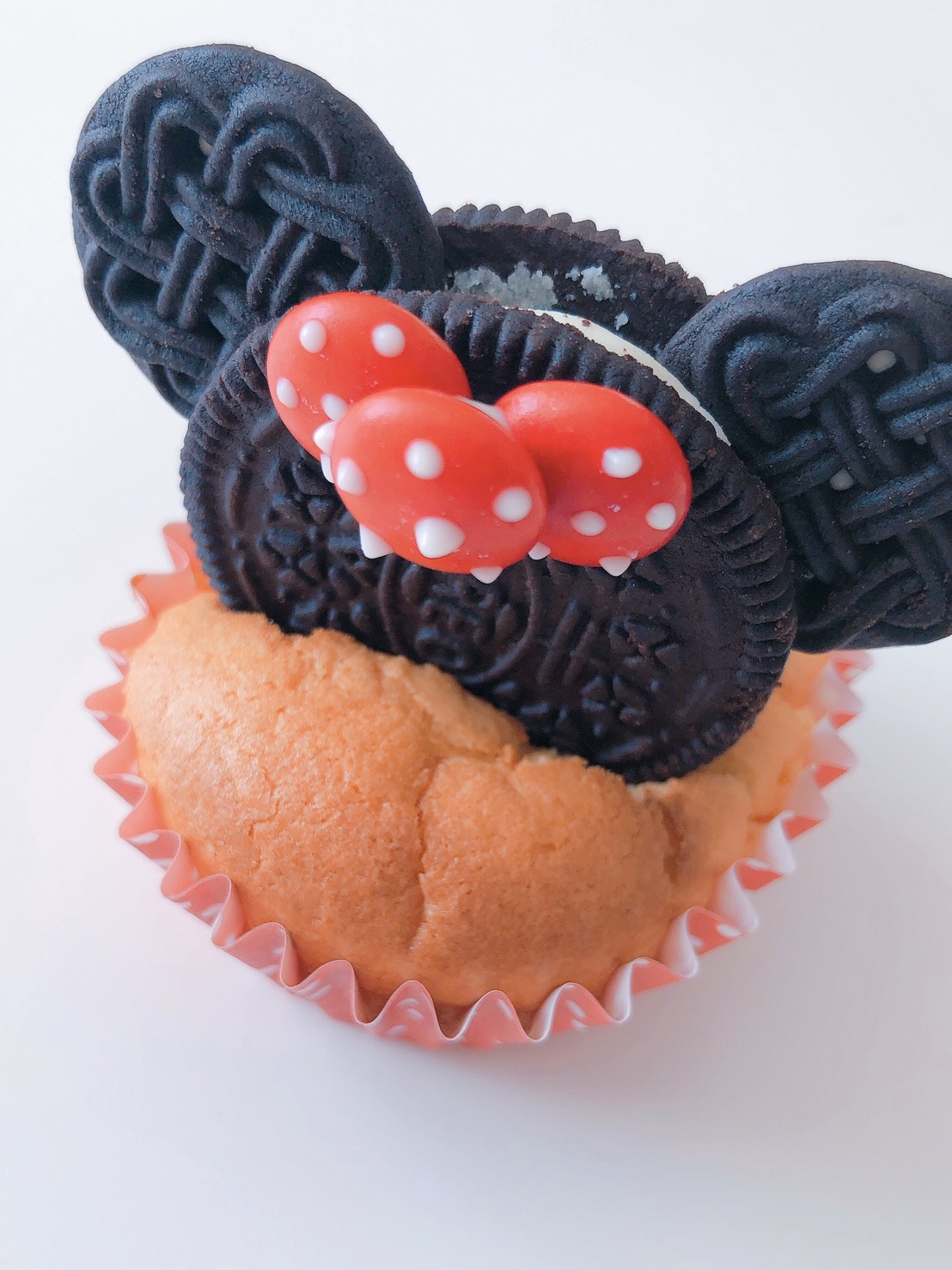 7: Add some fresh cream to decorate, and your Valentine's Day Disney cupcakes are complete!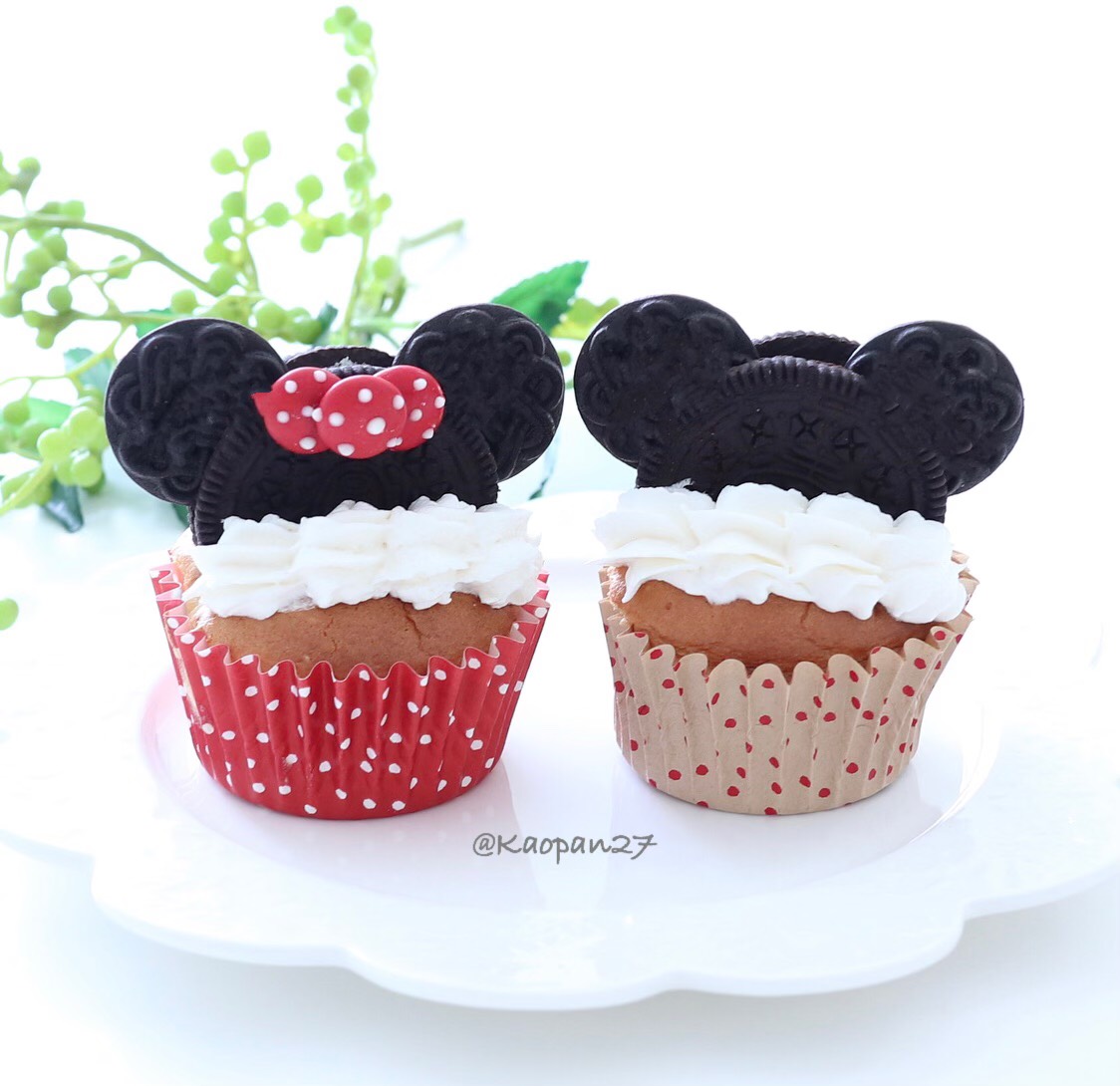 Kaori invites you into her world of character-themed food dishes in her recipe series. Be sure to check out her Instagram where she has uploaded many pictures of her character dishes!
There are many other cute Disney recipes available in the book that Kaori used too, so if you're in Japan or have access to Japanese books, then why not pick up a copy?
©️Disney
Kaori Kubota (@kaopan27)
I live in Hokkaido and I love to make character themed foods, desserts and pastries♡
I want to see my family smile, so I enjoy putting in a bit of effort to make character foods and changing food into something cute♡
You can see more of my character foods and character bento boxes on my Instagram page→@kaopan27
Information
Oishii Disney Sweets Recipes (Japanese Title: おいしい ディズニー スイーツ レシピ)
Price: ¥1,200 (Tax Included)
Available: Amazon Japan, Rakuten, and elsewhere
RECOMMENDED ENTRIES
Kaori's Easy Recipe: Learn to Make My Melody Strawberry Purin

With just a small bit of ingenuity, turn everyday food into something cute using Kaori's easy recipe! With a few simple ideas, an ordinary recipe magically transforms into a cute dish.

As strawberries are currently in season in Japan, today we'll be looking at an easy recipe for delicious strawberry purin. All you have to do is mix the ingredients and you're done! In previous recipes, we've looked at purin recipes that involve decorating the inside of the glass. Many people commented that this is quite difficult so today we've got a recipe that is easy enough for even kids.

Ingredients (For 2 Portions)

Two small jars (this recipe uses Weck jars)

200g Strawberries with stems and leaves removed (approximately one small pack)

20g Sugar

20ml Fresh Cream (or milk to substitute)

5g Gelatin (dissolved in a tablespoon of water)

½ Teaspoon Lemon Juice

To Decorate

Premade Chocolate Decorations or Chocolate Slices (as you like)

Strawberries to Decorate (as you like)

Fresh Cream (As you Like)

Chocolate Pen

2: After removing the leaves and stems from the strawberries, blend them in a mixer.

3: Heat the mixture in a microwave on 600w for 50 seconds. Afterwards, add the sugar, gelatin solution and lemon juice in that order. Finally, mix in the fresh cream.

4: Meanwhile, press the premade chocolate decorations or sliced chocolate (white) into the inside wall of your jar.

5: Use the chocolate pen to draw the face, strawberries and ribbons from the outside of the glass. If you make a mistake, wipe it off using kitchen paper and try again.

6:Put the jar into the fridge for the chocolate to harden. Once the chocolate does not sink when the jar is placed upright, slowly add your strawberry mixture into the jar and put it back in the fridge until hard. After your dessert solidifies, you can add the finishing touches of whipped cream and strawberries.

And you're done!

Kaori invites you into her world of character-themed food dishes in her recipe series. Be sure to check out her Instagram where she has uploaded many pictures of her character dishes!

Profile

Kaori Kubota

@kaopan27

I live in Hokkaido and I love to make character-themed foods, desserts and pastries♡I want to see my family smile, so I enjoy putting in a bit of effort to make character foods and changing food into something cute♡You can see more of my character foods and character bento boxes on my Instagram page→ 

@kaopan27

Kaori's Easy Recipe: Learn to Make Rilakkuma Santa Cookies

With just a small bit of ingenuity, turn everyday food into something cute using Kaori's easy recipe! With a few simple ideas, an ordinary recipe magically transforms into a cute dish.

In this recipe, you'll learn how to make Santa Rilakkuma cookies 

1: Ingredients: (For 10 Rilakkumas)

Unsalted butter: 55g

Icing sugar: 25g

White sesame seeds: 30g

Weak flour: 75g

2: Leave the unsalted butter out for a while until it reaches room temperature and then mix until smooth. Next, mix in the sugar, sesame seeds and then flour in that order. 

3: Next, split the dough into portions. To make one cookie, you need 15g for the face and 1g of dough for each ear. Arrange your face and both ears as shown in the photo below. 

Top tip: Rilakkuma's face is oval-shaped so don't make it circular.

4: After you've formed all your Rilakkumas, bake them at 180℃ for 15 minutes.

 

5: Please refer to the video below to decorate Rilakkuma's face:


Before the cookies get cold, coat them in icing sugar, using a small brush to dust off the excess. Then, wait for the cookies to cool completely before decorating the face. Place a Meiji Apollo Strawberry Chocolate on Rilakkuma's head for the Santa hat and you're done. 

This is the perfect way to contribute to your next Christmas potluck and it is a flawless plan to impress all your friends.

Kaori invites you into her world of character-themed food dishes in her recipe series. Be sure to check out her Instagram where she has uploaded many pictures of her character dishes!

Kaori Kubota (@kaopan27)

I live in Hokkaido and I love to make character themed foods, desserts and pastries♡

I want to see my family smile, so I enjoy putting in a bit of effort to make character foods and changing food into something cute♡

You can see more of my character foods and character bento boxes on my Instagram page→@kaopan27

Kaori's Easy Recipe: Learn to Make Frozen 2 Milk Tea Muffins

With just a small bit of ingenuity, turn everyday food into something cute using Kaori's easy recipe! With a few simple ideas, an ordinary recipe magically transforms into a cute dish.

In this recipe, you'll learn to make cupcakes based on the upcoming Disney film Frozen 2 which is set to hit theatres worldwide on November 22, 2019. These cupcakes are inspired by the Anna and Elsa poster design for the movie. This recipe has parts that are a little more tricky compared to my usual recipes, but put yourself to the test and you'll end up with something delicious!

Milk Tea Muffin Ingredients (Makes 5)

100g weak flour

70g unsalted butter

50g granulated sugar

1 egg

1 tsp bottled chestnut syrup

5-6 chestnuts preserved in syrup

50ml milk tea

*To make the milk tea, add one black tea bag into 70ml of milk and draw 50ml from that

Bean Paste Ingredients

500g white bean paste (shiro-an in Japanese)

25g unsalted butter (room temperature)

20ml milk

A bit of of vanilla extract

A bit of Wilton White icing colour

1. First, we'll make the milk tea muffins. Bring the unsalted butter to room temperature and whisk with a hand mixer. Add the granulated sugar and continue to whisk. Whisk the egg fully, and then add slowly to the mixture. Make sure to add the egg slowly so as to not split the butter.

2. Sieve the wheat flour and baking powder and add to the mix. Slowly add the milk tea and continue to whisk to bring the mixture together.


3. Add a teaspoon of the chestnut syrup. Chop the chestnuts and add those too, then mix once again.

4. Add 70-80% of the mixture equally between five cupcake cups. Bake at 170° for approximately 25 minutes.

5. Next, we'll make the bean paste cream. Do this by mixing together the white bean paste, unsalted butter, milk, vanilla extract, and Wilton White all at once. The Wilton White makes the cream turn a pure white colour.

6: Allow the muffins to cool, lather over the bean paste to taste, and finally decorate. All done!


I added colouring to chocolate plastic for the chest part of the dress. Then I cut it up and added it to the cupcakes. I hope you enjoyed the recipe, be sure to try making your own movie-inspired handmade desserts at home too!

The long-awaited sequel to Disney's blockbuster animated is right around the corner. The first Frozen film touched the entire world with its frosty beauty with both its story and music. Let It Go in particular was a worldwide phenomenon, and was an immense hit in Japan too.

Frozen 2 will see Elsa embark on a dangerous journey with Anna, Kristoff, Olaf and Sven as she discovers why she was born with magical powers, the answer to which is threatening her kingdom.

The new film's main theme, Into The Unknown, captures the complex feelings and emotions Elsa holds as she steps forth, with all her anxieties and hopes, into a new world.

Frozen 2 Trailer Japanese Version

The first Frozen film was a widespread global hit and there's no denying that Frozen 2 will follow in its footsteps. Get together with your family, friends or lover to watch it for the best experience.

Kaori invites you into her world of character-themed food dishes in her recipe series. Be sure to check out her Instagram where she has uploaded many pictures of her character dishes!

Kaori Kubota (@kaopan27)

I live in Hokkaido and I love to make character themed foods, desserts and pastries♡

I want to see my family smile, so I enjoy putting in a bit of effort to make character foods and changing food into something cute♡

You can see more of my character foods and character bento boxes on my Instagram page→@kaopan27

©2019 Disney. All Rights Reserved.

Information

Frozen 2

Release Date: November 22, 2019

Distributed by: Walt Disney Studios/Motion Pictures

Directors: Chris Buck/Jeniffer Lee

Starring: Idina Menzel (as Elsa), Kristen Bell (as Anna)

Official Website: https://disney.co.uk/movies/frozen-2
RELATED ENTRIES
Short Film Featuring Star Wars Character Grogu and Studio Ghibli's Dust Bunnies Released on Disney+

Over the past few decades, Star Wars has become one of the most beloved properties with fans around the world.

 

Grogu, known by many fans as Baby Yoda, first appeared in The Mandalorian, a series on Disney+ currently celebrating its third anniversary. 

 

With his mysterious background and incredible use of the Force, the tiny and adorable character became a hit with fans around the world, quickly making him one of the most popular characters in the recent Star Wars series.

 

World-renowned Japanese animation studio Studio Ghibli recently produced a short animation starring Grogu and Makkuro Kurosuke, also known as the Wandering Soot or, in the title for the short, Dust Bunnies. The characters first appeared in the film My Neighbor Totoro.

 

Studio Ghibli director Hayao Miyazaki and producer Toshio Suzuki have long been friends with Lucasfilm president Kathleen Kennedy, who readily agreed to produce the short as a symbol of their longstanding friendship. The short was directed by Katsuya Kondo.

Will you give this a watch on Disney+?


(C)2022 & TM Lucasfilm Ltd.(C)2022 Studio Ghibli.

Information

Zen – Grogu and Dust Bunnies

Streaming: November 12, 2022

Available on Disney+

Shibuya Hikarie's Disney HARVEST MARKET by CAFE COMPANY Store to Sell Christmas Menu Items and Merch

From November 9 until December 25, the Disney HARVEST MARKET by CAFE COMPANY Shibuya Hikarie location will be offering a special Christmas menu and exclusive holiday merchandise. 

The location's popular Afternoon Tea Party set will see a Christmas makeover, and a limited number of original Christmas cards will only be handed out to those who order one. Other menu items include a Stew Plate with Meatballs and Vegetables, Minnie's Berry and Cocoa Mousse, and plenty more tasty treats to get visitors into the holiday spirit. 

Menu

HAPPY CHRISTMAS! Afternoon Tea Set (Christmas Exclusive)

Original Christmas Cards (Limited quantity, not for sale)

​Meatball and Vegetable Stew Plate

Berry & Cocoa Miss Sweet Mousse ~Minnie Style~ 

Berry Dot Cioccolata

Holiday Fruit & Spice Tea

Exclusive Goods

Almond Chocolate

A 2.7-meter-high pure white statue of Mickey Mouse will welcome guests to the location, which will be filled with Christmas decorations. Come enjoy a fun Christmas season


 

Information

Disney HARVEST MARKET By CAFE COMPANY

Special Christmas Menu

Available: November 9 – December 25, 2022

Address: Shibuya Hikarie 7F (2-21-1 Shibuya, Shibuya-ku)
Hours: 

11:00-20:00 (Last food and drink orders at 19:00

Weekends & Holidays: 11:00-21:00 (Last food and drink orders at 20:00)

Online Shop: https://d-harvestmarket-shop.com/

Official Site:https://d-harvestmarket.com

Maison de FLEUR Introduces Baymax Goods to Ongoing Disney Collection

Popular Japanese accessories brand Maison de FLEUR has started selling new goods as part of the Disney Collection. This time, Baymax from Big Hero 6 takes center stage, and items are available now at Maison de FLEUR locations nationwide and online.

The company chose Manami Enosawa to model the collection–a fitting choice, as Baymax is her favorite Disney character. Enosawa will also act as the director of the apparel brand ARUMDY starting this fall.




The Baymax collection features a total of eight items perfect for everyday use. Fans can find everything from slippers featuring the robot's face to bags, charms, and pouches perfect for bringing to school or carrying around town. 


Come enjoy Maison de FLEUR's newest goods featuring Baymax, one of the most popular Disney characters in recent memory.

Information

BAYMAX from the Disney Collection /  Manami Enosawa x Maison de FLEUR

Release Date: October 8, 2022 *Available online on October 7 at 20:00
Where to Buy: Maison de FLEUR locations nationwide *Excluding Ikspiari store and outlets,
STRIPE CLUB online store (https://stcl.page.link/LQ19), ZOZOTOWN
Official Site: http://www.stripe-intl.com/

gelato pique Releases Chip 'n Dale Bedding Collection

Chip 'n Dale will appear in a new bedding collection from the roomwear brand gelato pique! As part of the gelato pique Sleep collection, the adorable chipmunks will appear on a number of new products inspired by the theme of 'getting ready for bed.' Fans of the characters won't want to miss the body pillow, nightcap, pillowcase, and other products sure to liven up your bedroom and sleep routine!

Merch Lineup

Chip 'n Dale / 3-piece Set (Single)

Chip 'n Dale Jacquard Cover

Chip 'n Dale Jacquard Pillowcase

Chip 'n Dale Nightcap

Chip 'n Dale Body Pillow

 

The products will go on sale on the official site and online department store USAGI ONLINE starting on September 20, 2022 at 12:00 PM. They will also be available to purchase in select stores starting October 14.

UNIQLO's UT Sweatshirt Collection Features Everything from Pop Culture Icons to Contemporary Art

UNIQLO's graphic T-shirt brand UT has revealed some new pieces for its Fall/Winter 2022 collection! Some new sweatshirts are hitting the market featuring everything from Peanuts and Disney characters to Museums of the World and classic Spider-Man art.

Peanuts

From the world-famous Peanuts comic strip comes a collection of sweatshirts for children and adults! Be sure to grab these adorable designs featuring the daily life of Snoopy, Charlie Brown and friends.

Release Date: August 22, 2022

The Philosophy of Andy Warhol

UNIQLO has worked with Andy Warhol's pieces for a number of years, and the latest collection features the powerful messages the artist left through his works. While the words themselves are powerful, the designs are simple and easy to incorporate into any look.

Release Date: August 29, 2022

New York Pop Icons


Keith Haring, Jean-Michel Basquiat, and Kenny Scharf were pioneers of New York pop culture in the 1980s. These bold prints are sure to turn heads. 

Release Date: August 29, 2022

Museums of the World Collection


The Museums of the World collection of men's shirts features beloved museums like the Tate Modern, the Louvre, the Museum of Fine Arts Boston, and more. This valuable collection was made possible by UNIQLO's continued art initiative, as the company has continued to work with museums around the world to share the wonders of art with as many people as possible.

Release Date: September 12, 2022

Disney Dearest Friends

Many Disney films depict wholesome friendships born from fateful encounters. Keeping the theme of best friends in mind, these sweatshirts feature sweet terms and beautiful typography.

Release Date: September 5, 2022

Disney Mickey & Friends

The collection is inspired by American college sweatshirts, adding motifs of Disney characters. The vintage-style design will make you feel wonderfully nostalgic.

Release Date: September 5, 2022

Spider-Man 60th Anniversary: Amazing Years


Since his debut in 1962, Spider-Man has grown to become a huge figure in pop culture. This special collection uses some of the coolest comic book art of all time, perfect for today's superhero fans.

Release Date: October 3, 2022

These sweatshirts are perfect for jazzing up your fall and winter wardrobe, so be sure to grab your favorites!

Disney SERIES CREATED by MOUSSY Reveals Autumn Collection

High-casual brand MOUSSY has revealed the Disney SERIES CREATED by MOUSSY 2022 Autumn Collection! The items are now available to preorder at a number of online outlets.

QUATTING Design Series

BOA Series

THERMAL Series

The 2022 Autumn Collection lineup features original art drawn exclusively for MOUSSY. Each design was inspired by MOUSSY's classic 70s and 80s feel, while also incorporating some 90s street style. The Mickey QUATTING Design Series is more casual, and for those wanting to stay more comfy and warm during the fall months, the THERMAL series has been updated with Mickey Mouse designs all over the fabric. 

An original acrylic stand featuring the Mickey Mouse QUATTING Design is available while supplies last when preordering any items from the 2022 Autumn Collection at the SHEL'TTER online store.

©Disney

UNIQLO Releases New UT Collection Featuring Mickey & Friends Art by Steven Harrington

UNIQLO's graphic T-shirt brand UT has announced an adorable new Disney-themed collection. The 'Mickey & Friends Art by Steven Harrington UT' collection is a triple collaboration with Los Angeles-based artist Stephen Harrington and Disney. The items will go on sale at UNIQLO TOKYO and five other nearby stores on June 10 ahead of the collection's launch at all UNIQLO stores on June 13. The colorful collection was inspired by the happiness, joy, and freedom Harrington felt as a child, which the artist expresses through classic Disney characters designed his typical pop style.


This collection is the first made in collaboration with Steven Harrington, whose vibrant art is inspired by California's landscape and mixed culture. The colorful pop art found in his work alongside the beloved character Mickey Mouse is something Disney fans won't want to miss adding to their wardrobe.

Kids sizes are also available, so try coordinating with the younger people in your life this summer!

Mickey and Minnie Costumes Now Available for LOVOT Home Robots

GROOVE X's home robot series LOVOT is set to launch a new collaboration with the Disney store.

The Minnie and Mickey LOVOT Costumes are available for purchase at the Disney Flagship Shop Tokyo, Disney Store Shinjuku Takashimaya, Disney Store LUCUA Osaka, and the Disney Official Online Store shopDisney.

LOVOT Costume – Mickey


This fancy costume will make your LOVOT look just like Mickey Mouse, dressed up with an elegant gold bow tie.
The white gloves and large round ears are too adorable. (The bow tie is removable!)


Mickey Costume Purchase Bonus: Mickey Design


LOVOT Costume – Minnie

The Minnie costume features a red and white polka dot dress and a cute ribbon. The lace visible beneath the hem of the dress is a key point.

Minnie Costume Purchase Bonus: Minnie Design

The costumes also come with special serial numbers that can be entered into the LOVOT app to give your robot Mickey or Minnie eyes! Disney fans won't want to miss out on this chance!

Information

LOVOT Costumes / Mickey & Minnie
*Includes nose and hangar for LOVOT models

Release Date: April 26, 2022
Price: ¥25,300 each (Tax Included)

Where to Buy:
Disney Flagship Shop Tokyo, Disney Store Shinjuku Takashimaya, Disney Store LUCUA Osaka, Disney Official Online Store shopDisney
: http://shopDisney.jp/c/lovot/

*Not available at LOVOT stores or LOVOT Online. 

Disney SERIES CREATED by MOUSSY 2022 Summer Collection Launched

High-casual brand MOUSSY released the Disney SERIES CREATED by MOUSSY 2022 Summer Collection on April 20, 2022! Items from the collection are available at the SHEL'TTER WEB STORE, ZOZOTOWN, the MOUSSY Flagship Shop, and Lumine EST Shinjuku. 

The collection was created with a unique message in mind: "Seek a Miracle." These items could only be created by the designers at MOUSSY, so Disney fans won't want to miss out.

Collection Lineup

The 2022 Summer Collection features unique artwork drawn exclusively for the new release. The new collection offers retro and nostalgic designs based on 70s and 80s vintage taste and 90s street fashion.


Certain products in the collection will be made-to-order in an attempt to reduce environmental waste, a cause important to MOUSSY. More information can be found at the website listed below!



Will you be grabbing some of these items for the hot summer months?

New Toy Story 3 Collection Features Toys and Goods from the Popular Pixar Film

A new collection of goods inspired by Toy Story 3 is here! Items from the Andy's World Collection will be available to purchase at the shopDisney online store, the Disney Flagship Tokyo store, and at Tokyo Disney Resort on April 28 and at Disney Store locations nationwide on May 3. 

The items in the collection were inspired by the many popular toy characters in the film, with designs ranging from images taken straight from the film to the wallpaper in Andy's room.  

The item lineup includes a wide variety of apparel and lifestyle items that can be used both at home and on the go. From short-sleeved shirts and laptop computer cases to tissue box covers and stuffed animals, there's something for every fan! 

 

© Disney/Pixar © Just Play, LLC Mr. Potato Head & Mrs. Potato Head are trademarks of Hasbro used with permission.
© Hasbro. All Rights Reserved. Mattel toys used with permission. © Mattel, Inc. All Rights Reserved. Corvette®

Maison de FLEUR Releases Colorful Disney Girls Collection

Japanese accessories brand Maison de FLEUR has opened orders for its new Disney Girls Character Collection! The adorable items are now available on the shop's e-commerce site STRIPE CLUB and ZOZOTOWN until May 8, 2022.

The new collection features four popular female Disney characters–Minnie Mouse, Daisy Duck, Clarice, and Marie. Fans can grab tote bags and card cases inspired by each of these famous characters, with delivery scheduled for late July.

Collection

Minnie Mouse 

Daisy Duck 

Clarice 

Marie 





The tote bags feature accents inspired by each character's prominent color. The combination of casual canvas and luxurious ruffles is very on-brand, and despite the smaller size, these bags can easily hold a folding umbrella, tumbler, and lots of other items.


The card cases are sure to complement any bag, and each one comes with a charm. Try carrying them together with a matching tote!


Mickey Mouse Merchandise Appears at Shinsaibashi PARCO in Osaka

Mickey Mouse is beloved by people all over the world. To liven up the Golden Week holiday, Shinsaibashi PARCO in Osaka is showing off the 'Mickey Mouse Osaka Collection' for a limited time, This collection, available until May 8, is the first Disney collection featured at Shinsaibashi PARCO.




A number of Mickey Mouse-inspired products created by numerous designers will be featured, all of which already have shops in Shinsaibashi PARCO. A Mickey Mouse Collection pop-up shop is also open for a limited time at THE WINDOW SHINSAIBASHI on the first floor.

©Disney

©Disney Artwork by Yoshirotten

©Disney Designed by Javier Calleja

©Disney Designed by Keiichi Tanaami

©Disney Designed by Tetsuya Nakamura

 

Visitors can also enjoy the 'Mickey Mouse Now and Future' exhibition at the PARCO GALLERY on the 14th floor. The exhibition is a collaborative art project by artists from around the world who love Mickey! Curated by Shibuya's contemporary art gallery NANZUKA, fans won't want to miss this unique collection of art.

Information

Mickey Mouse Osaka Collection

Running: April 22 – May 8, 2022

Location: 1F THE WINDOW SHINSAIBASHI

Mickey Mouse Now and Future

Running: April 23 – May 16, 2022

Location: 14F PARCO GALLERY