Kaori's Easy Recipe: Learn to Make Hello Kitty Sushi Cakes For Hinamatsuri
With just a small bit of ingenuity, turn everyday food into something cute using Kaori's easy recipe! With a few simple ideas, an ordinary recipe magically transforms into a cute dish.
Hinamatsuri is almost here, and I've got the perfect treat for this year's festival: Hello Kitty Sushi Cakes. These Hello Kitty decorations can be made with basic Japanese ingredients, so follow along and try making them yourself.
1: Equipment/Ingredients
15cm cake tin
1 cup vinegared sushi rice
200g tuna
200g salmon
3 Japanese rolled omelettes (dashi-maki tamago)
20 beefsteak plant
Ikura salted salmon roe
Hanpen pounded fish cake
2: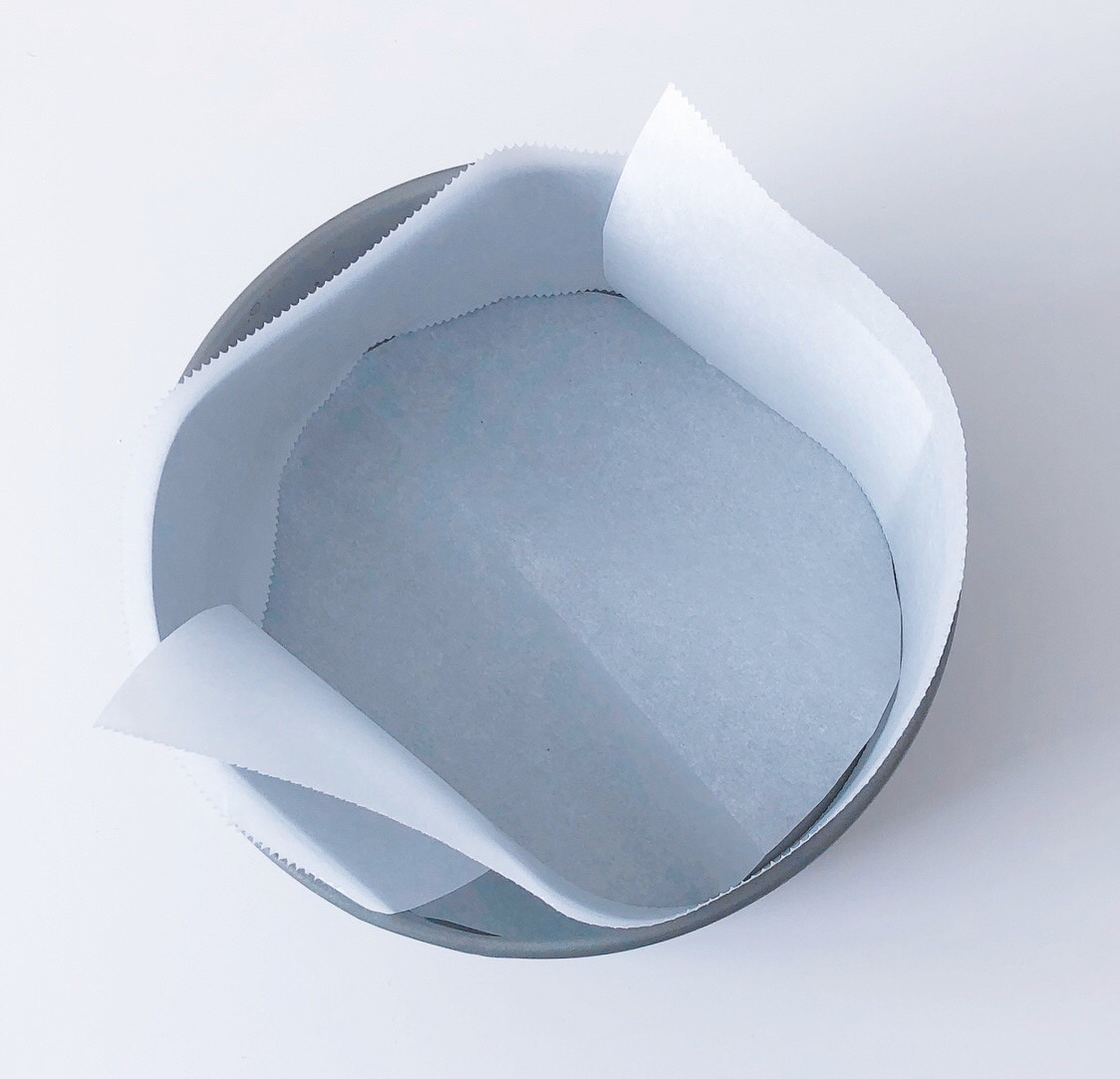 Line a cake tin with baking sheet paper like in the photo. Use a cake tin with a detachable bottom spanning 15cm. In the case that you don't have a cake tin with a detachable bottom, cover the bottom of your tin with cling film which will make it easy to remove everything afterwards.
3:
Cut Hello Kitty, flowers and other shapes into some hanpen pounded fish cake.
4: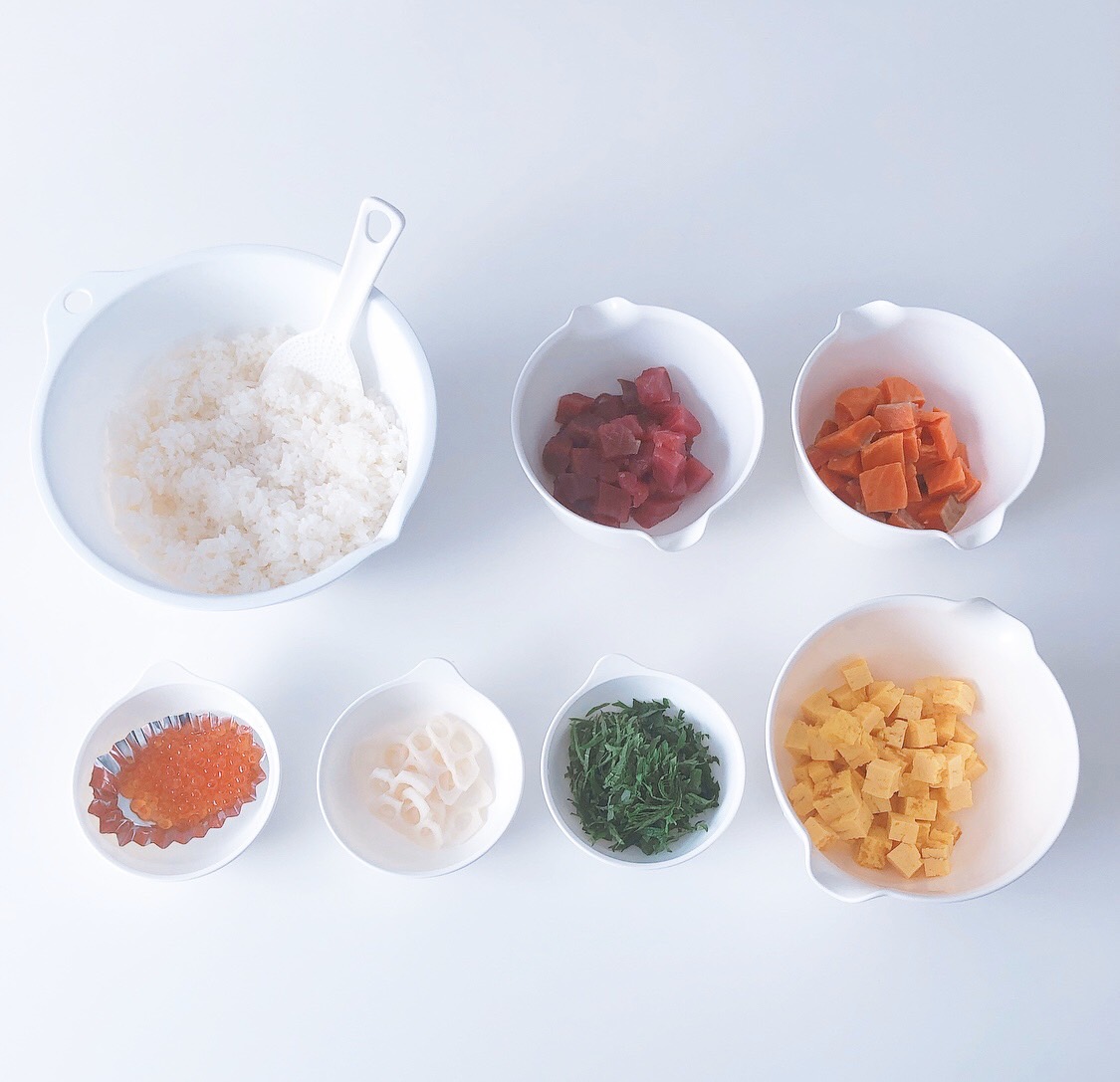 Slice the tuna, salmon, and Japanese egg into cubes about 1.2cm each.
Pile the ingredients in this order: rice→tuna, salmon, and egg→rice. Refer to the photo below.
5:

Leave the ingredients exposed around the outside like so✨
6:
Top with the rest of the ingredients as you like.
7:
Finish by adding your Hello Kitties and flowers which you can decorate with leftovers, like the noses and middle of the flowers. I also used cucumber and crab sticks for the head decorations.
Kaori invites you into her world of character-themed food dishes in her recipe series. Be sure to check out her Instagram where she has uploaded many pictures of her character dishes!
Kaori Kubota (@kaopan27)
I live in Hokkaido and I love to make character themed foods, desserts and pastries♡
I want to see my family smile, so I enjoy putting in a bit of effort to make character foods and changing food into something cute♡
You can see more of my character foods and character bento boxes on my Instagram page→@kaopan27
RECOMMENDED ENTRIES
Kaori's Easy Recipe: Learn to Make Mickey & Minnie Mouse Cookie Cupcakes

With just a small bit of ingenuity, turn everyday food into something cute using Kaori's easy recipe! With a few simple ideas, an ordinary recipe magically transforms into a cute dish.

For this edition of Kaori's Easy Recipe, I used a recipe from the Disney dessert cookbook Oishii Disney Sweets Recipes to make "Mickey & Minnie Cookie Cupcakes" which make for the perfect Valentine's Day treat. It's a super easy recipe to follow – I even made the cookies and ribbon using ingredients readily available at the supermarket. So don't hesitate, give this easy recipe a go for yourself.

1: Ingredients (Makes 6 cupcakes measured 7cm)

2 medium eggs (40g egg yolk/60g egg white)

60g granulated sugar

2tsp vegetable oil

1-2tsp lemon juice

45g weak flour

2:

①Put the egg yolk, vegetable oil, and lemon juice into a bowl and mix well.

②In a separate bowl, whisk the egg white and gradually add in the granulated sugar. When adding the sugar, I recommend doing it in four portions. So add one quarter of the sugar, mix, repeat.

③Once you've added all the sugar, mix well to incorporate into the egg white.

④Gradually add the weak flour. Do this in three portions like in step ②. Please be careful as to not mix too vigorously when adding the flour as it will result in the dough losing its loose texture and becoming firm.

3: Pour the mix into the cups so that 70-80% of the cups are full. Bake at 190℃ for 12 minutes, then bring the heat down to 170℃ and cook for a further 3 minutes.

4: Now it's time to make Mickey Mouse. I used one big Oreo cookie and two little ones, the latter of which don't have filling. Like in the photo below, half the bigger cookie, place the smaller ones inside, and place the bigger half back on. If you don't have anything to stick the cookie back on, you can use the filling of the Oreo.

5: I used melted to chocolate to fix my Mickey Mouse together. If you add red M&M's like I did in the photo below, Mickey transforms into Minnie.

6: Once the cupcakes are done baking, make an incision in the top to place the Mickey and Minnie cookies into.

7: Add some fresh cream to decorate, and your Valentine's Day Disney cupcakes are complete!

Kaori invites you into her world of character-themed food dishes in her recipe series. Be sure to check out her Instagram where she has uploaded many pictures of her character dishes!

There are many other cute Disney recipes available in the book that Kaori used too, so if you're in Japan or have access to Japanese books, then why not pick up a copy?

©️Disney

Kaori Kubota (@kaopan27)
I live in Hokkaido and I love to make character themed foods, desserts and pastries♡

I want to see my family smile, so I enjoy putting in a bit of effort to make character foods and changing food into something cute♡

You can see more of my character foods and character bento boxes on my Instagram page→@kaopan27

Information

Oishii Disney Sweets Recipes (Japanese Title: おいしい ディズニー スイーツ レシピ)

Price: ¥1,200 (Tax Included)

Available: Amazon Japan, Rakuten, and elsewhere

Kaori's Easy Recipe: Learn to Make My Melody Strawberry Purin

With just a small bit of ingenuity, turn everyday food into something cute using Kaori's easy recipe! With a few simple ideas, an ordinary recipe magically transforms into a cute dish.

As strawberries are currently in season in Japan, today we'll be looking at an easy recipe for delicious strawberry purin. All you have to do is mix the ingredients and you're done! In previous recipes, we've looked at purin recipes that involve decorating the inside of the glass. Many people commented that this is quite difficult so today we've got a recipe that is easy enough for even kids.

Ingredients (For 2 Portions)

Two small jars (this recipe uses Weck jars)

200g Strawberries with stems and leaves removed (approximately one small pack)

20g Sugar

20ml Fresh Cream (or milk to substitute)

5g Gelatin (dissolved in a tablespoon of water)

½ Teaspoon Lemon Juice

To Decorate

Premade Chocolate Decorations or Chocolate Slices (as you like)

Strawberries to Decorate (as you like)

Fresh Cream (As you Like)

Chocolate Pen

2: After removing the leaves and stems from the strawberries, blend them in a mixer.

3: Heat the mixture in a microwave on 600w for 50 seconds. Afterwards, add the sugar, gelatin solution and lemon juice in that order. Finally, mix in the fresh cream.

4: Meanwhile, press the premade chocolate decorations or sliced chocolate (white) into the inside wall of your jar.

5: Use the chocolate pen to draw the face, strawberries and ribbons from the outside of the glass. If you make a mistake, wipe it off using kitchen paper and try again.

6:Put the jar into the fridge for the chocolate to harden. Once the chocolate does not sink when the jar is placed upright, slowly add your strawberry mixture into the jar and put it back in the fridge until hard. After your dessert solidifies, you can add the finishing touches of whipped cream and strawberries.

And you're done!

Kaori invites you into her world of character-themed food dishes in her recipe series. Be sure to check out her Instagram where she has uploaded many pictures of her character dishes!

Profile

Kaori Kubota

@kaopan27

I live in Hokkaido and I love to make character-themed foods, desserts and pastries♡I want to see my family smile, so I enjoy putting in a bit of effort to make character foods and changing food into something cute♡You can see more of my character foods and character bento boxes on my Instagram page→ 

@kaopan27

Kaori's Easy Recipe: Learn to Make Rilakkuma Santa Cookies

With just a small bit of ingenuity, turn everyday food into something cute using Kaori's easy recipe! With a few simple ideas, an ordinary recipe magically transforms into a cute dish.

In this recipe, you'll learn how to make Santa Rilakkuma cookies 

1: Ingredients: (For 10 Rilakkumas)

Unsalted butter: 55g

Icing sugar: 25g

White sesame seeds: 30g

Weak flour: 75g

2: Leave the unsalted butter out for a while until it reaches room temperature and then mix until smooth. Next, mix in the sugar, sesame seeds and then flour in that order. 

3: Next, split the dough into portions. To make one cookie, you need 15g for the face and 1g of dough for each ear. Arrange your face and both ears as shown in the photo below. 

Top tip: Rilakkuma's face is oval-shaped so don't make it circular.

4: After you've formed all your Rilakkumas, bake them at 180℃ for 15 minutes.

 

5: Please refer to the video below to decorate Rilakkuma's face:


Before the cookies get cold, coat them in icing sugar, using a small brush to dust off the excess. Then, wait for the cookies to cool completely before decorating the face. Place a Meiji Apollo Strawberry Chocolate on Rilakkuma's head for the Santa hat and you're done. 

This is the perfect way to contribute to your next Christmas potluck and it is a flawless plan to impress all your friends.

Kaori invites you into her world of character-themed food dishes in her recipe series. Be sure to check out her Instagram where she has uploaded many pictures of her character dishes!

Kaori Kubota (@kaopan27)

I live in Hokkaido and I love to make character themed foods, desserts and pastries♡

I want to see my family smile, so I enjoy putting in a bit of effort to make character foods and changing food into something cute♡

You can see more of my character foods and character bento boxes on my Instagram page→@kaopan27
RELATED ENTRIES
The #KuromifyTheWorld Project Celebrates First Anniversary with Special Week of Events

The #KuromifyTheWorld campaign is already one year old! Created to share the adorable Sanrio character Kuromi with the world, fans will be invited to celebrate this milestone from October 20 until October 31 with special events in Tokyo, Osaka, and Nagoya. 

Kuromi's Drink Stand will be open for a limited time in Tokyo and Osaka. Customers will be invited to choose the color of their drink according to their mood, and will also be able to customize it with tags, acrylic stands, and stickers! An original photo spot will also be set up beside each drink stand, and those wanting to attend can enter the lottery to win tickets now. 

Sanrio's first and largest Kuromi ad truck will also be driving through the streets of Tokyo, Nagoya, and Osaka during the event week. 

Kuromi will also be teaming up with (G)I-DLE, a popular five-member global idol group from South Korea. Campaigns are planned to appear in Hangzhou, Suzhou, Taiwan, Korea, North America, and Europe.

Kuromi ranked in the top three in this year's Sanrio Character Awards, and her popularity is steadily growing with Gen-Z. Keep an eye out for more Kuromi-inspired events in the future!

Information

#KuromifyTheWorld Week

・Kuromi's Drink Stand: 

Running: 

Shinjuku, Tokyo: October 20 – October 24, 2022

Shinsaibashi, Osaka: October 29 – October 31, 2022

・#KuromifyTheWorld Ad Truck:

Running:
Tokyo: October 20 – October 24

Nagoya: October 26 – October 27

Osaka: October 29 – October 31

New Planetarium Project in Oita Prefecture Highlights Sushi, Not Stars

In Saiki City, located in the southernmost part of Oita Prefecture, visitors will find a unique project. For a limited time, guests can enjoy a sushi-netarium, where sushi–not stars–will be featured in the sky. Saiki City, where the event takes place, is a treasure trove of seafood thanks to the Bungo Channel and boasts the largest catch in Oita Prefecture. It's also known as Oita's premier sushi destination, with more than 350 varieties of ocean delicacies to enjoy each year. Saiki Sushi, made from fresh local fish, is known for its firm texture and for having just the right amount of fat. To promote this tasty dish throughout Japan, the interactive sushi-netarium promotion was created!

A Planetarium Experience Featuring Soothing Music and a Sky Filled with Sushi

The sushi-netarium is said to have a relaxing effect comparable to that of Beppu Onsen, the most famous tourist attraction in Oita. Those taking part will be able to see not only a sky filled with sushi, but a sushi meteor shower and the Gari Borealis. As you watch, it might become impossible not to crave sushi! Visitors will be able to take part in this special viewing at certain locations in Beppu City and at Oita Airport from September 22 until November 30. In a public announcement, the city invited guests to eat plenty of tasty local food and soak in the Beppu Onsen before enjoying the sushi-netarium to wrap up a wonderful day. 

The Beautiful 'Sushi Projector'

Check out these impressive projectors made exclusively for the sushi-netarium! These original sushi projectors in the shape of Saiki sushi are the only five such projectors in the world and come in the shapes of tuna, yellowtail, octopus, egg, and shrimp. 

Come enjoy this strange sushi-centric activity in the south of Japan! Participating facilities are listed on the website below.

Sanrio Releases New Collection Inspired by Gyaru from the 90s and 2000s

On September 14, Sanrio will release an adorable new collection of goods inspired by 90s gyaru fashion! Fans of Japanese pop culture may be familiar with the gyaru subculture, and now, you can grab your favorite Sanrio character all dressed up like a fashionable girl on the streets of Tokyo during the Heisei era. These items will be available at Sanrio stores nationwide, Sanrio corners in department stores, and Sanrio online. The lineup includes goods featuring Hello Kitty, My Melody, Kuromi, and Cinnamoroll. 

 

A total of 17 new items will be available, including mascot keychains, accessory cases, and plenty more to show off your gyaru side. Hair clips, which were very popular during the height of gyaru fashion, are perfect to either attach to your head or to your school bag. 

Along with the listed goods, secret straps featuring nostalgic 90s motifs will also be sold at random! These are perfect for hanging on your glove compartment, a mirror in your purse, or your bag.

 

New Products

Mascot Keychain (4 varieties): ¥1,980 each

Each mascot keychain shows a popular Sanrio character dressed in popular Gyaru fashion.

Accessory Case with Hole for Strap (4 varieties): ¥1,100 each 

Hair Clip (4 varieties): ¥990 (Set of 2)

Pouch: ¥2,420

Secret Strap (8 varieties): ¥880 each

Each comes with a strap. The Cell phone can be opened and closed.

*Secret Straps are sold in a blind box.

Pochacco and Pekkle Collaboration Donuts Coming Soon

The handmade donut shop Floresta will be offering some adorable Pochacco and Pekkle donuts from September 10 until September 30, 2022. Customers can snag them at Floresta locations and the online store.

Floresta specializes in donuts made from all-natural ingredients, and these adorable collaboration donuts are sure to put a smile on Sanrio fans' faces!

 

These donuts are made with Floresta's special white chocolate mixed with strawberry powder and pumpkin powder. Not overly sweet, these goodies will suit anyone's palate.

Although these sweet treats may be colorful, they were made with all-natural ingredients and are free of synthetic colors, fragrances, and preservatives. Many customers have said that the natural taste is totally different from that of standard donuts, so why not give it a try with family or friends?

Information

Pochacco & Pekkle Collaboration Donuts

Available: September 10 – September 30, 2022

Where to Buy: In-store or at the online shop (https://floresta-ec.jp/)

*Preorders begin on September 10 at 10:00 AM

*Items available in limited quantities. 

Sanrio Avatar Creation App Hello Sweet Days Celebrates 5th Anniversary with Collab Cafe

To commemorate the 5th anniversary of Sanrio's avatar app Hello Sweet Days, a cafe collaboration with Sanrio Characters Honey Toast Cafe in Yokohama, the Pompompurin Cafe in Harajuku, and the Cinnamoroll Cafe in Shinjuku will begin on August 20, 2022. This is the first collaboration to take place at all three stores at once.

Collaboration Cafe

Each location will offer a different collaborative drink for a limited time only. Those who purchase these tasty beverages or show the Hello Sweet Days app screen to the staff will receive exclusive goods while supplies last! Music from the app will be played in each cafe, so be sure to check it out!

Collaboration Drinks

Exclusive Merch

Limited-Time Event

The Sugoroku Event is a popular part of the Hello Sweet Days app. This year's event will begin on August 21 and will take a look at the history of the app, given that it is celebrating its 5th anniversary. Players will be able to take look back on past additions and earn a variety of special rewards!

Running: August 21 – August 30 at 23:59

The Smile Festival SNS Contest will also be going on, inviting fans to participate to win Sanrio goods. More details on how to submit an entry are available on the app. 

There will be many other special events and campaigns both inside and outside the app during the month of August to celebrate the 5th anniversary, so keep an eye out for more!

Ⓒ 2022 SANRIO CO., LTD. APPROVAL NO. L633389 Ⓒcocone

Hello Kitty and Wish Me Mell Inspire Dinner and Dessert Buffet at Keio Plaza Hotel

Starting September 3, Keio Plaza Hotel Tama will offer a special dinner and dessert buffet inspired by the Sanrio characters Hello Kitty and Wish Me Mell. The adorable event will take place at the Jurin restaurant on the 4th floor, and guests will be able to enjoy some cute dishes and desserts inspired by the character's gratitude. The event will run until October 30 and will only be held on weekends and holidays. 

The restaurant's patissier has designed a collection of sweet dishes based on the two characters, from strawberry shortcakes inspired by Wish Me Mell's outfit to pastel-colored cakes and rainbow jello. Cream-filled fruit sandwiches cut to look like Hello Kitty's face are sure to offer guests the perfect photo op! For those wanting something savory, over 15 dishes will be available, including roast beef, pasta and cheese, curry, and more.

Special seats including large stuffed animal versions of Hello Kitty and Wish Me Mell will be available, limited to two tables per day.

Come enjoy a relaxing meal with these two adorable characters!

Coji-Coji and Sanrio Characters Come Together to Celebrate Cinnamoroll's 20th Anniversary

To commemorate Cinnamoroll's 20th anniversary, Coji-Coji and a ton of other Sanrio characters are coming together to celebrate!

The characters who live in fairy tale lands are always on a mission to entertain humans. Coji-Coji attends a school and studies hard every day, following the example of famous characters active in the human world. Sanrio characters have come to the school to study hard themselves, and this newly-created collaboration art shows the characters in adorable matching school uniforms.

Look forward to these new collaborative products coming in the summer of 2022, as well as other unique plans to celebrate the anniversary of Cinnamoroll!

Golden Kamuy x Sanrio Characters Collaboration Cafe to Open in Shibuya

Characters from the popular anime series Golden Kamuy will team up with beloved Sanrio characters for a new collaboration cafe! Fans should visit Chugai Grace Cafe in Shibuya by July 18 to try some themed dishes and grab some exclusive merchandise.

Menu

Eat the Great North! Cream Stew Plate

Almond Pound Cake with Lingonberry Sauce

Matagi's Stump Birthday Cake

Monkichi the Monkey and Shiraishi's Banana Soda

Cola Float and Strange Juice

Goods

Pin – Cafe ver. (7 varieties, random)

Acrylic Stand (7 varieties)

Acrylic Frame Keychain (7 varieties)

Acrylic Block – Cafe ver.

Let's Go to the Cafe! Curry (2 varieties)

Pouch (10 varieties)

Genjirou Tanigaki Birthday Set

Collab Menu Order / Advanced Reservation Bonus Coaster (17 varieties)

Matagi's Stump Birthday Cake Order Bonus – Bromide

Goods Preorder Bonus Bromide (17 varieties)

The collaboration menu will include a tasty Almond Pound Cake with Lingonberry Sauce and Matagi's Stump Birthday Cake to celebrate Tanigaki's birthday! Don't miss out on these exclusive menu items and goods. 

©野田サトル/集英社・ゴールデンカムイ製作委員会
© 2022 SANRIO CO., LTD. TOKYO, JAPAN(L)

Natural Donut Shop Floresta Collaborates with Sanrio's Kiki and Lala for New Treats

From July 2 until July 24, the handmade donut shop Floresta will be offering donuts inspired by the Sanrio characters Kiki and Lala! These treats, made from all-natural ingredients, will be available at Floresta shops and at the online store.


The Little Twin Stars, Kiki and Lala, were born on the Omoiyari Star in the Dream-Star Cloud.

 

The older sister Lala and younger brother Kiki appear on these healthy donuts along with a shooting star. Floresta's special white chocolate is kneaded with purple sweet potato powder and strawberry powder to create a donut that isn't too sweet.

Little Twin Stars Collaboration Donuts

Part 1: July 2 – July 12
Ring Donuts (2 varieties)

Kiki / Lala

Part 2: July 13 – July 24
Kiki & Lala Shooting Star Donut Holes




During the second half of the event, guests will be able to grab donut holes based on the beloved characters. Although these sweet treats may be colorful, they were made with all-natural ingredients and are free of synthetic colors, fragrances, and preservatives. 

Enjoy these donuts yourself, buy them for a friend, or bring them to a family get-together.


© 2022 SANRIO CO., LTD. APPROVAL NO. L631150

Sanrio Puroland Opens New Sensory Show Fusing Real and Virtual Worlds

Starting July 15, Sanrio Puroland will premiere a new show, Nakayoku Connect. The unique hands-on experience will blend both the real and virtual worlds.

The interactive show Nakayoku Connect is set to introduce a new type of entertainment that combines a real live show filled with twinkling lights and lasers set to pop dance music with a virtual world. This is the first new show to be performed at Puro Village in three years, since Wish me mell's Chance for You began in September 2019. This will also be the first time in about two years–since the temporary closure in 2020–that regular shows will be held in Puro Village during business hours.

 

For the first time ever, this show will be presented not only in Puroland, but virtually as well. Visitors are welcome to enjoy this unprecedented experimental show incorporating the world around us and the world inside the computer.

In Japanese, Nakayoku means 'to care about friends' and 'to get along happily.' The creators of the show believe that this is an important value to think about today, and visitors will enjoy seeing their favorite characters, from Hello Kitty and Dear Daniel to Bad Badtz-Maru and Kogimyun. The live and virtual shows will be performed simultaneously, and the characters will wear new costumes inspired by the concept of retro-futurism.





For a more immersive experience, the show will utilize a 'fiber beam' for the first time ever. Harmless to the body, the entirety of Puro Village will be illuminated, with the lights and animations linked to the show's music. Come enjoy this brand-new experience!

Sanrio to Create Original Character Inspired by Boy Band JO1

Sanrio and LAPONE Entertainment have teamed up to launch the JO1 x Sanrio Character Development Project to create a new character inspired by the globally popular boy band JO1.

The new project combines JO1's creativity with Sanrio's beloved branding to create a character embodying the member's strengths. JO1 announced the project during the 2022 SANRIO FES at Pacifico Yokohama North on June 12. A teaser has also been posted on the official JO1 YouTube channel. A special program will closely follow the project and new episodes will be posted on YouTube in the future, so be sure to watch!

Teaser Video


JO1's marketing department has been tasked with making the group's fans feel even closer, and the new character will be a kind of 'alter ego' of JO1. It's unclear what kind of character we'll see at the end of this, but fans are excited to find out!


©'22 SANRIO 著作(株)サンリオ ©️LAPONE ENTERTAINMENT

Final Results of 2022 Sanrio Character Ranking Announced

The results are in! The annual Sanrio Character Award tallies millions of votes to discover which of the company's 450 characters is the fan favorite for the year. In 2022, nearly 26.5 million people cast their vote, totaling up to 124% of last year's turnout.

Taking the top spot for the third year in a row is Cinnamoroll, almost reaching 3 million votes. The character is celebrating his 20th anniversary this year, so it's fitting that he should take home the trophy!

Pompompurin came in second. The adorable dog has been in the top three for the past eight years and managed to rack up nearly 2.4 million votes. Surprisingly, Kuromi came in third, surpassing her rival My Melody for the first time ever. This was also the first time in the history of the competition that Kuromi has ranked in the top three.


Hangyodon ranked eighth, becoming the first new character in the top ten in 34 years. The fish character has been seeing increased popularity over the past year. 

All rankings are available to view on the official website, so be sure to take a look to find out where your favorite sits!

©'22 SANRIO  S/D·G  S/F·G  SP-M  著作 (株)サンリオ