Dragon Ball Z Desk Tool Collection Releasing in Collaboration With DyDo Drinks
To celebrate the release of their two new drinks, DyDo DRINCO, Inc. is collaborating with Dragon Ball Z to release a unique collection of convenient tools for computer desks. They will be released together with the drinks in limited quantities from March 9, 2020 at convenience stores and volume sellers across Japan.
*Pete Licata, 14th World Barista Championship Champion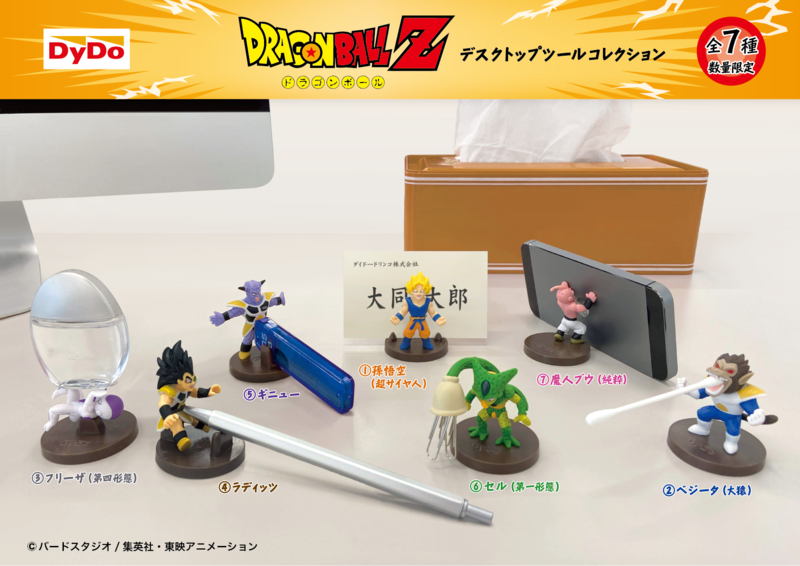 ①Super Saiyan Goku – Card Stand / ②Great Ape Vegeta – Cotton Swab Holder / ③4th Form Frieza – Eye Drop Stand / ④Raditz – Pen Stand / ⑤Captain Ginyu – Mechanical Pen Refill Stand / ⑥1st Form Cell – Clip Holder / ⑦Majin Buu – Phone Stand
Seven different tools will be sold, each a model of popular characters from Dragon Ball Z. They not only decorate your desk space, but also tidy it up and make things more convenient.
These are the perfect gift to all Dragon Ball Z fans as well as anime fans who like to nerd-up their desks!
©Bird Studio/Shueisha・Toei Animation

Information
Information
Dragon Ball Z Desktop Tool Collection
Release Date: March 9, 2020 (While supplies last)
Target Products:
①DyDo Blend Low Sugar Sekaiichi no Barista Kanshu (260ml) – ¥130 (Before Tax)
②DyDo Blend Black Sekaiichi no Barista Kanshu (275ml) – ¥124 (Before Tax)
Available: At convenience stores and volume sellers in Japan
RELATED ENTRIES
Demon Slayer Confections Slash Their Way Into Lawson Convenience Stores in Japan

Bandai Candy's character-inspired Japanese confectionery series Tabemas collaborating with the popular TV anime series Demon Slayer: Kimetsu no Yaiba to release two confections themed on the show's main characters Tanjiro Kamado and Nezuko Kamado as well as a collection of tarts. The sweet treats will hit the chilled desserts corner of Lawson convenience stores in Japan on October 20, 2020.

Tabemas x Demon Slayer


Tabemas x Demon Slayer: Kimetsu no Yaiba (Tanjiro Kamado/Nezuko Kamado) – ¥264 Each (Before Tax)

The tarts feature all the little details of the beloved characters, from the scar on Tanjiro's forehead and his earrings to the bamboo pipe in his sister Nezuko's mouth and her hair adornment. It also captures the designs of their clothes. Both are filled with Japanese red bean paste with Tanjiro being chocolate flavoured and Nezuko strawberry flavoured.

Demon Slayer Tarts


Demon Slayer Tarts | ¥231 (Before Tax)

An assortment of biscuit base tarts laced with caramel mousse. The tart designs feature a range of popular characters from the anime series including the Kamado siblings, Zenitsu, Inosuke, Shinobu, and Tomioka.

Demon Slayer: Kimetsu no Yaiba is a manga series by Koyoharu Gotouge serialised in Weekly Shonen Jump. The popular series has over 100 million copies in circulation and spawned a hit anime series last year. The upcoming anime film Demon Slayer: Kimetsu no Yaiba the Movie: Mugen Train, which is being animated by ufotable, is set for release tomorrow on October 16, 2020 will serve as a direct sequel to the 2019 anime series.

©Koyoharu Gotouge/Shueisha・Aniplex・ufotable

Yoshiki Collaborates With Attack on Titan in New WONDA Coffee Commercial

Yoshiki has teamed up with Asahi Soft Drinks once again in their latest commercial for WONDA coffee which sees the musician animated into the world of Attack on Titan. The commercial hit Japanese television on Thursday.

Yoshiki becomes a Survey Corps member in the new commercial

The 3D CG animated commercial sees Yoshiki as a Survey Corps member who bites his hand to turn into a Titan like Eren, but the only thing he is attacking in the video is his drum kit. He treats himself to WONDA's "Morning Shot" coffee beverage after falling over his drums.

Check out the commercial below.

WONDA x Attack on Yoshiki Coffee Cans

Limited edition cans of the Morning Shot coffee will also be sold, featuring Attack on Titan designs. Each can also has a QR code which when scanned will take you to a website to enter the serial code written on the can to win one of the Yoshiki designs as pictured below.

Information

WONDA x Attack on Titan Collaboration Campaign

Running: November 1, 2020 – November 6, 2020

Yoshiki Can Shipping Date: Early December 2020

Winnters: 1,000 to be chosen

Official Website: https://www.asahiinryo.co.jp/

Starbucks Japan's Chocolate Chestnut Frappuccino® Arrives This Autumn

The autumn leaves are set to fall on Starbucks in Japan again this year as the coffee chain announces the return of the "Artful Autumn @ Starbucks® Promotion" which is set to begin on September 2, 2020.

This year's drink concept is "Naturally Good Artfully Simple" which hopes to have customers feeling peaceful and enjoying the transition from summer into autumn.

Autumnal beverages made with whole blended chestnuts

Chocolate Chestnut Frappuccino®: ¥590 (Tall Only)
Chocolate Chestnut Latte: Short ¥450 / Tall ¥490 / Grande ¥530 / Venti® ¥570

What makes the Chocolate Chestnut Frappuccino® so special is its use of whole blended Japanese chestnuts—the quintessential autumn flavour of the country. The delicately broken pieces of chestnut add texture to the smooth milk and coffee and invite you into the cosy embrace of the season. Starbucks has chosen chocolate as the perfect partner to the chestnut. To best enjoy the balance of both flavours, the beverage is loaded with a "Chestnut Cacao Sauce" which gives the drink's appearance a beautiful marble effect. Everything's topped off with a squirt of whipped cream and a topping of chocolate flakes and candied cacao nibs.

Then there's the Chocolate Chestnut Latte, a combination of the same tasty Chestnut Cacao Sauce together with steamed milk and espresso carefully prepared by the baristas. The hot drink is completed by a topping of chocolate flakes and candied cacao nibs. The result is a wonderful mix of chestnut, chocolate, and espresso.

Another seasonal Starbucks latte


Autumn Latte: Short ¥340 / Tall ¥380 / Grande ¥420 / Venti® ¥460

The Autumn Latte is made with Starbucks Japan's "Autumn Blend" coffee beans. It has a smooth and gentle flavour.

Autumn in Japan is a time for seriously tasty drinks and desserts, so if you're in the country this autumn, be sure to stop on by Starbucks for an autumn coffee.

Information

Chocolate Chestnut Frappuccino®
Chocolate Chestnut Latte
Autumn Latte
Running: September 2, 2020 – October 31, 2020

Available: Starbucks in Japan (select branches not participating)

Starbucks Japan Official Website:  https://www.starbucks.co.jp/

Chewy, Cheesy and Cute Moomin Obanyaki Desserts Now Being Sold at FamilyMart in Japan

Japanese convenience store chain FamilyMart released cream cheese-filled obanyaki branded with Moomin characters on August 4 in celebration of "Moomin's Day" which falls on August 9.

Moomin Mochitto Cheese | ¥138 (Tax Included)

The Moomins are the main characters of Tove Jansson's series of books and comic strips. August 9 is the birthday of the author, and so this date has become known as "Moomin's Day" amongst fans of the series.

Obanyaki are a type of imagawayaki which are like waffles and are filled with various ingredients, the most popular being red bean paste which can often be found at festivals in Japan. These chewy Moomin obanyaku however are filled with cream cheese and are stamped with the familiar faces of Moominvalley including the titular characters, Snufkin, Little My, and the Hattifatteners.

What better way to celebrate Moomin's Day than with a delicious treat? If you're in Japan this summer, head to your closest FamilyMart.

©Moomin Characters™

Information

Moomin Mochitto Cheese

Release Date: August 4, 2020

Available: Approx. 16,600 FamilyMart branches in Japan

FamilyMart Official Website: https://www.family.co.jp/

Minions Confections Sneak Their Way Into Lawson Convenience Stores in Japan

Bandai Candy's character-inspired Japanese confectionery series Tabemas released a new batch of Minion-themed Japanese wagashi confections at Lawson convenience stores in Japan (excluding Lawson Store 100 branches) on August 4, 2020.

'Tabemas' is an abbreviation of the Japanese words taberareru masukotto, meaning 'mascots that you can eat.' It is a Japanese confectionery series that combines well-known characters and Japanese sweets made from ingredients like red bean paste, sugar and rice flour.

Tabemas Minions | ¥264 (Before Tax)

The line-up includes familiar faces from the Despicable Me and Minions films, namely the childish Bob, Stuart—who loves a prank—and Kevin who has a leader presence about him. The confections feature all the little details for each character, from the goggles and hair to the colouring.

Each character has its own delicious bean paste flavouring too: Bob is banana flavoured (his favourote), Stuart is strawberry, and Kevin is chocolate. Which do you want to try the most?

© Universal City Studios LLC. All Rights Reserved.

Information

Tabemas Minion
Release Date: August 4, 2020

Available: At the chilled desserts section of Lawson convenience stores in Japan

*Not available at Lawson Store 100

*Available while supplies last

*Stock date may differ from branch to branch

*Select stores not participating

Tokyo's New Starbucks Branch in Ginza is a Cafe Dream Come True For Workers and Business People

Starbucks Coffee Japan opened a new branch at CIRCLES Ginza on July 30, 2020 that will serve as a dream location for business people.

The dream coffee shop, split into two floors, offers a unique environment and service created in collaboration with Think Lab. Rather than your regular, more public Starbucks, this branch also lets customers reserve booths and meeting spaces. This includes the SMART LOUNGE™ aimed at business users, as well as solo working spaces by Think Lab.

Starbucks Coffee CIRCLES Ginza caters to both solo workers and co-workers, giving them a space to think and concentrate alone, or come together in groups to exchange ideas. Booths offer a place to host online meetings, the SMART LOUNGE lets groups arrange chairs and tables however they like, and the Think Lab—which you pay an extra fee to use—is the perfect spot for some quiet contemplation.

1st Floor: Quick TOGO experience

The first floor is for people who aren't looking to stay at the cafe long. They are looking for a quicker experience where they can order their Starbucks drink and food and head on out. The cafe offers cashless payments, which is notable as Japan is still very much a cash-based country, as well as the Starbucks mobile order and pay service where you pick what you want on your phone and then go and pick it up.

2nd Floor: A place where you can focus

Reserve a booth for video calls and more


There are four individual half-booths which can be reserved, each of which have a screen for video calls and online meetings. These can be used for 40 minutes and can be booked in advance. The booking system was co-developed by Starbucks and Vacan.

Tables for in-person group meetings

The window tables offer a place for meetings, discussions, and business negotiations for 2-12 people. It's a relaxing area where workers and clients can chat freely.

解放される"ひとり"のためのパーソナル空間

For those who want to work along, Starbucks has created a spacious area with individual booths where you don't have to meet eyes or be bothered by other people.

If you're working in Tokyo, and need a business-oriented location where you can enjoy a coffee, then look no further than Starbucks Coffee CIRCLES Ginza.

Information

Starbucks Coffee CIRCLES Ginza

Grand Opening: July 30, 2020

Address: CIRCLES Ginza, 3-7-6 Ginza, Chuo-ku, Tokyo
Opening Hours: 7:00-22:30
TEL: 03-6228-6715

Starbucks Japan Official Website: https://www.starbucks.co.jp/

Starbucks Japan to Open New Branch Produced by Hiroshi Fujiwara in Miyashita Park

Starbucks Japan is opening a new branch in MIYASHITA PARK on August 4, 2020. Set to be Starbucks Japan's fifth "park" branch—opening inside a park—the new coffee shop is being produced by Hiroshi Fujiwara's Fragment brand.

MIYASHITA PARK is a shopping complex filled with shops stocking high quality products, and stands as a new landmark of Shibuya. On the rooftop is the newly-arranged park area which has its own skate park, bouldering wall, and more. It's home to all-new facilities, and there's also the actual park where events can take place.

Starbucks Coffee Miyashita Park offers a new style of Starbucks conceived from the mind of Hiroshi Fujiwara. Glass doors are fitted on both the front and back sides of the cafe, allowing for a full-open design. The flooring is coloured green, making it feel as if it has become one with the green outdoors of the park, and the same mesh used inside Miyashita Park is used for the ceiling.

The cafe's design was conceived to be a unique standout in the park, specifically with the image in mind of countries outside Japan where you walk along a lone road and eventually come to a gas station.

Starbucks Coffee Miyashita Park will also sell a range of merchandise at the back of the shop, as well as Starbucks coffee beans. There's also a glass table in the middle of the cafe which slots in nicely with the overall aesthetic. The fun design together with the expanse of the park outside adds for an enjoyable combination that makes it a pleasant stay as you sip your beverage.

The regular line-up of merchandise sold at the Miyashita Park branch, such as the tumblers, are all produced by Hiroshi Fujiwara's Fragment brand. Items are branded with the word "MYST" which lets you know it's from this particular branch, as well as Fragment's logo.

Discover a new Starbucks experience at Miyashita Park.

Information

Starbucks Coffee Miyashita Park
Address: 6-20-10 Jingumae, Shibuya, Tokyo

Grand Opening: August 4, 2020

Opening Hours: 8:00-22:00

Dragon Ball Confections Kamehameha Into FamilyMart Convenience Stores in Japan

Character-inspired Japanese confectionery series Tabemas has revealed that its next batch of sweet treats are Dragon Ball Super inspired. The sweets were released at FamilyMart convenience stores in Japan on July 28, 2020.

'Tabemas' is an abbreviation of the Japanese words taberareru masukotto, meaning 'mascots that you can eat.' It is a Japanese confectionery series that combines well-known characters and Japanese sweets made from ingredients like red bean paste, sugar and rice flour. The sweets are also made with a dough called "nerikiri" which is used in making traditional Japanese wagashi sweets.

Tabemas Dragon Ball Super: ¥369 Before Tax | 1 set of 2

The confection designs include the iconic Dragon Balls from the series up to Seven-Stars, as well as Shenron.

Shenron is matcha-flavoured. Using nerikiri dough, Tabemas has brought the dragon god to life with his iconic red gaze, whiskers, and tail. Each of the seven Dragon Balls are filled with custard cream. One set of these confections comes with both Shenreon and one of the Dragon Balls, so fans can enjoy both flavours.

As well as all of the seven Dragon Balls, there are two secrets ones too. What exactly they are requires a trip to FamilyMart.

©Bird Studio/Shueisha・Fuji TV・Toei Animation

Information

Tabemas Dragon Ball Super
Released: July 28, 2020

Available: At the chilled desserts section of FamilyMart convenience stores in Japan

*Available while supplies last

*Stock date may differ from branch to branch

*Select stores not participating

Official Website:  https://www.bandai.co.jp/candy/tabemas/dragonball/

One Piece and Dragon Ball Z Design Watches Released by G-SHOCK

CASIO G-SHOCK has announced a collaboration with the popular anime series One Piece and Dragon Ball Z, with watch designs for each show releasing in July and August respectively.

GA-110JOP: ¥26,400 (Tax Included)

The GA-110JOP One Piece watch uses the popular GA-110 model G-SHOCK which has a distinct big case. It's covered in a black base colour and features an illustration of Luffy strong and grown up. At 9-o'clock is a motif of Luffy's straw hat, while at 3-o'clock is the word "WANTED." Additionally, when the hour and minute hands both strike 2-o'clock and 4-o'clock, they combine with slanted golden lines to create the "X" shape that Luffy has on his chest.

The back cover features the "G-SHOCK x One Piece" logo.

GA-110JDB: ¥26,400 (Tax Included)

Like the One Piece watch, the Dragon Ball Z one also uses the GA-110 model and is coloured in that iconic DBZ orange. The design is inspired by Goku going through training to become stronger. The lettering and logo is gold for accent. At 9-o'clock is the Four-Star Dragon Ball while at 3-o'clock is the letter "Z."

On the back cover of this one it features the Dragon Ball Z logo.

Both watch designs will for sure be appreciated by fans for their detailed designs and references.

Information

GA-110JOP
Release Date: July 2020

GA-110JDB
Release Date: August 2020

Dragon Ball Z Clothing and Accessory Collection to Drop in Collaboration With BAPE®

A BATHING APE® is teaming up with Dragon Ball Z to release a special collaborative collection of attire and accessories on June 27, 2020 at all BAPE STORE® branches in Japan, BAPE.COM, and ZOZOTOWN.

BAPE® last collaborated with Dragon Ball for the release of the hit anime film Dragon Ball Super: Broly. The design for the the new collaboration takes inspiration from the company's mascot character BABY MILO®.

The collection includes a T-shirt, hoodie, denim jacket, and other must-grab items.

Jump Force Deluxe Edition Arrives On Nintendo Switch This August

The Deluxe Edition of Spike Chunsoft's fighting game Jump Force published by Bandai Namco Entertainment is set to hit Nintendo Switch on August 27, 2020.

Jump Force is a fighting game that brings together a roster of over 50 characters from popular series the manga magazine Weekly Shonen Jump such as One Piece, Naruto, Dragon Ball, and many more. The game pits the characters in real world locations like New York and Matterhorn and has players battle it out.

The new trailer showcases some of the unique gameplay features which Nintendo Switch players will be able to enjoy, such as being able to play six-player local multiplayer games. The Nintendo Switch edition is packaged with the full game plus Character Pass 1 which introduces nine new characters into the long roster.

Those who pre-order the physical edition of the game will receive three One Piece, Dragon Ball, and Naruto avatar costumes and Frieza's pod as pictured below.

©JUMP 50th Anniversary
©BANDAI NAMCO Entertainment Inc. ©2017 Nintendo

Information

JUMP FORCE DELUXE EDITION Nintendo Switch™
Release Date: August 27, 2020
Platform: Nintendo Switch™
Official Website: https://www.bandainamcoent.com/games/jump-force

*Nintendo Switch and the Nintendo Switch logo are trademarks of Nintendo.

*YouTube is a trademark Google LLC.

Super Mario Bros. Merchandise Collection Up For Grabs in Japan

A new Super Mario Bros. merch line-up is up for grabs in the form of a lottery set to take place at 7-Eleven and Ito-Yokado stores, as well as Nintendo TOKYO, in Japan from June 27, 2020.

There are 7 different items in the collection and 19 designs in total that they come in, from a talking Mario plush to a giant Bowser bath towel, Boo hand soap dispenser set, and more.

A-Tier Prize: It's a-me, Mario! Talking Plush (30cm)


This cute talking Mario plush speaks five of the princess-saving plumber's classic lines when you press his belly.

B-Tier Prize: Fanfare Melody Alarm Clock (20cm)


The alarm clock face features a historical look at the many designs of the Super Mario Bros. games. The alarm sounds that play are those of when you clear a level in each of the games, so you can try and guess which game each sound is from when you hear it.

C-Tier Prize: Big Bowser Towel (200cm)


This 2-meter long towel features Mario's eternal enemy, Bowser—known simply as Koopa in Japan. Its convenient size means it can function as a bath towel or a blanket.

D-Tier Prize: Glow-in-the-Dark Boo Soap Dispenser Set (15cm)


Boo loves to hide in the dark and surprise the player then they least expect it. These handy soap dispensers glow in the dark, and are perfect for storing your shampoo, conditioner, or soap. You get both in the set!

E-Tier Prize: Clear Pouches (3 Designs) (12cm-18cm)


These three cute pouches vary in size and can be used for storing all your little things.

F-Prize: Brick Block Mamezara Plates (4 Designs) (8.5cm)

When you stack all four of these plates on top of each other the outer part makes it look like the iconic Brick Blocks from the video games. They are a great addition to any tabletop meal.

G-Prize: Packaged Towel Collection (8 Designs) (25cm)

The packaging designs of these mini towels are based on their respective video game cases. The packaging itself zips up so you can store whichever of the 8 towels you choose from away safely.

Last One Prize: Invincible Super Star Handy Fan (20cm)


This Super Star fan is holdable and can also be placed down thanks to the Question Block. This special "Last One" prize will be given out as the very last prize to people who draw the final lot.

Which of these items do you want the most?

©Nintendo

Information

Super Mario Bros. Lottery Collection (Japanese Title: 一番くじ スーパーマリオブラザーズ いつでもマリオ! コレクション)
Price: ¥650 per turn (Tax Included)
Official Website: https://bpnavi.jp/t/itsudemo_mario

*Select branches not participating

*You must book in advance to enter Nintendo TOKYO – most info can be found on their Twitter page
*Displayed photos are for illustrative purposes only

*The information featured in this article is subject to change without notice