【Tokyo Stroll】The cafe that you want to visit to see someone #5: "café Benisica" – The Birthplace of Pizza Toast
"A café that has continued to be loved for 60 years"
In this entry to my café series, I visited the familiar Yurakucho, the center of modern Tokyo culture. This year, long-standing café Benisica turned 61-years-old. I stopped by to have my fill of their amazing pizza toast. The café is a 2-minute walk from Hibiya Station via Tokyo Metro lines, and 4-minutes on foot from Yurakucho Station via JR lines, making it an easy place to get to.
The café opened all those years ago in response to the large number of cinemas and theatres dotted around Yurakucho. They wanted to create place where people could relax on their way back from seeing a show.
Upon arrival, you can still observe stylish older ladies strolling into the café. The scene hasn't changed one bit which I found to be wonderful.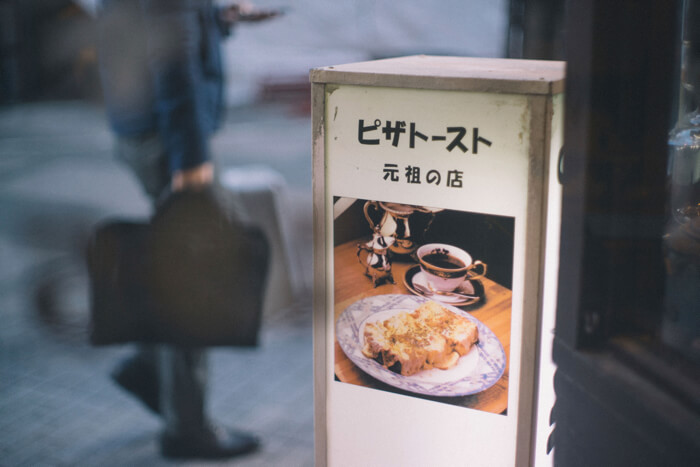 Café Benisica is famous for being the birthplace of original pizza toast. They even have a sign at the entrance telling you that! Eye-catching!!!
Without further ado, let's head on in♪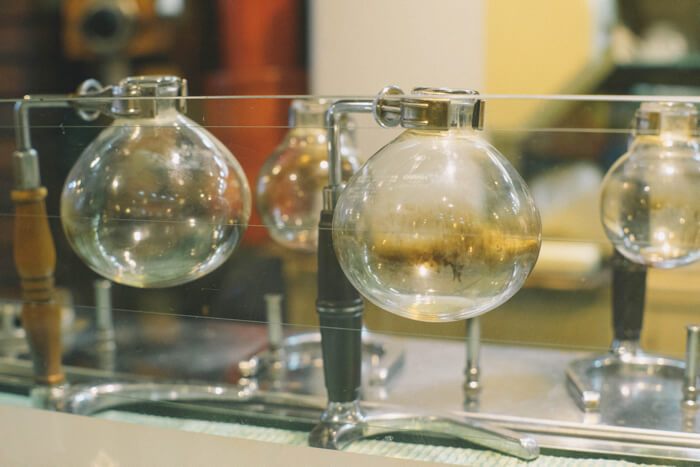 I take one step into the café, and… Huh? What's this?!
That's right. At Benisica, you can enjoy vacuum brewed coffee. This was the first time I had seen a vacuum coffee maker up close, so I gazed at them with a keen interest.
Inside, I gazed at the café décor and objects scattered around of Hibiya, a town which changes with the times. You can feel the weight of the times instore – all the wonderful items look stylish simply by being placed in there! The café interior is a collection of warm colours. It's a place where you can relax and feel comfortable.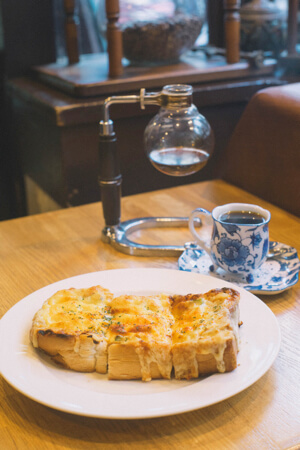 This is Benisica's famous pizza toast, costing ¥950 (tax included). They have plenty of set menus, and drink menus are ¥1,350. The story behind the pizza toast was how if you didn't go to an Italian restaurant back then, you couldn't eat pizza. So, they took pizza and turned it into something you can eat casually – toast. Since then, it has continued to be a much-loved menu item with customers for almost half a century.
After hearing the story, I took no time at all ordering my own pizza toast! To drink, I chose a strawberry shake. Just so you know, the shake doesn't come in set orders, so be careful.
Thick servings of cheese and put onto chunky slices of toast. "The soul of the pizza toast is in the cheese!" is what you'll be saying at its presence on the toast. Its generous serving makes this pizza toast suitable not just as a light meal, but even a whole lunch. As well as the standard ingredients like salami, onion and bell peppers, I was happy that there were mushrooms too.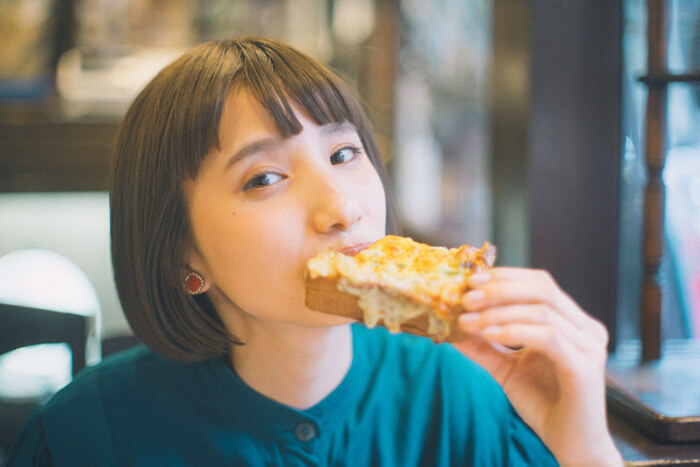 The bread's texture is fluffy! I was hungry, so I made short work of it. Thank you for the meal.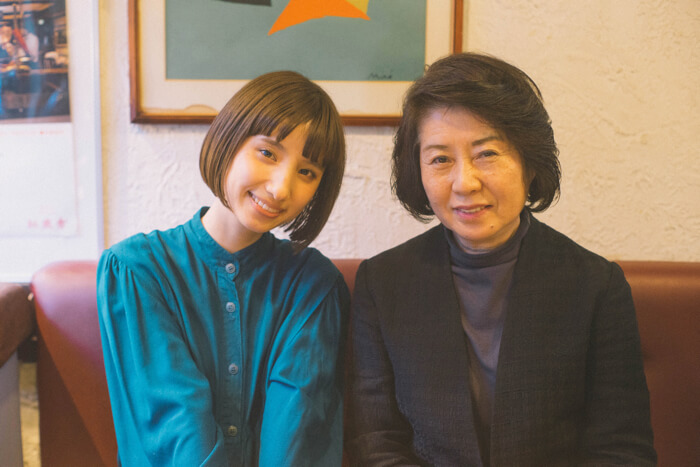 This is the owner of Benisica, Setsuko Murakami, who told me the story of the café. She's a very wonderful person who loves her husband very much. Not only did she tell me about the café – I got to hear about her husband's way of living and thoughts too. The words of people that have walked the road of life longer than me are deep and enlightening.
I stored the owner's story safely onto the shelves in my heart. The next time something happens, I'll rely on those special words she graciously taught me and work hard.
■Information
Café Benisica
Address: 1-6-8 Yurakucho, Chiyoda-ku, Tokyo
Opening Hours: 9:30-23:45 (Open from 9:00 on Weekends & Holidays)
No Fixed Holidays.
Access: 2-minutes on foot from Hibiya Station via the Hibiya Line, Chiyoda Line, and Toei Mita Line / 4-minutes on foot from Yurakucho Station via JR Lines
Model : Ema Tanioku
Profile: "Emaeri" is the nickname for models Ema and Eri Tanioku, who are Aomoji fashion model twins. Ema and Eri Tanioku specialise in twin fashion coordination. Over the years their fanbase has increased due to their cute looks. Ema Tanioku spreads Harajuku culture within Japan as well as overseas and works as a Harajuku Tourism Ambassador. Starting off as a model, Ema has broadened her talent range from fashion magazines to TV, and from playing the lead role in dramas to movies.
Instagram:@ematanioku
Photographer:Haruka Yamamoto
Editor&Writer:Ryoichi Komaba
Design:Yuko Abe (ASOBISYSTEM)
Translation: Joshua Kitosi-Isanga
RECOMMENDED ENTRIES
【Tokyo Stroll】 The café that you want to visit to see someone #4 Cats working at Shinjuku-sanchome's Café Arles

"Good service, a jolly owner and cute cats – this café is sure to heal you!"

I'm Ema Tanioku and today I'll be introducing you to yet another café in Tokyo as the fourth edition of my series "The café that you want to visit to see someone". Today I'll be reporting about my visit to Café Arles which can be found at Shinjuku-sanchome. Ever since hearing that there were cats at this café, I've been set on going 〜♪♪

The café is very easy to access. To get to there, you can take the Toei Shinjuku line to Shinjuku-sanchome. From here, you can get to the café within a five-minute walk. Walking around the Shinjuku Suehirote theatre, the café soon came into sight. Somehow, I could sense the presence of cats just from the atmosphere…

There it was! The entrance to the café was decorated with many ornaments of cats and dogs. I don' know why but I was filled with excitement before even having entered.

As soon as I entered, I immediately spotted a cat.

I was then greeted by the cat's master who had a sweeping grin across his face and was wearing a hat with a cat broach. I could really feel his love for cats ♪♪

I took a sweeping glance over the café – cats, cats and more cats – there were so many cat-themed goods everywhere! Apart from cats goods, the master also collects clown goods and displayed everything all huddled together to decorate the café.

Although this was my first time at Café Arles, I immediately felt right at home as a warm feeling grew within me. I asked the master what got him into the café business and I was surprised by his response. It all started when the master was working at a mahjong parlour, where a person they knew asked them to start up a café.

The master then thought about the numerous paintings he had collected and how he was in search of a place to display them. The idea of choosing his own music, menu and decorating a café interior to his own taste really struck a chord with him.

There are many paintings displayed in the café. Amongst these are some by modern artist Tomomi Kondo, who made the paintings "please your master" and "cool your thighs", which feature the kaban neko (café cats) Ishimatsu and Jirocho, who are "working hard" by lazing around.

Café Arles is fun and draws in even more fun. The atmosphere is filled with the love and enjoyment of the customers. That's why I immediately felt so at home as soon as I entered. You can easily spend a long time here.

I asked the master what he recommends from his menu. His response? "My recommendation is what you want to eat the most!" he said wisely. I felt like eating Napolitan spaghetti and so that is what I ordered! (Price: ¥720 including tax)

It came with banana and giant corn ❤ – this excellent service made me so happy!

The gentle flavour of this homemade dish was delicious and I could really taste the Showa-retro Napolitan flavour to it. The drink, soup and salad services available gives this meal a perfect score for portion size satisfaction!

The master allowed me to take his café cat Jirocho-kun out for a walk. This was the first time I'd ever walked a cat – a new, fresh experience!

Jirocho-kun is a very calm and obedient cat, so we had a lovely stroll together. Speaking of which, Jirocho-kun loves his owner so much that he runs to meet him whenever he hears his car pull up at the shop.

This year marks the 40th anniversary of the café. "I enjoyed every minute of it" explained the master happily. The master created a place where everyone can be happy and in return everyone supports him. Perhaps this cycle is the motivational force that has kept and will continue to push this café to live and thrive.

I'm glad I came to this café today and met such a special person.

I want to come here again and have another chat with the master!

■Information

Cafe Arles

Address:1st floor, 5-10-8, Shinjuku, Tokyo

Opening h0urs: 11:30 〜 22:00

Regular holidays days: Sundays, New Year's period holiday period

Access:398 metres from Shinjuku Sanchome station (reach via Toei-Shinjuku line/ Tokyo Metro Marunouchi line

URL:https://tabelog.com/en/tokyo/A1304/A130401/13087540/

Model & Writer: Ema Tanioku

Profile: "Emaeri" is the nickname for models Ema and Eri Tanioku, who are Aomoji fashion model twins. Ema and Eri Tanioku specialise in twin fashion coordination. Over the years their fanbase has increased due to their cute looks. Ema Tanioku spreads Harajuku culture within Japan as well as overseas and works as a Harajuku Tourism Ambassador. Starting off as a model, Ema has broadened her talent range from fashion magazines to TV, and from playing the lead role in dramas to movies.

Instagram:@ematanioku

Photographer:Haruka Yamamoto

Editor:Ryoichi Komaba

Design:Yuko Abe (ASOBISYSTEM)

Translated by: Samantha Fernandes

Eight cafes in Tokyo with an at home and retro feel to them

The objective of going to a Japanese "kissaten" (tea/coffee house) or a "cafe" is basically the same – to go to drink a cup of tea or a cup of coffee. However, there is something different. In Japanese "kissatens" of course, they are particular about how their tea and coffee tastes, but they also pay particular attention to the eating and drinking utensils and the décor of the shop. They often have a very retro and Showa Era feel to them. "Kissatens" in Japan have been in business for a long period of time and so they have a very down to earth and comfortable atmosphere. Here, we are highlighting eight such "kissatens" in Tokyo.

1."Nanatsu no mori" in Koenji

From the outside, it looks like a Showa, retro-style coffee shop. Upon entering, you can see the interior of the café has weathered. It has an atmosphere reminiscent of the Showa era, like you've just stepped back in time. Inside, is filled with Showa era ornaments and goods. The highly recommended menu item is "Omu gohan" (rice omelet). The flavor of the rice is not ketchup but rather Japanese broth. The rice was mixed with beef, burdock, and enoki mushrooms, as well as a salty-sweet seasoning that tasted like shigureni.

Time passes slowly and restfully at "Nanatsumori," with its retro atmosphere. You can spend a happy time here surrounded by the shop's gorgeous interior that makes it seem as if you've stepped back in time.

Detailed information:【Tokyo Stroll】The cafe that you want to visit to see someone #2 "Nanatsumori"—An Attractive Cafe in Kōenji

 2."Sabouru" in Jinbocho

 "Sabouru" is a café we could say is a representative retro cafe. This 62 years historical café was established in 1955. The shop is multi-floored, first floor, semi basement and mezzanine inside. It is a little dark inside, but you can still enjoy reading books.

Sabouru's most popular menu item is Spaghetti Neapolitan. It is cooked with many ingredients including mushrooms, onions and bacon. It is cooked quite simply with ketchup.

Detailed information:【Tokyo Stroll】The cafe that you want to visit to see someone #1 The popular cafe in Jinbo-cho called "Sabouru" that has retro interior and nostalgic food.

3. "Kissa Housekibako" in Chitose Karasuyama

Here is a shop which displays items related to the 1970s and 1980's pop idols. Many girls from all over Japan come here to get "drinkable jewelry." It is a space which overflows with nostalgic items from this time.

The most popular item on the menu here is their "drinkable jewelry" as known as "cream soda" which was everyone's favorite food when they are little. The standard color of cream soda is supposed to be green, but the ones in "Kissa Housekibako" appear in very girly colors. They are offered in cute and shiny spring colors. This shop is popular not only with Japanese guests but also with tourists from abroad.

Detailed information:【Tokyo Cafe】Visit the café which has a menu that gives you great impact Vol,6 "Kissa Housekibako"

4."Kissa You" in Ginza

"Kissa You" which is located in Ginza, next to Kabukiza has been making kabuki actors' stomach full for the last forty-seven years. "Kissa You" which is located next to Kabukiza is now a part of the Kabukiza scene. Many gourmet actors who crave for the food in this café are always waiting in line before the café opens. The main reason why most people come here is to order their "soft and melty omelet-rice" which represents Japanese food nowadays.

 It is a very good combination of creamy and rich tasting omelet and simply cooked rice. You can hardly encounter this type of omelet-rice which is so smooth and light in texture. In one word it could be described as being like a "soup."

Detailed information:【Tokyo cafe】Visit the café which has a menu that gives you great impact Volume5 Ginza"You"

>>next page

From Kabuki to Shopping: 7 Must-Visit Spots Around Ginza

Ginza is a district in Tokyo lined with sophisticated stores and countless shopping spots. It's a famous town for not only delivering Western style cuisine and fashion, but for continuing to hand down Japanese tradition from Kabuki-za to Tsukiji. We have compiled a list of recommended spots to visit during your trip to Ginza.

Tokyu Plaza

 

If it's Japanese souvenirs and mementos you're looking for then Tokyu Plaza is a very location. This shopping complex is filled with shops and famous brands selling items made in Japan, from "SAKE LABO" where shelves are lined with Japanese alcohol, to stores selling traditional Japanese crafts. You should also check out the duty free "LOTTE DUTY FREE GINZA" on the 8F and 9F.

UNIQLO

UNIQLO has branched out and made its name around the globe now, but the Ginza branch is the world's biggest, boasting a staggering 12 floors. There are English, French, Spanish, Chinese and Korean speaking staff there, so you can enjoy your shopping free of worry.

Dover Street Market

Dover Street Market is a cutting-edge store that was first brought to London by Comme des Garçons founder Rei Kawabuko. Ginza now has its own branch in "ZOZOTOWN" and towers 6 floors lined with an array of brands from LOUIS VUITTON to Celine, Thom Browne, and even Comme des Garçons themselves.

 GINZA SIX

GINZA SIX recently opened on April 20th earlier this year as Ginza's biggest shopping complex. The building is elegantly dotted with 241 individual stores both domestic and international offering a range of cuisines, fashion and lifestyle brands and more. It's a fantastic spot for overseas visitors who can also enjoy seeing a traditional Noh performance and gazing at Ginza's gorgeous scenery from the rooftop.

More Information: https://www.moshimoshi-nippon.jp/39111

Kabuki-za

Kabuki is a traditional form of Japanese theatre with a history spanning more than 400 years. One location still thriving is the Kabukiza Theatre in Ginza. If you purchase a copy of a play's outline there's an English explanation at the end along with an English subtitle guide. If you want to enjoy a short session of kabuki then you can purchase a special ticket called "hitomakumiseki" (一幕見席) that enables you to see just one part of the play, since kabuki plays tend to be quite long.

Tsukiji Fish Market

The Tsukiji Fish Market is the kitchen of Tokyo. Out of all 11 wholesale markets in Chuo, Tokyo the Tsukiji Fish Market is the oldest. It's a hugely popular tourist spot for its fresh seafood and souvenirs. There's plenty to see including the famous Tuna Auction as well as a chance to experience making nigiri sushi.

Hibiya Park

If you're exhausted from all the shopping and sightseeing then we recommend stopping by Hibiya Park just a 10-minute walk from Ginza. The park was made more than 100 years ago and is home to two outdoor music domes – one big and one small – as well as a public hall and more. There are also flower beds bloomed with various flowers that change with the seasons. There's also a Japanese-style garden tucked away in the park where you can experience a Japanese aesthetic.

We hope you liked our recommendations and hope you enjoy your Ginza sightseeing to the very fullest.

How about some pancakes during your shopping spree! 7 recommended cafes which sell pancakes in Ginza

There must be many people who want to eat something sweet after enjoying shopping in the Ginza.

In this article, I will introduce to you some recommended pancake shops in Ginza.

Shiawase no Pancake Ginza Shop

This pancake shop located in Omotesando, Tokyo which always has long waiting lines, will open a new store in Ginza on the 23rd of December 2017. The shop is located in front of the A5 Exit of Tokyo Metro Ginza Line's Gina Station. The décor inside the shop has a relaxing atmosphere. They have an open kitchen in front of the shop so that customers can observe the cooking process. It will no doubt be exciting to seeing the making process of their pancakes.

Yukino Shita Ginza

Yukino Shita is a shop which uses strictly selected ingredients and makes hand-made pancakes. The sweet scent of the pancakes and the scent of coffee fills the natural-styled interior of the shop. Their popular pancake, "Yotsuba Cream Cheese Jikasei Rennyu (home-made condensed milk) Ice wo Soete" is a simple pancake without any topping so you can taste the rich texture of the dough. The coffees they offer goes well with their pancakes.

Eggs 'n Things Ginza Shop

You can enjoy some "old-fashioned" pancakes topped with lots of raw cream inside this open-air, bright shop. Sitting on their terrace on a warm day is recommended. The pancake is not too sweet although it uses lots of raw cream and is recommended for women. You can enjoy eating at this shop since they sell a la carte breakfast/lunch menus and dinner menus (from 18:00).

DAVID MYERS CAFÉ

This café introduces Californian-style, body/environment-friendly menu items. You can enjoy a dessert which uses wheat flour produced in Hokkaido with bananas and bitter caramel sauce put on top of a soft dough. It is a thick-flavored pancake using caramel sauce with the scent of bourbon and fresh bananas. This pancake is recommended for women.

MOKUOLA DexeeDinerUILANI

This shop has a Hawaiian atmosphere and their standard menu pancakes use lots of yoghurt inside the dough. Their crispy pancakes are created by pouring the dough into a frypan and then baking it in an oven for a long period of time.

café & books bibliotheque

They sell more than 10 kinds of home-made desserts and their most popular item is their pancakes which are very healthy since they use yoghurt. You can put lightly bitter coffee sauce on top of the pancake which has a topping of tiramisu cream made with mascarpone and cream cheese, so the product is recommended for those of you who are not familiar to sweet desserts.

Ginza Coffee Shop Ginza Sukiyabashi Shop

A coffee shop located on the second floor of the building where BIGECHO is located. The building is located at the Sukiyabashi Intersection. The interior of the shop is chic with stylish decorations so this shop is recommended for not only women but also men. Their original maple butter pancake is very soft although the dough is thin so that customers can enjoy a unique texture.

 

How did you like our introduction to some cafes and shops which sell wonderful pancakes. Why not relax and enjoy some pancakes in the Ginza area.

Five highly recommended shops in Ginza to have lunch and/or have a sweets break at

While shopping complexes such as Tokyu Plaza and GINZA SIX are on the rise, Ginza itself is a city that has been bustling with energy for a long time. It's packed full of traditional and new shops and brings in people from all ages, young and old, and prides itself as the place to go during everyone's days off. In this article we want to introduce to you some highly recommended shops and restaurants in Ginza.

Soft and "melty" omelet-rice "Kissa You"

"Kissa You" is located in Ginza, famous for Kabuki. The main reason most people come here is the soft and "melty" omelet-rice which represents Japanese food nowadays.

You can hardly encounter this type of omelet-rice which is this smooth and light in texture. I recommend you drink "Kobu-tea" after the meal as the "Japanese way."

Related article:http://www.moshimoshi-nippon.jp/34449

■Information

Kissa You

Address: Ginza 4-13-17 Chuo-ku, Tokyo

Hours: 10:00(food order 11:30)~21:00(L.O.20:00)

Holiday:New Year's holiday

TEL:03-6226-0482

A wonderful meat cutlet burger at "Ginza Sato"

"Ginza Sato" is famous for a circular "meat cutlet burger". They are offering an "original meat cutlet" from Kichijoji, dipped in special sauce then made into a burger.

 They make only 50 of these burgers a day. (¥380 for one) You can choose either a sweet or spicy sauce. You can enjoy the meat juice on a very soft bun.

Related article:http://www.moshimoshi-nippon.jp/37898

■Information

Ginza Sato

Address: Ginza 1−14−1 Chuo-ku Tokyo

Opening period:11:00〜

Holiday:Sunday / public holiday

If you want to try one of Japan's "soul foods" go to "Kommeraku"

Dashi Chazuke (rice in soup stock) is one of Japan's soul foods. It is an easy and simple meal, but the soup or tea in this dish is sure to warm you up.

Komeraku's set menu includes either soup and rice ball or rice in the soup stock and rice bowl. You can get the soup and rice ball set as a takeout. Just one mouthful of this dish and your whole body will be warmed. If you want to enjoy Japanese food in Ginza, you should go to "Komeraku."

Related article:http://www.moshimoshi-nippon.jp/26438

■Information

Komeraku

Address: Ginza 5-2-1 Chuo-ku Tokyo, Tokyu Plaza Ginza B2F

Hours: 11:00~23:00(L.O.22:00)

TEL:03-6264-5222

>>next page
RELATED ENTRIES
Toy Story Aliens Cafe to Open in Tokyo, Osaka, and Nagoya

The Toy Story Aliens Cafe will be opening for a limited time in Tokyo starting July 23, in Osaka on July 27, and in Nagoya on August 4. Fans of the film series will remember the adorable Alien characters, originally shown as prizes in a crane game. This pop-up cafe will feature themed dishes and merchandise, and Pixar fans should be sure to attend!

Menu

Food

Space Curry

Green Pasta

Alien Burger A (Teriyaki Soy Meat) / Burger B (Tomato Soy Meat) / Burger C (Chicken & Potato)

Moon Landing?! Potato & Bread

Kids Plate

Fruit Bread

Drinks

Alien Smoothie

Space Soda

Melon Milk

Space Crane Game Cider / Grape Juice

Hot Tea / Hot Milk

Goods

The food menu includes a tasty black curry, a green pasta featuring broccoli, edamame, spinach, and snap peas, and three types of alien burgers featuring either teriyaki soy meat, tomato soy meat, or chicken and potato. Even the drinks stick to the Alien theme, and the menu includes an Alien Smoothie with a tasty banana yogurt flavor. 

Guests will also be able to purchase event-exclusive merchandise from keychains and stickers to tote bags and letter sets. 

©Disney/Pixar

Information

Toy Story Aliens Cafe at OH MY CAFE

Venues/Dates: 

Tokyo: OH MY CAFE TOKYO

Running: July 23 – September 25, 2022

Tokyu Plaza Omotesando Harajuku Mall 3F (4-30-3 Jingumae, Shibuya-ku, Tokyo)


Osaka: OH MY CAFE OSAKA

Running: July 27 – October 3, 2022

1-6-1 Shinsaibashisuji, Chuo-ku, Osaka (2F)

Nagoya: kawara CAFE&KITCHEN

Nagoya PARCO

Running: August 4 – October 10, 2022

Nagoya PARCO South Building 5F (3-29-1 Sakae, Naka-ku, Nagoya)

Details: https://planet.ohmycafe.jp/

Online Store

July 23, 12:00~

Retro Cafe Inspired Items Available from Thank You Mart

THANK YOU MART will begin selling a total of 18 unique items starting in late June. These items were inspired by Japanese cafes during the Showa era, and give off the perfect amount of retro vibes. Most items at THANK YOU MART costs ¥390 (¥429 with tax). 

The new cafe-inspired items are perfect for those longing for days long past, made with impactful yet subdued colors and classic patterns. The logo looks like something pulled out of the Showa era, so if you're a fan of classic Japanese style, be sure to grab some of these inexpensive items when they drop later this month!

Information

THANK YOU MART – Cafe Amour

Sales begin in Late June 2022
Where to Buy: All THANK YOU MART locations, THANK YOU MART Online Shop

Official Site: https://www.390yen.jp/

Unique Summer Afternoon Tea Available at Haute Couture Cafe in Tokyo

Located along the Meguro River, Haute Couture Cafe is known for serving up some of the best afternoon tea in Tokyo. The location is incredibly photogenic and often pops up on social media, covered in flowers welcoming guests to what feels like a fairy tale land. From July 1 until September 4, visitors to the cafe can enjoy a Peach and Shine Muscat Afternoon Tea set, perfect for summer and incorporating seasonal fruits. 

The fresh peaches and shine muscat (a type of luxurious grape found in Japan) are delivered from a nearby market daily. By using peaches without heating them, such as in the compote, guests can enjoy the juiciness of the raw fruit in a new way.

The lineup of delicately prepared and hearty savory dishes includes Peach and Prosciutto Cappellini, and guests wanting to enjoy more can order this as a lunch or dinner course as well. There are six courses in total, including the fresh-squeezed grape and muscat Mont Blanc plan and a Peach Cheesecake plan with a drink included. The cafe also offers anniversary plans, so why not bring your sweetheart?

The theme of this summer afternoon tea is 'an adorable purple space.' Guests will be surrounded by light purple wisteria as they enjoy this colorful spread.

Why not enjoy this summer treat as you look out over the river? 

Cafe 'Junkissa Bread & Espresso' to Start Chocolate Fair

Specialty cafe chain 'Bread, Espresso &' will begin selling special items as a part of its chocolate fair at the Harajuku location, 'Junkissa Bread, Espresso &' starting June 1!

Many of the existing items on the shop's menu will be available in chocolate versions. The Chocolate Mint French Toast is chilled and perfect for summer, drizzled with chocolate cream and mint sauce. Additional mint can be added to your heart's content!

The mint cocoa (pictured top right) features blended mint cream on top with cocoa on the bottom. The two halves blend effortlessly as the top warms and the bottom cools.

Come enjoy these chocolate treats during the warm summer months!

Information

Bread, Espresso &

Address: 6-25-5 Jingumae, Shibuya-ku, Tokyo
Hours: 8:00-18:00 (Last order at 7:30)
Open Every Day
Homepage: http://www.bread-espresso.jp/

Cat Illustration Series mofusand Inspires Themed Cafes in Tokyo and Osaka

Popular on LINE and other texting apps and illustrated by Jyuuno, mofusand is a curious collection of cute and slightly surreal cats. As with most things that go viral in Japan, these adorable characters will be featured in a themed cafe for a limited time! The Tokyo location will open on May 19 and the Osaka location will welcome visitors starting May 26, 2022.

Cafe Visitor Bonus: Sticker (6 varieties)

Drink Order Bonus: Coaster (6 varieties)

Menu

Fried Shrimp Sandwich Plate

Grilled Vegetable Curry

Nyanko Burger

Salmon Mentaiko Cream Pasta

Taiyaki

Nyanko Parfait

Black Cat Pancake

Nyan Lime Nata de Coco

Green Nyanko Float / Yello Nyanko Float / Blue Nyanko Float

Nyanko Cafe Latte / Nyanko Milk Tea

Merchandise

Sticker

Clear Folder

 

All menu items draw inspiration from the many mofusand characters and are perfect for posting on social media! Special bonuses will be given to those visiting the cafe and making select purchases, and a merchandise corner will be selling limited-edition goods featuring new artwork!

©mofusand

Information

mofusand cafe

Venue/Dates: 
Tokyo

BOX cafe&space Shinjuku Mylord #2

May 19 – July 10, 2022
Shinjuku Mylord 7F (1-1-3 Nishishinjuku, Shinjuku-ku, Tokyo)

Osaka

kawara CAFE&DINING Shinsaibashi

May 26 – June 19, 2022
Shinsaibashi Opa 9F (1-4-3 Nishishinsaibashi, Chuo-ku, Osaka) 

Reservations / Official Site: https://mofusand-cafe.jp
mofusand cafe Official Twitter: @mofusand_cafe

Idol Group Shiritsu Ebisu Chugaku to Open One-Day 'Ebisen Cafe' in Omotesando

The popular idol group Shuritsu Ebisu Chugaku will open a one-day-only cafe in Omotesando on May 1, 2022! The location will open in conjunction with CookpadTV, which hosts the popular show 'Shiritsu Ebisu Culinary Institute.'

The members of Shiritsu Ebisu Chugaku are passionate about cooking, making this the perfect project. Since October 2021, the girls have streamed their cooking stories and ideas on CookpadLive, and now, they're ready to put their hearts and souls into each and every item on this cafe menu. Visitors will also be able to purchase original merchandise on-site and see some of the member's costumes! 


Reservations for the cookpadLive Ebisen cafe are required, and the lottery for reservations is open now. Some of the menu items and original goods offered at the cafe are also available for purchase on cookpadLive's official E-commerce site, so don't worry if you aren't able to attend in person on May 1!

The cookpadLive Ebisen Cafe will feature a special lunch time, dinner time, and cafe time. The nine members of Shiritsu Ebisu Chugaku will appear in three teams for each session.

BTS Characters 'TinyTAN' to Appear at Cafes in Tokyo, Yokohama, Osaka, Nagoya, and Miyagi

The popular BTS chibi characters TinyTAN will be featured at TinyTAN Cafe locations in five cities for a limited time! Nine locations will be open across Tokyo, Yokohama, Osaka, Nagoya, and Miyagi starting April 21, 2022.

The TinyTAN characters were designed by the seven members of BTS to embody their "second selves."

Select Cakes: ¥990

Fruits Deco Style: Strawberry, Fruits Deco Style: Mango, Fruits Deco Style: White Grape: ¥1,760


The menu is packed with desserts, including seven different types of cakes each inspired by a member of TinyTAN.

American Sundae Style Chocolate Cookie, American Sundae Style Caramel Nuts, American Sundae Style Pistachio Honey: ¥1,870

Afternoon Style Tea: ¥3,190

The Afternoon Style Tea includes a base plate that can be customized with guest's favorite fruits and chocolates. Two types of TinyTAN Select Cakes will also be included to share!

Ham (2 types) & Scrambled Egg Peanut Butter Sandwich: ¥1,760

Cafe Style Drink & Cake Set *Prices vary based on drink selection.

Guests can choose from colorful bagel sandwiches, pancakes, and open sandwiches, along with a selection of sweet drinks to match each meal.

Bonuses

Acrylic Stand (7 varieties, random): ¥1,320

Sticky Note Roll: ¥880, Acrylic Nameplate (7 varieties): ¥990 each


Original cafe merchandise and special offers will make visiting the TinyTAN Cafe even more exciting!

© BIGHIT MUSIC. All Rights Reserved

Information

TinyTAN CAFE

Tokyo, Omotesando: BOX cafe&space Omotesando

April 21 – June 5, 2022

Pine Under Flat B1F (5-13-2 Jingumae, Shibuya-ku, Tokyo)

Tokyo, Shinjuku: BOX cafe&space Lumine EST Shinjuku

April 28 – July 3, 2022

Lumine EST Shinjuku B1F (3-38-1 Shinjuku, Shinjuku-ku, Tokyo)

Tokyo, Harajuku: BOX cafe&space Harajuku Alta

April 21 – June 5, 2022

Harajuku Alta 3F (1-16-4 Jingumae, Shibuya-ku, Tokyo)

Tokyo, Omotesando: BOX cafe&space Omotesando Hills

April 21 – June 26, 2022

Main Building, B3F (4-12-10 Jingumae, Shibuya-ku, Tokyo)

Kanagawa, Yokohama: Collabo_Index Lumine Yokohama

April 22 – June 19, 2022

Lumine Yokohama 6F (2-16-1 Takashima, Nishi-ku, Yokohama)

Aichi, Nagoya: BOX cafe&space Nagoya LACHIC #1

April 28 – June 5, 2022

LACHIC B1F (3-6-1 Sakae, Naka-ku, Nagoya)

Osaka, Umeda: BOX cafe&space HEP FIVE

April 28 – June 5, 2022

HEP FIVE 7F (5-15 Kakudacho, Kita-ku, Osaka)

Osaka, Shinsaibashi: Shinsaibashi contact

April 29 – July 3, 2022

1-6-24 Kitahorie, Nishi-ku, Osaka

Miyagi, Rifu: BALLER:S

April 27 – June 26, 2022

AEON MALL Shin-Rifu South Building 2F (3-1-1 Shinnakamichi, Rifu, Miyagi)

Reservations Open

Reservation Fee: ¥660 (Includes Bonus)

TinyTAN CAFE Official Site: https://tinytan-cafe.jp/

Kirby Cafe Introduces Karby Cake from Kirby and the Forgotten Land to Menu

Starting April 1, 2022, fans of the new Kirby game 'Kirby and the Forgotten Land' can enjoy a tasty cake inspired by Karby at the Kirby Cafe in Tokyo and Hakata! Two limited-time menu items commemorating the 30th anniversary of Kirby will also be available. 

The newest Kirby game sees everyone's favorite pink puffball with a brand-new ability, allowing him to transform into various objects by sucking them up. The trailer for the game shocked Kirby fans around the world after Kirby transformed into an entire car!

Transform! Karby Cake

The Karby Cake replicates a special dish that appears in Kirby and the Forgotten Land's Waddle Dee Café. It's a strawberry-flavored blancmange (a French gelatin-based dessert) laid over a sponge cake with fruit layers.

Kirby Burger and Meat & Veggie Pasta (Standard Version)

Kirby Burger and Meat & Veggie Pasta (30th Anniversary Version)

Souvenir Plate

Happy Birthday☆Kirby
Available: April 1 – May 31, 2022


 

The popular Kirby Burger and Meat & Veggie Pasta menu item will be available in a special 30th-anniversary version for a limited time only. This includes a souvenir plate, and fans won't want to miss it!

The Kirby Cafe is also selling a Happy Birthday☆Kirby cake, a simple dome-shaped sponge cake filled with fruit covered in icing and cherries.

Come celebrate Kirby's 30th anniversary while you can!

©Nintendo / HAL Laboratory, Inc.

Upcoming 'Crayon Shin-chan: Mononoke Ninja Chinpuden' Film Inspires Collab Cafe in Osaka

To commemorate the upcoming release of the film 'Crayon Shin-chan: Mononoke Ninja Chinpuden,' a special collaboration cafe is scheduled to open at Seasons & Co Fruits Parlor & Bakery at Osaka LINKS UMEDA! The cafe will be open from April 4 until May 15, and will feature a number of film-inspired dishes and bonus goods for fans to enjoy!

Collaboration Cafe Menu

Shin-chan's Roll Cake 


Silly Ninja! Strawberry, Vanilla & Black Currant Cake 


Ninjas love it too?! Matcha Parfait


Shinnosuke's Birthday Blue Soda 

Ninja Child Matcha Frappe

Bonus: Sticker and Coaster





The upcoming film is a gag-filled ninja action blockbuster featuring everyone's favorite boisterous youth. Shinnosuke will be transformed into a ninja this time around to defeat a mysterious ninja army! Along with the collab menu, fans can also grab some new merchandise and bonuses at the cafe, so don't miss out!

©臼井儀人/双葉社・シンエイ・テレビ朝日・ADK 2022 ※短縮:©U/F・S・A・A 2022

Limited Edition Easter Bunny Sweets Available at gelato pique café

From March 25 until April 27, gelato pique café locations around Japan will be celebrating Easter with three special Easter Bunny-themed sweets.

Easter Bunny Crepe

Easter Bunny Gelato

Easter Bunny Float

Last year, gelato pique café released an Easter Bunny soft-serve ice cream dish which was incredibly popular. In 2022, the brand has decided to release three unique treats under the theme of 'Happy Bunny Hunt.' Those with a sweet tooth can snag a crepe, gelato, or float during the event period, all decorated with white and pink shades perfect for spring. 

Information

Happy Bunny Hunt

Running: March 25 – April 27, 2022
Location: All gelato pique cafe locations

Official Site: https://pique-cafe.com/

Cherry Blossom Menu Appears at Cafe Accueil Ebisu for a Limited Time

Cafe Accueil Ebisu is currently offering a limited Sakura-themed menu featuring pancakes, afternoon tea, and drinks until April 10, 2022.

Sakura & Strawberry Pancakes

Sakura Afternoon Tea

Special Latte with Cherry Blossoms

The seasonal menu includes Sakura & Strawberry Pancakes with pale pink and strawberry red accents, and savory items such as a croissant with cherry cheese cream. Guests can also enjoy Sakura Afternoon Tea, a colorful 12-item menu featuring cherry and strawberry delights. Come enjoy the coming of spring at this gorgeous Tokyo cafe!

Information

Cafe Accueil Ebisu Sakura Season Special Menu

Available until April 10, 2022

Address: 2-10-10 Ebisunishi, Shibuya-ku, Tokyo

Hours: 11:00-22:00 (Last Order at 21:00)

Official Site: http://accueil.co.jp/ebisu/

The Ryokan Tokyo Yugawara Opens in Kanagawa Prefecture, Features Hot Spring Bath Cafe

The Ryokan Tokyo Yugawara, a traditional-style Japanese inn and hot spring located in Kanagawa Prefecture, will open on March 18, 2022. The hot springs in the area have a storied history, appearing in the oldest collection of Japanese poems from the year 759 AD and loved by great writers such as Natsume Souseki and Ryunosuke Akutagawa. There is also a cafe inviting visitors to enjoy delicious meals as they relax in the springs.

Onsen Dojo operates and plans hot spring facilities, including the 'Ofuro Cafe' brand, resort facilities, and more. The company also provides support for local business investments.