Haruka Ayase, Chloë Grace Moretz & Leah Dou Feature in SK-II Holiday Season Commercial
Global skincare brand SK-II launched three 'Street Art Limited Edition' versions of their Facial Treatment Essence on October 21, 2020 and released a commercial to promote them.
SK-II is a Japanese cosmetics brand which launched 40 years ago. Since its establishment, it has been enjoyed by women the world over for its range of high quality skin care products, including Pitera™, the brand's award-winning facial treatment essence. This same essence is being released once again in three limited-edition versions featuring street art packaging.
The promotional video for the item stars Japanese actress Haruka Ayase, American actress Chloë Grace Moretz, and Chinese singer-songwriter Leah Dou. The video was directed by Grammy-nominated director Andrew Thomas Huang who has directed music video for such talent as Bjork and Thomas Yorke. The three stars in the video each sing Fantasy by Mariah Carey in their respective languages: Japanese, English, and Chinese.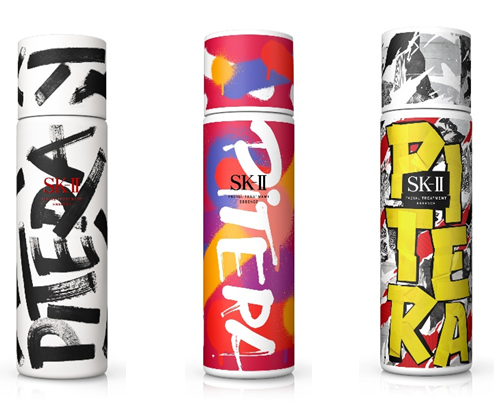 Facial Treatment Essence Street Art Limited Edition (Red/Yellow/White) | ¥22,000 Each (Before Tax)
The packaging designs for the limited-edition product feature a combination of the Japanese furoshiki wrapping cloth style and street art.
RELATED ENTRIES
SHIRO PERFUME Releases Limited-Edition Holiday 2020 Fragrances

Cosmetic brand SHIRO released two new special editions of its fragrances on November 19 for this year's holiday season.

JUST FOR YOU 50mL | ¥10,500 (Before Tax)

Smell great this holiday season with the honey floral-scented "JUST FOR YOU" and the warm and smokey, wreath and Christmas tree-inspired "HOLIDAY WREATH." Both offer completely different scents while maintaining that holiday season vibe.

HOLIDAY WREATH 50mL | ¥10,500 (Before Tax)

Whether you'll be staying at home this Christmas and still want to feel good, or will be spending it with someone people, set the mood right with a warm and welcoming fragrance.

Information

SHIRO PERFUME JUST FOR YOU
SHIRO PERFUME HOLIDAY WREATH
Released: November 19, 2020
SHIRO Official Website: https://shiro-shiro.jp/

Animal Crossing: New Horizons Clothing & Accessories Revealed by Luxury Japanese Brand Gelato Pique

Nintendo has announced that luxury Japanese loungewear and sleepwear brand Gelato Pique is releasing a collection of clothing and accessories in collaboration with the Nintendo Switch™ title Animal Crossing: New Horizons.

The line-up includes pyjamas, hoodies, shorts, tote bags, blankets, pouches, and more, with the Animal Crossing's beloved Timmy and Tommy appearing as the main character feature on the designs.

Pre-orders for the collection will begin over on Gelato Pique's official website on November 18, but you will most likely need an address in Japan to order. They will subsequently be released at the official Nintento TOKYO store as well as select Gelato Pique stores in Japan on January 13, 2021. Before that, they will also line the shelves of a Gelato Pique pop-up store called "Gelato Pique Christmas Town" in Omotesando Hills which is set to run from December 18 to 25.

Animal Crossing: New Horizons Line-Up

Timmy & Tommy knitted jacquard tops with a simple desig


Jacquard Pullover ¥5,800 | Short Pants ¥4,200 | Cushions ¥3,400 Each (All Tax-Inclusive)

Become your favourite character with a cosy ear-topped hoodie


[Colours: Brown/Cream/Grey] Hoodies ¥6,800 | Short Pants ¥4,200 (All Tax-Include)

Cut & Sewn Series: Character designs and fruit patterns


Left: Fruit Pullover ¥5,400 | Fruit Long Pants ¥5,200

Left: Character Pullover ¥5,400 | CharacterLong Pants ¥5,200

Warm Timmy & Tommy blanket


Left: Blanket ¥5,800 | Right: Jacquard Blanket B ¥5,800 (Before Tax)

Animal Crossing x Gelato Pique Special Book


Pouch and tote bag comes with the book

Japanese publishing company Takarajimasha is also releasing a special book on December 22 entitled Animal Crossing meets GELATO PIQUE SPECIAL BOOK in two versions which come with a Timmy and Tommy design pouch and tote bag. These are limited-edition items available only with the book.

© 2020 Nintendo

Information

Gelato Pique x Animal Crossing Collection
Releasing: December 18, 2020 at 12:00pm (JST)
Gelato Pique Official Online Store: https://gelatopique.com/20201116_01
USAGI ONLINE Official Website: https://usagi-online.com/s/201116PIQ/

Gelato Pique Christmas Town
Running: December 18, 2020 – December 25, 2020
Location: Space O, Omotesando Hills Floor B3F
Products: Animal Crossing meets GELATO PIQUE

In-Store Purchasing
Release Date: January 13, 2021
Locations: Select Gelato Pique stores / Nintendo TOKYO
*Only a selection of the products will be sold, the full collection is available online

One Piece x Shu Uemura Makeup Collection is a Pirate Girl's Dream

The second instalment of the "Shu Uemura x One Piece Collection" finally launched on November 15. The collection was first announced back in September with the first instalment released on November 1.

The special collection is inspired by the brave and heroic Luffy and the Straw Hat Pirates from One Piece, one of Japan's biggest manga and anime franchises. The second instalment welcomes a new collection of highlighters, makeup brushes, and more for the holiday season.

Shu Uemura x One Piece Collection

Fearless Crew Highlighter Gold Feast / Fearless Crew Highlighter Romance Dawn (¥5,000 Each Before Tax)

Smooth, silky highlight powder to accentuate the face. Colours include shining gold which glistens like pearls and sun-basked peach. These highlighters capture the lively energy of Nami and Robin.

Fearless Crew Premium Brush Set (¥6,500 Before Tax) | Includes: Face Brush, Cheek Brush, Eyeshadow Brush, and Eyebrow Brush

The high quality mini brush set includes a face brush, cheek brush, eyeshadow brush, and eyebrow brush. Their small sizes makes them conveniently portable for the party season. They come in a marine blue bag with the Straw Hat Pirates on the front of it.

Petal 55 Foundation Brush (¥6,000 Before Tax)

A high quality Shu Uemura brush with beautiful form and functionality crafted by the brand's makeup artists. Their foundation brushes are very popular for layering the perfect base makeup.

Wanted Gold Eyelash Curler (¥2,000 Before Tax)

Add some volume to those lashes with this golden pair of curlers equipped with a One Piece skull charm.

©Eiichiro Oda/Shueisha, Toei Animation

J-pop Group Perfume Announce New Dance Heel Model From Their 'Perfume Closet' Brand

Japanese pop group Perfume have announced that Part 5 Phase 1 of their fashion project Perfume Closet will launch on November 18, 2020 at 10:00 (JST).

Perfume released their latest single Time Warp on September 16 which cemented 15 years since their major debut and their 20th anniversary as a pop group. To promote the release, Perfume held their first ever online festival, "P.O.P" Festival (Perfume Online Present Festival), on September 21 where they served fans a virtual performance using the latest technology. The group also released a book entitled Perfume COSTUME BOOK 2005-2020 on October 23 which is a collection of their outfits since their major debut.

The latest entry to Perfume Closet will be split into two Phases which will launch on the brand's official website and via A!SMART!.

Phase 1 sees the arrival of new 6cm dance heels in three colours, a tote bag, cardholder, and more.


Black Suede | Burgundy Suede | Beige Suede

The line-up includes some items that were so popular last time that fans demanded a return as well as new colours of popular merch. The made-to-order dance heels however are new entries to Perfume Closet, cut to fine and sophisticated perfection.

Perfume Dance Heel pop-up shops where fans can try on the heels will also open in Japan, and select stores will also be stocking them. Check out the store list below.

11/18-12/1 @ Isetan Shinjuku Floor 2F
12/ 2~12/8 @ JR Nagoya Takashiyama Floor 4F
12/9~12/15 @ Hankyu Umeda Floor 4F
12/16~12/25 @ Sogo Hiroshima Floor 2F
12/26~12/31 @ Hakata Floor 4F

*Available while supplies last

Isetan Shinjuku will also be displaying Perfume's outfit from the Time Warp music video. The release date of Phase 2 has yet to be announced.

Rei Ayanami Wears Red Lipstick in Anime Collaboration With Makeup Brand KATE

Kanebo Cosmetics released a 12-second commercial titled "Rei Ayanami, Her First Lipstick" on its official YouTube channel as well as on the official Twitter and Instagram pages of makeup brand KATE on November 4, 2020.

The commercial was released to promote "KATE Red Nude Rouge (EV)," a new lipstick released in collaboration with Kanebo Cosmetics' makeup brand KATE and the Evangelion franchise. The original voice actress for Rei, Megumi Hayashibara, reprised her role in the animated trailer which was created by illustrator and animator Yoneyama Mai.

About the collaboration

KATE's slogan is "NO MORE RULES" which encourages consumers to pick the colours they want to wear themselves without being tied down by society. This concept has led them to innovate in their makeup products, and is a concept that they believe connects with Rei Ayanami from the Evangelion franchise, which is what led to this collaboration.

Online pre-orders for this limited-edition lipstick opened on November 4. The product itself will launch online next year on February 2, 2021.

Rei Ayanami, Her First Lipstick

KATE Red Rouge (EV)

The vivid red lipstick comes in a palette together with an additional cream rouge colour, a brush, and a mirror.

Join Rei Ayanami in her first lipstick by picking up your own palette by KATE.

©カラー

Kyary Pamyu Pamyu Adorns Shiseido Beauty Square in Harajuku With New Winter Look

Following her Halloween-inspired look for Shiseido Beauty Square, Japanese pop icon Kyary Pamyu Pamyu returns to the beauty facility with a new white and snowy winter look which was unveiled on Monday (November 2).

Shiseido Beauty Square

Kyary Pamyu Pamyu became the ambassador for Shiseido Beauty Square when it opened back in June. The concept of the beauty facility is centred on having people discovering their beauty, having fun, sharing experiences, and learning the latest in the scene

Winter Key Visual

Kyary's winter look for 2020 features a breathtaking headdress inspired by snowy skies, silver flowers, and powdery snow. The look was made in collaboration with top Shiseido hair  and makeup artist Tadashi Harada.

If you're stuck on what makeup to wear for winter, and are in Tokyo this holiday season, be sure to pay a visit to Shieido Beauty Square where you're sure to discover a new you.

Information

Shiseido Beauty Square

Address: WITH HARAJUKU Floor 1F, 1-14-30 Jingumae, Shibuya, Tokyo

Opening Hours: 11:00-20:00

No Fixed Holidays
TEL: 03-5413-7717

Official Website: https://beautysquare.tokyo/

*Website available in English, Japanese, and Chinese

Makanai Cosmetics To Release Adorable Pikachu Hand Cream and Lip Balm for Winter

Kagurazaka, Tokyo-based cosmetics brand Makanai Cosmetics (Makanai Cosume) is set to launch their autumn-themed yuzu citrus and honey series on November 20, 2020. The new series is coming in Pokémon-themed designs to celebrate the grand opening of the new Pokémon centre in Kanazawa on the same day.

The roots of Makanai Cosmetics can be traced to Kanazawa, making it a fitting celebration. The new Pokémon series will be available from cosmetics shops, Makanai Cosmetics Official Online shop, Pokémon centers across Japan and from the official Pokémon Center online shop.

The new yuzu citrus and honey series includes hand creams and lip balms perfect for those who suffer from dry skin and lips during the cold winter months.

Secret Recipe Hand Cream: ¥1,800 (Regular Size, 40g)/¥780 (Mini Size, 10g) *Prices Before Tax

The hand cream is made from a specially crafted recipe and includes a unique beauty ingredient called "KaESS". KaESS was discovered in a gold leaf shop in Kanazawa. It is produced from a natural paste used in the process of making gold leaf. This hand cream is one of Makanai Cosmetic's popular picks during the winter months due to its ability to lock in moisture without leaving a sticky feeling.

Yuzu Citrus and Honey Lip Balm 5g: ¥1,800 (Before Tax)

The lip balm is filled with natural ingredients such as shea butter, sunflower oil and jojoba oil to protect your lips against cold and dry conditions, leaving them softer and fuller. You can even apply the lip balm to other areas of your face and hands that are susceptible to the cold such as the tips of your fingers and below your eyes. The small size makes it easy to carry and store in a small beauty pouch.

An adorable Pikachu can be seen staring at a luscious drop of yuzu citrus on the packaging. The refreshing citrusy smell and adorable Pikachu packaging is sure to warm your heart during the cold winter months.

©2020 Pokémon. ©1995-2020 Nintendo/Creatures Inc. /GAME FREAK inc.
Pokémon, ポケットモンスター, and ポケモン are registered trademarks of Nintendo, Creatures Inc., and GAME FREAK inc.

Information

Secret Recipe Hand Cream (Pokémon Design)
Yuzu Citrus and Honey Lip Balm (Pokémon Design)
Release Date: November 20, 2020

Makanai Cosmetics Official Website: https://makanaicosmetics.co.jp/

Kirby Glittery Highlight Powder by CreerBeaute Released in Japan

Premium Bandai, the official online shop for Bandai products, opened pre-orders for its new called 'Kirby & Warp Star Shiny Powder' highlight powder from its own cosmetic brand CreerBeaute on October 22.'

Kirby & Warp Star Shiny Powder | ¥5,060 (Tax Included)

This compact highlight powder design takes inspiration from the popular Kirby video game series with the titular character riding on a shiny Warp Star.

The Warp Star is coloured golden to give it a high quality feel and has small stars decorated around it, as does the mirror inside to add a bit of fun when putting on makeup. Kirby himself is also grabbing on adorably to the Warp Star.

The powder comes in two colours which are formed to create an image of Kirby to greet you upon opening the lid: Kirby pink and milky blue. Use to highlight your cheekbones and tip of your nose.

The colours can be used separately or combined, and both powders contain malic acid and hyaluronic acid for beautifying and moisturising.

The powder is now available for pre-order on Premium Bandai, so don't miss out.

ⓒNintendo / HAL Laboratory, Inc. KB20-P2515

SHIRO Unveils 'Holiday Favourite Coffret' Christmas Cosmetic Items

Japanese cosmetic brand SHIRO will release a new set of limited-edition cosmetic items, including the "Holiday Favourite Coffret" and "Flaxseed Nail Polish," this Christmas. Pre-orders open on October 29 with the collection set to drop on November 12.


Holiday Favourite Coffret | ¥13,500 (Before Tax)

Holiday Favourite Coffret is a collection of popular SHIRO cosmetics boxed in limited-edition fragrances which are available this Christmas only. The collection was created with the idea in mind that your heart will light up and a smile will form on your face the moment you open the box.

The "Calendula Eyeshadow Liquid" arrives in two colours. It's made with pot marigold which has high moisturising properties. Both colours add to the excitement of the holiday season with a lustrous glow around the eyes. Since it's a liquid-type eye shadow, it makes it easier to moisturise around your eyes during the dry winter season.

The "Essential Lip Oil," imbued with a relaxing yuzu, gives you nice, moisturised lips. It comes with two limited-edition different scents: "Holy Fig Eau de Parfum" and "Aroma Wood." The former has a warm fragrance inspired by Christmas trees and wreaths with notes of sweet fig, green, wood, and flowers. The latter combines fig and Japanese cypress. Cypress wood from the district of Tosa in Kochi is used.

Flaxseed Nail Polish (4 Colours) | ¥2,400 Each (Before Tax)

SHIRO are also releasing four limited-edition flaxseed nail polishes which can be used both on their own, providing beautiful colour, or layered. Each colour takes inspiration from the holiday season, like snow-covered fir trees or warm Christmas lights. The gold logo and white caps are also limited-edition.

Items in this collection will be sold in a limited-edition gift box too decorated in Christmas colours like green, gold, and white.

Information

SHIRO HOLIDAY COLLECTION 2020
Pre-Orders: October 29, 2020 via SHIRO's online store

Release Date: November 12, 2020
Official Website: https://shiro-shiro.jp/

Turn Into a Magical Girl With Ojamajo Doremi's Apprentice Witch Tap Blusher Balls

CreerBeaute, a cosmetic brand managed by Bandai, launched pre-orders for their new Ojamajo Doremi themed Pirika Pirilala Apprentice Tap blusher balls via the online store Premium Bandai on Wednesday.

Pirika Pirilala Apprentice Tap Colour Ball Cheek | ¥4,620 (Tax Included)

The blusher ball set is based on the Apprentice Tap used in the Ojamajo Doremi anime series which the characters use to transform into a witch. It comes after the success of the Pirika Pirilala Magical Ball Face Powder sold in 2016 which was also inspired by the same Apprentice Witch item.

The blusher balls come in three different shades of pink to add a natural blush to your cheeks, leaving a cute and healthy impression. The balls also contain squalene, a natural organic compound that moisturises.

The case design features the same colours as well as the music note seen on the Apprentice Witch Taps, so you too can look and feel like a magical girl.

©Toei Animation

Information

Pirika Pirilala Apprentice Tap Colour Ball Cheek
Pre-Orders: October 7, 2020

Shipping: March 2021

Sanrio Releases 2020 Autumn and Winter Cosmetic Series

Sanrio has released a colourful new line-up of heart-focused cosmetic items—lip cream, hand cream, and lip tint—for the autumn and winter season. The packaging features everyone's favourite Sanrio characters such as Hello Kitty, My Melody, Little Twin Stars, and many more. Additionally, they have released cute heart marks for people to put on their face.

Heart Marks (3 Designs) | ¥1,430 Each (Tax Included)

Use the heart-shaped sponge to dip into the cheek cream and stamp a cute heart on your face.

Hand Cream (10 Designs) | ¥605 Each (Tax Included)

Keep your hands moist during the colder seasons. There are five different scents to choose from.

Lipstick (9 Designs) | |715 Each (Tax Included)

Heart-shaped scented lipstick, each capped off with an adorable character from Sanrio's roster.

Lip Tint (6 Designs) | ¥770 (Tax Included)

Tint your lips and keep them moisturised at the same time. Pick from red, coral pink, or pink.

Other items in the line-up include hand cream and mini towel sets, lip cream and hand cream sets, and more. Autumn and winter's chilly months can be beaten with a little self-care, so be sure to check this collection out.

©'76, '85, '89, '93, '96, '01, '05, '20 SANRIO
©'15,'20 SANRIO S/F・G

Information

Available: Sanrio stores in Japan and select department stores stocking Sanrio Products

Sanrio Online Shop: https://shop.sanrio.co.jp/

Kawaii Kirby's Dream Land Hand Cream Releases This September

Japanese cosmetic brand Lovisia is releasing three new hand creams with adorable Kirby packaging this autumn. The creams will begin rolling out on Lovisia's official website, variety shops, and select Lawson stores in Japan at the end of September.

Pink Lush

Kirby's Dream Land Hand Cream | ¥800 (Before Tax)

"Pink Lush" is the concept attached to the hand cream line-up, which is coloured a cute Kirby pink. There are three different designs: one with Kirby on a flower bed and wearing a flower crown, another with Kirby and Waddle Dee blowing bubbles, and another with Kirby inhaling assorted fruits.

Stay moisturised with Kirby throughout autumn and winter

Made in Japan, the hand creams contain collagen and hyaluronic acid, so your hands won't be all sticky after applying the cream. Having hand cream is a must during these times when we all need to keep our hands washed, so why not do it in style with this pink line-up?

Three fragrances to choose from

Each cream also has its own combination of scents so your hands are left smelling great too.

01 Floral Shower

Inspired by the smell of flower beds, the base fragrances include musk, amber, and sandal wood. The middle notes are jasmine, lily of the valley, and rose, while the top notes are pear and leaf greens.

02 Pure Fruity

This fruity hand cream has musk, amber, and cedarwood for the base and jasmine, rose and honeysuckle for the middle notes. It's toped with pear and apple.

03 Fresh Soap Bubbles

The final hand cream also has musk, amber, and cedarwood for its base notes. The middle notes are jasmine, rose, and magnet, and the top notes fresh lemon and green apple.

©Nintendo / HAL Laboratory, Inc. KB20-P2209

Information

Kirby's Dream Land Hand Creams

Release Date: Late September 2020

Available: Lovisia, Lawson, variety shops in Japan

Official Website: https://lovisia.jp/kirby/