Sebastian Masuda x Felissimo Launch KAWAII COMPANY
Felissimo and Sebastian Masuda have collaborated to launch the all-new KAWAII COMPANY.
KAWAII COMPANY opened its website on November 16, 2020. It is a project for those who love the kawaii side of life, aiming to add spice to everyday normality and expand everyone's inner-kawaii. KAWAII COMPANY's website will house a whole range of original items, such as the "Roomy Monster" outfit which lets you transform into a colourful monster.
Roomy Monster | ¥12,000 (Before Tax)
With many people working from home now, online meetings are the new norm, which can be a stress for a lot of us. But KAWAII COMPANY has come up with a way to bring smiles to fellow colleagues with their "Roomy Monster" outfit which is sure to elicit surprise and smiles when everyone sees a colourful monster on the webcam. The design is inspired by a monster that Sebastian Masuda conceived as a child, and now the colourful and fluffy beast has come to life.
Monster Multi Pouch | ¥3,400 (Before Tax)

This monster multi pouch is like a plush toy, featuring fluffy fur, colourful hair, sparkly eyes, and a flowing, frilly dress. Its enormous mouth is closed with a zip which when opened reveals a place for storing all your bits and bobs.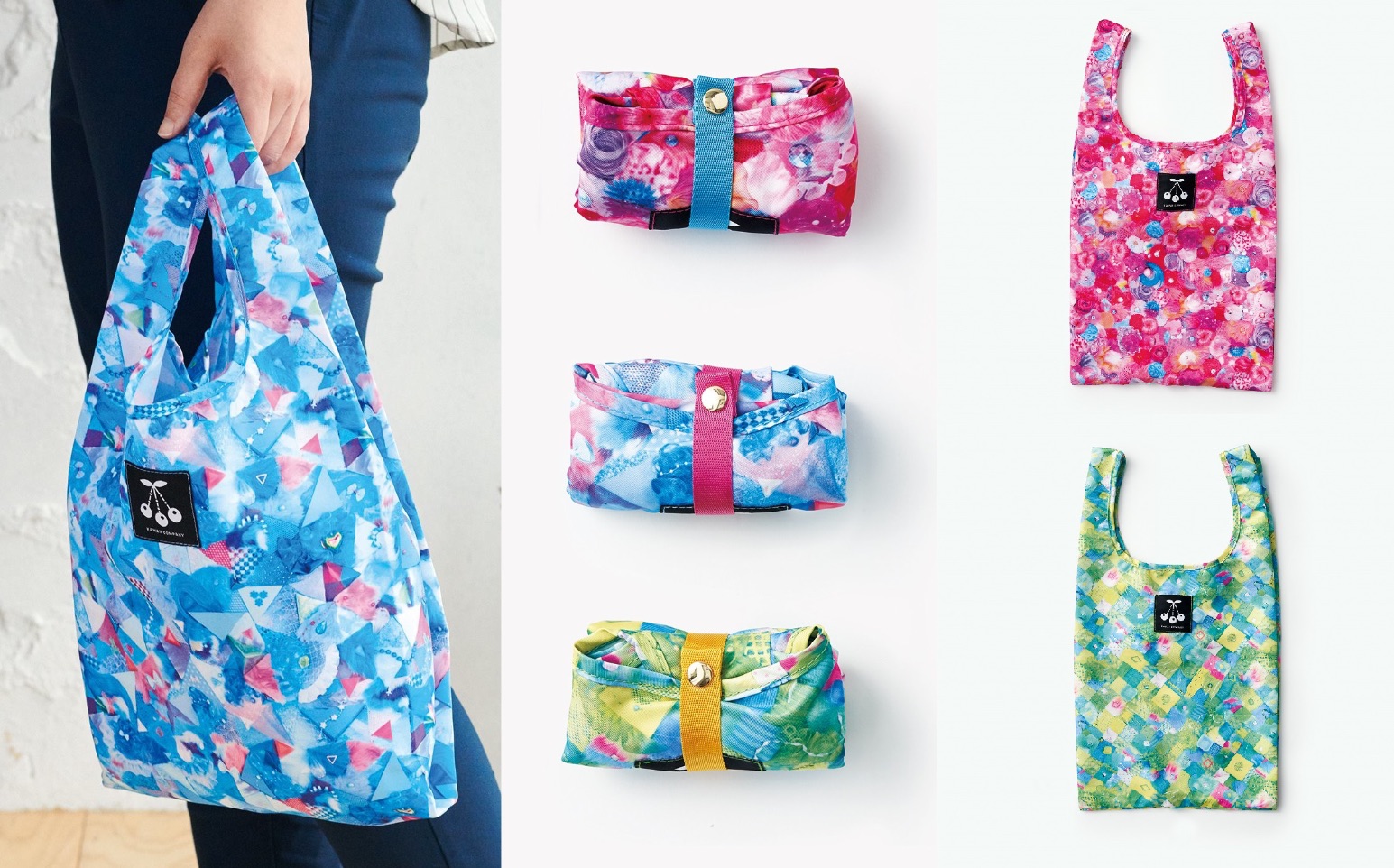 Mini Eco Bag | ¥1,500 (Before Tax)
These colourfully kawaii eco-bags may only be 19cm long they're more reliable than they look. They can be wrapped up small for easy storage and unravelled for when you need to do a bit of shopping.
Double Gauze Mask | ¥1,600 (Before Tax)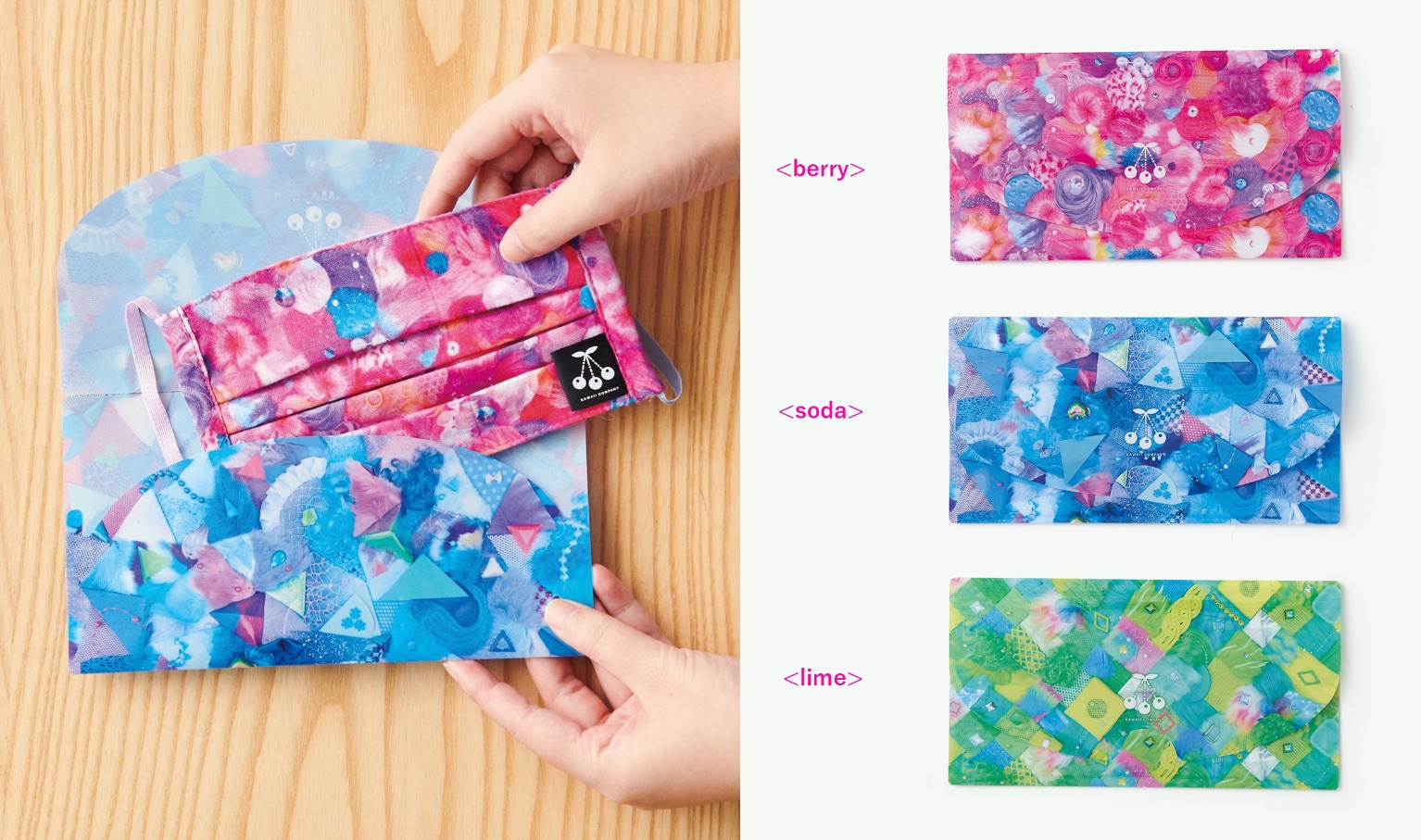 Anti-bacterial Mask Case (Set of 3) | ¥1,400 (Before Tax)

Add some fun to your routine face mask wearing with a super cute mask and mask case for storage. They're not just for show either – made with double gauze, the material is of high quality and feels soft on the face. The masks are pleated and so curve to fit the face nice and snug. The cases are also made so that they are anti-bacterial, keeping your mask hygienic.
Kawaii Tansan Senbei (5 Included) | ¥2,000 (Before Tax)

The Kawaii Tansan Senbei is the first entry to the KAWAII TANBO series in which items that KAWAII COMPANY discover while travelling Japan are made into 'kawaii versions.' These senbei rice crackers are light, crunchy, and have great flavour. They are tinned and wrapped in cute packaging too making for a perfect gift.
Discover and enhance your love of kawaii with Sebastian Masuda's new project.
RELATED ENTRIES
Sebastian Masuda x PAC-MAN Collaboration Celebrates Game's 40th Anniversary With Merchandise and Art Installation

Bandai Entertainment is celebrating 40 years of PAC-MAN with a new collaboration with Sebastian Masuda, the artist and art director at the forefront of "kawaii" culture in Japan.

PAC-MAN x Sebastian Masuda: Pop Culture Taken to the Next Level

BANDAI NAMCO Entertainment is a Japanese multinational video game developer and publisher whose motto is "More Fun For Everyone." This summer, the company is dropping a new face into the ghost and fruit-filled maze of their iconic 80's video game character PAC-MAC. That person is none other than Sebastian Masuda.

The scope of Masuda's influence is unrivalled. His touch can be seen all across Japanese kawaii culture, ranging from his work on Kyary Pamyu Pamyu's viral hit music video PONPONPON which skyrocketed her career, to Harajuku's famous concept restaurant KAWAII MONSTER CAFE, the Miracle Gift Parade at Sanrio Puroland, as well as countless work on TV, commercials, advertisements, characters, stage, concerts, and more. He is a leader when it comes to pop culture, and so it is fitting that he follows alongside PAC-MAN into this labyrinth of a collaboration.

Primal Pop (PAC-MAN Mix)

In celebration of PACMAN's 40th anniversary, Sebasian Masuda created a giant art piece entitled Primal Pop (PAC-MAN Mix) which is made up from a mix of historical PAC-MAN merchandise and children's toys which aims to have the people who see it return the excitement they felt as a child.

The art installation has been placed at the entrance of the BANDAI NAMCO Future Laboratory located inside the BANDAI NAMCO Group office building. It stands 2.9 meters high and 2.6 meters across. As of now, it is only available to see by staff and associates, but you can see a video of it being made below.

Sebasian Masuda's "Primal Pop (Pac-Man Mix)" | Behind The Scenes


Sebastian Masuda x PAC-MAN Merchandise

PAC-MAN Special Art by Sebastian Masuda Official T-Shirt (Black) | ¥4,000 (Before Tax) | Sizes: Small, Medium, Large


PAC-MAN Special Art by Sebastian Masuda Official Sticker | ¥500 (Before Tax)

A special collection of merchandise themed on Primal Pop (PAC-MAN Mix) was also released on BANDAI NAMCO's online store Asobi Store on August 12 so that everyone can enjoy the collaboration. There are plans for overseas releases too.

PAC-MAN: A Game Love the World Over

PAC-MAN was first released in 1980 and has since become a symbol of pop and gaming culture around the world. With the outbreak of COVID-19, BANDAI NAMCO Studios made PAC-MAN Championship Edition 2 free to play on PlayStation®4 , Xbox One, and Steam® between April 24 and May 10 as a way to put a smile of people's faces while celebrating a game that has become so rooted in pop culture.

PAC-MAN™&©BANDAI NAMCO Entertainment Inc.

Information

PAC-MAN Official Website: https://www.pacman.com/en/
*PlayStation and PS4 are registered trademarks of Sony Interactive Entertainment Inc.
*Xbox and Xbox One are trademarks and registered trademarks of Microsoft Corporation and associated companies.。
*Steam and the Steam logo are trademarks and registered trademarks of Valve Corporation.

Sebastian Masuda's New Art Book Covers Everything From Kyary Pamyu Pamyu's 'PONPONPON' to Today

Sebastian Masuda, the leader of Japan's culture of kawaii, released his first art book Masuda Sebastian Artworks PAINT IT, COLORFUL on July 31, 2020.

The scope of Sebastian Masuda's influence is unrivalled. His touch can be seen all across Japanese kawaii culture, ranging from his work on Kyary Pamyu Pamyu's viral hit music video PONPONPON which skyrocketed her career, to Harajuku's famous concept restaurant KAWAII MONSTER CAFE, the Miracle Gift Parade at Sanrio Puroland, as well as countless work on TV, commercials, advertisements, characters, stage, concerts, and more.

Printed in full colour, the art book covers Masuda's art direction from 2010 to 2019 in the form of photos of his actual works, design sketches, and plenty of other content for fans to soak up.

It also includes photos of an installation that has been visited by over 20,000 people which was created during Masuda's time overseas in places like New York and Amsterdam, as well as his art exhibit currently on display at World Disney World Florida.

Sebastian Masuda's career as an artist spans over 30 years. Get your hands on a copy of his first art book to see his success over the past decade.

Information

Masuda Sebastian Artworks PAINT IT, COLORFUL
Released: July 31, 2020
Price: ¥3,200 (Before Tax)
Size: A4 (Sleeve Included)
Pages: 144
ISBN: 978-4-7683-1200-1

Colourful Yukata and Jinbei Collaboration Launches by Subikiawa and Felissimo

Felissimo has joined hands with popular Kyoto-based store Subikiawa to launch a new collaborative series of items. They are now available to purchase via Felissimo's official website.

Who are Subikiawa?

Subikiawa is a tableware store known to all in Kyoto that's open around three days a month. "Tabletop Circus" is the theme of their hand drawn tableware series which is mainly centred around glassware. Subikiawa first began their collaboration series with Felissimo back in 2016. Since then, they have teamed up to make yukata, jinbei, pyjamas, clothes, and moreーall with Subikiawa's cute illustrative designs.

The new yukata and jinbei they have developed for this summer features a colourful underwater theme with various fishes, pebbles, and water plants.


Kyoto Subikiawa Shokki to Tsukutta Suichu Dance Yukata – ¥5,500 (Before Tax)

Kyoto Subikiawa Shokki to Tsukutta Suichu Dance Yukata (Women's) – ¥7,300 (Before Tax)

The collection features yukata and jinbei made with designs so that parents and kids can dress up together. The clothes are made from 100% slub cotton yarn, giving them a nice feeling against the skin. The waist is also fitted with string so that even beginners to yukata can tie them easily.


Kyoto Subikiawa Shokki to Tsukutta Nail Seals (1 Set) – ¥1,400 (Before Tax)

Kyoto Subikiawa Shokki to Tsukutta Suichu Dance Bib Kit (1 Set) – ¥2,800 (Before Tax)

The new collection also includes nail seals to make your fingertips bright and beautiful, as well as an embroidery kit to make your own cute bibーthis is part of Felissimo's brand Couturier. The bib is soft and made using 100% Banshu-ori cotton fabric. Banshu-ori is a fabric from Hyogo Prefecture. The cotton is also dyed before being woven so the colour won't fade as quickly when washed.

Beautiful Jellyfish Umbrellas Designed by Kamo Aquarium Will Keep You Dry

YOU+MORE!, a brand of humorous merchandise and accessories developed by Felissimo, has teamed up with the famous Kamo Aquarium to release a series of jellyfish umbrellas.

The intricate umbrella designs were developed in cooperation with the staff at Kamo Aquarium's Jellyfish Dream House. Three different kinds of jellyfish were used as inspiration for the umbrellas.

Moon Jelly Umbrella

YOU+MORE! Moon Jelly Umbrella – ¥1,600

Moon jellyfish are perhaps one of the most popular kinds of jellyfish out there. What may be the most striking part of this umbrella is the colour gradation which gives it a transparent effect. The edges of the umbrella are also curved, giving it a delicate silhouette and making it look even more like the real things.

The umbrella's frames are built strong, and the material of the umbrella itself is a white glass fibre which serves not only to mimic the colour of a moon jelly, but so that you can still see through it too. (As a side note, all three of the umbrella designs are made from glass fibre.)

Northern Sea Nettle Umbrella

YOU+MORE! Northern Sea Nettle Umbrella – ¥1,600

Like the northern sea nettle itself, this umbrella features a dome shape and incorporates a stripe design. A northern sea nettle has 16 stripes, and so that many were added to the umbrella. The jellyfish staff at the aquarium praised this one as the most realistic.

Spotted Jelly

YOU+MORE! Spotted Jelly Umbrella – ¥1,600

Like the northern sea nettle, the spotted jelly too as a cute dome-shaped body. If someone who has never seen one of these jellyfish umbrellas before sees this design, they'll think of it as just having cute spotted design. However, a jellyfish enthusiast is sure to get excited as the sight of this one with its details like its orange colour and the dots around the edges.

Kamo Aquarium will begin selling limited edition versions from the end of June this year which come with an ephyra charmーthat's the name for a baby jellyfish. The aquarium is currently closed until May 6 due to the coronavirus. The latest updates can be found on their official website.

Cute New Doraemon Merchandise From Felissimo Can Be Enjoyed By Adults Too

Felissimo launched online pre-orders for its new line of 12 Doraemon themed items on February 20, 2020. Doraemon is a symbol of Japanーa national treasure that continues to be be adored by kids and adults alike around the country.

The collection is centred around everyday practical items that can even be enjoyed nonchalantly by grown-ups.

Doraemon Laundry Net Set – ¥1,400 (Before Tax)

There are four in this collection of laundry nets, big and small. Designs include "Mini Doraemon," "Memory Bread," "Anywhere Door," and "Dress-Up Camera."

Doraemon & Nobita-kun Slippers – ¥2,100 (Before Tax)

 Doraemon and Nobita-kun features on this collection of slippers. There are four designs, with the tops being made from corduroy, and all with beautiful colours.

Doraemon Pull Pass Case – ¥2,300 (Before Tax)

These three pass cases all have Doraemon designs and come with a pullable elastic string. Each has its own classy one tone colour. Perfect for storing small items and heading out.

Doraemon Smartphone Cases – ¥2,900 (Before Tax)

The three cute smartphone cases come in chic colours and designs, with an additional colour inside for the four card pockets.

Doraemon Plastic Bottle Towels – ¥950 (Before Tax)

Decorate your drinking bottle with one of these four cute Doraemon bottle towels, all with a cute tail. They can be used for other things like deodorant too.

Doraemon Zipper Bag Set – ¥800 (Before Tax)

Keep your food stored and safe in an adorable Doraemon zipper bag, whether it be snacks or ingredients. They're perfect for giving gifts in too.

Doraemon Nail Seals <Basic> – ¥1,450 (Before Tax)

Glam up with some cute Doraemon nail seals, ranging from natural colours to gold leaf and more, which can cater to a variety of different situations.

Doraemon Embroidered Pouches – ¥3,000 (Before Tax)

These kits embroidery equipment to make your own Doraemon-design pouch. Make the pouch, attach the fastener, and you've got yourself a place to store your items.

Adorable Shiba Inu Slippers and Handkerchiefs Released by Felissimo

Felissimo released a new line of shiba inu slippers and handkerchiefs from their humorous brand YOU+MORE! on their website on November 26.

The slippers feature various shiba inu pulling adorable faces, with the sole parts made to look like their fluffy bellies. The handkerchiefs are made using appliqué needlework to stitch a variety of different pups onto them. The prints are so realistic you'll find yourself wanting to stroke them.

The slippers come in three designs: Black Fur, Red Fur, and White Fur, all with loving faces looking up at you as you walk around the house.

The insoles are made with long and comfy boa fabric to create the fluffy underbelly of the dogs.

The gauze handkerchiefs come in six designs: Pomeranian, White Shiba, French Bulldog, Red Shiba, Golden Retriever, and Corgi.

The embroidered doggy designs are 3D textured, making you want to poke and stroke them all the time you're holding them. The front part is made from gauze and the back from pile. One of each of the six designs will be released monthly over a period of six months.

If you love shiba inu, or know someone that does, this is the perfect gift!

Limited Booking For Sebastian Masuda's Artistic Kawaii Room Opens Soon

Booking.com is one of the world's largest accommodation booking websites that connects people from all over the world with many unique places to stay. For the first time ever, Booking.com has announced a very special stay at 'KAWAII Japanese Room – Addicted to Tokyo.' Designed in collaboration with no other than art director and icon of Japan's kawaii pop culture Sebastian Masuda. The stay is available exclusively through Booking.com with only a handful of  booking dates available which are: November 13-14, 14-15 and 15-16. 

One significant pattern which can be seen in the room is that of a traditional jūnihitoe, which is a set of formal kimono garments worn by court-ladies in Japan. The designs and patterns have been fused with a vivid pop colour scheme and created in a modern graphics style for a new form of experimental art. The main concept of the room is "Addicted to TOKYO". Once you step into the room, you will be immersed in a world of vivid colours and patterns where abstract wonder is fused with traditional features. A stay here is bound to be stay you will never forget. The room is located at the MIMARU TOKYO AKASAKA apartment hotel and was remodeled specifically for this purpose. Reservations will open worldwide at 7pm JST (11am in Amsterdam). Only three reservations – one for each night – will be accepted and it is first-come, first-served.  


The room is filled with Japanese-style room features such as tatami flooring, sliding doors, zabuton floor cushions, and a raised tatami-floored seating area. There are two beds and a large open space in the room. Once you enter, you will be immersed in a world of patterns.  Using Japanese celebratory culture as a starting point, Masuda has created a space which reflects the atmosphere of an exciting Japanese celebration. Although there are many traditional features to the room, there are also animal patterns and patterns that make the word "TOKYO", creating a room full of impact. One of the most iconic decorations in the room is the bear which rests on the pink tatami flooring. The bear's unique design resembles origami, reflecting the cute yet edgy culture of Tokyo fashion. 


In the room you'll find KAWAII Japanese Room-limited design yukata. These unisex yukata are designed with a range of patterns and colours that can be seen around the room. You can use them as pyjamas and can even take them back home with you.


 

You cannot leave the accommodation without checking out the giant mushroom display located on the MIMARU TOKYO AKASAKA roof. Those staying in any room at MIMARU TOKYO AKASAKA during the limited period as well as those staying in the KAWAII Japanese room both have access to see this glorious masterpiece

 

If you are not one of the lucky few who get a chance to stay at the KAWAII Japanese Room- Addicted to TOKYO, you could book another room in the hotel during the same period to witness Masuda's iconic mushroom masterpiece. This is the perfect place to experience a full-on kawaii experience right in the centre of Tokyo. The first 100 people to visit the rooftop between 3pm and 9pm on each day between November 13 and 15 will receive an original hand towel. 

 

Be sure to check it out.

Information

KAWAII Japanese Room- Addicted to TOKYO

¥2,200 per night (Tax Included)

Address: 7 Chome-9-6 Akasaka, Minato City, Tokyo

Disney Store Announces Merchandise Collaboration With Sebastian Masuda

The Disney Store has announced its first ever collaboration with artist and art director Sebastian Masuda. Titled "ARTIST COLLECTION by Sebastian Masuda," this merchandise line-up will hit Disney Stores across Japan and on the online shop on August 27.

Masuda's second "ARTIST COLLECTION," this time he is using items from the Toy Story film series that have been sold at the Disney Store and has re-designed them through his unique lens of cute and colourful pop art.

T-Shirt – ¥3,900 (Before Tax)

Makeup Brush Set – ¥1,900 (Before Tax)

The line-up spans from a Lots-o'-Huggin' Bear plush toy to key chains, notebooks, pencil cases, wristwatches, t-shirts and much more.

Waist Bag – ¥4,900 (Before Tax)

Backpack – ¥7,900 (Before Tax)

As well as stationery and fashion items, the collection also includes outdoor products: namely, the waist bag and backpack which not only look gorgeous but are superior when it comes to functionality.

The product designs are created in the same way that Sebastian Masuda makes all of his iconic projects: by using lots of different vivid items and materials.

Don't miss out on this toy box-like Disney Store exclusive line-up filtered through Masuda's colourful world.

©Disney/Pixar
  Mr. Potato Head is a trademark of Hasbro used with permission. ©Hasbro. All Rights Reserved.
  ©POOF-Slinky, LLC

Sebastian Masuda And Other Phenomenal Artists Create Outstanding Doraemon Exhibition

28 artist groups and individuals have created artistic pieces to represent Japan's favourite animated character Doraemon. From July 12 to September 23, 2019, you can see these magnificent creations at the Doraemon Exhibition Osaka 2019 which will take place at Osaka Culturarium at Tempozan.

The Doraemon Exhibition Osaka 2019 features a range of artists who exhibit their works in Japan and even in foreign countries. This is a fantastic chance to meet a range of new Doraemon that the world has never seen. This event covers a range of genres through modern art that is overflowing with creativity and dedication for the anime character that has grasped the nation. 

On July 11, the day before the opening of the exhibition, there was a special opening ceremony and private viewing event held exclusively for staff and the press, which was a massive success. 

Press releases of the event reveal that artists Yasumasa Morimura and Sebastian Masuda were present at the ceremony for photos and greetings. 

Yasumasa Morimura commented with deep emotion: "I am so happy to have finally taken part in the Doraemon Exhibition. For this creation, I used lots of paper to make the costumes. I collaborated with Junko Koike, collecting lots of Doraemon manga as raw materials for the dress. As Doraemon has the power to manipulate time and space, and has the ability to create a door that leads to anywhere he desires, I thought a grey dress would be appropriate. In fact, the entire exhibition venue is just like the inside of Doraemon's pocket ー it is packed with the work of 28 solo artists and groups. What a fun experience it is. I hope that many people in the Kansai region come see this," he explained.

Sebastian Masuda commented: "I'm actually the same age as Doraemon and I share the same birthday as Noby; the main character from the series. I was born with a love for Doraemon."

He then commented on his art piece: "I actually wanted to make it as big as the Budha statue at Todaiji Temple in Nara, but we wouldn't be able to fit it in the venue so I made it two metres tall instead", he laughed. "I collected materials from markets from all around the world, so the final piece is literally made up of the colours of the world," he continued. 

His message to the people of Osaka is: "I would love it if lots of children came to see this. It would really make my day to hear reactions from them like "whoa, it's huge" or "that's so cool!""

Please come stop by to visit your favourite Doraemon!

Information

The Doraemon Exhibition Osaka 2019

Running: July 12, 2019  ー September 23, 2019 (74 days) 

※ No closed days.

Venue:  Osaka Culturarium at Tempozan (next to the Osaka Aquarium Kaiyukan) 

Address: 1-5-10, Kaigandori, Minato Ward, Osaka

Open: 10:00 ー 17:00 ※ Last entries: 30 mins before closing time 

Entry prices

General:¥1,500

Middle/High School: ¥1,200

4 y/o ー Elementary School: ¥800

Enquiries: (Hello Dial)  TEL: 050-5542-8600 (8:00 ー 22:00, no holidays)

Rilakkuma Umbrella by Felissimo Can Be Used in Clear or Rainy Weather

Felissimo released a new Rilakkuma-inspired beige-pink umbrella on their website on June 10.

The umbrella's design is subtle and sophisticated. The outer rim is lined with a brown coloured lace reminiscent of Rilakkuma. It also has a handle made from high quality wood carved into Rilakkuma's face. The umbrella also cuts 98% of UV rays meaning it can be used in both clear and rainy weather.

Its beige pink colour with brown lacing gives it a sophisticated feminine design.

Rilakkuma's facial features on the handle were made using laser cutting and together with the frilly cotton rope tied to it give it a polished and refined look.

There is also a name tag on the umbrella with a nonchalant Rilakkuma logo printed on it.

There is also a separate bag you can purchase to put your umbrella in after it rains so you don't get the floor wet if you go inside anywhere.

©San-X

TEMPURA KIDZ Collaborate With Moe Shop to Release New Song 'UKIYO'

News photos of dance and vocal unit TEMPURA KIDZ have been released. The photos were taken under the supervision of the leader of Harajuku's kawaii culture Sebastian Masuda.

It has also been announced that the group are set to perform at the KAWAII MONSTER CAFE in Harajuku every Wednesday for a new event aimed at foreign and locals tourists entitled TOKYO POP CULTURE NIGHT ~HARAJUKU CELEBRATION~.

The theme of this event is "Harajuku Tribe" which sees TEMPURA KIDZ dressed up in colourful tribe-like Harajuku wares in which they will put on a new performance called "Harajuku Celebration." The group teamed up with French DJ and producer Moe Shop to create original music for the performance.

Both artists will release their collaborative track UKIYO on June 18. The song features a "Future Funk," a genre which sees Moe Shop as its spearhead. It is a colourful pop anthem that fuses with TEMPURA KIDZ and the members' personalities.。

With the Tokyo 2020 Olympics right around the corner, TEMPURA KIDZ continue their mission to spread Japanese culture around the world.

New Future Piece Nursery Produced by Sebastian Masuda Opens in Sendagaya

Wedged in a quiet residential area of Sendagaya, which is close to Ura-Harajuku, is a kawaii, pastel-coloured building that opened just this month. This eye catching place is a new nursery called "Mirai no Piece Hoikusho" (Future Piece Nursery).

A conference and paint event titled "HAPPY WALL PROJECT" were held on June 16 to celebrate the nursery's opening. Those associated with the nursery as well as local residents came together to help paint the outside wall at the entrance which served to help strengthen communal ties in the area.

The nursery was established by Edulead―who manage 7 nurseries throughout Tokyo, Saitama and Kanagawa conceived around the idea of "building the stories of the future"―and ASOBISYSTEM, a company that promotes Harajuku culture to the world including fashion, music and lifestyle. It was created as a way to aid in the Cabinet Office's efforts to eliminate nursery school waiting lists. In addition to ASOBISYSTEM employees, it hopes to begin recruiting a wide range of people, including local residents and businesses, as a means to contribute to work activity in the area.

The representatives of each company spoke about their aspirations for the facility. Shobu Kikuchi (Edulead) said: "The name of the nursery, Mirai no Piece Hoikuchi, signifies a desire to grow healthily  in a colourful world, and the wish for it to be a place that respects the individuality and diversity of the children."

Yusuke Nakagawa (ASOBISYSTEM) commented: "We normally manage artists and models, but we want to express our strength in entertainment in a new light. We're a company that promotes the growth of Harajuku culture, so I want to contribute to the growth of children in a way that is rooted in the streets of Harajuku."

The designs and visuals for the facility are produced by Sebastian Masuda, a Japanese artist signed to ASOBISYSTEM who is active internationally and helps spread Harajuku's kawaii culture around the world.

The building's exterior design takes advantage of Masuda's former architecture and features a unicorn called Unikyun who watches over the nursery. It also features original puzzle piece characters called Puzzoo who all live together. There are seven unique Puzzoos like the colours of the rainbow each of which is used as a symbol for each class in the nursery. The building's interior is also decorated in pastel colours to catch the eyes and stir the curiosities of the children.

Speaking about his thoughts on the design, Masuda comments: "As the name [of the nursery] suggests, the children are the pieces of the future. Puzzle pieces are the motif. I want them to be raised in a colourful environment so they never forget how exciting it feels to wear colourful clothes or dye your hair a different colour. I too am personally putting a great effort into international exchange and education, and so I am very happy to get to be part of this facility."

The colourful interior decor is painted with ROOMBLOOM AirBreeze by Nippon Paint Holdings which was developed to protect the health of children when painting.

The HAPPY WALL PROJECT saw the children and nursery associates coming together with paints and brushes to draw and colour Pazzoos. The atmosphere was mirthful under a sky so blue one forgot it was the rainy season. The childrens' paint work with the odourless paint didn't stop at the wall however―they extended their efforts to wooden boards, paper cups and more. Everybody had smiles on their faces as they got involved.

Many discussions and issues have arisen through the ages surrounding child rearing, whether it's the coexistence of work life and raising a child, school nursery waiting lists, both parents being involved in the raising of their child, and so on. Mirai no Piece Hoikusho takes advantage of the strengths of both companies involved and delivers both hard and soft child rearing. Edulead, who develop nurseries in that are the only one of their kind and fit with their local communities, and ASOBISYSTEM, who will continue to promote the local culture, are set to contribute to the area with this new establishment and give the children a bright and colourful future.

Information

Mirai no Piece Hoikusho

Address: 3-20-1 Sendagaya, Shibuya, Tokyo

Grand Opening: June 2019

Opening Hours: [Mon-Sat] 7:00-20:00
Closed: Mondays, National Holidays, and New Year Holidays (December 29-January 3)

TEL: 03-5843-0513

Homepage: http://edulead.jp/institutions/sendagaya