VTuber Agency Hololive Releases Merchandise at Bandai's Gashapon Online Page
Hololive Productions, a VTuber talent agency, released a collection of rubber mascot key rings via Bandai's Gashapon Online webstore on Friday (January 22).
Tokino Sora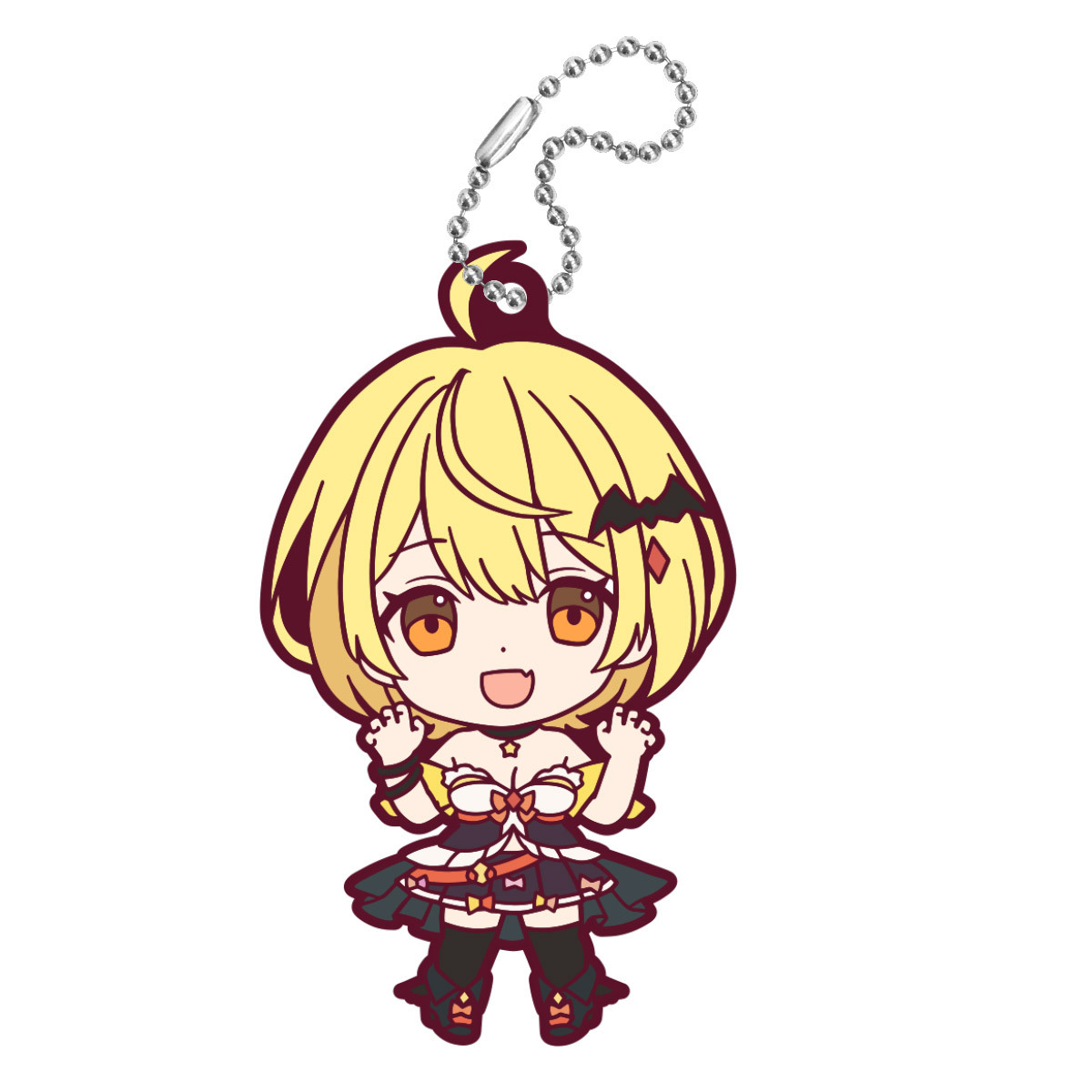 Yozora Mel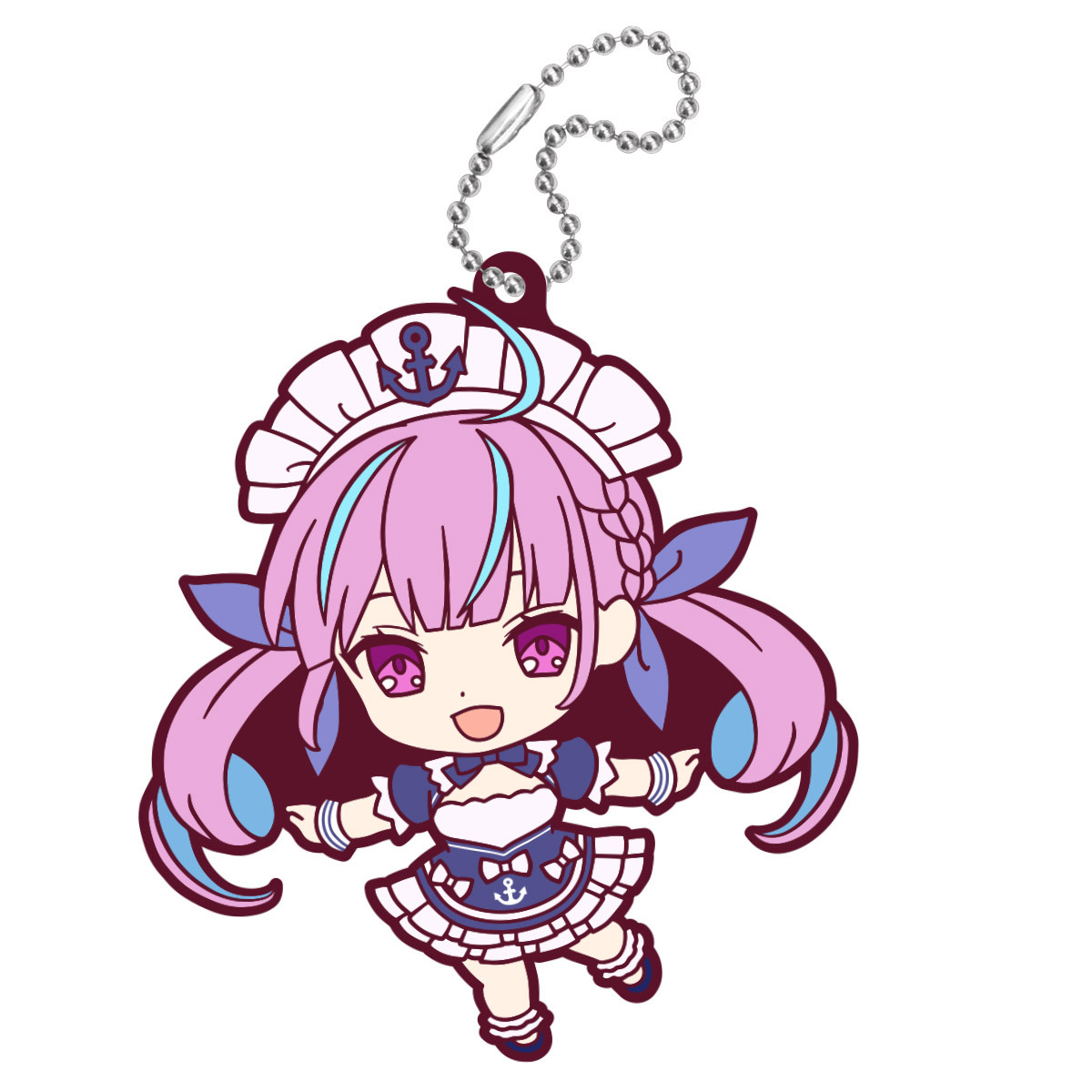 Minato Aqua
Usada Pekora
Amane Kanata
Yukihana Lamy
Fans can get their hands on six popular faces from Hololive including Tokino Sora, Yozora Mel, Minato Aqua, Usada Pekora, Amane Kanata, and Yukihana Lamy.
Information
Hololive Capsule Rubber Mascot Collection
Released: January 22, 2021
Designs: 6
Price: ¥500 per turn of the gaschapon
Gashapon Online: https://p-bandai.jp/gashapon-online/
*Mascots will be posted (in Japan) in May 2021
RELATED ENTRIES
VTuber Hanabasami Kyo Models For 42's Autumn 2021 Collection

In promotion of the 2021 Autumn collection by unisex apparel brand 42, Virtual YouTuber Hanabasami Kyo has been chosen to model for the line-up.

The Line-Up

Drop Shoulder Chester Coat

Triple Layered Foodie

RIB HALF ZIP SWEATSHIRT

SLIT LS

Inline Wide Pants

The virtual and real worlds combine in Hanabasami Kyo's lookbook for the collection which she looks super stylish in. All the items she is wearing are available to purchase, but some of the most popular ones have already sold out, so be sure to check the collection out ASAP.

As part of her collaboration with 42, a music video for the song paradøx (Kameria's "fallaciøus" remix) was also released featuring Hanabasami Kyo on vocal. The track is remixed by Camellia and captures the aesthetic of the clothing collection.

paradøx (Camellia's "fallaciøus" remix) – Hanabasami Kyo

Hololive x Capcom Net Catcher Release Second Merch Collection

Capcom's online crane game Capcom Net Catcher released its second merch collection in collaboration with Hololive on Saturday. This time, they have a line-up of items featuring the VTuber Tokoyami Towa including acrylic smartphone stands, mouse pads, and tapestries.

The Line-Up

Acrylic Smartphone Stand (2 Designs)

Mouse Pad (2 Designs)

Tapestry (2 Designs)

The artwork for the merch was designed by Mitsuki Yano and LAM who are known as the character designers for the Hololive VTubers Airani Iofifteen and Kureiji Ollie.

Featured Hololive Character

Tokoyami Towa

In order to become an archdemon, she joined the human society for further studies. She should be studying but is now addicted to gaming. She realized that the method commonly known as "streaming" is also a way to communicate with humans. She is now in the "trial and error" process.

YouTube: https://www.youtube.com/channel/UC1uv2Oq6kNxgATlCiez59hw
Twitter: https://twitter.com/tokoyamitowa (@tokoyamitowa)

Mitsuki Yano


A Hokkaido-based illustrator who designed the Indonesian VTuber Airani Iofifteen. Illustratrates for games, light novels, TCG, and other media.


Twitter: https://twitter.com/mituk1 (@mituk1)
Website: http://nanairo-box.blogspot.com/p/blog-page.ht

LAM


An up-and-coming illustrator working in character design, visual work, book illustrations, and more. Designed the Indonesian VTuber Kureiji Ollie. Held their first exhibition, 'Eyes and Thunder,' in 2020.

Twitter: https://twitter.com/ramdayo1122(@ramdayo1122)

Kizuna AI x Alaina Castillo Perform 'down 4 u' Song Collaboration

American singer Alaina Castillo released her debut album parallel universe pt. 1 on May 29. The Japanese release of the album includes the song down 4 u performed in collaboration with the world famous virtual YouTuber Kizuna AI.

After amassing hundreds of thousands of subscribers on YouTube, Alaina Castillo was noticed by RØMANS, the Grammy-nominated producer known for working with such artists as Alicia Keys, John Legend, Demi Levato, Lewis Capaldi, and others. Since 2019, Alaina has released a string of singles and as well as an EP. She also made it onto Spotify RADAR, an emerging artist program which helps up-and-coming artists with exposure. Her hit single just a boy was also picked up by V of BTS.

Alaina is a fan of Japanese anime and anime characters. In the music video for her single wishlist which dropped last year, Kizuna AI made an appearance. Alaina herself repaid the favour by performing as a guest at the final show of Kizuna AI's 'Virtual US Tour' in New York on May 30. The two artists came together once more by performing down 4 u feat. Kizuna AI, a track sung in English and Japanese. Comments from excited fans around the world flooded into the live stream.

At the end of the show, the two danced to Kizuna AI's AIAIAI feat. Yasutaka Nakata.

This marks Alaina's first collaboration with another artist as well as Kizuna's first collaboration with an artist from the US.

Alaina's new album parallel universe pt. 1 features seven tracks including pocket locket, parallel universe, make it rain, and down 4 u.

VTuber Yukihana Lamy Releases Her Own Sake Called 'Yuki-Yo-Zuki'

Yukihana Lamy, a Virtual YouTuber associated with hololive, launched her own Japanese sake project in February to bring her dream to life of making her very own sake by hand. That sake has now been released by the name of Yuki-Yo-Zuki, a premium brand daiginjo sake.

The sake was created in collaboration with Meiri Shurui, a Japanese sake brewery which has been around since the Edo Period. Every single ingredient in the drink was considered from scratch including the type of rice, the ratios, yeast, alcohol content, and so on. The sake is made by hand in a brewery located in Mito, Ibaraki.

Yuki-Yo-Zuki uses Fukushogun Daiginjo as its base, a sake that won Gold in the Sake category at IWC2020. It's made with a combination of Yamada Nishiki and Biyama Nishiki rice as well as ginjoka, the highest quality daiginjo, known for its light spicy kick and fruity notes. The bottle features an illustration of Yukihana Lamy drawn by Abara Heiki, an artist Lamy likes, with a fusion of black and silver inspired by the meaning of drink's name: 'Snowy Evening Moon.'

VTuber Group LazuLight Debut From NIJISANJI English

Virtual YouTuber project NIJISANJI English announced the debut of the new three-member group LazuLight on May 12. The group released a music video and did a two-hour debut stream on YouTube on Sunday.

LazuLight Debut Teaser

NIJISANJI EN's new group LazuLight begin their VTuber career

LazuLight is made up of three members: Elira Pendora, Pomu Rainpuff, and Finana Ryugu. Each has their own social media and YouTube pages.

A special livestream was held for their debut

The full two-hour livestream held on May 16, titled NIJISANJI EN 「LazuLight」 DEBUT! ~LIVE from the Moon~, can be watched on the official NIJISANJI English YouTube channel.

The stream was hosted by Hana Macchia from NIJISANJI ID who spoke with all three members. After the stream finished, they showed the music video.

The song is produced by Mafumafu

LazuLight's debut song Diamond City Lights was released on all major music streaming and download services and can also be listened to on  YouTube.

Introducing the LazuLight Members

Elira Pendora

Category: Solar Sky Dragon

Profile

A sky dragon who came from the heavens closest to the sun. She has the kindness and receptiveness that makes the light of a sunny day fall equally on all.

Twitter:https://twitter.com/EliraPendora
YouTube:https://www.youtube.com/channel/UCIeSUTOTkF9Hs7q3SGcO-Ow

Pomu Rainpuff 

Category: Forest Fairy

Profile

A fairy who lived in a lush forest. Supple like a flower in the breeze, cheerful and optimistic.

Twitter:https://twitter.com/PomuRainpuff
YouTube:https://www.youtube.com/channel/UCP4nMSTdwU1KqYWu3UH5DHQ

Finana Ryugu 

Category: Tropical Mermaid

Profile

A mermaid spending time with tropical fish in the sea of coral reefs. Has a heart as clear and pure as the calm and beautiful sea.

Twitter:https://twitter.com/FinanaRyugu
YouTube:https://www.youtube.com/channel/UCu-J8uIXuLZh16gG-cT1naw

Be sure to check out and follow the newest members of the NIJISANJI family!

Hatsune Miku Features in Pocari Sweat Promotion as Official Ambassador

Otsuka Pharmaceutical released a 30-second video titled "Netsunarero" on their official YouTube channel on May 6 announcing Hatsune Miku and members of Leo/need from the Project Sekai Colorful Stage ft. Hatsune Miku mobile game as the official ambassadors for the Japanese sports drink Pocari Sweat.

The importance of "Netsunare"

The video stresses the importance of netsunare – sweating in order to get used to the heat during summer. Leading the promoting of this message is Hatsune Miku who is followed by Leo/need, MEIKO, Mirai Akari, Fuji Aoi, and YuNi. The video features the original song Waiting for Clear Weather created by Orangestar for the Project Sekai Colorful Stage ft. Hatsune Miku mobile game. The popular track has been streamed over 1.9 million times as of April 2021.

The Character Line-Up

Since December 2019, Otsuka Pharmaceutical has appointed Hatsune Miku, MEIKO, Leo/need, MEIKO, Mirai Akari, Fuji Aoi, YuNi, and other familiar faces as official ambassadors for Pocari Sweat to spread information on how to overcome Japan's hot summer weather to the world. It is part of the beyond2020 project which Otsuka describes: "With an eye to 2020 and beyond, this cultural program will contribute to the creation of a legacy befitting a maturing society that will make the next generation proud, through Japan's strength which consists of its local and diverse culture."

Leo/need from Project Sekai Colorful Stage ft. Hatsune Miku

Project Sekai Colorful Stage ft. Hatsune Miku is a mobile game for iOS/Android. The members of Leo/need include guitarist and vocalist Ichika Hoshino, keyboardist Saki Tenma, drummer Honami Mochizuki, and bassist Shino Hinomori. They will release their first single on June 9, 2021.

Twitter Campaign

Otsuka Pharmaceutical is also holding a Twitter campaign in Japan as part of the promotion where 200 random people can win a box of seven 500ml Pocari Sweat bottles for cooling down in the summer heat.

How to Sign Up

Step 1: Follow Pocari Sweat on Twitter @pocarisweat_jp

Step 2: Retweet or quote any of Pocari Sweat's posts featuring the hashtag #ネツナレろ ("Netsunarero")

Running: May 6, 2021 – May 19, 2021 (Japan Only)

Campaign Site: https://pocarisweat.jp/action/pocarimiku/netsunarero/

© SEGA / © CP / © CPM / © Mirai Akari Project / © YuNi / © Fuji Aoi

VTuber Group Holostars Launch First Official Show On YouTube

VTuber group Holostars' first official program on YouTube will launch on March 4 at 7pm (JST).

The program will treat fans to a whole new side of the members, the likes of which they've never seen. The official name and further details of the program will be announced on the first broadcast on March 4 on Holostars' YouTube channel.

VTuber Group Nijisanji Release Two Songs Simultaneously to Celebrate 3rd Anniversary

The VTuber group Nijisanji are celebrating three years since their debut with the release of two new ones: PALETTE 001 – Wonder NeverLand and PALETTE 002 – Nijiiro no Puddle, both of which hit music streaming and download services on February 25, 2021.

PALETTE 001 – Wonder NeverLand

PALETTE 002 – Nijiiro no Puddle

The first new song, PALETTE 001 – Wonder NeverLand, was produced by kz (livetune) who also wrote the song Virtual to LIVE for Nijisanji's 1st anniversary. It was recorded live in a studio with wind and string instruments and features singing from 12 streamers.

The second new song, PALETTE 002 – Nijiiro no Puddle, is performed by the internationally-beloved Japanese rock band FLOW. It's a song about enjoying the here and now to the fullest, and also includes the voices of 12 streamers. This also marks the group's first collaboration with FLOW, a band who is set to perform at Nijisanji Anniversary Festival 2021 on February 26, 2021.

Nijisanji Anniversary Festival 2021 Zenyasai feat. FLOW

 You can follow Nijisanji's 3rd anniversary celebrations on social media with the hashtag #nijisanji_palette.