Sony Store Collaborates With Snoopy on New PEANUTS Collection
Sony Marketing released its new PEANUTS Friends Collection on Wednesday in collaboration with the beloved American comic strip Peanuts known for its iconic cast of characters like Snoopy and Charlie Brown. The colleciton includes wireless headphones, wireless speakers, and Walksman®.
A look at just some of the items in the PEANUTS Friends Collection
WF-XB700 Wireless Stereo Earphones | ¥16,500 (Tax Included)
The WF-XB700 wireless stereo earphones comes in 36 different patterns from a choice of six designs including Snoopy A, Snoopy B, Snoopy C, Woodstock, Charlie Brown, and Snoopy's Footprints.
There are also two case designs as pictured above featuring Woodstock and Snoopy/Charlie Brown and Snoopy.
The WF-XB700 offer crystal clear, high-quality audio wirelessly and are durable against water droplets like rain and sweat.
WF-XB700 Wireless Stereo Headset | ¥22,000 (Tax Included)
This headset features Snoopy on the left ear and Charlie Brown on the right. They offer immersive, high-quality sound and can be folded up to make them compact for carrying.
SRS-XB23 Wireless Portable Speakers | ¥15,400 (Tax Included)
Listen to your music wherever you go whether in the bathtub, kitchen, are at the beach, outdoors, and more with these wireless portable speakers. Available in two designs: Snoopy & Woodstock/Snoopy & Charlie Brown.
Walkman® NW-A50 Series| ¥27,500 (Tax Included)
This stylish collection of Walkmans® will make you forget about listening to music on your phone. What's even better is that buyers can have letters, Japanese characters, and numbers (up to 23) engraved on them to create a personalised device whether for yourself or as a birthday present for someone.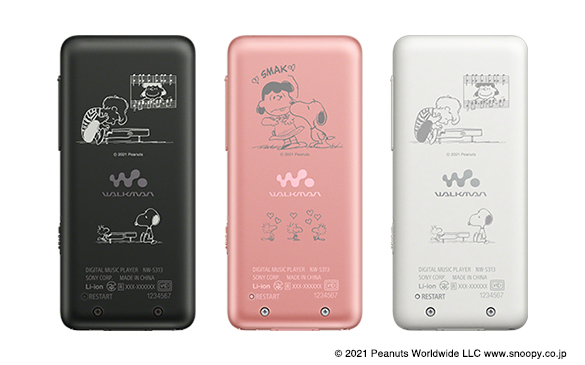 Walkman® S Series | ¥15,400 (Tax Included)
A slimmer version of the Walkman® if you're looking for something more compact. Up to 16 letters can be engraved on this one.
RELATED ENTRIES
Snoopy Museum to Open Tasty Exhibition Titled 'What's Your Favorite Food?'

Following the conclusion of the current 'Little Best Friend Woodstock' exhibition, the Snoopy Museum will hold a food-centric event from January 14 until July 9, 2023!

Selected Works on Display

Peanuts Comic (January 20, 1991)

Peanuts Comic (September 6, 1988)

Peanuts Comic (February 7, 1988)

Peanuts Comic (September 14, 1954)

Peanuts Comic (March 27, 1986)

Peanuts Reprint (Partial / January 13, 1973)

Goods at a Glance

Approximately 40 rare original drawings of Snoopy and his friends will appear at the exhibition, all focused on the character's favorite foods. Food features prominently in the Peanuts comic strip, whether it be friends eating breakfast or school lunch.

The exhibition features items from the collection at the Charles M. Schulz Museum and Research Center in Santa Rosa, California. 

Snoopy loves to eat and loves doughnuts and marshmallows, but absolutely hates coconuts. Of course, the gang loves cookies, and eating lunch while chatting is the highlight of the day! Come enjoy this tasty event in 2023.

(C) Peanuts Worldwide LLC

Information

Snoopy Museum Exhibition – What's Your Favorite Food? ~Food in PEANUTS~

Running: January 14 – July 9, 2023

Closed on Tuesday, February 21 (Open every other day of the exhibition period)

Hours: 10:00-18:00 (Last entry at 17:30)

Official Site: https://www.snoopy.co.jp/

Snoopy Tea Brand SNOOTEA Launches Chocola Tea for the Holidays

Since its start in 2007, the Snoopy tea brand SNOOTEA has remained popular with Peanuts fans and tea fans alike. Typically, the brand has sold black tea in cute tins featuring Snoopy and his friends.

Starting November 7, fans can purchase a special Chocola tea made by tea blender Shuntarou Kumazaki. Blended to suit Japanese water and inspired by the world of Peanuts, it promises to be the perfect flavor for the holidays.

Made with cacao nibs, the flavor of standard black tea is punctuated with a chocolate aroma. The tea leaves themselves come from India, Sri Lanka, and Kenya, and are blended together in a balanced way to create an appealing taste that will have tea lovers coming back again and again. This blend is also perfect for making milk tea, and fans can even add whipped cream and marshmallows. This tea also goes well with strawberries, oranges, bananas, and other fruits, as well as nuts!

Snoopy and his friends dressed in winter attire will appear on each tin, adding to the festive holiday spirit. On the online store, customers can also find Darjeeling, Earl Grey, Apple Tea, and other varieties.

© 2022 Peanuts Worldwide LLC

The World of Peanuts to Take Over Grandberry Park this Winter

The limited-time Christmas event 'SNOOPY Merry Colorful Christmas' will be held at the Grandberry Park shopping mall from November 12 until December 25, 2022. The complex is directly connected to Manami-Machida Grandberry Park Station on the Den-en-toshi Line. 

This year's event is the most colorful one yet, focusing on diversity and individuality. Fans of Snoopy and friends are in for a treat, as the area around Grandberry Park will be illuminated in beautiful colors and decorated with unique Christmas decorations that will excite the whole family. 

Colorful Sculpture

Colorful Illuminations

Snoopy Ice Rink

Snoopy Happiness Float 2022

During the event period, a giant 8-meter-tall Christmas tree decorated with Peanuts-inspired ornaments will be set up for guests to enjoy. A huge and very colorful sculpture measuring 6 meters across and over 2 meters tall will also welcome visitors to this Christmas wonderland. In addition, colorful lights will be scattered around the entirety of Grandberry Park, and a special Christmas menu filled with cakes and hors d'oeuvres is sure to delight.

On December 10, the Snoopy Ice Rink will open at Oasis Plaza, and the Snoopy Happiness Float 2022, a giant Snoopy that has traveled across Japan, will return for another year of fun.

Come have a fun time this holiday season with Snoopy and friends! A series of events will be held over the next year to market the Colors of Peanuts marketing campaign throughout the country, so keep an eye out for more news!

*Sample images only.

UNIQLO's UT Sweatshirt Collection Features Everything from Pop Culture Icons to Contemporary Art

UNIQLO's graphic T-shirt brand UT has revealed some new pieces for its Fall/Winter 2022 collection! Some new sweatshirts are hitting the market featuring everything from Peanuts and Disney characters to Museums of the World and classic Spider-Man art.

Peanuts

From the world-famous Peanuts comic strip comes a collection of sweatshirts for children and adults! Be sure to grab these adorable designs featuring the daily life of Snoopy, Charlie Brown and friends.

Release Date: August 22, 2022

The Philosophy of Andy Warhol

UNIQLO has worked with Andy Warhol's pieces for a number of years, and the latest collection features the powerful messages the artist left through his works. While the words themselves are powerful, the designs are simple and easy to incorporate into any look.

Release Date: August 29, 2022

New York Pop Icons


Keith Haring, Jean-Michel Basquiat, and Kenny Scharf were pioneers of New York pop culture in the 1980s. These bold prints are sure to turn heads. 

Release Date: August 29, 2022

Museums of the World Collection


The Museums of the World collection of men's shirts features beloved museums like the Tate Modern, the Louvre, the Museum of Fine Arts Boston, and more. This valuable collection was made possible by UNIQLO's continued art initiative, as the company has continued to work with museums around the world to share the wonders of art with as many people as possible.

Release Date: September 12, 2022

Disney Dearest Friends

Many Disney films depict wholesome friendships born from fateful encounters. Keeping the theme of best friends in mind, these sweatshirts feature sweet terms and beautiful typography.

Release Date: September 5, 2022

Disney Mickey & Friends

The collection is inspired by American college sweatshirts, adding motifs of Disney characters. The vintage-style design will make you feel wonderfully nostalgic.

Release Date: September 5, 2022

Spider-Man 60th Anniversary: Amazing Years


Since his debut in 1962, Spider-Man has grown to become a huge figure in pop culture. This special collection uses some of the coolest comic book art of all time, perfect for today's superhero fans.

Release Date: October 3, 2022

These sweatshirts are perfect for jazzing up your fall and winter wardrobe, so be sure to grab your favorites!

Alba Sera from Sony Music VTuber Project 'VERSEⁿ' Celebrates Birthday with New Merch

Sony Music Labels is now accepting orders for Alba Sera birthday goods! The talent from VERSEⁿ, a VTuber project in collaboration with Helixes, is celebrating her special day with tons of new merch. Items will be available until May 8 on the VERSEⁿ official BOOTH shop.

Birthday Merchandise

Full Birthday Goods Set (Including Bonus)

Sticker Set

Acrylic Keychain

Canvas Art

Alba Sera
A girl who sticks to her beliefs even in loneliness.
She is quite hard on herself and not very good at socializing, but she does care about others and has a lovely side of a little girl. She sings her heart out strongly through her doubts and conflicts. 

Twitter Account: https://twitter.com/sera_alb
Character Design: Kane / https://twitter.com/Kaneblob
 

Peanuts Cafe Offering Love-Themed Seasonal Menu

Peanuts Cafe Nakameguro and six other locations have begun selling love-themed desserts and drinks for a limited time! Be sure to stop in by March 14 to try these tasty treats based on your favorite characters.

Lucy's Ruby Chocolate Mousse / Sally's Pink Dress Hot Chocolate

Love Each Other Special Donut

Love Each Other Latte Art

USHIO CHOCOLATL Collaboration Chocolate

Love Each Other Chocolate Brownie

 

Join Snoopy, Lucy, Sally, and other Peanuts characters as they express love for their family and friends. Guests ordering one of these love-themed desserts or drinks will receive a special paper lunch mat perfect for posting on social media!

(C) 2022 Peanuts Worldwide LLC (短縮形 (C) 2022 Peanuts)

Peanuts Cafe and Peanuts Diner Locations to Offer Special Christmas Menu

Six Peanuts Cafe and Peanuts Diner locations across Japan are currently offering a special Christmas menu inspired by the world of Snoopy until December 25, 2021. 

Christmas Stew Set with Bonuses: ¥3,520 (Tax Included) 

Participating Locations: Peanuts Cafe Nakameguro, Snoopy Museum, Nagoya, Sunny Side Kitchen

Nagameguro:https://www.peanutscafe.jp/product_nakameguro_xmas2021/
Snoopy Museum:https://www.peanutscafe.jp/product_smt_xmas2021/
Nagoya:https://www.peanutscafe.jp/product_nagoya_xmas2021/
Sunny Side Kitchen:https://www.peanutscafe.jp/product_sunnysidekitchen_xmas2021/

Christmas Hamburger Set with Bonuses: ¥3,960 (Tax Included) 

Participating Location:Peanuts Diner Yokohama

Reserve:http://www.peanutsdiner.jp/product_yokohama_xmas2021/

Woodstock's Merry Christmas Plan: ¥4,950 per person (Tax Included)

Participating Location: Peanuts Cafe Nakameguro

Reserve:

https://www.peanutscafe.jp/product_nakameguro_sproom_xmas2021/
*Price per person based on two-person reservation. 

*Reservations can be made up to two days in advance.

Snoopy's I CAN'T WAIT Christmas Parfait: ¥1,430 (Tax Included)

Snowy Christmas Latte ~Cheesecake Flavor~: ¥880 (Tax Included) 

Those who order a special food set will receive a tote bag with an adorable Snoopy and Woodstock design. 

(C) 2021 Peanuts Worldwide LLC (短縮形 (C) 2021 Peanuts)

Information

Snoopy's Christmas Menu

Available: December 10 – December 25, 2021

Participating Locations: Peanuts Cafe Nakameguro, Peanuts Diner Yokohama, Peanuts Diner Kobe, Peanuts Cafe Snoopy Museum, Peanuts Cafe Nagoya, Peanuts Cafe Sunny Side Kitchen

Official Site: http://www.snoopy.co.jp/

LOVE LOVE Snoopy Exhibition Opens at the Seibu Ikebukuro Main Store

The LOVE LOVE Snoopy Exhibition ~Take Care with Peanuts~ has come to Japan for the first time, and will be open at the Seibu Ikebukuro main store until December 29, 2021. 

Heartfelt Market (Selected Merchandise)

Acrylic Keychain / Acrylic Character Charm

Memo Pad (A6-size) 

Clear Folder (A4-size)

Cushion

Fabric Posters

Candle

Crackers

Sprout Pencil

Fair-trade Cotton Tote Bag

The first 200 customers on each day who spend ¥5,000 or more (including tax) will receive a cotton gift bag (4 varieties) which changes daily. 

This Snoopy exhibition puts an emphasis on loving one's friends but also loving the environment. The event space brings together three themes: Loving yourself, loving each other, and loving the Earth. At the end of the exhibition, a 'tree of kindness' will be created from messages left by visitors. Visitors can also pick up some cute merchandise at the Heartfelt Market, which will feature over 1,000 items including special event goods. 

© 2021 Peanuts Worldwide LLC

Information

LOVE LOVE Snoopy Exhibition ~Take Care with Peanuts~

Open until December 29, 2021

Hours: 10:00-20:00

*Last admission 30 minutes before closing. 

*The exhibition will close at 16:00 on December 29. 

Location: Seibu Ikebukuro Annex 2F (Seibu Gallery)

Tickets: ¥500 (Free for high school students and under.) 

Official Site: http://www.snoopy.co.jp/

Tokyo's Grandberry Park Begins Peanuts Ice Skating Collaboration

From December 11, 2021 until February 27, 2022, visitors to Minami-machida's Grandberry Park in Tokyo can enjoy 'Snoopy's Ice Arena,' a special crossover event with beloved Peanuts characters.

Ice Arena Dancing & Skating

Collaboration Project Image (Top left: Ice Arena / Top right: PEANUTS Tokyu Line One-Day Pass with Original Design / Bottom: SNOOPY HAPPINESS FLOAT 2021)

 

The third installment of the Grandberry Park Winter Harmony event is the 'Ice Arena Dancing & Skating' collaboration with Peanuts! Snoopy's Ice Arena is back at Oasis Plaza for another year. 

Ice Arena (Top left: Reception Desk / Top right: Photo Spot (1) / Bottom: Photo Spot (2)

The skating rink is decorated with Snoopy and his friends having a good time, and photo spots are set up around the perimeter of the ice. 

Running: December 11, 2021 – February 27, 2022 *Closed on January 1, 2, 15

Hours: 13:00-20:00 (Weekdays), 11:00-20:00 (Weekends & Holidays) 

*Reception desk closes at 19:30 

*11:00-20:00 from December 27, 2021 until January 7, 2022

*11:00-18:00 on December 31

*Times and details may be changed or canceled at the discretion of the organizer in consideration of visitor safety.

Location: Oasis Plaza

Information

SNOOPY HAPPINESS FLOAT 2021 at Grandberry Park

SNOOPY HAPPINESS FLOAT, a truck carrying a giant 6-meter Snoopy, will return to Grandberry Park this year after traveling around the country. This year's theme is 'Love Each Other, and I Love Me.' Snoopy and Woodstock can be seen taking a break in the lush Park Plaza. 

Running: December 11, 2021 – May 8, 2022

Location: Park Plaza

Details: https://gbp.minamimachida-grandberrypark.com/winter_harmony/

PEANUTS Commemorative Train Ticket with Original Design

Sample of PEANUTS Tokyu Line One-Day Pass (Left: Adults / Right: Children)

These special commemorative one-day passes will be here for a limited time, and are available on a first-come, first-served basis! Once they're gone, they're gone. 

Available from Mid-December until February 27, 2022 *While supplies last. 

Where to Buy: WANDER COMPASS SHIBUYA (Inside Shibuya Station), Tokyu Line Ticket Gates at Yokohama Station, Nagatsuta Station, and Minami-machida Grandberry Park Station

Availablity: 4,000 (Adults) / 2,000 (Children) 

Price: ¥680 (Adults) / ¥340 (Children) 

Validity Period: Until March 31, 2022

Grandberry Park

Address: 4-1-3 Tsuruma, Machida, Tokyo

Access: Directly connected to Minami-machida Grandberry Park Station on the Tokyu Den-en-Toshi Line

Hours: 10:00-20:00 (Shop) / 11:00-22:00 (Restaurant) *Hours subject to change. 

Official Site: gbp.minamimachida-grandberrypark.com

Sony Music to Release Impressive Compilation of Iconic City Pop Tracks

20.September.2021 | MUSIC

A two-disc album that includes songs from Ohtaki and Rainych's first album, a compilation of 70s/80s City Pop, and Neo City Pop from the 90s onwards will be released on October 27 2021.

 

The album is the first compilation work from Sony Music Direct's new ALDEIGHT label, who are proud to release this compilation featuring 31 remastered iconic songs, both new and old, that have garnered attention both in Japan and overseas following the growing popularity of City Pop.

Among the track list is 'Kimi wa Tennen Iro' from Ohtaka Eiichi's 'A LONG VACATION 40th Anniversary Edition,' which was released on March 21 2021 with a music video soon expected to surpass 7 million views on YouTube. It also includes 'RIDE ON TIME' covered by Indonesian singer Rainych and evening cinema's Yamashita Tatsuro, which gained huge popularity on YouTube.

Disc One is full of classic songs from the 70s and 80s, while Disc Two is full of iconic songs from between the 90s and now, that are said to have influenced the current Neo-City Pop sound. This definitive compilation represents the recent City Pop boom in just two discs.

Look forward to the release of this timeless CD which makes the perfect introduction to Japanese City Pop!

Sony and SF Authors Team Up to Imagine Tokyo in the Year 2050

The Creative Center, the design division of the Sony Group, is collaborating with a number of science fiction authors to use sci-fi prototyping to find out what Tokyo will look like in the future. 

Inspired by the three keywords '2050,' 'Tokyo,' and 'love,' Sony designers have created four design prototypes, each with a theme: wellbeing, Habitat, Sense and Life. Science fiction authors Taiyo Fujii, Miyuki Ono, Haruka Mugihara, and Itsuki Tsukui each created a sci-fi short story to accompany these creations.

These prototypes will be available to see at the Sony Park Exhibition at Ginza Sony Park starting on August 31. 

Sci-fi prototyping is a technique using science fiction to envision the future, then using it as a starting point to consider what society can do now to impact that possible future. 

The current global pandemic has made it more difficult than ever before to envision what the future will look like. Audiences around the globe are more interested than ever before in seeing what the world will be like in 30 years, and this technique might be able to put some minds at ease. 

Would you like to take a look at what the future might hold? 

Three PEANUTS Collaboration Tea Cans Available From Senchado Tokyo

Single-origin Sencha speciality store Senchado Tokyo will be collaborating with PEANUTS for the PEANUTS ~Look To Tomorrow~ limited event, held between August 11 and 24, 2021.

"We're All Friends" Theme

"We're All friends" is the theme of the PEANUTS ~Look to Tomorrow~ collab, with PEANUTS & Friends themed goods available to purchase. Senchado Tokyo offers "teatime with friends" and "a solo teatime."

The collaboration has been produced and designed to offer a fun teatime at home, with joy in every option.

The collaboration item designs feature Snoopy reading while drinking tea, Snoopy relaxing in an empty cup, and Charlie Brown enjoying some tea while listening to records.

PEANUTS Collaboration Single-Origin Sencha Can: ¥1,977 (Tax Included)

PEANUTS Collaboration Hojicha Can: ¥1,836 (Tax Included)

PEANUTS Collaboration Genmaicha: ¥1,944 (Tax Included)

The Sencha is made using single-origin blend Uji Midori from Kyoto, while the Hojicha is made with stems shallowly roasted in far-infrared to bring out a dazzling fragrance. The Genmaicha blend uses single-origin Saemidori and brown rice.

Whether you're relaxing with a cup of tea or enjoying a toast with somebody precious, why not invite Snoopy to join your teatime?

。