Shonai Hotel Suiden Terrasse Reopens With New Sauna Area
Shonai Hotel Suiden Terrasse reopened on April 29 after refurbishments to install a new sauna. The hotel, located in Yamagata Prefecture, is known for being situated atop rice paddies. Along with the sauna, it has also introduced a new spa program and healthy new menu made using organic vegetables grown by the hotel company itself.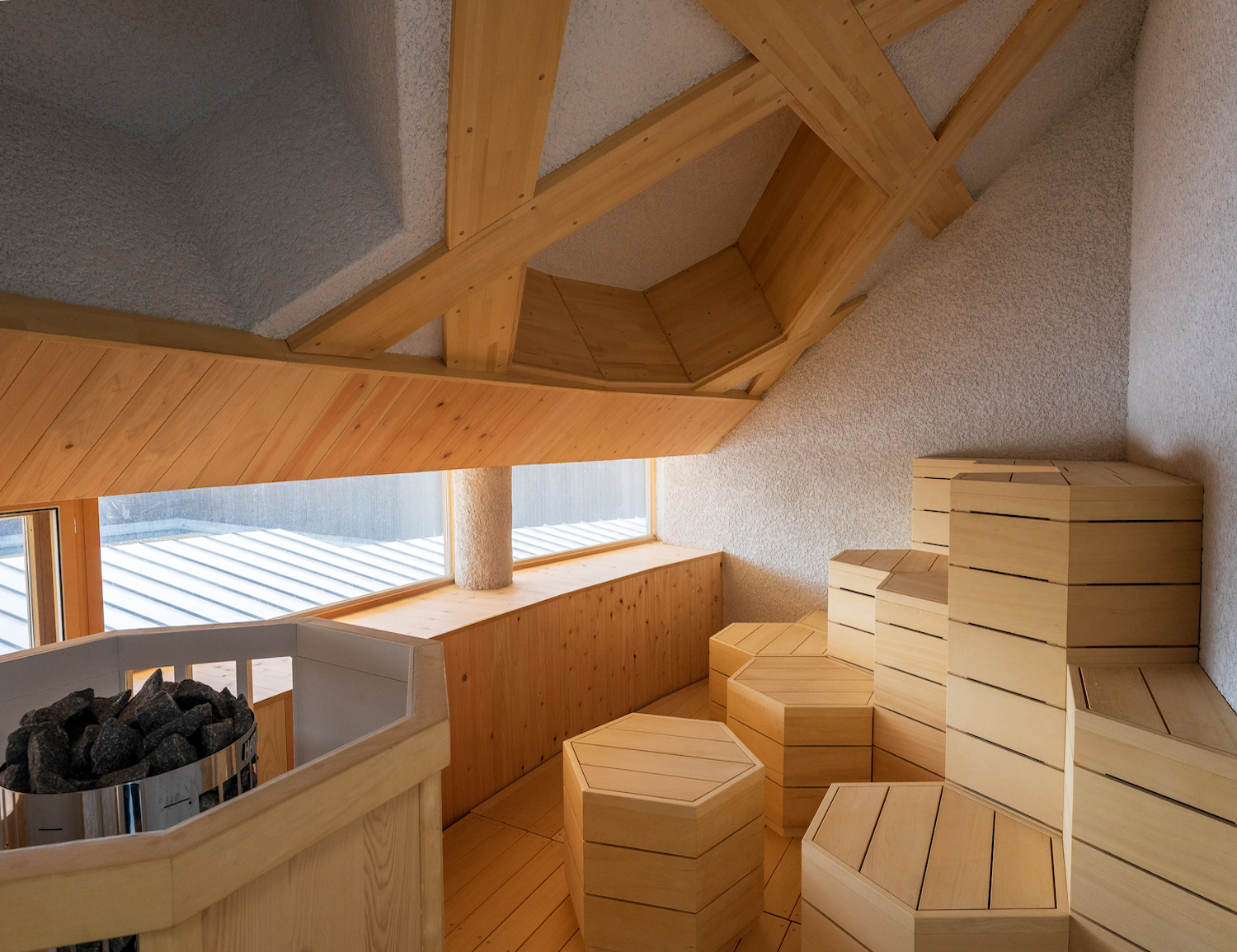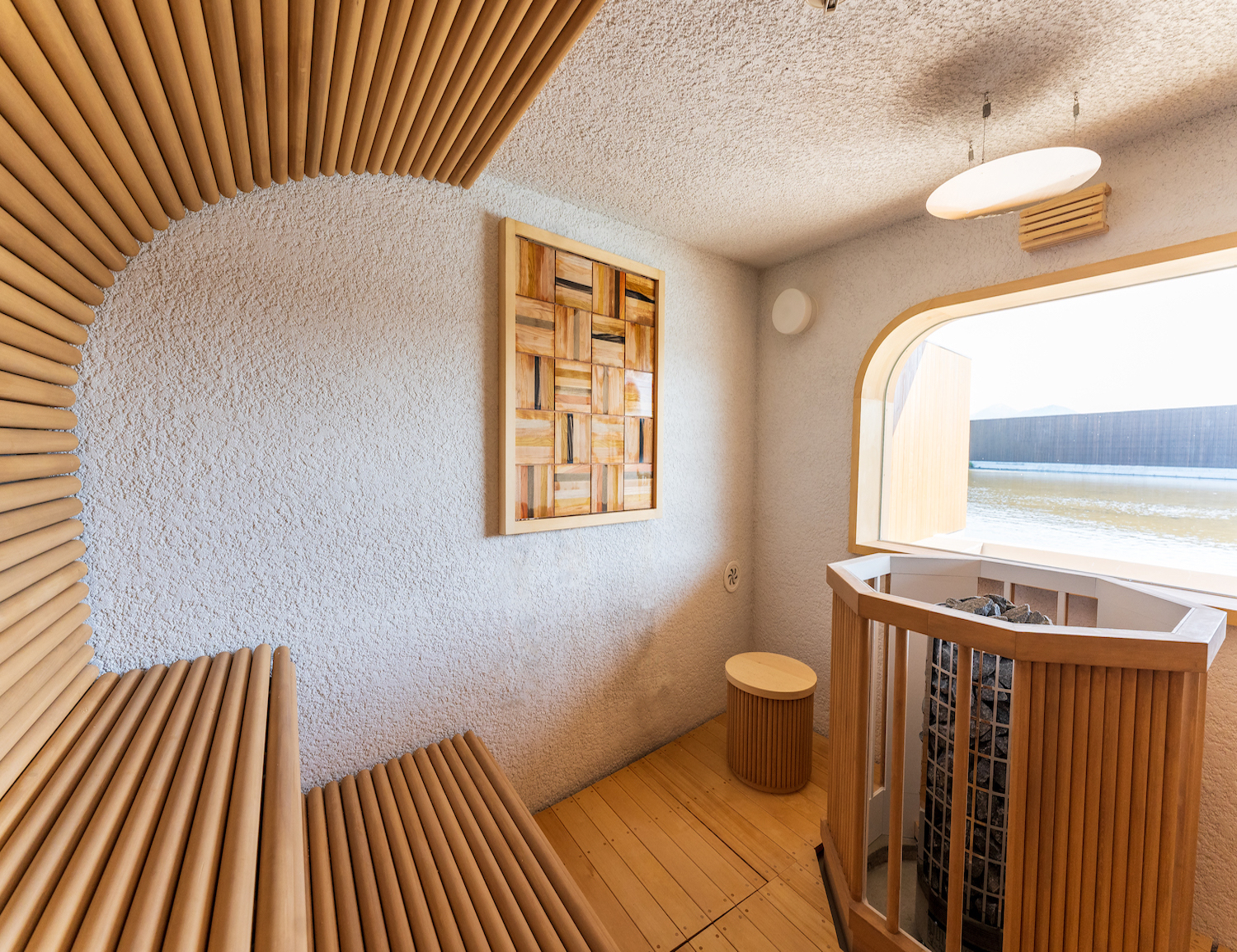 An authentic Finnish-style sauna
The sauna is based on the Finnish-style löyly sauna, fully equipped with an authentic kiuas sauna stove inside which sauna stones are placed to heat up the room. Hinoki scented water is also used in the sauna.
The Sauna Features

Men's Sauna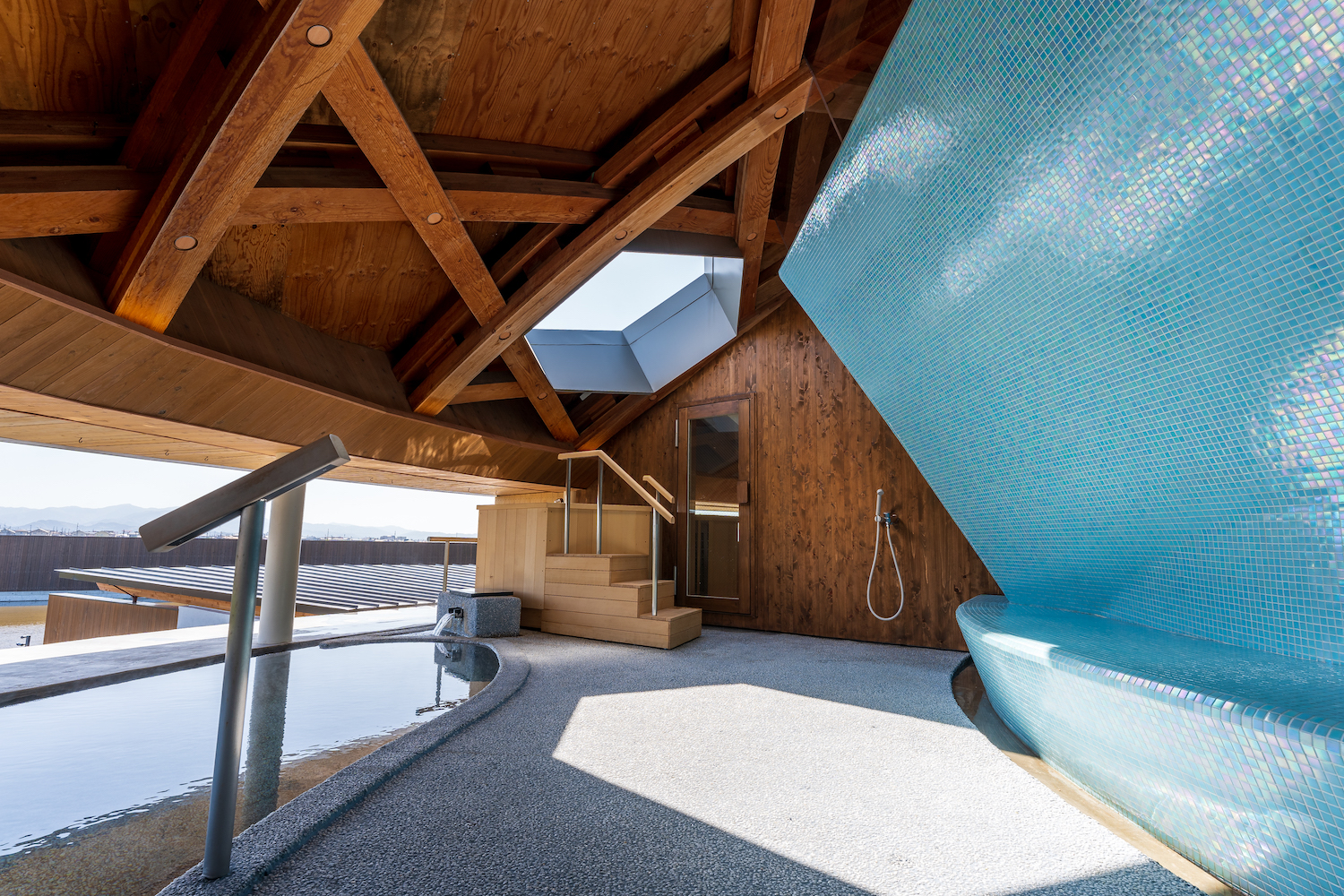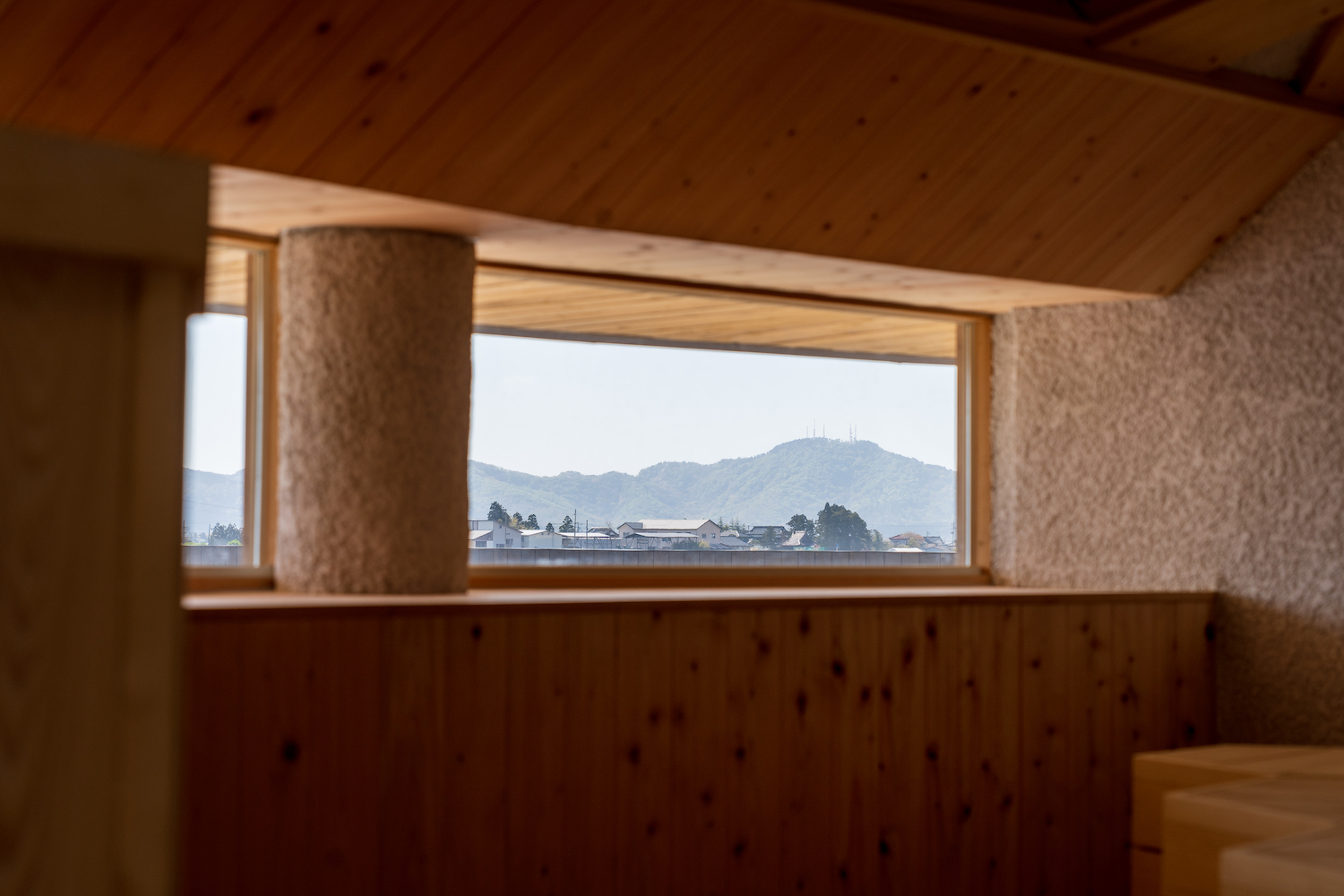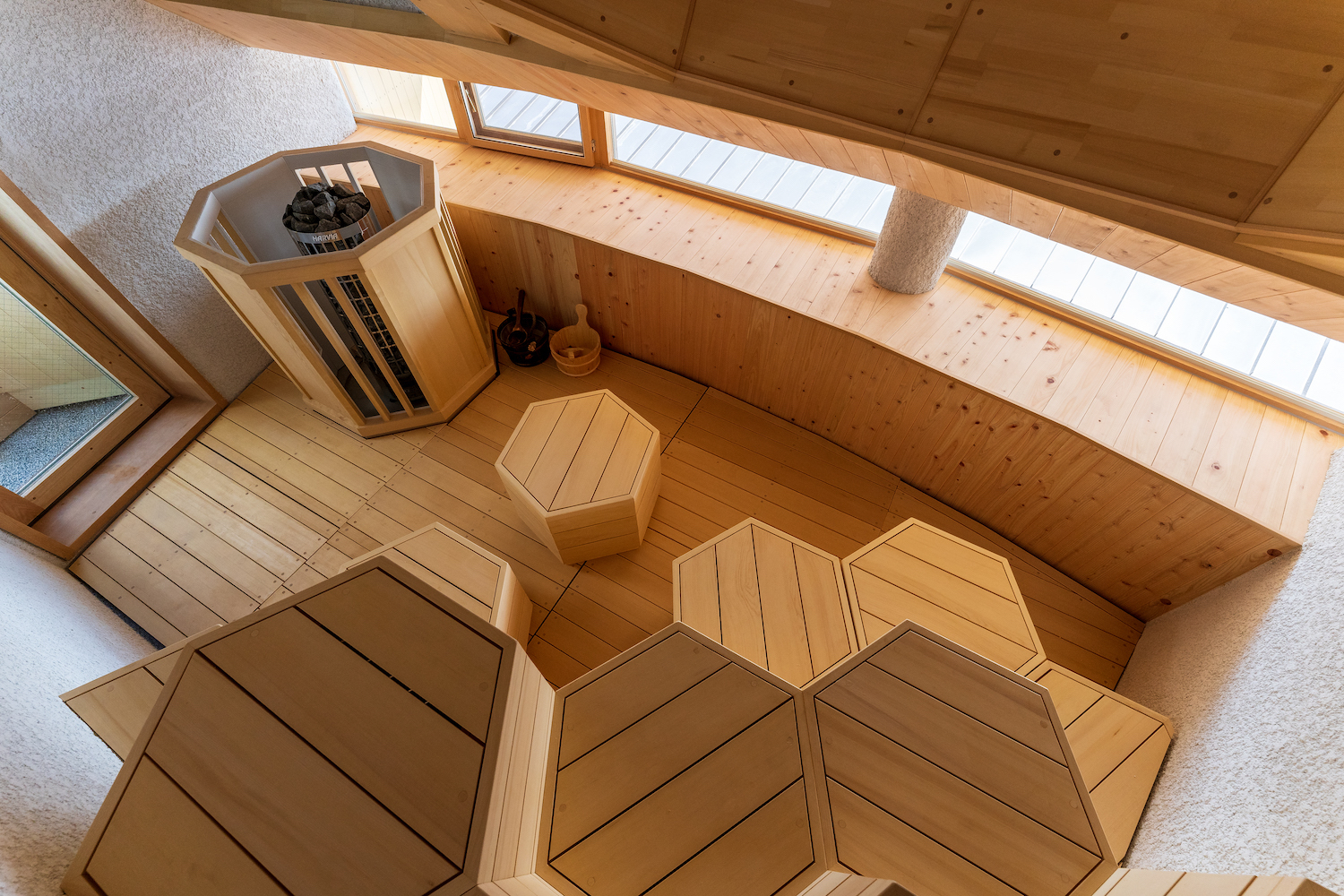 The male sauna features hexagonal designs on the seats, ceiling windows, and bath. The seats can be moved around freely so guests can decide how high they wish to sit for optimal heat customisation. The sauna rooms overlook the rice paddies outside, and there's open-air baths outdoors too so guests can feel at one with nature.
Women's Sauna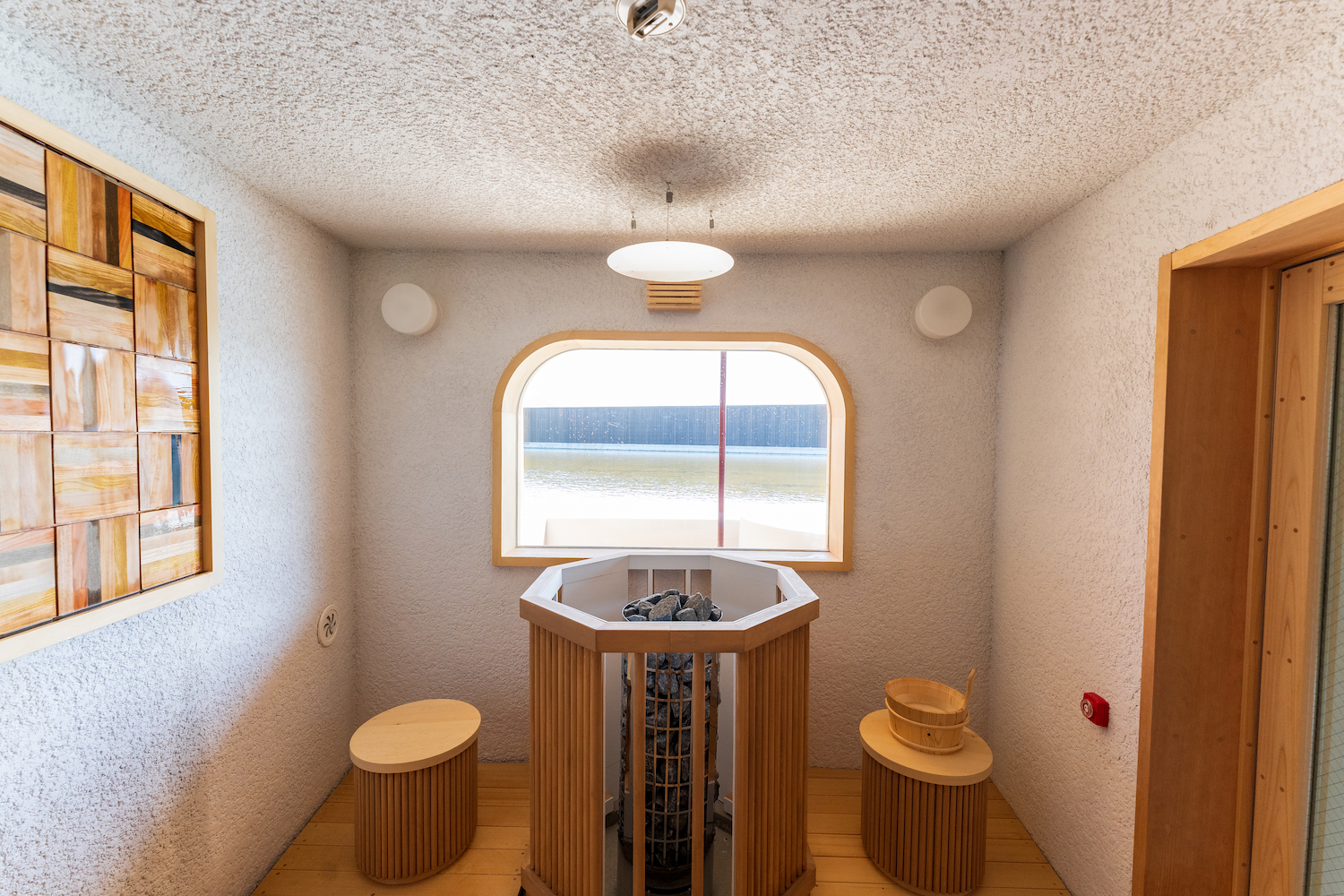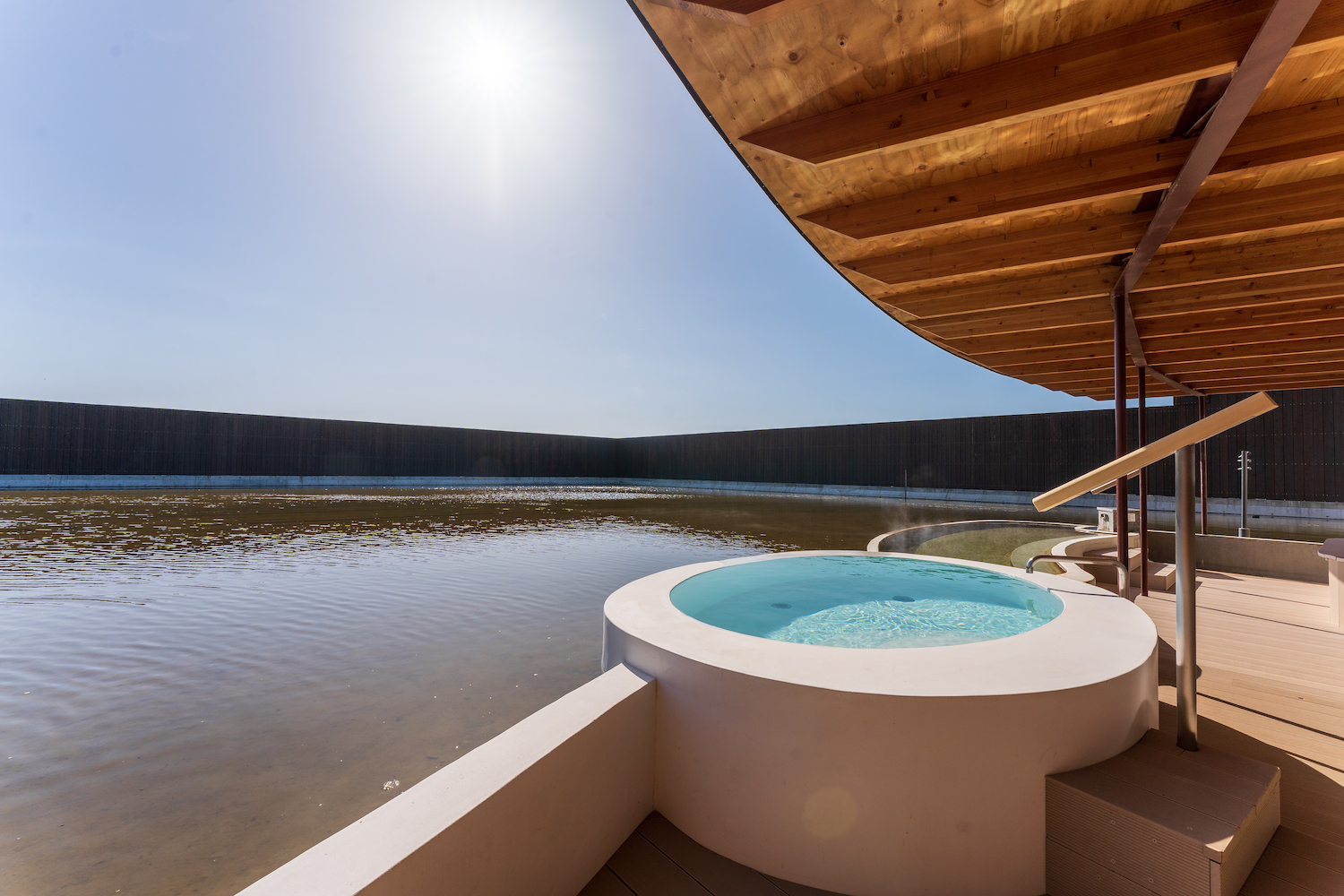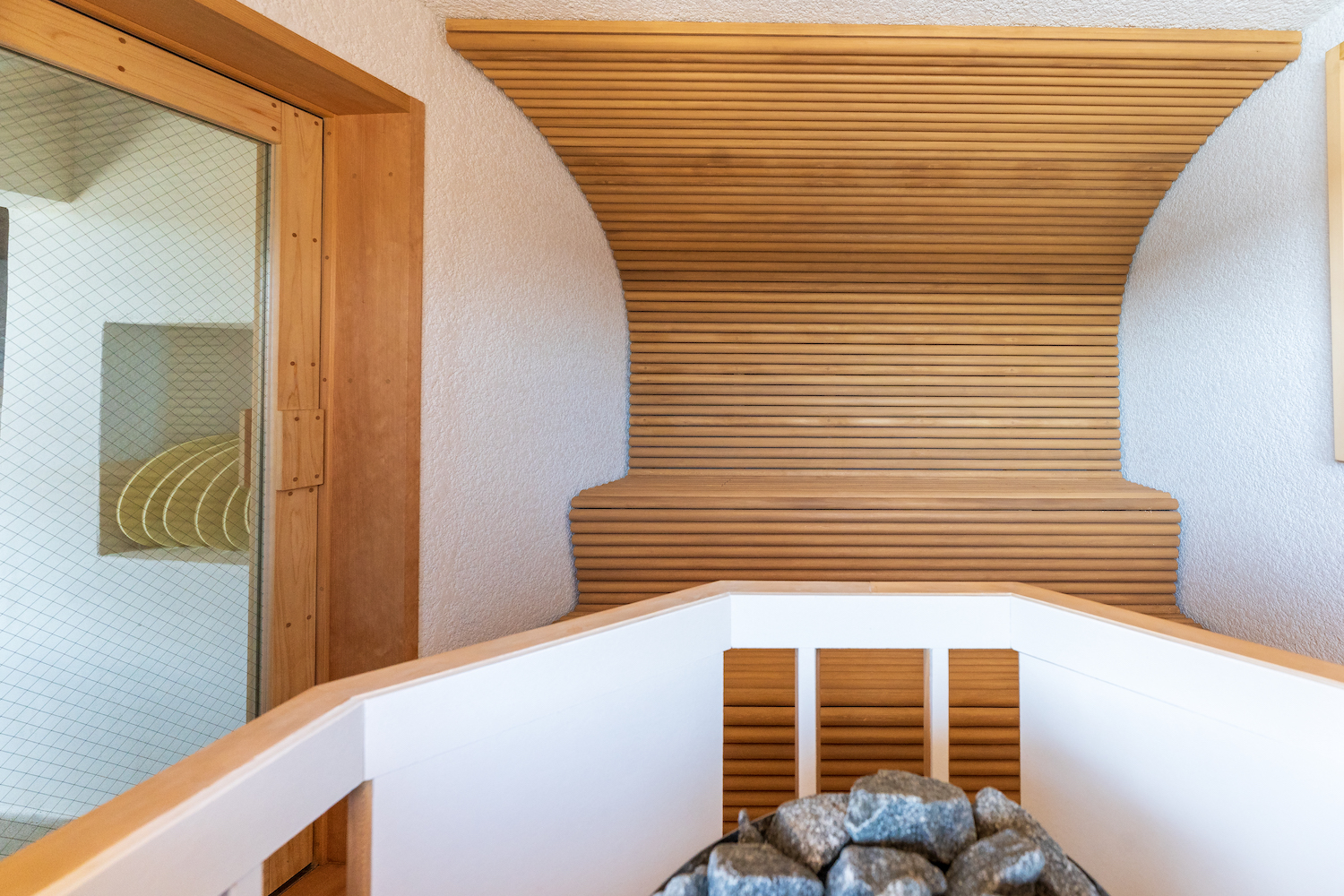 The women's sauna is also a löyly type but uses raised benches instead of chairs. After sweating it out, guests can head to one of the outdoor baths and enjoy the view and sky.
There's also a bar where guests can order local beers, sake, and wine, as well as fruit juice and ice cream. While relaxing, they can pick out from one of the 1,000 books available.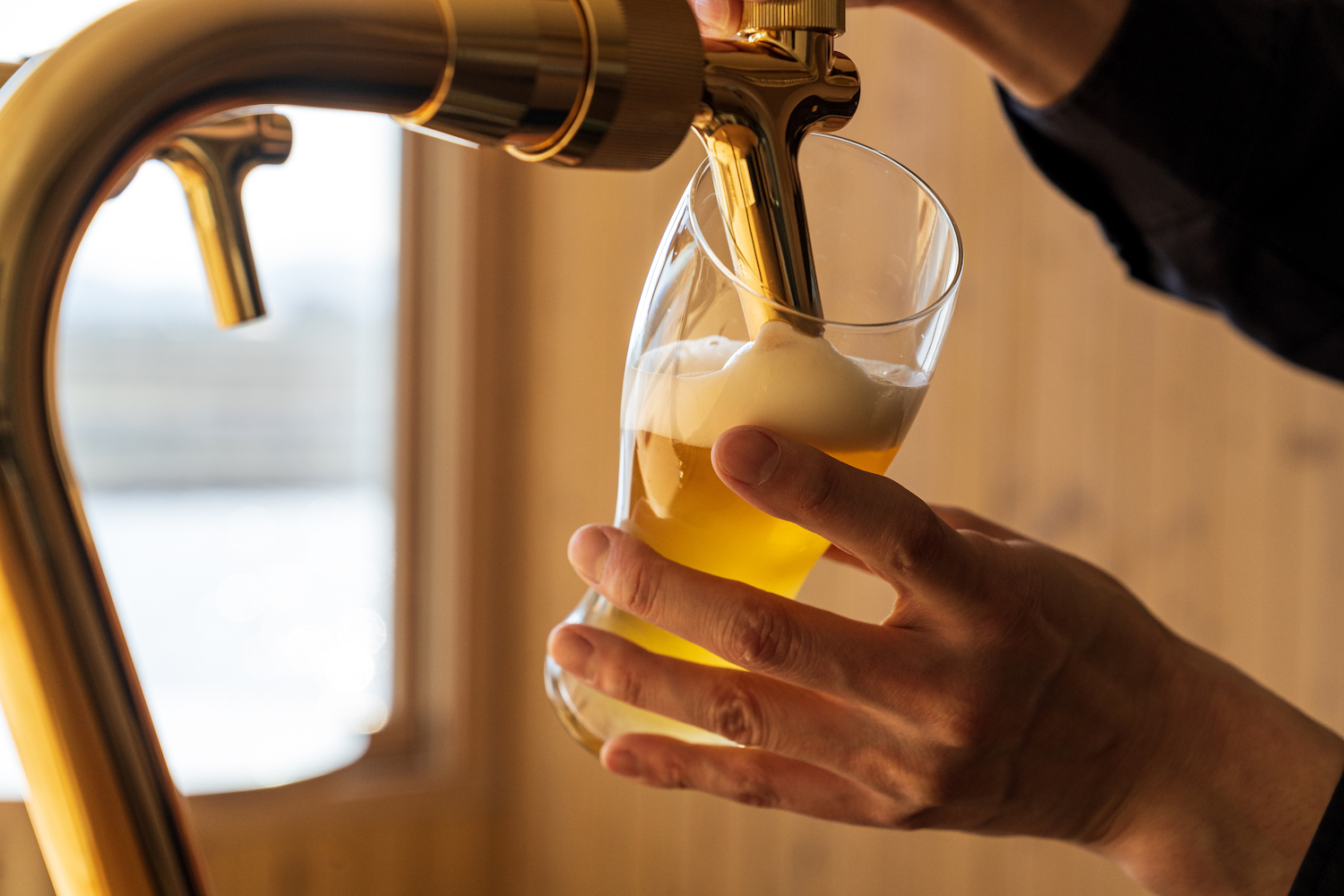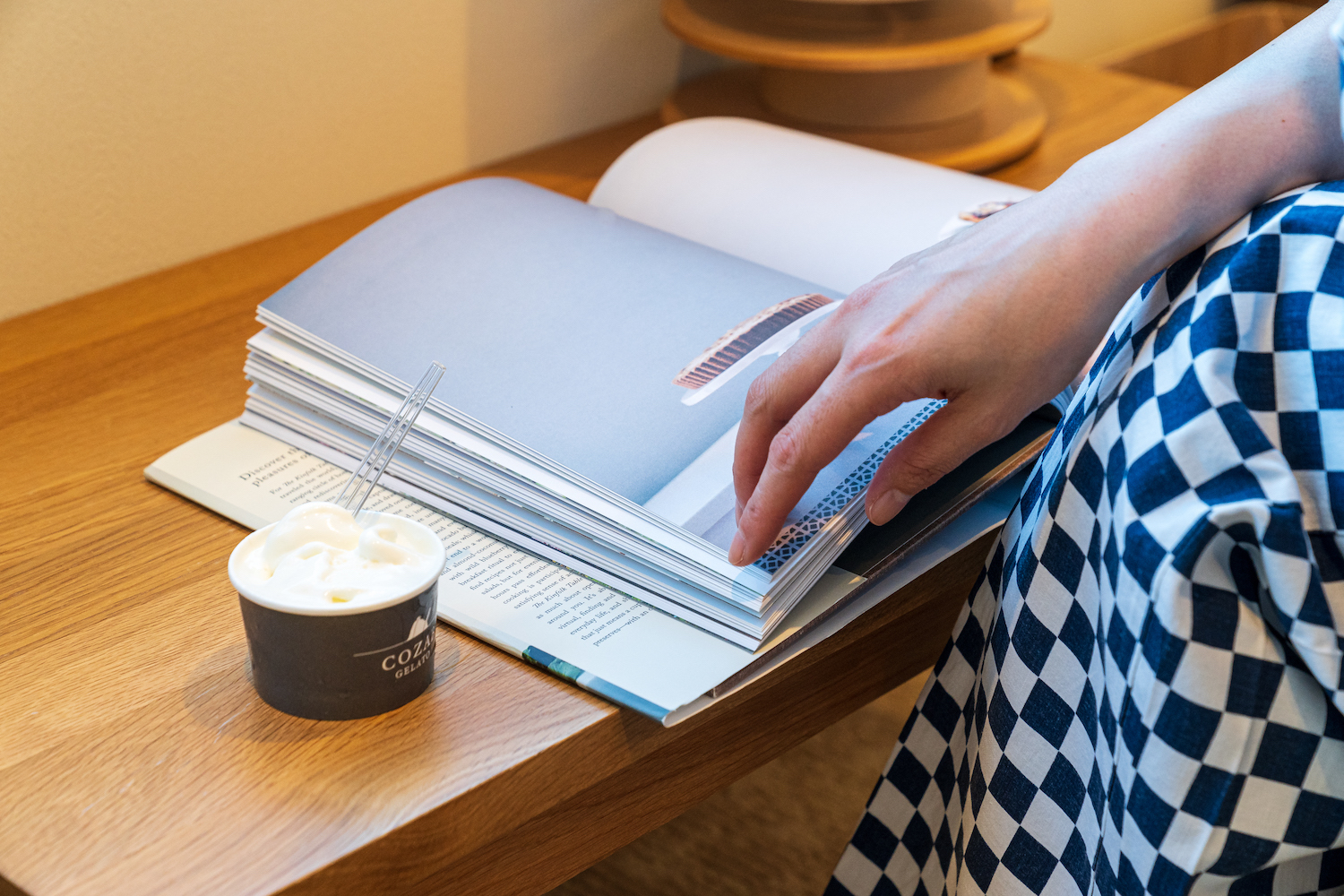 As well as fitness and massage services, morning yoga will begin this June. The MOON TERRASSE restaurant is also introducing new healthy dishes and drinks made with organic local ingredients.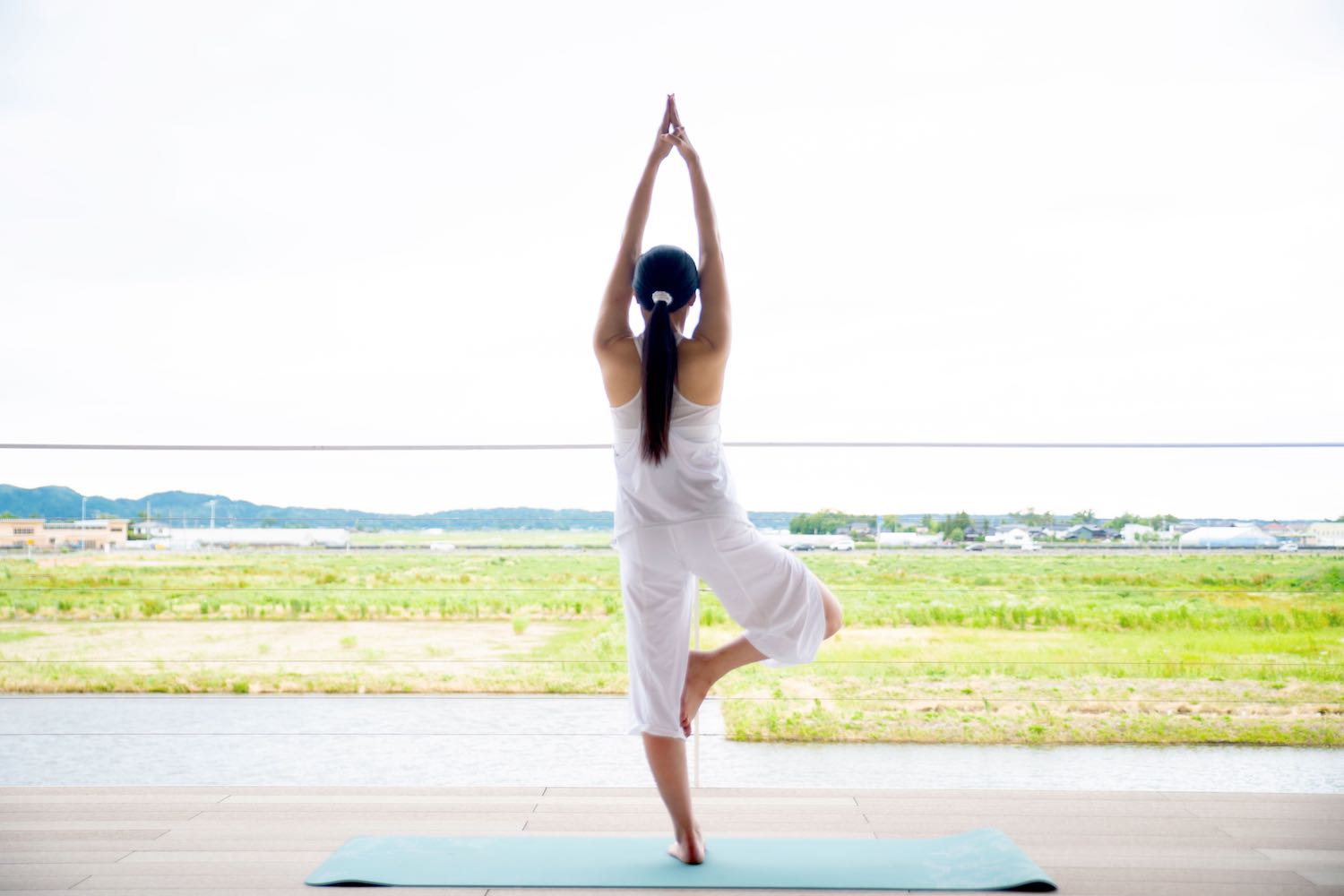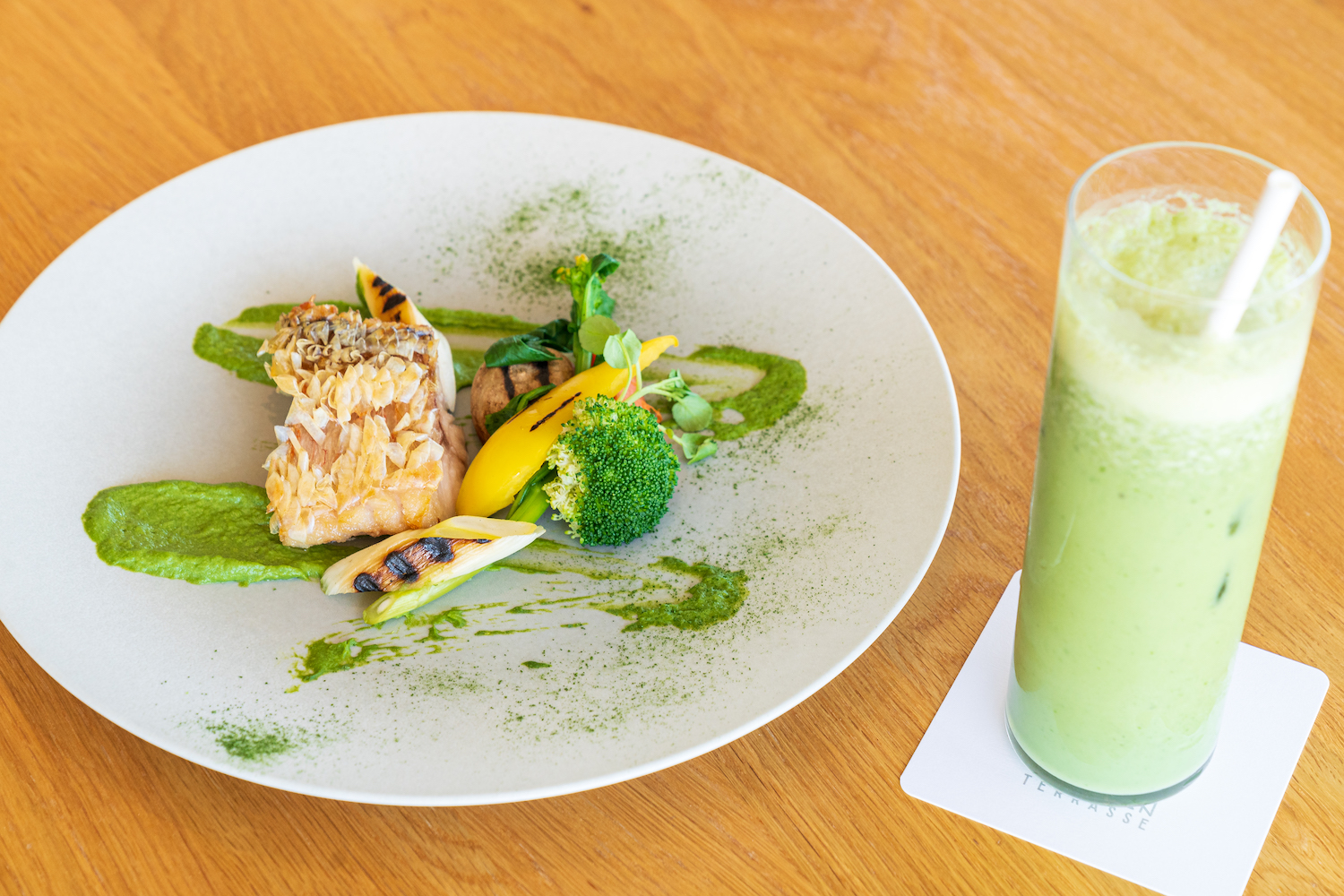 RELATED ENTRIES
Meiji Marble Chocolate Themed Hotel Room Opens at The Royal Park Hotel Kyoto Umekoji

In celebration of Meiji's popular Marble chocolate, The Royal Park Hotel Kyoto Umekoji is collaborating with the confectionery brand to offer a Marble themed hotel room for guests. The room opened on July 27.

Showa retro-style posters, telephone, and other decorations

Meiji's colourful Marble chocolate was first released in 1961. It turned 60-years-old in February of this year, meaning it has continued to be enjoyed by three generations. Grandparents have passed them onto mothers and fathers, and them to their own children. Now the whole family can celebrate the chocolate in a themed hotel room in Kyoto.


Named the Marble Room, the hotel room is decorated in seven colours just like the chocolates themselves. This includes seven individual pillows on the sofa, balloons, wall decorations, and more. There's even a crane game inside the room where guests can obtain some chocolates for free.

Also inside the room are Showa retro-style posters and a telephone, and guests can watch all of the old Marble commercials on the television which have aired these past 60 years. Guests also receive a free smartphone ring, eco bag, pouch, and other little freebies as part of the plan.

Miyako Hotel Kyoto Hachijo Launches Sento Bath Hotel Plan

Miyako Hotel Kyoto Hachijo launched a new hotel plan on July 26 which includes a ticket to bathhouses around Kyoto, a bath amenity set, a hotel-original sento t-shirt, and more.

Available until March 30, 2022, the plan was conceived as a way for tourists to enjoy the ordinary, everyday Kyoto in a way that's different from people's usual tourist and sightseeing experiences in the city. Kyoto continues to be a hub for sento bath culture.

Hinode-yu, a bathhouse in Minami Ward, Kyoto

Hotel-original tees are available as part of the plan

Receive a bath amenity set and bathhouse ticket

Kyoto is home to around 100 unique sento bathhouses where people can enjoy a relaxing soak in a giant public bath while chatting. It's a huge part of Kyoto culture and one which is seeing a steady increase in popularity again with the younger generation.

If you're staying in Kyoto this year or planning a trip early next year, don't miss out on this limited-time hotel plan.

New Cocktail Menu Gets Served at KYOTO YURA HOTEL MGallery

KYOTO YURA HOTEL MGallery is now serving a new cocktail and afternoon tea menu in collaboration with Perrier Promotion.

KYOTO YURA HOTEL MGallery is a hotel group based in Paris, France which operates over 5,000 hotels and resorts in 110 countries worldwide. Together with the mineral water brand Perrier, the two companies launched the 'Perrier Promotion with KYOTO YURA HOTEL MGallery' on July 21 which includes a special cocktail and afternoon tea line-up being served up at Lounge & Bar 1867.

Perrier x MURAKAMI Tote Bag

Perrier Cacao & Orange Asian Fizz Mocktail | ¥1,300 (Tax Included)

Perrier Umami & Ryokucha Green Tea Sour Mocktail | ¥1,300 (Tax Included)

Perrier Citrus Iced Tea Mocktail | ¥1,300 (Tax Included)

Perrier Evening Iced Coffee Cocktail | ¥1,700 (Tax Included)

Perrier Flower & Fruit Afternoon Cocktail | ¥1,700 (Tax Included)

Perrier Promotion with KYOTO YURA HOTEL MGallery is an all-day special event taking place at the hotel. At both the hotel entrance, as well as Lounge & Bar 1867, an artwork collaboration by Takashi Murakami and Perrier is being displayed for the duration of the event, adding a colourful vibe to the spaces.

The drinks line-up includes three mocktails which are available on the free flow drinks menu when ordering the hotel's popular afternoon tea. The afternoon tea set was conceived by pastry chef Jennie Chiu and is packed full of summer fruits like passion fruit and mango.

During the collaboration, the first 200 people to order either the afternoon tea set or high tea set will also receive a free novelty tote bag featuring the Takashi Murakami's characters Kaikai and Kiki.

In the evenings, the Perrier Pop-Up Bar are serving two alcoholic cocktails alongside the mocktails.

ESTINATE HOTEL Celebrates Okinawa Branch's 6th Anniversary With Ryu Ambe Collaboration

The lifestyle hotel chain ESTINATE HOTEL's Okinawa Naha branch will turn 6-years-old on August 7, and to celebrate, it will hold a special event in collaboration with the character designer Ryu Ambe from August 6-15. This will be Ambe's first-ever exhibition where his work will be sold in-person.

Pottery in Shujiro Castle Park

"Shima Map" design by Ryu Ambe to be used on posters and t-shirts

ESTINATE HOTEL has welcomed people from all regions of Japan over the years. It has held many events including one two years ago with the theme "Meet Local" and another last year themed on "Feel Global." This year, the catchphrase is "Hello New World" which hopes to encourage people to discover new things by meeting the locals of Okinawa through the medium of art.


Ryu Ambe has a unique designer reminiscent of American comics. For this event, he has created the "Shima Map" which will be used on a variety of merchandise such as 30 limited-edition silk screen posters. There are also pottery pieces inspired by the sea life found in Okinawa's oceans, amongst other art works.

Information

Ryu Ambe Exhibition "HELLO NEW WORLD" at ESTINATE HOTEL
Running: August 6, 2021 – August 15, 2021 @ 11:00-17:00

Ryu Ambe's Stay Duration: August 7, 2021 – August 8, 2021

Location: ESTINATE HOTEL Okinawa Floor 1F Lounge

Address: 23-11 Matsuyama, Naha, Okinawa, 900-0032, Japan

Official Instagram: https://www.instagram.com/estinate_hotel/

Official Website: https://estinate.com/


MIMARU SUITES Kyoto Shijo rolled out its MIMARU Tool Shop on July 22. The new hotel service was made in collaboration with the 109-year-old Kawataki Kyoto Kitchen Shop and Kura Daily Store and gives guests the chance to rent out items from these shops to use in their hotel rooms, everything from cooking and sake sets to tea sets, kitchenware, and more. Best of all, the service is completely free.

The service aims to let guests feel like they're actually living at their hotel room, adding an extra layer of relaxation and comfort.

A selection of antique and modern rentable items can be found in the top floor room of the hotel where they are displayed like a shop. Guests are invited to pick and choose as they please. There are also shops, supermarkets, cafes, and more right next to the hotel so you can pick up bites to eat and drink to enjoy in your room like cooking ingredients, sushi, and so on.

MOSHI MOSHI ROOMS opens Harajuku-Kawaii themed accommodation called 'HARAJUKU'

Rokuyon, which manages unique accommodations mainly in Shibuya, has opened the fourth room of "MOSHI MOSHI ROOMS", the home-sharing facility, named "HARAJUKU" produced by ASOBISYSTEM, which introduces HARAJUKU culture to the world.

"MOSHI MOSHI ROOMS offers accommodation services in concept rooms full of originality not found in existing hotels or home-sharing facilities. The concept of the fourth room is "HARAJUKU". The room is filled with "KAWAII", one of the representative cultures of Japan. Once you step into the room through the archway, you will feel as if you have wandered into the world of a picture book. The room is inspired by Harajuku, a place where you can enjoy the extraordinary feeling of being lost in a different dimension.

With the opening of the room HARAJUKU, an entire building has been transformed into MOSHI MOSHI ROOMS, with four rooms available for booking via Airbnb. The rooms can be used for a variety of purposes, such as accommodation for domestic and foreign tourists, staycations (casual holiday at home or nearby), girls' parties, and birthday parties with your friends. In order to ensure the safety of the guests, they carry out temperature checks, use alcohol sanitisers and disinfect the rooms with alcohol when cleaning.

The archway at the entrance is a gateway to a world of wonder. From the moment you step into the house, the excitement is bound to build.

The living room is decorated with colourful objects and animals reminiscent of a museum. Why not find your favourite objects and animals, and enjoy taking photos with them?

The bedroom has a queen-size bed, together with a sofa bed and an air bed in the living room, which can accommodate up to four people.

The shower room is equipped with amenities such as shampoo, conditioner, and body soap. The separated washbasins and Toto Washlet toilets have been installed.

The kitchen is fully equipped with a microwave, fridge, and other daily necessities. Colourful KAWAII tablewares are lined up so that you can enjoy the world of the room more.

MOSHI MOSHI ROOMS

The first room  'SAKURA'

The room has received high praise from both domestic and international travelers.

A monument of cherry blossoms, the symbol of Japan, fills the ceiling of the bedroom, creating a gorgeous and unique space.

The second room 'ORIGAMI'

This room is themed on origami, one of the symbols of Japanese culture.

The living room is furnished with benches and stools inspired by a teahouse. Looking up at the ceiling, a number of Japanese umbrellas decorate the space.

The third room 'DOSUKOI'

The room combined the traditional Japanese culture of sento, a Japanese public bathhouse and sumo, Japanese wrestling.

The sumo wrestler's hands and the large bath inspired by a sento attract the viewer's attention. The painted pictures on the walls are the work of Kiyoto Maruyama, one of only three sento painters in Japan.

The rooftop

The rooftop offers an expansive space with a panoramic view of Harajuku. It can also be used for events such as tent saunas and BBQs. Only the rooftop can be rented out as a rental space.

Why don't you create your own story at MOSHI MOSHI ROOMS, a place full of unique concepts that you can only experience here?

Satoyama Jujo THE HOUSE IZUMI: Rent Out a Renovated Japanese House in Niigata

Japanese design company Jiyujin launched its new Satoyama Jujo THE HOUSE chain of accommodations this month which offer a single group of guests a one-night stay in an entire house.

The first branch to open is IZUMI which features a fully-renovated Japanese-style house located in the city of Uonuma in Niigata. A gorgeous outlook is offered from the house with an unbroken view of lush forests, rice fields, and Mt. Makihata, which is listed as one of the '100 Famous Japanese Mountains.'

A breathtaking view awaits guests from the open-air bath

The spacious living room

Fully renovated from a 150-year-old private house, the building is supported by beautiful wooden beams and columns, and in the middle the oe, a sunken hearth. This, along with the beams and sashigamoi joints, are made from keyaki Japanese zelkova which is an elm-like tree. This species of tree is rare even in a tree-covered region such as Uonuma. The lumber used for this house was cut, preserved, and dried out for a number of decades before being processed into building material for the house. The heart in the middle of the living room is reminiscent of a time when large families would gather around one and serves to recreate that lifestyle.

The Nishiyama region is known for is production of delicious rice. IZUMI in fact looks out over Kabanosawa, a special and important place of rice production in Nishiyama. This vantage point also gives guests an opportunity to appreciate the hot and cold temperatures of the daytime and evening, the rivers, the shape of the land, and the earth the city sits on. The drastic change in temperatures in the day and night are especially noteworthy as this, along with the basin between the mountains, gives rise to a sea of clouds.

IZUMI sits on a hill that overlooks the rice paddies, making it a perfect location for spotting the sea of clouds. Minamiuonuma's sea of clouds has over a 70% chances of appearing in the autumn and spring seasons.

The number one reason why Japan's old, long-standing, and precious private houses are demolished is due to the cold getting in and it being too dark inside. Even those who want to see them preserved for tradition, including those who live in them already, would rather live in a modern home. That's why Jiyujin has begun a renovation project instead of a demolition one. By refurbishing the houses, the ancient framework can be fixed up and preserved while a range of contemporary amenities are incorporate to fit with modern lifestyles. The Satoyama Jujo accommodations are built so they can be used for over 100 years.

For dinner, there are three options for guests. The first is a dinner at SANABURI which earned itself a Michelin star in Michelin Guide Niigata 2020. The second is a meal at a restaurant that earned the status of Bib Gourmand in the same guide. The third is to prepare your own meal in the house. There are plenty of shops around the station nearby where you can buy local ingredients.

After a delicious meal, guests can take a soak in the open-air tub and enjoy gazing out across the fields and the beautiful mountains which stand almost 2,000 meters high.

Information

Satoyama Jujo THE HOUSE IZUMI

Japanese Name: 里山十帖 THE HOUSE IZUMI

Address: 671-1, Amanosawa, Minamiuonuma, Niigata, 〒949-6433, Japan

Official Website: Opening early July 2021

Access: 7-minutes by car from Jōetsu International Skiing Ground Station (JR Joetsu Line) / 16-minutes by car from Shiozawa-Ishiuchi IC

Pretty Boy Detective Club Anime Themed Hotel Room to Open at Sunshine City Prince Hotel in Ikebukuro

Sunshine City Prince Hotel is set to open a room themed on the anime adaptation of Nisio Isin's mystery light novel series Pretty Boy Detective Club. The room will be available for a limited time between July 22 and September 19.

Concept Room

Hotel Keyring

Pin

Card Key (*Can be taken home)

Located in Ikebukuro, the heart of Tokyo's subculture, Sunshine City Prince Hotel has collaborated with numerous anime and manga series. There will be just one exclusive Pretty Boy Detective Club theme available where the five main guys are waiting to greet guests in the form of decorations. It's a fantasy-come-true for fans of the series.

Information

Sunshine City Prince Hotel x Pretty Boy Detective Club

Running: July 22, 2021 – September 19, 2021

Bookings: From July 9, 2021

Price: ¥18,000 per guest for 2 people / ¥24,000 for 1 person
TEL: 03‐3988‐1111

Details: https://www.princehotels.co.jp/sunshine/plan/contents/bishonen-tanteidan/

Official Website: https://www.princehotels.co.jp/

*Price includes service charge, tax, and comes with two pieces of merchandise

*Price changes depending on the number of people staying (1 or 2)

*The information in this article is correct as of July 5, 2021


Shiraraso Grand Hotel Announces Traditional Japanese Candle-Making Experience For Guests

As part of the global Sustainable Development Goals (SDGs) project, Shiraraso Grand Hotel is offering a new experience for guests to create shades for warosoku traditional Japanese candles from July 7 to August 31.

Warosoku aren't made with ordinary wax, they're produced from plant-derived Japanese wax. Wakayama was once the biggest producer of this wax. Guests at the hotel will ghet to make their own shade decorations for these candles using decorations like the sea, food, hot springs, and panda.

The hotel is also offering free panda bookmarks to those who post a photo of their shade on Instagram, Twitter, or Instagram with the Japanese hashtag #白良荘グランドホテル.

Kyoto Tower Hotel Celebrates 110th Anniversary of Randen Tramway Service With Special Hotel Plan

In commemoration of the Randen tramway service's 110th anniversary, Kyoto Tower Hotel introduced an exclusive new one-night hotel plan on Friday at one of its rooms. The Kyoto Tower Hotel Train Room is a themed guest room experience and celebration of Randen's long history.

A look at the Randen Kitano Line

Randen tram photos decorate the guest room

Old train tickets and platform signs

A tatami area, train handles, and train priority seat

Randen Train Room souvenirs for guests

Randen was founded in 1910 and remains the only tramline in Kyoto. It's part of Keifuku Electric Railroad and runs from Shijo-Omiya to Arashiyama. The Randen Train Room is a trainspotter and train otaku's paradise. Inside, guests will find historical photos of trams that have run as part of the Randen service, as well as other train-related motifs like a Randen priority seat chair, carriage handles, and more. There's also a little tatami seating area which is perfect for sitting on and planning your next day's trip, putting out souvenirs you've picked up, or just relaxing. Guests can also watch a DVD on the TV that looks at footage of Randen trains, and even listen to a CD that has train sounds on it.

Information

Randen Train Room

Location: Kyoto Tower Hotel (Room 820)

Running: June 11, 2021 – June 10, 2022

Ace Hotel Kyoto Commemorates 1st Anniversary With Yu Nagaba Exhibition

Ace Hotel Kyoto marked its 1st anniversary on June 11 since opening. In celebration of hitting the milestone, the hotel is collaborating with Japanese artist Yu Nagaba by displaying his work at its gallery until June 30. The works displayed are of the sights and people that Nagaba saw and penned in a memo pad while staying at Ace Hotel Kyoto. All of the illustrations were made for this exhibition and so they are being exhibited for the first time. One of the pieces is also being sold at stickers in the hotel's shop.

Yu Nagaba's work

Yu Nagaba | Comment

"After I heard whispers that Ace Hotel was setting up in Kyoto, I hoped I could do something, so I was happy to take part in this project, but I also spent my time wondering what I could draw, and no ideas came to mind. After pondering I went to find inspiration by deciding to stay at Ace Hotel. I drew what came to mind during my time there as I walked the streets of Kyoto and spent time at the hotel. I drew a total of 49 illustrations in my memo pad. I painted six of my favourites on canvas. I hope people can get a feel for my experiences of Kyoto in these pieces."

Information

Ace Hotel Kyoto x Yu Nagaba

Running: June 7, 2021 – June 30, 2021

Location: Ace Hotel Kyoto (Floor 1F Gallery Space)

Entry: Free
Official Website: https://www.acehotel.com/kyoto/

Experience a Bath Like Never Before in a Luxurious Private Space at Yadoru KYOTO HANARE

Yadoru KYOTO HANARE is a hotel in Kyoto that blends seamlessly into the town, offering a stay experience that's like living there. For guests who use their baths, they have introduced a new selection of five ingredients to be put into the bath like bath salts. Each comes with a different effect, enhancing your bathing experience beyond getting clean.

Yadoru KYOTO HANARE is continuing to enforce precautions against the spread of COVID-19 so guests can enjoy getting away from home to relax and unwind safely. The hotel has and continues to enjoy many guests during this time who are seeking out some healing. One of the biggest selling points for guests is the hotel's bathing experience. With that in mind, they have set up the Yadoru YUAMI service which allows guests to try a variety of bathing products made by local Kyoto businesses.

'Yuami' is an old Japanese expression for getting in the bath. The word 'yadoru' in the hotel's name is also an old phrase meaning 'to stay at a lodging on your travels.' Yadoru KYOTO HANARE is wanting to have its site feel even more like a traditional Kyoto townhouse for guests to experience, so they are now using the word 'YUAMI' as part of their services.

With Yadoru YUAMI, guests can pick from five different bath products, each wrapped in pouches. Each offers a completely different bathing experience with different benefits and fragrances.

1. Sake Lees

Sake lees from Kyoto's long-standing and historical sake brewery Sasaki Shuzou. Massage the lees in the bathtub while they are still in the pouch to create a milky white water that fills the bathroom with the fragrant smell of sake lees. The ingredients in the lees have a moisturising effect, improve blood circulation, and leave skin looking beautiful.

2. Gyokuro Green Tea

The Kyoto Distillery stands as Japan's first establishment specialising in gin. One of their gins is called Ki no Bi, a Japanese craft gin. Its smell and taste is the result of a combination of 11 kinds of botanical products including gyokuro green tea, junpier berry, and hinoki cypress, all of which are featured individually on this list. Gyokuro is a type of high-grade Japanese green tea and contains theanine which stimulates relaxing, making it perfect for unwinding after a long day.

3. Juniper Berry

Juniper berry is an indispensable ingredient in making craft gin. This bathing product is made with the type that's actually used in making Ki no Bi craft gin. When submerged in the water, the air is filled with the woody, relaxing, and inviting scent of gin.

4. Hinoki Cypress

This bathing powder is also made with the same hinoki cypress used in Ki no Bi which, when put in the water, emits the smells of a forest. Hinoki cypress contains phytoncide which has a relaxation effect, calming the autonomic nervous system and blood pressure.

5. Matcha

Matcha is the quintessential flavour of Kyoto. Guests who check in at Yadoru KYOTO HANARE are offered a cup. They can also bathe in it with Yadoru YUAMI.

Information

Yadoru YUAMI

Release Date: June 1, 2021

Price: ¥1,000 (Before Tax)

Location: Yadoru KYOTO HANARE (Participating Branches: Washi no Yado/Kanade no Yado/Mizunoe no Yado/Roji no Yado)


Book by Telephone: 03-4510-8671
Book by E-mail: kyoto@yadoru.me

*Exclusive to Yadoru KYOTO HANARE guests