SK-II STUDIO Releases 'VS' Animated Anthology Featuring World Class Athletes
SK-II STUDIO, a film studio owned by the global skincare brand SK-II, has released a new animated anthology series entitled VS in collaboration with the world's top athletes. It features six stories with athletes taking on pressures that threaten to dictate their destiny in order to #CHANGEDESTINY.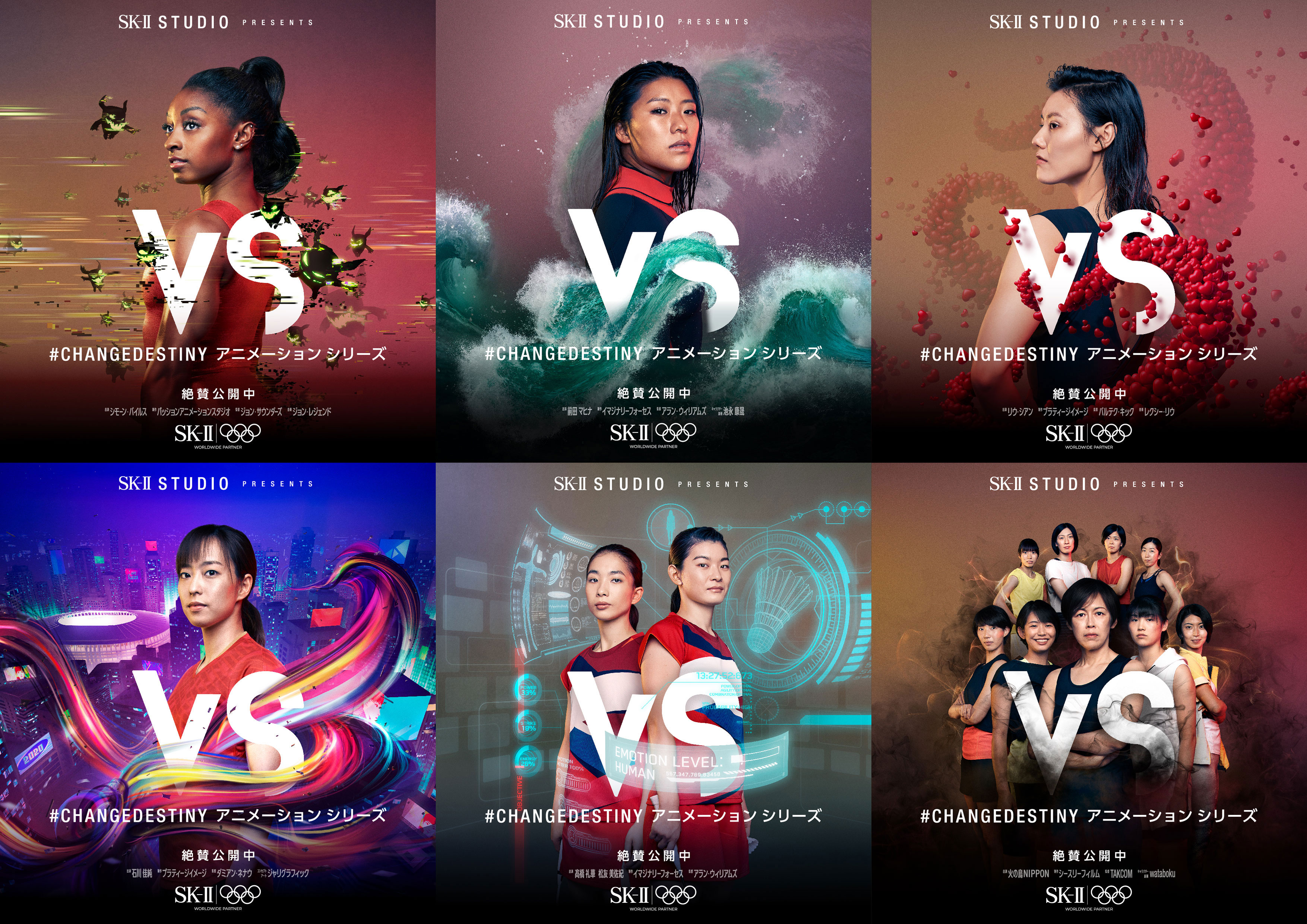 The Animations
'VS Trolls' featuring Simone Biles
'VS Obsession' featuring Liu Xiang
'VS Pressure' featuring Kasumi Ishikawa
'VS Rules' featuring Mahina Maeda
'VS Limitations' featuring Hinotori Nippon
'VS Machines' featuring Ayaka Takahashi and Misaki Matsutomo
SK-II STUDIO's VS series is a collection of six animated films based on the life experiences of six Olympic athletes: Simone Biles, the gymnast who has won the most medals worldwide; LiuXiang, a world-record swimmer; Ishikawa Kasumi, table tennis player and two-time Olympic medalist; Ayaka Takahashi and Misaki Matsutomo, badminton duo and Olympic gold medalists; Mahina Maeda, surfer; and Hinotori Nippon, the Japan women's national volleyball team. Each athlete explores what it means to take destiny in their own hands, overcoming societal expectations that dictate how perfect we should look and act.

Each short film explores a different societal pressure experience by women: online trolls, pressure from those around us, looks, rules on what's considered beautiful, limitations imposed by others, and seeking perfection like machines. Each is represented as a 'kaiju,' a form of giant monster seen in Japanese movies.


The VR series combines animation with live-action woven together through multiple genres like sci-fi, action, sports, and more. It invites award-winning studios on board including Imaginary Forces, Passion Pictures, Platige Image, and C3, as well as original music by guest artists John Legend, Lexie Liu, and others.


The animated series released worldwide on May 1, 2021 on SK-II's official  YouTube channel. A virtual premiere was also held on the brand's Twitter page, and an in-person premiere took place in Hainan, China with a pop-up store at Haitang Bay Duty Free Shopping Centre in Sanya in partnership with China Duty Free Group. It also saw the opening of SK-II City, a virtual city built by SK-II where visitors can watch all six films in a the virtual SK-II Cinema. It's also home to the SK-II Mall where users can buy products, and they can also enjoy a backstage tour of SK-II STUDIO.


SK-II STUDIO was established in March this year in an effort to further promote SK-II's #CHANGEDESTINY campaign to support female empowerment over social pressures. The VR series comes as part of this with a string of positive messages.
RELATED ENTRIES
SHISEIDO MEN Skincare Collaborates With FC Barcelona and Captain Tsubasa

SHISEIDO MEN has teamed up with FC Barcelona and the popular soccer manga series Captain Tsubasa to launch the BARÇA x SHISEIDO FC Manga Player Generator App to promote men's skincare. This app shows men how to properly care for their skin with a quick virtual skin checkup. Users can also BARÇA x SHISEIDO FC, a virtual football team led by SHISEIDO MEN ambassador Sergi Roberto as well as Tsubasa Ozora, the main character of Captain Tsubasa.

BARÇA x SHISEIDO FC Manga Player Generator

Available for a limited time now until June 29, users can take a quick skincare check-up. The collaboration aims to encourage men to learn about their own skincare concerns as well as promote the importance of skincare amongst men in a more fun and engaging way.

Haruka Ayase, Chloë Grace Moretz & Leah Dou Feature in SK-II Holiday Season Commercial

Global skincare brand SK-II launched three 'Street Art Limited Edition' versions of their Facial Treatment Essence on October 21, 2020 and released a commercial to promote them.

SK-II is a Japanese cosmetics brand which launched 40 years ago. Since its establishment, it has been enjoyed by women the world over for its range of high quality skin care products, including Pitera™, the brand's award-winning facial treatment essence. This same essence is being released once again in three limited-edition versions featuring street art packaging.

The promotional video for the item stars Japanese actress Haruka Ayase, American actress Chloë Grace Moretz, and Chinese singer-songwriter Leah Dou. The video was directed by Grammy-nominated director Andrew Thomas Huang who has directed music video for such talent as Bjork and Thomas Yorke. The three stars in the video each sing Fantasy by Mariah Carey in their respective languages: Japanese, English, and Chinese.

Facial Treatment Essence Street Art Limited Edition (Red/Yellow/White) | ¥22,000 Each (Before Tax)

The packaging designs for the limited-edition product feature a combination of the Japanese furoshiki wrapping cloth style and street art.

Modern Japonisme Beauty Products and Fragrances Arrive at SABON's Shinjuku Pop-Up Store

Japanese beauty company SABON opened its first ever pop-up shop on Wednesday on the first floor of Isetan Shinjuku in the makeup and promotion section. The shop will run until June 23, 2020.


Items on show include classic SABON products as well as their "TOKYO CELEBRATION" line-up, a collection of "modern Japonisme" items made in collaboration with millennial generation Japanese calligrapher MAMI. The fragrance of this special collection is "Clear Citrus Green" which combines notes of sparkling lemon, fresh verdure, transparent jasmine, and dreay orange blossom.

The collection is first on pre-sale at the Isetan Shinjuku pop-up store until June 23. After that, it will go on limited sales at SABON stores across Japan and SABON's online store on June 25.

Additionally, customers who spend over ¥8,000 (tax included) on the TOKYO CELEBRATION collection have the chance to receive the above-pictured fan. These are available while supplies last.

Information

Pop-Up Shop
Location: Isetan Shinjuku (1st Floor Makeup/Promotion)
Running: June 10, 2020 – June 23, 2020

Line-Up: SABON Products / TOKYO CELEBRATION Collection

Prices: ¥1,300-¥18,500 (Before Tax)

Official Website: https://www.sabon.co.jp

Cute Japanese Design Face Cream Tins Releasing by Sonotas and STEAMCREAM

Sonotas is teaming up with Japanese facial cream brand STEAMCREAM to release two new tins of moisturising cream in collaboration with Edo Kiriko cut glass brand Hanasho and hand towel brand Todoya Shouten. The tins will be released on June 10, 2020 in limited quantities.

Since STEAMCREAM was established, it has collaborated with many different artists and businesses, both old and new, Japanese and overseas, for them to create artwork for their makeup packaging.

Hanasho's Kiriko Mouyou hand towel design

Established 70 years ago, Hanasho is a company that manufactures Edo Kiriko cut glass. The brand's high level of artistry and skill has led their products to be used as gifts to state guests to Japan, and event at the G8 Hokkaido Toyako Summit. The company also sells hand towels that combines Hanasho's unique ideas with cut glass designs. These designs are then cut and patched together by Todoya Shouten.

KIRIKO MONYOU (75g): ¥1,680 (Before Tax) *Limited edition

This design, which combines Hansho's original pattern ideas spliced together by Todoya Shouten, is being used for a tin from STEAMCREAM. The tins elicit the beauty of Japanese tradition and artisan skill.


KINGYO NO MAI (75g): ¥1,680 (Before Tax)

A previous design from Todoya Shouten is also being re-released in limited quantities. This one has a Japanese summertime feel to it.

These tins are a representation of traditional Japanese craftsmanship and make for a great souvenir from Japan.

Information

KIRIKO MONYOU

Release Date: June 10, 2020

Major Retailers: STEAMCREAM online store / STEAMCREAM shop / Japanese department stores / Select variety shops in Japan
*The KIRIKO MONYOU design is available at STEAMCREAM's online store and in-store, including the IKSPIARI branch

Official Website: https://brand.steamcream.com/

Pokémon Cosmetic Series: New Face Masks Keep Pokémon Trainer's Skin Moisturised

Monosense is set to release the third collection of face masks in the popular Pokémon Cosmetic Series on June 19, 2020.

The Pokemon cosmetic series has been a huge success in Japan since it launched, spanning face masks, hand cream, lip cream, lip gloss, point packs, mirrors, and body gel. The face masks however have proven the most popular, having sold over 600,000 of them. Now, Pokémon Trainers can look forward to the third collection in an all new 2020 version.

Until now, the face masks themselves have had an entire print of a single Pokémon face on them. This time, however, they have a new design with many of that Pokémon on them, along with colours that remind one of that Pokémon.

Skin can get pretty dry when summer rolls around, so these made-in-Japan face masks will keep Trainers' skin moisturised thanks to the collagen, hyaluronic acid, and shea butter in them.

There are four Pokémon to choose from: Pikachu, Eevee, Psyduck, and Mew. Who will you choose?

Kirby Face Masks Take Care Of Your Skin While at Home

Japanese cosmetic brand Lovisia has shipped over 1.1 million products, including the super popular Pokémon Cosmetic Series which we have covered in detail.

Now, to celebrate the 28th anniversary of HAL Laboratory and Nintendo's video game Kirby's Dream Land this year, Lovisia has revealed its new "Kirby's Dram Land Face Masks" which will go on sale at variety shops, online sites like Tokyu Hands and Village Vanguard, and elsewhere in Japan on June 19, 2020.

"Pink Lush" is the concept behind the cute pink-coloured masks. The masks themselves are like the characters from the game. Lovisia previously released eye shadow, lipstick, and a mirror as part of the same series in April which proved popular amongst fans.




There are three designs in total: Kirby, Waddle Dee, and Meta Knight, all of which are Instagram-worthy and great as a treat to yourself or a gift to friends.

The masks are made in Japan, and contain collagen, hyaluronic acid, and shea butter, all for their moisturising effects. Each has a soap scent, which will leave your skin smelling fresh and looking cute and soft. The perfect accompaniment to enjoy at home right now.

©Nintendo / HAL Laboratory, Inc. KB20-P2210

Organic Lifestyle Brand 'N organic' to Open First Direct Store in Yurakucho

Organic lifestyle brand "N organic" is set to open its first ever direct store on the first floor of Yurakucho Marui in Tokyo on June 11, 2020.

N organic's concept is to live a rich, organic life. Since the brand launched in August 2017, the shop's products have been sold exclusively online. However, due to demand from customers for more one to one communication, the brand decided to open its first store. They will be serving tips on how to live life richly at their first brand in Yurakucho Marui.

The store is equipped with Sony's BeautyExplorer™, a skin analysis system which enables informed choices from advanced skin analysis. The data chart from the analysis can be accessed by logging into the shop's official website too so customers can receive support regarding their skin at home too.

One of the ways N organic promotes a rich, fulfilling lifestyle is by being positive and proactive about eco-living. The shop has a collect system in place so you can take beauty and cosmetic bottles and vessels in, and that goes for items from other brands too. The floor, sink, and other places are also made from recycled marble which itself is made from used N organic lotion and serum bottles.

Information

N organic Yurakucho Marui
Address: Yurakucho Marui (Floor 1F), 2-7-1 Yurakucho, Chiyoda Ward, Tokyo
Grand Opening: June 11, 2020 from 11:00am (JST)
Products: N organic Series / N organic Vie Series

Official Website: https://n-organic.com/

SHIRO to Release New Clay Hand Soap Made From Naturally Derived Clay

Japanese cosmetic brand SHIRO is releasing two new "Clay Hand Soaps" along with three new "Aroma Oils" on May 21, 2020.

The Clay Hand Soap comes in two scents, "White Lily" and "White Tea," both of which leave your hands feeling clean, refreshed, and moisturised thanks to the naturally-derived clay it is made from. The clay used is obtained from the volcanic ash from the Shirasu-Daichi volcanic plateau of Kagoshima Prefecture. It lightly scrubs any dirt and excess sebum from your hands, ensuring they are nice and clean. The soap is also made with aloe which keeps your hands super smooth.

White Lily has a sophisticated floral scent to it while White Tea smells like fresh citrus and greenery.

About the ingredients

・Clay (Volcanic Ash) [Scrubs] | Origin: Kagoshima Prefecture
Since the clay is naturally-derived, the scrub has big firm pieces in it, so even if you wash your hands lightly all of that dirt and excess sebum is removed, leaving your hands smooth.

・Aloe [Moisturises] | Origin: Makinohara, Shizuoka Prefecture
The organic aloe used is grown in-house with the utmost care, with every rich drop squeezed into the soap.

The new aroma oils come in conjunction with the brand's revamp and are perfect for relaxing in your room, while at work, before―basically whenever you need it. There are three scents: "Soap" which has a refreshing soap smell, "White Lily" which has a sophisticated floral smell, and "White Tea" which leaves you feeling relaxed.

Treat yourself to some relaxation time with these new oils and keep your hands clean with some hand soap made from clay!

Clay Hand Soap

(3 Including 2 New Scents) 145ml: ¥2,000 Each (Before Tax)

Available: SHIRO Online Store / All SHIRO branches
*Please note that all physical SHIRO stores in Japan are temporarily closed

Aroma Oil

(3 Scents) 20mml: ¥2,200 Each (Before Tax)

Available: SHIRO Online Store / SHIRO Sunagawa / SHIRO Sapporo Stellar Palace / SHIRO Omotesando / SHIRO Jiyugaoka / NEWoMan Shinjuku (SHIRO+) / SHIRO Maru Building / SHIRO Namba Parks /SHIRO Fukuoka PARCO
*Please note that all physical SHIRO stores in Japan are temporarily closed

Tokyo's New Skin Care Concept Shop SKINCARE LOUNGE BY ORBIS to Open in Omotesando

SKINCARE LOUNGE BY ORBIS is the debut concept shop by Japanese beauty company ORBIS, and it's set to open in Omotesando this summer. The shop's teaser website opened on May 13 where information on its conception, special content, interviews with the company's partners, and more will roll out in the run up to the grand opening.

ORBIS established themselves in 1984, and in 1987 launched their mail-order service. Since then, their mission has been to "create a world filled with people who are true to themselves, think positively, and lead lives of beauty." They believe in the beauty each of us has inside them and want to unlock its full potential.

SKINCARE LOUNGE BY ORBIS aims to have people learning about their own skin and to unlock its full potential. "Feel," "Learn," and "Take" are the keywords of the concept shop.

The shop's creative directors are Hisato Ogata, who is a designer and innovator at takram, and Momo Kudo of Tokyo-based architecture and interior design studio MMA Inc. They are also supported by George Amano of GEORGE CREATIVE COMPANY.

SKINCARE LOUNGE BY ORBIS has two floors. On the first floor, customers are free to test various products as well as learn about the correct way to look after their skin. The second floor offers skincare treatments, workshops, and various private events. You must be a member on the shop's official app and book in advance for the second floor services.

If you're strolling around the Harajuku and Omotesando area this summer, pop into SKINCARE LOUNGE BY ORBIS and learn all there is to know about proper skin care.

Information

SKINCARE LOUNGE BY ORBIS

Address: 5-7-1 Minamiaoyama, Minato Ward, Tokyo
LOUNGE: 10:00 AM-8:00 PM
JUICE BAR: 8:00 AM-8:00 PM
*Please note that the shop is subject to temporary closure

Official Website: http://www.orbis.co.jp/skincarelounge/

Make Bath Time Even More Special With the New Hair and Body Series From ORBIS

ORBIS released its new "RELEASE By Touch" series of hair and body products on April 23, 2020.

Since the company's establishment, ORBIS has striven to bring out the full potential of the skin's power. Its brand message is "making comfort beautiful." Their Touch series invites people to love their hair and body by touching and caring for it, leading them to a relaxing, comfortable time.

RELEASE By Touch Shampoo / RELEASE By Touch Conditioner – ¥1,300 (Before Tax)

The hair care items in the new RELEASE By Touch series includes shampoo and conditioner that gently cares for both the hair and scalp.

RELEASE By Touch Body Shampoo – ¥1,000 / RELEASE By Touch Body Wash Glove – ¥1,200 (Before Tax)

Lather your skin and body in thick bubbles and enjoy some body care time.

RELEASE By Touch Bath Towel

When you're done, wrap yourself in a fluffy towel and feel refreshed after your luxurious bath.

If you're looking for some personal relaxing bath time then you can't go wrong with the new RELEASE By Touch series from ORBIS.

Information

RELEASE By Touch Series

Release Date: April 23, 2020

Available: At ORBIS stores in Japan and online

Official Website: https://www.orbis.co.jp/

John Legend Sings Love Song For SK-II's Skincare Product Pitera

SK-II just released the a new episode to their new Pitera™ Masterclass video series. The song features award-winning singer-songwriter John Legend singing the song Oh Pitera, an ode to SK-II's facial treatment essence Pitera.

SK-II has collaborated with numerous stars including James Corden and Chloë Grace Moretz but this marks their first tie-up with Legend. The masterclass series is is the new edition of SK-II's beauty entertainment series #BareSkinChat.

"I had so much fun writing 'Oh Pitera'! I was at home and sat down at the piano and the whole song came to me in about 30 minutes," shared John Legend. "Perhaps it really is a miracle water? It was such a pleasure to join James Corden and the all-star cast Naomi Watanabe and Tangwei to celebrate the wonders of SK II and bring the song to life."

Naomi Watanabe & James Corden Feature in SK-II's New Pitera Masterclass Video Series

Global skincare brand SK-II launched a new video series on YouTube on June 19 titled "Pitera™ Masterclass." Featuring comedian and fashion designer Naomi Watanabe, English actor, comedian and talk show host James Corden, multi award-winning American singer-songwriter John Legend and Chinese actress and SK-II ambassador Tang Wei, the series is the new edition to their first beauty entertainment series #BareSkinChat.

The first video is a trailer for the new series and showcases what's to come as the four of them work to uncover the secrets of Pitera™. The video also showcases the first ever SK-II original rap song entitled Oh Pitera™.

Pitera™ is a cosmetic award-winning facial treatment essence enjoyed for its ability to leave skin clear, radiant and glowing. The secret to how it's made and how it's able to make skin event with the deepest wrinkles smooth and beautiful has been kept under wraps since it was first released.

Speaking about the new video series, Naomi Watanaba comments: "It's a completely mystery that it was me who was placed amongst the other members [of the video series], but I'm extremely happy that I was able to convey the wonder of Pitera together with the most amazing time. It was fun. Everyone was really bright and cheery on set. Me and James are both comedians so we had that in common. We both got constantly carried away but I think that also helped us to better and more easily convey what's good about Pitera. John Legend's Oh Pitera was insatiable, it gave me chills. Look forward to seeing me challenging myself to have a conversation in English for the first time too."