The HOSHINOYA Taketomi Island Resort in Taketomi, Okinawa will be holding the Tanadui Program between September 1 and October 12 2021. The special program will be held to mark the Tanadui Festival, an event that has been listed as an event of cultural importance and allows visitors to experience the deep, historical culture of Taketomi Island.
Taketomi is an island with it's own unique culture with a selection of festival rituals, including food offerings to pray for prosperity and abundant harvests. The Tanadui Festival is the largest on the island and has been designated an event of cultural importance, running for over 600 years. Every year, throughout the seventh and eighth days of the festival, a stage is assembled in Yomochi Utaki to host over 80 traditional performances, each dedicated to the Gods and deities. On Taketomi Island, the phrase "Kashikusaya Utsugumidu Masaru" is key to the local lifestyle, roughly translating to "cooperation over all." Join in the 'Spirit of Utsugumi (cooperation)' as the whole island practices and prepares for the festival – even those who have moved further away will return home to join in.
Focus Points
Bountiful Harvest Lunch – Get to know, touch, and cherish the five grains harvested on Taketomi Island

Enjoy a lunch that has been made using millet, wheats, beans, potatoes, and rice, which are said to be the five grains of Taketomi Island. Before lunch, you can join in the harvesting of potatoes grown on-site. Taketomi Island has no mountains or rivers as it was formed through the raising of coral atolls, making it difficult to grow crops. As distribution was unpopular in the past, the lack of crop growth meant that there was no food to live off. It is because of this that festivals, including the Tanadui Festival, were first held. They are used to pray for plentiful harvests and the traditions are upheld to this very day. During this event, you can harvest potatoes while learning about the history and land.
The lunch plate uses French techniques to propose a fun and new way of enjoying the five grains while retaining their simple sweetness; A sweet wheat risotto, shimadōfu soup, a harvest potato Dengaku (fried potatoes cut into cubes and sprinkled with sugar), plus desserts that can be enjoyed with peanuts. This delicious lunch allows you to get to know, touch, and cherish the five grains of Taketomi Island.  
Price: ¥7,260 (Per person, tax & service charge included)
Capacity: Two groups per day
Hours: 12:30 ~ 14:00
Location; Field, Dining Room
Traditional Iiyachi Making Tour in collaboration with the islanders and HOSHINOYA Taketomi Island
Iiyachi is a traditional rice cake-like food that is eaten during the Tanadui Festival. Originally the Iiyachi was made using only materials found on the island, but thanks to modern development and tourism, plus the decline of agriculture, it is now regularly made using materials cultivated on other islands. HOSHINOYA Taketomi Island has worked hard to inherit the traditional production method. This year they will be challenging themselves by making Iiyachi using both traditional methods and local agriculture, cultivating millet and azuki beans to use in the recipe. Iiyachi is made by combining the ingredients in a large Shinme Pot to boil and steam. The resulting food is then kneaded out by a group of people while it is turned with a spatula. 
This is an opportunity to get up and close with the island's traditional culture which is only visible once a year during the festive period. Iiyachi making is an important job to the islanders, overflowing with enthusiasm and commitment to the Tanadui Festival.
Price: Free
Date: October 7
Location: Azumaya Garden
Teedun Dress-Up Experience
Here you can try on the outfits worn by the traditional performers who participate in the Tanadui Festival. The traditional costumes are only worn during the festival and have been passed through families for generations, usually unworn by anybody who isn't native to the island. During the experience you will be offered a commemorative photo, perfect to take home as a memory of your trip to Taketomi Island. 
Price: ¥1,210 (Per group, tax & service charge included)
Hours: 10:30 ~ 12:30
Location: Yuntaku Lounge
Teedun-banashi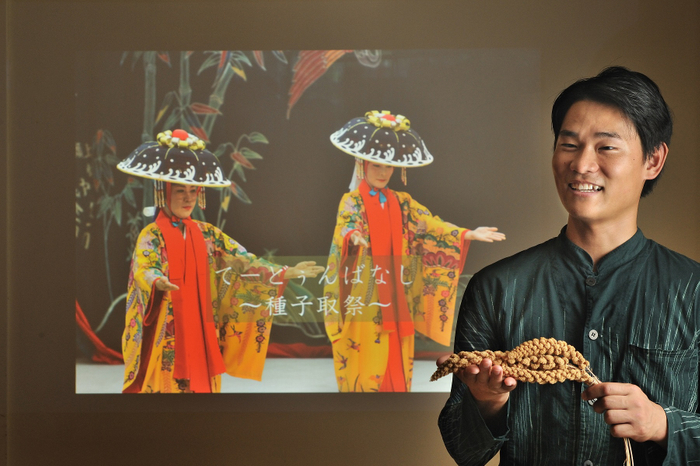 Here the staff will introduce you to the festivals roots, the culture that started it, and the history of the island, with photos to assist. You will be taught all about the 600 year history of the Tanadui Festival and the "Kashikusaya Utsugimi Domasaru" spirit. During the program, you can also learn about daily life on the island, full of festival excitement and traditional Okinawan scenery.
Price: Free
Hours: 20:45 ~ 21:15
Location: Yuntaku Lounge
One Moment on the Island ~Iiyacha~
A selection of traditional Okinawan snacks will be served in the Yuntaku Lounge, offering the visitors a special moment on the island. There are two seasonings available for the sweet and simple Iiyachi: Andansuu, a sweet oil miso that is popular in Yaeyama, and shrimp salt, made from Japanese Tiger Prawns found in the beautiful oceans surrounding the island.l
Price: Free
Hours: 14:00 ~ 16:00
Location: Yuntaku Lounge
Tanadui Festival Breakfast

Enjoy a unique Tanadui breakfast packed full of the fruits of the harvest, with millet mixed Juushii rice, Awa Miso Andansuu, and Pindako made using garlic and octopus from the island.  You'll be wide awake with this vibrant breakfast and its auspicious menu. 
Price: ¥4,235 (Per person, tax & service charge included) 
Hours: 7:00 ~ 10:30
Location: Dining Room
Experience 600 years of history for yourself with this unique program!