Kyary Pamyu Pamyu Marks 10th Anniversary with New Song 'GENTENKAIHI'
2021 marks a decade since singer and model Kyary Pamyu Pamyu made her debut with PONPONPON, which quickly became a viral YouTube hit worldwide. To celebrate, her newest single GENTENKAIHI, written and composed by Capsule's Yasutaka Nakata, is now available to stream. 
The song's title and lyrics express both Kyary's willingness to return to her roots, and her determination to continue moving forward, leaving the past behind and carving out a new path. 
(c)Issei Nomura I.N.Art Pro.NIPPON COLUMBIA CO. LTD.,
A teaser of the song's upcoming music video has also been released on the Official YouTube channel and on social media. The full-length version will premiere on August 25. 
To celebrate this milestone, an official Instagram created by Kyary's staff (@kyarystaff) is now open, where fans can see behind-the-scenes shots of the singer, as well as read staff commentary. 
Starting August 31, a limited-time campaign will begin on LINE MUSIC. Those who listen to GENTENKAIHI more than 10 times using LINE MUSIC will be entered, and winners will receive an original sticker!
Kyary Pamyu Pamyu's 10th Anniversary Tour will begin on January 16, 2022 at the Atsugi City Cultural Hall. The tour will visit 28 locations across Japan, and is the first time Kyary has toured since the JAPAMYU HALL TOUR 2018. It will also be the biggest tour in the singer's career. Tickets are currently available for pre-order for fan club members. 
What do you think of the new track?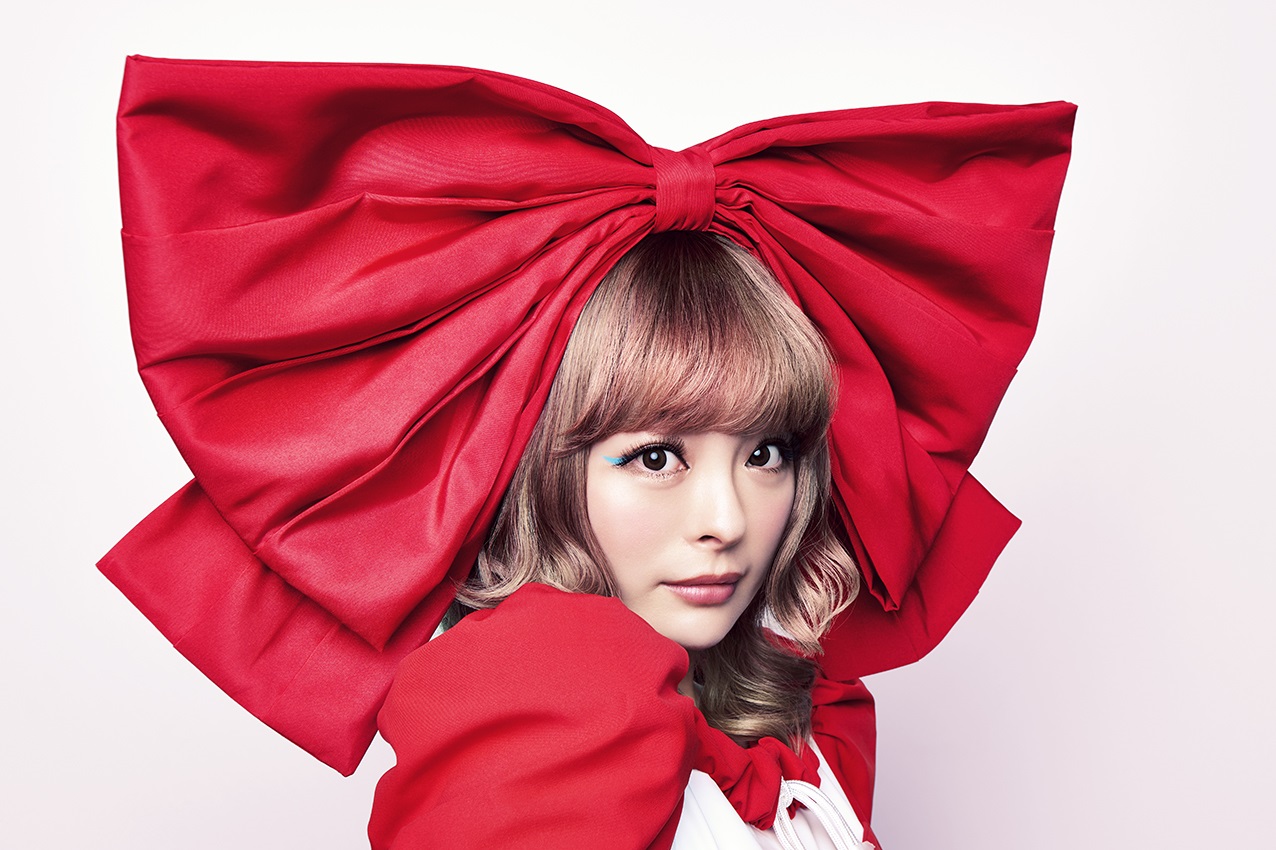 RELATED ENTRIES
Kyary Pamyu Pamyu Announces 'LOCAL POWER JAPAN Project' to Support Rural Areas

Celebrating the 10th anniversary of her major label debut, Kyary Pamyu Pamyu is back in the news. The artist will perform at this year's Coachella, one of the largest music festivals in the United States, and recently released her first full-length album in three years 'Candy Racer' in October 2021.  On January 16, Kyary embarked on the largest tour of her career, 'Kyary Pamyu Pamyu 10th ANNIVERSARY JAPAN TOUR 2022 CANDY WAVE,' which will see the singer performing 30 shows across Japan.

In conjunction with the nationwide tour, the "LOCAL POWER JAPAN Project" was launched to energize Japan through the appeal of regional towns and cities.  The 30 stops on the new tour include many that Kyary has not visited before, and were chosen based on the singer's desire to perform for fans who may not typically be able to attend one of her shows. 

This initiative aims to bring attention and support to local industries and to inspire more tourism to rural areas.

This project is a new attempt to enliven local communities by collaborating with companies that have roots in the rural locations where these concerts will be held. These company's logos have been reimagined, paying homage to the artwork associated with Kyary's previous song releases. T-shirts designed with each of these collaborative logos will be on sale for a limited time, and a portion of the proceeds will be donated to the local community for development and social contributions.

For the encore of the first live show, Kyary wore a collaboration logo T-shirt inspired by Suzuhiro Kamaboko, a company in Kanagawa Prefecture. The artist also introduced the project and its aim to the excited audience. More collaborations will be announced through July 2021.

Check out the 'LOCAL POWER JAPAN Project' website for more details!

Comment from Kyary Pamyu Pamyu

"This tour is to commemorate my tenth anniversary, and as I travel all over Japan to express my gratitude to those who have supported me over the past decade, I also want to do something for everyone else. I'm happy to support these local companies and I'd like to work with them to revitalize the entire country. We'll be engaging in all sorts of collaborations around Japan, so look forward to it!"


 

January 16, Kanagawa Performance: Suzuhiro Kamaboko

Suzuhiro Kamaboko, a long-established fish paste store in Odawara that has been in business for 156 years, has agreed to take part in the project. Their normally navy blue brand logo has received a major makeover in colorful pink, green, and purple hues. 

The T-shirts featuring the new collaboration logo on the front and the Kyary Pamyu Pamyu 10th anniversary logo and 'LOCAL POWER JAPAN Project' logo on the back are now available for purchase!

*Otono Kuni (From 4th Album 'Japamyu,' 2018)
Streaming Links: https://lnk.to/otonokuni

January 29, Gunma Performance: Oginoya Kamameshi


Oginoya, the largest Ekiben shop in Japan, was established 136 years ago in Yokokawa, Gunma Prefecture. 

Their main dish, Touge no Kamameshi,' has been sold for over 60 years and often makes appearances at events all over Japan. The company's logo has been reborn through the lens of Kyary's popular song Tsukematsukeru. A special kamameshi dish will also be prepared for the project, and will be sold in limited quantities at the Gunma concert venue on January 29, Kyary's birthday!

*Tsukematsukeru (1st Single, 2012)
Streaming Links: https://lnk.to/tsukematsukeru

May 20, Fukushima Performance: Kourakuen

Kyary will appear in commercials for Kourakuen as part of the project. The company started as a small diner in Aizuwakamatsu and is now is a national chain of ramen restaurants serving over 54 million people a year! The new logo and collaboration details will be revealed at a later date, so keep an eye out!

Kyary Pamyu Pamyu's First Performance of 'Maybe Baby' Takes Place on First Day of New Tour

Celebrating the 10th anniversary of her major label debut, Kyary Pamyu Pamyu is back in the news. The artist will perform at this year's Coachella, one of the largest music festivals in the United States, and released her first full-length album in three years 'Candy Racer' in October 2021. On January 16, Kyary embarked on the largest tour of her career, 'Kyary Pamyu Pamyu 10th ANNIVERSARY JAPAN TOUR 2022 CANDY WAVE,' which will see the singer performing 30 shows across Japan.

The first show was held at Atsugi City Cultural Hall in accordance with all local guidelines to limit the spread of the Coronavirus. Fans lined up, excited to see the artist for the first time in three years–and when Kyary took the stage clad in a bright green wig and costume, she showed her appreciation for those who have waited to see her again. 

"Long time no see! I'm sorry I made you wait," the singer said as the audience replied with massive applause. "Today, I'm starting my first tour in three years. I want to give you all a performance that will make you glad you came!" 

The artist began by performing her newest track Maybe Baby for the first time. The setlist included 21 songs total including songs from Kyary's newest album 'Candy Racer' and legendary tracks like PONPONPON and Fashion Monster. 

In conjunction with the nationwide tour, the "LOCAL POWER JAPAN Project" was launched to energize Japan through the appeal of regional towns and cities. The 30 stops on the new tour include many that Kyary has not visited before, and were chosen based on the singer's desire to perform for fans who may not typically be able to attend one of her shows. Wanting to show her gratitude, this is also a chance to inspire local industry and tourism, both of which have been hit hard by the ongoing pandemic. 

Keep an eye out for what Kyary Pamyu Pamyu does next!

Kyary Pamyu Pamyu to Perform at Coachella 2022

Kyary Pamyu Pamyu will be performing at the world-famous Coachella Valley Music and Arts Festival in Indio, California this April! Scheduled to perform at the event in 2020, Coachella was canceled due to the ongoing pandemic. Back after two years, the lineup of performing artists has been posted to the official site.

This year, Harry Styles, Billie Eilish, and Ye (Kanye West) will be headlining the event, which also includes artists from around the world. Kyary will perform on April 16 and April 23.

Kyary Pamyu Pamyu is celebrating the 10th anniversary of her debut and is set to begin her largest nationwide tour to date on January 16. The artist will be performing 30 shows across Japan.

Kyary Pamyu Pamyu Releases 'Maybe Baby,' Opening Song for Ninjala Anime Series

Kyary Pamyu Pamyu's new song Maybe Baby has been officially released on streaming services! The track will be used as the opening theme song for the Ninjala anime series. The track was written by Yasutaka Nakata, and is a danceable track for children and adults alike.

Maybe Baby – Kyary Pamyu Pamyu (Opening Song for Ninjala Anime Series) 


Maybe Baby Playback Campaign on LINE MUSIC

The opening video for the anime series is also available on Kyary's official YouTube channel. To celebrate the release, LINE MUSIC is holding a playback campaign until January 22, 2022. The top 50 listeners will receive a Maybe Baby neck strap that is not for sale and was made exclusively for this event.

Kyary Pamyu Pamyu Explores Tomakomai, Hokkaido in New Tour Video

Kyary Pamyu Pamyu is introducing potential travelers to the charms of Tomakomai, Hokkaido in a new two-part tourism video on her YouTube channel. 

In the new videos, fans can see Kyary in a new light very unlike her onstage persona. Along with her tour guides, she travels for two days around this gorgeous city on Japan's northernmost island.
The first video begins with her visit to a Red Eagles Hokkaido hockey game, quickly followed by tons of outdoor activities like canoeing and horseback riding. The singer enjoys plenty of local dishes and captures some spectacular views of Lake Utonai. 


Who is the one who invited Kyary to Tomakomai anyway? Fans will have to watch to find out. Whether living in Japan or dreaming about visiting someday, these videos are sure to inspire a future trip.

CAPSULE Releases Music Video for New Song 'Virtual Freedom'

The music duo CAPSULE is celebrating 20 years since their major debut, and their third new single for 2021 Virtual Freedom is now streaming. The highly-anticipated music video has also been released. 

Virtual Freedom Streaming Links

https://capsule.lnk.to/virtualfreedom

 

Virtual Freedom takes listeners on a trip through the history of synthesizers and submerges you in layers of interwoven soundscapes.

 

Virtual Freedom Music Video

Director: KENTARO SAISHO 
3DCG supervisor: HIROMU KONNO
Production: Totte.Co., Ltd

 

A song-sharing campaign is also underway! Follow Warner Music Japan's Twitter account and use the Twitter share function on Apple Music, Spotify, or LINE MUSIC to share Virtual Freedom with the hashtag #VirtualFreedomCP. 50 random people selected will receive the original cassette tape photographed for the cover of the Virtual Freedom album! 

Kyary Pamyu Pamyu's Song 'Maybe Baby' Announced as Theme for 'Ninjala' Anime Series

Kyary Pamyu Pamyu has announced that her new song Maybe Baby will serve as the opening theme song for the winter anime series Ninjala, set to begin airing on January 8, 2022. The singer is celebrating the 10th anniversary of her major debut in 2021, and Maybe Baby was featured on her newest album Candy Racer released in October.

Online Fan Meetup

The anime series is based on GungHo Online Entertainment's action video game for the Nintendo Switch. In the past, Kyary Pamyu Pamyu has collaborated with the game, providing her songs Gum Gum Girl and Ninja Re Bang Bang Steve Aoki Remix. 

 

Maybe Baby was written by Yasutaka Nakata and is a danceable track featuring Kyary's light vocals and a catchy beat that will make anyone want to move. 

 

An online fan meetup will also take place on December 18 and will be held exclusively for members of Kyary Pamyu Pamyu's official fan club, KPP CLUB. While last year's 'KPP ONLINE MEETUP VOL.1' was a large online event with about 500 fans in attendance, this time it will be held in small groups of about 25 for multiple periods. 

 

During the meetup, Kyary will give away many of her personal belongings that she has used in the past. Fans of the singer won't want to miss out!

 

To commemorate 10 years of the singer's career, members of the Fanclub will also get some new benefits and privileges including behind-the-scenes vlogs. 

 

Kyary Pamyu Pamyu will start her 10th Anniversary Japan Tour on January 16. This will be the largest tour in the singer's history, and fan club members can enjoy special passes and photo spots. 

 

Comment from Kyary Pamyu Pamyu

"I, Kyary Pamyu Pamyu, will be in charge of the opening theme for the anime Ninjala! I've collaborated with the Ninjala game many times, so I'm very happy to be able to do the opening theme for the anime too. The title of the song is Maybe Baby, and it's a cool song that everyone can sing along to. I hope that this song will be loved by everyone as they watch the series!"

© GungHo Online Entertainment・TV Tokyo

CAPSULE to Release Third New Song of 2021 on Streaming Services, Artwork Revealed

Japanese electronic band CAPSULE is celebrating the 20th anniversary of its major debut! The group's two members, Yasutaka Nakata and Toshiko Koshijima, have announced the release of their third new single for 2021, Virtual Freedom. The track will release on streaming platforms on December 10 and follows Hikari no Disco and Future Wave. Cover art for the song featuring an old-school cassette tape has been revealed ahead of the song's release. 

Composer and producer for the band Yasutaka Nakata also serve as the music producer for popular group Perfume and Kyary Pamyu Pamyu. 

Virtual Freedom can now be pre-added or pre-saved on Apple Music and Spotify. Be sure not to miss out on this new song when it drops later this week!

Kyary Pamyu Pamyu Appears in Ads for Crocs 'Just the Way I Am' Campaign

Casual footwear brand Crocs Japan has started a new campaign inspiring people to be themselves and to be comfortable in their own shoes. 

Crocs 'Just the Way I Am'

Crocs Interview with Kyary Pamyu Pamyu

Yuni Akino

Riho Shamura

Fuyuki Shimazu

To promote the new campaign, the company has released a new campaign video, as well as four interviews with people who live larger-than-life lives. The princes of Kawaii Kyary Pamyu Pamyu, celebrating her 10th anniversary, expresses the new Crocs image in the best way, comfortable in her skin and true to herself in every way. 

Along with Kyary Pamyu Pamyu, the video interview features actress Yuni Akino, businesswoman, actress, and model Riho Shamura, and cardboard artist Fuyuki Shimazu. 

Kyary Pamyu Pamyu Produced Science-based Hair Care Brand "Curuput" Makes its Debut!

Artist Kyary Pamyu Pamyu has started a science-based hair care brand named 'Curuput.' The brand's first product, the 'Deep Damage Care Set (Shampoo, treatment, and hair mask)' will be available for a limited time at beauty counters nationwide and online from November 1 2021. 

  

One of Kyary's defining features is her vivid hair color. Behind the scenes however, she has been suffering with damaged hair to maintain her bleached hair. Her goal is to create a future where everybody, including Kyary herself, can dye their hair freely, without the worry of damage. With this in mind, she began production of her own science-based hair care brand that focuses on damaged hair and smells great too.

 

From the moment you wash off the 'Curuput' shampoo and treatment, your hair will feel silky and moisturized. By using the triple care routine, the products will not only care for your existing hair damage, but continue to repair your hair by preventing future harm.

 

 

Kyary's tie-up song 'Perfect Onei-san' plays in the background of the official brand interview, and features on her upcoming 5th album "Candy Racer.' The album is scheduled to be released on October 27. 

 

 

Why not try Kyary Pamyu Pamyu's new haircare brand 'Curuput' for yourself?

 

Message from Kyary Pamyu Pamyu

"After many meetings, I think the shampoo is complete! I'm so, so excited for it to finally be released.

I have been having fun bleaching and coloring my hair since I was 18, but my hair would become damaged no matter what I did. I haven't been able to enjoy my 'ideal hair' often, because I'd worry about the condition, and I've even been holding back from dying it due to damage concerns. But then I realized, "this isn't me." It's the same with shampoos – I'd find a great shampoo but I'd dislike the smell, or vice versa.

This new shampoo was created over many meetings and every detail has been considered. In order to create the best hair product, we wanted to create something that made your hair go "Kyurun" (bounce). We also paid special attention to the scent! Each time I would test the prototype version, my hair would become even closer to my ideal hair, so I'm really happy that I had the opportunity to develop 'Curuput.' 

We put a lot of thought into this brand, so I would be really happy if everybody could give it a try!"

 

Kyary Pamyu Pamyu x ROLAND Special Interview Published in 'GLITTER Vol.2'

A special interview between Kyary Pamyu Pamyu and ROLAND will be published in the second volume of lifestyle magazine GLITTER, released on October 27 2021. In the interview, the borderless duo, who each work in different fields, join together to discuss how individuality is respected in the modern way of life. 

Despite working in different areas, the borderless Kyary Pamyu Pamyu and ROLAND are always pushing their limits. The same-age pair met for the first time to ask each other questions in a Q&A format, discussing their likes, dislikes, and first impressions of one another, under the theme of "What is a borderless life?" 

Footage of the interview will also be uploaded onto the GLITTER YouTube channel, so look forward to it!

Celebrities Comment on Kyary Pamyu Pamyu's 10th Anniversary Song GENTENKAIHI

Pop princess of Kawaii Kyary Pamyu Pamyu is set to release her fifth original album 'Candy Racer' on October 27. This marks her first full album in three years, and to commemorate the special occasion, plenty of Japanese celebrities have offered comments on Kyary's 10th-anniversary track GENTENKAIHI. 

GENTENKAIHI was released as a digital single on August 17, the anniversary of Kyary Pamyu Pamyu's debut. The song expresses the singer's desire to evolve into something new while also paying homage to her past. 

In a new project, Kyary is asking a number of celebrities to share the song that marked a turning point or starting point in their life. The 'Tell Me Your Origin Song' project has led to plenty of interesting answers, and a playlist has been compiled containing the answers received so far. 

Volume 1 of the series features announcer Misato Ugaki, comedy trio Yonsen Toushin, and Beastars manga creator Paru Itagaki. Volume 2 features TV personality kemia, YouTuber duo SKY PEACE, and actor Ryo Kato. Volume 3 features comedian Ryuji Akiyama, BiSH's Aina the End, and TikTok star and handball player Remi Anri Dori. 

Kyary Pamyu Pamyu will hold a special online live performance on Candy Racer's release day, October 27! A limited number of additional tickets have been released due to popular demand, and those purchasing one will also receive an original T-shirt!




 

Kyary Pamyu Pamyu's 10th Anniversary Project 'Tell Me Your Origin Song!' 

Vol. 1  Misato Ugaki, Yonsen Toushin, Paru Itagaki
https://realsound.jp/2021/09/post-857335.html

Vol. 2  kemio, SKY PEACE, Ryo Kato

https://realsound.jp/2021/09/post-865930.html

Vol. 3  Ryuji Akiyama, Aina The End, Remi Anri Doi