Kyary Pamyu Pamyu's Song 'Maybe Baby' Announced as Theme for 'Ninjala' Anime Series
Kyary Pamyu Pamyu has announced that her new song Maybe Baby will serve as the opening theme song for the winter anime series Ninjala, set to begin airing on January 8, 2022. The singer is celebrating the 10th anniversary of her major debut in 2021, and Maybe Baby was featured on her newest album Candy Racer released in October.
Online Fan Meetup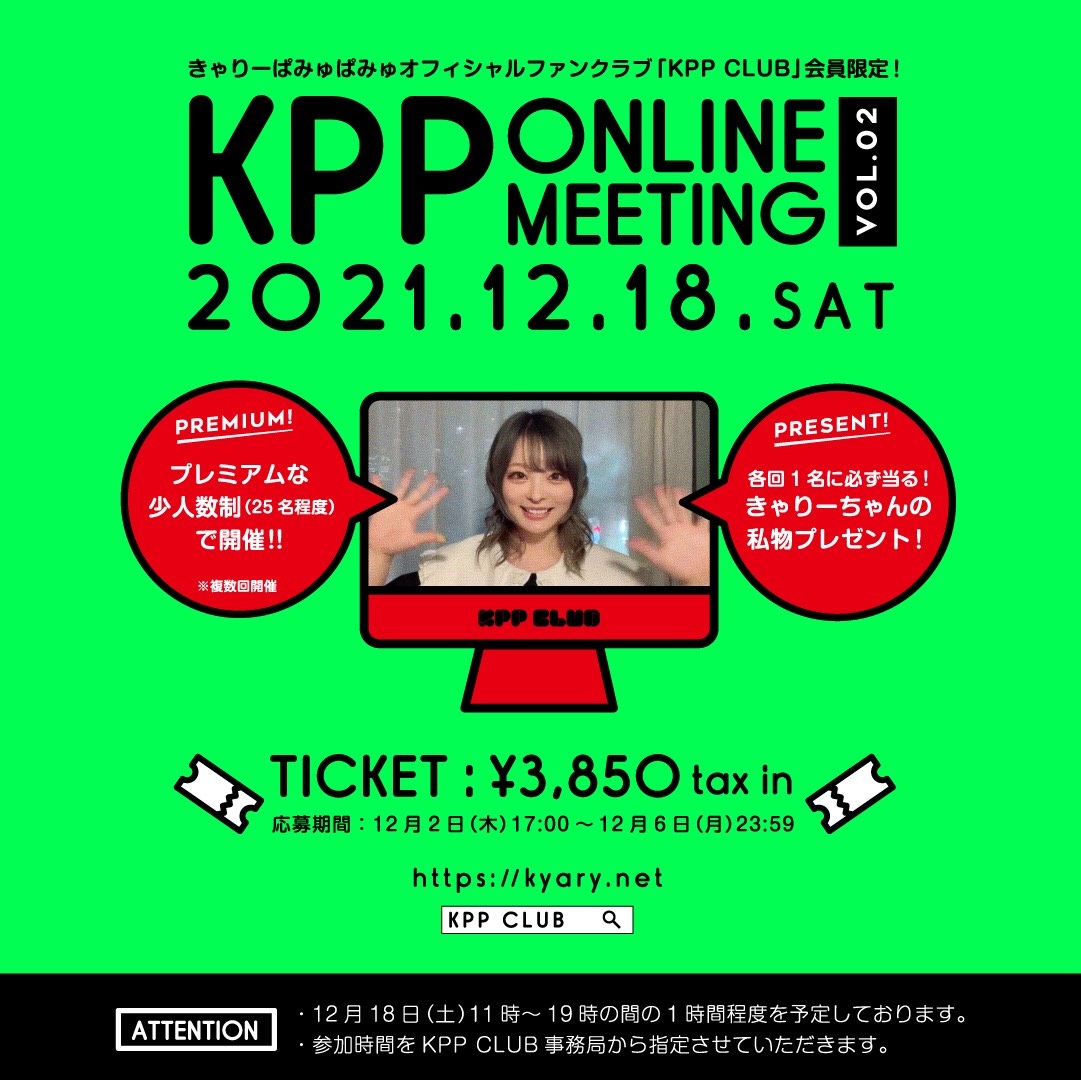 The anime series is based on GungHo Online Entertainment's action video game for the Nintendo Switch. In the past, Kyary Pamyu Pamyu has collaborated with the game, providing her songs Gum Gum Girl and Ninja Re Bang Bang Steve Aoki Remix. 
Maybe Baby was written by Yasutaka Nakata and is a danceable track featuring Kyary's light vocals and a catchy beat that will make anyone want to move. 
An online fan meetup will also take place on December 18 and will be held exclusively for members of Kyary Pamyu Pamyu's official fan club, KPP CLUB. While last year's 'KPP ONLINE MEETUP VOL.1' was a large online event with about 500 fans in attendance, this time it will be held in small groups of about 25 for multiple periods. 
During the meetup, Kyary will give away many of her personal belongings that she has used in the past. Fans of the singer won't want to miss out!
To commemorate 10 years of the singer's career, members of the Fanclub will also get some new benefits and privileges including behind-the-scenes vlogs. 
Kyary Pamyu Pamyu will start her 10th Anniversary Japan Tour on January 16. This will be the largest tour in the singer's history, and fan club members can enjoy special passes and photo spots.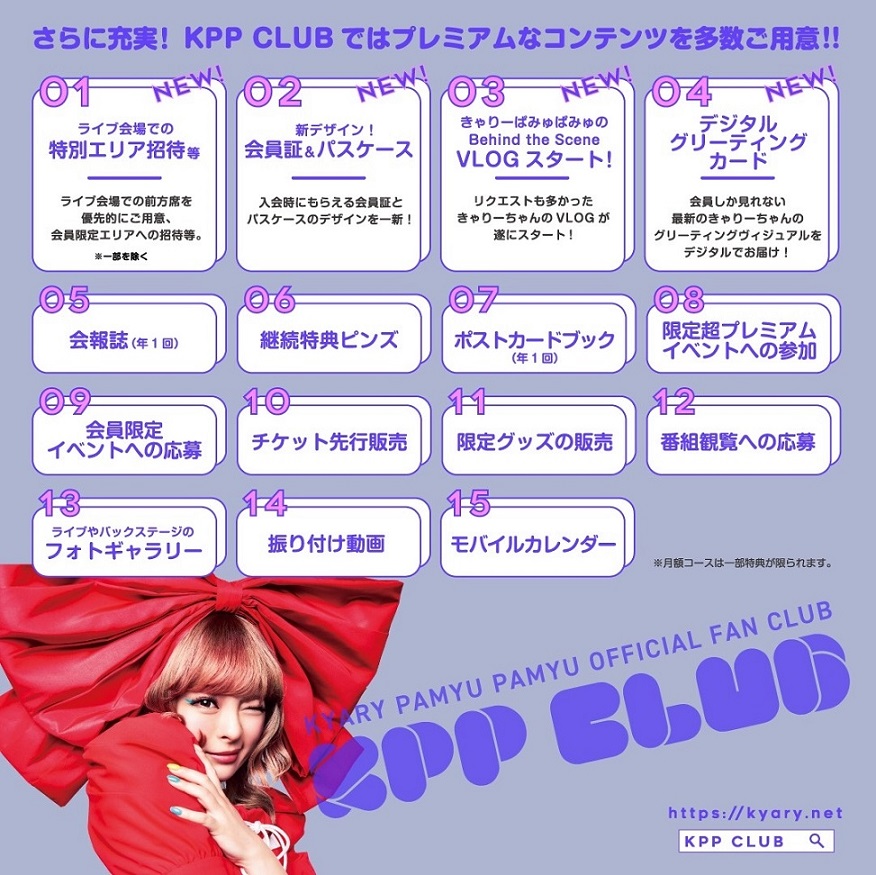 Comment from Kyary Pamyu Pamyu
"I, Kyary Pamyu Pamyu, will be in charge of the opening theme for the anime Ninjala! I've collaborated with the Ninjala game many times, so I'm very happy to be able to do the opening theme for the anime too. The title of the song is Maybe Baby, and it's a cool song that everyone can sing along to. I hope that this song will be loved by everyone as they watch the series!"
© GungHo Online Entertainment・TV Tokyo
RELATED ENTRIES
Kyary Pamyu Pamyu Announces New Single 'Isshin Doutai', Releases Music Video Teaser

Kyary Pamyu Pamyu has announced that she will release a new single, Isshin Doutai, on October 5, 2022. A new artist photo and jacket image have already been revealed ahead of the catchy track's release.

The pop song will serve as the opening theme song for the Ninjala anime series and promises to get stuck in people's heads instantly. Kyary's performance at Coachella in April made headlines around the world, and her 10th anniversary Japan tour has been making headlines since it began. The artist performed in 30 locations across Japan.

Ninjala will begin a new season on October 15. The series first began in January, and Kyary's song Maybe Baby has been used as the theme thus far. 

A teaser for the song's music video has already appeared on YouTube, featuring a kaleidoscopic new visual with Kyary reflected in a mirror as she shows off some unique choreography. For those who have been fans of Kyary for a while, this video is packed with her personal style. 

Isshin Doutai Music Video Teaser

Kyary Pamyu Pamyu will perform the last show on her 10th anniversary Japan tour on October 19 at Nippon Budokan. The performance, titled UMA 105, is sure to impress, so keep an eye out for details!

Information

Isshin Doutai
Streaming Release: October 5, 2022
Opening Theme for Ninjala, premiering October 15

Kyary Pamyu Pamyu 10th Anniversary Japan Tour 2022

CANDY WAVE -FINAL- UMA 105

Venue: Nippon Budokan
Date: October 19, 2022
Doors Open at 17:30, Show Starts at 18:30

See the latest information here: https://bit.ly/uma105
Kyary Pamyu Pamyu Official Site: http://kyary.asobisystem.com

FRUITS ZIPPER Live Report: New Opportunities and the Group's First Step Towards Global Expansion

16.September.2022 | MUSIC

FRUITS ZIPPER, a seven-member idol group whose song Watashino Ichiban Kawaiitokoro skyrocketed in popularity on TikTok this summer with over 500 million plays, held their first solo concert ~KIKKAKE~ on September 12, 2022. 

Debuting from ASOBISYSTEM's idol project KAWAII LAB in April, tickets for FRUITS ZIPPER's first solo concert sold out. Although the group's name may seem strange, it has a meaning–FRUITS, 'to bear fruit,' and ZIP, meaning 'to give energy,' is the perfect title for such a young and exciting group. In a short time, the seven members have managed to take on a number of live performances and bring smiles to audiences around Japan. The girls' efforts over the hot summer months paid off in the form of a totally packed house.

When the lights in the venue dimmed, the audience shined with the seven member's colors coming from fans' penlights. A video began playing, and one by one, the members gave their thoughts about what it means to take the stage.

"The existence of idols saved me. I hope that I can be that kind of presence for someone else."(Amane Tsukiashi)

"I wanted to sparkle. I want to work my hardest." (Karen Matsumoto)

"Harajuku is a town filled with many different cultures, and that has always given me strength. I want to become someone's power spot!" (Mana Manaka)

"This was a dream I gave up on time and time again, but I thought it could come true here. I want to spread my wings and become an idol everyone loves!" (Yui Sakurai)

"Music has always been close to me, ever since I was a child. When I was looking for a place I could stay involved with it, I found FRUITS ZIPPER!" (Noel Hayase)

"I stand on the stage to thank the fans who have always supported my becoming an idol!" (Luna Nakagawa)

"I can't let myself die until I become an idol. That's what I've always thought." (Suzuka Chinzei)

Sakurai and Nakagawa showed fierce determination to overcome their past setbacks and stand on stage as idols. Chinzei's earnest feelings also came through, and each girl's emotion swept the audience. 

 

As the audience began clapping in rhythm, the seven members took the stage, forming a circle and dancing to the sound of electronica. When the opener came to a close, they released their joined hands, scattering like flower petals with smiles on their faces. 

The group opened the show with the classic-sounding idol track skyfeelan. The lyrics of this song were written based on tweets from the members, and each girl sang with feeling and passion. Despite this being their first solo show, the members weren't at all stiff, instead seeming to relax and totally enjoy themselves. 

The girls then continued with their debut song Kimi no Akarui Mirai wo Oikakete. Fans danced along with the chorus, and colorful penlights twinkled everywhere the eye could see.

"It's been four and a half months since our debut in April, and we've been working so hard to make it to this day," Sakurai said during the MC portion. "Here at LIQUIDROOM, we want all of you to see what we've accomplished!" The multilingual Hayase translated the message of NEW KAWAII into English for overseas fans tuning in to the show.

Following the MC, the group took a break from idol-like tracks, performing two of their more cool songs–Re→TRY & FLY and We are Frontier. Even with the overwhelming sound of bass rocking the venue, the girls' voices were powerful enough to compete. FRUITS ZIPPER only became more expressive with the help of lighting and video, embodying the theme of NEW KAWAII. 

Once the members left the stage, the radio program Furuppa Now began playing on screen. The KIKKAKE Reminicense Corner was held to honor the day's live performance. Each member commented on FRUITS ZIPPER's activities and what they have led to. The title of the live show, kikkake, means chance, and many doors have opened for the members over the past four months.

Hayase, the youngest member at only 17, put her cuteness on display, chatting about how she had started carrying parasols, wearing sunscreen, and learning how to wear makeup. Meanwhile, Manaka, the oldest of the group, revealed her belief that "trusting others is a key to self-growth," going on to state that "doing something alone isn't worth it. It's more meaningful when someone hears you or watches you." 

The other members gave their thoughts on what's changed. "I've become more sociable," Sakurai said. "I can get out of bed earlier," Matsumoto bragged, while Tsukiashi claimed that it had become easier to hold the microphone steady. Nakagawa was honest, mentioning that she had begun Googling herself. Each member showed their individuality, one of the biggest charms of FRUITS ZIPPER.

Once the radio show wrapped, the members appeared in their new costumes to perform their new song Sekai wa Kimi kara Hajimaru for the first time. The song's impressive melody combines a glittering idol sound with just a hint of sadness.

The lyrics seem to depict the many memories that FRUITS ZIPPER and fans will make together in the future. "From now on, we'll always be together/I'll engrave that promise on you so you don't forget/I'll tell you over and over/I'll tell you over and over," the girls sang.

During the chat after the performance, Chinzei announced the new song, with her voice beginning to warp and repeat. She laughed it off, wondering if she was beginning to shift beyond directions. 

The second half of the show began with the members dancing to the samba rhythm of their song Furefure Summer! during the interlude. 

Matsumoto then announced Watashino Ichiban Kawaiitokoro, the audience exploded with excitement, pumped to hear the song that put FRUITS ZIPPER on the map. This song brought people's cuteness this summer, but the cuteness of the original was too powerful, with the fans almost too happy to function.

The song Kanpeki Shugide☆ is filled with FRUITS ZIPPER's determination to fly around the world with no time to rest. The last song of the main setlist was RADIO GALAXY,  and the members danced expertly to the challenging song, with the arrangement, tempo, and melody constantly changing. 

After the audience began clapping incessantly, the members once again appeared on stage to perform their new song Sekai wa Kimi kara Hajimaru once again. Once the song ended, FRUITS ZIPPER had some exciting news to share–the girls will be collaborating with the magazine B.L.T. on a new series of articles! They also announced that their second solo concert will be held at Shibuya WWW X on November 11, 2022. 

During the final MC, each member gave their thoughts on the day's performance. 

Manaka: "Feeling everyone in the audience watching me just makes me feel stronger and more united with the other members of FRUITS ZIPPER. I want to continue our work as one and continue performing in the future!"

Sakurai: "Since joining FRUITS ZIPPER, I've become so aware of how many people support me. Someday, I want to become an inspiration and support to someone else. I want to make someone else out there want to be an idol too."

Nakagawa: "My dream is to sign my autograph on the backstage walls of live music clubs around the world, so I'll do my best to make that come true!" 

Tsukiashi: I've been so happy this summer. I'm so fulfilled and I have this amazing sense of satisfaction. I hope that FRUITS ZIPPER will be able to spend many more happy seasons together." 

Hayase: "When I joined FRUITS ZIPPER, I realized that chances are something everyone finds on their own. I hope that I can keep taking advantage of the opportunities I find to become a better person."

Matsumoto: "From now on, I want to be an idol who not only makes me feel happy but also makes everyone else feel happy and entertained. Please keep supporting me as I work my hardest!" 

Chinzei: "Thanks to you all, I'm able to look forward to my future with so much support. I want to be that support for everyone too. I sincerely hope that we can keep supporting each other in the future!"

Manaka, Matsumoto, and Chinzei were so moved that they nearly began to cry. Until the very end, however, the seven members were strong, determined to communicate with their fans in their own words.

The group's last song was Watashino Ichiban Kawaiitokoro. A cannon sent multicolored paper blasting across the crowd, making the atmosphere even more bright and fun. 

To close the show, Chinzai gave a statement. "FRUITS ZIPPER will continue to move forward along with our motto 'From Harajuku to the world,' so please support us!"

With this incredible momentum, FRUITS ZIPPER will continue to soar to new heights. Don't miss your chance to see the upwards trajectory of this incredible idol group!

The live performance is currently archived on ZAIKO.

Text: Kazuaki Asato
Photos: Masayo

Information

FRUITS ZIPPER 1st Solo Live Show 〜KIKKAKE〜
Date: September 12, 2022
Venue: Ebisu LIQUIDROOM
Archived Stream Tickets: VIP (with T-Shirt) ¥4,000 / General ¥1,500
Buy (ZAIKO): https://asobisystem.zaiko.io/item/350560

FRUITS ZIPPER 2nd Solo Live Show – The World Starts with You
Date: November 11, 2022
Venue: Shibuya WWW X
Time: Doors Open 18:00 / Show Starts 19:00

Tickets: 
VIP Standing: ¥15,000 (Tax included, drinks not included)
General Standing: ¥5,000 (Tax included, drinks not included)
VIP Benefits
・Access to the front area of the venue
・Exclusive VIP T-Shirt
・Photo & autographed message card
・Electronic ticketing with originally designed tickets

Lawson Tickets: https://l-tike.com/fruitszipper
Pre-Request Payment
Acceptance Period: September 12, 21:00 – September 19, 23:59
*Notes*
・Up to 2 tickets per person per application (no admission for preschool-age children.)
・Tickets will be electronic.
・Transfering or reselling tickets for a fee without the consent of the organizer is prohibited.

Contact: 
HOTSTUFF PROMOTION
https://www.red-hot.ne.jp/

Rising Idol Group FRUITS ZIPPER Releases 7th Single 'We are Frontier'

06.September.2022 | MUSIC

FRUITS ZIPPER has been skyrocketing in popularity. This summer, the group's track Watashino Ichiban Kawaiitokoro took off on TikTok, with the music video racking up over 2.3 million views on YouTube. On TikTok, their songs have seen over 450 million plays, and on September 2, the girls released their new single, We are Frontier. This marks the third of four consecutive song releases. 

The new song was produced by Hirotaka Hayakawa, who wrote the FRUITS ZIPPER tracks Kimi no Akarui Mirai wo Oikakete and skyfeelan. Branching out from their usual cute sound, the new track focuses more on 'cool,' showing off FRUITS ZIPPER's aim to push forward and make their mark on in the idol landscape.

More details about the group's first solo live show 'KIKKAKE' at Ebisu LIQUIDROOM on September 12 have been announced. VIP tickets and general admission tickets available for pre-sale sold out instantly, but in response to fan requests, the event will be broadcast live on ZAIKO! Tickets for the stream are available now, so don't miss out!

Information

FRUITS ZIPPER
We are Frontier (7th Digital Single)
Release Date: September 2, 2022
Streaming Links: https://ssm.lnk.to/WeareFrontier

*Available to stream on iTunes, Apple Music, Spotify, LINE MUSIC, and other major music streaming services.

<Digital Single Information>
Kimi no Akarui Mirai wo Oikakete (1st Digital Single)
https://ssm.lnk.to/KAO_FZ

Watashino Ichiban Kawaiitokoro (2nd Digital Single)
https://ssm.lnk.to/WnIK

Kanpeki Shugide☆ (3rd Digital Single)
https://ssm.lnk.to/KS_FZ

RADIO GALAXY (4th Digital Single)
https://ssm.lnk.to/RADIOGALAXY

skyfeelan (5th Digital Single)
https://ssm.lnk.to/skyfeelan

Furefure Summer! (6th Digital Single)
https://ssm.lnk.to/FFS

Event Information
FRUITS ZIPPER 1st Solo Live ~KIKKAKE~
Date: September 12, 2022
Venue: Ebisu LIQUIDROOM
Doors Open 18:00 / Show Starts 19:00
Tickets: VIP ¥15,000 / General Admission ¥4,500
Streaming Tickets: VIP (with T-Shirt) ¥4,000 / General ¥1,500
Buy Streaming Tickets (ZAIKO): https://asobisystem.zaiko.io/item/350560

FRUITS ZIPPER
Twitter: https://twitter.com/fruits_zipper
Instagram: https://instagram.com/fruits_zipper
YouTube: https://www.youtube.com/channel/UCW8Q9LBGGBgK6a-u0C0h95A
TikTok: https://vt.tiktok.com/ZSen7dJAT/

Construction Industry Anime 'Genba no Megami' Announces New Series, Cast

Kajikawa Construction, in business for over 117 years, and Harajuku-based production company ASOBISYSTEM teamed up to launch the 3K Project, aiming to transform the conventional stiff image of the construction industry. 3K stands for kawaii (cute), kirei (pretty), and kirakira (sparkling). Following the successful release of the social media anime series Genba no Megami (Goddess of the Site), a second season has been announced!

 

The collaboration introduced a series of characters inspired by tools found on construction sites, where they were transformed into GIF stickers and published on GIPHY for use on Instagram and other sites. Within three months of release, the stickers had received over 15 million views worldwide.

To commemorate the fantastic response to the image character GIF stamps, the first anime series was created and aired in winter 2020. The anime, which loosely and cutely depicts the construction industry, became a hot topic not only in the industry but also among anime fans.

The new series will introduce a number of new characters inspired by the construction trade and the theme of 'disaster prevention.' The series hopes to educate the masses about the importance of safety, and all six episodes of the second season will debut on September 1 at 17:00 on the official YouTube and Twitter pages. 

The Theme of the New Series: 'Disaster Prevention'

Disaster prevention is the key phrase for the new series. The new character Jairo is inspired by the Gyro Piler which can support buildings and levees against natural disasters such as tsunamis and earthquakes. Shunsuke Takeuchi plays the character powerfully, but with a bit of a flirty personality.

Characters to Become Glowing Balloons at Construction Sites

Characters from the anime series will appear as fixtures used at actual construction sites. For this series, the company worked with Light Boy to create 'balloon floodlights' for the 3K Project. Four characters will appear on these floodlights, so keep an eye out!

The floodlights will be unveiled at Moshimo Fes Shibuya 2022, a disaster prevention awareness event to be held in Yoyogi Park on September 3 and 4.

Character & Cast Information

 

・Scoppy (Aimi Tanaka)

Scoppy's temporary form is a spade. She'll lend an ear to someone no matter what they're going through. She's really interested in becoming a YouTuber.

・Coney (Yu Serizawa)

Coney's temporary form is a traffic cone. She's a talkative tsundere Goddess with a cold tone. She's also moved to tears more than anyone else in the group.

  

・Metty (Arisa Date)

Metty's temporary form is a hard hat. She's quiet, talks gently, and tends to get sleepy easily. Even so, she cares about the little details.

・Gungun & Nonnon (Saki Yamakita)

Gungun and Nonnon's temporary forms are work gloves. They're twin sisters but they couldn't be more different from each other, each with their own opinions. They're easily identifiable with their red and green appearances.

・Jairo (Shunsuke Takeuchi)

A handsome and confident God. He takes on the form of the Gyro Piler, the latest machine supporting construction sites to help the goddesses bring peace to the earth. He has the ability to solve many difficult construction projects with his state-of-the-art functions, but his cheerful personality causes many other problems. It's unclear whether this new hero is here to help or to cause more work to be done.

Summary

Goddesses have come to Earth on a mission from the Gods to solve certain problems. In order to hide their appearance, they take on the form of various tools at a construction site and begin to investigate, but at the mercy of humans, the struggling goddesses ask for help from the Gods. Can humans and goddesses work together to solve problems on Earth?

FRUITS ZIPPER Launches First Subscription Community Channel 'Atsumare☆Furuppa!'

The idol group FRUITS ZIPPER will launch its first subscription-only community channel 'Atsumare☆Furuppa!' on the video platform OPENREC.tv!

 

The first stream will air on September 1. Half of the first stream will be available for free, so be sure to tune in!

A Follow & Retweet campaign will be held to commemorate the event, and the winner will snag a signed photo of the FRUITS ZIPPER members! Stay tuned for more campaigns to coincide with the second and third streams.

Follow & Retweet Campaign – Win and Recieve an Autographed Photo!

Fans following the official FRUITS ZIPPER Twitter account and retweeting the appropriate post will be entered to win a signed photo of the members! When retweeting, be sure to let the group know what you'd like to see on the stream.



・FRUITS ZIPPER Official Twitter Account
https://twitter.com/FRUITS_ZIPPER
*The first campaign post will appear on the official FRUIT ZIPPER account, so retweet it!



・Number of Presents

*The number of gifts will depend on the number of Retweets.
Up to 100: 3
100-200: 4
200-300: 5
Over 300: 10

KAWAII LAB. Report #10: Summer Vacation ZIPPER!

MOSHI MOSHI NIPPON readers, it's nice to meet you! I'm Misa Kimura, the general producer of KAWAII LAB.

On August 9, the group I produce, FRUITS ZIPPER, held their solo concert 'Summer Vacation Zipper!' at Yokohama 1000CLUB.

FRUITS ZIPPER has been holding regular performances once a month, and thankfully, they've been selling out instantly, which makes me want to happy scream…we wanted to allow as many people as possible to see them live, which led to this summer concert. In this report, I wanted to look back at Summer Vacation ZIPPER, so be sure to read until the end!

The theme for the show was, of course, summer vacation. The girls wanted to keep the fun going until the very last second, so we had fewer MC parts, instead having each member introduce themselves during their performance. This was also the largest venue FRUITS ZIPPER has performed in so far for a solo concert! FRUITS ZIPPER's regular shows are always different, so we wanted to keep with that trend, doing something totally different. That's how the laser performance came to be.

We'd never used them before, but I thought they would look awesome in such a huge venue, so I took a chance!

Check out the setlist for the concert below. 

SE long ver.

1 We are Frontier

2 Re→TRY & FLY

3 Furefure Summer! (Self Introduction ver.)

4 Kimi no Akarui Mirai wo Oikakete

MC

5 Watashino Ichiban Kawaiitokoro

6 skyfeelan

~Summer Vacation ZIPPER! Special Laser Show~

7 RADIO GALAXY

8 Kanpeki Shugi de☆

Encore

Watashino Ichiban Kawaiitokoro

Furefure Summer!

I made a long version of the intro to the laser show because wanted to make the sound effects really pop, and the first track really fits with the cool imagery. I took the FRUITS ZIPPER song Furefure Summer! and incorporated the member's self-introductions along with the smooth samba rhythm. I think each member's personality shone through so much, it was perfect! I think personally, it was difficult for some of the girls during rehearsal, with the default being something like "I'm Suzuka Chinzei, and my color is orange." It's hard to explain in writing, so anyone who doesn't understand should ask Suzuka directly…

For Furefure Summer!, I wanted to make a real sense of togetherness, so I thickened up the chorus and really stirred things up! It made me so happy to see the fans spinning their towels along with the girls.

During the second half of the show, the girls performed RADIO GALAXY along with a special laser show. After seeing it during rehearsals, I was so excited to see it with the members! Even when the members left the stage, the energy in the venue didn't die down at all. With such a cool performance, the members still channeled cuteness. FRUITS ZIPPER's performance was so unique and totally embodied the idea of NEW KAWAII♡

During the encore version of Watashino Ichiban Kawaiitokoro, I decided to break it up a bit! How was the slightly rougher version?

I guess the highlight was Yui Sakurai's part at the beginning. I think all of the members were able to pick out a good spot to break out because of her, so thank you, Yui.

We tried to do something new with Summer Vacation ZIPPER! Although it was based on the idea of 'vacation,' so many people showed up, and we were so thankful. The event sold out even though it was held on a weekday, and so many people told us how much fun they had! FRUITS ZIPPER puts a big emphasis on entertaining audiences live, so I think this was a really meaningful performance ahead of their first one-man show on September 12. We're not slowing down just yet, and the girls will keep working hard until that major milestone next month!

I had so much more I wanted to ramble about, but that's all for this report. See you again soon♡

Thanks to everyone for reading until the very end!

Kyary Pamyu Pamyu, Atarashii Gakko! Participate in Adobe DANCE VIDEO FES

Calling all dancers! Starting August 5, Adobe began the Adobe DANCE VIDEO FES, which is accepting dance video submissions until August 31, 2022. Those wanting to participate will be dancing to one of four songs by a few very unique artists: Dodonpa by Kyary Pamyu Pamyu, Emome no Natsu by Lucky Kilimanjaro, STARLIGHT by iri, and WOO! GO! by Atarashii Gakko! The campaign challenges contestants to create a dance video in which they show off their original dance moves to the song of their choice. These videos can be easily edited using Adobe Premiere Rush, a piece of software that can also be installed on smartphones.

If you're not incredibly confident in your dance moves, don't worry. Rather than contestants being judged on their technical or editing skills, dancers will be evaluated on the amount of fun they have! The event is meant to emulate the excitement of a summer festival, so both beginners and pros are invited to participate. Just record your dance and upload it to YouTube, Instagram, Twitter, or TikTok with the designated hashtag.

If the video you upload is selected by one of the participating artists, it will be featured in the official campaign dance video. Creators will also have the opportunity to appear in the artists' live performances and dance videos in the future.

In addition, a total of 22 entrants will be selected by drawing to receive Sennheiser wireless headphones, a 12-month Adobe Creative Cloud Complete Plan, a pair of tickets to the D.LEAGUE 22-23 season opener, or an Amazon gift certificate worth ¥30,000.

Comments from Participating Artists

Kyary Pamyu Pamyu: "Dodonpa is a song that's perfect for all kinds of dances, so I hope that you'll dance in your own special way! I'm hoping I can find an amazing dancer to perform with me at my Budokan show on October 19, so I'm looking forward to hearing from you!"

Lucky Kilimanjaro: "Our band's concept is to surprise the world every day, so we were so honored that our song was chosen!
We hope you'll express yourself and show us your unique dances!"

iri: "My new song STARLIGHT is a difficult song to choreograph, so I'm really looking forward to seeing the dances you come with!"

Atarashii Gakko!: "We're happy to announce that our song WOO! GO! has been chosen as a track for Adobe DANCE VIDEO FES! I hope you can add some really cool edits to your videos so that they reach the largest amount of people! Whoever submits the most impressive video will get to appear in an official dance video. We're waiting to see your dances!"


Enter this contest with the same energy as if you were participating in a summer festival!

Kyary Pamyu Pamyu Teams Up with Zunda Saryo as Final LOCAL POWER JAPAN Project Collaboration

Kyary Pamyu Pamyu recently wrapped up her 10th-anniversary tour with an extra performance in Okinawa on July 23. After completing 30 shows over six months, the longest tour of her career, Kyary will perform a solo concert at Nippon Budokan on October 19 to truly conclude this epic tour.

 

As part of her tour, the singer has continued to energize Japan through the appeal of regional towns and cities with the LOCAL POWER JAPAN Project. At each tour location, the artist collaborates with a local company, creating special collaboration logos and products that have become the talk of social media. Kyary has announced the final collaboration for the project, bringing the total to 32. 

During the national tour, the Miyagi concert scheduled for June 25 was canceled due to difficulties at the planned venue, Tokyo Electron Hall Miyagi, after an earthquake hit off the coast of Fukushima Prefecture in March. Although the artist wasn't able to hold her planned performance in the area, she still wants to share the charm of Miyagi with the rest of Japan. The singer will team up with Zunda Saryo, a leading company in the area, for a special release.

Zunda-mochi is a traditional treat popular in Sendai. Loved for centuries, this seasonal delicacy is made by boiling and mashing young soybeans which can only be harvested for a few short days in summer before they turn yellow and ripen. These are then mixed with sugar and wrapped around a rice cake. Zunda Saryo produces many different varieties of this luxurious treat, allowing people to eat them whenever and however they like. From the Zunda Shake to the Zunda Roll Cake, these sweets contain many health benefits–they are rich in protein, vitamins, and minerals. So don't feel any guilt the next time you eat your fill!

 

For this collaboration, Zunda Saryo's reimagined logo pays homage to the artwork seen on the jacket of the 'KPP 2014 JAPAN ARENA TOUR COLORFUL PANIC TOYBOX' Blu-ray release. The company's edamame-inspired mark has been redesigned to feature Kyary's distinctive headpieces, and the artist can be seen smiling with a Zunda Shake in hand.

A colorful collaborative T-shirt is also on sale featuring the new logo and the singer's 10th-anniversary logo. The shirt is available on the LOCAL POWER JAPAN Project website for two weeks only starting July 29, and a portion of the proceeds will be donated to Miyagi Prefecture to help repair the Tokyo Electron Hall Miyagi which was damaged by the June earthquake.

Information

Zunda Saryo (Miyagi Prefecture) x LOCAL POWER JAPAN Project Collaboration T-shirt
Price: ¥3,300 (Tax Included)
Available: July 29 – August 11, 2022

Special Site: https://localpowerjapan.com

Idol Group FRUITS ZIPPER Releases 4th Single 'RADIO GALAXY,' Music Video Revealed

FRUITS ZIPPER, a new idol group from ASOBISYSTEM, has a simple concept: "From Harajuku to the World." Ready to transmit what they call 'NEW KAWAII' from Harajuku, an area known for fashion and individuality, to their soon-to-be global fanbase, the group consists of seven members: Amane Tsukiashi, Suzuka Chinzei, Yui Sakurai, Luna Nakagawa, Mana Manaka, Karen Matsumoto, and Noel Hayase.

This spring, the group released the song Watashino Ichiban Kawaiitokoro, which exploded in popularity on TikTok racking up over 200 million plays. The song also ranked on the TikTok HOT SONGS list and ranked at #1 on Spotify's viral chart. Fans requested a music video, and after its release, it pulled in over 1.1 million views in one month.

The group's long-awaited new single RADIO GALAXY was released on July 29, 2022.

This is FRUITS ZIPPER's 4th single, created in collaboration with trackmaker, singer, and producer YUC'e, who has provided songs for numerous artists and idols in the past.

YUC'e is known for her dance music inlaid with 'KAWAII' elements, and the artist has become incredibly popular both in Japan and abroad. It's no surprise that she chose to work with the adorable members of FRUITS ZIPPER, who are aiming to bring Harajuku culture to fans around the world.

A music video for RADIO GALAXY was posted to YouTube ahead of the song's streaming release.

FRUITS ZIPPER's artist photos were created by YUKARI, a video director, art director, and 3DCG artist from the digital creative company OFBYFOR TOKYO.

RADIO GALAXY – FRUITS ZIPPER (Music Video)

A special campaign to celebrate the release of the new song is ongoing on a number of music streaming sites. In addition, FRUITS ZIPPER will hold their first solo concert at Ebisu LIQUIDROOM on September 12.

For a long time, RADIO GALAXY was only known to fans in the in-crowd who saw it performed at FRUITS ZIPPER live shows. Now, everyone can dance along! 

Kyary Pamyu Pamyu Concludes National Tour, Final Performance to be Held at Nippon Budokan in October

On July 23, Kyary Pamyu Pamyu held an extra performance at Koza Music Town in Okinawa as a part of her 10th-anniversary tour, 'Kyary Pamyu Pamyu ANNIVERSARY JAPAN TOUR 2022 CANDY WAVE.' The tour has also been held to promote the singer's latest album, Candy Racer.

The tour began on January 16 at Atsugi City Cultural Hall in Kanagawa. Kyary created the tour to both thank fans for the past 10 years of support and to help those around Japan to forget the gloomy days of the pandemic, giving them a new happy memory to hold onto.

 

The tour was the longest in the singer's career, with Kyary performing 30 shows over a six-month period. The tour marked the first time the artist had held a solo concert in Yamagata, Akita, Nara, Tottori, and Nagasaki. 

"I know some of you will be watching me perform for the first time, so I've prepared plenty of songs to get you pumped up," the artist called out during her first Okinawa performance. The setlist included Candy Racer and Dodonpa from Kyary's new album, as well as classic tracks like PONPONPON, Tsukematsukeru, and CANDY CANDY for a total of 18 tracks. The venue was lively and filled with smiles until the very last moment.

During the encore, Kyary chatted with the audience, expressing her gratitude as she wrapped up six long months of touring. 

"What would it feel like to tour for six months? I had a lot of thoughts about what it would be like, but now that it's over, I want to do it all over again. This tour made me realize how lucky I am–I get so much energy and joy from everyone. You're the reason that I can enjoy doing these concerts. You're all a part of me," Kyary said. "I want to thank all of my fans! I want to thank everyone!"

In April, Kyary Pamyu Pamyu performed at Coachella 2022, one of the world's largest music festivals. The artist received incredible acclaim both in Japan and abroad.

 

In conjunction with the nationwide tour, the LOCAL POWER JAPAN Project was launched to energize Japan through the appeal of regional towns and cities. 

 

This project was a new attempt to enliven local communities by collaborating with companies that have roots in the rural locations where Kyary's concerts were held. These company's logos were reimagined, paying homage to the artwork associated with Kyary's previous song releases. Over the course of the tour, Kyary collaborated with 31 local businesses, including a collab with Little Tokyo when the artist visited the U.S. in April. 

 

Kyary Pamyu Pamyu, who has overcome a number of trials and difficulties during her career, will hold her first solo performance at Nippon Budokan in six years on October 19. Tickets are on sale now, and fans can look forward to a memorable night!

Photo by Masamune Maeda

Kyary Pamyu Pamyu Collaborates with Okinawa's Okashi Goten for LOCAL POWER JAPAN Project

Kyary Pamyu Pamyu inspired music lovers around the world in April when she performed at Coachella, one of the largest music festivals on Earth. The second half of the singer's 10th anniversary nationwide tour 31-show has begun, and in conjunction with this special event, the LOCAL POWER JAPAN Project was launched to energize Japan through the appeal of regional towns and cities. As with past concert locations, a new collaboration has been announced ahead of Kyary's June 23 performance in Okinawa, where the artist held an additional show. 

In Okinawa, Kyary is teaming up with the popular souvenir shop Okashi Goten, known for its Beni-imo (purple sweet potato) tarts. The shop itself looks similar to Shuri Castle from the outside, and as guests enter, they're surrounded by products made exclusively from Okinawan ingredients. This collaboration pays homage to where it all began, with the special logo inspired by Kyary Pamyu Pamyu's 2011 debut mini-labum Moshi Moshi Harajuku. 

Fans will be able to buy a special box of these tasty tarts, with the outside stamped with 'Moshi Moshi Beni-imo Tart' and a drawing of Kyary inspired by the cover of her 2011 album. 

 

This item is now available at all shops offering Okashi Goten products and at the Okashi Goten online store.

A collaborative T-shirt is also on sale featuring the new logo and the singer's 10th-anniversary logo. The shirt is available on the LOCAL POWER JAPAN Project website for two weeks only starting July 22.

Information

Okashi Goten (Okinawa) x LOCAL POWER JAPAN PROJECT – Moshi Moshi Sweet Potato Tart

Price: ¥756 (Tax Included)
Available: July 23 – August 31, 2022 *Dates may vary at certain stores.
Where to Buy: Okashi Goten locations, online store
(Available while supplies last.)
Official Online Store:  https://www.okashigoten.com/

Collaboration T-shirt
Price: ¥3,300 (Tax Included)
Where to Buy:
LOCAL POWER JAPAN Project Online Shop
https://store-localpowerjapan.com/
Available: July 22 – August 4, 2022

Official Site: https://localpowerjapan.com

Kyary Pamyu Pamyu Collaborates with Nagasaki's Famous 'Hamburger Shop Hikari'

Kyary Pamyu Pamyu has made waves around the world since performing at Coachella, one of the world's largest music festivals, in April. 

Currently embarking on the second half of her 10th anniversary 31-show nationwide tour, the singer is gaining momentum as she aims for her solo concert at Nippon Budokan in October. As part of her tour, the singer has continued to energize Japan through the appeal of regional towns and cities with the LOCAL POWER JAPAN Project. At each tour location, the artist collaborates with a local company, creating special collaboration logos and products that have become the talk of social media. Details of Kyary's collab project in Nagasaki have been revealed after the artist performed in the prefecture on July 18.

In Nagasaki, the artist will collaborate with Hamburger Shop Hikari, a beloved local restaurant that originally opened in 1951. Sasebo burgers are well known in Japan, and all ingredients are sourced from Sasebo City in Nagasaki. These burgers are much larger than the burgers you may be used to and have become a local delicacy throughout the country.

After the war, a U.S. military base was established in Sasebo. The recipe for the Sasebo burger is said to have originated from a recipe found on this base in the 1950s. The collaboration with Hamburger Shop Hikari, known as the origin of these famous burgers, pays tribute to Kyary's new single Maybe Baby. The adorable visual shows a waitress at the shop delivering tasty burgers in a hurry.

A collaborative T-shirt is also on sale featuring the new logo and the singer's 10th-anniversary logo. The shirt is available on the LOCAL POWER JAPAN Project website for two weeks only starting July 17, so grab one while you can.

Information

Nagasaki's Hamburger Shop Hikari x LOCAL POWER JAPAN Project

Collaboration T-shirt

Price: ¥3,300 (Tax Included)

Where to Buy:

LOCAL POWER JAPAN Project Online Shop (https://store-localpowerjapan.com/)

Sales Period: July 17 – July 30, 2022
https://store-localpowerjapan.com/
Official Site: https://localpowerjapan.com