VTuber Shibuya HAL to Perform Ending Theme for The Yakuza's Guide to Babysitting Anime Series
VTuber Shibuya HAL has been announced as the ending theme artist for the upcoming The Yakuza's Guide to Babysitting anime series. 

Shibuya HAL is known for streaming first-person shooters, but he's also popular for his singing streams and videos, often performing popular tracks and participating in cover song projects.

The opening song for the series, Mirai no Hero Tachi e, will be performed by YouTuber Sho Takeyaki.
Up-and-coming creator ANCHOR produced both the opening and ending themes. The artist has produced music for numerous anime series, video games, and more.

Shibuya HAL's sweet and gentle voice matches perfectly with the new song, which is sure to make you feel all warm and fuzzy inside!
Comment from Shibuya HAL
I'm Shibuya HAL, and I've been put in charge of the ending theme for The Yakuza's Guide to Babysitting!
When I received the offer, I freaked out. "The ending theme for an anime? I'm super excited, but I'm way too nervous for such a big role!" But ANCHOR did a wonderful job on the song, and when I heard the finished soundtrack, I thought to myself, "I'm looking forward to this being played!" 
I'm much looking forward to the start of the broadcast when we can finally see the characters moving around!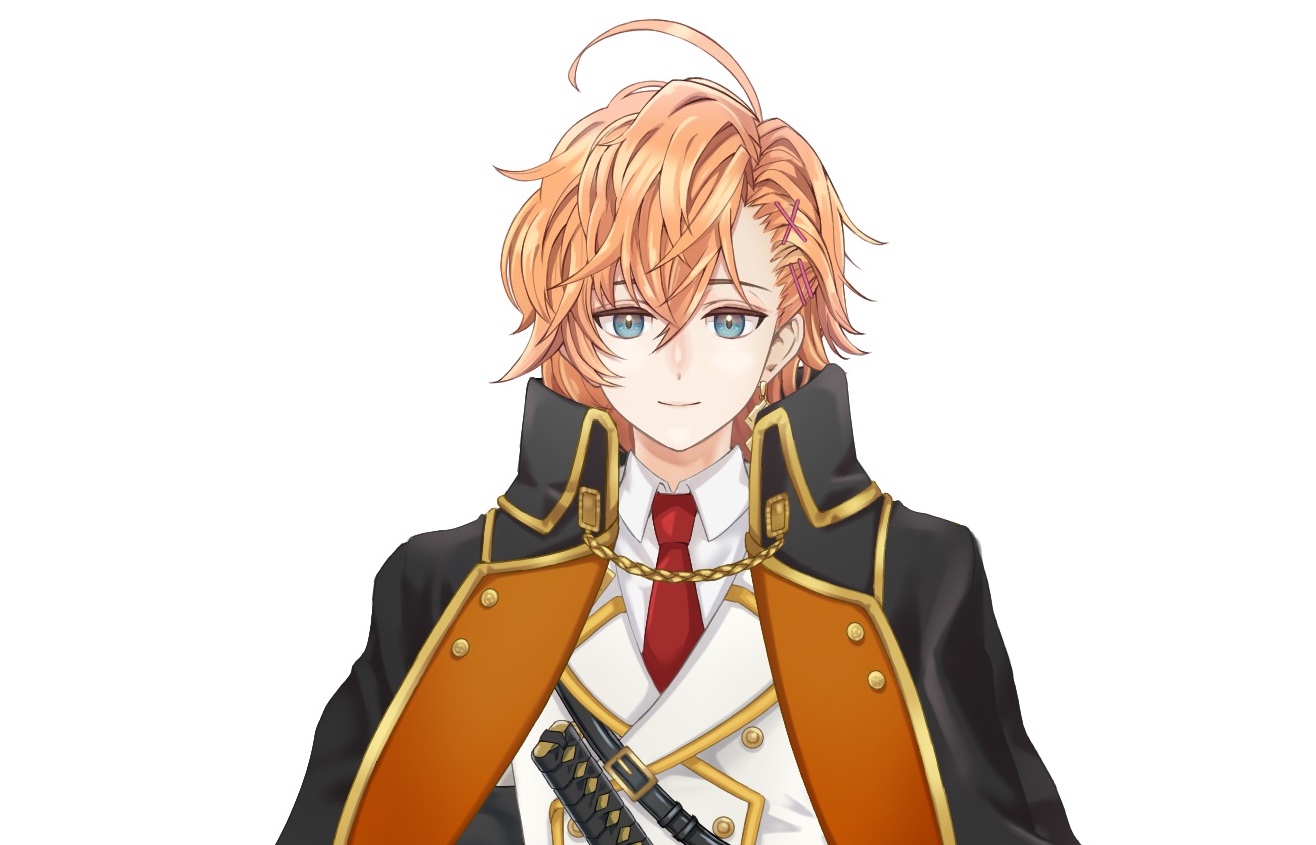 ShibuyaHAL YouTube Channel: https://www.youtube.com/c/HALchannel
ShibuyaHAL Official Twitter Page: http://twitter.com/ShibuyaHAL
Ⓒつきや・マイクロマガジン社/組長娘と世話係製作委員会
Information
Kaerimichi no Iro
The Yakuza's Guide to Babysitting Ending Theme
Lyrics, Composition, Arrangement: ANCHOR
Artist: ShibuyaHAL
Official Site: https://kumichomusume.com
RELATED ENTRIES
VTuber Group ester eight Debuts 5th Pre-Debut Single 'BUZZ,' Member Comments Released

The rookie vocal VTuber group ester eight released their fifth pre-release single BUZZ on all major streaming services on February 22.

Written, composed, and arranged by Hi-ra, the track is a highly danceable song blending J-pop and EDM, revealing a new side of the up-and-coming group.

ester eight will soon make its major label debut. The song is a means to increase their buzz before moving on to the next stage of their careers.

Original goods will be released to commemorate the new track, and a YouTube Live will be held on February 25.

Check out new comments from the members below!

Member Comments

 

Hiro Shirai

"I'm just so incredibly happy. At the same time, I know that our responsibilities and expectations will only continue to increase day by day. BUZZ has a bit of a hip-hop feel, which is super refreshing. Each member really shows off their personality and role, so we hope you can feel ester eight's potential. Listen to it a ton, please!"

Teru Mikado

"ester eight's fifth single is called BUZZ!! It's a low-pitched, groovy song that really shows off how sexy the members can be. Listen to it as much as you can and make sure you generate some BUZZ for us!"

Shun Turigane

"Our fifth original song is finally here! Another complete change from the previous songs– just how much potential does ester eight have?! Please listen and have a ton of fun with it! Buzz it buzz it…buzz it buzz it…!!!"

Souma Musumi

"BUZZ is ester eight's fifth original song. It's a sexy song with a little bit of a dark vibe, so please be sure to check it out!"

Kanade Hiumi

"Our fifth original song is BUZZ. It has a totally different atmosphere from the previous four songs we've released and it really highlights the cool and dark side of our group. Be sure to listen!"

De Miera

"BUZZ, our fifth original song, has been released! This is your chance to see an entirely different side of us, so be sure to listen to this super cool track!"

Mao Roen

Our fifth pre-debut song, BUZZ, is here!! It's a drastic change from our past songs, and I think you'll finally see how cool we can really be! This track really pushes the limit, so I hope everyone will give it a listen!"

moca

"Our fifth single BUZZ is a fast and furious gung-ho, boom-boom, flashy track that you won't want to stop listening to! By the way, I performed the sexy, cute, and cool role again this time. Huh? You don't know what I mean? Listen and you'll find out!"

Kashi Otoha from VTuber Project VERSEⁿ to Release New Single 'Signal'

VERSEⁿ is a VTuber project that travels through various stories. Through cross-media content such as live streaming, anime, music, illustrations, novels, and manga, the project aims to weave a story of the past, present, and future of the VERSEⁿ world together for fans.

Late last year, VTuber Kashi Otoha announced during a live broadcast that a new song was in production to commemorate her 100,000th subscriber.

Otoha's new single Signal will be released digitally on February 15. The track was composed and written by Uztama, an up-and-coming singer-songwriter and composer.

An iTunes download campaign is also underway to commemorate the song's release. Those who preorder Signal on iTunes between February 8 and February 14 will receive an original standby screen image with a comment from Kashi Otoha herself.

VTuber Hoshimachi Suisei Releases Long-Awaited 2nd Album 'Specter'

Hoshimachi Suisei, a popular member of the Hololive VTuber group, released her long-awaited second album Specter on January 25, 2023. The album is available for purchase on CD and digitally.

On January 20, Suisei performed her song Stellar Stellar on the YouTube channel THE FIRST TAKE, making her the first VTuber to do so. The video trended worldwide, pulling in over 160,000 views during its premiere and over 5 million views within three days.

Suisei's first album, Still Still Stellar, was released in September 2021. It reached the top spot on numerous charts including the Oricon Weekly Digital Album Ranking and the Billboard JAPAN Downloaded Albums Ranking.

This second album contains 11 songs written by several incredible creators including Ayase, Jin, Tomoya Tabuchi, Nanahoshi Orchestra, and more!

Hoshimachi Suisei

A forever 18 VTuber who deeply loves singing and idols. Her dream is to one day hold a live concert at Nippon Budokan.

With 1.7 million subscribers on YouTube and over 1.1 million followers on Twitter, she's a true star on the rise.

YouTube: https://www.youtube.com/channel/UC5CwaMl1eIgY8h02uZw7u8A
Twitter: https://twitter.com/suisei_hosimati

VTuber Group NIJISANJI EN to Hold First Live Event in April 2023

In May 2021, the NIJISANJI EN project appeared as a part of the overall umbrella of NIJISANJI VTubers. This April, these English-speaking talents will hold their first live event titled COLORS. A total of 19 performers will appear on April 8 and 9, with the Pastel Stage being held on the 8th and the Vivid Stage being held on the 9th. Don't miss these fully 3D AR performances!

Online tickets are on sale now, and fans can buy tickets for either a single day or the full two days. The performances can be watched as many times as you like during the viewing period, and the first part of the event will be broadcast for free on YouTube and Nico Nico Live.

Information

COLORS (NIJISANJI EN AR LIVE) – Pastel Stage & Vivid Stage
Dates
April 8, 2023 at 12:00JST (Pastel Stage)
April 9, 2023 at 12:00JST (Vivid Stage)
Performer Details and Ticket Info: https://event.nijisanji.app/EN_COLORS

VTuber Idol Group UNI Mello Releases Digital Single 'YOUTOPIA'

The virtual idol group UNI MELLO released its first original song, Find out SHANGRI-LA, in September. On October 26, the members released a second digital single titled YOUTUPIA on all major streaming services.

 

UNI Mello consists of seven members: Kaede, Sekai, You, Amane, Tomoka, Shirafuji, and Shun. Each has a unique hobby and skillset, and the members have continued to grow over the past six months. On the UNI Mello YouTube channel, the members have continuously posted singing videos, as well as daily streams. 

 

YOUTOPIA tells the story of a normal day that becomes special when you're with the one you love. It's a love song filled with gratitude and joy, perfect for when your day needs a pick-me-up. The First Fan Meeting event will be held on November 27, so fans of UNI Mello will want to keep an eye out for more details.

 

Be sure to keep an eye on what UNI Mello does next by following the group on social media and on YouTube!

Hololive VTuber Shirakami Fubuki Appointed "Lifesaving Supporter" by the Japan AED Foundation

Shirakami Fubuki, a popular member of the VTuber group Hololive, has been appointed as a Lifesaving Supporter in the Japan AED Foundation's team ASUKA.  

The collaboration aims to stress the importance of AEDs, which can be used to stop sudden cardiac arrest. A newly-drawn illustration of Fubuki is being used to promote this important crossover, which will be found in leaflets, gacha machines, and online training course certificates, as well as on the official website and social media. More details about the collab will be announced in a video scheduled to be released on October 14. 

Hololive VTubers to Collaborate with RED° TOKYO TOWER for Collaboration Event

From November 3 until November 27, fans of Hololive will want to visit Tokyo Tower! The iconic location will host a collaboration with several popular VTubers at RED° TOKYO TOWER, the largest esports park in Japan. Usada Pekora, Shirogane Noel, Shishiro Botan, and Sakamata Chloe will take part in the collab, and during the event, a special video will be shown on a giant 15-meter LED monitor inside the complex. A special food and drink menu will also offer up goodies based on the girls themselves, and fans will find original merchandise showing the talents in casino costumes and bathrobes. 

Visitors can play poker with special collaboration chips, and visitors to the RED° E-SAUNA UENO, which will be running concurrently, can snag original sauna hats and towels before relaxing in a private sauna room with life-size panels of the Hololive members. Tickets must be purchased in advance, so don't miss out!

Information

Hololive x RED° TOKYO TOWER Collaboration

Venue: RED° TOKYO TOWER

Running: November 3 – November 27, 2022

Address: Tokyo Tower FOOT TOWN, 3F-5F (4-2-8 Shibakoen, Minato-ku, Tokyo)

Official Website: https://tokyotower.red-brand.jp/

VTuber Shibuya HAL Releases Music Video for The Yakuza's Guide to Babysitting Ending Theme

VTuber Shibuya HAL has released the music video for Kaerimichi no Iro, the ending theme for the anime series The Yakuza's Guide to Babysitting. The final episode of the series aired on September 22, 2022. This is Shibuya HAL's first single to be used for an anime tie-in!

The music video is incredibly peaceful, with the visuals drenched by the orange glow of a setting sun. It features a new illustration of the VTuber by Tsukiya, the original author of The Yakuza's Guide to Babysitting. Fans will recognize live-action street scenes from Shibuya, and an incredible amount of detail in this new release!

Music Video: https://youtu.be/ZvOqFiiIPCI

The anime series The Yakuza's Guide to Babysitting has become incredibly popular with audiences around the world, and all 12 episodes are currently available to stream. Be sure to check out the manga series in Comic ELMO!

©つきや・マイクロマガジン社/組長娘と世話係製作委員会

Information

Kaerimichi no Iro

Release Date: August 31, 2022

Popular YouTuber Shou Takeyaki Sings The Yakuza's Guide to Babysitting's Opening Theme

The music video for Mirai no Hero Tachi e, the opening theme song for the anime series The Yakuza's Guide to Babysitting, has been released on Sho Takeyaki's YouTube channel. The track was the first anime song performed by the popular YouTuber, who has amassed over 2 million followers.

The music video was directed by Nora Inu, known for also directing Nanawo Akari's music videos. The video is a retrospective of Sho Takeyaki's journey to adulthood, interspersed with old photos. Fans won't want to miss it!

Comment from Shou Takeyaki

"My name is Shou Takeyaki, and I performed the theme song for The Yakuza's Guide to Babysitting. 

The lyrics of this song relate to the anime series so well–I thought it was a perfect fit when I heard about it.  I still remember when I finally saw the track overlap with the anime opening footage. That's when it felt real. 

It's a great song and was created with some incredibly talented musicians, so I hope you'll listen when you get a chance!"

The Yakuza's Guide to Babysitting manga series has sold over 1 million copies, and the anime series is now available to stream. Be sure to check out the manga on Comic ELMO.

©つきや・マイクロマガジン社/組長娘と世話係製作委員会

Information

Mirai no Hero Tachi e

Release Date: August 17, 2022

VTuber Collective Hololive Collaborates with Popular Game Among Us for a Limited Time

Popular VTubers from Hololive Productions are collaborating with the multiplayer online game Among Us for a limited time! The collab began on September 21, 2022.

30 special collaboration skins featuring Hololive personalities are now available in the game. Along with these, players can snag hats and visors! These can be purchased in-game and unlocked through gameplay. The Collaboration Cosmicubes will be available for purchase for three months, so get yours while you can!

The company is also planning on selling real-life collaborative goods to commemorate the event, so keep an eye out for more details coming soon!

Information

Hololive Production x Among Us Limited Time Collaboration

Start Date: September 21, 2022

Hololive Production Official Site: https://www.hololive.tv/

Esports V-Tuber Adictor Operator Adi Debuts

Operated by Logly, Adictor is Japan's first esports competition platform offering real prize money. The company has announced a new VTuber, Adictor Operator Adi, to promote esports to a wider audience. 

 

Adi hopes to improve the quality of Adictor's competitions and events. "We want organizers and sponsors to easily work with us on esports events, and we hope to become a more well-known point of contact with the community going forward," the company said. 

 

Comment from Adictor Operator Adi

"Hi everyone! I'm Adictor Operator Adi!


I'm nervous about making my VTuber debut, but I really hope to enjoy playing games with you all!

I'm a Level 1 gamer, but I have a real passion to bring the esports community together! I'll be bringing you esports news, and I'll chat with you about games. I'll even sing! I'm going to try my hand at a lot of different games going forward, so I hope you'll help me out!"

Dev-c Group from VTuber Project VEE Debuts with Huge Ad in Shinjuku

To celebrate the debut of Dev-c, the new VTuber unit from VEE, a giant ad has appeared in Shinjuku Station! Fans should head to the Promenade connecting Shinjuku Station to Shinjuku 3-come from September 5 until September 11 to catch a glimpse of these new talents!

The ad shows Uriyone, Anew Uparu, Cotonoha, Luminous Sweet, and Aomiya Yozuri strolling down a Tokyo street.

 

Spread out behind them are images of the members of Dev-a and Dev-b, who previously debuted.

 

VEE has managed to bring together some incredible talents so far. On the right side, fans will see Dev-c's key visual and a message from VEE to fans, so if you're near Shinjuku, be sure to check it out!

Information

Dev-c Billboard Celebrating the Group's Debut

On Display: September 5 – September 11, 2022
Location: Tokyo Metro Shinjuku Station – Promenade Area
Official Site: https://vee-official.jp/


*To prevent the spread of COVID-19, try to social distance and enjoy responsibly.
*Please do not contact station staff regarding the billboard.