NIJISANJI Fes 2022 Reveals 118 Participating VTubers, New Illustrations
NIJISANJI Fes 2022, the largest NIJISANJI event to date, will be held on October 1 and October 2 at Makuhari Messe in Chiba. Ahead of the festival, ANYCOLOR has announced the 118 VTubers that will be participating, along with new illustrations showing some popular personalities wearing class T-shirts which will be available at the venue.
NIJISANJI Fes 2022 Special Announcement Video
https://youtu.be/st-m1G_DYS8
The image song for NIJISANJI Fes 2022, Hurrah!!, is now available to stream. The music video for the track will feature fan art which will also be displayed at the venue, so get your entries in by August 28!
Illustrations Highlighting Class T-Shirts
NIJISANJI Fes 2022 Image Song, Hurrah!!
Music: Mito Tsukino, Sasaki Saku, Kuzuha, Lize Helesta, Sara Hoshikawa, Minato Fuwa, Axia Krone
Lyrics / Composition / Arrangement: Jin
On the special website, newly-drawn illustrations of the 118 participating VTubers are featured. Each member is a part of a different class, and these class T-shirts will be handed out at random to those with tickets to the event as a bonus. They will also be available for purchase, so don't worry if you don't get the one you want!
▼Green
Manami Aizono, Uiha Aiba, Youko Akabane, Axia Krone, Akane Asahina, Hina Asuka, Momo Azuchi, Kokoro Amamiya, Sayo Amemori, Almal Ars, Katrina Ange, Mugi Ienaga, Inui Toko, Ibrahim, Ichigo Ushimi, Muyu Amagase, Vox Akuma
▼Indigo
Kou Uzuki, Albio Ex, Emma★August, Eli Conifer, Elu, Haruka Onomachi, Oliver Evans, Haru Kaida, Hayato Kagami, Kanae, Shoichi Kanda, Hisui Kitakoji, Gilzaren III, Gwelu Os Gar, Kuzuha, Yotsuba Umise, Aza
▼Blue
Natsume Kurusu, Kuroi Shiba, Mirei Gundou, Tojiro Genzuki, Touya Kenmochi, Akina Saegusa, Ritsuki Sakura, Sasaki Saku, Yuika Shiina, Shellin Burgundy, Rin Shizuka, SisterClaire, Hajime Shibuya, Joe Rikiichi, Tomoe Shirayuki, Akira Shikinagi, Eine
▼Red
Sango Suo, Kana Sukoya, Utako Suzuka, Masaru Suzuki, Aki Suzuya, Miyako Seto, Kirame Sorahoshi, Rion Takamiya, Mito Tsukino, Debidebi Debiru, Kohaku Todo, Dola, Kyoko Todoroki, Kei Nagao, Naraka, Kanato Fura, Elira Pendora
▼Orange
Naru Naruse, Chigusa Nishizono, Sociere Nui, Fuyuki Hakase, Hanabatake Chaika, Sou Hayase, Marin Hayama, Air Harusaki, Kaede Higuchi, Gaku Fushimi, Tamaki Fumino, Furen E. Lustario, Fuwa Minato, Belmond Pandelas, Nei Ponto, Pomu Rainpuff
▼Yellow
Sara Hoshikawa, Himawari Honma, Keisuke Maimoto, Ririmu Makaino, Meme Mashiro, Chima Machita, Mao Matsukai, Moira, Alice Mononobe, Kazaki Morinaka, Rine Yaguruma, Kizuki Yashiro, Karuta Yamagami, Chihiro Yuki, Seraph Dazzlegarden, Mysta Rias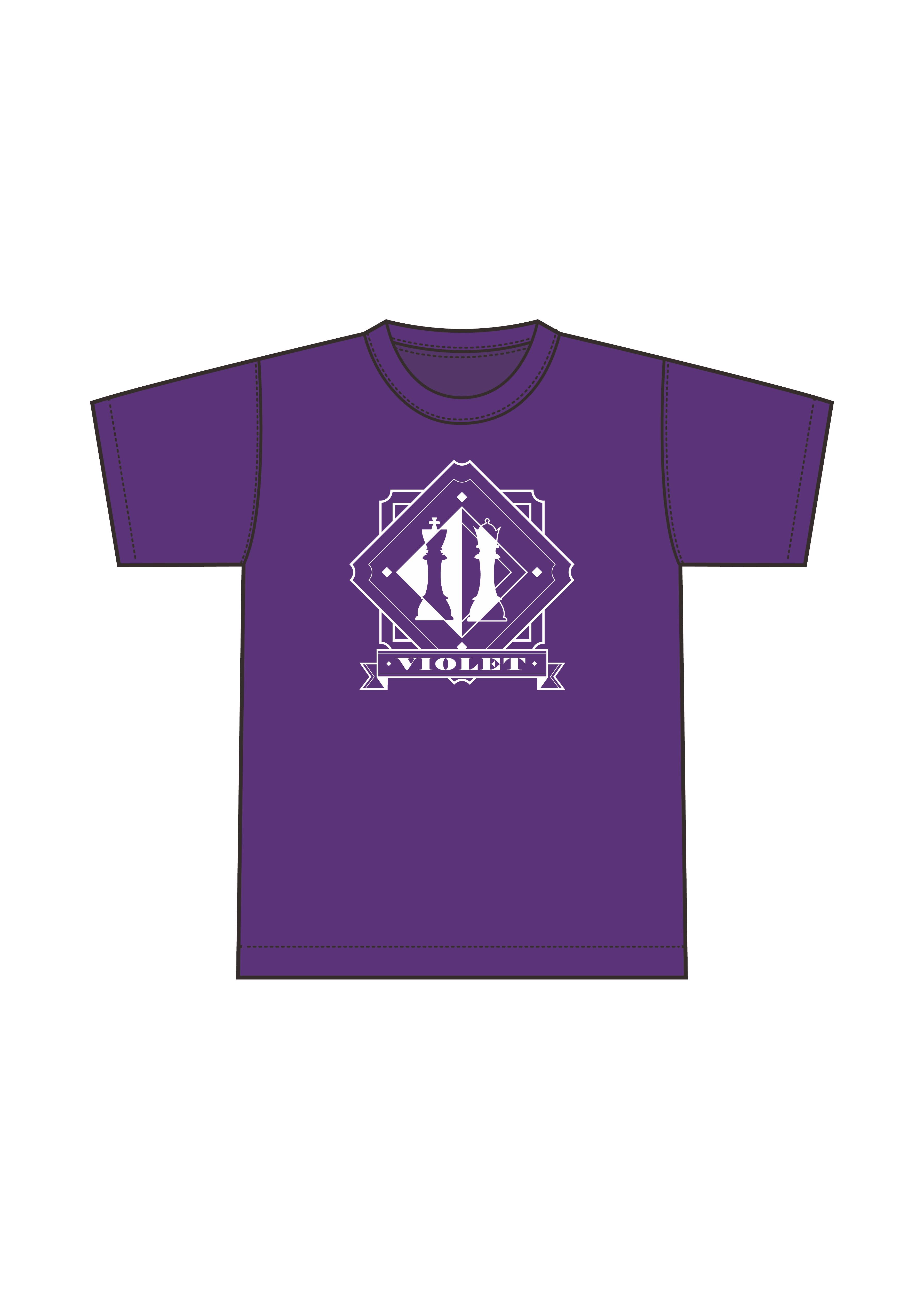 ▼Violet
Riri Yuhi, Mahiro Yukishiro, Roa Yuzuki, Kakeru Yumeoi, Ratna Petit, Lize Helesta, Ryushen, Mikoto Rindou, Lain Paterson, Luis Cammy, Levi Elipha, Vincent Leos, Lauren Iroas, Hibari Watarai, Finana Ryugu, Hyakumantenbara Salome
RELATED ENTRIES
VTuber Group ester eight Debuts 5th Pre-Debut Single 'BUZZ,' Member Comments Released

The rookie vocal VTuber group ester eight released their fifth pre-release single BUZZ on all major streaming services on February 22.

Written, composed, and arranged by Hi-ra, the track is a highly danceable song blending J-pop and EDM, revealing a new side of the up-and-coming group.

ester eight will soon make its major label debut. The song is a means to increase their buzz before moving on to the next stage of their careers.

Original goods will be released to commemorate the new track, and a YouTube Live will be held on February 25.

Check out new comments from the members below!

Member Comments

 

Hiro Shirai

"I'm just so incredibly happy. At the same time, I know that our responsibilities and expectations will only continue to increase day by day. BUZZ has a bit of a hip-hop feel, which is super refreshing. Each member really shows off their personality and role, so we hope you can feel ester eight's potential. Listen to it a ton, please!"

Teru Mikado

"ester eight's fifth single is called BUZZ!! It's a low-pitched, groovy song that really shows off how sexy the members can be. Listen to it as much as you can and make sure you generate some BUZZ for us!"

Shun Turigane

"Our fifth original song is finally here! Another complete change from the previous songs– just how much potential does ester eight have?! Please listen and have a ton of fun with it! Buzz it buzz it…buzz it buzz it…!!!"

Souma Musumi

"BUZZ is ester eight's fifth original song. It's a sexy song with a little bit of a dark vibe, so please be sure to check it out!"

Kanade Hiumi

"Our fifth original song is BUZZ. It has a totally different atmosphere from the previous four songs we've released and it really highlights the cool and dark side of our group. Be sure to listen!"

De Miera

"BUZZ, our fifth original song, has been released! This is your chance to see an entirely different side of us, so be sure to listen to this super cool track!"

Mao Roen

Our fifth pre-debut song, BUZZ, is here!! It's a drastic change from our past songs, and I think you'll finally see how cool we can really be! This track really pushes the limit, so I hope everyone will give it a listen!"

moca

"Our fifth single BUZZ is a fast and furious gung-ho, boom-boom, flashy track that you won't want to stop listening to! By the way, I performed the sexy, cute, and cool role again this time. Huh? You don't know what I mean? Listen and you'll find out!"

BAND-MAID to Hold First Performance at KNOTFEST JAPAN 2023 to be Held at Makuhari Messe

The popular female rock band BAND-MAID will perform for the first time at KNOTFEST JAPAN 2023, scheduled for April 1 and April 2 at Makuhari Messe in Chiba.

KNOTFEST was begun by the American heavy metal band Slipknot, and the festival has been held yearly since 2012. BAND-MAID will perform on Day 1 along with headliners Slipknot, Trivium, and MAN WITH A MISSION.

Tickets for the May shows to be held in the United States as part of the BAND-MAID 10TH ANNIVERSARY TOUR are none on sale. The group managed to bring in over 20,000 fans during their solo U.S. tour in 2022. In addition to performing at Pointfest 2023, Welcome to Rockville 2023, and the Sonic Temple Art & Music Festival, BAND-MAID will also perform six solo shows. With some venues selling out instantly last year, you'll want to snag tickets while you can!

Information

KNOTFEST JAPAN 2023

*BAND-MAID to perform on Day 1, April 1
DAY 1 – ROADSHOW

April 1, 2023
DAY 2 – FESTIVAL

April 2, 2023
Venue: Makuhari Messe International Exhibition Halls 9-11
https://knotfestjapan.com
Official Site: https://bandmaid.tokyo

Kashi Otoha from VTuber Project VERSEⁿ to Release New Single 'Signal'

VERSEⁿ is a VTuber project that travels through various stories. Through cross-media content such as live streaming, anime, music, illustrations, novels, and manga, the project aims to weave a story of the past, present, and future of the VERSEⁿ world together for fans.

Late last year, VTuber Kashi Otoha announced during a live broadcast that a new song was in production to commemorate her 100,000th subscriber.

Otoha's new single Signal will be released digitally on February 15. The track was composed and written by Uztama, an up-and-coming singer-songwriter and composer.

An iTunes download campaign is also underway to commemorate the song's release. Those who preorder Signal on iTunes between February 8 and February 14 will receive an original standby screen image with a comment from Kashi Otoha herself.

VTuber Hoshimachi Suisei Releases Long-Awaited 2nd Album 'Specter'

Hoshimachi Suisei, a popular member of the Hololive VTuber group, released her long-awaited second album Specter on January 25, 2023. The album is available for purchase on CD and digitally.

On January 20, Suisei performed her song Stellar Stellar on the YouTube channel THE FIRST TAKE, making her the first VTuber to do so. The video trended worldwide, pulling in over 160,000 views during its premiere and over 5 million views within three days.

Suisei's first album, Still Still Stellar, was released in September 2021. It reached the top spot on numerous charts including the Oricon Weekly Digital Album Ranking and the Billboard JAPAN Downloaded Albums Ranking.

This second album contains 11 songs written by several incredible creators including Ayase, Jin, Tomoya Tabuchi, Nanahoshi Orchestra, and more!

Hoshimachi Suisei

A forever 18 VTuber who deeply loves singing and idols. Her dream is to one day hold a live concert at Nippon Budokan.

With 1.7 million subscribers on YouTube and over 1.1 million followers on Twitter, she's a true star on the rise.

YouTube: https://www.youtube.com/channel/UC5CwaMl1eIgY8h02uZw7u8A
Twitter: https://twitter.com/suisei_hosimati

VTuber Group NIJISANJI EN to Hold First Live Event in April 2023

In May 2021, the NIJISANJI EN project appeared as a part of the overall umbrella of NIJISANJI VTubers. This April, these English-speaking talents will hold their first live event titled COLORS. A total of 19 performers will appear on April 8 and 9, with the Pastel Stage being held on the 8th and the Vivid Stage being held on the 9th. Don't miss these fully 3D AR performances!

Online tickets are on sale now, and fans can buy tickets for either a single day or the full two days. The performances can be watched as many times as you like during the viewing period, and the first part of the event will be broadcast for free on YouTube and Nico Nico Live.

Information

COLORS (NIJISANJI EN AR LIVE) – Pastel Stage & Vivid Stage
Dates
April 8, 2023 at 12:00JST (Pastel Stage)
April 9, 2023 at 12:00JST (Vivid Stage)
Performer Details and Ticket Info: https://event.nijisanji.app/EN_COLORS

Kyary Pamyu Pamyu Returns to America to Perform Only Half a Year After Coachella

On October 29, Kyary Pamyu Pamyu took part in Porter Robinson's Second Sky Music Festival in Oakland, California. The following day, the popular singer also appeared at Porter Robinson + Friends, an afterparty event held in San Francisco. American fans are finding their excitement at a fever pitch as the Harajuku-based artist continues to perform abroad!

Kyary Pamyu Pamyu recently made headlines when she performed an unprecedented 62 songs at Nippon Budokan on October 19 during the final stop on her 10th-anniversary tour. Following this impressive feat, Kyary performed at yet another festival in Japan before hastily returning to the United States following her show-stopping performance at Coachella half a year ago.

Porter Robinson's Second Sky Music Festival was hosted by and featured performances by internationally acclaimed DJ and producer Porter Robinson. Other important figures in the dance music scene also appeared including SKRILLEX and RL GRIME.

The event took place in a large parking lot adjacent to the Oakland Coliseum, home of the Oakland Athletics MLB team. Since the show took place close to Halloween, plenty of decorations could be found, and fans lined up from the early morning to get inside.

Although Kyary's performance was scheduled for quite early in the day, the audience sprawled out as far as the eye could see. As DE.BA.YA.SHI. 2021 began to play, fans began to excitedly call out Kyary's name. In Japan, regulations are in place to stop the spread of the coronavirus, meaning that audience members are forbidden to yell during concerts–but no such precaution exists in the U.S. It was clear that Kyary was beyond excited to hear the audience's enthusiasm, and as the show began, the artist called out "Second Sky," to which the fans responded with excited cries. 

The audience danced wildly to Candy Racer and Dodonpa, two of Kyary's most peppy tracks, which played in succession. The singer did her best to speak English. "Hello! I'm Kyary Pamyu Pamyu from Japan," she began. She then complimented a fan in full Kyary cosplay. "Wow! Nice costume! PONPONPON costume, so nice," she said.

During CANDY CANDY -Remix-, the audience raised their hands high in the air as they followed Kyary's instructions to jump, swaying from left to right. As the audience moved in sync, a number of hit tracks began to play, including Harajuku Iyahoi and Tsukematsukeru. However, nothing could match the excitement of the moment that the intro to PONPONPON began to play. Porter Robinson, who was watching the live performance from the side of the stage, was moved to tears, and everyone could feel how big Kyary's presence was for local fans.

Kyary's performance at the Coachella Valley Music and Arts Festival in April of this year became a hot topic, showing that Kyary is still incredibly popular in the U.S. ten years after her major debut.

In addition to her largest national tour to date, Kyary has made numerous appearances at music festivals in Japan and abroad in 2022. The artist's first overseas performance during her 11th year as a performer was an incredible success and bodes well for Kyary's future.

<Setlist>
2022.10.29 "Second Sky Music Festival"
OP. DE.BA.YA.SHI.2021
1. Candy Racer
2. Dodonpa
3.Invader Invader
4. CANDY CANDY –Remix-
5. Ninja Re Bang Bang –Steve Aoki Remix-
6. Harajuku Iyahoi
7. Tsukematsukeru
8. PONPONPON –Extended Mix-
9. Fashion Monster

2022.10.30 "Porter Robinson + Friends"
OP. DE.BA.YA.SHI.2021
1. Candy Racer
2. Ninja Re Bang Bang
3. CANDY CANDY
4.Crazy Party Night-Pumpkins Strike Back-
5. Kira Kira Killer
6. Isshin Doutai
7. Harajuku Iyahoi
8. Fashion Monster
9. PONPONPON

Information

Kyary Pamyu Pamyu

VTuber Idol Group UNI Mello Releases Digital Single 'YOUTOPIA'

The virtual idol group UNI MELLO released its first original song, Find out SHANGRI-LA, in September. On October 26, the members released a second digital single titled YOUTUPIA on all major streaming services.

 

UNI Mello consists of seven members: Kaede, Sekai, You, Amane, Tomoka, Shirafuji, and Shun. Each has a unique hobby and skillset, and the members have continued to grow over the past six months. On the UNI Mello YouTube channel, the members have continuously posted singing videos, as well as daily streams. 

 

YOUTOPIA tells the story of a normal day that becomes special when you're with the one you love. It's a love song filled with gratitude and joy, perfect for when your day needs a pick-me-up. The First Fan Meeting event will be held on November 27, so fans of UNI Mello will want to keep an eye out for more details.

 

Be sure to keep an eye on what UNI Mello does next by following the group on social media and on YouTube!

Kyary Pamyu Pamyu and Katy Perry to Perform Together for the First Time at True Colors Festival THE CONCERT 2022

The Nippon Foundation has been supporting people with disabilities in Japan and abroad for over fifty years. To mark this incredible milestone, True Colors Festival THE CONCERT 2022 will be held on November 19 and 20 at Tokyo Garden Theater. The performance aims to inspire fans to express their uniqueness. 

Kyary Pamyu Pamyu will perform as a guest performer on both days of the concert, which stands to be one of the largest live events in the world put on by artists with disabilities.

Kyary became a smash hit with audiences worldwide after Katy Perry praised her PONPONPON music video on Twitter, and the two are said to be fans of one another. This will be the first time that the two pop icons will perform on stage together. 

"I'm looking forward to performing with so many unique artists from around the world," Kyary said in a statement. "I'm so happy that I'm going to live my dream of performing with Katy!" 

Information

True Colors Festival THE CONCERT 2022 

Venue: TOKYO GARDEN THEATER (2-1-6 Ariake, Koto-ku, Tokyo)

Dates: 

November 19 / Doors Open at 16:00, Show Starts at 18:00

November 20 / Doors Open at 15:00, Show Starts at 17:00

Official Site: https://truecolorsfestival.com/jp/program/the_concert/

Hololive VTuber Shirakami Fubuki Appointed "Lifesaving Supporter" by the Japan AED Foundation

Shirakami Fubuki, a popular member of the VTuber group Hololive, has been appointed as a Lifesaving Supporter in the Japan AED Foundation's team ASUKA.  

The collaboration aims to stress the importance of AEDs, which can be used to stop sudden cardiac arrest. A newly-drawn illustration of Fubuki is being used to promote this important crossover, which will be found in leaflets, gacha machines, and online training course certificates, as well as on the official website and social media. More details about the collab will be announced in a video scheduled to be released on October 14. 

Hololive VTubers to Collaborate with RED° TOKYO TOWER for Collaboration Event

From November 3 until November 27, fans of Hololive will want to visit Tokyo Tower! The iconic location will host a collaboration with several popular VTubers at RED° TOKYO TOWER, the largest esports park in Japan. Usada Pekora, Shirogane Noel, Shishiro Botan, and Sakamata Chloe will take part in the collab, and during the event, a special video will be shown on a giant 15-meter LED monitor inside the complex. A special food and drink menu will also offer up goodies based on the girls themselves, and fans will find original merchandise showing the talents in casino costumes and bathrobes. 

Visitors can play poker with special collaboration chips, and visitors to the RED° E-SAUNA UENO, which will be running concurrently, can snag original sauna hats and towels before relaxing in a private sauna room with life-size panels of the Hololive members. Tickets must be purchased in advance, so don't miss out!

Information

Hololive x RED° TOKYO TOWER Collaboration

Venue: RED° TOKYO TOWER

Running: November 3 – November 27, 2022

Address: Tokyo Tower FOOT TOWN, 3F-5F (4-2-8 Shibakoen, Minato-ku, Tokyo)

Official Website: https://tokyotower.red-brand.jp/

VTuber Shibuya HAL Releases Music Video for The Yakuza's Guide to Babysitting Ending Theme

VTuber Shibuya HAL has released the music video for Kaerimichi no Iro, the ending theme for the anime series The Yakuza's Guide to Babysitting. The final episode of the series aired on September 22, 2022. This is Shibuya HAL's first single to be used for an anime tie-in!

The music video is incredibly peaceful, with the visuals drenched by the orange glow of a setting sun. It features a new illustration of the VTuber by Tsukiya, the original author of The Yakuza's Guide to Babysitting. Fans will recognize live-action street scenes from Shibuya, and an incredible amount of detail in this new release!

Music Video: https://youtu.be/ZvOqFiiIPCI

The anime series The Yakuza's Guide to Babysitting has become incredibly popular with audiences around the world, and all 12 episodes are currently available to stream. Be sure to check out the manga series in Comic ELMO!

©つきや・マイクロマガジン社/組長娘と世話係製作委員会

Information

Kaerimichi no Iro

Release Date: August 31, 2022

VTuber Collective Hololive Collaborates with Popular Game Among Us for a Limited Time

Popular VTubers from Hololive Productions are collaborating with the multiplayer online game Among Us for a limited time! The collab began on September 21, 2022.

30 special collaboration skins featuring Hololive personalities are now available in the game. Along with these, players can snag hats and visors! These can be purchased in-game and unlocked through gameplay. The Collaboration Cosmicubes will be available for purchase for three months, so get yours while you can!

The company is also planning on selling real-life collaborative goods to commemorate the event, so keep an eye out for more details coming soon!

Information

Hololive Production x Among Us Limited Time Collaboration

Start Date: September 21, 2022

Hololive Production Official Site: https://www.hololive.tv/