Mister Donut collaborates with My Melody & Kuromi this Halloween!
Mister Donut are holding a campaign titled "Magical Mister Donut Halloween" where they are releasing Halloween doughnuts themed around the Sanrio characters My Melody and Kuromi casting magic on Mister Donut. The doughnuts will go on sale from September 15th.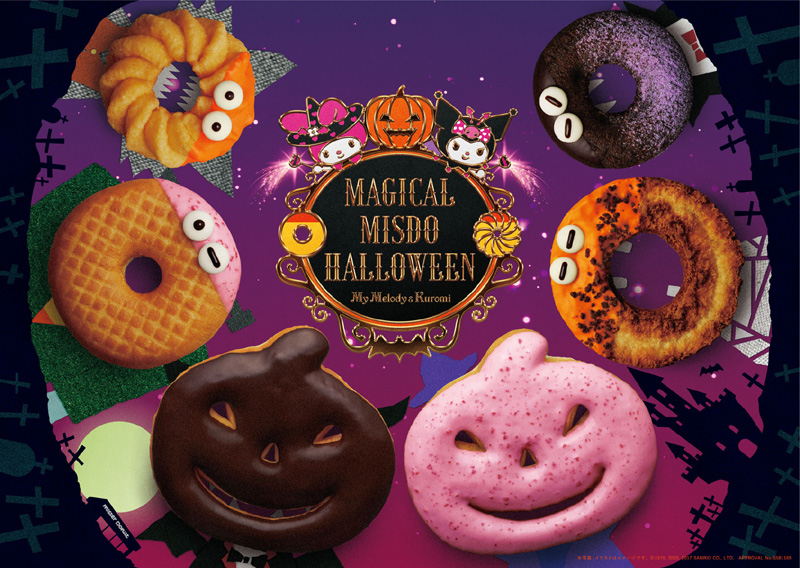 As well as selling 11 different limited edition Halloween doughnuts, Mister Donut will also be selling limited quantities of two different My Melody & Kuromi collaborative blankets as a set with the doughnuts.
My Melody & Kuromi have cast their spell over Mister Donut for this year's Halloween season, so you can look forward to getting your hands on a range of Halloween goodies and merchandise.
The spell casted by the popular Sanrio characters has changed the doughnuts into spooky ghoul faces. There are 7 varieties of "My Melody & Kuromi's Halloween Friends" doughnuts with monster faces, and 4 different of the popular Pon de Ring doughnuts that they are calling "Pon de Eyeball" as these spooky treats have eyeballs on them coated in white chocolate.
And don't forget the "Magical Mister Donut Blankets." There are two designs that you can purchase as a set along with the limited edition Halloween doughnuts or the regular doughnuts.
Mister Donuts is the only place you can enjoy such a Halloween doughnut feast, so sink your teeth into some delicious and unique looking doughnuts and pick up a My Melody & Kuromi blanket to cover yourself from the creepy ghouls this Halloween.
■Information
My Melody & Kuromi's Halloween Friends
Available: Friday September 15th to Tuesday October 31st
Participating Shops: Available at select Mister Donut stores in Japan
Doughnut Pop Halloween Limited Edition Flavour
Available: Friday September 15th to Tuesday October 31st
Participating Shops: Available at select Mister Donut stores in Japan
Magical Mister Donut Blankets
Available: Friday September 15th until all are sold out
Participating Shops: Available at select Mister Donut stores in Japan
Official Website: http://www.misterdonut.jp
RELATED ENTRIES
Sanrio Celebrates My Melody's Birthday With Special Merchandise and More

Sanrio has begun celebrations for My Melody's birthday, which falls on January 18, which includes the announcement of the rental My Melody House, exclusive merchandise, the fan-favourite character appearing on a popular Japanese radio show, and more.

House Mate Rental Building – "My Melody House" (Temporary Name)

My Melody Flower Service Original Design

Novelty Calendar – March 2021

Goncharoff Collab Valentine's Chocolate

MINISTOP Limited-Edition Snowman Cup Dessert | ¥489 (Tax Included)

TOKYO FM Radio Show – "Sky Rocket Company"

My Melody "Itsudemo Issho ni My Melody" app gets memo pad update

My Melody Lottery | ¥700 Per Go (Tax Included)

My Melody Acrylic Clock added to Sanrio's Point Service "Sanrio+"

This autumn, House Mate is opening My Melody-themed buildings that people can rent. As of now it's temporarily called the My Melody House. It will first open in Tokyo before rolling out across Japan, featuring wallpaper, kitchens, baths, toilets, doorknobs, all adorned with My Melody decorations.

Sanrio is also launching a flower delivery service this February which will see flowers delivered to homes in Japan twice a month. The first delivery of the month contain not only the flowers wrapped in My Melody paper but a free My Melody mask too. The second delivery of a month will be coupled with a calendar for the following month.

The character creation company is also collaborating with Goncharoff for Valentine's with cute ribbon-wrapped chocolates. MINISTOP convenience stores in Japan will also begin selling a special cup dessert featuring My Melody as a snowman from January 22.

Sanrio shops and convenience stores in Japan will also roll out a lottery at the end of this month where fans can win a variety of items like cushions, a chocolate fondue maker, coconut plate, and more.

©ʻ76,'21 SANRIO 著作(株)サンリオ

Mister Donuts x Pierre Marcolini Luxury Doughnuts Hit Japan

Mister Donuts has teamed up with Belgian chocolate brand Pierre Marcolini to release the "misdo meets PIERRE MARCOLINI Collection" of doughnuts which hit Japanese branches on Friday (January 8).

Fondant Chocolate Doughnut – Chocolate | ¥200 (Before Tax)

Fondant Chocolate Doughnut – Caramel | ¥200 (Before Tax)

Fondant Chocolate Doughnut – Raspberry | ¥200 (Before Tax)

Fondant Chocolate Doughnut – Hazelnut | ¥200 (Before Tax)

Danish Chocolate – Raspberry | ¥230 (Before Tax)

Danish Chocolate – Hazelnut | ¥230 (Before Tax)

The doughnuts are part of Mister Donuts "misdo meets" series which first began in 2017 to combine the highest quality ingredients and techniques to in order to bake up the best possible doughnuts. This time, it has joined sticky bakers fingers with the popular Begian chocolate brand Pierre Marcolini to create a new kind of fondant chocolate doughnut and danish. The line-up is made with high quality authentic chocolate and has a bitter kick to it – perfect for those who aren't into sweeter treats. The heart-shaped danishes are also spot on for the Valentine's season in Japan.

Information

misdo meets PIERRE MARCOLINI Collection
Serving: January 8, 2021 – Mid March 2021
Available: Mister Donut Japan (Select branches not participating)
Official Website: https://www.misterdonut.jp

Maison de FLEUR x Sanrio Reveal Kawaii Bag Collection For Second Collaboration

Lifestyle brand Maison de FLEUR and Sanrio have announced that preorders for the second collaboration in their "Maison de FLEUR×Sanrio characters" series will launch on Sanrio's online shop on January 8, 2021.

Ribbon Tote Bags (5 Designs) | ¥6,050 Each (Tax Included)

The cute collection combines fancy frills and ribbons with items inspired by My Melody, Cinnamoroll, Kuromi, as well as two new additions for this second collaboration due to fan demand – Pompompurin and Pochacco.

Items include the Ribbon Tote Bag, Ribbon Backpack, Mobile Shoulder Bag, and Tissue Pouch. Pre-orders run in Japan from January 8 to February 7 with shipping to begin in early March. The collection will subsequently go on general sale at Sanrio stores in late May. Further information will be announced by Sanrio at the end of April.

Ribbon Backpacks (3 Designs) | ¥12,100 Each (Tax Included)


Mobile Shoulder Bags (3 Designs) | ¥5,390 (Tax Included)

The collection is inspired by a tea party which is captured in the fancy designs featured on each item with the five characters enjoying themselves a cup of tea each.

Tissue Pouches (3 Designs) | ¥3,630 (Tax Included)


Mascot Charms | ¥2,970 (Tax Included)

The mascot charms will also make a return this collaboration at select Sanrio shops and the company's online store in late May 2021.

Alternate Colour Mascot Charms (5 Designs) | ¥2,970 (Tax Included)

Sanrio fans can also get their hands on another set of mascot charms with different colours. These will be sold exclusively at Maison de FLEUR stores in Japan and their online shop STRIPE CLUB.

ⓒ'76, '89, '96, '01, '05, '20 SANRIO 著作(株)サンリオ

Sanrio's My Melody, Pompompurin, and Little Twin Stars Keep Your Face Masks Safe

Sanrio released pre-sales of its new Sanrio Characters Mask Bags for face masks via the online shop Asunarosha on Wednesday (December 9).


Following the success of the Hello Kitty and Cinnamoroll face mask bags released in September, all of which sold out, Sanrio is adding new designs into the mix. The bags are washable and allow you to carry your mask around conveniently and hygienically.

My Melody, Pompompurin, Little Twin Stars (Kiki & Lala) | ¥700 Each (Before Tax)

The new designs include the popular characters My Melody, Pompompurin, and Little Twin Stars (Kiki & Lala).


Hello Kitty, Cinnamoroll | ¥700 Each (Before Tax)

Hello Kitty and Cinnamoroll are also making a return so fans can pick from 5 different designs.

Sanrio Puroland is also releasing a cute collection of face mask and mask cases on December 18.

©1976, 1996, 2001, 2020 SANRIO CO., LTD.

Hello Kitty and Dear Daniel Winter Doughnuts to be Served at Floresta

Floresta Nature Doughnuts, a doughnut cafe that hand-makes doughnuts using organic ingredients, is baking up Hello Kitty and Dear Daniel doughnuts this Christmas from December 11 to 25. They will be served in-store at be available to order online in Japan.


Floresta Hello Kitty & Dear Daniel Christmas Doughnuts | ¥450 Each (Before Tax)

Both ring-shaped doughnuts are covered in a chocolate coating with Dear Daniel's made with organic matcha and Hello Kitty's with strawberry powder made from strawberries grown in Japan. The doughnuts are dusted with organic coconut flakes to look like snow and are decorated with the Star of Bethlehem.

These two doughnuts are naturally sweet and are the perfect kawaii treat to indulge in for this year's Christmas in Japan.

©'76,'99,'20 SANRIO APPR.NO.L610318

Catch the Chansey Pokémon Doughnut at Mister Donut This Winter

Mister Donut Japan revealed last month that it is set to team up with Pokémon this winter with a special campaign starting on November 15. Before then however, from November 13, the doughnut chain will be releasing the "Mister Donut Chansey Christmas-chu Collection" of doughnuts and merchandise.

Mister Donut Chansey Christmas-chu Collection

Pikachu Doughnut (Custard Whip) | ¥240 (Before Tax)

Mister Donut is releasing four doughnuts this year, one of which is the popular Pikachu doughnut from last year which is coated in chocolate.

Chansey Doughnut | ¥200 (Before Tax)

Chansey, which is known as Lucky in Japanese, is bringing you luck this year in the form of a strawberry chocolate-coated doughnut complete with an adorable face, ears, and belly.

Poké Ball | ¥200 (Before Tax)

Great Ball | ¥200 (Before Tax)

The Poké Ball doughnut has also been transformed from the classic Pon de Ring doughnut from last year and turned into an actual ball shape. It's filled with whipped cream and coated in a strawberry glaze while the Great Ball version is filled with custard whipped cream and is coated in chocolate.

Pon de Ring Wreath: Pudding Flavour, Strawberry Flavour, Chocolate Flavour | ¥150 (Before Tax)

For the holiday season, Mister Donut is also bringing back their classic Pon de Ring series in three flavours.

As well as doughnuts, Pokémon fans can get their hands on a selection on Christmas mugs and bowls too. Perfect for putting under the tree this year.

©2020 Pokémon. ©1995-2020 Nintendo/Creatures Inc./GAME FREAK inc.
ポケットモンスター・ポケモン・Pokémonは任天堂・クリーチャーズ・ゲームフリークの登録商標です。

Information

Mister Donut x Pokémon

Pon de Ring Wreaths

Running: November 13, 2020 – Late December 2020
Available: Most Mister Donut branches in Japan

Official Website: https://www.misterdonut.jp

Mister Donut Japan Reveals Limited Edition Pon de Chocolate Doughnuts

Mister Donuts Japan is releasing five limited-edition doughnuts as part of their Pon de Chocolate series of doughnuts. Three of those flavours will be available from November 6 and the other two from December 26.

Pon de Chocolate Series

The Pon de Chocolate series is a collection of chewy doughnuts and includes the Pon de Chocolate, Pon de Double Chocolate, Pon de Crunch Chocolate, Pon de Zaku Chocolate, and Pon de Caramel Chocolate.

Pon de Chocolate: Takeout ¥140 | Eat In ¥143 (Before Tax)

A chewy doughnut with a chocolate glaze.

Pon de Double Chocolate: Takeout ¥151 | Eat In ¥154 (Before Tax)

A chewy doughnut with a chocolate coating.

Pon de Zaku Chocolate: Takeout ¥162 | Eat In ¥165 (Before Tax)

A chewy doughnut with a chocolate coating and topped with crunchy chocolate.

Pon de Crunch Chocolate: Takeout ¥162 | Eat In ¥165 (Before Tax)

A chewy doughnut filled with dark chocolate cream filled with rice puffs, cornflakes, and chocolate cookie.

Pon de Caramel Chocolate: Takeout ¥172 | Eat In ¥176 (Before Tax)

A chewy doughnut with a chocolate coating and topped with roasted almonds and filled with a caramel sauce.

Information

Mister Donut – Pon de Chocolate Series

Running: 3 doughnut flavours from November 6, 2020 / 2 doughnut flavours from December 26, 2020

Available: Mister Donut Japan

Official Website: www.misterdonut.jp

Mister Donut's Pokémon Doughnuts Include Pikachu and Poké Ball Designs

Mister Donut Japan is teaming up with Pokémon this November as it launches "misdo Pokémon," a campaign that celebrates the 50th anniversary of the company and includes the release of limited-edition doughnuts, original merchandise, and more.

This marks the third year of misdo Pokémon, and this year, they're upping the Pika-fun.


This year sees the return of the popular Pikachu and Poké Ball doughnuts , both of which have been made even more breathtaking and delicious, including turning the Poké Ball delight into a fully spherical shape like the real thing.

The company will roll out even more Pokémon doughnuts throughout the campaign. Stay tuned for updates.

©2020 Pokémon.
©1995-2020 Nintendo/Creatures Inc./GAME FREAK inc.

Information

misdo Pokémon

Release Date: Rolling out early November 2020

Mister Donut Japan Official Website: https://www.misterdonut.jp

Sanrio Puroland Halloween Makeup Developed in Collaboration With POLA

POLA INC. is collaborating with Sanrio Entertainment's amusement park Sanrio Puroland for their ongoing PURO HALLOWEEN PARTY event which is being held both at the park and online. The company has developed cute and sophisticated Halloween makeup inspired by the looks being worn by the Sanrio characters at Puroland for Halloween.

Halloween is a time to dress up as your favourite spooky figure, and POLA has jumped on board by creating a range of makeup looks to support Halloween outfits this year that anyone can do at home. Each look has a step-by-step visual guide as well as a video to help you along the way.

All the products used for the looks are by POLA and can all be bought at their nearly 4,000 stores including the 670 POLA THE BEAUTY branches and their flagship store POLA GINZA. Select branches in China, Taiwan, Hong Kong, Thailand, Macao, and Singapore are also stocking the items.

Cute Halloween Confections Make Their Way to Ginza Cozy Corner This October

Ginza Cozy Corner released a new collection of Halloween confections on October 19.

JOYJOY Halloween Party (9 Included) | ¥2,400 (Before Tax) | Available: October 19, 2020 – October 31, 2020

The tasty line-up features a collection of playful ghouls and ghosts partying at a haunted house. Bites include an eyeball tart, orange-flavoured Jack-o'-lantern roll cake, and lots more. Plus, the box they come in can be cut out and used as a photo prop for snapping cute Halloween pictures.

Imp's Trickster Mont Blanc | ¥580 (Before Tax) | Serving: October 19, 2020 – October 31, 2020

There's also a colourful mont blanc layered with four different creams: strawberry, lemon, melon, and blueberry, and inside—a mouth-watering tangy orange sauce surprise.

Kaori's Easy Recipe: Learn to Make Jack Skellington Stained Glass Cookies

With just a small bit of ingenuity, turn everyday food into something cute using Kaori's Easy Recipe! With a few simple ideas, an ordinary recipe magically transforms into a cute dish.

I have the perfect Halloween recipe for you this time. If we're talking Halloween, then who else but Jack Skellington is the man for the job? Here's my recipe to make Jack Skellington Stained Glass Cookies.

Ingredients

 

70g unsalted butter
50g icing sugar (or high quality white sugar if you don't have)
A pinch of salt
30g egg
110g weak flour
10g black cocoa
1 white chocolate pen
Hard candy of your choice crushed into small pieces

*To crush the candy, you can put into a zip lock bag and use a rolling pin

1


Place all ingredients except the egg into a food processor and blitz. After, place the egg into the blitzed mix and blitz once again. Once combined, wrap with cling film and place into the refrigerator for 1+ hours until set.

2


Use a rolling pin to roll out circles of equal thickness for Jack's head. Use a cutter to cut out the eyes, and place into the refrigerator one more to set.

3

Bake in the oven at 180°C for 10 minutes and take out again.

4


Place your crushed candy into the eye holes and bake for a further 5 minutes.
*The candy will melt into place and even out, so feel free to pile on the pieces

*Be careful not to overcook the candy as it will turn brown

5


Allow to cool. Be very careful handling and placing down the cookies as the eyes will be delicate. Decorate Jack's nose and mouth with the chocolate pen and he's ready for your Halloween party!

Kaori invites you into her world of character-themed food dishes in her recipe series. Be sure to check out her Instagram where she has uploaded many pictures of her character dishes!

Kaori Kubota (@kaopan27)

I live in Hokkaido and I love to make character themed foods, desserts and pastries♡

I want to see my family smile, so I enjoy putting in a bit of effort to make character foods and changing food into something cute♡

You can see more of my character foods and character bento boxes on my Instagram page → @kaopan72

Sanrio Themed Cafe Celebrates Characters' Monthly Magazine 'Ichigo Shimbun'

Sanrio is once again collaborating with the EGG & SPUMA cafe located on the 8th floor of Shinjuku Lumine EST to celebrate the 45th anniversary of Ichigo Shimbun, a monthly magazine published by Sanrio which includes information about the latest character merchandise, the Sanrio Character Awards, and more. The limited-time cafe will run from November 1, 2020 to late January 2021.

Sanrio fans can expect a very special menu line-up of food, drinks, and desserts based on their favourite characters from the Sanrio roster.

There will in fact be two different menus served on separate occasions. The first menu will welcome a soufflé omelette topped with a potato salad Pochacco while the second will see an adorably pink My Melody cream stew.

There will also be an incredibly cute two-tiered afternoon tea set with desserts and savoury items.

For drinks, there is a Hello Kitty strawberry milk, Cinnamoroll milk, and milk caramel pudding Pompompurin.

© 2020 SANRIO CO., LTD. APPROVAL NO. L613344

And everyone who orders from the collaborative menu will receive one of eight possible coasters as thanks for visiting.

Information

Ichigo Shimbun 45th Anniversary CAFE
Location: EGG & SPUMA, Shinjuku Lumine EST Floor 8F, 3-38-1 Shinjuku, Shinjuku Ward, Tokyo
Running: November 1, 2020 – Late January 2021

Opening Hours: 11:00-21:00 (Last Orders)

TEL: 03-6273-0255
Official Website: http://salt-group.jp/shop/egg-spuma/