Audience of over 1000 persons were filled with excitement! Wednesday Campanella's live was held in Taiwan
KOM_I held her first one-man live in foreign country cities (Taipei and Taichu) on the 13th and the 14th of October.
She was the only Japanese artist participating the popular event "Legacy Presents 2017 Toshinyosei" and more than 1,000 persons gathered at the venues in Taipei and Taichu.
The venue in Taipei was a preppy spot "Kazan 1914 Bunsoenku" which used to be a vacant lot inside an alcohol factory when Japan occupied Taiwan. It is a mysterious, but nice spot where trees grow skyward out of the building stuctures. Whether in Japan or in a foreign country, Suyobi no Capmanella always creates her own stage from scratch based on the inspiration she receives from the venue.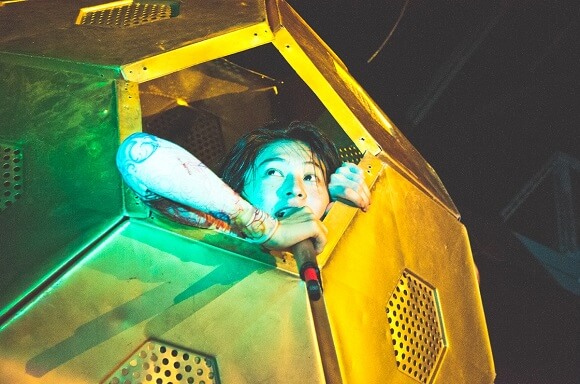 The opening song of the live was "Gogh" and the song started after a light was radiated from the darkness. The light flickered in the darkness and KOM_I's voice resonated in the venue mysteriously. Then, the curtain opened after the intro of "Chosei" started and the venue was filled with excitement when KOM_I appeared on stage. The audience reacted to the energy from KOM_I who was running around the stage actively.
After that, the stage was covered with a curtain and a mysterious rendition showing the silhouette of KOM_I with colorful clothes was shown.
The audience took in the energy from KOM_I who was running around the venue while performing "Wright Brothers." She performed "Momotaro" lastly and was put inside a water ball. She dived into the audience seats and the live ended with excitement. She also said goodbye to the audience in the local language.
She performed "Ikkyusan," "Amenouzume" and "Marco Polo" after receiving an encore. The door at the side of the stage opened slightly and she left from the stage. The audience remained silent for a while but were filled excitement. The live ended while the audience was craving for KOM_I to appear again on stage.
"I want to come here again next year" says KOM_I. Can't wait to see her next live in Taiwan.
RELATED ENTRIES
Bandai Namco Opens Sportainment and Games Store in Hong Kong's Telford Plaza

NAMCO ENTERPRISES ASIA LTD. opened the new "namco Telford Plaza" store inside the Telford Plaza shopping mall in Hong Kong on September 11, 2020.

Located on the 5th floor, the shop has a variety of crane and arcade games, and introduces Hong Kong's first sports entertainment facility: the "SPORTAINMENT ARENA," which combines sports and digital entertainment.

The sports activities are for all people, both beginners and pros, and staff are on hand to help support players.

Information

namco Telford Plaza / SPORTAINMENT ARENA
Grand Opening: September 11, 2020
Address: 香港九龍湾德福広場2期5階501A
Opening Hours: 10:00-22:00 (SPORTAINMENT ARENA open until 21:00 with last entries at 20:00)

Japan's Discount Chain Store Don Quijote Opens New Branch in Hong Kong's Pearl City

Pan Pacific Retail Management of Pan Pacific International Holdings Group, the latter of which manages the discount chain store Don Quijote, has announced that it is opening a new branch of Don Quijote called DON DON DONKI Pearl City inside the Pearl City shopping centre in Hong Kong on July 7, 2020.

DON DON DONKI is a chain of Don Quijote stores located in Singapore, Thailand, and Hong Kong which specialises in discount Japanese brand products and products made for the Japanese marketplace. The first Hong Kong branch opened in Tsim Sha Tsui last year in July, followed by another in December of the same year at OP Mall, stocked with high quality Japanese products including food.

Pearl City welcomes the third branch to open in Hong Kong where it will open in Causeway Bay, a retail area home to many high-end stores and bustling with young people.

Customers can get their hands on Japanese seafood products, fruits, and many other foods as well as cosmetics, lifestyle goods, and much more, all at a discounted price. There will also be a gift corner packed with plenty of souvenir ideas and all of which can be packed in gift bags and wrapping.

Information

DON DON DONKI Pearl City
Grand Opening: July 7, 2020 @ 10:00am (Local time)
Address: 1st Floor to 4th Floor, 22-36 Paterson Street, Causeway Bay, Hong Kong.
Opening Hours: 24 hours a day

Official Website: https://www.donki.com/

Afternoon Tea TEAROOM to Open New Branch in Hong Kong's K11 MUSEA

Japanese cafe chain Afternoon Tea TEAROOM is set to expand its services overseas this autumn by opening its first ever branch in Hong Kong.

It will be situated in K11 MUSEA, a retail and arts complex being developed by K11 Group that is set to open in Kowloon later this year.

Afternoon Tea TEAROOM offers delicious hot drinks in a relaxed environment. Customers can enjoy a selection of teas and sweets as well as a variety of foods such as sandwiches and pasta.

The new branch promises to offer the same hospitality they do in Japan, so if you're heading through Kowloon be sure to drop in for a cosy cup of tea and a bite to eat from their seasonal selection.

Information

Afternoon Tea TEAROOM K11 MUSEA
Address: Shop No.B112B On Level B1 of MUSEA, Victoria Dockside,18 Salsbury Road, Tsim Sha Tsui, Hong Kong

Afternoon Tea Official Website: https://www.afternoon-tea.net/

Ippudo ramen opens on the lively and bustling Nathan Road, Kowloon, Hong Kong!

Japanese ramen shop Ippudo has just opened inside Eaton Hotel, Kowloon, Hong Kong. The ramen shop celebrated its grand opening on 3rd May. 

Yokohama Kakaei Tonkotsu 80HK$/ ¥1,136

Ippudo pork buns 28HK$/ ¥397

The ramen served here includes Japan's favourites; Shiromaru (salt-based), Akamaru (spicy red miso) and Ippudo Karakamen (hot and spicy). Besides the basics, there are so many other types of ramen served here, such as the Kuro (black) ramen, which shares the same standard tonkotsu broth but has a dash of garlic oil and black pepper. There's also an Eaton Hotel-limited ramen called Yokohama Kakei Tonkotsu which is made using the tonkotsu broth infused with a chicken soup broth. Besides ramen, there is a rich variety of elegant dishes to complement your ramen. You can also get Ippudo pork buns and Ippudo gyoza (stuffed dumplings). There are also dessert treats such as the black soybean-matcha pudding dora (a black soybean and green tea pudding sandwiched between two Japanese-style pancakes).

Eaton Hotel is just a five-minute walk from Jordan train station (Tsuen Wan line, MTR). Other popular attractions in the area within walking distance include the Ladies Market and Temple Street, which thrive during the night in the Kowloon area. This area is bustling with tourists as well as locals, who come and go to this area! On the lower ground floor which is one floor below Ippudo, there is a countless number of food and drink places which are popular with visitors every day.

Starting with Ippudo ramen, come and show your support for delicious Japanese food in countries all over the world!

Information

IPPUDO HK Eaton Hotel


Address:Shop 1, G/F, Eaton Hong Kong 380 Nathan Road, Kowloon
Opening hours:11:30 ー 22:30 (Last orders: 22:15)

Official website: https://www.ippudo.com.hk/

The Making of Shingo Katori's First Street Art ― Video Released

The Hong Kong Tourism Board have posted a video titled #hkshingoart to promote the first piece of street art by Japanese celebrity and artist Shingo Katori.

In March this year, Shingo Katori produced a piece of street art in Central, Hong Kong as his project for Hong Kong Arts Month. The promotional video showcases the process on how the art was created, its construction as part of the scenery of Hong Kong's streets, and the town of art and its new charms.

Many events are held in Hong Kong every March as part of Hong Kong Arts Month, such as Art Basel. Shingo Katori's first street art piece was created during Hong Kong Arts Month on a wall at Mid-Levels Escalators, the longest escalator in the world. It measures at 4.5m tall and over 6m across. It was drawn freehand and is part of a process to strengthen the ties between Katori and Hong Kong.

The project was decided after Katori visited the Old Town Central area during a TV shoot in 2017, after which the Hong Kong Tourism Board requested his make the piece.

Be sure to check out the promotional video to see Shingo Katori's piece, titled Large Mouth Dragon Boy, for yourself!

RYUBO has started exhibiting/selling Japan's quality products in Hong Kong

RYUBO Industry is now exhibiting/selling 135 "Japan's quality products" at Hongkong's K11 Design Mole (Hongkong/Chimusachoi) from the 27th of January 2018 to the 20th of February 2018.

Department store, RYUBO agreed to tie-up with Nihon Hyakkaten on July 2017. In addition to products produced in Okinawa, RYUBO is now selling quality products of Japan with Nihonhyakka targeting foreign tourists whose numbers have been increasing in recent years.

In addition to selling "Japan's quality products," they have gathered artisans from Japan to offer experience-based events showing the making-process of Japanese traditional arts such as "Tokyo Momengatazome," "Aichi Erosoku," and "Aichi Fragrance Dukuri."

In addition to popular items such as "Fujisan Oroshi Jiki" and "Utagawa Kuniyoshi Ukiyoe no Tenugui," they selected many kinds of quality products such as Japanese desserts using glit and beauty products.

Japan is known as a country which produces quality products. Japanese everyday products are fun to use and are created in a delicate manner. Such products will help you enjoy the changing of the season, wrapping small products and enjoying alcoholic drinks. This is an event where you can enjoy the culture of Japan.

Don't miss this chance to enjoy the culture of Japan in Hong Kong.

■Information

Nippon Standard Market by.RYUBO × Nihon Hyakkaten

Date: 2018,01,27 (Sat.) to 2018,02,20 (Tue.)

Venue: K11 Design Store Event Space

18 Hanoi Road, Tsim Sha Tsui, Kowloon,Hong Kong

Event: 1/27,28 Tokyo, Asakusa, Ponpindo, dying demonstration

2/10,11 Aichi Prefecture, Matsui Honwa Rosoku, coloring demonstration

2/17, 18 Aichi Prefecture, Fragrance making workshop

WEDNESDAY CAMPANELLA to appear on children's show "Nihongo de Asobo" to perform "Edokko Doko Doko" song

WEDNESDAY CAMPANELLA just completed their first ever performance at the "CAMP FLOG GNAW CARNIVAL 2017" music festival in LA. Now, KOM_I is set to collaborate with NHK Educational TV's "Nihongo de Asobo."

"Nihongo de Asobo" is a children's TV show that talks about the fun, beautiful and interesting aspects of Japan. It airs Monday to Friday every week from 6:35am-6:45am.

The song "Edokko Doko Doko" has been written for the show. Kenmochi Hidefumi is responsible for the lyrics and composition of this track which touches on the rough sounding Edo dialect and its many frank expressions. The feeling of how the words sound is unique and it's easy to sing along to.

The song will debut on "Nihongo de Asobo" next week on November 13th. Joining KOM_I to sing and dance on stage will familiar characters from the show including Miwa-san (Akihiro Miwa), Koni-chan, Miyaji Katsura, choreographer Lucky Ikeda, Eri Ayaki, and all the children.

Costume designer Hibino Kozue created the colourful kimono outfits and Edo street set for the show.

In other news, WEDNESDAY CAMPANELLA are set to appear at Clockenflap Festival 2017 in Hong Kong on November 18th. The group's international presence grows stronger every day. What next exciting thing can we expect from them next?

■Information

NHK Educational TV – "Nihongo de Asobo"
Monday November 13, 2017
Educational TV: Mon-Fri at 6:30am-6:45am
Repeat Broadcast: Mon-Fri at 5pm-5:10pm

【Tour Information】
・Clockenflap Festival 2017
Dates: November 17th-19th (WEDNESDAY CAMPANELLA to perform on November 18th)
Location: Central Harbourfront Hong Kong

Official Event Homepage: http://www.clockenflap.com/
Ticket Information: https://www.ticketflap.com/clockenflap2017

Wednesday campanella performed at the festival; CAMP FLOG GNAW in LA!!

Wednesday campanella who recently finished her one-man live in Taiwan performed at the music festival, "CAMP FLOG GNAW CARNIVAL2017" in LA which was held on the 28th of October (Sat.). She was the first Japanese artist to perform at this festival.

Wednesday campanella performed as the second act of the FLOG stage.

Kom_I appeared on the stage in bare feet, wearing a pink-colored super long sleeve shirt, black enamel pants and a red see-through dress. Many of the teenagers who gathered at the venue were wearing colorful clothes.

As soon as the intro of "Chupacabra" was played, Kom_I appeared on a stepladder installed in the middle of the audience seats and the audience gathered around the stepladder. The audience gathered around Kom_I who was dancing with "Twiggy" and "Uran-chan" and they ran around on the lawn.


Kom_I appeared on the stage when the song "Yuta" started, draped in a pink cloth. She shouted, "We are Wednesday Campanella from Tokyo!" and danced on stage. A water ball appeared when "Momotaro" started and the audience howled with joy. She left the stage saying "Thank you for coming! Enjoy Camp Flog Gnaw!"

Kom_I chatted with her fans saying, "Wednesday! Wednesday!"

Let's check out her activities in the U.S.

■Information

CAMP FLOG GNAW CARNIVAL2017 @ Exposition Park, Los Angeles
M1-Chupacabra
M2-Twiggy
M3-Uran Chan
M4-Yuta
M5-Shakushine
M6-Momotaro(REMIX)

【live information】
・Clockenflap Festival 2017

Date: 2017,11,17/18/19 (Suyobi no Campanella will perform on the 18th)
Venue:Central Harbourfront Hong Kong
Official website:http://www.clockenflap.com/
Ticket information:https://www.ticketflap.com/clockenflap2017

Introduce to you some Japanese artists who are popular the world over

In this article, I will introduce to you some Japanese artists who are popular the world over. The popular songs of each artist and live information are noted.

Wednesday Campanella

Wednesday Campanella is a unique hip hop unit. The video of "Momotaro" was played more than ten million times and is a song which is popular throughout the world. The unit is going to perform in Los Angeles on the 28th and 29th of Ocotber and in Hongkong on the 18th of November.

Detailed information:http://www.moshimoshi-nippon.jp/71443

SKY-HI

SKY-HI is a unique, one-and-only artist and his hip hop music is gaining high reputation. The all-Japan LIVE HOUSE tour "SKY-HI Round A Ground 2017" will be held in 24 cities (25 lives) including in cities like Shanghai, Taiwan, Hongkong, LA, NY, PARIS and LONDON. The digital album "Marble" released on the 6th of October on the Internet won the first place in the charts of iTunes.

Detailed information:http://www.moshimoshi-nippon.jp/70803

BAND-MAID

BAND-MAID is a rock band consisting of five female members. Their most popular song is "REAL EXISTENCE." They call their lives "serving" and the fans "masters" or "mistresses" to choreograph the world of a "maid." However, their music is hard rock which has a gap between their visual. They are now holding a world tour called "BAND—MAID WORLD TOUR 2017."

Detailed information:http://www.moshimoshi-nippon.jp/67157

Niji no Conquistador

The theme of Niji no Conquistador is "every day is a cultural festival!" The name of the group was decided with the aim of being a group which will conquest the hearts of the fans with various characters like a rainbow. More than 200 audience gathered to their one-man live held in Taiwan in August and the venue was filled with excitement. You should check out their music video featuring cute bathing suits "Kimiha Mujaki na Natsu no Joo."

May'n

May'n is an artist who offers many opening/ending themes to animations, games and movies. She participated in J-POP SUMIT held in San Francisco and released her 5th album "PEACE of SMILE" on the 18th of October and it can be said that she is a very popular artist gaining popularity throughout the world. Her popular song "Yamaidare darlin'" gathered much attention as an opening theme of "AQUARION LOGOS."

Detailed information:http://www.moshimoshi-nippon.jp/63027

TEMPURA KIDZ

"TEMPURA KIDZ" is a dance & vocal performance unit from Harajuku. Although all the members are teenagers, they are full-fledge performers who have rich experience in performing on many stages. There must a lot of people who will be glued to their performance and colorful costumes. The music video of "CIDER CIDER" is gaining popularity among foreign fans. They have performed in many countries including Tai, Philippine and Myanmar.

Detailed information:http://www.moshimoshi-nippon.jp/20850

How did you like our introduction of 5 popular Japanese artists? Why not check out these artists who are working hard in foreign countries.

WEDNESDAY CAMPANELLA to perform at Clockenflap Festival 2017 in Hong Kong!

14.September.2017 | MUSIC

It has been announced that WEDNESDAY CAMPANELLA will perform at "Clockenflap Festival 2017" in Hong Kong.

Clockenflap is a huge outdoor music & arts festival which began in 2008 and takes place in an area surrounded by high-rise buildings. This year's festival will take place across three days from Friday November 17th to Sunday November 19th. This will be WEDNESDAY CAMPANELLA's first live performance in Hong Kong.

Clockenflap is home to performances from some of the biggest names in music, and this year is no exception. As well as WEDNESDAY CAMPANELLA, other confirmed artists for Clockenflap 2017 are Massive Attack, The Prodigy, MØ as well as a string of other internationally renowned artists. Acts from Hong Kong, South Korea and other regions in Asia will also be appearing at the festival.

>>next page

WEDNESDAY CAMPANELLA streams performance live along the coast in Miyagi Prefecture!

05.September.2017 | MUSIC

WEDNESDAY CAMPANELLA put on a performance at Reborn-Art Festival 2017 on August 31st which was streamed live. The festival is currently being held at Ishinomaki in Miyagi Prefecture.

The Reborn-Art Festival has been ongoing since July 22nd and is taking place in the Oshika Peninsula in the Ishinomaki city center. An arts, food and music festival, this year the event will run until September 10th and is a program based around hearing music being played somewhere each day across 51 days. As part of this program, WEDNESDAY CAMPANELLA live streamed a show at Oginohama in the heart of the Oshika Peninsula.

The performance opened in a dark and mystical forest located at a local port in Oginohama where we see colourful oyster shells being used as buoys

KOM_I appeared from the smoke wearing red and orange balloons, beginning the artsy performance with the song "Gogh." Basked in rays of light, her orange coloured hair and mollusc-like movements went hand-in-hand, making her look like some kind of fairy emerging from the forest. The fairy came from the woods and singing her song looked as if she was waiting to see how the land lies.

The peculiar outfit designed from life-like balloons was created by Toshio Takeda who has worked with balloon unit Daisy Balloon which is made up of balloon artist Rie Hosokai and graphic designer and art director Takashi Kawada, whose work is also on display at Reborn-Art Festival 2017.

The next song performed was a remix of WEDNESDAY CAMPANELLA's most well-known song "Momotaro," a version which has been featured on their set-list at recent festivals.

KOM_I comes into contact with the buoys, rides a small boat that has washed ashore, frolics around a white deer, a piece of art titled "White Deer(Oshika)" by Kōhei Nawa, all while moving towards the centre of the beach.

During the final song, "Marco Polo," KOM_I walks steadily towards the pitch black coast of the waters, parallel with the intro, while crossing with the shining light in the background as she plays with the waves. She is left at the shoreline at the end of the video and looks across the water towards us, presenting to us a slightly melancholic scene

Despite the announcement of this show being on the same day as it was performed, it brought in around 30,000 viewers across KOM_I's Instagram, WEDNESDAY CAMPANELLA's official Twitter account, and on Reborn-Art Fes's official Instagram page.。

The whole stream is available to watch on WEDNESDAY CAMPANELLA's official YouTube channel, so be sure to check it out below.

【WEDNESDAY CAMPANELLA LIVE RECORD (170831 Ishinomaki, Oginohama)】

Continuing their streak from August, WEDNESDAY CAMPANELLA are set to perform at festivals around Japan in September. Starting from October, they will also be performing at two cities in Taiwan before heading to Los Angeles to perform at Tyler, the Creator's music festival "CAMP FLOG GNAW CARNIVAL 2017."

As WEDNESDAY CAMPANELLA continue to experiment with captivating music and visuals, let us all keep on our toes in anticipation of what kind of performances we can expect from them in the coming months.

■Information

【Tour Information】

・Legacy Presents: Wednesday Campanella "IN THE BOX TOUR" – Taipei

@Legacy TAIPEI

Fri. October 13, 2017 – OPEN 19:30/ START 20:00

・Legacy Presents: Wednesday Campanella "IN THE BOX TOUR" – Taichung

@Legacy TAICHUNG

Sat. October 14, 2017 – OPEN 19:30/ START 20:00

・CAMP FLOG GNAW CARNIVAL 2017

Dates: October 28, 2017 & October 29, 2017

Location: Exposition Park, Los Angeles

Official Homepage: http://www.campfloggnaw.com/

【Related Links】

・Reborn-Art Festival: http://www.reborn-art-fes.jp/

・Daisy Balloon: http://daisyballoon.com/

WEDNESDAY CAMPANELLA Official Website:

WEDNESDAY CAMPANELLA to Perform at "Camp Flog Gnaw Carnival 2017" in Los Angeles!

It has been announced that WEDNESDAY CAMPANELLA will perform at "Camp Flog Gnaw Carnival 2017," a music festival held in Los Angeles, US. They will be the first Japanese artist to appear at the festival.

"Camp Flog Gnaw Carnival" is an annual music festival created and hosted by Tyler, the Creator of alternative hip hop group "Odd Future." The festival began in 2012 as a place to thank fans for continuously supporting Tyler. The artists selected to perform at the event are all chosen by Tyler himself.

The reason why Tyler requested WEDNESDAY CAMPANELLA to perform at the festival is partly because he wants more female artists in the line-up this year, but more specifically because he deemed them indispensable to be included due to their creativeness and how inspiring they are as artists. So he sent them an offer.

The line-up features a long list of artists who are active all around the world including Tyler, the Creator, Tyler, the Creator, Lana Del Rey, ASAP Rocky, Solange Knowles, Willow Smith & Jaden Smith, Kid Cudi, Mac Miller, Justice, Migos, Lil Yachty, and more. 

Full details regarding when WEDNESDAY CAMPANELLA will be performing and related info will be revealed soon. Details regarding tickets will be announced on August 17th, US time.

We can very much look forward to seeing WEDNESDAY CAMPANELLA making the festival even more exciting and even pumping up world famous artists!

■Information

CAMP FLOG GNAW CARNIVAL 2017

Date: October 28 2017 & October 29 2017

Location: Exposition Park, Los Angeles

Official Homepage: http://www.campfloggnaw.com/

Related Article:WEDNESDAY CAMPANELLA Digitally Releases New Song "Picasso" During Ongoing Japan Tour

Related Article:WEDNESDAY CAMPANELLA Release Special Website Featuring KOM_I's Voice in Run Up to Blu-ray Release