Ueno restaurant Daichi no Okurimono to hold "Strawberry Sweets Fair" including all-you-can-eat strawberries
Natural food buffet restaurant "Daichi no Okurimono" in Ueno is offering an all-you-can-eat menu titled "Strawberry Sweets Fair" containing 12 dishes and desserts served with fresh amaou strawberries.
The centerpiece dish in the line-up is the "Fresh Amaou Tabehoudai," a juicy all-you-can-eat bounty of fresh, high-quality amaou strawberries served on their own. Other must-tries include the "Strawberry & Milk Sweet Pizza," a colourful dish that will shine on your Instagram food, and the "Strawberry Chocolate Fondue With Strawberry Dango," a thick and creamy serving eaten with Japanese sweet dumplings.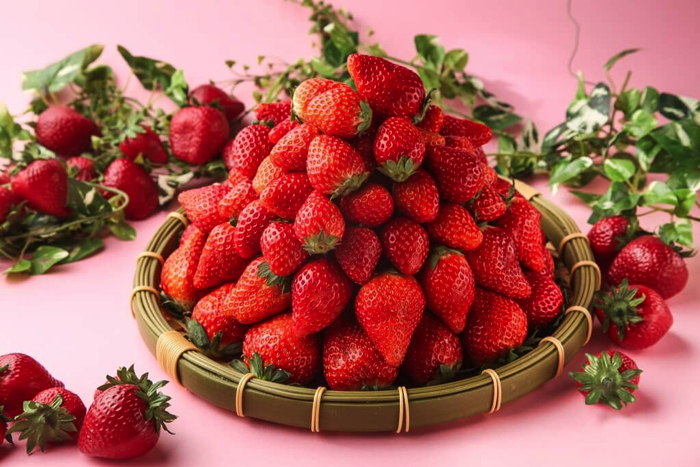 Fresh Amaou (All-You-Can-Eat)
Amaou are Fukuoka's famous strawberry. They are large and succulent, and this all-you-can-eat special gives you the opportunity to stuff your cheeks and fill your mouth with their sweet juices. If you're on a hunt for strawberries, then look no further – have your fill with this one.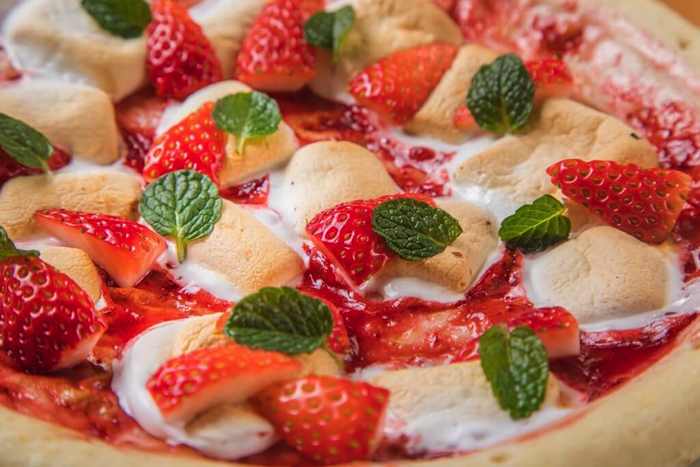 Strawberry & Milk Sweet Pizza
This vivid dessert pizza resembles a flower bed. The subtle sweetness of the milk and the fresh sourness of the strawberries go hand in hand. These flavours were made for each other!
Strawberry Sweet Gratin
The exquisite sweet flavour of these sliced amaou strawberries add an accent to the fragrant and richly cooked custard sauce. This winner will be your new addiction.
Strawberry Chocolate Fondue with "Strawberry Dango"
Take your perfectly spherical chewy dango and stick them into the captivating pink strawberry fountain! This is another one to document for your social feeds.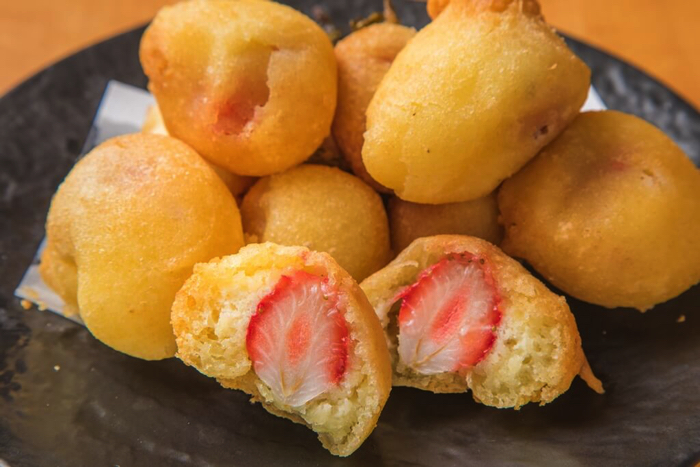 Strawberry Marugoto Doughnuts
Simple yet delicious – full strawberries individually wrapped in doughnuts. Thanks to the plump appearance of the amaou, this makes for a photogenic treat indeed!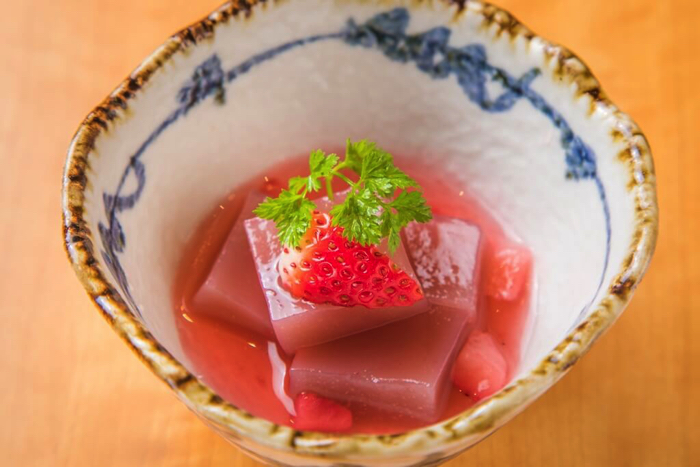 Strawberry Flavoured Warabimochi With Condensed Milk
Strawberries and condensed milk – a golden combination loved by everyone. Be sure to pluck a generous dollop with your strawberry and enjoy!
Chilled Pasta with Strawberry & Mozzarella Cheese
A surprising pasta dish daringly served with sliced strawberries. Your taste buds will be pleasantly surprised that you'll want to share it with someone!
*Please note that dishes may change or cease depending on ingredient availability.
◼︎Information
Daichi no Okurimono – "Strawberry Sweets Fair" (いちご尽くしのスイーツフェア)
Address: Suzunomiya Bldg. 4F, 1-20-11 Ueno, Taito, Tokyo
Opening Hours: Lunch 11:00-16:00 / Dinner 17:00-22:00
Contact: 03-3836-2640
Access: 3-minutes by foot from North Exit of Okachimachi Station via JR Line / 1-minute by foot from Exit A4 of Ueno-hirokoji Station via Tokyo Metro Ginza Line
Price (Lunch 80 mins / Dinner 120 mins)
Lunch: Adults – Weekdays ¥1,890, Weekends & Holidays ¥1,990 / Middle School Students ¥1,000 / 4-years-old and above ¥500 / Free for 3-years-old and under
Dinner: Adults – ¥2,990, umeshu + sparkling wine all-you-can-drink plan ¥3,490, premium all-you-can-drink plan ¥4,290 / Middle School Students ¥1,500 / 4-years-old and above ¥500 / Free for 3-year-olds and under
*listed prices include tax
Webpage: https://r.gnavi.co.jp/g600129/
RELATED ENTRIES
Giant 5-Meter Tall Dinosaur Panda Stomps Into Ueno Station

The Dinosaur Expo 2019 began at National Museum of Nature and Science in Ueno, Tokyo on July 13, and in promotion of the exhibition, a thrilling dinosaur themed event is set to take place at the Atre Ueno shopping mall from August 1 to September 30.

Atre Ueno is located inside Ueno Station, and if you roll into the station right now you'd best be careful of the bipedal, carnivorously cute 5 meter high panda-saur. You'll find it on display at the station's Grand Concourse (it's pretty hard to miss!)

You might be wondering why there's a giant panda dressed as a fluffy dinosaur. The reason is that Ueno Zoo has its very own giant pandas which have become a symbol of the town. And the dinosaur our station panda is dressed as is the Deinocheirus, the main showpiece of The Dinosaur Expo.

In promotion of the museum's exhibition, 19 restaurants and cafes at Atre Ueno are serving up their very own dinosaur-inspired meals―both meat for the carnivora and vegetarian for the herbivores―as well as desserts.

Head to Ueno this summer break for your fill of dino fun!

Information

The Dino Expo 2019

Running: July 13, 2019 – October 14, 2019

Location: National Museum of Nature and Science

Opening Hours: 9:00-17:00 (until 20:00 on Fridays and Saturdays)

Official Website: https://dino2019.jp/

Atre Ueno

Address: 7-1-1 Ueno, Taito Ward, Tokyo

Opening Hours: Shops 10:00-21:00 / Restaurants 11:00-22:30

*Select stores have different opening hours

Official Website: https://www.atre.co.jp/store/ueno

Tea-infused desserts buffet by global tea shop LUPICIA to run at InterContinental Tokyo Bay!

InterContinental Tokyo Bay collaborates with global tea shop LUPICIA to launch a collaboration dessert buffet at the hotel!

LUPICIA is a specialist tea shop adored by the world…and why?

When on the hunt for a present, there are just so many options and the packaging is so cute. This is why LUPICIA is so popular.

Indulge to your heart's content in the dreamy dessert buffet, which contains a wide assortment of Japanese-style, western-style and asian-style desserts that are made using LUPICIA's luxury tea leaves. Just some examples of the desserts in the buffet include matcha mousse with Yuzu citrus and East Asian Arrowroot sauce, Usagi earl grey and berry mousse, Green tea fruit punch, Jasmine tea chocolate mousse, Hoji tea and shiratama white dumpling, and  jasmine tea and aninnin dofu almond jelly.

The lunch menu is also heavily influenced by tea. Many delicious ingredients have been used to create dishes that will invite you to explore entirely new flavours! ♪ For example, mint tea-fragranced soup, assam tea blancmange and milk tea gratin.

There are also many cute photo spots in the area!

LUPICIA staff will also be holding a "one point tea lesson" where you can learn how to really enjoy a cup of tea! This event is only going to be held on 4th June!

Come experience and enjoy an Alice in Wonderland-like world of tea and tea-flavoured desserts!

Information

Sweets Buffet

Location: InterContinental Tokyo Bay 3rd floor, Park Lane

Address: 1-16-2, Kaigan, Minato City, Tokyo

Open: Tues 4th, Weds 5th, Tues 11th & Weds 12th June

Event hours: 12:00 ー 14:00 (You can serve from the buffet until 13:45)

* Open until 14:15 on 4th June only (You can serve from the buffet until 14:00 on this day)

Seats: 60

Time limit: 2 hours (free drinks)

Reservations/ questions: 03-5404-3918  (Open weekdays 9:30 ー 18:00, closed on weekdays & national holidays

Website: https://www.interconti-tokyo.com/

Hello Kitty's 45th Anniversary Celebrates During Hilton's 100th Anniversary

Hilton Osaka will celebrate both the 100th anniversary of Hilton and 45th anniversary of Hello Kitty from May 31 to August 31 this year at the hotel's Folk Kitchen on the second floor.

Hilton is credited with starting the dessert buffet trend in Japan. Their dessert buffets enjoy a surge in popularity every single year with a line-up of unique and Instagrammable delectables. To celebrate Hilton's 100th anniversary, the theme of this year's dessert buffet is Hello Kitty dressing up smart to stop by the hotel. 25 different desserts can be tucked into, all inspired by fashion from cosmetics to jewellery, bags and beyond.

Bright Red Hello Kitty Bag Cake

Hilton Osaka's pastry chef Hyakuda is no short of ideas, and that's proven with this cake that is shaped into a Hello Kitty bag. This cute creation includes a chocolate Hello Kitty charm while the cake itself is a luxurious combination of chocolate and cherry compote.

Hello Kitty Peach Cream Cake

The pink and white cream that adorn this cake is what grabs your initial gaze. The refreshing cream sits on top of melt-in-the-mouth sponge which is filled with a peach compote. Hello Kitty also hides amongst the decorative chocolate.

The "Ruby Rouge Mousse" is made with ruby chocolate, a variety of chocolate that was introduced in 2017 as the 4th main type of chocolate alongside milk, white and dark. The ruby colour of the cocoa beans is completely natural. They have an exquisite sour flavour. The chocolate is mixed with fruits like guava and passion fruit.


Other desserts in the line-up include a selection made with summer fruits including the colourful macarons, refreshing melon and grape blancmange, mango pudding, Peach Melba and more.

The "Diamond Fruits Jelly" looks like a sparkly jewellery box while the "Eyeshadow Palette Tart" is inspired by a cosmetic palette. There are also some light meals such as an open pizza made from a crunchy baguette and rich cheese, corn soup, a potato salad with Hello Kitty hidden inside, and more.

You won't be short of Instagram material with this dessert buffet. There will even be a Hello Kitty makeup room photo spot for you to snap a commemorative picture. Enter the fashionable world of Hello Kitty at Hilton Osaka this summer!

©76,'19 SANRIO APPR.NO.S600545

Information

Fashionable Hello Kitty Dessert Buffet

Location: Folk Kitchen, Hilton Osaka Floor 2F
Running: Everyday from May 31, 2019 – August 31, 2019
Time: Weekdays 15:00-16:30 / Weekends (2 Slots) 14:30-16:00, 16:30-18:00
Price: Weekdays – Adults ¥3,900, Children (4-11 years) ¥1,950 / Weekends Adults ¥4,200, Children (4-11 years) ¥2,100
*7 drinks to choose from including tea, coffee and hot chocolate. Prices do not include consumption tax or service charge.
Event Page: https://www.hiltonosaka.com/plans/restaurants/sweets/folkkitchen_1905

Hilton Official Website: www.hilton.com

Celebrate Ueno Zoo Panda Xiang Xiang's 2nd Birthday With ecute Ueno's Panda Sweets & Merchandise

Shopping centre ecute Ueno has announced that it is holding a campaign entitled "Pandaful Party" from June 3 to June 30 to celebrate the 2nd birthday of Ueno Zoo's popular panda Xiang Xiang. Panda themed desserts, food and merchandise will be sold at various stores throughout ecute Ueno.

Panda Rolled Sushi Set – ¥648 (Tax Included) @ Wakahiro (ecute Ueno)

Sushi-lovers won't want to miss this set of rolled sushi. The three cute pandas all come with three different flavours: fried salmon, minced chicken and egg. Available at the ecute Ueno branch of Wakahiro only.

Panda Baked Sweet Potato (100g) – ¥324 (Tax Included) @ Rapoppo (ecute Ueno)

Aged potatoes are used to make this popular baked sweet potato treat, and these ones have a cute panda design♡

Parent & Child Panda Eclair (1 Eclair) – ¥380 (Tax Included) @ Dolce Felice (ecute Ueno)

These adorable eclairs feature a panda parent and cub on them. They are filled with chocolate custard and a crunchy biscuit.

Panda Case Beans – ¥972 (Tax Included) – Mameya Bankyu (ecute Ueno) *Serving June 3 – June 16 only

Inside these panda cases are black soybeans covered in chocolate and houjicha tea chocolate.

Ueno Assorted Cookies (1 Tin) – ¥1,296 (Tax Included) @ Juchheim (ecute Ueno)

Grab a cup of tea and tuck into these tin of cute assorted cookies with panda motifs on them.

Panda Cocoa (Hot/Iced) – ¥400 (Tax Included) @ UP CAFE (ecute Ueno)

This cup of hot panda cocoa can be enjoyed by both kids and adults alike.

Merchandise includes cute panda salt, fortunes, a squishy and more.

People can also get their hands on this exclusive Pandaful Party shopping bag on June 12, the day of Xiang Xiang's birthday. These are limited in stock so you'll want to start your shop nice and early!

Information

Pandaful Party
Running: June 3, 2019 – June 30, 2019

Location: ecute Ueno (JR Ueno Station)

ecute Ueno

Address: JR Ueno Station Floor 3F, 7-1-1 Ueno, Taito Ward, Tokyo

Business Hours: 8:00-22:00 (*Different for some stores)

Website: https://www.ecute.jp/ueno

Enter a delicious yellow world at Hilton Tokyo♡ Enjoy the Happy Honey Holic dessert fair buffet!

In the Marble Lounge located on the first floor of Hilton Tokyo, there will be a honey and cheese collaboration dessert fair taking place from Tuesday 4th June called the Happy Honey Holic. You can enjoy the sweet yellow, melt-in-the-mouth cheese and honey desserts that are perfect for any girl's party, as well as colourful summer fruits that are rich in vitamins! Pass through the flower-filled entranceway to watch a beautifully happy world of yellow unfold before your eyes. Now it's time for you to drift away with the happy atmosphere!

Sunflower girls

This tart is topped with fresh yuzu (Japanese citrus fruit) and mango cream. The circumference of the tart is decorated with glazed orange segments to make the tart take on the appearance of a sunflower!

Flower shower

Earl grey cream, lemon confit and walnuts piled beautifully on top of a lemon-flavoured sponge cake. This is coated with milk cream and then garnished finely with lemon and chocolate. The refined lemon and chocolate garnish represents a flower shower celebrating blessings to a bride.

Koisuru W cheese

The koisuru W cheese uses what many consider the king of all cheeses ー emmental! This dessert is a cheese souffle with a second layer consisting of cream cheese. Your love for cheese will just never stop! Passionfruit-flavoured milk chocolate ganache and roasted coconut cover the sides of the souffle to accent the flavour. This will leave you feeling refreshed!

Baby honeycomb

This is a fluffy, honey-flavoured chiboust! 

Summer bee princess 

You can see some summer honey bees sitting on this cake. You can also smell the fragrant thyme-lemon cheese mousse.

There are so many other delicious desserts to enjoy! Come treat your tastebuds to syrupy honey and cheese egg tart, or salt and lemon scones, the three varieties of chocolate fountains, gold marble ice cream, homemade lemonade and much more! There are 30 different sweet treats waiting for you.

This summer, make room only for the happy vibes at the Marble Lounge! This would make the perfect afternoon teatime treat where you can surround yourself with the supreme bliss of melt-in-the-mouth honey and cheese!

Information

Happy Honey Holic dessert fair
Venue: Marble Lounge (Hilton Tokyo 1st floor, 6-6-2, Shinjuku, Tokyo)

Running from Tuesday 4th June.

Opening hours: 2:30 pm – 5:30 pm
Prices: ¥3,800 per person. Weekends/national holidays: ¥3,950
There is also a separate tax fee and service charge.
Reservation website: https://www.hiltontokyo.jp/plans/restaurants/sweets/marble_lounge_1906

Matcha Sweets Buffet Delights at Hotel New Otani Makuhari in Chiba

Hotel New Otani Makuhari is set to delight all with its premium buffet stuffed with desserts made with Kyoto's famous Uji matcha tea. It will run every day from April 27 to May 6 after which it will run on weekends and holidays only up to July 7.

Uji matcha is known for its rich flavour and slight bitterness. Those distinct notes are made even richer when combined with desserts. Hotel New Otani Makuhari invites everybody into the palate-tingling world of Uji matcha with its delicate taste whether it be in the luxurious Uji Matcha Roll Cake or sumptuous Uji Matcha Tiramisu.

A must-try dessert is the New Edo Dainagon Shortcake crafted by the hotel's grand chef Shinsuke Nakajima. It is part of his "Edo Sweets" series in which he takes traditional Japanese sweets and ingredients and skillfully makes them into something contemporary.

Also on the menu is the Super Melon Shortcake and Super Chocolate Shortcake. These are part of the "Super Series" which makes use of only the best, carefully selected ingredients. This series has made its mark to the extent that it has even been picked up by Japanese news media.

One slice of any of these shortcakes―pictured above―can be enjoyed at the hotel's SATSUKI bakery. The buffet will also allow you to enjoy as many of the other cakes as you want too all of which are normally priced from ¥1,500.

In addition to the matcha buffet, a dinner service will be carried out in front of customers by the chefs with a menu that includes roast beef, teppanyaki, sushi, tempura and more. Pick from 25 options that span Japanese, Western and Chinese cuisine.

Information

SATSUKI Delicious Buffet ~Uji Matcha~

Location: SATSUKI, Hotel New Otani Makuhari (Floor 1F)

Running: April 27, 2019 – May 6, 2019 / Subsequently on weekends and holidays only until July 7, 2019
Time: [Lunch] Slot ① – 11:00-13:10, Slot ② – 13:40-16:00 (Last Orders 15:20) / [Dinner] 17:30-20:30
Price: [Lunch] General ¥5,000, Children ¥2,000, Infants ¥1,200 / [Dinner] General ¥6,000, Children ¥2,500, Infants ¥1,500

*Prices do not include tax or service charge

TEL: 043-299-1848 (SATSUKI)

Buffet Details: https://www.newotani.co.jp/makuhari/restaurant/satsuki/2019delicious-buffet-maccha/

Hotel New Otani Makuhari Official Website: https://www.newotani.co.jp/makuhari/

Dessert Buffet Whipped Up at RIHGA Royal Hotel Osaka This Spring

The RIHGA Royal Hotel Osaka is bringing a colourful tea themed dessert buffet to its Remone restaurant and bar annex this spring. It will run on Mondays, Tuesdays, Fridays and weekends from May 10 to June 18.

This will be the second time the hotel has held this event.​ Around 25 desserts and 15 light meals will be served all flavoured with various teas, mainly yamecha but also matcha, sencha and houjicha too.

As a welcome dessert, you can look forward to a rich yamecha flavoured tiramisu which comes with kaga-boucha cheese tea. The tiramisu sponge is soaked in yamecha syrup and thoroughly covered with yamecha powder to elevate the tea flavour even more. The cheese tea comes with black chewy tapioca. It's made first with a mascarpone cheese cream and flavoured with kaga-boucha. Mix to combine three delicious flavours.

The buffet will look like a tea farm as you attempt to choose which to dig into next: the matcha shortcakes, houjicha roll cakes, houjicha panna cotta with ginger cider jelly―the list goes on.

The matcha parfait lets you put on whatever toppings you like. It comes with adzuki beans, skewered rice dumplings in a sweet soy glaze, warabimochi, and more.

Light meals include tea soba noodles with whitebait caught in Suruga Bay, green tea rice porridge, a tomato, chicken and veggie hot pot, a focaccia sandwich filled with finely chopped cookie vegetables, meat and egg, and so on.

If you love tea, you'll love this tea soaked food buffet.

Information

Tea Sweets Buffet Nagomi

Location: RIHGA Royal Hotel Osaka, Remone Annex (Annex Floor 7F, 5-3-68 Nakanoshima, Kita Ward, Osaka)

Running: May 10, 2019 – June 18, 2019 (On Mondays, Tuesdays, Fridays and Weekends only)

Price: Adults ¥4,800 / Children ¥2,400 / Infants (4-6 Years Old) ¥1,000 *Tax and service charge included

Opening Hours (2 Hours Allowed Max)

[Mondays/Tuesdays/Fridays] 12:00-16:00 (3 Entry Slots – ①12:00 / ②13:00 / ③14:00)

[Weekends] ①12:00 / ②15:00

*Children aged 3 and under can enter for free for every one adult.

RIHGA Royal Hotel Osaka Website: https://www.rihga.co.jp/osaka

Easter Dessert Buffet With Strawberries & More at Scara Terrace in Nagoya

Hop on up to Scara Terrace at Sir Winston Hotel in Nagoya this Easter for two buffets running from March 18 to May 31: the "Picnic Lunch Dessert Buffet" and "Picnic Dessert Buffet."

All-you-can-eat premium strawberries will also be sold during spring break (March 23-April 7) and on the 15th of every month. The "15th" in Japanese can be pronounced to mean "Strawberry Day."

The Picnic Lunch Dessert Buffet lets you make up your own sandwiches with a selection of tasty ingredients. There are also onigiri rolls, bento-style food, and lots of desserts made with freshly-picked strawberries.

The Picnic Dessert Buffet will have even more desserts with strawberries as the main ingredients and all of which fill you with that feeling that spring is here.

Forget about plain old chocolate Easter eggs and indulge in a luxurious dessert buffet this year♡

Information

Scara Terrace

Address: 100-36 Yagotohonmachi, Showa Ward, Nagoya, Aichi Prefecture

No Fixed Holidays.

TEL: 052-861-7874

Website: https://www.strings-hotel.jp/yagoto/restaurant-terrace.html

Picnic Lunch Dessert Buffet

Running: March 18, 2019 – May 31, 2019

Location: Scara Terrace

Time: 11:30-13:00 (90 minutes)

Price

Weekdays: Adults – ¥3,800 / Elementary School Students – ¥2,200 / 3-5 Year Olds – ¥1,200 / 0-2 Year Olds – Free

Weekends & Holidays: Adults – ¥4,300 / Elementary School Students – ¥2,200 / 3-5 Year Olds – ¥1,200 / 0-2 Year Olds – Free

*Prices include tax and service charge.

Premium Strawberries – Spring Break (March 23-April 7) & 15th of Every Month

Price: Adults – ¥4,300 / Elementary School Students – ¥2,200 / 3-5 Year Olds – ¥1,200 / 0-2 Year Olds – Free

*Prices include tax and service charge.

Picnic Dessert Buffet

Running: March 18, 2019 – May 31, 2019

Location: Scara Terrace

Time: Slot 1 – 14:00-15:30 / Slot 2 – 16:00-17:30

Price (Both Slots)

Weekdays: Adults – ¥3,200 / Elementary School Students – ¥2,000 / 3-5 Year Olds – ¥1,000 / 0-2 Year Olds – Free

Weekends & Holidays: Adults – ¥3,600 / Elementary School Students – ¥2,200 / 3-5 Year Olds – ¥1,200 / 0-2 Year Olds – Free

The Micro Museum Hostel Ueno: A New Conceptual Hostel With a Gallery

The Micro Museum Hostel Ueno is set to open this month in Arakawa, Tokyo.

The hostel aims to give guests an elevated accommodation experience that goes beyond simply having them sleep there for the night. It is located in Uguisudani which despite its station connecting to both the Yamanote Line and Keihin-Tōhoku Line, has a sort of nostalgic feeling to it like that of a close-knit town. The number of tourists visiting there has been on the rise in recent years as it is close to Ueno and Negishi.

As its name suggests, the hostel is home to a small museum. It was designed by Ryo Mitsui who created it so that different coloured lights shed through the outside. The entrance inside will be displayed with artwork from up-and-coming artists that will change each month.

The hostel hopes to bring in not just guests to see the museum but locals too to tie everyone to art.

The inside is minimalist yet stylish. It caters to different needs with its room variations including rooms for 2, rooms for 4 and more.

Take advantage of your overnight stay to experience something new by booking with The Micro Museum Hostel Ueno.

Information

The Micro Museum Hostel Ueno

Address: 4-35-11 Higashinippori, Arakawa-ku, Tokyo

Grand Opening: February 2019

TEL: 03-6806-8690

Official Website: https://www.the-micro-museum.art

Hotel Chinzanso Tokyo Unveils Strawberry Dessert & Lunch Buffet

Hotel Chinzanso Tokyo is bringing a 22-item strawberry dessert and lunch buffet to its Lobby Lounge―which overlooks the hotel gardens―on January 16, 2019.

The title of the buffet's theme is "Strawberry Party in the Forest." Customers will get to enjoy tucking into a line-up of sweet desserts and food while gazing at the outside forest-like garden.

The pancakes served at the buffet use 2 times more eggs than the hotel usually serves, giving them a fluffier texture. By topping them with strawberry, blueberry jam and other treats you can create the ultimate dessert pancake.

Of all the desserts available to pick from the buffet, one of the chef recommendations is the "Strawberry Brûlée Parfait." It includes mousse heaped with sauce made from fresh strawberries which is again topped with hardened caramelised sugar for added crunchy texture.

Other choices include shortcake, strawberry mont blanc, chewy fruit sandwiches made with rice flour, and more. You can also make your own parfait. There are three ice creams to choose from as well as strawberry compote, colourful chocolate sprays and six different syrups from France including nut, berry, sugarcane, rose, lemon and caramel. Try making your own parfait.

Sides include a croissant topped with dried raspberries, quiche inspired to look like a forest, meringue and more. There's a lunch menu too.

Enjoy the strawberry season at Hotel Chinzanso Tokyo!

Information

Strawberry & Lunch Buffet: Strawberry Party in the Forest

Running: January 16, 2019 – March 20, 2019 (*Weekdays Only)

Time: 11:30-13:30 (Last Entries 12:00)

*Reservations only. 90-minutes allowed.

Hotel Chinzanso Tokyo – Lobby Lounge "Le Jardin"

Price

General (13+ years) – ¥4,300

Elementary School Student (6-12 years)  – ¥2,000

Infants (3-5 years): ¥1,200

*Tax included in prices. Service charge charged separately.

Enquiries: 03-3943-0920 (10:00-21:00)

Event Page: https://hotel-chinzanso-tokyo.jp/restaurant/plan/245bb30c25c88dd.html

Ueno's Historical & Former Hakubutsukan-Dōbutsuen Train Station to Open for Public Viewing

Hakubutsukan-Dōbutsuen Station is a designated historical structure of Tokyo. In line with its opening for public viewing, it has been revealed that new installations will be set up as part of the 'UENOYES' project.

UENOYES was set up to promote the art and culture of Ueno Park and its surrounding areas to the rest of the world. Hakubutsukan-Dōbutsuen Station is next on the list of historical structures in Ueno to be showcased. Part of the station building will be accessible to the public in co-operation with Keisei Electric Railway and Tokyo University of the Arts. It will turn into a cultural platform where people can communicate with one another.

The installations can be enjoyed while reading into stories based on research in Ueno. Original stories have been collected from the voices of many people including director Hitsujiya Shirotama as well as members of staff from the National Museum of Nature and Science in Tokyo, Ueno Zoo, Keisei Electric Railway and elsewhere. The space is also dsigned by Sakata Akiko who works in stage design.

Guests will be led by guides as music plays both above ground and underground in the station building.

3D-printed skeletal replicas of animals can also be found at the exhibition which are printed by Kento Mori of the National Museum of Nature and Science.

Discover a new side of Ueno by following the UENOYES project.

Information

Hakubutsukan-Dōbutsuen Station

Running: Fridays & Weekends from November 23, 2018 – February 24, 2019 (*Closed Dec 28-30)
Tim: 11:00-16:00 (Last Entries 15:30 / Limited access during busy times)
Price: Free
*Please check the official UENOYES website for details on how to attend.

UENOYES Official Website (English): https://uenoyes.ueno-bunka.jp/en/

UENOYES Official Website (Japanese): https://uenoyes.ueno-bunka.jp/

Girls' Sweets Coffret Christmas Buffet to be Held at Hilton Tokyo Odaiba

Christmas is loved particularly by girls in Japan as it's the season when all the sparkly items begin to fall and flicker. Hilton Tokyo Odaiba is bringing a Christmas buffet this year which it is calling the Girls' Sweets Coffret. It's inspired by the "Christmas Coffret" cosmetic sets that are sold during the Christmas season only and tickle the hearts of girls across the country.

Coffret is a French word that refers to a small jewel box. Searches for the term "Christmas Coffret" have been on the increase in Japan since 2015 and in 2016 and 2017 ranked in the top 10 most searched Christmas related terms by women. Hilton Tokyo Odaiba is responding to this by packing everything a girl could want into their Christmas buffet.

The buffet is overlooked by a bright pink Christmas tree under which are all presents a girl could hope for including a dress, jewel box, flowers and more―all edible. A cute Santa Claus, reindeer and snowmen also decorate the table in all their delicious dessert glory. The colour palette is girly but stylish, with pink as the main colour and blacks and whites everywhere else.

There will also be a photo spot decked out with a pink Christmas tree, huge life-sized presents and other Christmas motifs. What's more is that guests who attend during the event dressed in something pink or wearing ribbons will receive a special drink.


The line-up of desserts all have some very enticing names. Translated from Japanese, some to look forward include the "Going Out With Your in My Best Dress – Princess Tart," "Like a Romantic Bride – Pink Dress Strawberry Chiffon Cake," "What I Want the Most: Jewellery – Yogurt Panna Cotta Jelly," "Drag Me Away – Pink Pearl Cupcakes," and more.

Also on the list is a cake made to look like Santa's belly called "I'll Start My Diet Tomorrow – Cranberry Mascarpone Santa Cake." There's also the the "Santa's Happy Helpers – Reindeer Chocolate Cake."

There's a range of Christmas classics too like the yule log and stollen as well as a tree-shaped mohn plunder. If you're looking for Christmas treats this year then look no further!

Information

Girls' Sweets Coffret Christmas Dessert Buffet

Address: Hilton Tokyo Odaiba, 1-9-1 Daiba, Minato Ward, Tokyo
Location: Seascape Terrace・Dining (Floor 2F)
Running: November 1, 2018 – December 28, 2018
Time: Slot 1 – 15:00-16:30 (90 minutes) / Slot 2 – 16:45-17:30 (Express Buffet – 45 minutes)

Price

Slot 1 – Weekdays: General ¥3,500, Children ¥2,100 / Weekends: General ¥3,900, Children ¥2,340

Slot 2 – Weekdays: General ¥2,400, Children ¥1,440 / Weekends: General ¥2,800, Children ¥1,680

*Listed prices do not include tax or service charge.

*Children prices are for those aged between 6-11 years.