A concept hotel of Snoopy, PEANUTS HOTEL will open in Kobe
A concept hotel called PEANUTS HOTEL which incorporates the designs of the unique characters of Snoopy and other Peanuts characters will open in Kobe in the summer of 2018.
Kobe is one of Japan's most popular tourist destinations boasting its magnificent views of the mountains and the sea. The city has a "retro" feel to it due to its unique history opening its port to the world during the Meiji Era. Accordingly, through the blending of Western and Eastern cultures, Kobe formed its exotic atmosphere. Today, more than 1 million foreign tourists visit Kobe every year.
Charles M. Schulz, the writer of Peanuts, had his studio in Santa Rosa, California. It could be said that there are many similarities between Santa Rosa and Kobe, that is the beautiful scenery and the retro yet modern atmoshphere.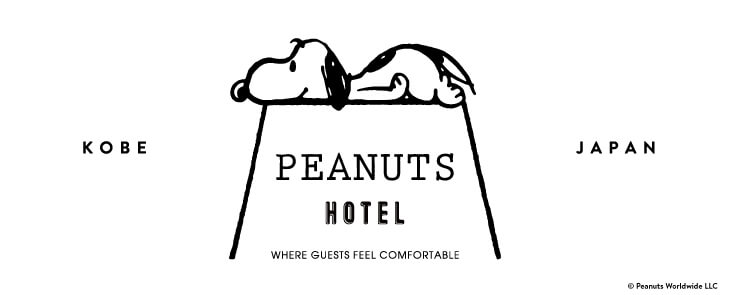 The loveable Peanuts characters will be there to greet you at PEANUTS HOTEL. The mid-century furniture and Japan's high-quality design make for a very comfortable atmosphere. In addition, the Peanuts characters add a touch of humor and fun to the scene. On the first floor of the hotel you will find "PEANUTS Café" which is a very popular café in the Nakameguro, Tokyo. Here, you can enjoy a coffee time or a meal and they also sell Peanuts related goods.
Here is a hotel where all generations can enjoy by together feeling the "roots" of the "Peanuts world." A place where all kinds of people can connect and build community – this is what PEANUTS HOTEL is all about. They hope that heart-warming relationships can be nurtured by the casual and friendly atmosphere of this concept hotel.
Why not enjoy this "retro" and Kobe-like hotel. Come experience this "Peanuts world" in Kobe.
■Information
PEANUTS HOTEL
Open date: summer of 2018
Number of rooms: 18
Official website: To be opened later
<1st floor facility>
Name: PEANUTS Café
Open date: summer of 2018
Seat number: approx. 40 seats
Official website: http://www.peanutscafe.jp/
RELATED ENTRIES
TV Anime Romeo and the Black Brothers Opens Pop-Up Shops in Japan

Nippon Animation's 1995 anime series Romeo and the Black Brothers is opening four pop-up shops in Japan selling a variety of themed merchandise. And for every ¥3,000 spent at the shops, customers will receive a special shopping bag with a design from the series.

商品一覧

Original Shopping Bag

Epos Card Holders Exclusive Items

A-Prize: Canvas Board

B-Prize: Complete Postcard Set

C-Prize: One Postcard (6 Designs)

The Marui City Yokohama branch pop-up shop will also feature a special exhibition of illustrations, photos, and artwork that take a look back over scenes from the series.

Information

Romeo and the Black Brothers Pop-Up Shop

Japanese Pop-Up Shop Name: ロミオの青い空「ボルゴ横丁雑貨店」

Marui City Yokohama

Running: March 5, 2021 – March 14, 2021

Location: Marui City Yokohama Floor 7F

Hakata Marui

Running: March 27, 2021 – April 4, 2021

Location: Hakata Marui Floor 5F

Kokubunji Marui

Running: April 9, 2021 – April 25, 2021

Location: Kokubunji Marui Floor 4F

Kobe Marui

Running: April 16, 2021 – April 26, 2021

Location: Kobe Marui Floor 5F

Romeo and the Black Brothers Exhibition

Running: March 5, 2021 – March 14, 2021

Location: Marui City Yokohama Floor 7F

Opening Hours: 11:00-20:00 (Until 19:00 on March 14)

Entry: Free

Epos Card Members Prizes

Running: Until March 5, 2021 @ 23:59 (JST)

Winners to be Chosen: 3

Official Website: https://www.sekaimeisaku-nostalgia.com/

Rare Snoopy Merchandise to be Sold at PEANUTS Cafe Nagoya

PEANUTS Cafe Nagoya is set to release a collection of rare merchandise on February 20 including a plush toys, bags, and a glass.

PEANUTS Cafe NGO Pelicans Snoopy Plush Toy | ¥2,700 (Before Tax)

PEANUTS Cafe NGO Pelicans Snoopy Plush Key Chain | ¥1,600 (Before Tax)

PEANUTS Cafe NGO Pelicans Musette Bag With Pins (Black/Hickory) | ¥4,800 Each (Before Tax)

PEANUTS Cafe NGO Pelicans Glass Jar | ¥1,200 (Before Tax)

PEANUTS Cafe Nagoya is a cafe themed on the popular Peanuts comic strip featuring Charlie Brown and Snoopy. It opened in autumn of last year and sells a range of crockery, apparel, and other merchandise related to the popular comic.

Information

Rare Snoopy Merchandise

Release Date: February 20, 2021

Where: PEANUTS Cafe Nagoya

Address: RAYARD Hisaya-odori Park, 3-18-15 Marunouchi, Naka-ku, Nagoya, Aichi

TEL: 052-211-9660

Official Website: https://www.peanutscafe.jp/

Japan's Snoopy Themed PEANUTS Cafe Reveals Charlie Brown Inspired Dessert

Six branches of the hugely-popular PEANUTS Cafe in Japan are welcoming a collection of tasty new seasonal menu items this Saturday which are set to be served until March 14.

The Limited-Time Line-Up

Brownie Charles's Brownie Chocolat | ¥950 (Before Tax)

Strawberry Whipped Hot Chocolate | Eat In ¥750 – Takeout ¥700 (Before Tax)

The collection includes a chocolate brownie inspired by the scene when Charlie Brown meets Peggy Jean for the first time. He is very nervous and mistakenly introduces himself as "Brownie Charlies." There's also a sweet strawberry hot chocolate topped with a squirt of whipped cream and drizzle of strawberry sauce.

(C) 2021 Peanuts Worldwide LLC

Information

PEANUTS Cafe Limited-Time Menu
Running: February 13, 2021 – March 14, 2021
Participating Branches: PEANUTS Cafe Nakameguro, PEANUTS DINER Yokohama, PEANUTS DINER Kobe, PEANUTS Cafe Kobe, PEANUTS Cafe Snoopy Museum, PEANUTS Cafe Nagoya
PEANUTS Cafe: http://www.peanutscafe.jp/
PEANUTS DINER: http://www.peanutsdiner.jp/
Snoopy Japan Official Website: http://www.snoopy.co.jp/

Japan's Tasty Kewpie Mayonnaise Meets Snoopy in Jar Redesign

This year marks the second year since Kewpie Corporation has been collaborating with the internationally-beloved comic series Peanuts. This month, Kewpie is rolling out an all-new spring and summer design for its mayonnaise jars. This will be followed by new autumn and winter designs later this year.

Kewpie Mayonnaise x Snoopy | ¥290 (Before Tax)

Spring/Summer Design (Rolling out February 2021)

Autumn/Winter Design (Rolling out Autumn 2021)

The designs feature the iconic characters from Charles M. Schulz's comic strip Peanuts which was first serialised in US newspapers back in 1950. Schulz's stories have been celebrate by kids and adults through the generations as Snoopy and the Peanuts Gang come together. Last year, Peanuts celebrated its 70th anniversary, something which was promoted much in Japan, a country where the iconic characters are extremely popular.

Kewpie has been selling its mayonnaise since 1925. Since 1995, it has introduced designs in collaboration with different characters every 2-3 years alongside its regular packaging.

Information

Kewpie Mayonnaise x Snoopy
Spring/Summer 2021 Design: Rolling out February 2021

Autumn/Winter 2021 Design: Rolling out Autumn 2021
Official Website: https://www.kewpie.co.jp/mayonnaise/

Stylish Snoopy Design Merchandise Revealed by PEANUTS Cafe Japan

The PEANUTS Cafe online shop in Japan released pre-sales of a new collection of Snoopy themed merchandise, all made from tyvek fabric, on Friday (January 29).

Tyvek Laptop Case | ¥3,900 (Before Tax)

Tyvek PVC 2-Way Tote Bag | ¥5,900 (Before Tax)

Tyvek PVC Pouch | ¥2,700 (Before Tax)

The tyvek collection features a stylish and sophisticated two-tone colour scheme. The items are not only lightweight but durable so will stand the test of time. Even better is that the use of PVC means they are strong against water damage and dirt.

The designs feature Snoopy and Charlie Brown along with iconic quotes from the comic strip series.

© 2021 Peanuts Worldwide LLC (短縮形 © 2021 Peanuts)

hotel koe tokyo Celebrates 3rd Anniversary With Luxurious Financier Strawberry Open Sandwich

hotel koe tokyo is celebrating its third anniversary by serving up a special financier strawberry open sandwich at the koe lobby on the first floor.

Financier Strawberry Open Sandwich | ¥1,045

The sandwich is made using a financier bread baked by the hotel koe bakery. This fluffy and airy treat has crunchy sides and sits on top of a bed of fresh cream bathed in crème anglaise. It's finished with a loaded topping of fresh strawberries which add a sweet and tangy flavour to the sandwich.

If you're staying in Tokyo this month, don't miss out on this limited-time treat which is being served from February 8 to 28.

Information

hotel koe tokyo Financier Strawberry Open Sandwich
Where: koe lobby @ hotel koe tokyo
Serving Dates: February 8, 2021 – February 28, 2021

Serving Times: 15:00-18:00提供期間:2021年2月8日(月)~2月28日(日)
Opening Hours:

[Morning] 7:30-11:00 (Last Orders 10:30)

[Lunch] 11:00-15:00 (Last Orders 14:30)

[Tea Time & Dinner] 15:00-20:00 Last Orders 19:30)

Official Website: https://hotelkoe.com/food/

Tokyo's Fancy New Pink Afternoon Tea at THE GRAND GINZA is Topped With Chocolate and Strawberries

THE GRAND GINZA in Tokyo is getting ready for Valentine's Day and White Day with the revealing of its new afternoon tea menu which will be served from February 1 to March 31.

The "Pink Afternoon Tea" is a combination of succulent strawberries and fruity ruby chocolate, which is the fourth type of chocolate alongside milk, dark, and white. It includes a ruby hot chocolate for staying warm during these cold winter months, strawberry macarons, strawberries to dip in ruby chocolate, strawberry quiche curry, and other unique items for a mix of sweet and savoury. There's also a strawberry mille-fuille made with a recipe by Ginza's famous French restaurant Maxim's de Paris.

There are also 18 drinks to choose from including 13 types of teas from TWG. It's a must-visit for Valentine's Day.

The Perfect Valentine's Day Treats in Japan Can Be Found at Tokyo's Hotel Metropolitan Edmont

Hotel Metropolitan Edmont, a hotel situated in Chiyoda, Tokyo, will celebrate Valentine's Day with an angelic line-up of sweet treats that will be sold from February 1 to 14.

The Chocolates

Truffle au Chocolat – Box of 4: ¥1,200 (Before Tax) / Box of 6: ¥1,800 (Before Tax) / Box of 10: ¥3,000 (Before Tax)​

Indulge in a luscious assortment of four chocolates: the citrus-filled 'Grand Marnier,' the slightly bitter 'Rum,' the full-bodied and tangy 'Raspberry,' and the Uji-matcha packed 'Matcha.'

Orangette (Contains 15) | ¥2,000 (Before Tax)

If you love chocolate combined with fruit, then the Orangette will be your poison, filled with fresh and bitter orange peel and coated in chocolate. It has a distinct refreshing fragrance to it which expands across the taste buds with every bite.

Raisin Chocolat | ¥1,200 (Before Tax)

Love rich, full-bodied flavour? These raisins are soaked in French Sauternes wine and covered in dark chocolate. Their fruity flavour makes them a perfect accompaniment to a glass of whisky or bourbon.

The Cakes & Pastries

Eme | ¥600​

A perfect pick for Valentine's Day: a heart-shaped mousse containing rich, velvety chocolate that's jam-packed with fresh raspberry jelly.

Brioche Chocolat | ¥260

Enjoy taking a bite out of this brioche made from butter and egg that's laced with custard cream and chocolate.

Valentine's Day Treats Cooked Up at The St. Regis Osaka

The St. Regis Osaka, a hotel located in Chuo, Osaka, is seducing couples with the reveal of its luxurious Valentine's Day dessert line-up which will be sold at the hotel's Italian restaurant La Veduta from February 1 to 14.

2021 Valentine's Collection Line-Up

Valrhona Chocolate Bark | Single Bag: ¥1,200 (Before Tax)

A bag of irresistible chocolates made using chocolate by the French premium chocolate brand Valrhona. It's available in three flavours: Milk (Hazelnut/Miso), Dark (Almond/Soy Sauce), and White (Macadamia/Sake Lees).

Extra Dark Chocolate Gateau Chocolat | ¥2,800 (Before Tax)

A truly full-bodied chocolate experience made with 61% chocolate that can be indulged chilled or warmed up.

Valentine's Edition Valrhona Guanaja & Jivara Lactee Chocolate Éclairs | ¥750 (Before Tax)

A chocolate cake strip loaded with thick ganache and topped with chocolate-covered hazelnuts to create a bite-sized éclair.

St Regis Signature Brioche | Set of 3: ¥1,000 (Before Tax)

A set of three of St Regis's signature brioches: the extra dark Valrhona chocolate "Danish," the Valrhona Guanaja & Jivara Lactee chocolate "Ganache," and the Valrhona "Passion Fruit Inspiration."

La Veduta's Italian Valentine's Day Menu

Dinner For Two | ¥32,000 (Before Tax)

The menu line-up at La Veduta features a dinner for two which includes an amuse-bouche, marinated Japanese amberjack, heart-shaped ravioli capresi, Tournedos Rossini beef fillet with tai sea bream, a strawberry tiramisu, and tea snacks.

This is a real indulgence for couples looking for a romantic dining experience or treat.

Information

The St. Regis Osaka Valentine's Day
Running: February 1, 2021 – February 14, 2021
Address: 3-6-12 Honmachi, Chuo-ku, Osaka-shi, Osaka
Opening Hours: [Mon] 8:00-14:00 / [Tue-Sun] 8:00-18:00

La Veduta
Running: February 10, 2021 – February 14, 2021
Opening Hours: 17:30-21:00 (Last Orders 19:30) *Closures at 20:00 until February 7
Enquiries: 06-6105-5659 (10:00-19:00)
The St. Regis Osaka Official Website: https://www.marriott.co.uk/hotels/travel/osaxr-the-st-regis-osaka

Nagasaki's 112 Year Old Hotel Nampuro Opens Terraces With Panoramic Ocean and Sky Views

The 112-year-old Hotel Nampuro in Nagasaki is set to open the new Sky Terrace and Ocean Terrace this month. These vistas offer breathtaking, unbroken views of the sea and sky that make it feel as if you're floating on the ocean with rolling skies ahead that stretch to the horizon.

Observation Terrace (1)

Observation Terrace (2)

Infinity Pool-Style Open-Air Bath

Silky Bath

Beautifying Bubble Baths

Jacuzzi Bath (Male Only)

Children's Bath

Hinoki Sauna & Steam Sauna

Iyashi Onsen Cafe

Rental Open-Air Bath

The observation terrace offers an incredible panoramic view of the great Ariake Sea that offers a picturesque spectacle at all times of the day. Guests can enjoy seeing the morning, noon, and night skies which merge together with the ocean for an unbeatable result. There's also a "no talking" rule on the terrace so guests can fully soak up what's in front of them as they take a luxirous soak in the warm baths.

The infinity pool-style open-air bath offers a refreshing view while making it seem as if you are part of the ocean. The silky bath uses delicate micro bubbles which become an air cushion and promote good blood circulation using massage. The jacuzzi bath relaxes the entire body with stimulating bubbles, while the children's bath allows kids to get in on the fun too. Both saunas are a change to unwind fatigue and the tired body. The steam sauna is set at a lower temperature than your usual high-temperature dry sauna which ensures it doesn't have as much strain on the body so guests can sweat it out comfortably. The freshly-brewed coffee available at the hot spring is also exclusive to the hotel's Onsen Cafe.

Snoopy and Charlie Brown Turn Into Confections at Japanese Convenience Stores

Bandai's character-inspired Japanese confectionery series Tabemas is releasing two new traditional Japanese wagashi confections inspired by the Peanuts comic series. Snoopy and Charlie Brown will arrive at Lawson convenience stores across Japan on January 19, 2021.

Tabemas Snoopy | ¥264 Each (Before Tax)

The cute confections capture the little details of the iconic characters, from Snoopy's doggo features and collar to Charlie Brown's hair and shirt. The Snoopy confection is filled with chocolate bean paste—a nod to his favourite chocolate chip cookies—while Charlie Brown is filled with custard bean paste as a nod to his trademark shirt. The packaging features exclusive art drawn for the Peanuts comic's 70th anniversary with Snoopy atop his dog house.

© 2021 Peanuts Worldwide LLC

Information

Tabemasu Snoopy / Charlie Brown
Release Date: January 19, 2021

Available: At the chilled sweets section of Lawson convenience stores in Japan (Excluding Natural Lawson and Lawson Store 100)

*Available while supplies last

*Stock date may differ from branch to branch

*Select stores not participatingProduct Page: https://www.bandai.co.jp/candy/tabemas/snoopy03/

SNOOPY MUSEUM TOKYO's PEANUTS Cafe Serves Up New Menu Items Inspired by the Comics

The PEANUTS Cafe at SNOOPY MUSEUM TOKYO rolled out new menu items on Saturday (January 16) as part of a new exhibition called "Snoopy to Kyoudai" (Snoopy and Siblings) featuring a sandwich and desserts inspired by scenes from the beloved Peanuts comics.

The New Menu Line-Up

Snoopy Flower Basket Sandwich | ¥1,400 (Before Tax)

This flower basket is based on a scene when Snoopy meets with his siblings who pay him a visit after he recovers from being unwell and they eat sandwiches together. The tasty sandwiches are stuffed with pastrami beef and veg so you too can get your fill like Snoopy. The basket also comes with mini corn dogs and crispy fries. This is one to share (or hog all to yourself!)

Olaf's Pancakes | ¥1,200 (Before Tax)

These pancakes are inspired by Olaf, who was first introduced in the ocmics as the winner of the Ugly Dog Contest. They are loaded with ice cream, fruit, a whole Japanese custard pudding, fresh cream, and a drizzle of caramel sauce.

Belle's Raspberry Milkshake | ¥900

A doughnut-topped raspberry milkshake like the one that appears in the comics. It's a nod to Belle, Snoopy's only sister.

©2021 Peanuts Worldwide LLC (短縮形 ©2021 Peanuts)

Information

PEANUTS Cafe SNOOPY MUSEUM TOKYO
Running: January 16, 2021 – July 11, 2021
Address: Minami-Machida Grandberry Park Park-Life Site, 3-1-1 Tsuruma, Machida, Tokyo
TEL: 042-850-7390
PEANUTS Cafe Official Website: http://www.peanutscafe.jp/snoopymuseum-tokyo/