"Hinamatsuri" festival is coming soon. 7 recommended food and drinks for this year's festival!
Hinamatsuri is a festival in Japan which is held on the 3rd of March to wish for the health and happiness of a girl child and each house displays a set of Hina Dolls on the 3rd of March. Hina dolls (girl-dolls called Onnabina and boy-dolls called Otokobina) are displayed in each home.
In this article, I will introduce to you some food and drinks that match the Hinamatsuri festival.
"'Snoopy' Hinadan Kazari" 31 Ice Cream (Baskin Robbins)
Baskin Robbins in Japan are holding an event titled "Girls Festival 2018" from February 15th to March 3rd, the day of Hinamatsuri. This year, Baskin Robbins are introducing the cute character Snoopy onto hinadan – doll stands for hina dolls. Each ice cream is topped with sugary faces of Snoopy and Belle to represent a male doll and female doll respectively. There are also three chocolate Woodstock designs. Celebrate a fun and exciting Hinamatsuri with your family!
Detailed information:https://www.moshimoshi-nippon.jp/91474
"Hina Roll" Takarazuka Hotel
Takarazuka Hotel will sell "Hinamatsuri Cake" which decorates the Hinamatsuri season gorgeously for three days from the 1st of March 2018 (Thurs.) at "Lobby Shop" (1F) of the East Building. Two varieties are available – "Onnabina" using strawberry cream and "Otokobina" using chocolate cream and strawberries. Let's enjoy Hinamatsuri by eating this hotel's cake.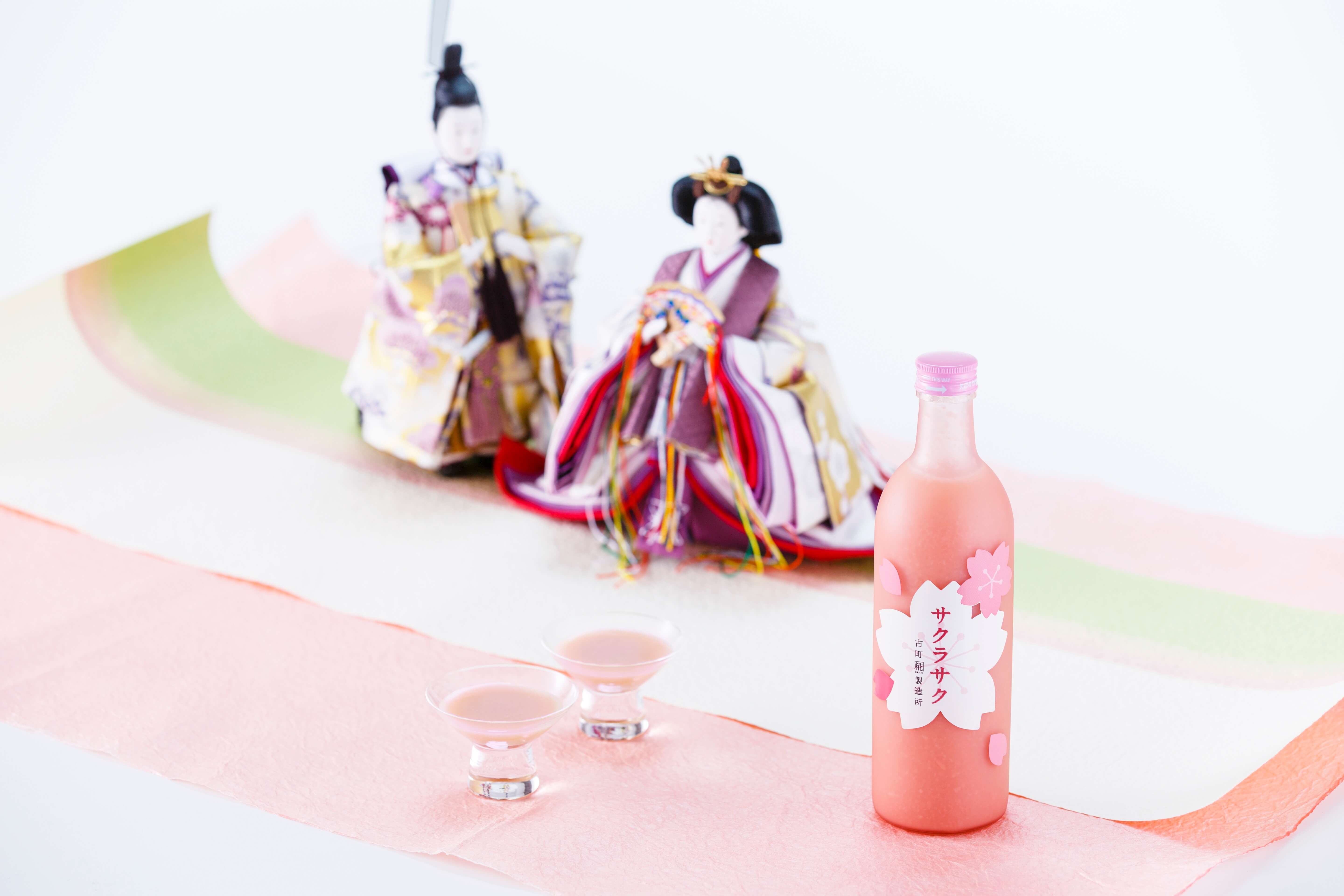 "Sakurasaku" Furumachi Koji Seizojo
The koji (rice malt) amazake (sweet fermented rice drink) specialized store, "Furumachi Koji Seizojo" will sell a renewed version of the spring-limited amazake "Sakurasaku" (the quantity of the product has been increased from 300ml to 500ml) to meet their customers' demands. This koji amazake has a cherry blossom leaf taste like sakuramochi (cherry blossom flavored mochi with bean jam inside).
"Hina Chirashizushi" Washoku Mendokoro Sagami
Washoku Mendokoro (Japanese noodle restaurant) Sagami will sell Hina Chirashizushi (scattered sushi) as a Hinamatsuri limited menu from the 1st of March to the 3rd of March. The menu includes vinegar rice, snow crab, tuna, salmon, a thick omelet, cherry blossom denbu (pink fish flossed) and shrimp. It is a custom in Japan to eat chirashizushi when the Hinamatsuri festival is held. Japanese people eat this dish with the wish that their children will not go hungry in the future and it is thought that shrimp extends longevity.
"Hinamatsuri cakes." An online shopping site specializing in cakes Cake.jp
The online shopping site specializing in cake "Cake.jp" started selling Hinamatsuri cakes from the 15th of February. Many cute cakes that have decorations of Hina Dolls will be sold including cute standard round-shape cakes and diamond/fan-shaped cakes. The cakes they sell are suitable to be bought as a gift since they can be shipped.
"Disney Girls Collection" Ginza Cozy Corner
Ginza Cozy Corner will sell small cake sets using the designs of Disney characters from the 15th of February 2018 to the 3rd of March. "Disney Girls Collection" is a box that includes cakes using the motifs of "Minnie Mouse," "Alice," "Tinker Bell," "Disney Marry," "Miss Bunny," "Lady" and "Clarice" and each piece has a different taste.
"Hinamatsuri MIX" papabubble
The "art candy" shop from Spain, Barcelona "papabubble" will sell "Hinamatsuri MIX" from the 10th of February 2018 (Sat.) to the 4th of March (Sun.). Five cute patterns including a peach flower pattern, sakuramochi pattern and bonbori (paper lantern) will be sold and a very popular apricot peach flavor will be added.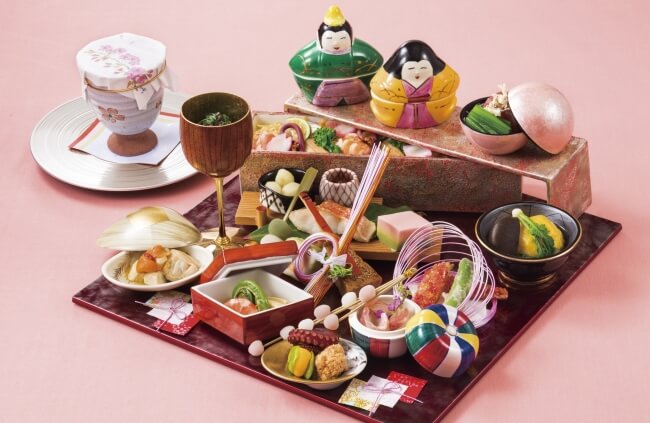 "Hinamatsuri Image no Gentei Lunch Menu" Shibuya Excel Hotel Tokyu
Shibuya Excel Hotel Tokyu will sell limited lunch menu items using the motif of Hinamatsuri at the Japanese cuisine restaurant, "Shunsai" and "A bientot" located on the 25th floor from the 1st of February 2018 (Thurs.) to the 3rd of March (Sat.). Original chirashizushi, clam, hishimochi (star-shaped rice cake) and arare (cubic rice crackers) which bring luck will be served. Let's enjoy eating the special menu items while viewing the view of Tokyo from the floor 100 meters, above ground.
Why not celebrate Hinamatsuri with you family.
RECOMMENDED ENTRIES
A "hinamatsuri" (doll festival) event is being held at Hotel Gajoen Tokyo

Hotel Gajoen Tokyo is holding "Hyakudan Hinamatsuri (traditional doll festival) Omi/Mino/Hida Hina Kiko" at "Hyakudan Kaidan" which is Tokyo's designated cultural property, until the 11th of March (Sun.).

"Hinamatsuri" is an occasion to pray for young girls's growth and happiness. Hinaningyo are dolls which are put on display before and on the 3rd of March, the day the Hinamatsuiri festival is held.

An ohinasama (traditional doll) of Kachoan, Honjin Hiranoya, Hidatakayama and an ohinasama of Dono Family (Gyosho no Ma)

This exhibition where hinaningyos from all over Japan are gathered is the largest exhibition in Tokyo. It has been held 8 times and more than 470 thousand people in total have visited. The exhibition counts it's 9th time this year and about 500 dolls from Gifu Prefecture and Shiga Prefecture (from 9 areas in total) will be gathered.

Gorgeous dolls from Shiga and Gifu Prefectures including wedding goods of Daimyo Clans, expensive goods of Omi's old wealthy merchants, Goden Kazari's (a culture which was created in the Western-side of Japan) goods and tiny traditional toys will be gathered at the venue.

You can enjoy the gorgeous collaboration of the cultural property and hina ningyos.

You can take photos at this exhibition! Local doll collections which were enrolled in Guinness.

Nihon Doreikan located in Shiratoricho, Gujoshi, Gifu Prefecture is a museum that gathers local toys from all over the world as well as dorei (bells made of soil) and local hina ningyos.

The number of the works exhibited which are enrolled in Guinness exceeds 100 thousand.

Let's play with the local toys! The local toys-exhibiting room of Nakagawa Masashichi Shoten is available

The holder opened the 8th room of Hyakudan Kaidan and created a collaboration room with a popular sundry store Nakagawa Masashichi Shoten called "Nakagawa Masashichi Shoten no Kyodo Gangu no Hinadan." The precise works have been gathering popularity and the exhibition was held 7 times.

This time, they are exhibiting local toys like kokeshi and daruma in addition to "Nihon Zenkoku Mame Kyodo Gangu Shushu" exhibited on the lacquer hinadan (stairway to exhibit hina ningyos).

The hotel is filled with excitement! A plan where you can enjoy eating and lodging is available

"Ohinasama Room" is recommended for those of who want to stay at a comfortable room.

Each room has its own decorations including hina ningyos produced by Asakusa's established brand "Harakoshu" and cute hanging decorations. A part of the room uses Ryukyu tatami flooring. Up to four persons can enjoy this room.

The restaurants are offering limited menus. A Japanese cuisine restaurants which offers beautiful dishes are offering hina matsuri-limited tea ceremony dishes. The content of the plan is suitable to enjoy hinamatsuri where you can enjoy soup that looks like hishi mochi (Japanese traditional mochi), yurine (lily bulbs) that looks like a flower petal and sashimi dish that looks like a snow cave.

The room also has some decorations such as hina nigyos produced by Harakoshu and uchikakes (a kind of kimono worn by women). The fairly cheap plan that comes with a lunch menu of each restaurant inside the hotel and an entrance ticket of the hinamaturi exhibition, is highly recommended.

Why not enjoy these gorgeous hina ningyos which you cannot normally be seen at Hotel Gajoen Tokyo.

■Information

Hyakudan Hinamatsuri / Omi, Mino, Hida Hina Kiko

Address: 8-1, 1st Street, Shimomeguro, Meguroku, Tokyo

Hotel Gajoen Tokyo, "Hyakudan Kaidan," the designated cultural property of Tokyo

Period: 2018,01,19 (Fri.) to 2018,03,11 (Sun.)

Time: 10:00 to 17:00 (last entrance 16:30)

Entrance fee: 1,500 yen (students – 800 yen ※student card is needed) ※ students of elementary school and small children – free

TEL:03-5434-3140

Access: 3 minutes on foot from Meguro Station (JR Yamanote Line, Tokyu Meguro Line, Tokyo Metro Nanboku Line, Toei Mita Line)

Ohinasa Room

Available date: 2018,01,19 (Fri.) to 03,10 (Sat.)

Price: up to 4 persons per room – 18,528 yen ~ (per person)

※the price differs depending on the day

Reservation/contact: 03-5434-3837

Hina Menu

Date: 2018,01,19 (Fri.) to 2018,03,11 (Sun.)

Venue: Japanese cuisine "Hafutei" Hinamatsuri Kaiseki Zen

Price: one person – 3,600 yen (tax and service fee are not included)

※please note that you must share a table with other people

※Hinamatsuri Tokubetsu Zen (an upgraded version – 5,600 yen) is also available

RISTORANTE"CANOVIANO":¥4,900

New American Grill"KANADE TERRACE":大人/¥4,900、シニア¥4,600

Cafe&Bar結庵:¥3,800

Lunch plans that comes with an entrance ticket

Japanese cuisine "Hafutei": 4,900 yen

Chinese cuisine "Shunyuki": weekdays – 3,900 yen / Saturday, Sunday and holidays – 5,700 yen

RISTORANTE"CANOVIANO": 4,900 yen

New American Grill"KANADE TERRACE": adult/4,900 yen, senior/4,600 yen

Café & Bar Yuian: 3,800 yen

※All prices noted above include tax and service fee

※Please take a look at the homepage regarding business hours.

The Korean shaved ice shop,"SULBING HARAJUKU" –a report by MOSHI MOSHI BOX, staff person, Midori

Hello, everyone. My name is Midori Blackmore and I am a staff person of MOSHI MOSHI BOX Harajuku Tourist Information Center.

Do you like strawberries? I love strawberries so, I feel happy during this spring season because many desserts using strawberries are released every year.

This time, I visited the very popular shaved ice specialized shop, "SULBING HARAJUKU" from Korea.

The shop is always crowded in summer, but you don't have to wait to get into the shop during the winter season.

It might sound weird to eat ice cream during winter, but I think it is nice to eat something cold inside a warm room, for some reason.

Eating a shaved ice inside a warm shop is the same!


The shop is located on the 2nd floor of the building where the sports store, SKECHERS is located, near the Takeshita Exit of Harajuku Station (make a right turn after getting out of the exit). The sign of the shop is small so be careful not to miss it.

The inside of the shop is spacious and warm. Many of the customers are women but I saw some groups of men as well. A wide generation of people visit the shop.

Secure a table first before making an order at the counter. The product I ordered was a winter-limited, "Nama Ichigo SULBIN"(fresh strawberry shaved ice)!

After ordering, take a buzzer and wait at your seat.

When the buzzer rings, go to the counter and receive your shaved ice.

"Nama Ichigo SULBIN"(fresh strawberry shaved ice) 1,400 yen (tax included)

Boom!

The product was bigger than I thought. Look at the size of it!

You will realize that it is not a normal shaved ice as soon as you put it into your mouth.

The ice is very fine and has a soft texture. Even when it is cold out, the ice will not result in a "rush to the head"and you will be able enjoy the fresh ice texture.

Also, the shaved ice of this shop has the flavor of milk! The combination of the milk-flavored shaved ice and lots of strawberries goes very well.

Red bean jam paste is inside the shaved ice so you will never get tired of eating this sweets item.

SULBIN HARAJUKU sells many kinds of menu items.

One popular menu item is"Mango Cheese SULBIN" 1,500 yen (tax included)


A popular item that is not a sweets is  (food menu)"Mozzarella Toppogi Toast" 1,100 (tax included)

For those of you who do not have "a sweet tooth,"I recommend that you share an ice shaving dish with your friends or with your boyfriend.


"Nama Ichigo SULBIN" will be sold until February for sure but it might not be sold in March. Let's go to the shop as soon as possible!!

◼︎Information

SULBING HARAJUKU

Address: 2F, Green Oak Harajuku, 1-14-34, Jingumae, Shibuyaku, Tokyo

Business hours: 10:30 – 20:00(LAST ORDER 19:30)

Fixed holiday: undecided

Access: 58m from the Takeshita exit of JR Yamanote Line – Harajuku Station

1 minute on foot from the 2nd exit of Tokyo Metro Chiyoda Line – Meiji Jingu Station
TEL:03-6721-0404

■MOSHI MOSHI BOX Harajuku Tourist Information Center

MOSHI MOSHI BOX is a tourist information center located at the cross road of Takeshita Street, Meiji Street, and Harajuku Street. The staff there are experts on the Harajuku area. You can get the most up-to-date news of Harajuku from the site.

Services:

Service list

・free wi-fi

・free water

・free PC & charge

・baggage room

・gift shop

・currency exchange

Opening Hours: 10:00-18:00

Closed: The year-end and New Year holidays

Contact: 03-2225-6447

Twitter・Instagram @mmb_harajuku

Top 10 Character Cafés in Japan: February & March 2018

Collaborative character cafés and menus in Japan are becoming more and more popular, where cafés team up with popular character franchises from various media including anime, games and brands to serve up themed menus. Let's take a look at some of the collaborations you can look forward to in February and March this year.

The Very Hungry Caterpillar×Marronnier Gate Ginza

The world of The Very Hungry Caterpillar, one of the most loved picture books in the world, has been brought to life in the form of a café. The café opened in Ginza on January 18th and will will be open for a limited time only. The colourful and vivid mind of illustrator and children's book writer Eric Carle is brought to life through food. The items on the menu promise to excite the fun aspect of eating. Expect to tuck into everybody's favourite French toast, omurice, hamburgers, pasta and more, all themed on the wonderful world of the world's beloved caterpillar.

Full Details: https://www.moshimoshi-nippon.jp/84934

◼︎Information

Harapeko Aomushi Café

Date: January 18, 2018 – August 31, 2018 (*closed February 19th)

Address: MARRONNIER GATE GINZA 1 (4F), Sunday Brunch, 2-2-14 Ginza, Chuo-ku, Tokyo

Opening Hours: 11:00-21:00

*Reservation required before visiting the café by 17:30. You can sit at any seat after 17:30

Homepage: www.harapecocafe.com

TM & © 2018 Eric Carle LLC.

Monchhichi×Asakusabashi

The plus secret café underneath JR Asakusabashi Station held its grand opening in collaboration with Monchhichi, a line of stuffed toy monkeys from Japan, on January 20th. The café is filled with limited edition goodies and there's even be a workshop space. Monchhichi is an internationally loved character that first appeared in 1974. JR Asakusabashi Station is a bustling location situated nearby Asakusa and Akihabara. Enjoy your time together with Moncchichi underneath the station in a cute and stylish space.

■Informationplus secret

Address: 1-17-5 Asakusanashi, Taito, Tokyo

Opening Hours: 11:00-20:00 (last orders 19:30)

Closed: Wednesdays

Website: https://plussecret.shopinfo.jp/
©2018 sekiguchi Co.,Ltd.

Jalan×Hands Cafe

Travel information website Jalan's official cat mascot Nyalan has made his way to Hands Cafe branches around Japan. A total of 8 Hands Cafe branches, including Omotesando Harajuku and Umeda, are now serving up a Nyalan themed menu. Six tasty and original meals and beverages are available including omurice, hamburgers, paw-style parfait, café au lait with cute art and more. The cafes have been completely turned into Nyalan's world with decorations and a photo spot.

■Information

Jalan × Hands Cafe

Running: January 17, 2018 – February 25, 2018

*Please note that store times and holidays vary across branches.

Hands Cafe Tokyu Plaza Omotesando Harajuku

Tokyu Plaza Omotesando Harajuku 5F, 4-30-3 Jingumae, Shibuya, Tokyo

Hands Cafe Shibuya

Tokyu Hands Shibuya 7A, 12-18 Udagawacho, Shibuya, Tokyo

Hands Cafe etomo Chuorinkan

etomo 2F, 4-6-3 Chuorinkan, Yamato, Kanagawa

Hands Cafe Umeda

Tokyu Hands Umeda 10F, 3-1-1 Umeda, Kita-ku, Osaka-shi, Osaka

Hands Cafe Morinomiya Q's Mall

Morinomiya Q's Mall BASE 2F, 2-1-70 Morinomiyachuo, Osaka-shi, Osaka

Hands Cafe Piole Akashi

Piole Akashi West 1F, 1-1-23 Oakashi, Akashi, Hyogo

Hands Cafe Hiroshima

Tokyu Hands Hiroshima 2F, 16-10 Hatchobori, Naka-ku, Hiroshima, Hiroshima Prefecture

Hands Cafe San-A Naha Main Place

San-A Naha Main Place 1F, 4-4-9 Omoromachi, Naha, Okinawa Prefecture

Hands Cafe Website: https://www.handscafe.jp/event.html

Sailor Moon×My Melody Candy Parlour

Bishojo Senshi Sailor Moon and My Melody are teaming up to open a collaborative café called Sailor Moon × My Melody Candy Parlour for a limited period in Osaka, Sapporo, Tokyo and Nagoya. See everybody's favourite magical girls and Sanrio's popular character come to life in the form of food, sweets and drinks served only at this café.

Full Details: https://www.moshimoshi-nippon.jp/90049

■Information

Sailor Moon × My Melody Candy Parlour

Sapporo PARCO (Sapporo)

Address: THE GUEST cafe & diner, Sapporo PARCO 4F, 1-3-3 Minami, Chuo-ku, Sapporo-shi, Hokkaido

Running: April 6, 2018 – May 14, 2018

Opening Hours: Sunday-Friday 10:00-20:00 (food last orders 19:00 / drinks last orders 19:30) / Saturdays 10:00-20:30 (food last orders 19:30 / drinks last orders 20:00)

Ikebukuro PARCO (Tokyo)

Address: THE GUEST cafe & diner, Ikebukuro PARCO Honkan 7F, 1-28-2 Minami-Ikebukuro, Toshima-ku, Tokyo

Running: April 20, 2018 – May 21, 2018

Opening Hours: Café 10:00-22:00 (food last orders 21:00 / drinks last orders 21:30) / Merchandise Shop 10:00-21:00

Nagoya PARCO (Nagoya)

Address: THE GUEST cafe & diner, Nagoya PARCO West Building 8F, 3-29-1 Sakae, Naka-ku, Nagoya-shi, Aichi Prefecture

Running: April 6, 2018 – May 21, 2018

Opening Hours: Café 10:00-21:30 (food last orders 20:30 / drinks last orders 21:00) / Merchandise Shop 10:00-21:00

Shinsaibashi 161 (Osaka)

Address: THE GUEST cafe & diner, 2F, 1-6-1 Shinsaibashisuji, Chuo-ku, Osaka-shi, Osaka Prefecture

Running: February 17, 2018 – April 15, 2018

Opening Hours: 11:00-21:00 (food last orders 20:00 / drinks last orders 20:30)

*Café will close at 18:00 on April 15th (food last orders 17:00 / drinks last orders 17:30)

THE GUEST café&diner Official Website: http://the-guest.com

©Naoko Takeuchi ・ PNP ・ Kodansha ・ Toei Animation

©1976, 2018, SANRIO CO., LTD.

Pompompurin Cafe Yokohama×Gudetama

The Yokohama branch of Pompompunrin Cafe, a café themed around the popular Sanrio character Pompompurin, will collaborate with the "lazy-egg" character Gudetama. The collaborative menu is available from February 6th. The worlds of these two popular characters can be enjoyed at this café with its cute interior.

Full Details: https://www.moshimoshi-nippon.jp/89912

■Information
Pomupomu Purin Café Yokohama Store

Address: Yokohama Sotetsu Square, 2-1-5, Nanko, Nishiku, Yokohamashi

Opening Date: February 6, 2018

Opening Hours: 10:00-21:00 (last orders 20:30)
TEL: 045-311-6750

Homepage: http://pompom.createrestaurants.com/

©1996, 2013,2018 SANRIO CO., LTD. APPROVAL NO.S584328

Pop Team Epic×Sweets Paradise

Collaborative cafés paying homage to Okawa Bukubu's four-panel manga series POP TEAM EPIC, which has become recognised worldwide, are now open in Sweets Paradise branches throughout Japan. The café will offer original menu items such as "Poptepi Manma," "A Ichimen no Kusomidori Pasta" and "Sekihotai de Tsuchikatta Sekihan," as well as an all-you-can-eat option. They are also serving amusing named drinks such as "Imi ga Wakarimasuka? [Do you understand?] Café Latte" and "Shogakusei Level no Drink [low-quality drink made by an elementary school student]."

Full Details: https://www.moshimoshi-nippon.jp/89750

■Information
POP TEAM EPIC Café

Sweets Paradice SoLaDo – Harajuku Branch
Running: February 2nd – March 15th
Address: SoLaDo Takeshita Street 3F, 1-8-2, Jingumae, Shibuyaku, Tokyo
TEL: 03-6661-8671
Opening Hours: <Weekdays> 11:00 to 20:30, <Weekends & Holidays> 10:30 to 21:00

Sweets Paradise – Tennoji Branch
Running: February 2nd – February 27th
Address: Tennoji Mio 11F, 10-39 Hidenincho, Tennoji-ku, Osaka-shi
TEL: 06-6775-4180
Opening Hours: 11:00-23:00 (last orders 22:30)

Sweets Paradise – Machida modi Branch
Running: February 2nd – March 15th
Address: Machida modi 9F, 6-2-6 Haramachida, Machida-shi, Tokyo
TEL: 042-728-8506
Opening Hours: 11:00-23:00

Sweets Paradise – Hiroshima Parco Branch
Running: February 2nd – February 25th
Address: Hiroshima Parco Main Building B1F, 10-1 Hondori, Naka-ku, Hiroshima-shi
TEL: 082-249-0141
Opening Hours: 10:00-20:00

Sweets Paradise – Nagoya Parco Branch
Running: March 9th – April 8th
Address: Nagoya Parco West Building 8F, 3-29-1 Sakae, Naka-ku, Nagoya-shi, Aichi Prefecture
TEL: 052-263-0401
Opening Hours: 10:30-22:30 (open from 10:00 on Weekends & Holidays)

Sweets Paradise – Fukuoka Parco Branch
Running: March 3rd – March 31st
Address: 6F, 2-11-1, Tenjin, Chuo-ku, Fukuoka-shi, Fukuoka Prefecture
TEL: 092-235-7253
Opening Hours: 10:00-20:30

Sanrio Characters×Dining Park Ikebukuro

Sanrio Characters Lovely Café where popular Sanrio characters from back in the 80's will gather, is now open at Dining Park Ikebukuro, located on the eight floor of Seibu Ikebukuro Honten, close to the east exit of Ikebukuro Station. From meals to desserts, step back in time with dishes celebrating the good-old characters from Sanrio.

Full Details: https://www.moshimoshi-nippon.jp/88086

■Information

Sanrio Characters Lovely Café

Running: January 31, 2018 – April 17, 2018

Address: Gourmet Stadium II, Seibu Ikebukuro Honten 8F, 1-28-1 Minami Ikebukuro, Toshima-ku, Tokyo, 171-0022

Opening Hours: 11:00-23:00 (open from 10:30 on Weekends & Holidays) *last orders 22:00

No fixed holidays except when specified by Seibu Ikebukuro.

TEL: 03-5949-5675

Website: https://www.sogo-seibu.jp/ikebukuro/

アニメ「銀魂」×OMOTESANDO BOX CAFE & SPACE

Anime and manga series Gintama is set to gets it own themed cafe, "Gintama CAFÉ Host Club Takamagahara," later this month. Gintama is a science fiction series written by manga author Hideaki Sorachi. The interior design of the The interior design of the café is an original creation based on the host club that appears in the story,  "Takamagahara."

Full Details: https://www.moshimoshi-nippon.jp/87388

◼︎Information
Gintama CAFÉ Host Club Takamagahara

Address: OMOTESANDO BOX CAFE & SPACE B1F, Pine Under Flat, 5-13-2 Jingumae, Shibuya, Tokyo

Running: February 15, 2018 – March 16, 2018

Opening Hours: 11:00-21:40 (80 mins stay max.)

Reservations: https://gintama-cafe.jp

*reservations must be made in advance before visiting Host Club Takamagahara

ドラゴンボール×ナチュラルキッチン

Renowned anime and manga series Dragon Ball, a franchise loved all over the world, has also gotten its own character themed café. Natural Kitchen are very particular in their selection of ingredients for their meals, only picking the best. The talented chefs there have conceived a unique and original fun-packed menu completely themed around Dragon Ball.

Full Details: https://www.moshimoshi-nippon.jp/86377

■Information
Dragon Ball Café & Diner Tokyo

Address: Natural Kitchen Omotesando, GYRE B1F, 5-10-1 Jingumae, Shibuya, Tokyo

Running: January 15, 2018 – February 28, 2018

Opening Times: 11:00-22:00 (last orders 21:00)

Contact: 03-6805-0772

*No smoking

Website: http://dragonball-cafe-diner.jp

マイメロディ&クロミ×お好み焼き

Japanese okonomiyaki restaurant chain Okonomiyaki Dohtonbori are holding a special campaign in collaboration with popular Sanrio characters My Melody and Kuromi. Titled My Melody & Kuromi wo Tsukurou, the campaign began on February 1st. The My Melody Okonomiyaki contains rice cake and cheese and is mixed with ketchup. It's complete with a wafer ribbon and a decorated face made from soya beans. The Kuromi Okonomiyaki is cooked with pork and black coloured batter. Like the My Melody okonomiyaki, this one's also decorated with a soya bean sheet for a face, as well as a wafer skull accessory. There's a whole list of other delicious meals featured on this collaborative menu to tuck into too.

Full Details: https://www.moshimoshi-nippon.jp/87507

■Information

My Melody & Kuromi×Dohtonbori Collaboration Campaign

Running: February 1, 2018 – March 31, 2018

Location: Select Dohtonbori branches around Japan

Campaign Webpage: https://www.dohtonbori.com/campaign/mymelody/

©1976, 2005, 2018 SANRIO CO., LTD APPROVAL No. G582283

Did you enjoy this list? You can expect to find cafes around Japan collaborating with popular characters all the time. If you're there this month or March, then be sure to check out any of the above!

Cherry Blossom Inspired Food & Drink in Japan: Spring 2018 Edition

As the cold winter continues to freeze forward, we're all waiting in anticipation for spring's warmth to break through. Did you know, there are places in Japan where the cherry blossoms bloom as early as the end of January? Keep that in mind as we introduce you to some cherry blossom inspired food and drink hitting Japan very soon.

"Cherry Blossom Drink" – Lindt

Lindt is an established premium chocolate brand from Switzerland founded in 1845 loved all over the world. The company will release some limited edition, early-springtime items including the "Lindt White Chocolate Sakura Ice Drink" and the "Lindt Delice Sakura" on February 16th. Enjoy this refreshing cherry blossom drink and feel the vibe of spring early.

Full Details: https://www.moshimoshi-nippon.jp/88257

"Sakura Mini Bon" – Cinnabon

Cinnamon roll specialist store "Cinnabon" are selling a limited edition cherry blossom flavoured cinnamon roll, the "Sakura Mini Bon," from February 1st to March 31st. The roll is topped with a gracious amounts of cherry blossom flavoured cream cheese frosting and a crunchy decoration. Enjoy an exquisite balance of subtle cherry blossom and specially made cinnamon.

Full Details: https://www.moshimoshi-nippon.jp/88270

"Spring Coloured Veggie Pota Soba" – Cafe & Bar BW CAFE

SOBA (buckwheat noodles) CAFE & BARU BW CAFE which sells original soba dishes serve up their new menu "Haruiro Vege Pota Tsuke Soba" from February 1st. Their new menu "Haruiro Vege Pota Tsuke Soba" uses lots vegetables such as fresh potatoes and corn and one can eat soba with a warm dipping soup that tastes like potage. The dipping soup and ground vegetables go well with soba since it uses a Japanese-style broth. Also, the baked cheese used as a topping adds a mildness and special aroma to the dish. Enjoy this pink-coloured soba that brings to mind cherry blossoms.

Full Details: https://www.moshimoshi-nippon.jp/87477

"Matcha Milk Sakura Flavour" – Tsujiri

CAFE & BARU BW CAFETsujiri Online Shop will sell a seasonally limited product of an established store in Kyoto, Tsujiri's "Tsujiri Matcha Milk – Sakura Flavor" with only a limited supply. "Tsujiri Matcha Milk -Sakura Flavor," is a matcha milk which has the scent of cherry blossoms and the soft flavors of Ujimatcha and milk. It is a seasonally limited flavor which uses matcha from "Tsujiri," an established store in Uji, Kyoto. The tea masters of Tsujiri selected the Uji Matcha that goes well with milk by blending two kinds of matcha to draw out the flavor of matcha. A cherry blossom leaf powder produced in Japan is added to the soft flavor of milk to give the product its cherry blossoms flavour.

Full Details: https://www.moshimoshi-nippon.jp/84872

"Spring Bouquet Salad Set" – BOTANIST café

"BOTANIST Tokyo," the flagship store in Omotesando, is serving a spring themed menu on the 2nd floor "BOTANIST café" from February 1st to March 31st. The "Spring Bouquet Salad Set" uses lots of fruit and vegetables reminiscent of springtime to look like a botanical bouquet. They're selling a range of other foods and sweets too which taste great and are fun to look at. Everything on the menu is available for this spring only!

Feel the warm breeze of spring early with these cherry blossom inspired foods and drinks.

6 Cafés Open Early in Harajuku—Begin Your Day Luxuriously with Breakfast

Hi, everyone. I'm Ellie, and I work at the MOSHI MOSHI BOX Harajuku Tourist Information Center.

Relaxing in a café with a cup of coffee in the early morning – days off like these are true happiness, aren't they? The truth is, shops in Harajuku open a little late, so there aren't many places that open in the early hours.

I'm going to recommend to you several cafés in Harajuku that open in the morning and serve breakfast. Be sure to stop by any of them before you begin your day's shopping.

BURN SIDE ST CAFÉ

This café is a 6-minute walk from Harajuku Station and is filled with an American-style atmosphere. They don't have a morning menu, but they're open at 9:30 on weekdays and 8:30 on weekends and holidays, so you can still enjoy your morning with their regular menu. A popular item on the menu are their soufflé pancakes. They're fluffy and just melt in your mouth. There's a range of different types you can choose from, from pancakes with seasonal fruits to a tiramisu-style pancake. Why not try finding your favourite?

Réfectoire

This Harajuku bakery & café is open from 8:30. They have Free Wi-Fi and electrical outlets, making it a great spot for getting some work done in the morning. The bakery serves lots of take-out food, and the breakfast menu has an assortment of toast, French toast and bread. You can get any of these as a set with a drink and salad. With its bright, Southern France style interior, this is a nice place to enjoy your morning.

Bills – Tokyo Plaza Omotesando Harajuku

Bills serve the world's most famous breakfast. This branch can be found about 5-minutes' walk from Harajuku Station on the seventh floor of Tokyo Plaza. Tokyo Plaza is closed in the morning times, but the elevator up to bills is functional. They have a big selection on their breakfast menu. I recommend the ricotta cheese pancake. The honeycomb butter smells sweet on the fluffy and moist pancake. Their specially-made scrambled egg is also exquisite and just melts on your tongue. The world's best is right here, so be sure to experience it.

Bread, Espresso &

"Bread, Espresso &" is a café and bakery 5-minutes' walk from Omotesando Station and 15-minutes' walk from Harajuku Station. This place has immense popularity and has people lining up outside in the morning before it opens. Their popular menu item is the French toast they serve, which is only available on weekdays in the morning and at teatime. The French toast is thick, the outside is crunchy, and the inside is soft. It's known to even sell out very quickly, so you'd best be up early if you want a bite.

Eco Farm Cafe 632

This café and bakery has earned a reputation for its menu which uses vegetables grown at the company's own plantation. Seating 150 people, this place is spacious, and offers a calm and quiet environment that will have you forgetting the tumult of Harajuku. Their breakfast menu includes croissants, toast and pancakes, all of which you can have with fruit and salad, and depending on what you order, you can also get bacon, sausages and other things too. You can also choose a drink to make a set at ¥630, such as their own blend of coffee. Their breakfast menu is great because you get at a cheap price.

Revive Kitchen Three Aoyama

Enjoy healthy cold pressed juice made with carefully selected organic ingredients and nutrient-rich meals made with original recipes at this place. They also have things like gluten-free pancakes, so this one's recommended for people looking to be healthy.

I hope you enjoyed this list. Start your wonderful day with a nice breakfast.

Harajuku Lunch Guide: Cafés & Restaurants Recommended by MOSHI MOSHI BOX Staff (Part 1)

Hi, everyone. I'm Shiota, and I'm the Director at the MOSHI MOSHI BOX Harajuku Tourist Information Center. Are you ever stuck on where to eat lunch in Harajuku because everywhere's too busy? I'm always unsure.

So today, the knowledgeable staff at the MOSHI MOSHI BOX will recommend some great locations for lunch they have been to where you can enjoy a bite to eat.

Ruki's Recommendations – Spanish Staff


Natural Stance
Head down the road located between Murasaki Sports and New Balance along Meiji-dori. You'll find a clothes store called WOMB on the left. Head up the stairs next to it to find Natural Stance. It has a welcoming atmosphere and is very relaxing. You can go there just for a drink or you can fill your belly with a meal. The desserts are delicious too!


cafe STUDIO
cafe STUDIO can be found in the same building as the Adidas shop along Meiji-dori. Kick your feet up and relax on one of the sofas inside, or if you're in a rush, you can order for takeout. Best of all, they even have Free Wi-Fi!


Midori's Recommendations – Miss ID Semifinalist


Kunsei Maruho
Kunseu Maruho is an izakaya that can be found along "Tonchan-dori" behind the MOSHI MOSHI BOX. This hidden gem offers a hearty traditional Japanese lunch at a reasonable price.


Shiota's Recommendations – Director of MOSHI MOSHI BOX


bills – Omotesando Harajuku
"bills" needs no introduction – they serve the world's best breakfast. The lines to get in get particularly busy in the afternoon, but you won't have to wait long if you go in the morning. You can find it on the seventh floor of Tokkyu Plaza at Harajuku crossing. Their famous pancakes are definitely delicious, but they have a hefty selection to choose from on the food menu. And the terrace seats feel great when it's sunny!


Ellie's Recommendations – English-Speaking Staff


Bio Ojiyan Cafe
Walk down the street between Murasaki Sports and New Balance near the MOSHI MOSHI BOX and make a right at the Family Mart convenience store. There, you'll find Bio Ojiyan Cafe on your right. All the items shown the signboard look amazing, but even with the standard, set items on the menu, you'll be spoiled for choice since there's so much to choose from.

Check out Shiota and Ellie's trip to this cafe for more details: https://www.moshimoshi-nippon.jp/67375

Did you enjoy this list? If you're planning a trip to Harajuku, keep it with you so you can find great a place to eat lunch.

And if you're unsure of how to get to any of these places, just pop into the MOSHI MOSHI BOX. We'd be glad to help!
RELATED ENTRIES
Chawanmushi Recipe: Savoury Dessert Made With Carrots, Cream Cheese & Mirin

Together with soy sauce and miso, mirin is a fundamental condiment in the Japanese kitchen and for many recipes for Japanese food. It's a sweet rice wine that has lower alcohol content and higher sugar content when compared to sake, adding a sweet flavour to dishes.

Today, we're taking a look at a recipe that uses "Mikawa Mirin," a brand of mirin made from high quality rice, to make carrot and cream cheese chawanmushi. Chawanmushi is a savoury egg custard dessert eaten in Japan.

Carrot & Cream Cheese Chawanmushi

Chawanmushi is made using mirin and has a smooth texture to it as well as a subtly sweet flavour. It's the perfect accompaniment to a hot summer's day.

Ingredients (Serves 1)


●Chawanmushi
60g carrots
240ml dashi
20ml soy sauce
120ml Mikawa Mirin
8g sugar
18g cream cheese
1 egg

●Okra-an
Okra
30ml dashi
0.5g salt
3ml Mikawa Mirin

Method

We will start by making the chawanmushi.

1. Slice the carrots and boil them until they become soft.

2. Add the soy sauce, sugar, and lots of mirin and cook through the dashi.

3. Cook for approximately 20 minutes on a medium heat, then cool with ice. Add the cooled carrots, cream cheese, and 20ml of the dashi into a blender and bend.

4. Add the egg to the mix and steam the mix for 12 minutes on a medium heat.

While the chawanmushi is cooling, we'll make the okra-an.

5. Mix together the okra-an dashi, mirin, and salt together. Add watered potato starch and thinly sliced okra. Leave to cool in the refrigerator.

6. Add the okra-an to the cooled chawanmushi and tuck into your cute two-layered dessert.

Carrot & Cream Cheese Chawanmushi

The dessert is an enjoyable mix of the sticky texture from the okra-an and smooth chawanmushi. It's great to have not only at lunch or dinner, but at home parties with friends too.

–How's the taste?


Misa Kimura: "It works really well with the mirin. The chawanmushi is like a sweet treat. It's super easy to make too, so I think I'll be making it at home!"

Mirin is indispensable to any Japanese cupboard and can be used in many ways, whether it be a classic Japanese dish or a dessert like this one.

Mikawa Mirin 700ml: ¥1,122 (Tax Included)

This authentic brand of mirin is made using a traditional method of Japanese brewing which blends in the delicious taste of rice. It's so delicious that you just want to drink the whole bottle. A high quality mirin, it has a distinct sweetness, colour, and texture. It has a rich flavour, and the taste of the rice elevates the flavours of its ingredients.

Mikawa Mirin Official Website: http://www.mikawamirin.jp/
Official Online Store: http://mikawamirin.jp/product/product_step1.php?m=n
Official Facebook: https://www.facebook.com/mikawamirin

Recipe


This recipe was conceived by ITEMAE, a famous restaurant serving Japanese cuisine that is listed in the Michelin Guide.

Model: Misa Kimura
Photographer: Haruka Yamamoto

Information

ITEMAE
Address: 10-14 Kamiyamachō, Shibuya, Tokyo
Opening Hours: Lunch 11:30-15:00 (Weekdays Only) / Dinner 18:00-23:30
Closed: Sundays / New Year's Holiday
TEL: 050-5595-4795

Inari Sushi Restaurant Tsurigitsune to Open in Osaka International Airport's North Terminal

Japanese food and confectionery company Bijuu is opening a new restaurant called Tsurigitsune inside Osaka International Airport's North Terminal on August 5, 2020. The restaurant will specialise in inari sushi, a type of sushi packed into pouches of deep-fried tofu.

Bijuu is known for producing and selling such products as Kyoto's famous coarse sweet red bean paste-filled yatsuhashi otabe crackers.

Tsurigitsune will serve "Kyo Dashi Oinari," a type of inari sushi made with fried tofu Saga Tofu Morioka—a long-standing tofu shop in Sagano, Kyoto—soaked in lots of sumptuous Kyoto-style dashi. The restaurant will also serve a special type of sweet otabe cracker which cannot be eaten anywhere else.


Kyo Dashi Oinari (Includes 15) | ¥3,240 (Tax Included)

The dashi that the Kyo Dashi Oinari are soaked in take up all the delicious flavour of kombu, sababushi smoked mackerel, iwashibushi pilchard, and katsuobushi dried bonito, all of which serve to add that authentic Kyoto flavour.


Tanto Otabeyasu | ¥930 (Tax Included) *Served 6:30-10:00

As well as Kyo Dashi Oinari, Tsurigitsune's menu includes a line-up of dishes that celebrate the flavour of dashi, including soba, dashimaki tamago omelette, and more.

If you're travelling to Osaka, why not get an authentic Kyoto experience too by dining at Tsurigitsune?

Information

Tsurigitsune
Grand Opening: August 5, 2020
Address: Osaka International Airport North Terminal 2F Boarding Area, 3-555 Hotarugaike NishimachiToyonaka, Osaka
Opening Hours: 6:30-20:20 (Last Orders 19:50)
TEL: 06-6836-9217

Official Website: http://www.bijuu.co.jp/tsurigitsune/

4 Must-Try Colourful & Kawaii Cream Sodas in Kyoto

The rainy season in Japan, known as Tsuyu, is finally coming to a close, which means the real summer is right around the corner. And what better way to stay cool in Japan during the summertime than with a glass of coo, refreshing cream soda?

We've compiled a list of 4 must-try cream sodas in Kyoto recommended by Tiara on Instagram, who posts photos on her Instagram of drinks and desserts she tries around the Kanto region of Japan, and who has kindly provided us with photos on this occasion too.

and C Kyoto | Kita-ku

Yellow Cream Soda / White Cream Soda / Red Cream Soda / Blue Cream Soda

and C Kyoto is a stylish bar, cafe, and second hand clothes store located right by Hirano Shrine. They serve four different colours of their cream soda which look super cute when lined up in a row.

and C Kyoto
Address: 30 Hirano Kamihatchōyanagichō, Kita-ku, Kyoto
Opening Hours: 12:00-23:00
Closed: Tuesdays
Instagram: https://www.instagram.com/andc102/

BABBI GELATERIA KYOTO | Gion Shijo

Mango Passion / Classic Blue / Amaou Strawberry

BABBI GELATERIA KYOTO is located along the Kamo River and is famous for its gelato. They also sell some super refreshing cream sodas topped with their tasty gelato.

BABBI GELATERIA KYOTO
Address: 134 Saitocho, Shimogyo Ward, Kyoto
Opening Hours: 13:00-20:00 (Temporary hours due to COVID-19)
TEL: 075-585-5200
Official Website: http://www.babbi.co.jp/showcase/gelateria-kyoto/

Kissa Zou | Imadegawa

Pudding a la Mode / Lemon Squash & Elephant Cookie

This cute cream soda comes with an elephant-shaped cookie. The custard pudding has a rich eggy flavour.

Kissa Zou
Address: 440-3 Santeichō, Kamigyō-ku, Kyoto
Opening Hours: 10:00-18:00 (Last Orders 17:00)
No Fixed Holidays
Instagram: https://www.instagram.com/kissa_zou/

Bread, Espresso & Arashiyama Garden | Arashiyama

Cherry Blossom Cream Soda

This old cafe is renovated from an old family estate which was built at the end of the Edo Period and is designated as a cultural property of Kyoto. This beautiful cafe coincides with the gardens and has gorgeous thatched roofing.

Bread, Espresso & Arashiyama Garden
Address: 45-15 Sagatenryuji Susukinobabacho, Ukyo Ward, Kyoto
Opening Hours: 10:00-18:00 (Last Orders 17:00)
TEL 075-432-7940
Official Website: https://bread-espresso.jp

Tiara has lots of other delicious dessert recommendations over on her Instagram, so be sure to follow her if you're travelling in the Kansai region and are in need of a sweet treat.

Original Text & Photo: @happy_pinkrose_tiara

Translation: Joshua Kitosi-Isanga

*The information about the items on this list are correct at the time of publishing. For the latest information, please visit each cafe's official websites and social media pages.

Flower Miffy Juice Garden Asakusa Now Open and Serving Adorable Drinks

The new "Flower Miffy Juice Garden" opened as a permanent addition to Flower Miffy Asakusa on July 21, 2020. Flower Miffy is a Miffy-themed flower and merchandise shop.

Colourful Jelly Soda – Gerbera/Tulip/Sunflower/Lavender: ¥580 Each (Before Tax)

Four new Miffy drinks are being served for the opening of Flower Miffy Juice Garden. Each is a soda beverage is filled with colourful jelly, elderflower syrup made from real flowers, and a soft, bouncy kind of jelly. Each drink itself looks like a colourful bouquet.

Miffy Cream Soda: ¥680 (Before Tax)

Flower Miffy Juice Garden will also introduce the "Miffy Cream Soda" on Saturday August 1 which is a colourful jelly soda topped with ice cream, a Miffy wafer, and flower-shaped chocolate.

Lemonade: ¥480 (Before Tax)


Apple Juice: ¥480 (Before Tax)

Other available drinks include sweet and sour lemonade made using lemons grown in the Seto Inland Sea, 100% apple juice, and other cute delights.

Information

Flower Miffy Juice Garden Asakusa
Address: Aiso Bldg. 1F, 2-19-7 Kaminarimon, Taito-ku, TOkyo

Opening Hours: [Weekdays] 11:30-18:00 / [Weekends & Holidays] 10:30-18:00

Official Website: https://www.benelic-flower.com/
*Please note that the opening hours of Flower Miffy Asakusa and Juice Garden Asakusa are different

Japan's Music Festival 'a-nation' Heads Online For the First Time

a-nation, a series of summer concerts held in Japan which has a record number of over 6.1 million attendees, is heading online for the first time for "a-nation online 2020."

a-nation is organised by Avex Group, the biggest independent record label in Japan, and was first held back in 2002. This year will mark its 19th run, and it will be streamed live for the first time due to the COVID-19 pandemic. The original festival was scheduled for May 2020, but after much consideration Avex Group decided to take it online.

Numerous stages will be set up and users will be free to select which acts they watch. The event will be available to watch for concertgoers not only in Japan, but around the world. Don't miss this chance to see lots of popular Japanese artists live from the comfort of your own home!

Information

a-nation online 2020
Date: August 2020 (subject to change)
Official Website: https://a-nation.net/

Houjicha Milk Tea and Genmaicha Milk Tea Made With Japanese Tea Leaves Serving at Gong cha

Gong cha's limited-time "Houjicha Milk Tea" and "Genmaicha Milk Tea" beverages are popular each year, and they returned once again on June 17.

Japanese Tea

Gong cha's menu item "Japanese Tea" was released in 2018 exclusively for Japan, and is enjoyed every year during its annual limited-time run. Made using tea leaves from Japan, its authentic taste and aroma has people begging for more when the year's run is up.

2 Flavours This Year

Houjicha Milk Tea (Regular Size: ¥470) / Recommended Topping: Milk Foam (+¥70) | Serving: From June 17, 2020 for a limited time

The Houjicha Milk Tea is the iconic drink of Gong cha's "Japanese Tea" series. It's a blend the best high quality houjicha and kukicha tea leaves, both of which are grown in Shizuoka Prefecture. Roasting and using them together gives a sweet and deeply rich aroma. Add milk foam as a topping and you've got yourself a rich milk tea.

Genmaicha Milk Tea (Regular Size: ¥470) / Recommended Tapioca (+¥70) | Serving: From June 17, 2020 for a limited time

The Genmaicha Milk Tea is an original blend of Japanese genmai rice and tea leaves from Shizuoka Prefecture. This milk tea keeps the original delicious flavour of the tea and wafts a fragrant rice aroma.

McDonald's Set To Release Refreshing Hokkaido Melon Frappés To Kick Off Summer

Devoted to selling authentic coffee, McDonald's Japan's McCafé by Barista coffee service is all set for the hot summer days ahead with delicious Hokkaido melon drinks. The Hokkaido Melon and Milk Frappé is making a return to the menu along with the brand new Hokkaido Melon Choco Frappé. The drinks will appear on the menu from June 24, 2020 for a limited period.

Enjoy the luscious flavour and fragrance of Hokkaido melons in the form of a refreshing frappé. Although the Hokkaido Melon and Milk Frappé has returned to the McDonald's menu year after year since 2018, this year marks the debut of the Hokkaido Melon Choco Frappé.

Hokkaido Melon and Milk Frappé M Size: ¥470, L Size: ¥540


Vibrant Hokkaido melon is pureéd into a fruit sauce (2% fruit content). This is mixed with milk to bring out its full-bodied fragrance. The juicy, melt-in-the-mouth sweetness will leave you wanting more. The whipped cream topping is drizzled with more melon sauce. Mix the drink to enjoy the delicious combination of juicy melon and sweet cream.

Hokkaido Melon and Choco Frappé M Size: ¥490, L Size: ¥560


Enjoy a sweet smoothie of rich and juicy melon punctuated with notes of Belgian couverture chocolate sauce (54% Belgian chocolate) and whipped cream. With 2% fruit content Hokkaido melon pureé as the base of the smoothie, milk is added to create a mellow flavour. Crunchy chocolate Oreo® pieces are sprinkled on top along with a drizzle of chocolate sauce, adding a hint of bitter chocolate flavour.

As the weather gets hotter, make sure to cool down with a refreshing cool drink. If you've never tried Hokkaido melon, now's your chance!

Information

Hokkaido Melon and Milk Frappé
Hokkaido Melon and Choco Frappé
Release Date: June 24, 2020 – Around the End of August, 2020
Available At: McDonald's Cafés in Japan with a McCafé by Barista

McDonald's Official Website: https://www.mcdonalds.co.jp/

Matcha and Fruit Shaved Ice & Other Desserts Arriving to Saryo FUKUCHA in Kyoto This Summer

Saryo FUKUCHA is a cafe that was opened by FUKUJUEN in Kyoto Station in April 2019. A new batch of seasonal summertime menu items are set to arrive this June, including shaved ice drizzled in Uji tea and fruit sauce, a refreshing Uji matcha soda made with fresh fruit and jelly, and floats. These items will be served from June 1 to September 30 with a takeout option available.

Summer Menu

Uji Matcha & Fruit Shaved Ice


Matcha Berry Shaved Ice: ¥950 / Strong Matcha Berry Shaved Ice: ¥1,100 / Houjicha Banana Shaved Ice: ¥950 (All Before Tax)

The "Matcha Berry" shaved ice is paired with rich Uji matcha ice cream and berry sauce. It's also topped with a wafer cake shaped like a flower and filled with white bean paste, rice flour dumplings, and fruit.

Uji Tea White Peach Soda / Uji Tea Lemon Soda: ¥650 Each (Before Tax)

Full-bodied kabusecha tea from Uji made into a soda with fresh fruit pieces and jelly for a refreshing combination. Pick from super refreshing lemon or subtly sweet white peach.

Uji Matcha Float / Houjicha Float: ¥700 Each (Before Tax)

These floats are made using the best tea leaves selected by FUKUJUEN which are used to make a rich and frothy tea latte. Added to that is a dollop of soft serve ice cream topped with red bean paste and dried wheat gluten. Choose between authentic Uji matcha or aromatic houjicha.

Takeout Menu

Strawberry Flower Wafer Cake / Chestnut Houjicha Wafer Cake: ¥350 Each (Before Tax) 

Fruit wafer cakes are a popular dessert at Saryo FUKUCHA, and for the first time ever they are making them available for takeout so customers can enjoy them at home too. Pick from the strawberry flower flavour made with white bean paste or the chestnut and houjicha with chocolate cream.

Cream Anmitsu (Matcha/Houjicha): ¥700 (Before Tax)

FUKUCHAs specially-made anmitsu, or syrup-covered anko bean jam, is the perfect way to cool down on a hot summer's day. It's mixed with Uji tea honey and topped with various toppings like milk agar-agar, black soybeans, rice flour dumplings, white peach, raspberry, and mizu manju.

Information

Saryo FUKUCHA
Address: 901 Higashi Shiokojicho, Karasumadori Shiokoji Sagaru,, Shimogyo-Ku Kyoto Station Bldg. 2F, Kyoto 600-8216 Kyoto Prefecture
Opening Hours: 8:30-21:00 (Last Orders 20:30)
*The cafe is currently running on reduced opening hours as of May 26, 2020. Hours are now 10:00-19:00 (Last Orders 18:30). Times are subject to change.
TEL: 075-744-0552

Official Website: https://fukucha-fukujuen.com/

3 New Limited-Edition Botanical Drinks to Arrive This Summer at BOTANIST Tokyo

BOTANIST Tokyo, the flagship shop of BOTANIST in Omotesando, has announced a new collection of limited-edition drinks will be served on the second floor BOTANIST Cafe from July 12, 2020. BOTANIST Tokyo is currently closed but it scheduled to reopen on June 1.

There are three new refreshing drinks to choose from, all of which can be ordered for takeout. From apple mint to grapefruit, each beverage us the perfect accompaniment for cooling you down in Japan this summer.

REFRESH MENU


Refresh Soda: ¥600 (Tax Included)

A combination of grapefruit jelly and fizzy soda water make this one of those drinks that you go "Ahh!" afterwards on a hot summer's day. There's also a hint of sweet green apple.

Botanical Melon Soda: ¥800 (Tax Included)

This is a smoothie which blends together two types of melon soda and adds melon jelly and a dollop of ice cream. It's like a dessert in a cup!

Banana & Avocado Refresh Smoothie: ¥720 (Tax Included)

Enjoy the sweetness of banana and sugar beet together with the smoothness texture of the avocado in this smoothie which has apple and mint mixed into it for that refreshing summertime kick.

The cafe's regular menu has also been revised to add three new desserts.

REGULAR MENU


Vegan Waffles w/Drink: ¥800 (Tax Included)

These vegan waffles are healthier for the body if you're looking for some guilt-free indulgence. It's topped with soy whipped cream, maple syrup, and fruits of your choice.

Lemon Cheesecake w/Drink: ¥1,000 (Tax Included)

A crunchy cookie base, a creamy cheese top, and a lemon to top it all off. The combination of the salty flavour with the sour hit is a match made in heaven.

Homemade Rich Pudding: ¥500 (Tax Included)

An in-house made purin, which is a type of Japanese custard pudding. It's a delightful mix of rich egg and subtly sweet soy whipped cream.

Customers who spend over ¥4,000 (tax included) on items in the Refresh Series will also be entered in for a chance to win a "Refresh Soda." The soda is available while supplies last.

Information

REFRESH MENU
Serving: June 1, 2020 – July 12, 2020

REGULAR MENU
Serving: From June 1, 2020

BOTANIST Tokyo
Address: 6-29-2 Jingumae, Shibuya, Tokyo (1st Floor – Shop / 2nd Floor – Cafe)
TEL: 1st Floor: 03-5766-3777 / 2nd Floor: 03-5766-3778
Opening Hours: 11:00-20:00
Official Website: https://shop.botanistofficial.com/

OMOTENASHI MATSURI Festival to Deliver Japanese Culture to the World in Free Twitch Live Stream

OMOTENASHI BEATS has announced that it is set to serve Japanese culture to the world with its new DJ party event "OMOTENASHI MATSURI" which is set to stream live on Twitch on June 7, 2020.

OMOTENASHI BEATS is a project that fuses Japanese music with DJ culture. Its concept is to get people visiting Japan to experience Japanese culture and to deliver Japanese music to the rest of the world.

The event will be completely free to watch to everyone around the world on Twitch.

OMOTENASHI MATSURI / Official Trailer 

The DJ line-up OMOTENASHI MATSURI is as follows:

DJ KOO: A resident DJ with a career spanning 40 years who is also the leader of Japanese pop band TRF.
Motsu: Former member of m.o.v.e, a band with many a hit song including the Around the world which was used in the anime series Initial D.
DJ Arisa Komiya: Also known as the voice actress of Aqours member Dia Kurosawa in Love Live! Sunshine!!
DJ Zu from i☆Ris: A member of i☆Ris, a music unit formed of voice actresses and idols.
Shinichiro Kamio: The voice of Rio Mason Busujima from rap project Hypnosis Mic.
DJ Miyu Takagi: The voice actress for Shinobu Inuyose from the multimedia project D4DJ.
MIMORI from kolme: A member of kolme who write and produce their own music.
Tsunko: A cosplayer, anime song DJ, and the voice actress of Miyake Aoi from D4DJ.
Asanyan: DJ and multi-talent from social media.
DJ CAESAR from TOKYO: Produced Mobile Suit Gundam 40th Anniversary BEST ANIME MIX and is a huge name in the anime song scene.

10 big names will grace the line-up of the event. This will also be the first time Shinichiro Kamio and MIMORI have performed as DJs.

Stock Your Kitchen With Japanese Kitchenware Tools by SALON adam et rope'

SALON adam et rope' has launched its new "Nihon no Daidokoro Dougu" (Japanese Kitchen Tools) collection which features a curated selection of Made In Japan kitchenware and cookware items from high quality Japanese brands.

Kasane

Top: ¥12,000 / Middle: ¥12,000 / Bottom: ¥9,000 (Before Tax)

Traditionally, Japanese knives were made by men with men in mind, but these Kasane knives are made by women to fit with the modern age. They are made in such a way to feel comfortable in smaller hands. The handles are made from rare natural wood from the cerasus jamasakura trees of Gifu Prefecture which give them a texture that changes as you continue to use the knives. The blades themselves are made from high-carbon stainless steel which gives them superior sharpness and durability. The blade edge is the result of a new technology developed by Sumikama called "Zero Edge" which makes them thin and sharp.

Kaji Donya

 
Left: ¥1,300 / Middle: ¥2,000 / Right: ¥2,800 (Before Tax)

Left: ¥1,000 / Middle: ¥1,200 / Right: ¥2,000 (Before Tax)

These handy stackable containers are made by Kaji Donya, a company based in Tsubame, Niigata. The height of each one is the same which makes them super convenient when stacking inside fridges.

Ceramic Grill: ¥1,400 (Before Tax)

The ceramic grill is a longtime seller at SALON. If you're grilling bread on it, it leaves the outside crispy and the inside nice and soft. It uses far-infrared rays which means the water content of the ingredients grilled on it is not lost, allowing for the full tasty flavour to stay locked in and the food plump and juicy.

McDonald's Japan to Release Ramune Flavoured McShake

McDonald's Japan is teaming up with confectionery company Morinaga & Company to release the "McShake® Morinaga Ramune" at all McDonald's branches in Japan. This is the first time McDonald's Japan has collaborated with the product.

Morinaga Ramune is a candy soda, and the perfect match to McDonald's sweet and creamy to cool down during spring and early summer.

The mixed beverage maintains the same refreshing taste as the original McShake® while drawing out the full flavour of the Ramune. It's available in a small size only while supplies last and is the same light blue colour as Morinaga Ramune. It's also served in an original cup.