6 Recommended Cafés for Pancakes in Harajuku—A Change From Crepes!
Hi, everyone. Ellie here from the MOSHI MOSHI BOX Harajuku Tourist Information Center.
Recently at the MOSHI MOSHI BOX we've had a lot of people, guys and girls, come in saying that they want to eat some tasty pancakes in Harajuku.
So today, I'm here to recommend some shops that sell pancakes around Harajuku.
Café Casa
"Café Casa" is a long-standing shop whose flavours have remained the same, serving to parents and children through the generations. Everything from the signboard to the illustrated menu and stained glass window created by the owner will leave you feeling cozy. The colour green envelops the café against other vivid colours. Due to customer demand the hot cakes sold there (¥750) have been a familiar item on the menu for almost 20 years. The contrast between the crunchy outside and fluffy inside is exquisite. They're different from your usual pancakes and have a nostalgic feel to them. Combine them with maple syrup and you've got yourself a truly delicious treat.
 Full Details: https://www.moshimoshi-nippon.jp/29317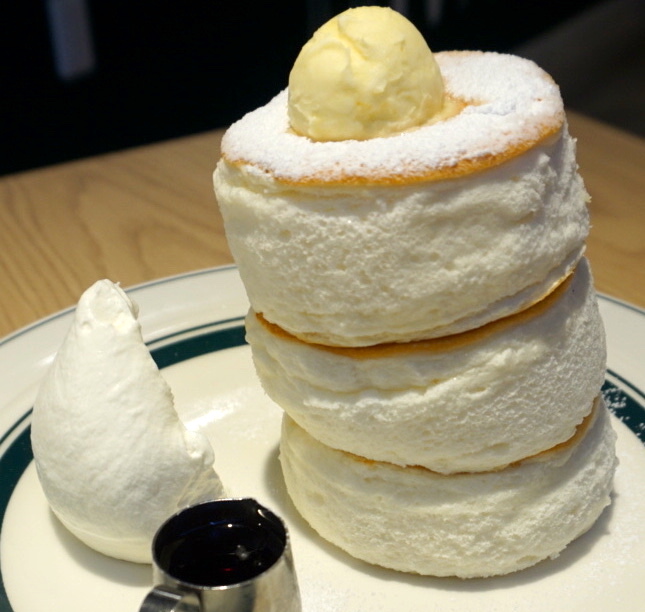 gram
This stylish café can be found by walking from Harajuku Station down Takeshita Street for about 5-minutes. When you reach the end, turn right and look for the green signboard. The main food on the menu is pancakes, all of which are made with the best ingredients and made one-by-one after an order comes in. The most popular and recommended item on the menu is the fluffy "Premium Pancake" (¥950). The soft pancake wobbles as the waiter brings it over – it looks like it will collapse just by being placed on the table.  Eat this to experience the fluffiest and softest texture you have ever eaten.
Full Article: https://www.moshimoshi-nippon.jp/23455
Bills Tokyo Plaza Omotesando
Bills serve the world's most famous breakfast and were responsible for causing Japan's pancake boom. Located in Tokyo Plaza Omotesando Harajuku, the shop's Australian Ricotta Pancakes. Spread underneath the thick pancake are slices of fresh banana which you eat together with honey comb butter and maple syrup. The marriage between the salty ricotta cheese and sweet syrup is to die for.
Jinguen
"Jinguen" is a gallery café located in Ura-Harajuku. Recommended from their menu are their thick homemade hot cakes. The outside of the hot cake is crisp while the middle is silky smooth. Of course, they go really well with maple syrup. You can also add vanilla icing, whipped cream, and chocolate or strawberry sauce.
Working Holiday Connections – Harajuku Omotesando YM Square Branch
This café is just a one-minute walk from Meiji Jingu Station via Tokyo Metro on the second floor of YM Square. It has tall glass windows which open up the shop and give you a sense of space. Their original "Manly Pancakes" draw a line between standard pancakes and the recent emerging thick and fluffy pancakes to unveil an original and unique texture. The subtle flavour of the eggs make the pancakes melt-in-the-mouth and match perfectly with syrup and fresh cream.
Sunday Jam – Harajuku Branch
This place's specialty menu item is their Honolulu Pancakes. They're incredibly thick, with a crumbly outside and soft middle. These luxurious pancakes have a special flavour made for adults. They are drizzled with butter and fresh cream, and you can choose sausages or bacon to go with them. Eating them with your choice of honey or maple syrup is simply irresistible!
Did you like this list? Try and find your favourite pancakes while in Harajuku!
RECOMMENDED ENTRIES
Mogumogu Scarlet #1: Going to eat super soft pancakes in Japan

"Mogumogu Scarlet" is a special project by Scarlet, a girl from the UK who loves Japan, in which she goes to try various Japanese foods. From Japanese food that she hasn't tried before to familiar Western dishes, she eats food that you can only find in Japan. The first restaurant she chose is "gram". It is a stylish café that you can find by walking from Harajuku Station down Takeshita Street for about 5-minutes. When you reach the end, turn right and look for the green signboard.

The inside of the restaurant is cozy and crowded with female customers. The main food on the menu is pancakes. They are made with the best ingredients and made one-by-one after an order. Scarlet tried ordering the premium pancake (¥950), the most popular pancake on the menu.

The pancake was very soft. The waiter was wobbling as they brought it over to the table, and pancake itself too was wobbling. It looked as if it was going to collapse by just being placed on the tabletop.

It was either the first or second softest food she had ever seen, something she realized as she tucked into it. The rich butter taste and soft pancake texture was mouth-melting. This amazing pancake that is made to order is limited in quantity. The fluffiness of the pancake is something you could get hooked on. Scarlet's eyes gleamed as she said, "It's so tasty! I've never had such a soft pancake like this before! This would definitely be popular in England!"

In addition to the premium pancakes, there are tiramisu pancakes made with rich mascarpone, as well as ordinary meal pancakes for people who are hungry.

Harajuku is a hotspot for pancakes, so when you want to go and eat some soft and fluffy pancakes, you should try "gram".

■Scarlet comment

Gram's signature pancake was completely different to anything I've ever eaten before. A total contrast to American diner style pancakes or UK crepe style pancakes. The fluffy tower of goodness was more like a merge between a pancake, a soft sponge and a traditionally made soft scone. It was so fluffy it only just stayed in its immaculate stack, as the waitor handled the plate with great precision and expertise. You get a helping of three gloriously soft pancakes, which you easily share out with your friends if you so wish. With a nice helping of maple syrup, fresh cream and butter to top it off, I can see why this is one of Gram's most famous creations. Absolutely delicious, and one of a kind.

For those with less of a sweet tooth, Gram also has an ample savoury menu. I opted for the scrambled egg and bacon – complete with diner style pancakes and other interesting surprises (Bacon Egg Oneplate pancake). Bacon, eggs and pancakes are always a winning combo! The warming cup of soup you get with it is not only yummy and packed with different flavours that they change up, but it is also great before facing Tokyo's chilly winter. With a nice fresh salad to cleanse the palette afterwards, I was fully satisfied by the 'just right' portion sizes at Gram.

It's winter special menu!

■Information

gram HARAJUKU

Adress:1−9−30 Jingumae Shibuyaku Tokyo 〒150-0001 

TEL:+81 3-6804-3399

OPEN:11:00 – 21:00 

−−−

■Related article:A recipe for photogenic food #1 "lollipop" sandwiches

■Related article:A recipe for photogenic food #2 Bruschetta for Christmas

【Tokyo Cafe】At the heart of trendy Omotesando sits the old, unchanged Café Casa. Take a bite into the past and try the must-eat hotcakes!

Embracing a large number of fans in Tokyo is a café which loves the littlest pleasures. As time has passed in Omotesando, the flavours of this store have always remained the same. From parent to child, this old café is running through the generations and has something for everyone.

The stained glass window was created by the owner of the shop. It was painted using acrylic paints to give it an old texture to look like glass.  You can really see that the effort put into this piece. From the whole cosy atmosphere to the illustrated menu, you will be deeply amused by your surroundings and your heart will be stolen away.

The combination of furniture consists of not only tables, there are counter seats too. The antique atmosphere of the café is very soothing. If you're on your own and looking to enjoy a nice relaxing coffee, this is the place for you!

Originally, this café provided catered meals, however approximately 20 years ago after hearing requests from customers, hotcakes joined menu (¥750 with tax). The contrast between the crispy surface of the pancake and the fluffiness that lies within is heavenly. This hotcake is different to a pancake ー overflowing with nostalgia, the hotcake is covered in maple syrup for a truly exquisite blend of flavours.

Another treat to highlight on the menu is the Custard Pudding, which is a perfect blend of sweetness and slightly bitter caramel (¥550 tax included). The founder of this store studied the art of French dessert making. The results of his fine work and particularity over the mix of flavours can still be tasted to this very day in each item on the menu.

32 years have passed since the founding of this café. It is much loved by its regular customers and has remained unchanged throughout the years as a place where customers can find the balance between their mind and spirit. Spend some quality time in this comforting atmosphere. Forget about Omotesando, and like a time capsule, Café Casa will take you back through a journey of nostalgia — a perfect spot to spend the winter!

Information

Café Casa (Café香咲)

Address: 3-41-1Jingu-mae Shibuya-ku, Tokyo
Tel:03-3478-4281
Opening hours:9:00〜20:30 ※Last orders: 20:00 (Saturday, Sunday & national holidays: 11:30〜18:00※ Last orders: 17:30)
Holidays:Monday(Except national holiday Mondays)

How about some pancakes during your shopping spree! 7 recommended cafes which sell pancakes in Ginza

There must be many people who want to eat something sweet after enjoying shopping in the Ginza.

In this article, I will introduce to you some recommended pancake shops in Ginza.

Shiawase no Pancake Ginza Shop

This pancake shop located in Omotesando, Tokyo which always has long waiting lines, will open a new store in Ginza on the 23rd of December 2017. The shop is located in front of the A5 Exit of Tokyo Metro Ginza Line's Gina Station. The décor inside the shop has a relaxing atmosphere. They have an open kitchen in front of the shop so that customers can observe the cooking process. It will no doubt be exciting to seeing the making process of their pancakes.

Yukino Shita Ginza

Yukino Shita is a shop which uses strictly selected ingredients and makes hand-made pancakes. The sweet scent of the pancakes and the scent of coffee fills the natural-styled interior of the shop. Their popular pancake, "Yotsuba Cream Cheese Jikasei Rennyu (home-made condensed milk) Ice wo Soete" is a simple pancake without any topping so you can taste the rich texture of the dough. The coffees they offer goes well with their pancakes.

Eggs 'n Things Ginza Shop

You can enjoy some "old-fashioned" pancakes topped with lots of raw cream inside this open-air, bright shop. Sitting on their terrace on a warm day is recommended. The pancake is not too sweet although it uses lots of raw cream and is recommended for women. You can enjoy eating at this shop since they sell a la carte breakfast/lunch menus and dinner menus (from 18:00).

DAVID MYERS CAFÉ

This café introduces Californian-style, body/environment-friendly menu items. You can enjoy a dessert which uses wheat flour produced in Hokkaido with bananas and bitter caramel sauce put on top of a soft dough. It is a thick-flavored pancake using caramel sauce with the scent of bourbon and fresh bananas. This pancake is recommended for women.

MOKUOLA DexeeDinerUILANI

This shop has a Hawaiian atmosphere and their standard menu pancakes use lots of yoghurt inside the dough. Their crispy pancakes are created by pouring the dough into a frypan and then baking it in an oven for a long period of time.

café & books bibliotheque

They sell more than 10 kinds of home-made desserts and their most popular item is their pancakes which are very healthy since they use yoghurt. You can put lightly bitter coffee sauce on top of the pancake which has a topping of tiramisu cream made with mascarpone and cream cheese, so the product is recommended for those of you who are not familiar to sweet desserts.

Ginza Coffee Shop Ginza Sukiyabashi Shop

A coffee shop located on the second floor of the building where BIGECHO is located. The building is located at the Sukiyabashi Intersection. The interior of the shop is chic with stylish decorations so this shop is recommended for not only women but also men. Their original maple butter pancake is very soft although the dough is thin so that customers can enjoy a unique texture.

 

How did you like our introduction to some cafes and shops which sell wonderful pancakes. Why not relax and enjoy some pancakes in the Ginza area.

The Korean shaved ice shop,"SULBING HARAJUKU" –a report by MOSHI MOSHI BOX, staff person, Midori

Hello, everyone. My name is Midori Blackmore and I am a staff person of MOSHI MOSHI BOX Harajuku Tourist Information Center.

Do you like strawberries? I love strawberries so, I feel happy during this spring season because many desserts using strawberries are released every year.

This time, I visited the very popular shaved ice specialized shop, "SULBING HARAJUKU" from Korea.

The shop is always crowded in summer, but you don't have to wait to get into the shop during the winter season.

It might sound weird to eat ice cream during winter, but I think it is nice to eat something cold inside a warm room, for some reason.

Eating a shaved ice inside a warm shop is the same!


The shop is located on the 2nd floor of the building where the sports store, SKECHERS is located, near the Takeshita Exit of Harajuku Station (make a right turn after getting out of the exit). The sign of the shop is small so be careful not to miss it.

The inside of the shop is spacious and warm. Many of the customers are women but I saw some groups of men as well. A wide generation of people visit the shop.

Secure a table first before making an order at the counter. The product I ordered was a winter-limited, "Nama Ichigo SULBIN"(fresh strawberry shaved ice)!

After ordering, take a buzzer and wait at your seat.

When the buzzer rings, go to the counter and receive your shaved ice.

"Nama Ichigo SULBIN"(fresh strawberry shaved ice) 1,400 yen (tax included)

Boom!

The product was bigger than I thought. Look at the size of it!

You will realize that it is not a normal shaved ice as soon as you put it into your mouth.

The ice is very fine and has a soft texture. Even when it is cold out, the ice will not result in a "rush to the head"and you will be able enjoy the fresh ice texture.

Also, the shaved ice of this shop has the flavor of milk! The combination of the milk-flavored shaved ice and lots of strawberries goes very well.

Red bean jam paste is inside the shaved ice so you will never get tired of eating this sweets item.

SULBIN HARAJUKU sells many kinds of menu items.

One popular menu item is"Mango Cheese SULBIN" 1,500 yen (tax included)


A popular item that is not a sweets is  (food menu)"Mozzarella Toppogi Toast" 1,100 (tax included)

For those of you who do not have "a sweet tooth,"I recommend that you share an ice shaving dish with your friends or with your boyfriend.


"Nama Ichigo SULBIN" will be sold until February for sure but it might not be sold in March. Let's go to the shop as soon as possible!!

◼︎Information

SULBING HARAJUKU

Address: 2F, Green Oak Harajuku, 1-14-34, Jingumae, Shibuyaku, Tokyo

Business hours: 10:30 – 20:00(LAST ORDER 19:30)

Fixed holiday: undecided

Access: 58m from the Takeshita exit of JR Yamanote Line – Harajuku Station

1 minute on foot from the 2nd exit of Tokyo Metro Chiyoda Line – Meiji Jingu Station
TEL:03-6721-0404

■MOSHI MOSHI BOX Harajuku Tourist Information Center

MOSHI MOSHI BOX is a tourist information center located at the cross road of Takeshita Street, Meiji Street, and Harajuku Street. The staff there are experts on the Harajuku area. You can get the most up-to-date news of Harajuku from the site.

Services:

Service list

・free wi-fi

・free water

・free PC & charge

・baggage room

・gift shop

・currency exchange

Opening Hours: 10:00-18:00

Closed: The year-end and New Year holidays

Contact: 03-2225-6447

Twitter・Instagram @mmb_harajuku

7 Popular Ice Cream Shops in Harajuku

Over at the MOSHI MOSHI BOX, Harajuku's tourist information center, we are always asked about ice cream and soft cream shops. These cute and Instagrammable shops are currently experiencing a huge boom with the younger generation!

Here are 7 popular ice cream and soft cream shops that you can visit during your trip to Harajuku.

Eddy's Ice Cream

Located in Ura-Harajuku, Eddy's Ice Cream completely is pasted in pink and white. Wherever you turn to look, you're going to want to take a photo. The grand menu of Eddy's Ice Cream, where the toppings are already chosen, is super popular, but you can also customise to your liking – there are 10 cones and 3 soft creams to choose from as well as 13 different toppings. The most popular item on the menu is the "Unicorn" (¥1,200), a magical delight wrapped in pastel coloured cotton candy and milk soft cream. This one promises a new kind of sensation for the taste buds!

Full Details: http://www.moshimoshi-nippon.jp/55526/2

■Information

Eddy's Ice Cream
Address: Eddy's Ice Cream 1F, 4 Chome-26-28 Jingumae, Shibuya, Tokyo (住所:東京都渋谷区 神宮前4-26-28 1F)
Opening Hours: 11:00-20:00
Closed: No fixed holidays
TEL: 03-6438-9742
Access: 10 minutes' walk from Harajuku Station via the JR Line / 8 minutes' walk from Meiji Jingumae Station via Tokyo Metro
Official Homepage: http://eddysicecream.jp/

Roll Ice Cream Factory

This unique rolled ice cream is mixed together with liquid ice cream and other ingredients on a cool plate. You can order from the regular menu or customise your own. The shop's recommendation is the "Cookie Monster"! Not only can you take great pictures of the finished ice cream piece itself, but also the process as it is made in front of you.

Full Details: http://www.moshimoshi-nippon.jp/57051

■Information
ROLL ICE CREAM FACTORY
Address: Just harajuku 1st floor, 4-28-12 Jingumae, Shibuya-ku, Tokyo
Phone Number: 03-3470-0227
Closing Dates: No scheduled holidays
Open time: 10:00-21:00
Official Homepage: http://rollicecreamfactory.com/

Nanaya (Aoyama Branch)

Nanaya sells luxurious gelato made using matcha sourced from Fujieda in Shizuoka. It offers seven varying levels of matcha intensity – level 1 begins with a more moderately sweeter flavour, but as you progress up the scale to level 7 the flavour of the matcha becomes richer and deeper. The no. 7 gelato is the most popular item and claims to be the most matcha intense flavoured ice cream in the world. It uses matcha that received an award from the Minister of Agriculture, Forestry and Fisheries. It boasts a deeply rich and bitter matcha flavour inside which lies a hint of refreshing sweetness.

Full Details: http://www.moshimoshi-nippon.jp/58538

■Information
Nanaya Aoyama
Address: Nanaya 1F, 2-7-12 Shibuya, Shibuya-ku, Tokyo
Tel: 03-6427-9008
Hours: 11:00〜19:00
Closed: Tuesdays (but open on Tuesdays when it's a national holiday)
Website: http://nanaya-matcha.com

Matcha Café Maiko

The same matcha – just imported from Hawaii! "MATCHA Stand MAIKO" has been in business in Hawaii since July 2016, and it has made its way to Omotesando in Japan. Matcha Café Maiko uses the highest quality matcha produced in "Harimaen," a tea brand from Uji in Kyoto, aka the birthplace of Japanese tea. The matcha-flavored soft served ice cream of Matcha Café Maiko extracts the umami and texture of matcha to the fullest, meaning you can enjoy a matcha soft ice cream unlike any other!

Full Details: http://www.moshimoshi-nippon.jp/47577

■Information

"Matcha Café Maiko – Omotesando"
Address: B1 of GYRE, 5-10-1, Jingumae, Shibuyaku, Tokyo
Open: 11:00-20:00
Website: http://www.matchacafe-maiko.jp/

"MATCHA Stand MAIKO"
Address: 2310 Kuhio Ave. #143 Honolulu, HI 96815
TEL: (808) 369-8031
Open: 11:30-21:00 ※Time in Hawaii
Website: http://www.matchacafe-maiko.com/

"Milk" – Fresh Cream Specialty Shop

When "Milk" opened in Shibuya it was a roaring success, bringing in 30,000 people in the first month. Fresh cream usually plays the supporting role of sitting on top of something like pancake, but "Milk" promotes it to the lead role by drawing out its flavour to the fullest. "Milk" serves a range of sweets with the fresh cream as the main acts, including "Milky Cream Chiffon Cake" (¥780), "Milky Soft Cream" (¥540), "Milky Soft Parfait" (¥780), and more. The shop is only open for a limited period, so don't miss out.

Full Details: http://www.moshimoshi-nippon.jp/54370

■Information

"Milk" – Fresh Cream Specialty Shop (生クリーム専門店 ミルク)

Popup Shop in Harajuku Justin
Opening date: August 3rd ※Takeout available from August 10th
Address: Harajuku JUSTIN Gingumae 3-25-18 Shibuya-ku Tokyo
Open: 11:00-18:00(※JUSTIN's normal business hour starts from 18:00)

Takeout specialty shop in LUMINE EST Shinjuku
Opening date: August 20th, 2017
Address: LUMINE EST 1F Shinjuku 3-38-1 Shinjuku-ku Tokyo
Open: 11:00-22:00 (10:30-21:30 on weekends and holidays)

Official Website: http://www.opefac.com/milk/

sorama

Affogato (¥550), a definite recommendation to those people who find normal ice cream a tad bit boring. It's made with rich wholesome ice cream that melts its way into strong coffee. Even people who aren't adjusted to coffee can enjoy this one. What's more is that "sorama" is a café situated away from the hustle and bustle of the busy streets of Harajuku where time flows calmer, allowing you to take a breather. It's a place where you can enjoy more "grown-up" ice cream.

Full Details: http://www.moshimoshi-nippon.jp/32960

■Information

sorama gallery+coffee

1-12-6 Dohi Bldg., Jingumae, Shibuya-ku, Tokyo

TEL: 03-3423-2370

OPEN: 9:30~11:00/12:00~19:00  (Closed: Mondays, Tuesdays, National Holidays)

Homepage: http://sorama.tokyo/coffee/

coisof(コイソフ)

Ice cream and dairy specialists "Morinaga Milk Industry" teamed up with "GOMAYA KUKI," a store specialising in sesame ice cream, to open the soft serve ice cream shop "coisof." Their sesame ice creams strive to stand superior to ice creams all over the world and are topped with colourful "oiri," a traditional candy from Kagawa prefecture that brings good luck. Once you have one you won't be able to stop!

Full Details: http://www.moshimoshi-nippon.jp/54778

■Information

Coisof (コイソフ)

Address:OZ Harajuku Building 1st floor, 1-8-24, Jingu-mae, Shibuya, Tokyo

Open: 10:00-20;00

Telephone number: 070-1185-1309

【Select Menu Items】

・Coi soft (white) ¥600 (tax included)

・Coi soft (mix) ¥600 (tax included)

・Coi soft (black) ¥600 (tax included)

GOMAYA KUKI Website: http://gomayakuki.jp/

Harajuku – the home of the "kawaii" culture. Know you know some of its most photogenic ice cream shops. So what are you waiting for? Have your fill♡

ーーー

Writer: Ellie

A visit to ROLL ICE CREAM FACTORY in Harajuku

Hi everyone, Midori Blackmore here. I'm a staff person at MOSHI MOSHI BOX.

It's just too hot these days, isn't it? This is summer in Japan for you.

Have you ever had the experience where you don't want to eat anything other than ice cream during summer? All I want to eat is ice cream in summer but the problem is, it makes me fat.

But waistline aside, I went to the new ice cream shop, ROLL ICE CREAM FACTORY and I want to report about this.

Here is some information concerning the location of this ice cream shop. It takes 5 minutes by foot from Tokyo Metro, Meijiingumae Station. It takes 10 minutes by foot from Harajuku Station, Omotesando exit.

This "factory" is located near the No.1 elevator of Meijijingumae Station. After you get off the elevator go straight and then turn at Lawson. It is very near the pancake shop, "Eggs'n Things."

The outside looks like as you can see in this photo. It looks like a building out of Disneyland, don't you think.

First, I ordered at the cash register. You can order both from the basic menu or you can order a "custom item" yourself.

I ordered the recommended item on the menu, "Cookie Monster" because I don't have such a challenging spirit. Sorry about that.

When I ordered, a young lady made a "Cookie Monster" in front of me. Many people took photos or movies while she was making it. How photogenic this item is, don't you think!

They mixed together both the liquid ice cream and some ingredients on a cool plate and stretched it out thinly.

The young lady then rolled it up.

This was very interesting to look at. I was so impressed, I tried to do this when I made Okonomiyaki that evening but I failed. It was very difficult. Maybe these young ladies have had vigorous training.

It is complete after cute decorations are put in place!

Yes, it's very photogenic. I could even make an Instagram account only for this item. It makes for a wonderful photo.

The taste is very rich and it was very filling.It doesn't melt as easily as other ice creams,So it doesn't make your fingers sticky. Accordingly, it makes for a great take out item.

What a face I made.

The next time you visit Harajuku, you should try this!

Thank you for your kind attention, from Midori Blackmore.

■information

ROLL ICE CREAM FACTORY

Address:Just harajuku 1st floor 4-28-12 Jingumae Shibuya-ku Tokyo

Phone number:03-3470-0227

Closing dates: No scheduled holidays

Open time:10:00~21:00

Related Article:"Eddy's Ice Cream"—A Booming Ice Cream Shop With a Colourful Selection in Harajuku

Related Article:Popular Giant Cotton Candy Store "Totti Candy Factory" in Harajuku Releases New Summer Rainbow Menu
RELATED ENTRIES
Kaori's Easy Recipe: Learn to Make Frozen 2 Milk Tea Muffins

With just a small bit of ingenuity, turn everyday food into something cute using Kaori's easy recipe! With a few simple ideas, an ordinary recipe magically transforms into a cute dish.

In this recipe, you'll learn to make cupcakes based on the upcoming Disney film Frozen 2 which is set to hit theatres worldwide on November 22, 2019. These cupcakes are inspired by the Anna and Elsa poster design for the movie. This recipe has parts that are a little more tricky compared to my usual recipes, but put yourself to the test and you'll end up with something delicious!

Milk Tea Muffin Ingredients (Makes 5)

100g weak flour

70g unsalted butter

50g granulated sugar

1 egg

1 tsp bottled chestnut syrup

5-6 chestnuts preserved in syrup

50ml milk tea

*To make the milk tea, add one black tea bag into 70ml of milk and draw 50ml from that

Bean Paste Ingredients

500g white bean paste (shiro-an in Japanese)

25g unsalted butter (room temperature)

20ml milk

A bit of of vanilla extract

A bit of Wilton White icing colour

1. First, we'll make the milk tea muffins. Bring the unsalted butter to room temperature and whisk with a hand mixer. Add the granulated sugar and continue to whisk. Whisk the egg fully, and then add slowly to the mixture. Make sure to add the egg slowly so as to not split the butter.

2. Sieve the wheat flour and baking powder and add to the mix. Slowly add the milk tea and continue to whisk to bring the mixture together.


3. Add a teaspoon of the chestnut syrup. Chop the chestnuts and add those too, then mix once again.

4. Add 70-80% of the mixture equally between five cupcake cups. Bake at 170° for approximately 25 minutes.

5. Next, we'll make the bean paste cream. Do this by mixing together the white bean paste, unsalted butter, milk, vanilla extract, and Wilton White all at once. The Wilton White makes the cream turn a pure white colour.

6: Allow the muffins to cool, lather over the bean paste to taste, and finally decorate. All done!


I added colouring to chocolate plastic for the chest part of the dress. Then I cut it up and added it to the cupcakes. I hope you enjoyed the recipe, be sure to try making your own movie-inspired handmade desserts at home too!

The long-awaited sequel to Disney's blockbuster animated is right around the corner. The first Frozen film touched the entire world with its frosty beauty with both its story and music. Let It Go in particular was a worldwide phenomenon, and was an immense hit in Japan too.

Frozen 2 will see Elsa embark on a dangerous journey with Anna, Kristoff, Olaf and Sven as she discovers why she was born with magical powers, the answer to which is threatening her kingdom.

The new film's main theme, Into The Unknown, captures the complex feelings and emotions Elsa holds as she steps forth, with all her anxieties and hopes, into a new world.

Frozen 2 Trailer Japanese Version

The first Frozen film was a widespread global hit and there's no denying that Frozen 2 will follow in its footsteps. Get together with your family, friends or lover to watch it for the best experience.

Kaori invites you into her world of character-themed food dishes in her recipe series. Be sure to check out her Instagram where she has uploaded many pictures of her character dishes!

Kaori Kubota (@kaopan27)

I live in Hokkaido and I love to make character themed foods, desserts and pastries♡

I want to see my family smile, so I enjoy putting in a bit of effort to make character foods and changing food into something cute♡

You can see more of my character foods and character bento boxes on my Instagram page→@kaopan27

©2019 Disney. All Rights Reserved.

Information

Frozen 2

Release Date: November 22, 2019

Distributed by: Walt Disney Studios/Motion Pictures

Directors: Chris Buck/Jeniffer Lee

Starring: Idina Menzel (as Elsa), Kristen Bell (as Anna)

Official Website: https://disney.co.uk/movies/frozen-2

Heart-Meltingly Cute Olaf Confection to Arrive in 7-Eleven to Celebrate Frozen 2

Tabemas is a Japanese confectionery series of small, traditional sweets designed to look like characters. To celebrate the release of Frozen 2 on November 22, the series is releasing an Olaf confection which will be sold at 7-Eleven convenience stores across Japan from the same day as the release of the film. 


The series name "Tabemas" means "edible mascot" and as the name suggests, Olaf has completely transformed into a delicious traditional sweet from carrot nose to adorable feet. In sweet form, the 40mm-tall chubby Olaf is stood still, staring up at you with adorable round eyes overflowing with adoration.

This is a traditional nerikiri confection made from bean paste and soft mochi to a surprising level of detail. Even the snowflake pattern has been recreated. As Frozen 2 is set in autumn, Olaf has been stuffed with the most appropriate autumn flavour: maple. This small and dainty confection is the perfect treat for people of all ages.

These are in limited stock so hurry down to your nearest 7-Eleven from November 22 if you are interested. 

©️Disney

Information

Tabemas Confectionary Series: Frozen 2 Olaf 

Flavour: Maple

Recommended Retail Price: ¥258 (Before Tax)

Release Date: November 22, 2019

Available at: The chilled desserts section of 7-Eleven convenience stores across Japan

*As these are in limited stock, sales will end once stock has been depleted.

*Not available at all 7-Eleven convenience stores.

More Information: https://www.bandai.co.jp/candy/tabemas/olaf/

The Perfect Souvenir: Kyoto's Famous OTABE Confections in Velvety Matcha Chocolate

If you're in Kyoto looking for a delicious elegant souvenir for your people back home then BijuuCo.,ltd. is your port of call. Their irresistible desserts vary from their well known sweet bean paste-filled Yatsuhashi to their Kyo-Baum. They will be releasing the mouthwatering Matcha Chocolate OTABE from November 20, 2019.

The rich aroma of the matcha chocolate will be the first thing to entice you. The matcha Yatsuhashi is made from specially selected water and Koshihikari rice, which is famed as Japan's best rice. The soft and chewy texture of the Yatsuhashi dough gently embraces a velvety, melt-in-the-mouth matcha chocolate ganache filling. These OTABE confections are bursting with the flavours of Kyoto and are only available to purchase for a limited period.

OTABE combined with Kyoto's famous matcha chocolate is matcha match made in heaven. If you're ever in Kyoto, you must try it.

Information

Matcha Chocolate OTABE

Selling: November 20, 2019 to the start of May, 2020

Price: Box of 10 (2 packs of 5): ¥660 Before Tax

Eat within 11 days of production.

Purchasable from souvenir shops in Kyoto and Kyoto Station. 

Official Website: http://www.otabe.kyoto.jp/

Take a Look at Daimaru Tokyo's Delicious Seasonal Sweets Line-Up

With the weather getting colder and colder, don't you just want to snuggle up indoors under a nice warm blanket and eat tasty sweets and snacks? well, if you're in Tokyo this autumn, head to Hoppe Town on the first floor of Daimaru Tokyo where they're selling a bunch of different seasonal sweets from November 20 to 26. We're going to showcase a select few.

Cookie Doumei Assorted Box

Contains 10 (5 Types, 2 Each) – ¥1,900 @ Cookie Doumei (Floor 1F)

Enjoy a box of assorted cookies made by a UK-based cookie brand with a recipe like that mother uses. These simple baked cookies are made with wheat flour from Japan, fruits, spices, and chocolate.

Premium Chocolate (Dark/Matcha)

Contains 5 – ¥1,080 Each @ Dari K (Floor B1F) *Available until December 3, 2019

These crunchy and buttery biscuit sandwiches come in two flavours: a dark chocolate and salt, and a matcha made with freshly powdered matcha from Kyoto. These biscuits only appear a few times in Tokyo throughout the year at events, so don't miss out on this rare opportunity.

Chocolate Canelé

¥345 Each @ Le Soeur (Floor 1F)

Bearing a crunchy exterior and chewy inside, these rich chocolatey canelé are topped with almond for added texture. Change it up and put them in the fridge to set for a crispier texture.

Caramel & Raspberry

Contains 5 – ¥675 @ Caramel Verger (Floor B1F) *Available until December 3, 2019

These crunchy chocolate cookies are filled with a mix of dried fruits, caramel and cornflakes. The sourness of the berries coupled with the smoothness of the caramel is to die for!

Premium Natural Sweets

Contains 10 – ¥1,500 @ Lady Bear (Floor B1F)

These raw chocolates from Lady Bear get their natural sweetness from a delicious agave syrup. Delicious, tempting, irresistible.

Baked Mallow Crystal Cherry

Contains 4 – ¥1,382 @ Baked Mallow (Floor 1F) *Available until November 30, 2019

Graham crackers covered in couverture chocolate with high cocoa content and stuffed with fluffy marshmallow and a whole juicy Amarena cherry. What's not to like? These are available in a very limited number, don't miss out!

Which of these six tasty treats are most tempting to you?

Information

Seasonal Sweets

Running: November 20, 2019 – November 26, 2019

Location: Hoppe Town, Daimaru Tokyo Floor 1F  (1-9-1 Marunouchi, Chiyoda Ward, Tokyo)

Daimaru Tokyo Official Website: https://www.daimaru.co.jp/tokyo/

McDonald's Japan to Release Hot Cinnamon Melts Dessert For Wintertime

Roll up to McDonald's in Japan from November 20 to enjoy the return of the delicious Cinnamon Melts dessert, coming to all branches across the country.

McDonald's Melts series is a popular dessert in Japan. It introduced the new Double Chocolate Melts earlier this year. Customers have been waiting for the return of the elusive Cinnamon Melts since 2017, the first time the flavour made an appearance in seven long years. Well, their wish has finally come true. Look forward to tucking into soft pastry glazed with cinnamon sugar and drizzled in a sweet cream cheese syrup.

When customers open a box of these delicious delights, their noses are met with the tempting cent of cinnamon. Served warm, they are the perfect choice for tackling the harsh cold weather.

Compare their test with the Double Chocolate Melts which were released on November 6 and are still available for a limited time, or pair them with a cup of Premium Roast Coffee which the fast food chain revamped this year with a richer and more delicious flavour.

Information

Cinnamon Melts
Price: ¥300 (Tax Included)

Running: November 20, 2019 – Late January 2020 (Subject to change)

Available: At most McDonald's branches in Japan

*Price may vary from branch to branch and for McDelivery

Double Chocolate Melts

Price: ¥330 (Tax Included)

Running: Now Until Late January 2020 (Subject to change)

Available: At most McDonald's branches in Japan

*Price may vary from branch to branch and for McDelivery

McDonald's Japan Official Website: http://www.mcdonalds.co.jp/

Instagram-Worthy New York Christmas Lunch and Dessert Buffet Jollies Up Omotesando, Tokyo

BAR & GRILL DUMBO is a restaurant heavily inspired by the Brooklyn neighbourhood town of Dumbo in New York. They will be adding a sprinkle of New York Christmas magic to the menu from November 7 – December 25, 2019 with the Christmas New York lunch and dessert buffet.

The buffet table will be filled with irresistibly cute and delicious desserts. From the Statue of Liberty to Brooklyn Bridge, the background is lined with skyscrapers and New York's most iconic landmarks. 

The S'more Bar is the perfect opportunity to toast your own marshmallows. Sandwich your molten marshmallow between two crackers to enhance your New York Christmas experience. 

Put your icing skills to the test at the Iced Biscuits Corner where you can enjoy decorating your own biscuits to your liking.

There is more than just desserts, however. You must try the Christmas gratin, which is garnished with a jolly green Christmas tree made from romanesco broccoli. There is also a DUMBO Caesar Salad in the shape of a wreath, a delicious Roast Turkey Breast dish and much more. 

Make sure to pop down to Omotesando for a jolly New York-style Christmas celebration.

Information

Christmas in New York Lunch and Dessert Buffet

Running: November 7 – December 25, 2019

Location: BAR & GRILL DUMBO, The Strings Omotesando Floor 2

Address: The Strings Omotesando, 3 Chome-6-8 Kitaaoyama, Minato City, Tokyo

Running: 15:00 – 16:30 (90-minute time slot)

Buffet Photography Times: 14:45 – 15:00

Prices: Adults:¥4,500/ Children: ¥2,250 *Tax and Service Charge Included)

Reservations: www.strings-hotel.jp/omotesando/event/sweetsbuffet/

10 Things You Can Do at the MOSHI MOSHI ROOMS Hotel in Harajuku | Foodie Edition

MOSHI MOSHI ROOMS is a hotel accommodation service run by MOSHI MOSHI NIPPON located in Harajuku and bookable via Airbnb. Our hotel isn't just popular for sleep, however: it has become a hot spot with stylish girls who get together and use it as a party space. 

Today we'll be looking at the different ways you can have fun when staying at our pink paradise room SAKURA. 

 

Girls' Night In Edition: https://www.moshimoshi-nippon.jp/262308

Birthday Party Edition: https://www.moshimoshi-nippon.jp/264752

【8】Extend your adventures to the rooftop 

The rooftop of MOSHI MOSHI ROOMS can be used freely by our guests. There are tables and chairs and even a hammock so make yourself comfortable. We particularly recommend spending a morning here. Enjoy bathing in the morning light on our spacious rooftop right below the clouds and make some good memories eating breakfast with your friends. 

*Please note that the rooftop is not accessible when booked.


MOSHI MOSHI ROOMS is located near a number of breakfast foodie favorites including Bread, Espresso & and whyte which have made their fame on Instagram. How about a baked good and a drink to enjoy on the rooftop with your friends?

【9】Barbeque it up on the rooftop with zero preparation


There is still more to your rooftop adventures. There is a barbeque course which you can enjoy without having to prepare anything at all. The barbeque course includes meat, fish, vegetables, dessert and even more luxurious dishes. The course even comes with a selection of drinks so you can spend less time preparing and more time enjoying.

This course is available to book for groups of six people or more. You can even invite your friends who are not staying at MOSHI MOSHI ROOMS so feel free to invite many people. Find out more about what's on the menu here. 

【10】Feast out with your foodie friends near MOSHI MOSHI ROOMS: Recommendations from locals

Where do the locals and people working in Harajuku choose to eat out? As our office is located in Harajuku, we have plenty of knowledge to share with you:

Just a five-minute walk from MOSHI MOSHI ROOMS lies the Okonomiyaki restaurant Sakura Tei. From the beautiful interior decoration and wonderful atmosphere to the delicious food, this restaurant should be on your food adventure list. As many foreigners eat here, the staff can even speak in multiple foreign languages. Make use of Sakura Tei's simple guide on how to make okonomiyaki and put your skills to the test. 

KAWAII MONSTER CAFE TOKYO is one of the landmarks of Harajuku. Welcome to the vivid world of bright pop colours where you will be staring in awe at everything from the decorations to the food and drinks. Some of the crazy meals to satisfy your kawaii cravings include rainbow pastas and cakes. Don't leave without getting your hands on some KAWAII MONSTER CAFE-limited merchandise! Your meal will also be interrupted by the Monster Girls who will put on an incredibly fun performance for you. 

Seaweed from the well-established shop Maruyama Nori and only the freshest and luxurious fish is used to make these temaki sushi. The seafood used in these temaki sushi rolls is of a quality that you won't find at a conveyor belt sushi restaurant so if you are looking for a new experience of sushi, make sure to stop by.

If your burger cravings get to you then cafe Hohokam is for you. The interior is spacious and there is even terrace seating, creating a refreshing atmosphere. From mozzarella to barbeque to cheese, the menu is full of different flavours and is filling enough to leave any foodie fully satisfied.

Harajuku is a kawaii ice cream shop hot spot. The shops serve up a range of toppings and will fill your cone with heaps of colours and fun flavours. A trip to an ice cream shop in Harajuku is an adventure in itself. When you're done with dinner and the sweet cravings kick in, let the kawaii ice cream shops of Harajuku be your saviour. 

MOSHI MOSHI ROOMS is located at the heart of Harajuku and is surrounded by great places to shop, eat, sightsee and much more. Enjoy a stay at MOSHI MOSHI ROOMS and embark on a wild Harajuku adventure.

Information

MOSHI MOSHI ROOMS

Address: 2-18-7 Jingumae, Shibuya Ward, Tokyo  

Access: 8-minute walk from Meiji-jingumae Station (Harajuku), Tokyo Metro
Website: https://rooms.moshimoshi-nippon.jp/

Krispy Kreme Celebrates the Year of the Rat With Cute New Year's Doughnuts

Krispy Kreme Doughnuts Japan is releasing three new end-of-year doughnuts on December 26. They will be available for a limited time only.

2020 is the Year of the Rat in the Chinese zodiac, and so Krispy Kreme has taken that theme to create its own adorable rat doughnut. Lathered in caramel chocolate, this cute doughnut is filled with rock salt caramel cream. Its eyes, tail and large round ears are made of  dark chocolate while its nose is made of coffee chocolate.

The second New Year's doughnut in the series is the Lucky Strawberry Ring (¥230), which gets its deep crimson colour from the sweet and sour nappage made from strawberry puree and milky white chocolate. It's finished with sprinkles of freeze-dried strawberries and gold leaf for that festive touch.

The Snowman Chocolate (¥230) is a cute snowman shaped doughnuts filled with a rich chocolate cream and covered in a milky snow white chocolate coating. Together with the Lucky Strawberry Ring, you get a festive mix of red and white which are symbolic colours of the New Year in Japan.

The three doughnuts are also available to purchase in a box set called Good Luck Zodiac Dozen which comes with twelve doughnuts including four Original Glazed®, the chain's most popular doughnut.

Welcome the new year with some delicious and kawaii doughnuts from Krispy Kreme Japan.

Information

New Year's Doughnuts

Available: December 26, 2019 to Mid-January 2020 (subject to change)

Official Website: https://krispykreme.jp/

BAKE CHEESE TART will be baking up another fresh flavour which will be released in BAKE CHEESE TART shops across the country from November 15. The new featured flavour is of a Japanese Satsuma sourced from Shizuoka prefecture called Mikka Mikan. The brand new Mikan Cheese Tart will be sold at BAKE CHEESE TART shops countrywide. 

The Mikka Mikan Satsumas used for the cheese tart are sourced from Shizuoka, which is renowned for its deep history of producing Mikka Mikans, which are a kind of Satsuma Mandarin (Unshu Mikan). The Mikka Mikans are used to make a purée and powder which is then mixed with an original recipe cheese mousse for the tart.

This flavour first arrived at BAKE CHEESE TART's PARCHÉ branch in Shizuoka to celebrate its grand opening back in November 2018. The tart was intended to be a delicacy limited to the Shizuoka branch and to only be sold for a limited time. However, following its immense popularity, the Mikka Mikan Cheese Tart is going to be released again this winter for a limited time. 


The mild and fresh cheese mousse is perfectly balanced with the tangy sweetness of the Mikka Mikans. The subtle sweetness of the biscuit base makes for the perfect match with the soft cheese mousse which will melt in your mouth. 


BAKE CHEESE TART is also running an Instagram campaign involving the hashtag #おすそわけタルト. Those who purchase the Mikan Cheese Tart and post a photo of it on Instagram during the limited time period have the chance to enter a prize draw for a BAKE CHEESE TART coupon.

Warm up your heart with a soft and sweet, freshly-baked cheese tart and join in the campaign fun. 

Information

Mikan Cheese Tart

Price: ¥280 each (Tax Included)

Selling: November 15, 2019 – November 30, 2019

Available at: BAKE CHEESE TART shops across Japan *Not available at ASSE Hiroshima and SAN-A PARCO CITY branches.

More Information: https://cheesetart.com/en/

Instagram Campaign Information #おすそわけタルト

Running: November 15 – November 30, 2019

Prize: A coupon for 6 freshly-baked cheese tarts from BAKE CHEESE TART (20 winners)

* For more information on application requirements and how to apply, please refer to BAKE CHEESE TART's social media websites.

BAKE CHEESE TART Official Website: https://cheesetart.com/en/

Sleigh Bells Ring at Tokyo Disneyland This Year With Plenty Of Food & Merchandise to Go Around

Jolly faces are all around at Tokyo Disney Resort right now as Disney Christmas kicked off last Friday. It's set to sleigh its way up to Christmas Day this year.

The editorial team at MOSHI MOSHI NIPPON jumped ahead and got a taste of the festive fun at the parks recently, so we're going to showcase some more of the seasonal food and merry merchandise you can get your hands on this Christmas at Tokyo Disneyland.

Food that makes you want to kick back and enjoy a nice break

 

Special Set – ¥1,500 @ Grandma Sara's Kitchen

Grandma Sara's has created the perfect hot lunch for warming up cold guests this year, adorned with a clam and seafood tomato cream, cheese and white sauce. Dip your bread into the rich sauce and tuck in! For dessert, you get a cranberry cake inspired by the look of a snow-tipped Christmas tree.

Hot drinks of all kinds

'Tis the season to stay warm, and so Tokyo Disneyland has devised a line-up of tasty drinks to warm the cockles of your heart, with flavours ranging from ruby chocolate to matcha and tapioca cheese teaーa unique flavour that's all the rage right now.

We actually covered these drinks in detail last Monday, so check out our report here.



Deck the halls with these dessert & souvenir sets

Cranberry & Tea Cake With Souvenir Cup – ¥800 @ Sweetheart Cafe and elsewhere

Strawberry Dessert With Souvenir Cup – ¥800 @ Sweetheart Cafe and elsewhere

Head to the Sweetheart Cafe to enjoy some desserts which come with cute take-home souvenirs, like cups and plates. The cranberry and tea cake is a subtly sweet cake with a fragrant tea flavour and filled with sweet and sour cranberries.

The strawberry dessert is like strawberry shortcake with ascending layers of cake batter, cream, and strawberries. It's topped with holly to give it that Christmas-y finish.

Chocolate Doughnut – ¥380 @ Cleo's and elsewhere

The chocolate doughnuts at Cleo's are completely lathered in a chocolate danish-like dough and custard cream.

The doughnuts even come in this cute Mickey and Minnie packaging, who are dressed ready and for giving gifts to guests.

If you pay an extra ¥700 you can get this adorable pouch featuring Mickey, Minnie, Donald and Daisy as snowmen.

Have a merry little Christmas with these holiday season goodies

Headband – ¥1,800

Fun Cap – ¥3,000 / Plush Toy Wristband – ¥1,700

Feel happy simply by placing these Mickey & Minnie headband ears and getting into party mode. The park has also developed a Christmas version of the Pluto fun cap so he has reindeer antlers and holly attached. Both items were previously available in a pre-sale on the park app, so depending on the shop you visit, they may have none left in stock. But if you see one, be sure to grab it quick!

There's also a Mickey version of the Minnie Mouse plush toy wristband. Wear one and have your friend or loved one wear the other!

Popcorn Basket – ¥2,400 @ The Gazebo (Popcorn Wagon)

Pick up some popcorn served in a Christmas present basket decorated with cute illustrations of Mickey and company celebrating Christmas.

It comes strung with a ribbon decorated with green, red and white colouring like a candy cane.

Spend a Disney Christmas this winter at Tokyo Disneyland where you can stay warm with some comfort food and dress up!

Model: Yuna Yabe

Writer: Sayuri Mizuno (MOSHI MOSHI NIPPON)

Translator: Joshua Kitosi-Isanga

Butter Sandwich Shop PRESS BUTTER SAND Releases Uji Matcha Flavour at Tokyo Station

The butter sandwich specialists over at PRESS BUTTER SAND are bringing their famous Uji matcha flavour butter sandwiches to their Tokyo Station branch on November 13.

Known as the Uji Matcha Butter Sand, this tasty snack was developed to celebrate the grand opening of the Kyoto Station branch of PRESS BUTTER SAND. Due to high demand, they've decided to take the product to Tokyo for a limited time.

The exterior is made with butter cream and carefully selected Uji matcha. You get the full rich flavour of the matcha and delicious taste of the butter at once. The sandwich itself is filled with bitter matcha butter cream and sweet caramel butter for a sumptuously smooth combination that marries temptingly with the crunchy cookie exterior.

The sandwich biscuits come in packaging that features navy Kyoto-esque artwork inspired by the characteristic cultivation method for Uji matcha which blocks out sunlight. The sandwiches themselves are individually packaged in matcha green packets to contrast with the box.

Don't miss out on a chance to enjoy the flavours of Kyoto while in Tokyo. Available at Tokyo Station only.

Information

Uji Matcha Butter Sand

Price: Box of 5 – ¥1,150 (Tax Included) / Box of 9 – ¥2,070 (Tax Included)

Shop: PRESS BUTTER SAND Tokyo Station

Available: November 13, 2019 – November 30, 2019

Official Website: https://buttersand.com

Tokyo's Instagram-Worthy Christmas Cakes Are a Must-Grab This Holiday Season

With Halloween now out of the way, it's time to plunge ourselves into that Christmas spirit! We've compiled a list of some of the most delicious-looking and Instagrammable Christmas cakes available to buy in Tokyo this year that make for the perfect Christmas party accompaniments.

Noel Tokyo Station Hotel @ Tokyo Station

Noel – ¥6,200 (Tax Included) @ Tokyo Station Hotel

This chestnut cake is inspired by the pine pillars that supported the Tokyo Station Marunouchi station building until it was restored. It has a chestnut and sweet potato base and is layered with chestnut mousse and coffee mousse to recreate the rings of a tree which are used to tell a tree's age.

*10 served per day

*Reservation Window: November 5 – December 17, 2019

*Delivery Window: December 22-25, 2019

*Online reservations available. Exclusive to GRANSTA.

More Details: https://www.moshimoshi-nippon.jp/267999

pon pon×Chris.P @ Tokyo Solamachi

Crispy Cakes (Happy Wreath/Santa/Reindeer) – ¥508 Each @ pon pon×Chris.P (East Yard Floor 2F) [Available From November 15]

These tiny crispy cakes are another great little bite to eat. The cute Santa version is cookie and milk flavoured and has marshmallows as the fluff of his hat.

More Details: https://www.moshimoshi-nippon.jp/269015

Café Cova Milano @ GINZA SIX

Panettone Babbo Natale – ¥7,407 @ Café Cova Milano

Cova's panettone is made with a secret recipe that has been handed down since the beginning of the 19th century.

More Details: https://www.moshimoshi-nippon.jp/265169

Tokyo Disney Resort

Christmas Cake: ¥1,480 / Available at: Tokyo DisneySea (Horizon Bay Restaurant), Tokyo Disneyland (Queen of Hearts Banquet Hall)

There's lots going on at Tokyo Disney Resort this year, at both Tokyo Disneyland and Tokyo DisneySea. Don't miss out on this cute Mickey and Minnie Mouse Christmas cake!

More Details: https://www.moshimoshi-nippon.jp/266495

Which is your favourite from the list? Christmas cakes are a must-have on Christmas Day, so make sure you pick one up before the big day!