6 Recommended Cafés for Pancakes in Harajuku—A Change From Crepes!
Hi, everyone. Ellie here from the MOSHI MOSHI BOX Harajuku Tourist Information Center.
Recently at the MOSHI MOSHI BOX we've had a lot of people, guys and girls, come in saying that they want to eat some tasty pancakes in Harajuku.
So today, I'm here to recommend some shops that sell pancakes around Harajuku.
Café Casa
"Café Casa" is a long-standing shop whose flavours have remained the same, serving to parents and children through the generations. Everything from the signboard to the illustrated menu and stained glass window created by the owner will leave you feeling cozy. The colour green envelops the café against other vivid colours. Due to customer demand the hot cakes sold there (¥750) have been a familiar item on the menu for almost 20 years. The contrast between the crunchy outside and fluffy inside is exquisite. They're different from your usual pancakes and have a nostalgic feel to them. Combine them with maple syrup and you've got yourself a truly delicious treat.
 Full Details: https://www.moshimoshi-nippon.jp/29317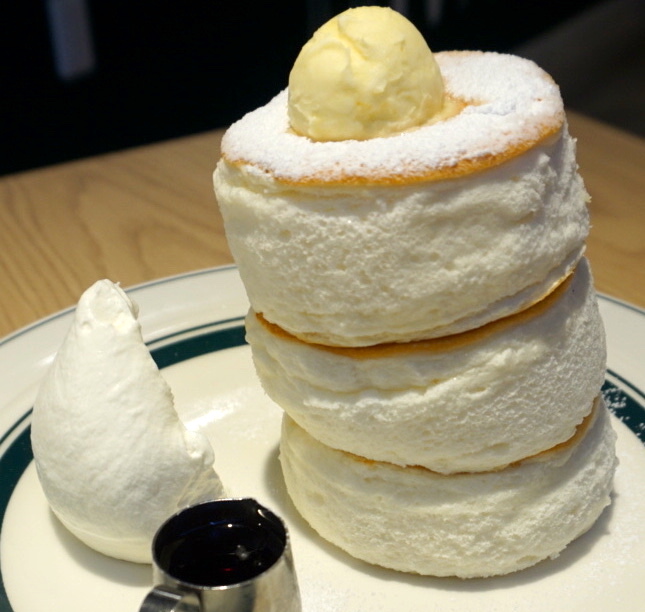 gram
This stylish café can be found by walking from Harajuku Station down Takeshita Street for about 5-minutes. When you reach the end, turn right and look for the green signboard. The main food on the menu is pancakes, all of which are made with the best ingredients and made one-by-one after an order comes in. The most popular and recommended item on the menu is the fluffy "Premium Pancake" (¥950). The soft pancake wobbles as the waiter brings it over – it looks like it will collapse just by being placed on the table.  Eat this to experience the fluffiest and softest texture you have ever eaten.
Full Article: https://www.moshimoshi-nippon.jp/23455
Bills Tokyo Plaza Omotesando
Bills serve the world's most famous breakfast and were responsible for causing Japan's pancake boom. Located in Tokyo Plaza Omotesando Harajuku, the shop's Australian Ricotta Pancakes. Spread underneath the thick pancake are slices of fresh banana which you eat together with honey comb butter and maple syrup. The marriage between the salty ricotta cheese and sweet syrup is to die for.
Jinguen
"Jinguen" is a gallery café located in Ura-Harajuku. Recommended from their menu are their thick homemade hot cakes. The outside of the hot cake is crisp while the middle is silky smooth. Of course, they go really well with maple syrup. You can also add vanilla icing, whipped cream, and chocolate or strawberry sauce.
Working Holiday Connections – Harajuku Omotesando YM Square Branch
This café is just a one-minute walk from Meiji Jingu Station via Tokyo Metro on the second floor of YM Square. It has tall glass windows which open up the shop and give you a sense of space. Their original "Manly Pancakes" draw a line between standard pancakes and the recent emerging thick and fluffy pancakes to unveil an original and unique texture. The subtle flavour of the eggs make the pancakes melt-in-the-mouth and match perfectly with syrup and fresh cream.
Sunday Jam – Harajuku Branch
This place's specialty menu item is their Honolulu Pancakes. They're incredibly thick, with a crumbly outside and soft middle. These luxurious pancakes have a special flavour made for adults. They are drizzled with butter and fresh cream, and you can choose sausages or bacon to go with them. Eating them with your choice of honey or maple syrup is simply irresistible!
Did you like this list? Try and find your favourite pancakes while in Harajuku!
RECOMMENDED ENTRIES
Mogumogu Scarlet #1: Going to eat super soft pancakes in Japan

"Mogumogu Scarlet" is a special project by Scarlet, a girl from the UK who loves Japan, in which she goes to try various Japanese foods. From Japanese food that she hasn't tried before to familiar Western dishes, she eats food that you can only find in Japan. The first restaurant she chose is "gram". It is a stylish café that you can find by walking from Harajuku Station down Takeshita Street for about 5-minutes. When you reach the end, turn right and look for the green signboard.

The inside of the restaurant is cozy and crowded with female customers. The main food on the menu is pancakes. They are made with the best ingredients and made one-by-one after an order. Scarlet tried ordering the premium pancake (¥950), the most popular pancake on the menu.

The pancake was very soft. The waiter was wobbling as they brought it over to the table, and pancake itself too was wobbling. It looked as if it was going to collapse by just being placed on the tabletop.

It was either the first or second softest food she had ever seen, something she realized as she tucked into it. The rich butter taste and soft pancake texture was mouth-melting. This amazing pancake that is made to order is limited in quantity. The fluffiness of the pancake is something you could get hooked on. Scarlet's eyes gleamed as she said, "It's so tasty! I've never had such a soft pancake like this before! This would definitely be popular in England!"

In addition to the premium pancakes, there are tiramisu pancakes made with rich mascarpone, as well as ordinary meal pancakes for people who are hungry.

Harajuku is a hotspot for pancakes, so when you want to go and eat some soft and fluffy pancakes, you should try "gram".

■Scarlet comment

Gram's signature pancake was completely different to anything I've ever eaten before. A total contrast to American diner style pancakes or UK crepe style pancakes. The fluffy tower of goodness was more like a merge between a pancake, a soft sponge and a traditionally made soft scone. It was so fluffy it only just stayed in its immaculate stack, as the waitor handled the plate with great precision and expertise. You get a helping of three gloriously soft pancakes, which you easily share out with your friends if you so wish. With a nice helping of maple syrup, fresh cream and butter to top it off, I can see why this is one of Gram's most famous creations. Absolutely delicious, and one of a kind.

For those with less of a sweet tooth, Gram also has an ample savoury menu. I opted for the scrambled egg and bacon – complete with diner style pancakes and other interesting surprises (Bacon Egg Oneplate pancake). Bacon, eggs and pancakes are always a winning combo! The warming cup of soup you get with it is not only yummy and packed with different flavours that they change up, but it is also great before facing Tokyo's chilly winter. With a nice fresh salad to cleanse the palette afterwards, I was fully satisfied by the 'just right' portion sizes at Gram.

It's winter special menu!

■Information

gram HARAJUKU

Adress:1−9−30 Jingumae Shibuyaku Tokyo 〒150-0001 

TEL:+81 3-6804-3399

OPEN:11:00 – 21:00 

−−−

■Related article:A recipe for photogenic food #1 "lollipop" sandwiches

■Related article:A recipe for photogenic food #2 Bruschetta for Christmas

【Tokyo Cafe】At the heart of trendy Omotesando sits the old, unchanged Café Casa. Take a bite into the past and try the must-eat hotcakes!

Embracing a large number of fans in Tokyo is a café which loves the littlest pleasures. As time has passed in Omotesando, the flavours of this store have always remained the same. From parent to child, this old café is running through the generations and has something for everyone.

The stained glass window was created by the owner of the shop. It was painted using acrylic paints to give it an old texture to look like glass.  You can really see that the effort put into this piece. From the whole cosy atmosphere to the illustrated menu, you will be deeply amused by your surroundings and your heart will be stolen away.

The combination of furniture consists of not only tables, there are counter seats too. The antique atmosphere of the café is very soothing. If you're on your own and looking to enjoy a nice relaxing coffee, this is the place for you!

Originally, this café provided catered meals, however approximately 20 years ago after hearing requests from customers, hotcakes joined menu (¥750 with tax). The contrast between the crispy surface of the pancake and the fluffiness that lies within is heavenly. This hotcake is different to a pancake ー overflowing with nostalgia, the hotcake is covered in maple syrup for a truly exquisite blend of flavours.

Another treat to highlight on the menu is the Custard Pudding, which is a perfect blend of sweetness and slightly bitter caramel (¥550 tax included). The founder of this store studied the art of French dessert making. The results of his fine work and particularity over the mix of flavours can still be tasted to this very day in each item on the menu.

32 years have passed since the founding of this café. It is much loved by its regular customers and has remained unchanged throughout the years as a place where customers can find the balance between their mind and spirit. Spend some quality time in this comforting atmosphere. Forget about Omotesando, and like a time capsule, Café Casa will take you back through a journey of nostalgia — a perfect spot to spend the winter!

Information

Café Casa (Café香咲)

Address: 3-41-1Jingu-mae Shibuya-ku, Tokyo
Tel:03-3478-4281
Opening hours:9:00〜20:30 ※Last orders: 20:00 (Saturday, Sunday & national holidays: 11:30〜18:00※ Last orders: 17:30)
Holidays:Monday(Except national holiday Mondays)

How about some pancakes during your shopping spree! 7 recommended cafes which sell pancakes in Ginza

There must be many people who want to eat something sweet after enjoying shopping in the Ginza.

In this article, I will introduce to you some recommended pancake shops in Ginza.

Shiawase no Pancake Ginza Shop

This pancake shop located in Omotesando, Tokyo which always has long waiting lines, will open a new store in Ginza on the 23rd of December 2017. The shop is located in front of the A5 Exit of Tokyo Metro Ginza Line's Gina Station. The décor inside the shop has a relaxing atmosphere. They have an open kitchen in front of the shop so that customers can observe the cooking process. It will no doubt be exciting to seeing the making process of their pancakes.

Yukino Shita Ginza

Yukino Shita is a shop which uses strictly selected ingredients and makes hand-made pancakes. The sweet scent of the pancakes and the scent of coffee fills the natural-styled interior of the shop. Their popular pancake, "Yotsuba Cream Cheese Jikasei Rennyu (home-made condensed milk) Ice wo Soete" is a simple pancake without any topping so you can taste the rich texture of the dough. The coffees they offer goes well with their pancakes.

Eggs 'n Things Ginza Shop

You can enjoy some "old-fashioned" pancakes topped with lots of raw cream inside this open-air, bright shop. Sitting on their terrace on a warm day is recommended. The pancake is not too sweet although it uses lots of raw cream and is recommended for women. You can enjoy eating at this shop since they sell a la carte breakfast/lunch menus and dinner menus (from 18:00).

DAVID MYERS CAFÉ

This café introduces Californian-style, body/environment-friendly menu items. You can enjoy a dessert which uses wheat flour produced in Hokkaido with bananas and bitter caramel sauce put on top of a soft dough. It is a thick-flavored pancake using caramel sauce with the scent of bourbon and fresh bananas. This pancake is recommended for women.

MOKUOLA DexeeDinerUILANI

This shop has a Hawaiian atmosphere and their standard menu pancakes use lots of yoghurt inside the dough. Their crispy pancakes are created by pouring the dough into a frypan and then baking it in an oven for a long period of time.

café & books bibliotheque

They sell more than 10 kinds of home-made desserts and their most popular item is their pancakes which are very healthy since they use yoghurt. You can put lightly bitter coffee sauce on top of the pancake which has a topping of tiramisu cream made with mascarpone and cream cheese, so the product is recommended for those of you who are not familiar to sweet desserts.

Ginza Coffee Shop Ginza Sukiyabashi Shop

A coffee shop located on the second floor of the building where BIGECHO is located. The building is located at the Sukiyabashi Intersection. The interior of the shop is chic with stylish decorations so this shop is recommended for not only women but also men. Their original maple butter pancake is very soft although the dough is thin so that customers can enjoy a unique texture.

 

How did you like our introduction to some cafes and shops which sell wonderful pancakes. Why not relax and enjoy some pancakes in the Ginza area.

The Korean shaved ice shop,"SULBING HARAJUKU" –a report by MOSHI MOSHI BOX, staff person, Midori

Hello, everyone. My name is Midori Blackmore and I am a staff person of MOSHI MOSHI BOX Harajuku Tourist Information Center.

Do you like strawberries? I love strawberries so, I feel happy during this spring season because many desserts using strawberries are released every year.

This time, I visited the very popular shaved ice specialized shop, "SULBING HARAJUKU" from Korea.

The shop is always crowded in summer, but you don't have to wait to get into the shop during the winter season.

It might sound weird to eat ice cream during winter, but I think it is nice to eat something cold inside a warm room, for some reason.

Eating a shaved ice inside a warm shop is the same!


The shop is located on the 2nd floor of the building where the sports store, SKECHERS is located, near the Takeshita Exit of Harajuku Station (make a right turn after getting out of the exit). The sign of the shop is small so be careful not to miss it.

The inside of the shop is spacious and warm. Many of the customers are women but I saw some groups of men as well. A wide generation of people visit the shop.

Secure a table first before making an order at the counter. The product I ordered was a winter-limited, "Nama Ichigo SULBIN"(fresh strawberry shaved ice)!

After ordering, take a buzzer and wait at your seat.

When the buzzer rings, go to the counter and receive your shaved ice.

"Nama Ichigo SULBIN"(fresh strawberry shaved ice) 1,400 yen (tax included)

Boom!

The product was bigger than I thought. Look at the size of it!

You will realize that it is not a normal shaved ice as soon as you put it into your mouth.

The ice is very fine and has a soft texture. Even when it is cold out, the ice will not result in a "rush to the head"and you will be able enjoy the fresh ice texture.

Also, the shaved ice of this shop has the flavor of milk! The combination of the milk-flavored shaved ice and lots of strawberries goes very well.

Red bean jam paste is inside the shaved ice so you will never get tired of eating this sweets item.

SULBIN HARAJUKU sells many kinds of menu items.

One popular menu item is"Mango Cheese SULBIN" 1,500 yen (tax included)


A popular item that is not a sweets is  (food menu)"Mozzarella Toppogi Toast" 1,100 (tax included)

For those of you who do not have "a sweet tooth,"I recommend that you share an ice shaving dish with your friends or with your boyfriend.


"Nama Ichigo SULBIN" will be sold until February for sure but it might not be sold in March. Let's go to the shop as soon as possible!!

◼︎Information

SULBING HARAJUKU

Address: 2F, Green Oak Harajuku, 1-14-34, Jingumae, Shibuyaku, Tokyo

Business hours: 10:30 – 20:00(LAST ORDER 19:30)

Fixed holiday: undecided

Access: 58m from the Takeshita exit of JR Yamanote Line – Harajuku Station

1 minute on foot from the 2nd exit of Tokyo Metro Chiyoda Line – Meiji Jingu Station
TEL:03-6721-0404

■MOSHI MOSHI BOX Harajuku Tourist Information Center

MOSHI MOSHI BOX is a tourist information center located at the cross road of Takeshita Street, Meiji Street, and Harajuku Street. The staff there are experts on the Harajuku area. You can get the most up-to-date news of Harajuku from the site.

Services:

Service list

・free wi-fi

・free water

・free PC & charge

・baggage room

・gift shop

・currency exchange

Opening Hours: 10:00-18:00

Closed: The year-end and New Year holidays

Contact: 03-2225-6447

Twitter・Instagram @mmb_harajuku

7 Popular Ice Cream Shops in Harajuku

Over at the MOSHI MOSHI BOX, Harajuku's tourist information center, we are always asked about ice cream and soft cream shops. These cute and Instagrammable shops are currently experiencing a huge boom with the younger generation!

Here are 7 popular ice cream and soft cream shops that you can visit during your trip to Harajuku.

Eddy's Ice Cream

Located in Ura-Harajuku, Eddy's Ice Cream completely is pasted in pink and white. Wherever you turn to look, you're going to want to take a photo. The grand menu of Eddy's Ice Cream, where the toppings are already chosen, is super popular, but you can also customise to your liking – there are 10 cones and 3 soft creams to choose from as well as 13 different toppings. The most popular item on the menu is the "Unicorn" (¥1,200), a magical delight wrapped in pastel coloured cotton candy and milk soft cream. This one promises a new kind of sensation for the taste buds!

Full Details: http://www.moshimoshi-nippon.jp/55526/2

■Information

Eddy's Ice Cream
Address: Eddy's Ice Cream 1F, 4 Chome-26-28 Jingumae, Shibuya, Tokyo (住所:東京都渋谷区 神宮前4-26-28 1F)
Opening Hours: 11:00-20:00
Closed: No fixed holidays
TEL: 03-6438-9742
Access: 10 minutes' walk from Harajuku Station via the JR Line / 8 minutes' walk from Meiji Jingumae Station via Tokyo Metro
Official Homepage: http://eddysicecream.jp/

Roll Ice Cream Factory

This unique rolled ice cream is mixed together with liquid ice cream and other ingredients on a cool plate. You can order from the regular menu or customise your own. The shop's recommendation is the "Cookie Monster"! Not only can you take great pictures of the finished ice cream piece itself, but also the process as it is made in front of you.

Full Details: http://www.moshimoshi-nippon.jp/57051

■Information
ROLL ICE CREAM FACTORY
Address: Just harajuku 1st floor, 4-28-12 Jingumae, Shibuya-ku, Tokyo
Phone Number: 03-3470-0227
Closing Dates: No scheduled holidays
Open time: 10:00-21:00
Official Homepage: http://rollicecreamfactory.com/

Nanaya (Aoyama Branch)

Nanaya sells luxurious gelato made using matcha sourced from Fujieda in Shizuoka. It offers seven varying levels of matcha intensity – level 1 begins with a more moderately sweeter flavour, but as you progress up the scale to level 7 the flavour of the matcha becomes richer and deeper. The no. 7 gelato is the most popular item and claims to be the most matcha intense flavoured ice cream in the world. It uses matcha that received an award from the Minister of Agriculture, Forestry and Fisheries. It boasts a deeply rich and bitter matcha flavour inside which lies a hint of refreshing sweetness.

Full Details: http://www.moshimoshi-nippon.jp/58538

■Information
Nanaya Aoyama
Address: Nanaya 1F, 2-7-12 Shibuya, Shibuya-ku, Tokyo
Tel: 03-6427-9008
Hours: 11:00〜19:00
Closed: Tuesdays (but open on Tuesdays when it's a national holiday)
Website: http://nanaya-matcha.com

Matcha Café Maiko

The same matcha – just imported from Hawaii! "MATCHA Stand MAIKO" has been in business in Hawaii since July 2016, and it has made its way to Omotesando in Japan. Matcha Café Maiko uses the highest quality matcha produced in "Harimaen," a tea brand from Uji in Kyoto, aka the birthplace of Japanese tea. The matcha-flavored soft served ice cream of Matcha Café Maiko extracts the umami and texture of matcha to the fullest, meaning you can enjoy a matcha soft ice cream unlike any other!

Full Details: http://www.moshimoshi-nippon.jp/47577

■Information

"Matcha Café Maiko – Omotesando"
Address: B1 of GYRE, 5-10-1, Jingumae, Shibuyaku, Tokyo
Open: 11:00-20:00
Website: http://www.matchacafe-maiko.jp/

"MATCHA Stand MAIKO"
Address: 2310 Kuhio Ave. #143 Honolulu, HI 96815
TEL: (808) 369-8031
Open: 11:30-21:00 ※Time in Hawaii
Website: http://www.matchacafe-maiko.com/

"Milk" – Fresh Cream Specialty Shop

When "Milk" opened in Shibuya it was a roaring success, bringing in 30,000 people in the first month. Fresh cream usually plays the supporting role of sitting on top of something like pancake, but "Milk" promotes it to the lead role by drawing out its flavour to the fullest. "Milk" serves a range of sweets with the fresh cream as the main acts, including "Milky Cream Chiffon Cake" (¥780), "Milky Soft Cream" (¥540), "Milky Soft Parfait" (¥780), and more. The shop is only open for a limited period, so don't miss out.

Full Details: http://www.moshimoshi-nippon.jp/54370

■Information

"Milk" – Fresh Cream Specialty Shop (生クリーム専門店 ミルク)

Popup Shop in Harajuku Justin
Opening date: August 3rd ※Takeout available from August 10th
Address: Harajuku JUSTIN Gingumae 3-25-18 Shibuya-ku Tokyo
Open: 11:00-18:00(※JUSTIN's normal business hour starts from 18:00)

Takeout specialty shop in LUMINE EST Shinjuku
Opening date: August 20th, 2017
Address: LUMINE EST 1F Shinjuku 3-38-1 Shinjuku-ku Tokyo
Open: 11:00-22:00 (10:30-21:30 on weekends and holidays)

Official Website: http://www.opefac.com/milk/

sorama

Affogato (¥550), a definite recommendation to those people who find normal ice cream a tad bit boring. It's made with rich wholesome ice cream that melts its way into strong coffee. Even people who aren't adjusted to coffee can enjoy this one. What's more is that "sorama" is a café situated away from the hustle and bustle of the busy streets of Harajuku where time flows calmer, allowing you to take a breather. It's a place where you can enjoy more "grown-up" ice cream.

Full Details: http://www.moshimoshi-nippon.jp/32960

■Information

sorama gallery+coffee

1-12-6 Dohi Bldg., Jingumae, Shibuya-ku, Tokyo

TEL: 03-3423-2370

OPEN: 9:30~11:00/12:00~19:00  (Closed: Mondays, Tuesdays, National Holidays)

Homepage: http://sorama.tokyo/coffee/

coisof(コイソフ)

Ice cream and dairy specialists "Morinaga Milk Industry" teamed up with "GOMAYA KUKI," a store specialising in sesame ice cream, to open the soft serve ice cream shop "coisof." Their sesame ice creams strive to stand superior to ice creams all over the world and are topped with colourful "oiri," a traditional candy from Kagawa prefecture that brings good luck. Once you have one you won't be able to stop!

Full Details: http://www.moshimoshi-nippon.jp/54778

■Information

Coisof (コイソフ)

Address:OZ Harajuku Building 1st floor, 1-8-24, Jingu-mae, Shibuya, Tokyo

Open: 10:00-20;00

Telephone number: 070-1185-1309

【Select Menu Items】

・Coi soft (white) ¥600 (tax included)

・Coi soft (mix) ¥600 (tax included)

・Coi soft (black) ¥600 (tax included)

GOMAYA KUKI Website: http://gomayakuki.jp/

Harajuku – the home of the "kawaii" culture. Know you know some of its most photogenic ice cream shops. So what are you waiting for? Have your fill♡

ーーー

Writer: Ellie

A visit to ROLL ICE CREAM FACTORY in Harajuku

Hi everyone, Midori Blackmore here. I'm a staff person at MOSHI MOSHI BOX.

It's just too hot these days, isn't it? This is summer in Japan for you.

Have you ever had the experience where you don't want to eat anything other than ice cream during summer? All I want to eat is ice cream in summer but the problem is, it makes me fat.

But waistline aside, I went to the new ice cream shop, ROLL ICE CREAM FACTORY and I want to report about this.

Here is some information concerning the location of this ice cream shop. It takes 5 minutes by foot from Tokyo Metro, Meijiingumae Station. It takes 10 minutes by foot from Harajuku Station, Omotesando exit.

This "factory" is located near the No.1 elevator of Meijijingumae Station. After you get off the elevator go straight and then turn at Lawson. It is very near the pancake shop, "Eggs'n Things."

The outside looks like as you can see in this photo. It looks like a building out of Disneyland, don't you think.

First, I ordered at the cash register. You can order both from the basic menu or you can order a "custom item" yourself.

I ordered the recommended item on the menu, "Cookie Monster" because I don't have such a challenging spirit. Sorry about that.

When I ordered, a young lady made a "Cookie Monster" in front of me. Many people took photos or movies while she was making it. How photogenic this item is, don't you think!

They mixed together both the liquid ice cream and some ingredients on a cool plate and stretched it out thinly.

The young lady then rolled it up.

This was very interesting to look at. I was so impressed, I tried to do this when I made Okonomiyaki that evening but I failed. It was very difficult. Maybe these young ladies have had vigorous training.

It is complete after cute decorations are put in place!

Yes, it's very photogenic. I could even make an Instagram account only for this item. It makes for a wonderful photo.

The taste is very rich and it was very filling.It doesn't melt as easily as other ice creams,So it doesn't make your fingers sticky. Accordingly, it makes for a great take out item.

What a face I made.

The next time you visit Harajuku, you should try this!

Thank you for your kind attention, from Midori Blackmore.

■information

ROLL ICE CREAM FACTORY

Address:Just harajuku 1st floor 4-28-12 Jingumae Shibuya-ku Tokyo

Phone number:03-3470-0227

Closing dates: No scheduled holidays

Open time:10:00~21:00

Related Article:"Eddy's Ice Cream"—A Booming Ice Cream Shop With a Colourful Selection in Harajuku

Related Article:Popular Giant Cotton Candy Store "Totti Candy Factory" in Harajuku Releases New Summer Rainbow Menu
RELATED ENTRIES
McDonald's KitKat McFlurry to be Whipped Up in Japan

McDonald's Japan is teaming up with Nestlé next week to bring back last years' customer-favourite McFluffy® KitKat® for a limited time starting on January 27.

McFlurry KitKat | ¥290

The delicious dessert combines McDonald's tasty soft service ice cream with crushed KitKat and finishes it with a drizzle of special sauce made with couverture chocolate. Mix everything together for pure chocolatey heaven goodness.

McFlurry Oreo | ¥290

McDonald's Japan also serves the McFlurry Oreo, a regular item on the menu, and right now is the only time you can enjoy comparing the tastes and textures between both the Oreo and KitKat McFlurries.

Which one has you drooling more?

Information

McFlurry® KitKat®
Running: January 27, 2021 – Late March 2021

Available: McDonald's Japan (Select branches not participating)
Serving Times: 10:30 until closure
Official Website: http://www.mcdonalds.co.jp/

*KitKat is a registered trademark of Nestlé Group.

Luxury Japanese Gateau Chocolate Infused With Sake Made From Famous Yamada Nishiki Rice

Japanese sweets and dessert brand KAKERI opened pre-orders for its new luxury chocolate "Nihonshu Gateau Chocolat" on Monday (January 18) which is made in collaboration with Inami Shuzo, a distillery based in Miki, Hyogo, a city known for a type of rice called Yamada Nishiki. Pre-order opened exclusively on Makuake.

Daigin Koshu – Bronze Award winner in the Sake category at IWC2020

Inami Shuzo

The chocolate is infused with Daigin Koshu, a sake made by Inami Shuzo which won a Bronze award at the International Wine Challenge for Japanese Sake in 2020. The chocolate is also best paired with a cup of strong sake too. Online orders are shipped in freezer refrigeration and can be eaten frozen too, giving it an ice cake-like texture. If left to defrost in the fridge, the taste and fragrance of the infused sake increases, so sake-lovers can pick how they best want to enjoy their gateau treat.

What makes this chocolate so special is that it enjoys the combination of ingredients and a workforce all from the city of Miki where the distiller is located. The sake is made with a rice called Yamada Nishiki which is grown in Miki and is famous for being used to make sake. The consumption amount of this rice has decreased as a result of the pandemic and so the chocolate was developed to help spread word of the rice and ensure it doesn't go to waste.

Valentine's Dessert Sets Served Up at Harajuku's Tea Latte Shop CHAVATY

CHAVATY, a cafe in Harajuku that serves tea lattes made with high quality tea leaves, is getting ready for Valentine's Day early with the release of some tasty new desserts which they began serving up on Thursday (January 14).


Valentine's Set | ¥1,100 (Before Tax)


Valentine's Scone Set (6 Included) | ¥2,480 (Tax Included)


Raspberry Chocolate | ¥970 (Tax Included)

The Valentine's Set comes with a cute scone as well as fondant chocolate made with rich, high-grade chocolate from the French chocolate brand Cacao Barry. It also comes with a tea latte of your choice. There's also a scone set which comes with two each of three different scones for a total of six including the Berry & Cocoa Pink Chocolate, Orange & Chocolate Chip Double Chocolate, and Dried Fruits & Nuts White Chocolate. CHAVATY has also made their own seasonal homemade spread: the Raspberry Chocolate.

Information

CHAVATY Valentine's Set
Running: January 14, 2021 – February 14, 2021

Address: Minami-Harajuku Bldg. 1F, 4-6-9 Jingumae, Shibuya, Tokyo

Official Website: https://chavaty.shop-pro.jp/

Pokémon Tokyo Banana Adds Special Pikachu Box Set Online

Tokyo Banana World recently added its special Dengeki Box (Electric Box) of Pikachu Tokyo Banana confections to its official website which is available to order in Japan until January 30, 2021 at 17:00 (JST).

Tokyo Banana is Tokyo's official souvenir sweets brand and it launched its new Pokémon Tokyo Banana series of confections in November last year with the first catch being Pikachu. It subsequently added Eevee to the collection in December. The Pikachu confections are also available to buy at Tokyo Station.

Pikachu Tokyo Banana – Dengeki Box | Box of 12 Packs (24 Confections) | ¥3,456 (Tax Included)

The limited-time addition of the Dengeki Box to Tokyo Banana's official website means that anyone in Japan can get a taste of the electrifyingly delicious sweet fluffy custard-filled sponge cakes without having to travel to Tokyo.

Waiting inside the Dengeki Box are 12 packages each with two cakes in and each in one of six different Pikachu designs to greet hungry Trainers, all of which are positively kawaii. The box itself also features these adorable illustrations.

Left: Front of Box | Right: Back of Box

The box even has a handle attached to it so you can reuse it after to store all your bits and bobs.

©2021 Pokémon. ©1995-2021 Nintendo/Creatures Inc./GAME FREAK inc.
Pokémon, ポケットモンスター, and ポケモン are registered trademarks of Nintendo, Creatures Inc., and GAME FREAK inc..

Information

Pikachu Tokyo Banana – Online Orders
Running: January 12, 2021 – January 30, 2021
*Available while supplies last

*Shipping not available to select islands in Japan

Tokyo Banana Group Official Online Shop
https://www.paqtomog.com/shop/c/cpk-bana/

Luxurious Gin Infused White Chocolate by Dean & DeLuca Tempts With Tasty Allure

Asakusa-based 'aromatic raw chocolate' brand MAISON CACAO created a new gin-flavoured white chocolate for Dean & DeLuca which was released in Japan on January 15, 2021.

The "Aroma Raw Chocolate (Gin)" keeps the original flavour of the white chocolate and infuses with a craft gin known as "COMMON" by Toranomon Joryusho.

Aroma Raw Chocolate GIN FOR DEAN & DELUCA | ¥2,592 (Tax Included)

​One bite into a piece of this artisanal chocolate fills the mouth with a tang of subtly fruity chocolate. Then comes the refreshing taste of the gin which complements the sweetness and adds sophistication to the chocolate in an exquisite balance of flavours.

 COMMON gin is fruity and clear

COMMON craft gin has a 'botanical' flavour. Its base is a shochu made on the islands of Hachijō-jima and Nii-jima. It also contains soft water taken from Okutama Sawai.

"It has a faint fruity taste that combines with the flavour of the cacao, and he used really delicious white chocolate," explains Shingo Ishihara of MAISON CACAO who helped in the chocolate's development. "I hope people indulge in its enjoyable melt-in-the-mouth texture."

Information

Aroma Raw Chocolate GIN FOR DEAN & DELUCA

Japanese Name: アロマ生チョコレート GIN FOR DEAN & DELUCA

Released: January 15, 2021
DEAN & DELUCA Official Website: https://www.deandeluca.co.jp/

Snoopy and Charlie Brown Turn Into Confections at Japanese Convenience Stores

Bandai's character-inspired Japanese confectionery series Tabemas is releasing two new traditional Japanese wagashi confections inspired by the Peanuts comic series. Snoopy and Charlie Brown will arrive at Lawson convenience stores across Japan on January 19, 2021.

Tabemas Snoopy | ¥264 Each (Before Tax)

The cute confections capture the little details of the iconic characters, from Snoopy's doggo features and collar to Charlie Brown's hair and shirt. The Snoopy confection is filled with chocolate bean paste—a nod to his favourite chocolate chip cookies—while Charlie Brown is filled with custard bean paste as a nod to his trademark shirt. The packaging features exclusive art drawn for the Peanuts comic's 70th anniversary with Snoopy atop his dog house.

© 2021 Peanuts Worldwide LLC

Information

Tabemasu Snoopy / Charlie Brown
Release Date: January 19, 2021

Available: At the chilled sweets section of Lawson convenience stores in Japan (Excluding Natural Lawson and Lawson Store 100)

*Available while supplies last

*Stock date may differ from branch to branch

*Select stores not participatingProduct Page: https://www.bandai.co.jp/candy/tabemas/snoopy03/

Delicious Valentine's Day Desserts Served Up at Eggs 'n Things

Eggs 'n Things is set to serve up a special limited-time Valentine's menu in Japan from January 16 to February 28 including the Torokeru Fondant Chocolate Pancakes and Strawberry & Banana Chocolate French Toast.

Valentine's Menu

Torokeru Fondant Chocolate Pancakes | Eat In ¥1,480 (Before Tax)

Torokeru Fondant Chocolate Pancakes | Takeout ¥1,080 (Before Tax)

 

Strawberry & Banana Chocolate French Toast | Eat In ¥1,380 (Before Tax)

Strawberry & Banana Chocolate French Toast | Takeout ¥980 (Before Tax)

Valentine's Drinks

Strawberry White Mocha | Hot or Iced ¥680 (Before Tax)

Hawaiian Cafe Mocha | Hot or Iced ¥580 (Before Tax)

This lovingly-prepared chocolate and fruit-loaded line-up is sure to get the butterflies stirring hungrily for this year Valentine's.

Miffy Cookies Get Baked Up by Netherlands Confectionery Theo Blom at Dick Bruna TABLE

The popular wine bar Dick Bruna TABLE, where customers can enjoy a glass of wine with a meal together with illustrations by Dick Bruna, the creator of Miffy, is now selling a batch of Miffy cookies created by the popular confectionery Theo Blom located in Utrecht, Netherlands.

Miffy Cookies & Chocolate | ¥4,000 (Before Tax)

Miffy Cookies | ¥4,000 (Before Tax)

Utrecht is the birthplace of Miffy author and creator Dick Bruna, and Theo Blom is a place that Bruna himself actually often visited. The confectionery is known for its tins which can be reused after the contents are eaten. The cute Miffy tins are definitely keepers.

Information

Dick Bruna TABLE – Miffy Cookies & Chocolate
Released: Mid December 2020
Location: Dick Bruna TABLE
Address: 3-1-1 Sannomiyacho, Chuo-ku, Kobe
Opening Hours:
[Weekdays] 11:00-15:00 (Last Orders 14:00) / 17:00-23:00 (Last Orders 22:00)
[Saturdays] 11:00-23:00 (Last Orders 22:00)
[Sundays/Public Holidays] 11:00-21:00 (Last Orders 20:00)
Access: 078-333-3332
Official Website: https://dickbrunatable.com/

McDonald's Japan Adds Crème Brûlée and Belgian Chocolate Pies to the Menu

McDonald's Japan is bringing back its popular Belgian Chocolate Pie from last year and is also introducing a new Crème Brûlée Pie, both of which will hit the menu at all McDonald's branches from January 13 for a limited time.

Crème Brûlée Pie | ¥150 (Before Tax)

Belgian Chocolate Pie | ¥150 (Before Tax)

The hot pies are filled with deliciously sweet cream and are a perfect, cosy treat during the cold weather.

Information

Crème Brûlée Pie / Belgian Chocolate Pie
Serving: January 13, 2021 – Mid February 2021
Available: McDonald's Japan
Price: ¥150 Each (Before Tax)
Official Website: https://www.mcdonalds.co.jp/

Nana's Green Tea x Häagen-Dazs Release Chocolate Matcha Glass Dessert

Nana's Green Tea is serving up a brand-new dessert in collaboration with Häagen-Dazs for Valentine's Day at 77 branches in Japan. The dessert was released on January 6 and will be available up to February 14.

Matcha Chocolate Glass with Häagen-Dazs | ¥880 (Before Tax)

The dessert is a tempting sight to behold – not only is it delicious but visually appealing to the eye too, and layered with various textures so that every bite is a surprise.

The dessert is made with Häagen-Dazs' "Sweet Chocolate" ice cream coupled with Nana's Green Tea's own original matcha ice cream, soft and crunchy meringue sticks, crumbled cookies, white chocolate whipped cream, and matcha chiffon cake. Sat at the bottom waiting to be discovered is a sweet strawberry sauce for a tangy kick.

Information

Nana's Green Tea – Matcha Chocolate Glass With Häagen-Dazs
Serving: January 6, 2021 – February 14, 2021
Price: ¥880 (Before Tax)
Available: 77 Nana's Green Tea branches in Japan (Excluding DiverCity Tokyo Plaza, Tokyo Dome, and Iias Okinawa Toyosaki)
Official Website: http://www.nanasgreentea.com/

Mister Donuts x Pierre Marcolini Luxury Doughnuts Hit Japan

Mister Donuts has teamed up with Belgian chocolate brand Pierre Marcolini to release the "misdo meets PIERRE MARCOLINI Collection" of doughnuts which hit Japanese branches on Friday (January 8).

Fondant Chocolate Doughnut – Chocolate | ¥200 (Before Tax)

Fondant Chocolate Doughnut – Caramel | ¥200 (Before Tax)

Fondant Chocolate Doughnut – Raspberry | ¥200 (Before Tax)

Fondant Chocolate Doughnut – Hazelnut | ¥200 (Before Tax)

Danish Chocolate – Raspberry | ¥230 (Before Tax)

Danish Chocolate – Hazelnut | ¥230 (Before Tax)

The doughnuts are part of Mister Donuts "misdo meets" series which first began in 2017 to combine the highest quality ingredients and techniques to in order to bake up the best possible doughnuts. This time, it has joined sticky bakers fingers with the popular Begian chocolate brand Pierre Marcolini to create a new kind of fondant chocolate doughnut and danish. The line-up is made with high quality authentic chocolate and has a bitter kick to it – perfect for those who aren't into sweeter treats. The heart-shaped danishes are also spot on for the Valentine's season in Japan.

Information

misdo meets PIERRE MARCOLINI Collection
Serving: January 8, 2021 – Mid March 2021
Available: Mister Donut Japan (Select branches not participating)
Official Website: https://www.misterdonut.jp

Gudetama Doughnuts at Floresta Celebrate the New Year

Floresta Nature Doughnuts, a doughnut cafe that hand-makes doughnuts using organic ingredients, is baking up two new Gudetama doughnuts with New Year's messages on them. They will be served from January 9 to 24.

Florest Gudetama Collab Doughnuts | ¥450 (Before Tax)

The doughnuts capture the lazy and lethargic energy of Gudetama. The crowning Gudetama is made from Japanese pumpkin and is sat on a bed of sweet white chocolate. Both doughnuts are also available as a set coming with an extra of any of Floresta's signature doughnuts.

Relax and take in the new year together with Gudetama.