Ruki from MOSHI MOSHI NIPPON visits Pop Team Epic collaboration café at Sweets Paradise Harajuku
Japanese anime is a big hit all over the world. Lately, a new one has been climbing the rankings. Have you heard of Pop Team Epic?
Pop Team Epic (Poptepipic) is a digital manga series that uses punchy images and snappy phrases. It has become increasingly popular as a surreal visual gag manga. Now, it's not only turning into a big hit in Japan, but all over the world!
We heard that Harajuku's dessert café Sweets Paradise is opening a collaboration café with Pop Team Epic, and as big anime fans ourselves, we immediately set off with MOSHI MOSHI BOX staff member Ruki to check it out.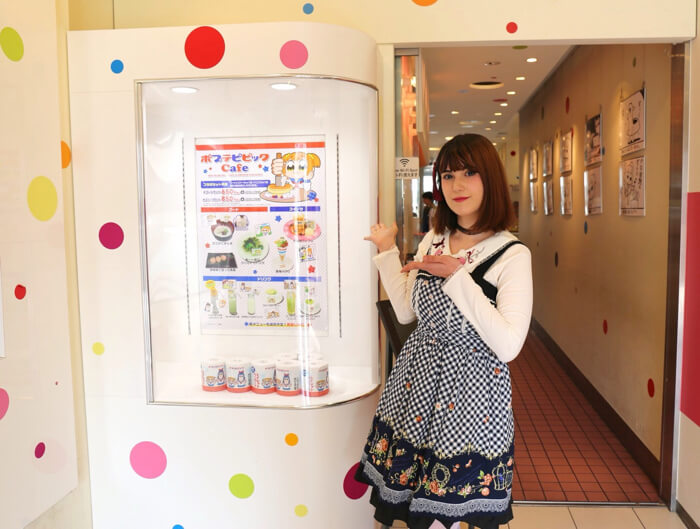 To get there, exit Harajuku station (JR Yamanote line) from Takeshita exit and walk straight. On your left, you will notice the shopping centre SoLaDo Takeshita Street (SoLaDo竹下通り) . You will find "Sweets Paradise on the 3rd floor.
To eat at Sweets Paradise, first you need to purchase a ticket from the machine at the entrance and then enter the café.
There are two courses available:
1 collaboration meal + drink + sweets banquet set ¥1950 (price including tax)
1 collaboration dessert + drink + sweets banquet set ¥2150 (price including tax)
You can also add foods and drinks from the Pop Team Epic collaboration menu to your chosen meal plan for ¥500. To do this, buy the appropriate ticket from the machine at the entrance.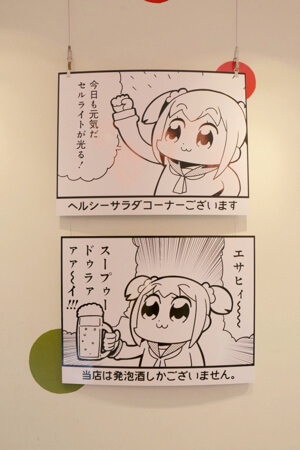 There are Pop Team Epic decorations all around the café!
There is even a small set where you can destroy the Takeshobo publishing office, which comes up in the manga!
There are two types of seats inside the café: "anti-sama/ Takeshobo company employee seats" and the "believers' seats" . The "anti-sama" tables are decorated very simply. In contrast, the "believers'" tables are draped with beautiful table cloths and are near a large screen that is showing episodes from the Pop Team Epic anime.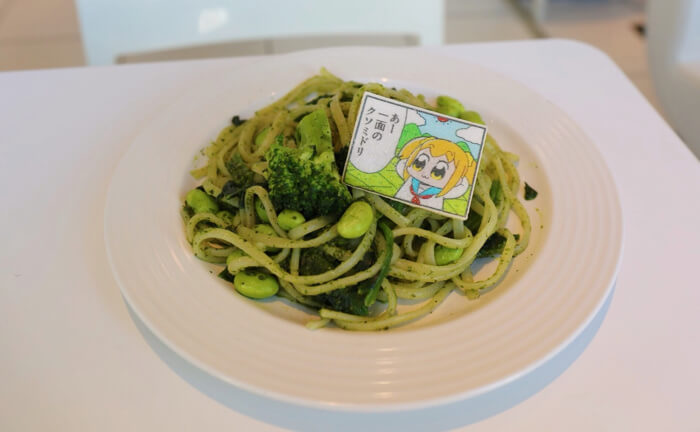 Being slightly peckish, Ruki did not waste time in scooping up the menu. This dish is called "Aaaaah ichimen no Kusomidori Pasta" (Aaahh a plate of gross green pasta). The random words of countryside-raised Pop Team Epic character Popuko, has been made into a pasta dish.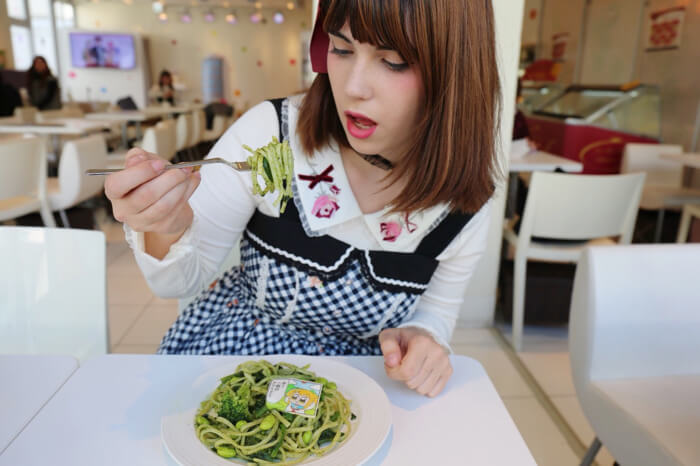 Ruki: "Spinach, edamame and broccoli – this truly is a green dish! The basil sauce is very simple yet delicious! Is this the true taste of nature?!
This is the "Konna kao ni naru lemon Juice" (Lemon juice that makes you pull this face). Although a bold move, half the lemon is cut and placed as it is in the glass. Whatever the menu, the names of the foods are crazy! Just what you would expect from Pop Team Epic.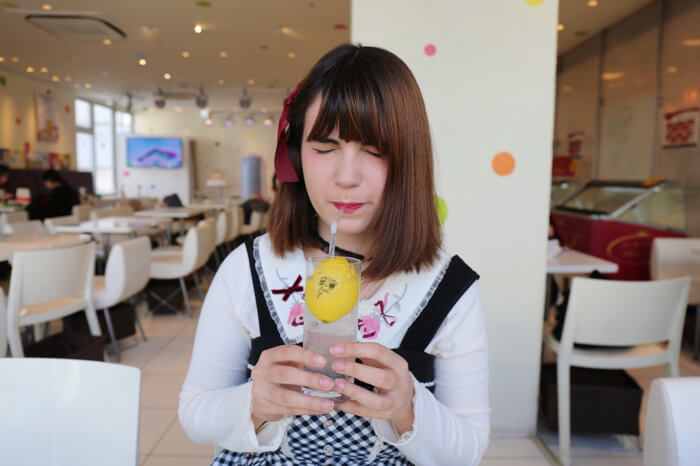 Riku's reaction to the sour drink was predicted by the name of the drink!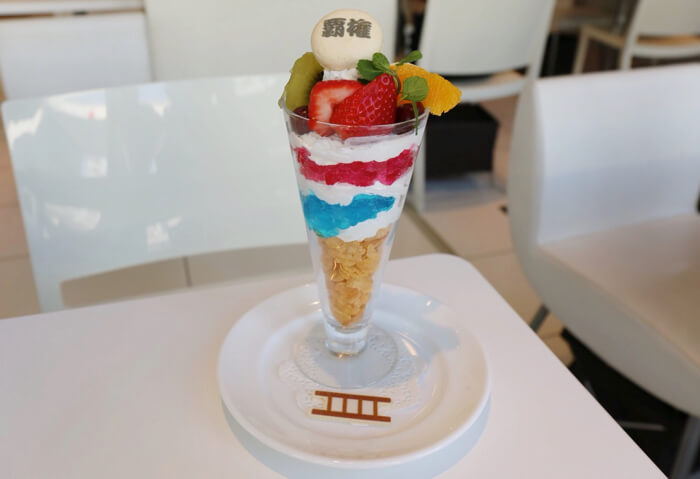 This is the "Haken Parfait" (Hegemony parfait) You can even order one that is the size of Ruki's head! This is one filling dessert! The word "覇権" (hegemony) is written on a macaron that sits on top of a pile of fruits and strawberry sherbet. At the foot of the parfait lies a wafer with a picture of a ladder on it.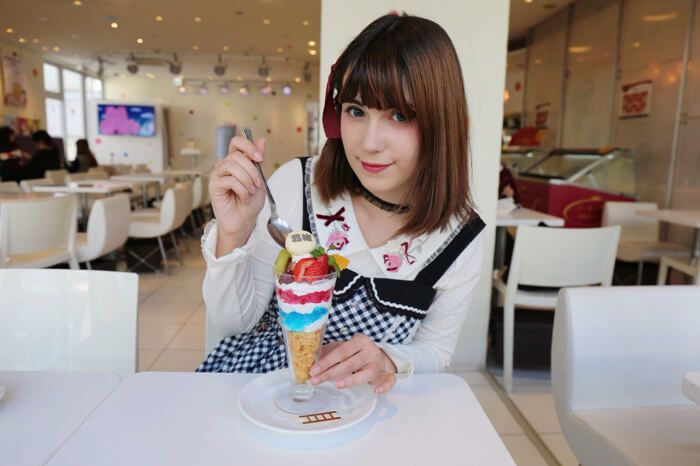 The parfait is an original art piece that depicts a ladder which leads to the top of the parfait to have been toppled over. After looking up the word "覇権" and realizing its meaning, Ruki laughed a lot.
The last item Ruki ordered arrived. The Imi ga wakarimasu ka? Café latte. (Do you know what this means? Café latte) As you can imagine, it was quite difficult to say this name to the waiters and waitresses when ordering. There's a pie chart drawn on the latte, but 90% of it is filled in with the answer "no".
Ruki: It goes well with the desserts because it isn't sweet!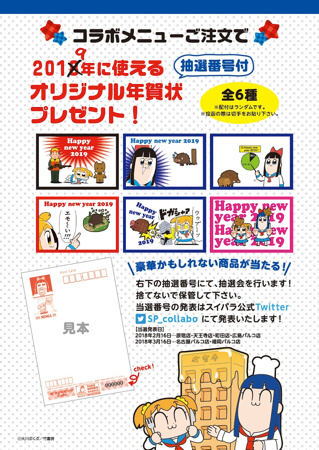 If you order from the collaboration menu, you will receive a novelty 2019 New Year's card… even though we have just started 2018…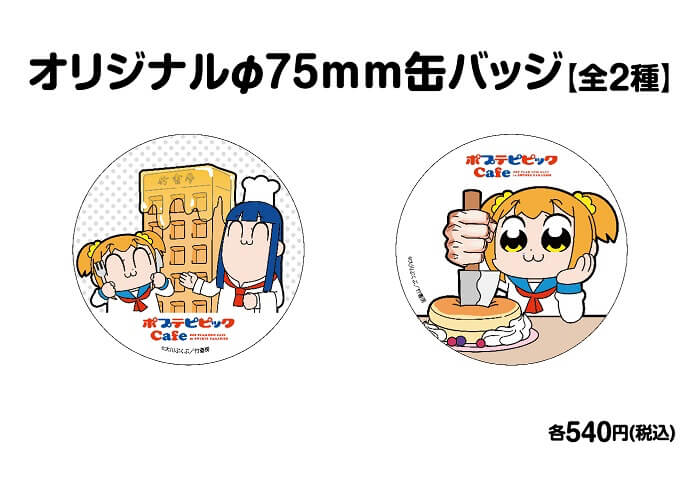 Pop Team Epic goods are also selling at the cash register! The variety of goods stretched from stickers, keyrings and manga to toilet paper with scenes from the manga printed on it!
The café is only open until 13th March. Opening times vary depending on the café, so make sure you check the opening times before turning up. Don't miss out on your chance to eat at the Pop Team Epic collaboration café because the manga is becoming more and more popular!
Check out this link for more information:
https://www.moshimoshi-nippon.jp/89750
◼︎Information
Pop Team Epic café, Harajuku
(ポプテピピックカフェ 原宿)
Address:Sweets Paradise, 3rd floor SoLaDo Harajuku, SoLaDo Takeshita Street, 1-8-2, Jingumae, Shibuya, Tokyo
Café period:Friday 2nd February ~ Tuesday 13th March
Opening hours:Weekdays: 11:00 ~ 20:30
Weekends & national holidays: 10:30 ~ 21:00
Access:5-minute walk from Tokyo Metro Chiyoda line, Meiji-Jingumae, 5th exit
     5-minute walk from JR Yamanote line's Takeshita entrance
TEL:03-6661-8671
URL:http://www.sweets-paradise.jp/shop/kanto/solado-harajuku.html
RECOMMENDED ENTRIES
"Eddy's Ice Cream"—A Booming Ice Cream Shop With a Colourful Selection in Harajuku

Hi everyone, my name is Shiota and I am the Director at the MOSHI MOSHI BOX, the official Harajuku Tourist Information Center.

Today, I am tackling an enquiry that we have been receiving more of at the MOSHI MOSHI BOX recently. And that is, where is 'that' ice cream shop "Eddy's Ice Cream" with the really photogenic-looking ice cream? Let's take a look!

That Pink Building in Ura-Harajuku

Exit Takeshita Street and head towards the street opposite between "Murasaki Sports" and "New Balance," down Meiji-dori, and make a right at Family Mart. Take a right at the first turn and you'll be able to see the 1F of the pink building on your left. There must be a lot of you out there that know where to find the first floor of the second-hand clothes shop Santonibunoichi, right?!

If in doubt, or you get lost finding your way, then be sure to come and see us at the MOSHI MOSHI BOX.

It's called "Eddy's Ice Cream." It was born in Harajuku and is a super-duper cute ice cream shop. The staff in there are really cute and stylish too in their matching uniform t-shirts♡

360° of Pure Photogenic Décor

The interior of the shop is pasted in pink and white. The colour of the walls is particularly something to highlight – the paint job is beautiful! It's the same with the choice of lighting in the shop, white makes the surface of the wall look white. The shop manager even gives them the stamp of approval as "the best walls in Harajuku."

Lots of Photo Spots to Snap Pictures

The décor in the shop was designed in such as way as to make taking photos fun. No matter what spot you choose to take your photo at when in Eddy's Ice Cream, it will look gorgeous.

The most popular spot is by the pink phones. You can even hold the receivers of each telephone.

Ice Cream at Eddy's—An Inevitable Heartthrob

There are already ice creams to pick from on the grand menu of Eddy's Ice Cream where the toppings and everything are decided for you, but you can also customise to your liking – by picking from 10 different varieties of cones, 3 types of ice cream, and 13 toppings.

 

"I'll take one the most popular ice cream, and one of the manager's recommendations." Upon ordering them…

TA-DA!

My heart skipped a beat. I don't think it's an exaggeration to declare these ice creams as the personifications of kawaii. They should be the standard ice cream, with their toppings you can't find anywhere else!

I've never seen an ice cream pursuing the true essence of kawaii as much as these!

This is the most popular ice cream on the menu – the "Unicorn" (¥1,200).

The milk ice cream is covered in pastel coloured cotton candy, and it even has a chocolate flavoured unicorn in the middle. If you eat the cotton candy and ice cream together they mix to create a satisfying and thick taste. It was a texture I have never experienced before. I highly recommend this one to people with a sweet tooth!

This is the manager's recommendation, the milk flavoured ice cream – with the MOSHI MOSHI BOX initials made out of chocolate and much more. A truly customised MMB original ice cream!!! (¥1,150).

The flavour of the milk is both firm and refreshing, and the balance between the sweetness of the cookie and chocolate was perfect. We'd love for you to try the MOSHI MOSHI BOX ice cream yourselves too!

There's also extra chocolate sauce on hand if you want to change up the flavour of you ice cream some more. It's really nice that they've thought of everything.

Unmissable Popular Drinks!

The drinks at Eddy's Ice Cream are pink too♡

The beverage on the left is strawberry milk (¥500) which has strawberry paste with bits to give it that fruity punch. The sweet milk that comes with it makes the perfect combination. The beverage on the right is lemon squash (¥500) which contains lemon peel and lemon juice. You can also choose from two colours – blue and pink.

The shop gets seriously crowded in the afternoon, so if you're wanting to take some photos or do a photo shoot then you should aim for the morning or just before closing time.

Be sure to check out Eddy's Ice Cream on your next trip to Harajuku!!

Translation:Joshua Kitosi-Isanga

■Information

Eddy's Ice Cream

Address: Eddy's Ice Cream 1F, 4 Chome-26-28 Jingumae, Shibuya, Tokyo (住所:東京都渋谷区 神宮前4-26-28 1F)

Opening Hours: 11:00-20:00

Closed: No fixed holidays

TEL: 03-6438-9742

Access: 10 minutes' walk from Harajuku Station via the JR Line / 8 minutes' walk from Meiji Jingumae Station via Tokyo Metro

Official Homepage: http://eddysicecream.jp/

■MOSHI MOSHI BOX Harajuku Information Center

MOSHI MOSHI BOX is a tourist information center located at the cross road of Takeshita street, Meiji street, and Harajuku street.
It is stuffed by person with a through knowledge of the Harajuku area. And here, you can get the most up-to-date news of this area.

Service list
・free wi-fi
・free water
・free PC& charge
・baggage room
・gift shop
・currency exchange

Opening hours :10:00〜18:00
Closed: The year-end and New Year holidays
TEL:03-2225-6447
Twitter・Instagram @mmb_harajuku

Related Article:Getting much attention on SNS! Check out the Electric Bulbs Soda specialty shop, 「Harajuku Denki Shokai」

Related Article:Best 7 photo taking spot in Harajuku to take a photogenic picture in Tokyo sightseeing

A visit to ROLL ICE CREAM FACTORY in Harajuku

Hi everyone, Midori Blackmore here. I'm a staff person at MOSHI MOSHI BOX.

It's just too hot these days, isn't it? This is summer in Japan for you.

Have you ever had the experience where you don't want to eat anything other than ice cream during summer? All I want to eat is ice cream in summer but the problem is, it makes me fat.

But waistline aside, I went to the new ice cream shop, ROLL ICE CREAM FACTORY and I want to report about this.

Here is some information concerning the location of this ice cream shop. It takes 5 minutes by foot from Tokyo Metro, Meijiingumae Station. It takes 10 minutes by foot from Harajuku Station, Omotesando exit.

This "factory" is located near the No.1 elevator of Meijijingumae Station. After you get off the elevator go straight and then turn at Lawson. It is very near the pancake shop, "Eggs'n Things."

The outside looks like as you can see in this photo. It looks like a building out of Disneyland, don't you think.

First, I ordered at the cash register. You can order both from the basic menu or you can order a "custom item" yourself.

I ordered the recommended item on the menu, "Cookie Monster" because I don't have such a challenging spirit. Sorry about that.

When I ordered, a young lady made a "Cookie Monster" in front of me. Many people took photos or movies while she was making it. How photogenic this item is, don't you think!

They mixed together both the liquid ice cream and some ingredients on a cool plate and stretched it out thinly.

The young lady then rolled it up.

This was very interesting to look at. I was so impressed, I tried to do this when I made Okonomiyaki that evening but I failed. It was very difficult. Maybe these young ladies have had vigorous training.

It is complete after cute decorations are put in place!

Yes, it's very photogenic. I could even make an Instagram account only for this item. It makes for a wonderful photo.

The taste is very rich and it was very filling.It doesn't melt as easily as other ice creams,So it doesn't make your fingers sticky. Accordingly, it makes for a great take out item.

What a face I made.

The next time you visit Harajuku, you should try this!

Thank you for your kind attention, from Midori Blackmore.

■information

ROLL ICE CREAM FACTORY

Address:Just harajuku 1st floor 4-28-12 Jingumae Shibuya-ku Tokyo

Phone number:03-3470-0227

Closing dates: No scheduled holidays

Open time:10:00~21:00

Related Article:"Eddy's Ice Cream"—A Booming Ice Cream Shop With a Colourful Selection in Harajuku

Related Article:Popular Giant Cotton Candy Store "Totti Candy Factory" in Harajuku Releases New Summer Rainbow Menu

The Korean shaved ice shop,"SULBING HARAJUKU" –a report by MOSHI MOSHI BOX, staff person, Midori

Hello, everyone. My name is Midori Blackmore and I am a staff person of MOSHI MOSHI BOX Harajuku Tourist Information Center.

Do you like strawberries? I love strawberries so, I feel happy during this spring season because many desserts using strawberries are released every year.

This time, I visited the very popular shaved ice specialized shop, "SULBING HARAJUKU" from Korea.

The shop is always crowded in summer, but you don't have to wait to get into the shop during the winter season.

It might sound weird to eat ice cream during winter, but I think it is nice to eat something cold inside a warm room, for some reason.

Eating a shaved ice inside a warm shop is the same!


The shop is located on the 2nd floor of the building where the sports store, SKECHERS is located, near the Takeshita Exit of Harajuku Station (make a right turn after getting out of the exit). The sign of the shop is small so be careful not to miss it.

The inside of the shop is spacious and warm. Many of the customers are women but I saw some groups of men as well. A wide generation of people visit the shop.

Secure a table first before making an order at the counter. The product I ordered was a winter-limited, "Nama Ichigo SULBIN"(fresh strawberry shaved ice)!

After ordering, take a buzzer and wait at your seat.

When the buzzer rings, go to the counter and receive your shaved ice.

"Nama Ichigo SULBIN"(fresh strawberry shaved ice) 1,400 yen (tax included)

Boom!

The product was bigger than I thought. Look at the size of it!

You will realize that it is not a normal shaved ice as soon as you put it into your mouth.

The ice is very fine and has a soft texture. Even when it is cold out, the ice will not result in a "rush to the head"and you will be able enjoy the fresh ice texture.

Also, the shaved ice of this shop has the flavor of milk! The combination of the milk-flavored shaved ice and lots of strawberries goes very well.

Red bean jam paste is inside the shaved ice so you will never get tired of eating this sweets item.

SULBIN HARAJUKU sells many kinds of menu items.

One popular menu item is"Mango Cheese SULBIN" 1,500 yen (tax included)


A popular item that is not a sweets is  (food menu)"Mozzarella Toppogi Toast" 1,100 (tax included)

For those of you who do not have "a sweet tooth,"I recommend that you share an ice shaving dish with your friends or with your boyfriend.


"Nama Ichigo SULBIN" will be sold until February for sure but it might not be sold in March. Let's go to the shop as soon as possible!!

◼︎Information

SULBING HARAJUKU

Address: 2F, Green Oak Harajuku, 1-14-34, Jingumae, Shibuyaku, Tokyo

Business hours: 10:30 – 20:00(LAST ORDER 19:30)

Fixed holiday: undecided

Access: 58m from the Takeshita exit of JR Yamanote Line – Harajuku Station

1 minute on foot from the 2nd exit of Tokyo Metro Chiyoda Line – Meiji Jingu Station
TEL:03-6721-0404

■MOSHI MOSHI BOX Harajuku Tourist Information Center

MOSHI MOSHI BOX is a tourist information center located at the cross road of Takeshita Street, Meiji Street, and Harajuku Street. The staff there are experts on the Harajuku area. You can get the most up-to-date news of Harajuku from the site.

Services:

Service list

・free wi-fi

・free water

・free PC & charge

・baggage room

・gift shop

・currency exchange

Opening Hours: 10:00-18:00

Closed: The year-end and New Year holidays

Contact: 03-2225-6447

Twitter・Instagram @mmb_harajuku

6 Recommended Cafés for Pancakes in Harajuku—A Change From Crepes!

Hi, everyone. Ellie here from the MOSHI MOSHI BOX Harajuku Tourist Information Center.

Recently at the MOSHI MOSHI BOX we've had a lot of people, guys and girls, come in saying that they want to eat some tasty pancakes in Harajuku.

So today, I'm here to recommend some shops that sell pancakes around Harajuku.

Café Casa

"Café Casa" is a long-standing shop whose flavours have remained the same, serving to parents and children through the generations. Everything from the signboard to the illustrated menu and stained glass window created by the owner will leave you feeling cozy. The colour green envelops the café against other vivid colours. Due to customer demand the hot cakes sold there (¥750) have been a familiar item on the menu for almost 20 years. The contrast between the crunchy outside and fluffy inside is exquisite. They're different from your usual pancakes and have a nostalgic feel to them. Combine them with maple syrup and you've got yourself a truly delicious treat.

 Full Details: https://www.moshimoshi-nippon.jp/29317

gram

This stylish café can be found by walking from Harajuku Station down Takeshita Street for about 5-minutes. When you reach the end, turn right and look for the green signboard. The main food on the menu is pancakes, all of which are made with the best ingredients and made one-by-one after an order comes in. The most popular and recommended item on the menu is the fluffy "Premium Pancake" (¥950). The soft pancake wobbles as the waiter brings it over – it looks like it will collapse just by being placed on the table.  Eat this to experience the fluffiest and softest texture you have ever eaten.

Full Article: https://www.moshimoshi-nippon.jp/23455

Bills Tokyo Plaza Omotesando

Bills serve the world's most famous breakfast and were responsible for causing Japan's pancake boom. Located in Tokyo Plaza Omotesando Harajuku, the shop's Australian Ricotta Pancakes. Spread underneath the thick pancake are slices of fresh banana which you eat together with honey comb butter and maple syrup. The marriage between the salty ricotta cheese and sweet syrup is to die for.

Jinguen

"Jinguen" is a gallery café located in Ura-Harajuku. Recommended from their menu are their thick homemade hot cakes. The outside of the hot cake is crisp while the middle is silky smooth. Of course, they go really well with maple syrup. You can also add vanilla icing, whipped cream, and chocolate or strawberry sauce.

Working Holiday Connections – Harajuku Omotesando YM Square Branch

This café is just a one-minute walk from Meiji Jingu Station via Tokyo Metro on the second floor of YM Square. It has tall glass windows which open up the shop and give you a sense of space. Their original "Manly Pancakes" draw a line between standard pancakes and the recent emerging thick and fluffy pancakes to unveil an original and unique texture. The subtle flavour of the eggs make the pancakes melt-in-the-mouth and match perfectly with syrup and fresh cream.

Sunday Jam – Harajuku Branch

This place's specialty menu item is their Honolulu Pancakes. They're incredibly thick, with a crumbly outside and soft middle. These luxurious pancakes have a special flavour made for adults. They are drizzled with butter and fresh cream, and you can choose sausages or bacon to go with them. Eating them with your choice of honey or maple syrup is simply irresistible!

Did you like this list? Try and find your favourite pancakes while in Harajuku!

7 Filling Burger Joints in Harajuku for Lunch & Dinner

Hi, everyone! I'm Ellie, and I work over at the MOSHI MOSHI BOX Harajuku Tourist Information Center.

Have you ever had it when you're hungry and the only thing you want to pig out on is hamburgers? Did you know, there's actually a bunch of hamburger shops in Harajuku that not many people know about yet? The burger there are really filling, so they're great for either lunch or dinner.

Let's take a look at some of these Harajuku hamburger shops.

Cafe Hohokam

This hamburger shop is located just behind the MOSHI MOSHI BOX Harajuku Tourist Information Center. They have open half-terrace seats where the sun shines in, and the stylish, relaxed interior is a characteristic feature. The buns are specially made using natural yeast. Their flavour is so rich you could even eat them without any ingredients. The chewy meat patty that sits between the fluffy bun is simply irresistible.

THE GREAT BURGER


  It goes without saying that this is a famous hamburger shop. Even in the big city, it stands out as one of the best, bustling with customers every single day. They are praised for the perfect compatibility between the seriously juicy patty and the buns, which are specially made from natural yeast. They are recognised for their stylishly arranged American-style store, and of course the flavour of their burgers.  

E・A・T

CNN, the biggest television channel in the US, chose E・A・T as one of the best new restaurants in Tokyo in 2010. It offers authentic Californian dining, made possible by French chef Michi, who was selected as one of the top 10 chefs in Los Angeles twice between 1997-2008. The burgers at plump and fat but don't sit heavy on your stomach, so you'll make short work of them in no time at all.

ZipZap


ZipZap is one for adults, designed around the concept of 'resort & relax'. You can expect to enjoy a relaxing time here, allow you to break away from the tumult of the busy city. You won't tire of the flavour of their New York style hamburgers, no matter how many times you go to eat them. And if you go during dinner time, you can stuff your cheeks with a burger in one hand and alcohol in the other.  

Teddy's Bigger Burgers – Omotesando Branch

Countless TV programs have covered this hugely popular burger chain. It has been voted Hawaii's best burger since 2001. The owner is particular about every ingredient on the menu, and you'll be able to tell once you sink your teeth into a burger there. The restaurant is spacious, giving a sense of liberation, and the interior decor is styled in a Hawaiian fashion. When you enter, you'll think you've just stepped into Hawaii.

GOLDEN BROWN


  GOLDEN BROWN classic-style burgers that can be enjoyed in a vintage environment. The outside is reminiscent of 1950s America, and the soft orange lights, together with the relaxing wooden decor, offers a comfortable atmosphere. The burgers are loved for having that authentic New York taste.  

San Francisco Peaks

San Francisco Peaks is famous as being like Ura-Harajuku's west coast. It's a modern shop that serves mainly pancakes and hamburgers, complete with retro furniture and chic walls that present a calm ambiance. I recommend this one for people that want to enjoy a hamburger in peace at lunchtime on their day off. Their buns are made from specially made natural yeast and are cooked brown. They're to die for!

Are you feeling hungry now from this reading list? Make use of it and master all the burger shops in Harajuku!

6 Hidden Cafés in Harajuku Away from the Busy Streets

Hi, everyone! Ellie here, I work at the MOSHI MOSHI BOX Harajuku Tourist Information Center.

A question we've been getting a lot at the MOSHI MOSHI BOX recently is about cafés where you can sit down – ones with free spaces. Harajuku is particularly crowded on weekends and holidays, so you do need a little courage when heading to a café there, right?

So today, I'm going to show you some little-known good cafés in Harajuku!

Shuu – Harjauku Omotesando Branch


"Shuu" is a café just one minutes' walk from Harajuku Station. It has a really relaxed and retro atmosphere. The seats are roomy, and they even have lots of sofas, so you can spend a super chill time there. There's also spacious VIP seats which may be relief to some adults out there. As well as the regular set menu, the café also serves up seasonal menus, so be sure to check it out.  

cafe na.  

This small café can be found along Meiji-dori which neighbours the traffic lights at the exit of Takeshita Street. It's on the 3rd floor of a mixed residence building, so I reckon there's not a lot of people who know of this place. It has a retro-decorated interior. They're known for their omurice! The mild cheese and gentle flavour of the Japanese style dashi is to die for.

cafe masumiya

This café is about 3-minutes by foot from Harajuku Station towards the lanes. I recommend their handmade sandwiches which come absolutely stuffed with fresh vegetables and juicy chicken. The interior décor is wooden, giving it a calm vibe where you can spend a relaxing time. If you love bread, then this café will be irresistible for you.

Enseigne d'angle

Enseigne d'angle is a 5-minute walk from Harajuku Station via the Takeshita Exit. It's a coffee shop that stands still and quiet away from the hustle and bustle of Harajuku's crowded streets. They're famous for their "Kohaku Jouou" beverage and "Croque-monsieur." They serve up authentic coffee and meals in a relaxed, calm environment.

 

Full Details: https://www.moshimoshi-nippon.jp/55919

Café Morinoterasu

Just a 1-minute walk from JR Harajuku Station or Meiji-Jingumae Station lies the Meiji Shrine. Just before the first torii gate you will find Café Morinoterasu, a tranquil place enveloped in nature. You can feel the warmth of the trees inside the café. The counters and chairs were made from old, withering trees on the shrine grounds. I recommend the eclairs and croissants prepared every day, or the tofu milk gelato. Not many people know about this hidden gem yet.

Full Details: https://www.moshimoshi-nippon.jp/51035

sorama gallery+coffee

You'll know you've found "sorama gallery+coffee" once you see its red doors. To find it, leave the 5th exit of Meiji Jingumae Station and head past the nearby McDonalds and Senbikiya. If you then turn left just before the Ukiyo-e Ōta Memorial Museum of Art, you'll find it there. The cafè is small and compact with just a wooden bench for about 3 people to sit on as well as a number of individual stools. The sunlight pours through into the shop, and because of its wooden interior, you can stay nice and warm. It's so relaxing there that you won't even see the time fly by.

Full Details:https://www.moshimoshi-nippon.jp/32960

Did you enjoy this list? If you're out in Harajuku and need a breather from the crowds, then please be sure find one of these hidden cafés and take some time to relax. And if you're not sure how to get to any of these places, then pop into the MOSHI MOSHI BOX and we'll help.
RELATED ENTRIES
Cheese Tea Shop machi machi Showcases Christmas 2020 Beverage

Taiwanese cheese tea shop machi machi is releasing a new drink in Japan this holiday season on December 1: the 'Flurry Strawberry Milk With Crème Brûlée.'

machi machi is an extremely popular cheese tea chain in Taiwan that has been called the 'king of cheese tea' by Taiwanese news outlets. Each and every cup poured is made fresh with tea from Taiwan to which rich cream cheese is added for a salty kick, creating a new kind of dessert drink.

Flurry Strawberry Milk With Crème Brûlée | ¥750 (Before Tax)


The new Christmas beverage being served in Japan uses fresh strawberries which adds a delightful sweetness to the milk. It's topped with crushed Oreos and combined with crème brûlée for a variety of layered flavours. The Oreos add crunch to the dessert drink so that it's a delicious experience down to the last sip.

If you've never had Taiwanese cheese tea, and are in Japan this Christmas, don't miss out on this seasonal drink, available for the whole month of December.

Information

Flurry Strawberry Milk With Crème Brûlée
Serving: December 1, 2020 – December 31, 2020
Available: machi machi stores in Japan
Official Website: https://machimachi.baycrews.co.jp

Japanese Koala's March Cookies Collaborates With Pokémon On Cheesecake Moomoo Milk Flavour

Koala's March is one of the many tasty treats made by Japanese confectionery company Lotte. They are bite-sized cookies with sweet fillings. Lotte is teaming up with Pokémon to release 48 Koala's March products with Pokémon prints on them.

Koala's March With Pokémon – Cheesecake Moomoo Milk Flavour

The crunchy biscuits feature a variety of Pokémon prints on them along with the Pokémon's names' in Japanese. They are filled with sweet cheesecake-flavoured chocolate. The collaboration is inspired by Moomoo Milk, an HP-restoring medicine seen in Pokémon. Together with the original Koala's March prints, there are a total of 96 individual designs to find.

A proper tasty snack for any Pokémon Trainer out there!

©LOTTE/Koala's March Project

©Nintendo・Creatures・GAME FREAK・TV Tokyo・ShoPro・JR Kikaku ©Pokémon

Strawberry Shortcake Crepe Arrive For Christmas 2020 at gelato pique cafe

gelato pique cafe in Japan is celebrating the holiday season with a series of 'WHITE CHRISTMAS' themed crepes and soft serve ice creams until December 27.

The cafe is a branch of the loungewear brand gelato pique. It aims to create desserts for adults. This Christmas, it is serving up some holiday special crepes and ice creams.

Strawberry Shortcake Crepe | ¥880 (Before Tax)

A fat crepe stuffed with strawberries and adorned in a way that's just like a shortcake. It contains not only strawberries, but raspberries, and cream. The whole wheat biscuit adds texture to the crepe so it's delicious to the last bite.

Pique Bear Crepe | ¥1,180 (Before Tax) *Limited quantity served each day


A snowy, all-white crepe made with sweet strawberries, milk gelato, and whole wheat biscuit. It's topped with a cute white chocolate bear.

Holiday Special Soft Creams – From Left: Strawberry Custard, Rich Milk, Mix | ¥450 Each (Before Tax)

The strawberry custard ice cream is made with smooth, sweet, and rich custard cream and strawberry for a melt-in-the-mouth combination. The rich milk ice cream is a mix of refreshing milk and rich vanilla. The mix option combines both of these flavours which results in a real mouth-watering treat.

If you're in Japan this holiday season, don't miss out on these delightful desserts.

Information

WHITE CHRISTMAS
Running: November 16, 2020 – December 27, 2020
Gelato pique cafe Official site:https://pique-cafe.com/
*The Gotemba Premium Outlets branch of gelato pique cafe is only selling the Strawberry Custard Cream Soft Cream
*The Tamagawa Takashimaya S.C. branch is not selling soft creams

Egyptian God Anime Series Tototsu ni Egypt Kami Announces December 7 Broadcast

It has been announced that the first episode of Frontier Works's upcoming web anime series Tototsu Ni Egypt Kami ("Suddenly, Egyptian Gods") will be posted on December 7, 2020 at 12:00pm (JST).

New promotional video released alongside air date announcement

Check out the newest PV release for the series which introduces each of the main characters.

Web Anime "Tototsu Ni Egypt Kami" PV Long Version


Get a free postcard in Japan

To promote the series, Japanese anime goods chain Animate is holding a campaign where for every ¥1,000 spent on Tototsu Ni Egypt Kami merchandise at Animate stores in Japan customers will receive one of 13 postcards.

Running: December 19, 2020 – January 17, 2021

Participating Stores: Animate / Animate Online / Shosen Grande / Horindo Takadanobaba

AMOCAFE Ikebukuro is also celebrating the release of the anime series by serving up a themed menu as well as selling exclusive merchandise.

Running: November 25, 2020 – December 9, 2020

Location: AMOCAFE Ikebukuro, 1-31-6 Higashi-Ikebukuro, Toshima-ku, Tokyo

Opening Hours: 11:00-19:45 (Reservation Only)

Official Website: https://amocafe-reserve.jp/to_to2ni_cafe/

Who would have thought that the Egyptian gods could be kawaii? Well, that's exactly what they've become in Tototsu Ni Egypt Kami, a series set in Ancient Egypt where the Egyptian deities, like Anubis, Thoth, Bastet, and Ra live laid-back and relaxed lives. The series is adapted from a popular line of character mascots of the same name.

©yuka/とーとつにエジプト神プロジェクト

Information

Tototsu Ni Egypt Kami

Initial Broadcast: December 2020

Watch On: YouTube, GYAO!, Bandai Channel, FOD, ABEMA, d Anime Store, U-NEXT

Official Website: https://to-to2ni-anime.jp

Make Your Own Chocolate Pokémon Pies With Lotte's Confectionery DIY Kit

Japanese confectionery company Lotte is launching a new version of its popular Choco Pie dessert in collaboration with Pokémon.

Pokémon Trainers out there with sweet tooths are given an ordinary blank Choco Pie which they can decorate with the accompanying assorted chocolates, nuts, and sweets to create their favourite Pokémon. They can create their own from their mind or follow the recipe provided.

Choco Pie Art with Pokémon will be released by Lotte in Japan on November 24, 2020.

©Nintendo・Creatures・GAME FREAK・TV Tokyo・ShoPro・JR Kikaku ©Pokémon

Luxurious Christmas Desserts Whipped Up at Ginza's SHISEIDO PARLOUR SALON DE CAFE

SHISEIDO PARLOUR SALON DE CAFE in Ginza, Tokyo, is serving up Christmas cheer this year in the form of a delightful selection of desserts from December 1 to 29.

Christmas Angel Parfait | ¥2,300 (Tax Included)

Made with super sweet Le Lectier pears and combined with assorted berries, this parfait is like a gift from the heavens.

Present From The Heavens w/ Drink | ¥2,500 (Tax Included)

A super cute Christmas assortment with a Christmas present made from white chocolate and berry yam, a snowman made from yuzu citrus-laced milk ice cream, and more.

Shiseido Parlour Story w/ Drink | ¥2,600 (Tax Included) *Served weekdays only

Ensemble Chocolate w/ Drink | ¥2,200 (tax Included)

A brownie made from a combination of Belgian, French, and Swiss chocolate surrounded by ganache, ice cream, and more, served with a spread of berry sauce.

Strawberry Parfait | ¥2,000 (Tax Included)

A simple but deliciously sweet parfait made with koiminori strawberries from Nagasaki. It's served with ice cream and sauce but only contains 10g sugar content.

Information

SHISEIDO PARLOUR SALON DE CAFÉ
Address: Tokyo Ginza Shiseido Building 3F, 8-8-3 Ginza, Chuo-ku, Tokyo

TEL: 03-5537-6231 (Reservations Not Required)

Opening Hours:

[Mon-Sat] 11:00-21:00 (Last Orders 20:30)

[Sun & Public Holidays] 11:00-20:00 (Last Orders 19:30)

Closed: Mondays (Except Public Holidays) / New Year Holidays

Official Website: https://parlour.shiseido.co.jp/

Pikachu Caramel Frappes Zap Their Way to Pikachu Sweets by Pokémon Cafe This Holiday Season

Pikachu Sweets by Pokémon Cafe in Ikebukuro, Tokyo, is adding the new "Caramel Pika Pika Frappe" to its menu this holiday season from December 5, 2020 to January 15, 2021.

Caramel Pika Pika Frappe | ¥700 (Before Tax)

The adorable beverage is based on the Japanese custard pudding known as purin. It's laced with caramel sauce, closed off with a squirt of whipped cream, and finished with a sprinkling of chocolate chips for accent.

Pikachu Sleeves

The drink also comes with one of four possible Pikachu sleeves which feature designs in promotion of the upcoming animated film Pokémon the Movie: Secrets of the Jungle (also known as Pokémon the Movie: Coco) which will be released in Japan on December 25, 2020 and in the US in 2021.

© 2020 Pokémon.©1995-2020 Nintendo/Creatures Inc./GAME FREAK inc.
Pokémon, ポケットモンスター, and ポケモン are registered trademarks of Nintendo, Creatures Inc., and GAME FREAK inc.
© Nintendo・Creatures・GAME FREAK・TV Tokyo・ShoPro・JR Kikaku
© Pokémon © 2020 Pikachu Project

McDonald's Luxurious Chocolate Frappes in Collaboration With GODIVA Are Mouth-Watering

McDonald's Japan has revealed two new beverages which will be sold at McCafé by Barista branches of McDonald's from November 25: the "GODIVA Chocolate Espresso Frappe & Macaron" and the "GODIVA Chocolate Espresso Frappe."

This is McCafé by Barista's first collaboration with the Turkish chocolate company GODIVA. The drinks were made under the supervision of Yannick Chevolleau, an executive chef and chocolatier pâtissier at GODIVA, bringing together a match made in heaven of rich chocolate and espresso.

GODIVA Chocolate Espresso Frappe – Regular Size (¥540)

The beverage contains a dark chocolate sauce which combines cacao powder and roasted cacao beans which is mixed together with fragrant espresso and milk before being topped with whipped cream drizzled in a couverture chocolate sauce made from 54% Belgian chocolate.

GODIVA Chocolate Espresso Frappe & Macaron – Regular Size (¥540)

You can also get it topped with a vanilla-flavoured macaron which adds sweetness to the rich beverage and looks even more Instagram-worthy.

Information

GODIVA Chocolate Espresso Frappe & Macaron
GODIVA Chocolate Espresso Frappe
Serving: November 25, 2020 – Mid January 2021 (subject to change)
Available: At McCafé by Barista branches of McDonald's in Japan

Mickey & Friends Disney Christmas Cupcakes to be Released at Ginza Cozy Corner

Japanese confectionery company Ginza Cozy Corner is teaming up with Disney once again to release a new Christmas collection of cupcakes on December 1.

Colourful Disney treats for the holiday season

This sweet seasonal collection is inspired by Mickey & Friends and contains nine unique cupcakes which depict the characters getting ready for their Christmas party.

Disney Christmas Collection (Contains 9) | ¥2,500 (Before Tax)

Cupcakes include a Santa-hat wearing, chocolate ganache-filled Mickey cream cheese cake, a strawberry jam-filled Minnie mousse cake, a lemon and mint cream-packed, Christmas decoration-adorned Donald tart, a banana and mint cream Pluto tart, an orange cream Goofy chocolate cake, and more.

The cakes are packed in a special Disney Christmas box which is sure to catch the attention of sweet tooths this holiday season, perfect for stay-at-home Christmas parties.

Information

Disney Christmas Collection
Running: December 1, 2020 – December 25, 2020

Ginza Cozy Corner Official Website: https://www.cozycorner.co.jp/

Starbucks Japan Reveals Matcha x Matcha White Chocolate Frappuccino®

Starbucks Coffee Japan has revealed that its second instalment of its limited-edition holiday season 2020 beverages will be the "Matcha x Matcha White Chocolate" and "Matcha x Matcha White Chocolate Frappuccino®" which customers can order from November 24. A new batch of festive Starbucks merch will also hit Japanese branches on November 30.

A harmonious fusion of matcha and sweet white chocolate

Matcha x Matcha White Chocolate Frappuccino® Tall ¥590 (Tall-size only)

Matcha x Matcha White Chocolate: Short ¥450 / Tall ¥490 / Grande ¥530 / Venti® ¥570 (Hot option only)

Matcha is one of Starbucks Japan's signature flavours and just to happens to have been in the spotlight in last year's holiday season drinks. This year sees marbling mixture of of rich matcha sauce and sweet white chocolate syrup with the Frappuccino®, finished with a squirt of whipped cream, brownie bits, and snowy powdered sugar. The hot version comes as a marriage of matcha and white mocha mixed together with steamed milk to warm the cockles of hearts during the cold months.

New holiday season merchandise

The theme of the second batch of merchandise is "Brilliant Season" which capture the bright and sparkly vibe of winter like with the snowflake-covered stainless steel bottle, a glass mug with beads in it that move around when shaken, a snow globe, and more. The perfect line-up for capturing the holiday season mood during your coffee break.

Starbucks Japan is currently serving the Berry x Berry No-Bake Cheesecake Frappuccino® and Berry x Berry White Mocha holiday season drinks for the holiday season until November 24 when they will be replaced by the Matcha x Matcha White Chocolate and Matcha x Matcha White Chocolate Frappuccino®. It is also serving the Starbucks® Christmas Blend, Gingerbread Latte, and Macadamia Toffee Latte until Christmas Day.

Information

Matcha x Matcha White Chocolate and Matcha

Matcha White Chocolate Frappuccino®

Running: November 1, 2020 – December 25, 2020

Available: Starbucks in Japan
Starbucks Japan Official Website: https://www.starbucks.co.jp/

Toy Story's Little Green Men and Lots-o' Get Turned Into Confections at Japanese Convenience Stores

Bandai's character-inspired Japanese confectionery series Tabemas has revealed that its next batch of sweet treats will be inspired by the Little Green Men and Lots-o'-Huggin' Bear from the popular Pixar movie franchise Toy Story. The confections will hit 7-Eleven convenience stores in Japan on November 21, 2020.


Tabemas Toy Story | ¥258 Each (Before Tax)

The lovable Little Green Men and Toy Story 3's main antagonist Lots-o have been fully recreated, down to the finest details, into delicious confections. The details are well crafted you can almost hear the aliens chanting "OOOOOH" in unison! The sweets are also made with a dough called "nerikiri" which is used in making traditional Japanese wagashi sweets.

The Little Green Men are matcha flavoured while Lots-o is strawberry flavoured. Both contain Japanese bean paste, and neither use artificial colourings. Their colours comes from the original ingredients. Each sweet is also only 100kcal making is a perfect quick treat.

'Tabemas' is an abbreviation of the Japanese words taberareru masukotto, meaning 'mascots that you can eat.' It is a Japanese confectionery series that combines well-known characters and Japanese sweets made from ingredients like red bean paste, sugar and rice flour.

©Disney/Pixar

Information

Tabemas Toy Story 25th Anniversary – Little Green Man & Lots-o'-Huggin' Bear
Release Date: November 21, 2020
Available: At the chilled sweets section of 7-Eleven convenience stores in Japan

*Available while supplies last

*Stock date may differ from branch to branch

*Select stores not participating

Official Website: https://www.bandai.co.jp/candy/tabemas/toystory/  

Christmas-Themed Afternoon Tea Set to Arrive at Hyatt Regency Tokyo

Hyatt Regency Tokyo's brasserie Vicky's is reopening on November 20, 2020. To celebrate Christmas, Vicky's is serving up an adorable afternoon tea set which contains Christmassy desserts and savoury snacks. The afternoon tea set will be available on weekends and national holidays from November 21 to December 27, 2020.

Christmas Afternoon Tea Set: ¥4,400 (After Tax)

Enjoy a festive afternoon tea set in Vicky's comforting brasserie. For the occasion, head dessert maker Hirokazu Satō has created a selection of delicious pastries which take the forms of adorable Christmas characters. Enjoy the creamy layers of the strawberry mousse snowman, indulge in the aromatic pistachio cream tart which looks like a Christmas tree, and sink your teeth into a strawberry and pistachio macaron which looks like Santa Claus. Tuck into the strawberry shortcake which looks just like a Christmas present to finish off your dessert plate.

Minoru Ōtaki is in charge of the savory treats of the Christmas afternoon tea. The menu includes pulled pork sandwiches, quiche lorraine, fried shrimp and more. The savoury snacks balance out the sweet desserts and add a moderately savoury touch to your experience. Customers are also invited to indulge in the wide variety of delightful drinks.

To celebrate the reopening of Vicky's, Ōtaki has created a special dinnertime tapas selection where you can indulge in the natural flavours of fresh ingredients.

This Christmas afternoon tea is a wonderful way to relax after work or even with your friends.

Information

Christmas Afternoon Tea Set
Running: November 21 ー December 27, 2020
Location: Vicky's Brasserie, Hyatt Regency Tokyo Floor 1
2 Chome-7-2 Nishishinjuku, Shinjuku City, Tokyo
Teatime: 13:00 – 17:00 (Last Orders: 16:00)
*Available on weekends and national holidays only

Phone Number: 03-3348-1234

Vicky's Brasserie Official Website: https://www.hyattregencytokyo.com/portals/0/vickys/