Narita International Airport Corportation are currently holding lots of different Japanese cultural events for tourists coming to Japan from overseas to embed a desire to return back again!
In April, they have set up an activity where you can make your own original herbarium bottle, and they will also hold a Children's Day doll exhibition among other things.
<Image>
Create Your Own Original Herbarium Bottle
Narita Airport are holding their first workshop to create an original herbarium bottle inspired by Japanese springtime. The plant will have a long life in the bottle so you can take it home with you as a souvenir.
*Herbarium Bottle: Decorative glass bottle with a plant inside soaked in silicone oil.
<Image>
Children's Day Doll Exhibition
In line with Children's Day on May 5th, the airport will showcase a display of dolls traditionally set up for the celebration. The dolls celebrate the life and healthy growth of children and normally wear armour and a helmet which is meant to protect children so they don't fall into disaster.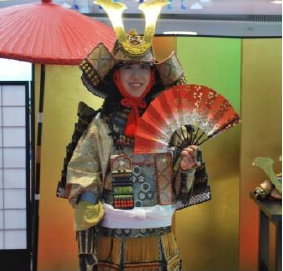 <Image>
Experience Japanese Culture Corner
At this popular corner, you can experience the culture of Japan at your own leisure, take commemorative photos and more. For April, you can dress up in armour and a helmet, kids can dress up like ninjas, there's a opportunity to have a hand at ukiyo-e printing, you can wear kimono, try calligraphy, make paper dolls, and create kites. This area is open every day for people leaving Japan.
If you're heading back via Narita Airport then be sure to stop by for a final chance to enjoy Japan. Then, of course, come back!