Naomi Watanabe Appointed Brand Ambassador of "Shu Uemura" Cosmetic Line
The vivacious and colourful Naomi Watanabe, whose career spans a wide selection from acting to comedy and fashion designing, has been appointed as a brand ambassador for Shu Uemura, a make-up artist brand that hailing from Tokyo.
Naomi Watanabe is an entertainer that thinks outside the box. She enjoys make-up and fashion freely in her own way and continues to promote positivity. She loves herself for who she is and cherishes her individual beauty. Her overwhelming performances also do not fit into a single mold. She brings new ideas to the table and breaks down stereotypes. All of this has garnered her much attention and she has captivated not only the people of Japan, but around the world. Through its future collaboration with Naomi Watanabe, Shu Uemura – which pursues the question of make-up that brings out the individual beauty of people with its free-thinking – wishes to further advocate the limitless possibilities of beauty that doesn't fit the standard.
For their first project, they have teamed up with French jewelry and accessory brand Yazbukey to create the Mattitude Collection, an evocative range of limited-edition lipsticks set to release on April 27. By wearing matte lipstick, they will draw out a girls' real qualities, which they theme as 'Sexy,' 'Lovely,' 'Funky' and 'Edgy.' Naomi Watanabe helped design these four looks. Putting on any one of these lipsticks will change a girl's appearance entirely.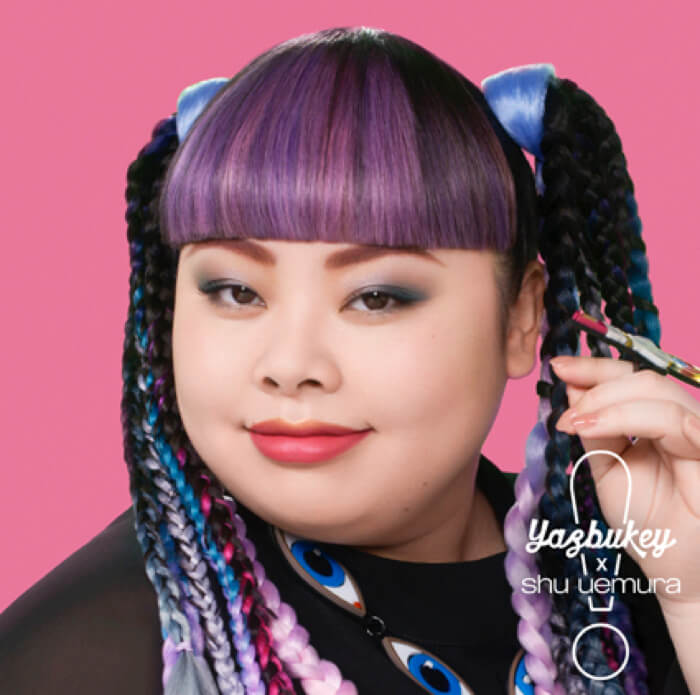 Naomi Watanabe Comment:
"Shu develops a wide selection of colours. Their passion for cosmetics really shows, so normally even I go and buy from them as a customer. They really have a lot of colour usages, so I'm always excited when I go to the shop. Like 'Hm, let's try combining this and this next.' To me, make-up is something that I can use to express myself by combining things together. I challenge myself to different combinations. I want to draw out an individuality ¬¬¬¬¬that suits me. So I want everyone to try lots of different make-up for themselves too!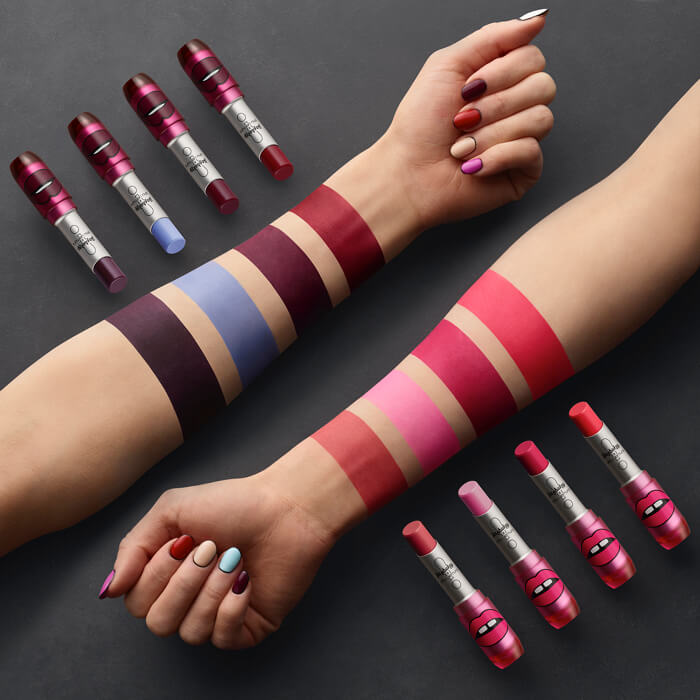 Make sure to check out Shu Uemura and Naomi Watanabe's collaboration!
RELATED ENTRIES
Hello Kitty and Cosmetics Company Shu Uemura Release Holiday Collection

Japanese cosmetics brand Shu Uemura is releasing two new holiday collections in collaboration with beloved Sanrio character Hello Kitty! The first collection, featuring twelve items, will go on sale on November 1, 2021, and the second collection, featuring four items, will be available on November 15, 2021. Only limited quantities will be available. Preorders are now available on the official online store. Certain products will also be available at Sanrioworld GINZA 1F starting October 30 to celebrate the new collaboration. 

Bold, edgy, and chic makeup looks

Rich Collection Lineup

1st Collection Lineup

Rock the Party Palette (6 limited-time colors/ 4 existing colors): ¥9,900 (Tax Included) 

Discogram Eye Palette (6 limited-time colors): ¥7,150 (Tax Included) 

Unlimited Disco Glitz Lipstick (2 limited-time colors): ¥4,070 (Tax Included) 

Unlimited Satin Lipstick (2 limited-time colors): ¥4,070 (Tax Included) 

Unlimited Lacquer Shine Lipstick (1 limited-time color/1 existing color): ¥3,740 (Tax Included)

Unlimited Cream Lipstick (2 limited-time colors): ¥4,180 (Tax Included) 

Ulim8∞Sublime Beauty Cleansing Oil (Limited-time packaging) 450ml: ¥12,650 (Tax Included) / 150ml: ¥5,060 (Tax Included)

Limited-Time Channel Goods

*Available only at the official online store and Global Flagship Beauty Boutiques

Unlimited Satin Lipstick VIP Auburn: ¥4,070 (Tax Included) 

Hard Formula 9 Seal Brown: ¥2,860 (Tax Included) 

Rock the Party Premium Makeup Box: ¥35,200 (Tax Included) 

Rock the Party Mini Lipstick Set: ¥7,150 (Tax Included) 

*Available only at the official online store and Global Flagship Beauty Boutiques

The new collaborative collection is inspired by Tokyo nightlife and is perfect for creating both a glamorous rock 'n roll look or something more soft and sweet. A number of new shades of eyeshadow and lipstick appear in this holiday collection, so why not snag some of these high-quality goods before they're gone? 

© 2021 SANRIO CO., LTD. APPROVAL NO. L614617

Information

shu uemura x Hello Kitty 1st Collection

Limited-Time Release Starting November 1, 2021 / 12 Items Total

Preorders Begin October 15, 2021

2nd Collection

Limited-Time Release Starting November 15, 2021 / 4 Items Total

Preorders Begin November 8, 2021

Where to Buy: 

Shu Uemura Locations Nationwide and Online / Global Flagship Beauty Boutiques

Official Site: https://www.shuuemura.jp

Shu Uemura Releases Sustainable 'Mindfully Crafted in Japan' Collection

Japanese cosmetic brand Shu Uemura is set to release its new origami-inspired 'mindfully crafted in japan' collection on June 18, but presales opened on their online shop last Tuesday. The collection is a display of Japanese tradition and craftsmanship with sustainability at the core of its concept.

ultime8 ∞ sublime beauty cleansing oil (Limited Edition Design) | ¥12,650 (Tax Included)

hard formula hard 9 (seal brown 02) (Limited Edition Design) | ¥2,860 (Tax Included)

petal 55 foundation brush (Limited Edition Design) | ¥6,600 (Tax Included)

The collection focuses on three aspects of mindfulness with Japan as its focus: mindful of Japanese nature with locally and sustainably resourced ingredients, mindful of Japanese resources by taking only what is needed, and mindful of Japanese traditional craftsmanship by preserving traditions from the past.


Shu Uemura's Cleansing Oil is one of the brand's most notable sustainable products, preserving everything important about Japanese culture from its history to its natural environment. Using traditional methods passed down the ages, the product is made from plant-derived ingredients sourced sustainably, and the packaging is made from 100% recyclable plastic. The Cleansing Oil bottles were also added to Shu Uemura's new recycling program which began on May 5 which enables bottles to be reused.

Don't miss out on this special new collection by Shu Uemura.


Information

mindfully crafted in japan collection

Release Date: June 18, 2021

Available: shu tokyo makeup box

Address: B-SIDE 5-11-2 Jingumae, Shibuya, Tokyo, 150-0001

Pre-Sale: Online from June 1, 2021

Official Online Shop: https://www.shuuemura.jp

Shu Uemura Drops New Rouge Unlimited Iron Reds Collection

Japanese makeup artist brand Shu Uemura dropped its new limited-edition "rouge unlimited iron reds collection" on New Year's Day. Pre-sales for the  collection opened via the brand's online shop on Boxing Day.

Shu Uemura is inviting people to blast into 2021 with 13 powerful iron red lip shades. This includes 12 colours as part of the rouge unlimited iron reds collection (9 limited-edition, 3 existing) in three textures – Rouge Unlimited, Rouge Unlimited Matte, and Rouge Unlimited Lacquer Shine – and 2 colours of the Rouge Unlimited Liquid Matte (1 new, 1 existing).

Metallic colours designed for Asian skin

The rouge unlimited iron reds collection arrives in three textures as part of Shu Uemura's popular Rouge Unlimited series, from a vivid combination of reds and oranges to deep rusty browns. The colours have a sensual metallic sheen to them which gives them a complex appearance like that of a flame. The colour variation has been designed with Asian skin tones in mind to bring out their beauty.


Rouge Unlimited (3 Limited-Edition Colours/1 Existing) | ¥3,300 Each (Before Tax)

"Metallic" MET OR 555 / "Metallic" MET CR 355 / RD 163 / BR 788

Rouge Unlimited Matte (3 Limited-Edition Colours/1 Existing) | ¥3,300 Each (Before Tax)
"Metallic"  MET M RD 163 / "Metallic" MET M BR 786 / M RD 163 / M BR 786

Rouge Unlimited Lacquer Shine (3 Limited-Edition Colours/1 Existing) | ¥3,300 Each (Before Tax)
"Metallic" / M LS OR 570 / "Metallic" M LS OR 583 / LS RD 198 / LS BR 784

Eye-catching Liquid Rouge ignites


Rouge Unlimited Liquid Matte (1 Limited-Edition Colour/1 Existing) | ¥3,600 Each (Before Tax)
M RD 04 / M OR 01
A long-lasting liquid matte colour that's striking but doesn't run. It comes with a brush inspired by traditional Japanese writing brushes that makes it easy to fit and draw beautiful lip lines.

New Year Limited-Edition "Iron New Year Collection"


Released January 1, 2021

To celebrate the New Year, three of Shu Uemura's signature items have been dressed up in red and liquid gold. These iconic items capture the quality and craftsmanship of Japanese products and arrive in limited-edition packaging for the start of 2021.

Ultime 8 Sublime Beauty Cleansing Oil | ¥11,500 (Before Tax)

Hard Formula (Brown/Acorn) | ¥2,600 Each (Before Tax)

Petal 55 Foundation Brush | ¥6,000 (Before Tax)

Kate Spade New York x Naomi Watanabe Reveal Handbag Capsule Collection

Kate Spade New York is set to drop a limited-edition handbag collection in collaboration with their recently-appointed global ambassador Naomi Watanabe on November 25, 2020.

Naomi Watanabe is a Japanese comedian, actor, and fashion designer who is representing Kate Spade New York for 2020. Her collection with the brand is a celebration of women and loving life. It has a bright and positive face to it, making the Naomi Watanabe, who's career is centred on inspiring people with positivity, the perfect face of the collaboration.

<naomi watanabe x kate spade new york capsule collection> From Left: large tote in dark orchid ¥53,000 (H28 x W40 x D20cm), medium camera bag in deep umber ¥35,000 (H12 x W18 x D4cm), micro camera bag in pomegranate juice and dark orchid ¥15,000 (H8 x W11 x D4cm) (All pre-tax prices)

The capsule collection features three handbag styles branded with the iconic interlocking spade symbol.


The dark orchard tote bag is made from curled fur comes as a stylish over-sized pick.。

The medium and micro-sized camera bags come with a cross-body strap so can be conveniently carried hands-free. They come in two vivid colours, deep umber and pomegranate juice, which are fitting for the coming holiday season.

All three designs are fitted with special tags with Watanabe's sign printed on them.


Check out the promotional video for the collection.

Naomi Watanabe | Comment

"As soon as we did the shoot for the first campaign, I knew I wanted to continue this partnership with Kate Spade. Things kind of naturally went in that direction which led to this collaboration. I went on to talk about the collection with Nicola, and we both knew we wanted to incorporate colour and humour into it, as well as positivity about life. That's where this collection came from."

One Piece x Shu Uemura Makeup Collection is a Pirate Girl's Dream

The second instalment of the "Shu Uemura x One Piece Collection" finally launched on November 15. The collection was first announced back in September with the first instalment released on November 1.

The special collection is inspired by the brave and heroic Luffy and the Straw Hat Pirates from One Piece, one of Japan's biggest manga and anime franchises. The second instalment welcomes a new collection of highlighters, makeup brushes, and more for the holiday season.

Shu Uemura x One Piece Collection

Fearless Crew Highlighter Gold Feast / Fearless Crew Highlighter Romance Dawn (¥5,000 Each Before Tax)

Smooth, silky highlight powder to accentuate the face. Colours include shining gold which glistens like pearls and sun-basked peach. These highlighters capture the lively energy of Nami and Robin.

Fearless Crew Premium Brush Set (¥6,500 Before Tax) | Includes: Face Brush, Cheek Brush, Eyeshadow Brush, and Eyebrow Brush

The high quality mini brush set includes a face brush, cheek brush, eyeshadow brush, and eyebrow brush. Their small sizes makes them conveniently portable for the party season. They come in a marine blue bag with the Straw Hat Pirates on the front of it.

Petal 55 Foundation Brush (¥6,000 Before Tax)

A high quality Shu Uemura brush with beautiful form and functionality crafted by the brand's makeup artists. Their foundation brushes are very popular for layering the perfect base makeup.

Wanted Gold Eyelash Curler (¥2,000 Before Tax)

Add some volume to those lashes with this golden pair of curlers equipped with a One Piece skull charm.

©Eiichiro Oda/Shueisha, Toei Animation

One Piece x Shu Uemura Collaborate On Colourful New Makeup Collection

Japanese makeup artist brand Shu Uemura's highly-anticipated holiday collection is here. The "Shu Uemura x One Piece Collection" will launch in two parts: the first on November 1 and the second on November 15.

The special collection is inspired by the brave and heroic Luffy and the Straw Hat Pirates from One Piece, one of Japan's biggest manga and anime franchises.

The first part of the collection launching on November 1 welcomes Shu Uemura's popular vivid eyeshadows and iconic lipsticks from the Rouge Unlimited collection while the second part is made up of a variety of face colours, accessories, and more, made specially for the holiday season. Pre-orders for both parts will launch via Shu Uemura's website and select online stores in Japan on October 15, 2020.

Shu Uemura x One Piece Collection

Bright colours and textures inspired by the marine blue ocean, the beaming sun, and treasure—all elements that scream the adventures of One Piece. Shu Uemura invites people to join Luffy on that adventure with this new collection.

Part One

Wanted Treasure Box Eye Palette Grand Line / Wanted Treasure Box Eye Palette Thousand Sunny | ¥8,500 Each (Before Tax)

The Wanted Treasure Box Eye Palette Grand Line comes in a treasure chest-like eye palette case and boasts ten gorgeous colours, which includes numerous new colours and textures like Crushed Stone, Deep Matte, Antique Metal, and Warm Pearl. Inspired by the Grand Line ocean current in One Piece.

Rouge Unlimited Amplified / Rouge Unlimited Amplified Matte / Rouge Unlimited Matte / Rouge Unlimited Amplified Lacquer Shine | ¥3,300 Each (Before Tax) *Includes 9 colours

Each colour is based on one of the special moves performed by characters in One Piece. The colour arrangement is diverse, ranging from colours to make a statement to more casual ones. Wield the power of the Straw Hats wherever you go.

Part Two

Fearless Crew High Rider Gold First / Fearless Crew High Rider Romance Dawn | ¥5,000 (Before Tax)

Smooth, silky highlight powder to accentuate the face. Colours include shining gold which glistens like pearls and sun-basked peach.

Fearless Crew Premium Brush Set | ¥6,500 (Before Tax)

The high quality mini brush set includes a face brush, cheek brush, eyeshadow brush, and eyebrow brush.

©Eiichiro Oda/Shueisha, Toei Animation

Naomi Watanabe Appointed Shu Uemura Ambassador For Launch of 'Rouge Amplified Unlimited' Lipstick

Japanese makeup artist brand Shu Uemura has invited Naomi Watanabe on board as the global ambassador for the launch of the new colour and packaging for their "Rouge Unlimited Amplified" lipstick which will hit shelves on September 16, 2020.

Rouge Unlimited Amplified looks to amplify the user's lip experience with its bold colours. The collection will see a range of updated colours and packaging, including the brown "BR 784 Naomi's redwood."

In the promotion for the lipstick, Naomi Watanabe has donned the "Rouge Unlimited Amplified Matte AM BR 784."

Naomi Watanabe | Comment

"This is a really beautiful colour and gives you a personalised look that you don't see with other lipsticks. You can use it pretty much anywhere, whether at the office or at a party. As long as you wield this lipstick, you can go anywhere, and do anything."

Naomi Watanabe is a fashion icon in Japan, promoting positivity and letting people know they can wear whatever makeup and clothing they like. Her message ties in with Shu Uemura's core concept of individual beauty.

Rouge Unlimited Amplified Matte AM BR 784

The "BR 784 Naomi's redwood" was specially developed to bring out the tones in the skin of those in Asia. It's a tailor-made brown inspired by reddish-brown, a popular colour trend. Adding a reddish tinge makes it contrast well against the skin and makes it possible to wear it on any occasion. The brown hue adds a sense of sophistication and balances out the red, so you can wear it both casually and formally. Four different textures of the "BR 784" are available to purchase.

Naomi Watanabe Posts Parody Music Video of 'Rain on Me' by Lady Gaga and Ariana Grande

Japanese comedian Naomi Watanabe uploaded a music video parody of Lady Gaga and Ariana Grande's song Rain on Me. The original song was released on May 22, 2020 and features on Gaga's latest studio album Chromatica. It went on to reach No. 1 on weekly charts across the globe, and its music video has over 160 million views on YouTube (as of July 2020).

Lady Gaga "Rain On Me with Ariana Grande" Official Parody

Naomi Watanabe explained that she felt incredible power from Lady Gaga and Ariana Grande when Rain on Me dropped back in May. She described the "motherly presence [of Gaga] that greatly envelops me." In the parody music video, Watanabe plays the part of Lady Gaga while comedian Yuriyan Retriever takes up the role of Ariana Grande.

The music video was shot after the state of emergency was lifted in Japan. It was directed by Daisuke Ninomiya, who has worked on many music videos for many big artists in Japan such as Daichi Miura and Sandaime J Soul Brothers. It was shot in collaboration with makeup artists, stylists, and manicurists who are close with Watanabe. The music video plays up Watanabe's iconic comedy while still managing to be as thrilling as the original music video.

Speaking about the music video, Naomi Watanabe said: "I thought it would be amusing to shoot this video as close as possible to the original, and because I like parodies, so we really went all-out with the little details."

The music video parody received praise from Lady Gaga's production team for its quality. It currently has 2.5 million views on YouTube (as of July 2020). Check it out and be sure to compare it with the original.

Shu Uemura to Release 100 New Pressed Eye Shadow Colours

Shu Uemura has revamped its Pressed Eyeshadow collection and is releasing 100 colours on June 19, 2020.

6 textures add further shape and depth to Asian eyes

Six textures have been developed for the 100 different colours specifically to further elevate the beauty of the eyes of Asian people. The combinations are diverse, allowing buyers to find their own tailor-made colour.

Pressed Eye Shadow: ¥2,300 Each (Before Tax) *Refill

The gorgeous colours are made from pigments sourced in Japan. The colours are well compatible with the skin and leave you with beautiful eye makeup all day long. Pre-sales for the new eye shadows as well as eye shadow cases went live on Shu Uemura's official online shop on June 1.

Your 2020 Summer Makeup: The Shu Uemura x Onitsuka Tiger Collection


Beyond The Limit Eye Pallete: ¥8,500 (Before Tax)

The "Beyond The Limit" eye palette is a collection of summertime colours to energise your mood and give you a playful look this summer.

Deep, Blood Red Lipstick


Rouge Unlimited Matte M RD 163 Red Boost: ¥3,300 (Before Tax)

The product to look out for is the Rouge Unlimited Matte lipstick that glides smoothly onto your lips and lasts all day. This highly-pigmented lipstick adds dimension to your look.

In a time where many people are having to wear face masks right now, make your eyes stand out beautifully even more with Shu Uemura's new Pressed Eye Shadow line-up.

Information

Pressed Eye Shadow
Pre-Orders: June 12, 2020

Release Date: June 19, 2020

Official Website: http://www.shuuemura.jp

Onitsuka Tiger x Shu Uemura Announce Unisex Sneaker and Cosmetic Collaborations

Japanese fashion brand Onitsuka Tiger and professional makeup artist brand Shu Uemura have joined up to release a new pair of collaborative sneakers and line of cosmetic products.

Since their individual establishments, both Onitsuka Tiger and Shu Uemura have hailed as pioneering brands from Japan, cementing their names across the globe. Together, Onitsuka Tigerーa brand which fuses heritage and innovation around fashion and sports in their contemporary collectionsーand Shu Uemuraーa company which inspires the millennials to bring out their unique and inner beautyーhave collaborated to release a pair of sneakers as well as 11 cosmetic items.


The new sneakers by Onitsuka Tiger are a new model that take inspiration from the company's DELEGATION EX™ pair which released back in 1964 and were worn by Japanese sports players back then. Glossy enamel has been added to bring to mind cosmetics, and matte has been used to create smooth calves. Tokyo Red is used for the colouring. The mid soles have volume and are made with spongy FLYTEFOAM™ Propel, ensuring comfort. Both ends of the spare laces, which are also Tokyo Red, bear the brand logos. The overall design screams active and urban sporty.


Unisex Shoes – ¥17,000 (Before Tax)

Shu Uemura's new collection of 11 items is made up of five different cosmetic products which come in Onitsuka Tiger's iconic key colours: Tokyo Red, Energy Orange, Indigo Blue, and others. They also bear Onitsuka Tiger's stripes. The cosmetics elicit stylishness and an energetic mood.

The new Onitsuka Tiger shoes were released on May 1, 2020 at select stores and online shops both inside and outside Japan.

Naomi Watanabe Produces Second Cosmetic Collection With Shu Uemura

The second cosmetic collection produced by Naomi Watanabe for the Tokyo-based makeup brand Shu Uemura―called the "naomi for shu uemura collection"―will be released in limited supplies from July 20.

The collection includes two colours each of Shu Uemura's hugely popular satin lipsticks Rouge Unlimited and their velvety Rouge Unlimited Matte. It also includes two colours from their Glow On F which gently blends with the skin and change one's look in an instant. The blush is served in a limited edition custom case.

From a sublime colour that draws out the charm of a person tenfold to another trend colour that elevates the face to its peak, Watanabe produced each of these original colours from nothing and Shu Uemura manufactured them. This is also the first blush Watanabe has ever produced.

The collection comes as the long-awaited sequel to Uemura's first collaboration with Shu Uemura when she was appointed an ambassador of the brand. The line-up exhibits Watanabe's drive to keep on evolving and is an expression of herself today.

What Watanabe was focused on with this collection was ensuring each item easy to use and incorporate into looks while also making a range of exquisite colours you cannot get anywhere else. For example, the deep killer red colour "no.1" is laced with gold glitter to give a shimmering finish to those lips.

"unfollower" balances red and yellow with the saturation altered to create a unique orange that makes your lips the standout feature of your makeup. This colour is perfect when combined with summery eye makeup.

The blush serves to bring out your peak adult beauty in a super easy fashion. It's for those people who are able to create gorgeous eye makeup but aren't quite skilled at their cheeks yet. "amber sophistication" doesn't highlight your cheeks too much but gives just enough to leave you looking sophisticated and urban. "bellini innocence" gives your cheeks a pure look with its coral colour that blends into your skin with its slightly more sweeter-looking appearance.

Naomi Watanabe published a comment regarding her collection: "Hello, everyone! I'm Naomi Watanabe! This summer, I am collaborating with Shu Uemura again to release a section collection! I am super happy to say that we have been able to deliver you all a product that we have confidence in. I hope that through this collaboration with Shu Uemura we can help all those people who treasure each day have the confidence to live life their way. I also hope this lends a little support to your makeup potential. Let's all be happy and radiate this summer!!"

Information

naomi for shu uemura collection

Product Line-Up

"Rouge Unlimited" (2 Colours) – ¥3,200 Each (Before Tax)

"Rouge Unlimited Matte" (2 Colours) – ¥3,200 Each (Before Tax)

"Glow On F" (2 Colours) – ¥2,500 Each (Before Tax) *Can be refilled

"Custom Case II" – ¥700 (Before Tax)

*All products are limited edition colours and come in limited edition packaging

Exclusive Pre-Order: July 3, 2019

Pre-Sale: July 10, 2019

General Pre-Order: July 13, 2019

General Release Date: July 20, 2019

Bonus Item

"now me" Pouch
*Obtained by purchasing two or more items from the "naomi for shu uemura collection" priced at over ¥8,000.

*Limited availability

Full Details (Japanese): https://bit.ly/2Lqc3WC

Full Details Mobile Site (Japanese): https://bit.ly/2YlF7lH

Naomi Watanabe & James Corden Feature in SK-II's New Pitera Masterclass Video Series

Global skincare brand SK-II launched a new video series on YouTube on June 19 titled "Pitera™ Masterclass." Featuring comedian and fashion designer Naomi Watanabe, English actor, comedian and talk show host James Corden, multi award-winning American singer-songwriter John Legend and Chinese actress and SK-II ambassador Tang Wei, the series is the new edition to their first beauty entertainment series #BareSkinChat.

The first video is a trailer for the new series and showcases what's to come as the four of them work to uncover the secrets of Pitera™. The video also showcases the first ever SK-II original rap song entitled Oh Pitera™.

Pitera™ is a cosmetic award-winning facial treatment essence enjoyed for its ability to leave skin clear, radiant and glowing. The secret to how it's made and how it's able to make skin event with the deepest wrinkles smooth and beautiful has been kept under wraps since it was first released.

Speaking about the new video series, Naomi Watanaba comments: "It's a completely mystery that it was me who was placed amongst the other members [of the video series], but I'm extremely happy that I was able to convey the wonder of Pitera together with the most amazing time. It was fun. Everyone was really bright and cheery on set. Me and James are both comedians so we had that in common. We both got constantly carried away but I think that also helped us to better and more easily convey what's good about Pitera. John Legend's Oh Pitera was insatiable, it gave me chills. Look forward to seeing me challenging myself to have a conversation in English for the first time too."