Naomi Watanabe Appointed Brand Ambassador of "Shu Uemura" Cosmetic Line
The vivacious and colourful Naomi Watanabe, whose career spans a wide selection from acting to comedy and fashion designing, has been appointed as a brand ambassador for Shu Uemura, a make-up artist brand that hailing from Tokyo.
Naomi Watanabe is an entertainer that thinks outside the box. She enjoys make-up and fashion freely in her own way and continues to promote positivity. She loves herself for who she is and cherishes her individual beauty. Her overwhelming performances also do not fit into a single mold. She brings new ideas to the table and breaks down stereotypes. All of this has garnered her much attention and she has captivated not only the people of Japan, but around the world. Through its future collaboration with Naomi Watanabe, Shu Uemura – which pursues the question of make-up that brings out the individual beauty of people with its free-thinking – wishes to further advocate the limitless possibilities of beauty that doesn't fit the standard.
For their first project, they have teamed up with French jewelry and accessory brand Yazbukey to create the Mattitude Collection, an evocative range of limited-edition lipsticks set to release on April 27. By wearing matte lipstick, they will draw out a girls' real qualities, which they theme as 'Sexy,' 'Lovely,' 'Funky' and 'Edgy.' Naomi Watanabe helped design these four looks. Putting on any one of these lipsticks will change a girl's appearance entirely.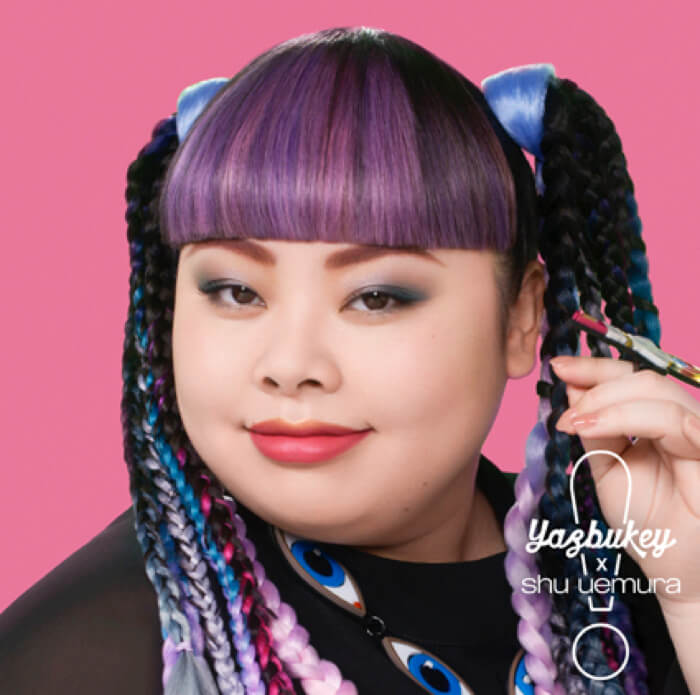 Naomi Watanabe Comment:
"Shu develops a wide selection of colours. Their passion for cosmetics really shows, so normally even I go and buy from them as a customer. They really have a lot of colour usages, so I'm always excited when I go to the shop. Like 'Hm, let's try combining this and this next.' To me, make-up is something that I can use to express myself by combining things together. I challenge myself to different combinations. I want to draw out an individuality ¬¬¬¬¬that suits me. So I want everyone to try lots of different make-up for themselves too!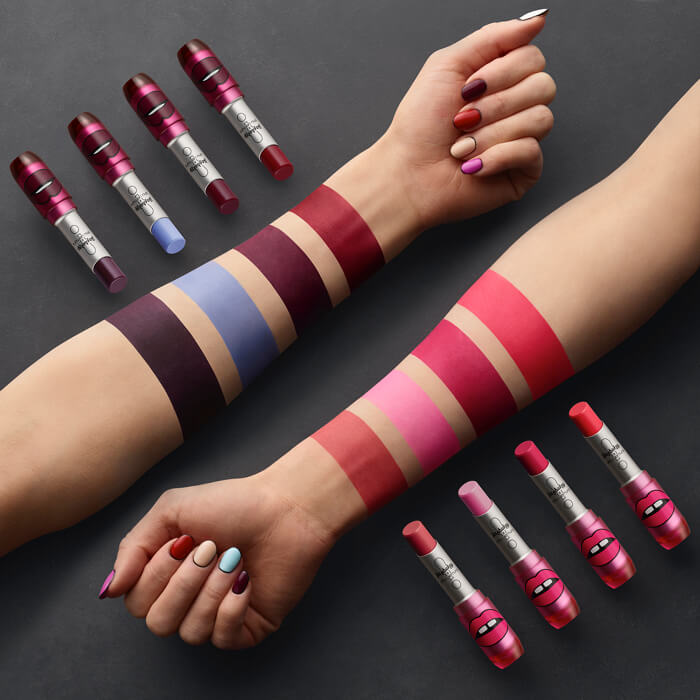 Make sure to check out Shu Uemura and Naomi Watanabe's collaboration!
RELATED ENTRIES
Kate Spade New York x Naomi Watanabe Reveal Handbag Capsule Collection

Kate Spade New York is set to drop a limited-edition handbag collection in collaboration with their recently-appointed global ambassador Naomi Watanabe on November 25, 2020.

Naomi Watanabe is a Japanese comedian, actor, and fashion designer who is representing Kate Spade New York for 2020. Her collection with the brand is a celebration of women and loving life. It has a bright and positive face to it, making the Naomi Watanabe, who's career is centred on inspiring people with positivity, the perfect face of the collaboration.

<naomi watanabe x kate spade new york capsule collection> From Left: large tote in dark orchid ¥53,000 (H28 x W40 x D20cm), medium camera bag in deep umber ¥35,000 (H12 x W18 x D4cm), micro camera bag in pomegranate juice and dark orchid ¥15,000 (H8 x W11 x D4cm) (All pre-tax prices)

The capsule collection features three handbag styles branded with the iconic interlocking spade symbol.


The dark orchard tote bag is made from curled fur comes as a stylish over-sized pick.。

The medium and micro-sized camera bags come with a cross-body strap so can be conveniently carried hands-free. They come in two vivid colours, deep umber and pomegranate juice, which are fitting for the coming holiday season.

All three designs are fitted with special tags with Watanabe's sign printed on them.


Check out the promotional video for the collection.

Naomi Watanabe | Comment

"As soon as we did the shoot for the first campaign, I knew I wanted to continue this partnership with Kate Spade. Things kind of naturally went in that direction which led to this collaboration. I went on to talk about the collection with Nicola, and we both knew we wanted to incorporate colour and humour into it, as well as positivity about life. That's where this collection came from."

One Piece x Shu Uemura Makeup Collection is a Pirate Girl's Dream

The second instalment of the "Shu Uemura x One Piece Collection" finally launched on November 15. The collection was first announced back in September with the first instalment released on November 1.

The special collection is inspired by the brave and heroic Luffy and the Straw Hat Pirates from One Piece, one of Japan's biggest manga and anime franchises. The second instalment welcomes a new collection of highlighters, makeup brushes, and more for the holiday season.

Shu Uemura x One Piece Collection

Fearless Crew Highlighter Gold Feast / Fearless Crew Highlighter Romance Dawn (¥5,000 Each Before Tax)

Smooth, silky highlight powder to accentuate the face. Colours include shining gold which glistens like pearls and sun-basked peach. These highlighters capture the lively energy of Nami and Robin.

Fearless Crew Premium Brush Set (¥6,500 Before Tax) | Includes: Face Brush, Cheek Brush, Eyeshadow Brush, and Eyebrow Brush

The high quality mini brush set includes a face brush, cheek brush, eyeshadow brush, and eyebrow brush. Their small sizes makes them conveniently portable for the party season. They come in a marine blue bag with the Straw Hat Pirates on the front of it.

Petal 55 Foundation Brush (¥6,000 Before Tax)

A high quality Shu Uemura brush with beautiful form and functionality crafted by the brand's makeup artists. Their foundation brushes are very popular for layering the perfect base makeup.

Wanted Gold Eyelash Curler (¥2,000 Before Tax)

Add some volume to those lashes with this golden pair of curlers equipped with a One Piece skull charm.

©Eiichiro Oda/Shueisha, Toei Animation

One Piece x Shu Uemura Collaborate On Colourful New Makeup Collection

Japanese makeup artist brand Shu Uemura's highly-anticipated holiday collection is here. The "Shu Uemura x One Piece Collection" will launch in two parts: the first on November 1 and the second on November 15.

The special collection is inspired by the brave and heroic Luffy and the Straw Hat Pirates from One Piece, one of Japan's biggest manga and anime franchises.

The first part of the collection launching on November 1 welcomes Shu Uemura's popular vivid eyeshadows and iconic lipsticks from the Rouge Unlimited collection while the second part is made up of a variety of face colours, accessories, and more, made specially for the holiday season. Pre-orders for both parts will launch via Shu Uemura's website and select online stores in Japan on October 15, 2020.

Shu Uemura x One Piece Collection

Bright colours and textures inspired by the marine blue ocean, the beaming sun, and treasure—all elements that scream the adventures of One Piece. Shu Uemura invites people to join Luffy on that adventure with this new collection.

Part One

Wanted Treasure Box Eye Palette Grand Line / Wanted Treasure Box Eye Palette Thousand Sunny | ¥8,500 Each (Before Tax)

The Wanted Treasure Box Eye Palette Grand Line comes in a treasure chest-like eye palette case and boasts ten gorgeous colours, which includes numerous new colours and textures like Crushed Stone, Deep Matte, Antique Metal, and Warm Pearl. Inspired by the Grand Line ocean current in One Piece.

Rouge Unlimited Amplified / Rouge Unlimited Amplified Matte / Rouge Unlimited Matte / Rouge Unlimited Amplified Lacquer Shine | ¥3,300 Each (Before Tax) *Includes 9 colours

Each colour is based on one of the special moves performed by characters in One Piece. The colour arrangement is diverse, ranging from colours to make a statement to more casual ones. Wield the power of the Straw Hats wherever you go.

Part Two

Fearless Crew High Rider Gold First / Fearless Crew High Rider Romance Dawn | ¥5,000 (Before Tax)

Smooth, silky highlight powder to accentuate the face. Colours include shining gold which glistens like pearls and sun-basked peach.

Fearless Crew Premium Brush Set | ¥6,500 (Before Tax)

The high quality mini brush set includes a face brush, cheek brush, eyeshadow brush, and eyebrow brush.

©Eiichiro Oda/Shueisha, Toei Animation

Naomi Watanabe Appointed Shu Uemura Ambassador For Launch of 'Rouge Amplified Unlimited' Lipstick

Japanese makeup artist brand Shu Uemura has invited Naomi Watanabe on board as the global ambassador for the launch of the new colour and packaging for their "Rouge Unlimited Amplified" lipstick which will hit shelves on September 16, 2020.

Rouge Unlimited Amplified looks to amplify the user's lip experience with its bold colours. The collection will see a range of updated colours and packaging, including the brown "BR 784 Naomi's redwood."

In the promotion for the lipstick, Naomi Watanabe has donned the "Rouge Unlimited Amplified Matte AM BR 784."

Naomi Watanabe | Comment

"This is a really beautiful colour and gives you a personalised look that you don't see with other lipsticks. You can use it pretty much anywhere, whether at the office or at a party. As long as you wield this lipstick, you can go anywhere, and do anything."

Naomi Watanabe is a fashion icon in Japan, promoting positivity and letting people know they can wear whatever makeup and clothing they like. Her message ties in with Shu Uemura's core concept of individual beauty.

Rouge Unlimited Amplified Matte AM BR 784

The "BR 784 Naomi's redwood" was specially developed to bring out the tones in the skin of those in Asia. It's a tailor-made brown inspired by reddish-brown, a popular colour trend. Adding a reddish tinge makes it contrast well against the skin and makes it possible to wear it on any occasion. The brown hue adds a sense of sophistication and balances out the red, so you can wear it both casually and formally. Four different textures of the "BR 784" are available to purchase.

Naomi Watanabe Posts Parody Music Video of 'Rain on Me' by Lady Gaga and Ariana Grande

Japanese comedian Naomi Watanabe uploaded a music video parody of Lady Gaga and Ariana Grande's song Rain on Me. The original song was released on May 22, 2020 and features on Gaga's latest studio album Chromatica. It went on to reach No. 1 on weekly charts across the globe, and its music video has over 160 million views on YouTube (as of July 2020).

Lady Gaga "Rain On Me with Ariana Grande" Official Parody

Naomi Watanabe explained that she felt incredible power from Lady Gaga and Ariana Grande when Rain on Me dropped back in May. She described the "motherly presence [of Gaga] that greatly envelops me." In the parody music video, Watanabe plays the part of Lady Gaga while comedian Yuriyan Retriever takes up the role of Ariana Grande.

The music video was shot after the state of emergency was lifted in Japan. It was directed by Daisuke Ninomiya, who has worked on many music videos for many big artists in Japan such as Daichi Miura and Sandaime J Soul Brothers. It was shot in collaboration with makeup artists, stylists, and manicurists who are close with Watanabe. The music video plays up Watanabe's iconic comedy while still managing to be as thrilling as the original music video.

Speaking about the music video, Naomi Watanabe said: "I thought it would be amusing to shoot this video as close as possible to the original, and because I like parodies, so we really went all-out with the little details."

The music video parody received praise from Lady Gaga's production team for its quality. It currently has 2.5 million views on YouTube (as of July 2020). Check it out and be sure to compare it with the original.

Shu Uemura to Release 100 New Pressed Eye Shadow Colours

Shu Uemura has revamped its Pressed Eyeshadow collection and is releasing 100 colours on June 19, 2020.

6 textures add further shape and depth to Asian eyes

Six textures have been developed for the 100 different colours specifically to further elevate the beauty of the eyes of Asian people. The combinations are diverse, allowing buyers to find their own tailor-made colour.

Pressed Eye Shadow: ¥2,300 Each (Before Tax) *Refill

The gorgeous colours are made from pigments sourced in Japan. The colours are well compatible with the skin and leave you with beautiful eye makeup all day long. Pre-sales for the new eye shadows as well as eye shadow cases went live on Shu Uemura's official online shop on June 1.

Your 2020 Summer Makeup: The Shu Uemura x Onitsuka Tiger Collection


Beyond The Limit Eye Pallete: ¥8,500 (Before Tax)

The "Beyond The Limit" eye palette is a collection of summertime colours to energise your mood and give you a playful look this summer.

Deep, Blood Red Lipstick


Rouge Unlimited Matte M RD 163 Red Boost: ¥3,300 (Before Tax)

The product to look out for is the Rouge Unlimited Matte lipstick that glides smoothly onto your lips and lasts all day. This highly-pigmented lipstick adds dimension to your look.

In a time where many people are having to wear face masks right now, make your eyes stand out beautifully even more with Shu Uemura's new Pressed Eye Shadow line-up.

Information

Pressed Eye Shadow
Pre-Orders: June 12, 2020

Release Date: June 19, 2020

Official Website: http://www.shuuemura.jp

Onitsuka Tiger x Shu Uemura Announce Unisex Sneaker and Cosmetic Collaborations

Japanese fashion brand Onitsuka Tiger and professional makeup artist brand Shu Uemura have joined up to release a new pair of collaborative sneakers and line of cosmetic products.

Since their individual establishments, both Onitsuka Tiger and Shu Uemura have hailed as pioneering brands from Japan, cementing their names across the globe. Together, Onitsuka Tigerーa brand which fuses heritage and innovation around fashion and sports in their contemporary collectionsーand Shu Uemuraーa company which inspires the millennials to bring out their unique and inner beautyーhave collaborated to release a pair of sneakers as well as 11 cosmetic items.


The new sneakers by Onitsuka Tiger are a new model that take inspiration from the company's DELEGATION EX™ pair which released back in 1964 and were worn by Japanese sports players back then. Glossy enamel has been added to bring to mind cosmetics, and matte has been used to create smooth calves. Tokyo Red is used for the colouring. The mid soles have volume and are made with spongy FLYTEFOAM™ Propel, ensuring comfort. Both ends of the spare laces, which are also Tokyo Red, bear the brand logos. The overall design screams active and urban sporty.


Unisex Shoes – ¥17,000 (Before Tax)

Shu Uemura's new collection of 11 items is made up of five different cosmetic products which come in Onitsuka Tiger's iconic key colours: Tokyo Red, Energy Orange, Indigo Blue, and others. They also bear Onitsuka Tiger's stripes. The cosmetics elicit stylishness and an energetic mood.

The new Onitsuka Tiger shoes were released on May 1, 2020 at select stores and online shops both inside and outside Japan.

Naomi Watanabe Produces Second Cosmetic Collection With Shu Uemura

The second cosmetic collection produced by Naomi Watanabe for the Tokyo-based makeup brand Shu Uemura―called the "naomi for shu uemura collection"―will be released in limited supplies from July 20.

The collection includes two colours each of Shu Uemura's hugely popular satin lipsticks Rouge Unlimited and their velvety Rouge Unlimited Matte. It also includes two colours from their Glow On F which gently blends with the skin and change one's look in an instant. The blush is served in a limited edition custom case.

From a sublime colour that draws out the charm of a person tenfold to another trend colour that elevates the face to its peak, Watanabe produced each of these original colours from nothing and Shu Uemura manufactured them. This is also the first blush Watanabe has ever produced.

The collection comes as the long-awaited sequel to Uemura's first collaboration with Shu Uemura when she was appointed an ambassador of the brand. The line-up exhibits Watanabe's drive to keep on evolving and is an expression of herself today.

What Watanabe was focused on with this collection was ensuring each item easy to use and incorporate into looks while also making a range of exquisite colours you cannot get anywhere else. For example, the deep killer red colour "no.1" is laced with gold glitter to give a shimmering finish to those lips.

"unfollower" balances red and yellow with the saturation altered to create a unique orange that makes your lips the standout feature of your makeup. This colour is perfect when combined with summery eye makeup.

The blush serves to bring out your peak adult beauty in a super easy fashion. It's for those people who are able to create gorgeous eye makeup but aren't quite skilled at their cheeks yet. "amber sophistication" doesn't highlight your cheeks too much but gives just enough to leave you looking sophisticated and urban. "bellini innocence" gives your cheeks a pure look with its coral colour that blends into your skin with its slightly more sweeter-looking appearance.

Naomi Watanabe published a comment regarding her collection: "Hello, everyone! I'm Naomi Watanabe! This summer, I am collaborating with Shu Uemura again to release a section collection! I am super happy to say that we have been able to deliver you all a product that we have confidence in. I hope that through this collaboration with Shu Uemura we can help all those people who treasure each day have the confidence to live life their way. I also hope this lends a little support to your makeup potential. Let's all be happy and radiate this summer!!"

Information

naomi for shu uemura collection

Product Line-Up

"Rouge Unlimited" (2 Colours) – ¥3,200 Each (Before Tax)

"Rouge Unlimited Matte" (2 Colours) – ¥3,200 Each (Before Tax)

"Glow On F" (2 Colours) – ¥2,500 Each (Before Tax) *Can be refilled

"Custom Case II" – ¥700 (Before Tax)

*All products are limited edition colours and come in limited edition packaging

Exclusive Pre-Order: July 3, 2019

Pre-Sale: July 10, 2019

General Pre-Order: July 13, 2019

General Release Date: July 20, 2019

Bonus Item

"now me" Pouch
*Obtained by purchasing two or more items from the "naomi for shu uemura collection" priced at over ¥8,000.

*Limited availability

Full Details (Japanese): https://bit.ly/2Lqc3WC

Full Details Mobile Site (Japanese): https://bit.ly/2YlF7lH

Naomi Watanabe & James Corden Feature in SK-II's New Pitera Masterclass Video Series

Global skincare brand SK-II launched a new video series on YouTube on June 19 titled "Pitera™ Masterclass." Featuring comedian and fashion designer Naomi Watanabe, English actor, comedian and talk show host James Corden, multi award-winning American singer-songwriter John Legend and Chinese actress and SK-II ambassador Tang Wei, the series is the new edition to their first beauty entertainment series #BareSkinChat.

The first video is a trailer for the new series and showcases what's to come as the four of them work to uncover the secrets of Pitera™. The video also showcases the first ever SK-II original rap song entitled Oh Pitera™.

Pitera™ is a cosmetic award-winning facial treatment essence enjoyed for its ability to leave skin clear, radiant and glowing. The secret to how it's made and how it's able to make skin event with the deepest wrinkles smooth and beautiful has been kept under wraps since it was first released.

Speaking about the new video series, Naomi Watanaba comments: "It's a completely mystery that it was me who was placed amongst the other members [of the video series], but I'm extremely happy that I was able to convey the wonder of Pitera together with the most amazing time. It was fun. Everyone was really bright and cheery on set. Me and James are both comedians so we had that in common. We both got constantly carried away but I think that also helped us to better and more easily convey what's good about Pitera. John Legend's Oh Pitera was insatiable, it gave me chills. Look forward to seeing me challenging myself to have a conversation in English for the first time too."

Help Me Choose! Japan's Trending Makeup #2: Yurippa's Repeat Cosmetic Pickups♡

This is my first ever series I've ever been put in charge of as a writer and model.

As long as you're stocked up on these items, you're good to go. In this special edition, I will showcase cosmetics that I'm a repeat buyer of and would definitely buy again.

▽Skincare

The first thing I should mention is my skin type.

・I have tough skin and so it doesn't blemish easily

・It becomes dull when I have lack of sleep

・With my combination skin, it's easy to spot oily areas (T Zone) and dry areas (around the eyes, U Zone)

Like this.

Using my knowledge of various cosmetics and methods I have tried I would like to showcase my recommendations. (Don't worry if you don't have the same skin type as me as some of the items I have picked can be used with other types too, so be sure to take a look.)

Finally, you'll be happy to know that these can be used during all seasons.

So, ready to give it a go?

▶︎Dior Capture Youth Series

Quickly and actively delays the appearance of signs of ageing. This series was created to retain youthful looking skin. There are six serums to choose from which cater to different skin conditions. Each can be used on their own or in combination with your own serum products. I've made a custom serum for myself by combining two different types.

1. Intense Rescue Oil (30ml) – ¥12,420 *Photo is my own. Price shown is as was on the day of purchase.

(Effective against dry skin and helps maintain moisture. Supplements lipids.)

2. Glow Booster (30ml) – ¥12,420 *Photo is my own. Price shown is as was on the day of purchase.

(Rich in Vitamin C. Leaves skin glowing and feeling invigorated.)

For face lotion, I use 3.Enzyme Solution. It has a refreshing water-like texture and leaves skin moist. Good to use on skin that favours serums in this series.

Enzyme Solution (150ml) – ¥7,452 *Photo is my own. Price shown is as was on the day of purchase.

For cream, I use 9.Capture Youth Creme. It doesn't remove the face lotion or the serum and doesn't feel sticky.

Capture Youth Age-Delay Advanced Creme (50ml) – ¥12,420 *Photo is my own. Price shown is as was on the day of purchase.

It's safe to say that after using this series, I don't even know what dry skin is anymore. It really is that effective!

▶︎FEMMUE

5. Lumière Vital C  (30ml) – ¥8,000 (Before Tax) *Photo is my own. Price shown is as was on the day of purchase.

6. Ideal Oil (30ml) – ¥6,000 (Before Tax) *Photo is my own. Price shown is as was on the day of purchase.

FEMMUE is a really popular brand right now from the hub of beauty, South Korea. Firstly, it's steeped in fragrance. It's rich in floral scents like perfume. Simply holding the bottles fills you with a feeling of satisfaction. It leaves your skin feeling clear, smooth and glowing. And though it's a thick oil, the skin absorbs it extremely well. 10/10 from me!

I might recommend it to girls who've just stepped into adulthood, girls who want to look sexy, and those who want to be popular! It's perfect for skin that blemishes easily.

▶︎dear mayuko

7. Innocent Skin Serum (20ml) – ¥8,424 *Photo is my own. Price shown is as was on the day of purchase.

This serum contains sericin which comes from silkworm cocoons. Sericin ensures your skin is moist and is gentle on the skin. Despite being a beauty product the texture of this serum is really silky (like water!) and will leave your skin soft and healthy.

Personally, I recommend using it as a booster serum! It's an easy way to nourish the skin before putting on any makeup. It will also help things like face lotions and milky lotions soak in better. The serum itself soaks into your skin nice and quickly so it won't ruin your makeup. Its warm matte texture and colour will leave you looking soft♡

▶︎Kiehls

4. Kiehl's Ultra Face Cream (49g) – ¥4,000 (Before Tax) *Photo is my own. Price shown is as was on the day of purchase.

This cream spreads lightly on the skin. It's also very clear to see that it lets no moisture escape…! That's how dense this cream is, it's like it adds a cover to your face. It also doesn't clear away face lotion or any beauty essences. It reaaally moisturises your skin. This is my 5th or 6th time buying it.

8. Kiehl's Ultra Face Cleanser – ¥2,800 (Before Tax) *Photo is my own. Price shown is as was on the day of purchase.

This can be used on any skin time. (It's also good for people with eyelash extensions!)

It's a gel-type cleanser. What's good about it being gel-type is that cleans off better than oil and yet doesn't take in unnecessary moisture from the skin. You also don't get that stretched feeling after you wash your face. This can really be used all season and by anyone. I haven't used any other cleansers the past three or four times. It's one I can trust.

▽Cosmetics

Be sure to check out my recommended lipsticks from last time too!

https://www.moshimoshi-nippon.jp/183569

▶︎CANMAKE

8. Quick Lash Curler (Transparent Type) – ¥680 (Before Tax) *Photo is my own. Price shown is as was on the day of purchase.

I often use this as a top coat. It makes it harder for your eyelashes to sag and can be used with any kind of mascara. You get a great product for a cheap price, so there's no need to feel guilty about picking up something cheap. You'll end up picking it up multiple times a day, and the cosmetic pouch one stick comes with is sure to come in handy too!

▶︎BIODERMA

2. Sensibio H2O – ¥1,200 (Before Tax) *Photo is my own. Price shown is as was on the day of purchase.

This is a cleansing water to be used with sensitive skin. Pour some onto a cotton pad and simply wipe to remove your makeup without any unwanted excess being left on. It's a super convenient product to have during those times when your makeup need a quick fix up. It's often used in makeup shoots too! They have both small and large bottles, so try starting from the handy mini size first ☺

▶︎M.A.C

1. Strobe Cream Peachlite – ¥4,500 (Before Tax) *Photo is my own. Price shown is as was on the day of purchase.

A glittery pink cream that feels comfortable on the skin. When used as a base for your makeup it will brighten your skin, or when used as a highlight it will glimmer in the light on your shiny skin. It might be nice to add to the décolleté or when you are exposing skin too to add a little something. This item has many different uses!

▶︎Primavista

3. Long Keep Base UV – ¥2,800 (Before Tax) *Photo is my own. Price shown is as was on the day of purchase.

This product can won't blemish skin at all even if it's been working all throughout the day. It goes on gently and soaks up quickly. This means it can be used when you don't have much time, such as when you're in a hurry in the morning. It feels so light it makes you wonder whether you've even put any on! It also holds up well against sweat and oil so I highly recommend it for the coming season! (It's been a No. 1 best seller for 9 years in a row.)

As a footnote, I'll just add that I'm actually a model for Primavista's products and I'm really glad I discovered them.

▶︎YSL

5. TOUCHE ÉCLAT BLUR PRIMER 1 – ¥6,300 (Before Tax) *Photo is my own. Price shown is as was on the day of purchase.

This is a makeup base that has gold pearls in it. It fixes the uneven parts of the skin to make it uniform making it perfect for foundation. It has a semi-matte consistency and the goal pearls give your skin a gorgeous gloss.

10. LE CUSHION ENCRE DE PEAU B30 – ¥7,500 (Before Tax) *Photo is my own. Price shown is as was on the day of purchase.

This is the covering power, moisturisation and texture I wanted! It feels very light on the face, so much so that it feels like you have none on, but it's the opposite of useless―it covers the face completely. As expected of them. It's easy to put on too, just pat it onto your face with a sponge. It's very durable too!

▶︎MIMURA

4. Smooth Skin Cover – ¥4,200 (Before Tax) *Photo is my own. Price shown is as was on the day of purchase.

This too is a makeup base and evens out the odds of your face. It's silky and makes you look extremely beautiful so it's the perfect accompaniment to makeup. It also thankfully contains SPF20 and PA++ and is free from ethanol, colouring agents and synthetic fragrances, making it kind to skin. I would also recommend it to people with weak skin. This is my second pot ♡

▶︎LANCOME

6. Grandiôse Mascara (Volume Type) BK – ¥4,200 (Before Tax)

The rose design of the cap is so cute! This is the No. 1 easiest product to coat. The shape of brush has been carefully calculated to curve with your eyelashes. It does nothing short of bolstering the volume of them. It has also received high praise for how easy it comes off with hot water. But it doesn't blot either. This one's for those who want to emphasise their gaze♡

▶︎CLINIQUE

7. Lash Power Mascara Long-Wearing Formula BK – ¥3,780

We can all relate to mascara becoming clumpy. This formula entwines with each eyelash hair to give big, beautiful eyes. It makes you feel good when applied. Though this is my third time buying it it never fails to make me say out loud to myself, "Wow, how beautiful." You don't have to worry about sweat or oil either, plus it comes off easily with hot water♡

▶︎MAYBELLINE

9. Hyper Sharp Liner BK – ¥1,200 (Before Tax) *Photo is my own. Price shown is as was on the day of purchase.

I have loved and used MAYBELLINE since I was a high school student. I've used many different eyeliners but always end up returning to the same place. The Hyper Sharp Liner is easy to draw with, doesn't smear, and the tip of the brush is thin and soft, so drawing on cat eyes is so much easier now. It's perfect! Get it ASAP!

What do you think of my list? The categories are a bit jumbled, but I have listed all the items I highly recommend.

A lot of the items I've presented are expensive, but even if they are pricey, the quality is good and the effects they have really work! I wonder if the reason for people in their teens and 20s focus so much on skin care is because they have seen the speed at which you can revitalise your skin, or have the power to 'rebirth' oneself.

My skin is changing entirely now compared to back when I thought it was okay to not take care of it. I want to make more recommendations to people at my age and invest in my future self.

Be sure to reference this last, and thank you for reading! Until next time ☺

Writer / Model  Yuri Suganuma
Photographer  / Hikari Shibata

Translator / Joshua Kitosi-Isanga

TALENT PROFILE

Yuri Suganuma

Yuri Suganuma is a model with a high fashion sense that has been picked up by various magazines. She receives much love and support from girls of the same generation as her to whom she is known by her nickname "Yurippa." She has a huge influence across her social media. Recently, she has stepped into other fields outside of modelling, such as appearing in TV shoots and in music videos. She is skilled in make-up and involved in the development of cosmetics.

Kasumi Arimura & Naomi Watanabe Go Makeup-Less in SK-II's #BareSkinChat Videos

Global skincare brand SK-Ⅱ released the next entries to their beauty and entertainment video series Bare Skin Chat on May 8.

The two new videos feature appearances from actress and SK-II ambassador Kasumi Arimura and popular comedian Naomi Watanabe. They continue where James Corden and Chloe Grace Moretz left off in Episode 5. In just two weeks of being posted Episodes 1-5 had already garnered over 40 million views online and 1.3 million reactions on social media.

Kasumi and Naomi were a duo that fans could never have imagined coming together. People reacted positively to their hilarious banter.

SK-II #BareSkinChat | Episode 6: Episode 6: Your Bathtub, May I?

In Episode 6, Naomi unveils to Kasumi the secret to beautiful skin: relaxing is a nice bubble bath while listening to classical music. While she's doing that Kasumi lets Naomi in on her own skin care routine which consists solely of using Facial Treatment Essence. Naomi soon learns that this simple routine is the true secret to soft skin by touching Kasumi's face over and over.

SK-II #BareSkinChat | Episode 7: #ASMR SHHHHH


In Episode 7, the duo try their hand at making an ASMR video by using Facial Treatment Essence.

Be sure to catch up with the series and check out the new episodes!

Comedians Naomi Watanabe and James Corden take part in SK-II new beauty video series!

Global skincare brand SK-Ⅱ will release the first episode of the new beauty entertainment series called "Suppin Suhada Talk" on 25th March. The official trailer was released on 20th March.

One of the participants in the talk series includes Naomi Watanabe, a famous Japanese comedian who is known is the "Japanese Beyoncé" and has also performed overseas. Another other is James Corden; the host from the American TV show "The Late Late Show", who is also famous for his carpool karaoke hosting. This will be  James' and Naomi's first ever time to take part in the video series! The two comedians will suddenly appear in the bathrooms of famous actresses Kasumi Arimura and Chloë Grace Moretz. Throughout the series, the viewers and comedians will then uncover beauty secrets from the actresses that everyone is dying to know.

From the other side of the closed door, one by one, the four participants burst into a charming or silly pose that they have never shown anyone before. With all their might, Arimura Takahashi and Chloe Moretz challenge themselves to everything from beatboxing to dancing to ASMR. They will also reveal their beauty secrets and try out the SK-II PiteraTM * Essence (facial treatment) which is "just like liquid foundation".

The first episode of the "Suppin Suhada Talk" series will be released worldwide on 25th March at the same time. After that, a new episode will be released every two weeks to form a sequel. Gradually, the secrets of beauty will be unravelled!

Statements from the participants:

Kasumi Arimura

For this series, I was given the role of explaining the amazing qualities of Pitera™ to Naomi Watanabe ー it's a pretty heavy role and before the shoot I was nervous thinking about it but after the shoot I felt completely different ー I was relaxed and really enjoyed myself! I was not sure how Watanabe would react during the shoot so I just acted natural and interacted with her in a fun way! I'll be very happy if everyone watching also feels just as enthusiastic about Pitera™!

Naomi Watanabe

This is a brand I have always adored, so when I first heard the news about being part of the series I was so happy. As a comedian, I had fun interacting with Arimura and incorporating comedy into the introduction of the product ー I think it is a very original idea and made the shoot really fun! Whilst being given the freedom to steer the show, I could really feel Arimura's enthusiasm to spread the news about Pitera™. It was fun and I learned a lot about SK- II. I say this in the video too but… I think this is something that a god would even purchases!

Chloë Grace Moretz

The video shoot was really fun and the set was overflowing with laughter. I'm pretty sure viewers at home will also be able to sense the fun. There are times when you don't want to be thinking too seriously about skincare but would rather just have fun!

James Corden

Me being associated with a skincare brand is nothing to be surprised about. I have always been a big fan. Nowadays, SK-II is essential to support my skin every morning and afternoon and evening.