Tokyo Stroll: Shopping & Sightseeing with Mozuku-kun the Dog #3 – Café Kitsuné, Minamiaoyama
In this featured series, dog lover and model Yuna Yabe heads out with her trusty partner Mozuku to visit hot spots that people and their dogs enjoy, while deepening her bond with him. In this article, the two of them stopped by Café Kitsuné during a morning stroll which is a coffee shop developed by French fashion brand Maison Kitsuné.
The time is 9am. Mozuku has a spring in his step as he walks the streets of Omotesando. The two companions cross the pedestrian crossing at Omotesando Crossing and gaze at the show windows of the high fashion brands. After walking a little, they arrive at Café Kitsuné.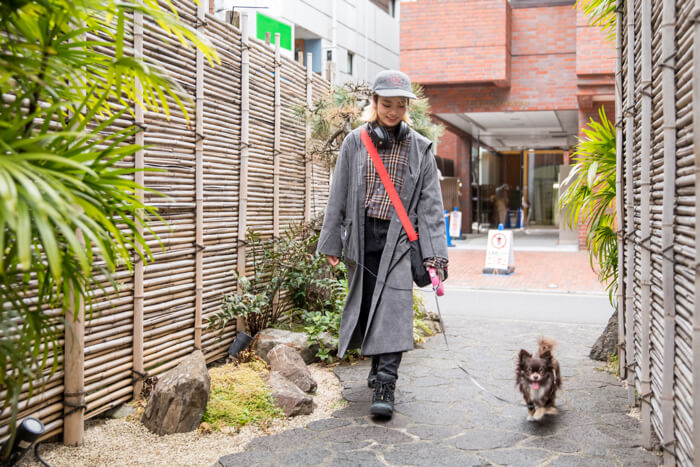 The entrance to Café Kitsuné has a traditional Japanese vibe to it, fenced in with bamboo. The café is designed as a Japanese teahouse from the perspective of a French person.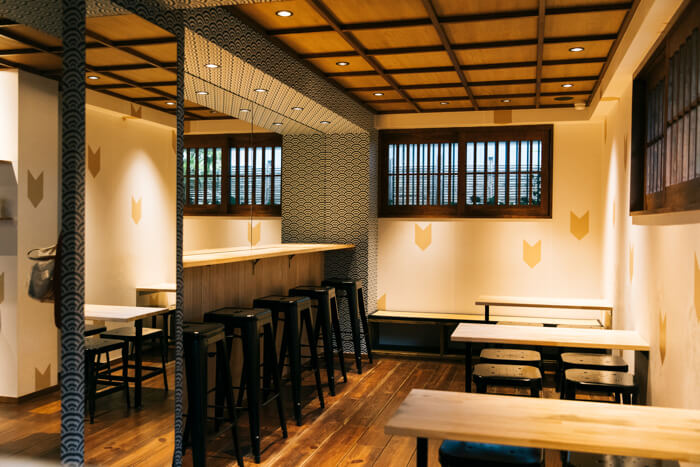 The ceilings are low. Do you know why? It's a bit off topic, but if you don't have a low posture in a Japanese tearoom you can't enter. There's a reason for this. It's because when entering a tearoom, everyone is expected to be equal.
When you enter Café Kitsuné, there's not much distance between people – you are close to them. That sense of relief might be the reason.
 The wallpaper has an arrow feather design known as yagasuri and a water design called seigaiha. Although it has a French pop feel to it, it's relaxing, perhaps due to the traditional Japanese base décor.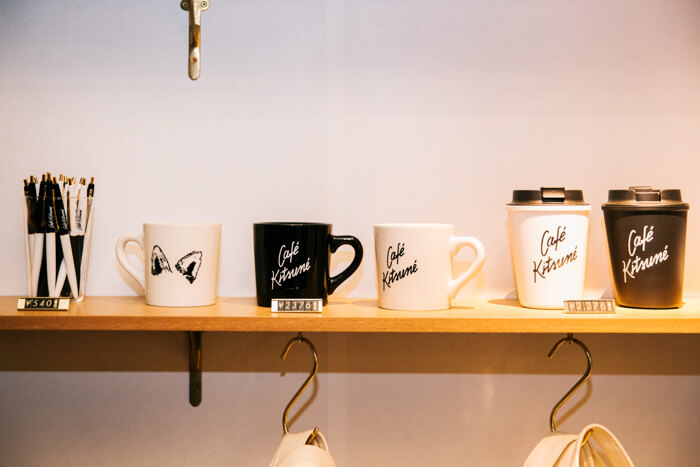 You can also purchase souvenirs at the café, including original mugs and stationery. Is that a dog ear on the side of the mug?! … No, it's a fox ear.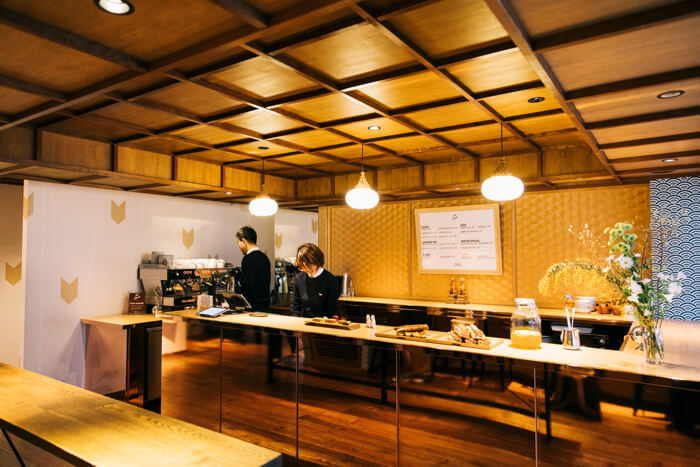 The barista was working quietly but nimbly at the sheet copper counter.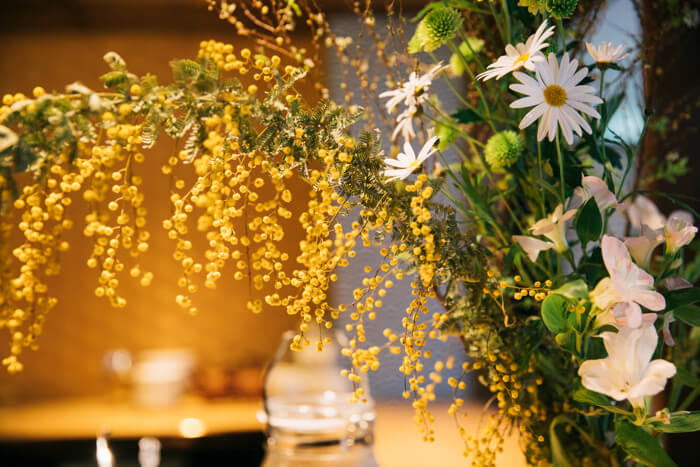 A vase was placed in the middle of the table. The flowers were arranged by the café staff and breathe seasonal life into the Japanese space.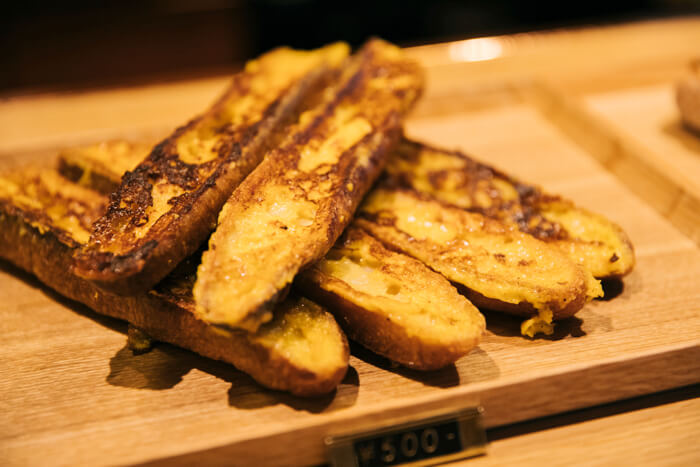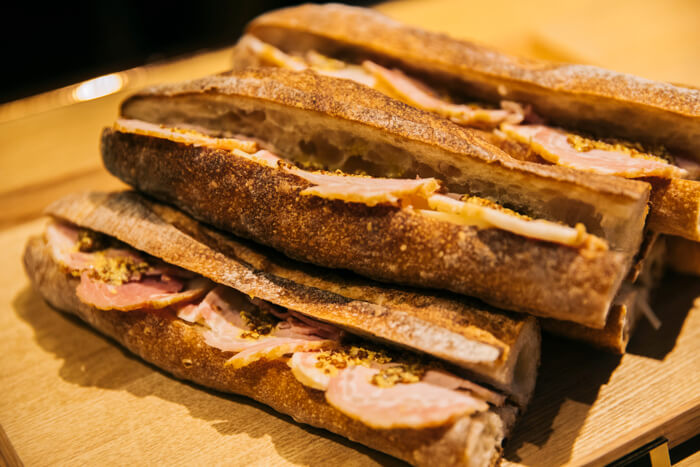 The menu includes things like French toast, a ham and cheese sandwich, pound cake and so on, all of which go perfect with coffee.
The espresso machine is a Marzocco Linea. It's a big machine with three portafilters. The taste of coffee changes depending on the day's temperature and level of humidity. To tackle that, the barista changes the quantity of beans each day to maintain the same taste of the coffee.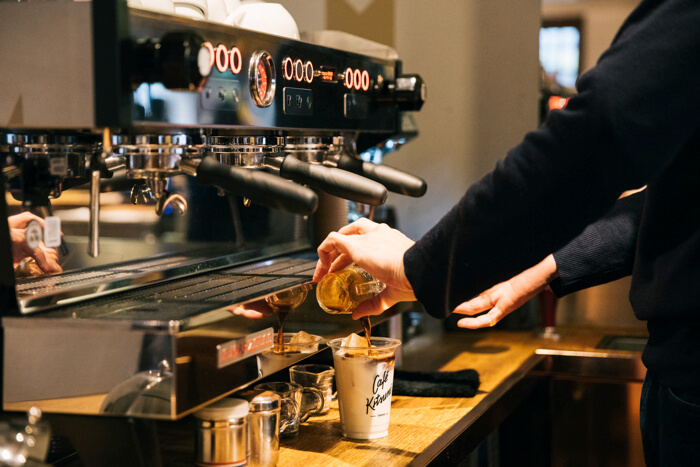 To convert the coffee into Maison Kitsuné's "New Classic" fashion theme, the espresso doesn't have that common acidic flavour to it. Instead, it's made with a classic taste and fragrance, making it stand out from the rest. The original blend coffee beans also has just a sweet touch of citrus fruits.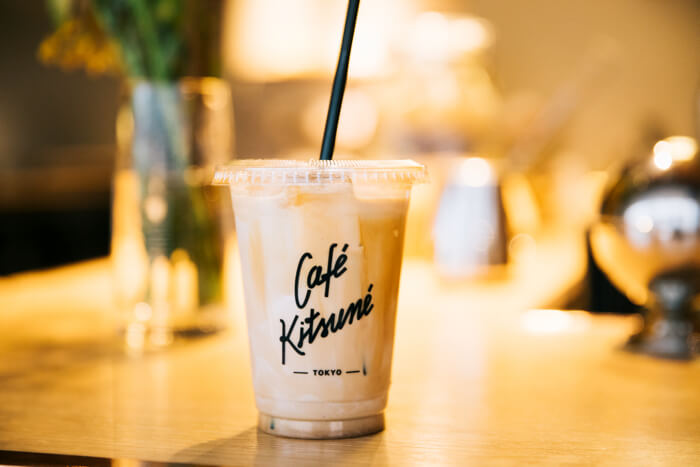 Yuna-chan ordered the iced latte (¥560). The sweetness of the coffee together with the milk was balanced perfectly. It had a mellow taste.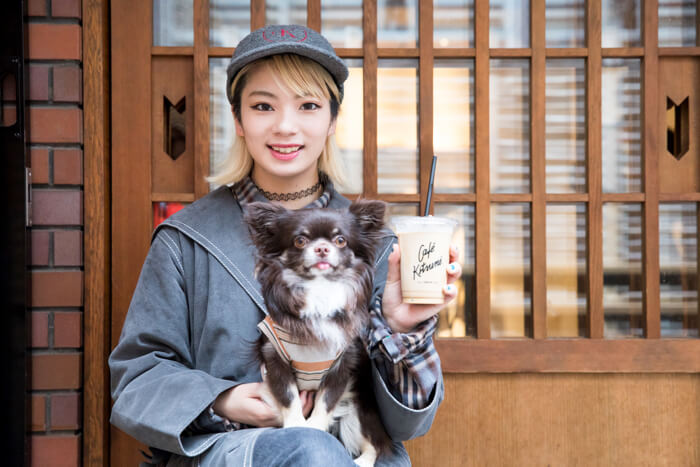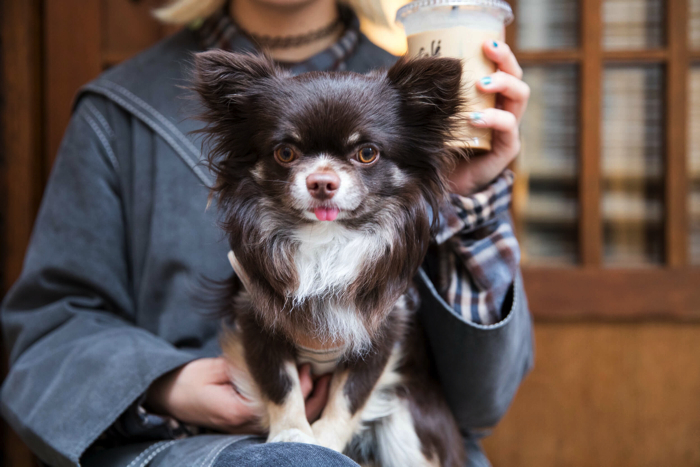 Dogs are allowed from the entrance all the way to the terrace. Here, Yuna popped Mozuku on her lap and enjoyed a short coffee break.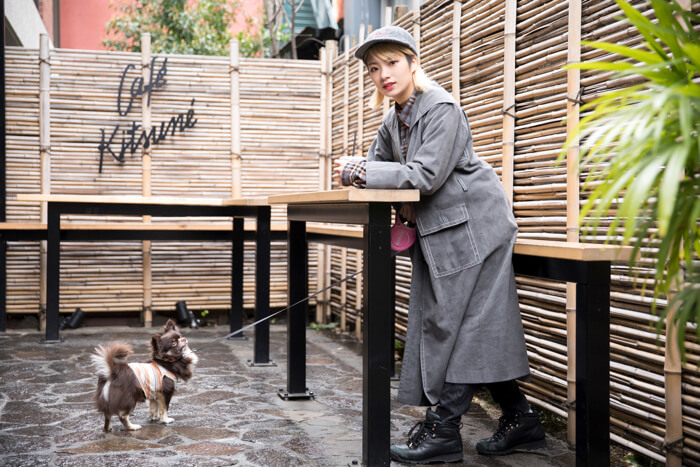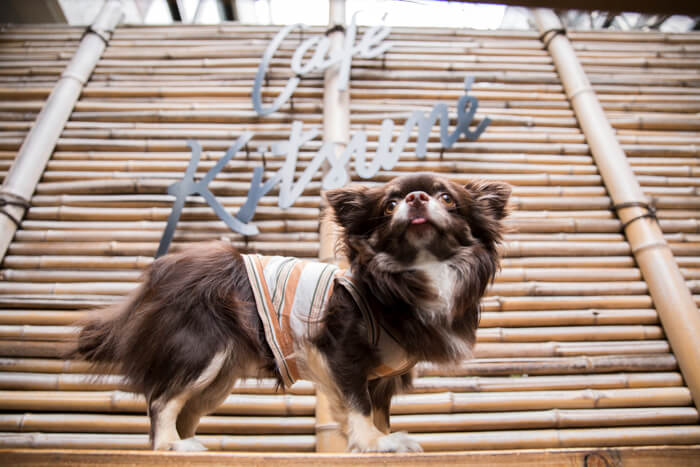 Mozuku climbed onto a terrace seat and stared at Yuna-chan sipping her iced latte. She had an expression on her face like she was immersed in the stylish, grown-up café.
This is the proper way to use an elegant café when taking a walk in the city. Enjoying stopping by a café with early summer budding before your eyes in the early morning with your dog is a wonderful thing. Yuna-chan, with her coffee in hand and Mozuku by her side walking the streets of Omotesando, looked like a polished, sophisticated Tokyo girl.
'Let's go out again, Mozuku!'
■Information
Café Kitsuné
Address: 3-17-1 Minamiaoyama, Minato, Tokyo
Opening Hours: 9:00-19:00
Access: 3-minutes on foot from Omotesando Station via the Tokyo Metro Chiyoda Line, Hanzomon Line and Ginza Line
TEL: 03-5786-4842
Website: https://shop.kitsune.fr/stores
*Dogs cannot walk with your inside the café. Please use a dog carrying bag when entering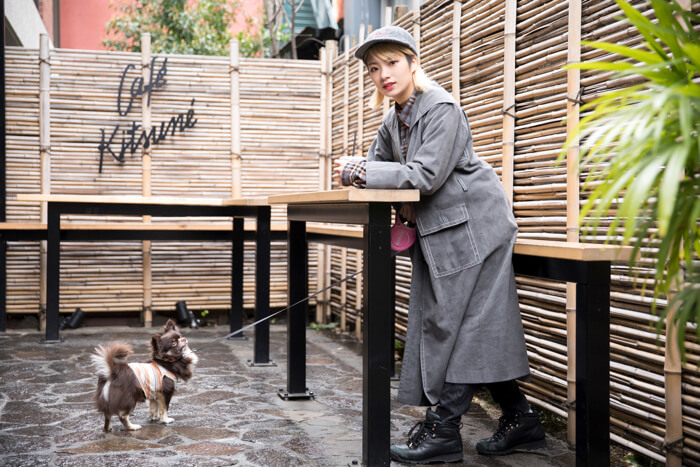 Model:Yuna Yabe/Mozuku @yunaaay1030
Yuna Yabe won the grand prix prize at the "Zipper×ASOBISYSTEM Model Auditions" at the age of 15. She is an expert not only in fashion but make-up and video editing too. She's an influential figure to the people in her generation. Recently, her work has expanded greatly, such as appearing in music videos. Her activity continues to grow and looks to be very promising indeed.
Writer:Ai Watanabe
Photograph:Kayo Sekiguchi
Translator: Joshua Kitosi-Isanga
RECOMMENDED ENTRIES
【Tokyo Stroll】Shopping & Sightseeing with Mozuku-kun the Dog: #1 Bondi Café Yoyogi Beach Park

Yuna Yabe is new to pet ownership. With her eyes set on becoming a better owner, Yuna is going all out with by starting up a brand new regular article series. For her first entry, Yuna is introducing a fun café she visited together with her puppy!

The café the two of them visited is called "Bondi Café Yoyogi Beach Park" and it's located in the Okushibu area. It's 324m from Yoyogi-koen Station via the Chiyoda Line and 5 minutes by foot from Yoyogi-Hachiman Station via the Odakyu Line. It's easy to get to from either station. What's better is that it's close to places like the Bunkamura museum, Tokkyu Hands and NHK meaning you can make a day out of your trip on a stroll with your dog.

First of all, let's learn a little bit about the protagonist of our story. Mozuku-kun is a 1-and-a-half-year-old male long coat chihuahua. His latest interests include chasing the robot Roomba vacuum cleaner. His charm points are his brown eyes and nose and sticking his tongue out. Please treat him well♪

The café has a service that includes a rug and water bowl for dogs. But it seems like Yuna's lap is where Mozuku-kun feels most at ease!

Behind the café is a promenade where you can take a leisurely walk without having to worry about incoming cars. It's generally a quiet area, making it a peaceful and pleasant stroll for even scaredy-dogs.

The roads in this area are paved beautifully so it's a perfect spot to snap a photo with your puppy for Instagram.

The café looks out onto Inokashira-Dori, so you can get a view of Yoyogi Park and the green ambience of the tree-lined streets. The lavish greenery is gorgeous, it'll make you forget you're even in Shibuya! Even Mozuku-kun was in pretty high spirits. I wonder if he noticed all the green too?

On the café's list of recommendations is their homemade tofu pancake with coconut butter for ¥900 (tax included). You can get a heap full of fruits like in the photo above to top your pancake for an extra ¥500. If you're a fruit lover then definitely try ordering this.

There are 5 sauces to choose from to top your pancake, including the classic maple syrup and even chocolate. Yuna went with caramel sauce, her absolute favourite.

Mozuku was well behaved at first, but after seeing Yuna enjoying her food so much he stuck his tongue out in complete captivation and begged. But the pancake is a little too rich in flavour for Mozuku-kun, so he was given his favourite dog food later on.

This is a caramel macchiato (¥700 tax incl.) made using speciality coffee by the barista who creates the drinks one by one to perfection. The latte art is super cute, so be sure to take a selfie with your puppy and upload it on your social media. You'll definitely get a lot of likes.

If you're looking to go out on a stroll somewhere a little different from usual, then we recommend Bondi Café Yoyogi Beach Park. It's easily accessible from Shibuya and Harajuku, plus they have plenty of welcoming service for pets! The café is also close to Yoyogi Park, so it might be nice to take a walk there too. Yuna was happy with the terrace seats as they were spacious meaning you can use them without worry of other mischievous dogs. That's all for today – look forward to next time!

■Information

Bondi Café Yoyogi Beach Park

Address: Barbizon 55 1F, 1-15-2 Tomigaya, Shibuya, Tokyo

Access: 324m from "Yoyogi-koen Station" via the Chiyoda Line / 5-minutes by foot from "Yoyogi-Hachiman Station" via the Odakyu Line

Opening Hours: 9am-2am (last orders at 1am)

Telephone: 03-5790-9888

Homepage: http://bondicafe.net/bondi-cafe-yoyogi-beach-park/

Model:Yuna Yabe/Mozuku @yunaaay1030

Yuna Yabe is skilled not just in the area of fashion but also make-up, as well as editing her own videos. She is an influential figure to the people of her generation. She has recently appeared in music videos and her sphere of activity is growing and expected to spread.

Writer:Ryoichi Komaba

Photograph:Kayo Sekiguchi

Translation: Joshua Kitosi-Isanga

【Tokyo Stroll】Shopping & Sightseeing with Mozuku-kun the Dog: #2 Makuhari Shintoshin Pecos Pet Mall (Part 1)

Yuna Yabe is a dog lover whose eyes are set on becoming a seasoned pet owner. This series follows her journey as she takes her pet dog, Mozuku-kun, strolling around the city. For her second entry, Yuna headed to the Makuhari Shintoshin branch of "Pecos," located inside the AEON Pet Mall in Kaihin Makuhari, Chiba Prefecture. This is part one of two.

The closest stations to Pecos are Kaihin Makuhari Station and Shin-Narashino Station, both accessible via the JR Keiyo Line. There are also buses that go straight to the mall, making it super convenient if you come by train. There's also a car park right next to the mall if you decide to take the road, so it's easy to go there with a pet dog. Pecos in Makuhari Shintoshin is the biggest pet store in Japan, with the first floor spanning 820.6㎡ and the second 979.8㎡. They offer just about everything you could imagine from a pet shop in Japan, from food and clothes to an animal hospital and pet hotel.

The food corner accounts for one entire corner of the shop's second floor. Usually, they stock over 40 different varieties of dog food, and you can always buy something from there catered to your dog's breed and/or age. You can of course also take your dog around the shop with you, so if you're lost on what to buy then you can leave it in their hands (or paws).

A particularly popular brand of dog food in the shop is "Wellness" series, pictured above. The food is made up of carefully selected natural ingredients, so one reason for its popularity is how owners can be at ease while letting their dog eat this food.

Besides dog food, the shelves are also lined with plenty of snacks and supplements! Most of the supplements are for mature dogs, but even so, Yuna was absorbed in checking out what they had, thinking: it's still a bit early for Mozuku, but I'm interested in thinking about the future.

This original premium dog food can only be bought at AEON pet shops, including Pesco. It's made in Japan, so if you have a dog in Japan and are a dog lover who worries about your pet, you can absolutely trust this brand.

There's even cakes that you can buy for your pet if you're looking to gift yours something for their birthday or a commemoration. Mozuku wasn't about to leave the cake showcase that easily, almost as if he knew everything in there was delicious.

This one is perfect for pet owners who like a drink: alcohol for dogs. But don't worry, there's not actually any alcohol in there. So how about it? Having a nice evening drink together with your beloved pup?

This corner is filled with leads, beds and clothes for your dog. They have a wide range of sizes and varieties, making this area popular with fashion-conscious owners.

One popular aspect of the store praised by owners who have gone to buy clothes at Pecos is how you can actually let your dog try the clothes on in-store. You must have had that experience where you tried buying something, but it ended up being too dog, right? Well, if you're allowed to let your dog try on something before buying it, you can easily pick an outfit that looks great and is comfortable on them.

Here's Mozuku in the middle of trying something on. His ears are hidden by the turtleneck… he looks most displeased!

Pesco also sells convenient products for heading out with your dog, like dog seats for your car and prams. You can actually rent a test pram to check its usability, allowing you to consult with your pup on which best to choose.

In addition to products for your pet, the Makuhari Shintoshin branch of Pecos also has an animal hospital, trimming salon and pet hotel. It's filled with everything your pet could dream of! In part two of this article, Yuna will show the facilities of Pecos, like the animal hospital and pool, so don't miss out!

Continued in Part Two.

■Information

Pecos (Makuhari Shintonshin branch)

Address: 1-8 Toyosuna, Mihama-ku, Chiba-shi, Chiba Prefecture

Access: "Kaihin Makuhari Station" and "Shin-Narashino Station" accessible via the JR Keiyo Line

Opening Hours: 10:00-21:00 (*the animal hospital is open 24-hours a day)

Contact: 043-298-1122

URL:https://www.aeonpet.com/pecos/makuharishintoshin/index.html

Model:Yuna Yabe/Mozuku @yunaaay1030

Yuna Yabe won the grand prix prize at the "Zipper×ASOBISYSTEM Model Auditions" at the age of 15. She is an expert not only in fashion but make-up and video editing too. She's an influential figure to the people in her generation. Recently, her work has expanded greatly, such as appearing in music videos. Her activity continues to grow and looks to be very promising indeed.

Writer:Ryoichi Komaba

Photograph:Kayo Sekiguchi

Translation:Joshua Kitosi-Isanga

【Tokyo Stroll】Shopping & Sightseeing with Mozuku-kun the Dog: #2 Makuhari Shintoshin Pecos Pet Mall (Part 2)

Yuna Yabe is a dog lover whose eyes are set on becoming a seasoned pet owner with her beloved pet dog Mozuku. Continuing from where we left off in part one of this two-part article, Yuna will show us more of the Makuhari Shintoshin branch of Pecos, a huge pet store located in AEON Pet Mall!

In this second part, Yuna will introduce us to the 1st floor facilities of Pecos. The first thing is the 24-hour AEON Pet hospital. This animal hospital offers first aid to pets at any time of the day. They provide CT scans, X-rays, surgery and internal medic treatment, so if you feel something if off with your pup then contact them immediately. They also offer physical examinations for your pet dog. If you take them for an examination you can detect signs of illness early on, so a lot of people take their dogs for a yearly checkup. (Checkups are offered until February 28th this year)

So Yuna took Mozuku for an examination too! The results showed that he was a good weight and in very good health. He was even complimented on his nice fur. Keep being healthy, okay, Mozuku? ♪

This is the "Doctor Car" for transporting pets. The original purpose of the car is that it's an ambulance used for pet care during natural disasters. There's even equipment inside for emergency first-aid treatment. On normal days, it's used for doctor's visits and seeing injured pets.

The showpiece of Pecos in Makuhari Shintoshin is the pool facility. The aqua fitness service uses the water's buoyancy and pressure to allow your pet to exercise in a short period of time in an efficient and low load manner. It's highly recommended for rehabilitation after an operation and for tackling a lack of exercise! During the aqua fitness, a trainer will be there to look after your pet with the utmost care and attention, so you can feel at ease when handing them over.

This was Mozuku's first time in the pool. He had a worried look on his face while floating in the water, so the first thing was for him to get used to it with a shower and a bath.

Your pup will wear a life jacket until it's gotten accustomed to being in the water, so you can let them enjoy swimming without worry of them sinking. There's also lots of toys for your dog to play with – perfect for helping them relax!

Mozuku wouldn't settle at first in this new environment, but he got used to the water straight away and showed off his dog paddling skills. The water current in the pool is always flowing, so big dogs can enjoy swimming too.

This is a treadmill that uses water resistance. It uses the flowing power of water but isn't a burden on your dog's body at all. It's rehabilitation for walking.

After a dip in the pool, it's some for shampooing. The shampoo uses safe ingredients so it's fine if your pup licks it off.

This is the pet hotel, a super convenient facility for if you're on a trip or going for some shopping. The hotel charges per hour, so you can even leave your dog in the hotel's hands if you need to do a bit of quick shopping. There's even a beauty salon where your dog can get a trim or use one of the oxygen capsules! Mozuku refreshed himself in a capsule too after a swim in the pool.

Yuna bought Mozuku a roll cake from a shop on the second floor for being such a good boy the entire time! There was quite a lot for Mozuku to eat, so Yuna helped him out.

Pesco in Makuhari Shintoshin has it all when it comes to your dog. They even have a dog run in the facility, so you should go try it out when the weather's nice for a stroll and some shopping!

■Information

Pecos (Makuhari Shintonshin branch)

Address: 1-8 Toyosuna, Mihama-ku, Chiba-shi, Chiba Prefecture

Access: "Kaihin Makuhari Station" and "Shin-Narashino Station" accessible via the JR Keiyo Line

Opening Hours: 10:00-21:00 (*the animal hospital is open 24-hours a day)

Contact: 043-298-1122

Homepage: https://www.aeonpet.com/pecos/makuharishintoshin/index.html

Model:Yuna Yabe/Mozuku @yunaaay1030

Yuna Yabe won the grand prix prize at the "Zipper×ASOBISYSTEM Model Auditions" at the age of 15. She is an expert not only in fashion but make-up and video editing too. She's an influential figure to the people in her generation. Recently, her work has expanded greatly, such as appearing in music videos. Her activity continues to grow and looks to be very promising indeed.

Writer:Ryoichi Komaba

Photograph:Kayo Sekiguchi

Translation:Joshua Kitosi-Isanga

Japanese model Yabe Yuna introduces "Bakkai" izakaya at the beachside in Thailand

Hi, everyone!

Yuna Yabe here!

This is a continuation of my previous article where I showcased Si Racha in Thailand to everyone. Today I'm introducing you to a Japanese izakaya that you should definitely visit if you're on holiday!

This is the izakaya we went to – it's called "Bakkai".

It's easy to see if you look at a map, but…


It really is next to the ocean. No, in fact it wouldn't be too much to say that it's actually IN the ocean – that's how close to the sea it is!

The fact that it's by the sea just makes it the best location. The terrace area was seated by couples eating and in very good spirits…

I thought a lot about it, like how it makes the perfect spot for a date, and so on.

Gotta pull myself together… Moving on, I interviewed the staff working there!

I asked them what the most popular item on the menu is.

While flicking through the splendid menu, they told me it was the sashimi combination in the top left!

That sashimi combination sure looks good… I want to eat it…

I was drooling the moment I was shown the menu!

It seems most of the sashimi is imported from Japan.

It cost 799 THB which would be ¥2,800 in Japan.

70% of the customers at this izakaya are Japanese people living in Si Racha.

Part of the reason there's so many tourists is because there's a lot of hotels nearby!

So I'm not the only one that misses Japanese food even when traveling.

"Bakkai" has been open for nearly 15 years. The lady started working here a year ago.

I asked her why she works at a Japanese izakaya, and she said:

"It's fun talking with the Japanese customers. A lot of them can speak Thai and their mannerisms are good, so talking is fun."

I got kind of happy like I was being praised a lot… (what am I saying).

It seems she likes Japanese people, so that made me really happy.

I took a photo with the staff to commemorate my visit 🥂 What a wonderful time…

Oh, I mustn't forget to post the food I ate too!


The food line-up is faithfully reminiscent of Japan.

Tempura, California rolls, tekkamaki, yakitori.

Ooh, I wanna eat.

"Bakkai" is just like a real izakaya in Japan that you can enjoy at a beachside location.

And even though it's in a place like Si Racha, I think it's an especially good restaurant.

If you're on a trip in Thailand and are longing for a bit of Japan, then please be sure to stop by Bakkai♩

Writer: Yuna Yabe(@yunaaay1030)

◼︎Information

Bakkai

Address: 18 Neptune Road, Si Racha 20110, Thailand

Open: 11:00-23:00
Telephone: +66 38771721

Model Yuna Yabe reports on "Sriracha Japan Festival" in Thailand and live performance by TEMPURA KIDZ

Hi, everyone. I'm Yuna Yabe, and this is the first article I've ever written on the MOSHI MOSHI NIPPON website!

Let's get to it. So, what's today's article about I hear you ask?

Well, I recently went to Thailand!

Although we went to Thailand, the place we went to was about an hour and thirty minutes from Bangkok in a town called Si Racha!

Si Racha is Thailand's town of Japanese people as there are many Japanese living there!

So when you're walking around there, you'll see the Japanese language scattered around!

The feeling of Japan is so prevalent there that it doesn't seem like you're in Thailand at all!

It was there that we headed to a Japanese style festival✨

The festival took place at a large park alongside the sea.

The air there was very warm, the kind of climate characteristic of a festival!!

No waiting around…

…I got myself some cotton candy✨🙋🙋🙋⛅

I've traveled to Thailand before, so even someone like me kept calm and composed when it came to shopping.

Whoa! Sushi!

Whoa! Washoku Sato!

When you see a place that you know, you get this welling affinity and just have to buy something, right?

So…

Got some kakigori! ( ᐛ)

It felt like I had come to a festival in actual Japan, so I had a lot of fun! ♡

Oh! Let me show you my outfit!

Since I was in Thailand I wanted to wear some Thai pants, but I didn't have any with me, so I wore some wide tie-dye pants along with one of the t-shirts being handed out at the festival👚!

It was so flashy, I really stood out ( ´・‿・`)

The temperature was 30°c so of course I wore short sleeves.

And then, and then, oh, how I waited!

TEMPURA KIDZ live!

I get along with TEMPURA KIDZ on a regular basis, and this was their live performance! They've performed at the Sriracha Japan Festival in the past, so they have a lot of fans there! 😜

They have fans not just in Japan but overseas too, so in order for them to connect with the fans there, they had practiced lots and lots of the Thai language among other things. Seeing them up there, they looked so cool and were shining✨

I had so much fun at the Japan festival in Si Racha. It was just like a festival back home, so much so that it makes you forget you're even in Thailand! I had a really Japanese time.

I think this kind of event was initiated to introduce both the local Japanese people and local Thai people to the great things about Japan, so I hope the Sriracha Japan Festival events can make there way overseas to other places too✨

I'm super happy I was able to go.

How does visiting Si Racha for yourself sound if you go to Thailand?

(Writer:Yuna Yabe)

Sriracha Japan Festival report by KARIN of TEMPURA KIDZ:

KARIN of TEMPURA KIDZ reports on the "Sriracha Japan Festival" in Si Racha, Thailand

【Tokyo Stroll】Asakusa Sightseeing: Eating and Walking Down Nakamise Shopping Street & Rickshaw Riding at Kaminarimon

Today's Tokyo stroll destination is Asakusa. Asakusa is a popular tourist spot for people coming to Japan and is always packed.

However, today's weather forecast predicted rain! So Yuna and Ellie's first stop on their Tokyo stroll was to buy umbrellas from Shinagawa.

Buying an umbrella at AEON in Shinagawa Seaside

Shinagawa Station is linked to the shinkansen and numerous airports, so you will find many people from inside and outside Japan waiting there. A convenient place to visit when in Shinagawa if you want something is the Shingawa Seaside branch of AEON.

The shopping complex can be reached in 10 minutes by bus or taxi. If you use Shinagawa Seaside Station it's just a 5 minute walk.

When looking for somewhere that sells umbrellas to make being in the rain a bit more fun, Yuna and Ellie discovered "fururi," a place that sells vinyl umbrellas with colourful designs that you can change – simply screw off the top of the umbrella frame, remove the vinyl sheet and replace it with whichever one you like.

There are 48 designs to enjoy with a 60cm umbrella.

Yuna chose a cute design that has blue and yellow water drops. Ellie went for a pink design. A colourful umbrella means turning that rain induced frown upside down. Asakusa is the place to go if you want something fight off the rain!

Eat and walk down Nakamise Shopping Street♪

As you come to the Kaminarimon Gate you must first press your hands together and bow before heading through to Nakamise Shopping Street. The street is lined with lots of shops selling all kinds of goodies from toys to food to souvenirs.

The first item Yuna and Ellie came across were little randoresu keyrings. This is most definitely the kind of souvenir you can only get in Japan. Ever since popular Hollywood actresses put out photos of themselves donning these backpacks, they have become popular overseas for their colourfulness and durability. There are even people who wear them as a fashion item.

The next treasure they found were the 'daigaku imo'! Daigaku imo are candied sweet potatoes. The outside is crunchy and the outside is soft. They are deliciously sweet. You absolutely must try them if you come across them in Japan.

Approaching Sensō-ji

When you come out of Nakamise Shopping Street you will find yourself at Sensō-ji, Asakusa's ancient Buddhist temple.

The first step to take when going to shrines and temples in Japan is washing your hands, which is called "temizuya." Hold the ladle with your right hand and wash your left hand and vice versa. Take the ladle with your right hand and scoop some water. Pour the water into your left hand and rinse your mouth with it. Make sure to never bring the ladle to your mouth. Spit the water next to the fountain, never directly back into it. (Bonus: Check out our step-by-step guide to praying etiquette and shrines and temples in Japan.)

Subsequently, approach the main temple building. After praying, toss in a monetary offering. Then put your hands together and bow once. Since there is no shrine here you do not need to clap. Finally, perform a light bow to complete the prayer.

I wonder what those two were praying for. They look unusually serious.

There are lots of great places to take photos around Sensō-ji so be sure to have a good look around.

Tour Asakusa on a rickshaw

After their temple walk, Yuna and Ellie boarded a rickshaw to scope the Asakusa townscape. The rickshaws have a tarpaulin rain cover and lap blanket in case of rain so you can still have fun even when the weather is bad.

We recommend taking a photo at Dempoin Street when riding your rickshaw as pictured above! It's a special kind of place that you can only find in Asakusa so be sure to take a memorable picture.

Did you enjoy Yuna and Ellie's sightseeing trip to Asakusa? There's lots of other amazing places to find in Asakusa too! We'll be sure to post about them here on MOSHI MOSHI NIPPON so stay tuned.

Models: Yuna Yabe, Ellie

Photo: Kayo Sekiguchi

Writer: Sayuri Mizuno (ASOBISYSTEM)

Translator: Joshua Kitosi-Isanga

Introducing: Randoseru

We'd like to introduce to you the randoseru bags used in today's article which both Yuna and Ellie modelled for in a Narita tourism article. As mentioned above, the Japanese randoseru, firm backpacks made from leather or leather-like material, are recognised as a fashion item overseas. The randoseru used in today's article were are the 24 colour randoseru and 3STYLE randoseru from AEON.

Yuna: 24 Colour Randoseru (Burgundy) – ¥35,000 (tax excl.)

Ellie: 3STYLE Randoseru (Caramel) – ¥48,000 (tax excl.)

The 3STYLE randoseru can be used as a shoulder bag or handbag. If you're interested in either of their randoseru, then be sure to pop into your nearest AEON store.

AEON.com: https://www.welcome-aeon.com/
RELATED ENTRIES
no mark.Café in Tokyo Collaborates with Parent-Child Art Unit Musee du Aouvre

Located in an old traditional Japanese house in Kiyosumi Shirakawa, no mark.Café has a cozy ambiance for guests looking to escape the hustle and bustle of the city. From October 15 until November 30, the cafe is collaborating with the parent-child art unit Musee du Aouvre, and thirteen works from the group's blog will be on display throughout the building. A campaign will also be held, giving visitors the chance to receive some original coasters and a small wind God figure to sit on the side of a coffee cup. 

Campaign Present A. Aouvre Coaster / B. Aouvre Wind God Figure

The cafe aims to be a place where guests can enjoy art as they relax, and to further this idea, they will be collaborating with a number of artists in the 'CAFE DE ART' project. 

The first collaboration is with Musee du Aouvre, an art unit consisting of a father and son duo who copy famous works of art. These aren't just any forgeries–they are incredibly adorable and pay proper homage to the original creations. Thirteen works will be selected from the pair's blog and will be exhibited under the title 'The no mark.Café Great Counterfeit Exhibition.' A 2022 calendar and postcards of the works will be on sale at the store, and videos will provide information about the original works of art. Visitors can also participate in the Twitter and Instagram campaign to win a special collaborative item!

Enjoy a Weather and Time-based Cream Soda at the Newly Opened 'Cafe Amayadori'

The Oarai Tourism Omotenashi Promotion Council opened Cafe Amayadori, a rain and healing themed coffee shop, on September 18 2021. The shop was opened as a challenge and is located in the Umimachi Terrace Tourist Information Center.

Cafe Amayadori

Cafe Amayadori Menu

Cafe Amayadori Tote Bag

You can clearly hear the sound of the rain from inside the store, while the served cream soda changes based on both the weather and the time. On clear days where the sun is shining, you can order the traditional green-color  'Blue Sky Cream Soda,' while on rainy days you can order the blue 'Rain-color Cream Soda.'

The cafe also serves a wide variety of Japanese and Western meals and desserts, each cooked using local Oarai produce. Morning and lunch specials are also available, meaning you can easily work your visit around your own schedule.

The concept of the cafe is "Rain." You can dash into the cafe as if you're looking for shelter from the weather before sitting down to eat and drink in the calm space, emphasized by the soothing music that plays in the background. While the soundtrack depends on the day, the sound of rain is often played. However, the sounds played on rainy days are a little different to the usual. True to its name, the cafe can create a comfortable Amayadori (lit. rain shelter) no matter what the weather!

'rain coat studio' is a group of creators who have been working on 'rain' themed events and designs since 2016. The group was formed with the idea that "when it rains, our activities are limited due to the dull weather. On the other hand, the rain represents the season and soothes those who listen to it's sound." 

The group aims to create music, events, artwork, and more, that are cool like the rain but still convey a kindness. The 'rain coat studio' came up with the idea of a coffee shop as a way to try creating a restaurant business that followed their ideals.

The signature item on Cafe Amayadori's menu is the 'Weather Cream Soda.' The flavor depends on whether the weather is clear, rainy, and after-rain, but can also depend on the time – They even offer special drinks for 'Morning Fog' and for drinking in the evening, along with a limited-time 'Seasonal Cream Soda. 

The cafe doesn't just serve Cream Soda! Customers who would like a full meal can also order from a selection of Japanese food, Western food, and desserts. A limited edition tote bag is currently on sale to commemorate the opening of the cafe.

Why not try relaxing on a rainy day at Cafe Amayadori?

Information

Cafe Amayadori

Address: Uramichi Terrace, 301 Sakuramichi, Oarai-cho, Higashi-Ibaraki-gun, Ibaraki *Directly connected to Oarai Station

TEL: 029-352-2715

Opening Hours: 09:00 ~ 17:30 (subject to change) 

Closed: Mondays, Holidays (subject to change) 

Official Site: http://rain-sound.com/cafe

Sumikko Gurashi Themed Cafes Open in Tokyo, Osaka, and Aichi to Commemorate Second Theatrical Movie

To commemorate the release of the their second movie, 'Sumikko Gurashi: Aoi Tsukiyo no Mahou no Ko,' Sumikko Gurashi will be opening the limited-time 'Night Party with Sumikko' cafe in Osaka on October 20, Tokyo on October 21, and Aichi on November 11.

 

(Advance Reservation Benefit Only) Original Invitation with Postcard (Five types)

Menu

Tokage's Night Party Curry: ¥1,430 (Tax Incl.)

Shirokuma's Warming Hot Rice Casserole: ¥1,430 (Tax Incl.)

Five's Recommended Children's Lunch: ¥1,650 (Tax Incl.)

Magician's Party ~Açai Bowl~: ¥1,430 (Tax Incl)

Aoi Tsukiyo's Fruit Punch: ¥1,100 (Tax Incl.) + ¥220 for one mini ice cream

Sumikko's Pudding Ice Cream: ¥880 each (Tax Incl.)

Starry Drink: ¥990 each (Tax Incl)

Dolomite Coaster

Hot Café Au Lait: ¥880 (Tax Incl.)

Original Goods

Acrylic Keyholder (Random out of five): ¥770 (Tax Incl.)

Phosphorescent Sticker (Random out of eight): ¥605 (Tax Incl.)

Acrylic Stand (Random out of five): ¥880 (Tax Incl.)


Muddler (Three types): ¥1,100 each (Tax Incl.)

Mug Cup: ¥1,980 (Tax Incl)

Purse: ¥1,100 (Tax Incl.)

Fluorescent Pen Set: ¥1,100 (Tax Incl.)

A5 Clear File Duo: ¥605 (Tax Incl.)

Bandanna: ¥1,870 (Tax Incl.)

The Sumikko Gurashi characters are beloved by both adults and children for their gentle touch and tone. Their first movie, 'Sumikko Gurashi Tobidasu Ehon to Himitsu no Ko' was released in November 2019 and received great popularity. The sweet story of the Sumikko's adventures through a story-book world attracted over 1.2 million viewers across Japan.

The heartwarming cafe menu includes "Tokage's Night Party Curry," "Shirokuma's Warming Hot Rice Casserole," Five's Recommended Children's Lunch,""Magician's Party ~Açai Bowl~," "Aoi Tsukiyo's Fruit Punch," "Starry Drink," and more. The cute, Instagrammable dishes feature the characters who feature in the movie, which tells a mysterious story that begins under a blue moon in the Sumikko's hometown. A lineup of limited edition goods and perks will also be available, adding to the movie excitement.

 

Enjoy a cute, social-media friendly meal and original merchandise at the exciting Sumikko Gurashi cafe!

©2021 Japanese Sumikko Gurashi Association Film Club

Information

Sumikko Gurashi Cafe

Date/Store

Tokyo: BOX cafe&space Tokyo SolaMachi (Previously TOKYO BOX cafe&space Tokyo SolaMachi)

October 21 ~ December 5 2021

1-1-2 Tokyo Sky Tree Town Solamachi 1F, Oshiage, Sumida-ku, Tokyo

Shinsaibashi, Osaka: kawara CAFE&DINING Shinsaibashi

October 20 ~ December 5 2021

1-4-3 Shinsaibashi OPA 9F, Nishishinsaibashi, Chuo-ku, Osaka City, Osaka

Aichi & Nagoya: BOX cafe&space Nagoya LACHIC 1F (Previously NAGOYA BOX cafe&space A) 

November 11 ~ December 12 2021

3-6-1 LACHIC Basement 1F, Sakae, Naka-ku, Nagoya City, Aichi

Reservation Fee: ¥650 (¥715 incl. tax) *Reservation comes with benefits *Up to four seats can be reserved per application.

Cafe Online Shop opens November 11 12:00 until December 12 at 23:59

Reservations & Official Site: https://sumikkogurashi-movie-cafe.jp 

Official Twitter: https://twitter.com/cafe_sumikko 

Online Shop: https://sumikkogurashi-movie-cafe.jp/online_store 

Kurobe Gorge Trekking Tour Offers Breathtaking Two-Day Trolley Journey

The Kurobe Gorge Trolley in Toyama will offer a special two-day journey through the fall foliage on October 29 and November 1, 2021. 

Atobiki Bridge

Okukane Bridge

Promenade

Babadani Jigoku

On the day of the tour, guests will enjoy a leisurely journey through nature as a Kurobe Gorge tour guide explains the features of the surrounding environment. 

90 Year Old Renovated Public Bath-turn-Cafe 'Rebon Kaisaiyu' to Hold Collab Exhibition with Illustrator Miyaoka Chigav

Tokyo, Taito-ku based public bath cafe Rebon Kaisaiyu has announced a collaboration exhibition with illustrator Miyaoka Chiga, held between October 10 (public bath day) and October 24 2021, titled "Yu."

 

Rebon Kaisaiyu is a renovated public bath which was built 90 years ago, now transformed into a cafe serving home-roasted specialty coffee and handmade ice cream. The wooden tag shoe boxes, watch seats, ceilings, clocks, and Mt. Fuji paintings from the public bath have been preserved, retaining the comfort and warmth of the original building. 

The space was designed around the concept of "connecting memories through a cafe," striving to become a spot where locals could relax once more, connecting the building with the people of the new generation. The relaxing cafe has 16 seats available and is located only a five minute walk from Tokyo Metro Hibiya Station.

The collaboration exhibition will be filled with artwork using iconic public bath motifs. Miyaoka's gentle illustrations are sure to soothe your heart, immersing you in the warmth of "Yu" (public baths). Why not relax in this unique cafe with a comforting mug of hot coffee.

Information

Rebon Kaisaiyu x Miyaoka Chiga Collaboration Exhibition "Yu"

Duration: October 10 ~ October 24 2021 

Opening Hours: Weekdays 12:00 ~ 19:00 / Weekends, Holidays 11:00 ~ 19:00 (*Based on Rebon Kaisaiyu's opening hours.)

Admission Fee: Free (*Please order one item from the cafe if you decide to use the seats.)

Official Site: https://www.rebon.jp/ 

Kyoto's Kurodani Temple, Typically Closed to the Public, to Accept Visitors for Limited Time

Constructed in 1175, the Kurodani Temple is one of the head temples of the Jodo Sect of Buddhism. Though typically closed to the public, the grounds will open for a short period to allow guests to experience some beautiful autumn scenery beginning November 12, 2021. This temple is associated with the Shinsengumi and served as the headquarters of the Aizu Clan at the end of the Edo period, so those interested in history won't want to miss out on this incredible opportunity. 

[Night] Shiun Garden

[Day] Autumn Leaves at the Main Gate

[Day] Shiun Garden

[Night] Autumn Leaves at the Main Gate

Temple Grounds at Sunset

The Tiger's Room

Ohoujou Garden

Founders Hall

Live Koto Performance

Gokoushiyuiamidabutsu, 'Afro Buddha' 

Guests will be able to enjoy the gorgeous autumn temple scenery during both daytime and nighttime, with the night viewing also offering some traditional Japanese live music. Visitors can also see various temple treasures and historical items, as well as the Tiger Room, known for its painted doors. The unique and aptly named Afro Buddha will also be on display. After training for an extremely long period of time, the Buddha's hair piled up, giving him this strangely modern appearance. 

On a clear day, guests will be able to see clear to the Abeno Harukas building in Osaka. Vividly painted ceilings and other statues will completely surround visitors in spiritual history. At night, traditional Japanese music will be played at three different times in the front gardens. On Friday, Saturday, and Sunday, the temple will offer a Premium Plan, allowing interested guests to enter the grounds 30 minutes before general admission starts. (This will require reservations made on the official website.) This will also include a guided tour!

How would you like to experience this piece of Japanese history while surrounded by unforgettable autumn foliage? 

Information

Special Autumn Viewing

Kudodani Temple, Kyoto – The Head Temple of the Jodo Sect of Buddhism

Address: 121 Kurodanicho, Sakyo-ku, Kyoto

Night Viewing Details: https://www.kurodani.jp/lightup/

Day Viewing Details: https://www.kurodani.jp/sp_daytime/

Daytime Viewing

Running: November 12 – December 5, 2021

Hours: 10:00-16:30 (Final Admission at 16:00)

Special Viewing Areas: Mikado, Daihojo, the Gardens, two locations at the main gate

Night Viewing

Running: November 12 – December 5, 2021

Hours: 17:30-20:30 (Final Admission at 20:00)

Live traditional Japanese music will be performed in the garden located in front of the Main Hall at 17:45, 18:30, and 19:15

'Shiseido Parlour Ginza Salon de Cafe' Reveals Limited Autumn Dessert Menu

The 'Shiseido Parlour Ginza Salon de Cafe' has announced that between October 1 and October 31 2021, customers can enjoy a limited edition Autumnal sweets menu. This year their menu includes the Jersey milk 'Japanese Chestnut Mont Blanc Parfait from Kyushu' and the 'Shine Grape Fruit Sandwich.' There will also be two special additions to the menu to celebrate the 96th Azuma Odori.

Japanese Chestnut Mont Blanc Parfait from Kyushu using Jersey Milk: ¥2,500 (Tax Incl.)


 

Strawberry Parfait using "Koihime" strawberries from Nagano's Hatake Kobo: ¥2,100 (Tax Incl.)

 

Weekday / Limited Quantity Products

Shiseido Parlour Story: ¥2,600 (Tax Incl.) (Drink Incl.)


Shine Grape Fruit Sandwich with grapes from Iizuka Orchard: ¥1,700 (Tax Incl.)

Shinbashi Color Ice Cream Soda: ¥1,150 (Tax Incl.)


The Japanese Chestnut Mont Blanc Parfait is made using Jersey milk ice cream, chestnut cream, and fresh cream, along with the "Koihime" Fruit Sandwich, made using Kashu "Koihime" Strawberries are available on both the regular and limited Shiseido Parlour Ginza menus. Meanwhile, the luxurious Shiseido Parlour Story and the seasonal Shine Grape Fruit Sandwich, filled with various Autumnal fruits and centred around the grape, are only served on weekdays and holidays in limited quantities.

In the late Meiji Era, Shinbashi geisha were often seen wearing blue and green kimonos, with the color combination being coined Shinbashiiro (Shinbashi Color.) The elegant and retro Shinbashi Color Ice Cream Soda recreates the iconic look using green apple syrup, lemon, and ginger ale, topped with a traditional vanilla ice cream.

 

 

 Immerse yourself in the season with a feast of Fall sweets in Ginza.

Information

Shiseido Parlour Ginza Salon de Cafe

Address: Tokyo Ginza Shiseido Building 3F, 8-8-3, Ginza, Chuo-ku, Tokyo

Opening Hours:

Tuesday to Saturday:  11:00 ~ 21:00 (L.O. 20:30)

Sunday, public holidays: 11:00 ~ 20:00 (L.O.19:30)

Closures: Mondays (excluding public holidays), New Year 

Yojiya Hosts Very First 'Yuzu Fair' Combining Cosmetics Stores with Cafes

Yojiya will be hosting the very first Yuzu Fair, an event combining cosmetics stores and cafes, on October 9 2021. Limited edition Yuzu oil-blotting paper and handmade Yuzu hand creams will be available at the beauty stores, while the cafes are full of tasty drinks and sweets. You can discover the charms of Yuzu at each Yojiya store! 

 

Makeup & Miscellaneous Goods' Store Products


Yuzu Oil-blotting Paper

Yuzu Hand Cream


Yojiya Hand Cream Set

Yuzu Bath Oil

Aromatic Wood

Cafe

Yuzu Parfait

Yuzu Cheese Daifuku

Yuzu Maritozzo

Yuzu & Chocolate Shake

Tea Crepe – Yuzu Tea

Twitter Campaign Bonus: The first 500 people to enter will receive a special Yojiya Yuzu logo sticker.


In 2020, due to the Covid crisis, Yojiya had to make the tough decision to cancel their annual Yuzu series. While the customers were disappointed, Yojiya was convinced that in Autumn 2021, they would be able to welcome their customers into their stores once more for a care-free experience. The event took a year to organize, but has become something even more powerful than the regular Yuzu series.

The cosmetics store staff and cafe staff joined together into one team to create the projects, which has the theme of "Yuzu at Yojiya ~ Enjoy Beauty and Food!~." Not only can you find limited edition products at the fair, you can also partake in the various campaigns that Yojiya has announced in order to spread the Yuzu love, so be sure to check them out.

Fill your heart and stomach with Yuzu this Autumn at the Yojiya Yuzu Fair!

 

Information

Yojiya "Yuzu Fair"

Date: October 9 2021

Online Shopping: https://www.yojiyacosme.com/ 

Official Site: https://www.yojiya.co.jp/  

 

Yojiya Yuzu Fair Campaigns

 

Twitter Retweet Campaign

The first 500 people to show that they have retweeted the campaign tweet on the Yojiya official Twitter (@yojiya1904) will receive a free Yojiya Yuzu logo sticker. *Only 500 stickers are available.

Yellow Challenge

Those who wear yellow items to the fair and make a purchase can try their luck in a dice game. Players will receive small prizes depending on what number they roll.

Stamp Rally

1.You will receive a stamp card with a ¥500 coupon upon purchasing select items in any of the event products at the Yojiya store or at their cafe and crepe stores.

2.Upon visiting both stores with your card and purchasing one or more items after receiving your card, you will receive a small prize. In addition, 10 lucky customers will receive a limited edition stainless steel bottle through a lottery.

Stamp Rally Duration: October 9 ~ November 30 2021

LOVOT Cafe Celebrates First Anniversary with Limited Time Desserts and Merch

The huggable next-generation pet robot LOVOT was first released one year ago, and to celebrate, some limited time merchandise and sweets are now on sale!

LOVOT LOVOT Anniversary Dessert Plate, available until October 31, 2021

Autumn Only! LOVOT LOVOT Chicken Plate with Mushroom Sauce, available until November 30, 2021

Coaster / Postcard / Clear Folder

LOVOT Cafe Original Coaster / LOVOT Cafe Original Smartphone Case

LOVOT Cafe Original Tote Bag / LOVOT Cafe Original T-Shirt (Unisex)

LOVOT Cafe Original Case / LOVOT Cafe Original Handtowel 

LOVOT Cafe Original Ballpen with Charm / LOVOT Cafe Original Mug

LOVOT Cafe Original American-style Cookie / LOVOT Cafe Original Natural Plate

LOVOT Cafe Original Pin

 

Featured in the special Dessert Plate is a loveable cake with LOVOT's face, along with mini rolls, mini cupcakes, and vanilla ice cream with fruit on top. The LOVOT cake is made with milk chocolate and coffee mousse, along with chocolate streusel for a more mature flavor that isn't overly sweet. Those who visit the store on or after October 1 will receive a limited-edition novelty drawing while supplies last. Coasters and postcards will also be given away on a first-come, first-served basis from October 1 until October 15, while clear folders will be gifted on or after October 16. 

The goods for this collection are based on the theme of 'LOVE is here,' so please look forward to these sweet collectibles and many more years of LOVOT!

Information

LOVOT Cafe

Address: LAZONA Kawasaki Plaza 2F (72-1 Horikawa-cho, Saiwai-ku, Kawasaki, Kanagawa)

Hours: 10:00-20:00 M-F / 10:00-21:00 Weekends and Holidays (Last Seating at 19:00)

Official Site: https://lovot.life/

Junei Hotel Kyoto Adds New Plan Allowing Guests to Reserve Entire Property

The Junei Hotel Kyoto Imperial Palace West, a small luxury hotel located in the heart of Japan's ancient capital, has revealed a new plan allowing guests to rent out the entire premises. Imagine being in a hotel with only your closest family and friends!

The Junei Hotel Kyoto Imperial Palace West – Guest Room

The Junei Hotel Kyoto Imperial Palace West – Bathroom

The Junei Hotel Kyoto – Bamboo Suite

The Junei Hotel Kyoto – Bamboo Suite Bathroom

The Junei Hotel Kyoto – Standard Room

The Junei Hotel Kyoto – Standard Bathroom

The Junei Hotel Kyoto – Breakfast at Futago

The Junei Hotel Kyoto – Futago Restaurant Interior

The Junei Hotel Kyoto – Dinner at Futago

Arashiyama Yusaitei

Arashiyama Yusaitei

Kibune Riverbed

Hozucho River Boat Ride

The Junei Hotel Kyoto Rooftop View of Kiyomizu-dera Lights

The Junei Hotel Kyoto Rooftop Garden Moon Viewing

With two locations in Kyoto, guests will be able to enjoy the entirety of the hotel in complete privacy while still enjoying hotel hospitality. With between 8-11 rooms, this would be the perfect spot for a family gathering, wedding reception, graduation trip with friends, corporate meeting place, or even for overseas guests!

The Junei Hotel Kyoto Imperial Palace West opened in 2017 as a community-based luxury hotel with only eight rooms, with a single mission: bringing the beauty of Japan to the world. Beyond simply finding a place to sleep for the night, the hotel wants guests to experience something special and to provide an unforgettable experience. By partnering with local tourism associations, the Junei Hotel hopes to accurately convey the traditions and singular culture of the city of Kyoto. 

In March 2020, a second location opened. The Junei Hotel Kyoto is surrounded by bamboo, and in fact, the theme of the hotel itself is bamboo and the moon. Each of the guest rooms is decorated with traditional and local bamboo crafts, and every detail is pulled from the natural beauty of Higashiyama, Kyoto. 

The restaurant attached to the hotel, Futago, is the perfect place for adults to unwind and recharge. The kappo-style course menu features Kyoto vegetables and seasonal ingredients, blending the delicious with the nutritious. Chefs will cook each dish using a variety of methods, and guests will be amazed by how the flavor of the meat changes from course to course. The menu changes each month, so be sure to come back throughout the year!

Guests can also rent out Arashiyama Yusaitei, a gorgeous building deep in the forests of Kyoto perfect for wedding receptions, photoshoots, tea ceremonies, and more. The rooftop garden offers a stunning view of Kiyomizu-dera and is also perfect for moon viewing. Those wanting to get even closer to nature can enjoy a boat ride down the Hozucho river, and for those craving desserts, a Japanese sweets-making class is also available!

Who would you take with you on a private stay at the Junei Hotel Kyoto? 

Universal Studio Japan to Expand Super Nintendo World with Donkey Kong Area

Since opening in March, Super Nintendo World at Universal Studios Japan has caught the world's attention, leading global game fans to pray even harder for Japan to reopen for tourism. Now, the park is scheduled to level up with a new Donkey Kong-themed area scheduled to open in 2024. 

Currently, Super Nintendo World is filled with Mario-inspired attractions, dining options, and shops, recreating some of the most memorable parts of the franchise in a larger-than-life way. The new Donkey Kong area will feature a roller coaster and more interactive experiences, as well as themed merchandise and food options. Guests will be able to walk through lush jungles, where Donkey Kong and his friends live. The creation of the new area will more than double the size of Super Nintendo World. 

Launched as an arcade game by Nintendo in 1981, Donkey Kong quickly took the world by storm, with games continuing to be released on Nintendo systems from the SNES to the Nintendo Switch. As of March 2021, the series has sold over 65 million units worldwide.

Comment from Nintendo's Shigeru Miyamoto

"I am very happy to be able to make the world of Donkey Kong a reality following the world of Mario. I am looking forward to creating a thrilling Donkey Kong experience with the amazing team at Universal. It will take some time until it is completed, but it will be a unique area for not only people who are familiar with Donkey Kong games but for all guests."

WIZARDING WORLD and all related trademarks, characters, names, and indicia are © & ™ Warner Bros. Entertainment Inc. Publishing Rights © JKR. (s21)
Minions and all related elements and indicia TM & © 2021 Universal Studios. All rights reserved. TM & © Universal Studios & Amblin Entertainment. TM & © Universal Studios. All rights reserved. © Nintendo

Three Unique Japanese Cafes You'll Want to Visit Again and Again

Most of us have been spending more and more time at home over the past year. It's time to get out for a change of scenery, and what better activity than cafe hopping! Check out these unique cafes around Japan, each offering a safe and relaxing space to enjoy a day out. 

[Saitama] Bath Cafe BIVOUAC

This cafe located in Kumagaya City offers a full range of bath and sauna facilities, as well as a restaurant featuring healthy dishes filled with local, freshly-picked veggies. 

Details: https://www.moshimoshi-nippon.jp/497213

[Gifu] Activity Cafe Takayama Zenko-ji

Set inside a Buddhist temple, this cafe invites anyone, regardless of faith or nationality, to enjoy a cup of tea while experiencing traditional culture. It's also a great space to work remotely, with free Wi-fi!

Details: https://www.moshimoshi-nippon.jp/484296

[Tokyo] NANARIDA

Filled with plants and light, NANARIDA has been dubbed a digital detox cafe, not allowing smartphones or laptops each Sunday. Leaving your phone with the staff will grant you a free beverage, so come enjoy some tea and conversation. 

Details: https://www.moshimoshi-nippon.jp/493631

TEXT: Natalie(MOSHI MOSHI NIPPON)