6 Limited Edition Foods in Harajuku: May 2018
Hi, everyone! Ellie here from the MOSHI MOSHI BOX Harajuku Tourist Information Center.
The hot weather is still here – it's the season where it feels great to be outside!
Today, we take a look at 5 different limited time offer foods on sale in Harajuku/Shibuya this May.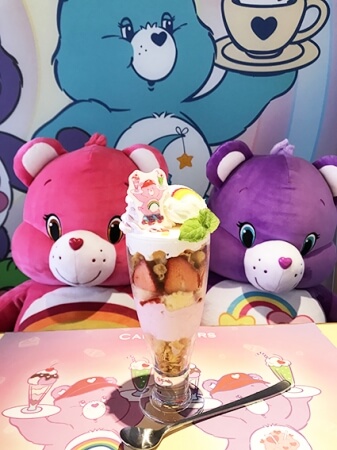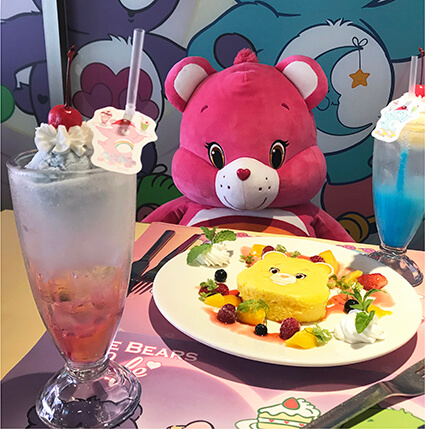 "Care Bear™ Cafe" – Harajuku Box Cafe & Space
The popular Care Bear™ characters are getting their first ever collaborative cafe which will open at Harajuku Box Cafe & Space on May 20. Expect to see a photogenic and themed menu as well as plenty of perfect places to snap photos. There'll also be an opportunity to take a picture with Care Bear™ plush toys♡ Look forward to getting your paws on the cute limited edition merchandise too available only at this cafe.
"Strawberry White Parfait" – THE PARFAIT STAND
The newly opened takeout parfait shop THE PARFAIT STAND is selling drinkable strawberry white parfaits, ordinary strawberry white parfaits, and mini strawberry white parfaits until May 31. They offer innovative parfaits conceivable only by a shop that's based in Harajuku, so be sure to try them yourself.
Full Details: https://www.moshimoshi-nippon.jp/105338
"Honey Ginger Pancakes w/ Black Tea Sauce" – RAINBOW PANCAKE
This dessert at Harajuku's pancake shop RAINBOW PANCAKE uses 'new ginger' from Iwashita. Available until May 31, the pancake dough and sauce is infused with the Iwashita ginger and doushed in honey and milky cream. It marries perfectly with brown sugar coated nuts or whipped cream. On the side you get one whole piece of Iwashita new ginger and jelly.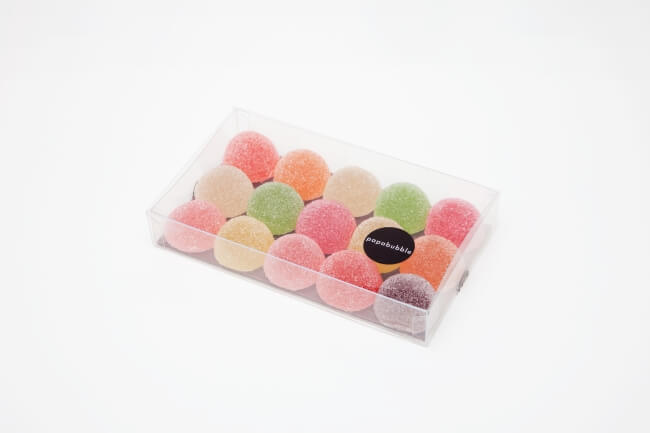 "Summer Gummy Festival" – PAPABUBBLE
PAPABUBBLE is an artistic candy shop hailing from Barcelona, Spain. As part of their Summer Gummy Festival, they are release four new flavours and bringing back two old flavours of their popular Bubblets, a vegan-friendly candy made using pectin which comes from apples. Available until June 15, the new flavours include flat lemon, sudachi, muscat, and yubari lemon. The returning flavours were sold last year and include the popular pineapple and grapefruit editions. They're cute, colourful and go perfect with tea.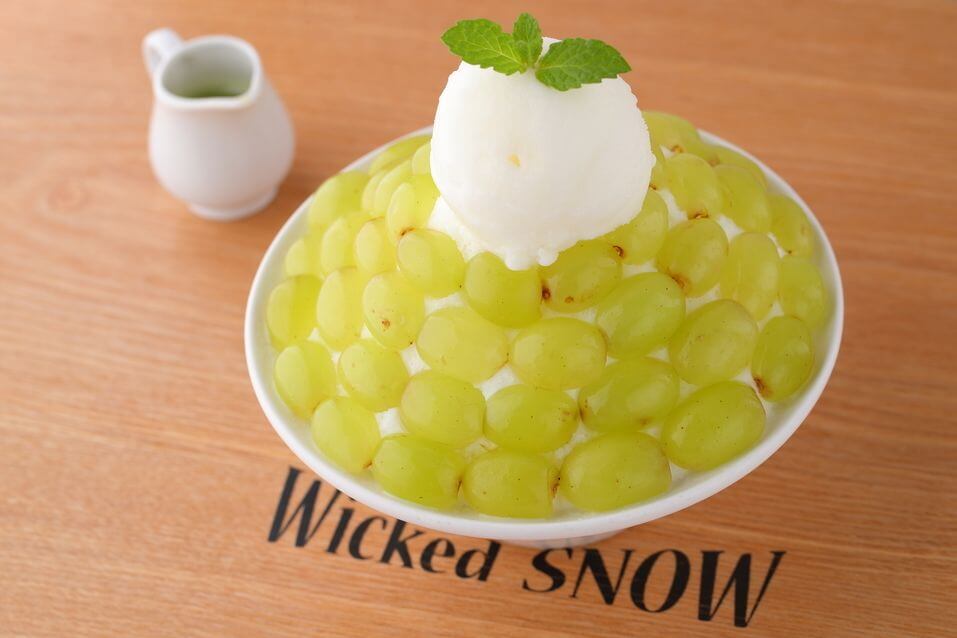 "Wicked Yoghurt Pineapple" – Wicked Snow
Wicked Snow is a South Korean shaved ice cafe in Harajuku. There, they're selling their limited edition 'Wicked Yoghurt Pineapple' flavour until June 30. Atop the powdered-snow-like yoghurt flavoured shaved ice are pieces of juicy pineapple and fresh cream. This fresh and fruity shaved ice is an irresistible choice for the hot summer♡ They are also selling their 'Wicked Muscat' made with plenty of seasonal fruits.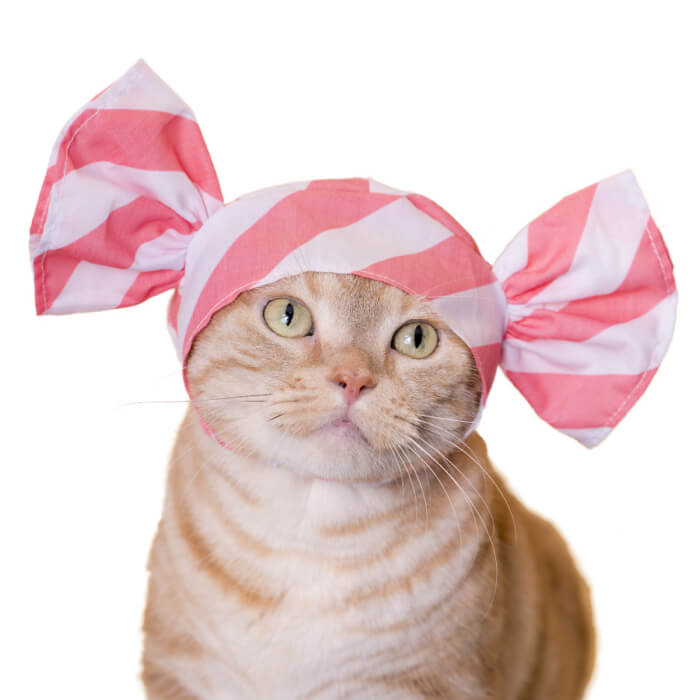 "Neko no Gohanya-san" – Collaborative Cafe
Located on the third floor of Cute Cube Harajuku along Harajuku's iconic Takeshita Street is Kawaiiya where they are currently holding a photo exhibition and cafe in collaboration with Neko no Kaburi Mono, a capsule toy series that was first released in September 2015. When thinking of a dish with 'cat' as the keyword, there's nothing more perfect than neko manma, which translates to 'cat food' but refers to a dish made up of leftovers. Look forward to their 'Ultimate Neko Manma' made with large servings of sliced dried bonito.
Full Details: https://www.moshimoshi-nippon.jp/99802
Did you enjoy this list? Everything on here is available for a limited time only, so if you're in Japan, be sure to hurry!
RECOMMENDED ENTRIES
6 places you can get Instagram-worthy rainbow treats in Tokyo!

Rainbow sweets are now trending. As well as being very popular overseas, a large variety of shops that sell rainbow sweets have also been opening in Japan. Today we'll be looking at rainbow sweets that you can eat in Tokyo! The impact of their vivid colours makes them perfect for an Instagram shot!

LE SHINER (Takeshita Street, Harajuku)

This shop has appeared many times on TV for its Instagram-worthy aesthetics. The pink bear is a real eye-catcher! The exterior is also cute ♡

The shop's speciality is the rainbow soft serve ice cream. Colourful rainbow ice cream spirals around the base of pink ice cream.

Their colourful menu also includes rainbow cake sticks, rainbow sandwiches and much more!

Further information: https://www.moshimoshi-nippon.jp/ja/93444

◼︎Information

LE SHINER (レ・シヤナー)

Address: COXY176 Building 1st floor, 1-7-10, Jingumae, Shibuya, Tokyo

Opening hours: Weekdays – 11:00 — 18:00 / Weekends & national holidays – 10:30 — 19:00

Access: 3-minute walk from Harajuku station Takeshita Street exit (JR Yamanote line)/ 4-minute walk from the 5th exit of Meiji-Jingumae Station (Tokyo Metro Chiyoda line)

TEL:070-1361-8686

Totti Candy Factory (Takeshita Street, Harajuku)

Totti Candy Factory has cute petit cakes, cotton candy and much more. There must be so many people who have tried this! Whatever you may have heard about this place, their showstopper is definitely the huge colourful cotton candy!

If you're looking for a present or souvenir, we recommend you get one in a cup!

◼︎Information

Totti Candy Factory

Address: RYU Apartment 2nd floor, 1-16-5, Jingumae, Shibuya, Tokyo

Opening hours: Weekdays – 11:00 — 20:00

Weekends & national holidays: 10:00 — 20:00

Access: 3-minute walk from Harajuku station Takeshita Exit (JR Yamanote line)

TEL:03-3403-7007

The KAWAII MONSTER CAFE is a new famous spot in Harajuku that has attracted many from all over the world.

One of their specialities is the colourful poison parfait, which is a photogenic masterpiece that is topped with ice cream, fruit, and even a piece of roll cake.

There are even rainbow cakes, rainbow pasta dishes, and much more!

Further information: https://www.moshimoshi-nippon.jp/ja/64096

◼︎Information

KAWAII MONSTER CAFE(カワイイモンスターカフェ)

Address: YM Square 4th floor, 4-31-10, Jingumae, Shibuya, Tokyo

Opening hours: Lunch: 11.30 — 16:30 (last orders: 16:00 ), dinner: 18:00 — 22:30 (last orders: 22:00) (Monday — Saturday and the day before national holidays

※ 90-minute seating slots, last entry: 15:30

Sundays & national holidays 11:00 — 20:00(Last orders: 19:30)

No regular closing days. It is possible that customers will not be allowed to enter the cafe when certain events take place.

Access: 1-minute walk from the 5th exit of Meiji-Jingumae station (Subway)/ 5-minute walk from JR Harajuku station Omotesandō exit

TEL: 03-5413-6142 ※It is possible to make reservations(Excluding Weekends and national holidays)

LOLA'S Cupcakes (Roppongi, Harajuku)

It is possible to say that LOLA'S Cupcakes are the instigators for the rainbow sweets trend. Their cupcakes may be famous, but their rainbow cakes are also a popular choice!

Seven different colour layers of cake are sandwiched together with buttercream.

◼︎Information

LOLA'S Cupcakes

Harajuku

Address: Cascade, 2nd floor, 1-10-37, Jingumae, Shibuya, Tokyo

Opening hours: 11:00 — 20:00

Access: 2-minute walk from 3rd exit Meiji-Jingumae station (Tokyo Metro Fukutoshin line/ Chiyoda line), 2-minute walk from Harajuku station Omotesando exit (JR Yamanote line)

TEL:03-6447-1127

Roppongi

Address: Roppongi Hills Metro Hut floor B1, 6-4-1, Roppongi, Minato, Tokyo

Opening hours: 11:00 — 21:00

Access: Direct access from the concourse of Roppongi station (Tokyo Metro Hibiya line), 4-minute walk from Roppongi station (Toei Ōedo Line)

TEL:03-3475-1127

A WORKS (Gakugei-daigaku Station)

What makes this cafe appear so Instagram-worthy is its resemblance to a traditional Japanse-style house. In this popular cafe, all the cakes are made by hand. Sales end once all the cakes are gone.

This place has more to offer than just a rainbow-coloured cheesecake — there are also unicorn cakes, Cheshire cat cakes and much more ♡

◼︎Information

Address: 3-3-7, Takaban, Mguro, Tokyo

Opening hours: Monday, Tuesday Friday & Sunday:  11:30 — 22:00

Thursdays:  11:30 — 16.00

Saturdays:  11:30 — 23:00(Last orders: 22:00)

Regular closing days: Wednesdays

Access: 2-minute walk from Gakugei-daigaku Station (Toyoko line)

TEL:050-5570-3475

NEW NEW YORK CLUB (Azabu-Jūban/ Jiyūgaoka station)

This shop was built for those who want to experience and taste New York culture in a New York atmosphere. Their signature treat is the rainbow-coloured bagel. However, they are only available on the weekends!

◼︎Information

NEW NEW YORK CLUB

Azabu-Jūban

Address: 3-8-5, Azabu-Jūban, Minato, Tokyo

Opening hours: 9:00 — 18:00 (Sales will end once all have been sold)

No regular closing days

Access: 3-minute walk from the A1 exit of Azabu-Jūban station (Tokyo Metro Namboku line)

TEL:03-6873-1537

Jiyūgaoka

Address: TF 2-15-14, Midorigaoka, Meguro, Tokyo 

Opening hours: 11:30 — 20:00

Regular closing days: Tuesday

Access: 5-minute walk from Jiyūgaoka station

TEL:03-6459-5669

What are you waiting for? Get your hands on some rainbow sweets!

Introducing AFURI—Harajuku's Michelin-Starred Ramen Restaurant

Hi, everyone. I'm Shiota, the Director of the MOSHI MOSHI BOX Harajuku Tourist Information Center.

Foreigners coming to Japan love ramen, as shown in our questionnaire where it ranked 2nd place. I'm sure there's a lot of you reading those who like it too.

Did you know, there's actually a famous ramen place in Harajuku listed by Michelin? Today, I'll introduce you to AFURI Harajuku, a ramen shop recognised worldwide.

It's easy to get to. Just take the JR Yamanote Line to Harajuku Station and it's a 3-minute walk from there. Head left out of Takeshita Exit and make a right when you come to Nescafe Harajuku. You'll be able to see it on your left.

The restaurant itself has a very stylish and modern exterior. You'll actually wonder whether it's really a ramen shop when you see it. It has a welcoming atmosphere even if you go by yourself. When we went, despite it being 3pm on a weekday, most of the seats were taken up. And half of the customers were non-Japanese! As expected of such a popular restaurant.

The smell of citrus hits your nose upon entering the restaurant, something you wouldn't expect in a place that sells ramen.

The inner section of the U-shaped counter is in fact an open kitchen, giving the whole restaurant a feeling of openness, and the background music that plays is calm. It feels like you're in a fancy café.

I ordered the Yuzu Salt Ramen (¥980).

The toppings are simple. It comes with juicy mizuna, a boiled egg, bamboo shoots, char siu chicken fillet, and refreshing yuzu skin. You can choose from a boiled char siu packed with the chicken's good flavour or a light and healthy chicken char siu.

The noodles are thin and a healthy mix of wholewheat flour from Hokkaido and rye. The soup is made with carefully selected ingredients such as roast chicken,  seafood and potherbs that have been carefully cooked in natural spring water from Mount Afuri. The flavour is both full-bodied and light and will have anybody who's tasted it addicted.

There's also a vegan ramen (¥1,350) option too made with seasonal vegetables for vegans, vegetarians and healthy eaters. It's made with freshly-harvested Kamakura vegetables. No animal products are used in the dish, whether that's in the noodles, soup or toppings. The salted soup goes perfectly with the vegetables. This option is also recommended for people who aren't good with thick ramen.

AFURI in Harajuku is celebrated not only by worldwide fans of ramen, but healthy eaters and vegetarians too. There's no doubt you'll become hooked once you give their food a try.

◼︎Information

AFURI Harajuku

Address: Grande Foresta 1F, 3-63-1 Sendagaya, Shibuya, Tokyo

Opening Hours: 10am-3am (following day)

No Fixed Holidays.

3-minutes on foot from Takeshita Exit for Harajuku Station

TEL: 03-6438-1910

Website: http://afuri.com/

■MOSHI MOSHI BOX Harajuku Tourist Information Center

MOSHI MOSHI BOX is a tourist information center located at the cross road of Takeshita Street, Meiji Street, and Harajuku Street. The staff there are experts on the Harajuku area. You can get the most up-to-date news of Harajuku from the site.

Services:

Service list

・free wi-fi

・free water

・free PC & charge

・baggage room

・gift shop

・currency exchange

Opening Hours: 10:00-18:00

Closed: The year-end and New Year holidays

Contact: 03-2225-6447

5 Newly Opened Stores in Harajuku & Omotesando Selling Popular Sweets

Hey, everyone. Shiota here, the Director of the MOSHI MOSHI BOX Harajuku Tourist Information Center. Harajuku is a candy and sweets battleground, with many different stores lining the streets. Today, we take a look at Instagram-worthy goodies from much talked about newly opened stores!

"THE PARFAIT STAND" – Takeout Parfaits
Located exactly ZERO minutes from the Takeshita Exit of Harajuku Station is THE PARFAIT STAND, the sister store to popular cheese tart shop BAKE CHEESE TART.

Topping the parfait isn't fresh cream, but meringue! The taste and texture of the parfait is irresistible throughout, with ice cream, purin, mousse and more. Just holding it is kawaii and something new to take onto the streets of Harajuku with you♡

Full Details: https://www.moshimoshi-nippon.jp/100198

"LONG! LONGER!! LONGEST!!!" – Japan's Longest Food & Sweets
Opening as Japan's first shop to center around the 'length' of food, LONG! LONGER!! LONGEST!!! is located along Takeshita Street. The menu has three size variations, the same as in the store's name. 'LONGEST' in fact offers the longest food product in Japan!

They have lots of products on offer, including soft serve ice cream, tornado potato, churros and more. You'll never forget about their crazy length once you try one!

Full Details: https://www.moshimoshi-nippon.jp/93395

"GOMAYA KUKI" – Sesame Ice Cream
GOMAYA KUKI is a store selling sesame ice cream which has received support from inside and outside Japan. They have opened a store in Ura-Harajuku. One serving is covered in close to 9,000 sesame seeds!

Their menu is full of new, unique products including ice cream made with sweets friend in sesame oil, Japanese-style parfaits sprinkled with sesame seeds, and more. They also offer takeaway ice cream in cups.

"Q-pot CAFE." – Accessories Turned Into Sweets
This café is inspired by Q-pot., an accessory brand who create kawaii products themed around sweets.

The café is decorated in all things sweet as far as the eye can see. The interior has a fairy-tale like atmosphere that female customers will love. The sweets here are both sweet in appearance and taste looking exactly Q-pot.'s necklaces, rings and so on.

"The Pie Hole Los Angeles" – Original Pies from LA
This popular store hails from Los Angeles and sells their own original pies and organic coffee, and it's found its way to Takeshita Street in Harajuku!

Since April 4, they have been holding their second all-you-can-eat session for all their pie products every Wednesday. From sweet pies to classic pies, each and every one is handmade with care and attention. Why not head to one of their all-you-can-eats to try them yourself?

Are you hungry now? Be sure to use this list as reference if you're looking for a café in Harajuku!

And if you're unsure of how to get to any of these places, then pop into the MOSHI MOSHI BOX and we'd be happy to help!

How To: "Lolita Make-Up" – Techniques by MOSHI MOSHI Kimono Salon Staff Member Maho

MOSHI MOSHI BOX recommends 4 second-hand fashion shops located in the fashion capital Harajuku

Hi everyone! I'm Midori Blackmore from MOSHI MOSHI BOX Tourist Information Centre. As you all know, second-hand clothing has quickly become the new fashion. I have never worn a matching second-hand clothing outfit with a friend before. My friends are very different from me. They can effortlessly coordinate second-hand fashion whereas I can't. I love second-hand clothes so much that they make up half the clothes I own in my closet.

…Despite this, I still feel a scared to enter second-hand shops, don't you?

Whenever I see a new collection of second-hand fashion items making their debut appearance in a shop, I always think to myself, "only fashionable people can buy this stuff!" Running out of courage, there are times that I stop right before the entrance of the shop. That's why I'm dedicating this article to all the second-hand fashion newbies out there. Today I'm going to introduce you to some second-hand clothing shops that are not scary to enter!

KINJI

What is scary about second-hand clothing shops you ask? Sometimes they can look kind of dark. After all, dark clothing is fashionable. The dark atmosphere can be quite intimidating and can even put you off checking out the new arrivals of second-hand clothing. However, KENJI is a large shop with a bright interior. The atmosphere is comparable to that of a supermarket. Of course, the items inside are also super cute!

I recommend KENJI's remade goods! If you own one of these, you will find yourself often being asked by people where you got that from.

flamingo

Flamingo is the mecca of second-hand shops. This famous shop also has a branch in Shimokitazawa. We are often asked about this shop at MOSHI MOSHI BOX. Compared to shopping malls, not only are there less customers in second-hand clothing shops, but the staff at second-hand shops approach you more, so there are times that I get put off from entering at all.

I recommend flamingo because unlike other second-hand shops, it is always busy with customers. The atmosphere of "no unfashionable people allowed" might play on your mind in some second-hand shops but not here! At flamingo, everyone is too busy daydreaming about clothes to even notice you so there is no need to overthink!

Flamingo has a reputation of selling lots of shoes. Although brand new shoes are cute, worn out shoes also have their charm. You can wear them down yourself but this can be quite difficult to achieve, so it might be worth just buying some from a second-hand shop.

WEGO Harajuku main shop

WEGO is popular with middle school students because it is cheap, affordable and sells second-hand clothes! There used to be a second-hand shop next to H&M but now there is a special second-hand clothing floor inside WEGO Harajuku main shop. The shop is filled with friendly staff and the kindest of people, so this is definitely a place you could challenge yourself to!

Second-hand clothing plus new accessories… It's fun to think about creating an outfit at WEGO. The prices here are fairly cheap, so you'll probably end up buying lots of things. Sometimes there are limited sales events where you can stuff your bag with as many clothes as you like for a fixed price, so make sure to keep checking their SNS feeds!

MARTE

Have you ever made the effort to buy specifically from a second-hand shop but then the clothes you have and the atmosphere in which you try the clothes on have changed so much that you cannot coordinate anything? When you buy basic items, patterned shirts and large jackets from a second-hand shop, you sometimes think your new purchases are cute when you see them in the shop but then when you go home you lose the confidence to wear them…what a waste, right?

For those of you out there who have experienced this, I recommend MARTE.

I definitely recommend the dresses from here. Just put one on and you will transform into a vintage girl. You can always coordinate these dresses with a jacket and trainers. Consult the fashionable shop assistants and make sure to get your hands on some clothes that are easy to mix and match!

MARTE's original items are also really cute!

I have so many more recommendations for you in mind but the more I write the more likely I am to expose just how nervous I am about entering shops so I'm going to stop here!

If you are ever lost, please come see us at MOSHI MOSHI BOX!

Harajuku's artistic okonomiyaki restaurant: Reporting from Sakura Tei!

Hi! I'm Ellie from MOSHI MOSHI BOX Tourist Information Centre. At MOSHI MOSHI BOX, we get a lot of people asking us to recommend a place where they can eat authentic Japanese food in Harajuku. That's why I've decided to take a trip to "Sakura Tei". Sakura Tei is a restaurant not far from MOSHI MOSI BOX that serves a typical Japanese dish – onokomiyaki. Half of Sakura Tei's customers are tourists from outside of Japan, so I would really recommend this place to foreigners.

What exactly is okonomiyaki? Its basic form is a savoury pancake made from water, wheat flour, shredded cabbage and fried batter pieces. The name okonomiyaki means grilled (yaki) as you like it (onkonomi). Therefore, it can be customised with seafood or meat. The ingredients are mixed together and then grilled in a cast iron pan. This is one of the most popular dishes in Japan.

Look out for the artistic exterior and bamboo

Walk down Meiji-dori in the direction of Murasaki Sports (ムラサキスポーツ) . Meiji-dori is the street on which MOSHI MOSHI BOX is also located. Once you are at Murasaki Sports, walk down the street between Murasaki Sports and New Balance (NB) and then turn left at the Family Mart. You will immediately notice that the road splits off into two directions. From this point, take the thin pathway on your left. You will see a white building on your left called "DESIGN FESTA GALLERY". The restaurant Sakura Tei is on the left of this building. Look out for the vivid wall art and bamboo exterior – this is a sign you are in the right place. If you get lost and don't know the way, don't hesitate to ask us for help at MOSHI MOSHI BOX.

The interior is also photogenic! Each wall is painted with beautiful artwork. A new design is painted on the walls every half year, so you might see something different if you come back later in the year! Some paintings were offered by a solo exhibition artist from the "DESIGN FESTA GALLERY" next door. Other designs were even painted by the restaurant staff! The restaurant seats more than 200 people, making it perfect for even large parties.

Being hit by a wave of beauty, it was fun to take pictures of the interior even before having entered.

What caught my attention the most were the trees that are growing inside the restaurant. I was told that they were growing here before this place became a restaurant, and rather than cutting them down, the owner nurtured them, incorporating them into part of the restaurant. From this dynamic and unique idea, an atmosphere of freedom formed. You wouldn't even believe you are still in Harajuku. The atmosphere is so relaxing.

Order an original Okonomiyaki at Sakura Tei!

Besides okonomiyaki, the menu includes an abundant range of dishes such as monjayaki (similar to okonomiyaki), yakisoba (fried noodle dish) gyoza (dumplings) and teppanyaki (grilled food served on an iron plate). There is also an English menu available and many foreigners belong to the team of staff. They can speak many languages including English and Korean. You can order vegetarian and vegan food too so if you have any questions, feel free to talk to the staff!

I ordered Sakura Tei's most popular item off the menu – the "Sakura yaki" (¥1,400). All the prices on the menu are the prices including tax. Pork, squid, shrimp, matsutake mushrooms, welsh onions, pork belly slices and egg are the eight ingredients mixed into the batter of this okonomiyaki. Each table has a hot teppanyaki plate fitted into it so you can make your own okonomiyaki yourself.

It's ok even if you've never made one before! Easy instructions on how to make it are provided on each table.

I immediately took up the challenge of making one. First, you have to mix the ingredients with the batter with all your might – that's the key to making it so delicious. After mixing well, place the batter onto the grill plate and form it into a round shape. Then, place the pork belly slices on top and cook until golden brown (Approx. 6-8 minutes).

Once the underside is golden brown, it's time to flip it over! It's heavier than I thought… I wasn't sure if I could do it…

I drew up all my courage and went for it!!

I did it! Whenever customers flip their okonomiyaki particularly well, there is always a mini celebration. It's all about celebrating the process of making okonomiyaki and having fun here. A staff member even mentioned: "I love seeing the customers having fun while making okonomiyaki".

After flipping, cook for another 6 minutes.

When your okonomiyaki is cooked, place your egg on top (that you lightly cooked on the teppanyaki grill) and then add the original sauce and mayonnaise. Sprinkle on some katsuobushi (dried skipjack tuna flakes), some more mayonnaise and you are done!

I immediately took my first bite while it was still piping hot. Normally, okonomiyaki is slightly thinner than this one…but what about the flavour..?

…Super delicious!!! The batter is packed with ingredients that taste great with the seafood stock. The slightly sweet sauce makes it into a delicious specialty that can only be experienced at Sakura Tei! Normal okonomiyaki uses wheat flour that makes you full very quickly, however Sakura Tei's okonomiyaki is soft and thick – you will hungrily eat it all up! ♡

A fried parfait?! My first dessert experience here

After having okonomiyaki, you always want something sweet in your mouth! Skimming the menu, the one thing that caught my eye was the "ama-imonja yaki banayan" (¥550). Monjayaki uses wheat flour that is lightly mixed with water amongst a range of ingredients and then fried on the pan. It resembles okonomiyaki but is thicker. I quickly gobbled up the ama-imonja yaki.

It was easy to make! Just mix all the parfait ingredients together and then cook it. Just looking at this dessert made feel like an excited child. I had never tasted anything like this before!

It tasted a bit like a banana muffin and the caramelised golden-brown areas were sweet – I just couldn't stop! You should try making this one too!

There is one more thing I would like to recommend you to have after your meal. The homemade "Sakura Lemonade" (¥500 ). Their lemonade includes a Sakura-salted flavor that is popular among foreigners. The fresh flavor and taste of sakura brings back memories of spring. You can enjoy this drink at any time of year, so please check it out!

That was my first visit to Sakura Tei. It wasn't just the okonomiyaki, dessert and drink that I enjoyed, but also the way the restaurant makes the customers laugh and smile. If you're ever in Harajuku, make sure to check this place out!

Model & Writer Ellie

■Information

Sakura Tei (さくら亭)

Address:3-20-1, Jingumae, Shibuya, Tokyo

Opening hours:11:00 — 23:00 Lunch: 11:00 — 15:00

No regular closing days

TEL:03-3479-0039

■MOSHI MOSHI BOX Harajuku Tourist Information Center

MOSHI MOSHI BOX is a tourist information center located at the cross road of Takeshita Street, Meiji Street, and Harajuku Street. The staff there are experts on the Harajuku area. You can get the most up-to-date news of Harajuku from the site.

Services:

Service list

・free wi-fi

・free water

・free PC & charge

・baggage room

・gift shop

・currency exchange

Opening Hours: 10:00-18:00

Closed: The year-end and New Year holidays

Contact: 03-2225-6447

Twitter・Instagram @mmb_harajuku
RELATED ENTRIES
Kirby Café Launches Autumn Menu in Tokyo and Fukuoka

The Kirby Café in Tokyo and Fukuoka released three new dishes for autumn last Friday (September 18).

The menu items are made with seasonal flavours like pumpkin, sweet potato, and chestnut.

Filling Autumn Plate – Salmon Cream Pasta & Pumpkin Salad Sandwich | ¥1,480 (Before Tax)

One plate packed with fall flavours including a rich salmon cream pasta and pumpkin salad sandwich. If you look closely, you'll spot cute pieces of Waddle Dee cheese.

Fallen Leaf Waterfall☆Mont Blanc and Baumkuchen With Friends | ¥1,280 (Before Tax)

Rick, Kine, and Coo feature on this tasty-looking dessert plate which is a baumkuchen piled with a chestnut mont blanc cream.

Kirby's Hot Sweet Potato Sticks | ¥1,080 (Before Tax)

Crunchy on the outside, hot in the middle, and seasoned with fresh rosemary. Kirby is a pro at inhaling food, but don't burn yourself with these!


Information

Kirby Café TOKYO
Address: Tokyo Skytree Town Solamachi Floor 4F (1-1-2 Oshiage, Sumida, Tokyo)
Opening Hours: 10:00-22:00 (Last Orders 21:00)

Kirby Café HAKATA

Address: Canal City Hakata North Bldg. B1F, 1-2-1 Sumiyoshi, Hakata, Fukuoka, Fukuoka Prefecture

Opening Hours: 11:00-23:00 (Last Orders 22:00)

Book Here: https://kirbycafe.jp

Kirby Café Official Twitter: https://twitter.com/kirbycafe.jp

Review: Miffy Café at Tokyo Solamachi®

In commemoration of Miffy's 65th anniversary, the new Miffy Café opened on the first floor of Tokyo Solamachi on September 11, 2020 and will remain open for a limited time. The café is also collaborating with Japanese illustrator Shogo Sekine.

We visited the café to check out the themed menu, merchandise, and other fun things on show to see.

Stepping into the café is like stepping into a picture book world. It's really colourful in there. My mother read Miffy to me when I was a child, so I was hit with a real sense of nostalgia when I entered the café. No matter your age, you're sure to enjoy your time there – that's the kind of fun atmosphere they have created.

Terrine-Style Open Miffy Sandwich | ¥1,499

I ordered the terrine-style open Miffy sandwich and Miffy orange float from the themed menu.

The open sandwich arrives in the shape of Miffy, so it almost seems a waste to eat, but it was really cute and delicious. Simply the best. It's filled with potato salad, an avocado sauce, and salmon.

Miffy Orange Float | ¥899

The ice cream that tops the orange float is made to look like Miffy too!

Snapping a photo while drinking the float is pretty Instagrammable, so it's a must when visiting.

All of the items on the menu have Miffy somewhere on them, meaning anything you order is guaranteed to be kawaii. They have takeout too, which is great if you don't have much time to hang around or just don't want to dine inside.

Speaking of which, each table in the café is separated with an acrylic board to protect customers during the pandemic, and all of them have super cute designs. Another photo opportunity for sure!

The café sells original merchandise too. The fashion items and illustrations with English on them were designed by popular Japanese illustrator Shogo Sekine. There's a whole range of different goodies, from plush toys to fashion and more.

Don't you feel happy just looking at all these colours? You'll find yourself spoilt for choice on what to buy.

The Miffy Café is open until October 18. You can book a table too, so if you're in Japan during this time, be sure to visit the café website below.

Illustrations Dick Bruna © copyright Mercis bv, 1953-2020  www.miffy.com

Model & Writer:Eri Tanioku

Photo: Haruka Yamamoto

Translator: Joshua Kitosi-Isanga

Information

Miffy Café

Address: TOKYO BOX cafe&space, Tokyo Solamachi 1F, 1-1-2 Oshiage, Sumida-ku, Tokyo

Running: September 11, 2020 – October 18, 2020

Reservation Fee: ¥500

Official Website:  https://miffy-skn-65.cafe.jp/

Ojamajo Doremi Cafe 2020 ~FRUITS PARLOR~ to Open in Tokyo, Osaka & Aichi

Japanese company LEGS has announced the opening of the limited-time Ojamajo Doremi Cafe 2020 ~FRUITS PARLOR~. The themed cafes will open in Tokyo on October 29, Osaka on October 30, and Aichi on October 23.

Ojamajo Doremi is an original magical girl created by Toei Animation that ran from February 1999 to January 2003. To celebrate the series's 20th anniversary last year, LEGS opened a different Ojamajo Doremi limited-time themed cafe in collaboration with Cafe&Kitchen which welcomed lots of magical girl fans.

This year once again welcomes Etoile et Griotte as the art director for the fruit parlor-inspired cafe.

Ojamajo Doremi Cafe 2020 ~FRUITS PARLOR~ celebrates the 20th anniversary of Ojamajo Doremi Sharp is the second series in the Ojamajo Doremi series. Fans will be able to get their hands on a range of exclusive magical merchandise as well as tuck into pastel coloured fruity food.

FOOD

Doremi's Cheese Steak Doria in Cherry Sauce | ¥1,699


Steak is Doremi-chan's favourite food, so it was a must-have on the menu. The cream cheese is coloured like Doremi, and there's a cute musical note topping too. It comes with a cute lunch mat that looks like Doremi's skirt.

Hazuki's Omurice in Porcino & Orange Cream Sauce | ¥1,399


The omelette is made to look like Hazuki's yellow skirt. Enjoy together with the delicious porcino sauce and orange combination.

Onpu's Waffles With Crepe & Mascarpone | ¥1,299

Blueberry sauce-drizzled and mascarpone-topped waffles served with a mashed potato skirt. The sweet and sour mix is to die for.

DESSERT

Aiko's Blueberry Float | ¥999

A fresh blueberry float inspired by Ai-chan. Mix everything together to create a different flavour.

Momoko's Lemon Cheesecake Parfait | ¥1,399

A fresh lemon cheesecake packed parfait with lots of enjoyable flavours and textures.

Rhythm Tap Tart | ¥1,300


Inspired by the Rhythm Taps seen in the series, the tart imagines Doremi's transformation scene in Ojamajo Doremi Sharp.

DRINK

Onpu Melody Drink (5 Flavours) | ¥1,099


A rainbow line-up of colourful Onpu drinks available for takeout.

Movie Theater Menu

Girls Meet Sushi | ¥1,299


Inspired by the meat sushi that Sora and the gang eat in the animated film Majo Minarai wo Sagashite. Comes with an original postcard.

Exclusive Merchandise

Acrylic Keyrings (6 Designs) – ¥600 Each

Letter Set (1 Design) – ¥1,200 | Folder Set (2 Designs) – ¥700

A selection of super kawaii cafe-original merchandise is available for fans to grab.

Bonus Items


Those who book a table in advance, order a drink, or spend more than ¥2,000 at the cafe will receive one of six possible A5 folders.

Become a magical girl like Doremi at the Ojamajo Doremi Cafe 2020.

©Toei Animation


Information

Ojamajo Doremi Cafe 2020
Tokyo Cafe
Running: October 29, 2020 – December 6, 2020
Location: SHIBUYA BOX cafe&space
Address: Shibuya LOFT 2F, 21-1 Udagawacho, Shibuya, Tokyo

Osaka Cafe
Running: October 30, 2020 – November 23, 2020
Location: Abeno Q's Mall 4F
Address: Abeno Contact, 1-6-1 Abenosuji, Abeno Ward, Osaka

Aichi Cafe
Running: October 23, 2020 – November 23, 2020
Location: NAGOYA BOX cafe&space
Address: LACHIC B1F, 3-6-1 Sakae, Naka-ku, Nagoya, Aichi

Tokyo's Pokémon Café Adds Eevee Frappe to the Menu

The Pokémon Café in Ikebukuro, Tokyo, is adding an apple flavoured Eevee frappe to its ever-growing Pikachu Sweets by Pokémon Café menu. The frappe will be available from October 2 to December 4.

Eevee Apple Pie Frappe

The sweet tang of the apple combines with the caramel to create a tasty dessert drink, topped with whipped cream, crunchy piece bits, and a cute Eevee tail cookie.

Buy the separate Eevee sleeve to put on your drink to make a fully complete and adorable Eevee frappe♡

© 2020 Pokémon.©1995-2020 Nintendo/Creatures Inc./GAME FREAK inc.
Pokémon, ポケットモンスター and ポケモン are registered trademarks of Nintendo, Creatures Inc. and GAME FREAK inc.

KAWAII MONSTER CAFE HARAJUKU Collaborates With Alice's Fantasy Restaurant For Halloween Fair

KAWAII MONSTER CAFE HARAJUKU is set to collaborate with Tokyo's three branches of Alice's Fantasy Restaurant to serve up a Halloween themed menu. It will be served from September 19 to October 31.

The Halloween season is right around the corner, and the KAWAII MONSTER CAFE is once again joining in with the spooky festivities. This year, the cafe has joined hands with Alice's Fantasy Restaurant to create a collaborative Halloween menu lineup.

Colourful Rainbow Pasta With Halloween Cream | ¥1,400

Colourful pasta served in rich pumpkin sauce and with a variety of different ghost creams.

Singing Alice's Caesar Salad | ¥1,360

Alice's Fantasy Restaurant's popular Caesar salad heads to KAWAII MONSTER CAFE, an assortment of purple carrots, pumpkin, and other tasty delights. Alice is also hidden in the pasta somewhere as a black witch.

Kingpin Choppy & Henchman Humpty Dumpty Curry | ¥1,300

KAWAII MONSTER CAFE's mascot is served wearing a silk hat and comes with his fellow henchman Humpty Dumpty.

Cheshire Cat Splatter Ice Cream | ¥1,100

Soft serve ice cream topped with crunchy cereal, cotton candy, and chocolate, all drizzled in a splattered sweet strawberry sauce.

Customers who post a photo of their foot onto social media with the hashtag #tokyohalloweencollection can enter for a chance to win some Halloween merchandise.

Review: Meeting Pixar Characters in Japan at PIXAR FEST in Omotesando

OH MY CAFE, a chain of cafes in Japan, is now running a special Pixar-themed food event called 'PIXAR FEST' which will run in Tokyo, Osaka, and Nagoya.

"Keep On Smiling" is the the concept of the event, which will serve up a whole range of different foods including a Lightning McQueen exclusive on September 5, a special drink inspired by Disney Pixar's Onward which released earlier this year, a collection of strawberry desserts centred on Lots-o'-Huggin' Bear to celebrate Toy Story's 25th anniversary, and more. There's lots to see, so we follow MIOCHIN to the Tokyo event in Omotesando.

PIXAR FEST at OH MY CAFE is packed full of exciting things for both kids and adults alike. Here's our report.

The fun begins even before you enter the cafe, as at the entrance, you are met with a wall poster of numerous popular Pixar characters.

The moment you step inside, Sully is there ready to greet you! You can even take a picture with him, so if you visit, don't miss the chance.

You'll find familiar faces scattered all around the cafe, like Woody, Buzz, Mike, Nemo. The decorations and designs are really wonderful.

The original menu has a cute lineup too, with dishes, drinks, and desserts inspired by characters from the animated movies.

The food tastes really good too, so be sure to pick out a menu item based on your favourite movie.

Until October 9, you can order the special Onward and Lightning McQueen menu items. This includes 'Ian & Barley's Pink Sunset Blue Mallow Tea' and 'Lightning McQueen's Kachow Lightning Hamburger Sandwich.' You can see the full menu lineup here. It makes you want to watch Pixar movies all day then grab some Pixar food!

Lots-o'-Huggin' Bear from Toy Story 3 will have his own special menu items too: the 'Lots-o's Strawberry Chicken Hamburger' and 'Lots-o'-s Strawberry Drink.' These will be served from October 10 to November 24.

The cafe has its own collection of PIXAR FEST merchandise in three different types: the "PIXAR FEST Series" which uses the cafe's main visual for its design, the "Vintage Series" which uses a cute purple, and the "Alien Mix" which has a pop design with the Little Green Men from Toy Story.

Customers can also receive a limited-edition OH MY CAFE sticker if they order something from the menu, buy some merchandise, and post their thoughts about the cafe and their items on Twitter with the hashtags #キャンペーン #PIXAR FESTカフェで最高の思い出を作ろう #OHMYCAFE. Be sure to get involved if you're in Japan this summer and autumn.

PIXAR FEST at OH MY CAFE is a dreamland for Pixar fans, and is best experienced in person.

©Disney/Pixar

Information

PIXAR FEST OH MY CAFE

Tokyo

OH MY CAFE TOKYO / August 28, 2020 – November 15, 2020

Address: Tokyu Plaza Omotesando Harajuku (Floor 3F), 4-30-3 Jingumae, Shibuya, Tokyo

 

Osaka

kawara CAFE&DINER Shinsaibashi / August 28, 2020 – November 17, 2020

Address: Shinsaibashi OPA (Floor 9F), 1-4-3 Nishishinsaibashi, Chuo Ward, Osaka, Osaka Prefecture

 

Nagoya

kawara CAFE&KITCHEN Nagoya PARCO / September 4, 2020 – November 24, 2020

Address: Nagoya PARCO South Building (Floor 5F), 3-29-1 Sakae, Naka Ward, Nagoya, Aichi Prefecture

Pixar Fest OH MY CAFE Official Website: https://pf2020.ohmycafe.jp/

Hotel New Otani Tokyo, Osaka & Makuhari Now Serving Rich Chestnut Pancakes For Autumn

The Tokyo, Osaka, and Makuhari branches of Hotel New Otani are now serving seasonal autumn versions of their specially made pancakes at their coffee shop and all-dining restaurant SATSUKI until November 30, 2020

Fantastically fluffy pancakes

Hotel New Otani has been serving its special pancakes for the past 10 years which have become a favourite amongst guests.

The hotel's pastry chefs have whisked up a variety of flavours in line with the changing seasons this past decade using strictly-selected ingredients including strawberry, melon, mango, chestnut, and more.

A marriage of rich chestnut and fluffy pancake

Hotel New Otani Specially Made Chestnut Pancakes 2020 | ¥2,800 (Before Tax/Service Charge)


Chestnuts are the flavourful theme for autumn 2020's pancakes, made with strictly-selected chestnut astringent skin, sweet bean jelly, and topped with a chestnut macaron.
The pancakes are served with melt-in-the-mouth Italian ricotta. There are two different doughs, one made from coffee flour which has high nutritional value, and the hotel's original "White Cereal" which is a combination of millets and amaranth.
The pancakes are cooked on a low heat for about 5 minutes on each side so they rise to a fluffy 5cm thickness and become startlingly smooth.

Strawberries for winter

For this year's winter, the hotel will be serving strawberry pancakes.

Enjoy a selection of seasonal pancakes when staying at Hotel New Otani.

Information

Hotel New Otani Tokyo
Location: SATSUKI, Hotel New Otani Tokyo Main Lobby
Address: 4-1 Kioicho, Chiyoda-ku, Tokyo
Bookings/Enquiries: 03-5275-3177 (10:00-21:00)
Official Website: https://www.newotani.co.jp/tokyo/restaurant/satsuki/

Hotel New Otani Makuhari
Location: SATSUKI, Hotel New Otani Makuhari
Address: 2-120-3 Hibino, Mihama-ku, Chiba, Chiba Prefecture
Bookings/Enquiries: 043-299-1848 (07:00-21:00)
Official Website: https://www.newotani.co.jp/makuhari/restaurant/satsuki/

Hotel New Otani Osaka
Location: SATSUKI, Hotel New Otani Osaka
Address: 1-4-1 Shiromi, Chuo-ku, Osaka, Osaka Prefecture
Bookings/Enquiries: 06-6949-3234 (07:00-20:00)
Official Website: https://www.newotani.co.jp/osaka/restaurant/satsuki/

Kaori's Easy Recipe: Learn to Make Winnie the Pooh Pumpkin Soft Cookies

With just a small bit of ingenuity, turn everyday food into something cute using Kaori's Easy Recipe! With a few simple ideas, an ordinary recipe magically transforms into a cute dish.

Halloween in closing in, so for this recipe I'll be using pumpkin to make delicious cookies—crunchy on the outside and moist in the middle. This recipe rolls the dough into a ball, so it's a great alternative for people who aren't good with shaping or cutting cookies.

Ingredients

50g pumpkin (mashed and skin removed)

20g-25g sugar (I used sanonto sugar to bring out the sweetness of the pumpkin, but white sugar is fine too)

30g unsalted butter

A pinch of salt

60g weak flour

1

Combine and mix the steamed pumpkin, room temperature butter, and sugar. Then incorporate the salt and flour and mix again.

2

Now to shape everything. For pumpkin decorations, roll the pumpkin together and create a little depression in the top. Use a toothpick or something similar to create five indents around the outside as pictured above.

To make Pooh Bear, simply roll round and add the ears.

3

Bake at 150℃ for 20-25 minutes. Leave to cool, then decorate Pooh's facial features with a chocolate pen.

Kaori invites you into her world of character-themed food dishes in her recipe series. Be sure to check out her Instagram where she has uploaded many pictures of her character dishes!

Kaori Kubota (@kaopan27)

I live in Hokkaido and I love to make character themed foods, desserts and pastries♡

I want to see my family smile, so I enjoy putting in a bit of effort to make character foods and changing food into something cute♡

You can see more of my character foods and character bento boxes on my Instagram page → @kaopan72

Review: The 30 Year Old Cafe Chatei Hatou in Shibuya

Hi, everyone. It's Banako of MOSHI MOSHI FRIENDS. Today I'm reviewing Chatei Hatou, a long-standing cafe in Shibuya, Tokyo.

Shibuya is a place that bustles with youth culture and fashion. It's also home to many eateries, but there aren't many places around that you can go to to get away from the busy streets for a quiet break.

Chatei Hatou opened in 1989 at Miyamasuzaka Shita in Shibuya, where it has gone unchanged and welcomed customers for the past 30 years. It's very easy to get to, being just a 3-minute stroll from the Hachiko Exit of Shibuya Station.

When opening the door to the cafe and stepping inside, the first thing to jump out at you are the rows of coffee cups lined up along shelves behind the counter.

The coffee cup collection features a selection of works by many different makers. There's even a cup in there valued at ¥200,000!

The antiques littered here and there around the cafe elevate the vibe of the cafe. There's a number of seating areas, including the counter seats as well as tables for two, four, or big groups.

I felt the faint tasty scent of the Japanese pudding calling to me so I went and ordered a pumpkin pudding along with a hot chocolate.


Cafe Chocolat (Hot) ¥950 / Pumpkin Pudding ¥500


The pumpkin pudding was nice and moist and rich in flavour. Nothing short of delicious. It's made even sweeter when eaten together with the fluffy whipped cream―which also elevates the flavour of the pumpkin too.


I was inspired by the cafe owner to go for the cup I chose for my hot chocolate. There is so much variety between the cups; it's fun getting to see rare ones. Be sure to check their Instagram page where they have more detailed write-ups about their coffee cups and coffee varieties.

The cafe has a selection of original coffee blends which they make fresh with the utmost care and consideration. You can buy their coffee beans, take cake away from you, and even order whole cakes, so you can enjoy their delights at home.

Chatei Hatou has stood together with Shibuya these past 30 years. According to the owner, the most important thing about running a cafe is making sure its doors are always open. It's been tough as a result of the pandemic this year, but the cafe is still there as a part of people's lives.

The next time you're in Shibuya, why not enjoy a drink and a sit down at Chatei Hatou?

Information

Chatei Hatou
Address: 1-15-19 Shibuya, Shibuya-ku, Tokyo
Opening Hours: 11:00-23:30 (Last Orders 22:30)
No Fixed Holidays (But may be closed during the New Year Holidays)
Access: 3-minutes on foot from Shibuya Station's Hachiko Exit
Official Instagram: https://instagram.com/hatou_coffee_shibuya?igshid=9ubwybwvpktb
*The cafe is cash-only and has an outdoor smoking area

Writer: Banako
Translator: Joshua Kitosi-Isanga

Starbucks Japan Unveils Candied Sweet Potato Frappuccino®

Starbucks Coffee Japan has revealed the second beverage in its Artful Autumn @ Starbucks® series of drinks. The "Candied Sweet Potato Frappuccino®" will be released at Starbucks branches in Japan on September 23, 2020.

Candied Sweet Potato Frappuccino® | Tall Size Only – ¥590

Each drink is made using a whole chopped and blended Japanese daigaku imo candied sweet potato to serve those autumn flavours, with its marbled golden colour also reminiscent of the autumn leaves. It's topped with whipped cream, black sesame seeds, and sweet potato syrup.

Truly the perfect dessert drink to sip on for the changing seasons.

Information

Candied Sweet Potato Frappuccino®
Serving: September 23, 2020 – October 31, 2020

Available: Starbucks in Japan (select branches not participating)

Starbucks Coffee Japan Official Website: https://www.starbucks.co.jp/

Halloween Doughnuts Creep Their Way Into Krispy Kreme Doughnuts in Japan

Halloween arrived at Krispy Kreme Doughnuts in Japan on September 16 with the "monster HARVEST" collection of themed doughnuts. Available until November 1, the spooky lineup incorporates a selection of Japanese autumn flavours like pumpkin and purple sweet potato.

The doughnut collection is here to put us in the Halloween spirit nice and early. Krispy Kreme Japan's popular jack-o'-lantern doughnuts are back this year, as are the new black cat doughnuts which first arrived last year. A completely new purple sweet potato flavour was also introduced to the menu on September 1.

Pumpkin Pudding Jack-o'-lantern | ¥240 (Before Tax)

The jack-o'-lantern doughnuts have been made even more delicious for Halloween 2020 by using pumpkins from Hokkaido and filling them with velvety pumpkin Japanese-style pudding. Add to that the chocolate facial features and you've got yourself a tantalising treat for the spooky season.

Black Cat Caramel | ¥250 (Before Tax)

A black cat made with big white chocolate eyes and a dark chocolate face topped with crunchy almond pieces and stuffed with caramel cream.

Muchimochi Purple Sweet Potato Mont Blanc | ¥240 (Before Tax)

The tasty, chewy, and hot purple sweet potato doughnut is made with sliced sweet potato and coated in powdered sugar. It's served hot which makes the flavour even more intense.

Halloween Dozen (12 Doughnuts) | ¥2,000 (Before Tax)

Share a dozen with friends this Halloween which includes not only two of each of the ones already shown, but Krispy Kreme's popular "Chocolate Sprinkle" and "Original Glazed®" too.

Halloween Mini Box (20 Doughnuts) | ¥2,000 (Before Tax)

There's also a colourful box of 20 mini versions of the doughnuts too.

Information

monster HARVEST
Running: September 16, 2020 – November 1, 2020

Krispy Kreme Doughnuts Official Website: https://krispykreme.jp

Tokyo Stroll: The Café That You Want to Visit to See Someone #14 – 'Kayaba Coffee' in Yanaka

In this edition of The Café That You Want to Visit to See Someone, I visited Kayaba Coffee, a coffee shop in Yanaka, Tokyo, which is a perfect example of the old and traditional shitamachi neighbourhoods.

Kayaba Coffee is just a 10-minute walk from both Nezu Station and Nippori Station.


This is a place I've visited in my private time out of work and I'm always excited to go. Kayaba Coffee was established in 1938, and actually closed in 2006. But due to public demand, the cafe reopened just two years later in 2008. It's a popular coffee shop loved by people of all generations.

Time to head on in.

The first floor houses the counter and table seats, while the seating on the second floor is traditional zashiki style on tatami flooring. Although it's a cafe, you I feel so relaxed in there that it's like I'm visiting my grandma's house. The sun shines through the big windows, making you all warm and want to take a nap.

I ordered their super popular egg sandwich! The menu was changed in May this year, and a new and improved version of their egg sandwich was put on there. It's made using sourdough bread from VANER, a local bakery in Uenosakuragi not far from the cafe.


Breakfast Menu – Egg Sandwich | ¥1,000

The chewy, sour bread is the perfect combination with the fluffy eggs.

Lemon Squash | ¥600

The lemon squash has a cinnamon aftertaste. Everything on the menu is made with love and perfection; before I realised it, I was hooked on going there.

Strawberry Shaved Ice | ¥800

This was my first shaved ice of the year! I went with the classic strawberry flavour. The syrup is super juicy and nearly collapsed the fluffy shaved ice the moment I put it on. It has a syrupy texture and the strawberry juice has a sweet and sour kick that's just simply delightful♡

And you can make it even sweeter by pouring over your desired amount of condensed milk. It was really tasty.


Kayaba Coffee is the same as it was back in the day, and continues to be loved dearly. I think even people who visit it for the first time will feel a sense of nostalgia. If you have a place you can go to relax on bad days or when you're feeling down, it's sure to give you the strength to work hard again. This cafe is a wonderful place that's close to people's hearts.

I want to visit there again already.

Writer/Model: Ema Tanioku
Photographer: Haruka Yamamoto
Design: Yuko Takayama (ASOBISYSTEM)

Translator: Joshua Kitosi-Isanga

Information

Kabaya Coffee
Address: 6-1-29 Yanaka, Taito-ku, Tokyo

Opening Hours: [Tue-Fri] 8:00-18:00 (Last Orders 17:30) / [Weekends] 8:00-19:00 (Last Orders 18:30)

Closed: Mondays