5 Tokyo Hotels a Little Different From the Rest
Do you ever first yourself stuck for choice when it comes to choosing a hotel to stay at during your trip? Since you're making the effort to travel, you want your hotel destination to be an enjoyable experience too, right?
We've compiled a list of hotels in Tokyo that are a little different from the rest and opened, or are set to open in 2018.
At OMO, they focus on tourism, offering not simply rooms, but a travel experience. They focus on elevating the excitement of travel for its guests by giving them the chance to fully enjoy towns and cities and the tourist spots connected to them. The hotel offers a service that helps guests discover the entertaining opportunities available to them all within walking distance of the hotel, allowing a deepening of knowledge of the city.
Full Details: https://www.moshimoshi-nippon.jp/107128
Capsule Hotel「MAYU TOKYO WOMAN」
Compared to existing capsule hotels, MAYU TOKYO HOTEL has simplified the administration process, reduced the noise level, and is committed to efficient operation. It has considered the current image of capsule hotels and changed the design process in order to increase the private atmosphere. To ensure that guests can enjoy peace of mind, their design changes started from the stairs. MAYU TOKYO HOTEL only employs female staff, which is a large change from the conventional style, and being a female-exclusive hotel,  also makes is a great option for women looking to stay somewhere.
Full Details: https://www.moshimoshi-nippon.jp/105495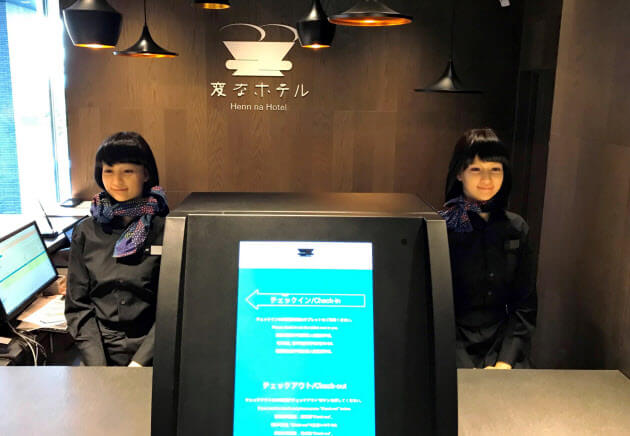 Henn-na Hotel in Ginza incorporates robots and the latest cutting-edge equipment around. Two humanoid robots are installed at the front desk. A bar is also situated on the first floor that serve 300 types of alcohol including the rum produced at Bar Lamp in Ginza. During the daytime, the bar transforms into a lounge where guests can chat casually. The hotel is very comfortable to stay in, offering equipment such as the iRemocon, ChromeCast and mobile devices, and the rooms are even cleaned by an auto cleaning machine. Why not experience the latest in technology with robots while in Tokyo?
Full Details: https://www.moshimoshi-nippon.jp/91425
This hotel fuses retro tastes with modern elements. The reception area features an old 1926 Victrola Credenza gramophone by JVC USA, giving the room a nostalgic and retro feel. Rooms come with big bathrooms, high quality mattresses co-manufactured with Simmons that promise a peaceful sleep, beauty products, massage chairs and more. Consider this hotel―with its nostalgic atmosphere―if you're looking for some real relaxation.
Full Details: https://www.moshimoshi-nippon.jp/89240
This hotel is truly Japanese, with 'tea' as its core theme. Opening later this year, there will be four types of rooms to choose from, each of which are inspired by Japanese tea shops. The first floor will be home to a restaurant/delicatessen offering dishes and desserts made using tea. The second floor is where the reception will be, and the third floor upwards will be the guest rooms. At the front will be a counter where you can taste test teas, and there'l even be a shop selling tea-related products. The hotel is about a 20-minute taxi ride from Haneda Airport which is super convenient for when you land in Japan.
Full Details: https://www.moshimoshi-nippon.jp/79790
We hope this list proves useful when considering your accommodation opens when travelling to Tokyo. Be sure to enjoy your Tokyo trip to the absolute fullest.
RECOMMENDED ENTRIES
Top 3 Hotels in Japan With a Beautiful Night View: Enjoy an Extravagant Experience

Travel booking service Rakuten Travel have listed the top hotels popular with couples for their nightscape view.

1st Place: Mitsui Garden Hotel Ginza Premier (Tokyo)

Placing top for the second year in a row is Mitsui Garden Hotel Ginza Premier. With 16 lobby floors, a restaurant, and all guest rooms fitted with huge bedroom windows, this establishment lets you soak up the captivating view of Tokyo at night. There are rooms where you can enjoy the sight from a bathtub, rooms with a guaranteed view of Tokyo Tower, and more.

2nd Place: Hotel Okura Kobe (Hyogo)

Standing tall in Hyogo Prefecture, Hotel Okura Kobe is a 35-storey building soaring above Kobe's waterfront. As well as a look at Osaka Bay rolled out before your very eyes, and the towering Rokko Mountains, guests can look forward to an unbroken view of Kobe Bay, Kobe Port Tower, and other landmarks. Kobe's night scenery is ranked amongst Japan's top, and this hotel monopolises its grand view.

3rd Place: Navios Yokohama (Kanagawa)

Navios Yokohama in Kanagawa Prefecture is a hotel with a unique appearance built in the Minato Mirai area of Yokohama which is home to countless tourist spots. Here, you can gaze at many famous locations like Yokohama Bay Bridge and Yokohama Bay not only from the guest rooms but the restaurant and bar lounge too.

Did you enjoy this list?

If you're planning a trip to Tokyo, Hyogo or Kanagawa at any point and are looking for hotels, then definitely consider this list as reference in your search!

6 Recommended Hotels in Asakusa Within 5-Minutes' Walking Distance From Station!

At the heart of Tokyo's shitamachi is Asakusa, a district that lives and breathes history and tradition with its pronounced Edo spirit. It's also a popular sightseeing location for tourists. Every year, 30 million people roll up to see the symbolic sights of Tokyo's ancient district, including the Sensō-ji temple and Kaminarimon, or "Thunder Gate."

In this article, we're going to recommend 5 hotels within 5-minutes' walking distance from Asakusa Station. Be sure to find the perfect and most convenient hotel for you.

THE GATE HOTEL Kaminarimon by HULIC

This hotel is just 2-minutes on foot from Asakusa Station's exit. Its stylish design is truly eye-catching. You can see Tokyo Skytree – the tallest tower in the world – from the glazed front floor lobby on the 13th floor. You can also get a full view of the Asakusa's neighbourhood from the rooftop terrace, as well as Skytree, while enjoying a meal. We recommend this one for people looking for a good view from their hotel.

Richmond Hotel Asakusa

This is business hotel is located about 3-minutes on foot from Asakusa Station's A1 exit. The hotel won first place in SPRING's 2015 business hotel category. The entire building is fitted with Wi-Fi and there are ethernet ports and printers that can be used for free, and every room has electrical outlets. The front desk operates 24-hours a day and there is also baggage storage, as well as microwave ovens on the 6th floor that can be used for free. This one's recommended for people seeking out a hotel with lots of amenities.

Asakusa View Hotel

The Tsukuba Express Line and Asakusa Station are directly connected to this sleek, high-rise hotel which stands 28 stories high and has 3 basement floors. Choose from a wide range of different rooms including traditional Japanese rooms, rooms with a fantastic view, rooms with luxurious bedding and amenities and more. The 26th floor is home to the Sky Grill Cafe & Bar where you can tuck into a delicious breakfast while overlooking the town. If you're searching for a top grade hotel in Asakusa then look no further.

Asakusa Hotel Hatago

Feel the charm of traditional Japan at Asakusa Hotel Hatago, situated about 2-minutes by foot from Asakusa Station via the Toei Asakusa Line. All rooms are fitted with traditional tatami flooring, allowing you to relax barefoot in a room that will heal your mind and body. The Japanese style beds are manufactured by Simmons and rooms are equipped with a humidifier and air purifier. The real treat of staying at this hotel is sleeping in a Japanese-style room with traditional bedding. There's even sliding doors and Japanese-style writing desks, as well as traditional wallpaper, which will give you that Edo feeling. Those looking to stay traditional on their Japanese trip should consider this option.

 Hotel Kaminarimon

Hotel Kaminarimon is a long-standing 4 story hotel just 1-minute from Asakusa Station via the Tokyo Metro Ginza Line. The hotel is right beside Asakusa's famous sightseeing spot Kaminarimon – the "Thunder Gate". From the hotel, you can also see the lights of Nakamise-dori's shops. There's plenty of English guidance provided by the hotel, making it a popular destination for foreigners. The rooms are a little small, but they have a real at-home vibe, and you can feel the owner's care that has gone into the hotel. We recommend Hotel Kaminarimon for people that want to be close by the sightseeing spots.

Khaosan Tokyo Laboratory

This cheap hostel is aimed at backpackers, offering a stylish space and based around the concept of being Japan's most affordable and comfortable hostel. You'll find it just 5-minutes on foot from Asakusa Station. They have a diverse selection of rooms including rooms perfect for families of 3-4 people, female dormitories with bunk beds, and shared male and female dormitories with bunk beds. It's cheap to stay there and it's super clean. You don't need to worry about your wallet drying up here.

Was this list helpful? Be sure to pick out the best option for you so you can conveniently spend a nice relaxing time in Asakusa after a day out.

Top 10 Pet-Friendly Hotels in Japan for Travelling with Your Pets

Let's face it, travelling with your pet, whether a cat, dog or some other fluffy critter, leads to a lot of worry, like your pet's physical condition, causing nuisance to those around you – the list goes on. Well, have no fear when coming to Japan. Rakuten Travel have ranked a list of the top 10 highly-received and accommodating places that will cater to you and your pet when traveling, delivering a hospitable service and coming equipped with all pet amenities.

1st Place: "Murphy" – Stay over with your pet and reserve a place at the natural hot springs

The "dog-friendly relaxing spa hotel" Murphy is located in Shizuoka Prefecture and offers a 1-day overnight stay for up to 4 people, and you can take your cat, dog or other small animal with you. Every room has a living room with plenty of space for big dogs and comes prepared with amenities for your pet. Besides the bedrooms, you can also eat in the dining room and spend time with your pet on the terrace with an unbroken view of the ocean. The hotel even has open-air natural hot springs that you can reserve, and guests can use the available pet bath tubs at the washing area if they so wish. Both you and your pet can take a dip together, or if your pet isn't too good with baths they can sit and wait in the changing room.

2nd Place: "Kominka Shokudo Rokudaime Heiji"

Kominka Shokudo Rokudaime Heiji can be found in Tochigi Prefecture, just a 15-minute walk from Yunishigawa-Onsen Station. This facility accommodates one person for one night and provides an earthen floor for pets to sleep on. They have a plan available where you can walk together with the site's two front of house dogs, Ikari Musume-chan and Damu-kun, which has proven popular. Those that have used the plan comment how much fun it is to walk and run together with Damu and Ikari Musume who are very lively.

3rd Place: "Brand-new Day" – A tiny tucked away lodge in Izu-Kōgen

Brand-new Day is in Shizuoka Prefecture and comes with four ocean-facing rooms. Guests can stay in the same room as their small dog, and this place also has rentable open-air hot springs and doggy bath tubs. People comment how although they were worried about travelling with their dogs for the first time, choosing Brand-new Day was the absolute right way to go, and compliment the lodge for their kind consideration.

4th Place: Hotel Resta

Situated in Tochigi Prefecture, Hotel Resta is another dog-friendly location. If guests use a cage they can enter the lounge without worry. One person praised the accommodation, saying "I stayed for a couple of days with my chihuahua and family. It was my first long-distance trek with my dog, so I was a little anxious, but there was a dog enclosure I could use at nighttime, so my mind was put at ease. My dog also become accustomed to the room and relaxed well."

5th Place: "Ashiato no Mori" – A rentable overnight pet villa

Ashiato no Mori is in Shizuoka Prefecture and was revamped and reopened in July 2016 to accommodate 3 people per night without meals. As well as their 'dog run' where your beloved dog can enjoy playing to the fullest, each room caters not only to the owner, but the pet too, filled with dog amenities to make the stay for both the dog and the owner a pleasant experience. The villa has been praised for its attentiveness and amenities for both parties, as well as the hospitality towards pets and consideration of guests.

6th Place: "Maure Sanso" – Maruseppu Hot Spring

Maure Sanso is a North American style hotel that sits in the middle of a quiet forest in Hokkaido. A cottage complete with hot springs, Maure Sanso is another pet-friendly site that enables guests to stop over with their pets. There's facilities to cook for yourself making it perfect for long stays. And because there are large public baths where you can enjoy simple alkaline hot springs, it's a great opportunity for people that want to travel with their pets but also want to enjoy a relaxing time in the onsen.

7th Place: "Guest House Bern"

Guest House Bern is located atop Kurumayama 1,600m above sea level in Nagano Prefecture. It caters not only to small dogs but bigger ones too thanks to the large spaces available. Guests can enjoy spending precious time with their dogs on a fun dog run or during dinnertime where your dog can join you.

8th Place: "Hamadoraku" in Nishiizu

If you have a cage or crate available, then you can get an overnight room with a small dog at Hamadoraku in Shizuoka Prefecture. If the weather is good you can catch a glimpse of Mt. Fuji while you ease your fatigue in the open-air baths. One guest said, "We went as a husband and wife with our dog. It's not a new hotel, but we were pleased with the immaculate state of the rooms and futons."

9th Place: "Daikokukan"

Gunma Prefecture's Daikokukan not only has bedrooms, but a food area too where you can go with your dog. There's a playroom that can house up to around 20 dogs, so they can have fun even if it's raining. As well as cats and dogs, the site can also lodge various birds such as parrots and Java sparrows. The hotel has been praised by guests for stocking necessary amenities for pets as well as the pet playroom, the dog run and open-air baths. They also compliment the site for creating a space where dogs can still enjoy themselves even if it's raining, and for providing rooms where you can take your pets and have fun talking with the other guests.

10th Place: "Ishinoue" – A villa with rooms all equipped with open-air baths

The final site is in Shizuoka Prefecture, which welcomes dogs, rabbits, ferrets, cats and more. It's a particularly cat-friendly hotel as it comes with "cat rooms" too. Ishinoue has been commented for the staff's attentive interactions and communication and as a wonderful experience for people staying overnight with their pets for the first time. The food has also been applauded for being delicious and the cat rooms as a welcome addition for spending a pleasant time with pet cats.

If you're thinking of travelling to Japan with your pet, then be sure to make use of this top 10 list to make your trip a comfortable and stress-free one.

Five unique "concept hotels" to make your travels in Japan more exciting.

Choosing a hotel is not easy and everybody wants to stay in a nice hotel. In this article, I will introduce to you some unique "concept hotels" in Japan.

SAMURAIS HOSTEL ikebukuro (Tokyo / Ikebukuro)

The concept of the hotel is "Samurai/Ninja × Art." The hotel can be enjoyed as an entertainment facility which offers rooms created under the theme of "wall art" and "castle." Various events using open spaces, body-armor-wearing/photo-taking experience can be experienced. The fee differs depending on the season but the price range per person is 3,000 yen to 6,000 yen per night. It is a hostel where visitors can enjoy the culture of Japan at a reasonable price.

Detailed information:Enjoy a relaxing stay at the new samurai and ninja-themed hostel which has just opened in Ikebukuro

BOOK AND BED TOKYO(Tokyo / Asakusa)

This is hostel that has two different sections that is, "a book shop where you can sleep" and "a bar where you can sleep." Full-fledged café bar menus such as original cocktails and coffees will be offered to guests staying overnight and to daytime guests.

Also, cool original pajamas can be rented. It is a special space where you can read books and sleep.

Detailed information: A book store where you can stay overnight, "BOOK AND BED TOKYO" will open in Asakusa

Tune Hakodate Hostel & MusicBal (Hokkaido/Hakodate)

A facility that includes a guest house, a share house and a music bar. The music bar has a stage where performers can hold live concerts. Sound engineers, light engineers and DJ booths are installed and they offer craft beers and wines produced in Hokkaido from 500 yen. They also offer organic vegetables and low-sugar menu items. A cheap accommodation which music fans will love.

Detailed information: Vacant building undergoing renovation in Hokkaido's Hakodate city will reopen as accommodation for travelers

Hoshino Resort Tomamu (Hokkaido)

Hoshino Resort will offer "Kohri no Hotel (Ice hotel)" for a limited time offer (2018,01,13 to 02,28). The size of the Kohri no Hotel (dome-shaped) is 8.5m in diameter and 3.5m in height, with a wall thickness of 15 to 20cm. The beds, chairs and tables installed inside the hotel are all made of ice. They have sleeping bags which can be used in temperatures of up to minus 30 degrees so you don't have to worry about the coldness. The hotel is very quiet and therefore you can enjoy a unique stay.

Hotel New Otani (Tokyo)

A new room with a whole new concept "Shin Edo Single" was opened. In this room, you can experience a superb stay with a cypress bath which heals and warms your body with its fresh smell and soft texture. The Japanese garden which is 400 years, used to be the compounds of Kiyomasa Kato who is known as a general during the Sengoku Era, the compounds of the Ii family and  Fushimi Palace.

Detailed information:"Shin-Edo Single Rooms" to be offered at Hotel New Otani. Let's experience a traditional Japanese bath

Did you find a hotel you are interested in? If so, why not make travel plans and visit one of these unique hotels.

Please check the following article, "Manners you must keep to enjoy hotels in Japan."

Have a nice trip!

We all know that staying in a hotel can be pretty expensive. But if you're looking to stay somewhere that is stylish and clean with the benefit of being cheap, then look no further. Here are 5 affordable hostels and capsule hotels located in Tokyo.

BOOK AND BED TOKYO (Asakusa)

"BOOK AND BED TOKYO" is a hostel designed around the concept of being able to stay in a bookshop. There are 4 branches of BOOK AND BED TOKYO, with the fourth and latest set to open in Asakusa. The hostel comes with an authentic cafe bar menu serving original cocktails, coffee and more from bookshelves to both overnight and daytime guests. From just ¥3,800, you can look forward to the pleasure of books and rest in the very special experience of staying overnight at a book store.

Full Details: http://www.moshimoshi-nippon.jp/67896

IMANO TOKYO HOSTEL

IMANO TOKYO HOSTEL is located 10 minutes from Shinjuku station and 3 minutes from Shinjuku-Sanchome Station by foot, right by the Hanazono Shrine. The hostel has both normal rooms and traditional Japanese style rooms. A big highlight of the hostel is the cafe & bar on the first floor. (Cafe – 8:00-17:00 / Bar – 18:00-23:00). Accommodation prices from ¥3,500.

Full Details: http://www.moshimoshi-nippon.jp/34372

IMANO TOKYO GINZA HOSTEL

"Imano Tokyo Ginza Hostel" is also located in Shinjuku. The hostel features a comfortable lounge for guests staying the night where they can enjoy chatting together. It's a place that recognises and seeks to preserve that "one-in-a-lifetime encounter" while on a trip. As well as a female-only floor, Imano Tokyo Ginza Hostel offers a wide range of different bedding types and room types, from family rooms which the whole family can enjoy together to cost-effective dormitory rooms. Accommodation prices begin at ¥3,400.

Full Details: http://www.moshimoshi-nippon.jp/59036

GLANSIT AKIHABARA

"GLANSIT AKIHABARA" is a capsule hotel located just 3 minutes' walk from Akihabara Station, making it easily accessible, standing at 10 stories high. At every turn of the hotel, from the earthen-coloured bedding area and lounge, is placed materials associated with nature, showing the hotel's hospitality not just in its functional aspect but its make up too. Beds are fitted with original mattresses provided in joint development with bedding manufacturer Tokyo Nishikawa. Accommodation prices start at ¥3,500.

Full Details: http://www.moshimoshi-nippon.jp/58782

FromScratch TOKYO

"FromScratch TOKYO" is an accommodation aimed at foreigners located close by Sumiyoshi Station, a 20 minute train journey from Shinjuku Station via the Toei Shinjuku Line. It includes a shop that rotates services – during the daytime it's a cafe that serves Japanese tea, while at nighttime it turns into a bar serving Japanese alcohol. Artists are invited to display their latest works and live events are also hosted. FromScratch TOKYO enables guests to immerse themselves in Japanese culture with Japanese tea and alcohol served with with art, music, or on its own.

Full Details: http://www.moshimoshi-nippon.jp/60179

Do any of these hotels and hostels peak your interest? Each one of them serves up their own slice of originality, promising a unique experience to whichever you visit. Pick which one suits your needs most during your travels to Japan!

"Shin-Edo Single Rooms" to be offered at Hotel New Otani. Let's experience a traditional Japanese bath

Since 2017 October 14th Hotel New Otani is offering its guests redecorated rooms with a new concept, that is the "Shin-Edo Single Room." Anticipating a great increase in the number of foreigners visiting Japan up to the year of the Tokyo Olympics in 2020, and to meet the needs of such foreigners who want to experience true Japanese hospitality, Hotel New Otani has redecorated rooms with the theme of "traditional Edo culture." These rooms will also be equipped with state of the art technology that Japan can be very proud of.

The Japanese Garden inside the Hotel New Otani grounds has been ranked at No. 6th in TripAdvisor's top 20 list of "Best Free Attractions in Japan" following "Katsurarikyu" in Kyoto which ranked in at 5th place. In addition, this same garden was also selected at as one of the "Top 10 'oasis' sites in Tokyo."

With a history of more than 400 years, the garden had been the property of various samurai lords such as, Kiyomasa Kato's compound, Ii family's compound and Fushimi Court.

The 10-acre garden is known to be a power spot where a spring wells up and it features antique stone lanterns which convey the tradition and heritage of this garden. In addition, the tea ceremony house, "Waraku-an" is also located in the garden. This tea ceremony house was built by Kimura Seibei to hold a tea ceremony to commemorate the Crown Prince's (present Emperor) returning from his attendance at Queen Elizabeth's coronation ceremony.

The night time lighting of the garden has been undertaken by Motoko Ishii, a leading Japanese lighting designer. She designed the lighting of the garden to express Japan's spirit of hospitality and the garden can be enjoyed from the guest rooms. She comments on this project as follows, "I wanted to express the lighting culture of Japan. To do this I took particular attention to the various graduations of light and shadow, and I have designed the lighting so that it is changed by season. I wanted the foreign guests of the hotel to feel the history of Japanese garden culture."

For foreign visitors to Japan, of course visiting tourist sites, going shopping and eating Japanese cuisine is very popular but another favorite is visiting a spa or having a traditional Japanese bath.

One of the Japanese bath experiences and food experiences is the one glass of alcohol after taking a bath.

Chilled sake selected by the hotel sommelier – or a premium non-alcoholic beverage – is offered as a complimentary amenity exclusively in this room type. The selected sake is called "Jinmai Ginjyo Hakkaisan." This sake is a highly acclaimed sake getting 94 points out of 100 points in the Ultimate Beverage Challenge 2017 held in the US.

The Japanese have pursued perfection from a limited space from long ago like a Sado and Bonsai arts.

"Shin-Edo Single Room" is advocated as a concept that the fact that the space alone is not proportional to the richness and convenience, that the necessary space is available in a limited space, and convenience brings true comfort.

These redecorated rooms are equipped with the necessary elements for a pleasant stay, strategically laid out in its 26 square meter space. Exclusive amenities, along with the Japanesque theme, offer a stay enriched with tradition, comfort, and technology.

It was designed by a Japanese designer living in Kyoto, who depicted old Japanese patterns and lanterns.

Why not experience a traditional Japanese bath at Japanese historical building?

■Information

 "Shin-Edo Single Room"

Starting from: October 14th, 2017

Rooms: 26 rooms

Price: 1 day stay, 1 room ¥45,344(tax and service fee included)

TEL: 03-3234-5678

※Please book a room from following website:

http://www.newotani.co.jp/tokyo/stay/room/main/me26/index.html

Hotel New Otani – Tokyo

Address: 4-1 Kiyoi-cho, Chiyoda, Tokyo

TEL:03-3265-1111
RELATED ENTRIES
Keyakizaka Lights, a Tokyo Winter Tradition, to be Held Again in 2022

From November 11 until December 25, 2022, Roppongi Hills Christmas will cover Tokyo in glittering lights once again. The Keyakizaka Lights, one of Tokyo's most popular winter attractions, will also take place in 2022, with the 400-meter-long Keyakizaka street covered in over 800,000 blue and white LED lights.

For the first time in three years, the Mohri Garden will be covered in lights as well. The annual Christmas market will invite guests to experience an authentic German Christmas, and Christmas cakes and gourmet food unique to Roppongi Hills will be for sale. 

The Roppongi Hills Christmas event utilizes LED lights and has done so since the first event was held in 2003. Clean power will be used again this year, and the lights will be switched on from 5 PM until 11 PM each night. 

Information

Roppongi Hills Keyakizaka Lights

Running: November 10 – December 25, 2022 *Daily from 5:00 – 11:00 PM

*Lights may begin at a different time on November 10 only.

Location: Roppongi Keyakizaka Street

Official Site: https://www.roppongihills.com

Anime 'The Vampire Dies in No Time' Inspires Concept Room in Shin-Yokohama

Shin Yokohama Prince Hotel will be offering a special room and collaboration menu inspired by the popular anime series The Vampire Dies in No Time from September 22 until November 30, 2022. Reservations will open on the hotel's official website starting September 12 at 1:00 PM. 

The Vampire Dies in No Time follows the hilarious adventures of the vampire Draluc and the vampire hunter Ronaldo. Set in the city of Shin-Yokohama, it makes sense that this collaboration would be taking place!

Original Goods

Collaboration Menu

Guests and fans of the series will be able to enjoy a fully-decorated room and collaboration menu inspired by characters from the popular anime series.

The concept room, located on an upper floor overlooking the Shin-Yokohama cityscape, is decorated with illustrations of Draluc, Ronaldo, and other characters. The guest-only goods feature newly-drawn illustrations. 

Sweets plates and drinks will be served at the restaurant on the top floor of the hotel. Guests can enjoy desserts shaped like Ronaldo's red hat and Draluc's ashes, so don't miss it!

©盆ノ木至(秋田書店)/製作委員会すぐ死ぬ

Information

Shin-Yokohama Prince Hotel x The Vampire Dies in No Time
Available: September 22 – November 30, 2022

Collaboration Menu

Available: September 22 – November 30, 2022
Venue: Top of Yokohama Bar & Lounge (42F)
Hours: Weekdays 4:00-7:00 PM / Weekends & Holidays 2:00-5:00 PM
Reservations Open: September 12, 1:00 PM
https://www.princehotels.co.jp/shinyokohama/plan/contents/94

HOTEL SHE, KYOTO Invites Guests to Stay in a Gallery for a Limited Time

Art subscription service Casie is collaborating with HOTEL SHE, KYOTO! A special art exhibition titled GALLERY HOTEL SHE, will be held from September 17 until October 16, inviting guests to enjoy the once-in-a-lifetime experience of staying in a gallery overnight!

During the event period, guests of HOTEL SHE, KYOTO will be able to select their favorite piece of artwork from an on-site gallery. The piece will then be hung in their guestroom, and visitors can spend the night appreciating it at their own pace. This is a great way to learn more about art appreciation, and guests can enjoy discussing the art world with their friends and family. 

 

"Although we may view art in museums and other venues, it is rare to have the opportunity to select and display a work of art of our own choice," the project description reads. "Through this unique experience, we aim to provide guests the chance to actively engage with art and inspire them to make art a part of their daily life going forward."

Halloween Afternoon Tea with Black Cat Motif Coming to Tokyo's Grand Prince Hotel New Takanawa

During the month of October, Grand Prince Hotel New Takanawa in Tokyo will be offering a special Autumn Afternoon Tea. Inspired by Halloween–and particularly black cats–Lounge Momiji on the first floor will invite guests to devour some tasty treats. 

This year's Halloween theme is 'black cats,' which are said to be the messengers of witches. Guests will be able to enjoy Halloween-specific sweets and afternoon tea to fully enjoy the flavors of autumn.

 

In addition to sweet and sour macaroons filled with blackcurrant with a black cat motif, visitors can enjoy a bat-themed purple sweet potato Mont Blanc and cream puffs made with pumpkin. The black cat cookies are also perfect for posting to Instagram, so come enjoy lots of sweet and savory goods made with autumn fruits and vegetables such as grapes, persimmons, and figs.



Come enjoy afternoon tea and get into the Halloween spirit this October!

Ibiza-Inspired Kiranah Resort Toyosu Opens with Stunning View of the Rainbow Bridge

Kiranah Resort Toyosu, an outdoor dining and leisure facility, will open in Koto-ku, Tokyo on August 26, 2022.

 

Kiranah Resort Toyosu is a complex perfect for families, couples, and children alike, and was inspired by Ibiza in Spain. The attractive location offers a view of Tokyo Bay and a panoramic view of the Rainbow Bridge. The site is the size of a soccer field and includes barbecue facilities with approximately 1,000 seats in three unique areas, as well as a restaurant and bar offering both a la carte and full-course meals. Visitors will also find a DJ booth, dog area, bonfire lounge, event stage, lawn, and much more.

The barbecue area spans three areas, each with a distinct atmosphere. The number of guests, the menu, and the price can be changed according to the guest's needs.

The cabin area offers an outdoor kitchen with a grill and sofas beneath an air-conditioned pergola perfect for every kind of weather.

At the pool area, guests will find impressive DJ booths and will feel as though they have been transported to a luxury beach resort. At night, the area is lit up to give a more adult atmosphere.

The Pallet area includes activities for children and adults alike, and sports a massive lawn, bonfire area, and food trucks. A huge dog park will also welcome furry friends!

The main dining room is scheduled to open in September and will feature a bar area on the first floor and a restaurant on the second floor. The restaurant will have dishes and drinks to suit every situation, including lunch, a la carte, catering menus, and full-course gastronomic meals in an extraordinary space. Seats on the second floor overlook the Rainbow Bridge, Tokyo Tower, and Sky Tree, so be sure to visit on your next trip to Tokyo!

Information

Kiranah Resort Toyosu

Address: 6-5 Toyosu, Koto-ku, Tokyo

Hours: 11:00-15:00, 17:00-21:00 (Subject to change.)

Holidays: None (subject to change)

Access: 10-minute walk from Shijo-mae Station on the Yurikamome Line / 5 minutes by taxi from Toyosu Station on the Yurikamome Line
Reservations: https://kiranahresort-toyosu.com/ 

TOKYO LIGHTS 2022 International Projection Mapping Competition to be Held at Meiji Jingu

From September 17 until September 19, the TOKYO LIGHTS 2022 International Projection Mapping Competition will be held at Meiji Jingu! This will be the second such event and will bring together some of the most impressive and technologically advanced light displays from around the world to wow audiences.

The main event will be the 1-minute Projection Mapping Competition, in which competitors from around the world will project their art onto the historic Meiji Memorial Picture Gallery. In the Festival of Light area, a barrage of unique light shows will take visitors on a journey through a wonderful world of light and sound.

Image from Last Year's Event

The 19 Finalists

Light Shows at TOKYO LIGHTS 2021

The competition portion will feature a collection of short, one-minute projection mapping presentations. The theme chosen for 2022 is LIFE: Existence, living, and humanity.

 

19 finalists were chosen from 241 entries and 55 countries. Those unable to attend will be able to watch the event streamed on YouTube. The finalists for 2022 include Iran, Croatia, Spain, Poland, Hungary, Germany, Ukraine, two entries from Bulgaria and Thailand, five entries from China, and three entries from Japan. Don't miss the awards ceremony on the final day!

Information

TOKYO LIGHTS 2022 International Projection Mapping Competition

Venue: Meiji Jingu Gaien Seitoku Memorial Picture Gallery and Meijijingu Gaien Rubber Baseball Field (1-1 Kasumigaoka-cho, Shinjuku-ku, Tokyo)


Dates: 

September 17 – September 19 / 18:00-21:00

September 17-18 / International Competition (2 Performances)
Round 1: 18:30-19:20 / Round 2: 20:00-20:50

September 19 / International Competition (1 Performance) & Award Ceremony / 19:00-20:50


Official Site: https://tokyolights.jp

Hololive VTubers Announce Hololive Summer Event and Comiket Appearance

The Hololive Summer event, first held in the summer of 2019, will return this year! 


A ton of new content and special panels will be shown at the 2022 event, so check the official Hololive Production Twitter account often for more information!

Hololive will also have a booth at this year's Comiket on August 13 and 14! A number of exclusive commemorative Hololive Summer 2022 goods will be on sale.

The back cover of the Comiket 100 catalog, on sale July 16, shows the official Hololive Summer 2022 key visual. Be sure to keep an eye out for more details!

Information

Comiket (Comic Market) 100

Booth Name: Hololive Production

Booth Location: Company Booths, South Hall 2, #511

Running: August 13 – 14

Hours: 10:30-16:00

Address: Tokyo Big Sight (3-11-1 Ariake, Koto-ku, Tokyo)

Tickets: https://www.comiket.co.jp/

Official Site: https://www.hololive.tv/

Toy Story Aliens Cafe to Open in Tokyo, Osaka, and Nagoya

The Toy Story Aliens Cafe will be opening for a limited time in Tokyo starting July 23, in Osaka on July 27, and in Nagoya on August 4. Fans of the film series will remember the adorable Alien characters, originally shown as prizes in a crane game. This pop-up cafe will feature themed dishes and merchandise, and Pixar fans should be sure to attend!

Menu

Food

Space Curry

Green Pasta

Alien Burger A (Teriyaki Soy Meat) / Burger B (Tomato Soy Meat) / Burger C (Chicken & Potato)

Moon Landing?! Potato & Bread

Kids Plate

Fruit Bread

Drinks

Alien Smoothie

Space Soda

Melon Milk

Space Crane Game Cider / Grape Juice

Hot Tea / Hot Milk

Goods

The food menu includes a tasty black curry, a green pasta featuring broccoli, edamame, spinach, and snap peas, and three types of alien burgers featuring either teriyaki soy meat, tomato soy meat, or chicken and potato. Even the drinks stick to the Alien theme, and the menu includes an Alien Smoothie with a tasty banana yogurt flavor. 

Guests will also be able to purchase event-exclusive merchandise from keychains and stickers to tote bags and letter sets. 

©Disney/Pixar

Information

Toy Story Aliens Cafe at OH MY CAFE

Venues/Dates: 

Tokyo: OH MY CAFE TOKYO

Running: July 23 – September 25, 2022

Tokyu Plaza Omotesando Harajuku Mall 3F (4-30-3 Jingumae, Shibuya-ku, Tokyo)


Osaka: OH MY CAFE OSAKA

Running: July 27 – October 3, 2022

1-6-1 Shinsaibashisuji, Chuo-ku, Osaka (2F)

Nagoya: kawara CAFE&KITCHEN

Nagoya PARCO

Running: August 4 – October 10, 2022

Nagoya PARCO South Building 5F (3-29-1 Sakae, Naka-ku, Nagoya)

Details: https://planet.ohmycafe.jp/

Online Store

July 23, 12:00~

Kuroko's Basketball 10th Anniversary Event Coming to Tokyo and Osaka This Summer

A special event is coming to Tokyo and Osaka this summer to celebrate the 10th anniversary of the Kuroko's Basketball anime series. Fans will want to visit Tokyo in July and Osaka in September.





Kuroko's Basketball is a manga series by Tadatoshi Fujimaki which was serialized in Weekly Shonen Jump until 2014 and tells the story of a high school basketball team trying to make it to the national tournament. The anime adaptation began airing in April 2012.

Kuroko's Basketball ~A Miracle One Day in the City~

Kuroko's Basketball ~ Kyoto Exhibition

Gallery Corner

Voice Guide

Admission Bonus – Invitation Card (9 varieties)

Exclusive Goods – F6 Character Board

Goods

Acrylic Stand (9 varieties)

Mini Acrylic Charms 1 (Random)

Mini Acrylic Charms 2 (Random)

Pin (9 varieties, random)

 

Purchase Bonus – Shopping Bag

 

The event will feature exhibits highlighting the history of the series and will feature a special voiceover. Exclusive merchandise will be on sale and guests will be welcomed by Kuroko and his friends at the entrance, all wearing special costumes drawn for the event.

Are you a Kuroko's Basketball fan?

© 藤巻忠俊/集英社・黒子のバスケ製作委員会
© 「黒子のバスケ」アニメ10周年プロジェクト

Information

Kuroko's Basketball 10th-Anniversary PARTY!

Tokyo Venue
Venue: Ikebukuro Sunshine City World Import Mart Bldg. 4F, Exhibition Hall A
Running: July 16 – July 31, 2022
Hours: Weekends and Holidays, 10:00-20:00
Weekdays: 12:00-20:00
*Closing at 17:00 on July 31.
*Last entry until 30 minutes prior to closing.

Osaka Venue
Venue: Hirakata Park Event Hall I
Running: September 16 – November 6, 2022
Event Details: https://kurobas-ap.com/


Tickets

On Sale: July 16, 0:00 – July 31, 16:00
Where to Buy: Loppi at Lawson / Ministop locations
Online Reservations: https://l-tike.com/event/kurobas_ap/

The Toshio Suzuki and Studio Ghibli Exhibition Opens in Tokyo

The Toshio Suzuki and Studio Ghibli Exhibition finally opened on July 1, 2022 at Warehouse Terrada in Shinagawa, Tokyo. 

 

First held at Kanda Myojin in 2019, the reception for the exhibition was incredible, and after popping up in Nagasaki and Kyoto, the newest Tokyo exhibition will be the first held in three years. It features significantly more exhibits and content, so Ghibli fans won't want to miss it. 

Toshio Suzuki, a producer at Studio Ghibli, has worked with both Hayao Miyazaki and Isao Takahata on a number of beloved masterpieces. The exhibition will feature a large bookshelf housing 8,800 of Suzuki's publications. Many of these were published before Suzuki joined Studio Ghibli, and guests are invited to see how the producer was inspired to join the legendary studio.

This exhibition was realized after Suzuki himself proposed the idea of exhibiting his books for the first time following the 2019 event. The giant bookshelf containing 8,800 tomes was based on a brick-and-mortar store that once served as Suzuki's 'hideout.'

The Massive Abura-ya Annex

Chihiro's Bathhouse – Chilled Footbath

No-Face AR

As a limited event, the Tokyo exhibition will also feature the Abura-ya Annex, a huge space that recreates the world of Spirited Away. Visitors can transform themselves into No-Face using AR or enjoy the Chilled Footbath after getting their fortunes told at the Yubaba and Zeniba Luck and Love Fortune Telling Corner. 

8,800 of Toshio Suzuki's Favorite Books

Valuable Documents, Behind-the-Scenes Details, etc. 

No-Face perches atop one of the many bookshelves at the exhibition, lost in a tome of his own. All 8,800 books were read by Suzuki, and all of them influenced the creator's decision to join Studio Ghibli. The wallpaper was designed by William Morris, a favorite of the producer since his youth. Some of the books can be picked up and enjoyed, so be sure to flip through some of these inspiring pages!

Rare materials and copy that led to many of the studio's blockbuster hits are all on display, and visitors can trace the secret story behind the establishment of Studio Ghibli and how the company created everything from Nausicaa of the Valley of the Wind to their latest release Earwig and the Witch. Suzuki is known for his incredible scripts, such as the many lines he wrote for the title character in The Tale of Princess Kaguya.

On June 30, an opening ceremony was held with Suzuki in attendance. "I've stored away so many items that have been important to me in my life, and while it can be somewhat embarrassing to have them on display, I'm glad that so many can appreciate them," he said. "My dream was to collect all the books I've read over the past 70 years and display them in one room. I was so happy when I realized that we could fit all 8,800 books in one space. I hope as many people as possible come to enjoy the exhibition." 

Information

Toshio Suzuki and Studio Ghibli Exhibition

Running: July 1 – September 7, 2022

Location: Warehouse Terrada B&C Hall/E Hall

Toshio Suzuki Studio Ghibli Exhibition Inspires Limited-Time Hotel Suite

The Grand Prince Hotel Takanawa in Tokyo will offer a special suite inspired by the upcoming Toshio Suzuki Studio Ghibli Exhibition from July 1 until August 31, 2022. This will include tickets to the exhibition, which will take place at Warehouse Terrada in Shinagawa from July 1 until September 7. 

Toshio Suzuki, a producer at Studio Ghibli, has worked with both Hayao Miyazaki and Isao Takahata on a number of beloved masterpieces. The exhibition will feature a large bookshelf housing 8,800 of Suzuki's publications and favorite tomes. Many of these were published before Suzuki joined Studio Ghibli, and guests are invited to see how the producer was inspired to join the legendary studio after working as an editor at a manga magazine. To commemorate the exhibition's opening, this special suite is filled with books written by Suzuki along with other books that visitors may enjoy during their relaxing stay. 

In the suite, guests will find a list of 106 books that influenced Suzuki the most. This list will be available to take home. Visitors will also find reproductions of Suzuki's calligraphy. 

©TS ©Studio Ghibli

Kirby Cafe Tokyo and Fukuoka Reveal Peach-Inspired Summer Menu

Kirby Cafe TOKYO and Kirby Cafe HAKATA will begin selling special summer-themed food and drink items on July 7. The Kirby Cafe Summer 2022 event will introduce seven peach-themed goodies to the menu through September 11. 

Menu

Transform! Carby Cake ~WELCOME TO THE NEW WORLD!~

Kirby's Peach♡Peach Parfait

Summer Souvenir Parfait Glass

Awoofy's Footsteps in the Desert Pizza

Waddle Dee's Friendly Rice Croquettes

King Dedede's Full Tummy! Massive Beast King Plate

Rolling ♪ Peach Soda

(Includes Summer Souvenir Parfait Glass)

Rolling ♪ Summer-Colored Pineapple Soda

Summer Souvenir Acrylic Muddler (3 varieties)

Visitors to the two cafe locations can enjoy peach-flavored treats like Kirby's Peach Parfait and an adorable cake based on the pink puffball's Carby form seen in the new game Kirby and the Forgotten Land. Those wanting something more savory can enjoy Waddle Dee's Friendly Rice Croquettes and the absolutely huge King Dedede's Full Tummy! Massive Beast King Plate. 


Come enjoy the warmer months with Kirby and friends!

Story

Summer is returning to the Kirby Cafe. Thinking of the warmer months, Chef Kawasaki has created a special menu! As a Waddle Dee, filled with great excitement, wandered through the forest…it saw tons of lush, ripe peaches. 

"Huh? That pink, round peach reminds me of something…" 

Then came Kirby, who was looking forward to the summer menu more than anyone else. 

"Ah, that's right! The peach looks just like Kirby!"

Happy to have solved the riddle, Kirby smiled brightly at Waddle Dee. Gazing at this glorious summer scene with tons of juicy peaches ready to be eaten, he couldn't help but imagine tons of tasty treats! Peach parfait, sparkling soda, blue jelly sparkling like the ocean…not wanting to forget these ideas, Kirby and Waddle Dee gathered the peaches and began cooking.

Please come and enjoy this summer with Kirby and his friends under the dazzling sunshine!

©Nintendo / HAL Laboratory, Inc.

Information

Kirby Cafe Summer 2022

Available: July 7 – September 11, 2022

Locations: Kirby Cafe TOKYO, Kirby Cafe HAKATA

Official Site: https://kirbycafe.jp