Hotel Nampuro in Nagasaki Introduces an Infinity Pool Overlooking the Ariake Sea
Hotel Nampuro is located in Shimabara Onsen in Nagasaki Prefecture and has been around for 110 years. The hotel recently held the grand opening two infinity pools. One gives an unbroken view of the Ariake Sea and the other a lush garden.
The concept behind the pools is to get people closer to Shimabara's natural environment. Guests can enjoy feeling the sea breeze from ideal locations close amongst Shimabara's abundance of lush greenery and the Ariake Sea while offering an exquisite resort experience you can't get in the city.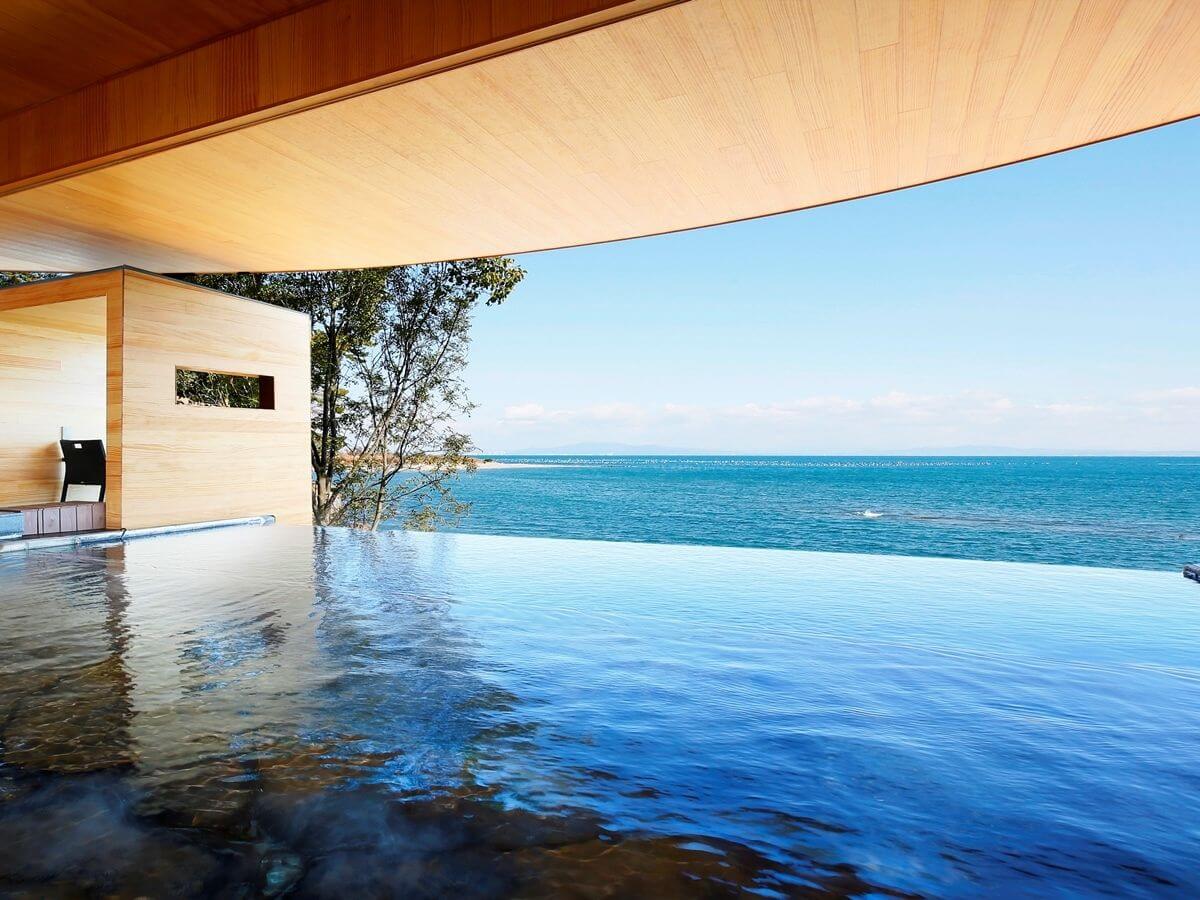 The unique design of the open-air infinity pool makes it seem as if it flows into the sea itself. There's also an observation deck next to the pool too where people can gaze across the gorgeous waters.
The location also makes for a great power and energy spot as one can see the morning sun rise from Kumamoto across the shore. Guests can enjoy the sight in the morning, daytime and nighttime.
The other infinity pool is built by the garden restaurant deck terrace and blends in with the surrounding nature. Beyond the horizon lies Shimabara's waters, sky and nature which becomes one with the edge of the pool. The sky and trees also reflect on the surface of the water, making it feel like you're floating on top of a cloud in the sky.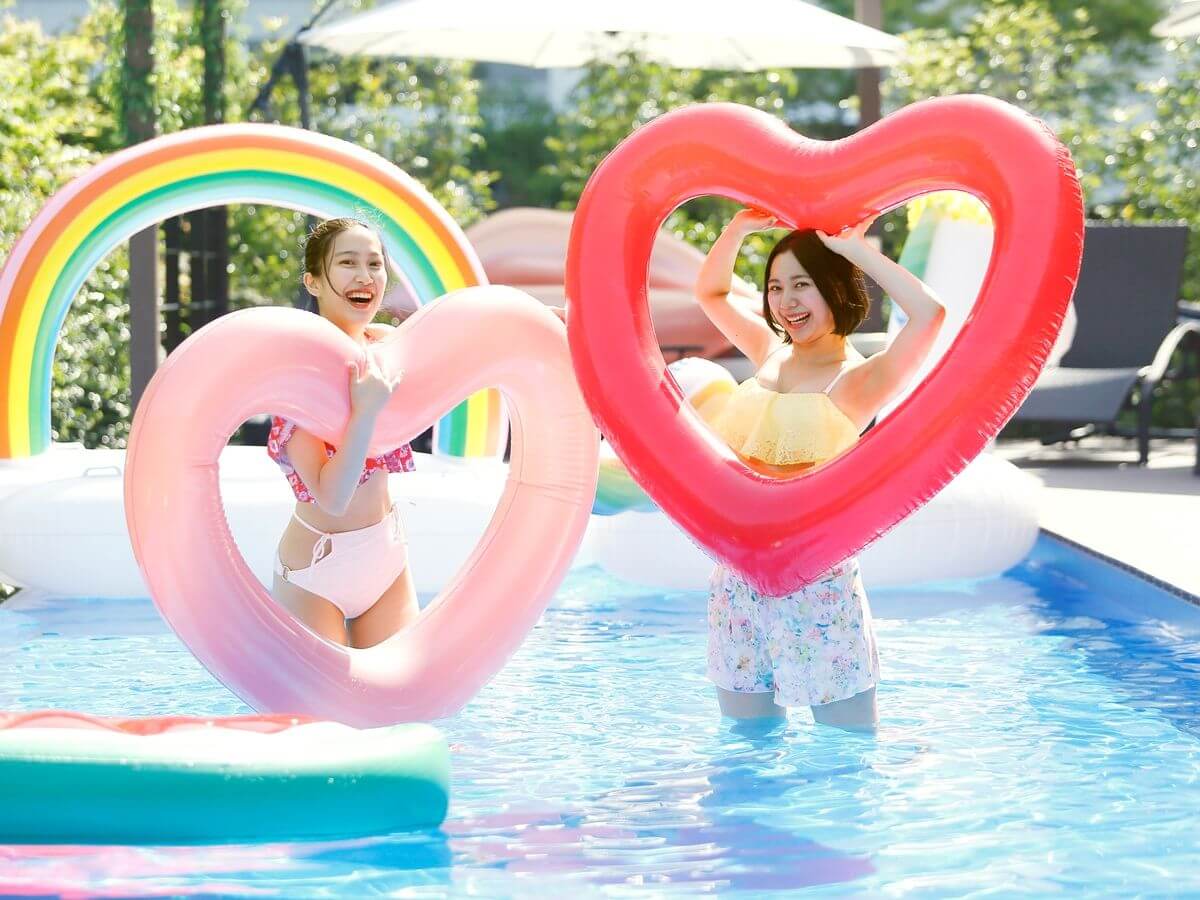 The pool is around 50cm deep so children can enjoy themselves too. There are also jets fitted on the sides of the pool.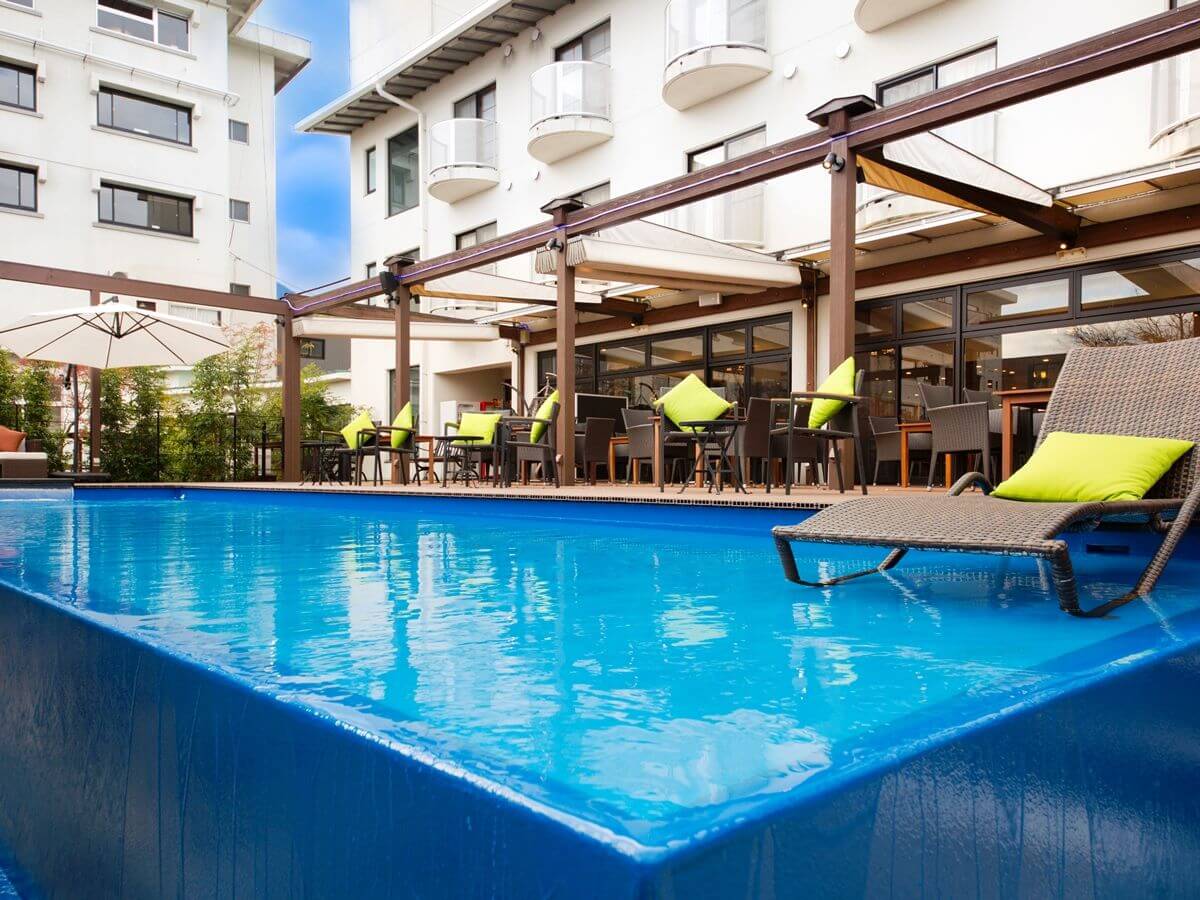 The poolside wooden deck is fitted with tables and sofas to enhance that resort feel. They also serve breakfast and there's a BBQ too.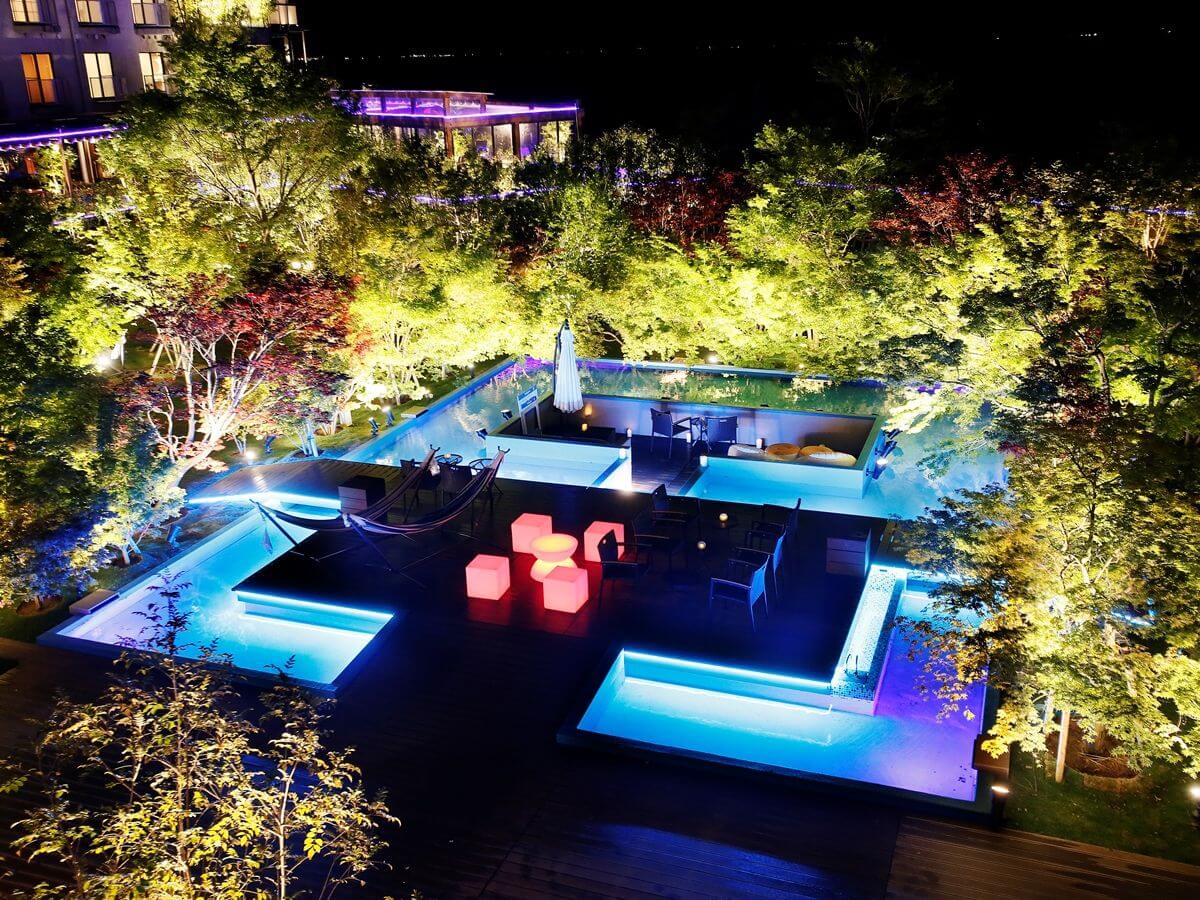 Guests can look forward to the 300+ trees in the garden being lit up in a magical and mystical performance, giving the air a touch of romance. It offers an experience like no other as you're wrapped in a forest of lights under a starry sky.
Consider Hotel Nampuro if your trip to Japan is taking you to Nagasaki Prefecture.
RELATED ENTRIES
Hotel MIMARU Offering Christmas Room in Collaboration with Awesome Store

Lifestyle shop Awesome Store is collaborating with the MIMARU hotel chain to create a secluded and supremely cozy Christmas Room. The special room will only be available from December 1 until December 25, 2021. Each spacious room features a kitchen and is decorated with plenty of holiday goodness, making it the best place to spend the Christmas season with family and friends. 

Original tableware from Awesome Store will be left in each room, so guests can easily throw a Christmas party by having food delivered or grabbing takeout. There's no need to decorate, as the space will be completely overrun by ornaments and garlands. How would you like to spend Christmas here? 

Information

Awesome Store Christmas Room

Available: December 1 – December 25, 2021

Participating Hotels:
MIMARU Tokyo Akasaka

MIMARU Tokyo Nihombashi Suitengumae

MIMARU Tokyo Ueno Okachimachi

MIMARU Tokyo Ueno Inaricho

Reservations/Official Site: https://mimaruhotels.com/

OMO7 Asahikawa Resort in Hokkaido Offers Polar Bear Valentine's Day Girls' Party Package

Not a fan of Valentine's Day? Want to get away from all the in-your-face romance and just have a good time with your gal pals? OMO7 Asahikawa by Hoshino Resort in Hokkaido is offering a limited-time polar bear-themed Valentine's Day Girls' Party package for all of February 2022. The single polar bear room, opened in November 2020, will be transformed into its Valentine's Day version. 

Valentine's Day has been popular in Japan for many years and is a day when women give gifts to men to express their feelings. However, in recent years, it has also become a less romantic event for some–people are buying chocolate for themselves, or giving candies to friends. The polar bear room is perfect for girlfriends who just want to relax and have a good time. Why a polar bear? The Asahikawa Zoo is nearby and is an incredibly popular attraction.

The Polar Bear Valentine Room, Only Available for One Party per Day

Decorated from top to bottom in cute bears, guests can also wear matching polar bear loungewear, perfect for those Instagram shots. This will be a girls' gathering you'll never forget!

Polar Bear-inspired Snacks for the Perfect Girls' Night

When girls get together, they just love to chat. But talking so much can make you hungry, so plenty of snacks will be waiting in the guest room! If you're not in the snacking mood, they also make wonderful souvenirs. 

Polar Bear Desserts, A Must-Have in Asahikawa

The area around OMO7 Asahikawa is lined with stylish cafes where you can take a break from your daily life. After enjoying the Valentine's Room, head out into the nearby neighborhood to Fukuyoshi Cafe for some polar bear sweets. The treats are included with the price of the room, so there's no reason to miss it!

Socially Distanced NAKED Night Walk Art Project to Open in Kaga, Ishikawa

The COVID-19 pandemic has impacted how many people live their lives, with fewer and fewer people venturing outdoors. Now, Japanese creative company NAKED has announced a Night Walk at the picturesque Katayamazu Hot Springs in Kaga, Ishikawa. While practicing social distancing, visitors can explore an illuminated wonderland from December 17, 2021, until January 16, 2022. 

Lights of the Dragon God: Ukimidou

Sunny Spot Baths: Katayamazu Hot Springs Sunahase Park, Aiai Plaza

NAKED Distanced Lanterns: Katayamazu Hot Springs Sunahase Park, Aiai Plaza

NAKED Flower Cleansing: Katayamazu Hot Springs Sunahase Park, Aiai Plaza

The Halo of Life: Aizenji Temple

Crystal-Dyed Paper Lanterns: Aizenji Temple

Guests will be invited to explore the grounds while carrying a NAKED Distanced Lantern–both an art piece, and a way to illuminate your steps. With safety in mind, there will be plenty of space between visitors, so people can enjoy the event with peace of mind. 

The location for the event, Katayamazu Onsen, was recently a runner-up in the Onsen General Election 2018 spectacular scenery category. Surrounded by crystal blue waters and with a beautiful view of Mt. Haku, the location will have guests feeling completely calm by the time their visit comes to an end. 

Information

NAKED Night Walk -Katayamazu Hot Springs-

Running: December 17, 2021 – January 16, 2022

Hours: 17:00-22:00

Address: Katayamazu Hot Springs (Sunahase Park, Aiai Plaza, Yonomoto Park, Aizenji Temple)

Admission: Free

Official Site: https://yoru-sanpo.naked.works/katayamazu/

Hoshinoya Tokyo Offers New Safe & Mask-Free Dining Experience Using 'Lantern Partitions'

Hoshinoya hotels each offer a unique experience with their own theme. The Otemachi-based Yoshinoya Tokyo has announced the new "Tokyo Lantern Dinner," which has been proposed to suit the 'New Normal' of the Covid-19 generation. The new dining option was opened to customers from October 13 2021 and blends the new rules of restaurant partitions and mask wearing with Japanese culture, using lantern partitions to allow customers to enjoy their food with peace of mind. Customers can remove their mask as they sit under the lantern partition, which lights up your face and meal with a soft glow, meaning you can safely enjoy conversation and see your partner's face as you talk and eat. Conveniently, the lantern also prevents splashing, making eating out in the Covid-19 era even easier! 

The Lantern Partition was Developed with a Long-Established Lantern Company

Nippon Cuisine ~Fermented~

The partition lanterns were created by Kojima Shoten, a long-established lantern shop based in Kyoto which was founded in the Kansei-Edo period. The original lantern-shape was crafted by the professionals, from the structure all the way to the painting. The unique shape of this elastic lantern allows customers to enter and exit freely, and part of the lantern has been made using a 0.15mm transparent vinyl meaning that face-to-face conversations can be held with ease. In addition, the lantern is equipped with a light that gently illuminates the face and food of the person seated beneath it.

 

 

Yoshinoya Tokyo usually only accepts dining reservations from those staying at the hotel, but customers can now invite non-guests specifically to enjoy the main meal together.  They have prepared a variety of options for meetings and events that previously couldn't meet up due to the Covid situation, such as meetings between families before marriage, anniversaries, birthdays, business dinners, and more. 

 

 

Hoshinoya Tokyo is a Japanese Inn that respectfully combines the comforts of the modern day with traditional Japanese culture. The dining room, located on the first basement floor, offers 'Nippon Cuisine' made using a combination of Japan's historical fermentation culture and French cooking techniques.  The menu includes a wide variety of ever-popular fermented foods and seasonings, such as soy sauce and miso, along with preserved foods such as pickles and salted fish. The lactic acidosis bacteria found in these foods is referred to as a "Good Bacteria," known for its positive effects on the body and its ability to regulate gut bacteria. 

The taste and nutritional value of each meal has increased due to fermentation and aging, using seasonal ingredients from around Japan and French cooking techniques to bring out the flavor, resulting in a new and original taste. 

 

Why not check out Hoshinoya Tokyo and experience this new-era Japanese dining experience for yourself?

Information

Tokyo Lantern Dinner

Available From: October 10 2022 

Reservations: https://hoshinoya.com/tokyo (Must be made at least five days in advance)

Capacity: One group per day

Gorgeous Project Mapping Event Coming to Yamashiro Onsen in Kaga, Ishikawa

DMM.com will sponsor a projection mapping project titled Yamashiro Night Promenade Fall 2021 on Yamashiro Onsen Street in Kaga, Ishikawa prefecture from October 30 until November 28, 2021. 

The limited-time project is being organized by the Yamashiro Onsen Tourist Association with support from DMM. Under the themes of harmony and local tradition, brilliant images of flowers, water, and geometric patterns will illuminate the hot spring resort while accompanied by music. There will also be traditional Taiko performances during the event. 

Information

Yamashiro Night Promenade Fall 2021

Running: October 30 – November 28, 2021

Hours: 20:20-21:20 (Canceled for rain) 

Address: Yamashiro Onsen Street in front of Hatori Ryokan (17 Onsen-dori, Yamashiro Onsen, Kaga City, Ishikawa) 

Official Site: https://sousei.dmm.com/

'Kyoto Yura Hotel M Gallery' New Halloween Menu Features Adorable Monster Motifs

The '1F Lounge & Bar 1867' at the Kyoto Yura Hotel M Gallery will be hosting a Halloween themed afternoon tea from October 1 2021, with tea sets and cocktails available. The premium hotel is owned by Accor, a Paris, France based group that owns over 5,000 hotels and resorts in 110 countries.

The Halloween-themed afternoon tea has been made by Jennie Chiu, a pastry chef who grew up in America, the home of Halloween. The afternoon tea features cute and playful monster motifs, including a witch-hat Mont Blanc, a Cassis and Chestnut Cake topped with a small ghost, and a spider-web topped Raspberry and Chocolate Mousse. For savory treats, Chef Nishimura Niki has prepared Foie Gras soaked in Salted Koji, plus two luxurious lobster dishes.

The creative Halloween cocktails were brainstormed by Yamazaki Sousei, who ranked in the Japan Top 10 category of bartending competition 'WORLD CLASS 2021.' The Halloween and apple pie inspired lineup was inspired by Scotland and the Celtic people, looking back to when Halloween was first celebrated. 

Enjoy some adult-only time in this retro-modern "family mansion" themed space. 

Information

Halloween Afternoon Tea Set

Availability: October 1 ~ October 31 2021

Location: Lounge & Bar 1867 

Serving Hours: 12:00 and 15:00 *Please reserve your table by 17:00 on the day prior to your arrival

Halloween Cocktails

Availability: October 1 ~ October 31 2021 

Price: ¥1,900
Location: Lounge & Bar 1867

Serving Hours/Opening Hours: 11:30 ~ 21:00 (L.O. 20:30) 

Official Site:  https://kyotoyurahotel-mgallery.com/ja

New 'Uramichi Oniisan' Collab Hotel Room Designed Using 'URA' and 'OMOTE' Motifs

Sunshine City Prince Hotel has revealed a new "Uramichi Oniisan" themed plan, available to reserve for a limited time between October 2 and December 31.

Hotel Staff Costume Illustration

 Pajama Costume Chibi Illustration


©Kuze Gaku・Ichijinsha / Uramichi Oniisan Production Comittee

Star Can Badge / Hotel Keychain / Mask Case (URA & OMOTE ) / Original Notepad / Hotel Key Card 

Cafe & Dining 'Chef's Palette' Original Drink with Bonus Coaster

'URA-Room' with Chibi Character Illustration

 

The 'Uramichi Oniisan' anime became a hit in Summer 2021, known for its cast of famous voice actors.

The new artwork produced for the hotel features the characters in hotel staff uniforms and pajamas, perfect for the hotel-themed collaboration. The 'OMOTE ROOM' is designed using the new illustrations, while the 'URA ROOM' uses the chibi characters. Each room features a sound clip from Uramichi Omoteda (CV: Kamiya Hiroshi). Original merchandise and drinks are available to guests, plus the famous "Bird Finding Game" is available to play in each room, making it a must-see for fans!

Dive into the 'Uramichi Oniisan' world with this new collaboration hotel room!

Shirahama Marriott in Wakayama to Offer Panda-Themed Getaway

Adventure World, a zoo and theme park in Shirahama, Wakayama prefecture, is teaming up with the Nanki-Shirahama Marriott Hotel to celebrate the first birthday of baby panda Fuhin. This room plan will only be available from November 1, 2021, until March 31, 2022, and will include a fully themed room, an original mini-photo book of the panda's growth to date, and plenty of other Fuhin amenities and goods!

Fuhin 1st Anniversary Room

Collaboration Burger 'Marriott Panda Burger' 

The Fuhin 1st Anniversary Room is a mixed Japanese-Western style room with an ocean view. The walls, blankets, and tatami are all covered in panda imagery, while portions of the room's lighting are made from bamboo as a part of Adventure World's quest to create more sustainable products. The special 'COCOAR' app will also allow guests to enjoy a moving photo frame featuring Guhin by holding their smartphone over the word 'Fuhin' on the wall. 

The limited-time Marriott Panda Burger uses the same recipe as the normal burger, but with a panda-shaped bun created along with Adventure World staff. How would you like to come and celebrate Fuhin's birthday beside the sea? 

Your Favorite Panda Instagram Campaign

By taking a picture of one of the seven giant pandas at Adventure World (Eimei, Rauhin, Ouhin, Touhin, Yuhin, Saihin, Fuuhin) and posting it to Instagram with the two campaign hashtags (#推しパンダマリオット and #InsertFavoritePandasNameHere), 20 winners will be selected to receive special Adventure World goods!

Information

Kaedehama 1st Anniversary Room Stay

Address: Nanki-Shirahama Marriott Hotel

Reservations Open October 6, 2021

Running: November 1, 2021 – March 31, 2022

Details: https://www.shirahama-marriott.com/special/panda/

Official Site: www.MarriottHotels.com

Marriott Panda Burger

Available Starting November 1, 2021

Price: ¥3,270

Where: Nanki-Shirahama Marriott Hotel Lounge

Your Favorite Panda Instagram Campaign

Running: November 1, 2021 – January 31, 2022

How to Enter: 

① Install the Instagram App.

② Follow Adventure World (@adventureworld_official) and Nanki Shirahama Marriott Hotel (@nankishirahamamarriott).

③ Post a picture of your favorite panda along with the hashtag MyFavoritePandaMarriott (#推しパンダマリオット) and the second hashtag including your favorite's name along with a picture of your favorite panda!

The winners will be announced on the official Nanki-Shirahama Marriott Hotel Instagram page in February 2022. 

Solo One-Day Hot Spring Plan Offers Complete Relaxation and Rejuvenation in Karuizawa

Karuizawa Hoshino Area, a place known for bringing nature and culture lovers together, will be offering a new one-day hot spring spa plan from November 4, 2021, until March 19, 2022. This is the perfect way to unwind from the stresses of the past year while getting away from crowds and responsibilities. Because it's only one day, it's perfect for those who can't take a long vacation, but who are still desperate for some relaxation! The package will include access to hot spring baths, body care, a choice of lunch and drinks, and plenty of skincare amenities.

Tonbo-no-Yu Hot Spring, open since the Taisho era, will serve as the main location for the getaway. The springs themselves are bicarbonate and chloride springs with soft and thick waters in which to achieve the perfect soak and detox. Getting out of the water will leave a veil of salt on your skin, moisturizing it and cleansing every inch of your body. The open-air bath is surrounded by trees, while the indoor baths offer excellent views through oversized windows. 

Five Luxuries to Enjoy on the One-Day Getaway

[Power Up] Proper Bathing Instructions for the Best Hot Springs Experience

For those looking to maximize their hot spring experience, a comprehensive bathing guide will be provided to all guests, including breathing exercises and techniques for a great facial massage. The plan includes rental towers, and guests can feel free to enter the springs as many times as they like. At the reception desk, guests will also be given a bottle of Apple Vinegar Water to help them stay properly hydrated while soaking. 

[New] Gentle Skin Care while Relaxing in the Spring

Those participating in the one-day plan will be given OSAJI amenities to use during their stay. The brand is made up of safe and organic products approved by dermatologists, to be applied before and after bathing. 

[Power Up] Improve Gut Health with Healthy Beverages

When guests get out of the bath, a warm brown rice amazake will be waiting, shown to improve the intestinal environment and boost natural immunity. By using brown rice, the drink contains larger amounts of Vitamin E and dietary fiber than traditional amazake. This tasty drink will be served at Cafe Hungry Spot, adjacent to the springs. 

Relieve Stiff Joints with Attentive Body Care

At Tokoyo, located within the Harunire Terrace in the Karuizawa Hoshino Area, guests will get a 30-minute body care treatment with their choice of foot massage or shoulder and neck massage. Unwind and let go of all of your stress. 

Choose From Six Different Restaurants for Lunch

For lunch, six restaurants in the Hoshino area are at your beck and call, from Japanese cuisine to Italian. There's no need to make reservations in advance; choose what you're craving the day of, and don't stress! 

Information

Solo One-Day Hot Spring Spa Plan

Running: November 4, 2021 – March 19, 2022 (Excluding Dec. 29 – Jan. 3 and Jan. 11 – 20)

Reservations: https://www.hoshino-area.jp (Reservations required by 18:00 the day before) 

Location: Tonbo-no-Yu, Karuizawa, Nagano

Halloween Sweets Buffet Coming to Haneda Excel Hotel Tokyu for Two Days Only

Moshi Moshi Nippon has delivered news on tons of Halloween treats this holiday season, but can there ever really be enough? Haneda Excel Hotel Tokyo has announced a special two-day-only Halloween Sweets Buffet on October 30 and 31 at the location's Flyer's Table restaurant on the second floor. 

Pumpkin Cheese Tart

Ghost Mousse

Black Cream Puff

 

Guests can enjoy a variety of spooky treats all incorporating fall flavors like chestnut, pumpkin, sweet potato, pear, and apple. Offerings include the Pumpkin Cheese Tart, a mildly-sweet cheese tart made with sour cream, cottage cheese, and cream cheese, and topped with pumpkin cream; the Ghost Mousse, a chestnut mousse made to look like a ghoul; and the Black Cream Puff, made with black cocoa and a cassis cream filling. 

 

At the demonstration corner, guests can see the Sweet Potato Mont Blanc being made. Those wanting something besides sweets can enjoy a selection of sandwiches decorated in Halloween style!

The Prince Park Tower Tokyo Introduces New Romantic Christmas Plan

How would you like to enjoy a snowman-shaped Christmas cake and champagne while overlooking Tokyo Tower? The new Scoolove Christmas Accommodation Plan from the Prince Park Tower Tokyo is offering this incredibly festive experience from December 1 until December 26, 2021!

The TOKYO HONEY PROJECT, a product planning team made up exclusively of female hoteliers, has devised this romantic plan in the hopes of making Christmas magical and memorable again. During the COVID-19 pandemic, many couples haven't had the chance to spend any special time together, so what better time than the holiday season? 

The word 'Scoolove' is a combination of 'scoop' and love,' and while scooping up and enjoying this tasty snowman treat, the team hopes that couples will deepen their relationship and enjoy some much-needed quality time together. The head of the snowman is made from matcha ganache wrapped in kumquat cheesecake mousse, while the body is made of baked cheesecake accented with a raspberry jam. With these two competing flavors, every bite is sure to be interesting!

Junei Hotel Kyoto Adds New Plan Allowing Guests to Reserve Entire Property

The Junei Hotel Kyoto Imperial Palace West, a small luxury hotel located in the heart of Japan's ancient capital, has revealed a new plan allowing guests to rent out the entire premises. Imagine being in a hotel with only your closest family and friends!

The Junei Hotel Kyoto Imperial Palace West – Guest Room

The Junei Hotel Kyoto Imperial Palace West – Bathroom

The Junei Hotel Kyoto – Bamboo Suite

The Junei Hotel Kyoto – Bamboo Suite Bathroom

The Junei Hotel Kyoto – Standard Room

The Junei Hotel Kyoto – Standard Bathroom

The Junei Hotel Kyoto – Breakfast at Futago

The Junei Hotel Kyoto – Futago Restaurant Interior

The Junei Hotel Kyoto – Dinner at Futago

Arashiyama Yusaitei

Arashiyama Yusaitei

Kibune Riverbed

Hozucho River Boat Ride

The Junei Hotel Kyoto Rooftop View of Kiyomizu-dera Lights

The Junei Hotel Kyoto Rooftop Garden Moon Viewing

With two locations in Kyoto, guests will be able to enjoy the entirety of the hotel in complete privacy while still enjoying hotel hospitality. With between 8-11 rooms, this would be the perfect spot for a family gathering, wedding reception, graduation trip with friends, corporate meeting place, or even for overseas guests!

The Junei Hotel Kyoto Imperial Palace West opened in 2017 as a community-based luxury hotel with only eight rooms, with a single mission: bringing the beauty of Japan to the world. Beyond simply finding a place to sleep for the night, the hotel wants guests to experience something special and to provide an unforgettable experience. By partnering with local tourism associations, the Junei Hotel hopes to accurately convey the traditions and singular culture of the city of Kyoto. 

In March 2020, a second location opened. The Junei Hotel Kyoto is surrounded by bamboo, and in fact, the theme of the hotel itself is bamboo and the moon. Each of the guest rooms is decorated with traditional and local bamboo crafts, and every detail is pulled from the natural beauty of Higashiyama, Kyoto. 

The restaurant attached to the hotel, Futago, is the perfect place for adults to unwind and recharge. The kappo-style course menu features Kyoto vegetables and seasonal ingredients, blending the delicious with the nutritious. Chefs will cook each dish using a variety of methods, and guests will be amazed by how the flavor of the meat changes from course to course. The menu changes each month, so be sure to come back throughout the year!

Guests can also rent out Arashiyama Yusaitei, a gorgeous building deep in the forests of Kyoto perfect for wedding receptions, photoshoots, tea ceremonies, and more. The rooftop garden offers a stunning view of Kiyomizu-dera and is also perfect for moon viewing. Those wanting to get even closer to nature can enjoy a boat ride down the Hozucho river, and for those craving desserts, a Japanese sweets-making class is also available!

Who would you take with you on a private stay at the Junei Hotel Kyoto?