Hotel Nampuro in Nagasaki Introduces an Infinity Pool Overlooking the Ariake Sea
Hotel Nampuro is located in Shimabara Onsen in Nagasaki Prefecture and has been around for 110 years. The hotel recently held the grand opening two infinity pools. One gives an unbroken view of the Ariake Sea and the other a lush garden.
The concept behind the pools is to get people closer to Shimabara's natural environment. Guests can enjoy feeling the sea breeze from ideal locations close amongst Shimabara's abundance of lush greenery and the Ariake Sea while offering an exquisite resort experience you can't get in the city.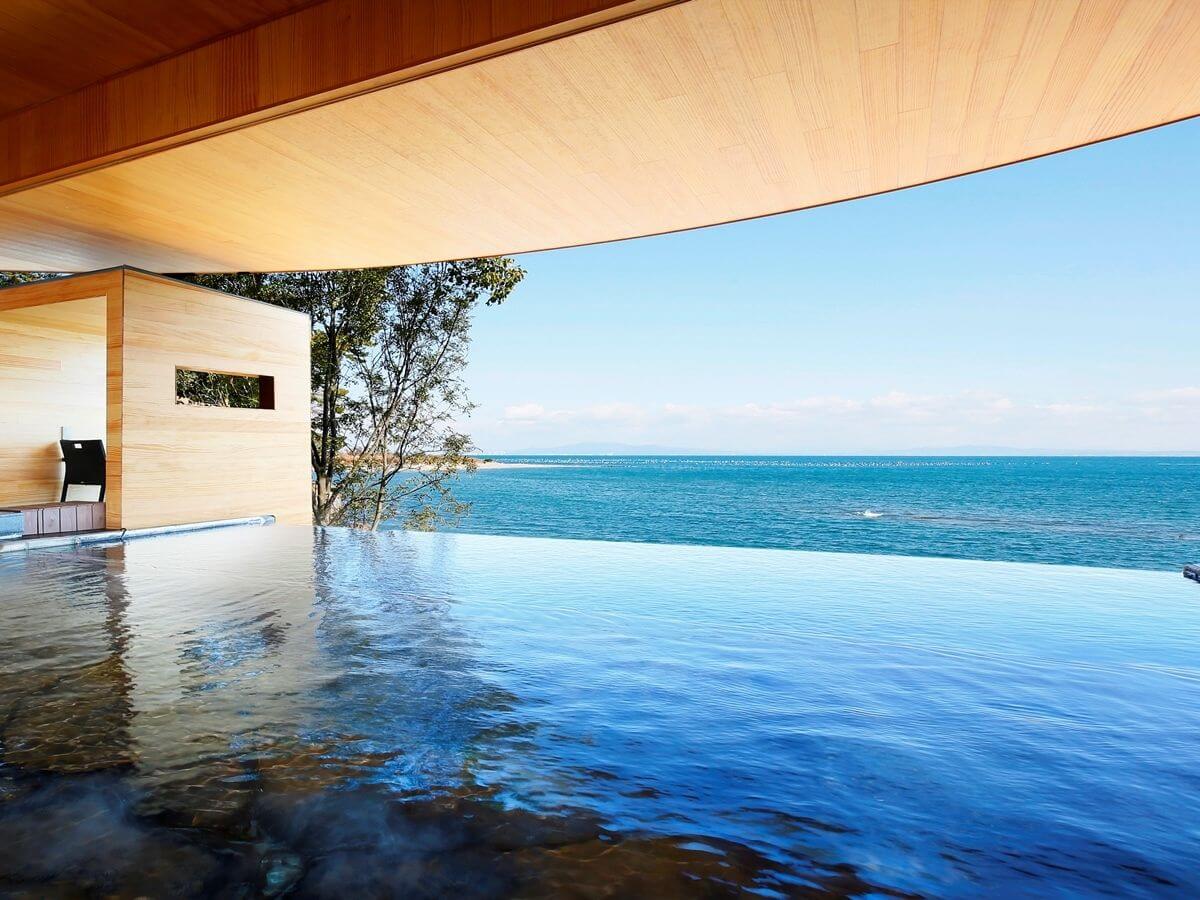 The unique design of the open-air infinity pool makes it seem as if it flows into the sea itself. There's also an observation deck next to the pool too where people can gaze across the gorgeous waters.
The location also makes for a great power and energy spot as one can see the morning sun rise from Kumamoto across the shore. Guests can enjoy the sight in the morning, daytime and nighttime.
The other infinity pool is built by the garden restaurant deck terrace and blends in with the surrounding nature. Beyond the horizon lies Shimabara's waters, sky and nature which becomes one with the edge of the pool. The sky and trees also reflect on the surface of the water, making it feel like you're floating on top of a cloud in the sky.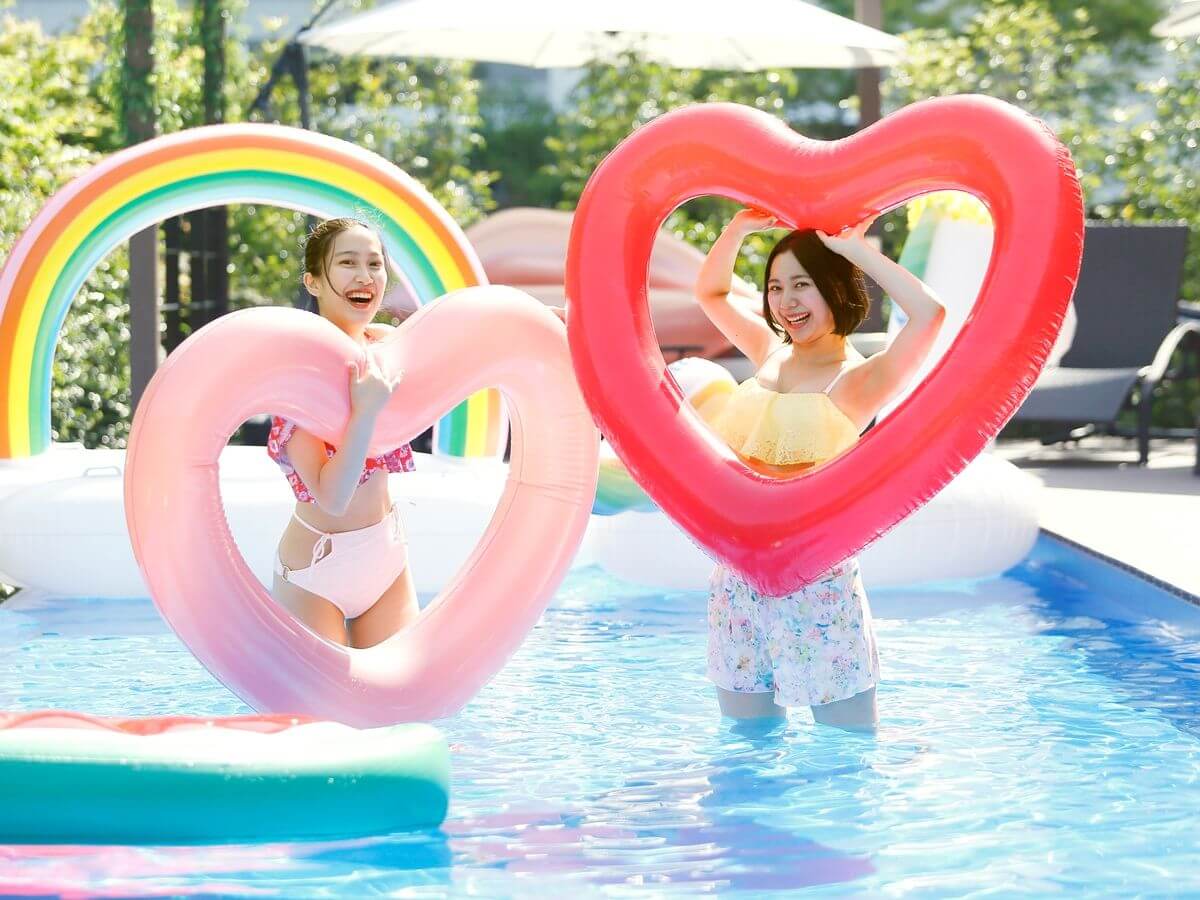 The pool is around 50cm deep so children can enjoy themselves too. There are also jets fitted on the sides of the pool.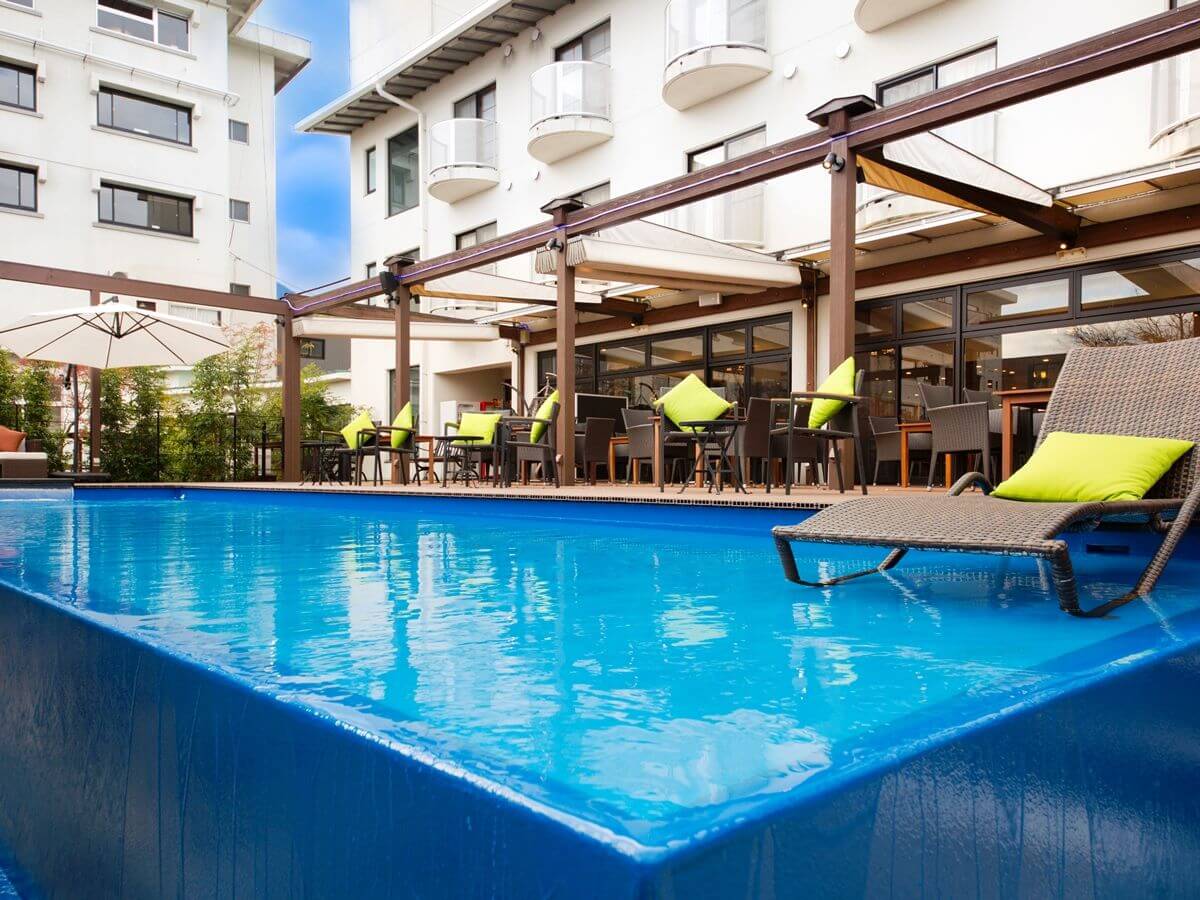 The poolside wooden deck is fitted with tables and sofas to enhance that resort feel. They also serve breakfast and there's a BBQ too.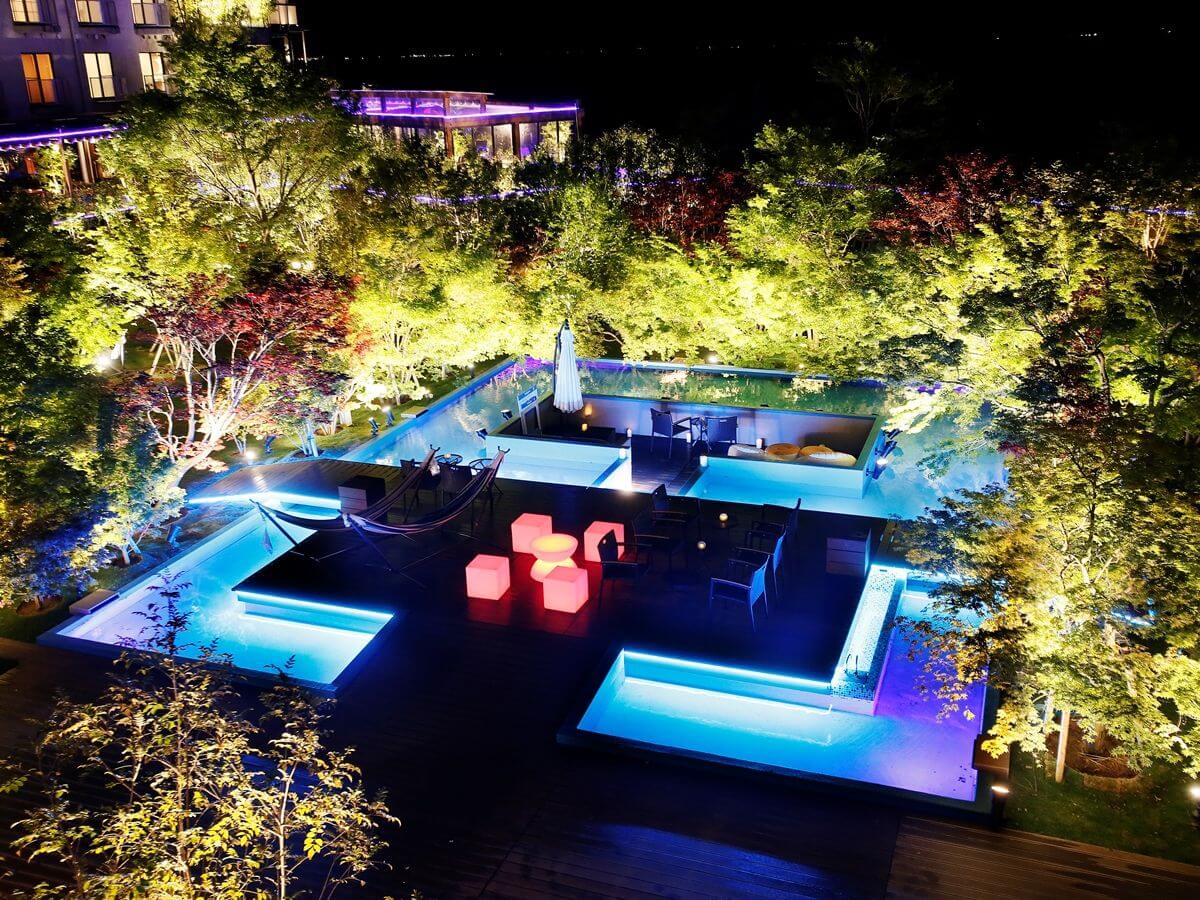 Guests can look forward to the 300+ trees in the garden being lit up in a magical and mystical performance, giving the air a touch of romance. It offers an experience like no other as you're wrapped in a forest of lights under a starry sky.
Consider Hotel Nampuro if your trip to Japan is taking you to Nagasaki Prefecture.
RELATED ENTRIES
Nagasaki's 112 Year Old Hotel Nampuro Opens Terraces With Panoramic Ocean and Sky Views

The 112-year-old Hotel Nampuro in Nagasaki is set to open the new Sky Terrace and Ocean Terrace this month. These vistas offer breathtaking, unbroken views of the sea and sky that make it feel as if you're floating on the ocean with rolling skies ahead that stretch to the horizon.

Observation Terrace (1)

Observation Terrace (2)

Infinity Pool-Style Open-Air Bath

Silky Bath

Beautifying Bubble Baths

Jacuzzi Bath (Male Only)

Children's Bath

Hinoki Sauna & Steam Sauna

Iyashi Onsen Cafe

Rental Open-Air Bath

The observation terrace offers an incredible panoramic view of the great Ariake Sea that offers a picturesque spectacle at all times of the day. Guests can enjoy seeing the morning, noon, and night skies which merge together with the ocean for an unbeatable result. There's also a "no talking" rule on the terrace so guests can fully soak up what's in front of them as they take a luxirous soak in the warm baths.

The infinity pool-style open-air bath offers a refreshing view while making it seem as if you are part of the ocean. The silky bath uses delicate micro bubbles which become an air cushion and promote good blood circulation using massage. The jacuzzi bath relaxes the entire body with stimulating bubbles, while the children's bath allows kids to get in on the fun too. Both saunas are a change to unwind fatigue and the tired body. The steam sauna is set at a lower temperature than your usual high-temperature dry sauna which ensures it doesn't have as much strain on the body so guests can sweat it out comfortably. The freshly-brewed coffee available at the hot spring is also exclusive to the hotel's Onsen Cafe.

hotel androoms Announces Opening of New Kyoto Shijo Branch in March

Solare Hotels and Resorts has announced that a new branch of hotels androoms will open in Kyoto Shijo on March 6, 2021. In the run up to its grand opening, the company has opened a website where guests can book hotels with Solare Hotels and Resorts at the cheapest possible price. The website will begin rolling out more information about each hotel on the site through the year.

Access

hotel androoms Kyoto Shijo is located a convenient 5-minute walk from Kyoto Station's Karasuma Line section and 7 minutes from the Central Exit in the JR section, placing it within close distance to many of Kyoto's sightseeing spots.

The hotel offers seven different room types from standard to double to premium twin. One room can house a maximum of three people, accommodating groups and families. It also promises to be packed with a variety of exclusive services you won't find at other hotels.

Specialty coffee by Unir Kyoto

hotel androoms Kyoto Shijo will welcome the opening of a new branch of Unir inside the hotel which serves coffee made from specially-selected coffee beans. The coffee is hand-roasted on site with baristas pouring their love and skill into every cup.

Breakfast delivered right to your room

The morning time is your time and should be used as you please without you having to rush around, so says the hotel, and so it offers a breakfast delivery service which must be booked in advance.

Relax and unwind in the modern-style baths

Those looking for a little relaxation can look forward to pushing all their stresses aside in a modern bathing area which is inspired by a cave. It's open from 3pm-2am and again from 6am-10am.

If you're planning a trip to Kyoto and want a hotel with easy access to all the hot spots then be sure to consider hotel androoms Kyoto Shijo.

Strawberry Loaded Afternoon Tea and Strawberry Cocktail to Welcome the New Year at Hotel Gajoen Tokyo

Hotel Gajoen Tokyo, which is a museum and hotel fusion, is serving up a special Strawberry Afternoon Tea and Strawberry Cocktail at its restaurant New American Grill "KANADE TERRACE" from January 6 to February 11 and February 15 to March 19 next year.

Strawberry Afternoon Tea | ¥4,500, with champagne ¥6,200 (1 Person/Before Tax/Service Charge Not Included)

New American Grill "KANADE TERRACE" is known for its afternoon teas, which are made with seasonal ingredients, as well as its cocktails. Their new Strawberry Afternoon Tea will welcome in the New Year with a strawberry and rhubarb tart, strawberry fondue, strawberry and mascarpone soup, and other sweet and savoury selections.

Strawberry Cocktail | ¥1,600 (Before Tax/Service Charge Not Included)

The Strawberry Cocktail is of course made with fresh strawberries as well as mint and soda for a fusion of sweet and tangy. Those who don't enjoy alcohol can rest assured they'll enjoy this alcohol-free cocktail.

Information

Strawberry Afternoon Tea / Strawberry Cocktail
Location: New American Grill "KANADE TERRACE" (Hotel Gajoen Tokyo Floor 1F)
Serving Dates: January 6, 2020 – February 11, 2020 / February 15, 2020 – March 19, 2020)
Serving Times: Afternoon Tea 14:30-17:30 / Cocktail 11:30-21:00
*Serving times are subject to change

*The afternoon tea is available while supplies last

Official Website: https://www.hotelgajoen-tokyo.com/archives/59170

Japan Hotels | New Hotel The OneFive Terrace Fukuoka to Open on December 15

Hakata Hotels is welcoming the third branch of its The OneFive brand hotels with the opening of The OneFive Terrace Fukuoka in Chuo, Fukuoka, on December 15, 2020.

The OneFive is based around the old Japanese way of ichigo ichie, which roughly translates to "treasure every meeting, for it will never reoccur." It has taken considerate measures to question what really constitutes as necessary service when it comes to hotels, and launched as a new brand of simple yet comfortable and high quality hotels serving Japanese omotenashi, or hospitality.

Simple yet fine quality comfort

The OneFive Terrace Fukuoka is located in busy central Hakata—within walking distance of the entertainment district of Nakasu and the lively riverside area of Tensu—while offering spacious and comfy rooms.

Rooms are 27㎡~48㎡ in size, with Double Rooms being equipped with king size beds and Twin Rooms with two double beds. Each has a bath, toilet, and wash area, as well as a writing desk, closet, and other pieces to make the hotel stay as comfortable and convenient as possible. There are of courses terraces too, living up to the hotel's name, which act as 'another living room' for guests.

The 4 S's of Japanese Tea at The OneFive Terrace Fukuoka

1. Select
A selection of specially-selected teas from around locations in Kyushu such as Yame (Fukuoka), Chiran (Kagoshima), Ureshino (Saga), and elsewhere.

2. Style
Enjoy tea in a variety of different styles from creamy and foamy draft tea to hand drip tea and more.

3. Sweets
The hotel's pastry chefs will whip up a range of tea-flavoured desserts that fuse the traditional Japanese taste with modern western ideas.

4. Scene

All guests staying at The OneFive Terrace Fukuoka are offered a welcome cup of tea. The hotel is a chance for them to appreciate the local culture, region, and lifestyle arranged in a contemporary way.

Fuji-Q Highland's Hidden Leaf Village Theme Park Area Adds New Photo Spots

Fuji-Q Highland, an amusement park in Yamanashi, Japan, added new photo spots to its popular Naruto x Boruto Fuji Hidden Leaf Village area on Friday (December 4).

The new spots

New statues of Jiraiya, Tsunade, Gaara, and Itachi have been placed around the park, making the perfect for a photo opportunity and to make guests feel even more like they're in the world of Naruto.

A new Gaara-inspired ramen dish

¥1,180 (Tax Included)

The area is home to Ramen Ichiraku which is inspired by the ramen bar seen in the Naruto series. There, they have cooked up a new ramen dish inspired by Gaara which comes with a boiled egg with the kanji for 'love' (愛) that's written on the character's forehead.

Naruto themed hotel rooms at Highland Resort Hotel & Spa

Fuji-Q Highland's official hotel, Highland Resort Hotel & Spa, has its own special Naruto-themed rooms with references to shinobi and the Hidden Leaf Village dotted everywhere. A new batch of amenities are also set to roll out for guests from February 1, 2021 which will include yukata that dress you like Naruto and Sasuke, face towels with Naruto and Sasuke on them during their final battle, and more.

If you've always wanted to feel like you're in the world of Naruto, look no further than Fuji-Q Highland.

ⓒ岸本斉史 スコット/集英社・テレビ東京・ぴえろ

Information

Fuji-Q Highland Naruto x Boruto Hidden Leaf Village
Opening Hours: 10:00-17:00
Closed: [2020] December 10th / [2021] January 7th, 14th, 21st, 28th
Official Website: https://www.fujiq.jp/

Shinobi Japanese Ninja Suite Room NARUTO
Capacity: 4 People (¥6,000 for each additional person up to 6 people)
Book: https://www.highlandresort.co.jp/
*Booking comes with amenities

FAUCHON HOTEL KYOTO Announces Opening Of Le Spa Fauchon in March 2021

FAUCHON HOTEL KYOTO is set to open its second branch in March 2021 which will be home to the Fauchon brand's world-first spa Le Spa Fauchon.

Le Spa Fauchon's spa experience incorporates its concept of "FAUCHON Meets Kyoto. Feel Paris" which is offered in a variety of ways. The spa of course serves a wide range of body, facial and scrub treatments with voluptuous fragrances and rich textures, while the floors of the spa rooms are dyed a stylish Fauchon pink. It's a coming-together of splendorous Paris and quaint Kyoto.

An unforgettable spa experience by Japan and Paris's beauty specialties

Le Spa Fauchon is managed by Cred International at FAUCHON HOTEL KYOTO, an industry-leading company that operates luxury hotels both inside and outside Japan.

The spa's products and menu were developed in a joint effort between premium cosmetic brand KOS PARIS, which manages numerous 5-star hotel spas and offers high-quality products in Paris, and which is coming to Japan for the very first time, and Cred International. The spa is also offering an original and exclusive range of oils in collaboration with top Paris therapist Yuki Inotsume, who has offered her knowledge of Japanese skin care and Japanese peoples' preferences, and KOS PARIS's high-grade oils.

FAUCHON HOTEL KYOTO also offers all guests a selection of amenities in their rooms with the "FAUCHON Meets Kyoto. Feel Paris." concept for guests to enjoy the ultimate spa experience.

If you're staying in Kyoto, why not treat yourself to a spa trip at Le Spa Fauchon?

sequence SUIDOBASHI: Tokyo's Next-Generation Hotel Opens November 25

Major real estate developer Mitsui Fudosan and Mitsui Fudosan Hotel Management will open "sequence SUIDOBASHI," the third branch of their "sequence" hotel chain, in Chiyoda, Tokyo, on November 25, 2020.

A convenient stay in Tokyo

sequence SUIDOBASHI is just a 1-minute walk from Suidōbashi Station's JR Line and a 6-minute walk from its Toei Subway-Mita Line. Its convenient location puts it near the Tokyo Dome City entertainment complex where you can enjoy sports events, concerts, an amusement park, and more. It also means easy access to other places like Akihabara, Kagurazaka, and Otemachi.

Suidobashi is home to many office buildings, and so to blend in with its environment, sequence SUIDOBASHI features monotone colouring with chic and sophisticated design.

An easy check-in with facial recognition technology

At the hotel entrance is the facial recognition check-in counter. Guests use an app to register in advance and can use facial recognition or a QR code to self check-in easily. The hotel lobby also has a counter table and DJ booth as well as a cafe counter.

One checked-in, guests can enter the hotel to find their rooms or other facilities throughout the building. sequence SUIDOBASHI is the second branch to incorporate facial recognition, which lets the hotel do everything for you from checking-in to entering your room, following sequence KYOTO GOJO. The hotel chain is also the first in Tokyo to incorporate it.

The concept of "MOMENT"

The hotel is built around the concept of a moment, offering a range of spaces for guests to enjoy different moments like the theatre and the lounge, all of which can be experienced with proper COVID-19 precautionary measures in place.

Bar and dining at KANPAI TERRACE

The hotel's bar and dining restaurant KANPAI TERRACE has a spacious open terrace where guests can enjoy a selection of sandwiches, French toast, mains and sides for breakfast and lunch. During bar time, pick from a range of alcohols and pair them with various Japanese, Western, and Chinese foods.

SHUNKAN LOUNGE

Up on the 2nd floor is the guest-only "SHUNKAN LOUNGE," a 40m² mini theatres with an enormous 120-inch screen where guests can enjoy sports, entertainment, and more. They can also take food and drink they bought from KANPAI TERRACE in there.

SHUNKAN LOUNGE also has its own art gallery showcasing art themed on the concept of "MOMENT" from young, up-and-coming artists.

Guest Rooms

There are eight types of rooms to choose from, all of which can accommodate 2+ people. Rooms are compact and functional whether it be for guests' morning routines or for desk work. The hotel has selected black as the base colour for the backstage area while the bed area uses white which softly illuminates with the light to create a chic contrast in the room design. There are also speckles of orange throughout the room which is the brand's colour and adds accent to the overall design.

Floors 3-6 and 12 feature bunk bed rooms perfect for friends and families travelling together. The rooms are compact with everything guests need in there including the washrooms with showers and toilets. There's also a concept room called "Bunk Bed 4 LIVE" which features a projector and BOSE speakers for guests looking for more of a party room.

If you're looking for a place to stay in Tokyo, why not check out the "next-generation" lifestyle hotel sequence SUIDOBASHI?

W Osaka: Japan's First Luxury Lifestyle Hotel to Open in March 2021

Marriott International has announced that W Osaka will have its grand opening on March 16, 2021. Room bookings opened via the hotel's official website on Wednesday (November 18).

W Osaka is a luxury lifestyle hotel that will open along Midosuji, the primary main street in central Osaka, positioning it within walking distance of Shinsaibashi which is home to world-leading luxury brand stores, Dotonbori which hails as one of the main tourist spots in Osaka where one can find an unending selection of restaurants and places for a great night out, and Minamisenba where you can find Osaka-based designer stores, coffee shops, and more. It's also conveniently situated near the business district of Honmachi.

The Hotel's Theme: A fun place for Osaka's merchants

The hotel's design was overseen by Osaka-born international architect Tadao Ando. The 32- storey building is coloured a simple yet stylish black and is based around crystals.

The interior design was carried out by Concrete Architectural Associates from the Netherlands who have recreated the image of Osaka's city lights with dazzling neon lights. Under the rule of the Tokugawa shogunate during the Edo period, extravagance was banned, but that was well over a century ago, so it is of course permitted now. But while W Osaka incorporates flashy design, its interior isn't overly-sophisticated and maintains an air of light-hearted fun to it.

A single button caters to whatever, whenever when it comes to guests

The 337 guest rooms boast beautiful vivid colours and contemporary designs that are sure to leave an impression. Washrooms are spacious and are equipped with rainfall showers. The rooms'; windows also stand from the floor to the ceiling, allowing for a perfect view of Osaka's beautiful streets. Best of all, all room telephones are fitted with a "Whatever/Whenever" button on them which enables hotel staff to cater to guests' needs and wishes at all times no matter what it is.

A Michelin-star chef's menu

In the lobby, guests will see a mic on a mic stand which is a nod to Osaka's famous manzai culture of comedy duos. The hotel also plans to open a bar area. For now, however, guests can enjoy the all-dining restaurant which boasts a menu supervised by a Michelin-star-winning chef who has also ranked in Asia's Best Restaurants 50. In the future, W Osaka plans to be host to unique wedding ceremonies too.

If you'e planning a trip to Osaka next year, be sure to check out W Osaka, opening March 16, 2021.

Hoshino Resorts Tomamu's Ice Village Will Be Open For Winter 2020-2021

Hoshino Resorts Tomamu, Hokkaido's top snow resort where you can stay, has announced that this year's Ice Village will open from December 10, 2020 to March 14, 2021.

Ice Village opens up at Tomamu in wintertime only and has done so every year since 1998. It boasts 3.2 hectares of land and houses 10 enormous igloos to create a little village of ice. At its lowest, the temperature there can drop to -30°C which is what works the magic behind the Ice Village.

Many events around Hokkaido have been cancelled this year as a result of the pandemic, and so Tomamu has decided to remain open to both guests and non-guests while operating under strict countermeasures against COVID-19. This way, people can still enjoy the wonderful winter season of Hokkaido. This year sees the opening of the Ice Milk Cafe and Ice Fruit shop in the Ice Village where they can order a variety of food and drink to take out onto the Ice Terrace. There's even the Ice Hotel and Ice Chapel.

Draw fresh milk from the Ice Milk Cafe

The one-meter tall Ice Milk Bottle lets visitors who order a glass of Ice Milk at the Milk Cafe draw fresh Tomamu Milk which has a distinctly deep flavour during winter. You can also mix the milk on an ice sheet to create gelato.

Ice Milk Cafe

Opening Hours: 17:00-22:00 (Last Orders 21:30)

Enjoy chilled fruits at the Ice Fruit Shop

Visitors can enjoy a range of whole frozen fruits that have been shaved into smaller pieces as well as frozen fruit beverages. They also serve fruits on skewers you can pick which fruit combinations you like to enjoy out on the Ice Terrace.

Ice Fruit Shop
Opening Hours: 17:00-22:00 (Last Orders 21:30)

Enter a magical frozen world at the Ice Terrace

Once you've ordered your takeout drink or dessert, you can go out onto the terrace to sit at the tables and chairs, which are also made of ice, and enjoy the frozen world around you, like the giant snowflakes.

Ice Terrace
Opening Hours: 17:00-22:00

Order a crisp drink at the Ice Bar

The ice bar serves over 50 different alcoholic beverages at the ice counter, with drinks like colourful cocktails served chilled in ice cubes.

Ice Bar

Opening Hours: 17:00-22:00 (Last Orders 21:45)

Dogs are allowed at the Ice Hotel

Everything at the Ice Hotel, from the ceiling to the walls, is made from ice. It's available to one group per day and has its own ice bath and hot springs. Dogs are also allowed and get their own pup igloo.

Running: January 18, 2021 – February 28, 2020
*Reservations required 7 days in advance

The Ice Chapel made entirely of ice

A chapel made entirely of ice which represents "the unbreakable love between two pure souls which shall last forever." From the altar and crucifix, to the wedding aisle and benches, everything is made of ice and snow. Firework displays will take place to congratulate newly-wed couples.

Running: January 18, 2020 – February 14, 2020

Visiting Times: 17:45 / 19:45 / 21:45 (10 minutes each)
Ceremony Times: 14:00 / 17:00 / 19:00 / 21:00

Crafts at the Ice Atelier and shopping at the Ice General Store

Visitors can craft things made from ice at the Ice Atelier as well as buy a selection of ice and snow-themed items like crafts, accessories, mugs, and more at the shop.

Ice Atelier / Ice General Shop
Opening Hours: 17:00-22:00

Kids and adults can have fun at the Ice Slide and Ice Rink

The Ice Slide is the most popular part of the Ice Village where kids and adults alike can slide down and overlook the bustling village. Right next to the slide is the Ice Rink, another bustling spot popular with visitors.

Ice Slide Opening Hours: 17:00-22:00
Ice Rink Opening Hours: 17:00-21:45 (Last Entries 21:30)

Information

Hoshino Resorts Tomamu Ice Village
Running: December 10, 2020 – March 14, 2021
Opening Hours: 17:00-22:00 (Last Entries 21:30)
Official Website: https://www.snowtomamu.jp/special/icevillage/en/
*Dates and content subject to change depending on the weather

Hotel & Rooms Kyoto Shichijo: Kyoto's New Hotel Opening in Spring 2021

Solare Hotels & Resorts has announced that the new Hotel & Rooms Kyoto Shichijo will open in Spring 2021. It will be located just a 7-minute walk from the JR side of Kyoto Station's Central Exit, making it a convenient hub for tourists looking to sightsee in the city.

The casual yet stylish hotel caters to couples, families, and groups travelling together.

"Verical Garden" in the Elevator Hall

Enjoy the open central garden at the hotel cafe

The hotel takes advantage of the building's old Kyoto-style townhouse design and incorporates a contemporary feel to its interior. The décor is a merging of traditional and contemporary Japan. Guest rooms are centred on groups 2-3 people with double and twin rooms available, allowing for comfort and relaxation.

Spacious washroom with wooden décor

A traditional and modern fusion of stylish mirrors and warm wood

The washrooms offer a relaxing respite from the day's travels, incorporating the beauty of traditional Kyoto with the modern. The hotel also has its own cafe on the first floor which serves breakfast and lunch and even turns into a bar in the evenings. It's open to both guests and non-guests to serve as a hub for travellers and locals to enjoy the fruits of Kyoto together.

If you're planning a trip to Kyoto next spring or beyond, be sure to check out

Information

Hotel & Rooms Kyoto Shichijo (Japanese: ホテル・アンドルームス京都七条)
Address: 730 Ebisunocho, Shimogyo-ku, Kyoto
Grand Opening: Spring 2021

Official Website: https://www.solarehotels.co.jp/

Pokémon Themed Hotel Rooms Open in Tokyo and Kyoto at APARTMENT HOTEL MIMARU

Japanese real estate company Cosmos Initia teamed up with The Pokémon Company last year to offer Pokémon themed hotel rooms at two branches of APARTMENT HOTEL MIMARU in Tokyo and Kyoto. The rooms have received high praise from guests, and so they have decided to offer the rooms in two more branches.

The new rooms will open at MIMARU TOKYO Ginza EAST on December 1, 2020 and MIMARU Osaka Nanba NORTH on January 14, 2021. Room bookings opened at both hotels on Friday (November 13).

Each part of the Pokémon Rooms are decorated in all things instantly-recognisable to fans of the franchise including in both the dining and bedroom spaces.


Guest kitchens also come with a batch of original plates and mugs to make their Pokémon stay even more fun. Rooms also come with various themed novelties such as a small bag, welcome card, and hand towel.

Fans of Pokémon planning a trip to Tokyo or Osaka will definitely want to check out APARTMENT HOTEL MIMARU.

©2020 Pokémon. ©1995-2020 Nintendo / Creatures Inc. / GAME FREAK inc.

Pokémon, ポケットモンスター, and ポケモン are registered trademarks of Nintendo, Creatures Inc., and GAME FREAK inc.

5 Must-Visit Places in Japan to See the Autumn Colours in 2020

Online travel website Booking.com has revealed its 5 must-visit and places in Japan for seeing the autumn colours, all of which can be enjoyed safely with the necessary social distancing measures in place.

According to a survey carried out by Booking.com, when asked what the next desired travel destination is, 37% of users in Japan responded that they wanted to plan a sightseeing trip outdoors in nature. With the autumn leaves still ripe in Japan and the winter spectacle on the horizon, the website has compiled a list of recommended destinations.

Sanga Nikko in Nikko, Tochigi

If kicking back and relaxing is your thing, but you still want to keep active then Sanga Nikko is a place to consider. Mid November is the peak of the autumn season when all the trees are dyed reds and yellows. There, friends and families can stay in a villa all of which avoid the three C's: closed spaces, crowded places, and close-contact. The owner is an advocate of the outdoors and so guests can rent bicycles there to feel the breeze on their faces while lost in nature. (User Rating: 9.3/10)

Rakuyu in Fujikawaguchiko, Yamanashi

Rakuyu is a hotel where guests can relax in luxury while embedded in the expanse of the outdoors. It sits high on Lake Kawaguchi, and all rooms offer a breathtaking panoramic view of the lake. There are open-air baths and rentable private baths where guests can enjoy the view, one which is gorgeous to behold even from the hotel lobby. If you book through Booking.com there's a meal plan which offers Japanese-style food made with seasonal ingredients. (User Rating: 9.0/10)

Jeugiya Inn in Higashiyama, Kyoto

Those looking for an authentic Japanese experience that also incorporates autumn should check out Jeugiya Inn. Nobel Prize-winning Japanese novelist Yasunari Kawabata stayed at this inn and likened it to a Kyoto-style home. Its favourable location also puts it within 5-minutes walking distance of many Kyoto sightseeing spots such as Yasaka Shrine and Chion-in, as well as Gion-Shijō Station, making it easy to get to. One group can stay at the single building for one day, giving them a chance to enjoy the traditional Japanese garden. There's a spacious bath too from which guests can enjoy nature. (User Rating: 9.9/10)

Tsukihitei in Kasuganocho, Nara

Tsukihitei is separated from the hustle and bustle of the city which is perfect for those looking for a quiet and tranquil time. It's limited to three groups per day and is sits within Kasugayama Primeval Forest which is listed as a UNESCO World Heritage Site. Guests can open the sliding doors to reveal an unbroken view of autumnal woods. Food served here is served as authentic Japanese-style kaiseki-ryori made with carefully-selected seasonal ingredients. (User Score: 9.6/10)

Sanso Tensui in Hita, Oita

If you're talking seeing the autumn colours the popular Hita area of Kyushu then Sanso Tensui is a must-mention. There are various room types available such as the Special Rooms which are limited to three groups per day, single buildings, and more. Sanso Tensui is another place that serves up meals with abundant seasonal ingredients. After strolling around to see the red and yellow hues, guests can take a dip in the hot springs to enjoy a soak under the autumn colours.