Popular Character Cafés in Japan: August 2018
Each month, a new themed café or menu is introduced in Japan in collaboration with popular characters. There's a whole list of kawaii ones that make an appearance every time.
Let's take a look at some character cafés you can look forward to in August 2018.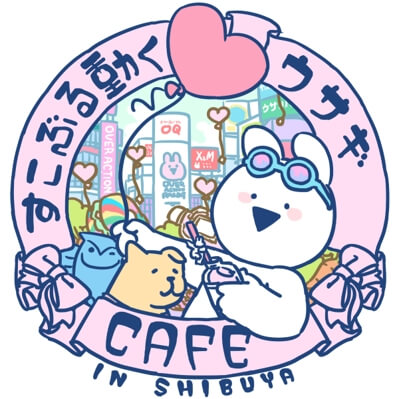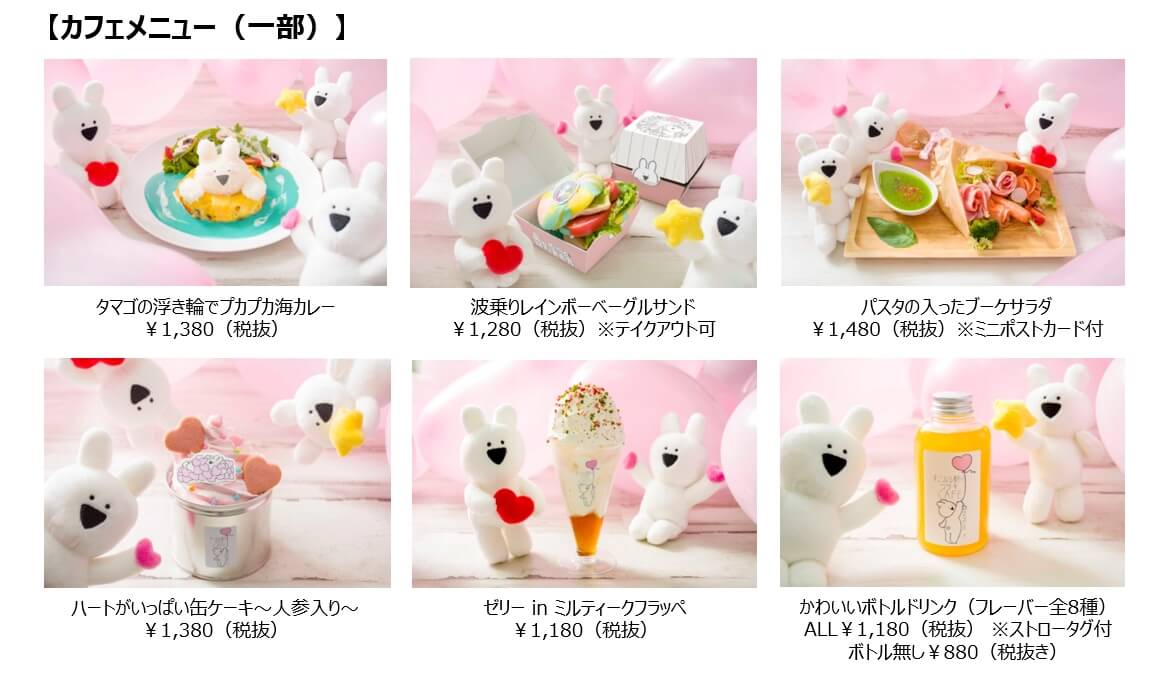 'Over Action Rabbit' x VANDALISM Shibuya
Over Action Rabbit is a popular stamp series used on the LINE and Kakao Talk messenger apps that has gained much attention in Japan and particularly with young people in South Korea. The cute and lovable rabbit is getting his own themed café that will be open for a limited period between July 21 and August 26. This is the first time a café has collaborated with Over Action Rabbit in Japan. The kawaii café will take the form of his surreal world and be decorate in pastel-coloured decor. They also have a takeout menu.
Full Details: https://www.moshimoshi-nippon.jp/118092
■Information
LINE Stamp "Over Action Rabbit" Character Café
Running: July 21, 2018 – August 26, 2018
Location: VANDALISM Shibuya
Address: B1F Ota, 26-9 Udagawacho, Shibuya, Tokyo
Opening Hours: 11:00am-9:00pm
Official Homepage: http://dk311.jp/Extremely-Rabbit/cafe/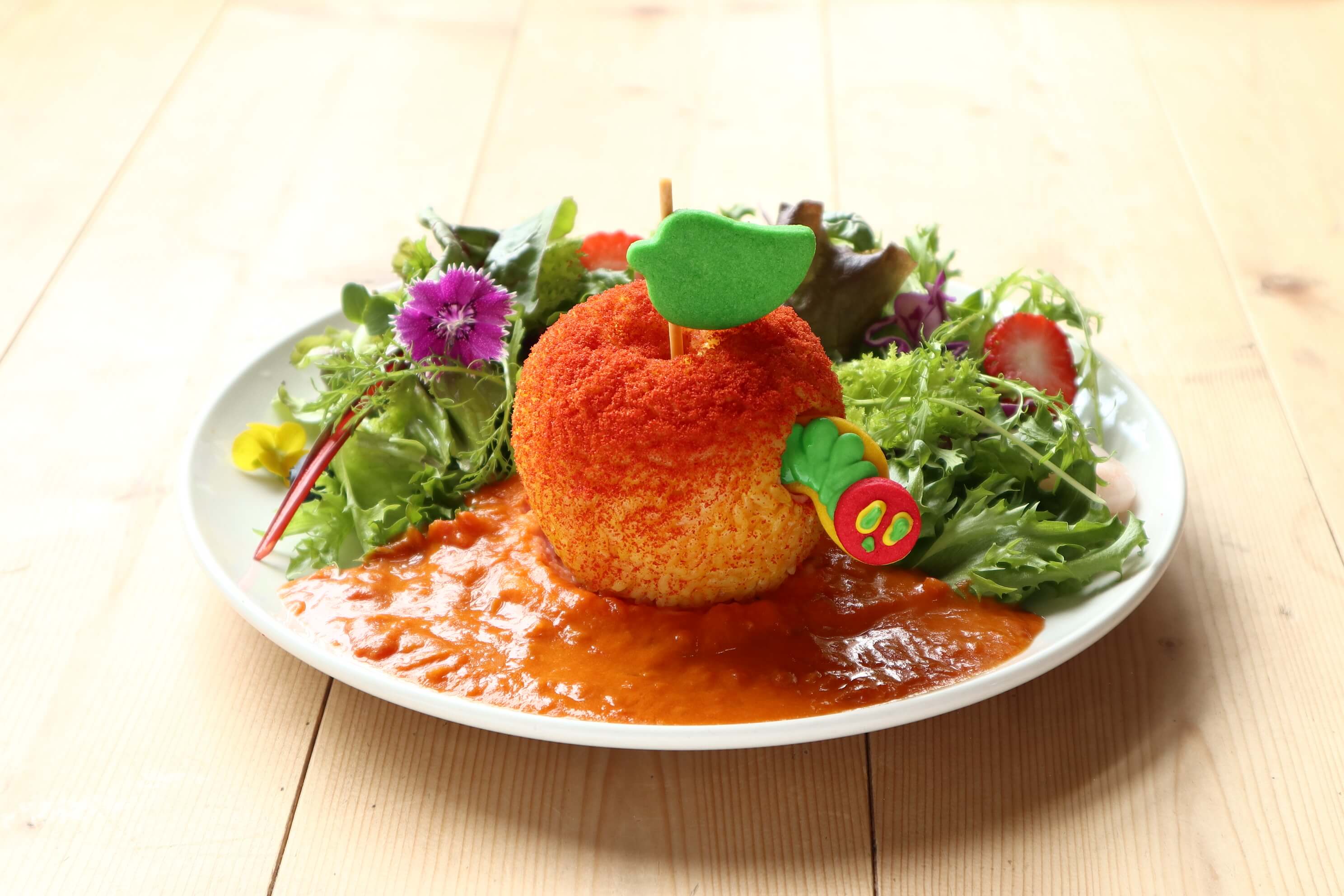 The Very Hungry Caterpillar x Marione Gate Ginza
The internationally beloved children's picture book The Very Hungry Caterpillar has its own café in Japan, and they've introduced some eye-catching new menu items for the summer. Everything delicious thing on the menu recreates the wonderful world of the story down to the finest of details that are sure to leave you smiling!
Full Details: https://www.moshimoshi-nippon.jp/107654
■Information
The Very Hungry Caterpillar Café
Address: Sunday Brunch, Marione Gate Ginza 1 (4F), 2-2-14 Ginza, Chuo-ku, Tokyo
Running: January 18, 2018 – August 31, 2018
Opening Hours: 11:00am-9:00pm
*Reservations must be made for those who want to visit the cafe before 5:30pm. Making reservation is unnecessary for those who are planning to visit the café after 5:30pm.
TEL: 03-3567-3366
Website: http://www.harapecocafe.com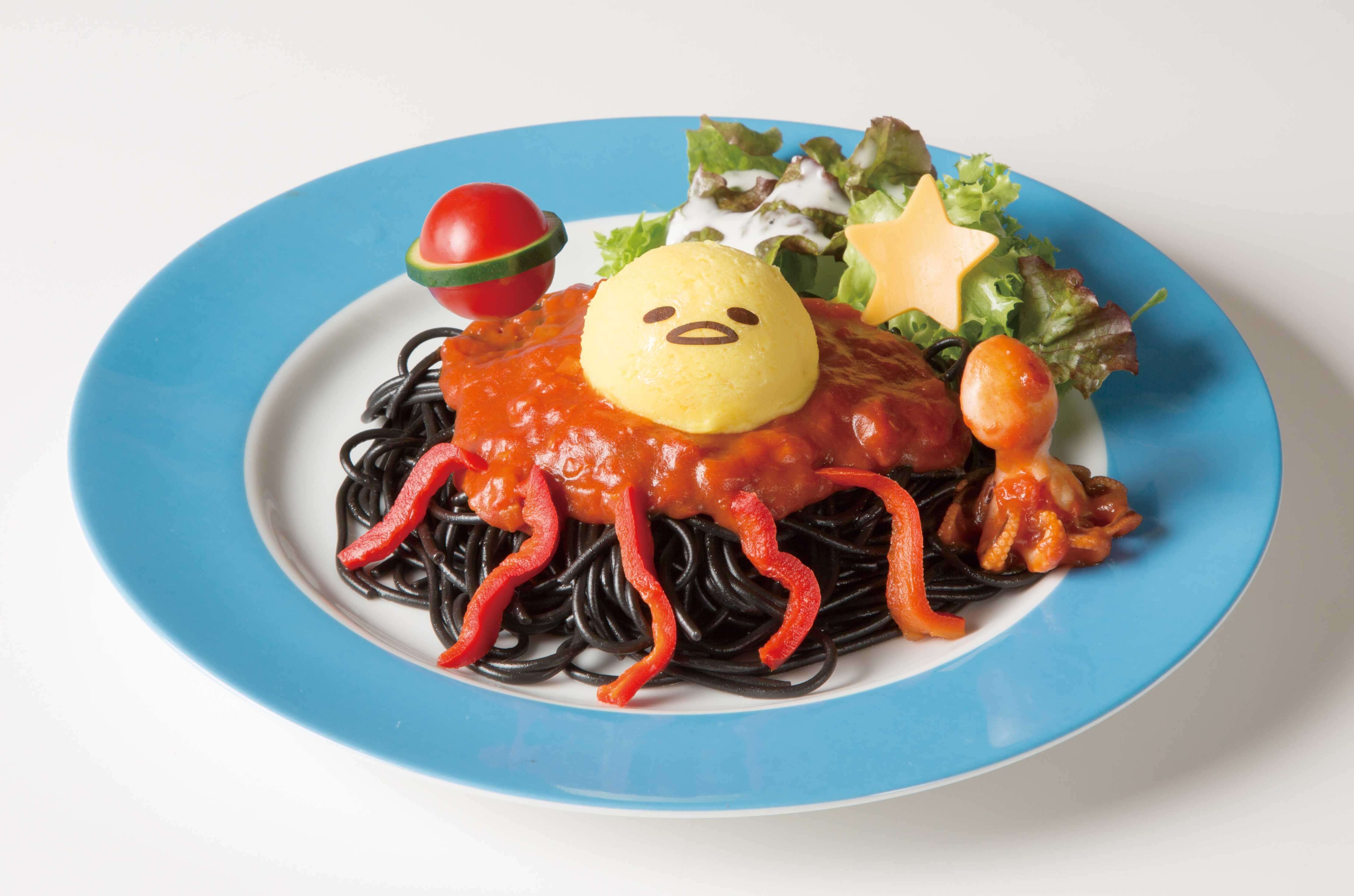 Gudetama x Dining Park Ikebukuro
To celebrate Gudetama's 5th anniversary, he's launched into space to bring us a very special space-themed menu packed with dishes perfect for Instagram feeds, such as the Zero Gravity Gudetama Burger, Black Hole Jar Parfait, and much more. Drink and dine at the café to receive a limited edition Gudetama fan and coaster. Keep in mind these are limited in quantity, so you'll want to visit quick!
Full Details: https://www.moshimoshi-nippon.jp/112954
■Information
Gudetama Café – Ikebukuro
Address: Gourmet Stadium II, Seibu Ikebukuro Main Store 8F, 1-28-1 Minami Ikebukuro, Toshima, Tokyo
Running: June 26, 2018 – September 4, 2018
Opening Hours: 11am-11pm (Open from 10:30am on weekends & holidays)
*Last Food Orders: 9:30pm / Last Drink Orders 10pm
No fixed holidays except where Seibu Ikebukuro is closed.
TEL: 03-5949-5675
©2013, 2018 SANRIO CO., LTD. APPROVAL NO.S590710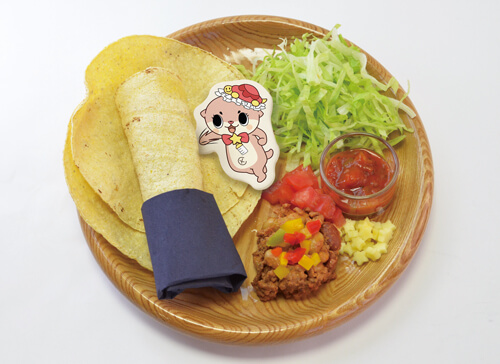 Chiitan☆ x Harajuku Kawaii-ya
Located down Takeshita Street, Harajuku's iconic shopping spot, is Harajuku Kawaii-ya, a café that has teamed up with the kawaii otter mascot Chiitan☆. Running until September 9, the menu is filled with dishes with very unique names in Japanese which translate to things like "I'm Chiitan, the One Who Destroyed the Trampoline Someone Bought For Me… Hot Pie." You don't need to make any reservations. It's first-come, first-served all day making it an easy place to get into if you're unsure how to book in Japanese. Experience the world of Chiitan☆ in Harajuku!
■Information
Chiitan☆ x Harajuku Kawaii-ya (Produced by Animate Cafe)
Running: August 8, 2018 – September 9, 2018
Location: Harajuku Kawaii-ya (CUTE CUBE HARAJUKU 3F, 1-7-1 Jingumae, Shibuya, Tokyo)
Official Page: http://kawaiiya.jp/collabo-chitan.html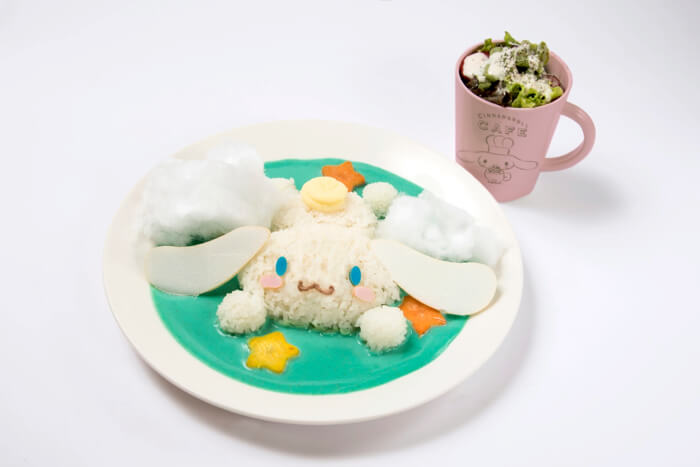 Cinnamoroll x Sapporo PARCO
Sanrio's popular character Cinnamoroll recently won the 33rd Sanrio 2018 Character Awards  so to celebrate, he received his very own themed café which is open at Sapporo PARCO until September 10. Enjoy the Soratobu Cinnamoroll Curry featuring Cinnamoroll flying through a green curry sky with his big ears. The dish is topped with cotton candy clouds which, when mixed with the curry, creates a unique flavour of sweet and spicy. There's a whole list of cute dishes on the menu. Cinnamoroll and his pals will also be there to greet you as staff.
Full Details: https://www.moshimoshi-nippon.jp/116613
■Information
Cinnamoroll Café
Sapporo PARCO 4F・THE GUEST cafe&diner
Address: Sapporo PARCO 4F – THE GUEST Cafe&Diner, 1-3-3 Minami, Chuo-ku, Sapporo-shi, Hokkaido
Running: July 27, 2018 – September 10, 2018
Opening Hours: 10:00am-8:00pm (Food Last Orders 7:00pm / Drinks Last Orders 7:30pm)
Official Website: http://the-guest.com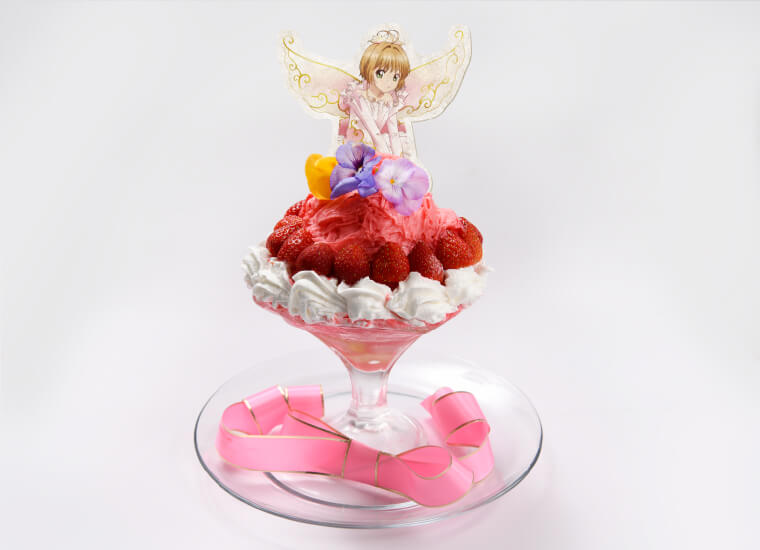 Cardcaptor Sakura x Sakura Fantasy Cafe
The Sakura Fantasy Caf is a new collaborative café themed on the latest entry to the Cardcaptor series, Cardcaptor Sakura: Clear Card, now open for a limited time in Tokyo (Harajuku), Osaka (Abeno) and Saitama (Koshigaya). The cafés have a photogenic themed menu as well as a photo spot and more, all with original illustrations. There's even a line-up of original Cardcaptor merchandise you can't get anywhere else. The menu includes a selection of cheese toast, roast beef, smoothies, pancakes and more.
Full Details: https://www.moshimoshi-nippon.jp/116035
■Information
Sakura Fantasy Cafe
Tokyo: Harajuku Box Cafe&Space
Osaka: DELASOUL CHARBON
Saitama: Koshigaya Box Cafe&Space
Dates
Tokyo: July 12, 2018 – September 2, 2018
Osaka: July 27, 2018 – August 28, 2018
Saitama: September 6, 2018 – September 30, 2018
Opening Hours
Tokyo: 11:00am-9:40pm
Osaka: 11:00am-9:20pm
Saitama: 11:00am-8:00pm (Last Orders 7:00pm)
Entry
Online reservations must be made (¥600 + tax) to access the Tokyo and Osaka cafes. 80 minutes allowed.
Reservations not taken for Saitama cafe.
Reservation Bonuses
Free luncheon mat randomly selected from 3 designs.
Menu Order Bonus
Those who order from the themed menu will receive an original coaster randomly selected from 9 designs.
Official Website: https://sakura-fantsy-cafe.jp
Did you enjoy this list? Be sure you get a chance to visit a character café while you're in Japan.
RECOMMENDED ENTRIES
Kaori's Easy Recipe: Totoro Black Sesame Seed Purin

With just a small bit of ingenuity, turn everyday food into something cute using Kaori's recipe series! With a few simple ideas, an ordinary recipe magically transforms into a cute dish.

In this character recipe you'll learn how to make a Totoro black sesame seed purin.

1: Ingredients

Black Sesame Purin Mix (purchased from Daiso)

Milk

Pura Chocolate (Swiss chocolate also fine)

Transparent Jar (Weck jar used)

☆For Decorating:

Almonds

Fresh Cream

Fruits of your choice

2: Cook the black sesame seed purin according to the box instructions and leave to cool.

3: Cut the chocolate into eyes, a nose and stomach and decorate the features with a chocolate pen. Make a leaf with a green pura chocolate.

☆Cool each part in the refrigerator to fully harden.

4: One the chocolate in step 3 has solidified, place it on the inner side of the jar as shown in the photo.

Add whiskers with the chocolate pen.

☆Once everything is in position, leave it to cool in the refrigerator once more.

5: After cooling again, pour in your black sesame seed purin mix from step 2.

☆If you do not leave the chocolate to completely harden it will fall off.

☆Place in the fridge once more to harden and you're done!

Finish off by decorating with fresh cream, add almonds for ears and top with a cherry.

Kaori invites you into her world of character-themed food dishes in her recipe series. Be sure to check out her Instagram where she has uploaded many pictures of her character dishes!

Photo Opportunities in Harajuku This Summer – Showcased by "Harajuku girls" Yuna Yabe & MIOCHIN

Yuna Yabe and MIOCHIN bring the second entry to their featured article series. In the first article, they visited 6 different second hand clothing stores in Harajuku. This time, they head to various photogenic places around Harajuku. The locations they visited were submitted by their followers on social media who were asked to recommend Instagram-worthy locations in Harajuku. They took plenty of photos, so let's see how their trip went!

Instagram Worthy Spots in Harajuku Recommended by People


Yuna Yabe and MIOCHIN go through Harajuku almost every day. But just because they're always there, they may still be unaware or not know about some spots. So here's some spots recommended by their followers!


Yuna: "This is from @killer_princess2. Doesn't it look amazing?! It's completely black! You'll be able to take a super cool picture if you wear a monotone outfit! Personally, I definitely want to go and see this."

Yuna: "This is from @misa.s.world. Is it a shop display? What an extremely cool place! It made me think that although I'm in Harajuku almost every day there's still place I don't know ahout."

MIOCHIN: "This is from @kanon_thx. This is the World Clock monument at the MOSHI MOSHI BOX Harajuku Tourist Information Center managed by the MOSHI MOSHI NIPPON Project. It's a famous spot for photos in Harajuku. It's easy to find and colourful so I definitely recommend it!"

MIOCHIN: "This is from @twintail.g__. The colourful graffiti is cute! It looks like a place where you could take an Instagram photo if you match outfits with a friend♪"

Thank you to everyone who submitted recommendations. Yuna and MIOCHIN will now set off into Harajuku to take some pictures!

Visiting the Recommended Places!


The first place they went to is the "Now Is Forever" graffiti located just a short walk from Family Mart on Shibuya Cat Street. It wouldn't be an exaggeration to call this place the most popular with people visiting Harajuku for taking Instagram photos. It's a bit of a walk form the station, but its colours make it stand out so it's very easy to find and an easy location for snapping shots for your page.

Next, they headed in the direction of Takeshita Street with the "Now Is Forever" to the back of them. They went through Cat Street and took the first left to find the black concrete wall.

Yuna: "When I looked at the photo of this that a follower sent, I really wanted to come here! It's simple but you don't really see walls like this, so I recommend it to people!"

★TIP
When taking a photo of something black, you can make the black colour more compact and take a better photo by lowering exposure. Depending on what app or device your using the interface will be different, but most use a sun icon for exposure.


Cat Street is a graffiti gold mine. You'll run into many great photo opportunities just by walking.

↓

★TIP
Harajuku's streets are narrow and there's a lot of obstructions, but if you take advantage of that you can take some very different looking photos from other people. This photo is made gorgeous with the flower bed in a blurry foreground.

Yuna: I put on the VSCO C1 filter on my app. Normally I'm the type to not add flashy things, but the VSCO filters look natural and stylish so I recommend them!

The brick wall at MICO Jingumae*, a commercial complex in Cat Street, is also a recommended spot. It's easy place to take simple photos in full outfits. *Address: 4-25-4 Jingumae, Shibuya, Tokyo

↓

★TIP

When taking a photo try to make skilled use of blank spaces. By adding stamps later on it's easy to incorporate more of your style into it!

MIOCHIN: "I used the LINE Camera app and added stamps. The colourful stamps are cute and stand out because the photo has a simple background!"

↓


There's a sudden refreshing path when you climb the stairs at MICO Jingumae. You can get away from the hustle and bustle of Harajuku and have a breather.

This street has a European vibe to it. From Cat Street it's close to Omotesando Crossing along Meiji-dori. Walk along the little path beside Laforet Harajuku.


This street goes by the names Mozart Street and Fontaine Street. The two of them discovered a water fountain in front of the building with the beauty salon. Despite being smack in the middle of Harajuku it had an exotic atmosphere.

Did you enjoy this trip? Yuna and MIOCHIN went to stroll around photogenic spots in Harajuku and there were many they hadn't been introduced to yet. Part of Harajuku's appeal is how shops, displays and graffiti/illustrations change every day. No matter when you go, you're sure to have a great time. Why not visit yourself this summer?

This series can also be enjoyed on YouTube. Be sure to check it out below!

6 Recommended Shaved Ice Desserts in Japan for Summer 2018

Shaved ice is one of the most popular desserts during summertime in Japan. It's made with ice shaved from an ice block and drizzled in different kinds of syrups.

Here's a list of 6 shaved ice desserts you should try in Japan this summer.

Strawberry Shaved Ice & Melon Shaved Ice

Fruit Parlor Odawara is located in the city of Hachinohe in Aomori Prefecture and sells desserts mixed with fresh fruits. Their strawberry shaved ice is made with around 25 sachinoka strawberries farmed locally, while their melon shaved ice uses carefully selected ripe melons and is served inside a melon. Only 10 of each flavour are available to purchase each day. They're being sold until the end of August, so be sure to visit quick!

Kazuri Chocolate Mint

Mario Gelateria is selling a range of chocolate mint shaved ice desserts for a limited period at three of its branches. Enjoy the fluffy Kezuri Chocolate Mint at the Shibuya Hikari branch, Chocolate Mint which turns pink at the Yokohama Bayside and Minato Mirai branches, and more. The Kezuri Chocolate Mint is most recommended, made with frozen mint milk and chocolate sauce. Enjoy topped with salted chocolate mint with salt from Uyuni Salt Lake.

Peanut & Homemade Condensed Milk Shaved Ice

Taiyaki Tomoean is selling a shaved ice dessert that includes a paste made in-house with crushed peanuts and a homemade syrup made with condensed milk. It's also topped with extra peanuts, giving layers of different flavours and texture with the full-bodied taste of the peanuts and sweetness of the syrup. You won't have eaten shaved ice like this before.

 

Wicked Snow – Watermelon & Melon Shaved Ice

Wicked Snow is a desserts cafe who are bringing back their three popular summer-only shaved ice flavours – pick from watermelon, melon, or a combination of both. The shaved ice is Wicked Snow's own unique blend, made to look like powdered snow that melts in your mouth. Topped with plenty of watermelon and melon, this is the kind of dessert you'd expect to see on Instagram.

Full Details: https://www.moshimoshi-nippon.jp/113471

Yondaime Tokujiro Natural Ice

In the Karuizawa Lakeside Shop of Hotel Green Plaza Karuizawa they are selling shaved ice made with natural ice from Nikko Yondaime Tokujiro, a brewery of which there are only a few located in Japan. Located in Nikko in Tochigi Prefecture, this natural ice warehouse has passed down traditional methods and techniques for 4 generations since the Meiji Period. The shaved ice is topped with tochiotome strawberry sauce, original plum sauce, matcha adzuki and more.

Tamba Spring Water Shaved Ice

Nakajima Taishodo are selling shaved ice made with large-grained adzuki beans and spring water both from the city of Tamba. The high quality beans give the dessert a sweetness, while the shaved ice, made with famous spring water from the company's breweries, give a fluffy texture. People from Kyoto, Osaka and Kobe come all the way to see this shaved ice which stands 18cm tall!

Looking to cool yourself off while in Japan this summer? Then how about some refreshing shaved ice?

List of Japanese Artists Performing Theme Songs for Popular 2018 Anime Series

Anime is loved by people across the world. One big aspect that can make an anime memorable for people is the music used, whether it's an opening theme, ending theme, insert song or background music.

Let's take a look at some of the Japanese artists in charge of songs for ongoing and upcoming anime series this year. Perhaps you'll discover a new favourite band or singer.

Wagakki Band – "Kyoto Teramachi Sanjou no Holmes"

Kyoto Teramachi Sanjou no Holmes is a popular mystery light novel series written by Mai Mochizuki. The series has sold over 700,000 copies and won the Kyoto Book Awards in 2016. The anime adaptation began airing on July 10, for which Wagakki Band's song Sasameyuki from their album Otonoe is used as the opening theme. The song is an intricate fusion of rock band power, traditional Japanese instruments, and orchestral instruments.

 

Yuzu – "Crayon Shin-chan"

Folk rock duo Yuzu's new song Mascot will serve as the newest theme song to the popular ongoing anime series Crayon Shin-chan. The song will hit shelves in Japan on August 1. Described as a 'party song,' Yujin Kitagawa wrote and composed the pop number which has an electro sound and elements of ska and reggae.

Lenny code fiction – "My Hero Academia" Opening Theme

Lenny code fiction's highly anticipated new song Make my story will be released on August 22. The song also features as the opening theme song to the third season of the hugely popular ongoing anime series My Hero Academia. It's a catchy, feel-good track that can be said to be the band showing their true value. Its positive and courageous message is the perfect match for a show like My Hero Academia.

Masaki Suda – "My Hero Academia" Ending Theme

Masaki Suda will release his new single Long Hope Philia on August 1. A different arrangement of the song titled Long Hope Philia (TV Limited) is being used as the ending theme for season three of My Hero Academia. The song was released digitally on July 14.

 Maaya Uchida – "SSSS.GRIDMAN"

Voice actress and singer Maaya Uchida released her anticipated second album Magic Hour on April 25, 2018. She will provide the ending theme for the 2018 fall anime series SSSS.GRIDMAN. The song, titled youthful beautiful, will be released as her 8th single on October 17, 2018.

Be sure to check out each of these songs yourself and see how they match their respective anime series.

5 Must-Wear Yukata for Japanese Summer 2018

Yukata are a traditional type of Japanese clothing originally used before and after entering a steam bath. Today, they are used as summer dress when going to events such as summer festivals and firework festivals.

They come in many different colours and designs. Here's a list of ones we recommend for summer 2018.

Sailor Moon Yukata

These Sailor Moon themed yukata have been made in collaboration with Kyoto Marubeni. Choose from five yukata sets inspired by each sailor as well a range of other chic and modern yukata. They have all the accessories you need to including obi and folding fans so you can enjoy the full dress-up experience. How about becoming a sailor this summer?

Full Details: https://www.moshimoshi-nippon.jp/88541

Yukata Fukubukuro

Kyoto based traditional Japanese clothing brand KIMONOMACHI are selling yukata fukubukuro, or 'lucky bags.' There are several lucky bags to choose from, including one containing a single yukata, a 2-set which includes a yukata and obi, and 4, 5 and 6-sets which include that plus accessories. Part of the reason for the popularity of these bags is that you can pick from four sizes: Small (S), Free, (F), Tall (TL), and 2L. Choose from a variety of kawaii infused yukata!

Full Details: https://www.moshimoshi-nippon.jp/108656

Disney Princess Yukata

Disney have released a range of yukata and accessories at five of their stores and online. The Ariel and Rapunzel are original designs that were specially illustrated for these yukata. No matter which you choose, all of them embrace the characters' stories down to the tiniest of details. Pick one of these yukata and become a Disney princess this summer!

Full Details: https://www.moshimoshi-nippon.jp/113122

Tokyo 2020 Emblem Yukata

Summer 2018 marks two years until the Tokyo Olympics. Gear yourself up for the excitement this summer with these official Tokyo 2020 yukata, jinbei and accessories. Cloisonne design yukata with the Tokyo 2020 emblem on them were released on July 3, and the above indigo design will be available from early August. Both are stylish and come in a gentleman's version and a lady's version.

SCANDINAVIAN PATTERN COLLECTION

This collection is a Northern Europe design project developed by Andfika for children. There are yukata for girls and jinbei for both boys and girls. The collection incorporates designs from three designers in Sweden and Finland. The clothes are a unique mix of Northern Europe designs and traditional Japan clothing.

Did you like this list? There's a lot of variation when it comes to yukata, so be sure to pick the right one for yourself this summer in Japan.

Travel Q&A: Best Ways to Enjoy Summertime in Japan

Japan is noted for is distinct season changes. Every time a new season rolls in, people change their outfit colours, and stores sell products related to the season.

Summertime in Japan runs through July and August. We've compiled a list of things you should get involved in during the summer season when you arrive in the land of the rising sun.

Natsumatsuri

The natsumatsuri, or 'summer festival' is an important part of the summer experience in Japan. Throughout July and August many exciting festivals take place up and down the country. Most take place annually and are a time to celebrate shrine deities, the four seasons, and history. There are even festivals that take place across several days.

Summer festivals mean the yatai start rolling out, or food stalls, where they sell freshly made hot takoyaki, sweet desserts and more. Buying something from a yatai and strolling around while eating is one of the best parts of a Japanese summer festival. It's also fun to see the food being prepared on hot iron plates right in front of you.

There are other yatai beside food carts too. There's lots of game stalls where you can try scooping a goldfish or have a hand at yo-yo fishing. For these two games you use a poi which has a thin piece of paper attached, or a fish hook, to try and catch your own gold fish or water balloon respectively. Whatever you can scoop up you get to take home. These games are enjoyed by both kids and adults alike.

Summer festivals are held all around the country and all have their own unique charms, so make sure to look up if the city or town you're visiting is holding any. It's an opportunity to experience a Japanese tradition, so if you're going to Japan in summer then don't miss out.

Firework Festivals

During firework festivals people dress up in yukata and go to watch the sky light up beautifully with their friends, families or lovers. These are another special part of Japanese summers. Firework festivals are held all around Japan and each have their own unique themes and captivating fireworks. Feel part of the fun by getting yourself a yukata and heading to one!

Beer Gardens

You can't have a summer without a cold refreshing beer! When you think of places to drink in Japan, izakaya tend to be the standard option, but why don't you try something a little different? Beer gardens in Japan are often held on rooftops during the summer where people drink and eat great food with friends and family.

MMN

Shaved Ice

Kakigori, or 'shaved ice' is a summer pastime in Japan which sees ice shaven thinly and topped with sweet syrup or honey. They're the perfect combatant to the hot weather. More recently you often see shaved ice in Japan topped with fruit, and the number of strange and unique flavours has been on the rise.

We hope you enjoyed our list. Be sure to make use of it and have the best summer in Japan!
RELATED ENTRIES
Kaori's Easy Recipe: Learn to Make Pompompurin Cheese Tarts

With just a small bit of ingenuity, turn everyday food into something cute using Kaori's Easy Recipe! With a few simple ideas, an ordinary recipe magically transforms into a cute dish.

In today's recipe, I'll be showing you how I made a batch of Pompompurin cheese tarts made using store-bought tart cups.

Ingredients (Makes 9-10)

9-10 store bought tart cups
200g cream cheese (brought to room temperature)
20-30g sugar
1 egg yolk
50ml fresh cream
8g potato starch (katakuriko)
Vanilla beans to taste (can be substituted for vanilla extract)
1 tbsp lemon juice

Step 1


Pour the following ingredients into a bowl in this order: cream cheese→sugar→egg yolk→vanilla beans→fresh cream→potato starch. Mix well. Make sure when you put the potato starch in last that you sprinkle it thinly.

Step 2
Bake the tart cups in an oven at 180℃ for 15-20 minutes. If you don't have store-bought cups, you can use small cocotte dishes.

Step 3

Leave to cool. Now you can start drawing the face.

For the hat I used sliced chocolate, for the ears sliced cheese, and for the facial features a chocolate pen.

Once you've drawn the face, it's time to tuck in!

Kaori invites you into her world of character-themed food dishes in her recipe series. Be sure to check out her Instagram where she has uploaded many pictures of her character dishes!

Kaori Kubota (@kaopan27)

I live in Hokkaido and I love to make character themed foods, desserts and pastries♡
I want to see my family smile, so I enjoy putting in a bit of effort to make character foods and changing food into something cute♡
You can see more of my character foods and character bento boxes on my Instagram page → @kaopan72

Tokyo's New Cat Shaped Cheesecake Shop 'Neko Neko Cheesecake' Opening in May 2020

ALL HEARTS COMPANY, a Japanese company that develops bakeries and patisseries across Japan, is launching an all-new cheesecake shop called Neko Neko Cheesecake which will open in Jiyugaoka, Tokyo on May 20, 2020. Serving cat-shaped cheesecakes, the shop will also take online orders.

Neko Neko Cheesecake is a sister brand of Neko Neko Kuu Pan from the same company which serves cat-shaped bread. Online deliveries will make for the perfect opportunity to bring that cafe experience to your own home.

Neko Neko Cheesecake – ¥1,800 (Before Tax) / Size: 11cm, 475g

The cake is made from the luxurious French brie cheese Brie de Meaux which is mixed with a homemade apricot jam to create rich, deep flavour. This means the cheesecake not only looks cute, but is the real deal too.

Their secret to bringing about amazing flavour and not just adorable looks can be broken down into four simple steps.

①They use the king of cheeses, Brie de Meaux.
②Although baked, the cheesecake is so soft it has a similar texture to a no-bake cheesecake.
③The sweet and sour homemade apricot jam elevates the overall flavour.
④The combination of mature cheese and the apricot jam changes the flavour to create a completely new kind of cheesecake.

The cheesecakes are boxed in box that has a simple yet chic design with two cats sat side by side.

The store will open on May 20, and online orders will launch on ALL HEARTS MALL on the same day.

Information

Neko Neko Cheesecake
Address: 1-16-14 Jiyugaoka, Meguro Ward, Tokyo 〒152-0035 (Connected to baguette rabbit's Jiyugaoka branch)
Opening Hours: 9:00-20:00
No Fixed Holidays (Except New Year's)
TEL: 03-6421-1208 (Line to baguette rabbit Jiyugaoka)
*Opening hours reduced due to COVID-19. Check the shop's official Twitter page below for updates.

Neko Neko Cheesecake Twitter: https://twitter.com/neko_cheese_
ALL HEARTS MALL Online Store: https://hbantique.official.ec/

Mister Donut Japan Launches Another New Matcha Doughnut Series

Mister Donut Japan is set to release yet another new limited line of matcha doughnuts in collaboration with Gion Tsujiri and Toshi Yoroizuka at all branches in Japan from May 15, 2020.

Last month, Mister Donut collaborated with Gion Tsujiri and Toshi Yoroizuka to release the "Matcha Itadaki Series." This time around, they're joining their sticky baking hands to bring the "Matcha Odoroki Series." The triple team's matcha creations are the fitting way to celebrate Mister Donut's 50th anniversary as Gion Tsujiri brings the best Uji matcha from Kyoto and Uji-born pastry chef Toshihiko Yoroizuka brings his creative ideas.

There are four treats in the line-up: the "Crisp Double Uji Matcha" and "Crisp Uji Match Chocolate" feature cookie and bagel dough bases, creating a crunchy and chewy mix, while the "Pon de Pie Uji Matcha" and "Pon de Pie Chocolate" feature Mister Donut's classic chewy Pon de Rings combined with a crunchy pie texture.

Crisp Double Uji Matcha – ¥230 (Before Tax)

A chewy and crunchy base laced with Uji matcha and topped with Uji matcha whipped cream and chocolate.

Crisp Uji Match Chocolate – ¥230 (Before Tax)

A chewy and crunchy base laced with Uji matcha and topped with Uji matcha chocolate and chocolate chips.

Pon de Pie Uji Matcha – ¥200 (Before Tax)

Enjoy both a chewy base and crunchy pie mix at the same time, topped with Uji matcha whipped cream.

Pon de Pie Chocolate – ¥200 (Before Tax)

Enjoy both a chewy base and crunchy pie mix at the same time, decorated with chocolate whipped cream.

The Matcha Odoroki Series sees the chefs' ideas shine through to create desserts that not only taste amazing but look gorgeous too, as well as taking into the account texture.

Information

Matcha Odoroki Series
Serving: May 15, 2020 until Early July 2020
Available: Most Mister Donut branches in Japan
Official Website: https://www.misterdonut.jp

Teeny Tiny Disney Cupcakes to be Baked Up by Ginza Cozy Corner in Japan

Ginza Cozy Corner is introducing nine new Disney "sports festival" themed cupcakes to cake shops through Japan on May 11, 2020.

Cute mini cupcakes with a sports theme

Nine cupcakes make up the collection which feature motifs from popular Mickey Mouse & Friends characters including Mickey, Minnie, Donald, Daisy, and Goofy. One look at the picture below is enough to have you thinking what a waste these nearly seem to eat because of how adorable they are.

Disney Sports Festival Cupcakes (Box of 9) – ¥2,500 / Available: May 11, 2020 – June 21, 2020

The designs take inspiration from different sports like tennis, rugby, skateboarding, and more. All nine come in a box so it's going to be difficult picking which one to start with!

Disney sports design box

Box Line-Up

Top Row From Left
Daisy Duck Rhythmic Gymnastics: Cheese Cream Roll Cake
Mickey & Friends Basketball: Chocolate & Vanilla Cream Roll Cake
Pluto Running: Chocolate Cream Cake

Middle Row From Left
Mickey & Friends Rugby: Sweet Adzuki Bean Paste Cream Matcha Cake
Mickey & Friends Cheerleader: Strawberry Cream Tart
Goofy Soccer: Orange & Chocolate Cream Tart

Bottom Row From Left
Minnie Mouse Tennis: Lemon Cream & Strawberry Cream Tart
Donald Duck Swimming: White Peach & Lychee Cream Shortcake
Mickey Mouse Skateboard: White Chocolate Cream & Raspberry Puree Tart

Hello Kitty Inspired Doughnuts Released by Floresta Nature Doughnuts

Healthy doughnut makers Floresta Nature Doughnuts released two doughnuts in collaboration with Hello Kitty on Tuesday which are available to purchase on their website and in-store at select branches.

 

The adorable Hello Kitty and her twin sister Mimmy arrive at Floresta for the very first time. Both doughnuts are great gifts to treat yourself to, for Mother's Day, or to send a friend you can't meet right now due to the lockdown.

 

Hello Kitty Doughnut Collaboration – ¥450 Each (Before Tax)

Both ring doughnuts are topped with freeze dried strawberries and seat the cute Hello Kitty and Mimmy.

Floresta is also selling sets of these doughnuts on their websiteーyou can get four in total, that's two each, in the set.

Select branches are selling these doughnuts, but due to emergency measures many branches are closed or now have reduced opening hours. If you're in Japan and thinking of visiting one of the stores, make sure to check the company's social media and take all necessary precautions when going out.

Information

Hello Kitty Doughnut Collaboration

Released: April 28, 2020

Floresta Online Store: https://floresta-ec.jp

*Available while supplies last

*Online orders are being prioritised

*You can select a delivery time once you have made your order

Rilakkuma Features On the Packaging For Papico Chocolate Ice Cream

Papico, a long-selling brand of ice creams in Japan known for their smooth texture, is teaming up with Rilakkuma to give 1,000 people a chance to win limited-edition Rilakkuma and Korilakkuma hand puppets. The campaign is set to run from April 20, 2020.

Papico is a popular brand of ice cream in Japan that comes in many flavours, such as Chocolate Coffee, which blends chocolate with cafe latte, and the sweet, sour and refreshing White Sour. They also sell numerous limited-edition flavours.

The collaboration designs include Rilakkuma for Coffee Chocolate and Korilakkuma for White Sour. They also come as hand puppets.


The campaign offers 1,000 random people a chance to win both puppets. It will run from April 20, 2020 to July 19, 2020. To sign up, purchase one of the ice creams and apply via the application page included on your receipt.

McDonald's Japan to Release Custard Pudding Flavoured McShake

McDonald's Japan is teaming up with Ezaki Glico to bring Glico's popular "Pucchi Purin" custard pudding dessert to McDonald's McShake®. The "Pucchin Purin McShake" will be released at all McDonald's branches around Japan for a limited time starting on April 13, 2020.

The collaboration comes at the right time as Glico has revamped its popular Pucchi Purin dessert.

The new Pucchin Purin McShake incorporates everything that's delicious about McShake, including its creamy texture and subtly sweet taste, and combines it with the milky Pucchi Purin pudding with all its caramel goodness, creating a drinkable dessert.




It also comes with some additional caramel sauce (available while supplies last) which only adds to the tempting sweetness of the drink. Add as much or as little as you like.



Pucchin Purin McShake is available in a small only, with cups featuring an original design. This is a must-try for fans of McShake and Japanese custard puddings, known as purin.

Mister Donut Japan to Launch New Matcha Doughnut Series

Mister Donut Japan is set to release a new limited line of matcha doughnuts in collaboration with Gion Tsujiri and Toshi Yoroizuka at all branches in Japan from April 10, 2020.

Following the success of Mister Donut's previous collaborations with the two companies, named "misdo meets Gion Tsujiri" and "misdo meets Toshi Yoroizuka" respectively, this new collaboration sees all three companies come together for the first time to co-develop the matcha doughnuts. The triple team's matcha creations are the fitting way to celebrate Mister Donut's 50th anniversary as Gion Tsujiri brings the best Uji matcha from Kyoto and Uji-born pastry chef Toshihiko Yoroizuka brings his skill set.

Pon de Ring Uji Matcha Chocolate Almond

The classic chewy Pon de Ring laced with Uji matcha and coated in chocolate. It's finished with a sprinkling of Uji matcha powder and crunchy almonds.

Pon de Ring Uji Matcha Milk Crunch

The matcha-ness is turned up with this Pon de Ring, which is not only mixed with Uji matcha, but coated with Uji matcha chocolate. It's served with a snowfall of milk crunch pieces., highlighting the velvety texture of the doughnut while adding crunch.

Pon de Ring Uji Matcha & Chocolate Cream

This doughnut is made into a sandwich, with Uji matcha whipped cream and chocolate cream. The Uji matcha chocolate adds a richness to the overall flavour.

Pon de Ring Uji Matcha Doughnuts

Running: April 10, 2020 – Early June 2020

Available: At most Mister Donut branches in Japan

Tiramisu Chocolate Whip

The dough of these tiramisu doughnuts are combined with cocoa. This one is filled with chocolate whipped cream, a tiramisu, and milk crunch pieces for an amalgamation of tasty flavours and textures.

Tiramisu Uji Matcha Whip

The chocolate whipped cream of the previous doughnut is replaced with Uji matcha whipped cream for this luxurious delight. The cream is also embedded with almonds.

Uji Matcha Chocolate Pie

The name speaks for itself: a lovely layered pie of Uji matcha chocolate and chocolate cream.

Tiramisu Doughnuts & Chocolate Pie

Running: April 10, 2020 – Early May 2020

Available: At most Mister Donut branches in Japan

These Breathtaking Doughnuts Will Turn Your Home Into an Authentic Cafe Experience

With most of us cooped up indoors, that desire to go and relax in a cafe with some coffee and cake just keeps on growing. "gmgm," a doughnut shop in Koenji, Tokyo that specialises in "flower doughnuts," is very aware of this, and so they opened an online shop on Saturday to allow for people to enjoy that authentic cafe experience from their own home.

gmgm, the flower doughnut shop

Nana Yui, an artist of dried flower art, opened gmgm in June 2019 as the sister store to HANABAR, a bar in Ikebukuro, Tokyo where drinks are served topped with beautiful dried flower art. At gmgm, the beautiful flower art combines harmoniously with the antique furniture and decor. It's a popular doughnut shop whose doughnuts are beautiful enough to be given as gifts.

Earl Grey x Rose: ¥500

Cream Cheese Strawberry x Safflower: ¥500

The doughnuts gmgm is offering to ship out on their website include their five regular doughnut flavours and some limited-time flavours, all of which are nothing short of cute works of art.

Customers who order on the shop by April 30 will also receive a free dried flower and a tea turns blue. Those who order more than 8 will receive that plus a pressed viola flower you can eat.

You can also make ice cubes with flowers in them and set your table like in the cafe's photos for a really luxurious tea time!

Information

gmgm

Address: 3-60-10 Koenjiminami, Suginami, Tokyo

Opening Hours: [Weekdays] 14:00-20:00 / [Weekends & Public Holidays] 12:00-20:00

Closed: Mondays
TEL: 03-6877-0537

Official Website: https://www.gmgm.info

Grab These Adorable and Delicious-Looking Kirby Figures at Japan's Game Centres

The second batch in a series of Kirby figurines, based on the Kirby's Dream Land game series, began rolling out at game centres across Japan on March 26, 2020. They are part of the "Palcolce collection," a line of palm-sized figures themed around desserts.

Three figures make up the second batch of the series, which includes Kirby standing atop a Star Block shortcake holding a bright-red strawberry, another of Waddle Dee climbing a cupcake on chocolate ladder, and Kirby flying through the sky on a cheesecake Warp Star.

A third batch is also planned drop in the near future.

Collect all three from arcades throughout Japan to create a truly kawaii Kirby scene!

©Nintendo / HAL Laboratory, Inc. KB19-3661

Information

Kirby – Paldolce collection vol.2

Release Date: Rolling out March 26, 2020

Figures: 3

Available: Amusement centres throughout Japan (*select branches not participating)

Official Website:  https://bpnavi.jp/s/toru/pc/prizes/81933

Harajuku's Rilakkuma Fruits Cafe Entertains Customers With Projection Mapping

"HARAJUKU AR BOX -table projection mapping cafe-," a cafe in Harajuku whose name speaks for itself, has announced its second collaboration with Rilakkuma to bring the new Rilakkuma Fruits Cafe which will open for a limited time from April 3, 2020 to June 28, 2020.

The cafe's first collaboration with Rilakkuma was in December last year. It was called "Korilakkuma Cafe: another me in the mirror" and earned itself many fans for its cute food and decor, but especially for its interactive tables which used projection mapping technology to have Rilakkuma and friends running around people's tables.

Harajuku's Korilakkuma Cafe: another me in the mirror | Food Review: https://www.moshimoshi-nippon.jp/284456

Fruit is the theme of the new Rilakkuma Fruits Cafe, which follows that Chairoikoguma and the other characters have gathered lots of nutritious fruit to fill up the belly of hungry Rilakkuma.

Food

Rilakkuma's Fruit Salad – ¥1,590

Get your fill of refreshing fruit from this fruit salad plate which has Rilakkuma poking his cute face out from behind it all. When you order this dish, you'll need to touch the fruits that appear on the table to give them to Rilakkuma.

Korilakkuma's Apple Cheese Gratin – ¥1,690

A combination of hot apple and melted cheese, you'll find yourself addicted to the sweet and sour mix of flavours. Pick lots of apples with Rilakkuma and company with the projection mapping game. (*Serving April 3, 2020 – May 17, 2020 only)

Chairoikoguma's Orange Burger – ¥1,690

The bun of this hearty burger is branded with Chairokoguma's cute bear face. But what happens when you squeeze Rilakkuma's orange? (*Serving May 20, 2020 – June 28, 2020 only)

Desserts

Rilakkuma's Maku Maku Fruit Tree Parfait – ¥1,590

Korilakkuma's Maku Maku Strawberry Tree Parfait – ¥1,590 (Serving April 3, 2020 – May 17, 2020 only)

Kiiroitori's Maku Maku Peach Tree Parfait – ¥1,590 (Serving May 20, 2020 – June 28, 2020 only)

For dessert, you have a selection of fruit-topped parfaits to choose from featuring Rilakkuma, Korilakkuma, and Kiiroitori.

Drinks

Rilakkuma & Friends Maku Maku Drinks – ¥790 / With Glass – ¥1,990

Warm & Fluffy With Everyone Cafe Latte – ¥890

Pick between one of the cold beverages, or if it's a cold day, warm up with a hot drink. Feel warm and fluffy like Rilakkuma and his friends with a warm beverage after your parfait.

Exclusive Merchandise & Bonus Items

Pin Badges (9 Designs/Chosen Randomly) – ¥400

Acrylic Key Rings (8 Designs/Chosen Randomly) – ¥500

Get your hands on a selection of original merchandise too, including pin badges, acrylic key rings, and more.

Stickers (4 Designs/Chosen Randomly)

Coasters (4 Designs/Chosen Randomly)

Book a table online in advance and receive one of four possible stickers. Order a drink at the cafe and get one of the four coasters!

You're sure to get your five-a-day when you dine at the Rilakkuma Fruits Cafe, opening for spring on April 3, 2020 in Harajuku.

©2020San-X Co., Ltd. All Rights Reserved.

Information

Rilakkuma Fruits Cafe

Running: April 3, 2020 – June 28, 2020

Location: HARAJUKU AR BOX-table projection mapping cafe- (Lucessimo Bldg. Floor 2F, 4-28-28 Jingumae, Shibuya, Tokyo)

Table Bookings: Now Open

*Table Projection Mapping seats for two people are ¥2,960 (before Tax)

Official Website: https://rilakkuma-fruits-cafe.jp/

Pompompurin Celebrates 24th Anniversary With Birthday Menu at the Pompompurin Cafe

Sanrio's popular character Pompompurin is celebrating his 24th anniversary at three branches of the Pompompurin Cafe in Harajuku, Yokohama, and Umeda with a special birthday menu that will be served for the whole month of April.

A special celebratory menu for the floppy-eared golden retriever

The official date for Pompompurin's birthday is April 16. The birthday menu line-up includes two food items, a drink made in collaboration with popular Japanese picture book author Yukako Ohde, and some novelty gifts.

Birthday Menu

Happy Birthday Flower Bouquet Bisque – ¥1,590 (Before Tax)

This cute bisque soup has Pompompurin and Muffin holding a colourful boquet made from broccoli and mashed potatoes made to look like roses. It has a rich but mild flavour, and is both adorable and filling.

Happy Birthday Strawberry Mousse – ¥790 (Before Tax)

The strawberry mousse has a fluffy texture and refreshing, sweet taste. It can be eaten as it is or drizzled with the accompanying raspberry sauce.

Yukako Ohde x Pompompurin Lemonade – ¥550 (Before Tax)

Take a sip from this delicious lemonade from a straw adorned with a cute, warm illustration of Pompompurin by Yukako Ohde.

Exclusive Anniversary Novelty Gifts

Lunch Mat Design

Customers who dine at any of the three cafes during the anniversary celebration will receive a free lunch mat.

Coaster Designs

And those who order the lemonade will receive a coaster with designs illustrated by Yukako Ohde. The designs are different at each branch of the Pompompurin Cafe. You can also receive another special coaster if you spend over ¥1,000 each (tax included) at Pompompurin Cafe Umeda and KIDDY LAND Osaka Umeda. Simply show your receipts at the cafe.

©1996,2020 SANRIO CO., LTD. APPROVAL NO.S605291

Information

■Pompompurin Cafe Harajuku

Address: CUTE CUBE HARAJUKU 3F, 1-7-1 Jingumae, Shibuya, Tokyo

Opening Hours: 11:00-21:00 (Food Last Orders 20:00 / Drinks Last Orders 20:30)

Access: 3-minutes on foot from the Takeshita Exit at Harajuku Station

TEL: 03-5786-0770

■Pompompurin Cafe Yokohama

Address: Yokohama Sotetsu Square, 2-1-5 Minamisaiwai, Nishi-ku, Yokohama-shi

Opening Hours: 10:00-21:00 (Last Orders 20:30)

Access: 5-minutes on foot from West Exit at Yokohama Station via JR Line

TEL: 045-311-6750

■Pompompurin Cafe Umeda
Address: Hankyu Sanbangai South Wing B2F, 1-1-3 Shibata, Kita-ku, Osaka-shi
Opening Hours: Weekdays 11:00-22:00 (Last Orders 21:30) / Weekends & Holidays 10:00-22:00 (Last Orders 21:30)
Access: 3-minutes from Osaka Station via JR Line
TEL: 06-6292-7140

Pompompurin Cafe

Official Website: http://pompom.createrestaurants.com