Kaori's Easy Recipe: Totoro Black Sesame Seed Purin
With just a small bit of ingenuity, turn everyday food into something cute using Kaori's recipe series! With a few simple ideas, an ordinary recipe magically transforms into a cute dish.
In this character recipe you'll learn how to make a Totoro black sesame seed purin.
1: Ingredients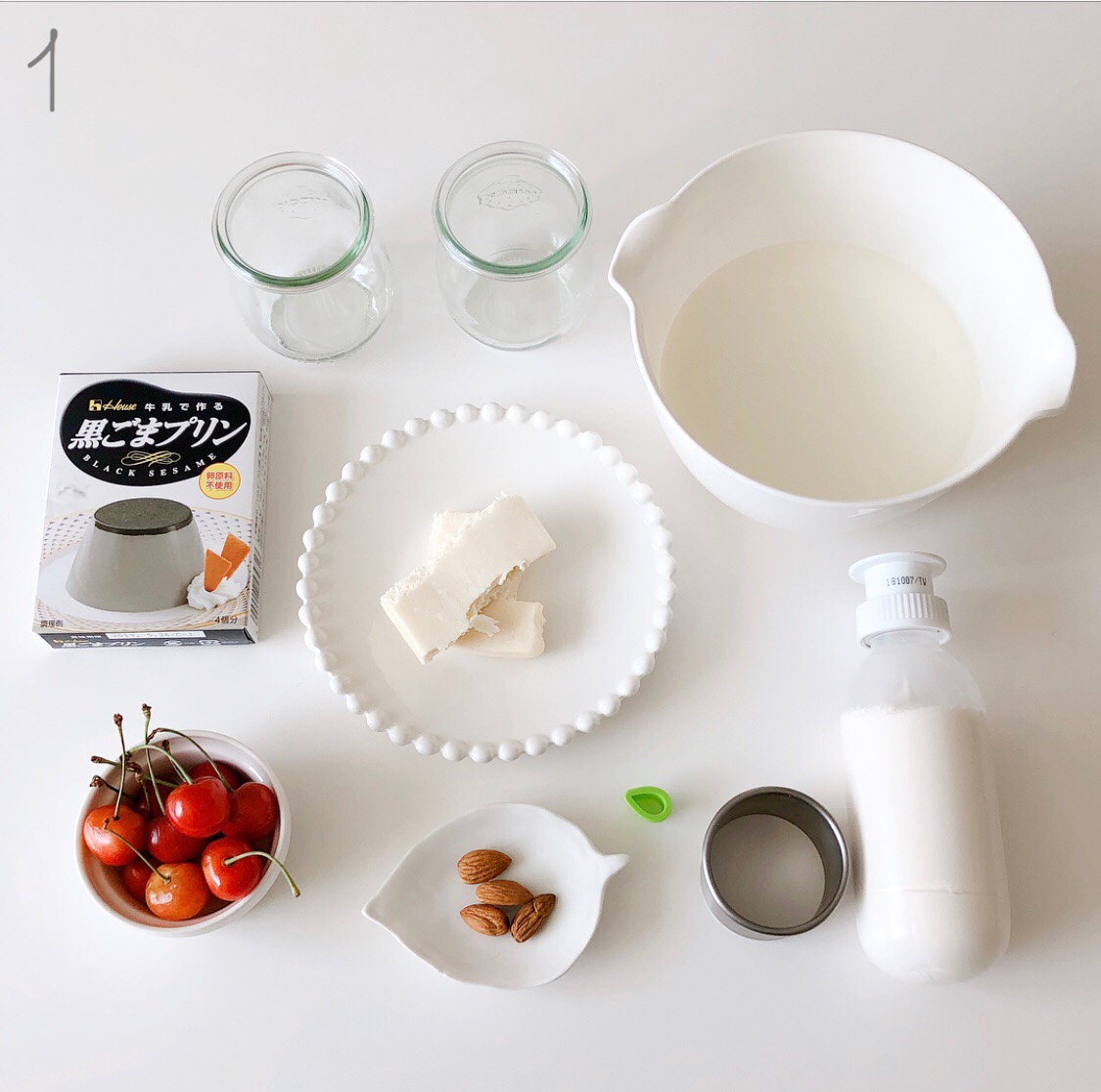 Black Sesame Purin Mix (purchased from Daiso)
Milk
Pura Chocolate (Swiss chocolate also fine)
Transparent Jar (Weck jar used)
☆For Decorating:
Almonds
Fresh Cream
Fruits of your choice
2: Cook the black sesame seed purin according to the box instructions and leave to cool.
3: Cut the chocolate into eyes, a nose and stomach and decorate the features with a chocolate pen. Make a leaf with a green pura chocolate.
☆Cool each part in the refrigerator to fully harden.
4: One the chocolate in step 3 has solidified, place it on the inner side of the jar as shown in the photo.
Add whiskers with the chocolate pen.
☆Once everything is in position, leave it to cool in the refrigerator once more.
5: After cooling again, pour in your black sesame seed purin mix from step 2.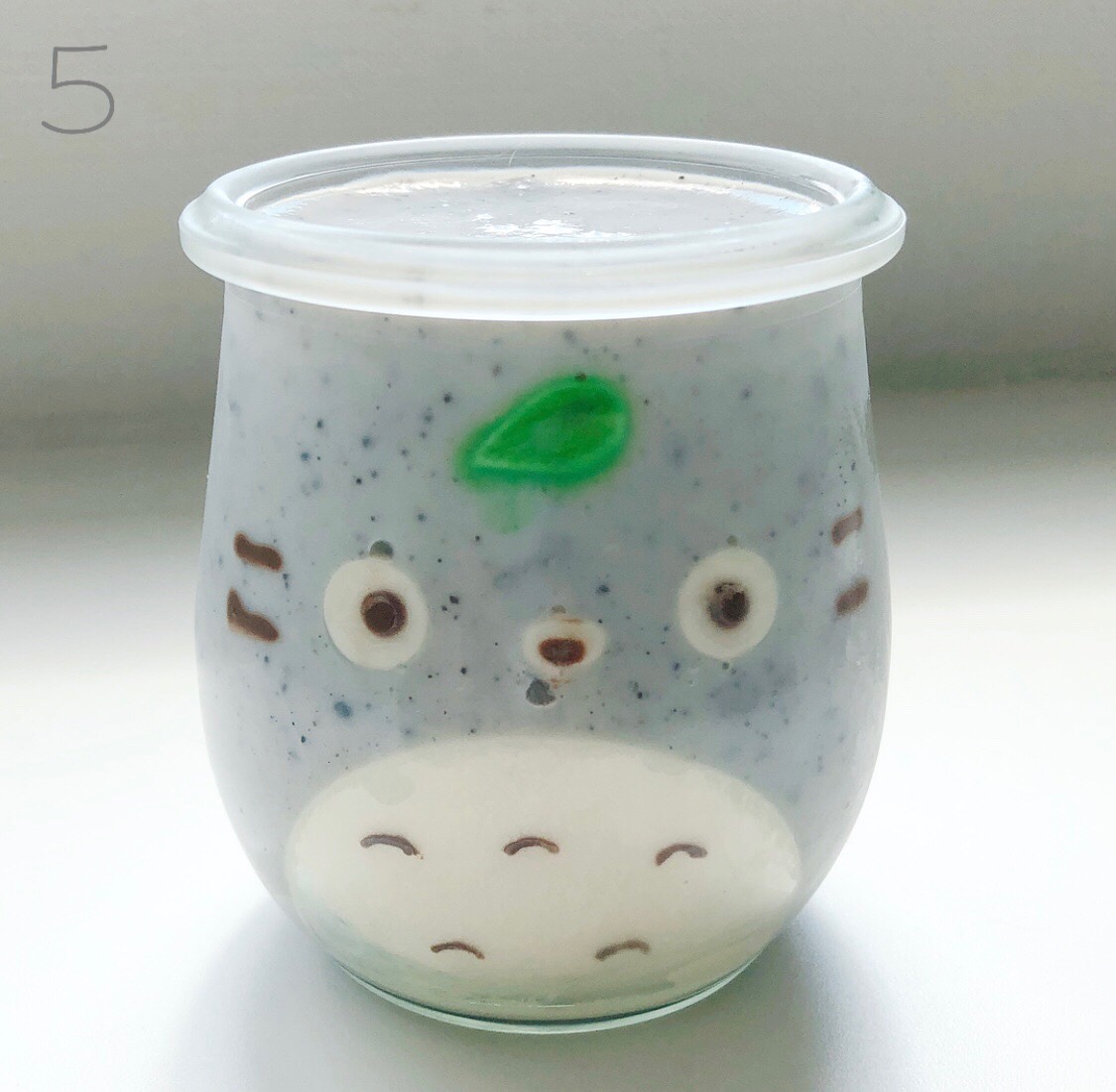 ☆If you do not leave the chocolate to completely harden it will fall off.
☆Place in the fridge once more to harden and you're done!
Finish off by decorating with fresh cream, add almonds for ears and top with a cherry.
Kaori invites you into her world of character-themed food dishes in her recipe series. Be sure to check out her Instagram where she has uploaded many pictures of her character dishes!
RECOMMENDED ENTRIES
Kaori's Easy Recipe: Learn to Make Korilakkuma Coffee Jelly Parfait

With just a small bit of ingenuity, turn everyday food into something cute using Kaori's recipe series! With a few simple ideas, an ordinary recipe magically transforms into a cute dish.

In this recipe you'll learn how to make a super easy Korilakkuma Coffee Jelly Parfait with Dororich, a coffee jelly that can be bought in Japan.

1: Ingredients

Coffee Jelly (*the coffee jelly used in this recipe was bought at Daiso)

Chocolate Pens

Milk

Ice Cream

2: First we will make Korilakkuma's facial features with the chocolate pens. Draw your favourite illustration of Korilakkuma onto parchment paper. Be sure to draw the base of the ears sharp so they can stick into the ice cream later on.

Fill in the lines of the ears and mouth with a white chocolate pen. Once they've fully solidified, draw on the eyes and details of the mouth in black and use pink to finish the ears. Place into the freezer to fully harden.

☆If the features aren't fully solidified they will melt and break when you put them onto the ice cream.

☆The coffee jelly used in this recipe was prepared according to the instructions on the box.

☆The coffee jelly sold at Daiso can be made by simply dissolving in water.

3:

①Use a hot ice cream scoop to scoop out a ball of ice cream. Using a heated scoop ensures a rounder shape. It only melts the ice cream a tiny bit so it's fine to add the facial features. It's harder if you try adding them to hard ice cream as they will break apart easily.

②Place your solidified coffee jelly into a glass and add extra ice cream for add layers.

4: Finally, top with your Korilakkuma you made in step 3.

If you a little bit of milk and mix you'll get a delicious combination of ice cream and coffee jelly♡

Kaori invites you into her world of character-themed food dishes in her recipe series. Be sure to check out her Instagram where she has uploaded many pictures of her character dishes!

■Profile
Kaori Kubota (@kaopan27)
I live in Hokkaido and I love to make character-shaped meals, desserts and breads.
I enjoy making character foods because I want to see my family smiling.
My character foods and character bento boxes are introduced on my Instagram page→@kaopan27

Kaori's easy recipe – learn how to make a cute Hello Kitty fruit sandwich!

With just a small touch, turn everyday food into something cute with Kaori's recipe series! With a few simple ideas, an ordinary recipe magically transforms into a cute dish. Today we'll be looking at a recipe that uses strawberries to make a cute Hello Kitty sandwich!

■ Ingredients

・Sliced bread

・Strawberries

・Fresh cream

・Sliced cheddar cheese

・Chocolate sheets

・Cutter

■How to make

1: Cut two slices of bread into the shape of Hello Kitty's face

2: Slice the strawberries

3: Spread fresh cream on one side of the Hello Kitty "face"

4: Layer the sliced strawberries on top of the slice of bread with the fresh cream, place another layer of bread on top to make a sandwich.

5: With a third slice of bread, make two hands for Hello Kitty.

6: Use the chocolate to make the eyes and whiskers, the cheddar cheese to make the nose, and the strawberries to make a ribbon for Hello Kitty. Use the face you cut out from the bread as a reference for size.

7: Attach the whiskers, eyes and nose to the bread using some fresh cream as glue.

8: The hands made in step 5 will now be made into a foundation. Please cut them as shown in the picture.

9: Pile the remaining slices of bread on top of each other to make a foundation layer. Place this behind the Hello Kitty head to raise it high.

10:Place the strawberry sandwich on top of the foundation layer. Put the hands in place and garnish with a strawberry – and you're done!

11:This is how it looks from a side view…now let's eat the remaining bread and fresh cream as a light snack! ♪

Kaori also invites you into her world of character-themed rice dishes in her recipe series! Please check out her Instagram where she has uploaded many pictures of her character dishes!

■Profile

Kaori Kubota(@kaopan27)

Kaori lives in Hokkaido and enjoys making dinners, sweet treats and character food using bread ♡ Kaori also loves to experiment with small tricks for easy character-themed ▶@kaopan27

−−−

Related article:A recipe for photogenic food #1 "lollipop" sandwiches

Related article:A recipe for photogenic food #14 「Prosciutto ribbon sushi」

Kaori's easy recipe – learn how to make a "Minions Cup Omelet Rice"!

With just a small bit of ingenuity, turn everyday food into something cute using Kaori's recipe series! With a few simple ideas, an ordinary recipe magically transforms into a cute dish.

Let us introduce to you, "Minions Cup Omelet Rice".

■1: Ingredients

・2 cups of rice (to make the chicken rice)

・Some carrots

・Some green peppers

・Some corn

・Ketchup 3 tablespoons

・A little black pepper

・Two eggs(one whole egg, one egg yolk only)

・Sliced cheese –one slice

・Sliced cheddar cheese-one slice

・Some laver

・Fried pasta(please look at Purin-chan instructions)

・Circle cookie cutter

・Punch for laver

・corn starch(to make thinly fried omlet)

・Circular containers to put the omelet rice in(for this recipe, paper cups purchased at a ¥100 shop were used)

2: First, make the chicken rice. Cut carrots and green peppers into small pieces and fry them with some corn. When the carrots become soft, add the rice and fry some more. Next, add some ketchup and black pepper.

☆Add other ingredients to your liking

☆Add enough ketchup to make the chicken rice to give it a strong flavor

3: Put the chicken rice into the cups.

4: Fly the eggs to make a thin omelet. In order to make the omelet the bright yellow, use one whole egg and one egg yolk. Next, add cornstarch blended with water and filter it through a strainer.

☆The reason cornstarch blended with water is added is to avoid the omelet from tearing.

Next, pour the egg mixture into a fry pan and make the omelet. Be careful that the omelet is not burn.

Fry over a low heat and when the surface consolidates, turn the heat off and wait until it cools. When it can be touched, pull away the egg omelet with your hands. Place the fried surface so that it faces top.

5: Next, turn the circular cup over and cut out some circular pieces of omelet. Be careful that it does not tear.

 

6: Place these circular pieces of omelet on top the cup-filled chicken rice.

7: Now, let's make the character parts. Cut the laver as is shown in the photo. Cut out some circular pieces of cheese and cut a sheet of laver so that it is a larger circle than the cheese. Next, cut a sheet of laver into some circular shapes which are smaller than the cheese.

Place a dab of mayonnaise to  make the center of the eyes. For one of the eyes, place the mayonnaise at the bottom of the eye lid.

8: Use the laver punch and to make the mouth parts.

 

Use the pieces of deep fried pasta to make the hair as shown in the photo. Finally, place a dab of ketchup on the cheeks to make them red.

Kaori also invites you into her world of character-themed rice dishes in her recipe series! Please check out her Instagram where she has uploaded many pictures of her character dishes!

■Profile

Kaori Kubota(@kaopan27)

Kaori lives in Hokkaido and enjoys making dinners, sweet treats and character food using bread ♡

Kaori also loves to experiment with small tricks to crate easy character-themed sweets @kaopan27

Kaori's easy recipe – learn how to make the "Totoro's plum and cucumber rolled sushi"!

With just a small bit of ingenuity, turn everyday food into something cute using Kaori's recipe series! With a few simple ideas, an ordinary recipe magically transforms into a cute dish.

Today we'll look at a recipe that uses a lot of fruit. Let us introduce to you, "Tororo's plum and cucumber rolled sushi."

■1: Ingredients

・Boiled rice – 2 bowls

・Laver(seaweed) – 3 sheets

・Sliced cheese – 3 slices

・Plums and cucumbers – a few

・Pasta – 2 sticks

・Cookie cutter – can be bought at a home center

2:Spread some saran wrap on a cutting board. Lay the laver on the wrap and spread one bowl of rice evenly over the laver, leaving the top section of the laver with no rice on it so that it will be easy to roll up. Put a slice of cucumber, cut in one-fourth, on the rice along with the plum.

3:Roll the laver up putting the rolled edge on the bottom. Wrap the roll with saran wrap so that the roll will stick together.

☆We will put the sliced cheese on the roll later so be sure to cool this roll so that it doesn't melt the cheese.

4:Cut the sliced cheese with a toothpick to make the mouth. I recommend using one edge of the cheese to make a half-moon shape. By laying the toothpick downward when you cut the cheese, you will be able to make a clean cut. Next, cut out the stomach part and the other parts shown in the step 6 photo.

5:Using the cookie cutter, cut out the stomach pattern parts and the parts for the eyes.

6:Nose → diamond shape Ears → tear drop shape

Using the cookie cutter, cut the laver so that it is a smaller than the cheese you cut out in step 4. Next, cut thin strips of laver to make the pattern shown in the photo. On the cheese for the stomach lay the circular laver strips as shown in the photo.

7:Make a thin slice of cucumber and using the cookie cutter cut out the leaf to put on the top of Tororo's head.

8:Place the various body parts on the cooled sushi roll taking care to make a balanced character. For the whiskers use the sticks of boiled pasta. (Note how this was done in Purin-chan – Milk Pudding)

Voila! Totoro's plum and cucumber rolled sushi is now complete.

When it is hot it is easy to loose your appetite, but the sourness and fresh taste of the plum and cucumber in the rolled sushi will for sure to stimulate your appetite.

Kaori also invites you into her world of character-themed rice dishes in her recipe series! Please check out her Instagram where she has uploaded many pictures of her character dishes!

■Profile

Kaori Kubota(@kaopan27)

Kaori lives in Hokkaido and enjoys making dinners, sweet treats and character food using bread ♡

Kaori also loves to experiment with small tricks to crate easy character-themed sweets @kaopan27

Related article:Kaori's easy recipe – learn how to make a "Kitty's strawberry daifuku"!

Kaori's easy recipe – learn how to make "Rilakkuma Rice Hamburgers!"

With just a small bit of ingenuity, turn everyday food into something cute using Kaori's recipe series! With a few simple ideas, an ordinary recipe magically transforms into a cute dish.

This time, let us introduce to you, "Rilakkuma Rice Hamburgers" which can be created by using a "gacha gacha capsule."

■Ingredients

・Rice / 360 to 400g

・Sliced cheese / one piece

・Cheder cheese / one piece

・Ham / one piece

・Seaweed / one piece

・Cutlet (or a croquette) / three pieces

・Leaf lettuce / moderate amount

・Mentsuyu (Japanese noodle soup) / moderate amount

・Yellow "decofuri" (decoration furikake) / moderate amount

・Seaweed punch

・Cookie cutter

・Fried pasta

・Gacha gacha capsule

2:

2: Divide the rice into three blocks and color each character

Korilakkuma→white

Rilakkuma→color it in brown using "mentsuyu"

Kiiroi Tori→mix the yellow "decofuri"

After coloring each character, divide the white rice and the mentsuyu-flavored rice into two pieces (10g per piece).

Put rice into the gacha gacha capsule.

50g→base

50g→face

10g×2→ears

(the quantity noted above can be changed)

☆Pack the rice into the capsule tightly so that the rice will not crumble

3:Round out the rice (10g piece) as shown in the photo.

4:It should look like this. (refer to the photo)

5:

Rillakuma and Korillakumas' mouths→sliced cheese

Kiiroi Tori's mouth→Cheder cheese

Rilakkuma's ears→Cheder cheese

Korilakkuma's ears→ham

Eyes, ears and the nose of Kiiroi Tori will be shaped by punched out seaweed.

6:It should like this (refer to the photo) after finishing the directions above.

7:Place the base rice→frill lettuce→cutlet→rice and fix the ears with fried pasta. ※ To make the fried pasta, see the article "Pom Pom Purin no Milk Pudding."

8:Place the mouth (sliced cheese) and place the eyes on the face.

Place the slice cheese and ham behind the ears.

Finished♡

Kaori also invites you into her world of character-themed rice dishes in her recipe series! Please check out her Instagram where she has uploaded many pictures of her character dishes!

■Profile

Kaori Kubota(@kaopan27)

Kaori lives in Hokkaido and enjoys making dinners, sweet treats and character food using bread ♡

Kaori also loves to experiment with small tricks to crate easy character-themed sweets @kaopan27

Kaori's easy recipe – learn how to make a "Pom Pom Purin Fruity Milk Pudding"!

With just a small bit of ingenuity, turn everyday food into something cute using Kaori's recipe series! With a few simple ideas, an ordinary recipe magically transforms into a cute dish. Today we'll look at a recipe that uses a lot of fruit. Let us introduce to you, Pom Pom Purin Fruity Milk Pudding!

■Ingredients

・Milk 500ml

・Gelatin 10g

・Sugar 4-5 table spoons

・Canned peaches

・Blueberries

・Kiwi

・Orange

・Banana

・Grapes

・one stick of spaghetti

・Chocolate pen

・Cutter

■How to make

1. Pour milk into a pot and heat at low to medium temperature so as to melt the sugar  *be careful not to burn the bottom

2:When the sugar has melted, pour in the gelatin which has been mixed with 2 table spoons of hot water

3. Mix so that it does not come to a boil and melt the gelatin completely

4:Cool the mixture and then put into a container and next into the refrigerator overnight

5. Cut your favorite fruit. These fruit pieces will be put on top of the pudding.

How to make "Purin-chan": Use the cut peach slices as the face and ears. Use the tops of grapes to make a hat.

Use the cut kiwi and banana as decoration. The orange and grapes can be cut real thin.

6. Pour boiled water into a deep cup and melt the chocolate pen

7. Deep fry aspaghetti and use this to join Purin's hat, grape and peach together.

8. Draw Prin's face. Place the chocolate pen in the dish and use a toothpick.

9. Put "Prin-chan"'s face and some big fruit slices on top of the pudding.

10. Put all fruits on the pudding taking great care to keep things in balance. Voila! Your pudding is completed!

Kaori also invites you into her world of character-themed rice dishes in her recipe series! Please check out her Instagram where she has uploaded many pictures of her character dishes!

■Profile

Kaori Kubota(@kaopan27)

Kaori lives in Hokkaido and enjoys making dinners, sweet treats and character food using bread ♡ Kaori also loves to experiment with small tricks for easy character-themed ▶@kaopan27

−−−

Related article:Kaori's easy recipe – learn how to make a cute Hello Kitty fruit sandwich!

Related article:A recipe for photogenic food #1 "lollipop" sandwiches
RELATED ENTRIES
Kaori's Easy Recipe: Learn to Make Baymax Mushi-Pan Steamed Bread

With just a small bit of ingenuity, turn everyday food into something cute using Kaori's Easy Recipe! With a few simple ideas, an ordinary recipe magically transforms into a cute dish.

Today, I'll teach you how to make Baymax mushi-pan steamed bread.

Ingredients

This recipe makes 5 portions

140g strong flour

20g granulated sugar

Pinch of salt

3g dry yeast

3g baking powder

5g vegetable oil

85ml-90ml milk (room temperature)

1

Mix everything together in a food processor. If you don't have a food processor, you can also knead the ingredients well by hand.

2

Ferment at 40℃ for 40 minutes. If you don't have a fermentation machine, leave in a warm environment.

3

Once the dough has doubled in size, divide into five portions and put into separate cups. If using paper cups, rub a little bit of oil inside.

4

Bake in the oven at 40℃ for 20-25 minutes.

5

After baking, steam in a steamer for 12-13 minutes. If you don't have a steamer, put into a frying pan or large pot with a little bit of water and cover.

6

Once cooled, use some nori seaweed to make Baymax's face and you're done!

Kaori Kubota (@kaopan27)

I live in Hokkaido and I love to make character themed foods, desserts and pastries♡

I want to see my family smile, so I enjoy putting in a bit of effort to make character foods and changing food into something cute♡

You can see more of my character foods and character bento boxes on my Instagram page → @kaopan72

Studio Ghibli's Totoro, Spirited Away, Laputa, and Kiki Release Official Mug Planter Collection

Benelic are releasing four new mug planters at Donguri Kyowakoku and online at Sora no Ue, both official Studio Ghibli merchandise shops in Japan, this month.

The porcelain planters include designs for My Neighbor Totoro, Kiki's Delivery Service, Laputa: Castle in the Sky, and Spirited Away, each capturing the wonderful world of the beloved animated movies. They make for the perfect plant pots for around your home.

The designs up close

My Neighbor Totoro | ¥3,960 (Tax Included)

 

Kiki's Delivery Service | ¥3,960 (Tax Included)

 

Laputa: Castle in the Sky | ¥3,960 (Tax Included)

 

Spirited Away | ¥3,960 (Tax Included)

Tokyo's Studio Ghibli & Animate Exhibition Reveals Original Merchandise Collection

Matsuya Ginza is set to host the "Animage & Ghibli Exhibition" which will run from April 15 to May 5. The event will pay homage to Hayao Miyazaki's Nausicaä of the Valley of the Wind manga which was serialised in Animage by showcasing a range of never-before-seen cell artwork, as well Mamoru Oshii's OVA art film Angel's Egg, and much more.

With two weeks until it begins, the exhibition has revealed some of the exciting original and exclusive merchandise anime fans can expect to get their hands on. Tickets for the event were released on Saturday.

Teto Plush Toy ¥11,000 (Tax Included) / Ohmu Plush Toy ¥14,300 (Tax Included)

Bath Towel ¥8.800 (Tax Included)

Tapestry ¥16,500 (Tax Included)

Multipurpose Cases ¥3,300 Each (Tax Included)

Notebook ¥495 (Tax Included)

Square Pins ¥440 Each (Tax Included)

Animage Logo Pins ¥330 Each (Tax Included)

Wooden Brooches ¥1,320 Each (Tax Included)

Stainless Steel Bottles ¥3,520 Each (Tax Included)

Handkerchiefs ¥1,650 Each (Tax Included)

The exhibition is a nostalgia fest and celebration of animation during the 70's and 80's, a time when 'anime' was yet to be widespread in the vocabulary of ordinary Japanese people. It wills how how the anime boom really set off after the release of Mobile Suit Gundam in 1979 which was lauded for its animation quality, as well as how Toshio Suzuki, a producer at Studio Ghibli, approached Hayao Miyazaki and Isao Takahata during his time as an editor at Animage. The exhibition will also feature the works produced by Suzuki and much more. Over 200 materials will be showcased for the duration of the exhibition.

 

Around 150 pieces of original merchandise will also be sold at the event, including gorgeous must-grabs for fans of Nausicaä of the Valley of the Wind that capture its wonderful world, such as a tapestry featuring the design taken from the film's opening credits.



A special exhibit will also take place entitled ALL ABOUT TOSHIO SUZUKI which covers everything about Studio Ghibli's famous producer. Other things to look forward to include books and merch for the upcoming animated film Earwig and the Witch directed by Hayao Miyazaki's son Goro Miyazaki, merch for the internationally beloved animated hit Spirited Away which is celebrating its 20th anniversary this year, and more.

© 1984 Studio Ghibli – H© 1986 Studio Ghibli© 1988 Studio Ghibli© 1989 Eiko Kadono – Studio Ghibli – N

Studio Ghibli Fashion Brand Reveals New My Neighbor Totoro Bag Collection

Japanese company Familiar will release a new collection of bags based on the classic Studio Ghibli animated feature film My Neighbor Totoro on March 16 via their online shop. The bags will be released by Studio Ghibli no Ano Fuku ("Those Studio Ghibli Clothes"), a fashion brand created by Ano Fuku and Studio Ghibli.

The two bags feature the iconic movie scene of Mei, Satsuki, Totoro, and the little Totoros sat upon a tree branch.

Denim Bag – ¥19,800 / Sub Bag ¥16,500 (Tax Included)

This is the third and final bag collection to be released in this bag series. The first collection was inspired by the bus stop scene from My Neighbor Totoro as well as Ponyo running along the water in Ponyo. The second collection was the classic scene of Kiki flying over the town with Jiji on her broomstick from Kiki's Delivery Service. Restocks of these two collections are now available too.

1st Collection

Ponyo Denim Bag ¥19,800 / Ponyo Sub Bag ¥16,500 / Totoro Bus Stop Denim Bag ¥19,800 / Totoro Bus Stop Sub Bag ¥16,500 (Tax Included)

 

2nd Collection

Kiki's Delivery Service Denim Bag ¥19,800 / Kiki's Delivery Service Sub Bag ¥16,500 (Tax Included)

Animage & Ghibli Exhibition in Ginza Pays Homage to Hayao Miyazaki's 'Nausicaä of the Valley of the Wind'

Matsuya Ginza is set to host the "Animage & Ghibli Exhibition" which will run from April 15 to May 5. The event will pay homage to Hayao Miyazaki's Nausicaä of the Valley of the Wind manga which was serialised in Animage by showcasing a range of never-before-seen cell artwork, as well Mamoru Oshii's OVA art film Angel's Egg, and much more. Over 200 materials will be showcased for the duration of the exhibition.

An Excerpt of the Exhibits

Animage was Japan's first magazine devoted to comics and animation to be aimed at the general public

Mobile Suit Gundam original movie poster (Animage, April 1981)

Original advertising posters used on trains back during each respective release

Original magazine inserts

Nausicaä of the Valley of the Wind movie poster © 1984 Studio Ghibli・H

The exhibition is a nostalgia fest and celebration of animation during the 70's and 80's, a time when 'anime' was yet to be widespread in the vocabulary of ordinary Japanese people. It wills how how the anime boom really set off after the release of Mobile Suit Gundam in 1979 which was lauded for its animation quality, as well as how Toshio Suzuki, a producer at Studio Ghibli, approached Hayao Miyazaki and Isao Takahata during his time as an editor at Animage. The exhibition will also feature the works produced by Suzuki and much more.

Fans of Studio Ghibli won't want to miss out on a look at the studio's history with Animage at this special exhibition.

LeSportsac Reveals My Neighbor Totoro Bag Collection

A new collection of 22 bags inspired by Studio Ghibli's beloved animated feature film My Neighbor Totoro will be released on the animation studio's character merchandise website Sora no Ue and their official store Donguri Kyowakoku on March 10.

The collection is made by American handbag brand LeSportsac. The designs are inspired by children's' ability to discover things when they look at something that adults cannot and feature Totoro, Satsuki, Mei, and other familiar faces. The cute bags' vivid colourings capture the magical world of My Neighbor Totoro.

The Line-Up Excerpt

Totoro botanical DELUXE EVERYDAY BAG | ¥17,500 (Before Tax)

Totoro gray EMERALD TOTE | ¥9,000 (Before Tax)

Totoro botanical HARPER BAG | ¥18,000 (Before Tax)

Totoro gray RECTANGULAR COSMETIC | ¥3,200 (Before Tax)

 It wasn′t a dream SQUARE COSMETIC | ¥3,500 (Before Tax)

Studio Ghibli's Kiki's Delivery Service Bag Serves Free-Flying Broom Witch Vibes

Japanese apparel company Familiar has is releasing a series of limited-edition items in collaboration with Studio Ghibli Anofuku, a fashion brand created by Anofuku and Studio Ghibli in 2018.

Kiki's Delivery Service Sub Bag ¥16,500 | Kiki's Delivery Service Denim Bag ¥19,800 (Prices Include Tax)

The second entries to the series are two bags based on the beloved Studio Ghibli anime film classic Kiki's Delivery Service. The bag designs feature Kiki on her broom with Jiji as they fly over the seaside town of Koriko where the movie is set. It's a direct reference to the same scene in the film itself.

The 1st entries were Ponyo and Totoro denim bags

Ponyo Denim Bag ¥19,800 | Ponyo Sub Bag ¥16,500 | My Neighbor Totoro Bus Stop Denim Bag ¥19,800 | My Neighbor Totoro Bus Stop Denim Sub Bag ¥16,500 (Prices Include Tax)

The first entries to the line-up were a collection of denim bags based on two other Studio Ghibli fan favourites: My Neighbor Totoro and Ponyo. The Ponyo bag is still available at the time this article was written, but the Totoro one is unfortunately sold out.

Information on a third collection is scheduled for release in March, so stay tuned.

Kaori's Easy Valentine's Recipe: Learn to Make Strawberry Milk Chocolate Pudding

With just a small bit of ingenuity, turn everyday food into something cute using Kaori's Easy Recipe! With a few simple ideas, an ordinary recipe magically transforms into a cute dish.

Today, I'll be showing you how to make Strawberry Milk Chocolate Pudding, a delicious recipe whipped up with love for Valentine's Day.

Ingredients

✩Ingredients For Chocolate Pudding
35g chocolate
300ml milk
30g-35g granulated salt
5g gelatine (dissolved in 1 tbsp water)

✩Ingredients For Strawberry Pudding
100g strawberries (fresh or frozen)
350ml milk
30g-35g granulated salt
5g gelatine (dissolved in 1 tbsp water)

Weck jars for the dessert.

1

First, we'll make the chocolate pudding.

Put the milk and granulated sugar into a pot and heat on the hob until the sugar melts. Turn the heat off, throw in the chocolate, and allow to fully melt. Once melted and the mixture is cooled, add the gelatine to dissolve.

2

Now, we'll make the strawberry pudding.

Put the milk and granulated sugar into a pot and heat on the hob until the sugar melts.

Add the mix to a blender with the strawberries and blitz. Add back onto the hob and heat through slightly. Allow the mixture to cool then add the gelatine to dissolve.

3

Once both mixtures are completely cooled, add them to the jars in an alternating pattern and chill until set.

⚠️Make sure the dessert is completely set and not runny before serving. About an hour each in the refrigerator should be sufficient.

Top with cream and strawberries and enjoy!

Kaori Kubota (@kaopan27)

I live in Hokkaido and I love to make character themed foods, desserts and pastries♡

I want to see my family smile, so I enjoy putting in a bit of effort to make character foods and changing food into something cute♡

You can see more of my character foods and character bento boxes on my Instagram page → @kaopan72

Kaori's Easy Valentine's Recipe: Learn to Make Rilakkuma Hot Chocolate Sticks

With just a small bit of ingenuity, turn everyday food into something cute using Kaori's Easy Recipe! With a few simple ideas, an ordinary recipe magically transforms into a cute dish.

Today, I'll be showing you a simple recipe for Valentine's Day made with ingredients bought entirely from the 100 yen store Seria. I call it the "Rilakkuma Hot Chocolate Stick."

Ingredients

Square mould from Seria (makes six sticks)
1 bag of milk chocolates

1 bag of white chocolates

1 bag of dark chocolates

Toppings of your choice (I used caramel chocolate chips and walnuts)

1

Melt all the chocolates separately over a bain-marie.

2

Create layers with each chocolate type. Pick your first choice and pour into the mould and wait for it to set lightly before adding the next chocolate. For this recipe, I went ahead and added the chocolate a little before layers had finished setting to create a marbling effect.

✩I also added some strawberry chocolate I had left over from my Rilakkuma chocolates.

3

Once all your chocolate is in the mould, stick in some lollipops and add toppings of your choice making sure they don't overflow. This will ensure they set together with the chocolate.

4

Allow to set overnight and your chocolate stick is ready.

5

I made Rilakkuma chocolates from scratch and added those to the sticks to finish.

Kaori invites you into her world of character-themed food dishes in her recipe series. Be sure to check out her Instagram where she has uploaded many pictures of her character dishes!

Kaori Kubota (@kaopan27)

I live in Hokkaido and I love to make character themed foods, desserts and pastries♡

I want to see my family smile, so I enjoy putting in a bit of effort to make character foods and changing food into something cute♡

You can see more of my character foods and character bento boxes on my Instagram page → @kaopan72

Studio Ghibli's Kiki's Delivery Service Releases Jiji Wreath

If you're a collector of all things Studio Ghibli, then Donguri Closet has the latest must-grab item for fans of the animated film studio. Donguri Closet is a brand of the official Studio Ghibli merchandise shop Donguri Kyowakoku which is managed by Benelic. It offers a variety of merchandise, ornaments, cosmetics, and more all based around Studio Ghibli.

The brand has revealed two cute new hanging wreaths featuring the beloved Jiji from Studio Ghibli's hit animated feature film Kiki's Delivery Service. The wreaths were released exclusively at the Lazona Kawasaki Plaza branch of Donguri Closet at the end of January.

The wreaths are arranged with dried flowers and come with different scented floral sprays.

Pop Wreath Yellow – BERRY | ¥3,500 (Before Tax)

A vivid springtime yellow wreath coupled with a sweet berry fragrance spray.

Pop Wreath Yellow – GREEN | ¥3,500 (Before Tax)

A forest of green flowers coupled with a fresh scented floral spray.

Information

Kiki's Delivery Service Pop Wreaths

Japanese Product Name: 魔女の宅急便 ポプリース
Released: Late January 2021
Where: Donguri Closet Lazona Kawasaki Plaza
Address: Lazona Kawasaki Plaza Floor 3F, 72-1 Horikawacho, Saiwai-ku, Kawasaki-shi Kanagawa
Opening Hours: 10:00-21:00
Access: Connected directly to the West Exit of JR Kawasaki Station
Donguri Closet Official Website: https://benelic.com/closet/

My Neighbor Totoro Bag Hanger Released by Studio Ghibli Store Donguri Kyowakoku

Studio Ghili merchandise store Donguri Kyowakoku, and its online shop Sora no Ue, is now selling a new bag hanger inspired by My Neighbor Totoro.

My Neighbor Totoro Bag Hanger | ¥1,800 (Before Tax)

The hanger is inspired by the opening scene of My Neighbor Totoro when Mei is talking to her father and lines up the yellow flowers.


At first glance, the hanger looks just looks like the flowers, but if you peek a little closer you'll see small Totoro hiding behind the leaves, crafted with all the little details.


The hanger is perfect for at home or at the office when you want to hang your bag so it doesn't touch the floor.

Kaori's Easy Recipe: Learn to Make Banana and Black Tea Muffins

With just a small bit of ingenuity, turn everyday food into something cute using Kaori's Easy Recipe! With a few simple ideas, an ordinary recipe magically transforms into a cute dish.

Today, I'll be showing you a super simple dessert made using hotcake mix. I decorated the muffins with strawberries and a dusting of icing sugar to give them that Christmas feel.

Ingredients
1 bag of hotcake mix (150g)
1 large egg
20g sugar
25ml vegetable oil
30ml milk
2 ripe bananas
1 tbsp black tea leaves
*If you don't have loose black tea leaves you can use the leaves from inside of a black tea bag

1

Slice half of one banana for topping later. Mash the remaining one and a half in a bowl with a fork or potato masher.

2


In a different bowl, add all of the ingredients and mix together. Once mixed, add the mashed banana and mix again to combine.

3


Add the mix to muffin tins. The muffins will rise quite a bit so you may want to use less mix. Finish by adding the sliced bananas from Step 1 on top.
上に1でスライスしておいたバナナをトッピングする。

4
Bake at 180℃ on the middle shelf for 25 minutes.

5


Complete your muffins by dusting with icing sugar, fresh cream, and strawberries. I added a chocolate Hello Kitty on mine!

Kaori invites you into her world of character-themed food dishes in her recipe series. Be sure to check out her Instagram where she has uploaded many pictures of her character dishes!

Kaori Kubota (@kaopan27)

I live in Hokkaido and I love to make character themed foods, desserts and pastries♡

I want to see my family smile, so I enjoy putting in a bit of effort to make character foods and changing food into something cute♡

You can see more of my character foods and character bento boxes on my Instagram page → @kaopan72