Recommended Seasonal Japanese Desserts to Try in Autumn 2018
We're already halfway through August, which means summer will be coming to a close soon. When autumn hits in Japan, lots of delicious food and desserts are released, so much in fact that the season even goes by the name shokuyoku no aki, or 'Autumn Appetite.'
In this article we're going to recommend numerous limited edition desserts available for this autumn only.
"Limited Edition Autumn Sweets" at Grand Hyatt Tokyo
Grand Hyatt Tokyo is a luxury hotel that is introducing a line-up of new desserts made with seasonal ingredients such as fresh Japanese pumpkin and apples. They will also sell a special sweet potato cocktail made with purple yam and sweet potato shochu. All of this will be available from the start of September to October 31.
Monte Bianco: Piece – ¥650 / Whole (12cm) – ¥3,500
The Monte Bianco is a seasonal product popular every year made with a paste made from fresh roasted Japanese chestnuts.
Fresh Chestnut Éclair – ¥600
This éclair is stuffed with a homemade paste made from fresh chestnuts and chopped chestnuts.
Melacotta – ¥600
This mille-feuille is topped with cooked apples and fresh cream to make a refreshing tarte Tatin.
Sweet Potato Cocktail – ¥2,400
"Chestnut Sweets & Bakery" at Café Toastina
Café Toastina, located in Sheraton Grande Tokyo Bay Hotel, are serving up a chestnut themed 'sweets and bakery' menu that will run from September 1 to 30.
Orange & Chocolate Chestnut Tart – ¥550
This tart is made with a chestnut mousse that contains chocolate brûlée and an orange mousse all of which is encapsulated in chestnuts, almond cream and orange. The top of the dessert is luxuriously decorated with a whole chestnut, orange peel, a raspberry and more. The orange adds a refreshing accent to the rich chocolate and chestnut mousse.
Blackcurrant & Chestnut Mousse – ¥550
This dessert is layered with a blackcurrant cream, chestnut mousse and blackcurrant icing. and topped with a whole chestnut, raspberry and blueberry. This sourness of he blackcurrant and sweetness of the chestnut complement and bring out each other's flavours in this irresistible mousse.
"Limited Edition Autumn Sweets & Pastries" at Bakery & Pastry Shop
Bakery & Pastry Shop which is managed by Grand Nikko Tokyo Daiba will sell a line-up of desserts and pastries using seasonal autumn ingredients.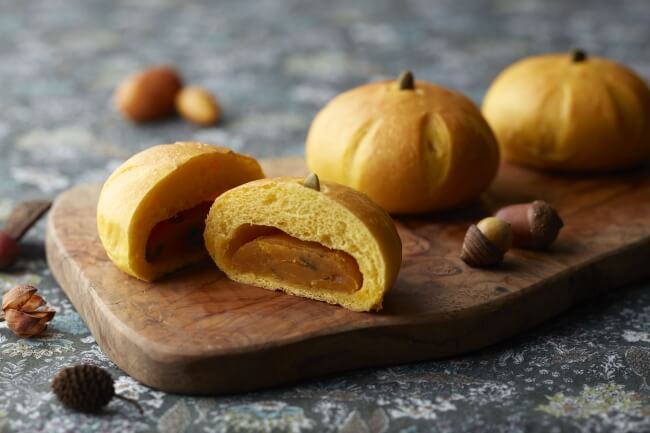 Pumpkin Anpan – ¥223 (Pre-Tax)
This pumpkin sweet bread is filled with a delicious pumpkin paste that's made with lots of kabocha bean paste.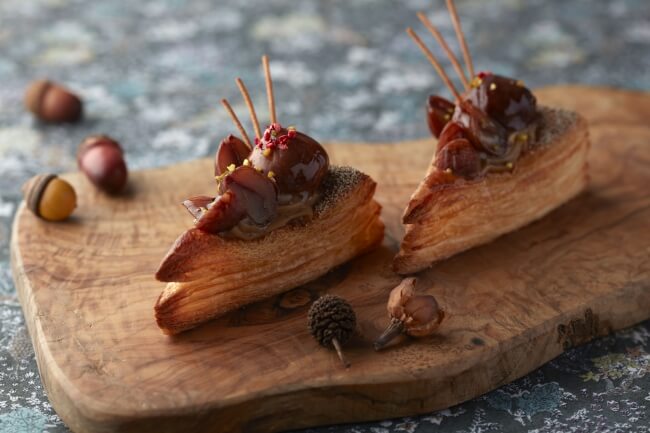 Chestnut Danish – ¥241 (Pre-Tax)
These danishes have a perfect balance between sour blackcurrant and sweet chestnut. They are a perfect accompaniment to tea and coffee. The cream is made with chestnuts from Italy and the danishes are topped with candied chestnuts. If you love chestnuts then this is the autumn-filled dessert is for you.
Houjicha & Apple Éclair – ¥399 (Pre-Tax)
This éclair is made with sweet houjicha cream and brown sugar flavoured chocolate. The sautéed apples give texture and a delicious sourness to the éclair and add a Japanese essence.
"Candied Chestnut & Grape Mont Blanc Parfairt" at Afternoon Tea
This limited-edition autumn dessert from Afternoon Tea releasing on August 30 combines the worlds of chestnuts and grapes. The parfait layers together homemade milk tea purin made with Earl Grey, raspberry gelato, and a mont blanc cream made using chestnuts from Italy. Also, to celebrate Afternoon Tea's 37th anniversary, you can get three times the chestnuts from September 10 to 12.
Autumn is one of the best times for desserts in Japan, so if you're travelling here during that time make sure to get to try all the limited edition seasonal products!
RECOMMENDED ENTRIES
6 Delicious Desserts in Sapporo ― The Gourmet City of Hokkaido

Sapporo is the fifth most populous city of Japan and the capital of Hokkaido. It's a location bustling with tourists from around the world every year who come to enjoy its lush natural environment, fabulous food and amazing art.

The city also has a whole range of popular sweets and desserts. Here's our list of 6 of them you have to try when visiting Sapporo.

Saturdays Chocolate Factory Cafe

Saturdays Chocolate Factory Cafe is a local chocolate brand that started in Sapporo. They delicately craft chocolate in chocolate using carefully selected ingredients from around the world. The shop interior is stylish like that of a general store, with chocolate decked out in cosmetic-like packaging. Enjoy a variety of chocolate and drinks sat at the counter or on the benches.

KANON PANCAKES

KANON PANCAKES is a popular pancake cafe that opened in 2012. The cafe has a high ceiling and a relaxing space with table seats and window seats where you can enjoy yourself even on your own. Their pancakes will satisfy your belly and are the perfect picture for your Instagram feed. They have a range of different pancakes to try, so tuck in!

WORLD BOOK CAFE

This spacious cafe has huge bookshelves lining the interior just like a bookshop with books on world travel and more. Displayed on the walls are illustrations of famous figures. The cafe is so relaxing you'll want to stay there for a lengthy period of time. Enjoy a cup of fragrant coffee and pick from a line-up of delicious sweets or something from the food menu. They also offer a book borrowing service that lets you keep the book for 2 weeks, so if you couldn't finish the book you were reading in the cafe then take it with you!

Rokkatei

The Sapporo branch of Rokkatei is just a 5-minute walk from the south exit of JR Sapporo Station. They are famous for their crispy biscuit snacks called Marusei Butter Sandwich which they also have an ice cream version of. This version is made with vanilla ice cream, white chocolate and raisins. This dessert can only be eaten in the Sapporo and Obihiro branches.

Shiroya

This mochi shop uses komochi from the city of Nayoro in Hokkaido, a white, chewy kind of mochi that doesn't dry out and get hard easily. They are made with adzuki and black soy bean both from Tokachi. They stock a whole range of different mochi using ingredients from Hokkaido, with prices starting at a resonable ¥140. They also serve matcha for ¥200 when you eat in, meaning you can kick back and enjoy some authentic traditional Japanese confections.

Parfaiteria PaL

This bar style shop is open until 2am where you can enjoy sake together with a parfait. Their sweet parfaits are irresistible, combined with pear and yogurt. It's the sister shop to the restaurant Risotteria GAKU which has boasted popularity for 10 years in Sapporo and Asahikawa. If you're a fan of parfait or even of Risotteria GAKU then you've got to eat at Parfaiteria PaL.

Did you enjoy this list? Which do you want to try the most? Be sure to check out these places if you're in Sapporo!

5 Popular Mint Chocolate Drinks & Desserts – 2018 Summer Chocolate Boom in Japan

Every year in Japan, the popularity of mint chocolate flavoured sweets, desserts and beverages increases, but this summer has seen the biggest boom so far. Here's our Top 5 list of popular mint chocolate goodies you can get your hands on in Japan right now.

Starbucks Chilled Cup – "Iced Mint Mocha"

Starbucks are introducing an iced mint mocha to their popular chilled cup series for a limited time starting on August 14. This mocha is made with flavoursome coffee, rich chocolate and refreshing mint. The combination of the chocolate and fresh fragrance of the mint makes for a satisfying taste. Even the packaging looks refreshing.

Cookie Time x Mint Chocolate

Cookie Time in Harajuku are now selling a range of mint chocolate items for a limited time. Check out the list below.

Half & Half (Cookie Dough x Mint Chocolate Ice Cream)

Price: ¥850

Enjoy everybody's favourite cookie dough combined with pleasant mint chocolate ice cream. This fusion of soft cookie dough and cool mint chocolate is Cookie Time's recommended menu item for summer 2018.

Giant Mint Chocolate Ice Cream Sandwich

Price: ¥950

Treat your taste buds to mint chocolate ice cream sandwiched between two giant freshly-cooked cookies. Cookie lovers and mint chocolate lovers won't be able to resist this one!

BARBARA a table – "Fuwatoro Mint Chocolate"

Bakery and beer restaurant BARBARA a table, located on the seventh floor of Lumine Yokohama, have created a summer-only shaved ice menu. Their mint chocolate shaved ice is drizzled in cool mint syrup and topped with fluffy espuma cream and sweet chocolate sauce. Its refreshing taste makes it a perfect after-dinner desert!

KAWAII MONSTER CAFE – "Mint Chocolate Space Cake"

The KAWAII MONSTER CAFE in Harajuku is celebrating its 3rd anniversary by holding a space-themed fair in the popular Mushroom Disco area of the café which is running until September 2. The theme of the fair is 'a giant forest where colourful and toxic mushrooms and plants from space fly overhead.' The mint chocolate cake takes on the form of a monster. It's a mint chocolate roll cake topped with mint chocolate ice cream and fresh mint chocolate cream. Enjoy it together with the cotton candy cloud the monster is sitting on.

Mario Gelateria – "Shaved Mint Chocolate"

Mario Gelateria are selling mint chocolate shaved ice desserts at three of their branches. At their Shibuya Hikarie branch they are selling their fluffy textured 'Kezuri Mint Chocolate' and at their Yokohama Bayside and Minato Mirai branches they're selling their 'Mint Chocolate' which changes colour to pink, all for a limited period. The one to really try is the Kezuri Mint Chocolate which is topped with shaved frozen mint milk and a chocolate sauce that hardens when it gets cold. On top of the fluffy shaved ice is a mint chocolate gelato made with salt from the Uyuni Salt Lake.

Which of these mint chocolate goodies do you want to try the most? Each one is available the summer season only, so don't miss out!

Popular Character Cafés in Japan: August 2018

Each month, a new themed café or menu is introduced in Japan in collaboration with popular characters. There's a whole list of kawaii ones that make an appearance every time.

Let's take a look at some character cafés you can look forward to in August 2018.

'Over Action Rabbit' x VANDALISM Shibuya

Over Action Rabbit is a popular stamp series used on the LINE and Kakao Talk messenger apps that has gained much attention in Japan and particularly with young people in South Korea. The cute and lovable rabbit is getting his own themed café that will be open for a limited period between July 21 and August 26. This is the first time a café has collaborated with Over Action Rabbit in Japan. The kawaii café will take the form of his surreal world and be decorate in pastel-coloured decor. They also have a takeout menu.

Full Details: https://www.moshimoshi-nippon.jp/118092

■Information

LINE Stamp "Over Action Rabbit" Character Café

Running: July 21, 2018 – August 26, 2018

Location: VANDALISM Shibuya

Address: B1F Ota, 26-9 Udagawacho, Shibuya, Tokyo

Opening Hours: 11:00am-9:00pm

Official Homepage: http://dk311.jp/Extremely-Rabbit/cafe/

The Very Hungry Caterpillar x Marione Gate Ginza

The internationally beloved children's picture book The Very Hungry Caterpillar has its own café in Japan, and they've introduced some eye-catching new menu items for the summer. Everything delicious thing on the menu recreates the wonderful world of the story down to the finest of details that are sure to leave you smiling!

Full Details: https://www.moshimoshi-nippon.jp/107654

■Information
The Very Hungry Caterpillar Café

Address: Sunday Brunch, Marione Gate Ginza 1 (4F), 2-2-14 Ginza, Chuo-ku, Tokyo

Running: January 18, 2018 – August 31, 2018

Opening Hours: 11:00am-9:00pm

*Reservations must be made for those who want to visit the cafe before 5:30pm. Making reservation is unnecessary for those who are planning to visit the café after 5:30pm.

TEL: 03-3567-3366

Website: http://www.harapecocafe.com

Gudetama x Dining Park Ikebukuro

To celebrate Gudetama's 5th anniversary, he's launched into space to bring us a very special space-themed menu packed with dishes perfect for Instagram feeds, such as the Zero Gravity Gudetama Burger, Black Hole Jar Parfait, and much more. Drink and dine at the café to receive a limited edition Gudetama fan and coaster. Keep in mind these are limited in quantity, so you'll want to visit quick!

Full Details: https://www.moshimoshi-nippon.jp/112954

■Information

Gudetama Café – Ikebukuro

Address: Gourmet Stadium II, Seibu Ikebukuro Main Store 8F, 1-28-1 Minami Ikebukuro, Toshima, Tokyo

Running: June 26, 2018 – September 4, 2018

Opening Hours: 11am-11pm (Open from 10:30am on weekends & holidays)

*Last Food Orders: 9:30pm / Last Drink Orders 10pm

No fixed holidays except where Seibu Ikebukuro is closed.

TEL: 03-5949-5675

©2013, 2018 SANRIO CO., LTD. APPROVAL NO.S590710

Chiitan☆ x Harajuku Kawaii-ya

Located down Takeshita Street, Harajuku's iconic shopping spot, is Harajuku Kawaii-ya, a café that has teamed up with the kawaii otter mascot Chiitan☆. Running until September 9, the menu is filled with dishes with very unique names in Japanese which translate to things like "I'm Chiitan, the One Who Destroyed the Trampoline Someone Bought For Me… Hot Pie." You don't need to make any reservations. It's first-come, first-served all day making it an easy place to get into if you're unsure how to book in Japanese. Experience the world of Chiitan☆ in Harajuku!

■Information
Chiitan☆ x Harajuku Kawaii-ya (Produced by Animate Cafe)

Running: August 8, 2018 – September 9, 2018

Location: Harajuku Kawaii-ya (CUTE CUBE HARAJUKU 3F, 1-7-1 Jingumae, Shibuya, Tokyo)

Official Page: http://kawaiiya.jp/collabo-chitan.html

Cinnamoroll x Sapporo PARCO

Sanrio's popular character Cinnamoroll recently won the 33rd Sanrio 2018 Character Awards  so to celebrate, he received his very own themed café which is open at Sapporo PARCO until September 10. Enjoy the Soratobu Cinnamoroll Curry featuring Cinnamoroll flying through a green curry sky with his big ears. The dish is topped with cotton candy clouds which, when mixed with the curry, creates a unique flavour of sweet and spicy. There's a whole list of cute dishes on the menu. Cinnamoroll and his pals will also be there to greet you as staff.

Full Details: https://www.moshimoshi-nippon.jp/116613

■Information
Cinnamoroll Café

Sapporo PARCO 4F・THE GUEST cafe&diner

Address: Sapporo PARCO 4F – THE GUEST Cafe&Diner, 1-3-3 Minami, Chuo-ku, Sapporo-shi, Hokkaido

Running: July 27, 2018 – September 10, 2018

Opening Hours: 10:00am-8:00pm (Food Last Orders 7:00pm / Drinks Last Orders 7:30pm)

Official Website: http://the-guest.com

Cardcaptor Sakura x Sakura Fantasy Cafe

The Sakura Fantasy Caf is a new collaborative café themed on the latest entry to the Cardcaptor series, Cardcaptor Sakura: Clear Card, now open for a limited time in Tokyo (Harajuku), Osaka (Abeno) and Saitama (Koshigaya). The cafés have a photogenic themed menu as well as a photo spot and more, all with original illustrations. There's even a line-up of original Cardcaptor merchandise you can't get anywhere else. The menu includes a selection of cheese toast, roast beef, smoothies, pancakes and more.

Full Details: https://www.moshimoshi-nippon.jp/116035

■Information
Sakura Fantasy Cafe

Tokyo: Harajuku Box Cafe&Space

Osaka: DELASOUL CHARBON

Saitama: Koshigaya Box Cafe&Space

Dates

Tokyo: July 12, 2018 – September 2, 2018

Osaka: July 27, 2018 – August 28, 2018

Saitama: September 6, 2018 – September 30, 2018

Opening Hours

Tokyo: 11:00am-9:40pm

Osaka: 11:00am-9:20pm

Saitama: 11:00am-8:00pm (Last Orders 7:00pm)

Entry

Online reservations must be made (¥600 + tax) to access the Tokyo and Osaka cafes. 80 minutes allowed.

Reservations not taken for Saitama cafe.

Reservation Bonuses

Free luncheon mat randomly selected from 3 designs.

Menu Order Bonus

Those who order from the themed menu will receive an original coaster randomly selected from 9 designs.

Official Website: https://sakura-fantsy-cafe.jp

Did you enjoy this list? Be sure you get a chance to visit a character café while you're in Japan.

Kaori's Easy Recipe: Totoro Black Sesame Seed Purin

With just a small bit of ingenuity, turn everyday food into something cute using Kaori's recipe series! With a few simple ideas, an ordinary recipe magically transforms into a cute dish.

In this character recipe you'll learn how to make a Totoro black sesame seed purin.

1: Ingredients

Black Sesame Purin Mix (purchased from Daiso)

Milk

Pura Chocolate (Swiss chocolate also fine)

Transparent Jar (Weck jar used)

☆For Decorating:

Almonds

Fresh Cream

Fruits of your choice

2: Cook the black sesame seed purin according to the box instructions and leave to cool.

3: Cut the chocolate into eyes, a nose and stomach and decorate the features with a chocolate pen. Make a leaf with a green pura chocolate.

☆Cool each part in the refrigerator to fully harden.

4: One the chocolate in step 3 has solidified, place it on the inner side of the jar as shown in the photo.

Add whiskers with the chocolate pen.

☆Once everything is in position, leave it to cool in the refrigerator once more.

5: After cooling again, pour in your black sesame seed purin mix from step 2.

☆If you do not leave the chocolate to completely harden it will fall off.

☆Place in the fridge once more to harden and you're done!

Finish off by decorating with fresh cream, add almonds for ears and top with a cherry.

Kaori invites you into her world of character-themed food dishes in her recipe series. Be sure to check out her Instagram where she has uploaded many pictures of her character dishes!

6 Recommended Shaved Ice Desserts in Japan for Summer 2018

Shaved ice is one of the most popular desserts during summertime in Japan. It's made with ice shaved from an ice block and drizzled in different kinds of syrups.

Here's a list of 6 shaved ice desserts you should try in Japan this summer.

Strawberry Shaved Ice & Melon Shaved Ice

Fruit Parlor Odawara is located in the city of Hachinohe in Aomori Prefecture and sells desserts mixed with fresh fruits. Their strawberry shaved ice is made with around 25 sachinoka strawberries farmed locally, while their melon shaved ice uses carefully selected ripe melons and is served inside a melon. Only 10 of each flavour are available to purchase each day. They're being sold until the end of August, so be sure to visit quick!

Kazuri Chocolate Mint

Mario Gelateria is selling a range of chocolate mint shaved ice desserts for a limited period at three of its branches. Enjoy the fluffy Kezuri Chocolate Mint at the Shibuya Hikari branch, Chocolate Mint which turns pink at the Yokohama Bayside and Minato Mirai branches, and more. The Kezuri Chocolate Mint is most recommended, made with frozen mint milk and chocolate sauce. Enjoy topped with salted chocolate mint with salt from Uyuni Salt Lake.

Peanut & Homemade Condensed Milk Shaved Ice

Taiyaki Tomoean is selling a shaved ice dessert that includes a paste made in-house with crushed peanuts and a homemade syrup made with condensed milk. It's also topped with extra peanuts, giving layers of different flavours and texture with the full-bodied taste of the peanuts and sweetness of the syrup. You won't have eaten shaved ice like this before.

 

Wicked Snow – Watermelon & Melon Shaved Ice

Wicked Snow is a desserts cafe who are bringing back their three popular summer-only shaved ice flavours – pick from watermelon, melon, or a combination of both. The shaved ice is Wicked Snow's own unique blend, made to look like powdered snow that melts in your mouth. Topped with plenty of watermelon and melon, this is the kind of dessert you'd expect to see on Instagram.

Full Details: https://www.moshimoshi-nippon.jp/113471

Yondaime Tokujiro Natural Ice

In the Karuizawa Lakeside Shop of Hotel Green Plaza Karuizawa they are selling shaved ice made with natural ice from Nikko Yondaime Tokujiro, a brewery of which there are only a few located in Japan. Located in Nikko in Tochigi Prefecture, this natural ice warehouse has passed down traditional methods and techniques for 4 generations since the Meiji Period. The shaved ice is topped with tochiotome strawberry sauce, original plum sauce, matcha adzuki and more.

Tamba Spring Water Shaved Ice

Nakajima Taishodo are selling shaved ice made with large-grained adzuki beans and spring water both from the city of Tamba. The high quality beans give the dessert a sweetness, while the shaved ice, made with famous spring water from the company's breweries, give a fluffy texture. People from Kyoto, Osaka and Kobe come all the way to see this shaved ice which stands 18cm tall!

Looking to cool yourself off while in Japan this summer? Then how about some refreshing shaved ice?

Summer has arrived, and that means so have the sweet seasonal desserts in Japan. There are many places now selling delicious treats for summer only.

Let's take a look at 5 of them!

"Butter" – Pancake Shop

Pancake shop Butter have been selling a seasonal menu for the Brooklyn Lemon Summer Fair since June 27. Tuck into their fluffy Brooklyn Lemon White Tower Special, a pancake topped with refreshing lemon flavoured whipped cream and heaps of summer fruits like melon and mango.

Sushiro Cafe Omotesando Sweets Terrace

This pop-up cafe will be open for a limited period of time from July 20. Managed by Sushiro, a popular conveyor belt sushi chain in Japan, it will be the world's first conveyor belt sweets cafe, serving a range different goodies including Sushiro's most popular classic desserts made even better, sold-out sweets made by famous stores making a revival for this time only and more. Enjoy drink and dessert sets with just one coin.

Wicked Snow – Watermelon & Melon Shaved Ice

Wicked Snow is a desserts cafe who are bringing back their three popular summer-only shaved ice flavours – pick from watermelon, melon, or a combination of both. The shaved ice is Wicked Snow's own unique blend, made to look like powdered snow that melts in your mouth. Topped with plenty of watermelon and melon, this is the kind of dessert you'd expect to see on Instagram.

Full Details: https://www.moshimoshi-nippon.jp/113471

LEGOLAND Japan – Colourful Dessert Menu

LEGOLAND Japan is bringing an exciting food menu to the theme park inspired by the colours of LEGO bricks. Choose from an eye-catching selection with desserts such as Watermelon Parfait, Watermelon Ice Crepe, Watermelon Roll Cake and more.

Full Details: https://www.moshimoshi-nippon.jp/112216

Chun Shui Tang – Tapioca Watermelon Milk Tea

Chun Shui Tang, the Taiwanese cafe that invented tapioca milk tea, has released this original summer-only beverage in Japan. The fusion of fragrant jasmine tea, milk and slightly salty taste of the watermelon all bring out a rich, sweet flavour.

Full Details: https://www.moshimoshi-nippon.jp/112130

Don't miss out on all of the summer desserts in Japan available this season only!
RELATED ENTRIES
Report: Kyary Pamyu Pamyu's Tasty Time in Gastropolis Kobe – Sweets Edition

Kobe is filled with famous sightseeing spots like the nostalgic Ijinkan neighborhood and port. The city is packed with fashionable shops and restaurants and is highly regarded for its selection of tasty sweets!

The port city, with over 150 years of history, has fostered a unique and diverse culinary culture.

Recently, Kyary Pamyu Pamyu began starring in a series of promotional videos for the Gastropolis Kobe project. The artist traveled to the city to partake in plenty of delicious treats, and MOSHI MOSHI NIPPON went along for the ride! Here are some of the singer's favorite spots around town.

Kobe, known as a city where East meets West, is lined with sweets shops that are unique to the area.

The tea salon TOOTH TOOTH Dekoboko Sabo opened in 2019 in the Kobe City Museum and offers a menu that mixes Western food and sweets with tea and ingredients from traditional Japanese cuisine. Kyary ordered the Dekoboko Sabo Afternoon Tea Set, a collection of western sweets blended with the essence of traditional Japanese flavors. Guests are invited to enjoy their tea and sweets in a one-of-a-kind space filled with Meiji period flare and retro Western furniture. Those interested will need to make a reservation, so be sure to remember the next time you're in Kobe.

TOOTH TOOTH Decoboco Sabo

Address: 24 Kyomachi, Chuo Ward, Kobe (Inside the Kobe City Museum)

Hours: 9:30-17:30 (Last Order at 16:30) 

Closed Mondays

Official Site: https://toothtooth.com/restaurant/decoboco-sabo

The next stop was Kobe Nankin-machi, one of the three major Chinatowns in Japan. Kobe MILK is known nationwide for its Apricot Pudding, which is made with local ingredients. The raw apricot pudding is mixed with milk brought from the foot of Mt. Rokko and other ingredients from Hyogo Prefecture. Of course, Kyary ordered some, and was amazed by its fluffy texture. You can only enjoy it in Kobe–also, the shop sells other puddings mixed with seasonal fruits, so don't miss those either!

Kobe MILK

Address: Shin-Motomachi Building 1F (1 Motomachi-dori, Chuo-ku, Kobe)

Hours: Weekdays 9:30-19:00 / Weekends 9:30-19:30

Official Site: https://kobe-milk.com

For Kyary's final stop, the singer visited the Moore House, a cafe located in a building with over 100 years of history. Guests are surrounded by greenery, and the Western-style building is incredibly elegant. The Strawberry Mille-feuille Kyary ordered was created by an expert patissier and based on the strawberry mille-feuille recipe from the legendary French restaurant Maxim's de Paris in Ginza. A generous amount of custard cream complements the crispy pie crust and enhances the sweetness of the fresh strawberries. We'd recommend it with a glass of champagne–if you're of age.

Kitano Ijin-kan Moore House

Address: 2-9-3 Kitanocho, Chuo-ku, Kobe

Hours: 11:00-17:00

Closed Tuesdays

Official Site: https://www.kitanomoore.com/cafe/

The streets of Kobe are packed with sweets that you can only enjoy if you visit. Why not come experience these incredible spots like Kyary did?

Kobe Sweets Trailer: https://youtu.be/Sx9B1ZdAvlI

ANNA'S by Landtmann in Shibuya Scramble Square Now Offering Halloween Sweets

ANNA'S by Landtmann, a cafe located inside +Q Beauty on the 6th floor of Shibuya Scramble Square, has begun selling two Halloween cakes! These spooky sweets will be available until October 31, 2022.

Halloween Mont Blanc

Halloween Poison Apple

Guests will be able to snag the Halloween Mont Blanc and Halloween Poison Apple cakes, available for ¥580 each including tax. The Mont Blanc is filled with pumpkin custard and Chantilly cream. The Poison Apple is a sweet and sour cake featuring a blend of chocolate mousse covered in red glaze and applesauce with apple pulp.

Which of these two adorable cakes would you like to enjoy this autumn?

Second Sylvanian Families Sweets Buffet to Open with a Christmas Theme

Keio Plaza Hotel in Tokyo will hold a special Christmas-themed Sylvanian Families buffet starting November 1, 2022. This is the second Sylvanian Families event following the previous Halloween-themed buffet, which became extremely popular. Some guests even bring their own Sylvanian Families dolls!

Starting in November, visitors can enjoy a full lineup of 20 scrumptious dishes inspired by the cake shop found in Sylvania Village. Some sweets are also inspired by the many beloved characters found in the series, and anyone wanting to get into the Christmas spirit won't want to miss this exclusive event. For those without a sweet tooth, some light lunches will also be available.

The restaurant will also erect a decorative display of Sylvanian Families enjoying a Christmas party and a sweet diorama made exclusively of desserts by the pasty chef. Guests can enjoy tea time while getting lost in this magical world, so get excited about the Christmas season!

1. Sweets Inspired by the World of Sylvanian Families

2. Become Enthralled by a Wonderful Winter World of Sweets

3. Exclusive! Sweets Diorama and Sylvanian Families Photo Spot

4. Light Meals Perfect for Winter and Burgers Featuring Original Illustrations

5. A Special Plan to Enjoy the Buffet with Sylvanian Families Babies

Information

Sweets Collection with Sylvanian Families

Running: November 1 – December 31, 2022

Venue: Keio Plaza Hotel's Jurin Restaurant

Price: ¥5,500 (Adults) / ¥3,000 (Children 4-12) *Children under 3 free

Details/Reservations: https://www.keioplaza.co.jp/event/autumn-sweets/#event02

Hilton Tokyo Odaiba to Hold Second Touken Ranbu ONLINE Collaboration Sweets Buffet

From October 21 until November 30, 2022, Hilton Tokyo Odaiba will hold the Touken Ranbu ONLINE Special Buffet ~Black & White~ event! This second collaboration with the popular series will be held Grillogy Bar and Grill on the second floor.

Dessert Menu

Drink Menu

Drink Order Bonus: Original Coaster (8 varieties)

At the buffet, guests can enjoy luxurious dishes inspired by characters from the sword-centered game and anime series. The desserts blend Japanese and Western cuisine, and special cocktails will be available during the first phase, each coming with a special coaster as a bonus! In addition, original goods will be on sale at the venue, so don't miss it!

Information

Touken Ranbu ONLINE Special Buffet ~Black & White~

Running: October 21 – November 30, 2022

Reservation Start Dates and Times: 

Lottery Opens: September 16, 12:00~

General Reservations Open: October 6, 12:00~

*Lottery reservations and general reservations will be open
for the first and second runs.

*Please see the official website for the full reservation schedule.

Venue: Hilton Tokyo Odaiba 2F Restaurant, Grillogy Bar and Grill

*Reservations required

Tickets/Details: https://odaiba.site/

Online Shop: https://touken-yorozuya.com/

Yokohama Royal Park Hotel to Hold Halloween Sweets Fair in October

From October 1 until October 31, Yokohama Royal Park Hotel will hold a special Halloween Fair at its delicatessen and lounge Coffret. In addition to six playful sweets from the Halloween Frankenstein to the Halloween Mummy, two types of autumn bread featuring pumpkin and purple sweet potato will be available, allowing guests to enjoy the taste of the season!


Halloween Frankenstein

Halloween Cat

Halloween Mont Blanc

Halloween Mummy

Halloween Pudding

Halloween Pound Cake

Pumpkin Cream Fondue / Halloween Anpan

  

Come enjoy this Halloween with some cute and silly sweets!

Information

Halloween Fair

Running: October 1 – October 31, 2022
Venue: Coffret Delicatessen and Lounge, 1F
Hours: Lounge 10:00-20:00 (*Cakes served starting at 11:00) /
Delicatessen 11:00-20:00
Reservations: 045-221-1111 (Representatives available 11:00-20:00)

Tsujiri Reveals Colorful Autumn Parfait Using Purple Sweet Potatoes

Tsujiri, a staple of Uji, Kyoto, has announced an exclusive autumn menu! Guests can enjoy the Tsujiri Soft Autumn Parfait, the Kyo Latte Smoothie with Purple Sweet Potato, and the Kyo Latte with Hojicha at the Kyoto location and three other stores starting September 1, 2022.

Tsujiri Limited Time Autumn Menu

These three limited-time items are filled with fall flavors. The Tsujiri Soft Autumn Parfait is filled with Uji green tea carefully selected by tea masters and topped with purple sweet potato paste, sweet potato nectar, and other gorgeous goodies.

The Kyo Latte Smoothie with Purple Sweet Potato features an autumn-only flavor combining purple sweet potato bean paste, cream, and sweet potato nectar with Tsujiri's matcha green tea smoothie. The Hojicha version is made with luxurious Uji Hojicha and milk for a soothing experience.

Enjoy autumn with these tasty treats filled with seasonal flavors!

Information

Tsujiri Kyoto Store
Address: 215 Nakanocho, Kyoto 

Tsujiri Kyoto Tower Sando
Address: Kyoto Tower Sando Building 1F (721-1 Higashishiokojicho,
Shimogyo-ku, Kyoto)

Tsujiri arde! Shin-Osaka
Address: arde! Shin-Osaka, JR Shin-Osaka Station 2F (5-16-1 Nishinakajima, Yodogawa-ku, Osaka)

*The autumn menu is not available at the Uji location or the Naha Airport location.

Q-pot CAFE to Offer Cute Halloween Sweets to Celebrate 10th Anniversary

Q-pot CAFE in Omotesando will be offering up some Halloween treats to celebrate the location's 10th anniversary! Guests will be able to sample these special sweets from September 3 until October 31, 2022.

Happy Halloween! Afternoon Tea Set

The festive Happy Halloween afternoon tea features pink Jack-o'-lantern macarons and other Halloween-inspired sweets.

Fluffy Floating Ghost Plate (Drink Included)

The adorable ghost is made from fluffy milk mousse covered with gyuhi, a typical ingredient in Japanese sweets made from rice flour. Inside is blackcurrant and redcurrant jelly with an incredibly sweet and sour flavor.

Black Devil Tea Mocha

Featuring large devil wings, this tasty and eye-catching beverage is a mix of black tea, chocolate, and milk. When the cocoa cream melts, the taste changes to something creamy and cozy, perfect for the autumn months.

Shimmering Blueberry & Grapefruit Soda

This refreshing sweet and sour drink combines blueberries and pink grapefruit along with soda and pearl powder.

Come enjoy Halloween while celebrating the cafe's 10th anniversary!

Information

Q-pot CAFE 10th Halloween Menu

Location: Q-pot CAFE Omotesando

Running: September 3 – October 31, 2022

Hours: 11:00-19:00 (Last Order at 18:30)

Details/Reservations: http://www.Q-pot.jp/news/2022/08/1746.html

Pastel Collaborates with My Melody and Kuromi for Autumn Puddings

Pastel, a sweets brand known for its smooth pudding, has announced a collaboration with the Sanrio characters My Melody and Kuromi! Fans can snag some tasty treats from September 1 to October 31, 2022.

This year's collaboration is based on a sweet circus. Fall is full of wonderful events like Halloween, and the company is ready to celebrate with these colorful desserts.

New items include limited edition puddings featuring illustrations of My Melody and Kuromi and sweet and sour treats made with strawberries that will crackle and pops in your mouth!

My Melody Mini Pudding: ¥430 (Tax Included)

Left 2 Puddings: September 1 – September 30 / Right 2 Puddings: October 1 – October 30, 2022

Kuromi Mini Pudding: ¥430 (Tax Included)

Left 2 Puddings: September 1 – September 30 / Right 2 Puddings: October 1 – October 30, 2022

Pastel's original mini puddings are topped with whipped cream and finished with a My Melody illustration in cocoa powder. Enjoy the smooth texture and soft whipped cream!

My Melody's Merry-go-Round Pudding: ¥600 (Tax Included)
Top: September 1 – September 30 / Bottom: October 1 – October 30, 2022

This exclusive pudding was inspired by My Melody. Smooth pudding is topped with sponge cake and diced strawberries, sweet and sour strawberry cream, and colorful marshmallows.

Kuromi's Circus Pudding: ¥600 (Tax Included)

Top: September 1 – September 30 / Bottom: October 1 – October 30, 2022

Smooth chocolate pudding is accented with raspberry sauce and finished with fluffy cream. This treat is perfect for fall, and the chocolate that crackles in your mouth is sure to amaze and delight!

Come enjoy some autumn sweets decorated with your favorite Sanrio characters!

© 2022 SANRIO CO., LTD. APPROVAL NO. L632735

*AEON Mall Shin-Rifu South Building, AEON Mall Okazaki, and THE OUTLETS HIROSHIMA will only offer mini-puddings of each character.
*All images are sample images.

Creepy-Cute Halloween Sweets Available for a Limited Time at Hyatt Centric Kanazawa

Halloween is on the way, and the Hyatt Centric Kanazawa hotel is prepping some spooky sweets to celebrate! From October 1 until October 31, a Monster Halloween Cake Set will be available at the hotel's restaurant FIVE – Grill and Lounge. Guests can also enjoy a Halloween lunch and dinner menu featuring a chic menu filled with black, red, and purple dishes. Visitors who come in costume will gain access to some special offers as well!

Halloween Lunch / Dinner Course

Poached Eggs with Black Chaudfroid Sauce

Grilled Beef Tenderloin with Beet Variation

 

The courses were inspired by an adult Halloween party and will be available for four days only. Each dish contains colors perfect for the season, like haunting black and bloody red punctuated with a purple-tinted memory of moonlight. While the dishes may look strange, they are made with the finest ingredients. 

Monster Halloween Cake Set

Witch's Mont Blanc Pudding

Mummy Macaron

Denture Parfait

Jack-o'-Lantern Cream Puff

Frankenstein Brownie

Gyuhi Ghost

Spider Web Mousse

GO FOR KOGEI 2022 Collaboration 5×5 Cake Set

A special cake set featuring everything from Frankenstein to spider webs will get you in the Halloween mood. The lineup includes Witch's Mont Blanc Pudding topped with purple sweet potato cream, and the adorable Jack-o'-Lantern cream puff filled with–you guessed it–pumpkin cream. Come enjoy some other playful treats like the Mummy Macaron filled with apricot and the Denture Parfait with berries and marshmallows. On weekdays from October 3 until October 21, the cakes will be served on a special Kutani ware in collaboration with GO FOR KOGEI 2022. This 5×5 set will be limited to five servings per day. Kutani ware is a style of traditional Japanese porcelain found in Ishikawa Prefecture.

Halloween Cocktail


This year's Halloween cocktail is the rock-themed Back in Black. With a tequila base, you're sure to have some extra fun after downing this classy beverage. 

Come enjoy some spooky and cute Halloween sweets while you can!

Information

Monster Halloween 

Hyatt Centric Kanazawa
FIVE – Grill & Lounge
Address: Hyatt Centric Kanazawa 3F (1-5-2 Hirooka, Kanazawa, Ishikawa)
Official Site: http://fivegrillandlounge.jp

Lunch / Dinner Menu

Available: October 28 – October 31, 2022
Hours:
Lunch: 11:30-14:30 (Last Order at 14:00)
Dinner: 17:30-21:00 (Last Order at 20:30)
Details/Reservations: https://bit.ly/FIVEHalloween 

Monster Halloween Cake Set
Available: October 1 – October 31, 2022
*On weekdays from October 3 to October 21, the 5×5 cake set, made in collaboration with GO FOR KOGEI 2022, will only be offered in a limited number of 5 per day. (Advance reservations required.)
Hours: 12:00-17:00 (Last Order at 16:30)
Details/Reservations: https://bit.ly/FIVEHalloween 

Halloween Cocktail
Available: October 24 – October 31, 2022
Hours: 17:00-24:00 (Last Order at 23:30)

*Menu subject to change depending on availability.

Sanrio Characters Autumn Sweets Buffet to be Held at Hilton Nagoya

From August 18 until November 3, visitors to the Hilton in Nagoya will be able to enjoy a special autumn buffet featuring the popular Sanrio characters Kuromi, Cinnamoroll, and Hello Kitty. 

These three characters are some of Sanrio's most loved. Kuromi is the self-proclaimed rival of My Melody, while the fluffy Cinnamoroll won first place in this year's Sanrio Character Awards. Hello Kitty has been beloved by audiences worldwide for decades, and her iconic ribbon really shines in this buffet collaboration. Themed around an autumn harvest festival in a dark forest, the event includes 27 varieties of sweets and seven savory items. From sweet potatoes and pumpkins to chestnuts and apples, guests will be able to taste the fall season!

Kuromi's Dark Forest Cake

Autumn Cinnamoroll Cake

Hello Kitty's Ribbon Cake

Crazy Mushrooms / Praline and Gianduja Truffles / Tonka Bean & Chocolate Caneles

 

Kuromi's Dark Forest Cake is a traditional German black forest cake featuring decorations inspired by the character's black hood and a pink skull. The Autumn Cinnamoroll Cake is made with rice flour and is inspired by the adorable puppy's fluffy appearance. Hello Kitty's Ribbon Cake is topped with apple compote simmered with strawberries and red wine. 

At the popular Live Station, guests can also enjoy an artistic performance by the chef himself. Visitors can also find and harvest their own Crazy Mushrooms and Truffles. 

Kuromi's Autumn Soup

Pumpkin Mont Blanc

Hello Kitty's Apple

Pastry Chef Mamoru Watanabe's specialty autumn sweets and Sanrio Characters-inspired goodies will invite you into a cute and dark forest world. Kuromi's Autumn Soup is made with Japanese chestnuts and chicken consomme poured over panna cotta made with purple sweet potatoes. The Pumpkin Mont Blanc includes four layers of milk chocolate cream, chocolate crumble, pistachio cream, and pumpkin Mont Blanc cream.

Praline Paris-Brest

Hojicha Basque Cheesecake

Green Tea Tiramisu

Come enjoy the taste of autumn with your favorite Sanrio characters!

© '22 SANRIO CO., LTD. APPR. NO. L632215

Fruit-Filled Afternoon Tea Inspired by Japanese Folktale Momotaro Announced

Kawagoe Prince Hotel, located in an Edo-period castle town in northwest Tokyo, will begin offering a special afternoon tea set starting July 1, 2022. Inspired by the Japanese folktale Momotaro, the summer fruit-filled tower of treats will be available until August 31, 2022.

Top Plate

Middle Plate

Bottom Plate

Savory

 

The top plate of the three-tiered set features tasty peach and cheese mousse, peach meringue, macadamia nut chocolate, and Kibi Dango put together to resemble the hero of the story, Momotaro. On the middle tier, visitors will find sweets inspired by the many animals found in the story, from the monkey and dog to the pheasants. Guests can enjoy many summer fruits including mango and kiwi. 

Those who come to the store in a yukata (summer kimono) and follow the official Kawagoe Prince Hotel Instagram will receive a special fruit platter.

Come enjoy the world of Momotaro as you wander around this historical Japanese town!

Kyary Pamyu Pamyu Collaborates with Famous Poeme Sweets in Ehime Prefecture

Kyary Pamyu Pamyu made waves with music lovers around the world last month when she performed at Coachella, one of the largest and most famous music festivals on Earth. On May 28, Kyary will perform in Ehime, and the artist has released details about another collaboration as part of the LOCAL POWER JAPAN Project, launched to energize Japan through the appeal of regional towns and cities.

In Ehime Prefecture, Kyary is teaming up with Poeme, a famous sweets shop in Setouchi close to the Seto Inland Sea. The shop itself opened in 1950 with a different name and quickly became popular for its Butter Manju. The buns, baked in a buttery biscuit dough with red bean paste, were an extravagant confectionary at the time. In the late 1950s, a friend of the founder Okada Kazutarou tasted the Butter Manju and said "This is a poem," hence the current name of the location. After 76 years, the name of the shop still reflects Poeme's mission that has been present since the company's founding just after WWII. 

The collaboration logo for the project was inspired by Kyary's 2018 album Japamyu, which was released after four successful overseas tours. The album cemented the artist as one of Japan's top talents, and the logo combines Poeme with Japamyu to make Poemyu.

A collaborative T-shirt is also on sale featuring the new logo and the singer's 10th-anniversary logo. The shirt is only available until June 8 on the official LOCAL POWER JAPAN Project website.

Information

Ehime's Poeme x LOCAL POWER JAPAN Project

Collaboration T-shirt
Price: ¥3,300 (Tax Included)

Where to Buy:
LOCAL POWER JAPAN Project Online Shop

Available until June 8 at 23:59
https://store-localpowerjapan.com/

Official Site: https://localpowerjapan.com


*Please allow two weeks to one month from order completion to product shipment.

*A portion of T-shirt sales will be donated to local projects and social programs.