UMEBOSI is an original brand by tool shop WISE・WISE tools that seeks to breathe life into traditional Japanese craftwork in today's modern age. The second line of products in the brand series to be released makes use of traditional Edo Kiriko cut glass and it will arrive in October 2018.
Interest in products made in Japan has been deepening in recent years in both Japan and overseas. However, there is still discussion there being a lack of successors in inheriting traditional methods, and the topic of spreading its use still remains.
KIGI was been appointed to help tackle these issues, an art director who receives tremendous support from the young generation in Japan. The project was started to promote these creative crafts to more people in a new light. The first line of products was announced in October 2015. The most popular amongst them was the Edo Kiriko glass series. Five new designs from that range have now been released.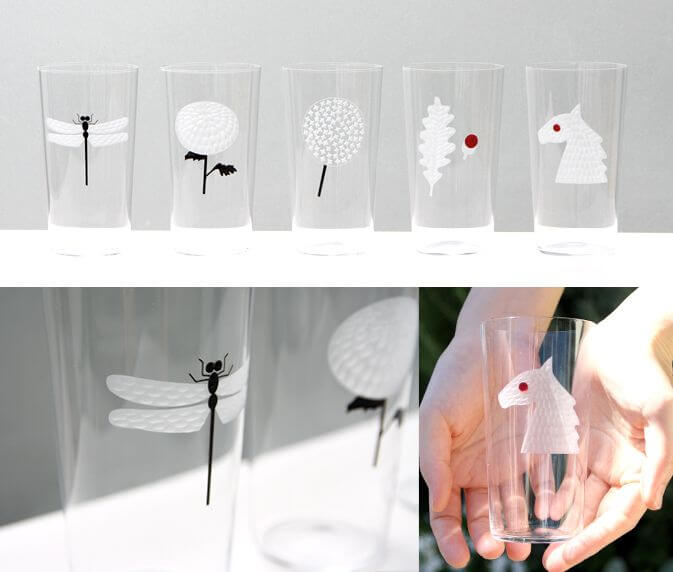 UMEBOSI Edo Kiriko Glasses – 5 New Designs
These usuhari glasses are made using a traditional Edo Kiriko method called hana kiriko. The five designs include a tree leaf and acorn, a horse, a dragonfly, a chrysanthemum, and a dandelion. They have also brought back the rabbit and cherry designs from the 2015 line.
These glasses are a fusion of traditional craft and modern skill. Why not get your hands on one?
■Information
UMEBOSI Edo Kiriko Glasses – 5 New Designs
Shop: WISE・WISE tools
Address: 3F Galleria, Tokyo Midtown, 9-7-4 Akasaka, Minato Ward, Tokyo
TEL: 03-5647-8355
Website: http://wisewisetools.com
*The photos taken are of products still in development. Actual product may differ slightly.