Girls' Sweets Coffret Christmas Buffet to be Held at Hilton Tokyo Odaiba
Christmas is loved particularly by girls in Japan as it's the season when all the sparkly items begin to fall and flicker. Hilton Tokyo Odaiba is bringing a Christmas buffet this year which it is calling the Girls' Sweets Coffret. It's inspired by the "Christmas Coffret" cosmetic sets that are sold during the Christmas season only and tickle the hearts of girls across the country.
Coffret is a French word that refers to a small jewel box. Searches for the term "Christmas Coffret" have been on the increase in Japan since 2015 and in 2016 and 2017 ranked in the top 10 most searched Christmas related terms by women. Hilton Tokyo Odaiba is responding to this by packing everything a girl could want into their Christmas buffet.
The buffet is overlooked by a bright pink Christmas tree under which are all presents a girl could hope for including a dress, jewel box, flowers and more―all edible. A cute Santa Claus, reindeer and snowmen also decorate the table in all their delicious dessert glory. The colour palette is girly but stylish, with pink as the main colour and blacks and whites everywhere else.
There will also be a photo spot decked out with a pink Christmas tree, huge life-sized presents and other Christmas motifs. What's more is that guests who attend during the event dressed in something pink or wearing ribbons will receive a special drink.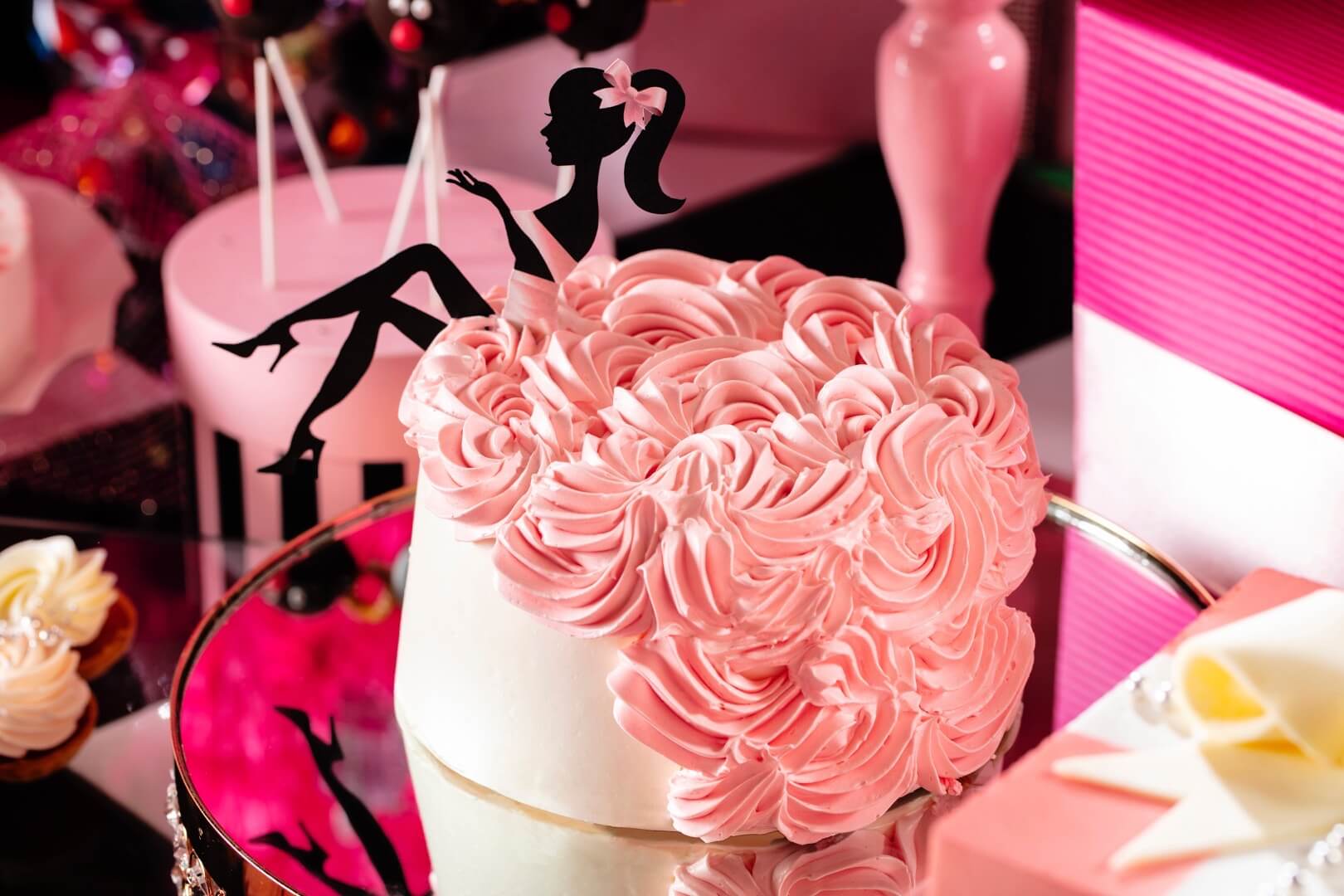 The line-up of desserts all have some very enticing names. Translated from Japanese, some to look forward include the "Going Out With Your in My Best Dress – Princess Tart," "Like a Romantic Bride – Pink Dress Strawberry Chiffon Cake," "What I Want the Most: Jewellery – Yogurt Panna Cotta Jelly," "Drag Me Away – Pink Pearl Cupcakes," and more.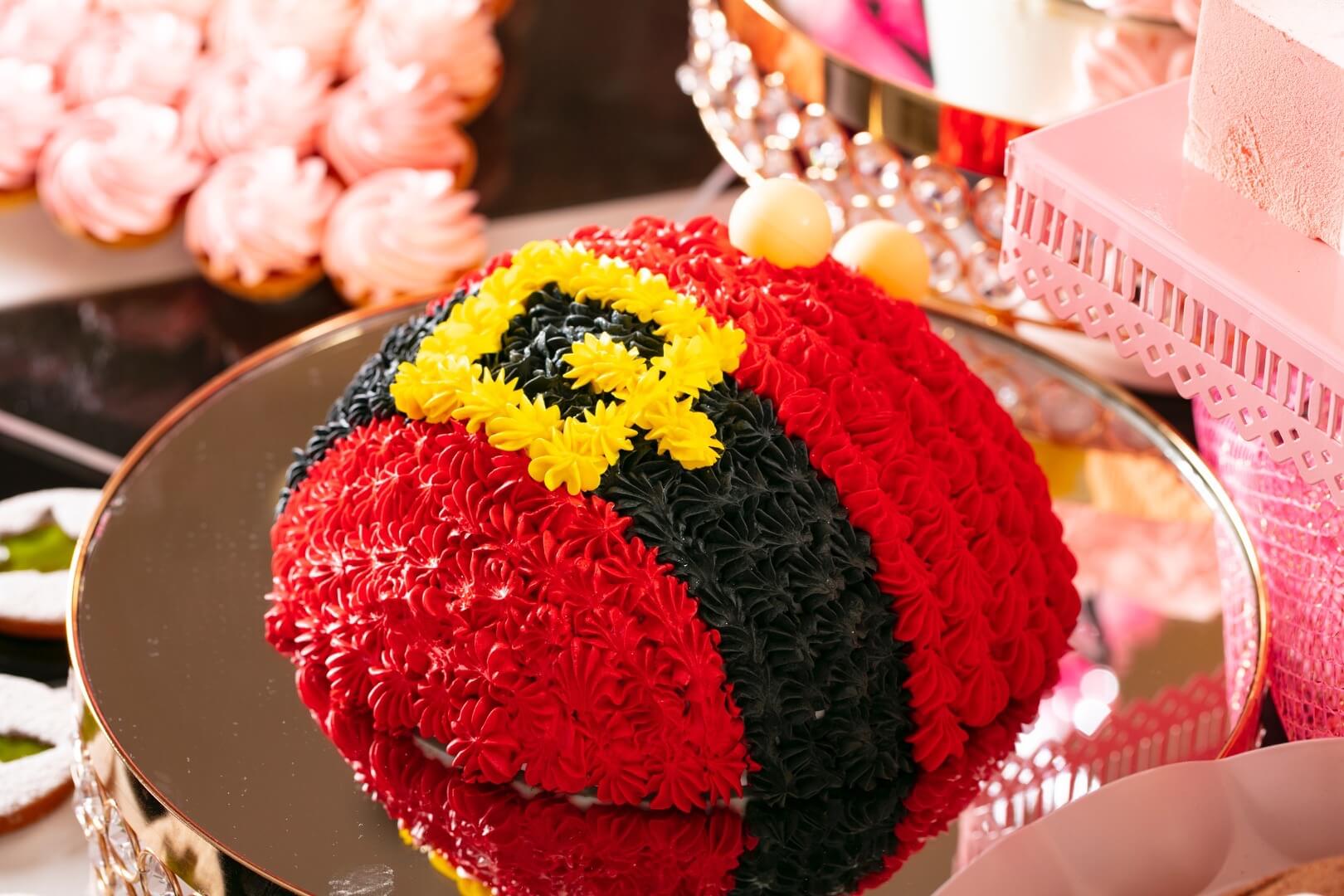 Also on the list is a cake made to look like Santa's belly called "I'll Start My Diet Tomorrow – Cranberry Mascarpone Santa Cake." There's also the the "Santa's Happy Helpers – Reindeer Chocolate Cake."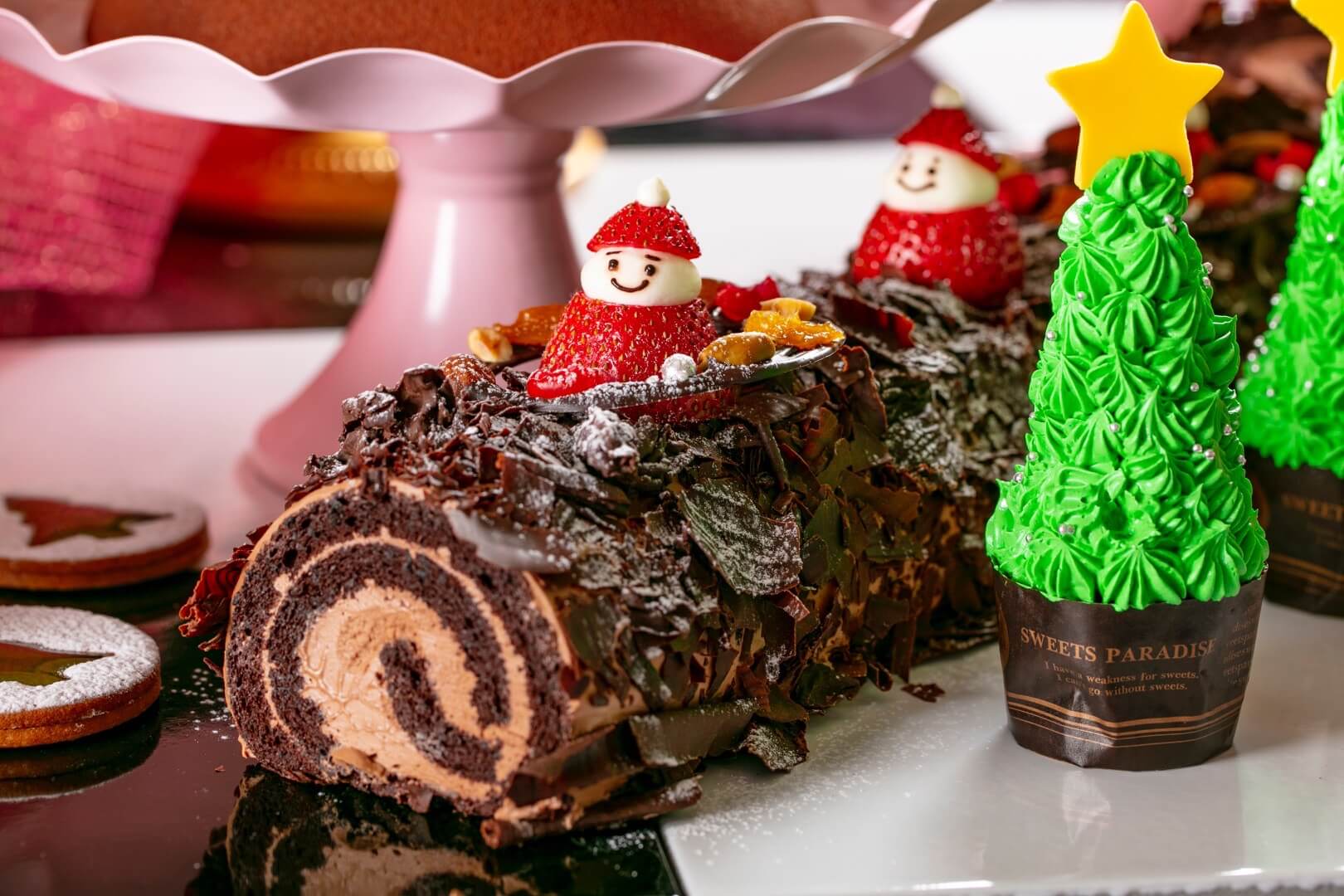 There's a range of Christmas classics too like the yule log and stollen as well as a tree-shaped mohn plunder. If you're looking for Christmas treats this year then look no further!
Information
Girls' Sweets Coffret Christmas Dessert Buffet
Address: Hilton Tokyo Odaiba, 1-9-1 Daiba, Minato Ward, Tokyo
Location: Seascape Terrace・Dining (Floor 2F)
Running: November 1, 2018 – December 28, 2018
Time: Slot 1 – 15:00-16:30 (90 minutes) / Slot 2 – 16:45-17:30 (Express Buffet – 45 minutes)
Price
Slot 1 – Weekdays: General ¥3,500, Children ¥2,100 / Weekends: General ¥3,900, Children ¥2,340
Slot 2 – Weekdays: General ¥2,400, Children ¥1,440 / Weekends: General ¥2,800, Children ¥1,680
*Listed prices do not include tax or service charge.
*Children prices are for those aged between 6-11 years.
RECOMMENDED ENTRIES
Pastel Coloured Yume Kawaii Buffet Arriving at Hilton Tokyo Odaiba

Hilton Tokyo Odaiba are introducing a summer dessert buffet to their menu to be eaten at the hotel's Seascape Terrace Dining. Roll up there between June 1 and September 2 to pastel coloured desserts, shaved iced, and summer fruits like peaches, watermelons, grapes, lychees and more.

The theme of the buffet is 'a dreamy-cute home party in the middle of summer.' The term Yume Kawaii translates to 'dream-cute' and conjures up a dreamy, fairy-tale-like image of pastel colours like pink, and glitter. It's a hugely popular term used by today's millennial generation. There are almost 400,000* related social media posts with the hashtag #ゆめかわいい (#yumekawaii) mostly by younger Japanese girls. There are also over 6 million* related social media posts with the hashtag #ユニコーン (#unicorn) both in Japan and overseas, an immensely popular creature outside Japan and one that has come to be seen a lot in Japan too.

*Statistics compiled by Hilton Tokyo Odaiba PR Office (as of March 17, 2018)

The dessert buffet skipping its way to Hotel Tokyo Odaiba includes pastel coloured bavarois in the image of unicorns, bunny inspired lollipops and much more, all of which bring out the world of yume-kawaii. You can also feel like a princess in the special photo spot they will have set up, and enjoy the uniquely named desserts. This dessert buffet can only be experienced at Hotel Tokyo Odaiba.

Enjoy the plentiful dessert buffet which has plenty of mouth-watering material for Instagram!

■Information

A Dreamy-Cute Midsummer Home Party ~Summer Dessert Buffet~
Address: Seascape Terrace Dining at Hilton Tokyo Odaiba (2F), 1-9-1 Daiba, Minato, Tokyo
Running: June 1, 2018―September 2, 2018
Time: Slot One 15:00-16:30 (90 minutes) / Slot Two 16:45-17:50 (45-minute Express Buffet)

Price

Slot One: [Weekdays] Adult ¥3,400, Child ¥2,040 / [Weekends & Holidays] Adult ¥3,800, Child ¥2,280

Slot Two: [Weekdays] Adult ¥2,400, Child ¥1,440 / [Weekends & Holidays] Adult ¥2,800 / Child ¥1,680

*Prices do not include tax or service charge.

*Child age constitutes as 6-11 years old.

Alice in Wonderland Halloween Themed Dessert Buffet to Arrive at Hilton Tokyo

A new dessert buffet dubbed 'Aice in Halloween Trick' is arriving this fall from September 14 at Hilton Tokyo's first floor Marble Lounge.

In the run up to the start of the buffet, the hotel's Marble Lounge has undergone its first renovation in 30 years. The room now holds more entertainment value to welcome story-driven dessert buffets together with decorations.

The new buffet includes close to 20 desserts with the themes Alice in Wonderland and Halloween as well as 10 light foods. The buffet is also ornamented with small decorations. Not only does everything promise to be delicious, it also looks beautiful too, so much so that you'll be left wondering what's a dessert and what's a meal. This is the chefs' little 'trick.'

The hotel's dessert buffets were first showcased with projection mapping back in 2017. That is set to return with some new realistic trick art.

The chic red and black imagery of the desserts, decorations and autumn fruits are inspired by a more mature Alice.

The above dessert, called "Her Majesty Queen Alice," is made with chestnut bavarois, wild strawberries and red currents and is coated in chocolate powder. It has a crunchy cookie texture.

The above dessert is a refreshingly sweet tart made with high quality Valrhona chocolate, a Valrhona Manjari ganache, raspberries, and aniseed.

The selection of items you'll be left wondering whether they're a dessert or a meal includes the above plates made in collaboration by head chef Thomas Jacoby and executive chef Osamu Harita which line up together like Tweedledum and Tweedledee. The "Dum Open Face Cake" is a chocolate sponge cake topped with berries and the "Dee Open Face Cake" includes black olives, smoked salmon and curry flower mousse.

There's a range of elegant and scary desserts and light meals in the Halloween area too in addition to the Alice desserts.

If you're an Alice fan and love desserts you won't want to miss out on this special buffet this fall.

■Information

Alice in Halloween Trick Dessert Buffet

Location: Marble Lounge, Hilton Tokyo 1F

Address: 6-6-2 Nishi-Shinjuku, Shinjuku, Tokyo

Running: September 14, 2018 – November 4, 2018

Time: 2:30pm-5:30pm

Price: ¥3,800 per person (¥3,920 on Weekends & Holidays)

*Price includes tax and service charge.

Booking: www.hiltontokyo.jp

Halloween Disco Buffet to be Held at Hilton Tokyo Bay to Hold

Hilton Tokyo Bay has announced an autumn dessert buffet to be held in its lounge O from September 8. The theme is "Halloween Disco."

The hotel has been holding themed dessert buffets since July 2015 which has bought in a total of over 80,000 people. They have been especially popular with Japanese women and housewives who can't resist involuntarily snapping photos of the eye catching line-ups.

Hilton Tokyo Bay celebrate its 30th anniversary on July 2, 2018. Its new buffet is a mix of Halloween and 80s disco. They aim to offer a dessert buffet experience you won't find anywhere else.

Decorating the buffet table is a disco ball overhead and below it, two ghost DJs, one spinning the 90cm wide record and the other holding fans in both hands. There's also a colourful LED panel inspired by the disco floor which lights up in reds, greens, yellows and blues.

Eyeball Disco Dance Jelly

Dead Zombie Cupcakes

There are around 20 different Halloween themed desserts and 15 light foods to pick from in this delicious buffet. Enjoy a disco dance jelly with one of three coloured eyeballs floating atop it, or munch into a zombie cupcake that comes with bloody red raspberry sauce and a record hat decoration.

Head to the Hilton this Halloween before trick-or-treating for an early dessert starter course.

■Information

Halloween Disco
Location: lounge O, Hilton Tokyo Bay Lobby Floor

Running: September 8, 2018 – October 31, 2018 (Open Weekends, Holidays and Wednesday October 31 only)

Opening Hours:
Weekends & Holidays – 1:30pm-3:30pm / 4:00pm-6:00pm (2 slots 2 hours each)

Wednesday October 31 – 1:30pm-3:30pm (1 slot 3 hours)

*Enjoy up to 3 hours with kids on Halloween day!

Price: General ¥3,100 / Children (Ages 4-12) ¥1,750

*Drink bar available

*Price includes separate service charge and tax.

Bookings: 047-355-5000

Webpage: https://www.hiltontokyobay.jp/plans/restaurants/5126
RELATED ENTRIES
Valentine's Dessert Sets Served Up at Harajuku's Tea Latte Shop CHAVATY

CHAVATY, a cafe in Harajuku that serves tea lattes made with high quality tea leaves, is getting ready for Valentine's Day early with the release of some tasty new desserts which they began serving up on Thursday (January 14).


Valentine's Set | ¥1,100 (Before Tax)


Valentine's Scone Set (6 Included) | ¥2,480 (Tax Included)


Raspberry Chocolate | ¥970 (Tax Included)

The Valentine's Set comes with a cute scone as well as fondant chocolate made with rich, high-grade chocolate from the French chocolate brand Cacao Barry. It also comes with a tea latte of your choice. There's also a scone set which comes with two each of three different scones for a total of six including the Berry & Cocoa Pink Chocolate, Orange & Chocolate Chip Double Chocolate, and Dried Fruits & Nuts White Chocolate. CHAVATY has also made their own seasonal homemade spread: the Raspberry Chocolate.

Information

CHAVATY Valentine's Set
Running: January 14, 2021 – February 14, 2021

Address: Minami-Harajuku Bldg. 1F, 4-6-9 Jingumae, Shibuya, Tokyo

Official Website: https://chavaty.shop-pro.jp/

Pokémon Tokyo Banana Adds Special Pikachu Box Set Online

Tokyo Banana World recently added its special Dengeki Box (Electric Box) of Pikachu Tokyo Banana confections to its official website which is available to order in Japan until January 30, 2021 at 17:00 (JST).

Tokyo Banana is Tokyo's official souvenir sweets brand and it launched its new Pokémon Tokyo Banana series of confections in November last year with the first catch being Pikachu. It subsequently added Eevee to the collection in December. The Pikachu confections are also available to buy at Tokyo Station.

Pikachu Tokyo Banana – Dengeki Box | Box of 12 Packs (24 Confections) | ¥3,456 (Tax Included)

The limited-time addition of the Dengeki Box to Tokyo Banana's official website means that anyone in Japan can get a taste of the electrifyingly delicious sweet fluffy custard-filled sponge cakes without having to travel to Tokyo.

Waiting inside the Dengeki Box are 12 packages each with two cakes in and each in one of six different Pikachu designs to greet hungry Trainers, all of which are positively kawaii. The box itself also features these adorable illustrations.

Left: Front of Box | Right: Back of Box

The box even has a handle attached to it so you can reuse it after to store all your bits and bobs.

©2021 Pokémon. ©1995-2021 Nintendo/Creatures Inc./GAME FREAK inc.
Pokémon, ポケットモンスター, and ポケモン are registered trademarks of Nintendo, Creatures Inc., and GAME FREAK inc..

Information

Pikachu Tokyo Banana – Online Orders
Running: January 12, 2021 – January 30, 2021
*Available while supplies last

*Shipping not available to select islands in Japan

Tokyo Banana Group Official Online Shop
https://www.paqtomog.com/shop/c/cpk-bana/

Luxurious Gin Infused White Chocolate by Dean & DeLuca Tempts With Tasty Allure

Asakusa-based 'aromatic raw chocolate' brand MAISON CACAO created a new gin-flavoured white chocolate for Dean & DeLuca which was released in Japan on January 15, 2021.

The "Aroma Raw Chocolate (Gin)" keeps the original flavour of the white chocolate and infuses with a craft gin known as "COMMON" by Toranomon Joryusho.

Aroma Raw Chocolate GIN FOR DEAN & DELUCA | ¥2,592 (Tax Included)

​One bite into a piece of this artisanal chocolate fills the mouth with a tang of subtly fruity chocolate. Then comes the refreshing taste of the gin which complements the sweetness and adds sophistication to the chocolate in an exquisite balance of flavours.

 COMMON gin is fruity and clear

COMMON craft gin has a 'botanical' flavour. Its base is a shochu made on the islands of Hachijō-jima and Nii-jima. It also contains soft water taken from Okutama Sawai.

"It has a faint fruity taste that combines with the flavour of the cacao, and he used really delicious white chocolate," explains Shingo Ishihara of MAISON CACAO who helped in the chocolate's development. "I hope people indulge in its enjoyable melt-in-the-mouth texture."

Information

Aroma Raw Chocolate GIN FOR DEAN & DELUCA

Japanese Name: アロマ生チョコレート GIN FOR DEAN & DELUCA

Released: January 15, 2021
DEAN & DELUCA Official Website: https://www.deandeluca.co.jp/

Snoopy and Charlie Brown Turn Into Confections at Japanese Convenience Stores

Bandai's character-inspired Japanese confectionery series Tabemas is releasing two new traditional Japanese wagashi confections inspired by the Peanuts comic series. Snoopy and Charlie Brown will arrive at Lawson convenience stores across Japan on January 19, 2021.

Tabemas Snoopy | ¥264 Each (Before Tax)

The cute confections capture the little details of the iconic characters, from Snoopy's doggo features and collar to Charlie Brown's hair and shirt. The Snoopy confection is filled with chocolate bean paste—a nod to his favourite chocolate chip cookies—while Charlie Brown is filled with custard bean paste as a nod to his trademark shirt. The packaging features exclusive art drawn for the Peanuts comic's 70th anniversary with Snoopy atop his dog house.

© 2021 Peanuts Worldwide LLC

Information

Tabemasu Snoopy / Charlie Brown
Release Date: January 19, 2021

Available: At the chilled sweets section of Lawson convenience stores in Japan (Excluding Natural Lawson and Lawson Store 100)

*Available while supplies last

*Stock date may differ from branch to branch

*Select stores not participatingProduct Page: https://www.bandai.co.jp/candy/tabemas/snoopy03/

Delicious Valentine's Day Desserts Served Up at Eggs 'n Things

Eggs 'n Things is set to serve up a special limited-time Valentine's menu in Japan from January 16 to February 28 including the Torokeru Fondant Chocolate Pancakes and Strawberry & Banana Chocolate French Toast.

Valentine's Menu

Torokeru Fondant Chocolate Pancakes | Eat In ¥1,480 (Before Tax)

Torokeru Fondant Chocolate Pancakes | Takeout ¥1,080 (Before Tax)

 

Strawberry & Banana Chocolate French Toast | Eat In ¥1,380 (Before Tax)

Strawberry & Banana Chocolate French Toast | Takeout ¥980 (Before Tax)

Valentine's Drinks

Strawberry White Mocha | Hot or Iced ¥680 (Before Tax)

Hawaiian Cafe Mocha | Hot or Iced ¥580 (Before Tax)

This lovingly-prepared chocolate and fruit-loaded line-up is sure to get the butterflies stirring hungrily for this year Valentine's.

Miffy Cookies Get Baked Up by Netherlands Confectionery Theo Blom at Dick Bruna TABLE

The popular wine bar Dick Bruna TABLE, where customers can enjoy a glass of wine with a meal together with illustrations by Dick Bruna, the creator of Miffy, is now selling a batch of Miffy cookies created by the popular confectionery Theo Blom located in Utrecht, Netherlands.

Miffy Cookies & Chocolate | ¥4,000 (Before Tax)

Miffy Cookies | ¥4,000 (Before Tax)

Utrecht is the birthplace of Miffy author and creator Dick Bruna, and Theo Blom is a place that Bruna himself actually often visited. The confectionery is known for its tins which can be reused after the contents are eaten. The cute Miffy tins are definitely keepers.

Information

Dick Bruna TABLE – Miffy Cookies & Chocolate
Released: Mid December 2020
Location: Dick Bruna TABLE
Address: 3-1-1 Sannomiyacho, Chuo-ku, Kobe
Opening Hours:
[Weekdays] 11:00-15:00 (Last Orders 14:00) / 17:00-23:00 (Last Orders 22:00)
[Saturdays] 11:00-23:00 (Last Orders 22:00)
[Sundays/Public Holidays] 11:00-21:00 (Last Orders 20:00)
Access: 078-333-3332
Official Website: https://dickbrunatable.com/

McDonald's Japan Adds Crème Brûlée and Belgian Chocolate Pies to the Menu

McDonald's Japan is bringing back its popular Belgian Chocolate Pie from last year and is also introducing a new Crème Brûlée Pie, both of which will hit the menu at all McDonald's branches from January 13 for a limited time.

Crème Brûlée Pie | ¥150 (Before Tax)

Belgian Chocolate Pie | ¥150 (Before Tax)

The hot pies are filled with deliciously sweet cream and are a perfect, cosy treat during the cold weather.

Information

Crème Brûlée Pie / Belgian Chocolate Pie
Serving: January 13, 2021 – Mid February 2021
Available: McDonald's Japan
Price: ¥150 Each (Before Tax)
Official Website: https://www.mcdonalds.co.jp/

Nana's Green Tea x Häagen-Dazs Release Chocolate Matcha Glass Dessert

Nana's Green Tea is serving up a brand-new dessert in collaboration with Häagen-Dazs for Valentine's Day at 77 branches in Japan. The dessert was released on January 6 and will be available up to February 14.

Matcha Chocolate Glass with Häagen-Dazs | ¥880 (Before Tax)

The dessert is a tempting sight to behold – not only is it delicious but visually appealing to the eye too, and layered with various textures so that every bite is a surprise.

The dessert is made with Häagen-Dazs' "Sweet Chocolate" ice cream coupled with Nana's Green Tea's own original matcha ice cream, soft and crunchy meringue sticks, crumbled cookies, white chocolate whipped cream, and matcha chiffon cake. Sat at the bottom waiting to be discovered is a sweet strawberry sauce for a tangy kick.

Information

Nana's Green Tea – Matcha Chocolate Glass With Häagen-Dazs
Serving: January 6, 2021 – February 14, 2021
Price: ¥880 (Before Tax)
Available: 77 Nana's Green Tea branches in Japan (Excluding DiverCity Tokyo Plaza, Tokyo Dome, and Iias Okinawa Toyosaki)
Official Website: http://www.nanasgreentea.com/

Mister Donuts x Pierre Marcolini Luxury Doughnuts Hit Japan

Mister Donuts has teamed up with Belgian chocolate brand Pierre Marcolini to release the "misdo meets PIERRE MARCOLINI Collection" of doughnuts which hit Japanese branches on Friday (January 8).

Fondant Chocolate Doughnut – Chocolate | ¥200 (Before Tax)

Fondant Chocolate Doughnut – Caramel | ¥200 (Before Tax)

Fondant Chocolate Doughnut – Raspberry | ¥200 (Before Tax)

Fondant Chocolate Doughnut – Hazelnut | ¥200 (Before Tax)

Danish Chocolate – Raspberry | ¥230 (Before Tax)

Danish Chocolate – Hazelnut | ¥230 (Before Tax)

The doughnuts are part of Mister Donuts "misdo meets" series which first began in 2017 to combine the highest quality ingredients and techniques to in order to bake up the best possible doughnuts. This time, it has joined sticky bakers fingers with the popular Begian chocolate brand Pierre Marcolini to create a new kind of fondant chocolate doughnut and danish. The line-up is made with high quality authentic chocolate and has a bitter kick to it – perfect for those who aren't into sweeter treats. The heart-shaped danishes are also spot on for the Valentine's season in Japan.

Information

misdo meets PIERRE MARCOLINI Collection
Serving: January 8, 2021 – Mid March 2021
Available: Mister Donut Japan (Select branches not participating)
Official Website: https://www.misterdonut.jp

Gudetama Doughnuts at Floresta Celebrate the New Year

Floresta Nature Doughnuts, a doughnut cafe that hand-makes doughnuts using organic ingredients, is baking up two new Gudetama doughnuts with New Year's messages on them. They will be served from January 9 to 24.

Florest Gudetama Collab Doughnuts | ¥450 (Before Tax)

The doughnuts capture the lazy and lethargic energy of Gudetama. The crowning Gudetama is made from Japanese pumpkin and is sat on a bed of sweet white chocolate. Both doughnuts are also available as a set coming with an extra of any of Floresta's signature doughnuts.

Relax and take in the new year together with Gudetama.

7 Days of Strawberry Dessert Love at Isetan Shinjuku This January

Isetan Shinjuku has announced a special one-week event titled "7 Days of Loving Strawberries" which is centred around cute and delicious strawberry desserts and will run this month from January 13-19. Ten cafes and restaurants are participating with a sweet and succulent line-up including strawberry daifuku, strawberry shortcake, special parfaits and crepes, and more.

Strawberry Candle Pavlova @ mihopan popcake | Two for ¥972 (Tax Included) *Limited quantities

MIGAKI-ICHIGO Strawberry Parfait @ Ichibiko | ¥1,980 (Tax Included)

Strawberry Shake @ Ichigo-ya Sunsunen | ¥721 (Tax Included)

Crispy Strawberry Mille-Feuille Crepe @ Sorairo Crepe | ¥935 (Tax Included) *Limited quantities

Strawberry Shortcake Parfait @ Shiseido Parlour | ¥1,045 (Tax Included)

Strawberry Daifuku @ Berry UP! | ¥432 (Tax Included)

Ripe Strawberry Milk Pudding @ Kanjyuku Ichigo Kashi Kekyusho | ¥486

Whole Strawberry Sandwich @ Sajisakon | From ¥864 (Tax Included)

MIGAKI-ICHIGO Strawberry Daifuku @ Seigetsudo Hoten | ¥432 (Tax Included)

Information

7 Days of Loving Strawberries (Japanese Name: いちごに恋する七日間)
Running: January 13, 2021 – January 19, 2021
Location: Isetan Shinjuku Floor B1F
Official Website: https://mi-journey.jp/foodie/66251/

Matcha and Strawberry Parfaits Whipped Up at Saryo FUKUCHA in Kyoto

Saryo FUKUCHA in Kyoto is now serving up a very special selection of succulent strawberry and matcha parfaits until May 30, 2021. These exquisite delights will see only 10 made of each per day.

Saryo FUKUCHA is a cafe that was opened by FUKUJUEN in Kyoto Station in April 2019. This year, they have brought back their extremely popular strawberry and matcha parfaits : the Konome, Konoha, and Konoka. They have also introduced a new addition to the line-up: the Strawberry & Matcha Milk Parfait. Also on the menu is a strawberry matcha latte.

Matcha & Strawberry Parfaits


Konome | ¥1,350


Konoha | ¥1,450


Konoka | ¥1,550


Strawberry Matcha Milk Parfait | ¥800


Strawberry Matcha Latte | ¥650

Discover the taste of Japanese tea in a new way with Saryo FUKUCHA's matcha and strawberry parfaits and latte.

Information

Saryo FUKUCHA
Address: 901 Higashi Shiokojicho, Karasumadori Shiokoji Sagaru,, Shimogyo-Ku Kyoto Station Bldg. 2F, Kyoto 600-8216 Kyoto Prefecture
Opening Hours: 8:30-21:00 (Last Orders 20:30)
*The cafe is currently running on reduced opening hours as of December 25, 2020 due to COVID-19. Hours are now 08:30-19:00 (Last Orders 18:30) on weekdays and 08:30-20:00 (Last Orders 19:30) on weekends. Times are subject to change.
TEL: 075-744-0552

Official Website: https://fukucha-fukujuen.com/