With just a small bit of ingenuity, turn everyday food into something cute using Kaori

'

s easy recipe! With a few simple ideas, an ordinary recipe magically transforms into a cute dish.
In this character recipe you'll learn how to make a "KITTY's Strawberry Milk Pudding." The strawberry jelly layer and the milk pudding layer look like KITTY's costume!
1:Ingredients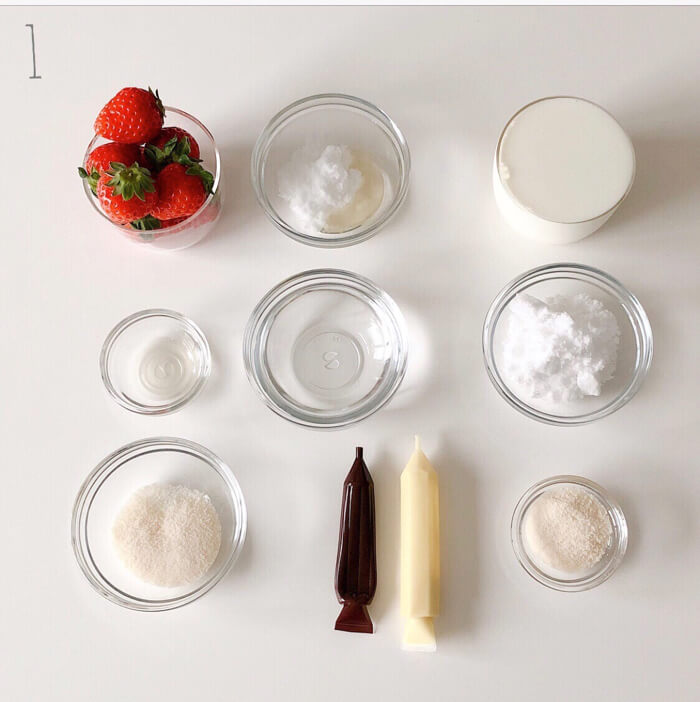 Lemon juice – half a teaspoon
※Soak gelatin in one tablespoon of water
2:
①  
Put the strawberries into a blender and process them. Then, put the processed strawberries, sugar and honey into a pot. After the sugar melts, turn off the heat and add the gelatin and mix it well. Then, add the lemon juice.
②  
Put ① into a container and wait until it cools. Then, put this into a refrigerator.
③  
 Draw the face and ribbon using a chocolate pen. Lay the ingredients down so that you can draw the face and ribbon easily. The chocolate can be wiped off easily by using a kitchen paper. Put the ingredients into the reregister and cool it.
3:Put milk and sugar into a pot and heat them. After the sugar melts, add the soaked gelatin and cool it. Pour the ingredient into the container (2) and cool it putting it into a refrigerator. After it hardens, add raw cream and strawberries on top.
 Kaori also invites you into her world of character-themed rice dishes in her recipe series! Please check out her Instagram where she has uploaded many pictures of her character dishes!